As you must already be aware, blogging offers several benefits to all types and sizes of businesses, including increasing brand recognition and website traffic.
Companies can use blogs to grow and expand quickly as well. Many businesses opt to create their blogs, even though it takes considerable time and effort.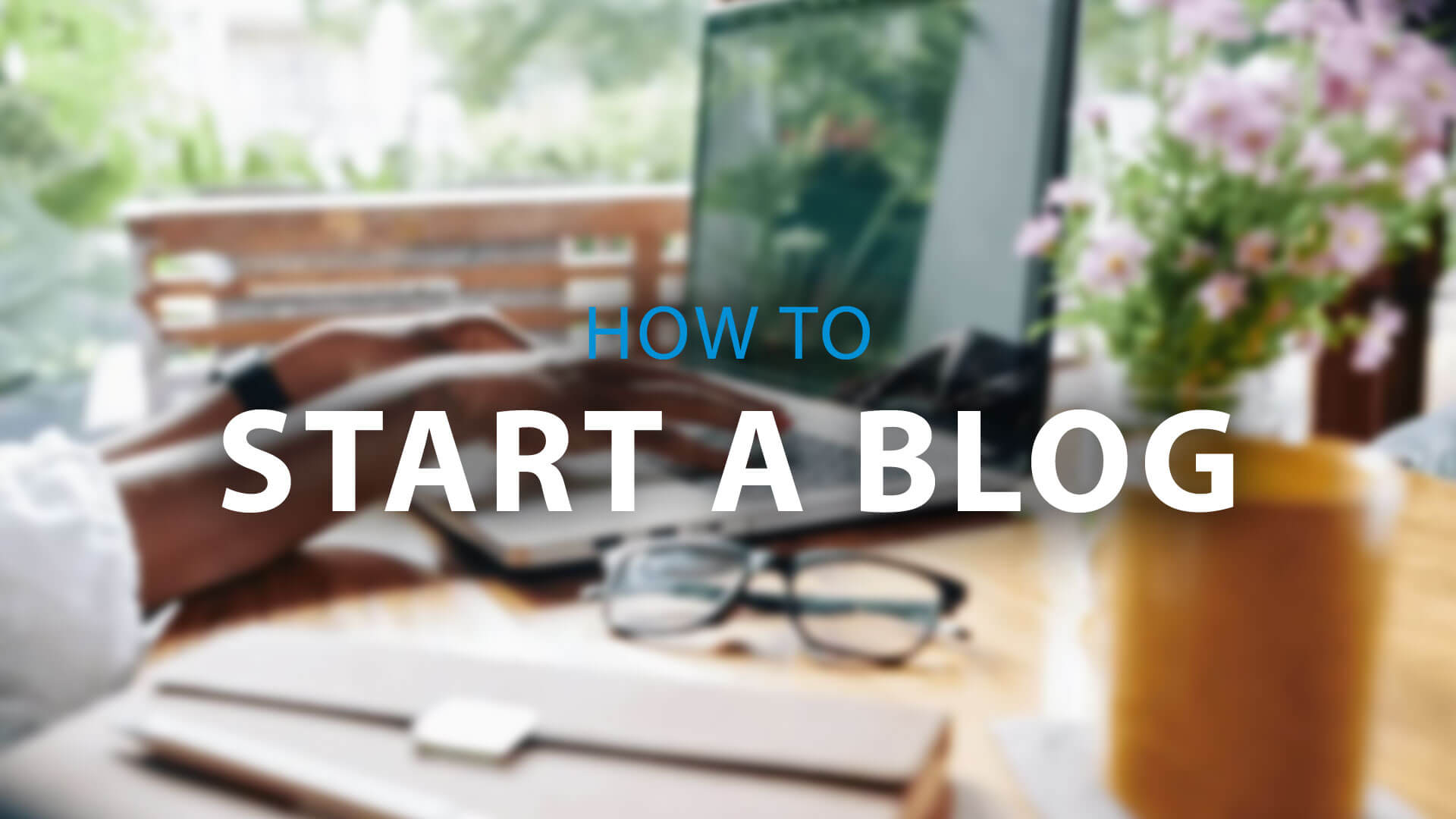 A blog can be a powerful tool for almost any type of business, irrespective of its purpose or nature. However, starting your first blog post requires some knowledge and training. That's why we've put together this highly informative guide explaining how to start a blog and all you can accomplish from a business perspective.
We've also included the most effective tips and tricks to get maximum benefits when starting a blog. So, let's get started with this step-by-step guide to becoming a successful blogger!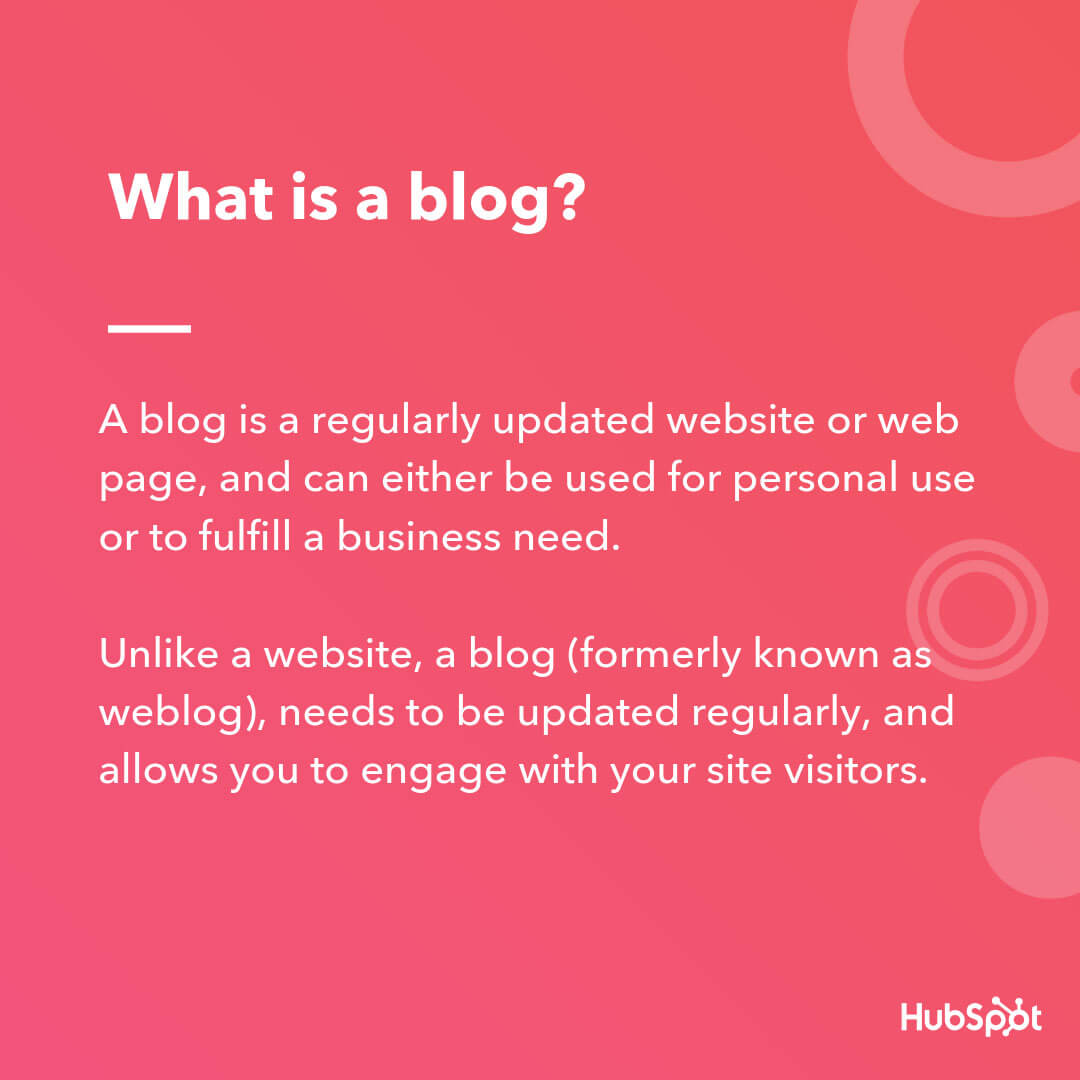 What You Need To Know
Since the first blog was created in 1994 by Justin Hall, blogging has come a long way. Today, there are millions of blogs on various platforms, such as WordPress, Squarespace, and Tumblr, on various subjects. And while you can create a new blog post on almost any subject, the most common types include personal, business, and niche blogs.
While individuals start personal blogs, usually for sharing their experiences, business blogs are created to increase the visibility of a business. On the other hand, niche blogs focus on a specific subject and cater to a particular audience.
For businesses, due to the various benefits, blogging has become a powerful marketing channel, like email marketing and social media marketing. However, blogging for business is different from other types of blogging, so let's look at the key differences between a business blog and own blog.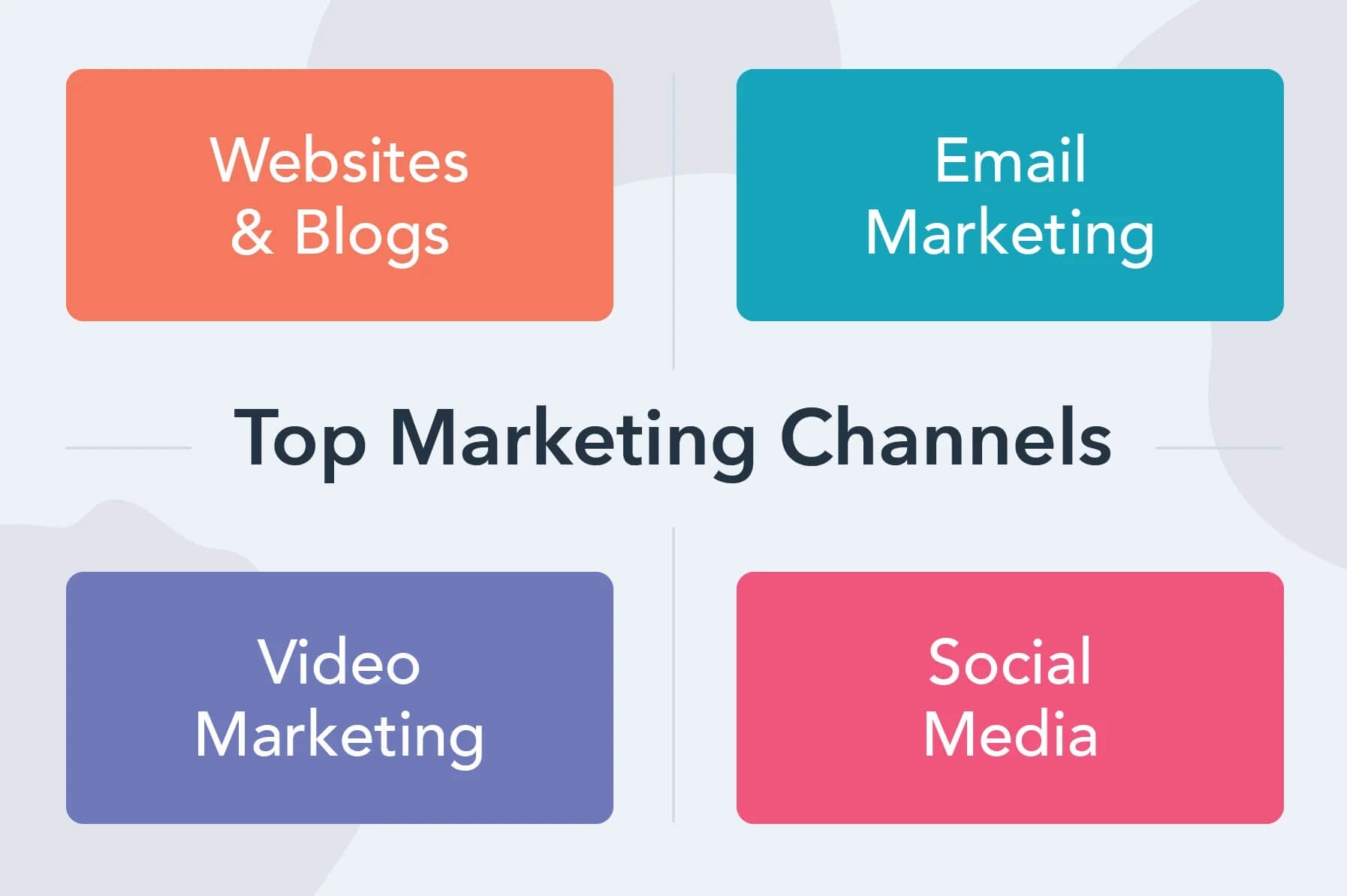 Differences Between A Business Blog And A Personal Blog
1. A Business Blog Has A Specialised Audience
Generally, the audience of a business blog is more specialised, unlike a personal blog. A business blog needs to focus on various aspects of the business, such as its policies, products, and services.
2. It Is More Challenging
Creating engaging content that keeps visitors coming back is much more difficult in the case of a business blog since it only has to focus on business-related aspects. This is not a problem in the case of a personal blog, as you are free to write about almost any topic you want.
3. Business Blogs Help Promote The Business
Besides providing valuable content readers find engaging, business blogs promote companies. You can achieve this by providing helpful information regarding the business's products or services without being overly promotional.
Personal blogs generally do not promote any business, product, or service. Hence, their content marketing strategy largely differs from a business blog.
4. Such Blogs Usually Include Call To Actions
The content on a business blog generally includes call-to-actions to convert website visitors. Such call-to-actions can take various forms but ultimately help persuade and convince visitors that they should go with your brand. On the other hand, personal blogs do not need CTAs as they are usually not used to sell anything.
5. A Business Blog Needs To Follow Proper Guidelines
Unlike in the case of a personal blog, there are specific guidelines for creating and managing a business blog. These include clear posting strategies, writing headlines, and proper use of images.
A business blog that fails to meet these guidelines may not be very effective in helping a business achieve its objectives. So, make sure you understand your industry's requirements before starting your blog.
6. It Can Include Lead Generation Methods
Another feature that differentiates business blogs from personal blogs is using lead generation methods, such as lead generation forms. Several types of such forms, like a newsletter subscription form, freebie form, contact form, and others, can help the business gather leads more effectively.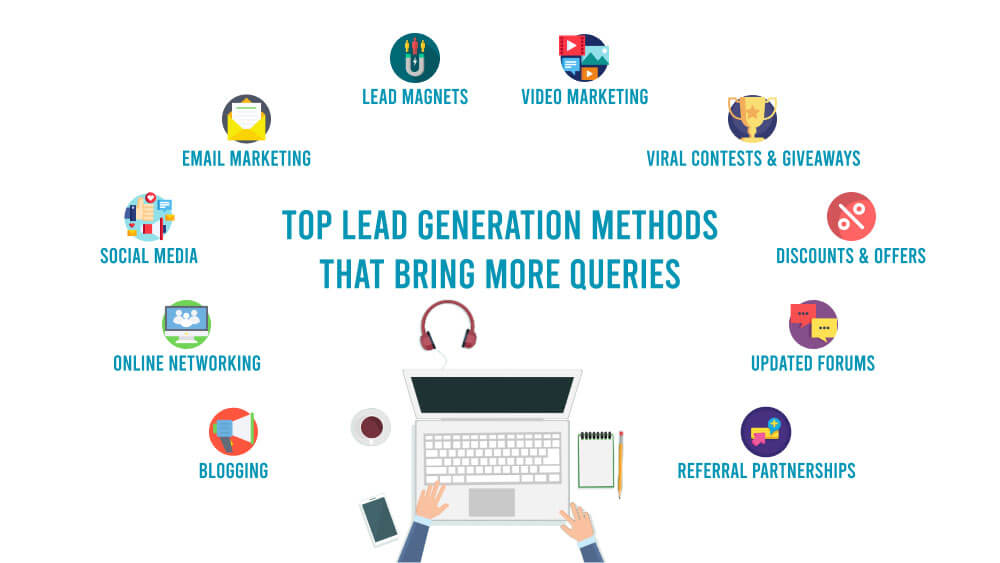 7. Analysis Of A Business Blog Is Essential
A personal blog is created generally to share ideas and experiences and does not need to provide any returns to the author. Rather than for monetary gain, it can be created to share ideas and experiences. However, writing a business blog involves time and effort and is intended to provide a return on investment (ROI). Such a business constantly needs to keep analysing the performance of its blog regarding aspects like engagement levels and conversions.
8. Posting On A Business Blog Requires A Higher Level Of Care
The public will interact with it whether you post something on a personal or business blog, so it must be compelling and well-written. It is even more true for a business blog since whatever you post there will reflect on the business's image.
It will appear as the company's official statement, so even the smallest mistake can negatively affect the brand. Let's review the most important things you should keep in mind when getting started with blogging.
Generally, starting any blog is not a difficult task, but making it meaningful will require effort and time.
Important Points To Keep In Mind When Starting A Business Blog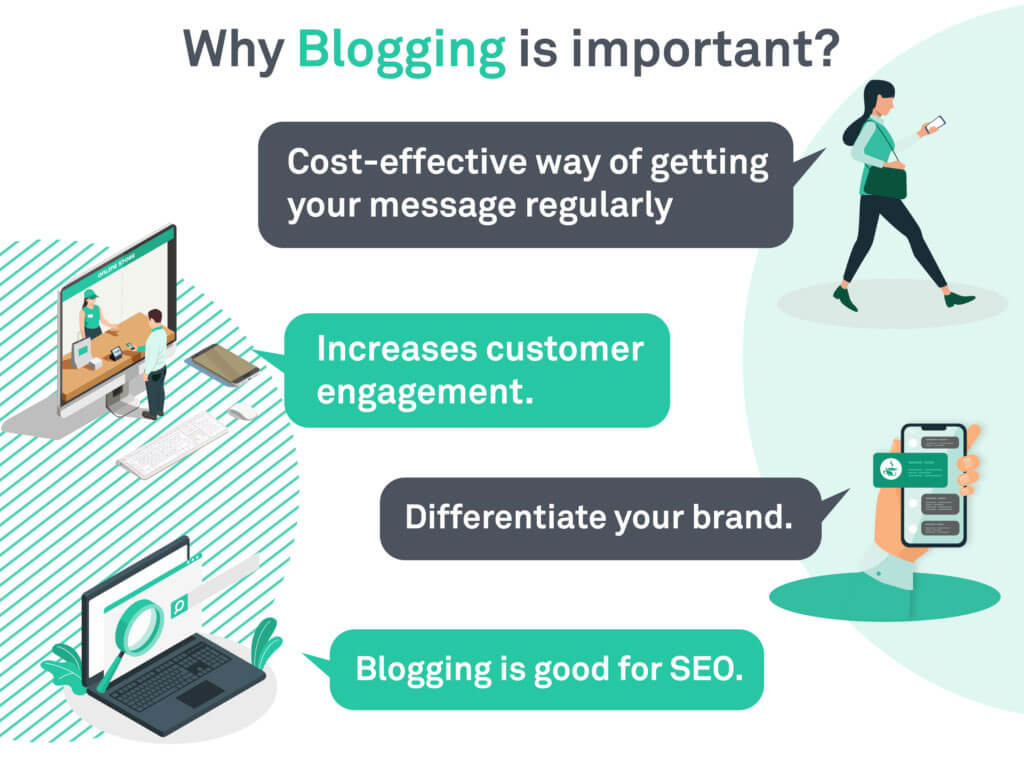 1. Focusing On Readers' Needs
A common problem with business blogs is that they focus a lot on the products and services the business offers right from the start. Often, this is what causes readers to lose interest.
It is good to start a blog with engaging and entertaining content for the target audience to prevent that from happening. After you have caught the readers' attention, mention the products and services and how they will benefit them.
An effective way to accomplish this is to use tools like Google Alerts to identify what the target audience is looking for. After you have that information, creating content to answer readers' queries and solve their problems is easy.
2. Optimising The Blog For Online Search
Once you've created content relevant to your target audience, it is time to undertake keyword research to deliver optimal search results. SEMrush is among several online tools that can make this process easier as it optimises the blog post for a few keywords for better search engine ranking.
You can also use other methods to optimise the content, such as headline tags, meta descriptions, and internal links.
3. Use An Attention-Grabbing Headline
Even starting a blog with the best content can escape the notice of your target audience if it lacks a proper attention-grabbing headline. Creating such a headline involves limiting it to 60 characters while including the target keyword, as longer headlines can be shortened by search engines, often making them incomplete.
4. Ensuring Quality, Consistency, And Frequency
To maintain the highest quality standards, ensure all blog posts go through a proper editing process before posting them. Posts that contain grammatical or spelling errors can put readers off.
Similarly, consistency is vital for search engine rankings, so publish blog posts simultaneously every week. It helps improve search engine rankings quickly and guarantees consistency in newsletters, and social media feeds. As for frequency, the more blog posts you can publish, the better it is for your business.
5. Including At Least One Clear Call To Action
Each blog post should contain at least one clear call to action (CTA), depending on your business requirements. For instance, if you are looking for newsletter signups, use that as a call to action by offering freebies and discounts.
Multiple CTAs can be confusing, which is why frequent blogging is essential. Depending upon the blog post's content, you can use different types of CTAs to get the desired results.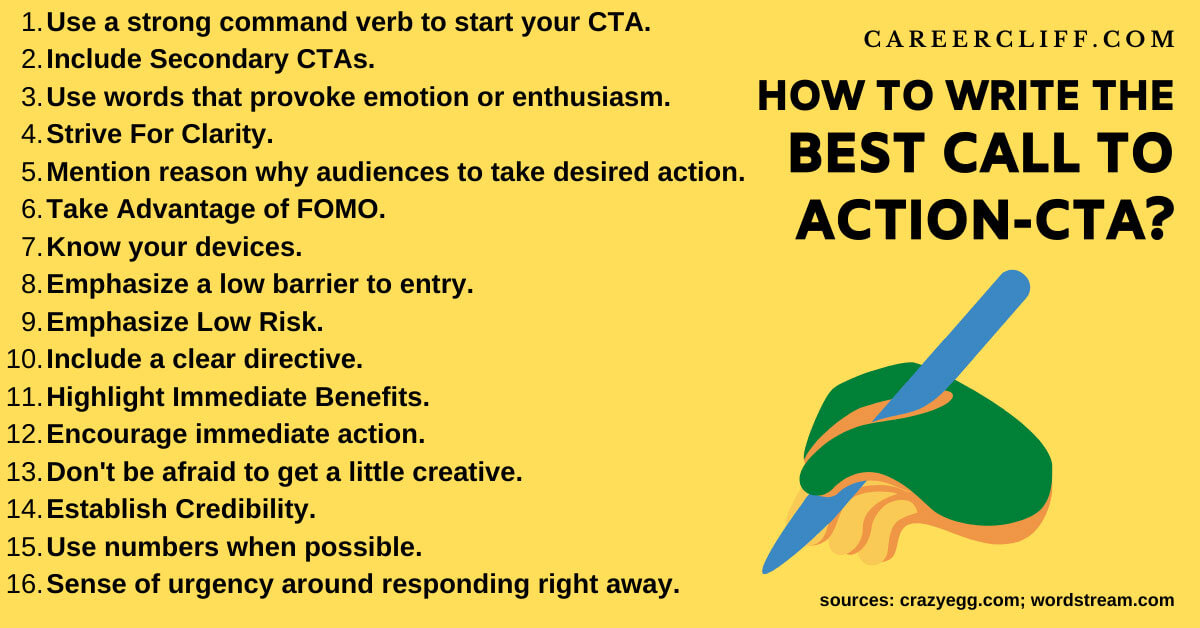 6. Attributing Key Influencers
For your blog to be influential, it is crucial to attribute key influencers in the industry, which will help create a positive image of your brand. Additionally, it can help your blog draw attention if the influencer mentions that blog post on different channels.
7. Active Engagement Through Newsletters And Social Media Platforms
When you initially start blogging, you might not necessarily attract traffic to your website. For that, having a good SEO strategy and existing followers is vital. That's where social media channels can be of use by helping share various blog posts. Newsletters can also be used in the same way and for the same purpose, extending the reach of the business while adding more value to the marketing efforts.
8. Undertaking Proper Research Before Outsourcing
Before using a blog for marketing efforts, conduct in-depth research. Researching the various aspects will ensure that your blog is highly effective in accomplishing the objectives of the business.
For outsourcing the content creation process, look for an agency that takes care of the writing part and maintains a strict editorial process. This way, you can ensure that the content meets the highest quality standards. A good strategy is to check the samples from the agency so you can get an idea of their work.
The Research Process
The research process should cover the following aspects and help answer questions that will determine the direction and focus of your blog.
1. Determine The Reason For Blogging
Having a clear idea about why you want to start a blog is very important since that will determine how effective the blog is.
The blog's focus should always be on the consumer for business purposes. Understanding the blog's purpose can make it easier to create, organise, and share content about the business more meaningful with the target audience.
While the primary purpose of a blog is to promote your brand and help increase sales, that should not be the immediate goal in the long run. These may include solving consumers' problems, illustrating the value of the business, improving the SEO of a specific topic, and creating brand awareness.
2. Identifying The Target Audience
The next step in starting a successful blog is identifying your target audience. Every business caters to a particular audience and has its products and services designed and developed for that audience.
Since most consumers use the internet to discover new products and services, a business must first understand their needs. It will help the audience better relate and connect to the company, making the marketing strategy more effective. Without this knowledge, the blogging strategy will lack a clear focus and direction.
Your business should focus on gender, income, occupation, age, challenges, aspirations, and sources of information. It will be easier to create blog posts specially tailored for such an audience with this information in hand, providing them with a better experience.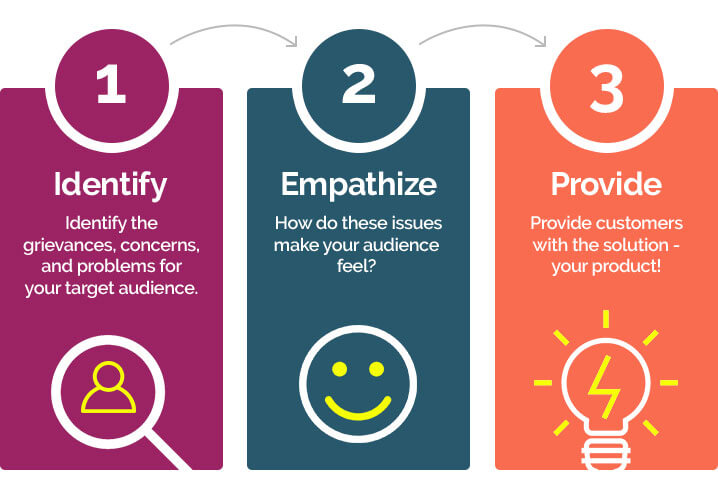 3. The Value That Your Blog Offers
You should provide your readers with valuable content to keep them returning to your blog. The content should be relevant to their requirements and enjoyable and entertaining to read. Unless the blog can offer that, it will not be able to retain their interest. Offering free advice and tips can make the blog even more valuable.
4. The Tone And Voice Of The Blog
A business blog's tone and voice are crucial elements since they will reflect the brand itself. This means avoiding using a tedious and confusing tone, even while discussing mundane topics.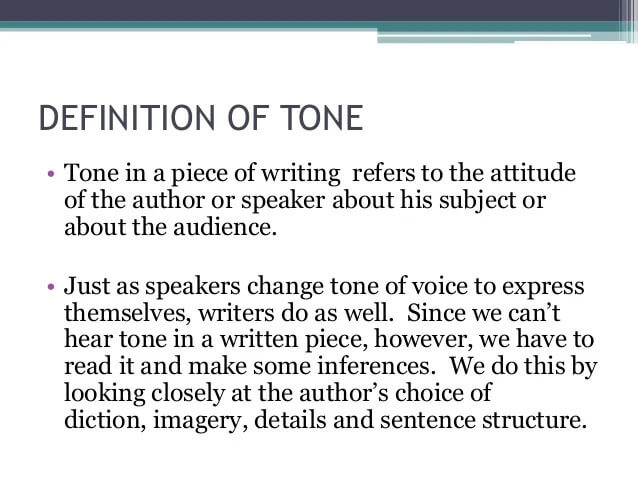 The tone should always match the blog's subject and depend upon the target audience. For instance, a blog targeting millennials must interact and have a personal tone to create an impact. Blog posts from tech companies, on the other hand, should be educational yet witty.
5. Measuring The Performance Of The Blog
A business must justify every resource allocation, which is true for blogs. You will need to constantly monitor the blog's performance to know whether it provides any return on investment to the business.
ROI can mean different things for different businesses and be monitored using various metrics, as the measurements for success vary among brands. Regarding SEO rankings, look at metrics such as blog readership, blog page ranking, inbound and outbound link clicks, and organic traffic.
To measure sales increase, look at the number of sales calls, email subscribers, link clicks, and product conversions. Additionally, breaking up the blog's objectives into different time frames, such as monthly, quarterly, and timely, can be very helpful.
6. Deciding On The Action You Want Readers To Take
A call to action determines what a business needs its customers to do. A business blog can have multiple call-to-actions, though having a single clear one is more than enough.
The call to action should always connect to your purpose of money blogging, the target audience, and what value you offer them. Effective call-to-actions include downloading free reports, signing up for newsletters, registering for webinars, etc.
Remember that small businesses can use blogs to get more website visitors, client leads, and social media followers when deciding on a call to action.
7. Gaining Exposure
Your work isn't finished after starting your blog and regularly posting content. The main goal of every blog is to generate as much exposure as possible, which depends upon various marketing and promotional activities.
Companies that use blogs as a marketing strategy have more inbound links. Such blogs use a focus keyword, backlinks, and quotes that help drive organic exposure from various search engines. They must also be promoted on multiple social media pages, other blogs, and the business's website.
Now, it is time to learn how to start blogging successfully.
How To Start A Blog
1. Selecting A Blog/Domain Name
The first step in starting a blog is to select a proper name for the blog. This name should be catchy, so your target audience can instantly recall it. A blog name should not contain spaces or punctuation other than dashes since it will be registered to a specific domain.
This domain name is responsible for creating the first impression on those who want to learn about your website and is also the website's address on the internet. Usually, the most preferred domain extension is .com, followed by .net and .org. Try using a different domain extension for already taken names, or use small words or dashes between words.
A good idea is to first decide on the blog topic to come up with an appropriate name if you find it challenging to come up with a blog name. For business blogs, some popular topics include current trends in the industry, reporting on industry developments and news, posting case studies, answering common problems, etc. Identifying your blog's niche will help ensure it is relevant and valuable to your target audience.
However, if you face difficulties choosing a name, several websites, such as Wordoid, can offer some excellent suggestions. Other services, such as Bluehost, also provide a free domain.
2. Setting Up The Blog Online
After deciding on a name for your blog, the next step is to set up hosting for the blog. Blog hosting companies store all the blog files and deliver them to visitors searching for your blog.
These hosting companies charge different prices for web hosting, which can range from $3 per month to $50 per month, based on various factors. Such factors may include the type of blog that needs to be hosted and the plan you select. After selecting the blog hosting company, visit their website and create an account. Then choose your plan and type in the blog or domain name to start.
3. Choosing A CMS
Besides a blog host, you will need the proper blogging software or Content Management System (CMS). A CMS is a software application that makes it easy for users to create and maintain websites without coding. It can easily manage both domains and subdomains.
WordPress is the most popular blogging software because it is easy to use, customisable, and free. Installing a WordPress site is also easy, as certain web hosting services, such as Bluehost, automatically install WordPress when you purchase a hosting plan. Once installed, log in using your username and password to start. There are many other versions of CMS platforms, so it is best to do your research.
However, if you have the budget, it is recommended that you create a custom-coded website and upload your blog posts there. A website designed specifically for your brand and products will significantly improve your SEO. But installing WordPress or a similar CMS is a great place to start for small businesses.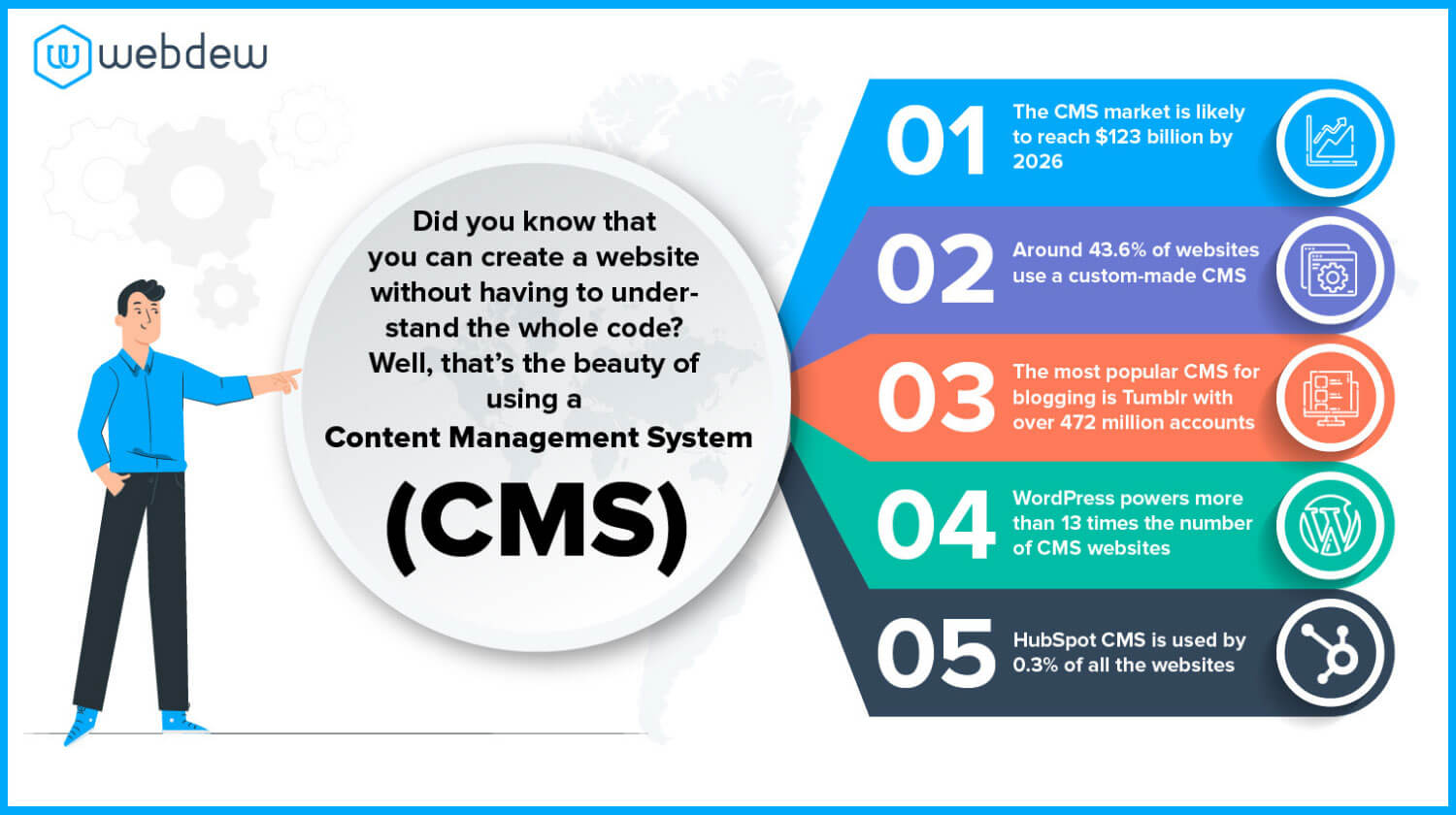 4. Customising The Blog
Once you've installed WordPress or your other CMS, it will take you to the WordPress dashboard, which offers several themes for customising the blog. These themes help personalise the WordPress blog in just a few clicks without requiring any coding knowledge or prior experience. Besides the several free WordPress themes, WordPress has a vast selection of paid themes that offer greater control and some advanced features.
Make sure to select a WordPress theme that reflects the nature and content of your blog. The blog theme can also include your brand logo and should have an About section that provides readers with information about the business.
5. Installing Plugins
Plugins are tools that integrate with the website and help extend its functionality, and there are several powerful ones specially developed for blogging purposes, like Yoast SEO. Select the ones that improve site speed and help SEO, such as MonsterInsights, WP Rocket, and Elementor Pro.
6. Write Your First Blog Post
After customising your blog, it is time to add content. There are two ways you can start a post in WordPress. You can start a blog by clicking on the 'Start Building' button and selecting the type of blog site you want to create, or you can also click on the 'Posts' tab on the left side of the screen.
There will be a default post already present, which WordPress provides for all new blogs. Click on the add new button to start a fresh post where you can add a blog title and description of the post before writing the actual content.
It is good to start with a highly specific topic targeting a particular audience type for the first blog post. Going with a general topic that established brands and competitors have already covered will not result in a higher ranking in the search results. So it's best to pick a topic on which few articles have been written.
Additionally, avoid the type of language employed by salespersons while educating your audience on aspects relating to your business. Linking the posts to other online resources can also make a better impression, while WordPress allows adding images to posts to make them more interesting.
These are the steps that can help you start your blog quickly. However, selecting the right platform is necessary for the blog to create the most significant impact. There is no shortage of platforms available for money blogging; we will look at some of them now.
Platforms For Blogging
As already mentioned, WordPress is the most popular platform for blogging, but several others are available on the internet and selecting the right platform depends on multiple factors.
The type of content you want to create determines which platform would be best for you to start blogging. The ideal platform would be easy for beginners, does not require coding skills, and has a low learning curve.
Additionally, you need to consider how flexible the platform allows future growth and expands the website. You can save time and effort later by choosing the right platform from the start. With that said, let's look at the most popular blogging software with its advantages and disadvantages.
1. WordPress.org
WordPress was started in 2003 due to the discontinuation of an existing blogging software called b2/cafelog, and it now powers over 43% of all websites. Keep in mind that WordPress.org is a free and open-source blog hosting self-hosted account, which is different from WordPress.com, a fully-hosted blog hosting service.
A self-hosted platform that provides greater control requires signing up with a WordPress hosting provider. While the WordPress software is free, you must pay for a domain name and a web hosting service.
Both personal and professional bloggers use WordPress as it is user-friendly and offers powerful features, such as navigable menus and multiple comment options. Here are some of the advantages and disadvantages of a self-hosted WordPress blog:
Pros
You get full control over all aspects of the self-hosted WordPress blog
It is easy to add extra features to the blog, such as forums and memberships
Several themes with built-in customisation options are available
You can use several WordPress plugins to extend the functionality of your blog
Search engine-friendly, allowing the creation of SEO-friendly URLs and tags
It will enable you to use Google Analytics to view essential metrics regarding your WordPress blog
The drag-and-drop editor makes it easy to create any type of content
Cons
There is a slight learning curve for managing your website
Backups and security are the responsibility of the users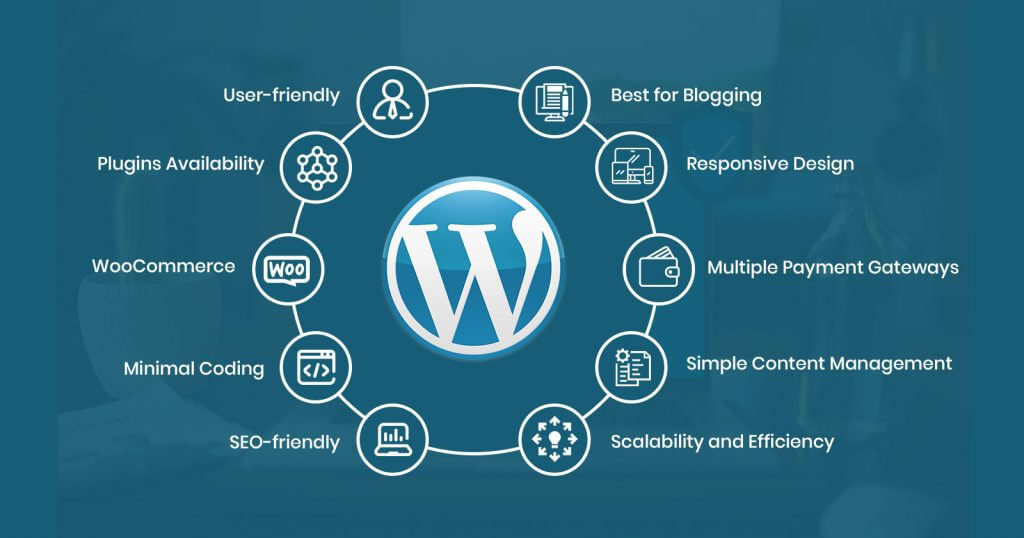 2. Web.com
Web.com is a platform that allows users to build websites quickly and easily, with a built-in feature to add a blog to the website. Even users with little technical knowledge can use this drag-and-drop website builder at affordable prices.
You can select from several pre-built templates without using any code for customisation. Starting a blog is also made easier with the availability of tools, such as website analytics, autosave and backup, security features, and SEO tools.
The starter plan of this website builder includes a blogging platform, a drag-and-drop website, customisable templates, a free domain name, and free stock images. However, their SEO tools and eCommerce features are available only with higher-priced plans, such as the marketing plan or the eCommerce Plan. The following are some of the advantages and disadvantages of this platform for blogging purposes:
Pros
Easy-to-use drag-and-drop website-building software
Massive selection of ready-made, customisable templates for different blogs
Hassle-free setup suitable for users who have no prior experience
Affordable pricing without sacrificing any of the useful features
All paid plans come with a free domain
Exceptional customer support, which is available 24/7
Cons
Fewer blog plugins than the WordPress dashboard
Not as powerful as WordPress when it comes to blogging features
Difficult to switch your website to another platform
3. Wix
Since 2006, Wix has provided a platform for creating websites quickly without coding skills, especially for small businesses. It has over 170 million users globally and offers the chance to add a blog to the website using the Wix Blog application.
This platform is a fully-hosted solution, so you do not require installing software or purchasing hosting plans. The free version of the Wix website builder makes it easy to create a website as it includes hosting options and offers over 800 free and customisable templates. You also get a free subdomain and can use clip art, icons, images, and apps on the website.
However, it has some limitations, such as being ad-supported, not letting you connect a domain name, and not offering support for eCommerce. Here are some advantages and disadvantages of starting a blog with Wix.
Pros
Easy customisation with over 800 free templates and third-party applications
Easy drag-and-drop tools for website building
Easy and fast setup
Affordable and user-friendly
Most plans come with a free custom domain
Availability of phone support
Cons
The free plan is limited and contains ads
A limited selection of free third-party applications
Wix does not allow changing a template once it is selected
Fewer eCommerce features that are only available with paid plans
4. HubSpot CMS
Unlike Wix, a website builder with blogging capabilities, HubSpot CMS Hub is a platform specially created for blogging and caters to all types of businesses. This platform is built on HubSpot's CRM and marketing tools, making it easy to use a single platform for building websites, sending newsletters and more.
HubSpot CMS makes it easy to customise the blog design layout of your website and even personalise and create content that is available to readers based on their past behaviour. Adding images and effects to any website is easy, thanks to the built-in image editor.
While HubSpot CMS does not have a free plan, the basic plan includes all these essential features you need to get started. It even contains some powerful marketing tools to help grow your blog. However, we suggest opting for higher-priced plans for more advanced features and custom SEO recommendations. HubSpot also has other advantages and disadvantages.
Pros
Easy-to-use website builder with drag-and-drop tools
Hassle-free and quick setup
Optimised for SEO and conversions
All plans come with a free SSL certificate
Powerful security features for your website
Importing blogs from WordPress is very straightforward
Cons
Tools such as email marketing and contact management are not available
Higher-priced plans can be pretty expensive
Other than WordPress, migrating from another platform can be cumbersome
5. Gator By HostGator
HostGator is one of the most popular web hosting companies, and Gator is the company's website-building and blogging platform. It features a drag-and-drop tool for quickly building different types of websites, such as your own blogs, online stores, and business websites.
Gator is different from the web hosting company HostGator, which can host blogs and websites on any platform, including a WordPress blog. On the other hand, Gator is, first and foremost, a website-building platform. Its starter plan offers all the essentials, such as a free domain name, SSL certificate, and over 200 templates for easy customisation.
This platform can be the perfect alternative for blogging purposes for those who find WordPress overwhelming. It lets you connect your social accounts and use tools like Google Analytics to measure your website's performance. The platform also offers various advantages and disadvantages for blogging purposes.
Pros
Easy website building and customising with the drag-and-drop tool
Fast and simple setup
HostGator handles all security, backup, and performance of the website
All plans come with a free domain and SSL certificate
Supports adding an online store to the blog
Impressive social media integration
Cons
No free account
eCommerce features are limited to higher-priced plans
Fewer number of apps and integrations
6. Blogger
If you're looking for a quick and easy way to create a blog without technical know-how, Blogger from Google is an excellent option. It is one of the oldest blogging software, launched in 1999 by Pyra Labs. Later, it was acquired by Google in 2003 and redesigned to support over 60 languages.
It has a broad international user base due to its ease of use and simplicity. Blogger only requires a Google account for you and is an excellent option for those just starting their money blogging career. It also does not require any payment and offers a free Blogspot subdomain. You will need to register it through third-party domain registrars and connect it to your blog for a custom domain name.
Pros
Completely free to use
Easy to manage without requiring any technical skills
It is highly reliable and based on Google's secure platform
Ability to run multiple blogs
Google Photos automatically backs up blog images
Cons
Limited to basic blogging tools
Fewer design and customisation options
Lack of frequent updates and new features
7. Your Own Website
Every business has its own website, which can be a powerful blogging platform depending upon where the site is hosted. Several web hosting services, such as Bluehost and GoDaddy, are well known for their blog hosting capabilities.
The most significant advantage of running a blog on your website is the level of control it gives you. You can manage every aspect of the blog without being restrained by the various limitations of other blogging software. On the flip side, there might not be many advanced features and tools available.
Pros
A blog on your own domain is entirely under your control
Quality blog posts will help you increase traffic to your website
You can design your website to look and function as needed
Easier to establish a relationship with your target audience
Cons
Every aspect of management, including security and backup, is your responsibility.
You will also need to promote the blog yourself.
Unlike blogging platforms, you will need to take care of the SEO
When designing your website, hiring a website builder to custom code it for you is always recommended if your budget allows it. This way, you can have all the features you need for content and SEO. Plus, they are incomparable in terms of competition, speed and performance.
These are some of the most popular blogging platforms you can use to start a blog. Each blog will have a different domain or subdomain depending on the platform, but a business creating a blog on its website will use its own domain.
These terms might sound confusing to a person without technical knowledge, so let's first understand what a domain and subdomain are.
Sub Domain Vs. Top-Level Domain
Before distinguishing between a subdomain and a top-level domain, it is important to understand what a domain is and its components.
What Is A Domain?
A domain is a unique internet address of a website and is composed of three parts: a top-level domain, a domain name, and an optional subdomain. Combining a top-level domain and the domain name is a root domain. And the first part of the website address that starts with HTTP:// is known as the protocol.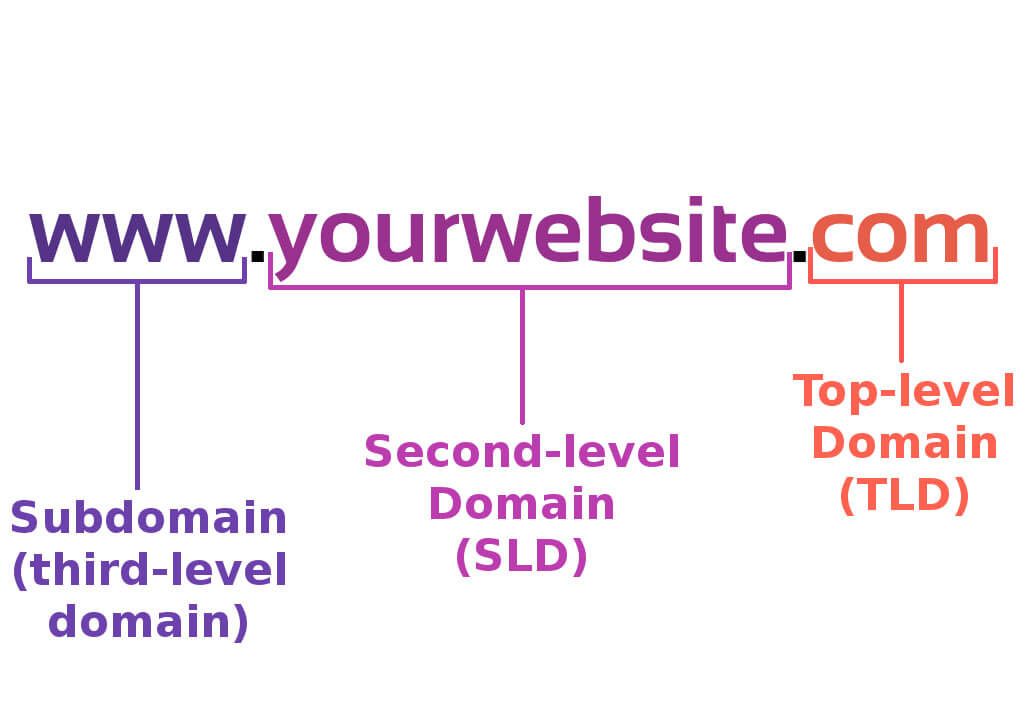 The Top-Level Domain
The suffix at the end of a domain name is the top-level domain (TLD). The most common top-level domains include .com, .net, .org, and .edu. There are over 1,000 TLDs that website builders can choose from, associated with specific things or even countries. Country-specific TLDs are country-code top-level domains or ccTLDs, while blogs generally use the .blog TLD.
The Domain Name
After the TLD comes to the domain name, which occupies the second level in a domain's hierarchy, the domain names for a particular TLD identify the location of a website and can be purchased from domain registrars. Keywords in domain names can also be a ranking factor for search engines.
The Root Domain
The root domain combines the unique domain name and top-level domain, forming a complete website address. It is the highest page in the website hierarchy, from which subdomains and individual pages are built. However, each page must include the same root domain to be part of the website.
The Subdomain
The third level in a domain's hierarchy is the subdomain, which is also a part of the top-level domain. Subdomains are included at the front of the root domain and separated from the domain name by a period. Web admins can use subdomains under any root domain they choose, with the most common example of subdomains being www, but many sites do not even use a subdomain.
Difference Between a Subdomain And A Top-Level Domain
Companies generally use a subdomain when they employ entirely different mobile websites than the regular one. However, the top-level domain of the mobile website does not need to be different from the standard desktop site.
A subdomain can also be useful when a company operates a platform allowing users to launch their websites and platforms, such as WordPress. You can also use subdomains for landing pages or other website sections that can stand independently, such as a blog or online store.
For blogging purposes, various platforms often offer different subdomains. Blogger, for instance, provides a subdomain, such as example.blogspot.com, and even allows custom subdomains through third parties. In all cases, the top-level blog domain generally remains the same as .blog.
These are the main differences between a top-level domain and a sub-domain. However, the domain is only the address of your blog, while the essential part of any blog is the content. But try to match your blog name with something similar to the content. So, let's look at how to write the most impactful content for a business blog.
How To Write Blog Articles
1. Selecting A Topic That Is Related To Your Business
Selecting a topic is necessary before you can start writing. Several topics can provide good content for your blog but should relate to the business field.
For instance, a company that sells CRM to small and medium businesses can write about the importance of using a single software for coordinating activities like marketing, sales, and service.
In the case of a newly published blog, it is important to write and publish content that helps build credibility. Before you can help people accomplish some objective, your business must prove that it is a leader in its respective field. That's why it is best to avoid articles that start with "How to?" initially.
Topic brainstorming sessions can help the business develop a good topic and cluster for the blog. Reviewing used topics can also help create new ones by using various techniques like changing the time frame and scope and targeting a new audience.
2. Target A Low Volume Keyword
Low-search volume keywords are less competitive and can benefit your blog's ranking. To identify such keywords, conduct keyword research or a traditional brainstorming session. Conducting keyword research can help you identify how many people are searching for that particular topic.
For that purpose, the first step is to identify the general topic for your blog. Several powerful tools are available to make this process easier, such as Ahrefs, Moz, Ubersuggest, and Wordtracker. Such tools provide a list of keywords relating to the topic, allowing you to select one with a lower search volume easily.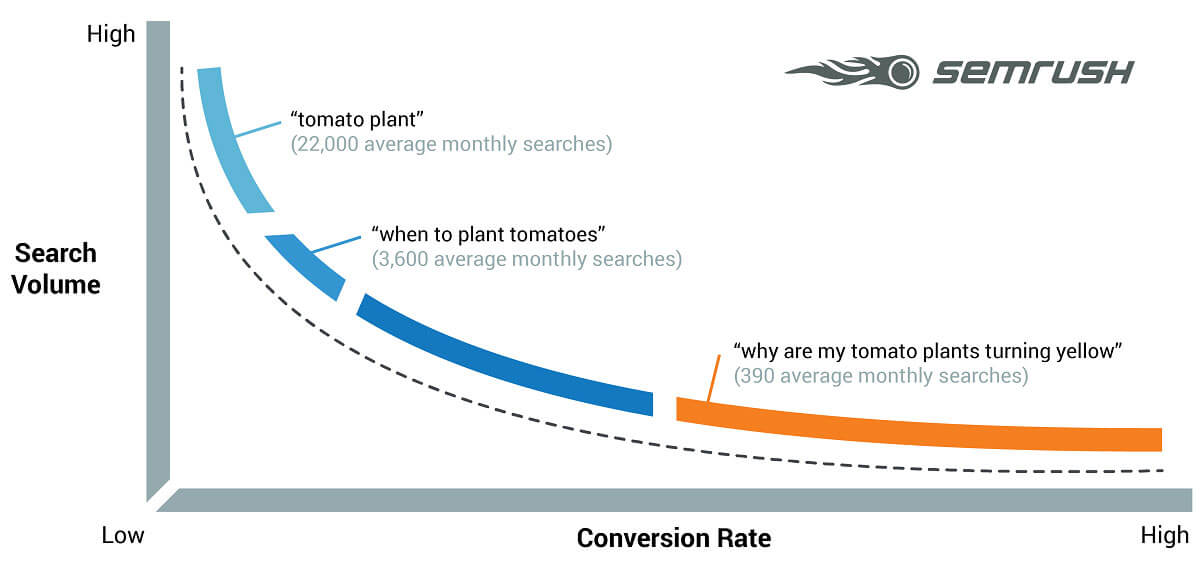 3. Learn About The Topic
Before writing, it is imperative to understand exactly what the audience needs. When starting a blog, you should ideally target a specific need, so make sure to check consumers' search intent. A simple keyword, such as plumbing, can lead to several articles ranging from tutorials to plumbing products.
The presence of other blogs and articles on that topic can also indicate that you are on the right track. But in the beginning, try to avoid topics on which major publications have already published articles.
4. Finding Terms And Questions Relating To The Topic
Two powerful tools can help in providing information relating to the topic. The first is Google, which can quickly help your business find related questions in the "People also ask" and "People also search for" sections.
Similarly, Answer the Public is another tool that lists all popular questions people ask about a specific topic. You can use these tools to address related topics in blog posts and new blog post ideas.
5. Deciding On A Working Title And Creating An Outline
Starting with multiple working titles can be a good idea, as these titles can help determine the direction of the blog post. Even if the working blog title does not end up as the final blog post title, it can help focus on a particular aspect of the topic.
In some cases, blog posts might contain a tremendous amount of information and cause readers to feel overwhelmed. This information must be organised meaningfully by using different sections, tips, and lists to prevent that from happening. The sections can then be subdivided into multiple subsections using headers.
You can also find several pre-built, ready-to-use templates for creating the outline, which can help save some time.
6. Writing An Attention-Grabbing Introduction
As mentioned, the introduction is the most important part of the blog post and decides whether the reader will read the entire post. If the reader loses interest in the first few paragraphs, they will stop reading and move on to something more engaging.
To generate and retain interest, you can use the first paragraph to tell a joke, share a story, or include an interesting fact. Following this, you can describe the purpose of the blog post and how it can be of value to the reader. If the readers feel the blog can help improve their lives, they are more likely to go through the entire post.
7. Building Various Sections Of The Outline
After creating the outline, it is time to write the content. Expand on the points mentioned in the outline and include relevant facts, details, and statistics with proper attribution to the sources. Make sure to conduct appropriate research and acquire as much information as possible with a reasonable investment of time and resources.
You can also use tools that make writing easier, such as Word Thesaurus, Cliche Finder, and ZenPen.
8. Find Relevant Images Or Graphics
You should always include relevant images and graphics regardless of your blog topic. You can either use free stock images or take your own. Just make sure they are optimised properly and fit your content.
9. Publishing And Promoting The Post
A newly published blog will likely not have followers, so your business will require a promotion strategy. With an excellent promotional strategy, providing access to your blog posts to the target audience becomes easier and more impactful. This strategy will help you create, post, and engage with social media content using various digital technologies.
Besides writing blog posts, editing them is essential to ensure they are up-to-date and visible in search engines. Any business blog that wants to stay relevant following the changing times must be updated frequently.
Editing Existing Blog Articles
Whether personal, business, or niche, bloggers must know how to edit blog articles properly. Editing will ensure your articles are polished and meet the highest professional standards. It is the most cost-efficient way of ensuring quality, so these steps will help you learn how to edit an already-existing blog post.
1. Condensing And Clarifying The Article
The primary objective of editing a blog post is to ensure that the article effectively conveys the desired information to the target audience. That is why you should always avoid redundant matters and irrelevant content.
Also, ensure any professional jargon is replaced by more easily understood language or explained clearly. Creating a glossary page can be beneficial for blog posts containing many technical terms.
All links and researched material should be double-checked for authenticity, as non-working links or incorrect facts can harm the business's reputation. Hence, this is the first step in the editing process, as rectifying the SEO and grammar of the article may not be enough if the content itself is incorrect.
2. Proofreading
The main objective of proofreading is to eliminate any grammar and spelling errors from the content. Generally, the article should follow established rules, though sometimes it is possible to circumvent such rules if you're going for a more conversational tone.
However, this should be undertaken with great caution while ensuring that the article reads correctly. You can use tools, such as Grammarly, and resources, such as the Grammar Girl Podcast, to ensure proper grammar and spelling.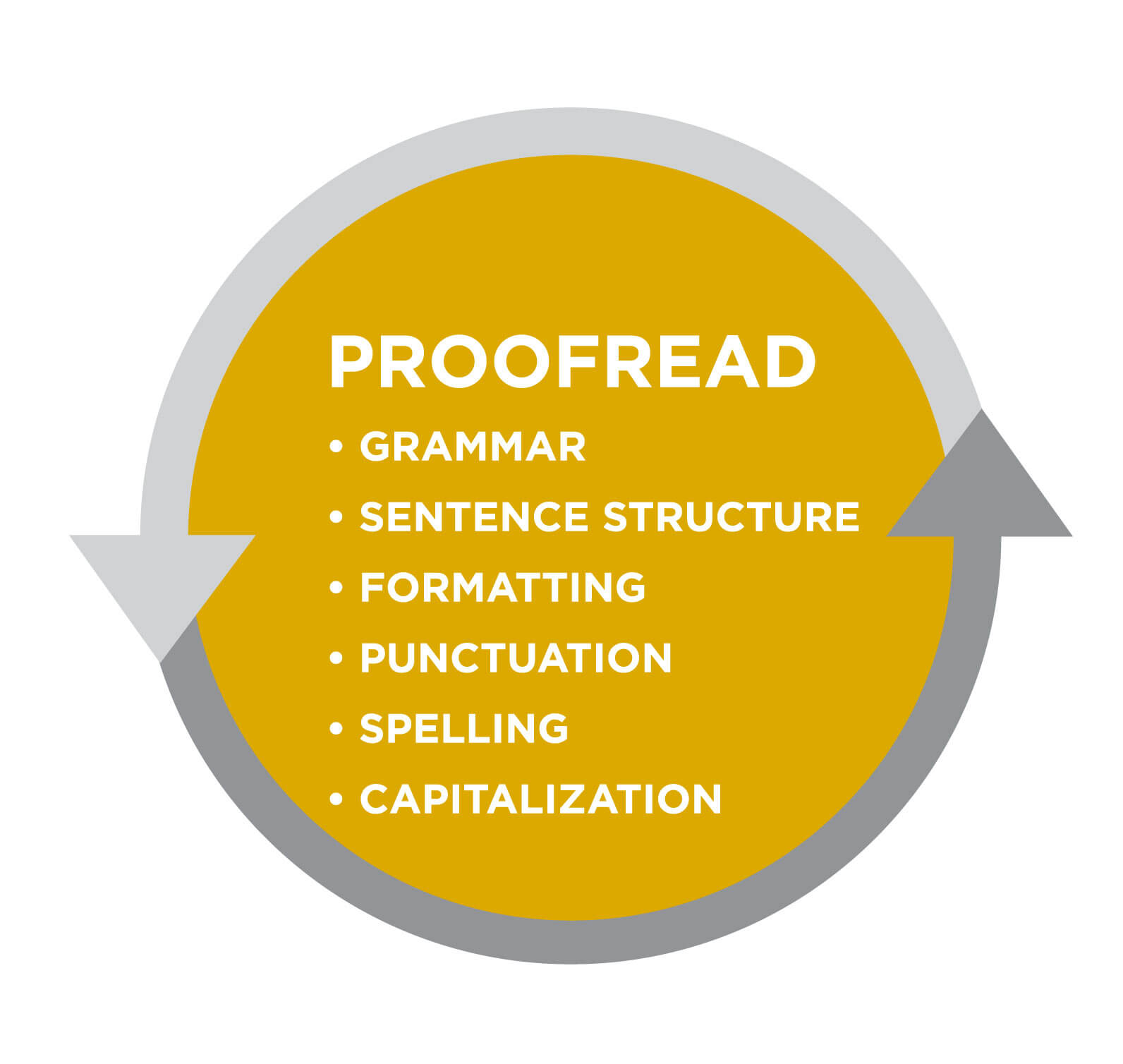 3. Optimising For SEO And Previewing The Post
Once the business blog becomes readable, it is time to edit the SEO. Plugins such as Yoast SEO can simplify this process, helping you assess the readability and SEO in real time. Do keyword research properly, especially for long-tail keywords, which will help increase the blog's organic traffic.
Once you've optimised the article for SEO, preview the post in the admin panel before publishing it. You will have one last chance to view and correct any remaining errors.
Even after the post is published, blogging is not the end. It is essential to know how the post performs by monitoring various metrics, such as traffic sources, blog visits, etc. Tools such as Google Analytics and Search Console can help monitor these aspects, and we're now going to learn how to use them.
Setting Up Google Search Console And Google Analytics
It is common knowledge that SEO is the most effective and effortless technique for increasing traffic to any website. And while there are several SEO tools, Google Search Console is among the most powerful and is completely free to use.
Google Search Console provides a user-friendly way of tracking and troubleshooting issues regarding the appearance of your website in Google Search results. It can be useful in knowing how often your blog appears in search results and which pages are most popular. But first, you will need to add your website to the console.
1. Adding Your Blog To The Google Search Console
The first step is to sign in to GSC, asking you to add a property. The console can also be accessed directly from your website, so make sure you add the necessary variations.
Every variation will require verification, for which you need to select the HTML tab, copy the code, and paste it into the Google Verification Code section.
You must also paste this code into the Yoast SEO Plugin in the Webmaster Tools section. In the search console, click the Save Changes button. Make sure you do this for all variations of the website. If the process is successful, Google will start collecting data for your website immediately.
2. Adding Your Sitemap To Google Search Console
You can use Google Search Console in conjunction with Analytics to provide accurate and up-to-date information regarding various metrics for the blog.
Click on the drop-down list on the home page of GSC and select the URL of your blog. Then, click on the Sitemaps button in the left-hand corner. A text box will appear preceded by the URL of the website, into which you will need to enter sitemap_index.xml.
Click on the Submit button and refresh the page, after which the sitemap will become available for use. Repeat these steps for each variation of the blogging website.
3. Setting Up Google Analytics
Your Analytics account provides information, such as who visits your blog, the number of visits periodically, demographics, etc. And just like the Google Search Console, using Analytics is free.
To install this plugin, first, you will need to sign up for GA4 using your Google account. After logging in, click the Admin link and provide the required information.
You will also need to select the necessary options to get a tracking ID, following which install the Analytics for WordPress plugin and activate it. Once activated, go to Google's Analytics option in the plugin settings and enter your tracking ID.
4. Monitoring The Statistics
Google Analytics can take time to start functioning optimally, so you might not get much data in the first 24 hours. Go to the Behaviour tab and then Site Content to view blog posts. Click on All Pages to view every post, and use the advanced button to filter non-blog pages.
With the Search Console and Analytics in place, you are now ready to start monitoring the blog's performance. However, since these powerful tools offer lots of data, it is essential to know how to track performance effectively.
Tips For Monitoring Metrics
Once you start posting, the most crucial metrics for a blog that determine its success or failure are key performance indicators or KPIs. Proper monitoring and tracking of KPIs can help a business take timely action to ensure its blogging strategy is successful. Here are some tips for measuring KPIs for new blog posts: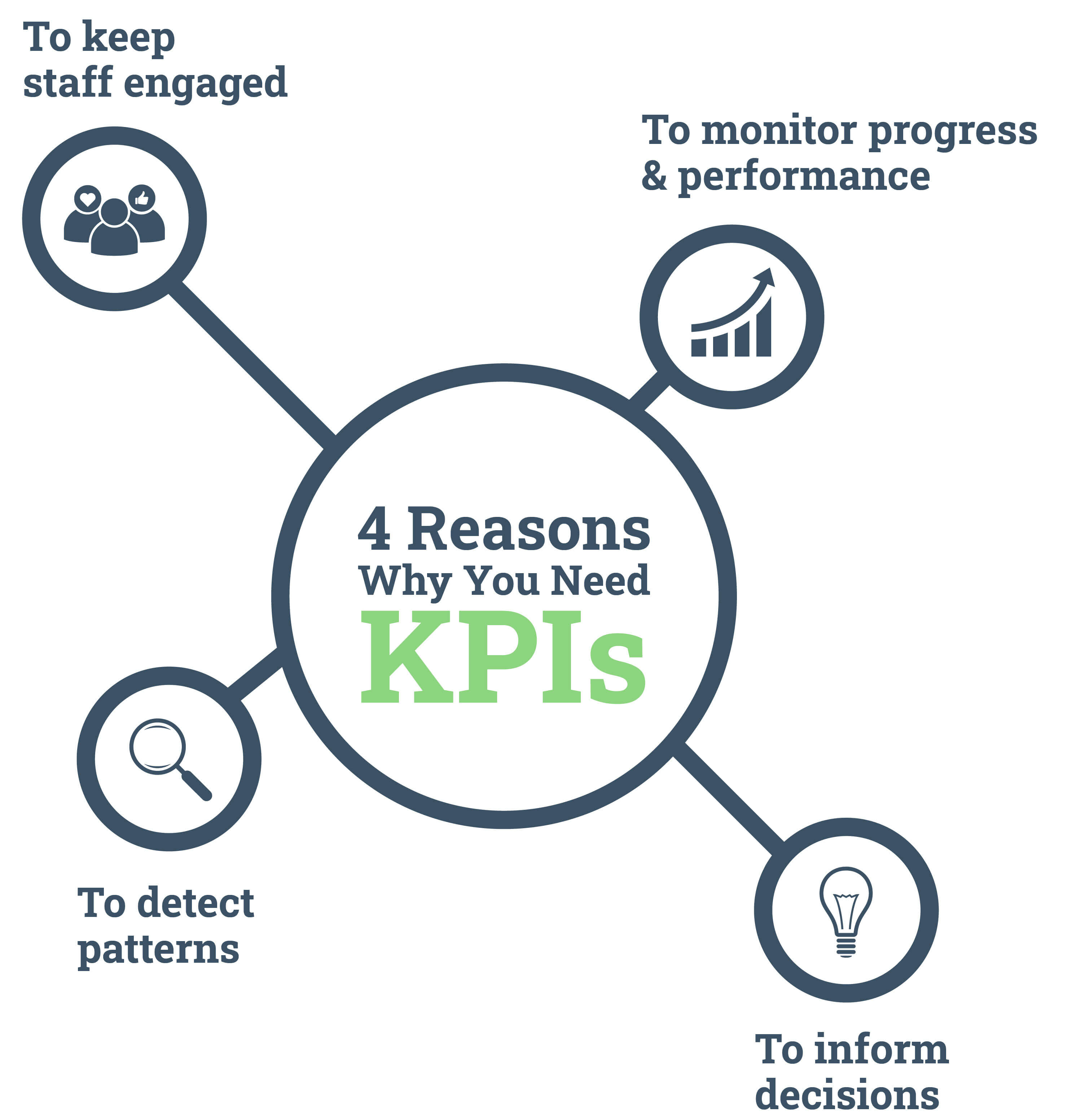 1. Traffic
Comparing the number of visitors at different intervals can indicate the progress of your blog. A blog's traffic is a crucial indicator of its performance; the more traffic, the better the performance. Some tools also allow monitoring of the traffic on individual blog posts, which helps determine which ones are performing better.
2. Lead Generation
A larger amount of traffic also makes collecting leads easier, promoting quicker growth for your business. Call-to-actions can be used on specific blog posts to convert visitors into contacts, but make sure to track the visitors converted into leads.
3. Blog Subscribers
People who find your content interesting tend to become subscribers to the blog, and the number of subscribers is another KPI to monitor carefully. While all subscribers may not remain subscribed forever, your business should try to retain them for as long as possible.
4. Social Media Shares
Your business needs to get as much exposure for its blog posts as possible to run a successful blogging campaign, for which social media can be an effective tool. Articles shared across these platforms indicate the type of content the target audience is interested in.
Your social media accounts are powerful platforms that can keep your blog content alive for a significant period. You should optimise the content for such platforms with a snippet and a featured image.
5. Backlinks
Backlinks or inbound links are incoming hyperlinks from one website to another and indicate to search engines that your blog has content that viewers find valuable. A blog with a significant number of backlinks can effectively use SEO and quickly improve its search engine rankings. So, use tools like Moz and Ahrefs for tracking and finding new backlinks.
6. Average Length of Stay
Another essential metric you should pay close attention to is the average duration of the visit of various visitors to the website. With shrinking attention spans, it is becoming ever more difficult for new bloggers to retain their readers' attention with shrinking attention spans, especially for longer blog posts.
The length of the stay indicates how much value a reader gets from your blog. An effective way to increase the duration is to ensure that your blog posts are easily read and have an attractive design. You can also make use of images and quotations.
7. Page Views Per Visit
Blog posts help promote better engagement and awareness regarding your brand. And page views per visit can help you gauge how successful the blog is at encouraging various interactions.
The more pages a blog reader visits on your website, the greater the chances they find something valuable there. Eventually, this will increase brand recognition and conversions. Use embedded links in blog posts to bring the readers to related articles.
How To Promote The Blog
Keeping track of various metrics with these tips can help guide your blogging strategy. But for them to be truly effective, it is essential to put in the effort to promote the blog so that it can reach a wider audience. You can promote a blog in many ways, so let's look at some of them.
1. Repurposing The Content
Repurposing the content means modifying it into other content types and requires a complete view of what each blog post offers to the audience. Doing this can improve the engagement rate as well as increase blog traffic. For instance, a blog post can be turned into an infographic, a presentation, a podcast, or a video.
2. Building Links To The Blog
For improving the website ranking in search results, link building is essential and part of an effective long-term SEO strategy. There are several ways to create backlinks that you can use for this purpose, such as by publishing content on popular topics or using outbound links to form partnerships.
3. Creating A UTM Link To Track Marketing Campaigns
UTM links add some code to the end of blog post URLs, making tracking and monitoring them easy using Google Analytics. Using these tools together can provide detailed information regarding which content is driving traffic to your blog.
4. Sharing The Blog On Social Media
Take time, cultivate a solid social media following, and avoid regularly posting swipe-up links to the content. Instead, use engaging posts to create a diverse social media calendar and have specific timeframes for driving traffic to particular posts.
5. Answering Questions On Forums
Platforms such as Reddit and Quora can help a business engage with people interested in topics related to the blog article. You can use them to answer questions and share information relating to the blog niche.
6. Guest Blog Posts On Popular Blogs
Writing guest blog posts involves reaching out to similar blogs and pitching ideas for them to publish on their blog. Doing so provides good quality content to the blog while helping create backlinks for your business.
These are only a few of how you can promote your blog. But apart from promoting the entire blog, you will need to promote the articles themselves for more effective results.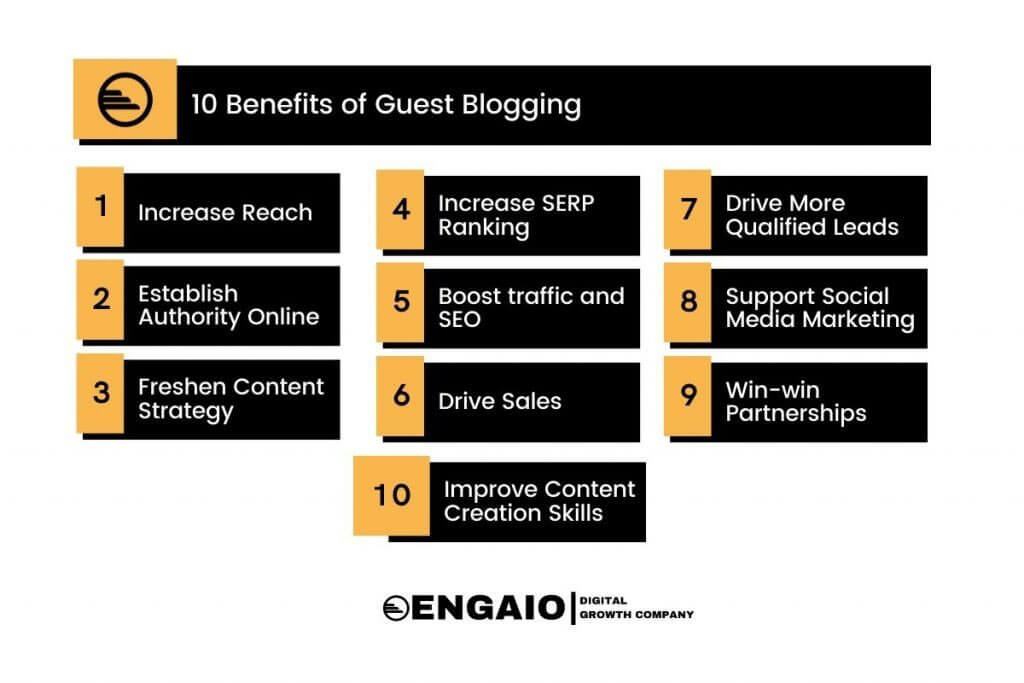 How To Promote Articles
1. Promoting The Articles On Social Media Channels
Social media is an invaluable tool for promotion, and you can use various social media platforms to promote the articles and the blog. What makes social media so effective is that it allows building connections and expand the presence of your business online.
2. Creating An Email Mailing List Or A Newsletter
Creating a newsletter can help you connect with your target audience and build a relationship with them by informing them about new content and other updates on the blog. Also, make sure to allow and respond to comments to keep the readers engaged.
3. Sharing Email Links To Interested Individuals
Email links can be another effective way of connecting with those interested in your blog. For business blogs, you can share links to particular topics of interest with individuals who want to know about that topic and ask for input.
4. Directly Messaging Influencers
Platforms like LinkedIn can help you build connections with influencers and even reach their inbox. It is possible to persuade influencers to read and share your content by using this method. And since reputed individuals will share the content, the chances of more people reading it are higher.
5. Submitting To Content Communities
Many websites encourage submitting content that is then accessible to their audience. While the competition can be pretty intense on these sites, having quality content can help you get a good exposure.
There are many ways to promote your article, but these are the most effective ones for blogging. Some other tips and tricks can be used as part of your business blogging strategy to get the desired results, so let's look at some of them.
Tips And Tricks
1. Get Ideas From The Target Audience
Coming up with topics that people might find engaging can often be challenging, but one of the ways to simplify the process is to get ideas from the audience. Comments and posts from your target audience on various forums can help you understand what topics they might be interested in. And creating content on such topics can be very helpful for growing the blog.
2. Prioritise Long Tail Keywords
While using normal keywords for the SEO strategy worked well in the past, that is not the case anymore. Ranking specific keywords is becoming harder by the day, so your business should focus on standard terms that appear along with the main keyword in the content.
3. Changing The Blog Theme Occasionally
Writing on similar themes and topics can become a bit monotonous after some time. That's why it is good to shake up the WordPress theme by posting fun and entertaining content once in a while. It can also revive the readers' interest and make them more active.
4. Making Proper Use Of Visual Content
As your blog grows, visual content can be much more powerful than text and help you get more shares for the content. The best blog posts contain featured photos, infographics, graphs, and charts. You can also use several pre-built templates and free themes to make a post visually appealing. Additionally, you can use videos well since they are also beneficial for SEO.
5. Hosting Giveaways
Business blogs can run different contests, offering discounts and giveaways. The audience will remain active and interested, motivating them to share such contests on other platforms. So, businesses can combine these techniques with others to take advantage of all the benefits blogging offers.
The Advantages Of Blogging For Business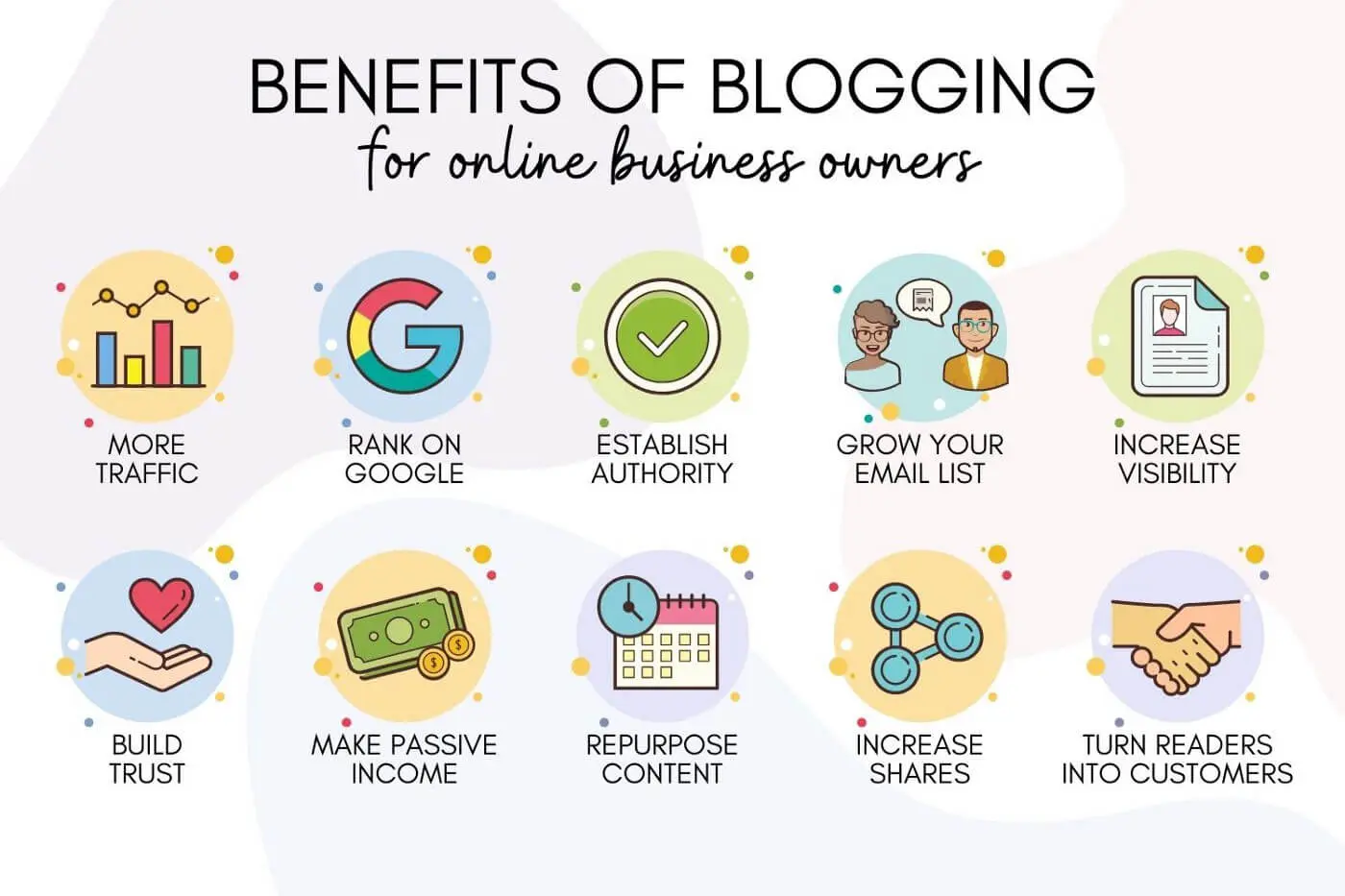 1. Increasing Traffic To The Website
A search engine such as Google, or other search engines, indexes the contents of pages and websites based on their uniqueness. In other words, websites with newer content appear in users' search results first.
Business websites generally do not have many pages, and in most cases, they are not updated very often. Such websites might not appear on top of users' search results. In such cases, blogging can provide the perfect solution as every newly published blog helps create a new indexed page, helping the website appear higher in the search results.
2. The Blog Content Can Be Used On Social Media
Another advantage of blogs is sharing free blog content on social media platforms like LinkedIn, Twitter, and Facebook. It helps you increase your audience by increasing the business's brand value.
Additionally, using the content from your blog can help reduce the time and effort you would otherwise consume in creating new content for social media platforms. It can help increase the reach of the business more effectively.
3. Converting Traffic Into Leads
A website with traffic can use blog posts to convert that traffic into leads. You can use each new post to generate new leads by using a call-to-action. To motivate people to act, you can tie such call-to-actions to rewards like free trials, eBooks, webinars, etc.
Website visitors are often willing to provide information in exchange for such rewards. The call to action button can take visitors to a landing page where they can fill up a form to receive rewards. Remember that not all blog readers can be converted using this technique.

4. Improving Long-Term Results
Successful business blogs often try to provide visitors with answers to the most frequently asked questions. Creating valuable content on specific topics visitors would like to spend time on can help a business build its reputation as an authority on such subjects. And blogs make it easy to clear doubts and provide information to the target audience.
Additionally, well-researched blog content can help build trust in the minds of prospective customers regarding your brand. It also helps employees use that information to deal with customer queries more effectively.
5. Better Link Building
Search results pages on Google are ranked according to several factors, with backlinks or inbound links playing a significant role. Backlinks are also crucial in search engine optimisation (SEO) efforts, but even more important is link building.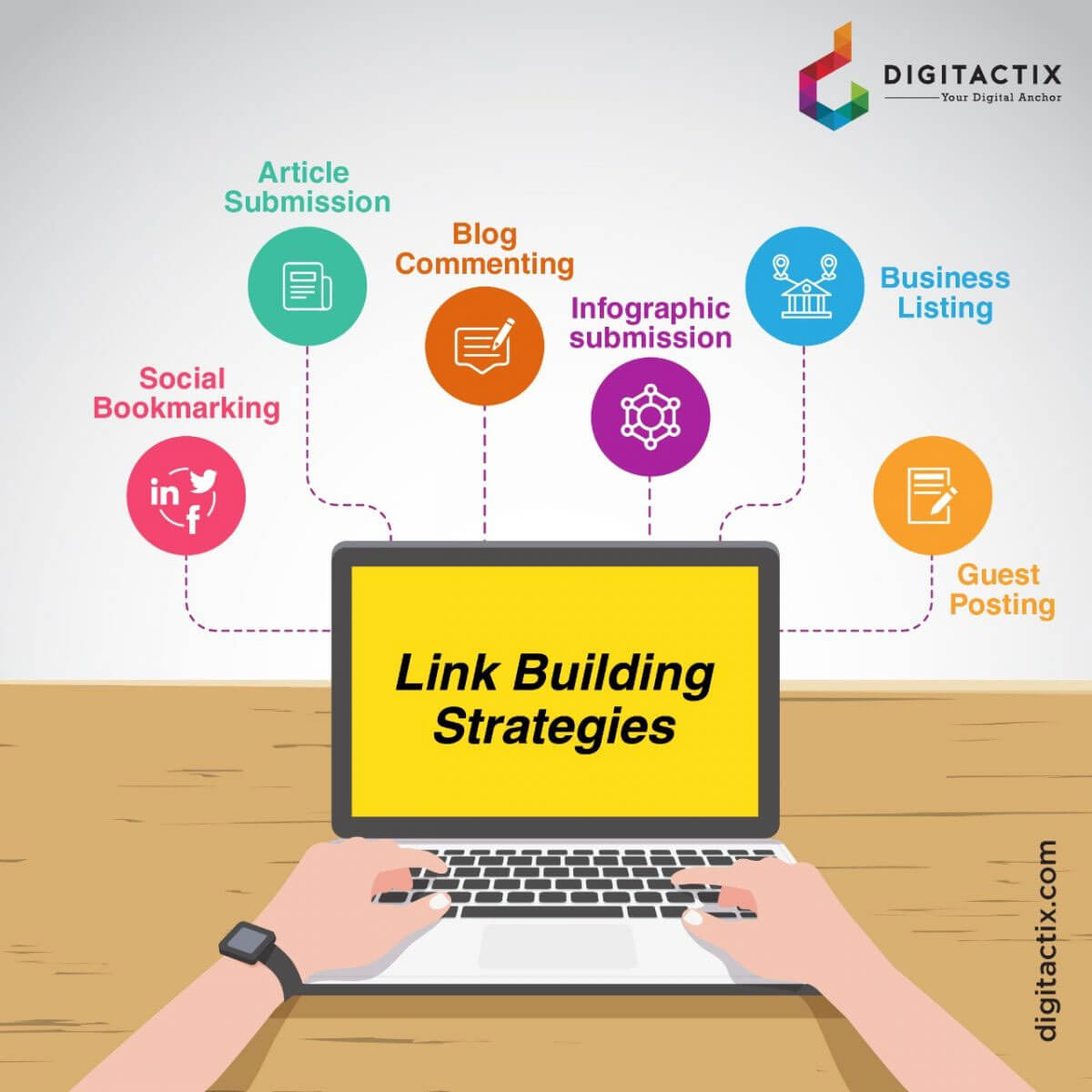 Using backlinks in blogs can help your business build its domain authority, helping improve its visibility in search engines. You can gain essential links to authoritative websites, indicating your brand's popularity among other businesses. Additionally, it signals to Google that your business is an industry expert.
6. Helping Share Relevant Information
One of the most popular uses of blogs is to share information and news regarding the business. Besides containing articles on various subjects, companies can keep their stakeholders updated on different aspects. These can include new hires, interviews with various industry experts, or even announcements regarding trade fairs.
Besides providing the information most effectively, blogs can help portray a more human side of your business.
7. An Effective Communication Platform
Every business has multiple official channels for communication, such as its email address and contact number. On the other hand, a blog can serve as a less formal platform for communicating with various parties, including clients and customers. It acts as a more interactive platform where customers can provide their thoughts and feedback regarding various business activities.
The effectiveness of a blog for communication lies in the fact that it helps create a direct link between the business and its clients without affecting its regular functioning.
8. Useful For Creating An Email Database
Email marketing is an effective strategy, but getting website visitors to provide their email addresses is not always easy. Providing relevant and engaging content through a blog will make your business more credible to website visitors. It can make them much more willing to share their email addresses for receiving newsletters from the business.
Your business can even include internal links in blogs and newsletters to encourage visitors to sign up and get updates about the company, new products, and more.
9. Improving SEO
SEO, or Search Engine Optimisation, is the technique of improving a website to increase its visibility in search engine result pages (SERPs). But using keywords that the target audience is searching for can only be effective to a certain extent for the business website.
On the other hand, blogs provide opportunities to create informative and engaging pages while making the best use of keywords. Your business blog with original content can make visitors stay on the page longer, indicating to Google that the content is relevant for users when using specific keywords.
Writing Your First Blog Post
It's time to start blogging!
Any business that wants to impact in the current era has to use various technological tools effectively. Starting a blog is among the most powerful tools and can help you grow your business quickly by helping create lasting relationships between companies and customers.
While starting a blog is not difficult, it requires effort and time to ensure it performs correctly and delivers the desired results. And the best part is that blogging allows for measuring the performance and results of the business or website for timely course correction and adjustments. That's why almost any business can use blogging for growth and expansion.
Ensure you understand which CMS you wish to use for your blog. If you decide to install WordPress, familiarise yourself with the WordPress dashboard, and select a WordPress theme appropriate to your business, logo, and target audience.
In the blogging world, every successful blog article takes time and effort. Make sure you have a blog name, have searched for other bloggers in your niche, and have carried out keyword research before you start your blog.
You are not alone in your blogging journey. Especially for small businesses, it is nearly impossible to find enough time to conduct proper research, build your blogging platform, and write relevant, engaging articles. Our team at sitecentre® specialises in helping small businesses grow their content marketing and SEO strategies. Our team of experienced and professional in-house writers can tailor content to your business and brand. So, if you need assistance, please get in touch with us!
We hope this extensive guide has helped you learn how to start a blog for your business.