Content is one of the most significant things all your marketing channels share. Each needs it to breed success.
A huge part of your content yielding results and, in turn, fueling successful marketing channels is ensuring that content is seen and consistently engaged with. That's where search engine optimisation (SEO) comes into play.
SEO is a core component of your overall content marketing strategy. Let's dig into SEO's impact on content marketing.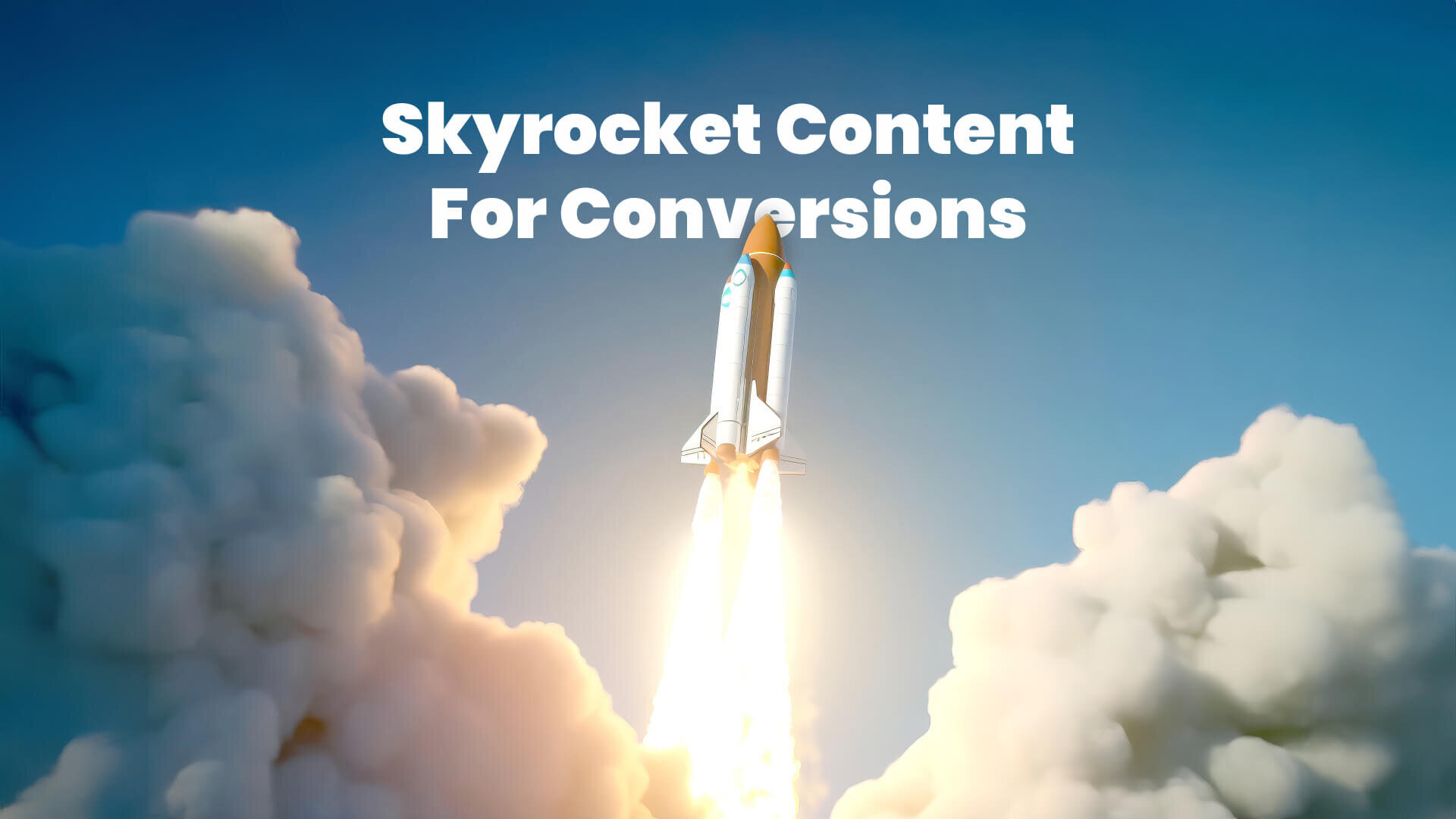 SEO's Impact on Content Marketing
You're trying to increase conversions. To make that happen, you need people to get to know your brand and business offerings. This is content marketing's goal. To help people get to know your business, products, and services through content.
SEO refers to the process of improving a website and piece of content to rank higher on search engine results pages (SERPs). The goal is for your content to show up on the first page of SERPs, thus improving your online visibility and organic traffic.
Suppose the goal of SEO is to make your content and business more visible, and content marketing is supposed to leverage content to help people get to know your brand and business offerings. In that case, they have to work hand-in-hand for either to be an effective strategy.
You create quality content in your content marketing strategy and then use SEO to make it visible to your target audience.
The better your content is, the more successful your SEO efforts will be. And the better your SEO strategy is, the more people will see your content and form relationships with your business.
Ramping up your SEO content strategy is wise if you want real results from your overarching content marketing plan.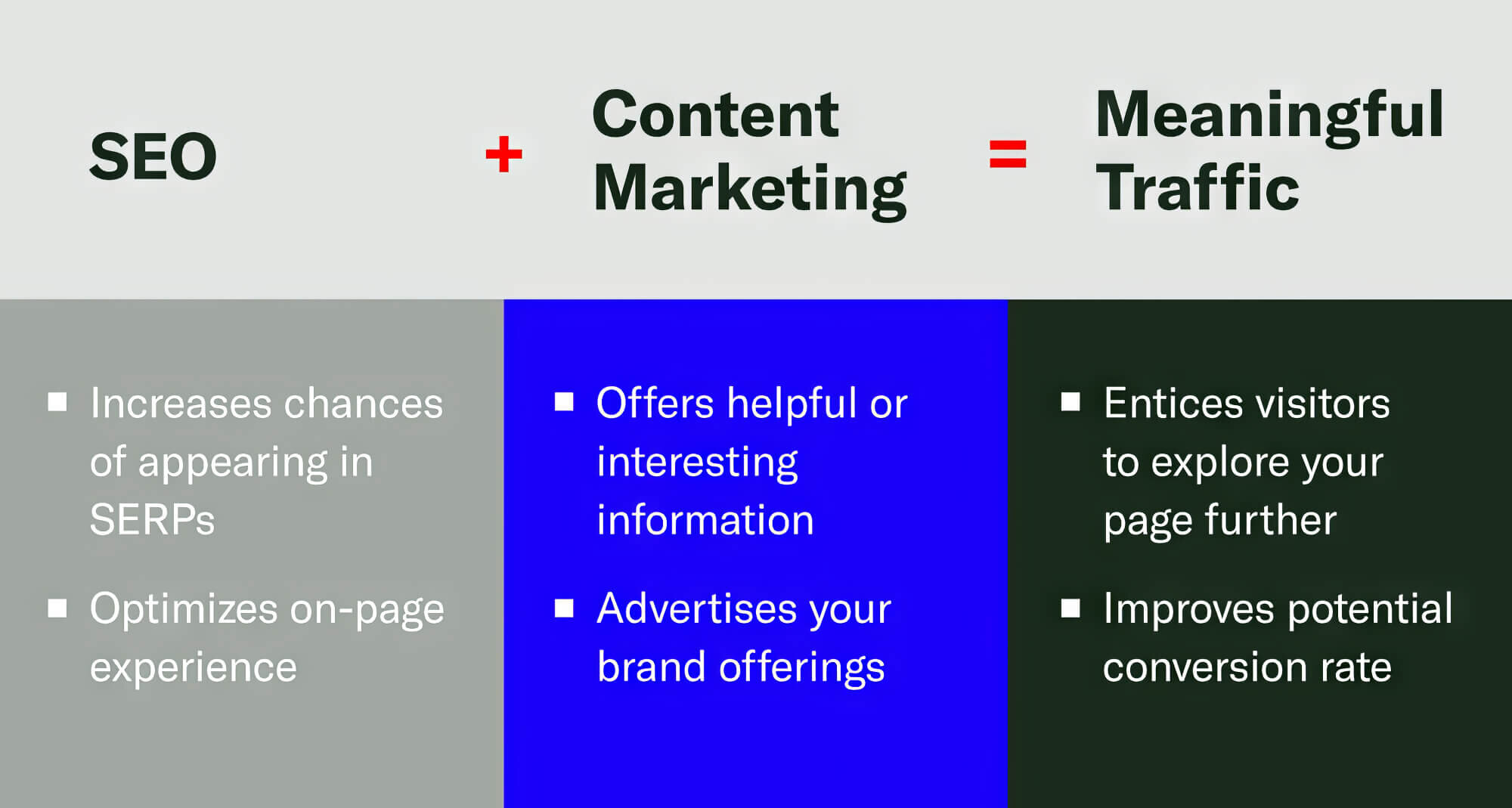 Start With SEO Content Strategy Goals
For your SEO strategy to generate results and inspire conversions, you must first determine precisely what results and conversions you're trying to get.
What exactly do you want to achieve with your SEO content? Common SEO content goals include:
Boosting organic traffic
Attracting quality leads
Improving your backlink profile
Providing a better user experience
Strengthening your brand reputation
Keep in mind that you may have different goals for different SEO-focused content. For example, the goal of your blog posts may be to increase organic traffic to your website. But you may create landing pages to attract quality leads.
In addition to your goals, determine how you'll measure progress. This is best done by attaching metrics to every goal. The metrics you use depend on the goal. For example, you can track organic search traffic specifically. You can also track organic conversions to see if you're getting leads from organic traffic.
Defining overall and individual goals for SEO content is the best way. Be sure to document them physically or digitally and ensure they're accessible to everyone on your team.
Once you establish your goals and the details of your strategy, it's a good idea to brush up on the three main components of SEO. Here's why.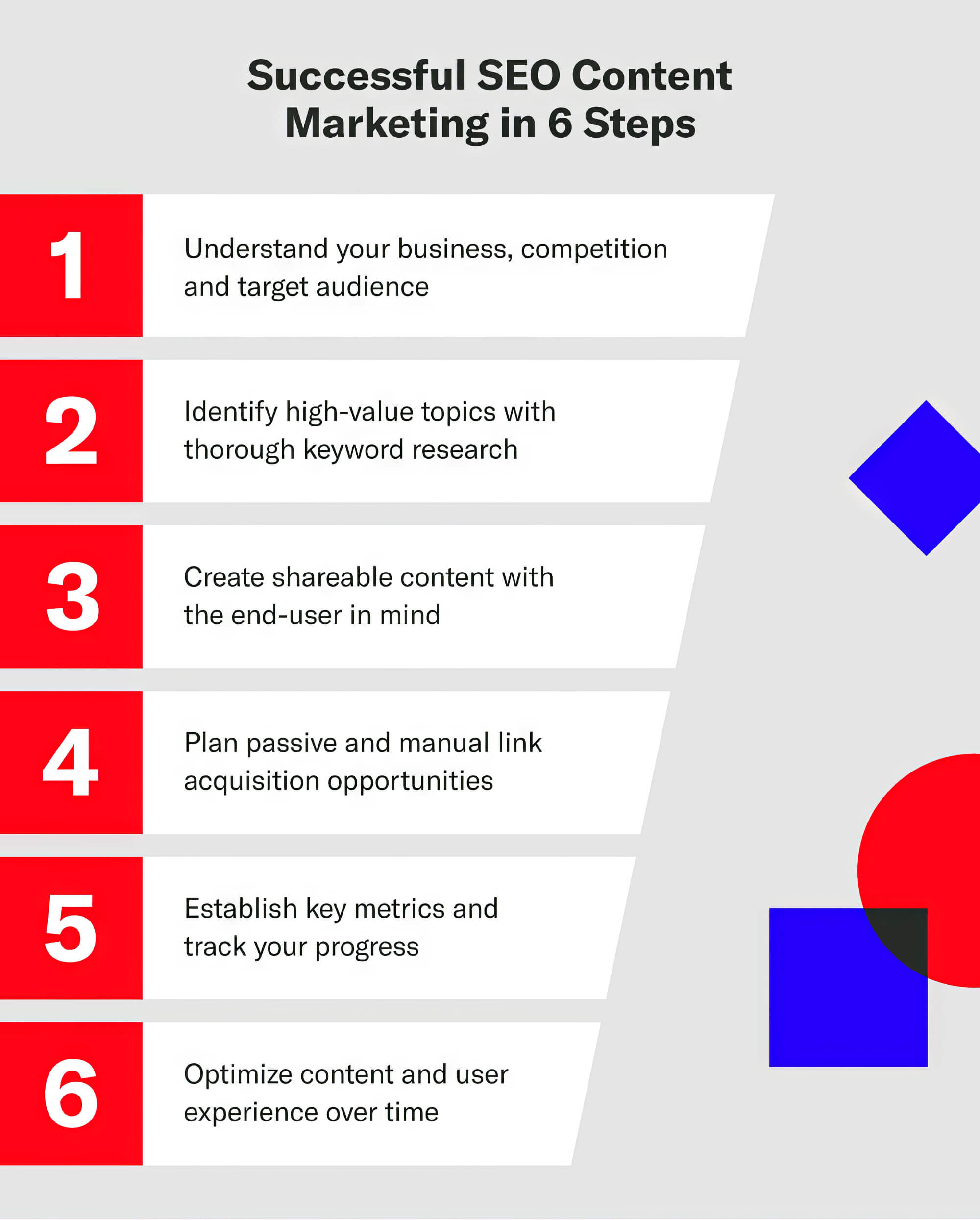 Familiarise Yourself With the Three Main Components of SEO
The three main components of SEO are on-page SEO, off-page SEO, and technical SEO. Familiarising yourself with all three is important because each influences your content creation. Let's delve into how below.
On-page SEO
On-page SEO is everything you do to a site or piece of content to improve the chances of ranking higher on SERPs. These actions include:
Writing valuable content
Optimising images and other media
Incorporating high-quality external links
Optimising meta titles and meta descriptions
Using your target keyword and phrase throughout your content
Producing useful content is a part of on-page SEO best practices. So, it's obvious why understanding at least this part of on-page SEO is critical. Off-page SEO is a little bit different.
Off-page SEO
Off-page SEO is all you do to promote your content and site on third-party platforms. Link-building is one of the most common off-page SEO tactics. You develop relationships with other sites to get them to link to your site and content.
When highly authoritative sites link to your site and content, it helps establish you as a reputable site and brand. Search engines favour highly authoritative sites. So, the more sites you can get to link back to your content, the better.
Other off-page SEO tactics include:
Doing link exchanges
Working with influencers
Getting unlinked brand mentions
Promoting content links on various digital marketing channels
If you aren't creating content that highly authoritative sites want to link to, you can't leverage link building as you should.
You must develop fresh content that includes relevant internal and external links and is accompanied by unique visual elements to have the best chance of getting backlinks from highly authoritative sources. Off-page SEO success, generally, relies on this as well.
Technical SEO
Technical SEO addresses site structure and user experience. The goal is to optimise elements like the following to make your site more enjoyable for people to use and easier for search engines to crawl and index:
Sitemap
HTTP errors
URL structure
Page load time and size
Secure Sockets Layer (SSL) certificate
You must consider web development factors when creating your SEO content. For people to truly enjoy and grasp your content, getting to and through it has to be a positive experience.
This means navigation is simple, content design is visually appealing, and you provide valuable, digestible content with headers, short sentences, and small paragraphs.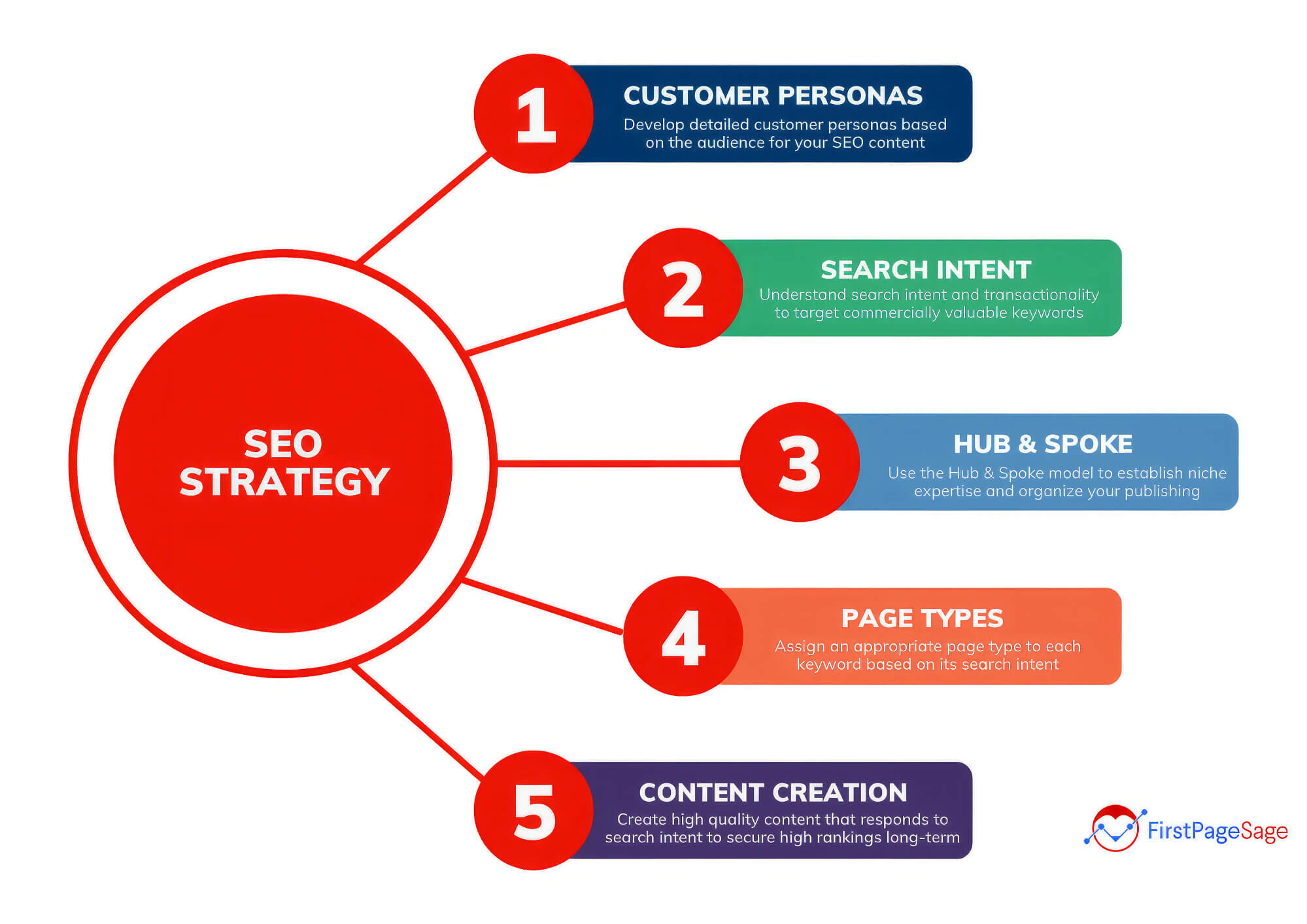 Thorough Research Beforehand Is Key
Aside from analysing the three core components of SEO, you'll need to thoroughly research a couple of other subjects critical to your SEO content strategy's success. You must know the ins and outs of your target audience and what your competitors are doing SEO-wise to create the most effective content.
Target audience
What's the best way for people to read and interact with your SEO content? You must create content that resonates with who they are and how they live. To determine what that content is, you must identify your target audience and research it thoroughly.
Who do you want to read your SEO content? Who are you targeting for your entire SEO strategy? Get as many details about your target audience down, like:
Demographic information: socioeconomic data like education level, income size, and marital status
Psychographic information: insight into their psychological makeup, such as personality traits, spending habits, and pain points
Geographic information: where they work and live
Behavioural data: how they behave in different circumstances and across various platforms
Dig deep into two other topics as well:
Search intent: what are they searching for on search engines generally? What searches are they conducting for the products and services your business offers?
Content interests: what kind of content do they consume the most? What are the most popular topics and formats? Where do they consume their content?
The more you know who your target audience is, how they engage with search engines and their content preferences, the easier it will be to create an effective SEO content strategy for them.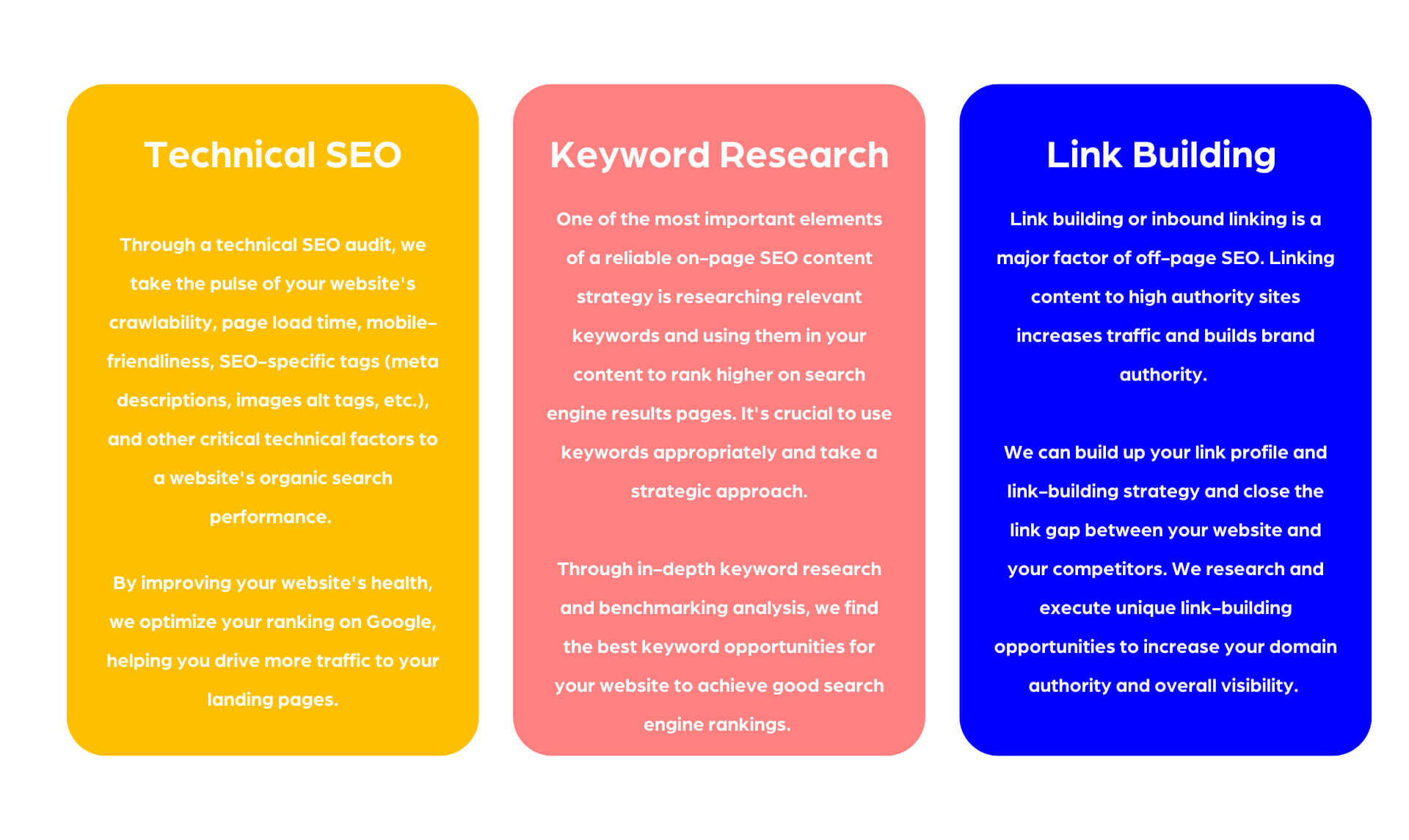 Competition
Your target audience is at the top of your research list. But understanding your competition's SEO strategy is essential as well.
You want to mirror what they're doing right and understand where they fall short. In addition, understanding what they're ranking for will help you identify gaps you can take advantage of.
Explore the following about your top competitors' SEO efforts:
What they're doing well
Which of their topics is getting the most engagement
How long it takes them to rank
How their content compares to yours
Understanding your competition will help you learn ways to outrank them.
Create Quality SEO Content
You've got your goals mapped out. You've done solid research on the core components of SEO, your target audience, and competition. Now, it's time to tackle creating quality SEO content.
Of course, quantity matters in how search engines rank your site and content. If you're constantly publishing high-quality SEO content, your reputation, authority, and ranking go up in the eyes of search engines.
But the key factor is quality. Publishing a bunch of low-quality filler content will get you nowhere with search engines. In fact, it'll work against you, causing your ranking to fall and your reputation.
So, focus on creating quality SEO content. Use these five tips to do it.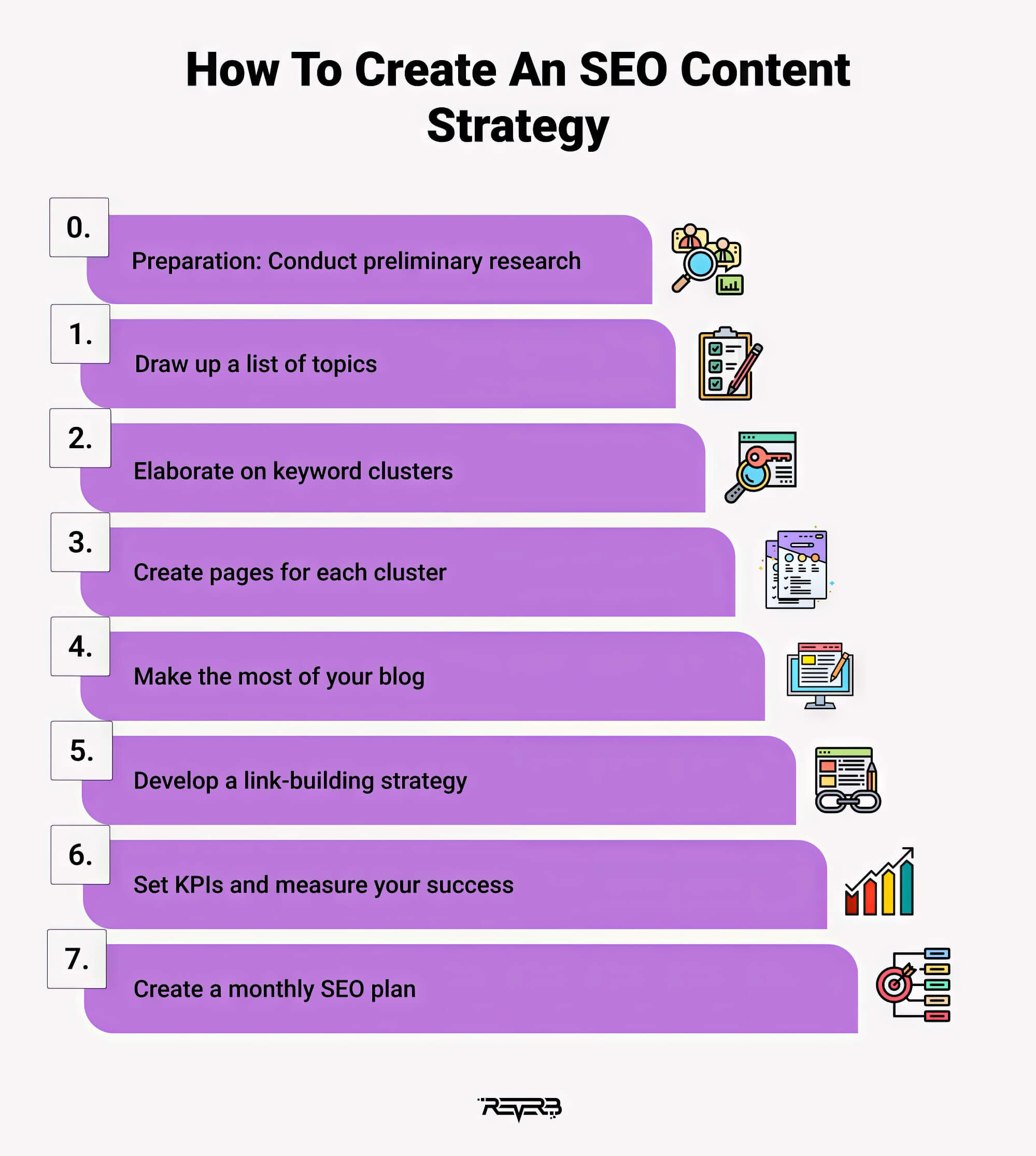 1. Conduct keyword research
Your SEO content strategy practically lives and dies by the keywords and phrases you use in your content. You don't want to choose keywords and phrases that your target audience isn't typing in. You also don't want to choose keywords with a lot of competition.
You must find the sweet spot between your target audience's search intent and the search volume level for specific keywords and phrases.
Many sources say 100-1000 monthly searches are a good search volume to shoot for, as it shows that people are interested in the keyword or phrase.
Regarding your target audience's search intent, they'll type in various keywords and phrases that millions of people do. Although you can use these as part of your SEO content strategy, looking for keywords and phrases with less competition is better.
For example, "How to write a book" gets 10k-100k average monthly searches with medium competition, according to Google's keyword planner.
"How to write" might be better because it gets 1k-10k average monthly searches with low competition. If you want to stick with writing a book specifically, "writing your first book" is a good phrase to target as it gets 100-1k average monthly searches with low-medium competition.
You'll have a good idea of what keywords and phrases to use based on the target audience research you did. Paid and free keyword research tools are also available to help you narrow down the best keywords and phrases for your target audience.
Be sure to organise your keywords and phrases in a central system to ensure you properly track where and when you use them.
2. Prioritise evergreen content
When choosing topics to write about, prioritise evergreen content. Evergreen content is SEO content that stays relevant and offers value long-term. Types of evergreen content include:
FAQs
Tutorials
Testimonials
Whitepapers
"How to" articles
Here are some evergreen content topic examples:
The ultimate car-buying guide
Meaningful Statistics for Businesses
Common mistakes marketers make
A checklist for new business owners
You want to prioritise evergreen content because it opens up long-term organic traffic opportunities. If a piece is created well and covers an ever-evolving topic, people will gravitate to it eventually, no matter how long it's been live.
Consider your keywords and phrases and what your target audience is interested in when coming up with evergreen content topics. Plugging in "evergreen content for (your subject)" to a search engine can help you generate ideas too.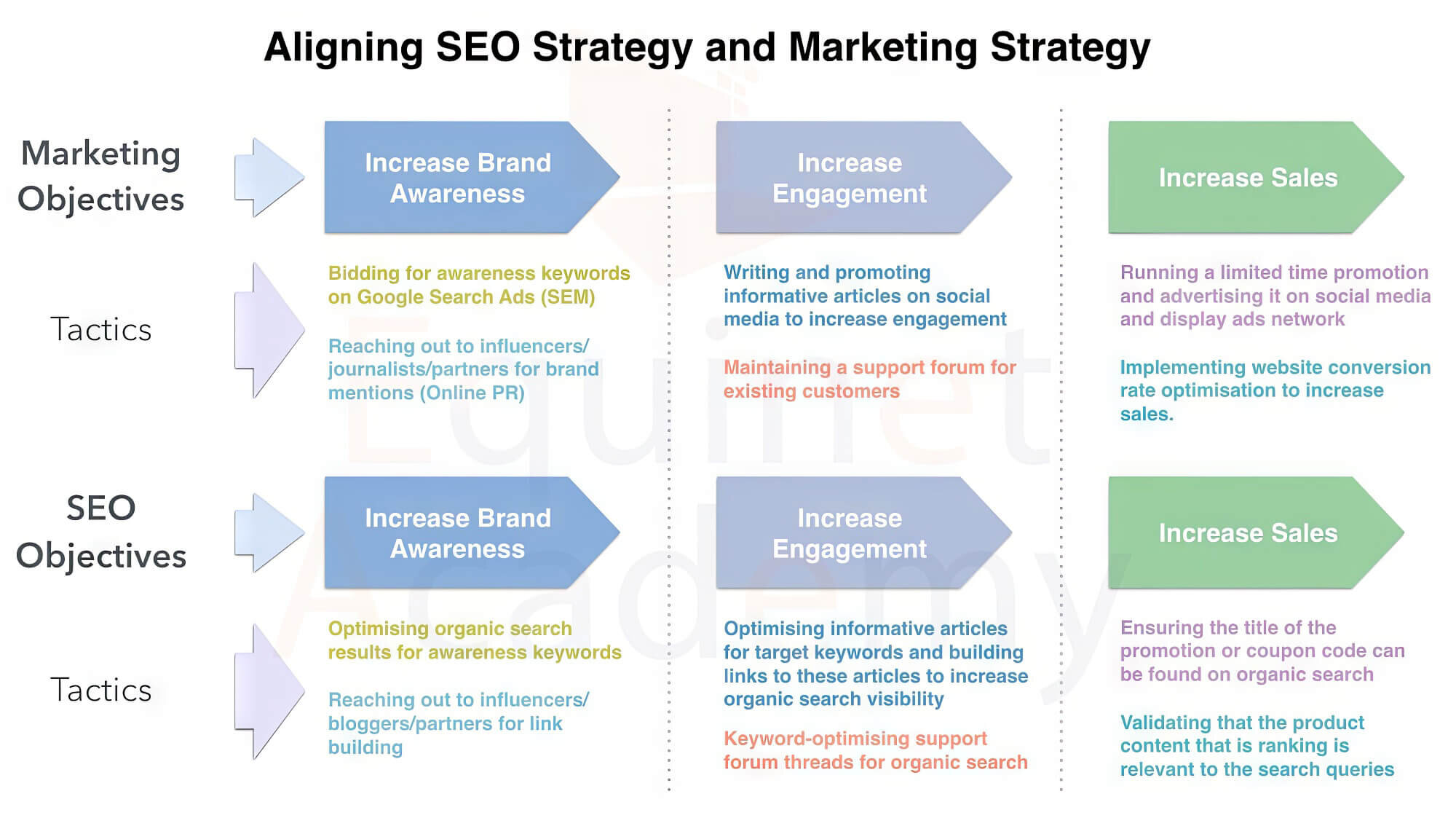 3. Write great titles and use headers.
When you're ready to write an evergreen topic or another topic, it starts with the title. Your title helps search engines determine the relevance of your content. It also gives readers insight into the piece and draws them in.
Headers are also important. They improve the crawlability of your content. They also make your content more organised and digestible for readers.
Every title should be 55-60 characters long. Your headers should be 70 characters or less. Whether you're creating a title or header, it's a good rule of thumb to use powerful words in them. Powerful words inspire an emotional response from readers. And that emotional response prompts them to continue reading.
Also, keep your titles and headers relevant to what you're talking about in the content. You don't want to trick people with a clickbait title; your content is nothing about it. It'll turn readers off and possibly convince them never to revisit your site or content. Search engines won't be happy with them either.
4. Incorporate keywords and phrases naturally.
Keyword stuffing is when someone fills their content with keywords and phrases. Anywhere a keyword or phrase can kind of fit, they'll insert it. As a result, their piece reads clunky and unnatural, which ruins a reader's ability to enjoy and ultimately comprehend the content.
Keyword stuffing has been confirmed to contribute to a low ranking. Search engines know people do it to raise their ranking, so they've flagged the practice. Instead, you should incorporate keywords and phrases naturally into every piece of content.
There isn't a set number for how many times a keyword or phrase should be in a piece. It's more about how many times you can do it without it feeling like you're forcing it. For instance, if you can fit a keyword into a 2,000-word blog post 7-10 times, and everything flows, go for it. But trying to fit this same amount into a 500-word post probably won't work.
Remember, your keywords and phrases shouldn't disrupt the flow of a piece. They should be incorporated most naturally.
5. Create an editorial calendar.
Consistency is critical to your SEO content ranking. The organisation is too. Creating an editorial calendar is one of the best ways to organise and pump out SEO content consistently. An editorial calendar tells you:
The content due for creation
Where you'll publish it
How you'll promote it
You can create a free editorial calendar using Google Docs. Formatting and organising a Google Docs editorial calendar takes as little as five steps. This editorial calendar is a great choice because it's free, easy to use, and your team can easily collaborate on it in real time.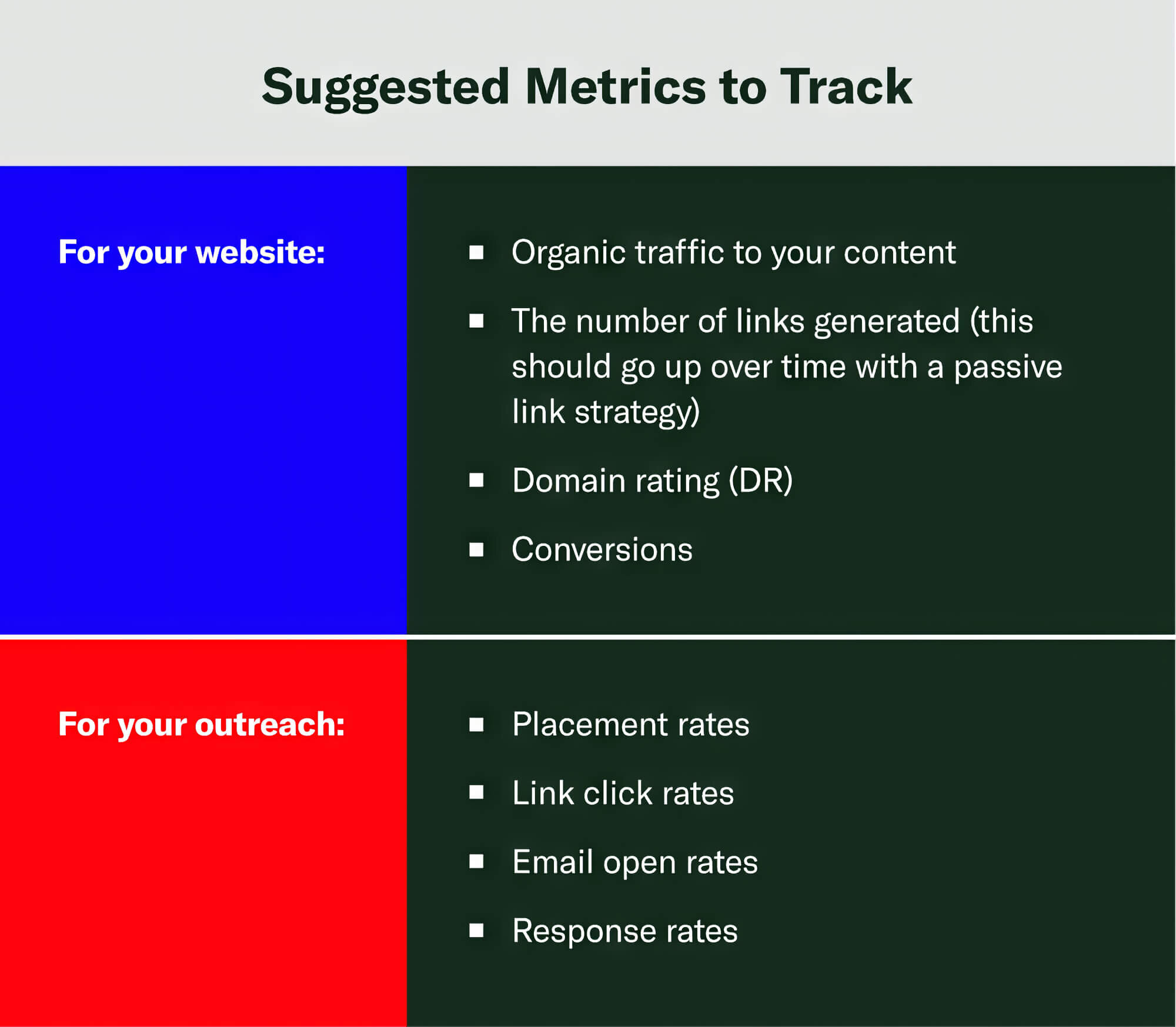 Measure Your Strategy's Success
Scaling your SEO content strategy depends largely on your ability to measure your strategy's success. If you don't know what's working and what isn't with your content, you can't make adjustments that generate better results.
You should have established a goal for every piece of SEO content and attached a metric to each goal. You can check what kind of results your content gets the next day after it's published, but you want to give the content time to see more accurate results.
Depending on the platform you use to publish your SEO content, you likely have built-in analytics tools. These tools are great because they automatically collect data related to your chosen metrics, analyse it, and offer meaningful insights that guide the next steps.
Take full advantage of these tools to move your SEO content strategy forward.
An SEO Content Strategy Fit for Conversions
There was a time when you could create any old content, and it ranked. But search engines have come a long way, requiring website owners, marketers, and content creators to adopt a more sophisticated approach to SEO content.
Understanding the core components of SEO is a must. So is setting detailed goals for your content strategy and thoroughly researching your target audience and the competition before creating anything.
Adopt the above best practices for creating quality content, and you'll be well on your way to an SEO content strategy that prompts conversions.