Blog posts can be a creative and professional medium to express and communicate with your target audience more personally.
Not only does a blog post demand high knowledge of the topic being covered, but it must do so in a way that engages the readers. As a result, creating high-quality work can be challenging with all the research, writing, and editing involved.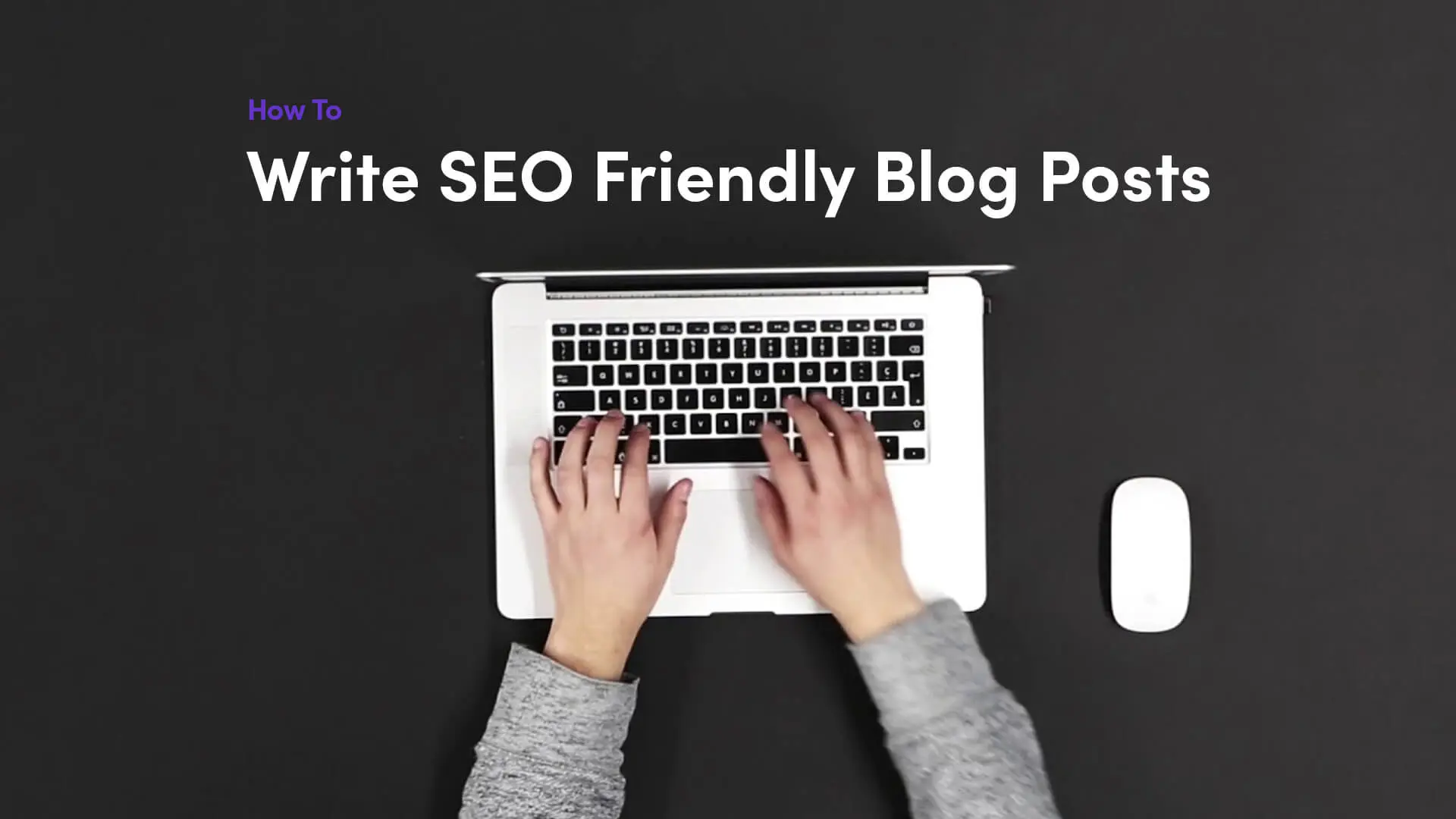 With so much effort put into writing blog posts, getting it to the first page of search engine results should be a high priority. It is possible to accomplish this seemingly mountainous task using particular writing strategies. This article will go over the step-by-step process to create better SEO-friendly blog posts and get to the top of Google and other search engines' search results!
Let's get into our detailed guide on embarking on SEO blog writing in 2024!
14 Tips To Write SEO-Friendly Blog Posts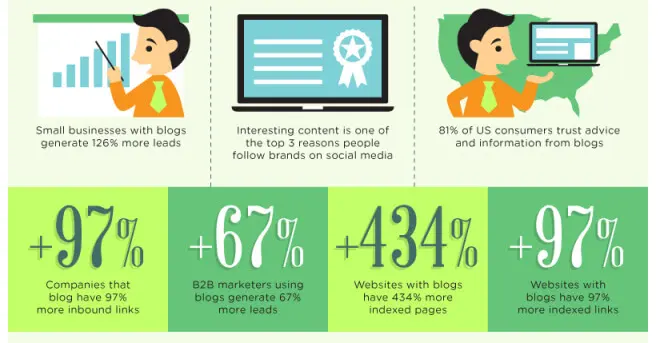 1. Research & Keyword Ideas
As the age-old saying goes, "measure once, cut twice." This is incredibly applicable when it comes to writing an optimised blog. Preparation and planning help the pages on your website that you want to rank for SEO purposes and create relevant content helpful to the reader.
Before you start writing, searching for exciting topics to cover in your blog post is a good idea. Pay attention to what information you aim to convey to the reader; a relevant subject will get more clicks if its contents are beneficial.
Another benefit of researching before writing a new blog post is finding keywords closely related to the topic. With the help of a research tool, gain a clear view of target keywords and use them naturally.
But it is not recommended to add keywords in bulk, known as keyword stuffing, as this can appear awkward, which is not what we want for a friendly blog.
Determining the topic beforehand can help you formulate the meta descriptions and blog post titles. A good and attractive title and an accurate meta description can improve the user experience by giving them blog post ideas.
Alternatively, some writers choose to write the title and meta description only after the article has been written. Having the primary information laid out makes it easier to summarise it in a precise title. Depending on your preference, you can make the title before or after you start writing.
2. Layout
Now that you know the basic components of writing the perfect SEO blog post, it is time to plan the structure. Essentially, this is where the information is broken down into bite-sized pieces that make the pages on your website easier to read and understand.
One handy tip that you can try is using the related keywords to determine the main points to cover. This strategy is the next step to take when you research and write a new topic unfamiliar to you. With the right keyword optimisation, the article will have a better chance to rank higher in Google Search results when you use the right keywords.
Traditionally, the layout followed when you write a blog post is an introduction, the main content, and a conclusion to sum it all up. When breaking down the main content, a helpful tip is to make points that create a more manageable workflow when writing and help make the article easier to follow.
Working over multiple sessions is another benefit of breaking down the main chunk of content into components. If you want to learn new information more effectively, gathering your thoughts is easier when you have separate, smaller topics to cover. It also makes for a smoother writing process- writing 200-word sections is much easier than a single 3,000-word main section.
3. Use Headings
One of the essential writing tips to keep in mind when crafting a top-notch piece of content that is also SEO-friendly is using headings effectively. There are a few points to keep in mind when formulating these headings.
The first tip for creating SEO-friendly headings is to ensure only one H1 tag on your blog post. This H1 tag is usually the same as the article's title, although variations between the two are possible and even encouraged. You can use something like the primary keyword here to help search engines identify your post better.
Another tip for headings is to use them in their hierarchical order. As stated above, the title and H1 tag are essentially the same components to search engines. However, following this, only H2 and H3 tags should be used in that order, i.e., H1, H2, H3.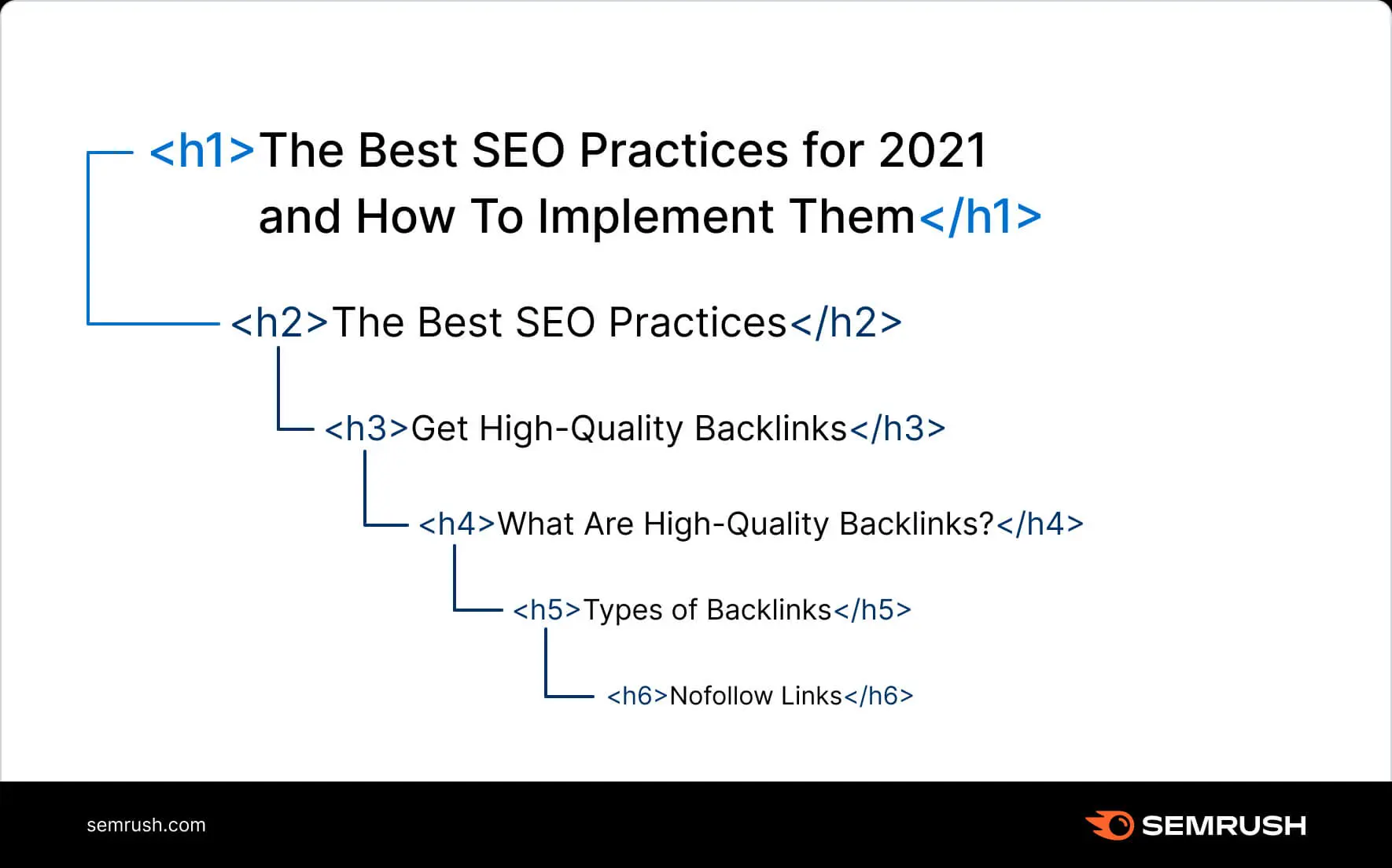 The H1 tag is separate from the blog post's title, and the H2 tag would follow as a subsequent topic heading. It acts as a buffer element to break the post down into various parts. The H2 heading separates the introduction from the main content and the conclusion.
The H3 tag is used for subheadings that fall under the various parts of the article.
By splitting the content with these different heading styles, readers will understand the information conveyed. Thus, making the post as skimmable as possible should be the goal when using headings.
One of the more valuable tips to remember when you write headings is to include a keyword or two. Google crawlers identify these keywords in the various headings and boost the page on the results, making for an SEO-friendly blog post. It also allows the algorithm to scan the content and add it to the index quickly.
4. Optimise The Title
A good and interesting title helps search engines quickly identify the content quality of a blog post or article and relate it to relevant keywords. Having a properly optimised title is crucial as this is what Google sees first when scanning your article.
When you write SEO titles, there are a few tips to keep in mind to be as relevant as possible. An interesting title should have a length of 55-60 characters so the SERPs (search engine results pages) display it fully. This will ensure it is not split or broken on the results page, whether accessed on mobile devices or desktop platforms.
As stated before, you can also use keywords in your content and title to boost the SEO-friendly aspect. A focus keyword that users can recognise can boost association from the search engine and relate the post with relevant topics.
Using powerful words in titles is a practical tip many writers utilise to generate leads and more traffic to the website. Power words such as "amazing," "complete," "top," etc., can draw in readers to click on your page and make it more enticing.
Additionally, adding brackets can make your blog posts stand out from the competition. Google does not consistently rank posts with the same title on the first page. To avoid this, brackets can give additional information, and you benefit from attracting more users who might convert by creating a free account.
5. Adding Links To The Blog Post
Another great tip when writing informative posts is to add external links wherever relevant. It can enhance the user experience while boosting the search engine ranking.
While writing, it is recommended to use internal links to other blog posts published on your website while writing. When a search engine crawls through the page, the crawler will look into any attached URL. Unless a no-follow attribute is attached, these links will be added to the search engine index, bringing other posts higher in search rankings.
Beyond having benefits to search engines, adding a link or two to the post can improve user interactivity. These internal links can give additional relevant information to encourage users without leave your website. This also helps decrease the bounce rate of visitors to your page as they may choose to visit other articles and stay on your website for longer.
Alternatively, adding outbound links may be helpful in marketing to direct users towards other websites that provide value related to your topic. In these cases, the anchor text can be the product's name linked to the store page. Moreover, this link can help the search bots identify the post's content more accurately.
Choosing relevant anchor text is recommended even if internal links have no Google penalty. The internal link should fit contextually in the blog post without feeling forced. If you find it challenging to include the internal link, you can add a "related articles" or "further reading" section and add links with the full title.
6. Keywords
Another critical tip to boost SEO scores on blog posts is, of course, using keywords. For example, you can use closely related keywords to increase the content quality while writing your SEO blog posts. However, you should note that too many keywords can make the post unnatural to read.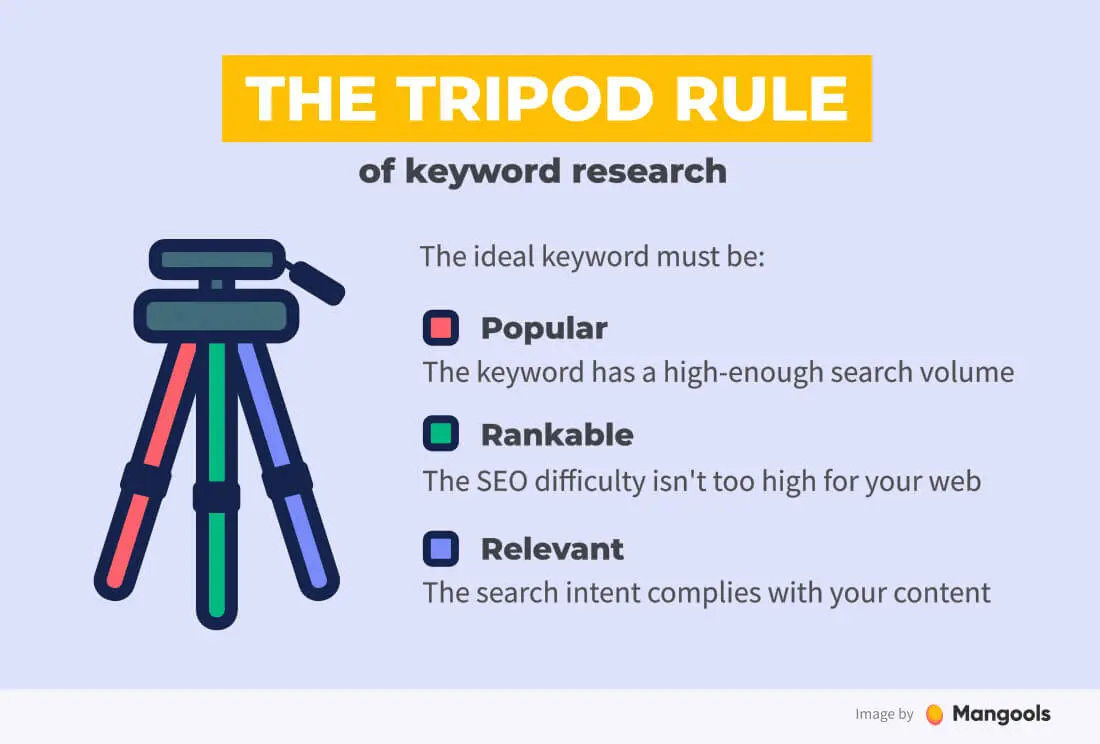 Note that keyword stuffing is not ideal when writing friendly blog posts, as they stand out from the rest of the content. Although these keywords are classified as NLP and relevant to search engines, they do not add any valuable information to the reader.
Thus, keyword research is crucial if you want to use keywords effectively, things like search intent, search volume and topical relevancy all play a part in the success of your article. Google can give you a plethora of topics to write on to satisfy their searches. It can be tempting to make a single article covering everything, but this won't make for an informative blog post.
Identify the target keyword, then use A tool like Google Keyword Tool, SEMrush, or any other keyword research tool to get words like the main keyword. Your post can focus on a singular topic in detail by finding specific words like the main keyword. Also, multiple articles on a website that use the same keyword can confuse search engines on which post should be shown on the results page.
The anchor text placement is another essential factor for an SEO blog post. Placing a keyword is crucial as it keeps the continuity of the post going while improving the quality overall. Some of the best places to insert internal and external links are in the title, main headings, conclusion, and wherever relevant in the content itself.
7. Quality Over Quantity
When you write an SEO blog post, you may want to cram as much content as possible in one go. While this may prove advantageous to a search engine, blog readers may find it monotonous and full of fluff. As such, ratings for shorter posts are higher than that of longer ones, even if the longer ones tend to see more interaction.
An SEO-friendly post that covers a specific topic should be as precise and coherent as possible. Optimised SEO content allows your page to be recognised by search engines, while users who find quality information will link it to their pages.
This linking is crucial to writing SEO posts because the Google algorithm works. It does not pay attention to how many words a post has but rather how many links will direct to that page.
Keep in mind that your blog is competing with similar ones, so being as efficient with your word count and relevant content is ideal. To gauge how long an article should be, Google the topic and see how long the top ten links are. Find a way to improve the statistics, everything from the quality of information, structuring, and length.
Readers who search for a particular topic, and can find it all on one page, are more likely to use it as a reference link in the future. Going in-depth with helpful information, including additional perspectives and other media, you can turn shorter blog posts into engaging and exciting articles.
8. Optimise Media
Readers and search engines can benefit from adding media elements to an article. One of the more underrated SEO tips, these elements can help readers visualise products and brands while allowing you to fit in another keyword or two. Content marketing and other media-dependent topics are much more manageable when things like images, video, and infographics are involved.
Sadly, Google has stated that its search engine cannot determine the context of images. However, a straightforward workaround is quite effective when used correctly. Although it may not be beneficial when writing SEO blog posts, the alt text tag (also called alternative text) can be attached to the image to give it context.
ALT text uses descriptive words associated with the media to provide the search engine with context. Another benefit of using a title text is that by including keywords, Google can pick up on these descriptive triggers and give the page a higher ranking. These descriptions are then attached to search terms and can be displayed contextually before any actual links are shown in the SERP.
Additionally, ALT text can help visually impaired readers better understand the post's media elements. Other users with a slower Internet connection will also benefit from this alternative. The title tag will be used as a placeholder to know what was meant to be displayed there.
Another handy strategy to add to your optimisation tips is using the title text to give geographical keyword relations. When you write the tag for a brand, you can add the brand name with the location it is based in. In doing so, Google will add your post to the index for results in and around your area.
9. Optimise Meta Description
Meta descriptions are crucial to creating a friendly post as they act as a more in-depth view of the article. The length is a considerable facet that should be focused on in these descriptions.
Ideally, a meta description tag should be less than 200 characters for maximum efficiency. Google sometimes displays the description under the title link on the results page. Writing a precise and catchy meta is a good idea to entice readers to click on your post.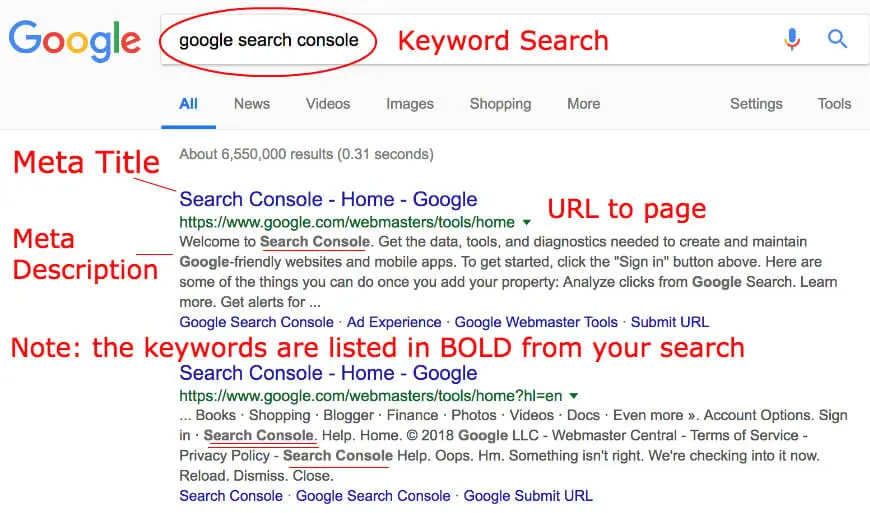 10. Paragraph Length
Like optimising the blog post length, keeping an eye on paragraph length is just as important. Readers who visit your website may find large paragraphs boring. Many users are browsing on a mobile device, making chunky reading paragraphs strain the eyes and make them difficult to follow.
As such, blog posts should ideally have one to two potent sentences in a single paragraph. This basic blog structure allows the information to be conveyed in a clear, precise way that is easy to follow.
Additionally, formatting can effectively break up the monotony of longer texts. Adding bold, underlined, and italic characters make the post more attractive. By keeping them engaged, they will stay on your website also increases.
As a precaution, going back to old blog entries can weed out broken links and outdated information. Google ranks inaccurate sites lower in their rankings, so making an effort to regularly go back is a good practice to follow. If anything, revising old articles improves your structuring when you write.
11. Optimise The URL
Although it does not have a considerable impact on SEO ranking, optimising the URL of your blog posts is one of the more unknown SEO tips among writers. Thanks to your URL, you can follow a few guidelines to receive a higher SEO ranking.
One of the essential steps to changing the blog post URL is using a hyphen (-) to separate words. This makes it easier to process and add to the index for future edits if necessary. It would be best if you made any edits to the link before publishing the blog post. Although it is possible to change after publishing, it is recommended to get it done beforehand for more convenience.
Another handy tip for writing a better URL is shortening it to include only the relevant information. The content management system (CMS) usually creates the URL in link generation. Changing the URL permalink to remove unnecessary words can make it more precise.
URLs shared on social media or over messaging platforms can be quickly identified if they are easily read. At a glance, these optimised links will tell the person what the blog post is about before they even click on the URL.
Including a keyword in the URL is also a great way to get your website recognised by search engines. The included keyword will be highlighted in the search result link, thereby proving the importance of relevance.
In case you have already published the blog post without optimising the URL, don't worry. Add 301 redirects to the new link to change a published post. This redirect means Google will keep the current ranking of the post in their index.
12. Update Content
Despite following all these steps and exclusive tips, it is an inevitable occurrence that the content of your blog post becomes outdated. Keeping a post relevant is necessary to ensure people refer to your blog for helpful information.
Besides, updating existing content also increases the number of pages from your website that Google includes in their index. The post will be updated with its new content to the index for a stronger website SEO ranking by interacting with the page.

As time passes, search patterns evolve, and the landscape of keyword relations also looks like it changes. New and updated articles should keep coming to stay on top of these changes and maintain steady traffic inflow.
Additionally, keeping content up-to-date has the benefit of getting users to return to the blog and get new information. This boosts page views and keeps you in touch with what is being searched. As a result, you can keep on par with the competition or surpass them.
While editing your existing content, look at the search terms it appears for in Google Search Console and include them in your page. Focus on long tail keywords, these can help you expand your content and add more depth, and it's the best way to improve the quality of your blogs.
13. Consistency
Although it is not a writing tip, staying consistent with publishing content is crucial for SEO ranking. To remain relevant, it is recommended to Google the top trends in your field and plans a schedule around those topics.
Google Trends is a handy source to gauge what topic would perform well in search results. "Rising" topics represent search terms that are being searched more than usual. These topics are what Google is looking for, so if you want to learn more about SEO, formulating a schedule tailored around these topics is a great way to stay ahead of the curve.
Furthermore, consistency is recommended to keep your traffic influx from becoming stagnant. Already published material may be drawing in users, but it caps at a certain level as no new links direct to your page. This is out of your control; the only option is to create new relevant content and increase your exposure to search engine results.
14. Content Grouping
Creating insightful blogs can help generate traffic and new keywords for your website; creating them with a purpose is just as important. Making your content all work together is vital to the success of any blog holistically. Using content clusters to group keywords helps build domain authority and localised page authority on a particular category.
Content clusters or silo content is a form of content marketing that builds topical relevancy around a subset of pages related to topics on your website. Whilst this isn't a tip for optimising one particular page, it's just as important.
Difference Between SEO-Friendly And User-Friendly Posts
Although it may seem like there is only one blog option, having an SEO-friendly and user-friendly post is possible. Just because an article is SEO-optimised, it does not necessarily mean it loses its human touch. By taking advantage of the strategies and bonus tips stated above, you can have a blog that ranks high with regular engagement from readers.
Furthermore, just because a post is fully optimised for SEO, it does not mean it has all the relevant information to satisfy search queries. Simply following the steps stated above is not enough to get a higher ranking on your blog. You must pair it with quality content that is useful and relevant to users.
By tailoring the blog's layout to satisfy both SEO requirements and users, there is a higher chance of reaching the first page of Google. Research and edit words to be as precise and eloquent as possible. After all, there is no point in writing an ideal SEO piece that does not make sense in the topic being covered.
Writing SEO-Friendly Articles For Your Website
It would be best to be more equipped to create SEO-friendly blog posts effectively.
Of course, these SEO tips will not immediately cause your post to jump to the top of the Google results page. However, your website will see better traffic and interaction over time with a consistent and optimised blog post schedule.
Keep these tips and tricks in mind to keep your posts as high-quality as possible, and let the SEO do what it does best, many times over. With time, patience, and effort, you will eventually see the fruits of your labour, and the traffic will come flowing in.
You can reach out to our content marketing team using the provided email address for help writing SEO-friendly blog posts. Our team is happy to help!
Good luck, and stay safe until next time!