E-A-T stands for Expertise, Authoritativeness, and Trustworthiness. It is the short form Google uses when creating guidelines for evaluating the quality of searches.
Experts who manually review the useful purpose of WebPages rely on search ranking factors such as those in Google E-A-T. Google trains its algorithms using machine learning and tweaks the page quality ratings accordingly. The metrics are changed offline, and manual reviewers judge quality content by comparing it to what is live.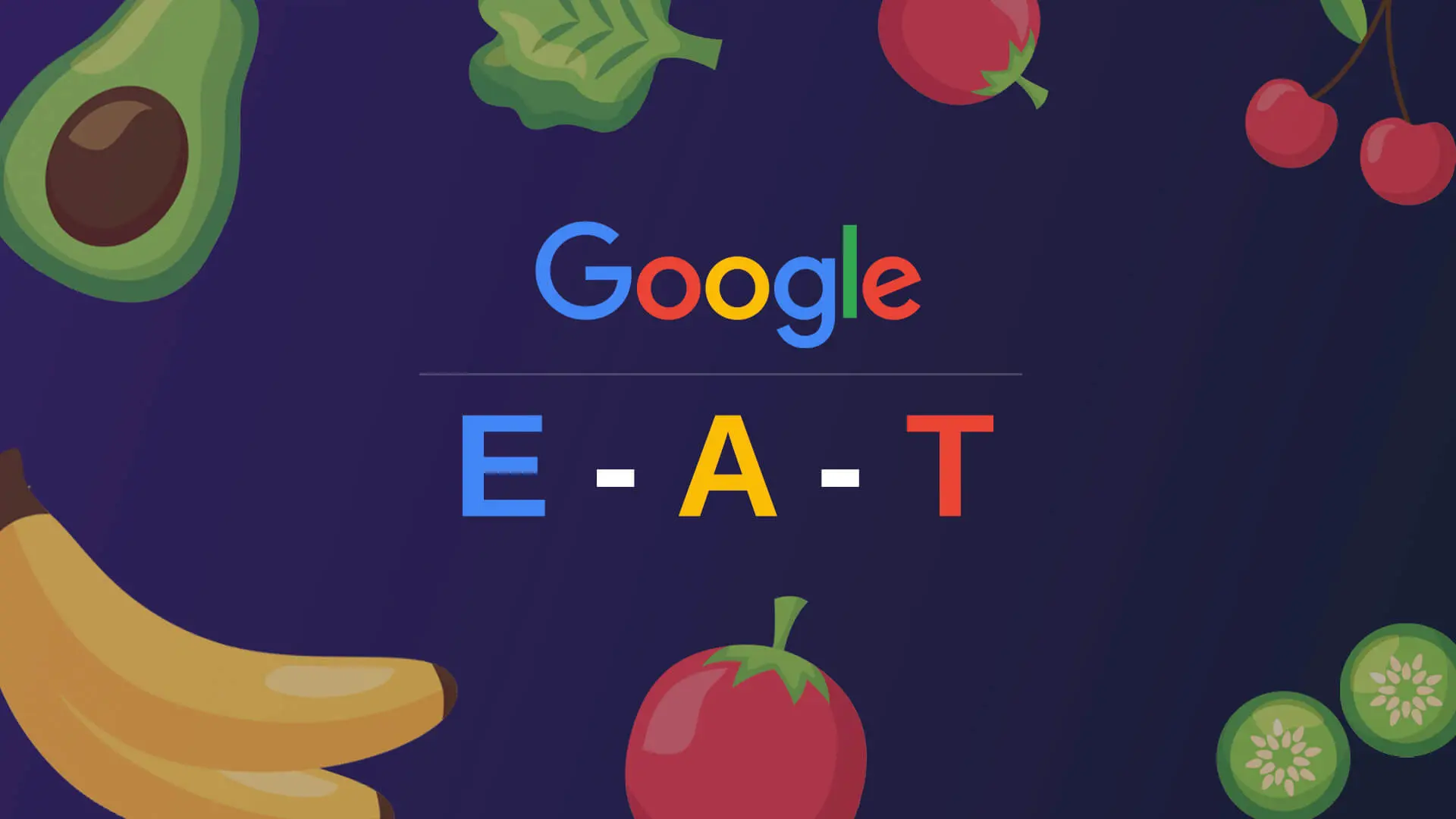 If an improvement is significant enough, the update will be rolled out, and we get updates at the time, keep in mind Google's core search engine algorithm is updated regularly, with most updates being small.
The guidelines help experts understand what high-quality content marketing looks like.
These guidelines simplify modelling the best Google Search results since the algorithm pushes these pages to the top. But, this is not the same as how Google ranks pages. High-quality content is ranked automatically, while search quality raters do the task manually.
Here is an index of topics within the article for your convenience:
What is E-A-T?
Google attempts to prevent people from gaming their system. Instead of low-quality content, they turn the focus to helpful content. Companies, brands, and expert content creators come under this purview.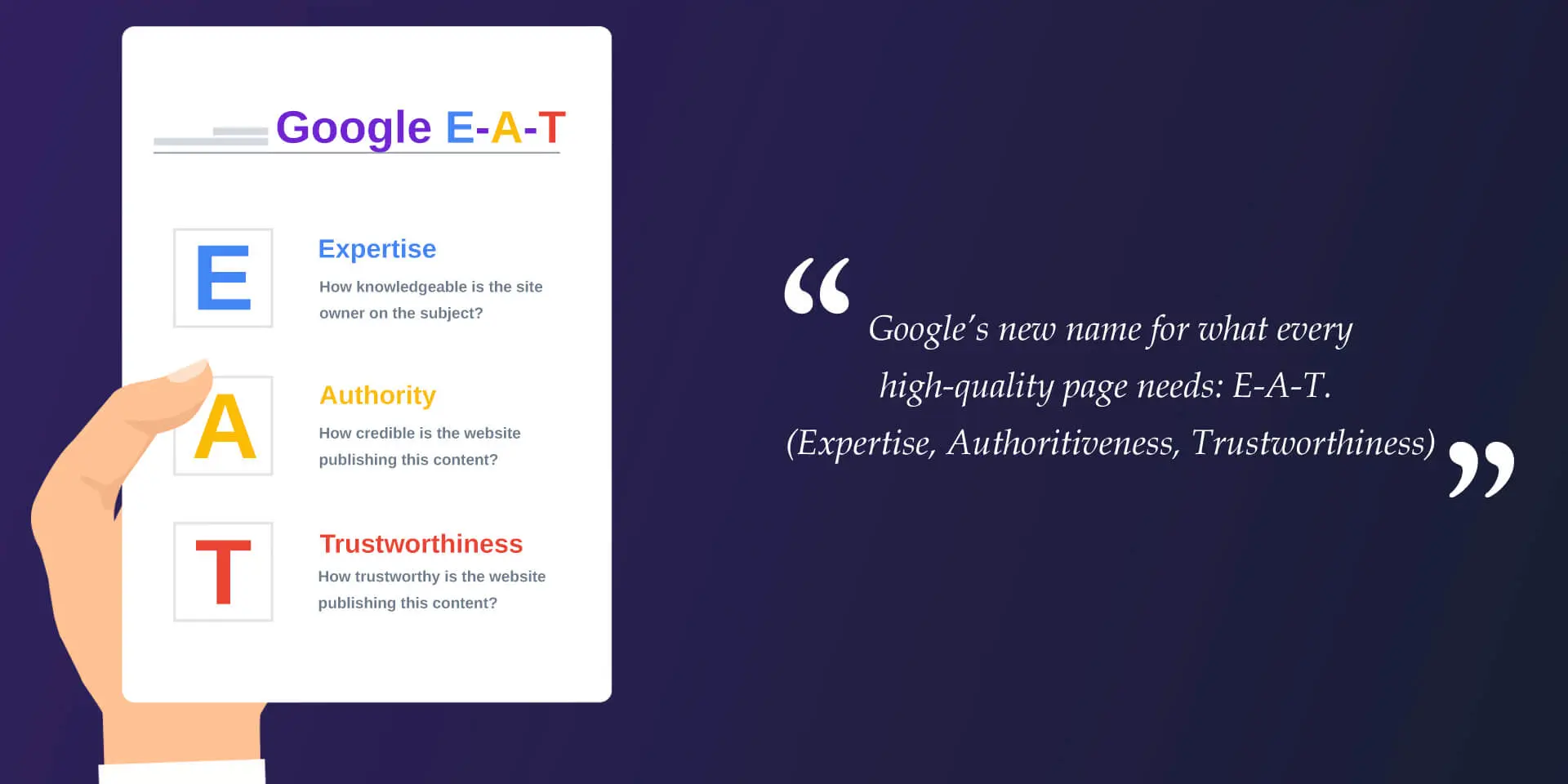 Google tries to improve web content for human users by emphasising authoritativeness, expertise, and trustworthiness. Not only does it drive a nail in the coffin for those creating spam content, but E-A-T also rewards platforms whose content embodies the concept of "high-quality".
Now, site owners can demonstrate their everyday expertise, authority, and trustworthiness by following these guidelines and building evidence of authority in their brand.
Google can also rank the right web pages, and people get search results that answer search queries — showing what is expected for a search query. Though it constantly makes minor changes to Google's search quality algorithm, E-A-T isn't one single update.
It is a process of continuous refinement, so a page quality rating is maintained all the time.
This particular ranking factor affects every site on the internet. Even companies redesign their pages to provide high-quality information.
Is E-A-T a ranking factor? Not if you mean there's some technical thing like with speed that we can measure directly.

We do use a variety of signals as a proxy to tell if content seems to match E-A-T as humans would assess it.

In that regard, yeah, it's a ranking factor.

— Danny Sullivan (@dannysullivan) October 11, 2019
This drive towards perfection is why Google's E-A-T scale is so important.
What are E-A-T Updates?
E-A-T first received mention in some observant blog articles around 2013. Google first mentioned YMYL pages in their guidebooks and Google News in March 2013; most SEO expertise sites missed this. When the 2014 version came out, pages began to give more importance to trustworthiness and expertise.
In July 2018, Google released a new update where these guidelines went through another core update with an added focus on creators' beneficial purpose and reputation. Then, in August 2018, Google came out with the medic update, cementing the need for helpful content in their Search Quality Guidelines.
What is E-A-T Score?
It introduces numerous interlinked concepts and algorithm changes that affect how Google ranks sites. There are some overlaps in the topics mentioned below.
"EAT and YMYL are concepts introduced for Quality Raters to dumb down algorithm concepts. They are not 'scores' used by Google internally." #Pubcon@methode Followup: There is no EAT algorithm.

— Grant Simmons (@simmonet) October 10, 2019
What is SEO Expertise?
Organisations should be capable and knowledgeable about archiving high E-A-T scores. Content marketers and creators must display expertise in the concerned subject. They should avoid spreading misinformation deliberately or otherwise.
Unsubstantiated claims and those without relevant citations fall under the poor quality of content. Thus, people should avoid these.
Suppose the author is an expert on the topic. In that case, they should display credentials before writing, consider your traffic and search intent and create content Google wants to promote to that demographic. It doesn't always have to be formal education. Life experience also counts when judging the ability of a content creator.
When creating high-quality content, the content should always answer the user's questions while displaying a high level of knowledge and tapping into what people demand.
What is SEO Authority?
Google tries to see if people within an SEO industry hold certain websites highly. In that case, authors are also respected for their abilities and opinions.
Increasing authority on a topic can be achieved by ensuring that the main high-quality content on a web page is relevant to the site and aligns with the website's purpose.
On-page SEO is as important as off-page SEO, which an author might achieve by creating backlinks. Typically, opinions should fit a broad consensus, or these topics must have a suitable backup if they go against the norm.
If an author is named or the person writing has appeared elsewhere, their content will likely rank well. Google's search algorithm adds more trust to a site by including numerous citations from authoritative sources.
Organisations should ideally have associations with reputed publications, and if the author has their opinion cited elsewhere, it inspires a more significant amount of trust.
What is SEO Trust?
Google doesn't want to send users to a site where they'll get scammed. Hence, page quality rating is vital to search quality. There is an effort by Google to ensure that every one of its search results will provide authoritativeness, expertise, and trustworthiness to meet its users' needs.
When users begin to trust websites, they feel the security that the organisations are who they say they are. Content on About Us pages or author biographies is essential in inspiring belief. Embedding Google Maps with directions to the office premises is also an excellent move for sites because people know they're dealing with an actual entity.
Information about customer service should clearly outline transactional processes, privacy and return policies. Thus, prospective clients know they have recourse.
It is also helpful to follow social media buttons since users can communicate with these organisations through social media platforms and provide feedback about the organisations they are following.
Apart from having HTTPS connections while making payments, companies can display gateway logos to assure people their money is safe.
Displaying reviews and ratings helps others understand how interactive their experiences have been. Similarly, if you have accolades and awards, you must mention them to show how much recognition you've received.
Add everything that reduces doubts and increases buyers' trust in your website.
What is SEO Reputation?
Although it is not part of the official acronym about expertise, authority and trustworthiness, brand reputation is essential for high-quality scores. Quality raters, as well as content creators, take this very seriously.
It goes beyond ordinary search quality to check mentions and reviews in other parts of the internet. Creators benefit from these quality rater guidelines.
If their works are positively mentioned elsewhere, the primary content strategy they've created for sites is favoured more by Google.
Impact of E-A-T on SERPs
E-A-T ensures expertise, authoritativeness, and trustworthiness in content and websites. Human quality raters suggest tweaks related to this algorithm. They sift through numerous sites and review them per Google's quality rater guidelines.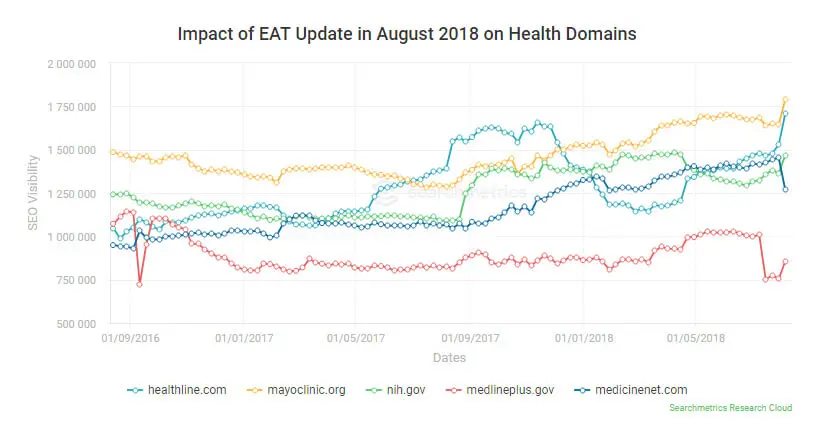 Image Credit: Search Metrics
Though they can't directly influence how foremost content ranks, their reviews are cross-referenced with SERPs (search engine result pages), so vital information holds higher positions. Google makes numerous core updates based on this feedback. Special emphasis goes to YMYL (your money or your life) pages.
Search Quality Rater Guidelines
We've spoken about QRGs extensively, but here we go into the details of these guidelines. They're intended to assist those with solid brand authority to review sites manually.
Feedbacks help evaluate how effective Google's algorithm is. It provides excellent insight into what decisions guide the performance of the Google Search engine algorithm. It confirms vital information and topics that Google considers essential for raters.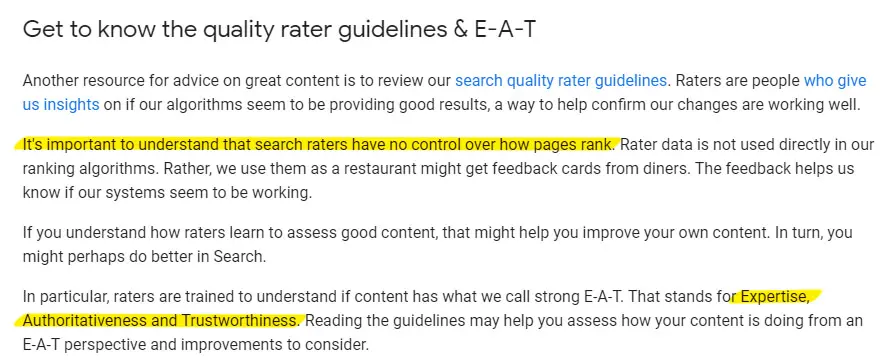 Pages are broken down into low, medium, high and highest qualities. Google tries to get excellent content quality on pages to rank.
Raters have to consider different ranking factors, like the purpose of websites and the score of the content. They also factor in the amount and quality of content.
Information and reputation about the creator of this content also play an essential role. However, no system is perfect, and the guidelines sometimes don't mention certain factors like keyword research that are essential influences on SEO.
What's YMYL?
YMYL or Your Money Or Your Life refers to sites that can negatively impact users' happiness, health, financial stability and safety if their expertise, authoritativeness, and trustworthiness aren't up to the mark.
Typically, YMYL websites include a broad umbrella that has things like the following.
Websites where money exchanges hand through purchases, payments and transfers.
Any website with a medical update provides medical advice and information about illnesses.
A website provides legal advice, like providing recourse, creating wills, and having custody information.
A web page contributes to people's knowledge, including blogs and newspapers.
Any website provides financial advice for a useful purpose, either savings or investments.
However, this list isn't exhaustive. You can get content about politics, vehicle safety, and vital information about schedules on the YMYL site.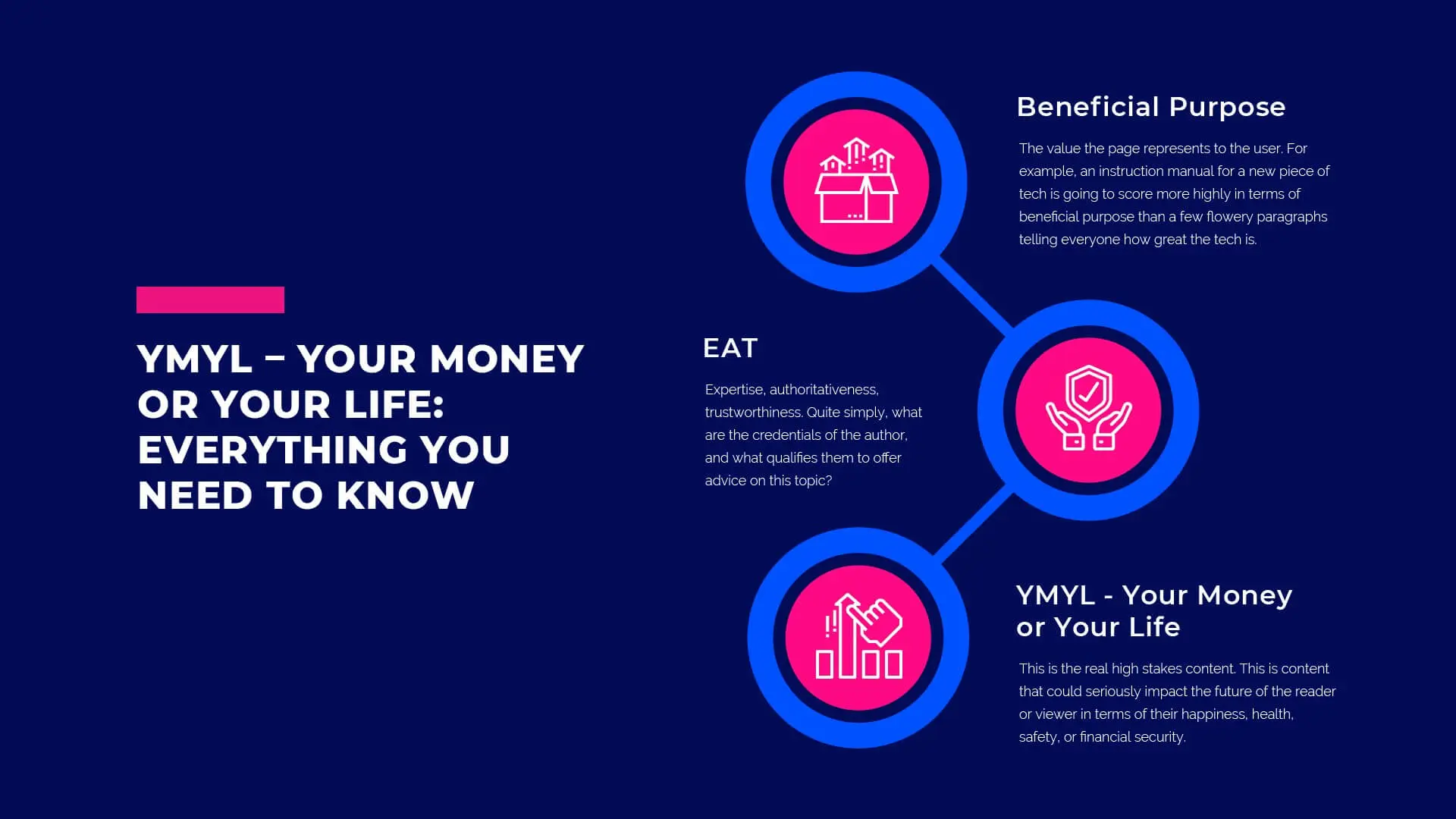 What are Trust Signals?
Since search engines can't always verify if some information serves a valuable purpose, it looks at users and organisations who vouch for the truth in included topics.
Just as links from reputable websites improve the quality of information on your page, having your site mentioned by other trustworthy organisations for different topics, particularly ones that could increase Google's faith.
How to Improve E-A-T Score?
There are several steps you can follow to boost E-A-T scores. A site can also demonstrate its score to Google better through these methods.
There are several resources online for doing this; however, you'll find these helpful:
1. Building More Links
Though Google's guidelines don't explicitly mention it, a site can improve E-A-T by increasing mentions and links on other authoritative domains.
Google also greatly understands which link backs count, so a page should prioritise better quality links over lower quality ones.
I asked Gary about E-A-T. He said it's largely based on links and mentions on authoritative sites. i.e. if the Washington Post mentions you, that's good.

He recommended reading the sections in the QRG on E-A-T as it outlines things well. @methode#Pubcon

— Marie Haynes (@Marie_Haynes) February 21, 2018
2. Update Content for Value
It is vital to update content regularly for YMYL topics like medical or financial advice to maintain an excellent E-A-T score due to the subject matter. Information should also come from trusted and verifiable sources only.
Writers should cover topics professionally, and must be regularly edited, updated, and reviewed.
While QGRs don't specifically discuss non-YMYL topics, it is still best to keep your page updated to ensure reader satisfaction.
3. Checking Facts
Google maintains that a page must have factually accurate content to get a high score. This becomes specifically relevant for scientific research.
Although there's no clear pathway for fact-checking, you should match your page content against reputable sources like Wikipedia and Wikidata. Further, provide citations wherever necessary. Users prefer when YMYL topics have adequately verifiable sources.
Referencing the source of information can help improve the authoritativeness of your content piece.
4. Getting More Reviews
Online reviews for your page serve a useful purpose because it speaks to authority and trust. Sometimes a website might focus only on a particular review platform. But, it is best to update content and aim for positive reviews across the board. Try to rank highly on a page users follow in a particular industry.
5. Hiring Experts
All industries have experts, and it is best to hire them, especially if you cover YMYL topics. For non-YMYL matters, it is not as important to hire experts. Instead, opt for those with outstanding track records or a reputation for creating great content. Being well-known within your industry can make building your reputation easier and become a significant part of your content and traffic strategy.
There are several options you can use to hire an expert if you are not able to do so. You can interview them or have them write guest posts for your blog.
6. Flashing Credentials
Whilst you're demonstrating E-A-T to Google, it becomes necessary to brag. Include this information if you have degrees or have spoken at numerous conferences. You can do this in your website's bio or the About Us section.
Some creators opt for a schema markup to present this information in a better manner as well.
7. Sharing Contact Details
Businesses must provide adequate contact information and customer support to avoid looking untrustworthy.
YMYL pages have to take special note of this. Google prefers a website showcasing email addresses, phone numbers, and many different contact points.
These rules won't apply to your website if you're a solo blogger. But, greater transparency curries more favour during a search.
8. Getting a Wikipedia Page
According to Google, getting a Wikipedia page is a sure way of proving your quality. Unfortunately, it is challenging for a website to get its own Wikipedia page. Usually, you'd have to be absolute experts in the area and enjoy coverage from numerous reputable sources.
Alternatively, you can try to get mentioned in a Wikipedia article. This helps with SEO, but it is difficult as well.
You can edit Wikipedia pages to include your organisation, but the website doesn't support self-promotional content. However, take the shot if you've got something worth contributing.
9. Getting More Mentions
When users search for something, they put faith in a website with more mentions. Google takes note of this and ranks them higher too.
Raters take this into account while assessing reputation. For example, getting mentioned in SEO journals shows expertise in that domain.
Since a degree of authority is first needed to get mentions, it is best to present unique data and insights for references. If you update the materials regularly, others will mention you for the latest topics.
Characteristics Of High Quality And Low-Quality Pages
A page that has been written well should display characteristics like great trustworthiness. The main content should come with helpful titles and should be informative.
When writing a blog post, for example, having a direction and a structured plan will help create top content quality.
There must also be adequate information about the website. Users who search must be sure of its reputation.
Poor-quality web pages don't display authoritative content. Quality and quantity are poor, and there isn't enough information about the site. If an extensive search turns up poor reviews, it is another nail in the coffin. Bad reviews, poor content quality etc., can impact your overall rating.
Our thoughts on Google E-A-T
Following these guidelines is vital for your SEO sites to improve constantly. It is even more evident for YMYL topics.
You can hire experts, have values, and care about customers. Alternately, demonstrate values to Google.
Improving SEO is simple but needs some time and effort. Despite following all these steps, your search rankings may not increase.
It's best not to be discouraged because Google will rightly rank sites with more authoritative pages or enjoy more reputation than you do.
While improving your expertise will surely give you an edge, you must constantly keep in touch with updates because the rules change frequently.