Google's efforts towards putting user-centric content at the top of search engine results have seen the introduction and frequent changes in ranking algorithms, ensuring that users find the most relevant information.
One such algorithm update, known as the Google helpful content update, gained significant attention when it was released in late August last year, emphasising the importance of creating valuable and user-friendly content, particularly for newly launched sites.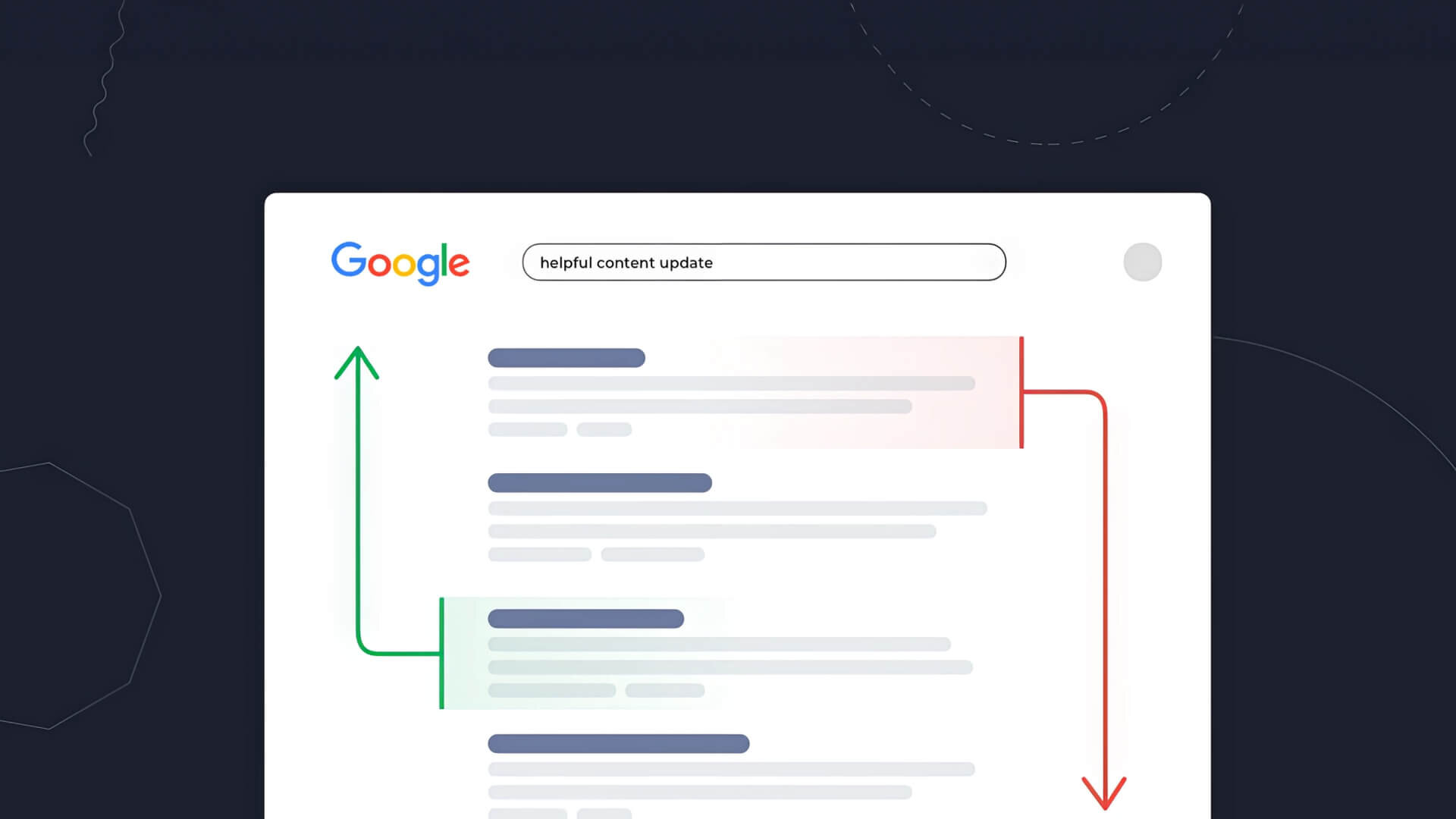 Google's Helpful Content Update For Beginners
It's important to understand Google's helpful content system, also known as Google's helpful content update.
On August 18, 2022, Google, the leading search engine, announced the upcoming release of the machine-learning algorithm update known as the Google Helpful Content Update, aimed at ranking content based on its value and relevance. In simple terms, this change was intended to modify search engine rankings, where Google would "reward" content (websites and webpages) that provides a satisfying user experience. Of course, as you may have guessed, this reward is in the form of higher website rankings.
At the same time, the algorithm update would save viewers from "unhelpful content" or content created primarily for the sake of higher rankings, driving more search traffic via clicks and ensuring sites identified with unhelpful content are ranked lower. That is to say. The update would reduce the visibility of such irrelevant content pages by pushing them down the rankings on SERPs (search engine result pages).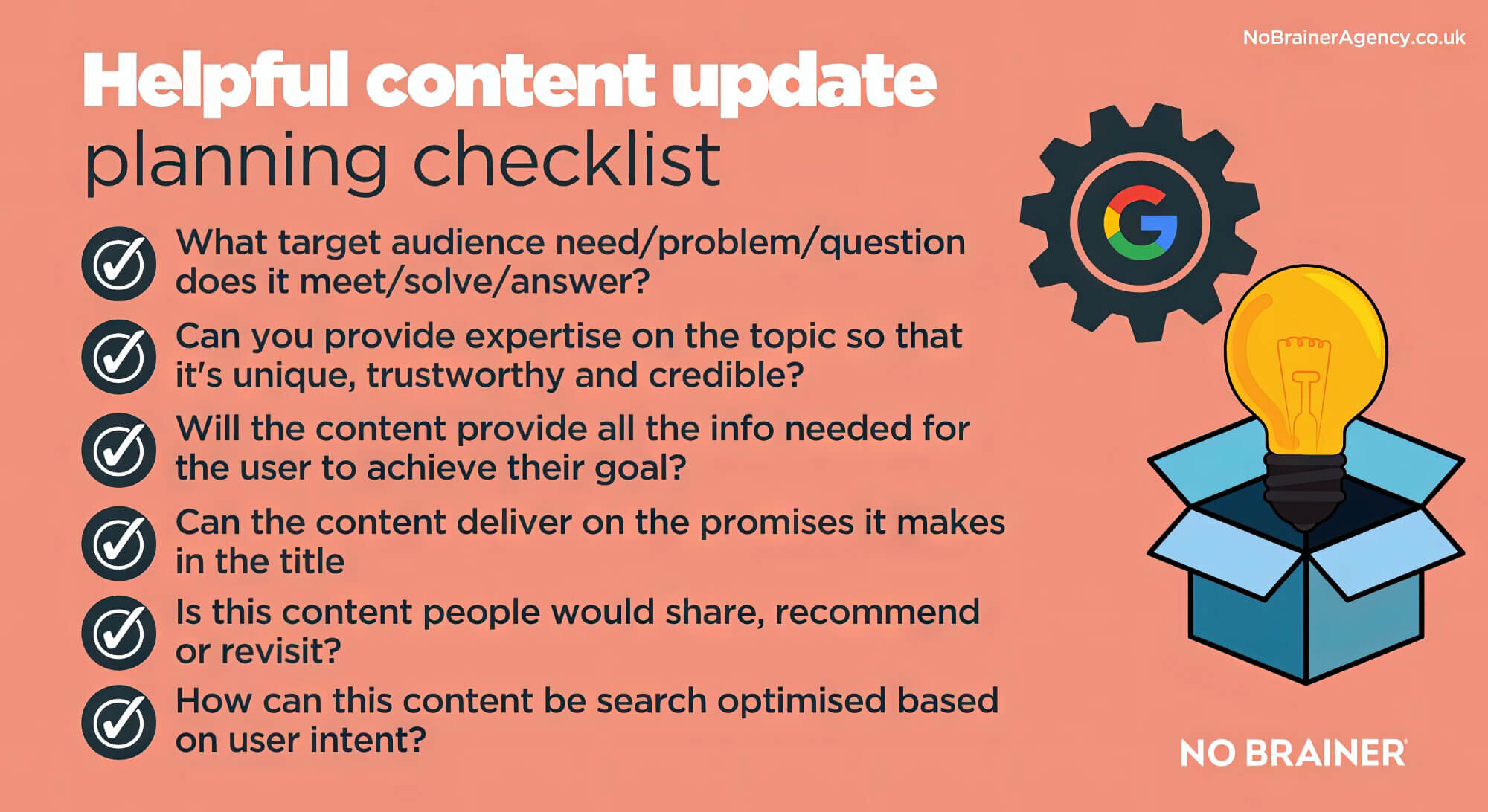 It's important to note that the helpful content update is not intended to serve as a manual or automatic spam filter but rather as a way to evaluate and rank content based on its usefulness to users. Instead, it serves as a means for Google search to assess and enhance ranking systems by prioritising high-quality content that deeply understands the needs of users.
Implemented a few days later, on August 25, this site-wide ranking signal has significant implications as it can monitor newly launched sites and impact their overall ranking through careful analysis. For instance, if the algorithm detects a cluster or overuse of unhelpful (read unsatisfying) content on your website, it can impact overall ranking in SERPs.
How Did It Affect Websites?
Google's new site-wide signal, targeting English-based search results initially, affected both existing and new sites, necessitating them to create helpful content that is more useful and meaningful.
Not only that but to regain search engine visibility and higher rankings, websites also had to prove their adherence to a "people-first" approach, making sure their published content is helpful. This sharply contrasted with the "search-engine first content" policy used by many websites, whose sole aim was to cater to factors that helped them appear at the top of SERPs.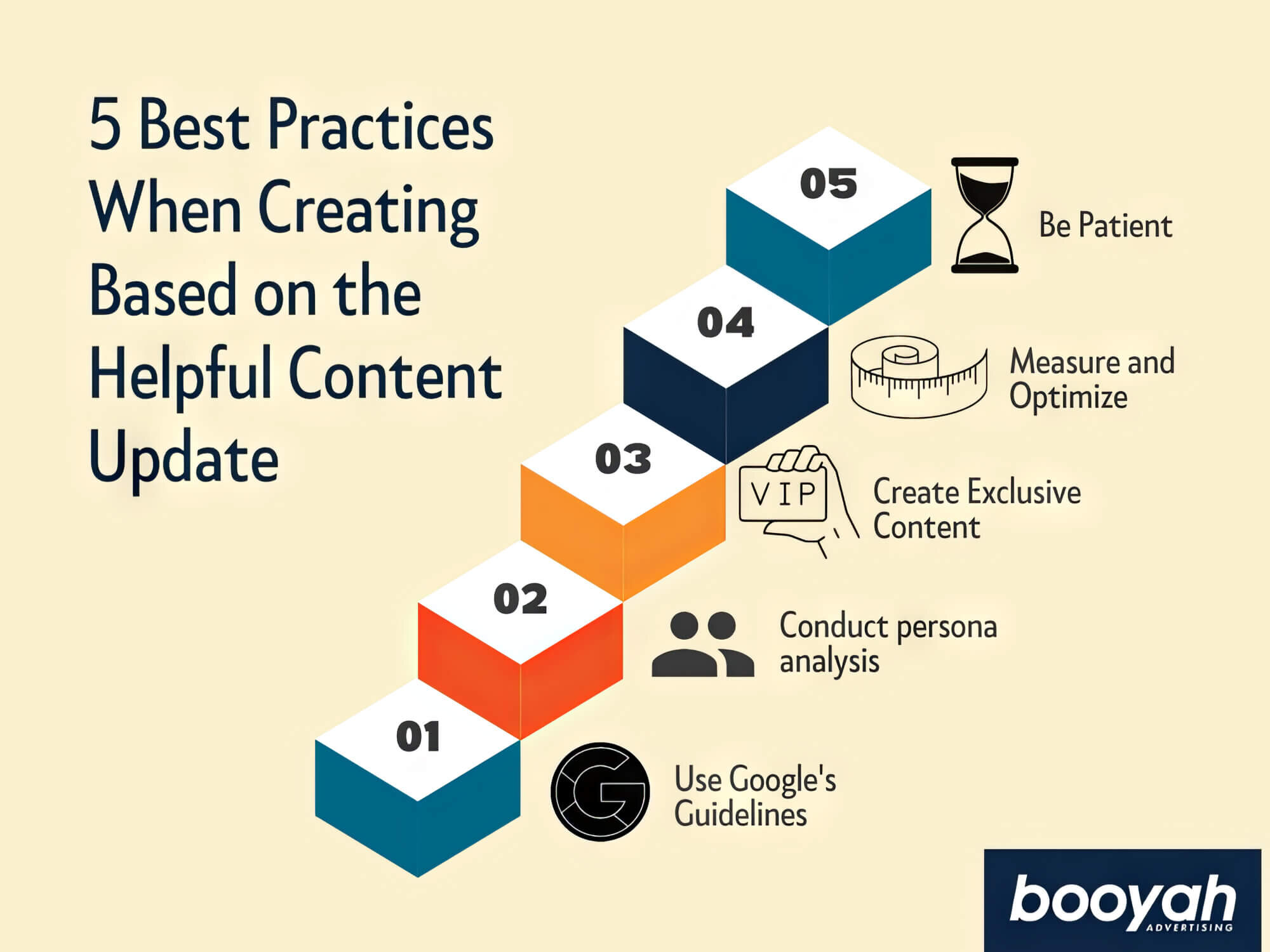 Adapting content strategy to produce user-friendly content, or in other words, creating content that truly resonates with the audience, required significant time due to Google's latest algorithm update. Website owners and content producers had to ensure they didn't resort to publishing unhelpful content once their SERP rankings were recovered.
At this point, many of our readers may wonder if the helpful content update aims to perform the same functions as Google's Panda update. If you know about Google's algorithm updates, you'd know that the Panda was a core update focussing on removing low-quality content. However, the helpful content update has introduced new algorithms which work in tandem with Panda.
Why Was The Helpful Content Update Rolled Out?
The Google helpful content update can be considered part of Google's larger effort to put a user-first approach at the forefront of evaluating and ranking online content.
Google encourages website owners and content publishers to produce content that deeply understands the needs of the users, ensuring it's relevant, authentic, and helpful. In hindsight, websites should provide a satisfying experience with valuable information and not just target high SEO (search engine optimisation) rankings.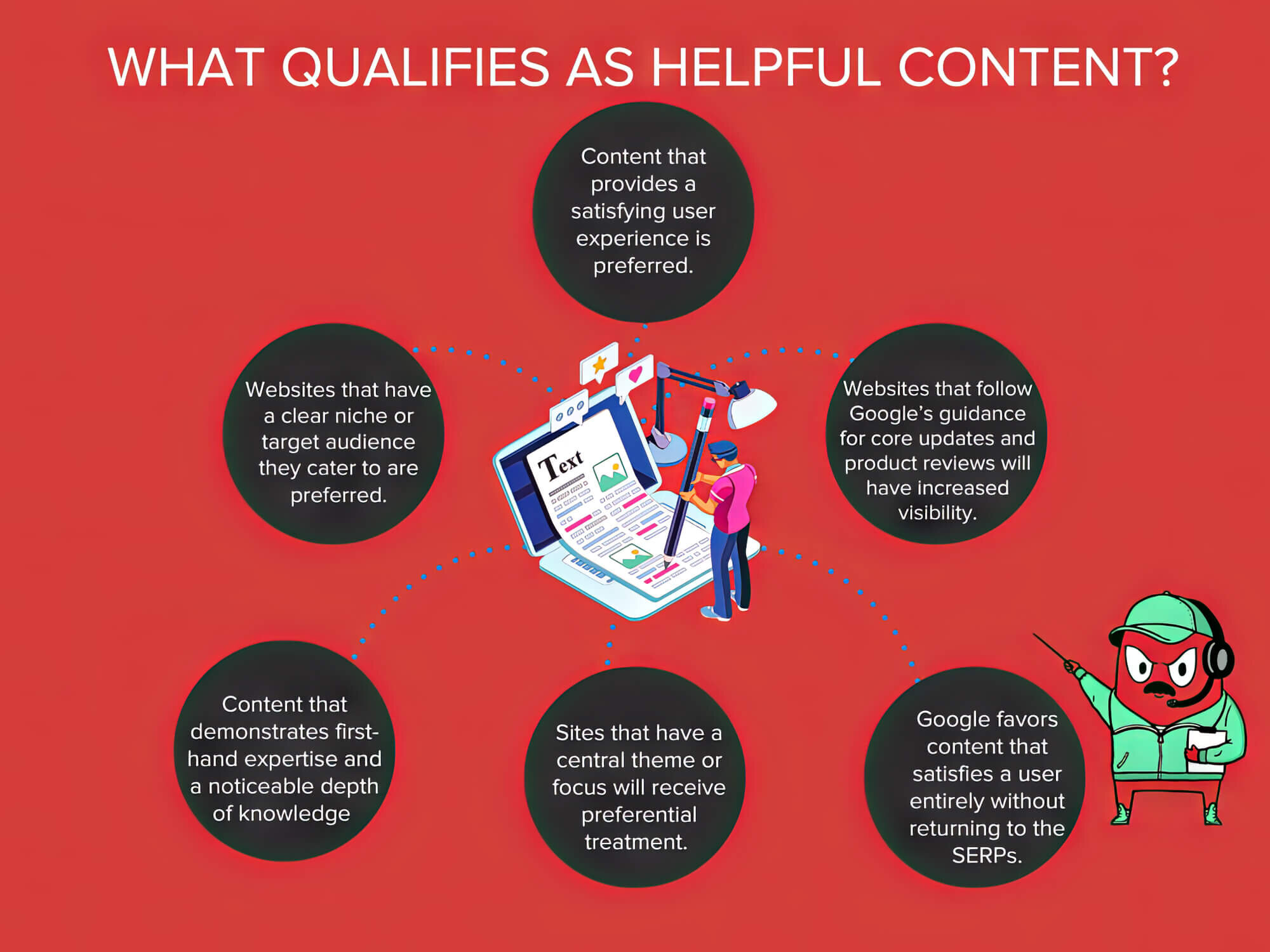 After all, very few things are as frustrating as clicking on one of the top SERP links that don't have the information you're looking for! Unless the content is deemed fit for human consumption, its primary purpose won't be served.
The update's classifier also helps remove results that don't have the much-needed human touch, which renders additional value to the overall user experience. When the classifier detects unhelpful content, it automatically pushes the websites or web pages down the SERPs, reducing the likelihood of people clicking on them.
How Does Google's Content Update Affect SEO?
Sure, it goes without saying that SEO practices, aligned with Google's guidelines, play a crucial role in improving website rankings. But you'd want to know how this new content update will affect SEO practices.
Enhancing SEO while adhering to the new update involves the creation of valuable content that drives organic search traffic to your website. However, a few more factors are involved, and in the following sections, we will decode them to help you understand the importance of quality content in Google's update.
1. Know Your Audience
One of the basics of creating helpful content is knowing your intended audience and their needs so that your content can help them somehow. Otherwise, it will be deemed unhelpful by the algorithm.
Google Analytics can be of great help in this regard, as it can give you a detailed insight into who views your content, what they are looking for, their usage and buying patterns, etc. Furthermore, you can access crucial customer details, like age, demographics and gender, to customise your content and shopping campaigns if applicable.
2. Enhance Relevance
Enhancing the relevance of your website content for new and existing audiences is a two-step process.
Firstly, you should ensure that the content contains the same keywords placed strategically in the search query. A dog-related search result that fetches blogs containing tips for petting cats needs to be more relevant.
Aside from keywords, Google assesses the relevance of search results using aggregated and anonymised interaction data. This is done by translating the data into signals that help the machine-learning model (or algorithm) detect relevance concerning the search queries.
For instance, in a dog-related search query, a webpage that simply repeats the word 'dog' without a particular word count or meaningful context, even if high on the SERP, would not be beneficial. According to your query, it should contain valuable content about dogs, such as a list of breeds, diets, or lifestyle habits.
The algorithm analyses each page component, such as written words, images and videos, to ensure out-and-out relevance.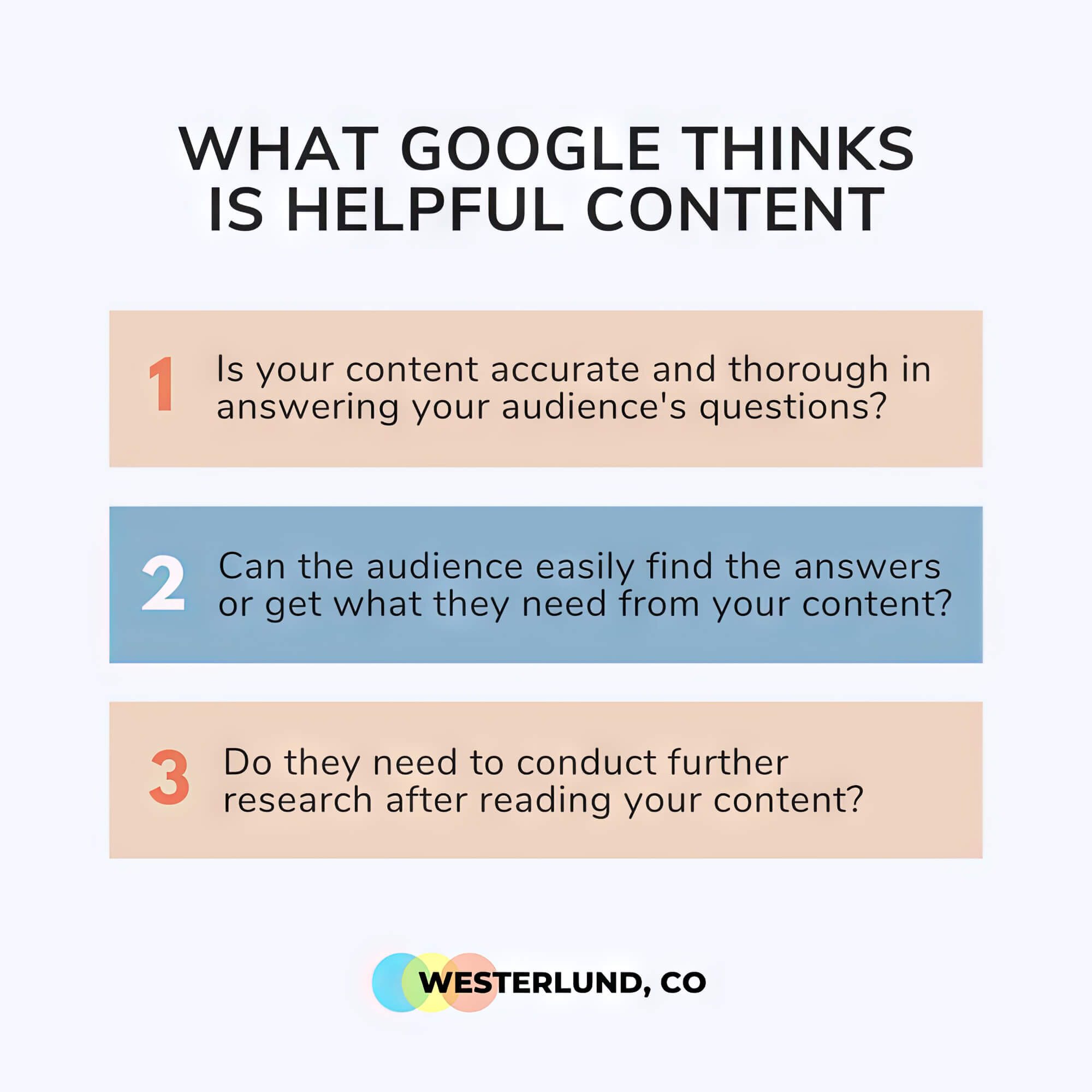 3. Offer A Satisfying Experience
Your website or webpage should contain engaging content that helps your existing audience feel satisfied by assisting them in making decisions, getting the desired products or services, and gaining valuable knowledge. If they are, then you're on the right track regarding relevancy.
An important thing to note here is that not every bit of your content can please all your audiences- it's virtually impossible to ensure that. However, your ranking won't take a major hit if most of your audience feels satisfied with your content.
4. Demonstrate First-Hand Expertise
Creating content that reflects a personal or expert point of view instead of simply replicating what others have written is essential. Your content must add unique value and showcase your actual expertise.
That said, it's perfectly fine to produce helpful content after researching and referring to other sources. Think of it as sharing your knowledge (no matter if it's limited) with your audience, but it's essential to be honest in your approach.
What Are The Google Quality Rater Guidelines?

The Google quality rater guidelines comprise a checklist that helps a Google search quality rater assess and rank search queries and their landing pages, respectively. Not only that, but the results obtained from these checks aid Google in planning future updates primarily focused on optimising web content while maintaining quality and relevancy.
The quality rater guidelines are, in essence, a 168-page document containing detailed descriptions of Google's ranking factors. But for your convenience, here's a brief overview of some of the crucial aspects:
Purpose of the page
Relevance of the content to the purpose
Advertisements (they shouldn't interrupt the user experience)
Your money, your life (YMYL) content
E-A-T rating
Reputation of the webpage or website from a search point of view
What Are E-A-T Guidelines?
Perhaps, understanding Google's E-A-T Guidelines are among the most critical tasks for quality raters. And it won't be wrong to say that these guidelines form the basis of most Google updates to improve content quality.
EAT stands for Expertise, Authoritativeness and Trustworthiness, which, together, are used as a ranking factor by the Google algorithm to evaluate your SEO efforts. In other words, your website or webpage content should adhere to the following content guidelines, among others, to rank highly:
1. Expertise
You should demonstrate real expertise in the content you're producing, meaning you should be well-educated about the niche you're dealing with. For instance, a qualified tax analyst will add real value to a blog about tax regimes than someone who has just read about them online.
However, expertise doesn't always need to have a 'formal mould,' as people who have experienced a certain situation can also be considered subject matter experts on the issue. A cancer survivor will be better qualified to answer your query about living with cancer than an oncologist with years of experience.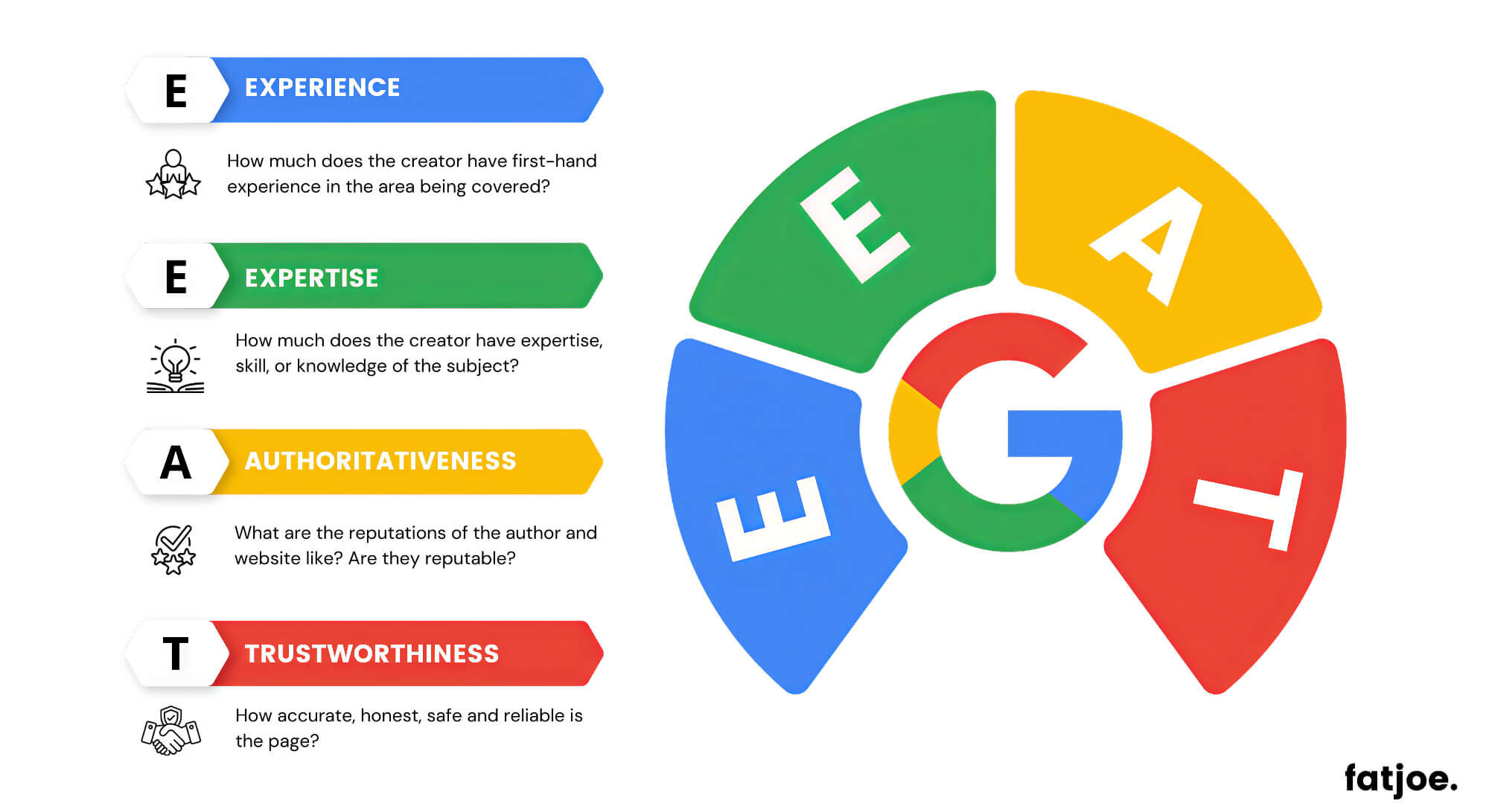 2. Authoritativeness
The authority or reputation of your website plays a critical role in determining its overall content quality. If others, especially industry experts, use your content for reference, it has a higher authority. As such, the content quality guidelines instruct raters to gain insights into the website's reputation by referring to reviews, recommendations, feedback and any other information about your website.
That said, authority is a very subjective concept that doesn't have a hand in your SEO rankings when used independently.
3. Trustworthiness
Trustworthiness is a two-fold aspect involving the authenticity or reliability (transparency) of the content and the content publisher. This means that your content will undergo fact-checking for both the content and the publisher's details (contact number, email address, etc.).
Empowering Discovery, One Search at a Time
In conclusion, we'd say that Google's helpful content update benefits content creators and users. It provides the most effective ways to stay relevant and on top of search results. It provides helpful information and assists users to find exactly what they are looking for with minimum search efforts.
However, implementing the various techniques to better ranking and SEO can be best achieved with the help of professionals. And we at sitecentre® Cairns have a team of professionals who can help optimise your website and web pages in accordance with all relevant algorithms so that your business revenue continues to grow.