To create custom and in-depth insights, Universal Analytics has been ruling digital marketing for over a decade. And rightly so, since it provides an in-depth insight by tracking online traffic and understanding users' behaviour. However, the platform isn't competent in delivering cross-platform insights.
That's why Google Analytics 4 was launched in October 2020, and Universal Analytics was set to be discontinued in June 2023. Whether you have an existing Google Analytics account or want to create one, you need to know and understand its features.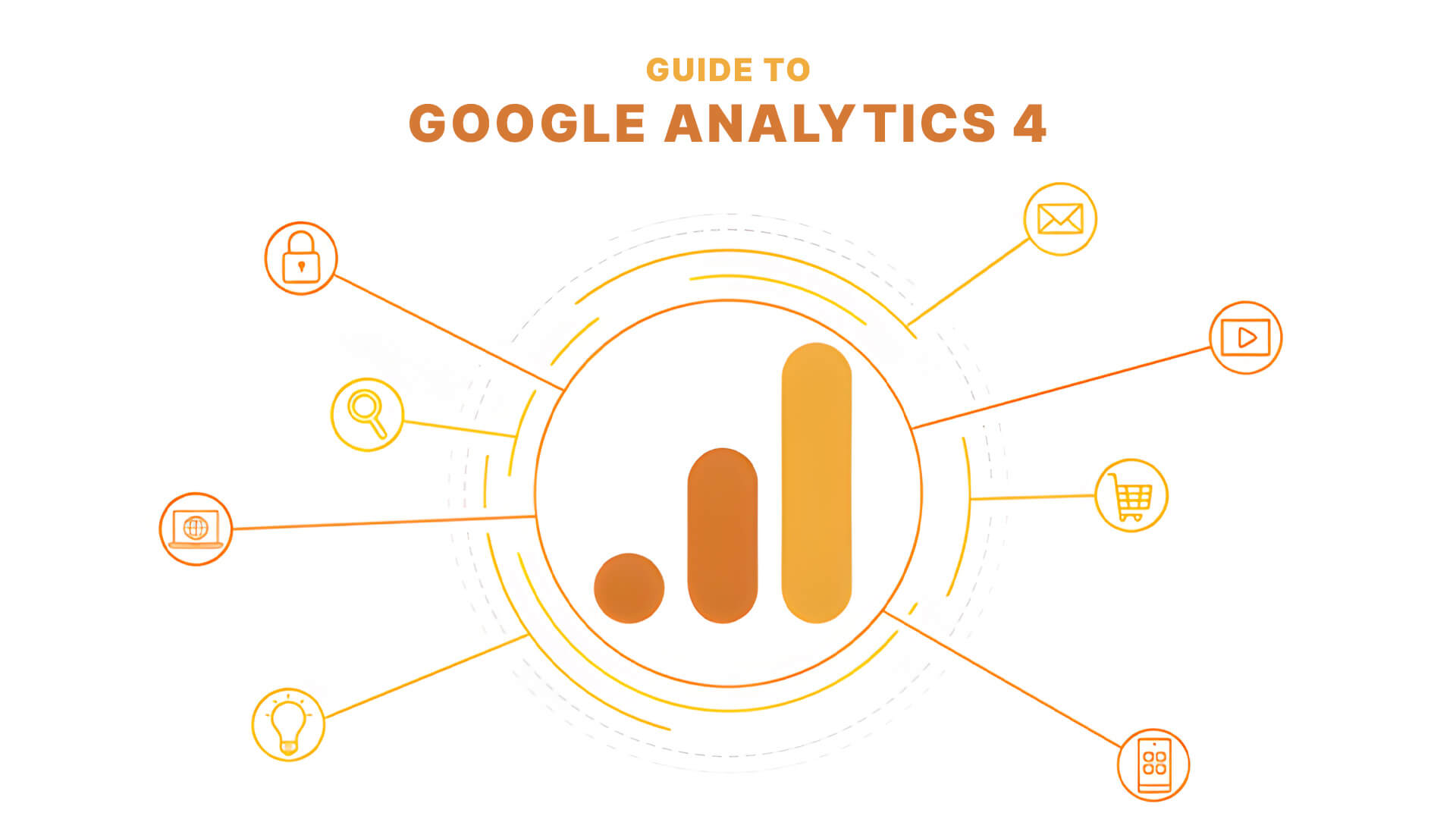 Of course, this shift isn't wholeheartedly accepted by everyone. Still, the newly launched platform, a new platform in the realm of analytics, makes it easier for marketers to track new users to track users' behaviour across multiple platforms. That's not all; it uses Artificial Intelligence and Machine Learning to provide insights into customer behaviour, anomalies and trends.
This guide will walk you through everything you must know about using Google Analytics 4 to increase web traffic and boost sales. So, grab a cup of coffee and begin reading!
A Guide To Google Analytics 4: What Is It?
There's no denying that getting the right traffic to your website is crucial to boosting sales today. Out of all the web scraping tools launched to collect data, Universal Analytics is the most powerful and preferred by marketers, strategists and business owners.
But did you know that Google Analytics 4 is the recently discovered version of Universal Analytics?
Until 2019, mobile apps and website data were considered distinct by Google. When GA4 was launched for the first time, the scenario completely changed, and both websites and applications were now tracked under one roof.
Formerly known as "App + Web," the GA4 is a web analytics programme that allows business owners or web managers to track users' engagement, traffic and how many users visit a webpage. In addition, it employs Artificial Intelligence (AI) and machine learning to supply you with detailed insights into how customers interact with individual pages on a website and screens on apps.
Not only does it help business owners make better decisions based on analytics, but it also focuses on customers' privacy. Whether AI-driven-predictive analysis, cross-channel data measurement or privacy-first tracking, Google Analytics 4 GA4 is the most powerful tool for measuring traffic across websites and mobile apps.
Features Of Google Analytics 4
Since its introduction in 2005, Google has left no stone unturned to improve Google Analytics for measuring traffic and providing its users with detailed customer insights. And it's recently launched Google Analytics 4 stands testimony to its trend of continual improvement.
With its new data model, analysis tools and a plethora of other features, GA4 packs quite a powerful punch, which is why it's worth the upgrade. Here, we've discussed the benefits of upgrading to Google Analytics 4.
1. Smarter AI-Powered Insights And Predictive Metrics
We've already mentioned that GA4 employs AI and machine learning to provide more intelligent and detailed insights to eCommerce store owners. Thanks to its intellectual framework, it alerts you and offers personalised suggestions in case of rising demand for your products or services.
As automated insights are generated automatically, managers are notified immediately whenever unusual activity or changes are detected in specific data trends. More often than not, there are three predictive metrics launched in GA4 — as follows:
A. Revenue Prediction
Anticipated profit from 28 active users in the following 28 days, forming part of the historical data.
B. Churn Probability
A seven-day active user may not engage for the next seven days.
C. Purchase Probability
The likelihood that a 28-day active user will purchase within 168 hours or the next seven days.
Of course, when eCommerce store owners are presented with everything you need from the three predictive metrics, they can design custom ads to boost traffic and generate leads.
2. Better Integration With Google Ads
By linking a Create a new Google Analytics account with a Google Ads account, you can reach out to your customers by creating custom audiences. You can also review the reaction of your target audience to marketing strategies and customise campaigns accordingly.
Supposedly, if a few of your target audiences purchase some products or services through your app, GA4 will cease targeting them with ads and remove them from the list. By doing so, your Google Ads campaigns can be better managed.
3. Automated Cross-Domain Tracking
Regarding Universal Analytics, cross-domain tracking is done through coding or setting up a Google Tag Manager account. But often, people find it confusing to set tracking codes, which is why they make mistakes.
Thankfully, Google Analytics 4 has easily tracked users' behaviour and browsing patterns across multiple platforms. Instead of monitoring customers' activities separately on mobile apps and website pages, GA4 allows web managers to track both under the same roof, collating a wealth of GA4 data.
Google Analytics uses first-party cookies to track users and collect data, noting their engagement time. So, when a user visits your website, it drops one cookie to the user's browser to check their activity.
However, the problem with first-party cookies is that if a user moves across two or more domains, Google Analytics isn't competent enough to identify that they are the same person.
Contrarily, Google Analytics 4 tracks users' journeys across multiple devices. This means that if a user browses through your website from two different devices, then GA4 will record it as one person instead of two different people, which can look like a data discrepancy.
Besides, GA4 allows web managers to view metrics of ad campaigns across all platforms in one place.
4. Integrated Event Tracking
Did you know that event tracking is crucial for making important marketing decisions? Event tracking is linked to an event-based approach and conversions from paid advertising campaigns through which the marketers can get insight into the traffic and conversions.
In Universal Analytics data, events aren't recorded by default, such as when a user logs in. This implies that when someone wishes to track vital stats, Such as a conversion event like link clicks or video plays, they must install Google Tag Manager manually.
Thankfully, the latest iteration of Google's analytics tool provides automatically tracked events, so you won't have to go through the hassles of installing it. And since events have replaced hits, GA4 lets you collect data for almost anything you wish — there's no restriction!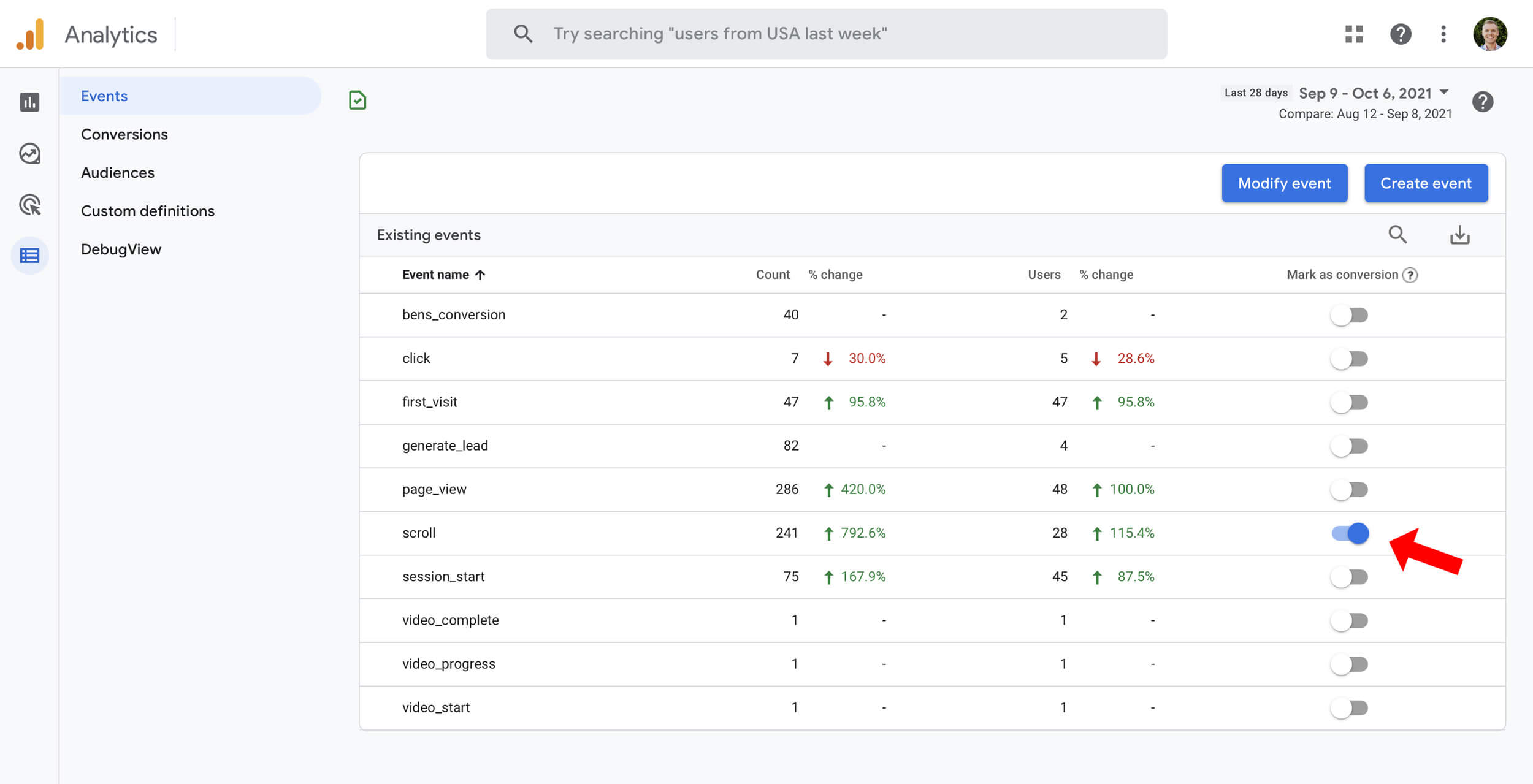 5. Cookie-Less Tracking
More often than not, data-driven tracking platforms employ cookies to track users' data and navigate patterns. Unfortunately, privacy laws continuously evolve, so it's challenging for platforms to track users through cookies.
Keeping that in mind, GA4 uses Artificial Intelligence and machine learning to predict the future behaviour of the audience.
6. Intelligently Organised Reports
Data reports created in new Google Analytics; designed to be simple for digital marketers yet more powerful than their predecessors. Of course, these reports are loaded with new features that track critical statistics like outbound links, file downloads, site searches, and more.
The reports snapshot derived from the data collected by GA4 gives business owners detailed insight into user behaviour and how customers engage with your website or products and services. As a result, you can:
Inspect how your clients discover your business
Review everything from purchase to retention, essentially following the user lifetime, essentially following the customer's life cycle
Adjust your marketing campaigns as per your customers' journey
7. New Search Bar
Another interesting feature of the brand-new Google Analytics platform is its newly optimised search function that depends on Artificial Intelligence. You'll find the search bar towards the top left of the screen, through which you can search for various things we've discussed below.
A. Insights, Reports And Admin Pages
Do you want to search for a particular report to compare present data with the past one? You can get the report by typing either the report's name or a related keyword. Subsequently, it will display all the screens' reports that match or are close to the names you've mentioned in the search bar.
B. Instant Answers
Did you know that the new search bar answers your queries immediately? Indeed, it's one of the best features added to GA4 because it has made it easy for marketers and strategists to discover relevant insights.
For instance, if you want to see conversions of the last month, simply type "conversions last month", and the platform will display insights relating to the keywords. As it's a new feature exclusively launched in GA4, it will take time to evolve, so we suggest asking questions as directly as possible.
C. Informative Content
There's a high possibility that most people will take the time to overcome the learning curve of the GA4 platform, and that's why you can look for informative content on conversion events by typing the issue on the search bar. And since it launched the "Insights" section in March 2022, we are sure you'll get content on most topics.
D. Account Or Property Configuration
Another impressive aspect of the new search bar is that you can search for any ID you want. Whether you're looking for measurement, property or account ID, simply type it in the search box, and you'll get them displayed on the screen without navigating through Analytics.
8. Access To Analysis Hub
Another noteworthy feature of Google Analytics 4 is Analysis Hub, formerly available only in 360.

Simply put, it's a set of advanced analytic tools that go beyond ordinary reports to help you better understand and gain more profound and meaningful insights into the users' behaviour. Moreover, you can modify them by adding metrics and dimensions or deleting the ones to your liking.
Over and above that, you can export valuable datasets to other tools without any issues.
9. New DebugView Tool To Track Events
We bet everyone will agree — tracking a glitch in your website is a painstaking task, no matter how tech-savvy you are.
Thankfully, GA4 features a new debug tool that allows users to monitor and validate their app data Analytics configuration in the development stages. Hence, you won't have to deal with annoying surprises later on. In addition, it's the best way to identify problems the moment they crop up.
10. Enhanced Measurement Without Additional Coding
Thanks to the "enhanced measurement" feature, GA4 lets you monitor and create event tracking for video interactions for YouTube sites, outbound clicks, file downloads, 90% scroll events and site search through the analytics tag.
You'll be pleased to know that the Enhanced Measurement can be turned on and off anytime you want from the GA4 interface. Navigate to "Admin", then click "Data Streams", select your website and toggle the button to the blue position to turn it on.
Difference Between Google Analytics 4 And Universal Analytics
Of course, the most prominent difference is that Google Analytics 4 allows you to track customer activities on websites and apps. But numerous other aspects make the two different from each other.
So, let's check them out!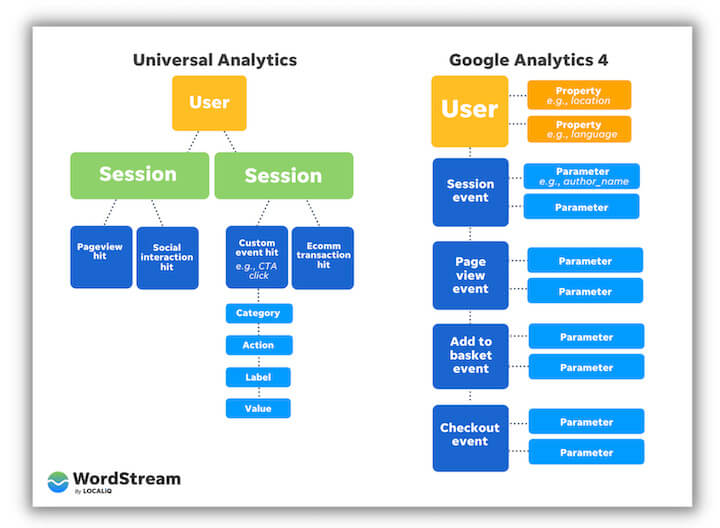 1. Measurements Are Events Instead Of Page Views
Universal Analytics and Google Analytics 4 are based on two different Architectural models. While the former focuses on the session-based model, the latter centres around the event-based model.
Universal Analytics collects data by dropping a cookie in the users' browse, which monitors users' behaviour on the web pages. When a cookie is dropped in someone's browser, they record every hit made per session.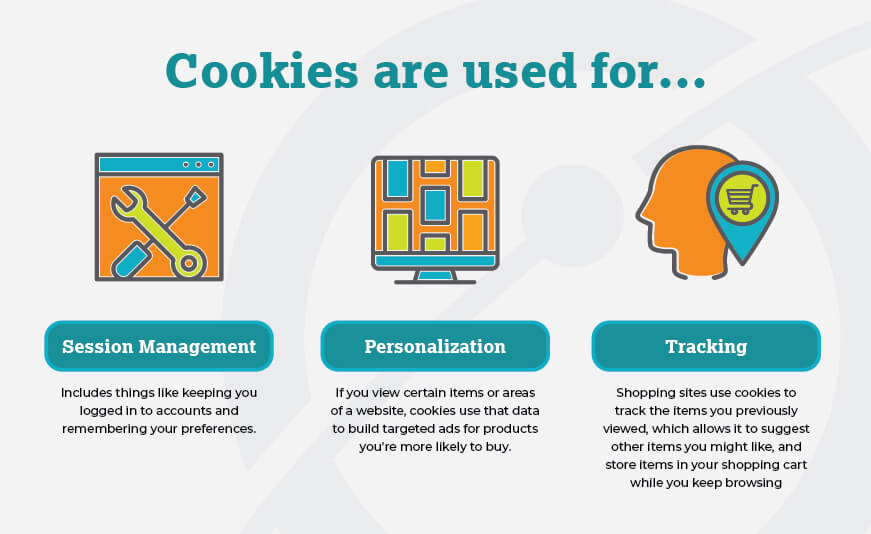 Contrarily, Google Analytics 4 tracks everything as an event rather than engaged sessions and hits. So, everything is recorded as events, whether they click a link or purchase something from your eCommerce store.
In GA4, event data is divided into four categories, which are as follows:
Automatically collected events in GA4
Enhanced measurement events
Recommended events
Custom events
2. Predictive Audience And Metrics
Another aspect in which Google Analytics 4 differs from Universal Analytics is predictive audience and metrics.
Unlike the latter, GA4 uses machine learning to forecast your users' future behaviour. Of course, the predictive metrics and event count help business owners and marketers give insight into consumers likely to purchase their products or services in the upcoming days. Hence, you'll be able to create campaigns that will engage with your targeted audience, leading to sales.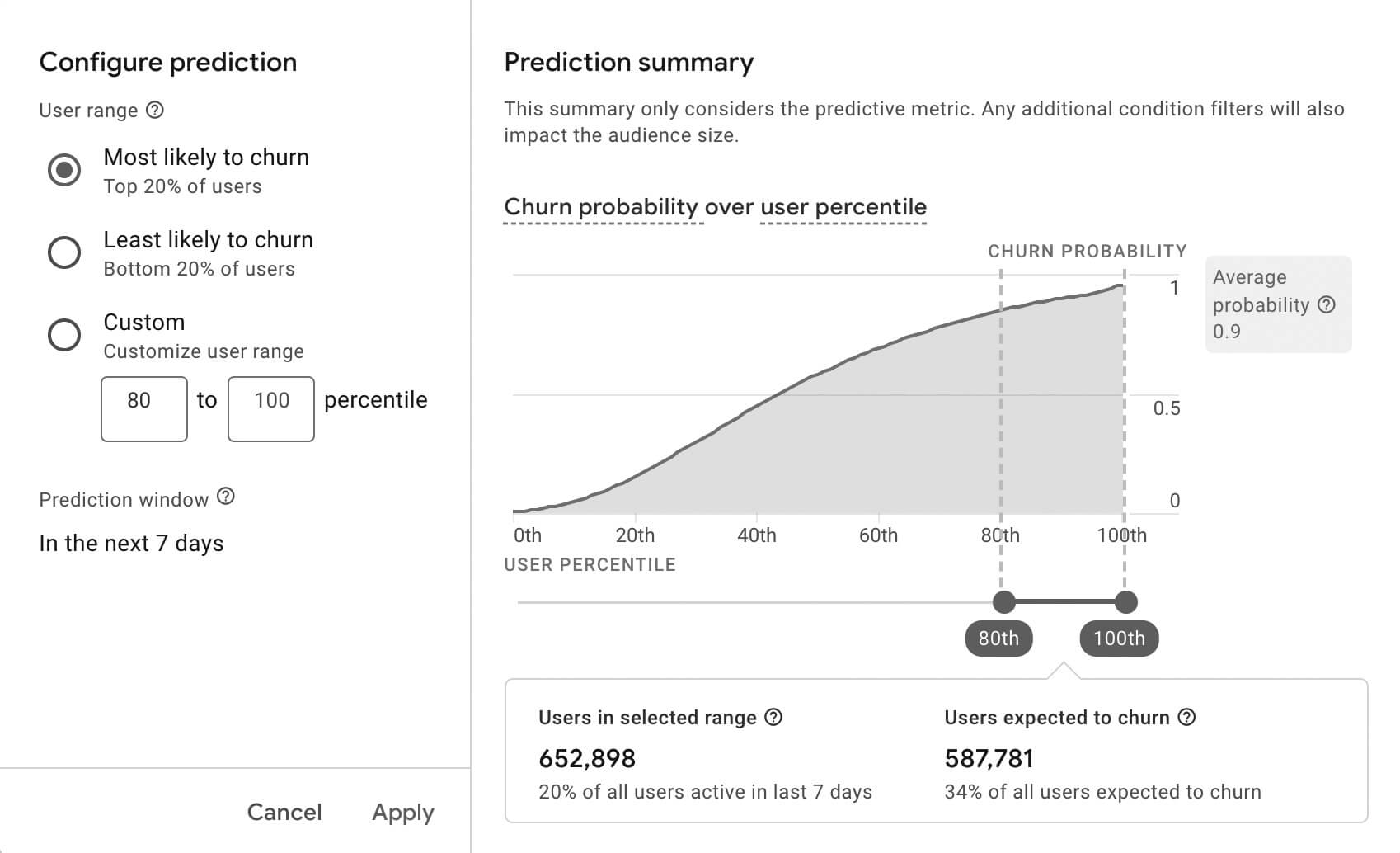 3. Cross-Device Reporting
While Google Analytics 4 allows cross-device reporting, Unlike certain website builders, Universal Analytics considers web pages and apps as two separate entities.
Supposedly, a particular group of users view your products or services through their laptops but purchase them through their device category, such as smartphones or tablets, on the same day. Meanwhile, some people may visit your website by clicking on an ad from their phone, check out the products on their tablets, and purchase them through their laptops.
Since Universal Analytics uses session-based models for monitoring users' activities, it will consider them different users. On the other hand, Google Analytics 4 tracks activities through event-based models, which makes sense so that it will regard them as the same people.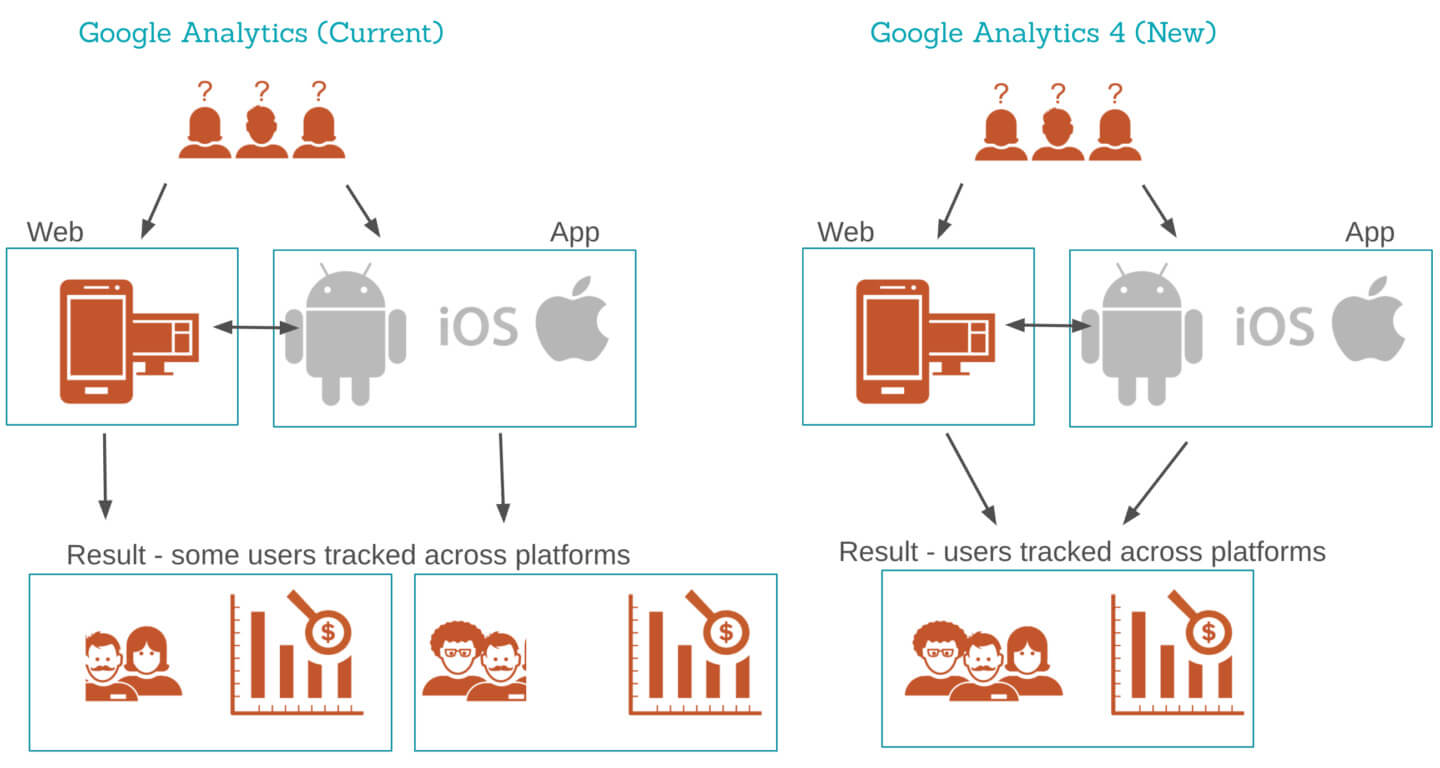 How To Install Google Analytics 4 With Google Tag Manager
Step 1: Create A New GA4 Property
To use Google Analytics by creating a new Google Analytics 4 property, navigate to the admin section of your account and click on "Create Property". Next, enter the name of your website, brand or company in the "Property Name" box and select the country, main currency and reporting time zone in which your business operates. After that, click "Next", answer the questions on the screen and select "Create".
Step 2: Configure Your First Data Stream
After creating a property, you'll have to configure your first data stream. It's a set of data that will send events to your Google Analytics property, and the good news is that you can have various data sources in one property.
One web data stream is often enough for tracking websites, even if you wish to monitor multiple them.
After that, you must enter your website's address and name. Note that when you create a web data stream in GA4, you can disable or enable Enhanced Measurement. Marketers can now organise as many events as possible into reports without collaborating with developers.
However, Enhanced Measurement is enabled by default so that it will track the following events until disabled:
File Download (event name: file_download)
Site search (event name: view_search_results)
Scroll (event name: scroll)
Video Engagement (events: video_start, video_progress, video_complete)
Outbound link click (event name: click with the parameter outbound: true)
Page view (event name: page_view)
If you wish to turn off specific events, click the toggle button in the Enhanced Measurement section. Once you're done turning the events on or off, proceed further by clicking on the "Press Stream" button.
Step 3: Install Google Analytics With Google Tag Manager
When you've successfully set up a web data stream, a Measurement ID will appear on the screen, which, using your GA4 demo account, you'll have to copy and paste into Google Tag Manager.
Navigate to the Google Tag Manager container, click "Tags" and "New", and select GA4 configuration. Now, paste the copied code into the Measurement ID section and enable the checkbox only if you want to track page views automatically.
While there's no harm in enabling it, creating a standalone configuration tag and disabling the checkbox is advisable. Next is the triggering section, where you must select "all pages" and name the tag GA4 — pageview.
Step 4: Enabling The DebugView Mode
In GA4, you get multiple options to turn on the DebugView mode:
Toggle the enable button in the Google Tag Manager preview mode on the page you want to debug.
Send a debug_mode parameter in conjunction with the event
Enable the debugger extension in Chrome
To enable the debugger extension, you'll have first to install it, click on the icon, and your events will start appearing in the DebugView.
Step 5: Submit Changes In Google Tag Manager
After enabling the DebugView mode, publish the Google Analytics 4 changes in the Google Tag Manager container if your data is displayed correctly.
Simply click on "Submit", which you'll find displayed on the top right corner of the page. After that, you'll be redirected to a few other steps that you must complete to submit changes in GTM. When that's done, real-time reports, reflecting updated information in virtually real-time, will appear in your account so that you can monitor them.
Step 6: Check Real-Time Reports
Data flows into your account as reports, and this is what it looks like, which you can check by clicking on "Reports" and then "Real-Time" on the left side of the Google Analytics 4 interface. Contrary to Universal Analytics, GA4 displays data on a more granular level to give you a detailed insight into consumer behaviours and patterns.
First and foremost, you'll see a map and a slew of cards with information on traffic sources, depicting any segment overlap, the number of visitors in the past 30 minutes, and the most popular events. You can also view the snapshot of each user separately by clicking on the "View User Snapshot" in the top right corner of the page.
After clicking on that, the events of that particular user will appear on the screen. Simply click on them, and you'll see their activities more granularly.
Setting Up Google Analytics Alongside The Existing Universal Analytics Property
Step 1
Click on "Admin", which you'll find towards the bottom left of the screen.
Step 2
Choose the account from the Account section.
Step 3
Under the Property column, choose the Universal Analytics property that currently gathers data for your website.
Step 4
Click on GA4 Setup Assistant from the Property column.
Step 5
Beneath "I want To get started with Google Analytics 4, first create a new property", click on "Get Started".
Step 6
If your website uses the gtag.js tag, click "enable data collection using your existing tags."
Step 7
Click on "Create Property".
More often than not, users face issues while enabling data collection using the existing tags option. If you do so, it's because of the three options listed below.
Analytics.js has been added to your website
Your website uses Google Tag Manager
Your website builder or Content Management System doesn't yet support the gtag.js tag.
Regardless of the reason, you'll have to add the tag manually.
Google Analytics 4 Pros & Cons
Though not a major upgrade, Google Analytics 4 is packed with a host of features that make it better than Universal Analytics. One of the significant differences between Universal Analytics and Google Analytics 4 is that the former collects user interactions while the latter records them as events.
Also, Google Analytics 4 provides more detailed insights into consumer behaviours and patterns than Universal Analytics. We decided to put together the pros and cons of the latest iteration so that you can determine if it's worth the upgrade or not.
Pros Of GA4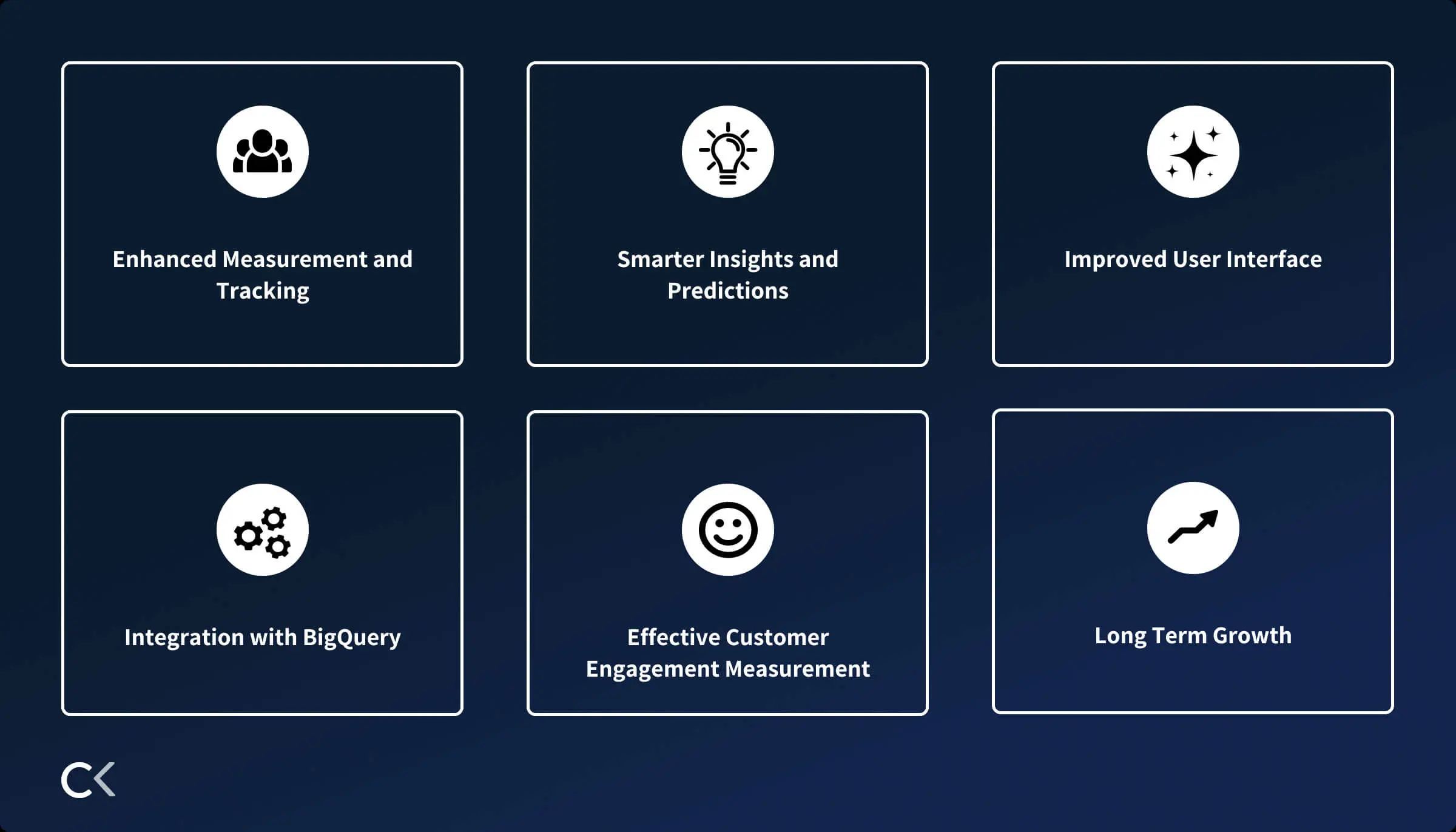 1. Google Analytics 4 Is Privacy-Centric
Indeed, Google Analytics 4 provides more detailed insights into the customers' journey from being users to loyal consumers. However, the good thing is that it doesn't breach its valuable users' privacy, which is impressive.
It uses AI and machine learning to predict future behaviours so business owners can design their campaigns around them.
2. It Makes Analytics Measurable Across Platforms
We bet marketers would agree that studying metrics for websites and apps on two separate platforms is challenging. Thankfully, Google Analytics 4 has made it easier for web managers, marketers, strategists and business owners to measure traffic and engagements across apps and web pages without difficulty.
In Universal Analytics, analysing data is mind-boggling because it's recorded in two different places — events for Firebase and sessions for Analytics. However, since Google Analytics 4 allows tracking users across multiple websites and apps, you can rest assured that you'll find all data under one roof.
3. Loaded With Google 360 Features
Did you know that Google Analytics 4 packs a powerful punch because it's packed with Google 360 features? Users signing up for GA4 will access BigQuery export and funnels available in Google 360.
Cons Of GA4
Like other platforms, Google Analytics 4 isn't the perfect web-scraping platform. Though nothing major, it has shortcomings that users must know before employing it to track their behaviour and shopping patterns. So, let's check them out.
1. Google Analytics 4 Doesn't Merge With Universal Analytics Historical Data.
Bud Hennekes says Google Analytics 4 doesn't process the historical data from the standard Universal Analytics properties. So, if you wish to process old data from the latter to the former, you'll have to add a global site tag in Google Analytics 4 and collect as much data as possible.
Alternatively, you can use Data Studio to merge the two and view them in a single dashboard.
2. All Features Aren't Readily Available
As you already know, Google Analytics 4 was launched in 2020, so new features are being rolled out every other day. For instance, connecting the platform to Data Studio hasn't been launched yet, so users cannot use it to view previous website and app data under one roof.
As a result, marketers and business owners cannot simply rely on it to make major marketing decisions.
How To Use Google Analytics 4 Effectively For Driving Traffic And Boosting Conversions?
Most people believe Google Analytics 4 is about page views like Universal Analytics. However, that's not the case because it is about a customer's journey, which is why it includes user reports from viewing a page to purchasing a product.
We've mentioned some ways to use Google Analytics 4 so you can amp up your marketing strategy.
For Analysts:
Leverage your capacity to gather data from both mobile apps and website pages.
As Analysis Hub and BigQuery export of Google 360 is available on the Google Analytics platforms, make sure you make the best use of it.
For Developers:
Make maximum use of the DebugView to separate your real-time data.
Use Google Analytics 4 more efficiently by enabling Enhanced Measurement.
For Marketers:
Stay up-to-date with the latest trends that Google Analytics 4 notifies you about so you can design marketing strategies in line with them and boost traffic flow.
Keep checking the user engagement metrics to see who interacts with your content on the website and app.
Employ your potential to the fullest by grouping users to create specific audiences based on whether they will make a purchase.
Design marketing campaigns by relying on the ability of Google Analytics 4 to collect data using AI and machine learning without making use of cookies.
Frequently Asked Questions
Q1. Is Google Analytics 4 A Free Platform?
Of course, Google Analytics 4 is a free platform, and you can use it without paying a single penny. So, whether you want to use one or more properties, rest assured that Google won't charge any money.
Q2. Is Google Analytics 4 Challenging To Use?
Since it's the latest iteration of Google, it's designed with the latest trends and loaded with advanced features. Hence, users will find it slightly trickier, but once you get the hang of it, you can use it without any issues.
Q3. Can Google Analytics 4 And Universal Analytics Be Operated Simultaneously?
Currently, you can run both platforms simultaneously, but remember that Universal Analytics will be discontinued in 2023. So, make sure you install the GA4 extension to avoid problems later.
Getting Started With Google Analytics 4
There you have it! A complete guide on Google Analytics 4 for beginners.
In conclusion, Google Analytics 4 is a necessity for the success of every business, whether it's a small eCommerce store or a large firm. It makes it easy for business owners to measure traffic across platforms and provides predictive analytics that make it easy for marketers to customise campaigns.
But before we call curtains for the day, we have one last piece of advice for you. If you're a novice in the digital marketing world, hiring a professional who is well aware of the latest marketing trends is best.
Feel free to reach out to our team at any time. We specialise in providing small businesses with the ability to establish their brand online through web design, SEO, and content creation. Our team is always happy to help you with any questions.
With that, it's a wrap for today. Good luck!