Have you invested significant efforts in your SEO?
You may have optimised your website design, creating targeted content, earned authority links, etc. And now, you have finally made it to the Top 5 to 10 spots in SERPs.
With over 7.5 million blogs published daily, you may have worked hard to achieve these positions. Unfortunately, the truth is that there are millions of sites fighting for these top positions. And unless you hold your hard-earned positions firmly, they can overtake you.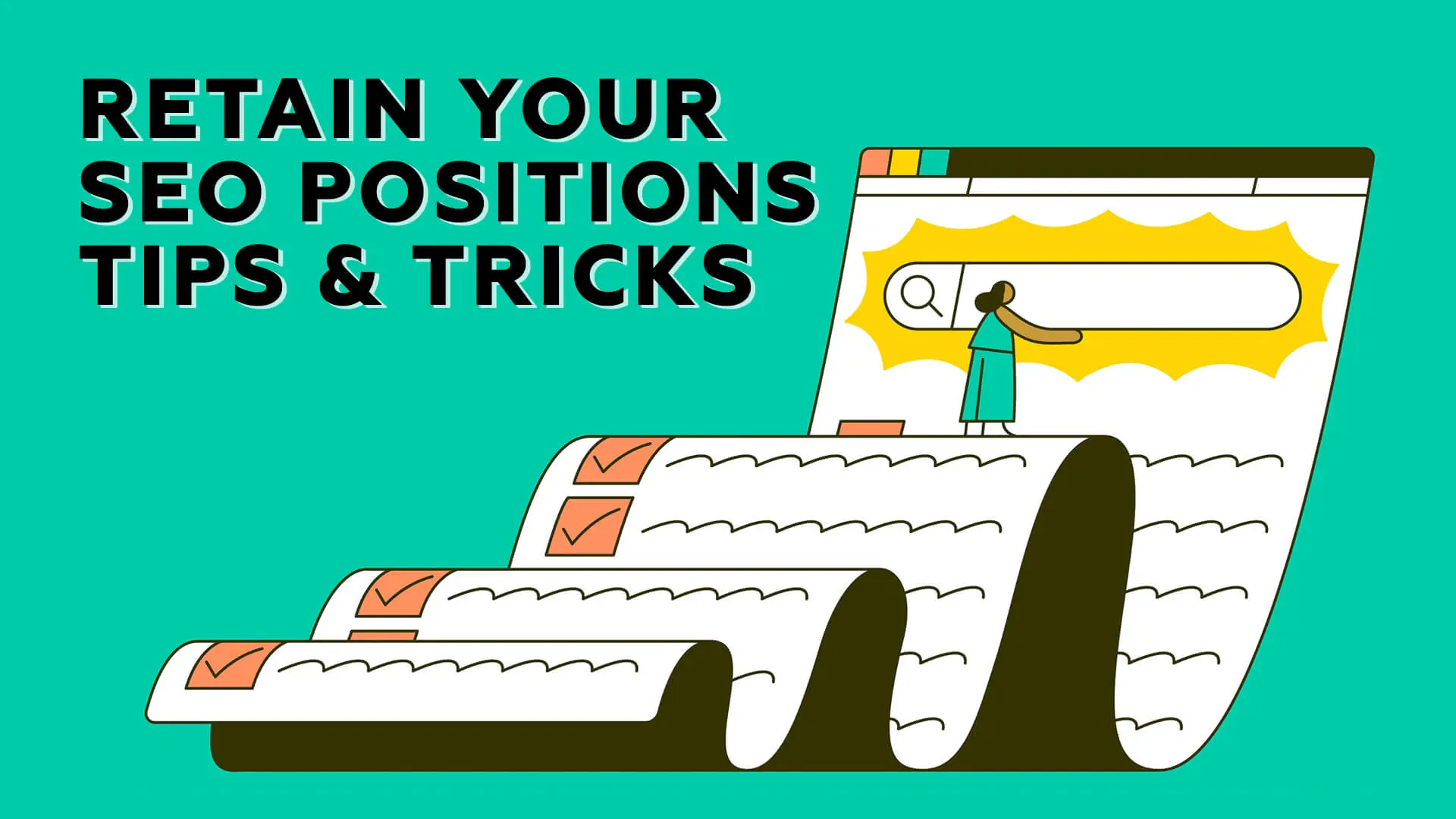 So, how can you implement strategies on how to retain top rankings in search engines?
After achieving the top ranks, you have to be considerate of two factors:
Search engine algorithms are constantly evolving. And you need to align your optimisation efforts with the latest updates.
Millions of businesses are competing with you to procure the search engine rankings for the keywords you are dominating.
8 Effective Methods for Keeping High Search Engine Rankings
1. Ensure that Your Content Isn't Outdated
Google's algorithm constantly evolves, aiming to keep value over everything else.

Thus, it considers authenticity and freshness when ranking the most valuable content.
So, even if it is an age-proof content piece, you must update it every once. Small addendums, the latest insights, relevant updates, anything that keeps the information on topic and appropriate.
Further, ensure that you keep enhancing your content's user experience. While keeping your text intact, you can add relevant media like images or videos, and don't forget to optimise your meta description.
This practice will complement your content's visual appeal and improve user metrics. It helps you retain and grow your content's SEO value over time.
People would any day prefer to link out to a well-updated and already ranking article. These relevant inbound links keep the ball rolling, increasing your DA and driving more search engine traffic to your site.
2. Keep Your Competitors' Efforts Under Surveillance
A good strategy is to keep the activities on your competitor's web page under surveillance. Search and investigate several competitors' analysis tools like Ahrefs, SEMrush, and Ubersuggest. These will help you understand what keywords, blog articles and service or product pages they rank for.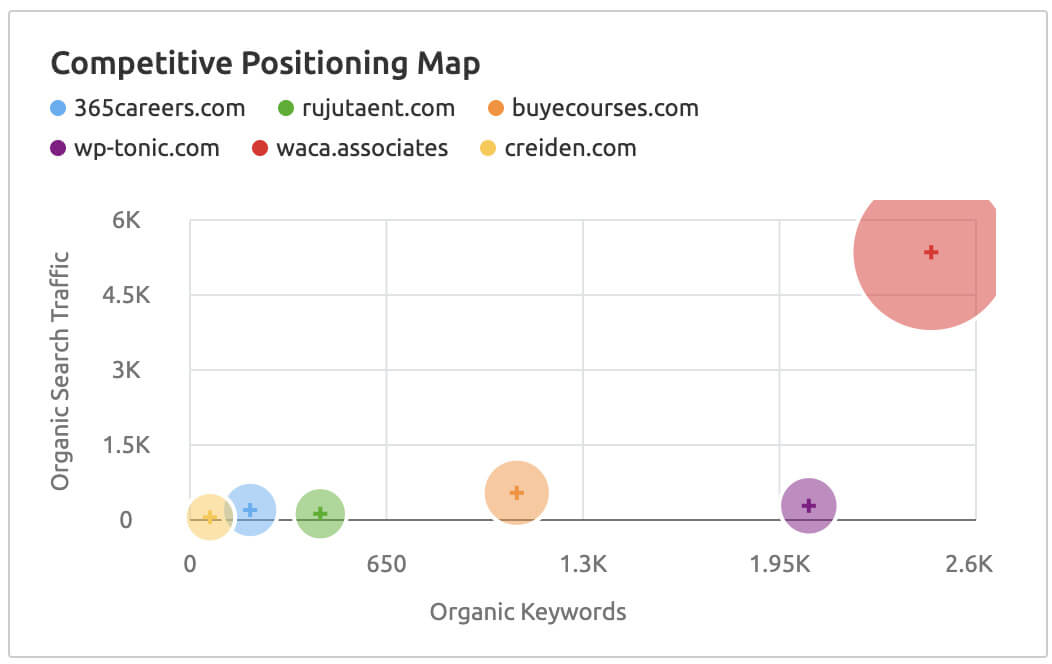 We recommend that you are aware of and track your competitors on the following:
The domains from where your competitors are drawing backlinks and the effectiveness of their page titles;
Any common guest blogging platforms;
What kind of content are they posting online and on social media;
What type of content is drawing them high reach and conversions;
Are there any keyword opportunities that you must also consider;
You can modify and update your content by tracking your competitors' SEO efforts to outperform them. You must remember that the content you are uploading and editing must be relevant to your industry and valuable to your consumer — or there is no point in it!
While your rankings prove your expertise, having some aces up your sleeve doesn't hurt!
3. Diversify Your Outbound Link Profile
When it comes to outbound links, you need to be wary of the quality of the links you attract.
Growing low-quality links at an unusual pace can attract a doubtful glance from Google. And you wouldn't want to upset Google.
That said, try to procure high-authority links.
Spending more backlink efforts on the same page is no point if you rank for some keywords. It can even disturb your link profile and cost you a drop in your rankings.
Instead, it would be best if you diversified your outbound link profile. It would be best if you considered building backlinks for other crucial keywords on your site and other pages.
By attracting authority links across different pages on your site, you can grow your link equity. New keywords will also start moving up in the SERPs.
A diversified backlink profile translates into improved domain authority. And this approach helps you defend your top rankings in the SERPs with much credibility.
4. Optimise and Re-optimise Your Site Speed
You are undoubtedly aware that site loading speed significantly adds to your SEO value.
But did you know that Google recently announced site speed and page response time as crucial ranking factors?
Google wants site owners to reduce the site load time to less than one second, particularly for users browsing on mobile devices. This parameter is for mobile page speed.
You can still shave off some seconds or milliseconds when this parameter might be impossible to achieve.
So, you must ensure no competitor outdoes your site speed optimisation efforts.
And that's how you hold your top rankings firmly.
You can use Google's PageSpeed Insights tool to scrutinise if there are any page speed issues. The tool also offers specific recommendations on how to resolve these speed issues.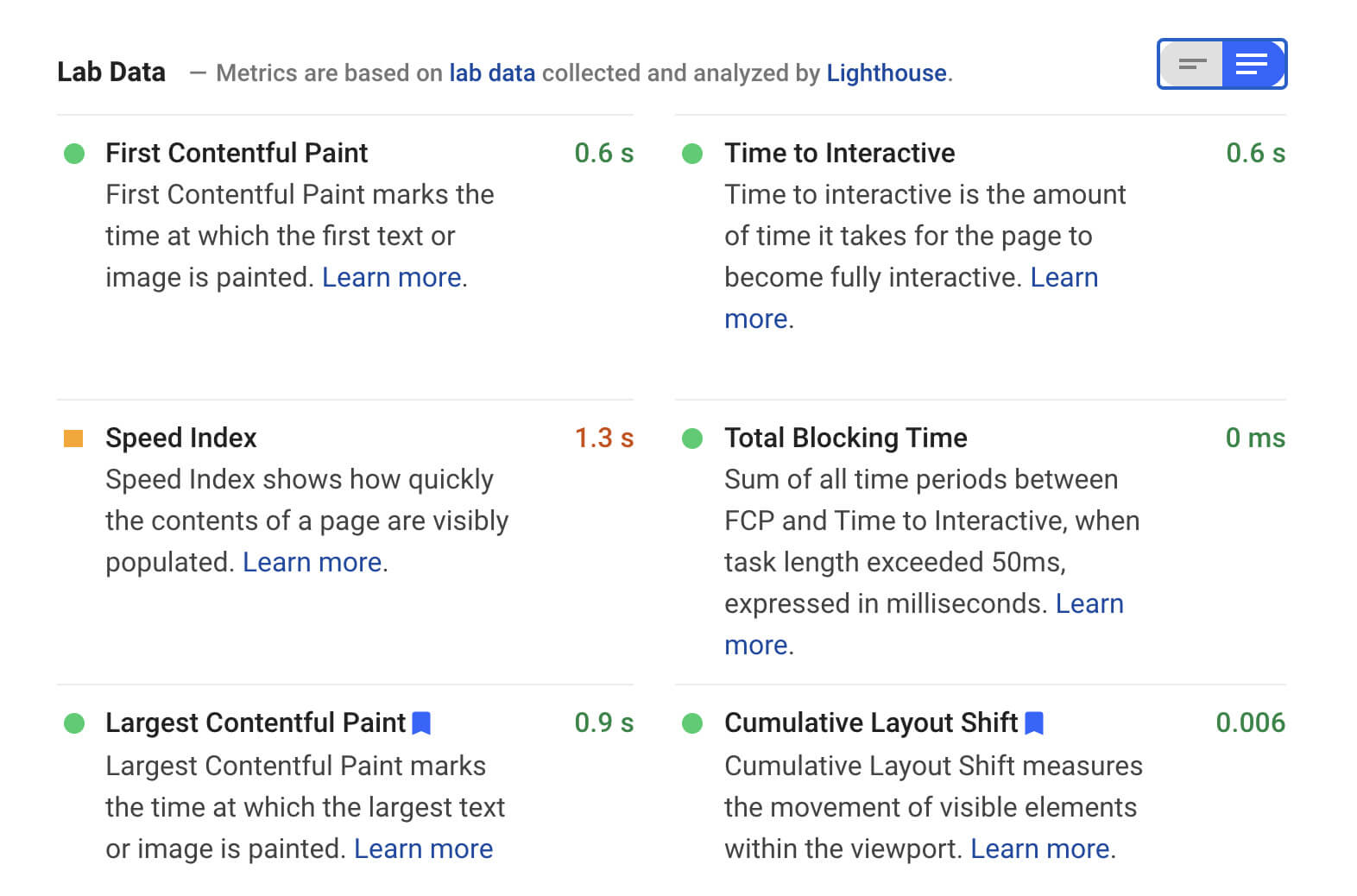 You can call for a developer to optimise your site speed by implementing these measures:
Employ a content delivery network (CDN)
Use the WPSmush plugin to compress images on your WordPress site
Gzip the JavaScript files
Switch to a robust dedicated hosting service
Minify and compress the site's JavaScript files, HTML, and CSS
5. Draw Maximum Value from Guest Posts
Guest blogging is yet another multi-functional element in your content marketing toolkit. It is capable of drawing stellar referral traffic and email subscribers.
Most guest post authors list their social profiles in their author bio. This will often bring them several new social media followers from the reader's list. Along with huge referral traffic, you have a chance to build valuable links through guest posts.
Posting relevant blogs on high-authority sites can yield you backlinks to essential keywords. This brings home high link equity and growth in the rankings of the anchor text keyword.
Many marketers use guest blogging to link back to their ranking pages. This allows these pages to retain their positions in the search engine results pages.
6. Keep Enhancing Your Social Media Marketing Efforts
A question that has been attracting varied opinions for quite some time now is –
"Does social media affect your SEO performance?"
While some marketers say otherwise, most SEOs believe there is a correlation between social presence and SEO.
Below is a screenshot of a case study from Moz. It shows how Moz's beginner's guide took an impressive leap to the 1st page of Google. And what triggered this leap was a tweet by Smashing Magazine.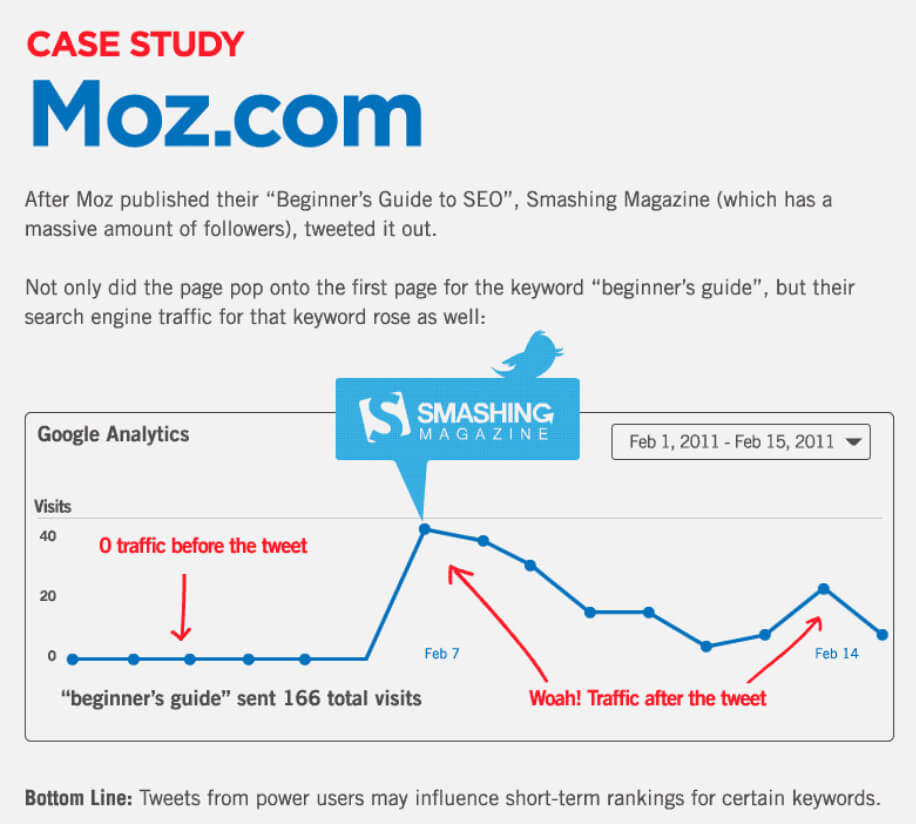 If an SEO leader like Moz vouches for it, you must focus on your social media authority. Google also considers social media platforms like Twitter, Facebook and LinkedIn high-authority sites. And as such, backlinks from these sites draw considerable equity to your site.
Google also notices the shareability of your content on social media platforms. And it values highly shareable content. You gain good referral traffic if your content becomes popular on social media. You can translate this traffic into improved user metrics by delivering good UX.
7. Leverage Your Internal Links and Outbound Links
Internal links are your on-page counterparts to inbound links. And your on-page links also have a crucial say in your SEO performance.
Relevant outbound links on your pages tell Google that your content is well-referenced. However, you must ensure that you out-link to an authoritative site.
Relevant outbound links make your content valuable for readers. They will appreciate your efforts if the external page adds value to the main topic.
However, be wary of the frequency of outbound links you use and do not overdo it.
Akin to the outbound links, you must add internal links to your content pages. You add value to your page when you link to relevant content on your site. Google now finds it easier to comprehend the topical focus of your page. Your page now offers more substance to visitors.
If the visitors find your linked pages valuable, they dwell longer on your site. This is a win-win both in terms of SEO and conversion rate optimisation.
A well-managed internal linking strategy and appropriate meta tags improve your user metrics. This enables you to sustain your top rankings on the search results page.
8. Offer a Commendable User Experience on Your Site
Google is inevitably one of the greatest advocates of user experience. While it adheres to its pro-user experience stance, it recently announced The Page Experience Update. The update makes the page experience a crucial ranking factor. And it depends upon parameters like site speed, response time, mobile compatibility, etc.
So, while you wish to retain your top ranks, you must optimise your pages for this new update. You must also ensure that your competitors don't outperform your page's experience. And while you have no say in your competitors' efforts, you must direct attention to your site's UX.
Here are some UX considerations to retain your top ranks:
Make sure that you
Compress and optimise the files if you add new media to these pages.
Do not add disruptive lightbox pop-ups to your ranking pages.
If you add new CTAs to your pages, ensure they aren't off-putting.
Do not overdo internal linking on these pages to share link equity.
SEO Competitor Tracking Tools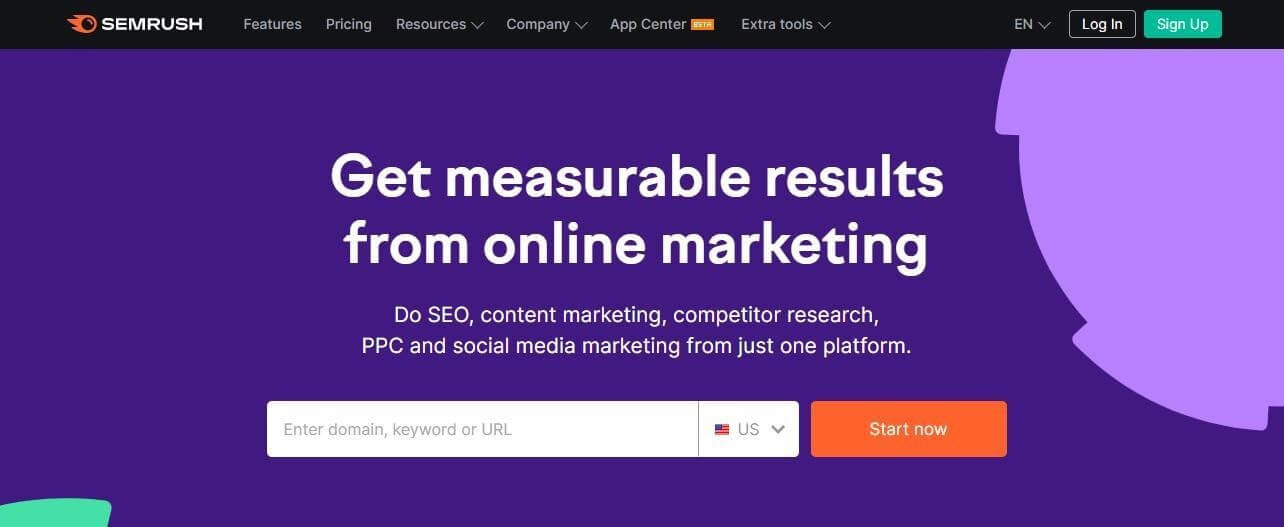 SEMrush leads with unmatched popularity as a superior SEO tool. It sources a hot pot of precise information from a huge data repository relevant to 131 countries.
You can use the dedicated Competitor Analysis panel on SEMrush to:
Check your most relevant competitors based on the keywords and domain category
Analyse the competitor keywords, both branded and non-branded;
See which pages are drawing the highest traffic for your competitors
Check the link profile of your competitors — their referring domains, outbound links, etc.
Get a 360-degree view of their SEO performance through the SEMrush dashboard.
This is plentiful data to inform your SEO and content marketing strategy. Moreover, even if you are up for advanced SEO data, SEMrush has covered you.
Alexa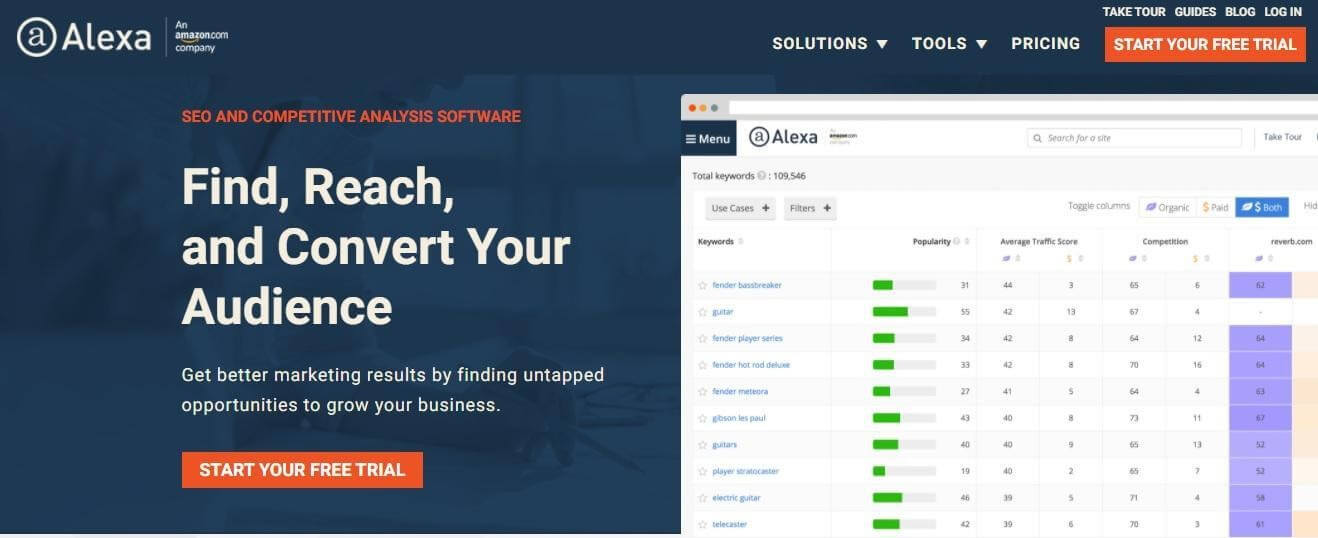 Update: Alexa has discontinued its service as of May 1st, 2022.
Digital marketers and content creators keep Alexa within arm's reach for SEO research.
Alexa is an Amazon-owned business that debuted in 1996. And the tool offers deep analytics data about a business's SEO performance. One can use it to track the global traffic of any site, including your competitors. It shows traffic fluctuations and insightful user metrics along with Alexa ranking. Content marketers also love its content recommendations feature.
The tool also comes with detailed audience demographic insights. You can draw details like the audience's gender, education, and browsing location.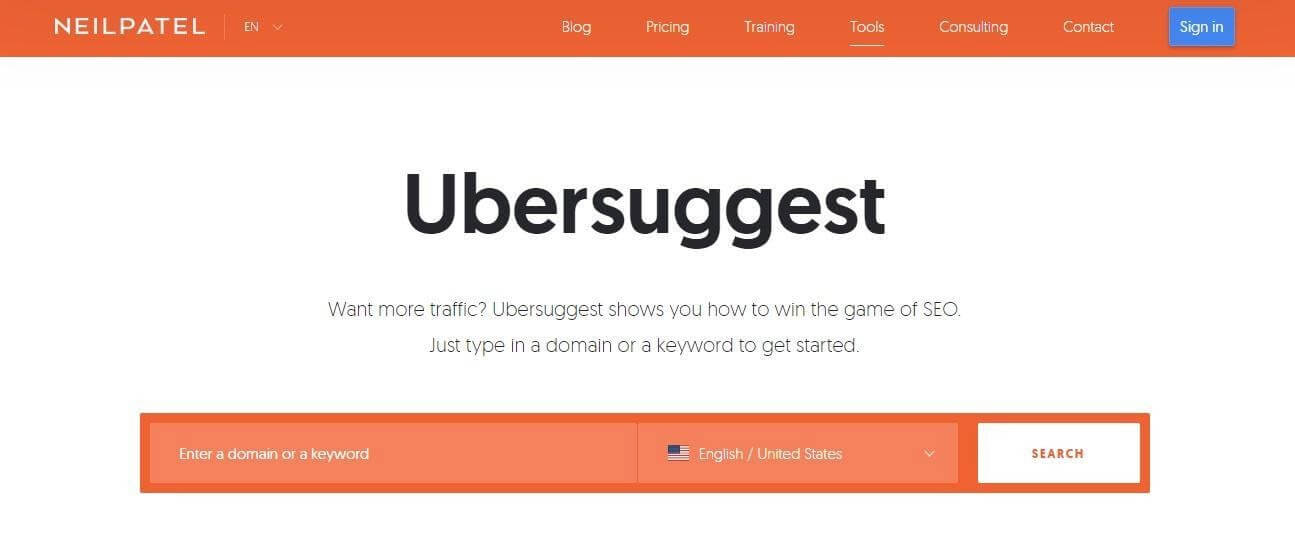 Ubersuggest is gaining a strong foothold as a comprehensive SEO tool. It is intuitive, insightful, and precise. The tool brings you a plethora of insights. You can use it to plan your content strategy, detailed competitor analysis, and advanced SEO. Ubersuggest helps you analyse your competitor's top-performing keywords and the search data for these keywords. You can also track the top-performing pages on their site.
The next essential data metrics are the referring domains that link back to your competitors. With these competitor analysis features, you can create your SEO project in the tool. You can even set your goals and measure your success.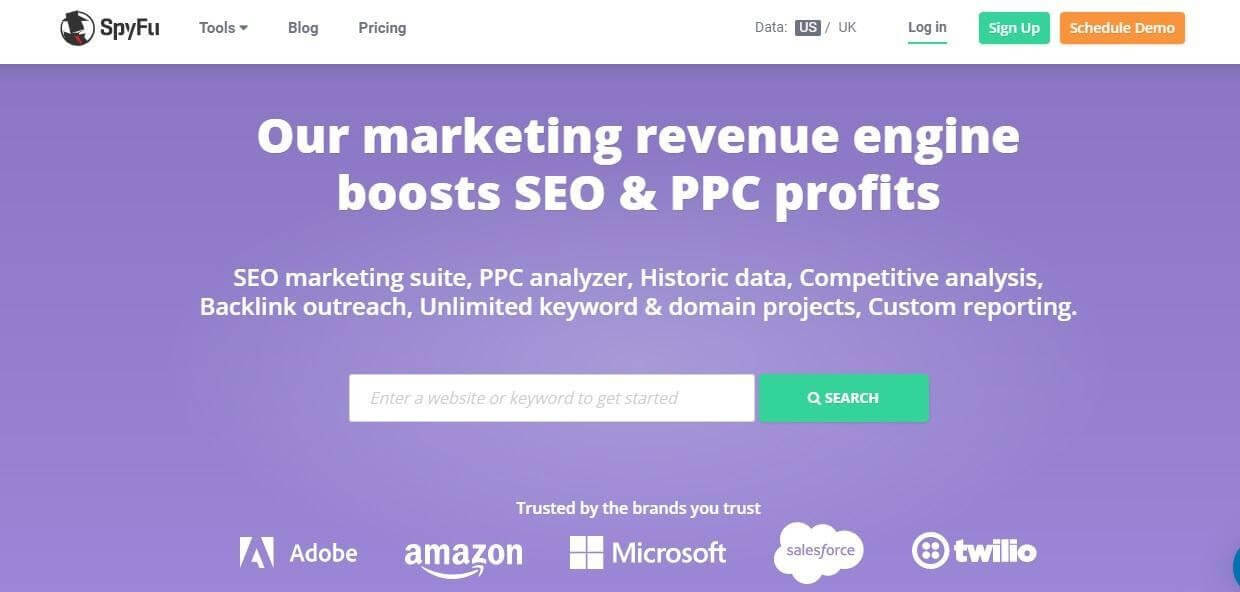 SpyFu is a kind of competitor analysis tool. The robust tool doesn't just offer you SEO keywords but SEM keywords too. So, if you wish to plan your PPC campaigns, SpyFu can help you slide an ace up your sleeve.
Most armature marketers struggle with sorting the right keywords for their PPC campaigns. So, they can switch to SpyFu and check the keywords their competitors use for PPC.
They can export these keywords and even see the landing pages associated with these campaigns.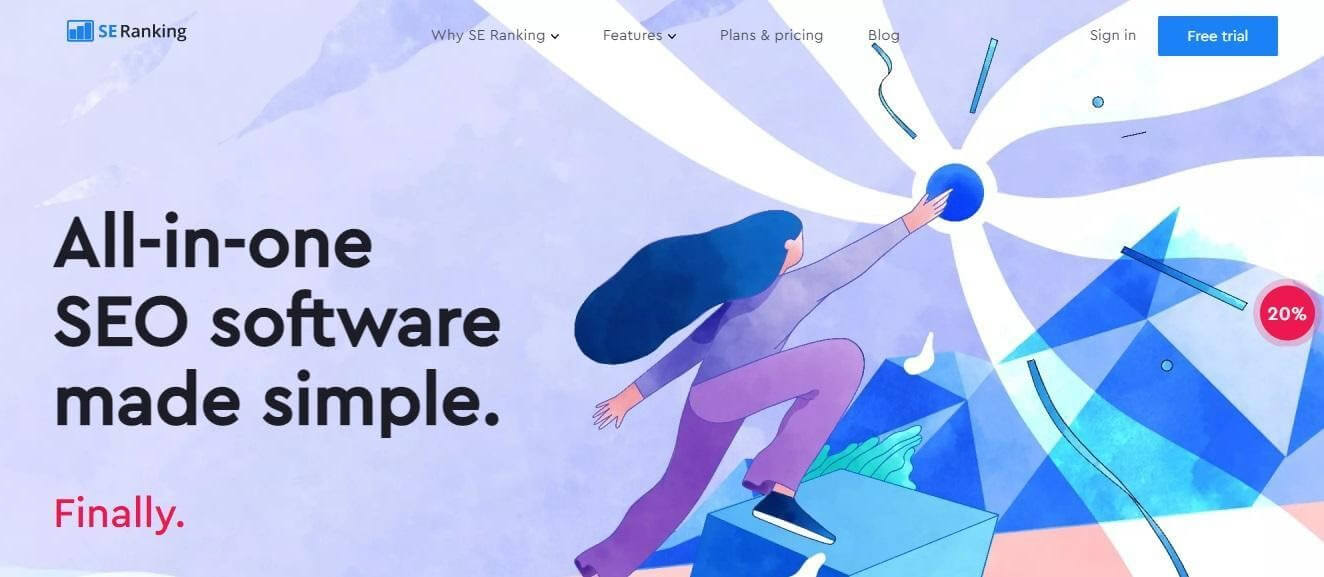 SE Ranking tool empowers businesses with accurate data metrics.
You can use the tool to track your competitor's rankings across any search engine and location. You can also check the top 10 rankings for any keyword for any region.
Added to its competitor analysis feature list is the keyword research feature. The tool offers you the top organic and PPC keywords of your competitors.
Tips to Retain Rankings FAQs
Q1. What Quick SEO Actions Can I Take to Defend My Top Rankings?
Ans. Some actionable tips for retaining your top SEO positions:
Keep your site's content fresh and in line with the latest updates.
Use media (images and videos) to enhance your content's visual appeal and UX.
Employ competitor analysis tools to survey your competitor's efforts. Use this information to outdo their efforts.
Grow your page authority by attracting inbound links on essential site pages.
Shave off any extra seconds from your site's loading time.
Establish and grow your social media presence to promote your content.
Optimise for Google's Page Experience Update.
Highlight your content's topical focus by adding relevant internal links.
Q2. What's the Point of Investing in SEO after My Site Reaches the 1st Page?
Answer: Over 7.5 million blogs debut on the World Wide Web daily. Millions of sites are contesting to steal away your top positions in the SERPs.
SEO isn't a one-time effort but a continuous process to grow and retain your ranks. If you take an extended vacation from your SEO efforts, you will most likely be dethroned.
Q3. What SEO Tools Must I Keep Within Arm's Reach for My Site's SEO?
While there are numerous good SEO tools helping marketers, here are some of the best ones:
SEMrush: Check SEO performance, competitor analysis, detailed keyword research, and advanced SEO;
SpyFu: Check the top SEO and SEM keywords of your competitors along with their PPC landing pages;
Ubersuggest: Scrutinise your site performance, do a competitor analysis, and employ advanced SEO;
Ahrefs: An alternative to SEMrush with similar capabilities and detailed SEO insights.
SE Ranking: Check competitor rankings and their SEM keywords, do a site audit, check your link profile, etc.
Retaining Your Ranking in SERPs
That brings us to the end of our guide. Hopefully, you have valuable insight into retaining your ranking in search engines and its importance.
Remember, SEO is a continuous process and requires you to update often, modify, and edit your website's content. Also, internal and external linking and website speed are vital factors.
Overall, with any business, working to improve your SEO ranking in Melbourne is a must to boost conversion rates and sales and stay above your competitors.
Until next time!