For any local business, reaching out to potential clients in the area is crucial for success and growth.
Earlier, businesses relied on newspapers and word of mouth to draw customers' attention. But today, digital marketing has taken over the world by storm and getting your business noticed online has become an essential part of the business. Many online channels are available to grow your business reach and expand your web presence.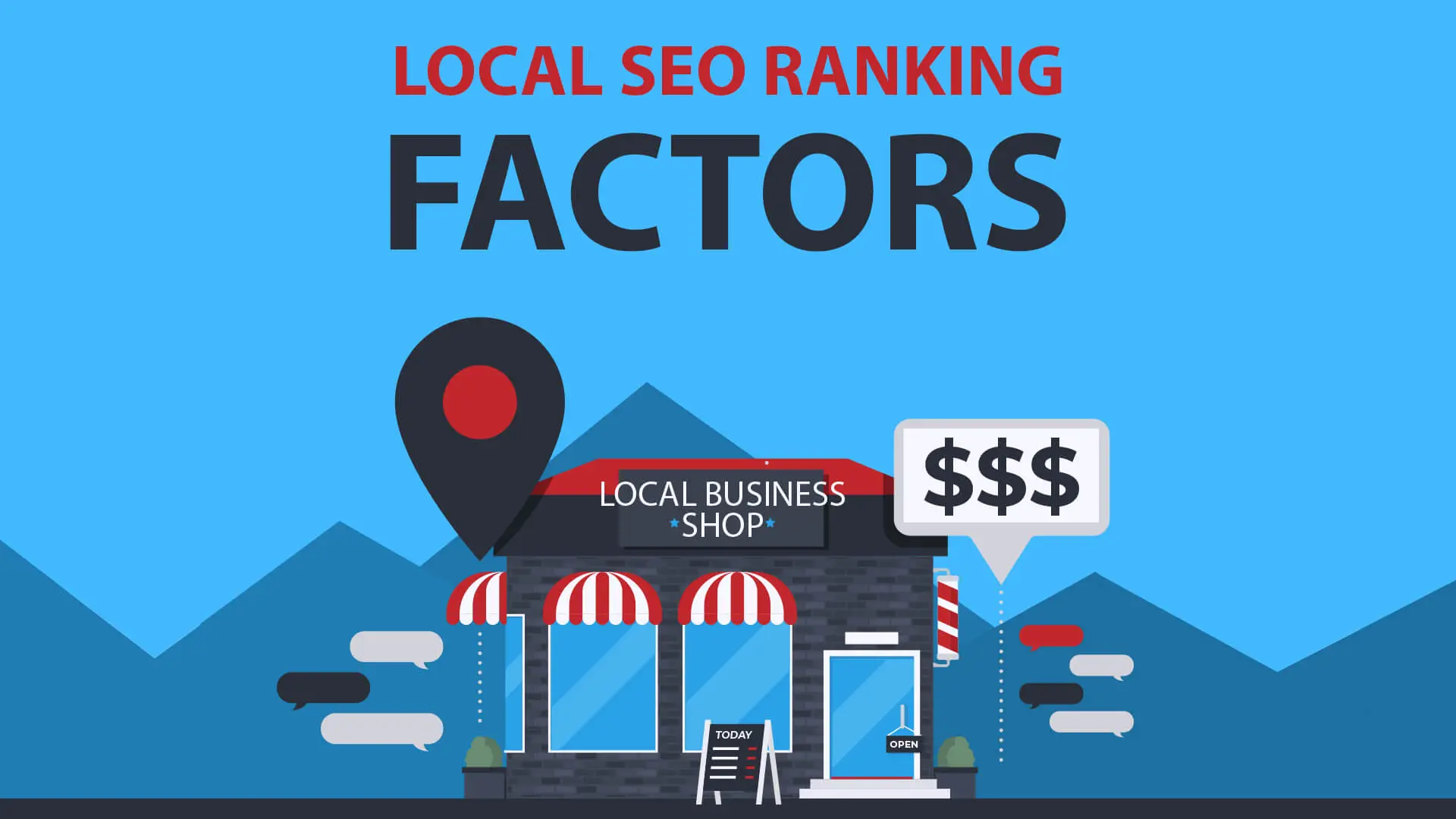 However, one of the best options to find your local business is SEO or local search engine optimisation. In this article, we'll be talking about local SEO, its basic definition, its importance, and how you can affect your local SEO ranking.
We'll also list and highlight the local SEO ranking factors that play vital roles in improving your rankings in organic results to bring traffic to your local business website. After all, ranking higher will improve your online visibility, reaching more users searching for your services.
So, without further ado, let's jump in with some site ranking factors to help you succeed online in 2024.
What is Local SEO & Why is it Important?
First, let's talk about the basics of SEO — SEO or search engine optimisation is the process of boosting website rankings in organic search results. When users search for a business or product, search engines provide a list of pages relevant to the keywords used.
Local SEO helps increase traffic and promotes brand awareness from local search by optimising a website. It's huge for any local business, and if you can get your business to rank higher in SERPs, there's a high possibility that you'll be landing yourself a client.
Ideally, you'll want to rank on the first page of local search results because 75% of Google users don't go through the second. As a result, you might miss out on a potential customer.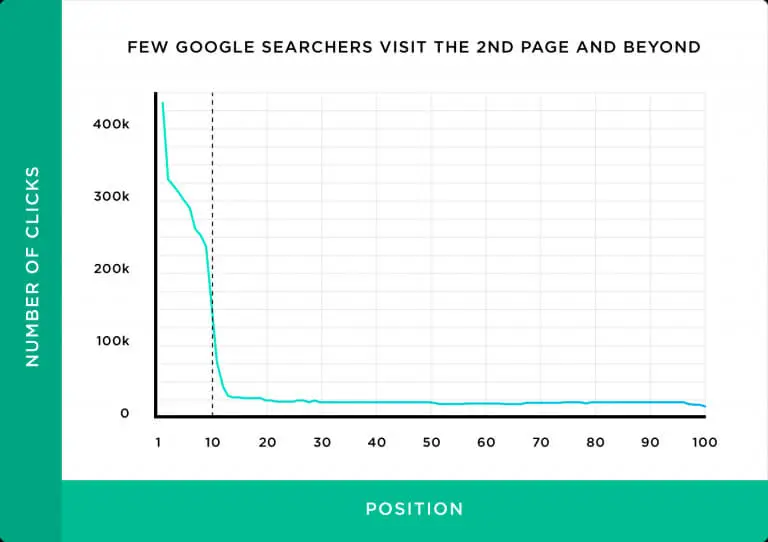 According to SEO statistics, 46% of Google Searches have "local intent", while 29% of Google SERPs contain a local pack in the search results—76% of consumers who search for something local visit the store that same day.
So, it's evident that local search plays a huge role in your local SEO efforts. And Local SEO is similar to how Google Search works — it scans through the index when you search for something to provide the most relevant results for your query.
It's important to note that "near me" terms have grown 150% faster than traditional local-based searches.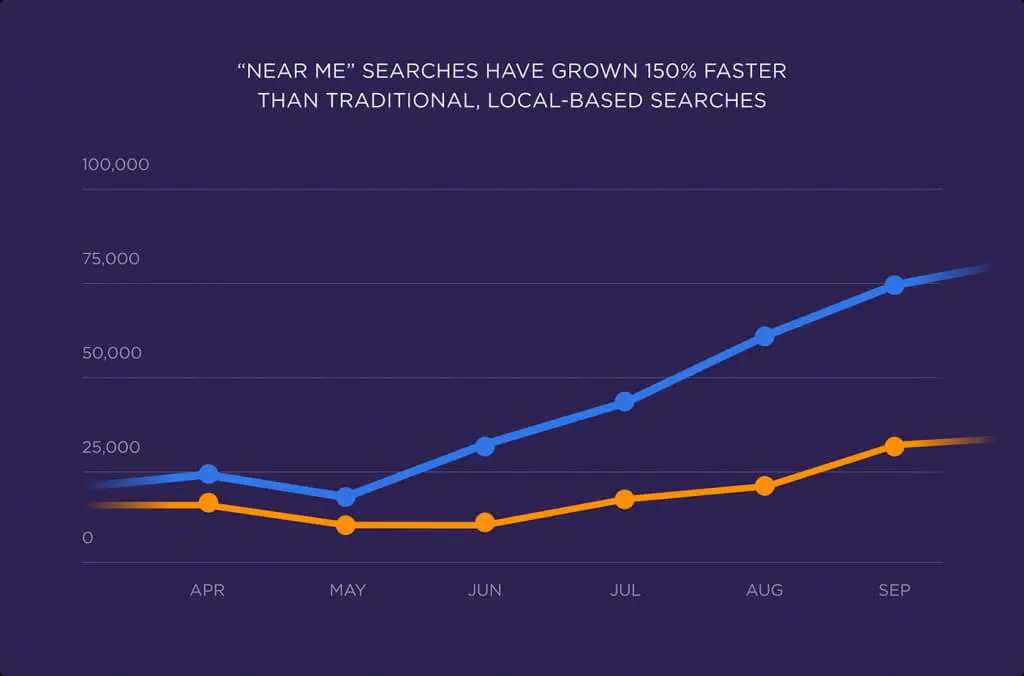 It is unique because a different set of SEO ranking factors are used to rank local search results. A local SEO strategy comes with a set of unique signals, including:
Presence of Google My Business Listing
Keywords used in Google reviews
Positive online reviews
NAP consistency
Number of check-ins at a physical location
Keywords used in GMB profile
Number of shares on social media platforms or otherwise known as social signals
The location from where the user is searching
Google map star rating for the business
We'll be highlighting these ranking factors in detail in the following section.
1. Google My Business
Google My Business (GMB) is a free tool provided by Google to make local businesses visible to users via Google Maps in a simple yet effective way. Now, it's one of the most crucial local SEO ranking factors that has grown significantly from 25% in 2018 to 33% in 2020.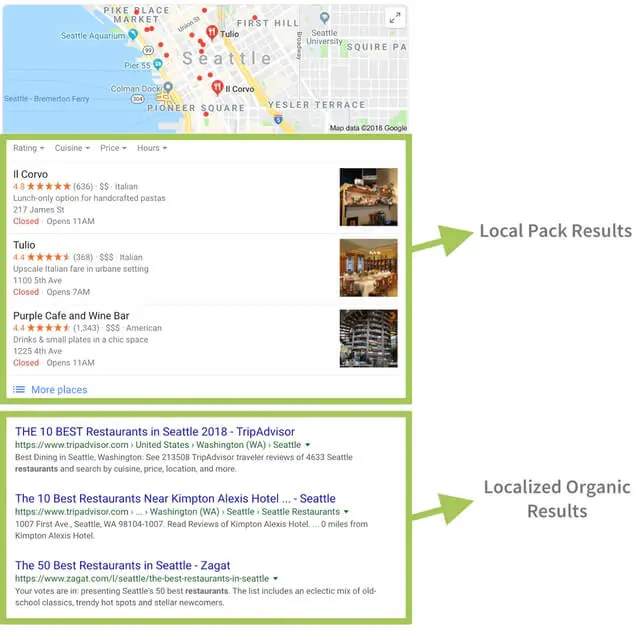 Google shows local maps at the top of search engine results pages, making it technically position 0, whilst the first position of local SERPs remains the same.
Experts believe it to be the critical local pack ranking factor. And as Google keeps adding new features to GMB, you're bound to get your Google business profile noticed by both Google and potential customers. However, it's crucial to set up your Google My Business listing for this.
Users come across an integral part while searching for local companies, so make sure your business is listed, verified, claimed, and managed. Any comprehensive local SEO campaign will also optimise the GMB listing for improved visibility.
Note that search algorithms use signals like contact information, proximity, and updated and relevant content to analyse and show your business to people in the area. These are the three crucial factors that help determine local search results.
You need not utilise every aspect of Google My Business if you're only looking to boost your organic rankings; stick to the essential ranking factors Google recommends when signing up.
These factors are keywords in GMB description, GMB services, Google posts, and GMB products. Even the frequency and quantity of Google posts won't impact local rankings.
Unfortunately, as seen in the image below, proximity remains one of the biggest factors. This means the search location plays a role in where you appear; however, this is also a limiting factor for your competitors.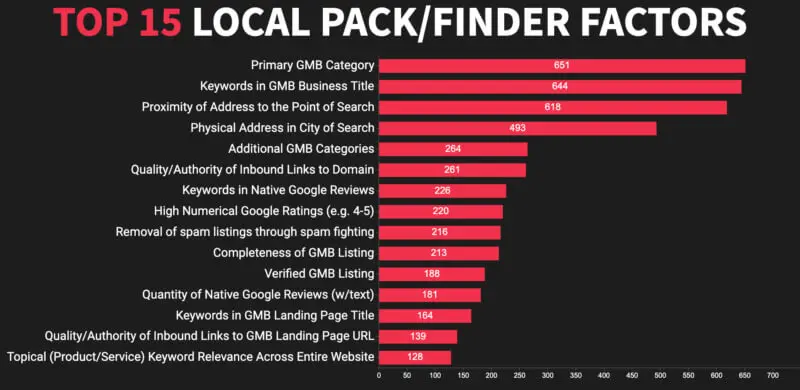 a) Getting Verified With GMB Categories
Your Google My Business listing will determine how your business data is displayed on Google Maps. So, maintain NAP consistency (name, street address, and phone number) and pay attention to the category section at the bottom. Ensure you've chosen the correct primary category; don't bother about the number, but make sure the categories are accurate.
This will help local customers and Google bots know what your business is all about. Your GMB listing will be placed in the correct local search results. Now, if you wish to make more edits, you'll need to verify it via postcard, email, or phone. And the eligibility of verifying your listing using these options will depend on the type of business you have.
b) Upload Photos On Google My Business Page
Once your GMB listing is verified, upload pictures and provide all the relevant info for your Google business profile. You can click photos of your business location, staff, products, and customers. They add credibility to your business, serving as an important local SEO ranking factor.
2. On-Page Signals
On-page signals are incredibly important for local SEO, and a number of its factors are considered when a website is analysed for local search rankings. They influence local organic results, accounting for 15% of the local ranking factors.
Firstly, let's talk about keywords. Search engines look for relevant keywords to determine where your site belongs. The two terms that play vital roles here are relevance and placement.

Image Source: Digital Ducats
Choosing the right keywords and placing them strategically across the entire site to get the desired ranking in specific areas of your preferred industry is crucial. Having keywords in the titles of the landing pages can also make a significant difference to local rankings.
Think about what questions your potential customer might ask when they search for the products and services you offer. This will help you plan your keyword strategy.
Avoid using jargon or industrial terms your consumers may not be familiar with. And use long-tail keywords instead of short-tail keywords containing one or two terms, as the competition for the latter is significantly higher.
Including vital details like your business name, address, and phone number is crucial, as Google uses the information to determine proximity details for your local SEO ranking.
Focus on creating content related to your city or local area on the website pages. If your business is distributed in more than one location, create a specialised WebPage.
This will make it easier for visitors to find the location they're searching for, thereby improving local SEO rankings for each of the locations.
Another local SEO on-page factor is the mobile-friendliness of any website. After all, users generally conduct local searches on their mobile phones. So, make sure your website is easily accessible on mobile devices for an improved user experience.
This is also essential for SERPs as it optimises pages for local search ranking.
3. Online Reviews
Remember, customers will always want to read the relevant information on a business and its offered services before purchasing. And positive online reviews can help provide your business with a reliable, legitimate, and trustworthy image.
It's also important to limit your negative reviews. If you receive negative reviews, make sure you respond to them.
They significantly impact the decision-making process for customers and contribute to the local SEO ranking factors.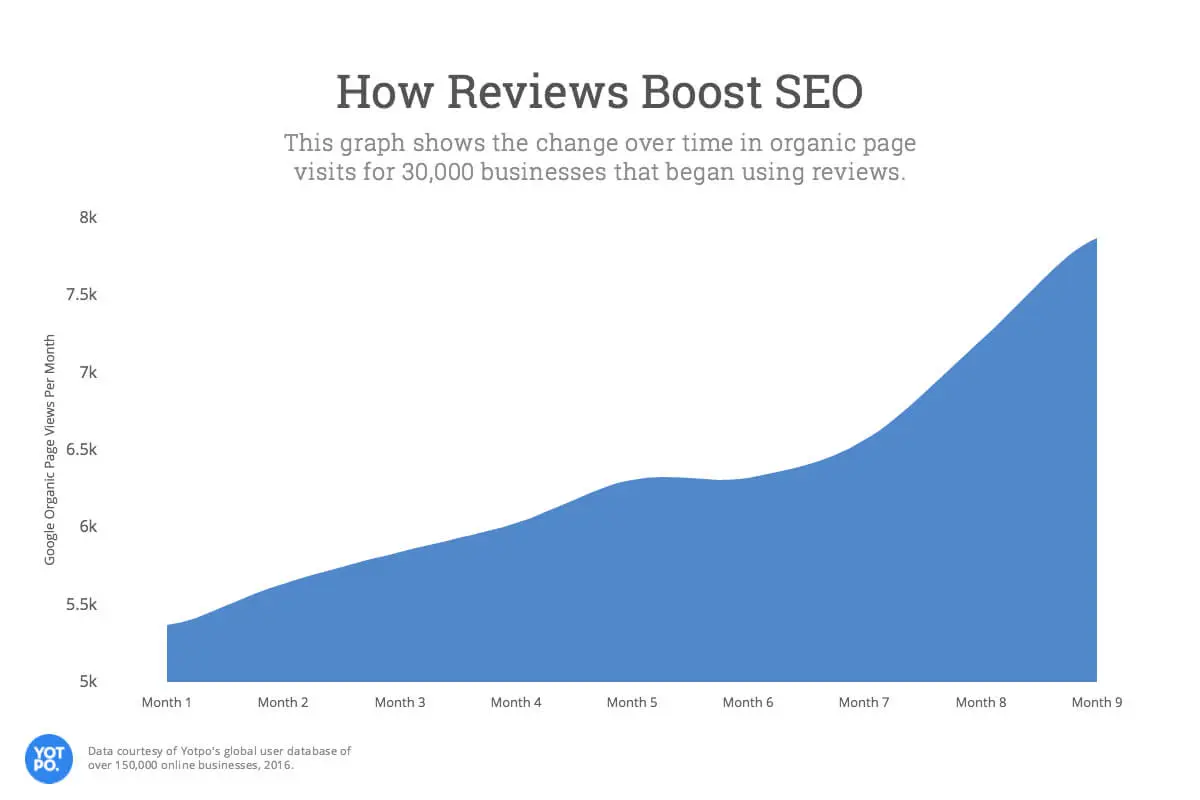 Image Credit: Yot Po.
The total number, frequency, diversity, and quality of reviews increase a business's local search ranking. To explain the process, when a company receives a genuinely positive response for its services, Google takes that as a sign that the customers are satisfied with the provided service.
It puts the user first, so small businesses with positive online reviews rank high on the SERPs.
Many local SEO campaigns encourage users to leave positive reviews on Yelp, Glassdoor, TripAdvisor, and Google Maps. You'll need to keep the following local SEO ranking signals to get good reviews for your local business.
a) Claim Your Business On Top Review Sites
The first step is claiming your business profile on top review sites like TripAdvisor, Google My Business Reviews, Yelp, and Amazon. But before that, prioritise the site which will bring your business value.
Choosing a site that's the best in the industry is also essential. Suppose you're in the housing business; Zillow is your best bet, while TripAdvisor stands out in the restaurant industry.
You may also stick with the basics, like Google reviews. They show up alongside your Google My Business page with a star rating. Facebook uses the same star rating in your business review. On the contrary, locally-targeted businesses depend on Yelp to show up on the map.
Once you've set up the account, the process is simple and similar to local customers leaving comments on the business page.
You can then claim your listing by entering your business information, such as name and address. After claiming, don't forget to verify your profile to edit the page and respond to user comments.
b) Get More Reviews
The next step is increasing the number of reviews, which isn't that challenging, provided you follow a few more simple steps.
First, collect positive reviews through email signatures, review-prompting widgets, and email autoresponders. Encouraging an existing customer who has had an excellent experience to leave reviews is easy; it's a simple question. After that's done, link to your website and other online business profiles by incentivising them to encourage users to leave positive comments and star ratings. Also, try to resolve negative comments and reviews by redirecting them to customer service.
It's a known fact that Google reviews influence consumers. The more positive reviews you get, the greater your chances of converting potential leads into clients. So, don't hesitate to display positive ratings and reviews on your company website.
4. Backlinks
Links play a vital role in boosting any website's organic search rankings, making them another crucial local SEO ranking factor. The backlink profiles of local businesses enable search engines to determine the website's value through off-page optimisation. After all, when a site links to your website, it drives traffic and signals to search engines, denoting that the site trusts and validates your content.
However, getting reliable backlinks can be challenging; local businesses should focus on quality instead of quantity. When high-quality and reputable sites link to your website, it boosts your credibility as a business to improve your ranking.
When looking at the data, most local businesses ranking highly for localised search terms typically have very few links but have focused on geographically focused backlinks.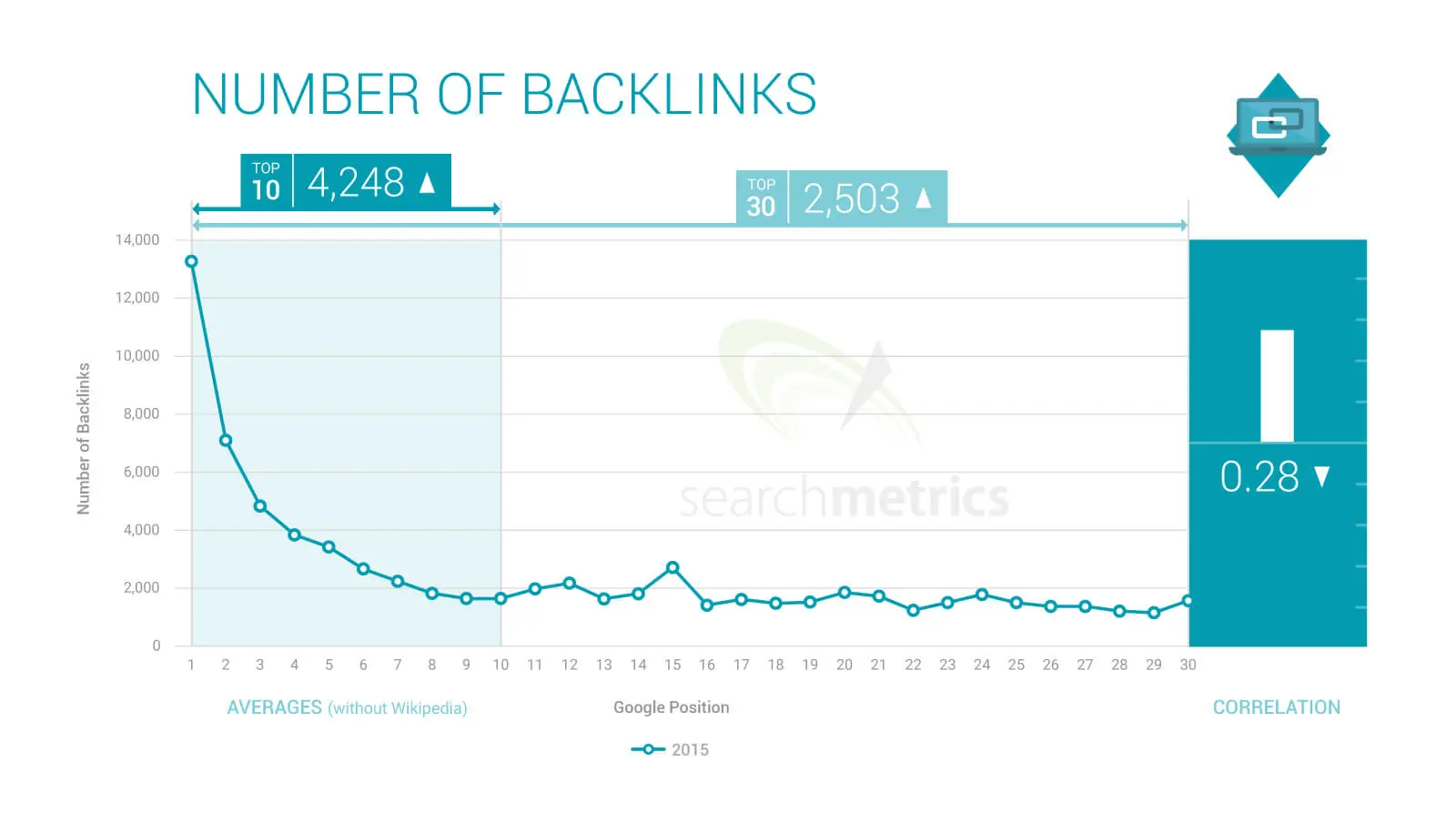 The other local SEO ranking factors associated with backlinks include the relevancy of the links, the inbound anchor text used to link to your site, and the linking domain authority. Obtaining links from relevant publications in the industry increases your website's domain authority in that industry, allowing users to trust your business and the quality of service.
Even outbound links can influence your local SEO ranking, despite having less impact. So, link your website to other credible external sites.
They will direct users to other websites to find additional information relevant to the field. This shows local search engines that you're providing reliable and accurate information to support the content you're offering.
But one thing that you have to be careful of is bad backlinks. So, it's better to check and see the site's quality to determine whether it can be a trustworthy linking partner.
You can download the MozBar Chrome extension for this; it will help you see the site's page authority and domain authority. If the number is high, you can rest assured the site's quality is good.
However, you'll also have to take the spam score into account. High spam may mean that the site isn't that reliable, so you should avoid linking.
a) Local Link Building
Local link building is a bit different from general link building. You'll have to place links to locally targeted resource listings and blogs.
b) Strategies To Get Local Links
You'll need to expand your local connections if you wish to get companies or businesses to backlink to your website. Reach out to people in the area and follow the listed points to get local links.
Get your business listed in the most reliable business directory.
Partner with non-profit organisations, schools, and charities to provide services, scholarships, or office space to host events.
Participate in community and other local events.
Open a mentoring program for the local schools or community.
Ask connections to set up an interview with prominent figures in the community and pitch to local newspapers.
Connect with local bloggers or a small business in the area. Choose the most relevant connections and set up a link or promotion exchange program.
Getting featured in any of the above-mentioned local resources may help you get authoritative .org, .edu, and .gov links.
A case study provided on Moz explains how a business owner got a link from the Wall Street Journal after opening a local scholarship and featuring it in a local newspaper.
Sponsoring and participating in local events will also help improve your local visibility. Now sponsoring doesn't necessarily mean donating money. You can volunteer to help out or provide food. If everything goes right, you'll be boosting your reputation in the area within no time.
5. Online Citations
Online citations and directories such as Yelp, Citysearch, Foursquare, and YP.com are excellent ways of getting consistent information about a business on the web.
They also help in acquiring backlinks from legitimate and reliable websites. Potential leads use these citations to find products and services, while local search engines use them to validate your business information.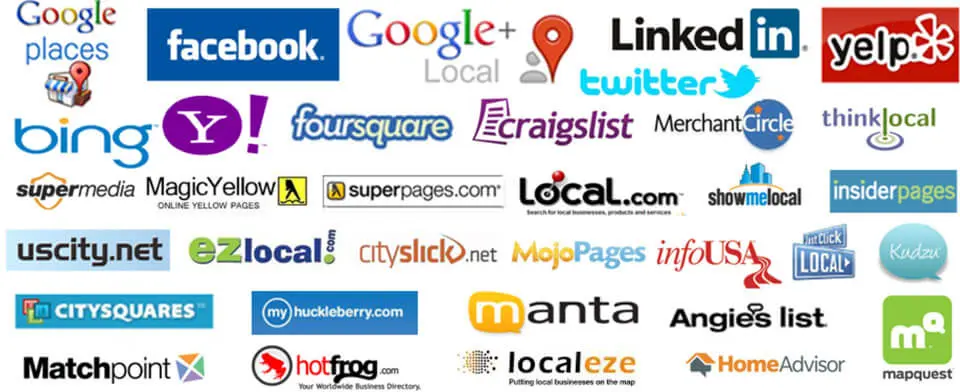 So, ensure that your business name, physical address, phone number, and other relevant information related to your company are the same across all directories and citation listings. This will reaffirm the accurate contact information to both users and search engines.
Errors in your listings or incorrect contact information can be off-putting for potential clients before they can even get in touch with you or walk through your door. This can negatively affect your local SEO. After all, if Google doesn't think your data is trustworthy, it will downgrade your local search ranking.
Also, keep the individual citation factors in mind, including citation quantity. Indeed, these signals are no longer necessary in influencing local SEO ranking in SERPs. However, they still play a vital role in directing customers to the right site to provide accurate and relevant data.
Furthermore, make it a point to learn more about citations. And note that you might miss out on vital lead sources if you don't have a business listing on sites like Facebook, Nextdoor, or Yelp.
Let's go through a few crucial points related to this local SEO ranking signal.
a) Optimising Local Citations
You can audit or optimise citations manually to uncover the listings and variations of your NAP. But for a quick check, you can use Moz Local. You must enter your business name and zip code in the input bar and click "Check My Business Listing." The corresponding listings related to your local business will be pulled up from the main local indexing platform.
You'll then be able to see the inconsistencies of your NAP. Record them in a spreadsheet and make it a point to contact the local business owners to correct the NAP info. Now, the results are limited to the top indexing platforms, so you may still have citations from less authoritative and structured sources. However, these citations will have less of a direct impact.
After optimising local citations, move on to building citations for your local SEO campaign.
b) Building Local NAP Citations
Small businesses are different, so you'll have to create custom citations depending on the industry and area. You can start with creating directory citations based on category and city. These lists will help you find the top directories in which your business should be listed.
While creating these lists, you'll have to fill out the profile with all your details, including business information such as description, NAP, hours, photos, and more.
c) Finding Citation Opportunities
The best citation opportunities usually come from local sites. They are highly relevant and can significantly boost your Map Pack rankings. And since you'll be reaching out to the people of your local area, your outreach conversion rate is bound to be high. But the problem arises when finding local citations for your local SEO campaign.
You can check out the Link Intersect feature in Ahrefs for this. It's designed for link building and works well for citations. You can get links and citations from the same place as well.
You must take two to three competitors and place them in the tool. You need not always use direct competitors; any small business in your area will work as they also build citations from local business directories.
Once that's done, you'll get a report listing all the sites linked to your included competitors. You can then sift through results to find good citation opportunities.
d) Reverse Engineer Competitor NAPs
The tools you use to audit and optimise your NAP can be turned against competitors. For this, you'll need their NAP details, and you'll be able to get a comprehensive list of all the places that have been mentioned online. This approach will work better than Link Intersect as the results don't necessarily have to link to any competitor site to show up.
6. Local Content
Users like connecting with brands related to relevant, relatable, and community-based topics. That's why creating and publishing content relevant to your local community is important. Search engines will identify and analyse the content and present the information to users.
In short, local content like blogs, articles, videos, graphics, news pieces, and announcements related to your local area can significantly improve local search rankings. However, the quality of your content will serve as a vital factor. Also, you'll have to draw the attention of both search engines and readers.
For this, the use of relevant keywords and location-based terms is imperative.
Place them strategically throughout the content to make it search-engine friendly. And try to use long-tail keywords in titles and meta descriptions as they cost less and drive more traffic. Short-tail keywords are more generic and may not specify the user's intent, so that they won't be drawing qualified leads for your business.
Just try not to overuse keywords excessively to boost your search ranking. This is known as keyword stuffing and can lead to a Google penalty, impacting your ability to rank higher in SERPs.
While incorporating keywords into your local content, ensure that you do it naturally to make sense and don't disrupt the visitors' site or reading experience.
Let's now know more about finding suitable keywords for local SEO.
a) Google Suggest
Google Suggest works well for local searches. However, you have to keep in mind that the local search has to be related to what potential leads will generally search for.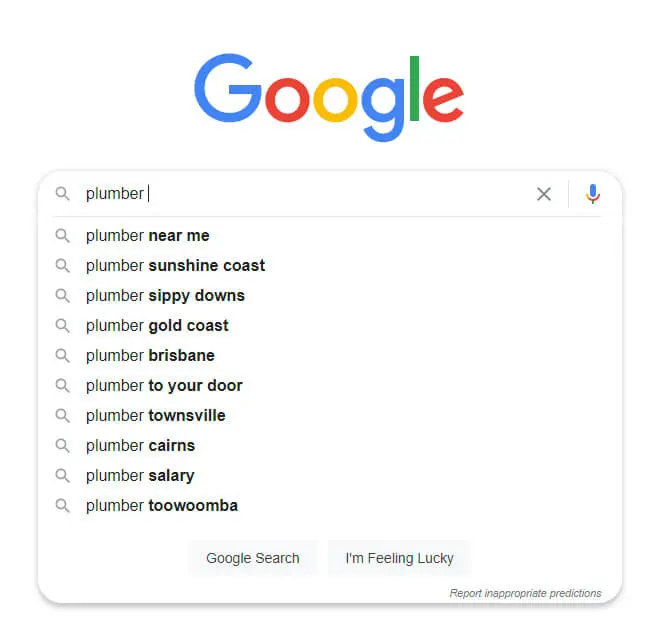 b) Yelp Suggest
Yelp Suggest is similar to Google Suggest. You must type in a keyword that the people in your area might use to find you. But what makes Yelp unique is that it sometimes shows keywords that don't include the term you typed in.
c) Local Voice Searches
As per Google, 20% of all the searches done on mobile are voice searches. The difference between voice and keyword search is that the former tends to be longer and more natural. There may not be any tool to help you find voice search keywords. But this is something that should be kept in mind.
d) Google Keyword Planner
Use the Google Keyword Planner to get search volume data for specific geographical locations. This is especially helpful if you have a bunch of keywords and wish to pick the best ones. However, if you're looking for new keywords, it's better to use the "Start With A Website" feature.
Keyword research is essential for determining keyword relevance and understanding how user searches can vary from location to location.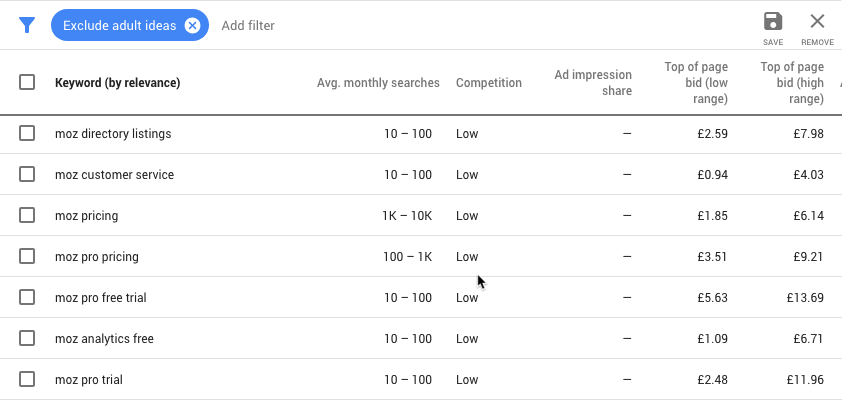 Simply pop in the homepage URL of any competitor sites, while Google suggests a list of keywords based on the terms provided on the page.
7. Personalisation Ranking Signals
Local search ranking factors are correlated, so a drop in your page ranking doesn't necessarily mean personalisation is no longer critical.
That said, the personalisation of search results mainly relates to language, device, location, and the user's browsing history. So, a person who's aware and has searched for specific products or services is more likely to see results for the same.
However, personalisation doesn't play a significant role in local organic or local pack rankings. And there's nothing much you can do to optimise the page. You can try creating content in each language to help searchers serve locations with multiple languages. But this is unlikely to work for local businesses.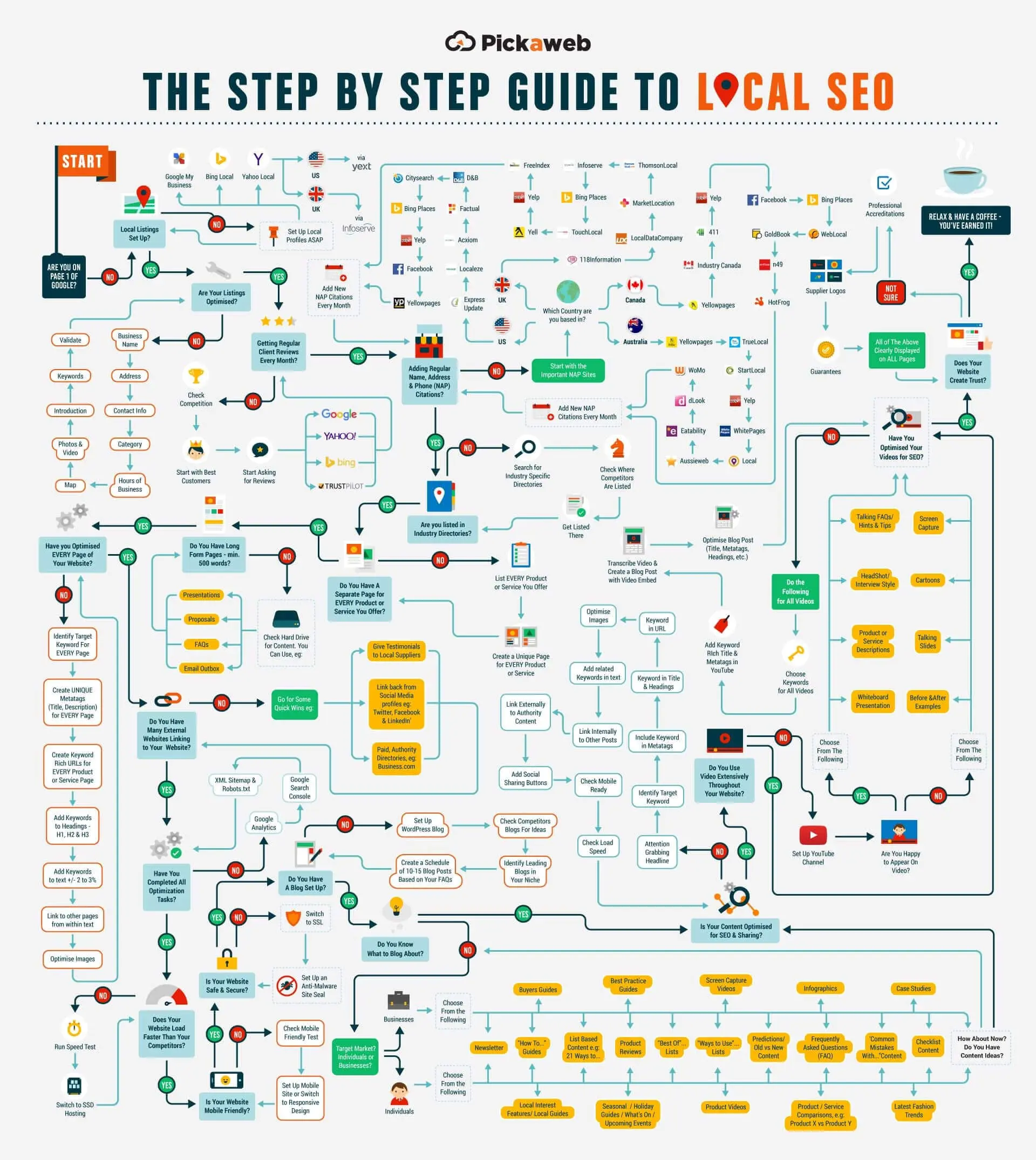 8. Behavioural Ranking Signals
Google's search algorithms use many behavioural signals to determine the ranking order of search results. In other words, how users interact and engage with a website and local business listings can affect local SEO rankings.
User behaviour or actions send ranking signals to the Google Search algorithm, indicating whether the site is helpful, legitimate, and reliable.
We'll be highlighting these signals in the following sections. These factors may not directly impact your ranking, but they focus on providing a smooth and positive user experience.
As a result, users will spend more time on the page, leading to a positive outcome and improving your Google local rankings.
a) Click-Through Rate
The first behaviour that Google analyses are the click-through rate (CTR). It's the rate at which users click on the link to your website compared to the number of users who could have clicked on the link but didn't.
Now, remember the click-through rate for the first three search results is higher. People tend to click on the first few results, which are usually the most relevant to the searcher's inquiry.
Your website must have a high CTR to indicate that people are interested in your business. This will help improve your local search rank, allowing you to reach out to more users and potential clients.
b) Pages Per Session
Another behavioural signal crucial to local SEO ranking is the number of pages a person visits your website before leaving. This is referred to as pages per session. That said, it's better to have visitors spend time going through multiple pages, not just one or two.
This will keep them on your website longer, and the longer retention time will boost your local search ranking factors.
c) Organised Navigation
Visitors should quickly find the information they need after arriving at your website. If not, they'll quickly leave your site and pick a competitive business site offering the same services.
To prevent this, design your site accordingly, creating an organised navigation option that's both user-friendly and mobile-friendly.
This will help users find what they need within no time. Including broad headings on every page surrounding numerous innovative ideas is also important.
d) Bounce Rate
Bounce rate refers to the percentage of visitors who immediately return to the search results after arriving at your landing page. This is one of the few negative local SEO ranking factors that may impact your website's rank on search results.
Now, this can happen due to numerous reasons. For instance, the visitor may not quickly find the required information or the page. As a business in the internet economy, you'll have to keep people on your website page to reduce the bounce rate.
e) Page Speed
Users don't like waiting for pages to load, and that's one of the primary factors leading to a low bounce rate. If your website page takes too long to load, they will return to search results and opt for another local business listing.
To avoid this, use tools like Google PageSpeed Insights to track your site's performance. It will also indicate where and how you can improve page speed.
f) Responsive Website Design
Your company or business website should be responsive to adapt to whichever device the potential customers may use.
If you're a local business, remember that people generally use their smartphones to find places near them. So, the site should be mobile-friendly, allowing users to find your business in no time.
You can keep potential customers interested in your page by designing and including simple navigation to improve user experience. Improvements in your website design will also improve your local SEO ranking and digital presence in the industry.
Remember that in 2019, Google now ranks websites based on mobile devices, meaning mobile search is highly important.
g) Call-To-Action (CTA)
Give users a sense of direction by creating a relevant call-to-action (CTA). This will help increase the number of pages people visit on your website while encouraging them to take action by downloading or signing up.
These behavioural signals will increase your local SEO ranking as people spend more time on your business or company website. You may include a click-to-call button on your contact page to direct users to your business phone number.
Search engines carefully scrutinise all the above search engine rankings to determine the relevant local businesses that will obtain valuable attention from searchers. You can start a local SEO campaign that will closely track these behavioural signals and make adjustments to provide a better user experience for local searchers.
This will help your GMB listing rank higher in local results to draw more potential clients to your business.
Advanced Local SEO Guide — Tips & Strategies
So, you're wondering how to increase Google Search results?
Now that you know all about the local SEO ranking factors, let's progress to the end of the guide with a few advanced local SEO tips and local SEO strategies. They won't replace the conventional local ranking factors, including GMB optimisation, building links, and NAP building. But they can give your Google local rankings a little boost.
Take a look at this useful infographic by Simpli Learn with 11 Local ranking factors:
1. Embed Google Maps on the About Page
You'll want potential customers and Google to know where your business is precisely located. Allowing people to find your business on Google Maps is essential. So, hit the little dropdown menu in the top left corner of the map screen and click "share or embed map" to get an embed code. You can then embed the map on your website's contact or directions page.
2. Use Location-Focused Keywords
Using location-focused keywords to show up at the top of your site in a headline can improve rankings in organic results. And it's better to highlight the title in an H1 tag so that whenever a local searcher lands on your site, they'll know that you serve the area within seconds.
3. Title Tag Double Dip
This is a pretty conventional local SEO approach that improves rankings even today. Simply optimise the homepage title tag around two to three relevant keywords. The strategy works in the local SEO world because local businesses get few links to internal pages.
4. Optimising Meta Descriptions For Local Search Ranking Results
You can improve organic results by including a well-written meta description that explains your business or content. But local businesses make the biggest mistake by stuffing descriptions with keywords. Instead, you should consider using Google Ads to find a suitable description copy that's proven to get clicks.
5. Thumbstack Suggest
Thumbstack Suggest is a great way to find local keywords for optimisation. If you type in a term, it will provide you with several suggestions that you can use to create landing pages for your website.
6. Use Schema For Local SEO
Google doesn't rely on Schema Markup that much for Map pack rankings. But if implemented correctly, you can use Schema to mark your physical business address and phone number. There's an entire category of Schema mark up for local businesses.
Key Findings
Before concluding this article, we'd like to highlight our key findings related to local SEO ranking factors.
The most important local ranking factors for pack rankings are Google My Business, on-page signals, positive online reviews, backlinks, and NAP citations.
You'll need to focus on behavioural signals, links, and on-page ranking factors to rank higher in local organic results.
Online reviews overtook links as crucial SEO ranking factors for local pack ranking.
If we go by expert opinions, the top three local SEO ranking factors are keywords in the anchor text of inbound links, the quality of inbound links, and the volume of quality content.
The critical local pack ranking factors are the GMB category, keywords used in the GMB title, and the local searcher's proximity.
Local Ranking Signals Conclusions
In summary, many local SEO ranking factors can influence your spot in local search ranking. But no magic bullet will get you to the top of the ranking list.
Understanding and identifying all local SEO ranking factors takes time and effort. And that's just the beginning of your local search marketing journey.
If you wish to see long-term local SEO benefits, you'll need a systematic and comprehensive approach, integrating the ranking factors involved with search visibility.
We'll now conclude this guide on the top local SEO ranking factors. Keep in mind that local SEO is one of the most powerful and effective tools in the digital marketing world. So use it to the fullest and increase your traffic and the quality of leads.