Technology and the internet have touched every aspect of our lives, and business operations are no exception.
With the advent of digital marketing, businesses today are in a never-ending battle to achieve online visibility. There's one rule — the higher you appear on local search results, the more the chances of increasing sales.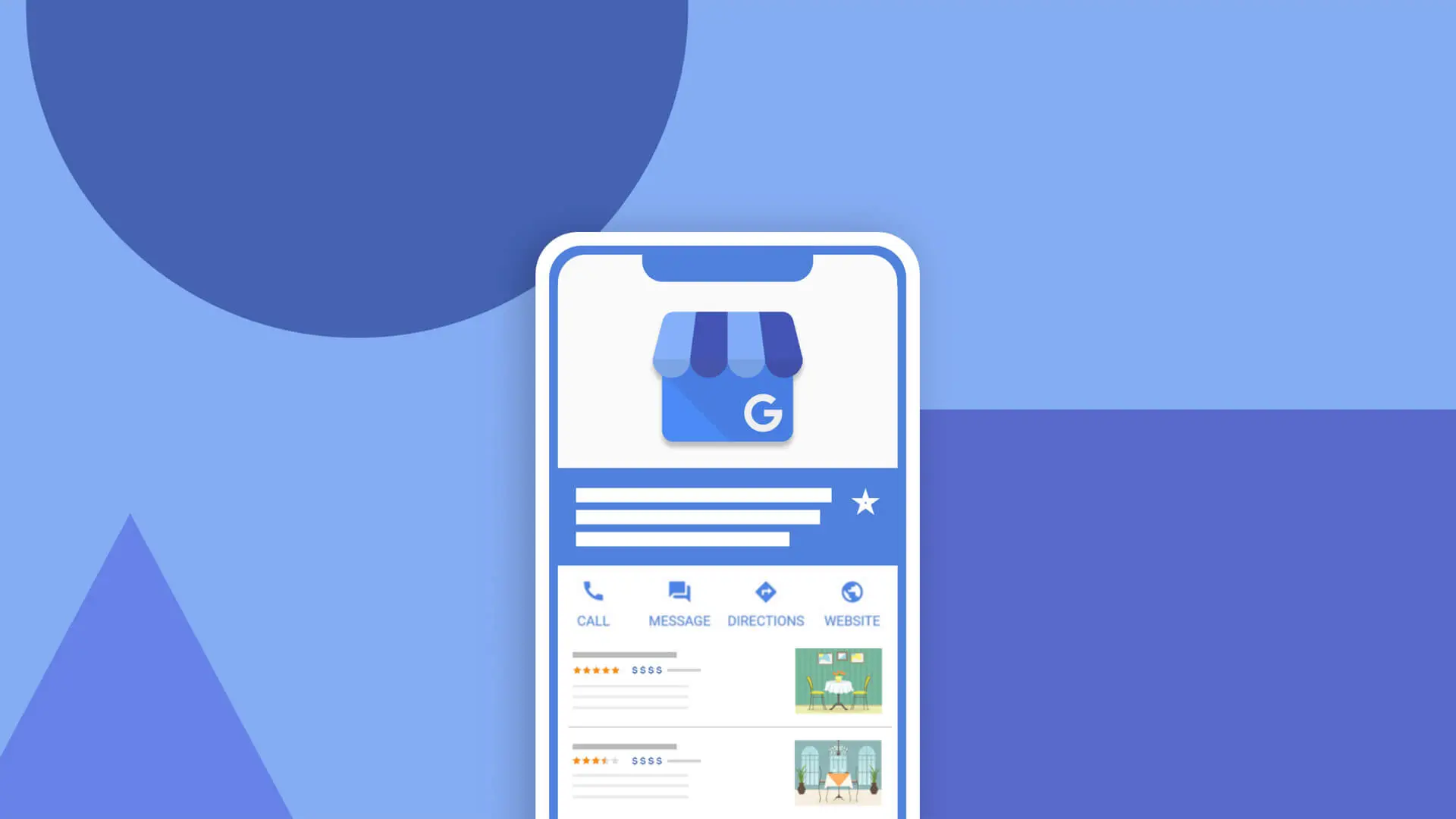 Businesses would want to leave no stone unturned, especially Google, which controls almost 92% of the search engine market. And this is where Google My Business comes to the rescue. But how do you get started and improve your chances of being seen?
As a business owner, you must ensure your Google My Business (GMB) listing is accurate and up-to-date. A recent study found that nearly 67% of consumers say that reviews influence them and that precise business information is essential when choosing a local business. In this blog post, we'll give you some tips on how to improve your GMB listing.
We have put together this extensive guide to help our readers with all the nitty-gritty about GMB profiles to answer such questions. So, without further ado, let's dive right in!
What Is Google My Business?
Before we walk you through the different ways of improving your Google My Business (GMB), it only makes sense for us to talk a bit about what it does in the first place.
In simple terms, Google My Business is a free online platform or tool that enables users to create and run a business profile on Google. Once you create your business account or profile with this tool, Google officially recognises it as a business, making the profile appear on the result listings for all related local searches.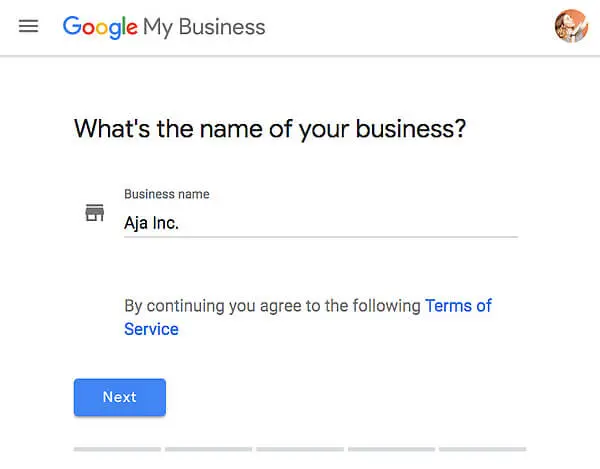 Long story short, Google My Business makes it easier for potential clients to find out about your business online. And this is why it's crucial for users to constantly improve their profiles to appear higher on a related Google Search.
Is Google My Business Related To SEO?
If you didn't know this, let us tell you that many users overlook that their Google business profile directly impacts the SEO rankings.
Whenever someone performs a Google Search for a local business in a specific category, the top results will be the websites that have optimised their local SEO strategies and a related Google My Business account.
This is because Google focuses on "fetching" websites officially registered as Google My Business accounts on its backend. So, if you have a good Google My Business profile, there's a greater chance that your business will appear among the top results for a related local search.
Besides, setting up this profile will automatically put your business on the local Google map, which is a great added advantage.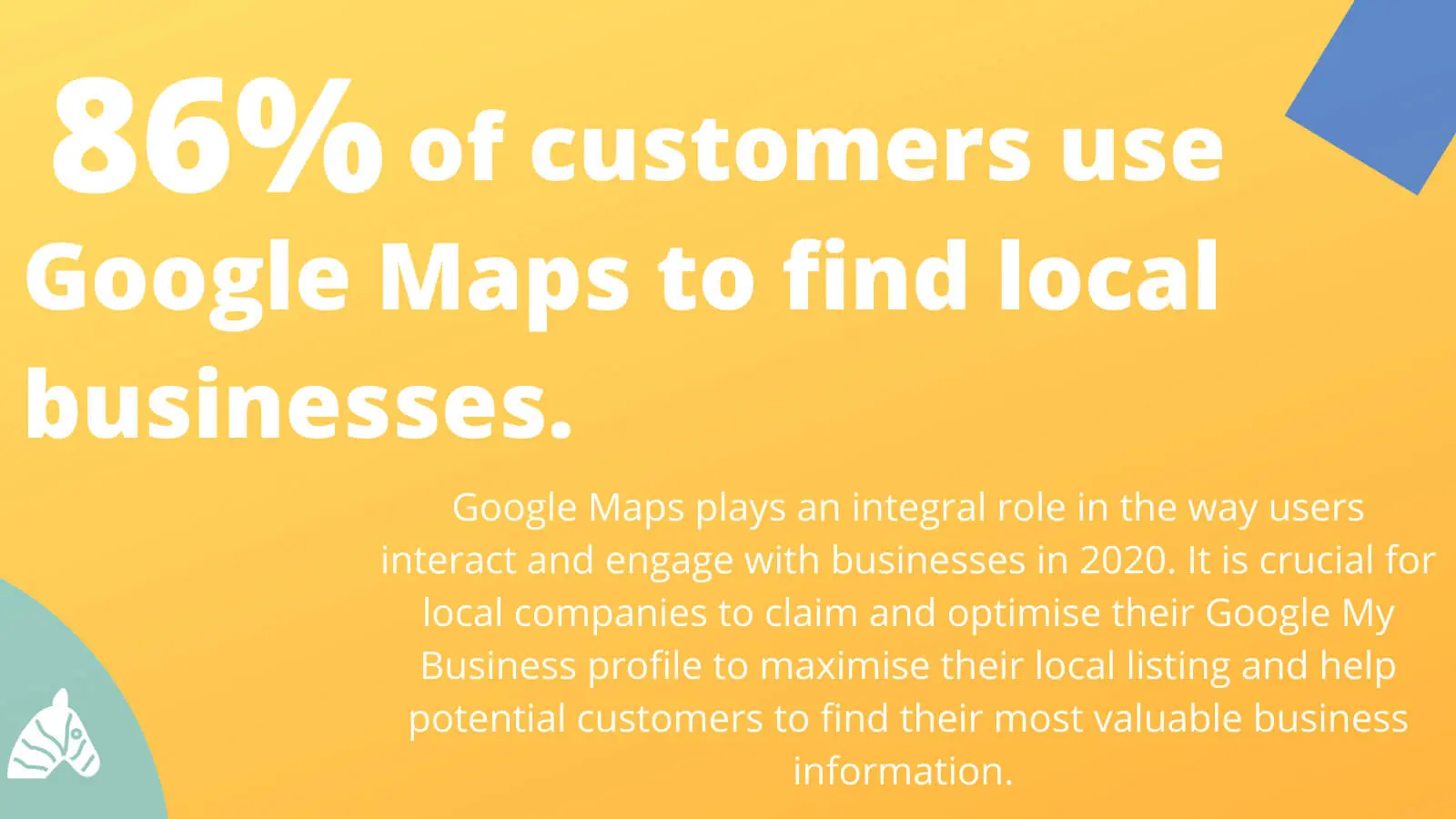 Benefits Of Setting Up A Google My Business Account
In the following sections, we will quickly walk you through the main advantages of creating and maintaining your Google business profile:
1. Increased Visibility
Online visibility for potential clients or customers is no longer problematic by appearing on the top Google Search results and its map.
In fact, according to a recent survey, a GMB profile is one of the most significant factors determining local pack rankings on Google. Hence, providing, verifying and regularly updating information about your business will help it stay on the top of the local search ranking.
When users search for your kind of business, a credible Google My Business account will ensure that you appear among the first few "local packs" recommendations that pick up local business listings. Hence, having the details on the user's screens (along with the related location and phone number) will enhance the conversation rate.
2. Control Over How Your Business Listing Appears
If your business has been around for some time, there's a high chance that Google has already registered it on its maps. But with a Google My Business account, you can claim the location to control how it appears to users. This means that you get to personalise and customise its appearance as desired.
3. "Trial" Advertising On Google Maps
If you didn't know this, your GMB account would help you advertise the business on Google Maps. You must perform a keyword search to identify the related keywords you want the GMB profile to appear for.
When users search using those keywords, your Google business profile will appear at the top of the list for the targeted geographic area. Besides, it will help you better launch an ad to facilitate maximum audience reach.
4. Provides a Platform For Customer Reviews
According to a ranking factors survey by the search engine MOZ, online reviews can contribute up to 10% to how Google ranks local businesses. And with GMB, your customers find a reliable to make voice their opinion, which will ultimately be authentic and most of their views.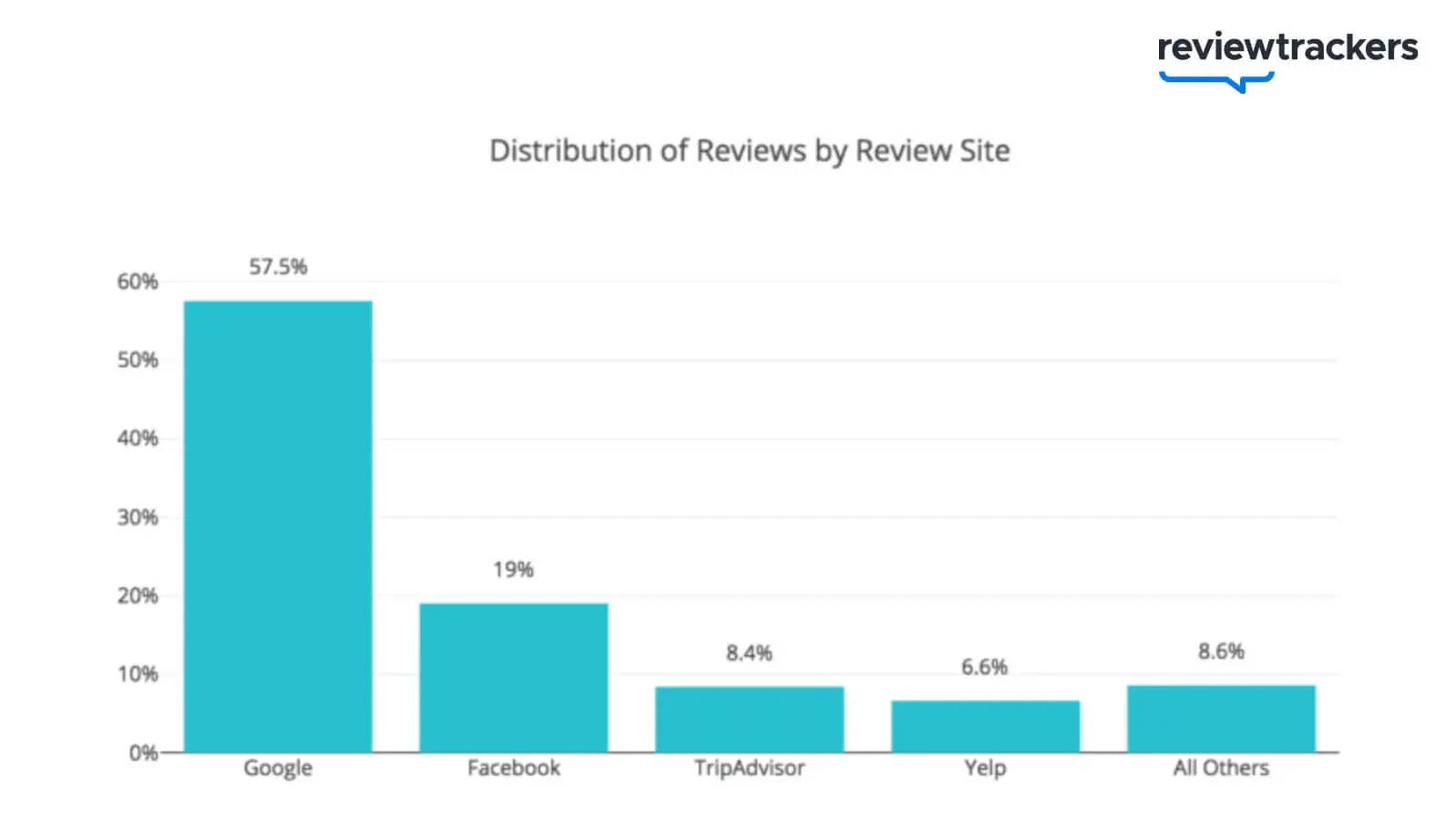 Besides that, positive reviews by existing customers also serve as unbiased testimonials for potential customers. As many as 93% of customers trust online reviews to make a purchase decision because such feedback is authentic and most unpaid. Hence, good business reviews play an instrumental role in sales boosting.
In addition, it will give you a better idea about the exact requirements of your potential clients so that you can make the necessary changes. And businesses that respond to reviews (whether directly or indirectly) are more likely to earn the consumers' trust online.
You must have figured out how positive reviews directly affect their relationship to sales. But at the same time, it's crucial to understand how to deal with negative thoughts.
Remember that even the best businesses have negative reviews but are always handled professionally. So, use it to improve your product and service instead of taking criticism personally. There's nothing better than first-hand customer experience to help your business advance. A negative review is not bad; an excellent response to a negative review can be a better signal than a good review.
Responding to positive and negative reviews is essential, not just the good ones!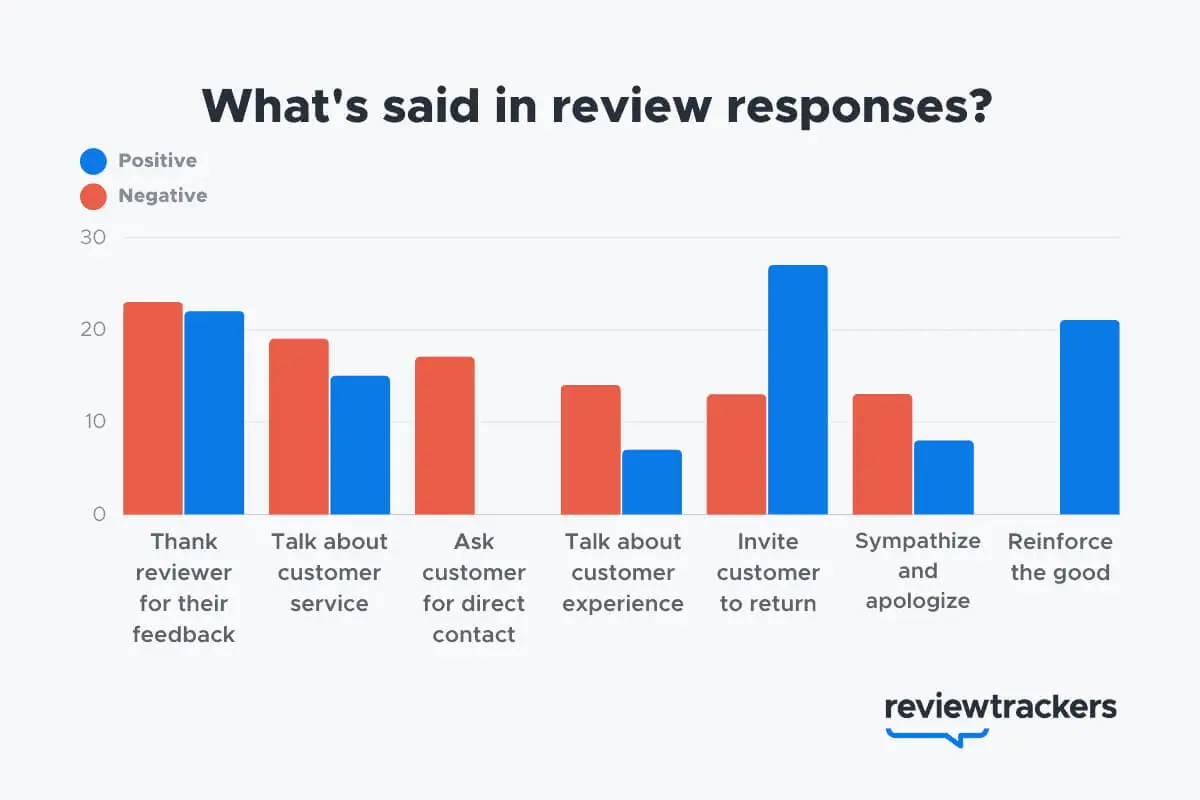 5. Provides Helpful Insights
Aside from promoting your product or service online, a Google My Business account will provide relevant information to help better understand the business's market.
GMB employs multiple tools and features that facilitate valuable access to customer statistics. It can show you the number of views for your business website's photos, videos, and posts.
You can also get a detailed breakup report of how customers engage with your Google My Business posts. GMB helps users understand the type of content liked and shared by their customers; for this reason, it's essential to post regularly.
Hence, it becomes easy to gauge the effectiveness of your current campaign and whether or not it has generated the desired customer reach. Based on these findings, business owners may change or modify their current marketing strategies.
Furthermore, a section on your Google My Business profile summarises your audience or customer base regarding age, location, and gender. Such information will be especially helpful in creating targeted campaigns to increase sales and revenue.
Similarly, the "search query" reports can help business owners learn how potential new customers search for their business online and the keywords people use to find their GMB listing. This, in turn, helps them formulate the right content marketing strategies to increase clicks and subsequent sales.
6. Ease Of Use
As we have already mentioned, Google My Business is a free tool that assists business owners in promoting their products and services online. But not every free online platform can help optimise your Google presence with the same ease of use and convenience as GMB.
By entering all the complete and accurate information (like address, phone number, business hours, etc.), users can get their profiles verified within hours. Besides, specific tools verify your Google Business profile almost instantly!
Users can keep track of their Google My Business listing by determining local SEO's efficiency to improve ranks and online visibility.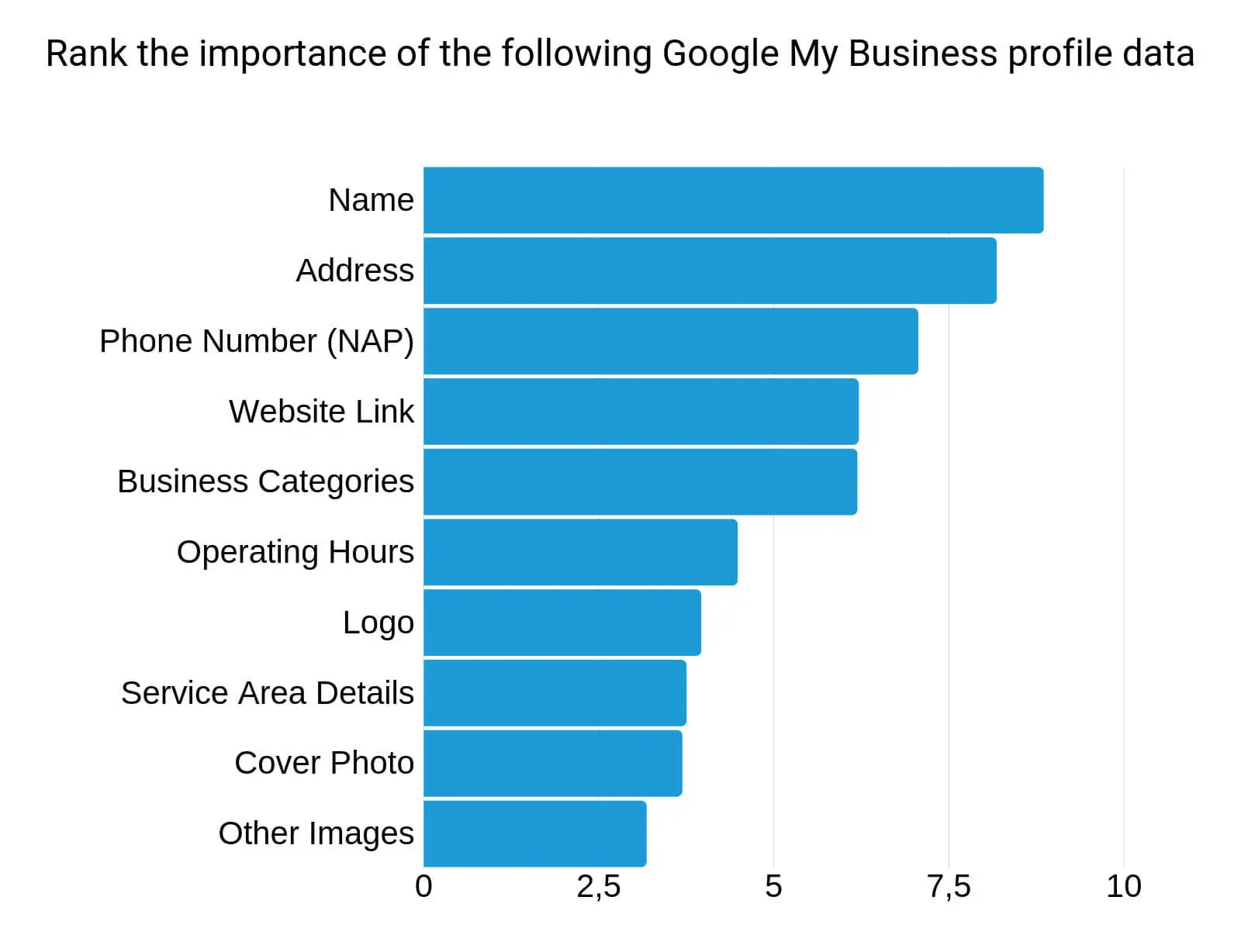 How To Set Up A Google My Business Listing?
Your Google My Business account is a key factor in determining efficiency; the latter needs to know the steps involved in creating a good GMB profile. In this section, we will talk about just that.
Step 1
Start by creating a Google account meant for all business activities. You may use your existing Google account, but we'd recommend using a separate account to keep things simple.
You will find a drop-down list for the latter by clicking the "create account" tab and choosing the "to manage my business" option. Fill in the required details, such as your name, address, phone number, etc., to complete setting up the new account.
Otherwise, head to google.com/business and click on "manage now."
Step 2
The next step is to enter your business name (or the business page name) in the "type your business name box." Here, Google may use its autocomplete function to complete the entered name, especially in the case of a namesake in that region.
It also allows users to see if their business has already been listed to avoid duplication or create a new GMB profile for your existing business, especially if there's a location change.
Step 3
It's now time to provide the location of your business where you can receive potential customers. If you're a SAB (Service Area Business) that delivers goods and services from a particular store or facility, specify that by clicking on the corresponding option.
But if you don't have a physical store or location where customers can visit you, leave the address field blank and tick on the "hide my address" option (in addition to the "goods and services" box).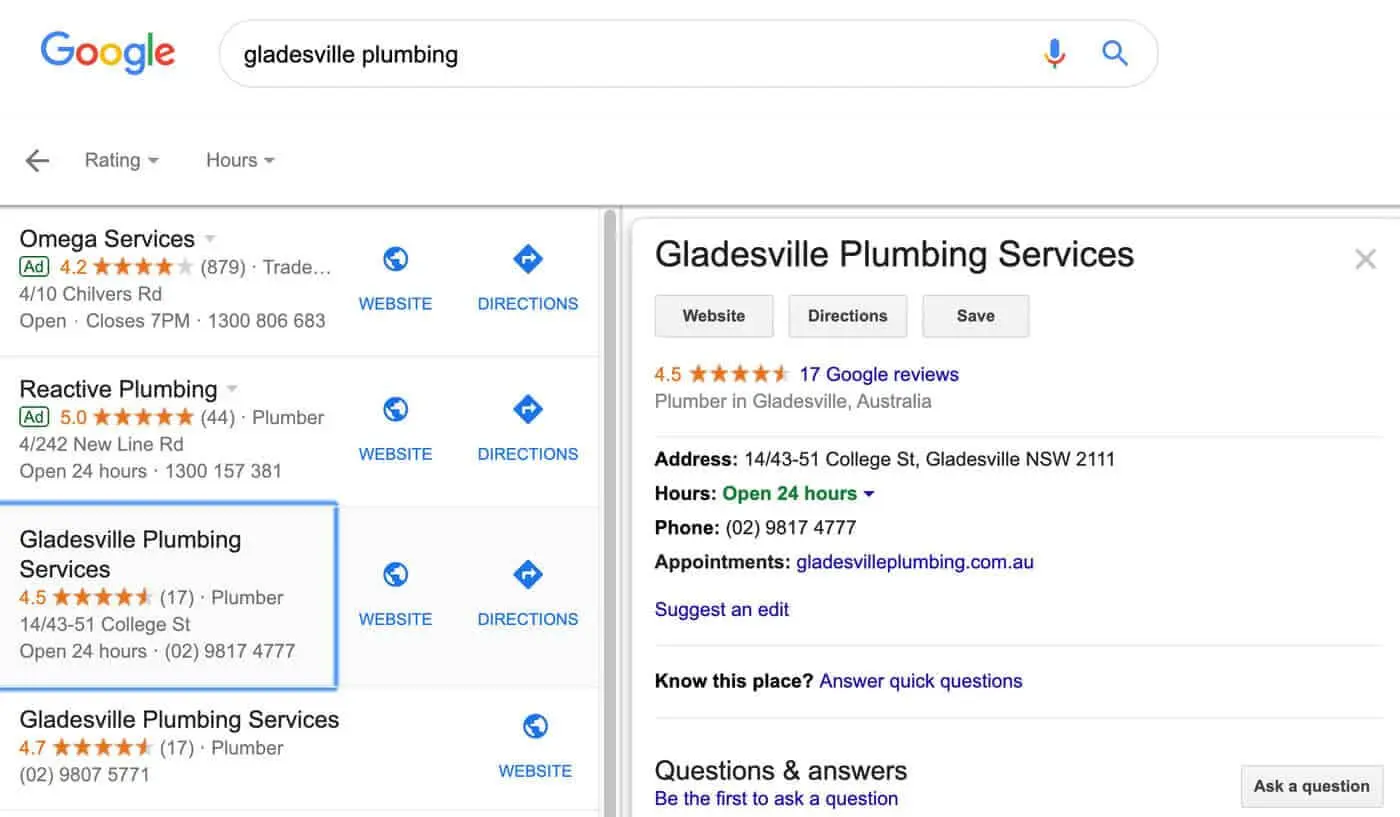 Step 4
For SABs that don't have a physical location, business owners should specify the area they will cater to. This is important to ensure that customers can find their businesses on local searches, so enter all the regions, cities, or postcodes you plan to serve.
Step 5
One of the final steps is to specify the accurate business categories you want your business to appear in during local Google Searches. This will also influence the list of categories in your GMB profile, so we suggest reviewing how your competitors list their businesses.
Besides, you can change or update the categories with time, which will require re-verifying your Google business profile.
Step 6
Believe it or not, providing authentic and reliable contact information (phone number, email id, website URL) is a keystone of sales conversion. Your business information may not help your customers with all of their questions, so it's essential that they can reach out to people who will answer questions.
If you don't have a business website yet, Google will also give you the option to create a Google website based on the provided information. But local businesses should have their websites to stand out from the rest.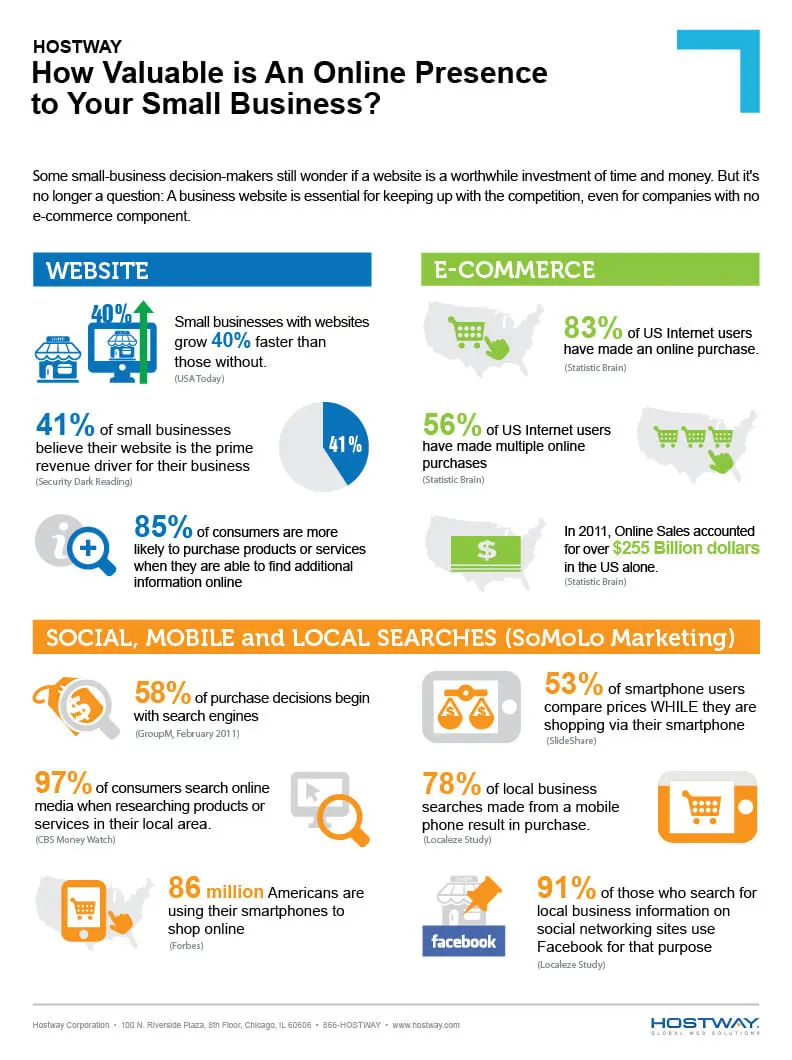 Step 7
As the last step, Google will verify the authenticity of the GMB listing by sending a verification code. The most commonly used method in this regard is postcard verification, where you will receive a postcard with a secret code on the listing address, which needs to be entered into the GMB account.
Users should receive their verification postcards within five days of placing the request. If not, then you will have to place another verification request. Some businesses may receive the code via call or email, but this feature does not apply to all users. The verification status will be updated in the Google My Business dashboard.
How To Improve Your Google My Business Listing?
With all said and done, it's now time to address the elephant in the room- how to optimise your Google My Business listing to improve rankings. And there's no rocket science here- you only need accuracy and relevancy. These two factors will invariably encourage customers to consider your products or service and make the subsequent investment.
On that note, here are the top 5 factors that will help in optimising your Google My Business profile:
1. Add Photos And Videos
Adding visuals is a great way to stand out from competitors, no matter how big or small your business is. Trust us- there's no better way to help customers understand what your business is all about.
Like Facebook or Twitter, GBM allows users to add a logo and cover photo to help find your business or brand online. But that's the bare minimum you can do for your profile. Please don't stop exhibiting photos describing your products or service and what goes behind them.
Here, we should mention that relevant pictures can increase direction requests by up to 42% and website clicks by 35%.
For example, post high-resolution photos of the food, menu, kitchen, and overall ambience if you run a cafe or bakery. So, even if your customers don't want to read through your business description, they'd still be enticed to try your products. And if feasible, hire a professional photographer for this purpose.
To add photos, sign in to your Google My Business profile and open the location of your business. Then, click on "photos" and select the type of images you want to add. Finally, upload the photos from the device or choose from those already uploaded.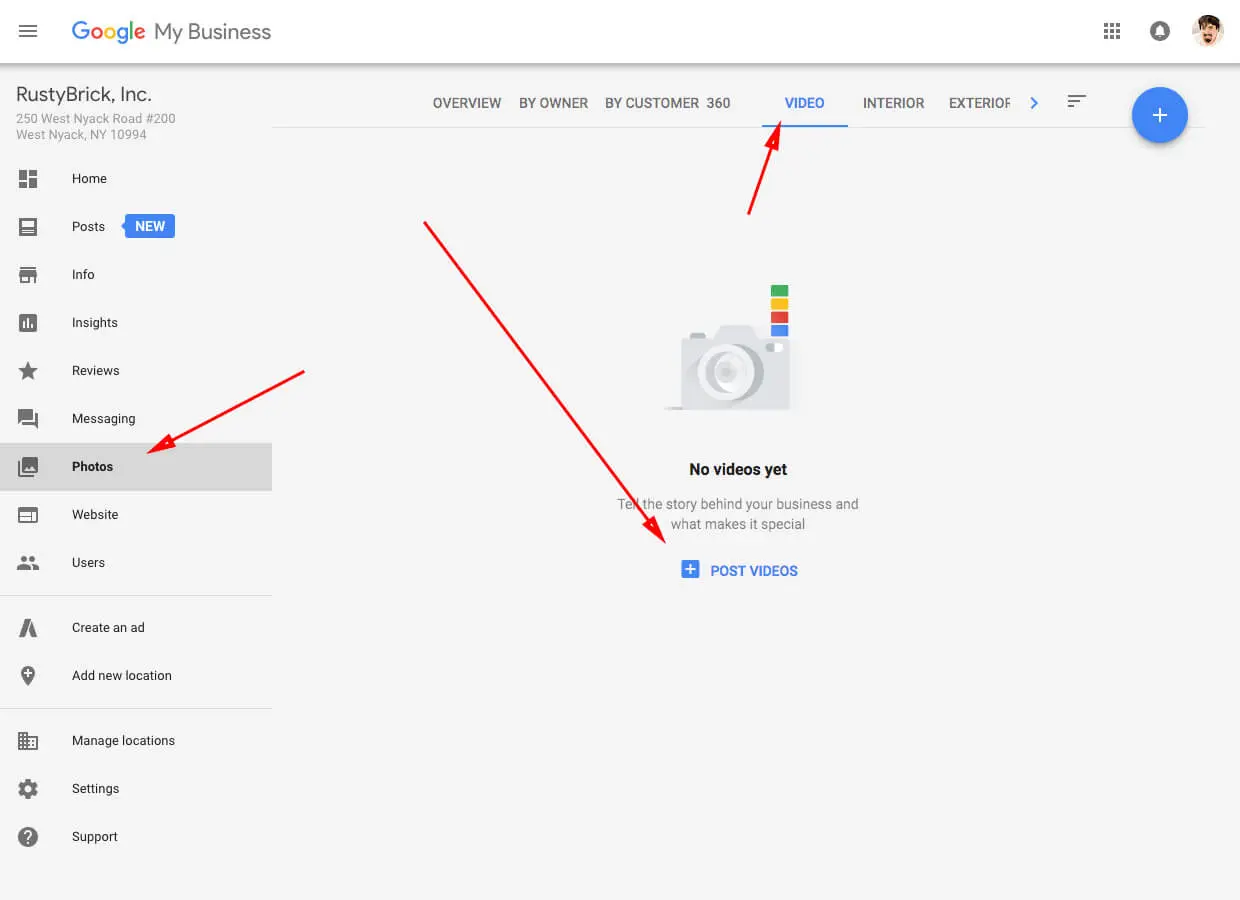 Also, update the picture gallery whenever you add something new to your product list or change the business operation. In other words, post picture updates as you would work for your social media accounts!
2. Post Updates
Whether a change in contact information, any special discount, or opening a new location, make sure that your GMB page has only current and authentic information. Users can create Google posts.
Beyond that, always ensure that the business hours are up-to-Under you'd want your customers to leave because Google Search for, you will find this option far fetched the wrong opening and closing hours. Keep in mind that accuracy is of paramount importance.
Users can edit the hours by clicking on the Info tab on the GMB profile and adding special hours for specific services (if any) or weekends and holidays. Under the "more hours" option on the "add hours" section on the same tab, you will find this option.
For effective internet marketing, users can create Google posts to inform customers about promotional offers or events.
Click on the "posts" option on the left-hand side menu and select the type of post you'd like to create. Fill in the required information, but avoid being too pushy. Some post templates may allow you to add rich media to promote customer engagement with your physical or digital store, such as images, GIFs, and videos.
Before publishing, click on the "preview" option to check and remove any grammatical or formatting mistakes.
3. Ask For And Respond To Customer Reviews
Customers trust reviews from fellow customers more than they trust the business, and a good review can be the single most significant factor that sells your product or service. So, the best way to gain more reviews is by asking your customers to provide them after the sale.
Many business owners prefer sending appreciation emails containing the link to the review site so that customers can access the review platform easily. Another way is to send a text message with the link after completing the transaction.
We'd suggest looking at the competitors' GMB pages to see how many reviews they have, and the goal should be to at least match that number. But the more reviews, the better the chances of a higher rank for a local search.
However, only piling on positive reviews is the job half done. Why do you ask? A recent survey found that 70% of the respondents were likely to opt for a business that responds to their reviews. Hence, a simple response of appreciation can go a long way in building trust and brand loyalty for years to come.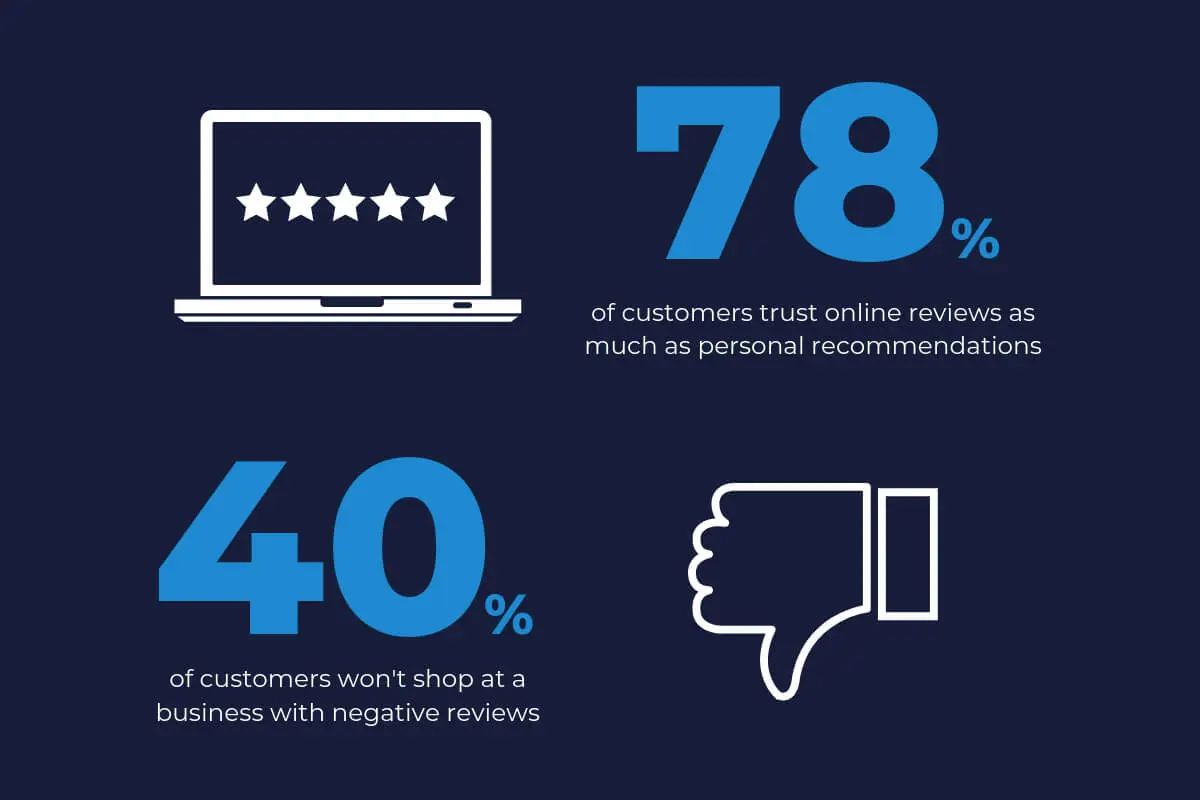 In case of bad reviews, it's important that the business remains apologetic and accepts responsibility without excuses. If possible, structure your response around a solution to help the customers overcome the problem. Otherwise, state your intention to improve future customer experience.
Don't make the customer feel like an automated reply- try to make it as personalised and individualistic as possible.
4. Writing A Good Business Description
Although a business description on GMB can be about 750 characters long, it's only the first 250 characters displayed on the screen. Hence, the focus should be on writing a clear, concise, yet compelling description by highlighting the key attributes of your business.
Here, you can include the best-selling products or services, the area you cater to, and the business's region. These details make it easy for customers to approach you without wasting time.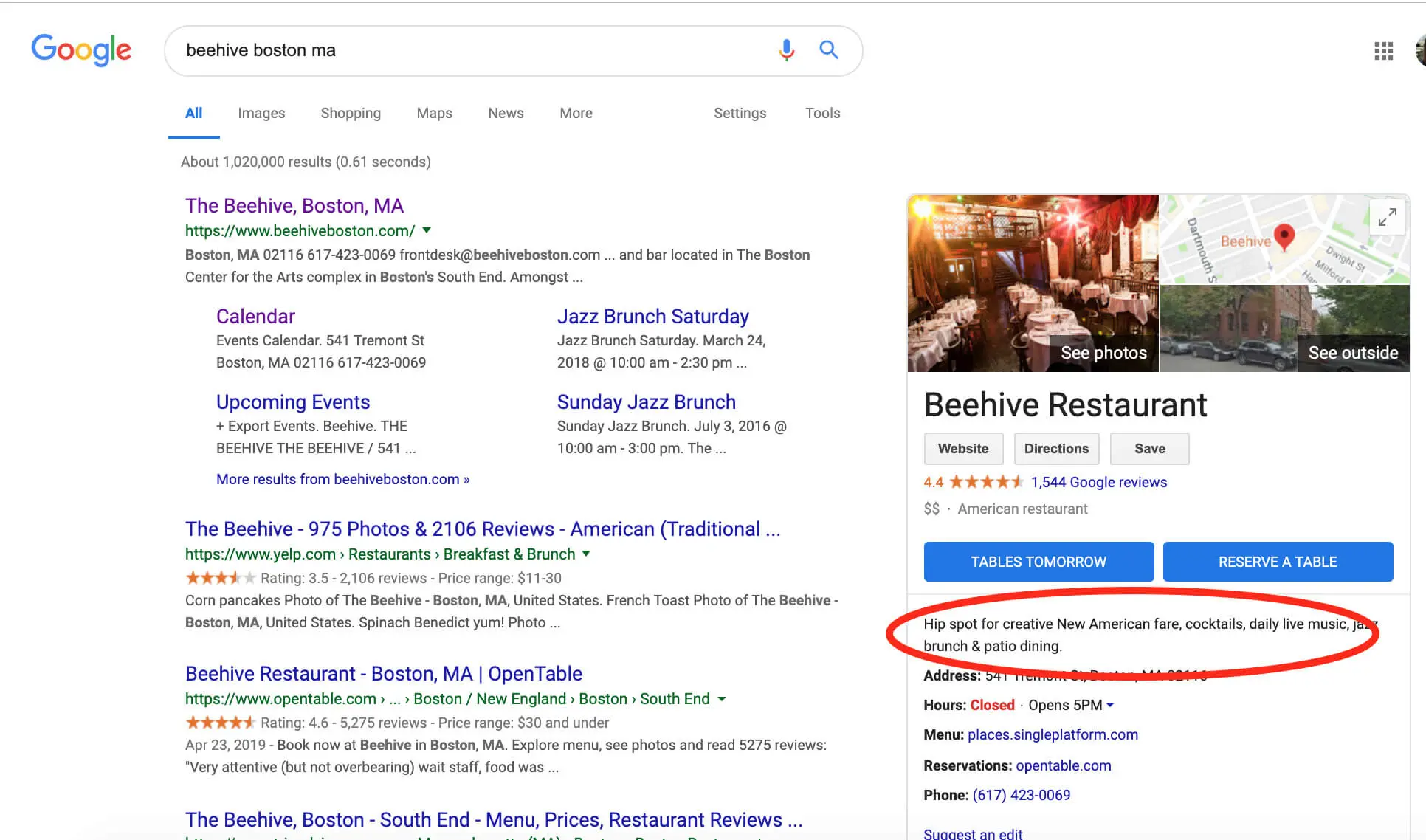 5. Picking The Right Service Area
When choosing the service area, many business owners are tempted to specify a large size, which may negatively affect the GMB rankings. Since Google My Business mainly deals with local searches, it includes only the areas or regions near the location of the business, even if it has an Australian presence.
Users can specify up to 20 locations in their GMB listing, and we strongly recommend filling out all the fields.
A good way is to list the locations chronologically from the closest to the farthest, focusing on local area servicing. And there are more chances of the GMB listing finding a spot at the top of local search results for every local search.
Some Other Tips
1. Manage Customer Reviews
Customer review management is essential to how potential customers perceive your brand. And although GMB doesn't allow users to turn off Google reviews, they can flag and report inappropriate or false reviews to maintain the legitimacy of the business operations.
If you don't see the reviewer's name in the customer database or the review doesn't mention anything about the product or service, it's a false review. Beyond that, your business may be the victim of "mistaken identity", where reviewers describe another product or service that doesn't belong to you.
2. Add Special Features To The GMB Listing
Depending on the business category users opt for, GMB offers a range of special features or attributes that help the GMB pages stand out among similar businesses. You can add up to 10 such attributes, but do not mention anything your physical or digital store doesn't offer.
Navigate to the "info" tab on the Google My Business dashboard and click the "add attributes" option. Then, select the "edit" menu to add the relevant attributes and click "apply."
From different payment modes and wheelchair accessibility to free Wi-Fi and outdoor seating, anything can become a highlight for certain sections of your customer base. However, you might have selected the wrong business category if you don't find the required attributes.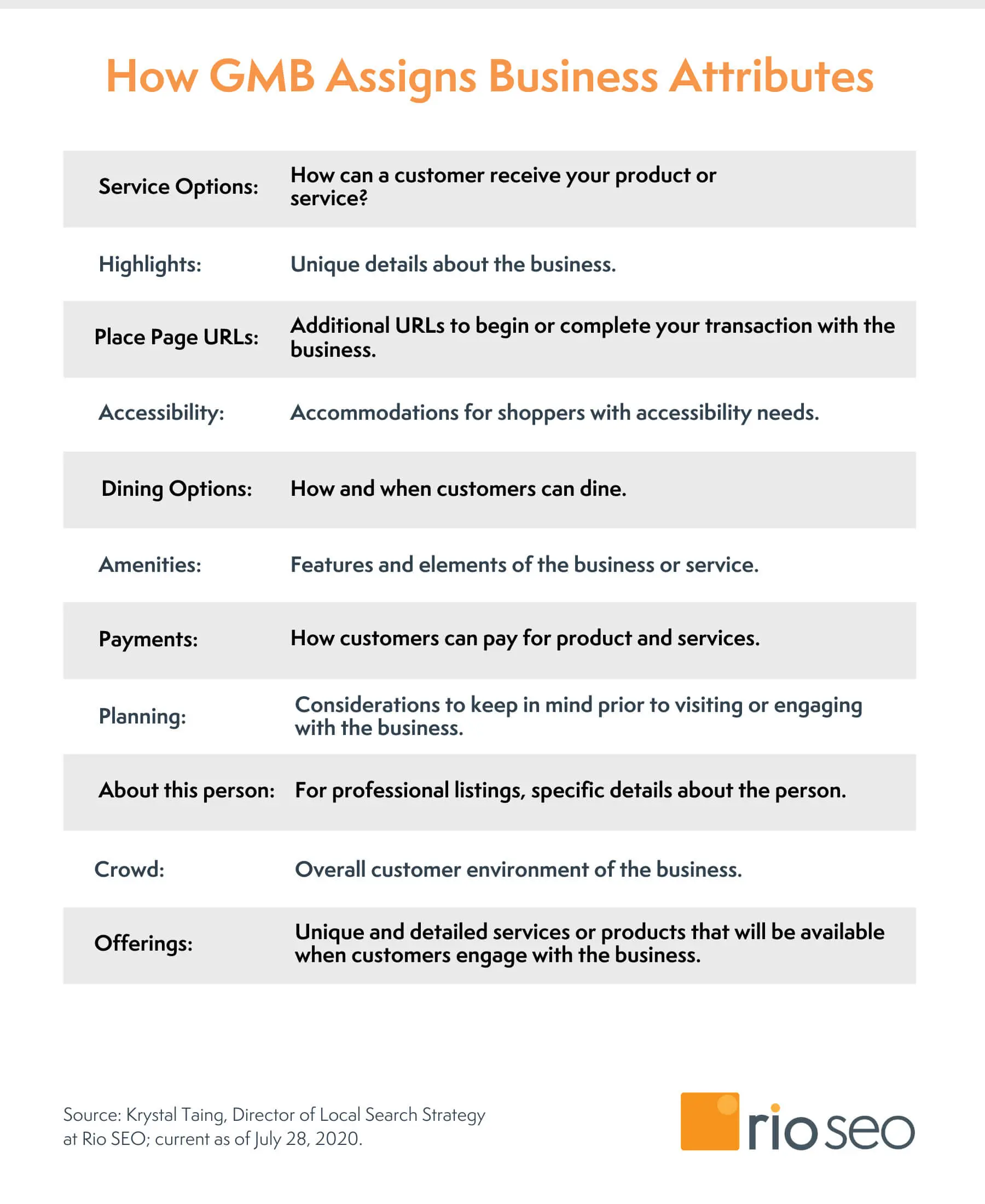 3. Select The Right Category
Your chosen business category can significantly impact where your GMB profile ranks for specific local searches and keywords. This is one of the main reasons why Google My Business allows users to specify a primary and secondary business category.
Remember that the former should be accurately related to your products and services, and the second category should be associated with the primary category.
If you're unsure about the right category, refer to the category listings of your top competitors. We'd suggest going with the category that most of your competitors are listed under, as this will enhance visibility during local, relevant searches.
Additionally, users can experiment and change the categories to find out what works best.
4. Fill In All The Fields
When creating a new GMB profile, furnish Google with as much information as possible to the best of your knowledge. Don't be tempted to skip certain sections because they don't seem important at first glance. The right keywords, attributes, contact information and categories will invariably improve search rankings.
Again, referring to competitors' GMB listings can help you understand the keywords and attributes most suitable for your business. In addition, users can head to Google Trends to figure out how people search for certain companies, products or services.
5. Switch To A Location Group Account
Managing different Google My Business accounts for different locations or branches of the same business is a hassle.
Even securing the different login credentials can become daunting when running more than two such profiles. Plus, search engines can confuse the authenticity of multiple Google My Business accounts under one business name.
Thankfully, Google understands this, and it allows users to control multiple locations from a master Google My Business account called a "location group" account. However, ensure that the primary location or account is verified before adding secondary sites.
6. Set Up Messaging
It's no secret that many people today use smartphones to search and shop online. And with a Google My Business Account, business owners can receive customer queries directly on their phones, resulting in quicker responses.
Select the "messaging" tab on the Google My Business dashboard and install it from the Google Play Store or Apple app store to enable this feature. And don't worry; your number won't be displayed for this purpose. But make sure to turn on alerts for customer messages from the settings menu.
7. Hire A Professional
Although creating a Google My Business account is more straightforward than many other digital marketing activities, managing and updating the account may be cumbersome.
Especially if you don't have any experience with digital marketing or want results from the get-go, it's in your best interest to hire a professional. Once you specify your goals, a professional agency will formulate the right action plan to generate leads and convert them into sales.
A professional agency will also ensure your local listings are up-to-date and optimised to help improve your ranking.
What To Avoid In Your GMB Listing?
So far, we have discussed everything users should do to create a compelling and high-ranking GMB listing. However, it's equally important that users know what to avoid for strengthening their digital marketing via Google My Business.
So, we have compiled this list of the most common yet avoidable mistakes that first-time users tend to make.
1. Wrong Location
Google should automatically detect the location on the map when users enter the correct business address. But if Google doesn't recognise it, users must manually pin their location on the map.
And while doing so, take special care to ensure the pinning is accurate and precise. If the pin is located in the middle of the street or at the opposite building of your store, customers will be confused when following Google Maps to reach the store.
2. Not Removing Old Information
While updating new information, many users neglect to remove older Google posts or photos that are no longer valid.
If you had a new year's sale at the start of the year, you must remove any related posts soon. Don't assume that your customers will understand that the promotional offers aren't valid in the later months.
3. Stuffing Keywords
Keywords, albeit important, can come across as "spam" or fake if stuffed in the business name. For this reason, Google's guidelines require users to use a real business name exactly as registered with the authorities. Besides, using too many keywords for a name can make it difficult for consumers to figure out what the business is about.
4. Using The Less Recognised Name
It's not unusual for businesses to have two names- one that's more formal and the other that's more popular among customers. In such scenarios, it's best to stick with the name used widely for your websites, logos, and signs. Discrepancies between names can result in reduced credibility and lower rankings.
5. Overlooking The Q And A Section
Aside from responding to reviews, answering queries in the Q and A section is an excellent way to communicate with customers. Not everyone may have the time to read through lengthy reviews, and even if they do, they might not find a suitable answer to their specific questions.
That's why monitoring this section and providing accurate answers to all customer queries is important. Another benefit is that it allows business owners to directly debunk myths and misinformation about their business.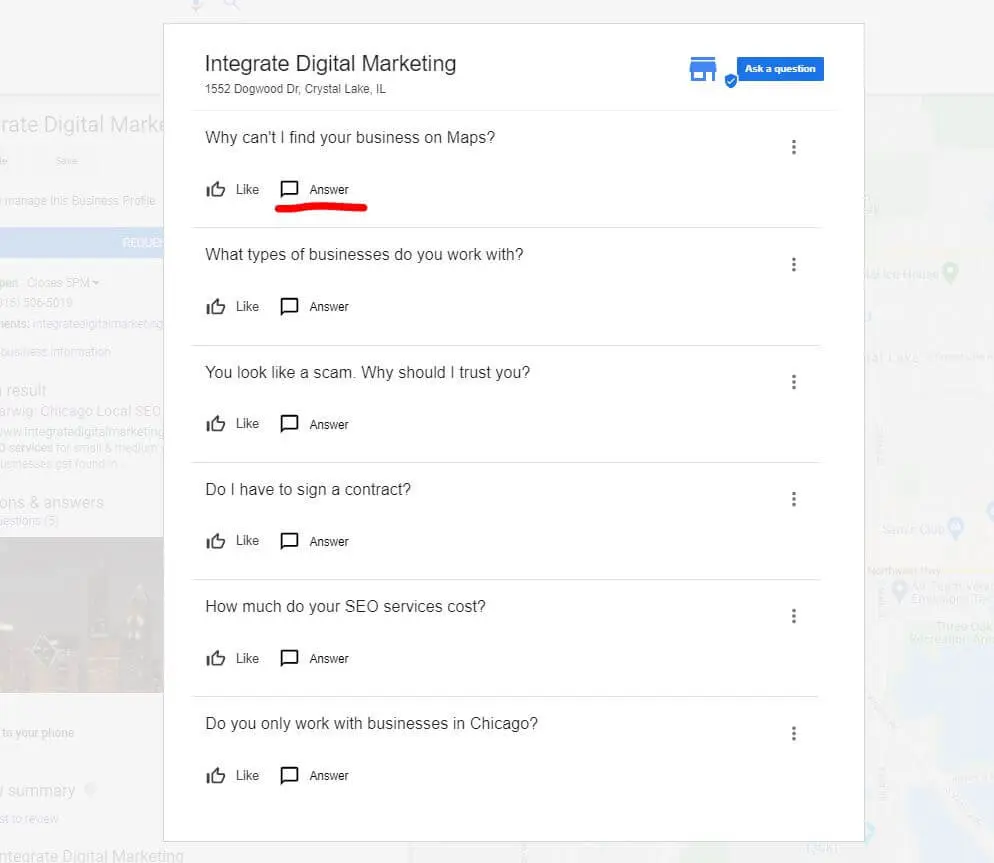 6. Not Crosschecking Information
Whether you're entering information to create a new profile or updating existing information for relevancy purposes, always make it a point to double-check everything you write. Similarly, if you have social media pages or websites for the business, ensure that the information is the same across all these channels for consistency and uniformity.
Improving My Business In Google
With that, it's time for us to wrap up today's proceedings.
We hope our efforts have helped you understand the basics of a GMB profile to the tee. At the risk of overstating, we'd say that the focus should be on providing quality and accurate information that aids in favourable decision-making.
Have you updated your Google My Business information recently? If not, now is the time to do so. We've put together some tips to ensure your GMB listing is as accurate and up-to-date as possible. If you need help updating your listing or have any questions, please don't hesitate to reach out. We'd be happy to assist you!
We will see you again with more such guides. Till the next time, take care!