Starting a business in Australia is relatively easy compared to many other countries.
The main reason for this is that the average household income in Australia is relatively high, which allows a more significant share of the income to be used for spending. And since disposable income is high, local businesses can be quite successful.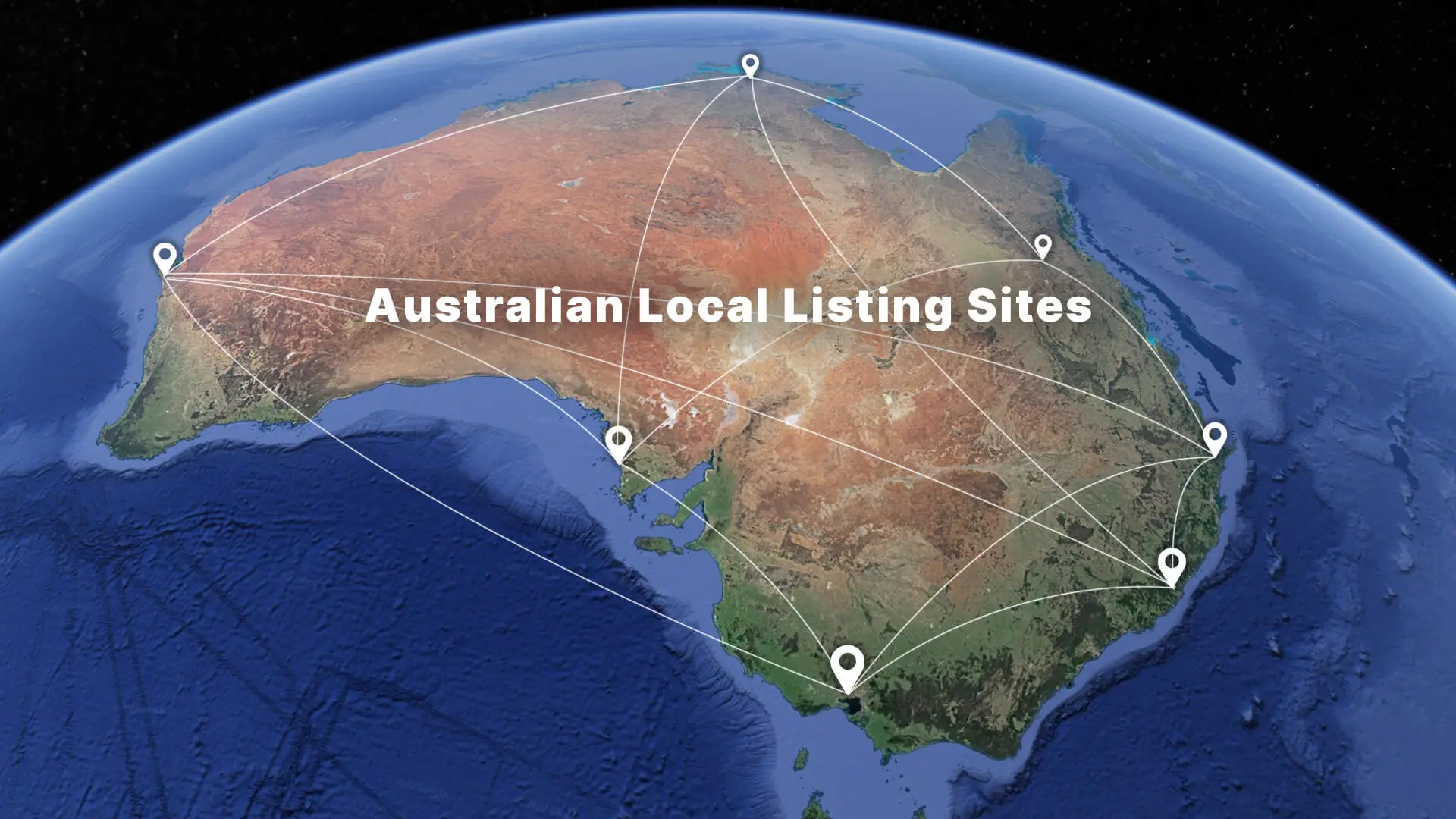 However, for a business to succeed, it needs to focus on promotional and marketing activities, especially modern marketing techniques depending on technology. Among such techniques, listing your business in an online directory is the most effective.
Business listing is a powerful off-page SEO technique that can quickly help potential clients and customers know about your business. It can also improve website visibility and lead to an increase in traffic.
So, if you are looking for good business listing sites or local Australian citation sites, here are some of the best free and paid business listing sites in Australia to check out.
The Importance Of Business Listing
Before looking at various listing sites for Australian businesses, it is essential to know why listing your business online is beneficial.
1. Listing Is Free
Several free business listing sites allow you to advertise and promote your business without spending any money.
2. Makes Information Easily Accessible
Business listing websites are digital directories where vital contact information about various businesses is stored. Such sites have vast databases where users can find information about various businesses they are looking for.
3. Reviewing Businesses
Some business listing sites allow users to review businesses, making it easier for others looking for such services to find the right one.
4. Improving Visibility
Your business is listed online on Australia business directories to improve its visibility to potential customers. This can help get more and better quality traffic through local SEO strategies.
5. Improving SEO
Australian business listing sites often offer free backlinks that can improve SEO and support your digital marketing strategy.
Top Australian Local Listing Sites
1. Yelp
Founded in 2004, Yelp has around 178 million unique visitors looking for various businesses and services every month. To submit a listing, sign up on the website, after which you will be sent a link to the registered email address for completing the listing process.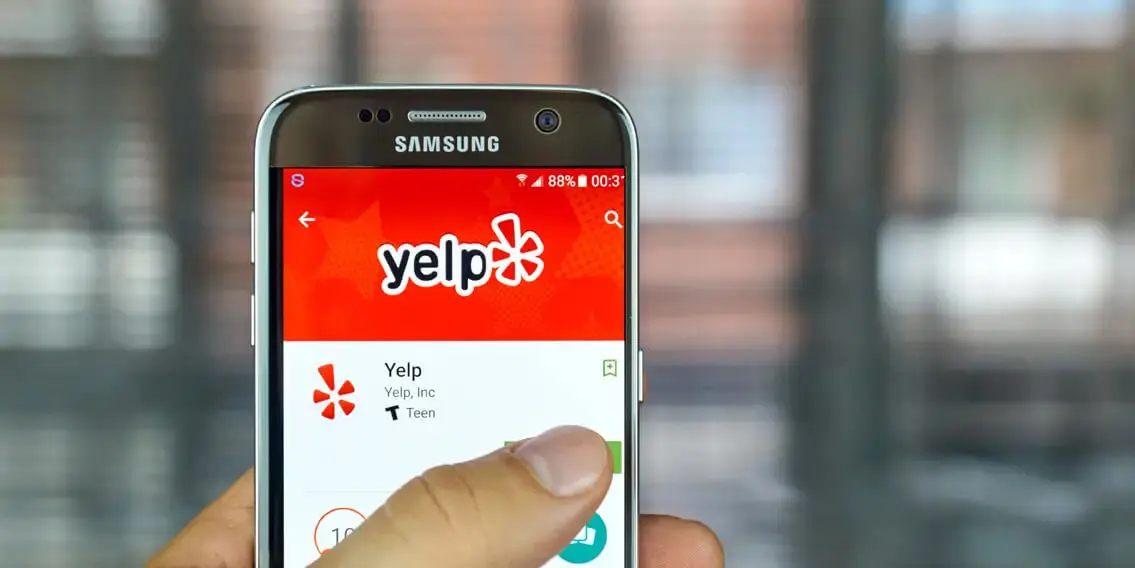 2. Brownbook
Considered one of the best business listing websites, Brownbook was established in 2007 and is a global business listing website. It allows businesses worldwide to get listed while supporting images, videos, and other tools to enhance website visibility. The website has a domain authority of 56 and allows free business listing.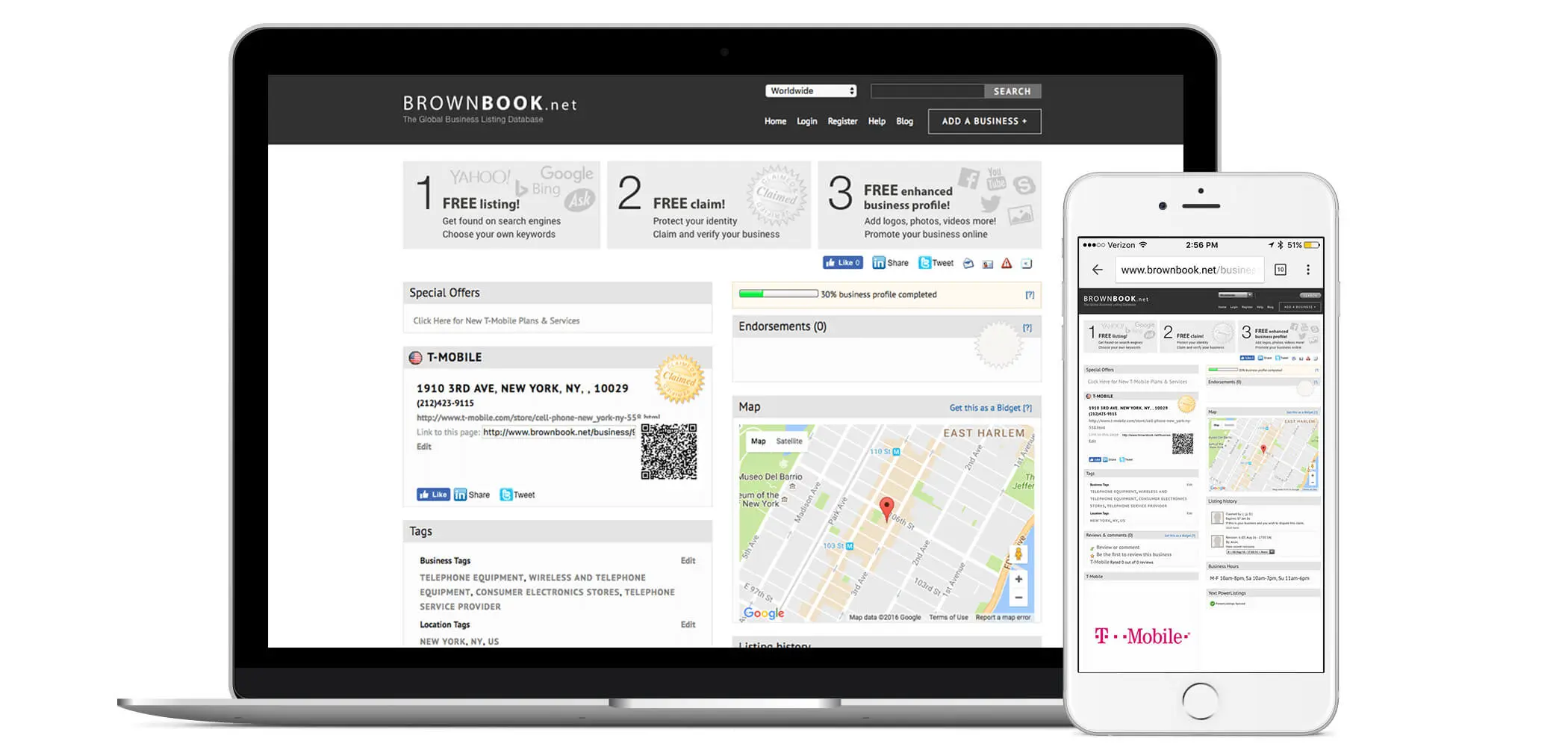 3. StartLocal
With a domain authority of 45, StartLocal is an Australian business listing site that allows free business listing of various businesses across several categories. You can select from multiple categories and regions when listing your business. StartLocal also offers dofollow links for businesses listed on the platform.
Submitting a listing involves clicking the Add Your Business Free button and creating an account. After creating an account, you will receive a verification link to help complete the process. Submitting your business on Australian listing sites improves your domain authority and local SEO.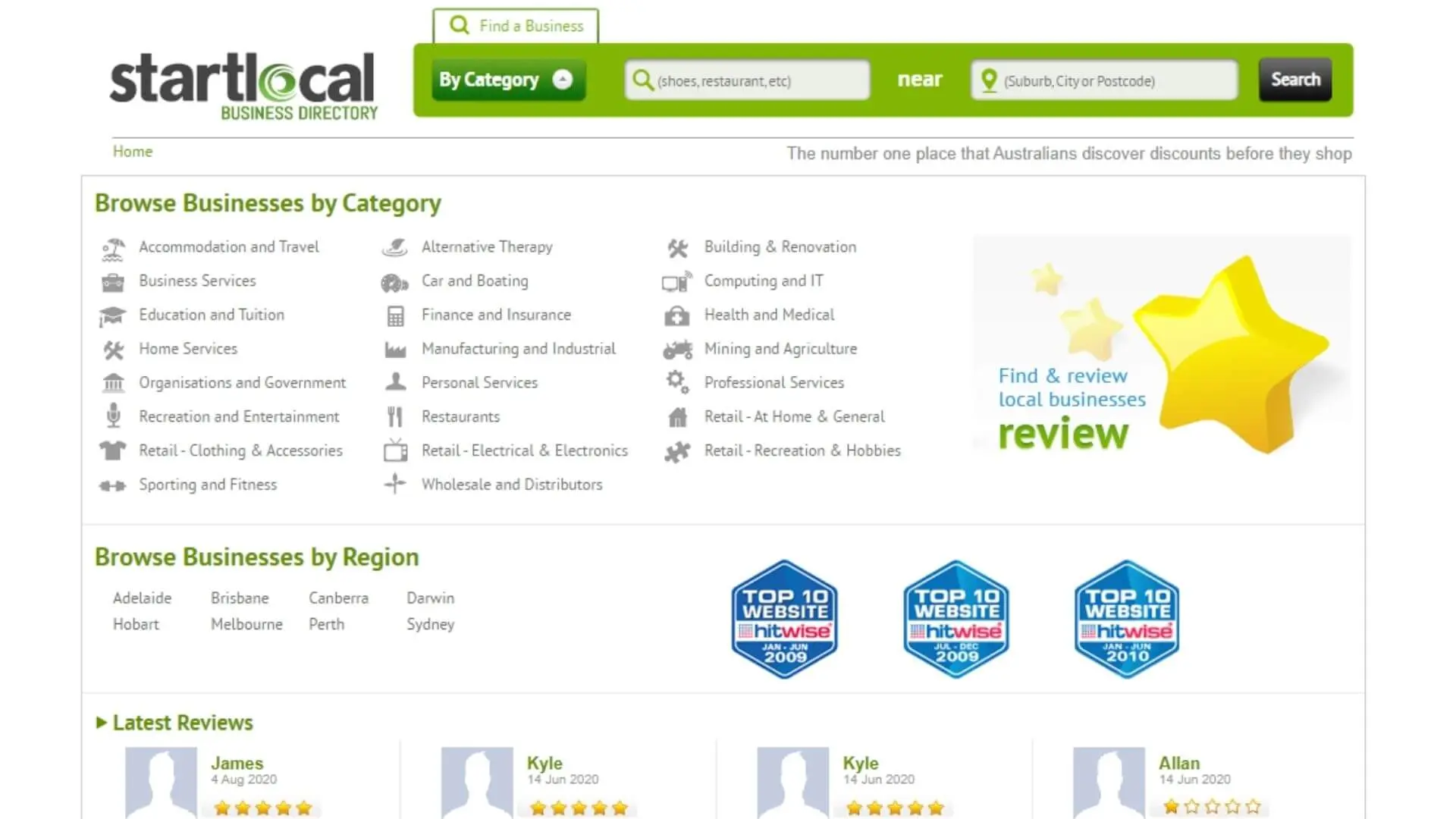 4. Hotfrog
With a presence in 38 countries, Hotfrog is a general Australian business listing site that allows free global listing. It has a domain authority of 48 and is currently used by over 120 million companies across the globe. To list your business, use the Add Your Business button and provide the necessary details. Finally, use the verification link to complete the process.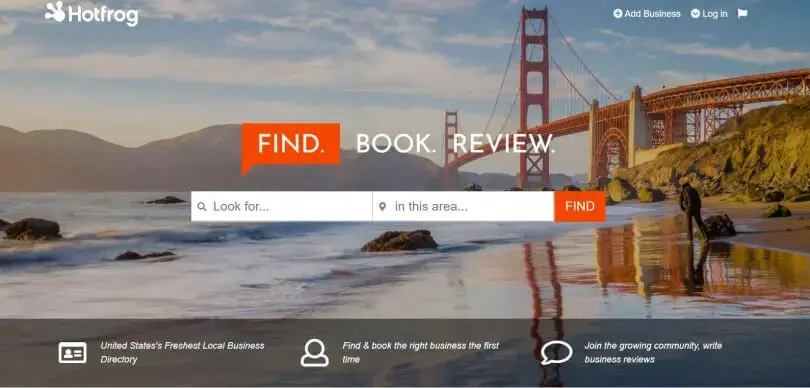 5. Cylex
Cylex is a popular Australian business listing site because it allows businesses to showcase their services to prospective clients. It also makes it easy for customers to find the products and services they are looking for. What's more, Cylex provides both free and paid listings, with the former offering basic listing functionality.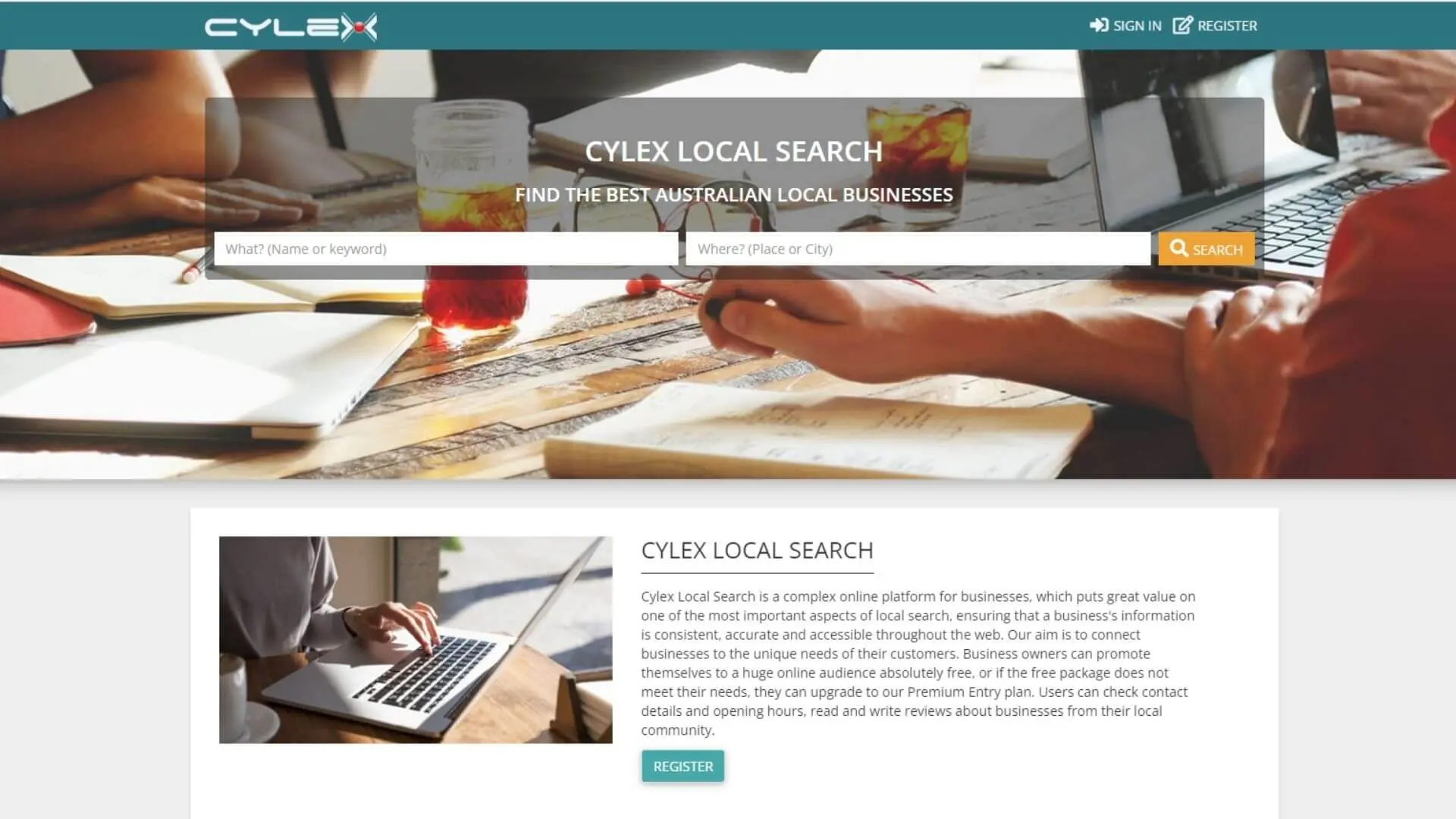 6. Word Of Mouth
Another popular Australian business listing site is Word Of Mouth, which has a domain authority of 44 and offers both free and paid listing. The various business listing sites on this platform are divided into multiple categories. Plus, you can add reviews to various businesses. For submission, click the Register Business button and fill in the business details. Word Of Mouth also has an instant approval process.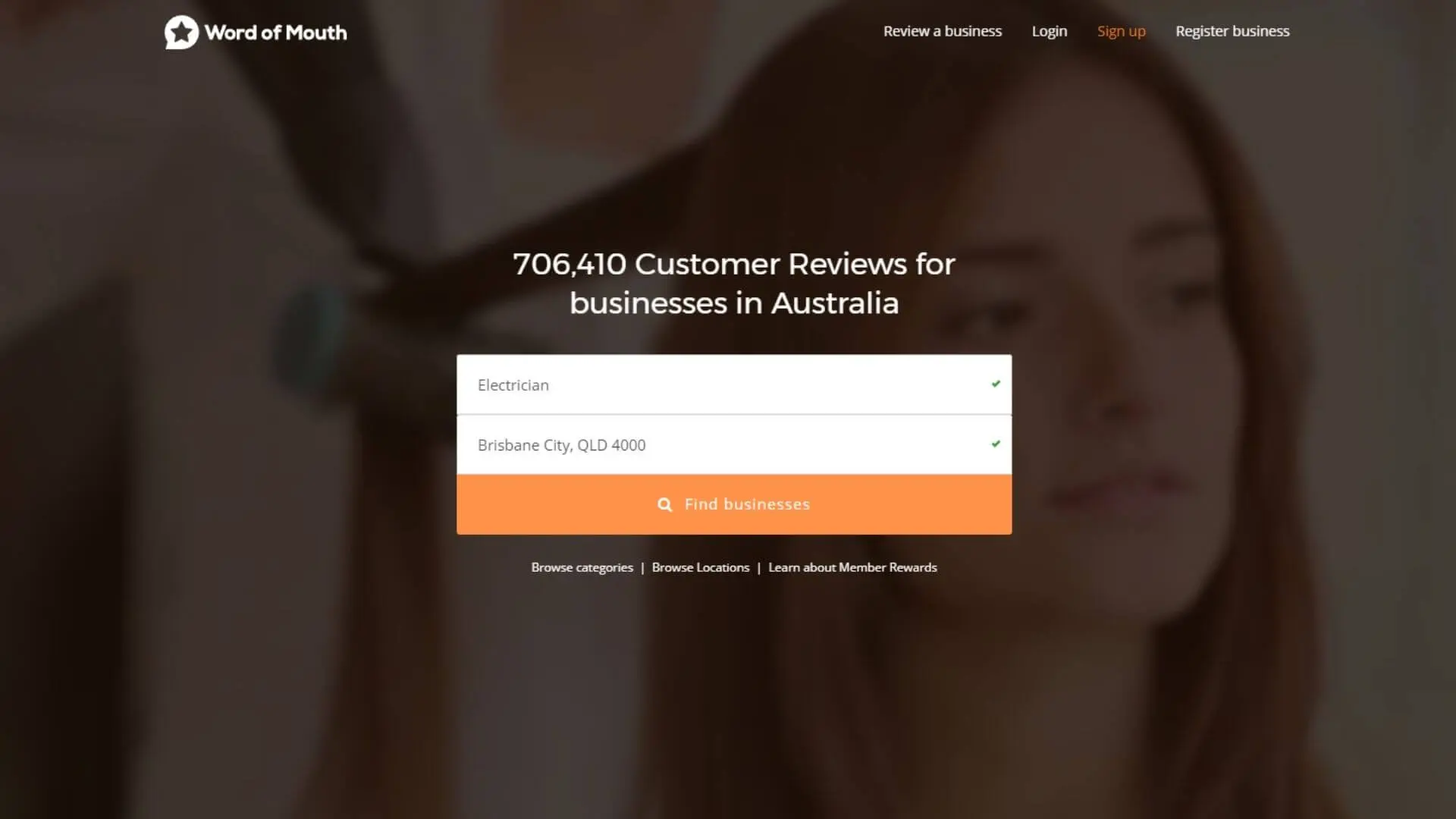 7. PureLocal
PureLocal is suitable for businesses that plan to drive large online viewership and reputed traffic for various businesses. It allows users to find the companies and services they are looking for. You will need to create an account and provide the relevant business information for listing a business.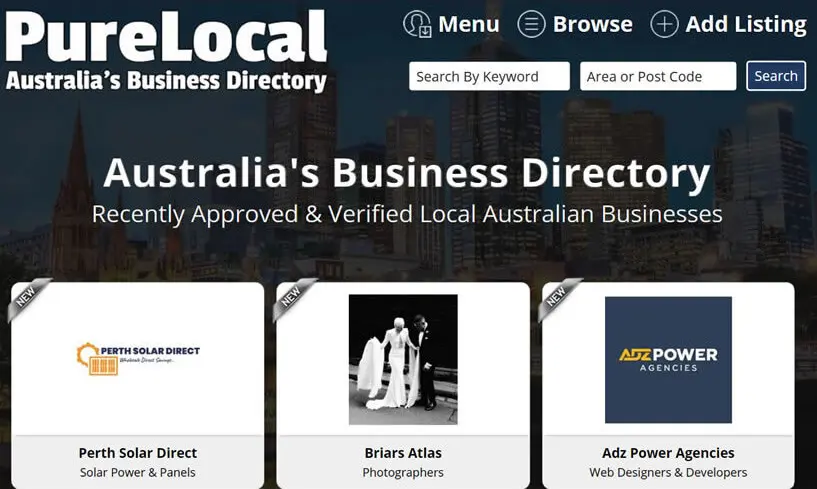 8. AustralianPlanet
AustralianPlanet allows posting free classified ads, local business directory listings, websites and blogs. This website allows free business listing and simplifies the process, allowing local businesses better visibility.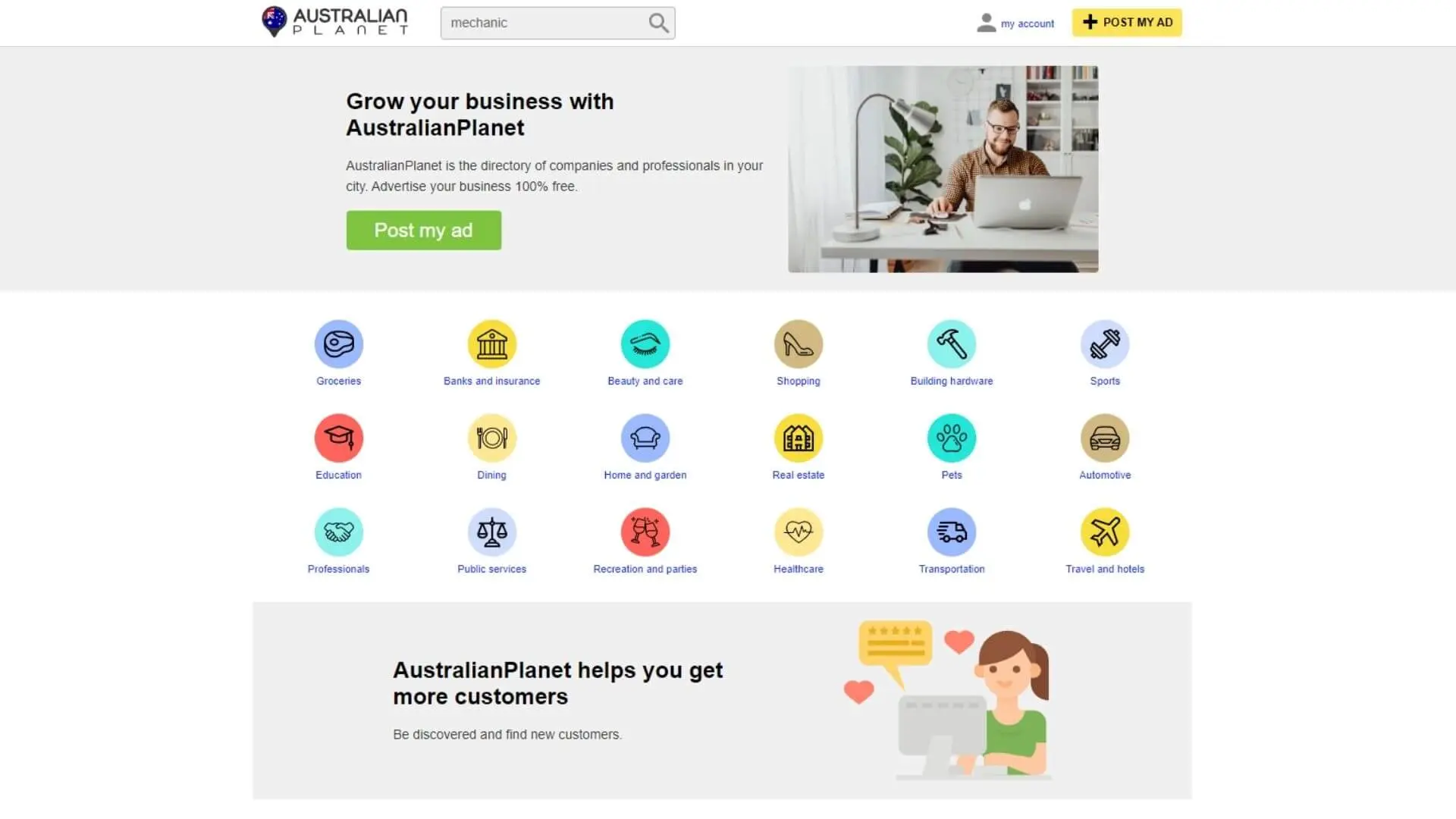 9. Local Business Guide
The Local Business Guide makes it easy for customers to quickly and easily find what they need, with businesses divided into different categories. It also makes listing your website simple and supports article and press-release submissions.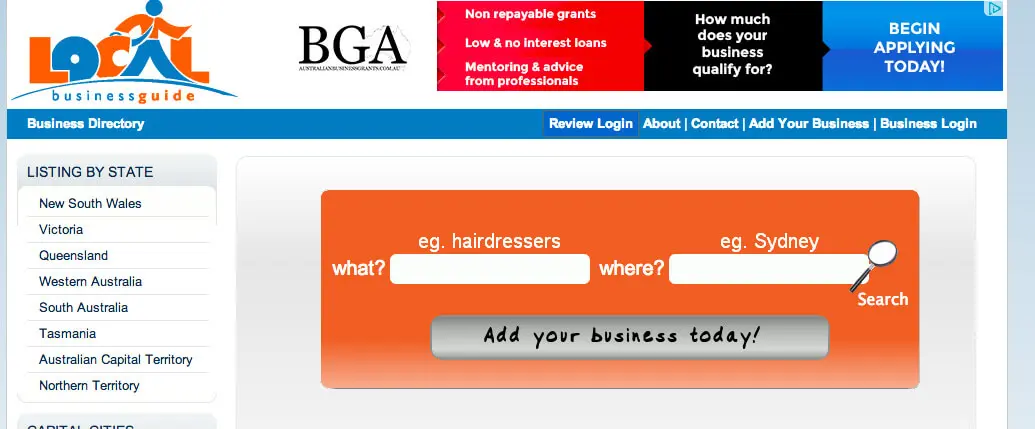 10. Business Listings
If you want to improve leads for the business, Business Listings allows doing that by providing customised information for potential customers. This free listing site is indexed by popular search engines, including Google, Bing and Yahoo, which increases the chances of your business getting noticed by more customers.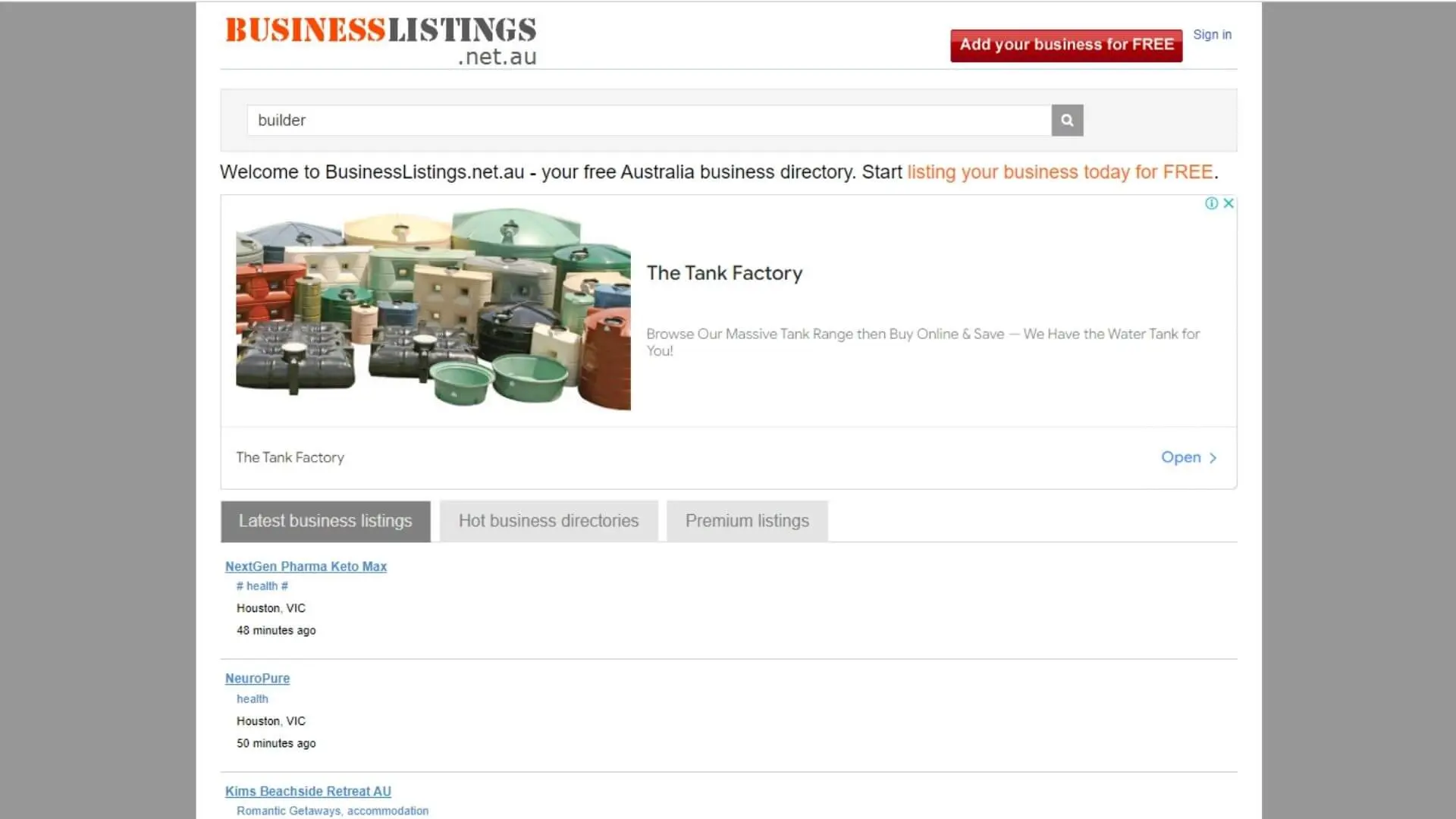 11. Localbd
Another free yet highly effective business directory is Localbd, which has over 100 categories offering users a wide selection of options to find the right business. You can even list the company on any of the most searchable lists. Click the Add Your Business button to sign up and provide the required business details.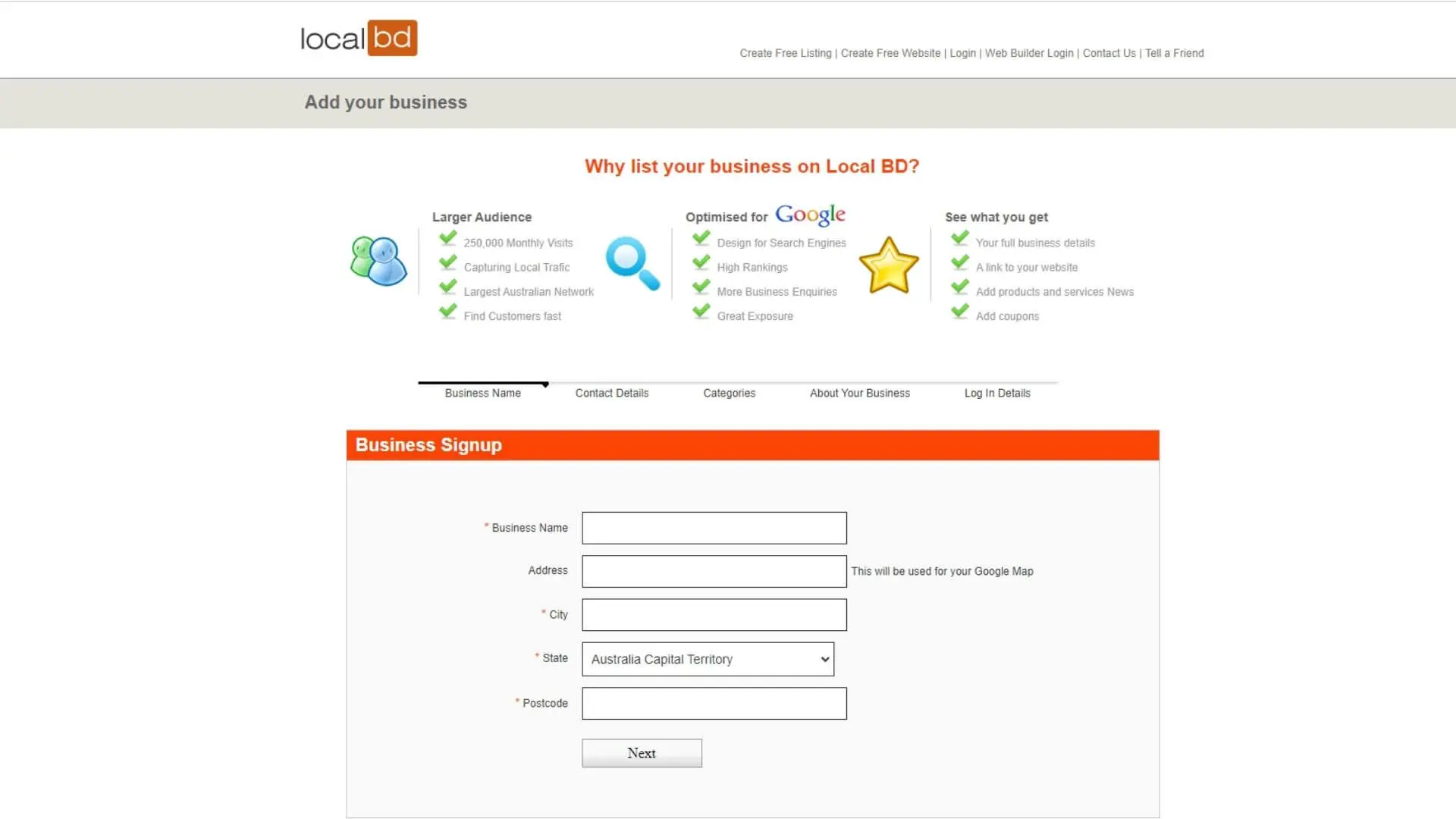 12. Fyple
Another business directory with businesses divided into multiple categories and regions is Fyple. It offers a free listing of business sites in Australia, and like other options on this list, Fyple requires creating an account to list your business.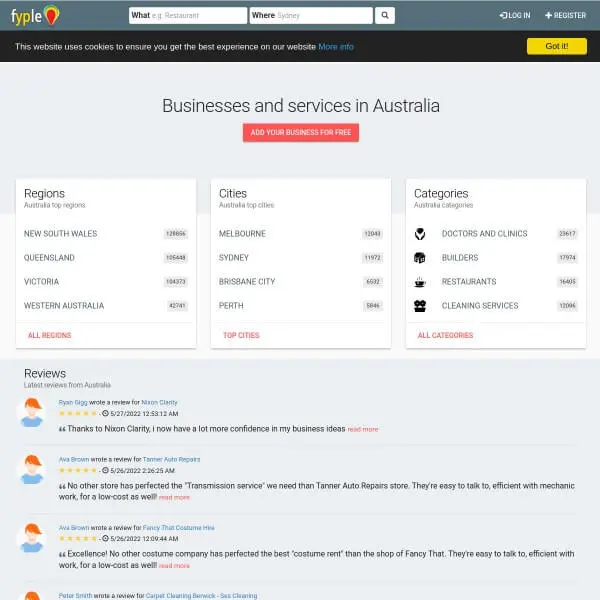 13. Pinkpages
Pinkpages is a great choice if you're looking for the best Australian business directories online, which is why over 1.6 million businesses use them for their marketing strategies. It offers free listing and instant approval; all you need to do is create an account and provide the relevant business details.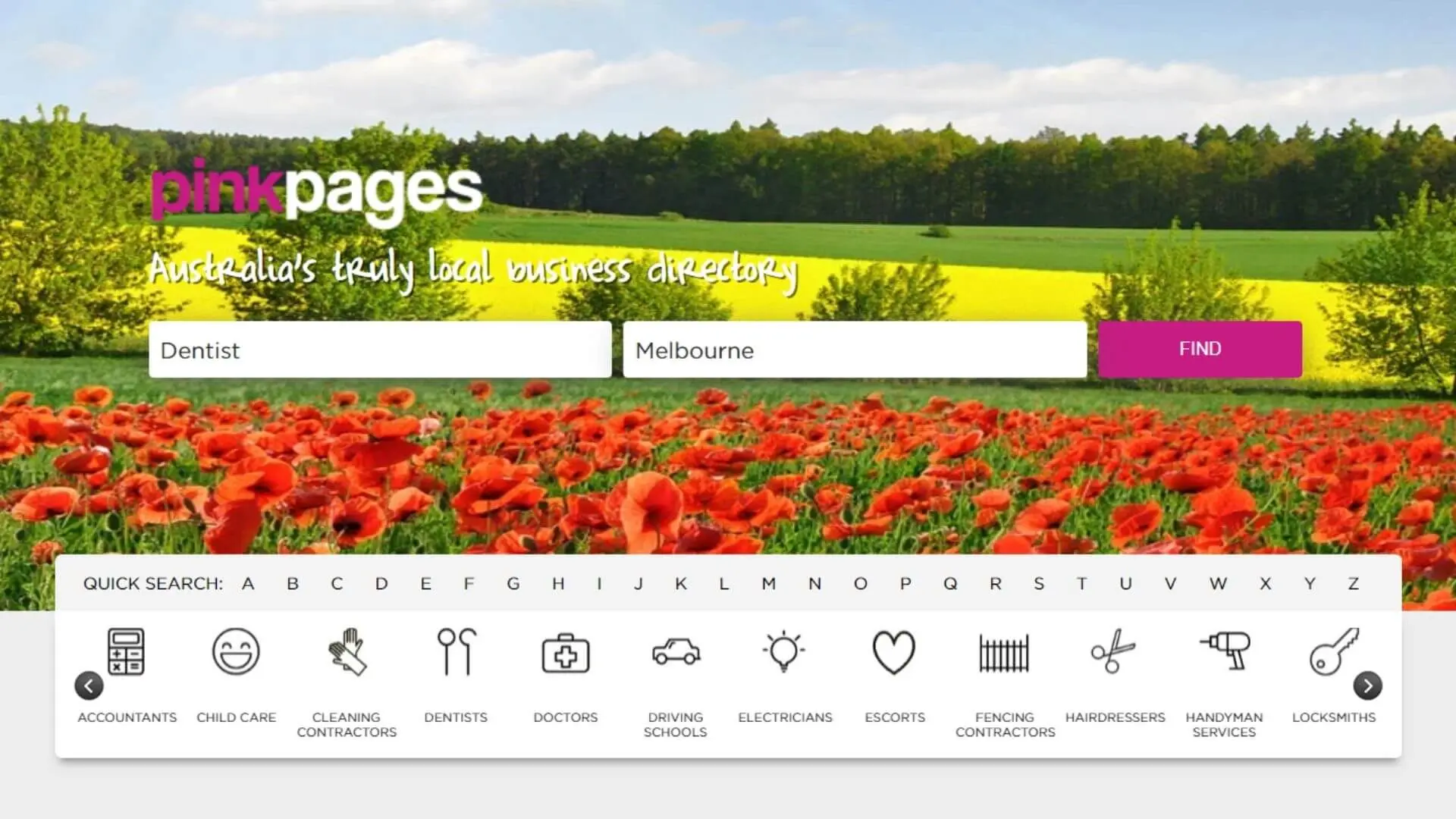 14. Mumbrella
Mumbrella has a high domain authority of 66 and offers both paid and free listing of businesses. It is a great option for all types of businesses to use for their digital marketing efforts.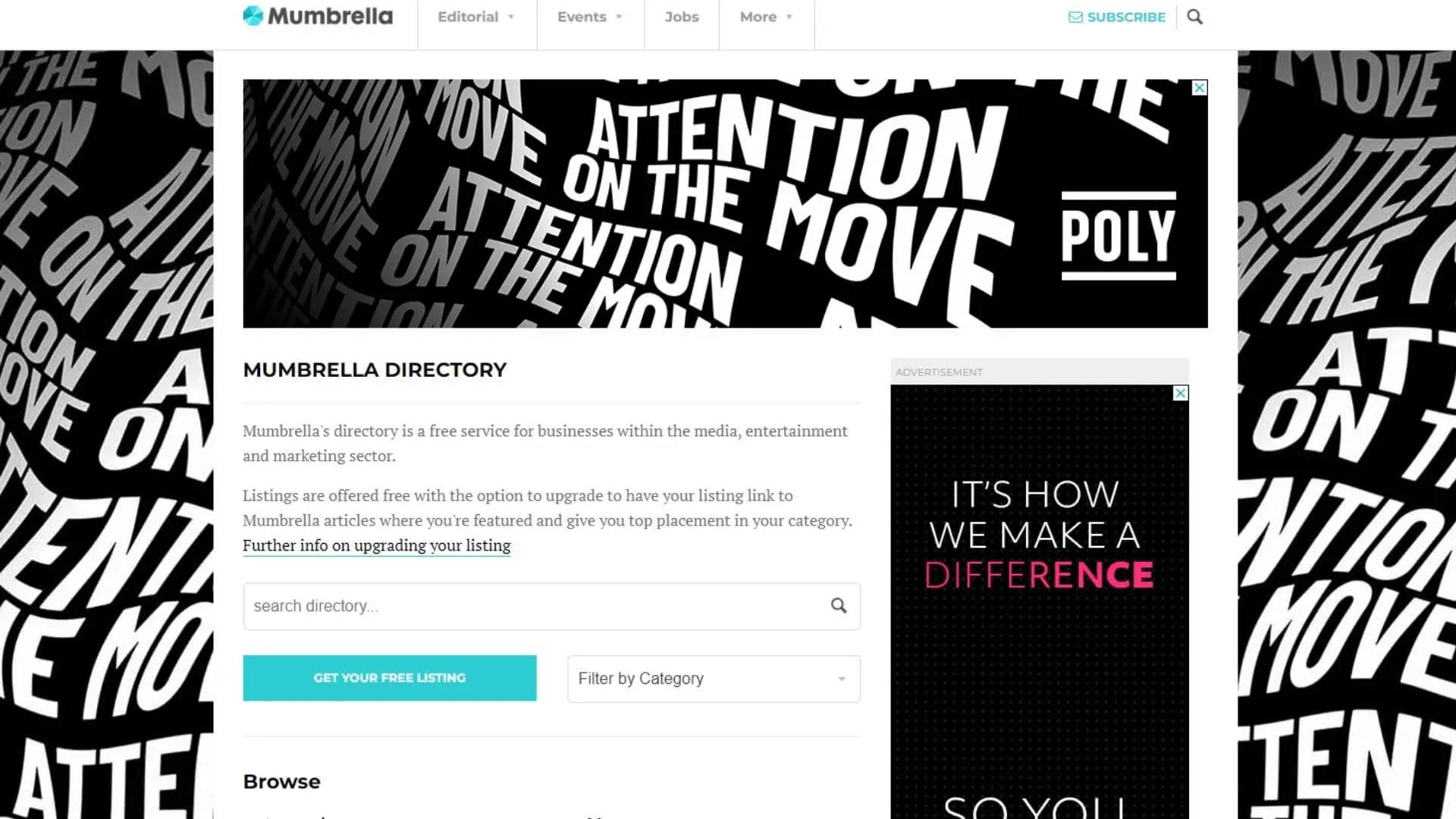 15. True Local
True Local is another option with a high domain authority of 62 that has been helping businesses find more and better quality traffic since 2006. It is also used by millions of customers looking for various services and businesses daily. With True Local's mobile app, you can search for companies and conveniently list your own. It even supports adding images and reviews to business listings.

16. Sensis
Offering a free listing of websites and coming with a domain rating of 62, Sensis helps your local business grow quickly by providing various services. These include providing online advice, live chats to resolve multiple issues, and workshops to discuss different marketing strategies. Besides helping improve local visibility for a business, Sensis helps you know about the latest marketing trends.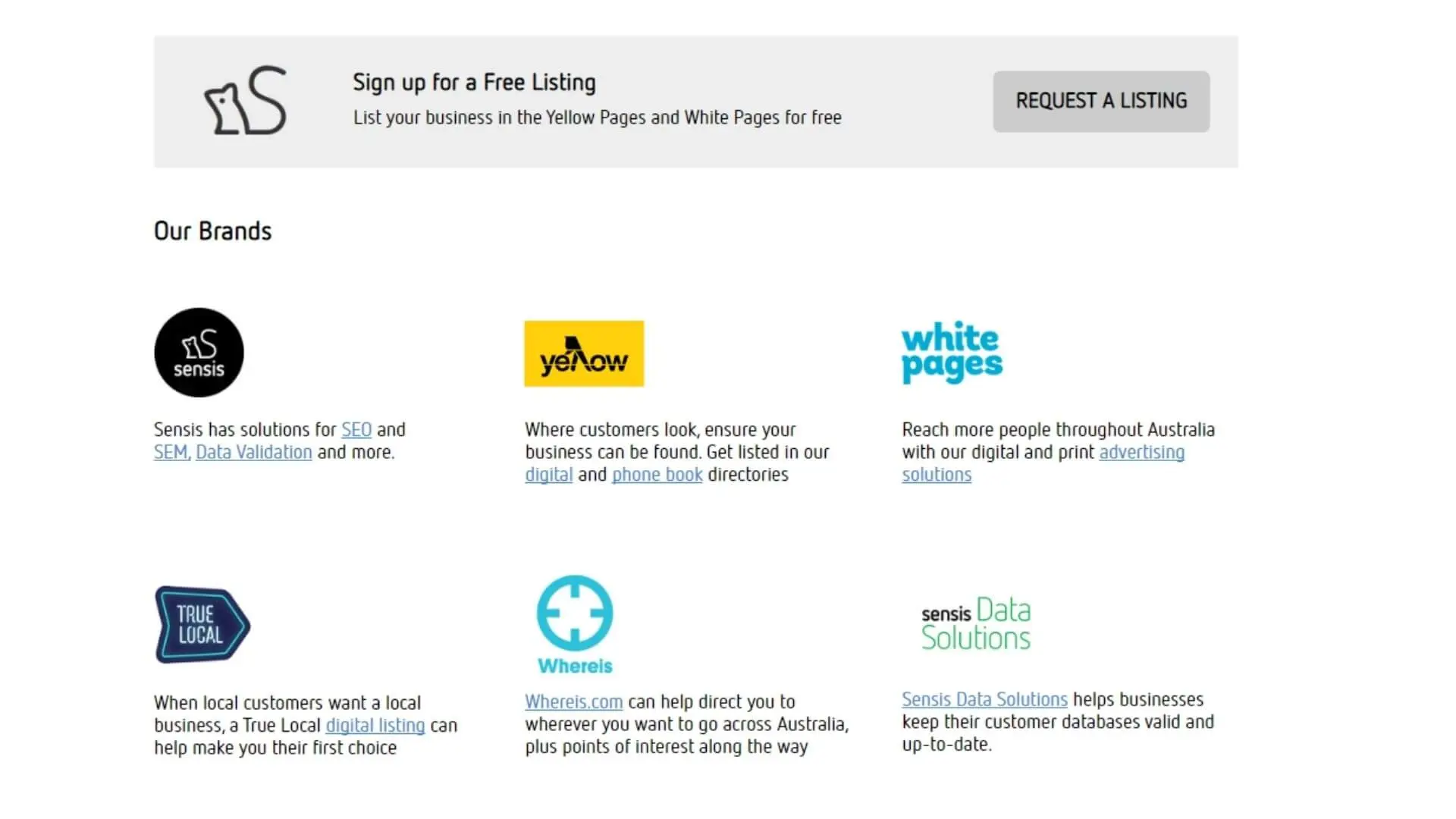 17. dLook
A free Australian business directory, dLook has many categories and classifies each business into these categories. It currently lists over 1.7 million businesses, and you only need to sign up for an account and provide the necessary details regarding your business to get it listed.

18. ZipLocal
ZipLocal offers free business listings and consultations on various aspects of digital marketing for various businesses. These include lead-generation techniques, promotional strategies, and others.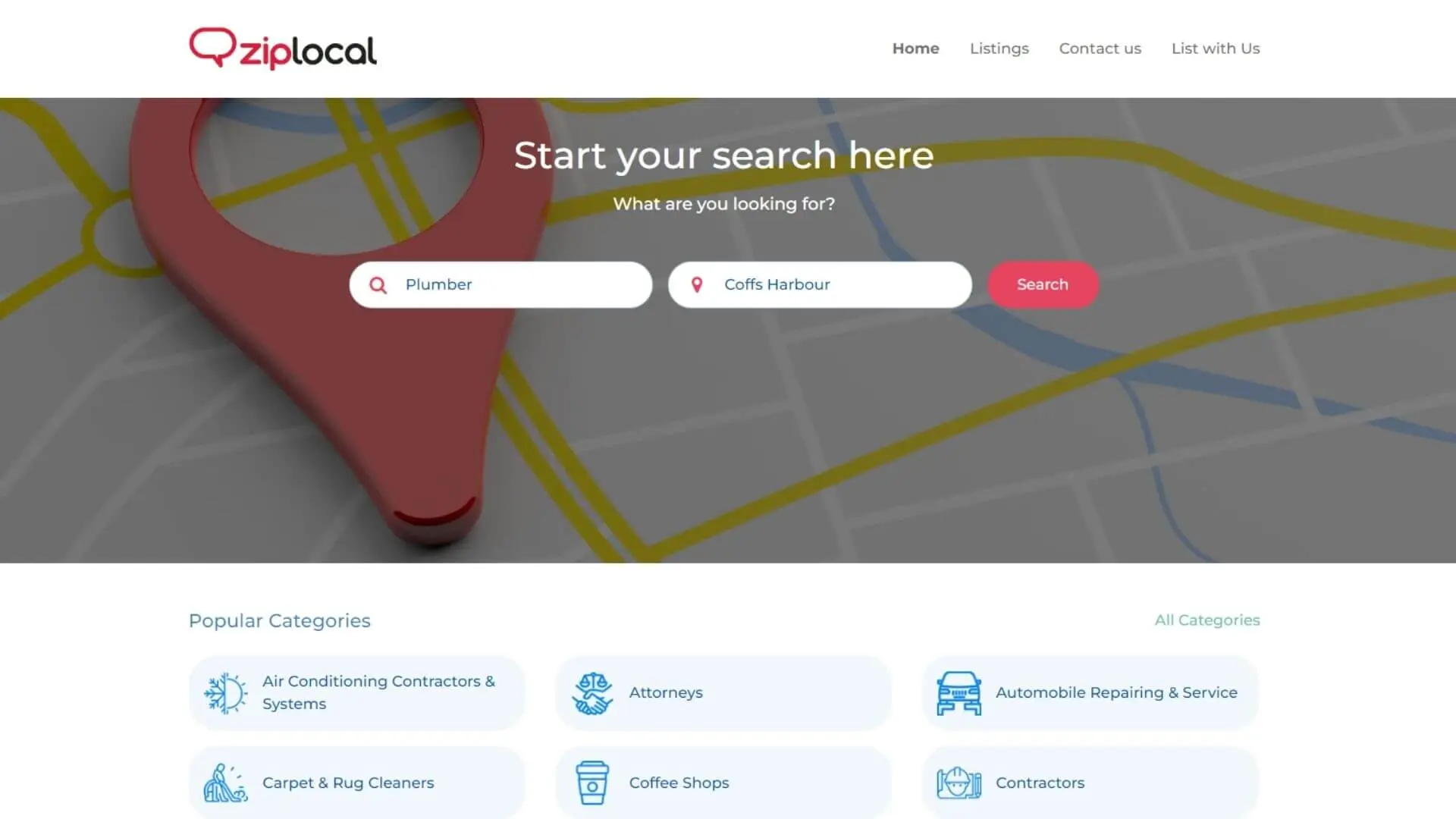 19. Myhuckleberry
If you want your Australian business to be visible globally, Myhuckleberry is the best platform to get it listed. Unlike other business directories in Australia, this one uses its algorithm to help users connect with the businesses they are looking for. Check for your business in the search section to ensure it is not already listed there.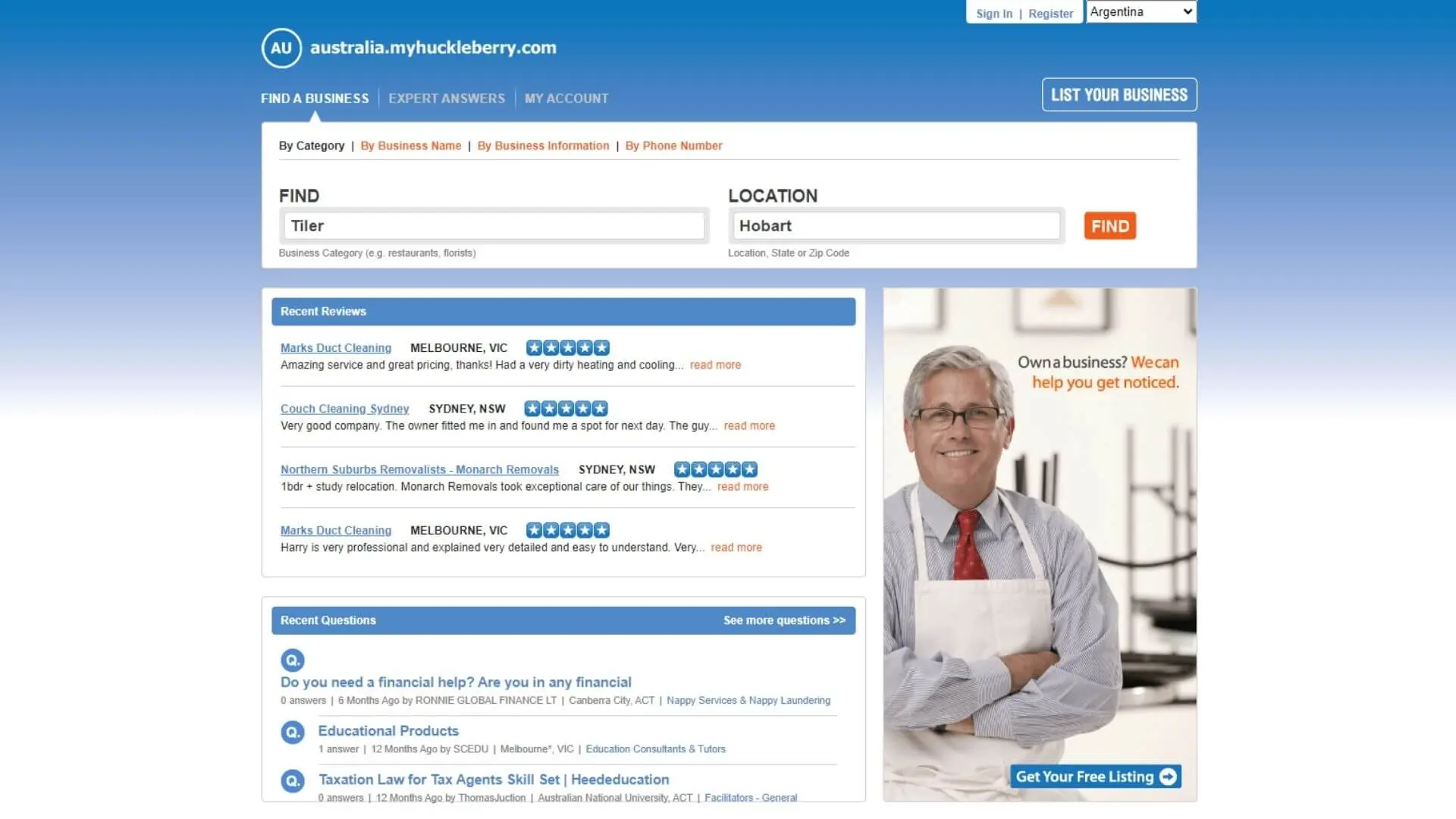 20. Aussie Web
Aussie Web is a great website for Australian business listings that makes finding them easy and accurate for users. This local Australian directory helps businesses connect with thousands of customers and quickly generate leads.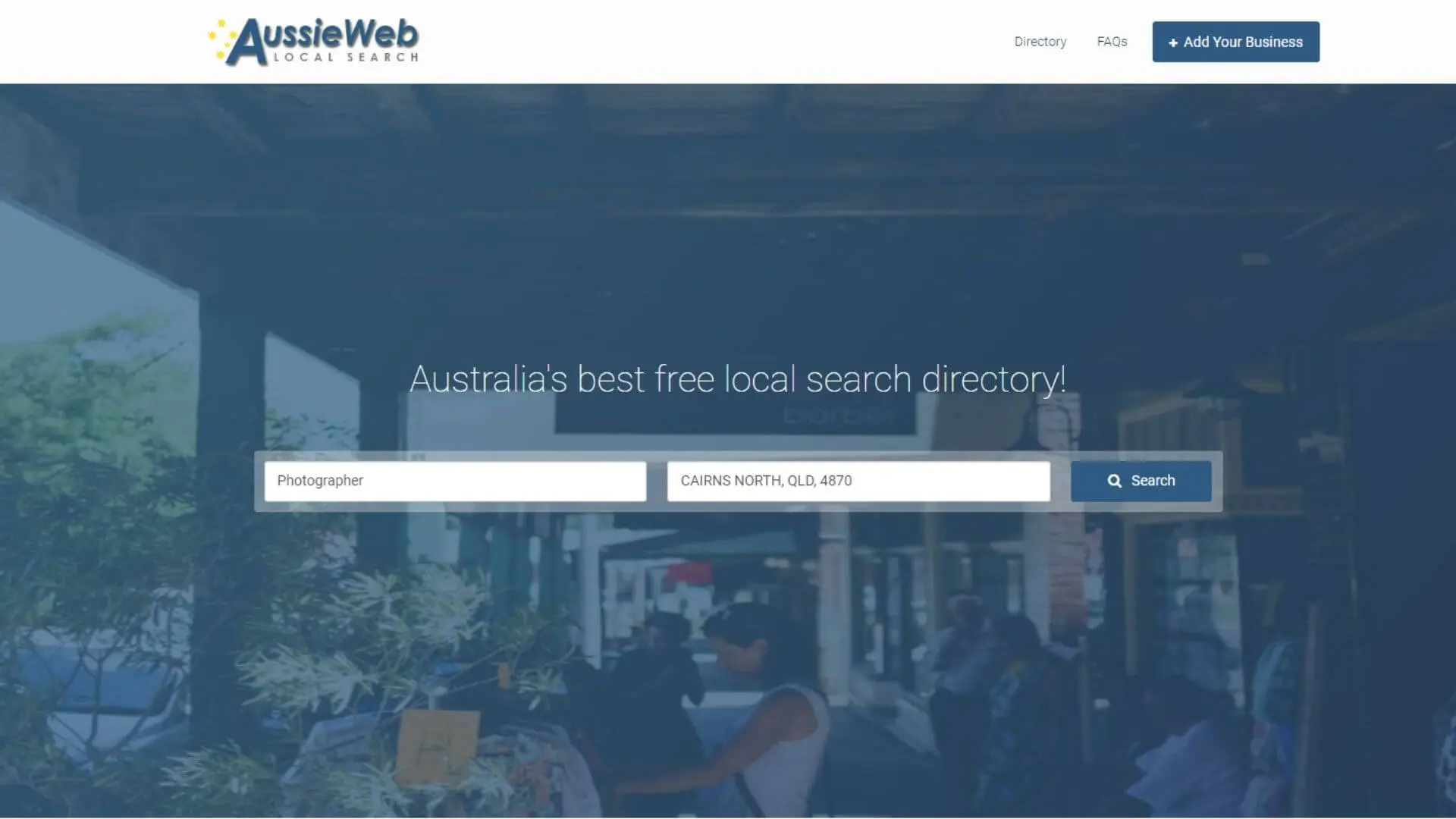 21. SuperPages
SuperPages is a well-known Australian business directory that offers free and paid listings. It also provides dofollow links for better website ranking. To get started, click on the Free Advertising button and fill out the form provided with the required details.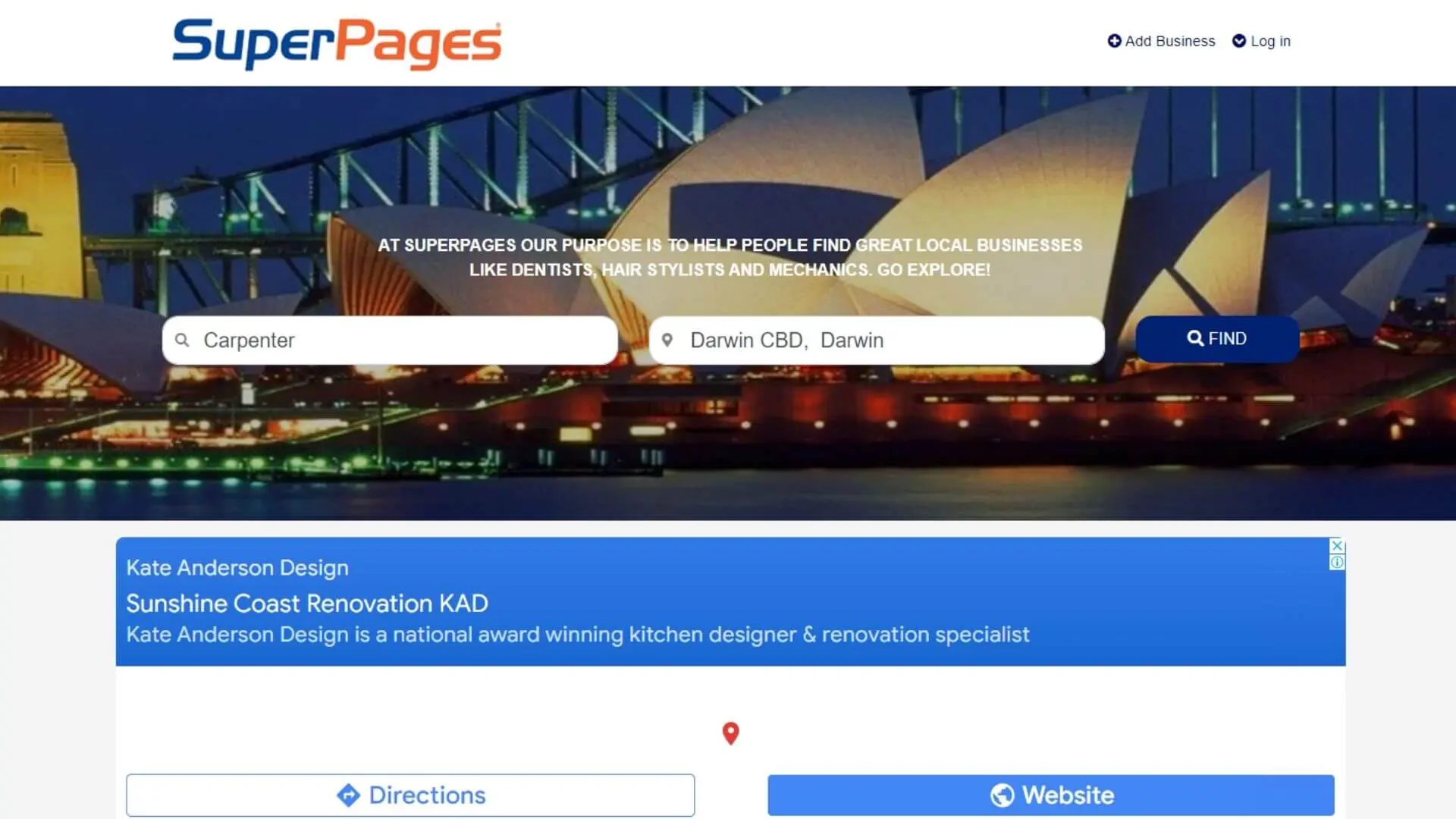 22. Opendi
Those looking for global business listing sites to get their business listed online should check out Opendi, which provides free-of-cost listing. It helps businesses connect with over three million visitors per month, helping them improve their local rankings quickly. Use the Create A New Listing button at the top corner and provide the required information to get started.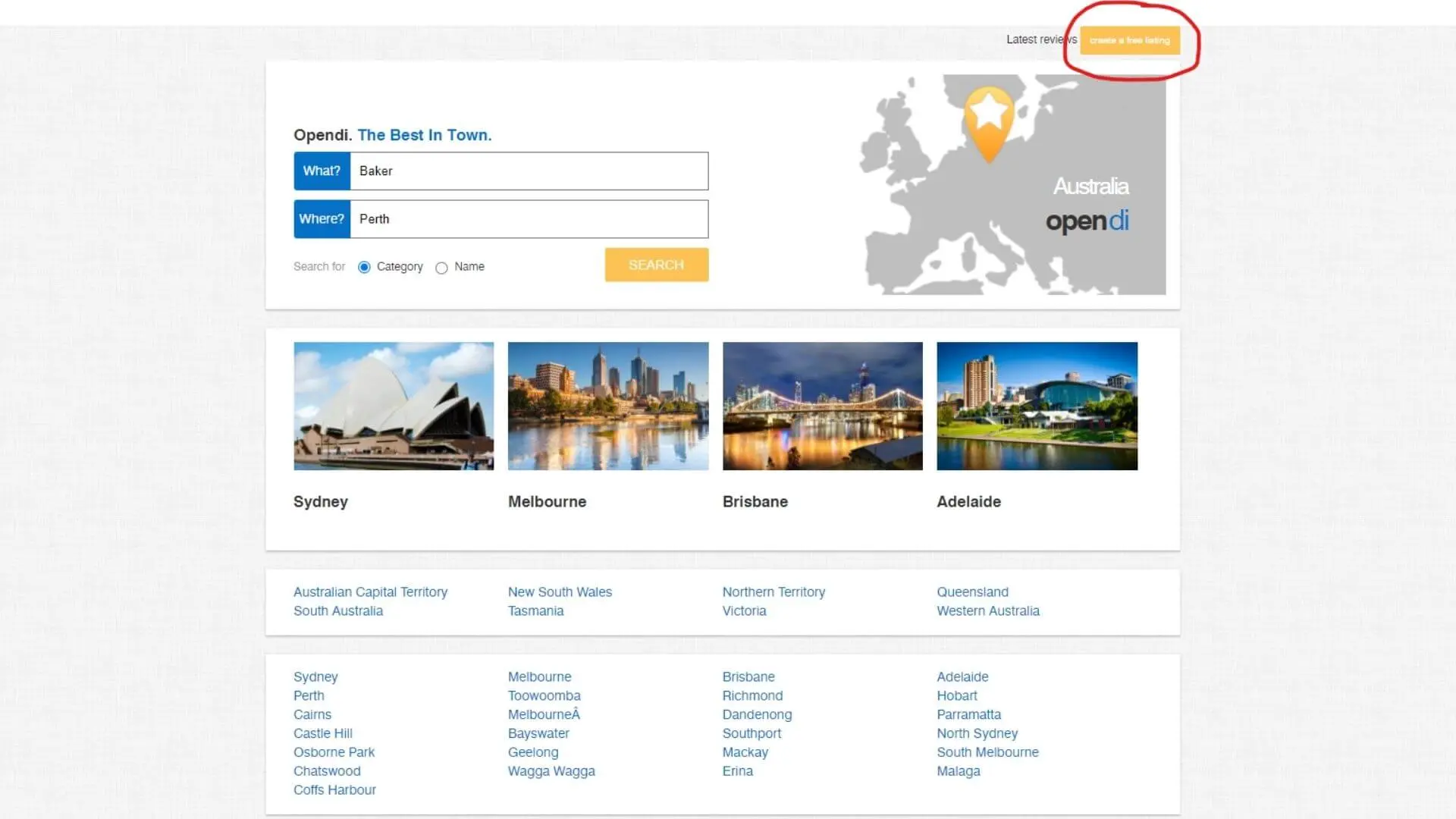 23. White Pages
Taking a cue from the traditional yellow pages, White Pages helps various business websites in Australia to get listed online. To list your site, go to the Advertise With Us section and fill in the pop-up form with the required information. Finally, click the Claim My Ad button to complete the submission process.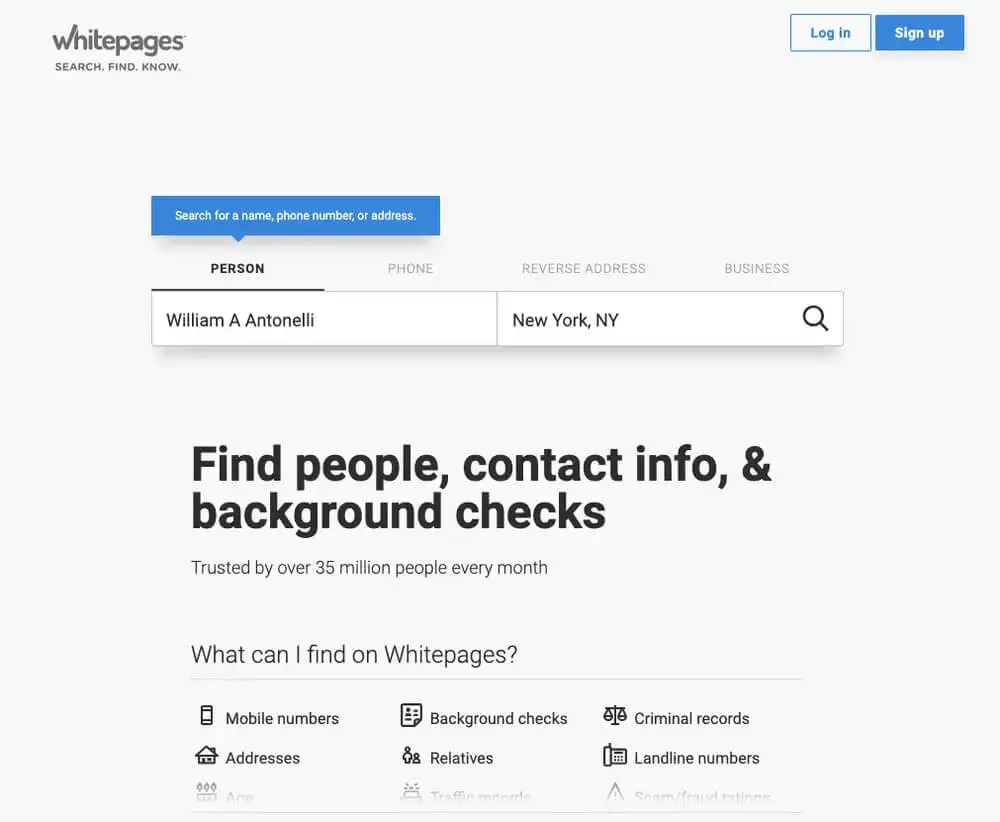 24. Showmelocal:
Showmelocal is an online business directory (Australia) with a domain rating of 50, providing business website listings from Australia, the US, the UK, and Canada. It helps businesses in the local area promote themselves most effectively while also helping customers find the right services and the best deals.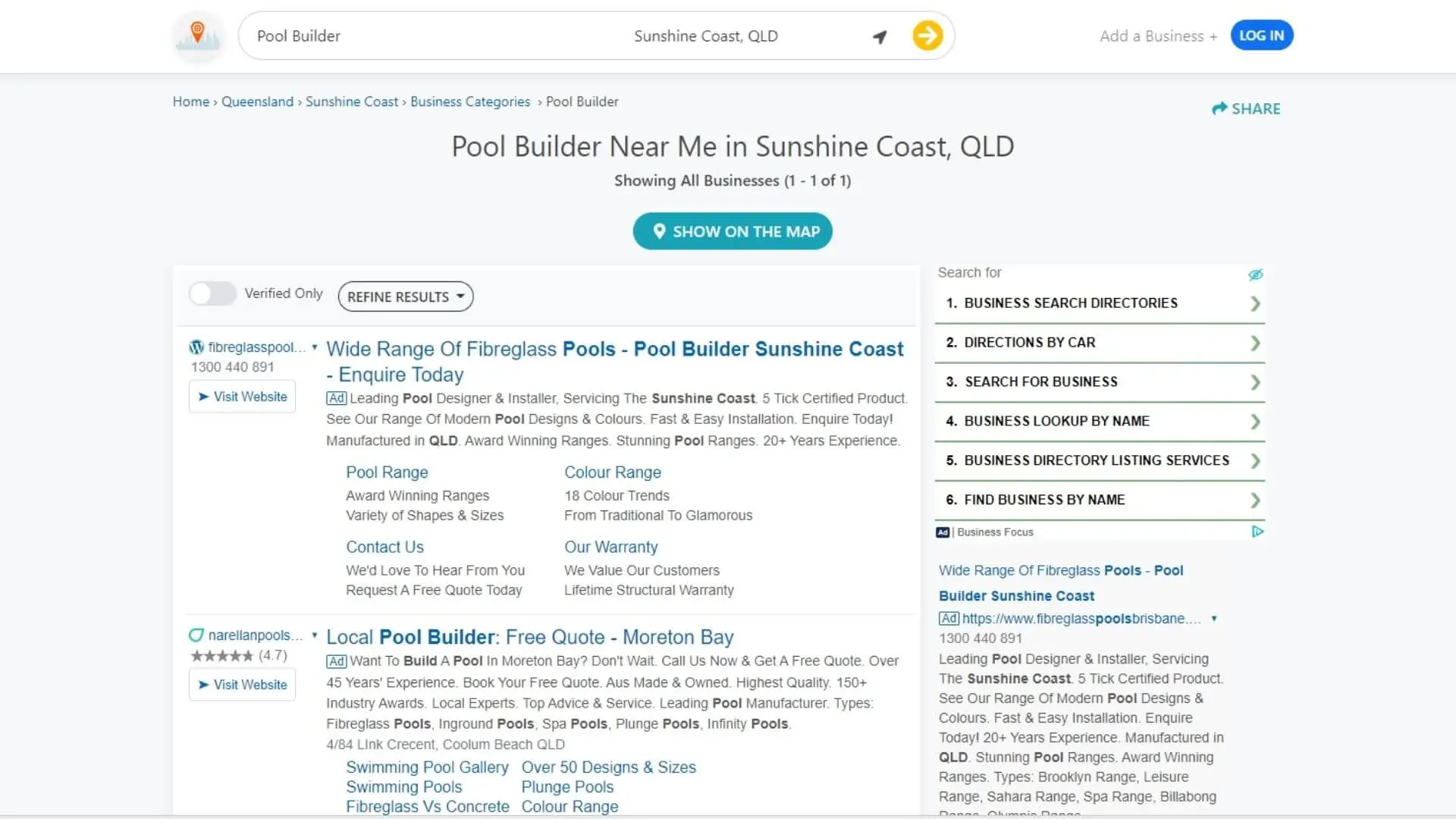 How Do You Plan to List Your Business?
Well, that brings us to the end of our guide on Australian local business directories. These were some of the best free and paid Australian local listing sites. The paid ones offer more features and are generally more effective in improving the visibility of your business. But if you are starting or have a small business with a limited budget, then listing your website on a free business directory might be a better option.
In any case, look at all the features of the local business listing sites and compare them with other options before making a final decision. Doing so will help get better leads and improve the quality of traffic.
Please reach out to our team if you need assistance with accessible business listing sites, local citation sites, SEO services, or strategies to increase your domain authority. For many years, sitecentre® has been helping small businesses list their sites in Australia, providing exceptional results. From small local services to larger businesses, we can assist you with a free business listing site to writing and managing premium listings. All you need to do is call us!
And with that, it's time to call the curtains for the day! Until next time.