Search engine optimisation has become an essential part of the marketing strategies of many local businesses.
For more local search visibility and to get noticed by potential customers, you need to optimise your site regularly. But several factors go into local SEO, and it can be overwhelming to keep track of everything. That's where the local SEO tools come in.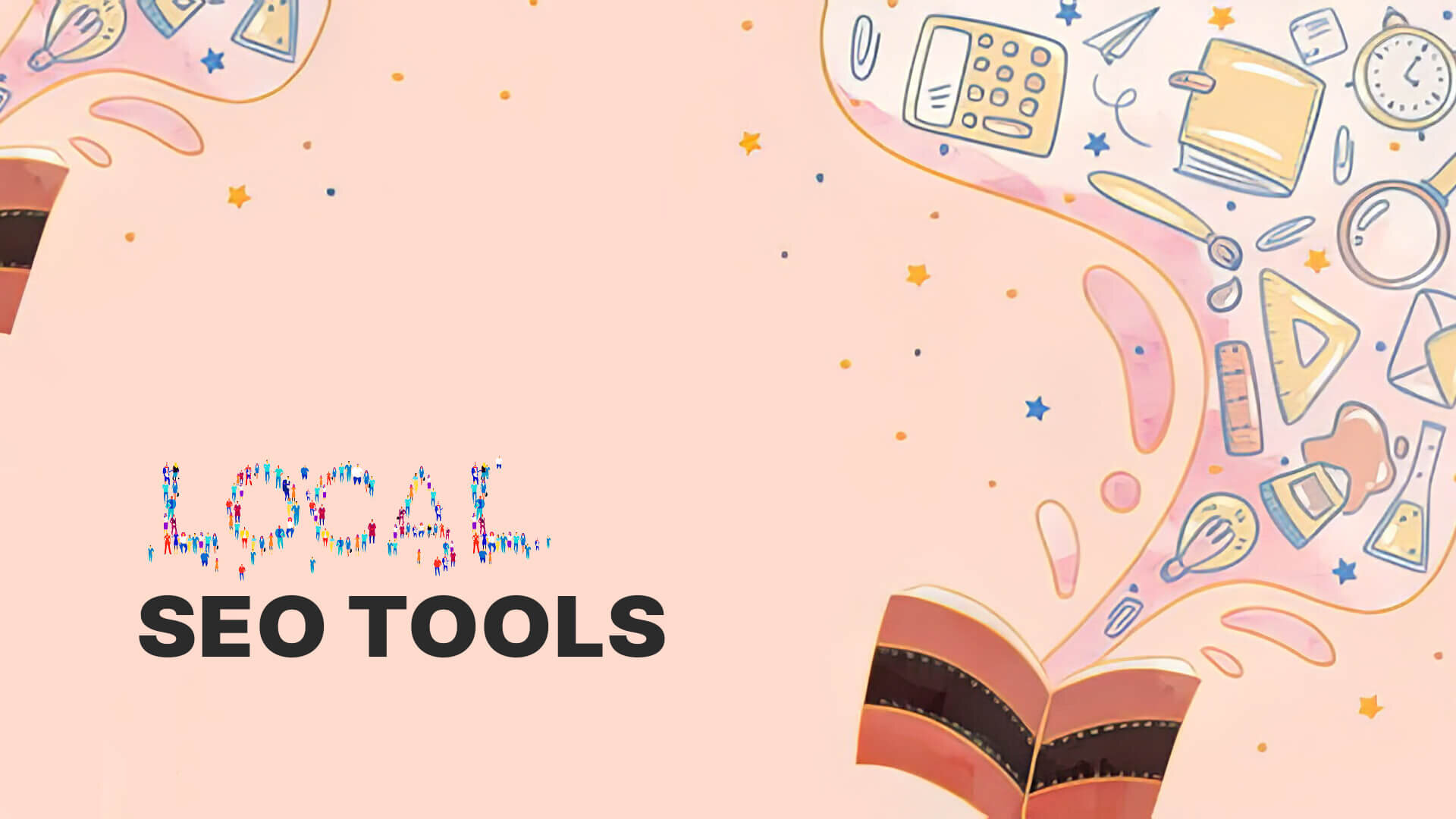 Local SEO tools help track your website's ranking progress and get insights into what's working and what's not. Due to this, the key to success lies in understanding the nuances of these tools used for local SEO campaigns.
But with so many different paid and free local SEO tools, it can take time to know where to start. So, we have shared some of the best local SEO tools and their benefits to support your SEO strategies.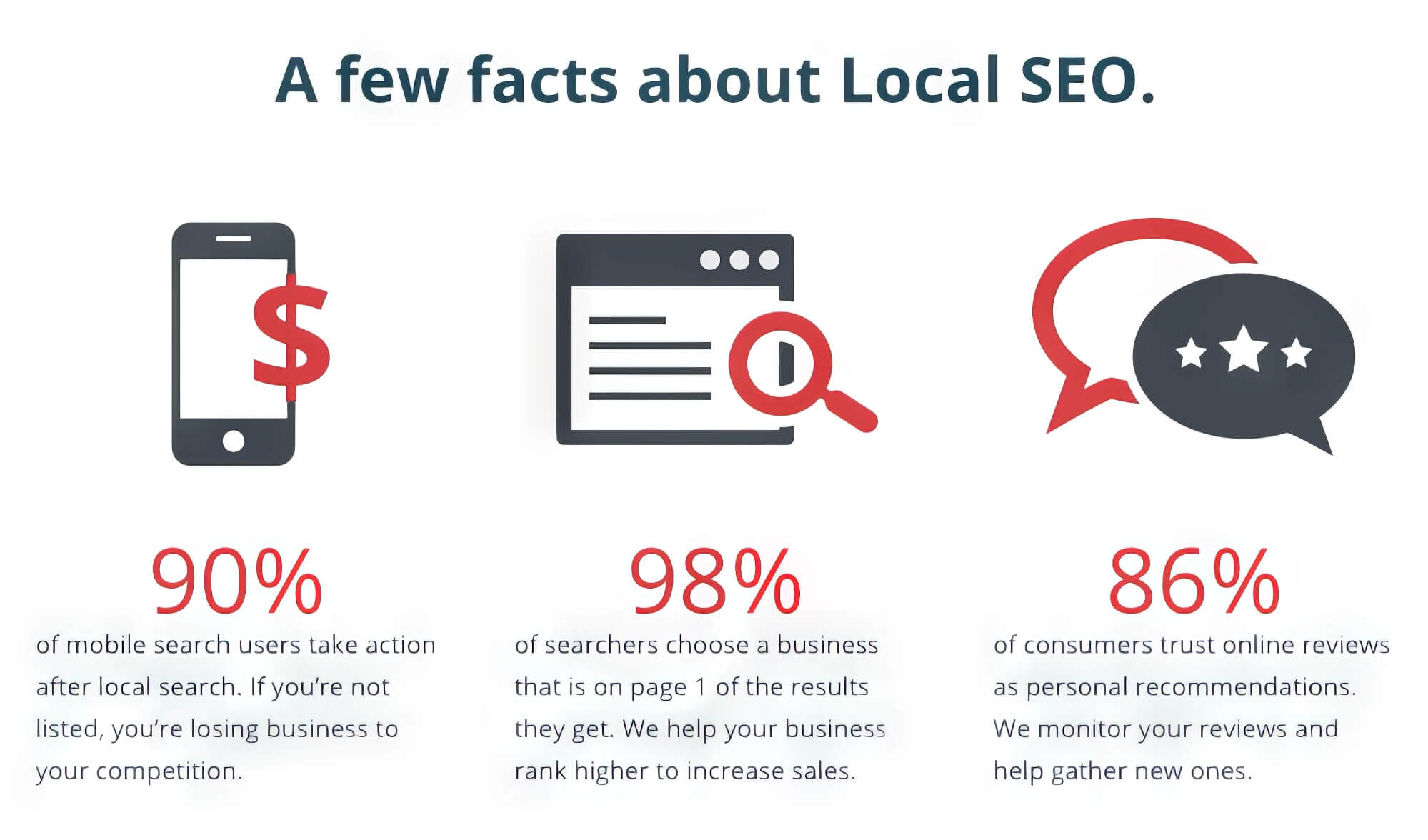 15 Best Local SEO Tools
1. BrightLocal
If you own a small local business, BrightLocal is a must-have tool. It is a local SEO software that helps you monitor the traffic and identify any errors or issues on your site.
This platform focuses more on providing high-ranking local business directories for online listings. You can easily create, monitor, update, or submit citations from its dashboard across multiple directories.
In addition to this, its review management property lets you track and respond to online reviews promptly. With the BrightLocal SEO tool, you can quickly analyse your site and get a report on what needs to be improved. The tool can enhance your online reputation, stalk your competitor's keyword positions, boost online visibility, and increase local rankings.
BrightLocal is a local SEO tool worth checking if you're serious about your local search results. It is easy to use, and it readily integrates with Google Analytics.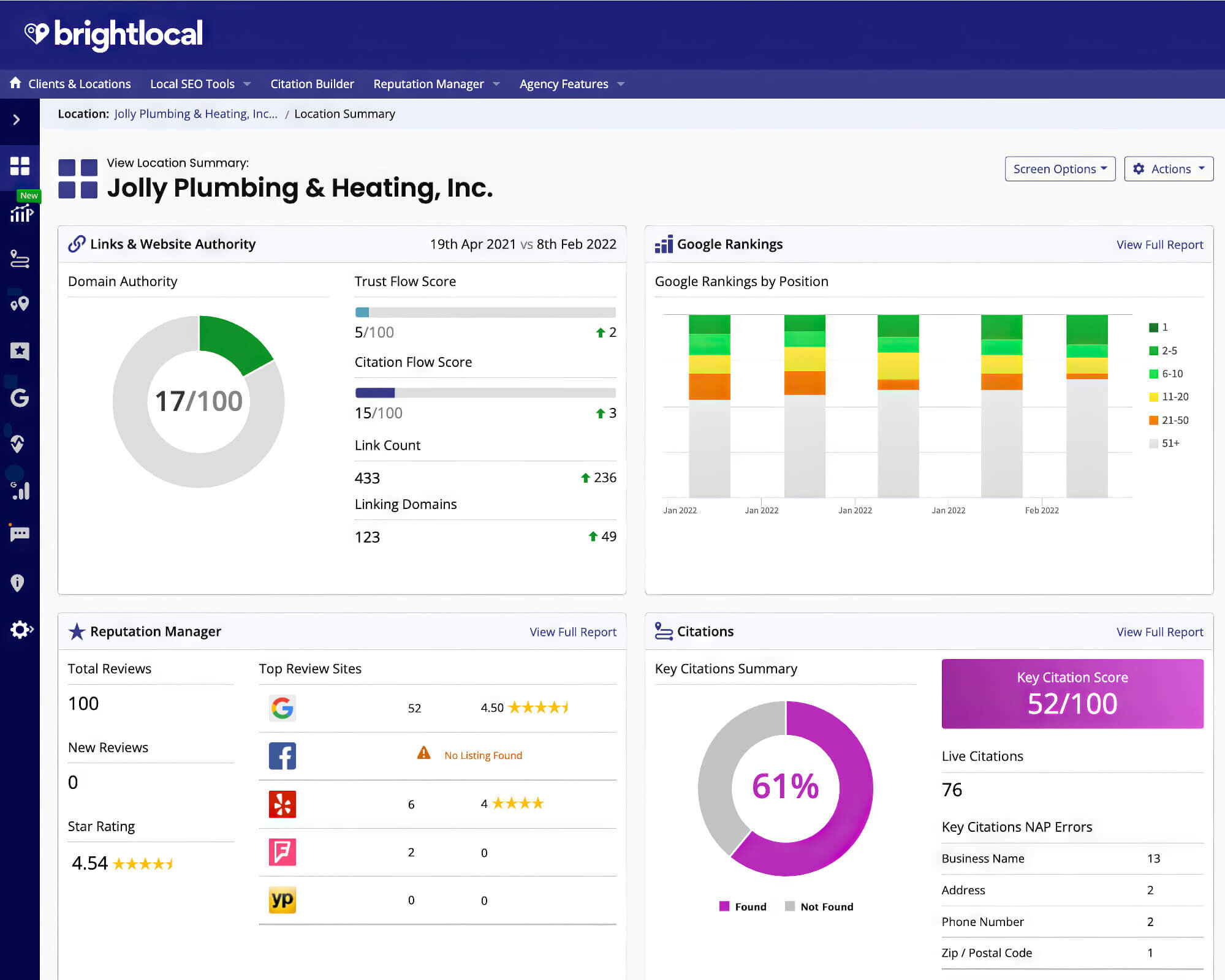 Pros
Audit local listings and visibility
Track competitor's keyword positions
Build local citations
Quick tracking of online reviews
Automated SEO reports
Cons
Very basic Google Analytics integration
Usage Plans
2. Synup
An effective strategy to deal with online reviews is by using Synup! It is another popular local SEO tool created to provide an "all-in-one" solution to your marketing needs. With Synup, you can track your business's performance in local directories, review sites, and online search engines.
You can create and submit your business profile to third-party sites such as Google, Bing, Yelp, and over 35 more websites. This tool also allows you to manage the created local listings and ensure your business is visible in search results. In short, you can track your listing's performance and receive notifications when changes are made to these listings.
Synup further offers a free citation scanning tool to help you identify potential errors in your listing. This comprehensive local SEO tool monitors competitors' performance, domain authority, organic traffic and keyword rankings, which makes it a powerful tool with a strategic listings management system.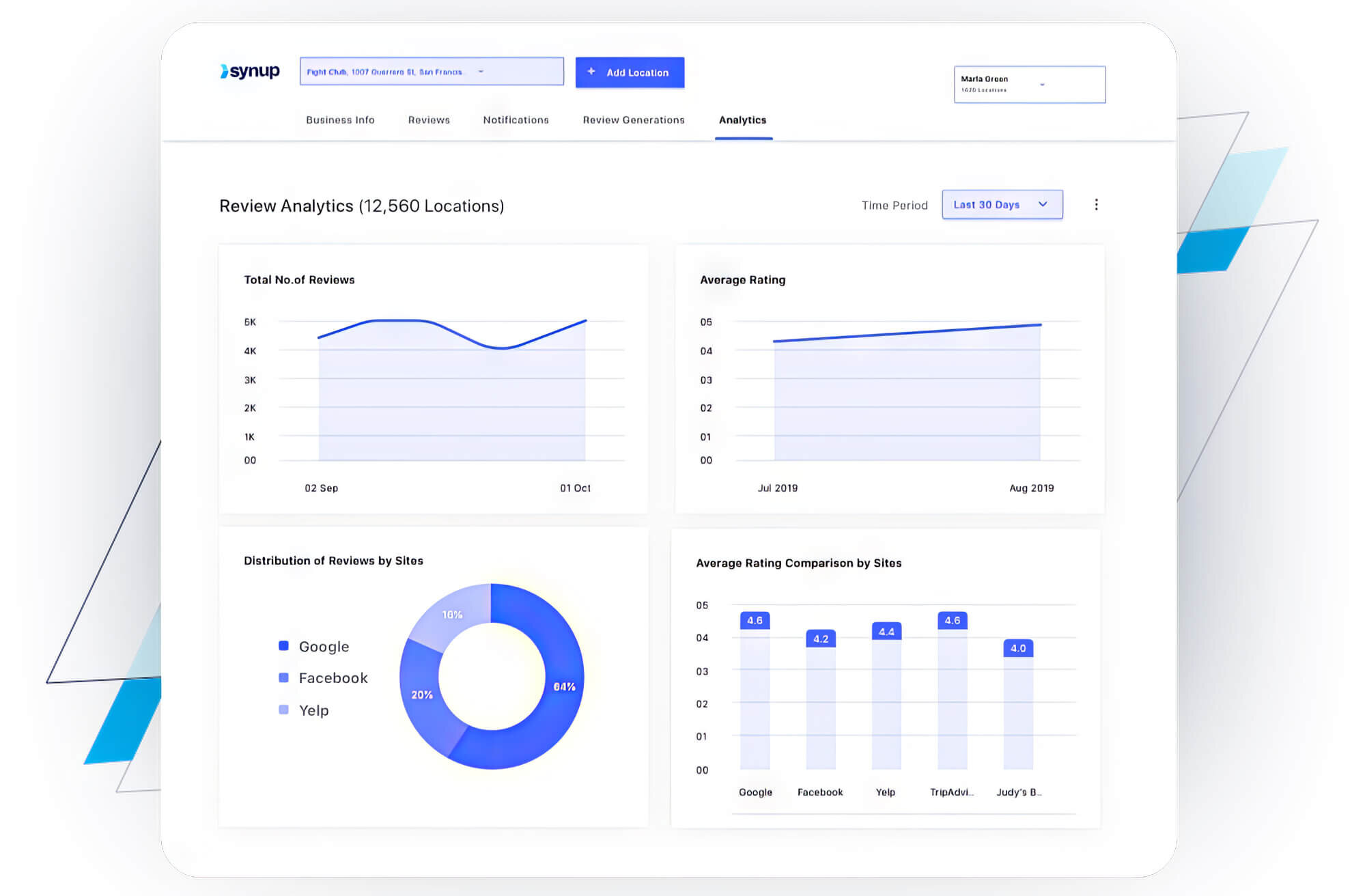 Pros
Offers standalone mobile app
Instant online review notifications
Automated review response
Easy to set up
Provides voice search optimisation
Cons
Usage Plans
3. Google Analytics
Google Analytics is one of the best local SEO tools that provide insights into website traffic. It helps you understand how people found your site and what they do when they visit. This analytics platform is currently incorporated inside the Google Marketing Platform brand.
You can track and review multiple data like page views, number of local website visitors, bounce rate, number of users, organic search traffic, conversions, and more. Google Analytics even provides a dashboard so business owners can review the usage data acquired from iOS and Android apps.
These are known as Google Analytics for mobile apps and help you measure the marketing return on investment (ROI) for advertising. It also tracks the performance of your social media sites, mobile applications, etc.
You can gain real-time insights about your local visitors, where they come from, which page they visit the most, and how much time they spend there. It also allows you to review the top keywords and bring more people to your site.
Additionally, businesses can monitor their site's popularity on social networking platforms using the Google Analytics dashboard. This is due to advanced features, like event tracking, to monitor the data specifically related to the business.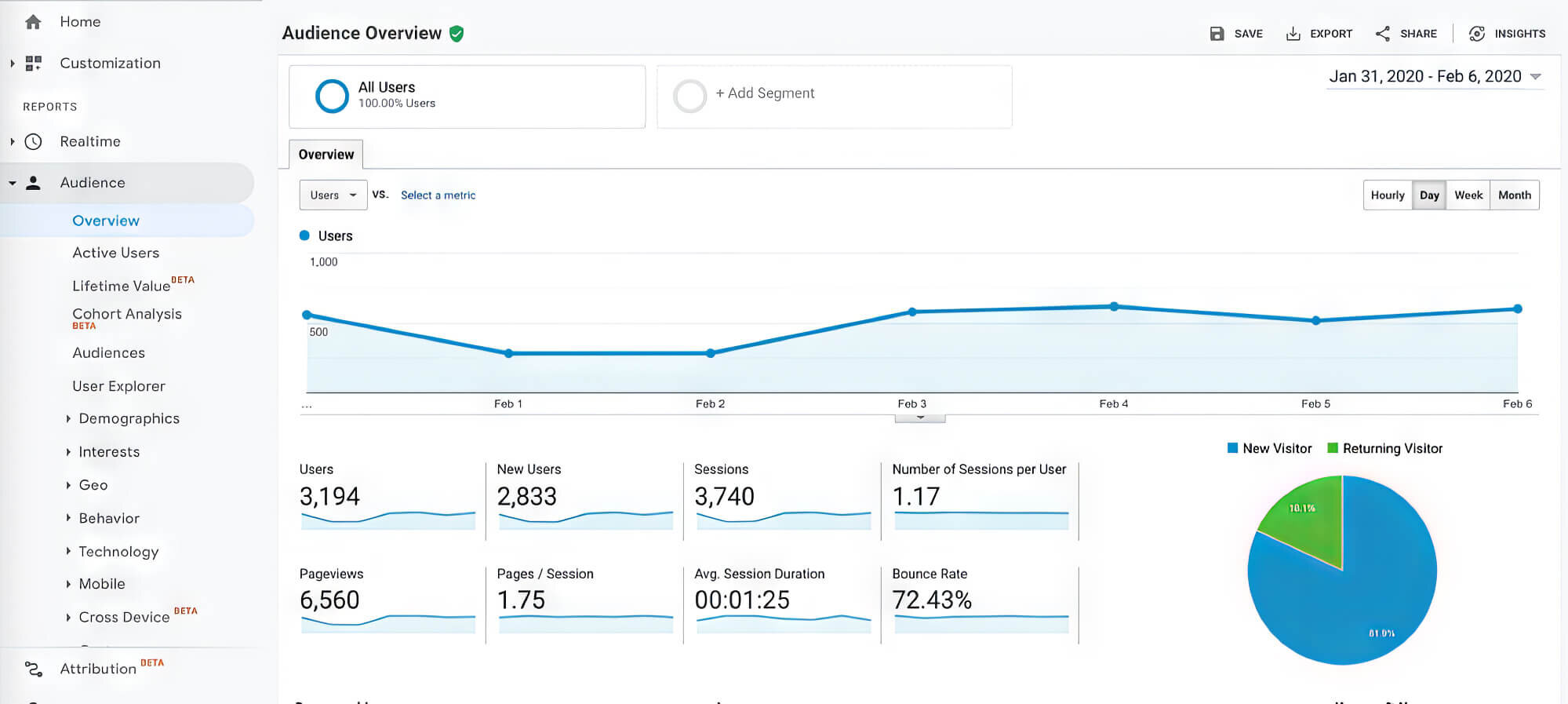 Pros
Low-cost analytics tool
Easily integrates blogs or websites
Real-time results
Easy to use
Create or edit custom reports
Cons
Limited enterprise-level features
Usage Plans
4. Business Profile
Business Profile (formerly known as Google My Business) is a free and easy-to-use tool to manage your local listings. It allows you to submit your business profile to Google, including Search and Maps while managing details such as an address, hours of operation, phone number, and other information.
Verifying and editing the business information on the Business Profile account can help customers find, contact, rate and review your business. Besides business information, you can also upload photos and videos of events.
At the same time, you can monitor the number of calls received, local visits, local business keyword ranking, and bookings with your Google Business Profile account. Hence, optimising your Google My Business account should be your priority to appear higher on local search rankings.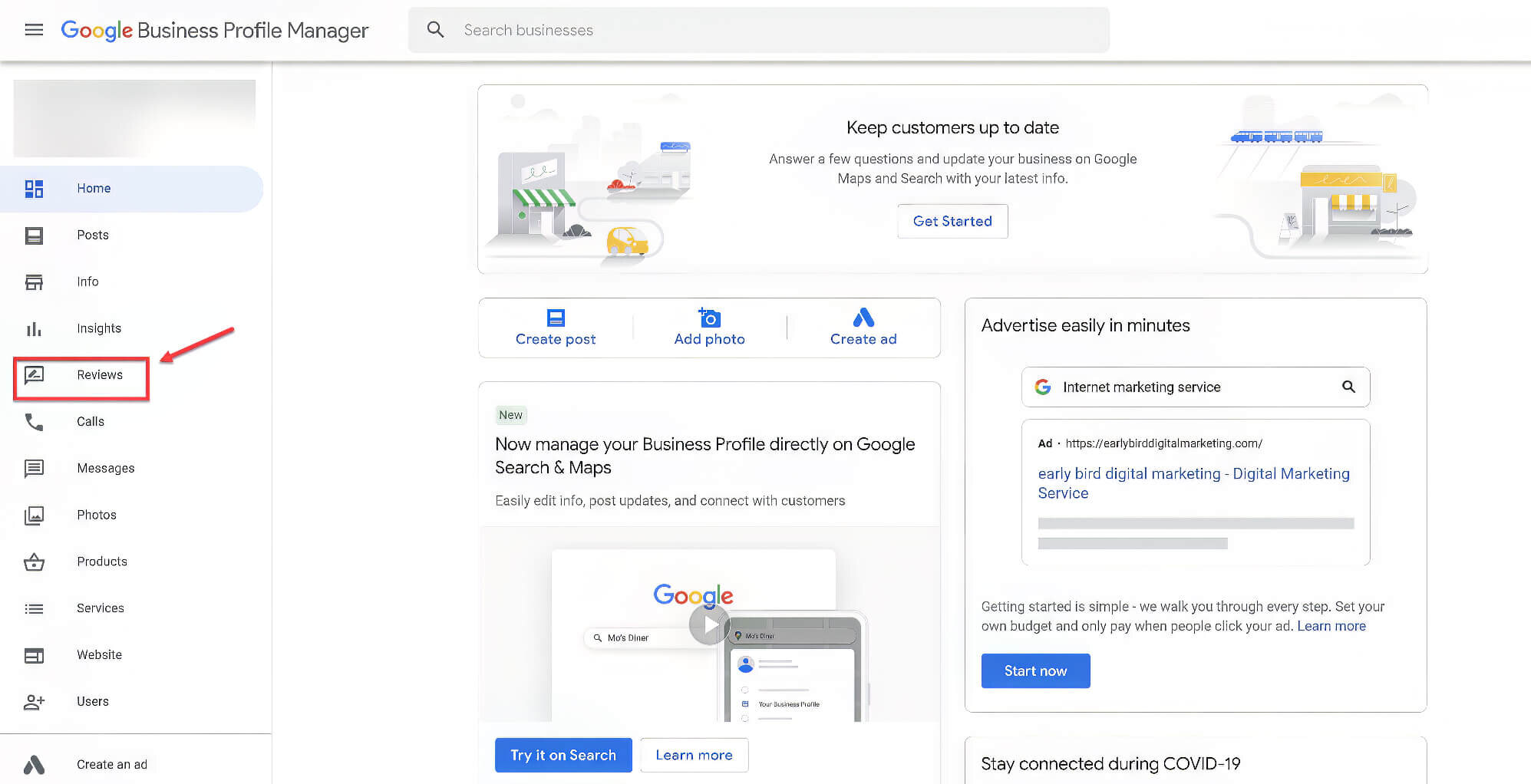 Pros
Boosts local visibility
Easy to update business information
Helps improve online reputation
Get authentic user reviews
Cons
Difficult verification process
Poor customer support
Usage Plans
5. Yext
Reviews are an excellent way for customers to share their thoughts about a company or product with the world. Hence, your business needs to respond to online reviews quickly and boost brand awareness.
This is where Yext comes in, as the local SEO software primarily helps you analyse, collect, and respond to your customer reviews as soon as possible. It even enables you to track and eliminate duplicate listings from directories, so you can use Yext to build a better brand reputation.
Yext is similar to Synup regarding insights, review tracking, and local listing management. The only difference is that Yext provides an automated local listings management tool. This will help you to submit, track, and update your business data in real-time or schedule your submissions.
This software also lets you manage highly customer-targeted discounts, sales, and coupon offers. If you want to increase online sales, bring in new customers, and improve local rankings, Yext is an SEO software you must use.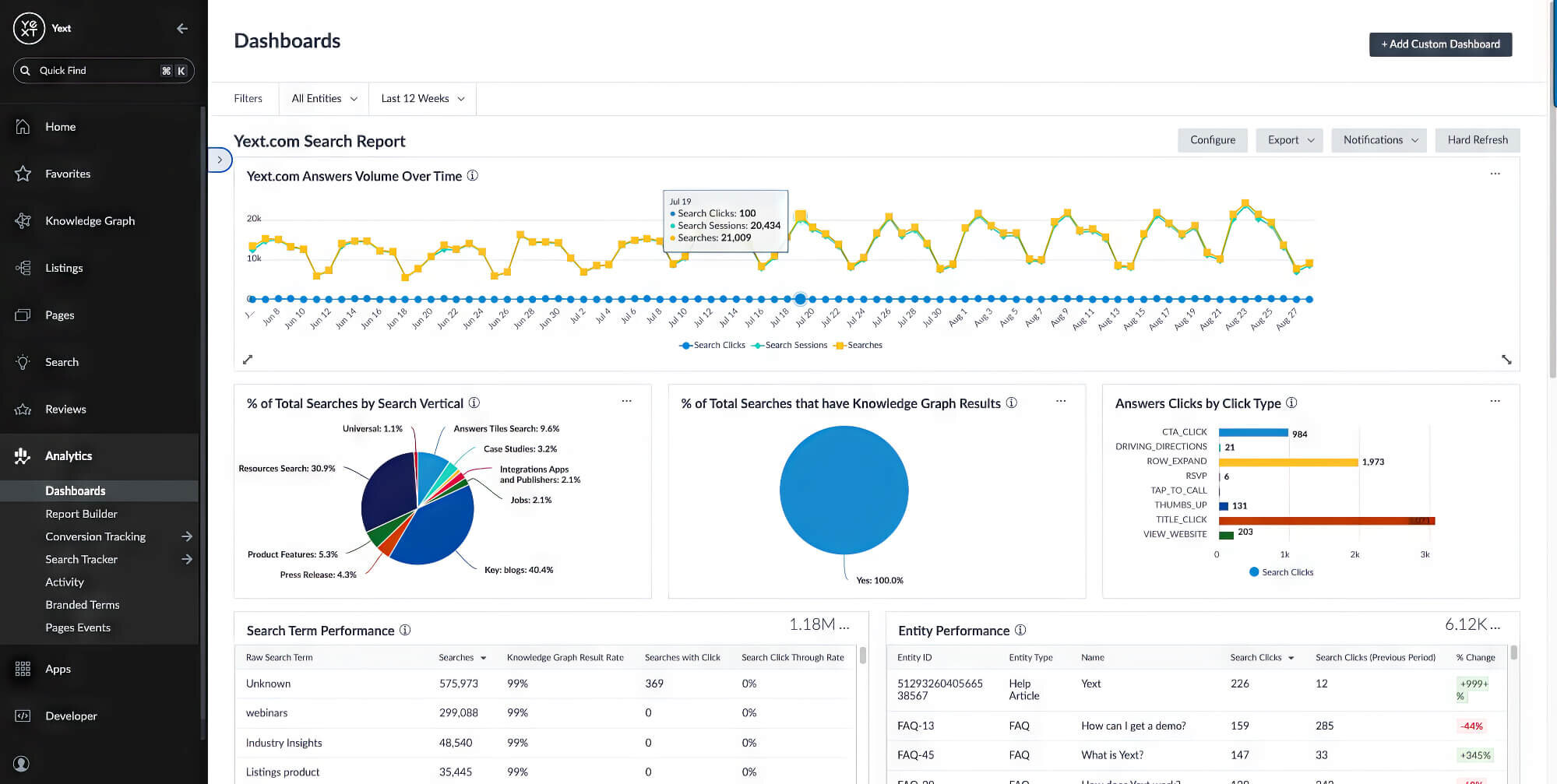 Pros
Tracks duplicate listings
Seamless collaboration with other platforms
Keeps all data consistent
Great customer service
Easy to add locations
Cons
Usage Plans
6. SEMrush Listing Management Tool
SEMrush is a comprehensive local listings management tool that helps manage your listings on Google, Bing, Yahoo, and other search engines. Using this local SEO tool, you can distribute your business listing to 70 high-ranking directories.
Once your profile has been submitted to online directories, keeping track of those listings can pose a challenge. But you can use this Listing Management Tool to monitor and update your online listings. This way, you can keep your business data integrated and accurate across several directories.
It has many other features that can help you to improve your business's visibility. These include keyword research, backlink analysis, position tracking, competitor analysis, rank tracking, site audit, and social media monitoring.
This tool also allows you to configure and track location-specific insights such as customer reviews, business rank, and your current search performance at targeted locations. It provides a great way to keep your online business data in one place and stay ahead of the competition.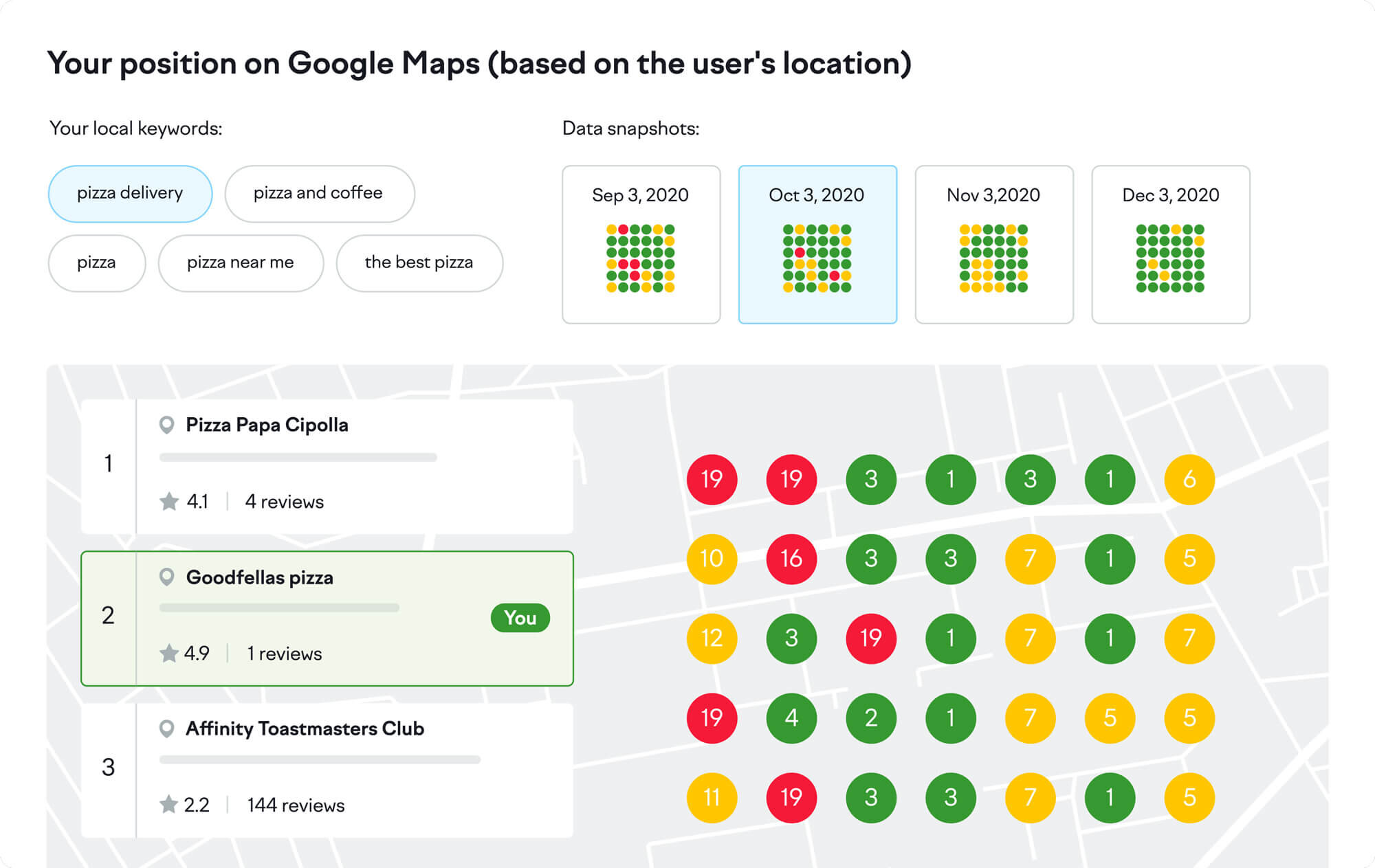 Pros
Real-time tracking of citations
Handles multiple locations
Extensive audit reports
Boosts search visibility
Convenient listings management tool
Cons
Usage Plans
7. Surfer Local
Surfer Local is a local search marketing tool that allows you to quickly find and track local keywords and optimise your website for them.
Not only does Surfer Local make it easy to find local keywords, but it also provides you with data on how well those keywords are performing. This data includes search volume, cost per click (CPC), and competition which helps you determine which keywords are worth targeting.
Surfer Local also provides you with tips on how to optimise your website. These tips include optimising your titles and meta descriptions, as well as your website's structure. In terms of rank-tracking features, Surfer Local is similar to BrightLocal, as it can manage your citations, track rankings by location, and audit your business listings.
Long story short, Surfer Local is a valuable tool to boost your local SEO strategy.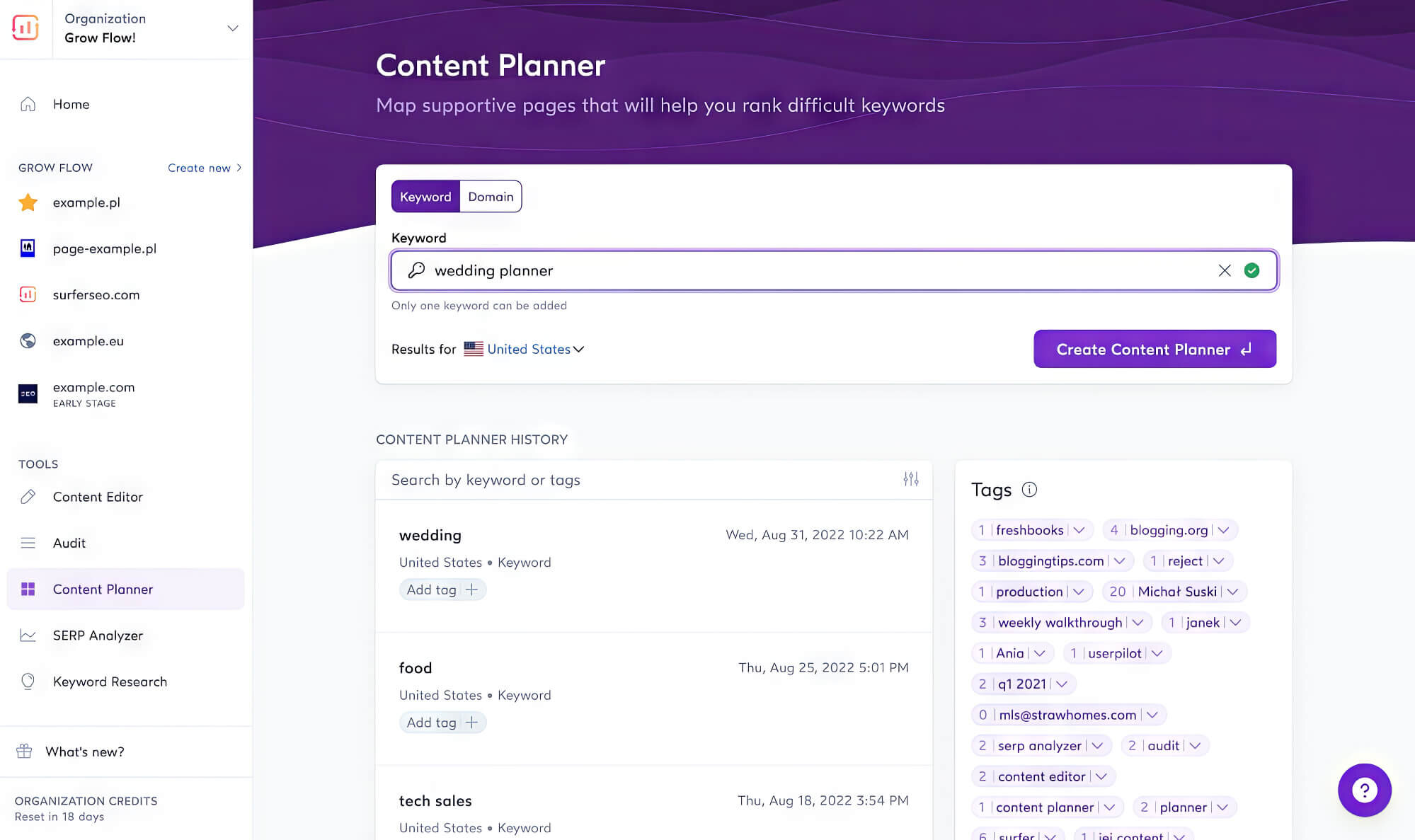 Pros
Full-fledged SEO audit
Inbuilt keyword research tool
Track competitors' citations
Navigation is simple
Excellent content planning tool
Cons
Usage Plans
8. Google Ads Keyword Planner
Google Keyword Planner is Google's most popular keyword research tool that allows you to find relevant keywords or phrases for your business. This will enable companies to create more audience-targeted content to generate more traffic and increase local conversions to the website.
This free tool lets you see how much traffic the keywords get from a targeted location. You can adjust your campaigns accordingly, but it's important to remember that local SEO is about ranking for relevant keywords to your city or town. So, if you're targeting keywords that are getting little traffic in the desired area, you will see no notable results.
Google Ads Keyword Planner is an excellent tool for helping you find the right keywords to enhance local search visibility. Take the time to use it, and you'll be able to see some great results.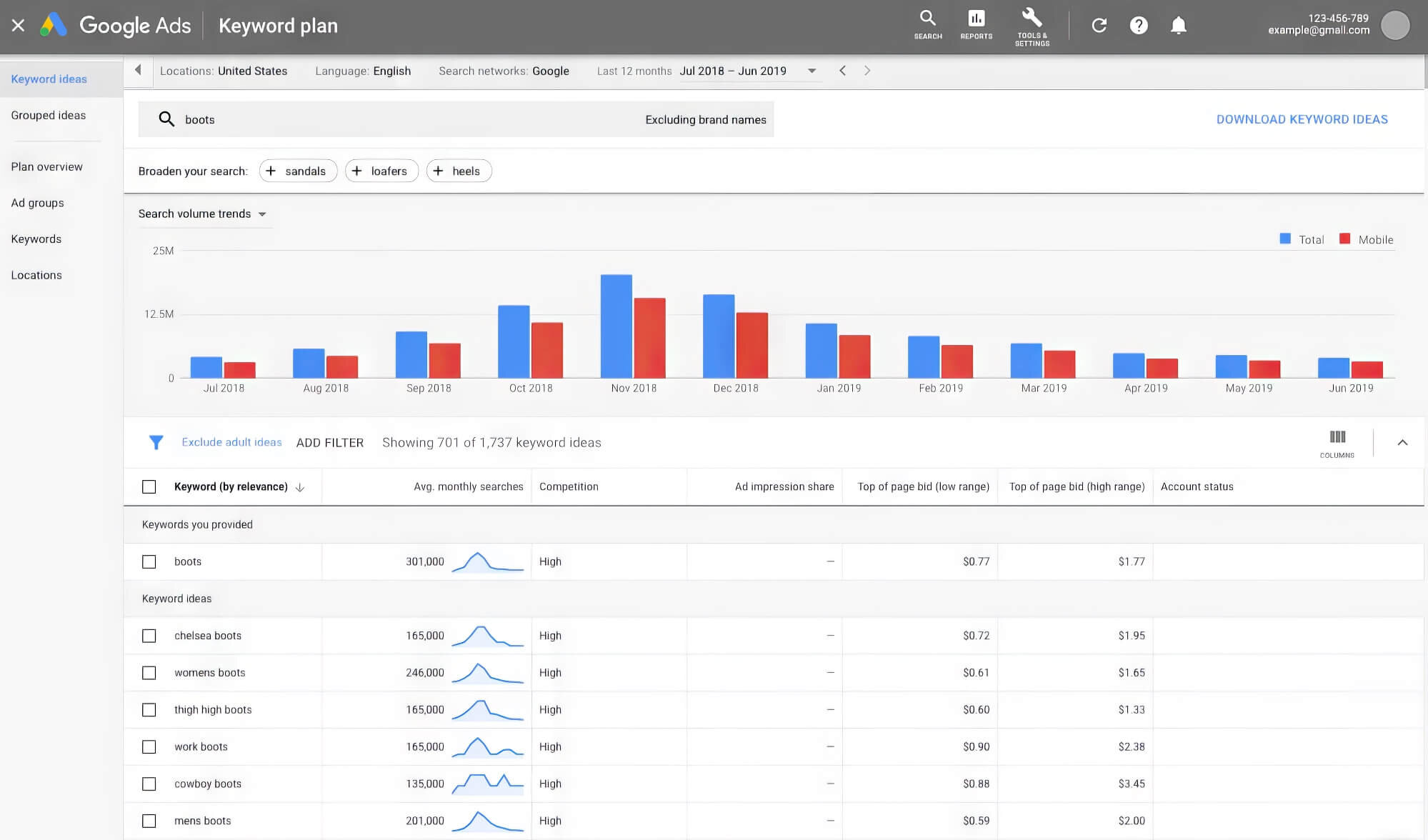 Pros
Extensive keywords list
Metrics customisation
Longer timeframes
User-friendly
Dynamic results
Cons
No negative keywords list
Usage Plans
9. KeywordTool.io
You can use KeywordTool.io to find and target long-tail keywords for your local SEO strategy. This tool uses the Google Autocomplete feature to research relevant keywords for your business and location.
KeywordTool.io helps you to create content that matches your customer queries. This way, you can focus more on getting local conversions. To use KeywordTool.io, enter a seed keyword into the search bar to get a list of related keywords, including monthly search volume and competition-level data.
All the above information can help you to focus on the right keyword to drive maximum traffic on local SERPs. This tool is suitable for small to medium-sized businesses and individual content creators.
In addition, you can use it for general keyword research and PPC campaigns. If you're looking for a comprehensive local keyword research tool, KeywordTool.io is worth checking out.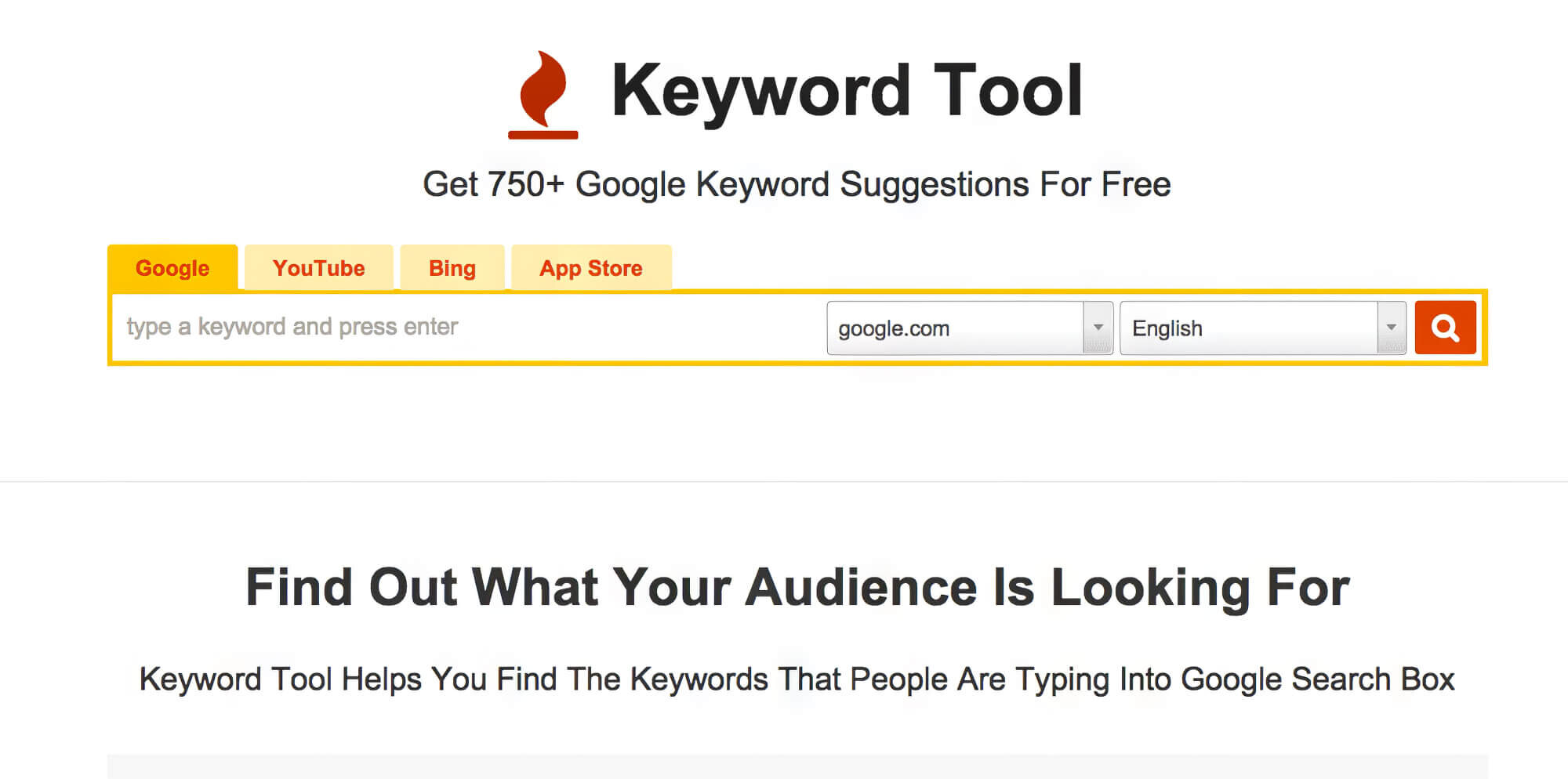 Pros
Powerful keyword research platform
Active customer support
Provides low-competition keywords
Accurate search volume stats
Cons
No competitor analysis
A limited number of queries in a day
Usage Plan
10. SEOprofiler
SEOprofiler is a budget-friendly local SEO tool that provides detailed information about rankings and monitors competitors' backlinks. It can even perform an on-page audit and provide branded reports.
This powerful tool can help you to get your website to the top of the local search results. But even better is its easy-to-use interface that lets you get the most out of your website.
One of the best things about SEOprofiler is that it can enable you to improve your website's structure and schema markup. This will make it easier for search engines to crawl your website and index the pages.
SEOprofiler offers one critical SEO metric, and that is creating high-quality content. With this, you can create content that will attract more local visitors to your website.
Another feature that this tool helps you with is building backlinks to your site. SEOprofiler even lets you diagnose backlinks of your competitor's websites, which is crucial for getting a higher rank in search engines.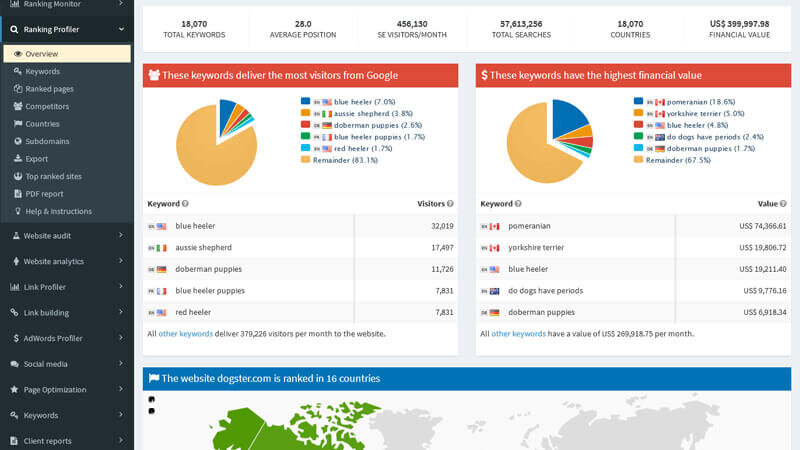 Pros
Simple and effective interface
Customised backlink reports
Value for money
Provides competitors backlink data
Appealing dashboard
Cons
Some outdated inbuilt features
Usage Plans
11. Local SEO Checklist
If you want to optimise your website for the local audience, then the Local SEO Checklist is a great tool. The Local SEO Checklist is Synup's online local SEO tool that helps you rank higher on search engines.
You get a checklist of 30 SEO elements that you can use to update and improve your site. Enter your site link, click on the metrics you want to verify, and the Local SEO Checklist will identify your website's on-page SEO issues.
Business owners will receive a detailed report of any errors, warnings, or instructions they need to follow to make changes to the website. Fixing simple things like title tags, NAP (Name, Address, and Phone number) details, location data, sitemap, URLs, and others could go a long way in boosting your local rankings.
Along with this checklist, the Local SEO Checklist tool provides three other important services. These include small business content and backlink analysis, Google My Business listing guidelines, and Schema Markup Testing.
https://drive.google.com/file/d/1AexPF3lZS0eI-c4VoRqHw-y79x_5uNYK/view?usp=share_link
Pros
Manage local citations in one place
Comprehensive site audit
Identifies technical issues
Finds broken pages
Helps optimise keyword usage
Cons
Lacks in-depth backlink data
Usage Plans
12. GrowthBar
Building backlinks, creating high-quality content, and keyword research are essential aspects of a local SEO campaign. And Local SEO software like GrowthBar makes improving and managing all these aspects easy.
GrowthBar helps you to find local keyword suggestions that will improve your ranking while also identifying the high-ranking keywords of local competitors. You can create a detailed custom report featuring several SEO insights, such as organic traffic, domain authority, etc.
With GrowthBar, it becomes easier to track the local keyword progress, monitor the authority of your competitor keywords, and create content. This SEO tool can further be used as a standalone web app or a chrome extension.
Its chrome extension allows you to do backlinks, PPC, or keyword analysis in just one click. Thus, with this data, you can easily reach the audience you want for your business.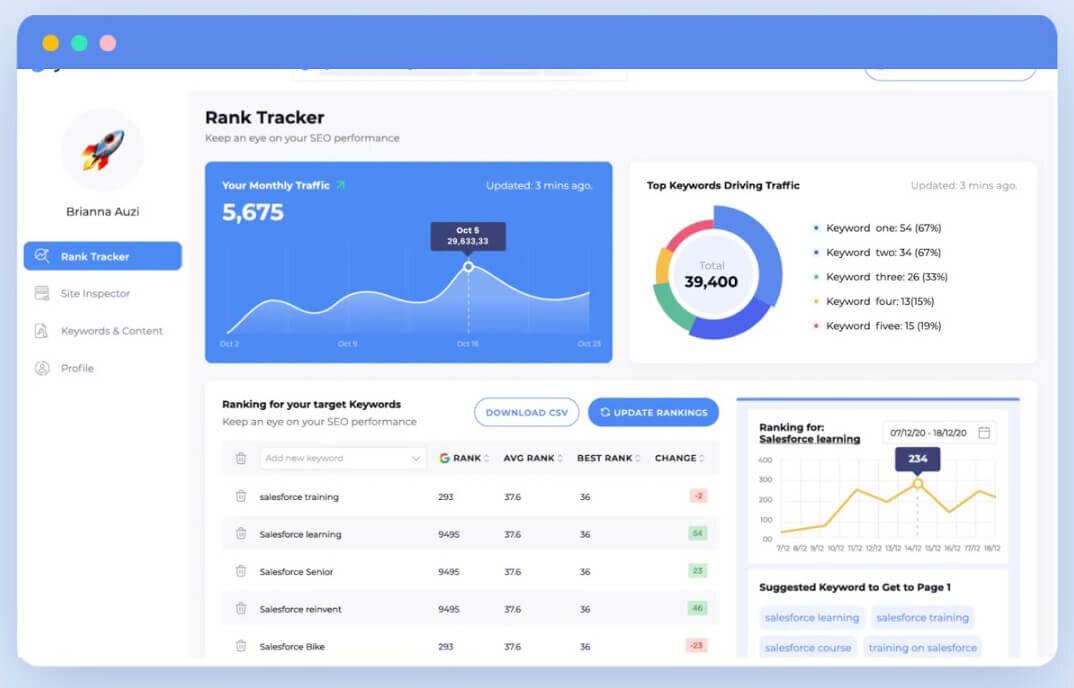 Pros
Setup is straightforward
Chrome extension is fast
Unlimited keyword research queries
Automatic content generation tool
Cons
Basic SEO research
No keyword difficulty score
Usage Plans
13. Screaming Frog
Screaming Frog is one of the best website crawler platforms specifically designed to examine your SEO concerns. The tool uses search engine bots to crawl your website efficiently and index it. This feature can identify any significant issues holding you back in search engines.
One of the best things about Screaming Frog is that it's free for up to 500 URLs. So, you can use it to analyse up to 500 pages of your website and see what needs to be fixed.
Once you've identified the issues, you can use this tool to fix them. This could involve anything from optimising the title tags and meta descriptions to adding structured data to your website.
If you need help fixing an error, Screaming Frog has a handy support forum where you can ask questions and get advice from other users. Screaming Frog is a great tool to increase your business's local ranking, leads, and organic website traffic.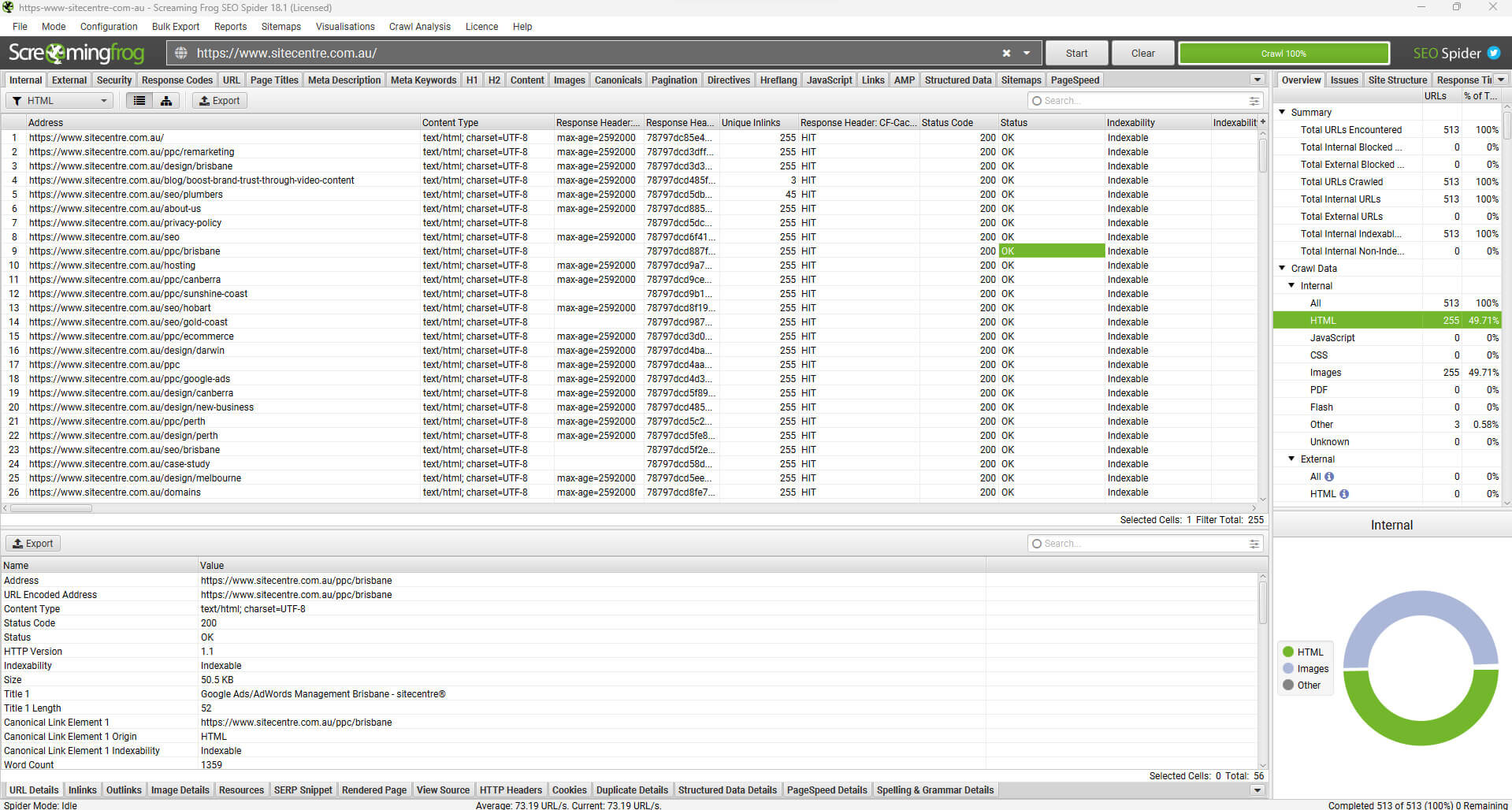 Pros
Excellent technical SEO audit
Crawls larger websites
Easily exports data to excel
Good crawl speed
Cons
It consumes system resources
No scheduled crawls
Usage Plans
14. BiQ
To know how your website ranks locally on search engines and get detailed data on SEO progress, you need to check out the BiQ local SEO software.
The BiQ is a powerful tool that can help you understand the website's performance and make necessary changes to improve your ranking. It simplifies tracking your website's ranking, optimising content, fixing hidden issues and finding top-rank keywords that may drive traffic to the site.
A main advantage of using BiQ over other rank tracking tools is that BiQ can provide real-time rank insights of more than 1,000 keywords. You also get reports of trending searches, content ideas, and popular customer queries.
You can access and update this data on the BiQ mobile app, which makes it an excellent tool for managing and scaling traffic while surpassing competitors.

Pros
Comprehensive SEO audit
Supports multiple languages
Incredibly flexible
Tracks local competitors
Multiple keywords analysis
Cons
Usage Plans
15. Whitespark
Whitespark is another powerful tool that offers attractive local search marketing services. But unlike other SEO platforms, Whitespark is a listings management tool that is more business-focused.
It has an easy-to-use interface that offers many outstanding features, including a local rank tracker, review tracker, backlink builder, and local SEO checklist. Other features include a reputation management tool and a GMB (Google My Business) review tool.
Building citations can be time-consuming, but improving your online business visibility is worth it. You can also use Whitespark to find local citation opportunities, one of its most vital attributes. Just enter your business information and location, and Whitespark will show a list of websites where you can submit the listing.
Once you've claimed the listing, you can add or edit information, photos, and other details. Whitespark indeed makes it easier for you to find and manage your listings. This SEO platform is your best option if you are a small business owner or freelancer who wants to boost local searches.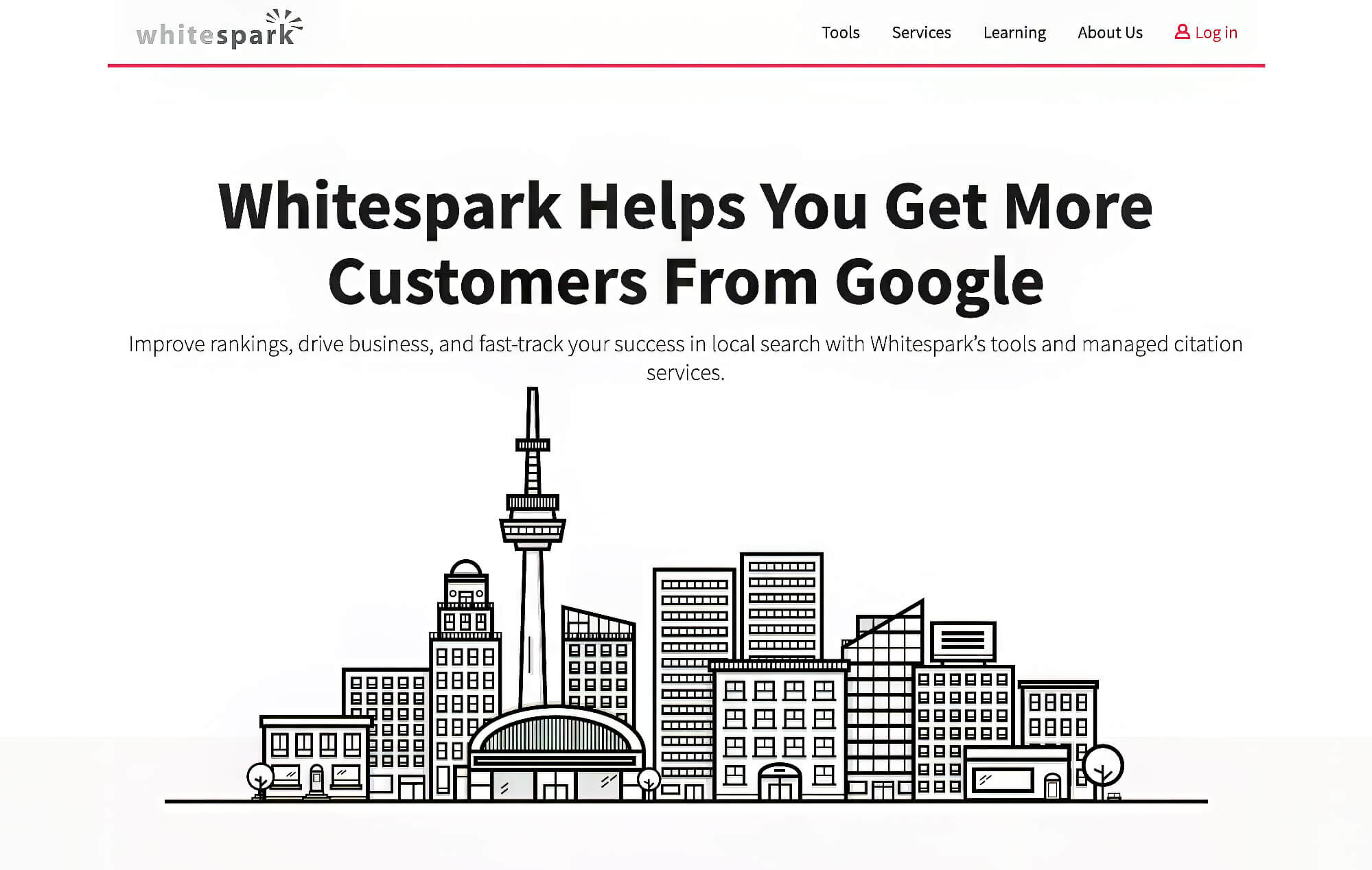 Pros
Reliable citations
Ability to update and edit listings
Provides actionable reports
Affordable
Cons
Navigation is confusing
No mobile application
Usage Plans
How To Choose The Right Local SEO Tools
Before optimising your website for local search, make a checklist of the steps you must take. These tips can help you choose the right tools for local SEO.
1. Goal
Before using any SEO tool, you must first identify your goals, so ask yourself the following questions -
What are your local SEO goals?
Do you want to increase your visibility in search results?
Are you aiming to attract more website visitors?
Do you need more leads?
What's your strategy to boost sales?
Once you know the goals, you can narrow down the list of potential local SEO tools to help achieve them.
2. Research
Once you have identified the goals, research the best local SEO tools. Many different SEO tools are available, so you'll want to take the time to read reviews and compare their features.
3. Budget
SEO can be costly, so you'll need to consider your budget when choosing the tools. There are many great free options, but you may need to invest in some paid tools to see the best results.
4. Full-Scale Audit
Another practical thing to look for in a local SEO tool is the depth of its website audit. A good audit trail will show you how your traffic and other local insights have been generated. This information can help track your progress to adjust your marketing strategies accordingly.
So, check the number of parameters provided in the tools audit report before looking at the type of reports and the level of customisation these reports offer.
5. Automation And Integration
It would be best if you used a local SEO tool that works well with other third-party platforms. It should also provide features like automation, export reports option, and competitors' ranking information.
It will likely be more challenging if the tool does not integrate with your website or other business tools. Most importantly, it may provide little value to your business.
6. Listing Management
Select a local SEO tool that accurately monitors online reviews and performs local search rankings. It should be able to send business listings to high-domain directories and optimise your online information. This will help you to boost your local traffic and increase brand awareness.
Harness The Power Of Local SEO With These Top-Rated Tools!
As Google continues to evolve its algorithm, it has become clear that websites without a strong presence in local markets are at risk of being demoted. And there's a possibility that these sites could completely disappear from the search results.
For that reason, local SEO has become a critical component of small businesses' SEO strategies and significantly influences the local search engine algorithm. To improve your local ranking, you need to optimise the site for local searches using the SEO tools mentioned in this article.
These tools can help you build a substantial presence in local markets, getting you more traffic and conversions. So, take advantage of the opportunity to optimise your local presence! Find the right local SEO tool for your business to save time and money.
Need some assistance? Our team at sitecentre® are here to help you! Our experts have years of experience utilising the best tools available to ensure unbeatable rankings for local businesses across Australia. Let us assist you with setting up local SEO tools today by giving us a call!