Almost no business can survive without digital marketing in the modern era.
Brands across diverse sectors rely heavily on robust digital marketing management tools to effectively connect with potential customers, promote their products and services, deal with competition, and more. What makes digital marketing tools so effective is their versatility, as they can be adjusted and utilised by almost any type of business.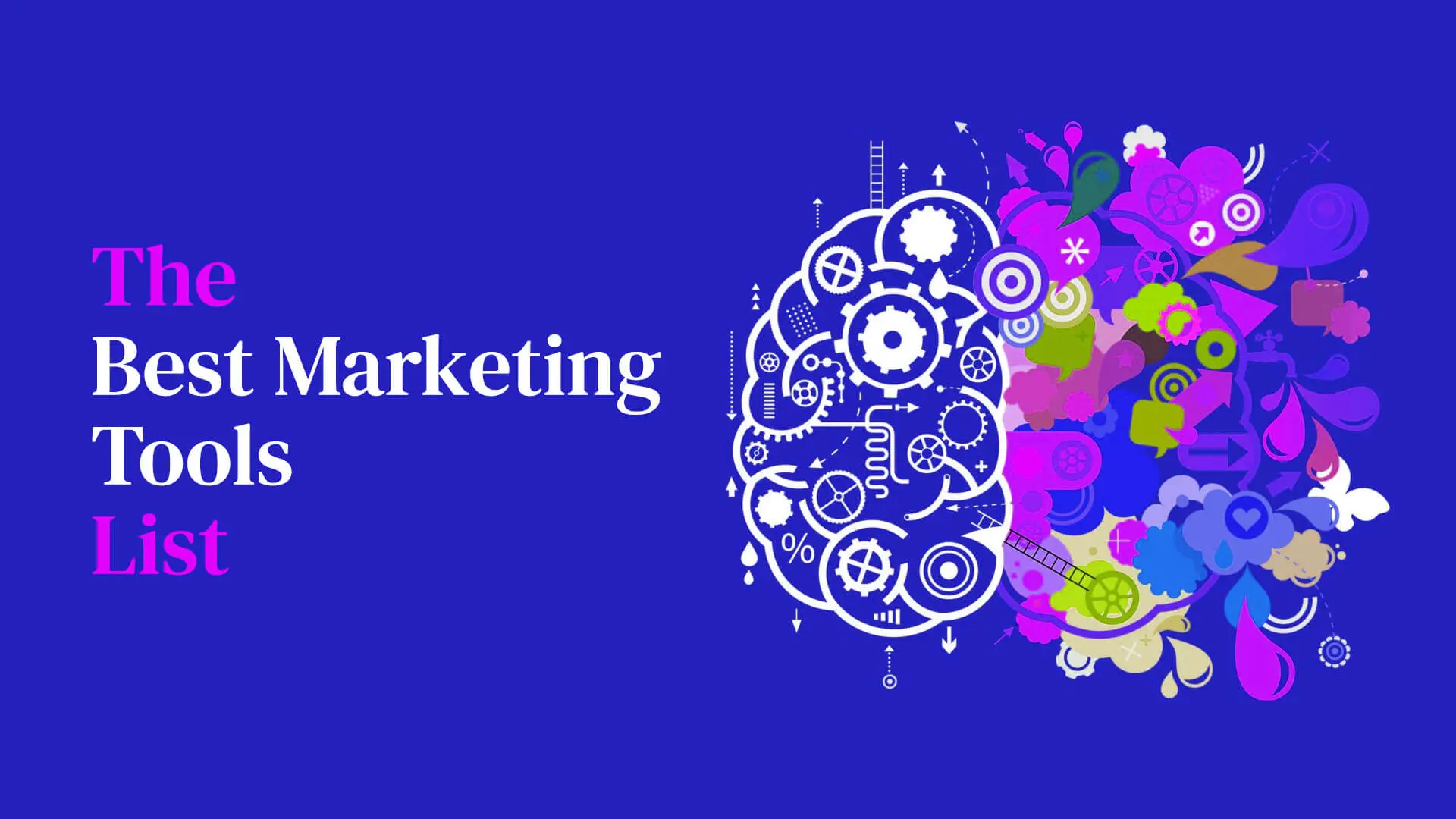 Additionally, the top digital marketing tools offer several benefits as they are more affordable than traditional marketing techniques and convenient.
If you're planning to use digital marketing tools for any business, it is a good idea to learn about the various tools that are currently available. So, today, we will look in detail at the best digital marketing tools on the market.
Types Of Digital Marketing Tools
Different types of marketing tools have been developed to accomplish various objectives. While you can adjust most tools to meet varying requirements, some are created to perform specific tasks.
Most of our list's marketing software tools have paid and free versions. Whether managing social media accounts or offering professional email marketing services. Our list has something for everyone, from social media handlers to blog post writers.
So, let us look at the various digital marketing tools today.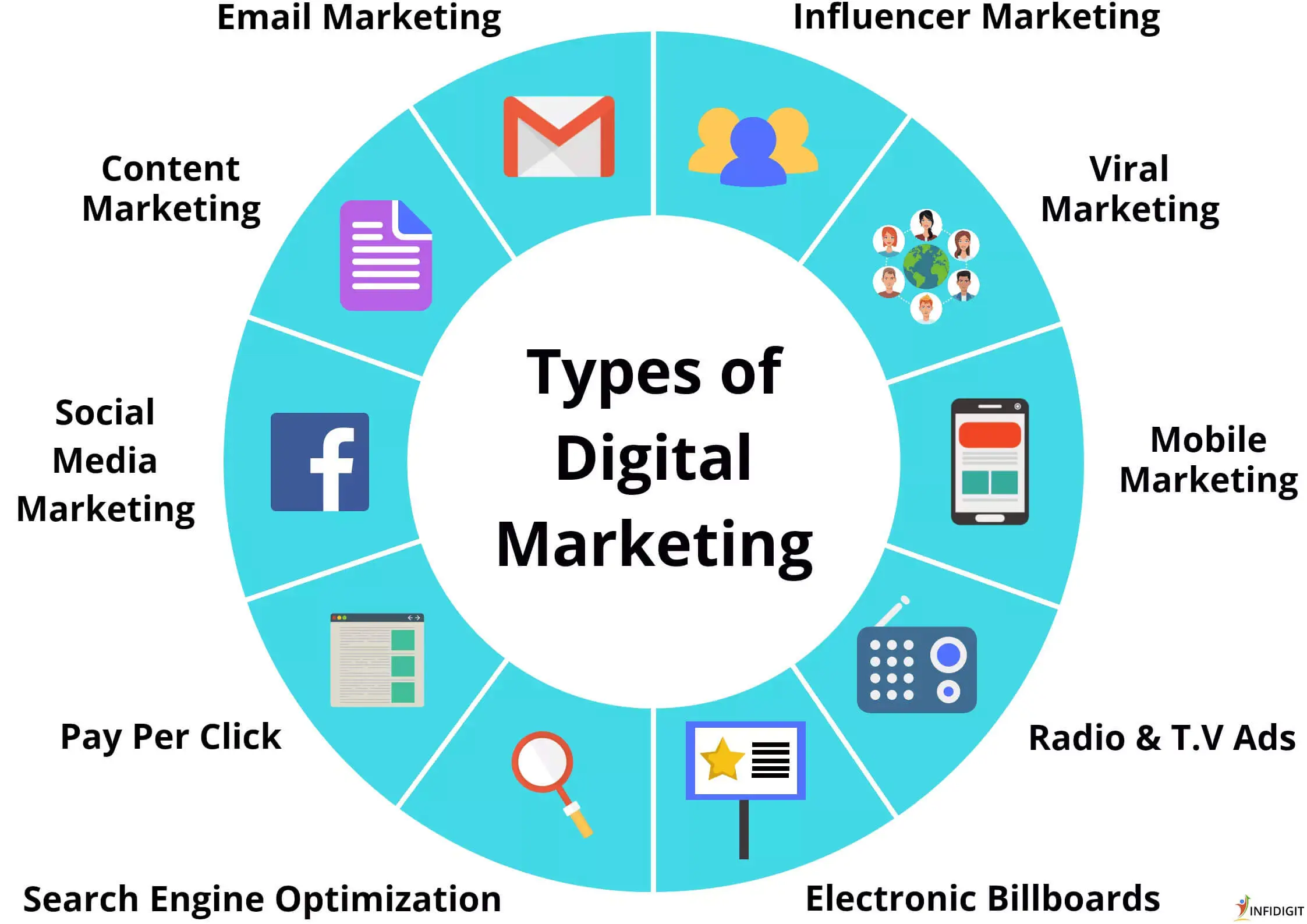 Analytics Tools
Digital marketing analytics tools assist small business owners and marketers track, evaluating, and forecasting their marketing campaigns' performance. Several metrics can be tracked with these tools, such as ROMI, ROAS, CPC, CPL, and others, to help aggregate marketing data from various marketing channels.
Some of the most popular analytics tools to analyse your website visitors are:
1. Google Analytics
Google Analytics is by far the most popular free analytics tool for digital marketers simply due to its powerful capabilities that permit measuring and optimising the performance of marketing campaigns. This tool offers in-depth analytics, enabling digital campaign marketers to view and evaluate content performance, user behaviour, website traffic, and more.
It provides so much information about the site visitors, such as demographics and geolocation, that it can be integrated with various platforms. While all this information is free, users who want more advanced features and control can use the Google Analytics 360 paid platform.
2. Hotjar
Hotjar takes a different approach to analytics than Google Analytics. It has a powerful heat mapping tool to help you understand how users interact with your site to enhance the user experience.
This tool uses heat maps and scroll maps to provide in-depth user behaviour information. It also allows easy identification of what content users are looking for and spending time on.
The software has both free and paid plans, with the latter offering more customer data. For instance, Hotjar permits you to watch live recordings of user behaviour on the website to create surveys and collect feedback.
3. Databox
Digital marketers often employ several online marketing tools, and keeping track of them can become quite challenging. Databox is a very efficient management tool to help manage the various types of data and information.
It helps keep track of all digital marketing information, making creating and sharing reports easier and faster while understanding the latest customer behaviour trends. You can integrate Databox with over 70 different tools and tools and send data from various other platforms through an SQL database, build an API, or use Google Sheets, Zapier, or Integromat.
4. Mixpanel
Mixpanel can be a powerful digital marketing tool for creating, engaging, and retaining customers. This tool provides detailed information relevant to your target audience, such as the most popular features, the identity of the power users, and the factors that cause customer retention.
It also has a smartphone application and a self-serving analytics platform. Additionally, it allows the creation of workflows and funnels that can be very useful for segmenting and organising the data.
5. Tableau
Digital marketers who prefer visualising the data need to consider utilising tools like Tableau and a dynamic form builder. This tool makes it easy to organise the data to make it easier to understand.
It is powerful because it can easily connect with almost any data source using Tableau Prep. You can then use the data to make decisions while running the marketing campaign.
You can go through the data using the desktop or mobile dashboard. Plus, Tableau allows the creation of interactive dashboards, mapping data to specific regions, and using more interactive features to provide an engaging experience for customers.
Social Media Marketing Tools
Social media is the most suitable platform for promoting your brand or business. Several tools have been developed with an emphasis on ease of use, catering to digital marketing needs, efficient management of social media campaigns, and lead generation.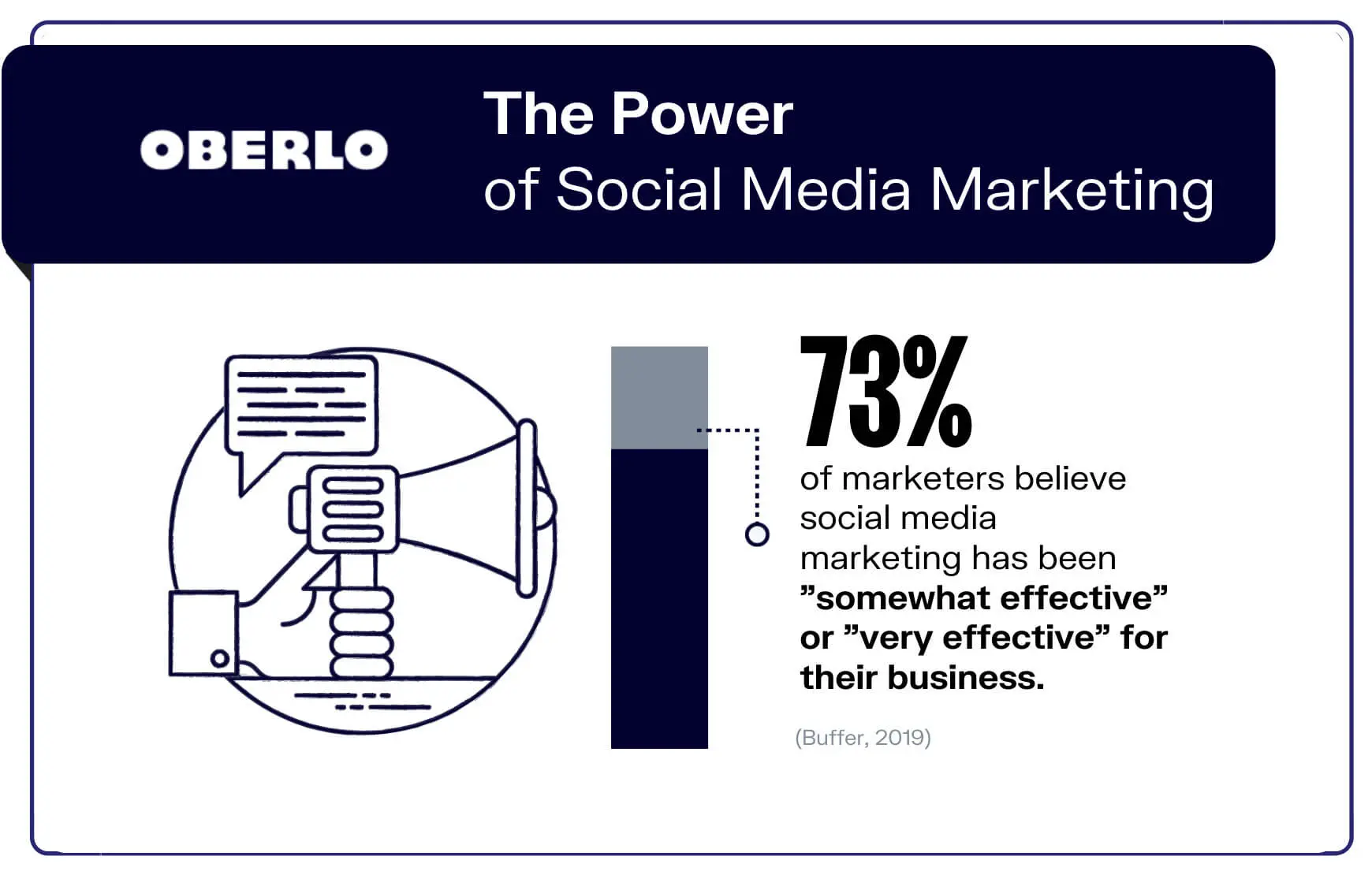 These tools generally help automate mundane tasks so you can focus on the more critical aspects of brand building. Some of the commonly used social media marketing tools are mentioned below:
1. Buffer
With automation features, brands can manage social media platforms like Facebook, LinkedIn, and Instagram more effectively, becoming an indispensable asset for digital marketing brands. However, since managing different social media platforms simultaneously can be cumbersome, businesses use tools like Buffer.
Buffer connects across multiple social media platforms in one place, making the management of different social media accounts much easier and more time-efficient. This tool additionally allows planning and creating campaigns, analysing and evaluating the performance, scheduling posts, and responding to comments.
Finally, you can use Buffer to create engaging landing pages, schedule events, schedule posts, and automate your social media posts.
2. Buzzsumo
Buzzsumo is a digital marketing tool that analyses the best-performing content with the highest-ranking online. It helps identify what content users are searching for, which can be included in your digital marketing strategy.
The tool is straightforward and requires searching for the topic of interest in the search box. What's more, it comes with a Question Analyser tool that you can use to discover popular questions relating to specific keywords on platforms like Facebook, Twitter, Quora, and more.
3. Biteable
Biteable is a powerful tool mainly used to create short, compelling, free video content for marketing campaigns. Videos are much more engaging than text-only or image-based content, which is why they are indispensable to almost all digital marketing strategies.
This digital marketing tool enhances content creation with its myriad features, such as templates, music, footage, and animated scenes, crucial in delivering your marketing message effectively. What's more, it is entirely free to use.
SEO/Content Marketing Tools
SEO or Search Engine Optimisation is the technique employed to improve the ranking of a website in Google Search results, helping provide greater exposure to the brand. Such tools are designed to help use the content created for the website and adjust it to stay on top and be more easily accessible to those searching for a specific topic.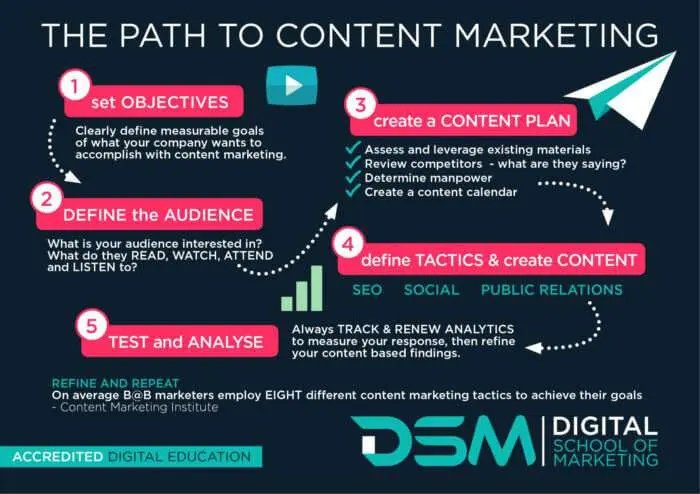 Besides identifying areas that need work, such tools help discover new opportunities to improve visibility. They also provide data about the website's overall performance and marketing campaign performance.
Here are some of the best SEO digital marketing tools to check out.
1. SEMrush
SEMrush is among the oldest and most used digital marketing tools for SEO and content marketing. This tool's makers have consistently provided updates to SEMrush to keep it in line with the latest Google algorithms, core and Ad updates.
It has several built-in features, including content ideas, keyword ideas, and competitive analysis, that make it easy to track and improve website rankings. SEMrush can even integrate with Google Docs, optimising content efficiently.
2. Ahrefs
Another potent tool with many valuable features for optimising websites is Ahrefs. It is generally used to minimise the effort involved in monitoring the industry and competitors while allowing you to focus on improving rankings and visibility.
Every month, Ahrefs helps you discover new organic keywords and estimates websites that appear in various search engines' top ten search results.
Some of the features that this tool offers include content research, backlink research, and web monitoring. It also features a user-friendly, intuitive design, making it convenient and easy to use.
3. SimilarWeb
Digital marketing is a sphere of intense competition where it pays to understand your competitors' marketing strategies to fine-tune the approach to the target audience. SimilarWeb is a tool that allows users to do exactly that, providing detailed analytics about various websites through its free TrafficMeter extension.
The tool utilises a comprehensive digital research intelligence technology to gather real-time traffic engagement data and ranking information. Unsurprisingly, several big brands and their dedicated marketing teams, such as Google, Adobe, and Adidas, rely on SimilarWeb to improve their rankings.
4. KWFinder
The best digital marketing campaigns can provide effective results only by properly using keywords. However, while keywords play an essential role in any marketing strategy, finding and targeting them often involves a lot of effort and time. That's where KWFinder comes in, recognised as a notable keyword research tool specially developed to enhance landing page performance and discover suitable long-tail keywords.
It helps determine SEO difficulty and search volumes of different search terms. Naturally, selecting the ones with a high search volume and low difficulty can help improve rankings quickly.
KWFinder also includes historical search volume and a competitor analysis feature to help discover trending topics and gather valuable contact information.
5. Screaming Frog
Before a digital marketer can proceed with keyword research and content marketing, they must conduct technical SEO. Technical SEO is undertaken to resolve improper crawling and incorrect indexing that adversely impacts SEO efforts.
On that note, Screaming Frog is a must-have digital marketing strategy tool that helps identify issues related to SEO, ranging from duplicate content to non-working links. Its free plan allows you to crawl 500 URLs, while the premium plan has more advanced features.
6. Google Search Console
Google avails several innovative free tools for digital marketing, with Google Search Console being one of the most prevalent selections. This console has tools and reports for measuring a particular website's appearance in search results. Additionally, you can use it to identify and fix issues affecting visibility.
The Google Search Console provides information about which keywords are more effective in bringing organic traffic and submits URLs to be crawled. Since this console comes from Google, it is another one of the best free digital marketing tools.
7. Keywords Everywhere
A small but powerful tool, Keywords Everywhere is a browser add-on with several valuable features. It can display the monthly search volume, competition data for different keywords and CPC across various websites.
This add-on is available on browsers like Google Chrome and Mozilla Firefox and works with the most popular search engines like Google and Bing. It can help you save time discovering what people are looking for and tailoring your content accordingly.
Moreover, Keywords Everywhere remains free forever, providing data from questions and topics related to the keyword appearing on their respective search pages.
PPC Marketing Tools
PPC or Pay-Per-Click marketing is another marketing technique that helps advertisers using a marketing platform gain revenue when website users click on their ads. This technique allows marketers to display ads regarding specific products, services, or information users might search for.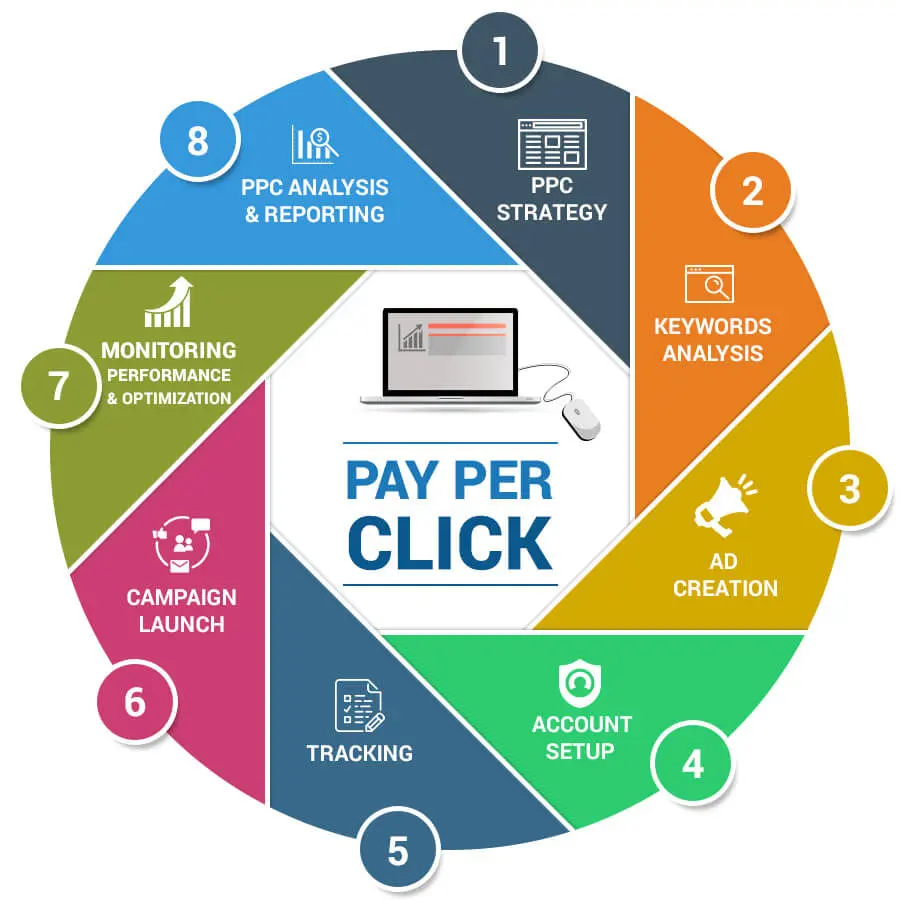 Most importantly, digital marketers utilise a more cost-effective digital marketing tool. We've mentioned some of the best PPC marketing tools here:
1. SpyFu
As mentioned previously, digital marketing involves cut-throat competition, where understanding the strategies employed by competitors can be highly beneficial for your business.
SpyFu is one of the top digital marketing tools used to conduct competitor research for different domains. It can help procure data regarding the competitor's SEM and SEO strategies and accurate historical data regarding their keyword bids in Google Ads.
It doesn't stop there because SpyFu also collects the variations of ads used by competitors over the past 15 years and makes them available. Understandably, it offers helpful recommendations for increasing the click rate for the digital marketing campaign.
2. Google Ads Editor
Along with quick and instant access to Google Ads, the Google Ads Editor tool, a marketing automation software, also integrates seamlessly with email automation systems to optimise campaign efforts. The platform is free to download and requires signing in with the user's account. Once complete, use the tool to make changes, manage your ad groups and marketing campaigns, or view the campaign performance offline.
In a nutshell, it is best suited for situations that require changes to be made in bulk.
3. Google Keyword Planner
Google Keyword Planner is another free tool for keyword research from Google. It helps discover new queries and popular content among users, helping plan the digital marketing campaign at the right time while estimating the bid.
Even though it is especially effective for PPC campaigns, you can use this tool with great results for your overall SEO strategy. All you need to get started is a Google Ads account.
Video Tools
People spend countless hours watching videos, making video tools perfect for promoting your brand. Video marketing tools are most effective in engaging website users and increasing traffic to your website.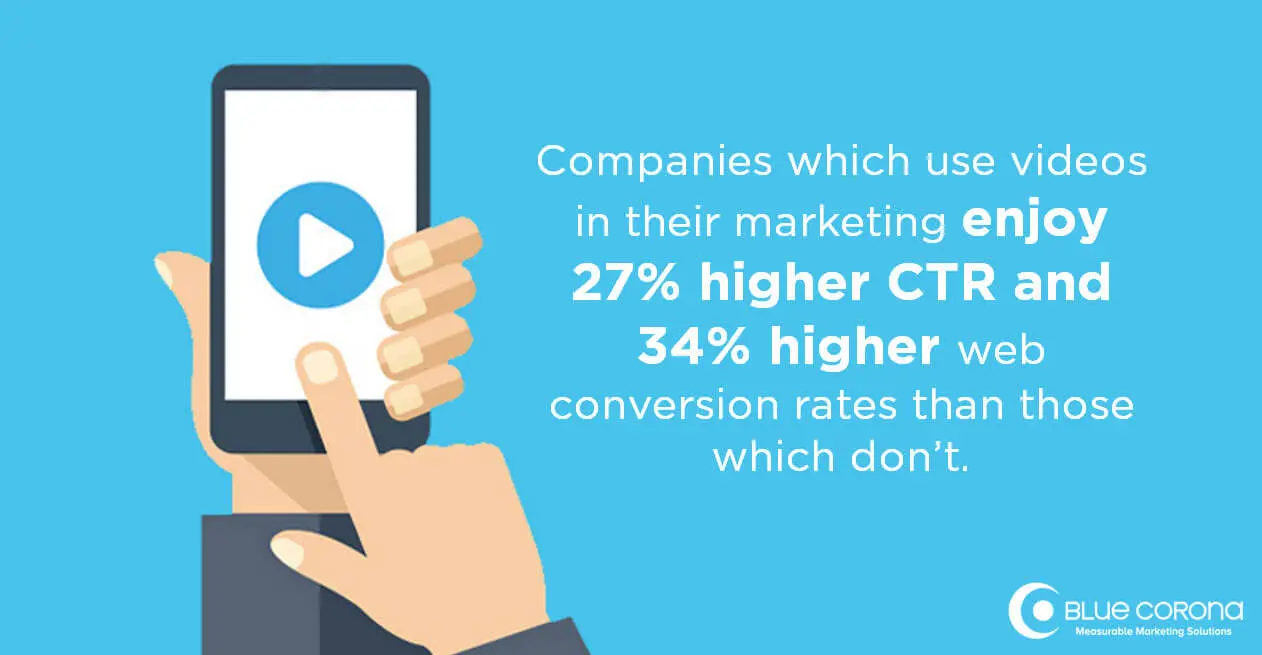 You can combine them with social media marketing tools to maximise your marketing campaign's benefits. For example, Adobe Premiere Pro and Final Cut Pro are the best video tools you can use effectively for digital marketing.
1. Adobe Premiere Pro
While Adobe is most famous for its range of graphic design software, Premiere Pro is an impressive video creation tool that you can use for digital marketing campaigns. It allows users to create professional-looking videos without requiring in-depth knowledge or expertise.
The software meets various video editing requirements, from creating professional YouTube videos to editing short videos for social media platforms. This tool has professional templates and integrates with the Adobe Creative Cloud to simplify things.
It also permits you to use all applications from Adobe, such as Photoshop, Audition, and After Effects.
2. Final Cut Pro
This video tool comes from Apple and is exclusive to that platform. Final Cut Pro is undoubtedly the best option for video editing for businesses existing within Apple's ecosystem.
The tool includes organising, editing, motion graphics, audio, and more. However, the best part of this software is that you can record 360° videos from your iPhone and edit them with Final Cut Pro.
Design Tools For Marketers
Any good marketing campaign requires a professional design, as you must show clients proof of concept and get feedback from them. As such, digital marketing campaigns require posters, banners, and more to promote the brand and grab attention.
You can use several popular design tools for digital marketing:
1. Canva
If you're looking for design software that makes you feel like a pro without requiring much expertise, Canva can be a fantastic choice. This tool offers a great way to create professional looking designs to solve various marketing challenges and problems in digital marketing campaigns, reducing the effort and resources needed to achieve business goals. Canva is perfect if you're a social media marketer.
Further, it supports multiple layouts and formats for marketing platforms like social media and websites. What's more impressive is that the drag-and-drop functionality simplifies the editing process, and multiple users can collaborate on documents.
Canva offers a free trial of its services, allowing users to test out the software before making a purchase.
2. Figma
Figma is a digital marketing tool that allows different teams to collaborate on various designs, such as websites, social media content, and applications. Designers, developers and marketers can work on the same project, allowing smoother workflows and more effective feedback.
Figma allows you to create an entire website without previous coding knowledge and skill.
3. InVision
Another excellent tool that promotes online collaboration is InVision, which has an entire suite of tools. Such tools include the Freehand digital whiteboard, which provides a blank canvas that connects to the cloud. The cloud offers the ability to create websites and applications without requiring coding knowledge.
Additionally, you get a tool for designing and creating prototypes, a design system platform, and enterprise-level solutions.
4. Sketch
Sketch is an easy-to-use digital design software perfect for projects requiring collaboration from different teams. Leading technological giants like Google and Facebook use Sketch while designing their marketing campaigns.
It has a powerful toolkit includes everything you will need for the designing process, such as fonts, icons, vectors, and more. This software also promotes collaboration while creating content and getting feedback due to the reusable Styles and Symbols feature, which can adjust to various formats.
5. Balsamiq
The main objective of Balsamiq is to make the creation of wireframes easy, which is required for proper UI design. You can easily use its low-resolution wireframes to build prototypes and share them in interactive images or PDFs.
What sets Balsamiq apart from other tools is its emphasis on basic structure and content and its efficient drag-and-drop feature for swift designing, simplifying organising, and allowing team members to coordinate before undertaking advanced tasks.
6. Adobe Illustrator And Adobe Photoshop
Everyone knows that Given its innovative design tools, Adobe has taken graphic design work to the next level in the industry.
Illustrator is a vector drawing programme generally used for designing logos and vector images that can be scaled to any size without affecting the quality. On the other hand, Photoshop is a great photo editing and digital design programme with powerful features.
Email Marketing Tools
Email marketing tools are those programs that digital marketers use to create, optimise, and test email marketing campaigns. Such campaigns allow marketers to target particular groups or individuals using special offers, merchandise, deals, etc.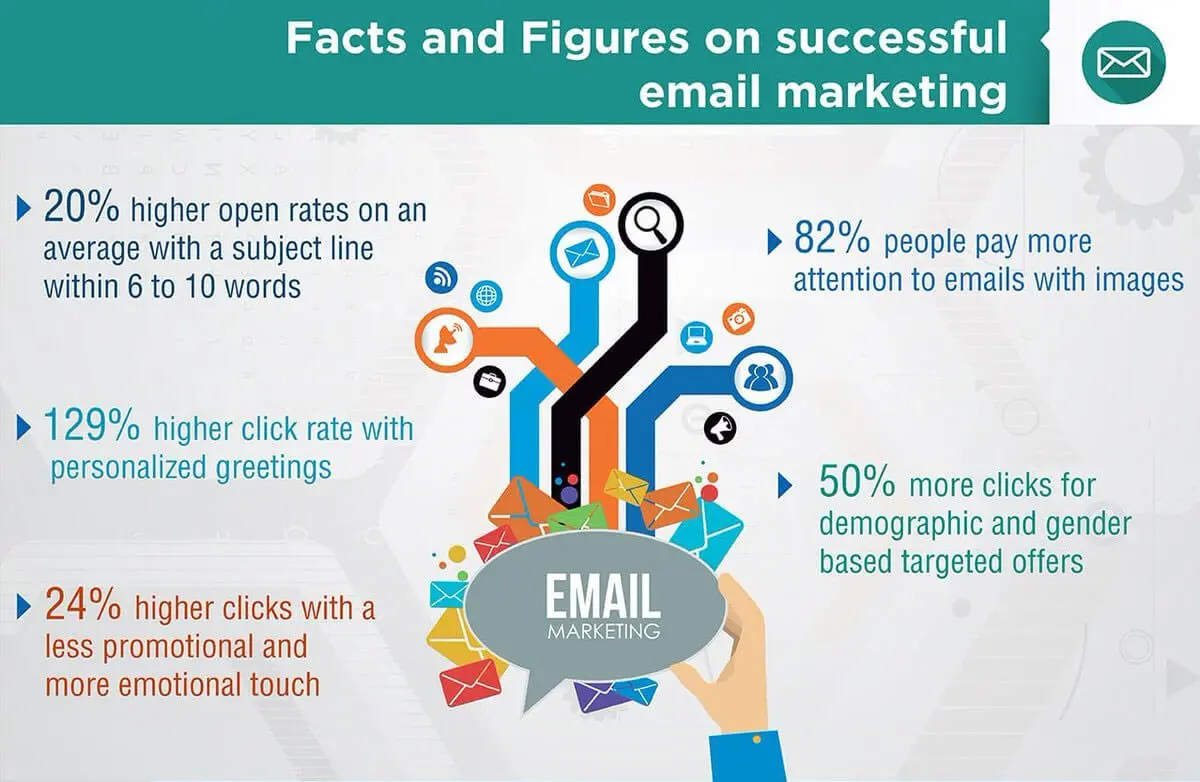 It is commonly done through newsletters sent to customers via email once they sign up for it. The best tools have been developed to make email marketing more effortless, and we've compiled a list of them here.
1. Klaviyo
Digital marketers consider email marketing a powerful lead-generation technique if correctly undertaken.
Klaviyo is an email marketing tool with valuable functions such as powerful customer targeting and automation. It enables the personalisation of communications depending on preferences, user behaviour, and workflows.
Additionally, using customer profiling, you can use an analytics dashboard to identify the most engaged subscribers. The software has SMS support, which is handy if users require assistance.
2. Mailchimp
Mailchimp is an easy-to-use platform with some compelling features for email marketing. This tool can set up automated campaigns, send emails to target customers, and track website traffic and conversions.
These features work across several platforms, such as Squarespace, Stripe, and Shopify. There is even a community of developers and users of Mailchimp where marketers can get additional advice, tips, and more.
3. Active Campaign
Email marketing depends upon targeting suitable customers at the right time with the help of relevant marketing messages. Active Campaign offers a marketing automation platform that you can use for email marketing through a powerful customer relationship manager and sales automation.
The tool also offers features comprising various stages of the digital marketing campaign to help marketers create long-lasting relationships with their customers.
4. Mailshake
Email automation is a powerful tactic email marketers use to reduce effort and streamline the process. Mailshake is a software that makes email automation a simple process used on desktops, social media platforms, and phones.
This tool automates communications with different groups, such as the AI email writer, curating personalised emails to potential customers and automated follow-up emails. With Mailshake, it is possible to fully automate the entire sales outreach and focus on the more critical aspects of digital marketing.
Conversion Rate Optimisation Tools
Conversion rate optimisation tools help improve the content on your website to ensure the maximum number of conversions. This is done by identifying the strategies that can help increase conversion rates.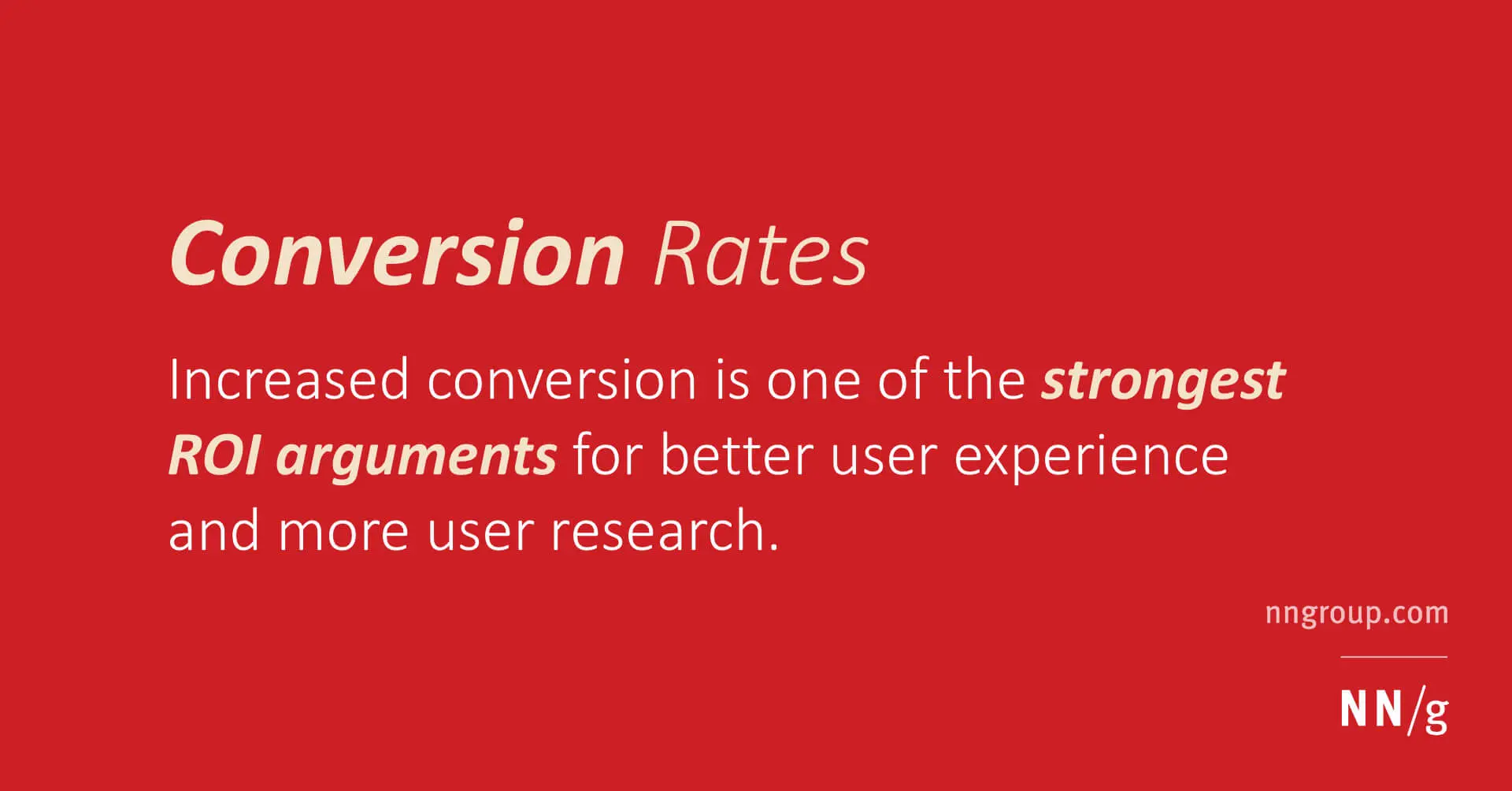 1. Sumo
Are you looking for a tool that can help capture many emails easily? Sumo is the perfect tool to help you do that quickly and efficiently.
All it requires is to install the software and activate the form. Plus, it supports several plugins, such as Shopify, WordPress, Google Tag Manager, and more.
Digital marketers looking to collect information using emails without paying a dime will love this free software.
2. Crazy Egg
The most effective way to optimise the website is to understand how visitors use it. This information can enable you to make changes and adjustments and evaluate the effects of such tweaks.
Crazy Egg is an excellent option for marketers who require all these functions. It comes with a built-in A/B test tool, making it easier to make data-backed decisions regarding the website.
There are also recordings and heatmaps of user behaviour to identify which content users find more engaging on the website.
3. Google Optimise
Another digital marketing tool from Google is Google Optimise, which uses Google Analytics reports of a website as a reference. This makes it easy to find areas of the website that require improvement.
However, this tool's statistical modelling feature makes it impressive, which can project the results of different experiments.
Google Optimise also allows customising the website experience depending upon various audiences. You can even create a custom landing page for your Google Ads campaign.
4. Optinmonster
Lead-generating tools automate the process of lead generation, helping produce leads from various sources like social media platforms, landing pages, and more.
OptinMonster is an effective lead generation tool that helps generate leads, increase email subscribers, and boost sales. This tool can create a campaign directly on any platform and add it to the website.
Almost anyone can use Optinmonster since it does not require coding skills and comes with its design tool. It has several powerful options, such as lightbox popups and scroll boxes.
5. Proof
In marketing, social proof implies that users have purchased and found value in a product or service offered by a brand. By connecting to your website and implementing social proof messaging, videos, and reviews, brands with social proof tend to get conversions faster. This is what Proof allows you to do.
Other valuable features of this tool include the Hot Streak notification and Live Visitor Count, which allow you to look at how users have received the product.
Workflow Automation Tools
As the name implies, workflow automation tools are information management systems that collaborative teams, organisations, and individuals use to optimise the workflow. Such tools usually include several features like shortcut commands or drag-and-drop content editors.
These tools help reduce manual effort and help streamline the workflow to perform various tasks more efficiently. Here are some of the most effective workflow automation tools for digital marketing.
1. Zapier
A potent automation tool, Zapier helps save time by connecting the various applications and automating the workflow. Different trigger actions include receiving an email using a specific app, selecting the appropriate action, and letting Zapier complete the task.
Moreover, this software supports over 3,000 applications and has a plan that is guaranteed to remain free for your lifetime.
2. Kissflow
Digital marketing is a highly complex process that involves keeping track of several factors and updates simultaneously. While several tools aim to simplify functions, no one does it better than Kissflow.
This tool makes managing entire campaigns and projects easier by simplifying the workflow and making collaborations more effective. It helps manage all digital platforms in one space, develop applications without coding knowledge, and even automate regular processes.
Kissflow also has a Community platform and an efficient user procurement tool.
Project And Campaign Management Tools
In digital marketing, project management tools assist individuals or teams in organising and managing projects and campaigns most efficiently. Different types of tools are available, both free and paid, but most come with customisation options to meet the requirements of marketing campaigns.
Some of the most popular choices include:
1. Monday
Monday.com brings you a clean and convenient workspace for managing team projects. It has a beautifully designed intuitive interface and colour coding to track various elements easily. The tool's other features include app integrations, document storage, status updates, and automation.
2. Asana
Known for being one of the first project management tools, Asana has maintained its reputation for offering innovative features that minimise the effort involved in digital marketing campaigns. Besides providing an easy system to manage online marketing campaigns, this tool can assign tasks and track projects.
It is a fantastic option for those who want to reduce the hard work associated with the campaign. For instance, one feature that differentiates Asana from other tools is the different viewing options for organising tasks, such as lists, timelines, or project boards.
3. Trello
The problem with many campaign management tools is that they can be pretty complicated. That's where Trello is different, as this software creates other cards and boards for various projects. These can then easily be dragged and adjusted according to preferences.
Simplicity is its most significant advantage over competing tools. On that note, Trello has a built-in automation tool called Butler, which helps automate everyday activities like scheduling assignments, moving lists, and more.
4. Basecamp
Another intuitive online project management tool that you can use for digital marketing is Basecamp. Basecamp is mainly designed for digital collaboration by splitting the workflow into various projects.
Besides being easy to use, it is highly reliable since it does not update its basic formula. It has a built-in to-do list, message board, and schedule feature that helps make the workload more manageable.
5. Airtable
Airtable is a tool that creates custom solutions for digital marketing campaigns by promoting online collaboration in an organised manner. It is an incredibly flexible tool that can be adjusted to meet different requirements and supports boards, gallery, and timeline views. Plus, you can even create custom interfaces depending on the needs of a particular team member.
CRM/Communication Integration Tools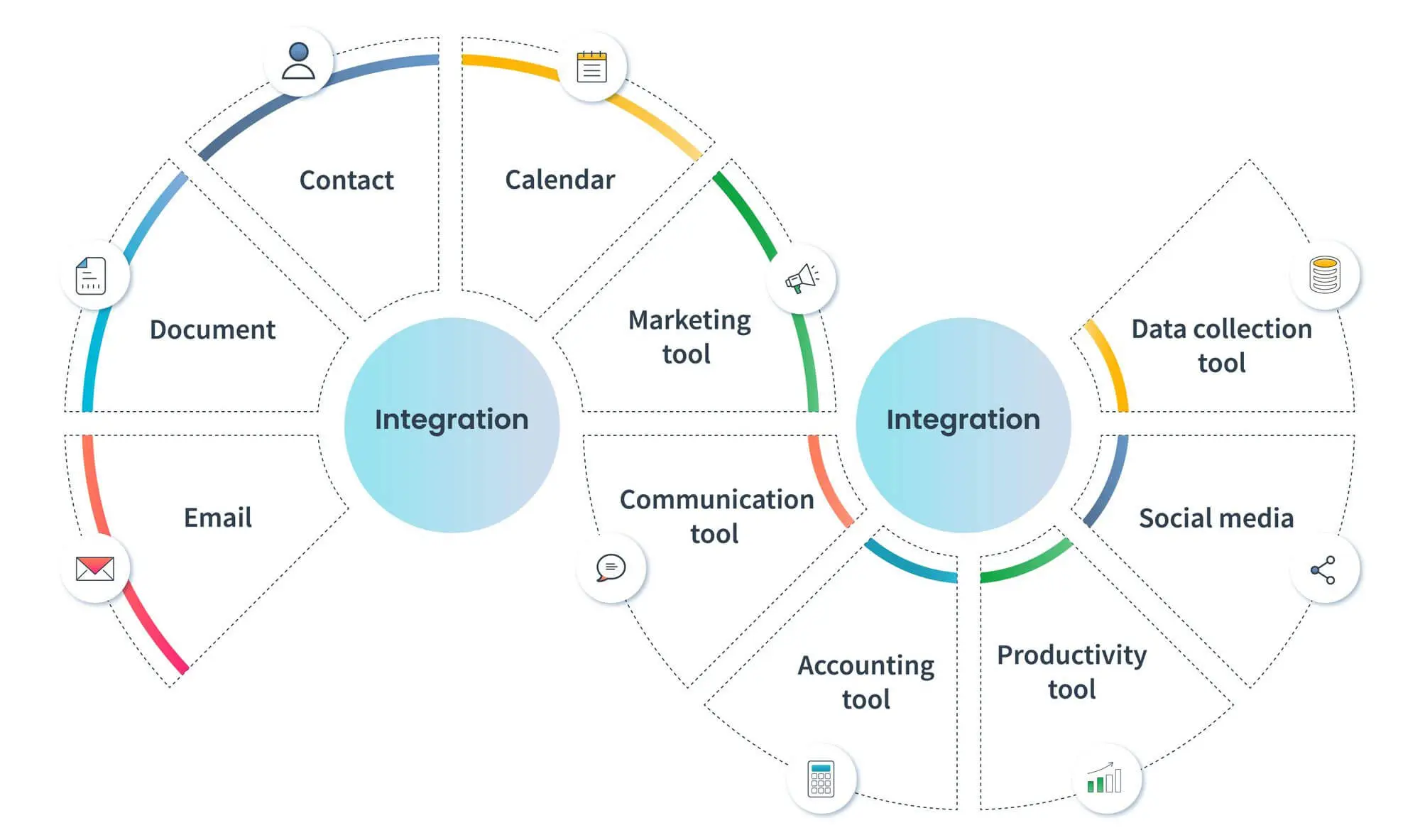 CRM tools marketers to identify business opportunities, manage marketing campaigns, store prospect and customer information, and record issues. All this information is stored in one central location and readily available to anyone who needs it for digital marketing.
The most commonly used CRM tools include:
1. Slack
Slack was initially developed as a business communication platform and used by those working in the technical field. However, it has acquired many powerful instant messaging features over the years and has evolved into a more versatile tool for all projects.
It is especially true for projects involving large teams and depends upon fluid and efficient communication for various tasks. Slack even offers a feature that allows you to create separate channels for different teams, projects and tasks while keeping all the relevant data together.
2. HubSpot
Inbound marketing plays a significant role in digital marketing since it attracts customers by creating tailored experiences. HubSpot is the number one inbound marketing software with various unique features for individuals and teams.
It provides complete visibility regarding the sales pipeline, with detailed insights into customer relationships, individual performance, and prospects. HubSpot also combines different types of marketing data with the contact information of the prospective client or customer, such as website visits and emails.
This allows you to adjust and time the campaign for maximum effectiveness.
3. Zoom
Zoom was developed as an easy-to-use video conferencing tool that could be used on different platforms for online collaboration. It is a highly versatile platform that allows virtual meetings, including webinars, classes, and more.
Besides being great for coordinating online events, Zoom supports instant messaging features for quick communication.
Data Collection Tools
Data is the most critical element for all marketing activities, without which no decision can be made. Data collection tools are those instruments that make collecting data more manageable and more convenient.

While there are several types of data collection tools for marketers, the best ones are listed here.
1. Typeform
While several modern data collection methods are available nowadays, you can never match the utility of traditional customer surveys. Surveys are the most effective way of gathering data and understanding the target customers to design products and services that fit their needs.
Typeform is the tool that creates surveys quickly and efficiently while ensuring that they look attractive and meet the brand's standards. These surveys' attractiveness is meant to encourage customers to provide correct information and are very easy to use.
2. Survey Monkey
For a more comprehensive survey tool for data collection purposes, there is Survey Monkey. This free online survey tool with pre-existing templates allows users to create custom surveys.
It is straightforward and requires creating your surveys and sending them to the target customers. After this, you can use the powerful analytics suite to review it.
Additionally, Survey Monkey collects responses from the global consumer panel, runs NPS surveys, and even creates internal surveys.
3. Survey Anyplace
For lead generation purposes, another powerful tool is Survey Anyplace. It allows the transfer of leads to email marketing or CRM tools for building campaigns in a streamlined manner.
A ReportR pack creates personalised PDF reports for respondents based on their survey answers. Users can integrate this tool with the existing marketing setup using Integromat, Zapier, or webhooks.
Onboarding And Activation Tools
Onboarding tools are created to help improve onboarding, introduce new users to the product or service, and streamline the process. On the other hand, Activation tools are highly effective in creating engaging advertising messages that help the brand stand out from the crowd.
This section contains your digital marketing strategy's most effective onboarding and activation tools.
1. Wistia
Many brands prefer using self-branded podcasts and videos instead of relying on platforms like YouTube and Vimeo. Wistia is an excellent option for those brands with a brandable video player, embeddable channels, and lead generation features. It can even be integrated with other advertisements or CRM platforms.
2. Userpilot
Userpilot is among those onboarding tools that specialise in providing a platform designed for product growth. It can benefit companies who want to understand their customers and use their service or product.
This is possible due to its advanced features that allow users to capture the different interactions in response to various offerings. Such data can be vital in making alterations and adjustments to the products to deliver better experiences to customers and gain more conversions.
Besides these Growth Insights, Userpilot comes with an Engagement Layer, allowing users to send surveys and create personalised in-app experiences.
3. Appcues
Onboarding is only the first step after a customer purchases a digital product. However, the actual data depends on how the product will be used, determining whether you can convert the buyer into a long-term customer.
Appcues is an activation tool that creates in-app experiences without requiring the services of an app developer. It has a simple interface allows users to create the design, set the target audience, and publish it to the website or app.
Once this is done, use Appcues to measure the adoption rate and usage and make changes as required quickly from the app itself.
Tools For Your Online Marketing Campaign
With digital marketing becoming the strategy of choice for most brands, online marketing tools have become increasingly important. Using these tools can help save a lot of resources, effort, and time you would have otherwise spent completing routine tasks.
However, the good news is that there is no scarcity of such tools in the modern era. Digital marketing tools have made it possible for brands to expand their reach and connect with new customers that were previously unreachable.
Brands should combine digital marketing tools that minimise effort while maximising the marketing campaign's performance.
However, we recommend hiring a professional digital marketing company if you have the budget. That way, you can concentrate on the business operations and leave the marketing to the professionals.
At sitecentre®, we are digital marketing experts looking to change the industry for small businesses. We use in-house built SEO and digital marketing software to ensure you stay above your competitors. Please contact us for assistance with your digital marketing strategy or tools.
That is all for this article. We hope you found some useful tools for your next campaign.
Until next time!