Developing an SEO (search engine optimisation) strategy that will immediately deliver your desired results can be challenging.
In most cases, getting started on a viable SEO strategy requires patience and keyword research. Even though SEO relies on specific concepts, every strategy should be tweaked to suit your needs.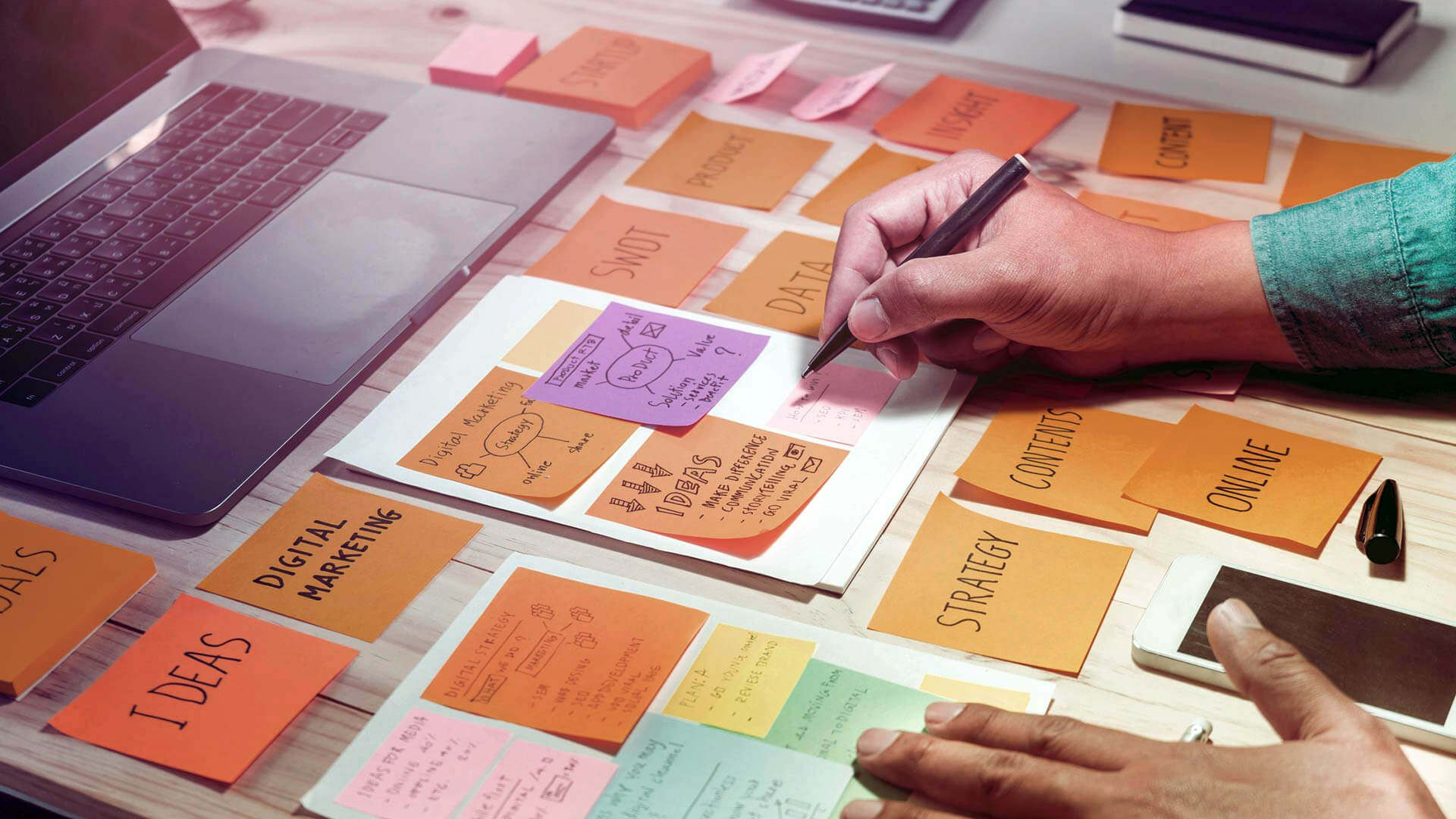 For those who want to learn about SEO without misrepresentation and misinformation, many people think it only revolves around keywords. However, recent years have shown us the need to consider desired keywords and focus on SEO aspects.
Therefore, we thought of creating this informative guide to inform you about the basic SEO concepts and how to create a proper strategy. We have also tried to provide information that can be personalised based on specific marketing goals, which tend to differ between businesses.
What Is an SEO Content Strategy?
An SEO content strategy is nothing but a plan to maximise the possibility of achieving a higher ranking. The simplest form of an SEO content strategy can focus on the content you will be uploading in a specific month or year.
Every business would need to produce niche content based on the needs of its audience. And with a proper strategy, you can regularly deliver great content to gain organic traffic.
Your landing pages and their content need to be optimised based on the current SEO techniques to help them rank on popular search engines. Hence, creating an SEO content strategy will include implementing the necessary content marketing techniques.
What's more, a proper yearly or monthly SEO strategy allows you to organise the content present on your site. When you categorise the various pieces of content into easy-to-understand boxes, it becomes convenient for search engine bots to index and enhancing user experience on your pages. This, in turn, gives you better positions on search engine results pages or SERPs.
At the same time, it's crucial to adopt an audience-based SEO content marketing strategy instead of a keyword-based system. However, this can be challenging for someone new to creating SEO content marketing.
The initial steps to create an SEO content strategy facilitate learning about the target audience, their needs, and what type of content may work best. It may even take months before you produce content that resonates with your audience and yields results.
But, with persistence, you're most likely to have a unique content angle and expertise in the subject matter. This will allow you to cater to the needs of your audience in the best possible way. A good SEO content strategy can be seen as a one-stop shop for creating quality content.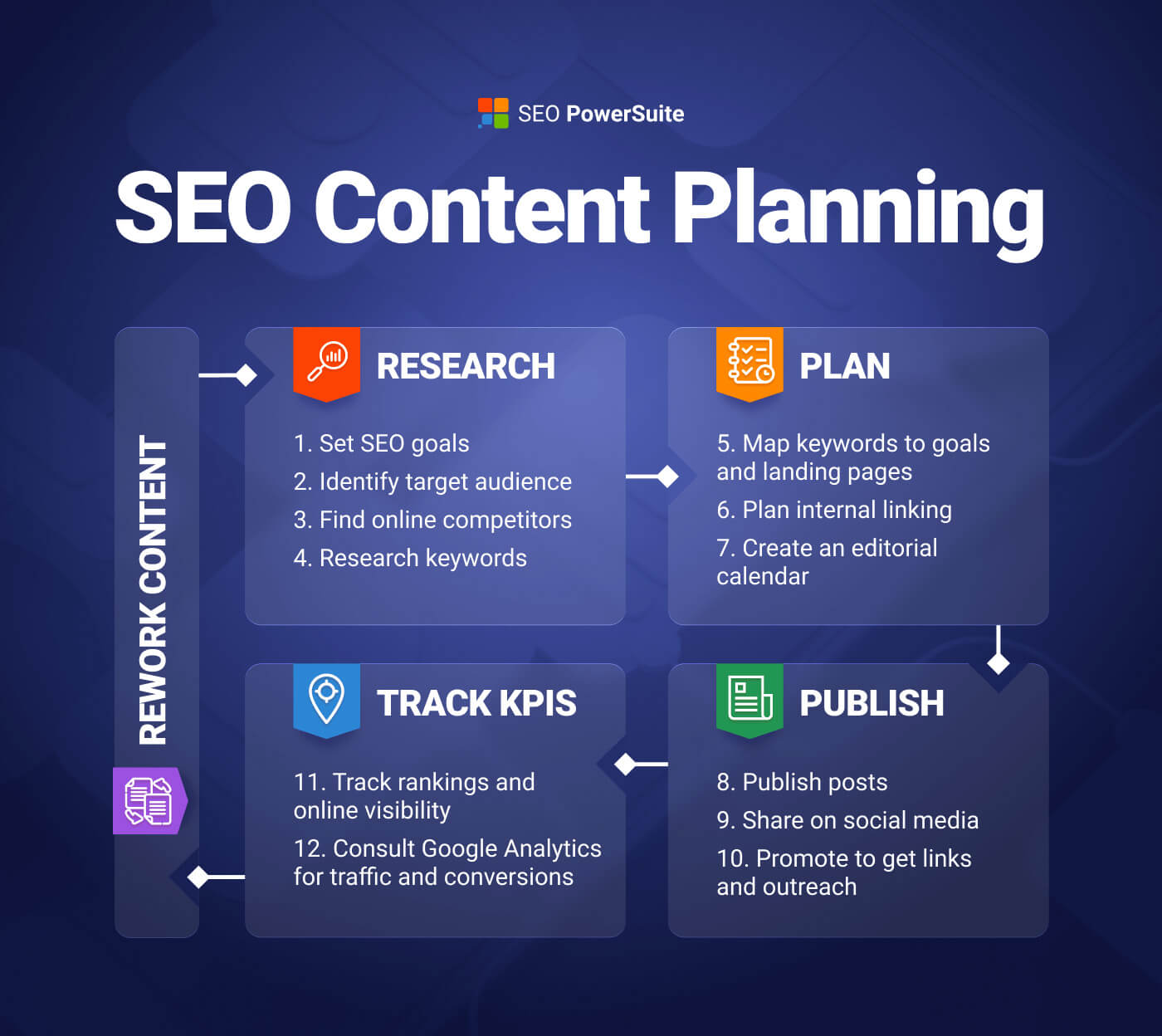 What Are The Different Aspects Of SEO?
Search Engine Optimisation or SEO stands for factors that help your website rank at the top of popular search engines. This increases your website's traffic and credibility as more people click the link to view the content.
Most people think that SEO is limited to sprinkling relevant keywords, and while that's true in some aspects, the horizon has widened in the past years. So, here are the three main components you will need to use to make a great SEO content strategy.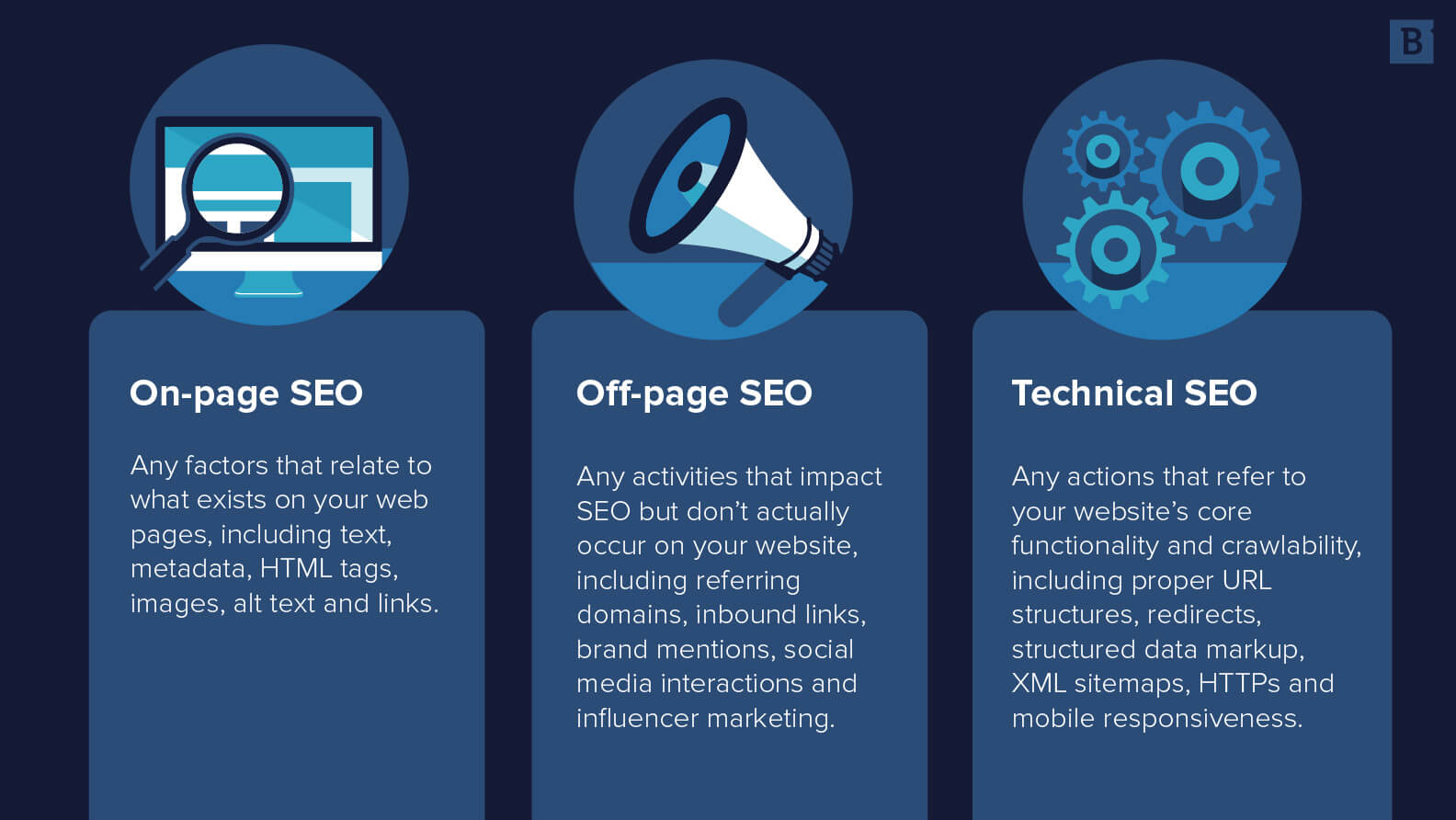 A. On-Page SEO
This is pretty easy to understand, as on-page SEO stands for optimising your content as it appears on the website. You must conduct keyword research to use the right keywords, especially targeting long-tail search terms. At the same time, you should think about presenting the content to retain traffic.
On-page SEO includes optimising title tags, H tags, meta tags, image optimisation, and internal linking.
B. Off-Page SEO
One of the main aspects of off-page SEO is link building, a tactic essential for boosting visibility on other websites search traffic. Providing suitable sources and linking to other credible websites helps increase search engine rankings. Hence, it would be best if you spent some time deciding on potential backlinks and ways to procure them.
To ensure your off-page SEO is on point, you must collaborate with other creators to increase your online presence. You'll want to rank well, which may include trying to gain backlinks to the content of other sites, as it's one of the best ways to attract organic search visitors.
C. Technical SEO
As you can understand, technical SEO deals with the site's structure, including optimising the speed of your website or tweaking the site code. This component of SEO requires expert knowledge and is often treated separately from content strategies. However, there's no way you can neglect technical SEO, as it can massively affect search engine rankings.
How To Plan A Proper SEO Content Strategy?
As we have already highlighted, a good SEO content strategy will include several steps. These help you analyse the needs of the business before you can finally start creating high-performing content that would immediately click with the audience.
So, here are some of the common steps to include in your content plan.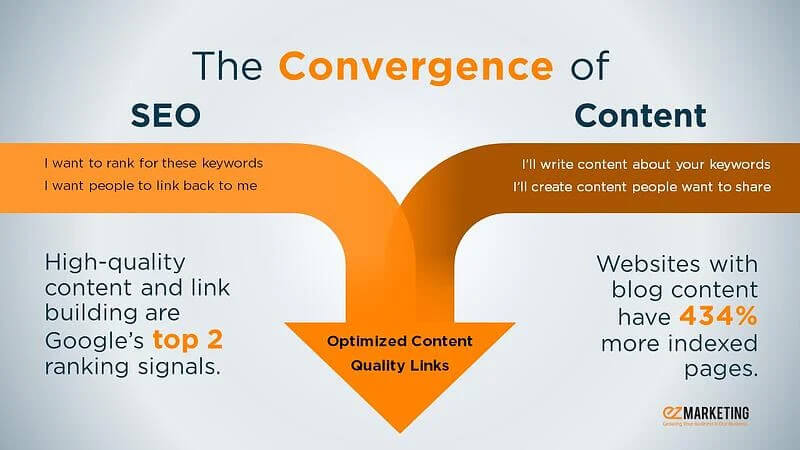 1. Create A List Of Topics
The first step in your SEO journey should be scouring the internet for relevant topics. It's best to place yourself as a consumer and look for keywords or phrases related to your business. Doing this will also lead you to the content on other sites that might prove relevant.
If you're still in the planning stage of implementing an SEO strategy, there are apparent topics you'll need to include. You may even need to update outdated topics to make them easier for your audience and search engines to read. Even though it's hard to rank with these because of extreme competition, you'll still need to include those topics to stay relevant in the niche.
Now, find long-tail keywords matching your business or marketing needs. Using the keyword tool from Google, using a research tool, you can find keywords with high search volume to publish topics for individual blog posts or web pages. You should always have 10–15 topics or short-tail keywords to never run out of content.
Furthermore, it's essential to plan your topics per month or annually for better SEO focus. We especially like monthly schedules as they are easier to tweak based on the monthly search volumes of popular keyword targets or topics.
At the same time, you should always be up-to-date about the topics used by similar websites and businesses such as yours. But try to add something extra for your potential audience to make them click on the link. For instance, if your competitor has crafted content like "Top 10 anticipated mobile phones of 2024", you can create a list with 20 or 25 options.
2. Focus On Long-Tail Keywords
Along with relevant topics and short-tail keywords you choose for your new SEO content strategy, it's important to pick the right long-tail search terms according to user search intent. These are usually longer and more specific keywords following the keyword's search intent that can be added to compelling content.
One of the reasons for using a long-tail target keyword is that they have less competition than short-tail keywords. Not to mention, these longer keywords help focus on niches, topics or specific search results.
Typically, a long-tail target keyword has four to five words, depending on what you search about the topic. And more often than not, these keywords come in the form of search queries.
Nevertheless, search queries and phrases with many hits can be found, making ranking difficult. So, you may have to target long-tail keywords with the lowest search results to achieve a better ranking.
You may have also understood that long-tail keywords usually follow short-tailed ones. If your main topic is "mobile phones", a possible long-tail keyword can be "mobile phones under $500 to buy in 2024."
Additionally, Google algorithms favour blog content appearing in featured snippets that provide specific answers to users' queries. So, you can keep a list of long-tail keywords that you can use with different and similar topics on your website.
Internally linking the different topics will lead to a better search engine rank and higher website credibility. While planning the topics, ensure a high level of relevance with at least 10-15 long-tail keywords, Using a research tool for SEO precision.
We recommend using the auto prompt feature on the Google Search bar to get the trending long-tail keywords. Just check the search volume to avoid using keywords with too many searches.
3. Create Pages For The Topics
Now that you have found the relevant keywords and topics, it's time to create relevant pages.
That said, you aren't yet ready to create content just yet. However, these content pages would act as placeholders for the existing content and let you pre-plan where the text or media would appear on the website.
These pages are also often called pillar pages, as they are based on the main keywords. Later, you can add more content around this page or create sub-topics.
This is especially useful for business websites as it keeps you updated with service pages or new products. Creating the right pages with relevant information and keywords gives you a better chance of ranking higher.
4. Start A Blog
Many people will tell you that blogs are dead, but we don't necessarily think that's true.
Blogs remain the standard way of knowing about a particular topic in detail. Hence, if you want your website or business to get better search engine result pages, think about starting a blog.
On top of that, every blog you create would be like a new web page, and you'll get the opportunity to use related keywords. However, ensure not to overstuff the pages, especially long-tail keywords, to avoid being penalised by Google.
You should link your blog with the appropriate pillar pages or the main content of your website. Adding relevant internal links creates more options for your audience and helps retain the organic traffic for a bit longer.
Besides, Google and other search engines like the interdependence between pages, mainly when you link to long-tail keywords.
5. Come Up With A Blogging Schedule
After starting a blog, it's essential to keep updating the content. You have to create a regular blogging schedule and access the keywords or content on the blog.
Remember not to push filler or inferior content in your blog, as it can reduce the website's credibility, leading to an inferior rank. What you can do instead is to pre-plan and create relevant content that would go on the blog. Both potential customers and search engines like good content, so maintaining a proper schedule would be rewarded two-fold.
You should know that you can subscribe with your email address as there isn't any specific formula for developing a blogging schedule, keeping Google's helpful content update in mind. Most bloggers need to track what the audience wants to create proper schedules, but it's better to upload more content regularly, almost twice or thrice a week, as a beginner.
This lets people know that you are creating content for them, following which you can upload at least once a week for better responses.
6. Plan And Build Links
As we told you earlier, a good SEO content strategy prioritises link building. While creating an effective SEO strategy for your website, you must focus on inbound and outbound links to achieve off-page SEO.
Keep in mind that the backlinks you're using with the content are relevant and trustworthy. These links help your readers diversify their knowledge and add credibility to your writing. As a result, there's no point in keyword stuffing your content with links that don't add to its quality or benefit the target audience.
At the same time, you may want to exchange links to link back with other bloggers or content creators to increase the reach of your website. On that note, inviting relevant personalities to post guest blogs on your site will help in link-building.
Remember, inbound links are essential when planning a link-building strategy; they help with your SEO efforts by informing search engine algorithms you're a trustworthy source of information.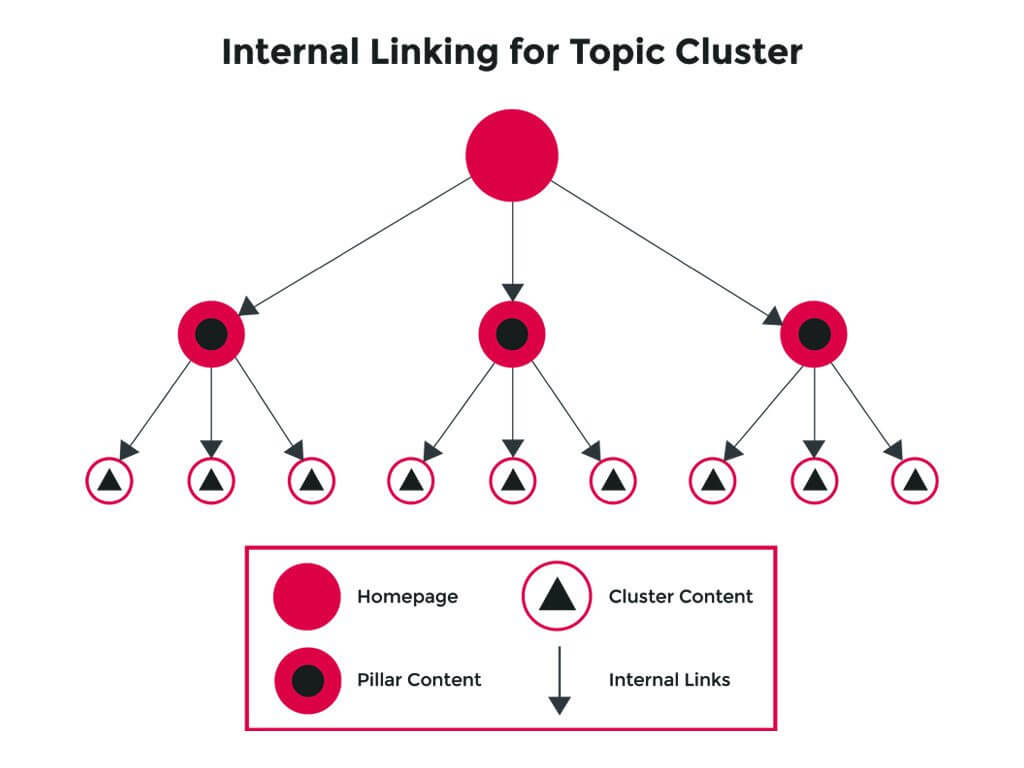 7. Remember To Compress The Media On The Site
Your web pages will likely contain other media, like images and videos, to make them more visually pleasing. And it's essential to ensure they are high quality to gain your audience's attention.
However, the media can bulk up your website and slow it down drastically with time. Hence, you should include proper media optimisation techniques in your SEO content strategy, using content management platforms to simplify the process.
At the same time, you can search for a tool like Squoosh and others for compression to reduce the size of a media without hampering its quality. For instance, Squoosh from Google has to be one of the best ways to compress your images without affecting their quality.
8. Remain Updated About Changes In The SEO World
There's no shortcut to a successful SEO content strategy; like other marketing tools, you must remain updated about what's fresh in the SEO world. You should also keep reading about great ways to update your winning SEO content strategy to stay at the top of the search rankings.
You don't need to drastically upturn your content strategy when there's a significant change. If something works for you, it's most likely to keep going the same. Instead, it would be best to gradually implement a new way of optimisation or try fresh content styles to keep the website updated.
9. Measure The Success Of SEO Implementation
One of the things to know about SEO is that it demands a lot of your time. Even after doing everything by the books, something can go wrong or not achieve the expected SERPs. Hence, keeping track of the progress and drawing regular reports is essential.
Yearly return on investment (ROI) reports it is the way to analyse whether implementing SEO has been fruitful for your business goals. But, SEO reports must be diversified with other metrics that can accurately tell you about the performance of the SEO strategy.
Keep an eye on organic traffic, indexed pages' health, audience retention rate, SERPs, and higher rankings. In other words, an SEO report shows the consolidated performance over a specific period.
Apart from the yearly report of the SEO strategy, we recommend drawing monthly reports. This is especially essential when you're just beginning to make SEO-optimised content to assess where you can make changes.
Best Examples Of SEO-Optimised Content
Aren't there just too many rules when optimising your content? Yes, there might be, as SEO techniques are constantly changing to include more ways to rank your content. Some points can help your content perform well with little effort.
1. Proper Meta Descriptions
While doing our research, we noticed that most people leave out adding a meta description to their content.
A meta description looks like a short intro with 140–160 characters that act as a snippet for your web page. Google typically shows it alongside the search results under the main heading of each page.
Adding a meta description can bring many benefits, including letting a web crawler know about the content topic.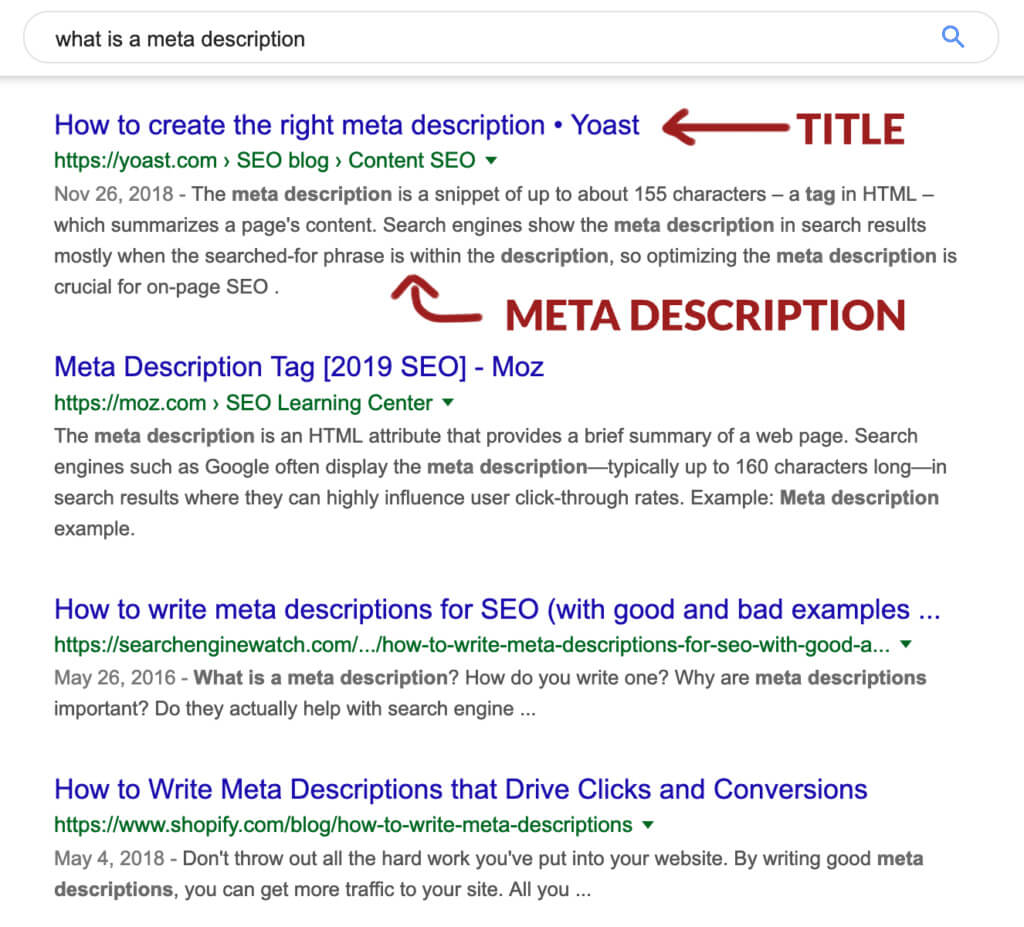 2. Presence Of Relevant Links
Relevant and authoritative links enhance your content's credibility and help it rank higher in search engines. Adding links to your content should also gain backlinks to increase the incoming organic traffic.
Having two to five internal links in a blog post can make navigating the site easier for your audience.
3. Optimised Page Speed
When a website takes time to load, most people will likely quit it and look for other sites. A slower page isn't an option as the internet has become faster, even with better quality content.
Google prioritises pages with enhanced speed, so remember to optimise and compress media while using good design aspects to decrease the load time.
4. Mobile Optimised Content
We can say that most of us browse the internet on our mobile phones. So, when a web page looks odd or cannot load properly on your smartphone, it's unlikely for you to use the website. Therefore, when designing content or creating an SEO strategy, focus on mobile optimisation.
Some businesses have even moved on to creating content specifically for mobile users. This can draw much organic traffic, especially when using cross-platform SEO strategies through social media platforms.
5. Local SEO
Are you a local business that's beginning your content marketing strategy? If so, then make sure to implement local SEO to increase your relevancy and get better rankings.
Doing it is pretty simple, as you can add long-tail keywords like "best restaurants in Soho" to index your content. Also, it's essential to have a Google My Business profile for your services to be discoverable on the internet.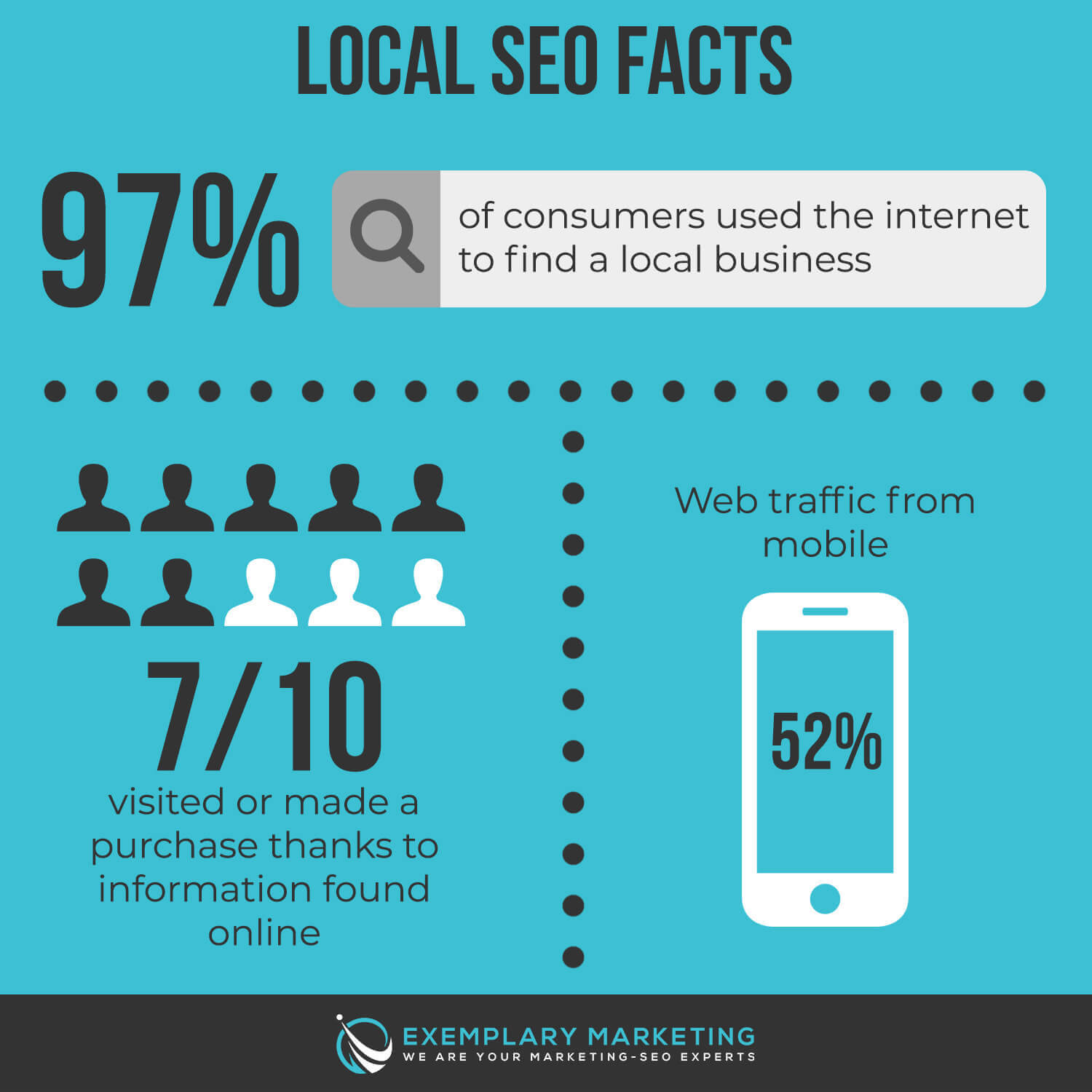 Process Of Implementing SEO In Content
After you prepare the content strategy in SEO, it's finally time to implement it on your website. However, along with uploading the new content, you will need to update and optimise the already present content on the site. You'll have to keep doing this every time after renewing an SEO content strategy.
1. Optimise Your Content Historically
Our websites invariably contain content and media that might have aged with time. So, after the content has been up for a few months, you should go back to it and optimise the piece with recent SEO techniques. You can also use this time to add lesser-known but essential SEO aspects such as optimised title text, proper alt tag, and compressed media.
2. Keep Doing Keyword Research
Keyword research is one of the essential aspects of effective SEO content marketing. Hence, if you want to conduct keyword research, it would be best always to look for new and better-ranking keywords to create content suitable to your traffic needs.
At the same time, keep an eye on your list of keywords and their performances in the current content. We recommend changing them occasionally to give old blog posts some much-needed boost.
3. Update Your Old Content
Creating valuable pieces is one of the best SEO content creation and marketing practices. Before implementing a new SEO strategy, you should create SEO content or modify older blog posts and website formats. At the same time, don't hesitate to remove any piece of content if you feel they aren't the right content for your current SEO strategy.
4. Target Content Strategy Monthly
From the point of view of a content marketing agency, keyword strategies are often reviewed yearly. This is not wrong, as proper research and implementation take time. Therefore, you should expect that the overall strategy may take time to drive traffic to your website.
As the domain of content marketing is ever-changing, it's good to have a monthly plan. Monthly plans can increase your productivity in content creation and social media posts and help you keep up with the latest trends in social media and digital marketing. This is especially true for people who single-handedly try to produce the best content without help.
A rough monthly SEO plan should include the following:
Time devoted to conducting keyword research to find fresh long- and short-tail keywords.
Research content topics and blog posts
Create relevant content based on the right keywords.
Go through the website and update any content or media
Look for the newest SEO best practices adopted by competitors or similar businesses
Keep track of SEO opportunities like special events or holidays
Create quick but effective content.
Divide the task of creating content among your team if you have one.
Create a monthly report to check the progress you have made
Identify changes that can improve the results
Developing Your Strategy: Content For SEO
That's everything we had to tell you about creating a proper and effective SEO content strategy. At first, all this information may seem a bit overwhelming, especially if you have just started with their local businesses. But, once you begin careful planning for SEO, the process becomes easier to handle.
You can expect your rankings to grow gradually as the website gains more credibility. So, don't be disheartened if your content doesn't get the expected SERPs in the first month after implementing a suitable SEO architecture. Also, remember to rely on proper reports and include SEO success in your larger business goals for the best results.
If you need any assistance with content marketing, comprehensive keyword research or other SEO aspects, please get in touch with us. The team at sitecentre® are happy to assist you in creating credible, practical and optimised content for your website.
Until next time, goodbye and take care!