Want to stay updated on what's hot and what's not in the industry? Well, Google Alerts can do that for you with a few clicks.
Trust us — it's as easy as pie.
All you have to do is enter a relevant keyword or phrase, and you will receive email notification updates every time people mention it over the web.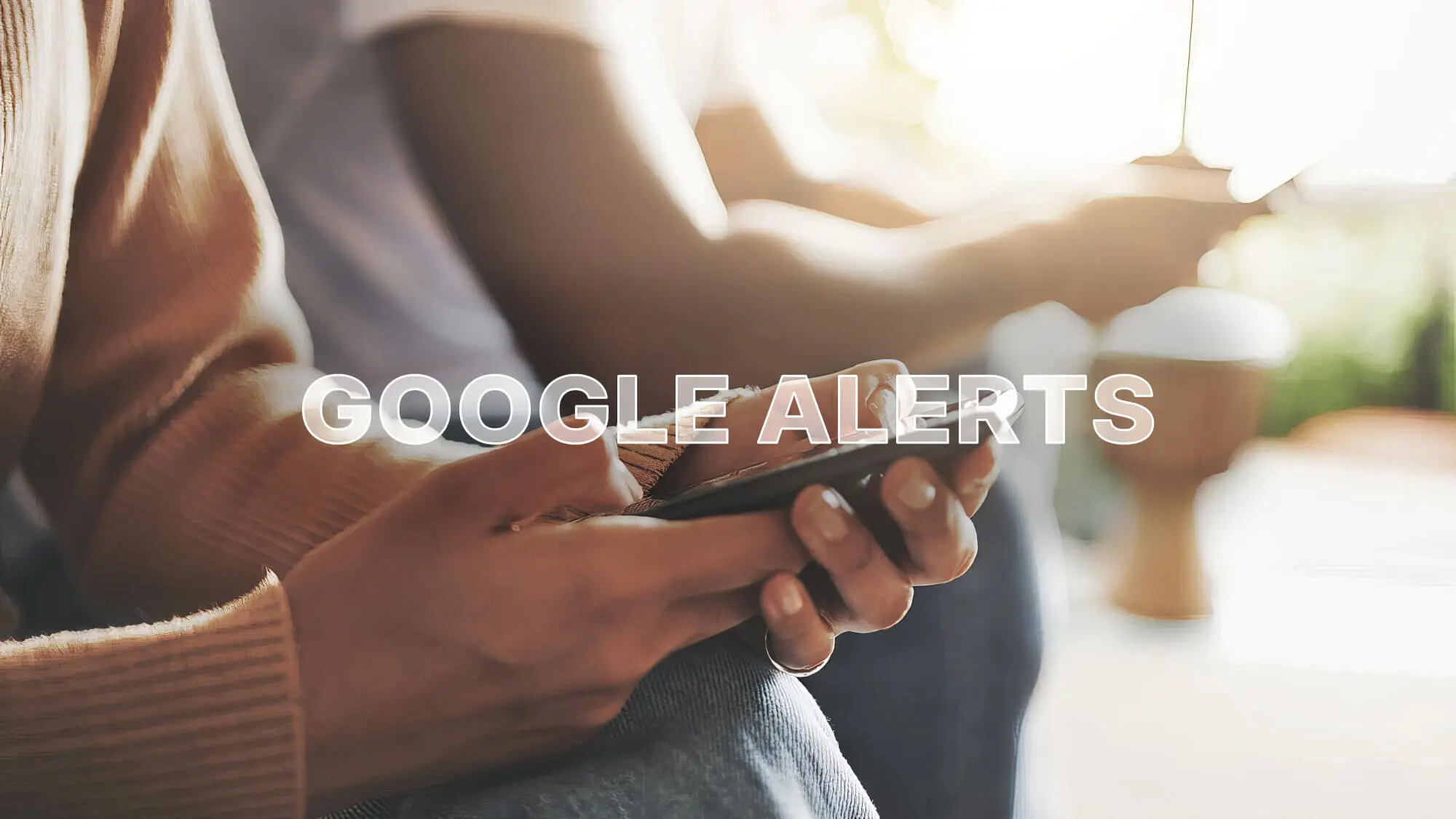 Though Google Alerts is not the first tool one considers (over Google Ads) for growing their business, it is helpful in brand building, efficient tracking, collaborations, finding inspiration, etc. Plus, it's a free tool, so why not use it to your advantage?
So, without further ado, let's get right into the deets.
What Are Google Alerts?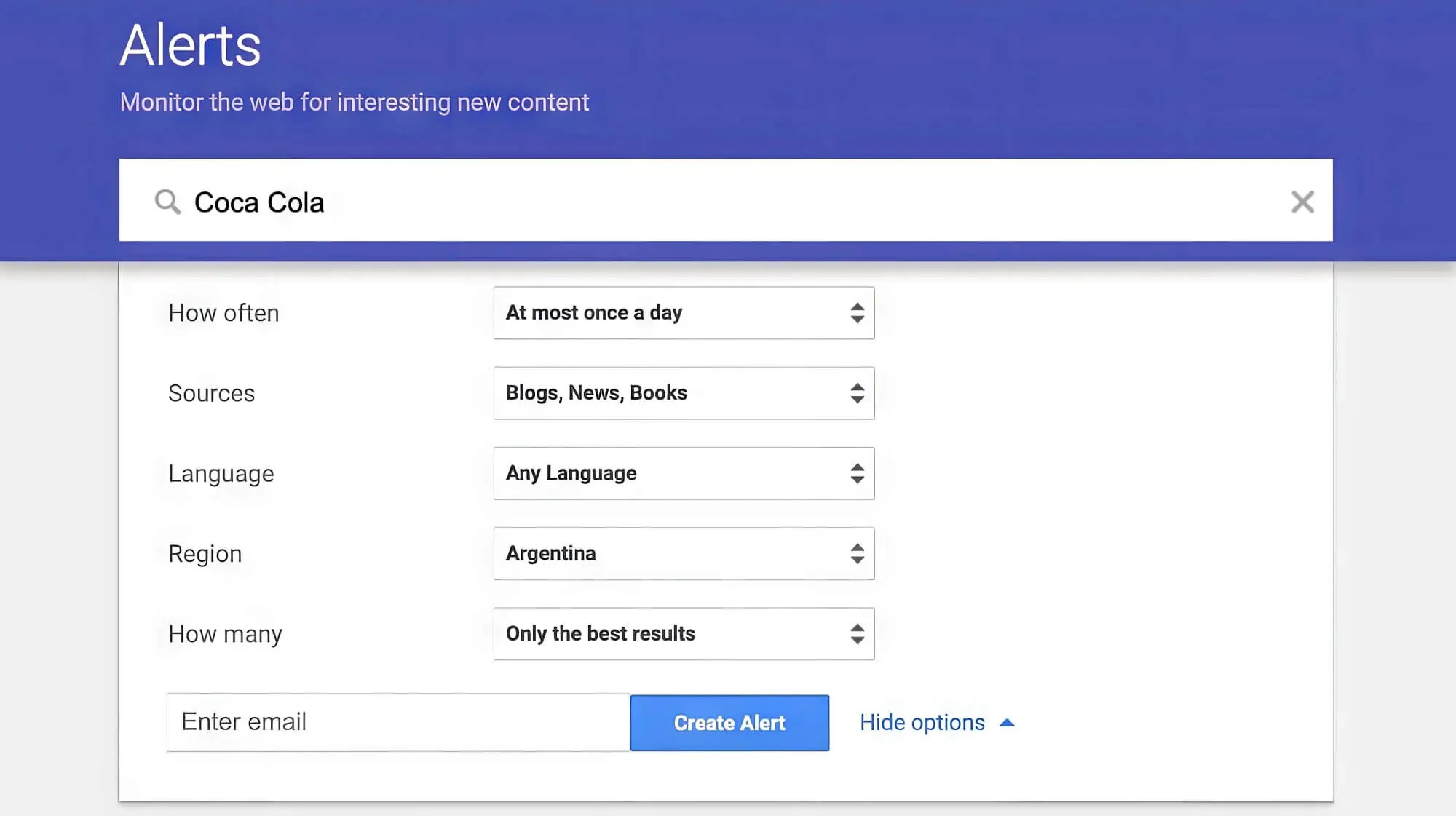 Google Alerts is free notification settings that can keep track of mentions (keywords and key phrases) over the Internet. So, you can set up Google Alerts every time someone mentions your company's name or competitor's, track specific keywords that your competitors may be using, etc.
Although other tools may show more web mentions than Google Alerts, it's free, which makes it a must-try for marketers. However, it won't show you any analytics, so we recommend turning on your Google Alerts and using Google Analytics side-by-side to measure KPIs and other factors.
That said, Google Alerts does not allow tracking on social media. So, for that purpose also, you'll need other tools and software.
Google Alerts is essential but definitely not the only tool you should rely on.
How To Streamline Business Processes And Grow Your Business With Google Alerts?
Google Alerts can help improve your business strategy if used correctly. So, first, understand your niche and choose relevant alert topics. As such, you'll be updated with breaking news, trends, media stories, buzzwords, and anything making waves in your industry.
Let's take a look at how you can use Google Alerts to boost your business online:
1. Monitor Industry News With Google Alerts
You can customise your searches effectively by getting alerts regarding relevant news stories. You can customise your searches effectively. So, for instance, if you want to get updates on content marketing-related news, you can type "content marketing" in the search box and then click "Create Alert."
This will give you an entire page of relevant search results. However, you would want to be alerted about only the best results. So, you can further customise your search preferences by clicking "Show Options."
As such, you can choose the type of content you want to be alerted for and the frequency of alerts.
2. Finding Relevant Content Ideas
Content is king, so creating relevant content is one of the key factors that will push your business to success. However, consistently creating new content relevant to your niche can overwhelm you and lead to burnout. This, in turn, diminishes your capacity to come up with fresh content ideas.
That's when you can use the Google Alerts page to find new content and blog post ideas for your brand/website. By getting news updates, you can already track the developments within your niche, so you might as well grab some inspiration from there.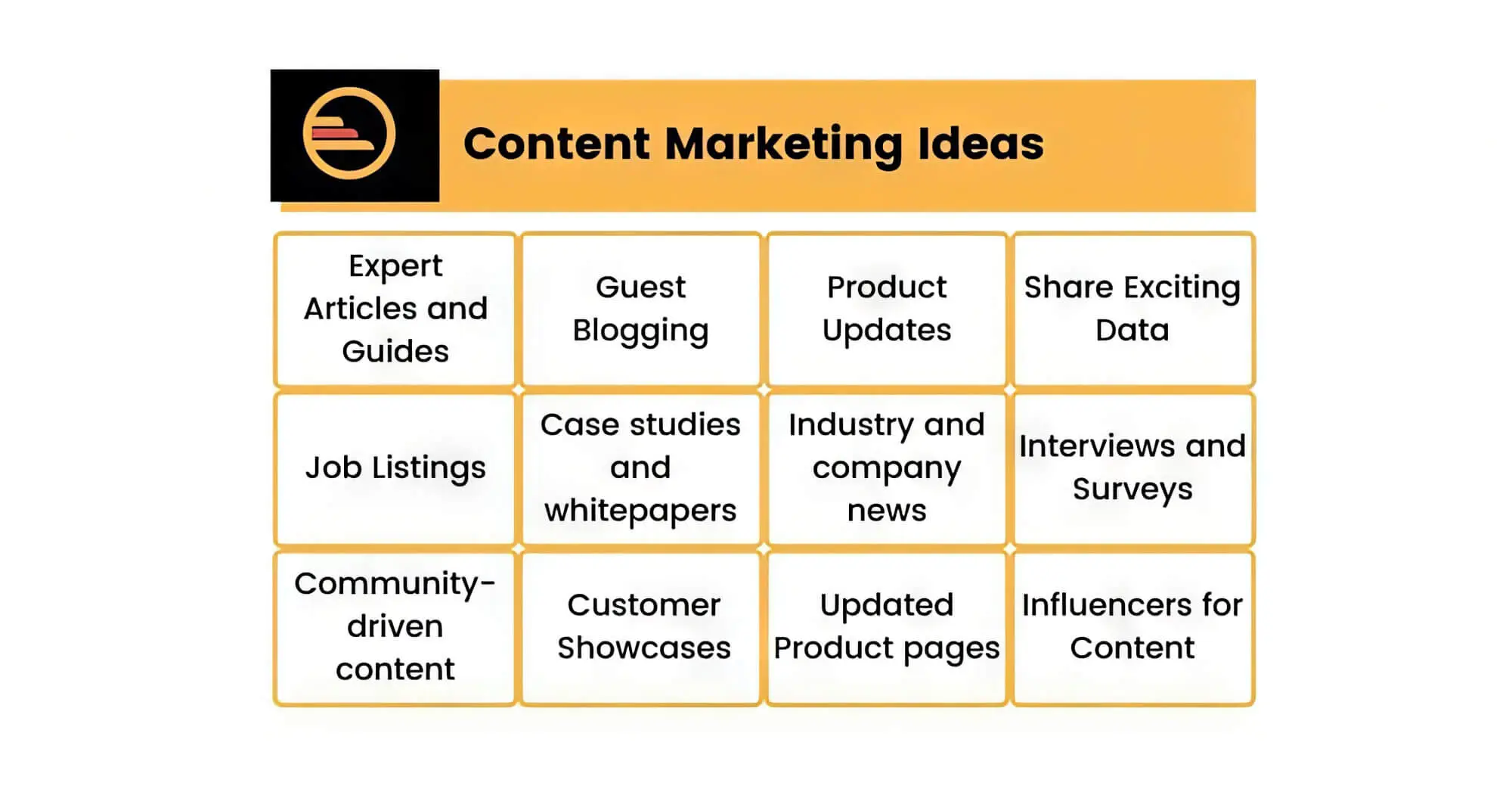 If you want Google Alerts to suggest trending topics for content marketing, simply add an asterisk to your search term. For instance, if you're going to find content ideas for the "best mattress," type the following in the search bar - [best * mattress]
Google will replace * with a suitable phrase or keyword, like "best latex mattress," "best-cooling mattress," etc. After that, you can pick a relevant topic for your next blog post or new guest post opportunities.
3. Brand Monitoring
If you want to build an online brand, website, or blog, Google Alerts can help monitor brand mentions. This will help you identify your image among the audience, and we all know how important building a reputation is for any type of business. You can tell how your marketing strategies fare in the industry and make suitable amendments to your marketing campaigns.
By knowing when your brand is mentioned in both positive and negative press and improving accordingly, you can stay ahead of competitors and enhance your online presence.
4. Tracking Backlinks
Another one of Google Alerts' benefits is link building and tracking. So, if a blog post or public forum mentions your brand name, you can create a backlink.
To do so, create customised Google Alerts to track your URL, domain name, or any related hyperlink. For tracking hyperlinks, though, you will need the allinanchor operator. So, for instance, if you use allinanchor: best mattress, you will get notified whenever someone uses the keyword phrase "best mattress" as the hyperlink anchor.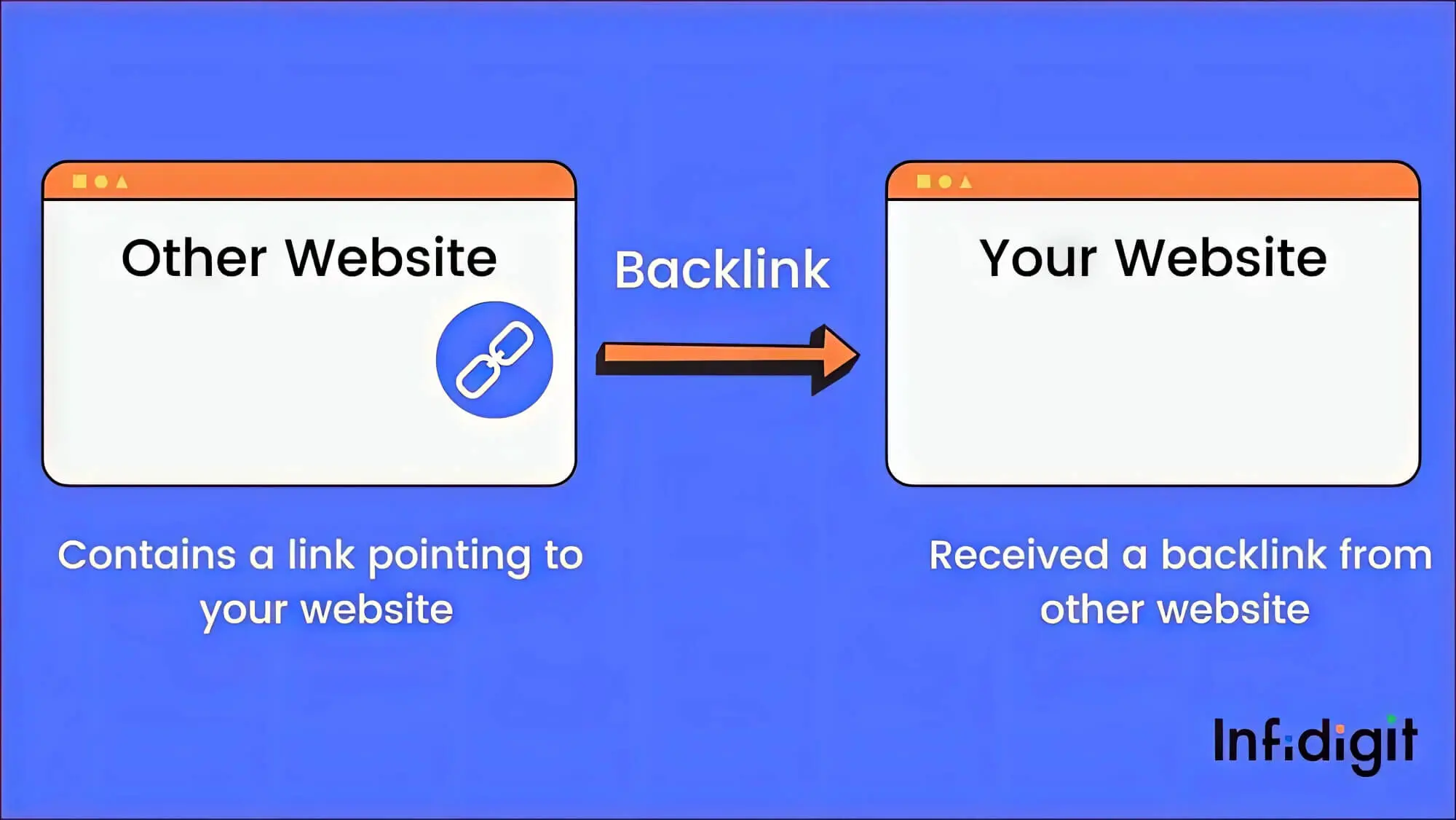 How To Set Up Google Alerts For Business Growth?
Thankfully, setting up a Google Alert for the desired keyword or keyphrase is no rocket science! Here's how to do so.
Easy Setup Process For Google Alerts For Business
Step 1
Go to google.com/alerts and sign in with your brand's Gmail account or any account you want to use for receiving Google Alerts.
Step 2
Choose certain keywords or key phrases you'd like to get notified about. Type it in the search bar at the top of the page.
Step 3
Next, choose the sources you want to track, like blog posts, books, videos, etc. You must remember that Google Alerts cannot track social media posts here.
After that, choose the Language and Region of the alerts you want to receive. These options are for further customisation. So, if you want to receive Google Alerts for posts in a particular language, choose that from the drop-down menu. Similarly, you can receive relevant alerts about a certain territory.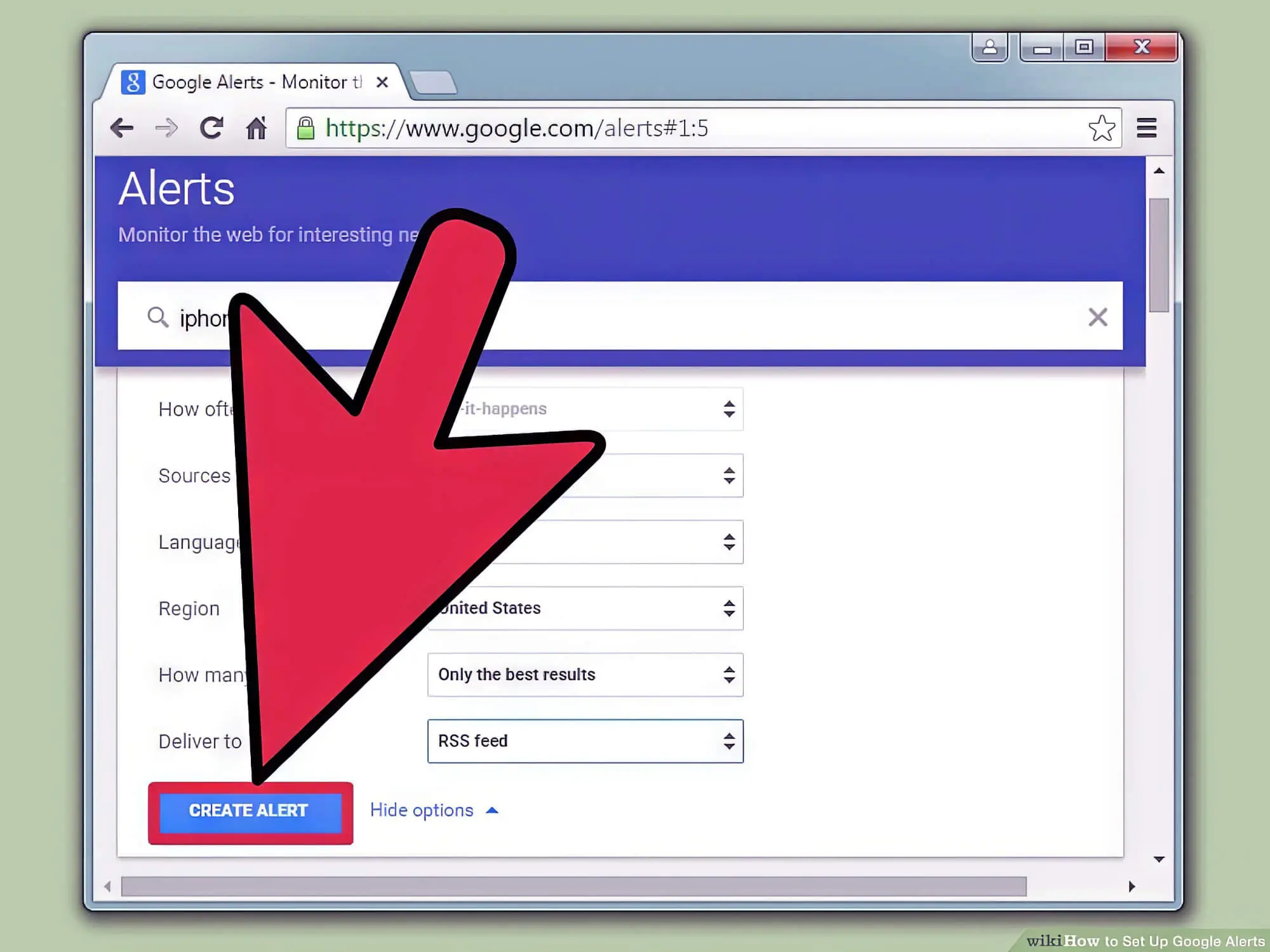 Step 4
Now, you must determine the frequency of Google Alerts you want to get. So, you can opt for instant real-time alerts (get notified as soon as a relevant post appears) or receive alerts once a day/week.
Step 5
Next, you will have an option for "How Many" of these Google Alerts you would like to receive. You can select "All" or the ones Google finds relevant to your search query here. We suggest opting for the latter if you're using a broad keyword.
Step 6
Lastly, choose where you'd like these alerts to be delivered. You can select your Gmail address or an RSS feed for this. Then click "Create Alert," and voilà - you are all set to receive Google Alerts for relevant search terms!
Note that you must repeat the process for each Google search term. You can create multiple alerts (up to 1,000) from your Gmail account, which is a lot for you to get started. But if you want to track more, just create another account and follow the same steps.
How To Update/Delete A Google Alert?
To update/delete a Google Alert, just go back to google.com/alerts, and choose the alert you wish to update/delete. Then click on the suitable option from the menu, and you're good to go.
What Type Of Google Alerts Should You Create
1. Set Up A Google Alert For Your Name
Your name will likely become part of online conversations as your business grows. So, setting up an alert for your character is a wise tactic. Here are some examples of setting up a Google Alert for your name:
"Your name"
"Your name" industry
"Your name" company
2. Set Up A Google Alert For Your Company Name
Creating alerts for your brand names is essential for media monitoring. Given below are some examples of relevant Google Alert terms for a company:
"Your company"
"Your company" news
"Your company" awards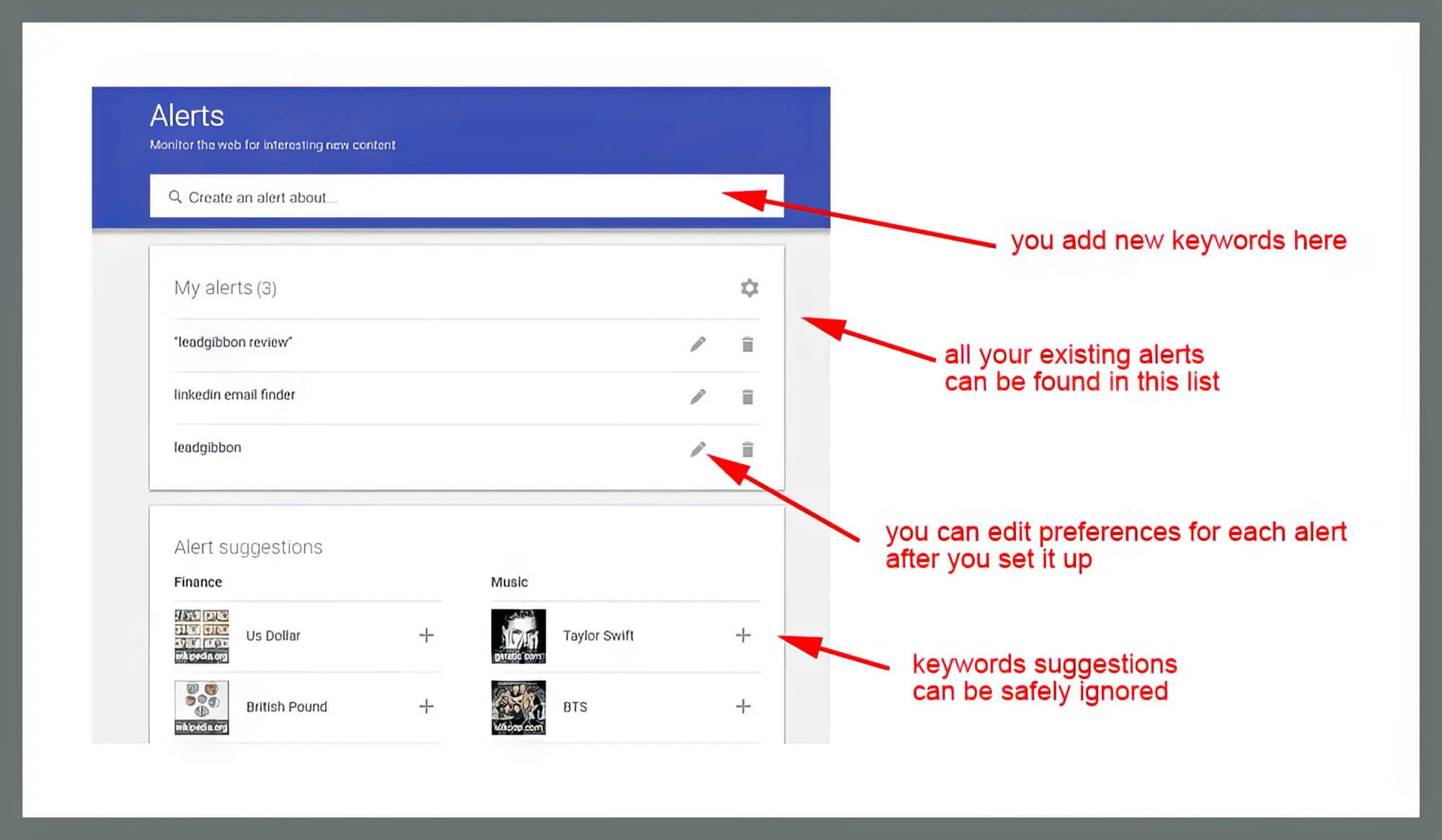 3. Set Up A Google Alert For Your Product/Service
Whether you sell a product or provide a service to your audience, you need to know their thoughts. Regardless of what they say - the good, the bad, or the ugly - setting up alerts for your product/service is essential to get insights on your performance and work accordingly.
Some examples of suitable Google Alert terms are as follows:
"Your company" product
"Your product" launch
"Your product" new
4. Set Up A Google Alert For Your Competitors
Call us nosy, but we prefer terming it as "staying alert!" To beat your competitors, it's a no-brainer that you must stay updated on them. So, here are some Google alert terms you can use to know what your competitors are upto:
"Your competitor" news
"Your competitor" product
"Your competitor", "your company"
5. Set Up A Google Alert For Your Industry
You can use Google Alerts to know what's trending in the industry, allowing you to avoid hours of research. Your interns will thank you for this!
Here are some examples of industry-related Google Alert terms:
"Your industry" news
"Your industry" IPO
"Your industry" merger
6. Create Alerts For Customer Reviews
Don't we love hearing positive feedback about our products/services? Unfortunately, customers are more likely to report the negatives of your product/service than the positives. So, to be aware of the problems caused by your product/service, here's what you can create Google Alerts for:
"Your Brand" hate
"Your Brand" broken
"Your Brand" too expensive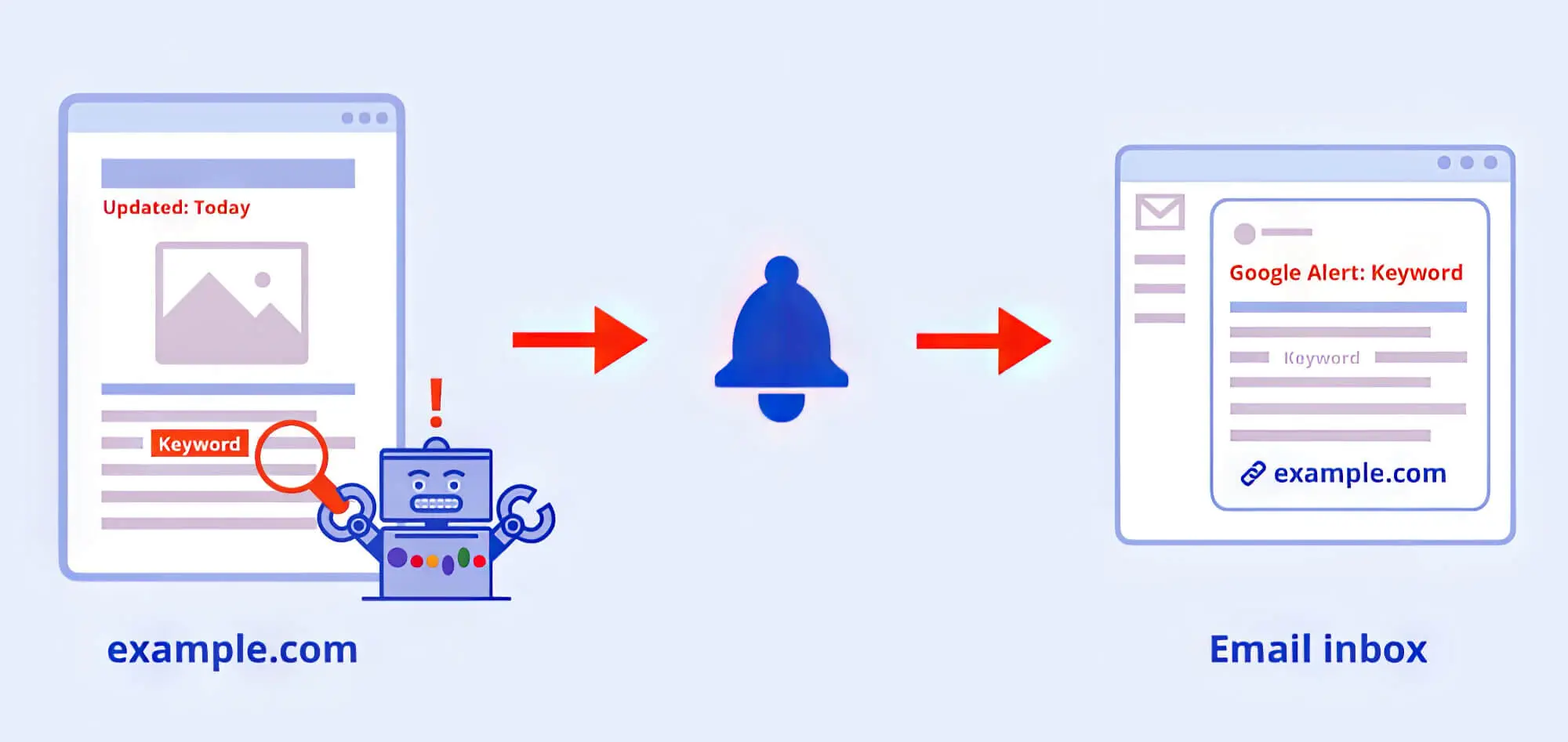 What Are The Tips For Setting Up Google Alerts? - Google Alerts Tips
1. Avoid Google Alert Spam
Editing Google Alerts to keep them up to date is essential to avoid spam and unrelated topics. So, try not to use generic or common keywords.
For instance, if you want to use Google Alerts for tracking the word "Social Media Marketing," try adding the word "tips" or a popular content creator's name to get notified accordingly.
Moving on, even though Google allows you to set 1,000 alerts, try not to do so. It will only get overwhelming and perhaps lead to FOMO! We recommend setting 5–10 alerts for a single Gmail account and adding more only after you get the hang of it.
It's also best to receive alerts on a single email account. So, if you're using a Google email address, choose "Inbox by Gmail" to group your alerts into one.
2. Create Google Alerts For A Specific Domain
If you want to set up Google Alerts for a single domain, type "site: the term". For instance, if you want to receive only alerts from Pinterest, you must type "site: pinterest.com".
After that, you can add " content type" to choose the type of content you want to track.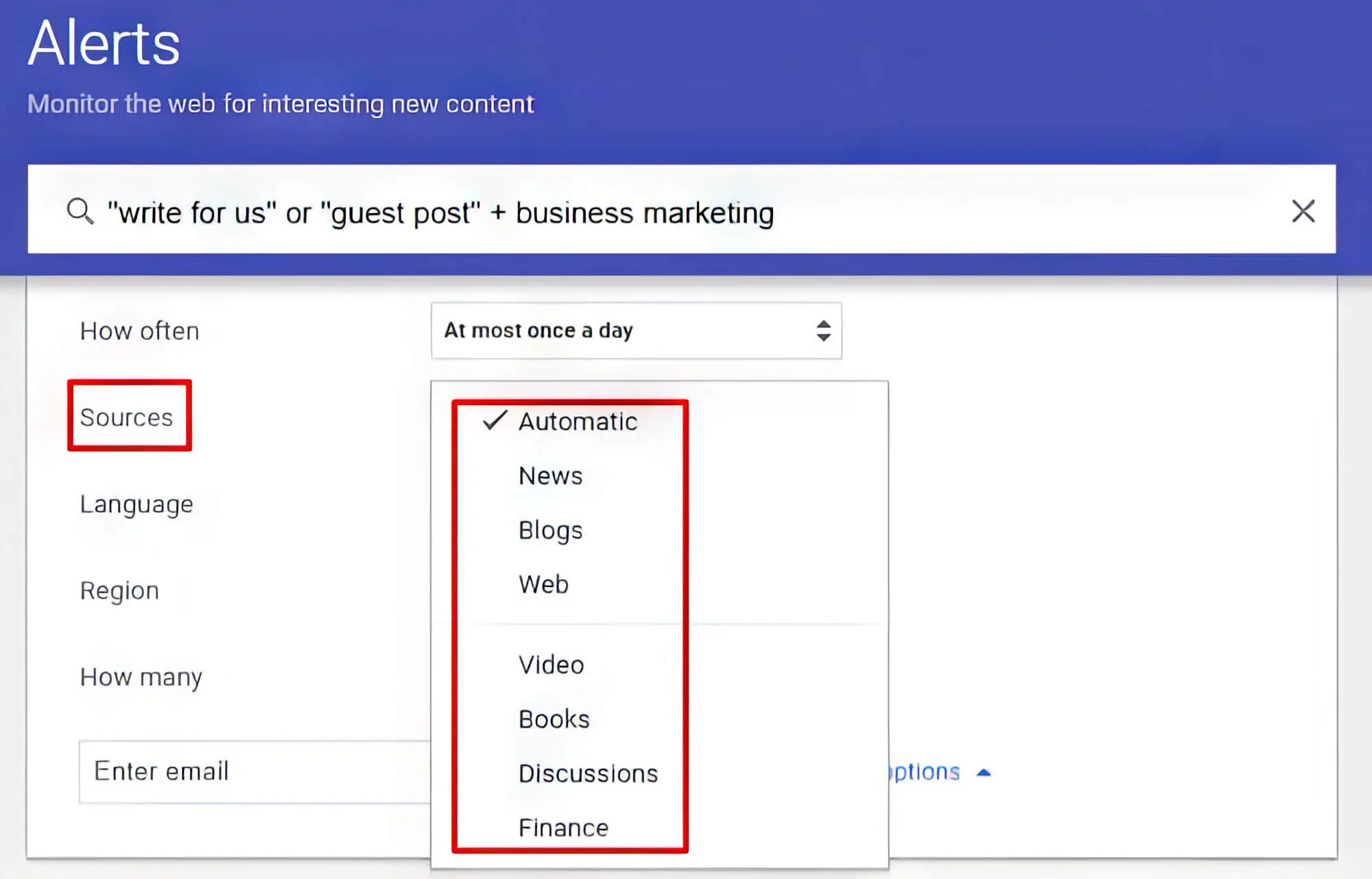 3. Create Google Alerts For A Specific Phrase
As mentioned, you'll have to use specific phrases and keywords to get the best results. However, you will have to add quotation marks to the phrase, or else you'll be alerted about any page that uses the said combination of words.
4. Exclude Certain Phrases From Google Alerts
Similarly, if you want to exclude specific phrases from your Google Alerts, add a hyphen before the term in quotation marks.
Setting Up Google Alerts
Creating an online presence is one thing, and maintaining it is another. And your business can only grow if you stay updated. From what's going on in the industry to what people think about your brand, you can find all the relevant information in your Google inbox with Google Alerts.
That said, relying on Google Alerts only is not recommended. So, check out sitecentre® if you need help with social media marketing, SEO, branding, and more. We offer ROI-focused solutions to help you create successful campaigns and stay at the top of your game!