You may have heard the term "SEO" floating around the internet, but do you know what it means? The goal of search engine optimisation (SEO) is to ensure that a website appears higher on users' search results and is more popular with search engines.
It aims at increasing your website's visibility in search engine results pages (SERPs) and organic search results.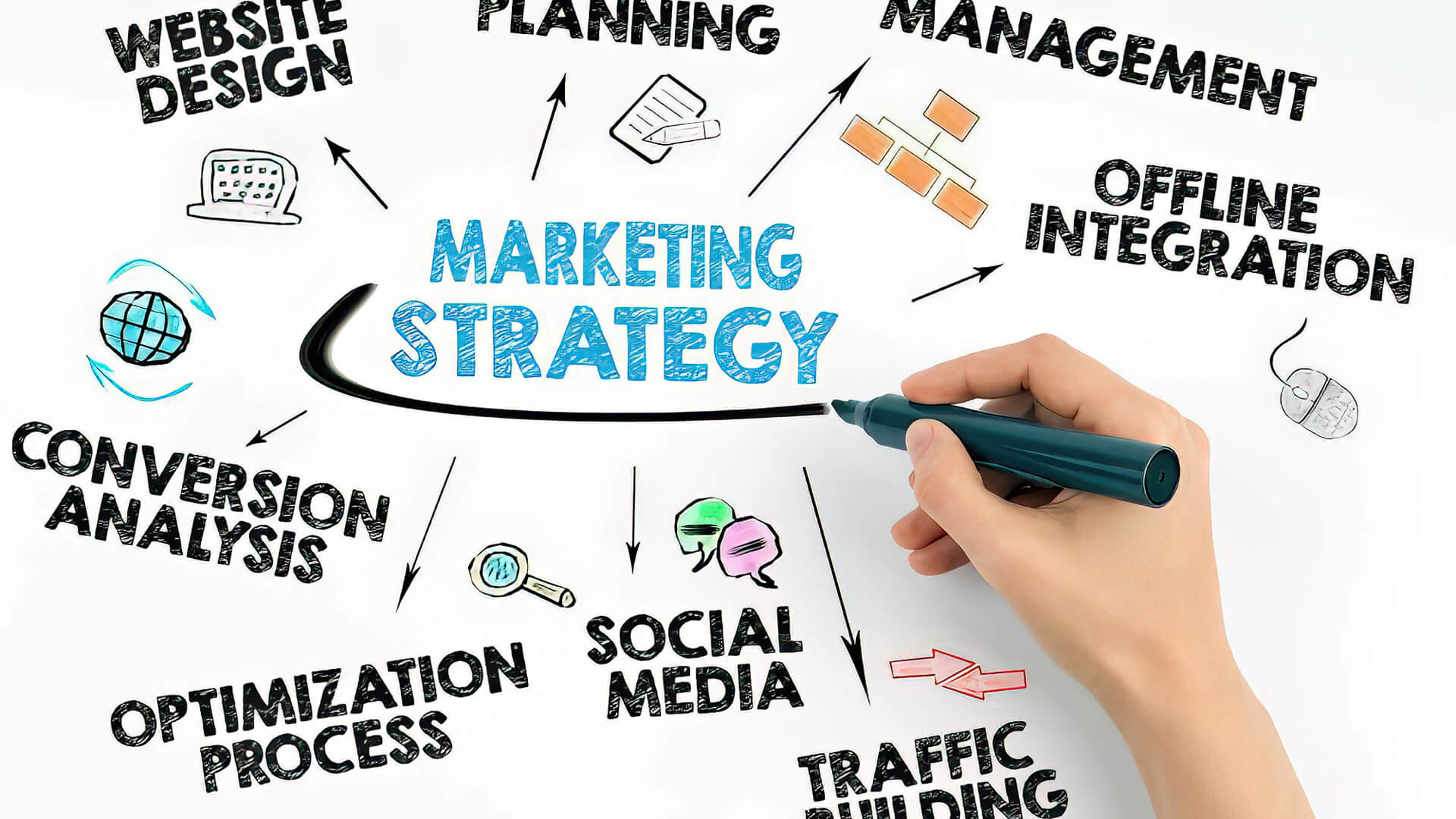 You can't ignore SEO—it's a must-have for every industry that wants to succeed in today's digital world. Google alone accounts for about two-thirds of all web searches, meaning you're missing out on many potential visitors and sales if you're not optimising your site.
This is just one of the many factors that make SEO so important: it ensures that your site appears high in search results when consumers seek items or services similar to yours. You will have a greater chance of converting users into paying customers by increasing traffic to your website.
Keywords & Search Intent for SEO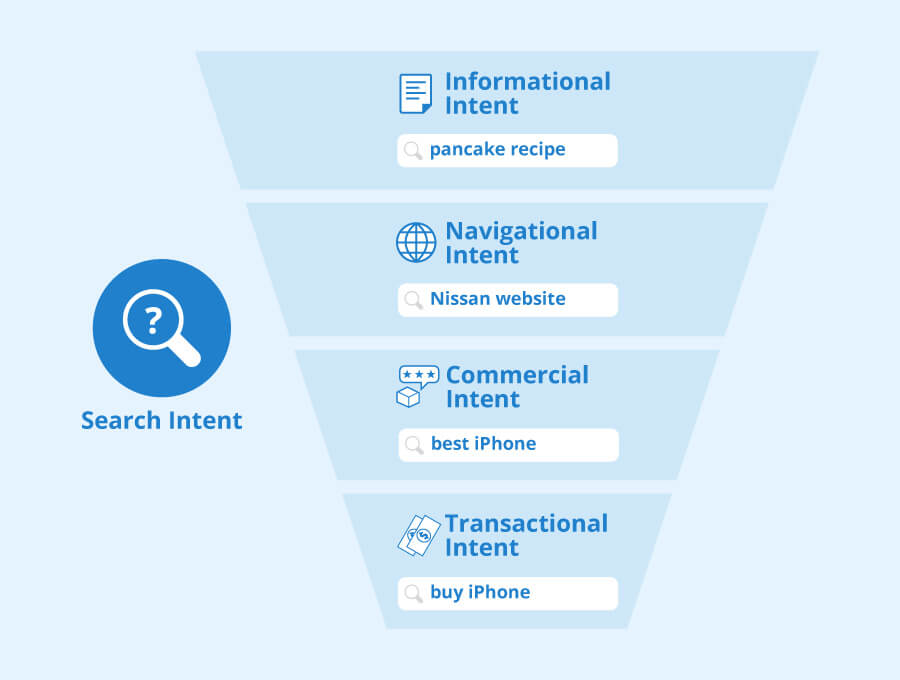 Keyword research and targeting are crucial to the success of any marketing campaign. This is the first step toward getting your material in front of your target audience, and audience engagement depends on it. You can perform keyword research in two ways: manually or automatically.
Manual Keyword Research
Manual keyword research involves looking up terms your target audience may use and evaluating them according to search volume and competition. This method lets you find keyword ideas for your content and see what kinds of terms other people are using.
Automated Keyword Research
Automated keyword research employs software programs, known as bots, that cruise the internet in search of websites that match your search criteria. You can then examine the findings of these algorithms to uncover keywords with low rivalry but lots of search activity.
What Is Keyword Intent?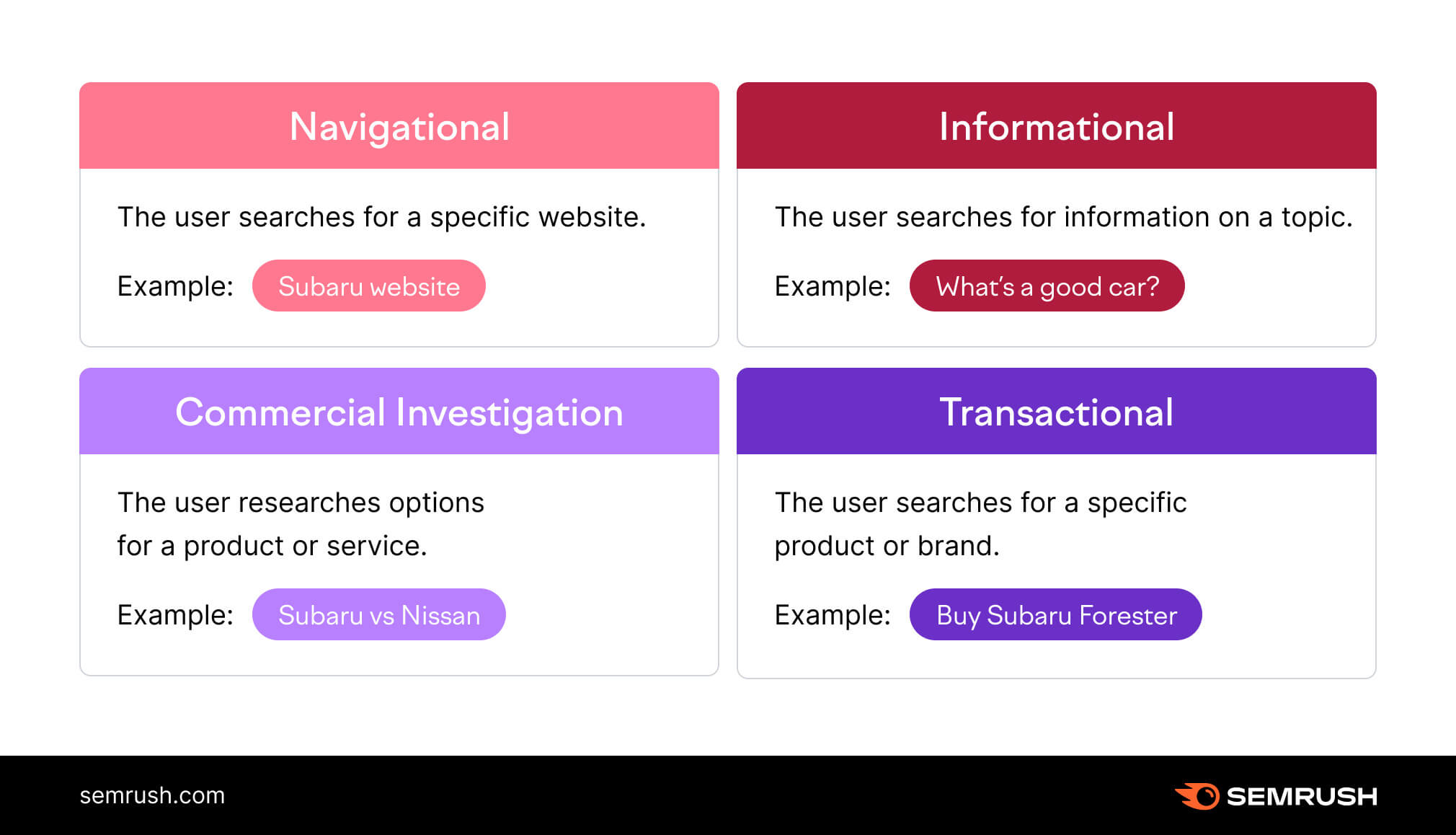 Keyword intent occurs when someone searches for a keyword with a specific objective.
One of the essential variables in SEO is keyword intent, which can inform you whether or not your material is suitable for your target audience. With the help of keyword intent, you can determine what your audience wants and create content to meet their needs.
Keyword intent is divided into four categories:
Informational
When someone searches for informational keywords, they are searching for basic facts, such as France's capital or the solution to a math problem.
Commercial
The keywords used here are more specific than informational ones and involve the user investigating and comparing a product or service, such as "best shampoo for curly hair".
Transactional
Transactional keywords are used on the Internet when someone wants to buy something or perform an activity, such as "buy tickets" or "find my account."
Navigational
These keywords represent where people desire to go on the internet. For example, if someone searches for "how to do I..." or "where is...", they are most likely looking for instructions rather than purchasing something online.
Your content and approach can be guided by keyword intent, which will help you increase search traffic and keep clients happy.
On-Page Optimisation
On-page SEO refers to making your web page search engine-friendly. You can accomplish this through various strategies and gain more organic search results.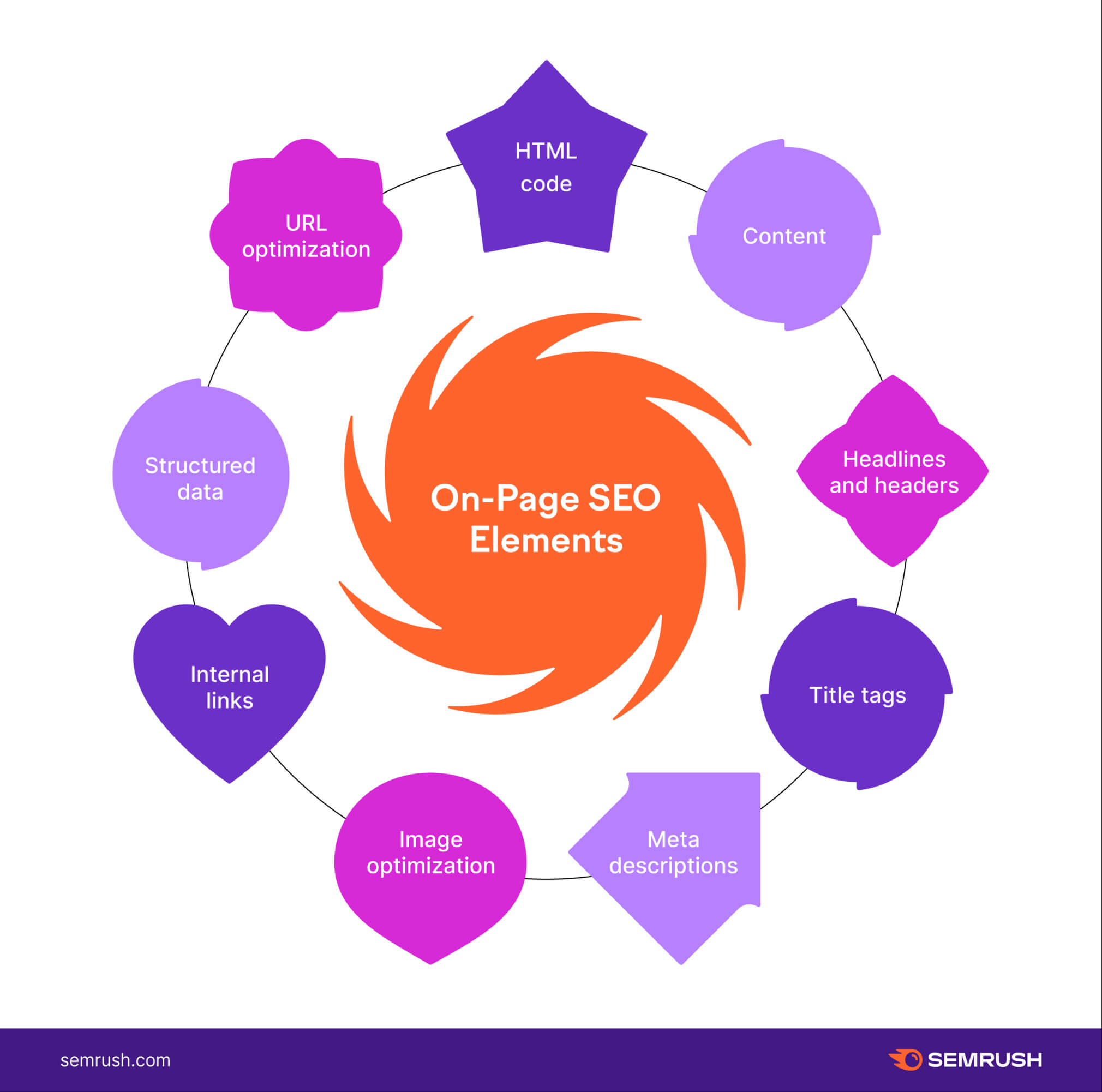 Keywords
On-page optimisation involves adding your keywords to essential on-page elements so that search engines can understand your content.
Meta Tags
On-page optimisation begins with page titles used as internal and external link texts. By including keywords in the title, search engines can determine whether your content is relevant to a particular search query.
Header Tags
Header tags are like mini-headlines that explain the broader topic of your article in further detail. They should contain at least one relevant term, but putting one in each header tag improves SEO.
Images
When it comes to on-page optimisation, don't forget about images! Please fill out their alt attributes with descriptive language to ensure Google displays them in image search results.
Page Speed and Mobile Optimisation
Google now has a "mobile first" index, focusing on how mobile pages perform rather than desktop pages. In other words, you must optimise your website for mobile devices. It would be best if you also considered the loading speed of your website, as slow loading times dramatically reduce conversions.
Interlinking and internal linking structure
Having internal links makes it easier for users to navigate your website since they can easily see what pages link to each other. Additionally, it helps search engines determine which pages are most important.
URL Structure
Always use keywords associated with the page's content to keep your URLs short and easy to understand.
Page Content
You can improve your SEO by adding more high-quality content to your site. It is vital to ensure that the writing is strong and that the subject matter is suitable for the intended audience.
Local SEO & Local Search Engine Marketing
Local search marketing is growing, and getting your local business in front of the right people is more important than ever. Using local SEO strategies to increase your visibility in Google Search results and drive more customers to your website.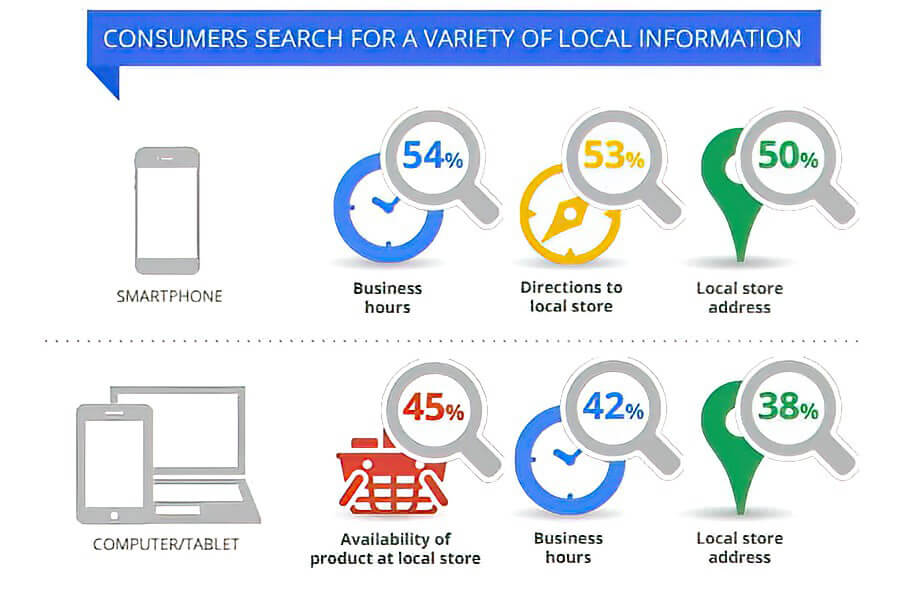 The first step toward improving your local search results is understanding how Google's algorithm works. Once you know what it takes to rank at the top of their SERPs, it will be easier for you to create high-quality content that appeals specifically to local audiences — precisely what we're going to cover today!
Local SEO Strategies to Increase Local Search Results

Local SEO is a critical aspect of local search engine marketing. Local businesses need to understand the importance of basic search engine optimisation (SEO) and specific strategies that apply to their geographic location. You can increase your rankings on local search engines, including optimising your website and creating or improving targeted landing pages for each relevant keyword or phrase.
Local SEO will also help you rank higher in mobile searches, which are becoming increasingly important with the rise of smartphones and tablets. It's easier than ever before for people to access information about businesses without having to pick up the phone or visit an office location.
Local Link Building
Now that you're familiar with the importance of local SEO, let's talk about how to do it correctly. First and foremost, you'll want to build links to your website. There are many different strategies for this—you can write guest posts on other blogs and websites in your industry or reach out to relevant people on Twitter or Facebook Groups and ask them to share a link to one of your latest blog posts.
Additionally, build relationships with other businesses so they can link back to your website when appropriate. You could offer a free product or service or mention it in exchange for a link on their website.
Manage Your Google My Business Profile
If you're going to be running an effective local SEO campaign, your Google My Business profile must be up-to-date and accurate. This means having photos, videos, accurate information, and links to your website or other social profiles. The more complete your listing is, the better your chance of ranking in search results for local keywords.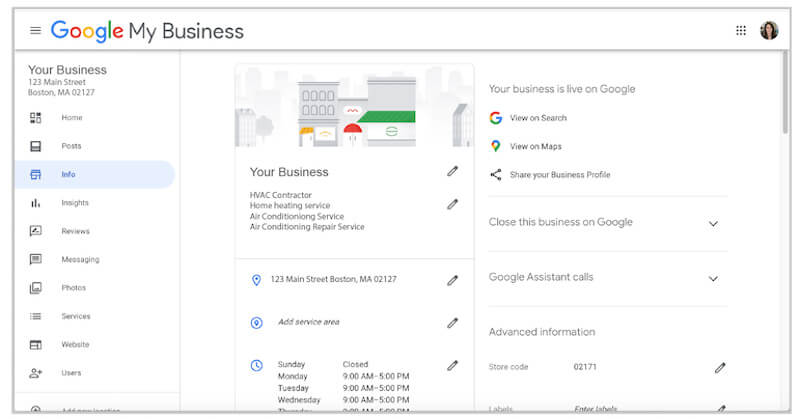 Claim Your Citations (Phone, Address, and Name)
There are a few different ways to claim your citations on Google My Business:
Google My Business
Use this tool to claim all of your information in one place. Ensure you're listing the correct business, as many local companies have multiple listings for the same business on different platforms.
Search Console
Use this tool to check for duplicate listings and unpublishing options.
Moz Local
It's an excellent tool for checking duplicate listings on multiple engines and learning more about local search performance.
Fetch As Google (or Bing)
This tool will show you what Google sees when it crawls your website—complete with reviews and other vital data about how Google views your site and its pages. Using this tool is easy to spot issues immediately so they don't cause problems down the line!
Check for Duplicate Listings
When you're checking your local listings, check for duplicates. This will help ensure that only one listing contains accurate and relevant information about your business.
Check for incorrect listing information by looking at the address, phone number, and website URL fields in Google My Business—these are some of the most common areas where businesses make mistakes when inputting their data.
Make sure no outdated or irrelevant listings appear on search engines like Google or Bing. Update your business info whenever you change locations or contact details, move from one type of industry to another, etc., so potential customers can easily and quickly find you online.
Organic Traffic
Local SEO is a subset of SEO that focuses on targeting local keywords (e.g., "best pizza in Chicago"), helping you rank in your target area. You can use this feature to attract new customers who want lunch delivered, flowers for their wife on Valentine's Day or parts to fix their plumbing immediately (or all three!).
You can gain conversions and enhance your ranking through organic traffic with good quality content, links and an optimised website. Unlike paid advertisements, your website will rank high in the target audience's search results without costing you anything.
Content Marketing for Local SEO
For local SEO, content marketing helps you create relevant, useful, and engaging content for your audience.
Relevant
You must ensure your content is relevant to your target audience and provides them with trustworthy information. Create groups of content (known as content clusters) around your niche's most searched keywords. For local SEO, you can write about upcoming events and other relevant information to your community and audience.
Useful
No one wants to read content that does not provide helpful information. Usually, people search for an answer or solution, so you must ensure your content is in line with this. Writing valuable content for people in your geographic area is integral to local SEO.
Engaging
No, No one wants to read boring or outdated information. The content you write must be interesting to the reader. So, when creating content, make sure it's something you'd like to read yourself. You can engage your audience further by using images and videos. Also, make sure your punctuation and spelling are correct.
Create a Landing Page for Each Location
Creating a landing page for each location is essential if you want to succeed with local search engine marketing. For each store location, you can create a unique URL.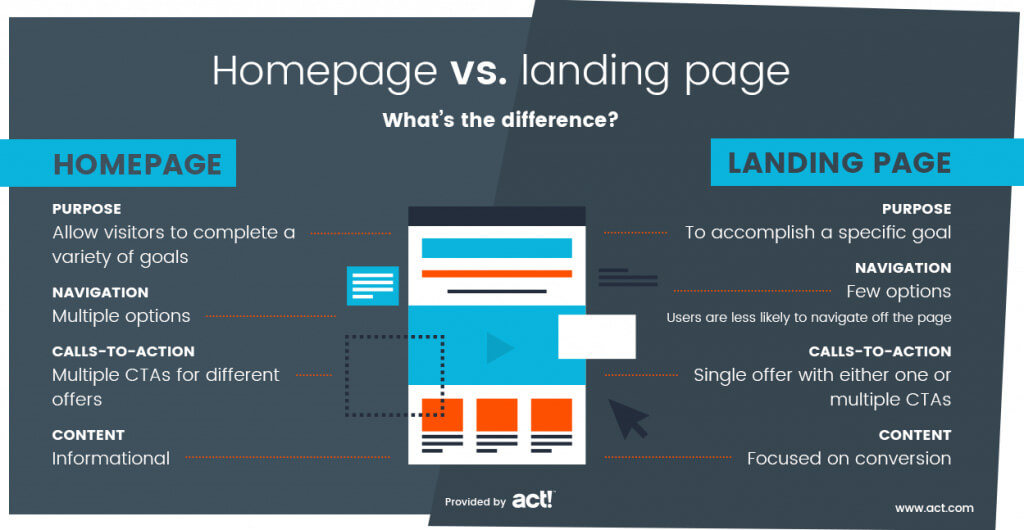 When designing these landing pages, you must optimise them for mobile devices and local searches. Some of the things that you should consider when creating these pages include the following:
A link to the website's main menu or homepage
Phone number (if applicable)
Directions and address
Best SEO Practices For Small Business
Step 1: Understand The Types of Keywords
There are two main types of keywords: branded and non-branded. Branded keywords are the ones that relate directly to your business name or brand name. Non-branded keywords don't directly relate to your business name or brand name but to what you provide as a service or product.
Step 2: Identify Your Target Audience
You should identify your target audience and what they're looking for in search terms. You can use this information to rank higher on search engines to determine which terms are most relevant to your business.
Step 3: Optimise Your Website
If you want more traffic from Google, you have to make it easier for Google to understand what your business is all about. One of the most effective ways to do this is to optimise your website by adding keywords and phrases that are related to what you offer.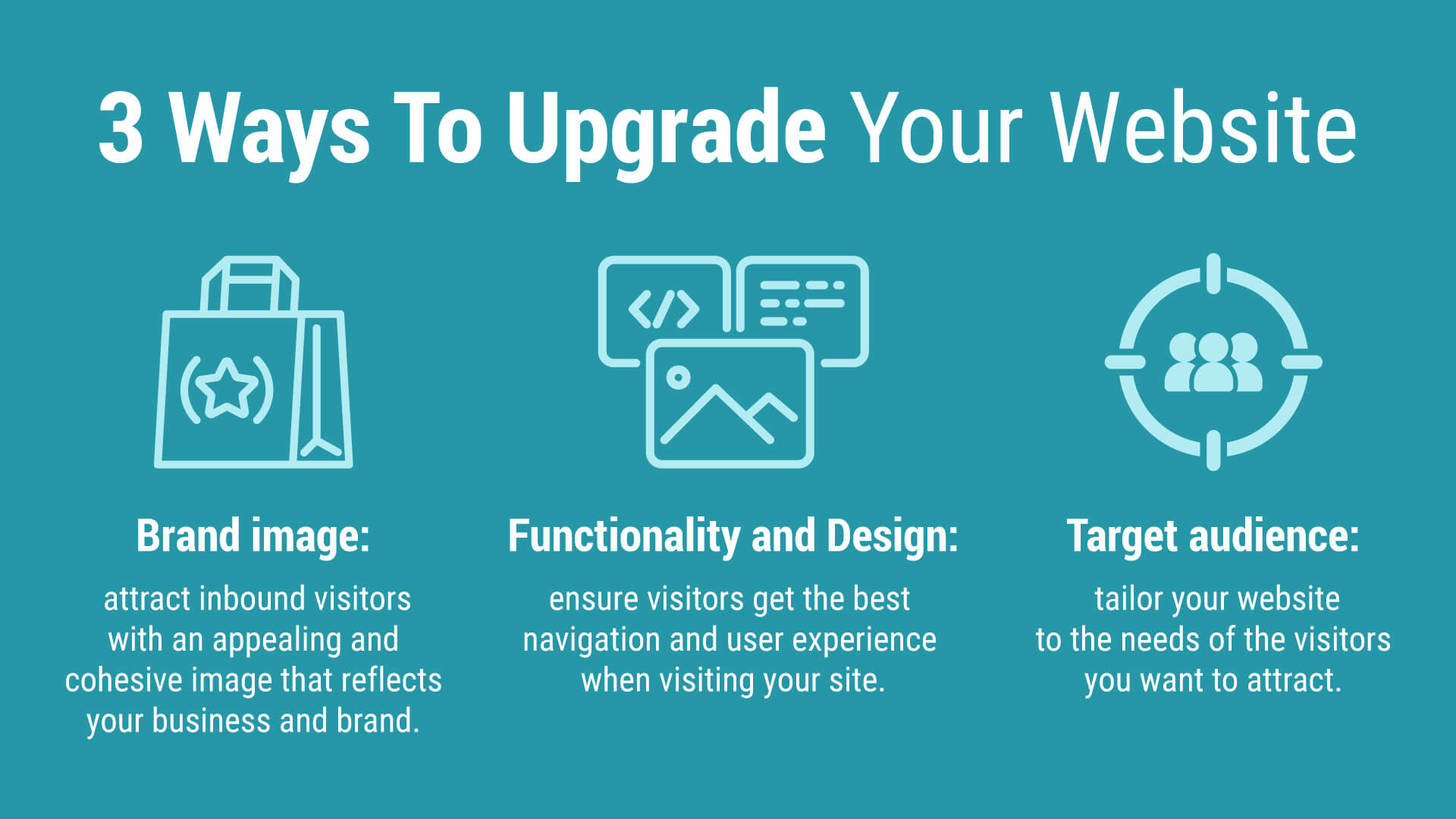 Step 4: Implement An SEO Strategy
Your content marketing and on-page optimisation should focus on the keywords people are searching for in your area. It will also consider how much competition there is for those keywords and what other businesses are doing to rank well for those terms. A good SEO strategy will help you use these local search terms to make them more likely to appear prominently on local search results pages.
Step 5: Know Your Competition
In your industry, you'll want to know how many competitors there are and what they are doing right (or wrong). As a result, you will better understand what your target market prefers.
Step 6: Start A Blog
Blogging helps improve rankings in local search results by showing Google that your website consistently creates high-quality content.
It also helps establish yourself as an authority in your field or niche by showing off your expertise through written content online. So, do your research before starting your blog.
Step 7: Be An Active Social Media User
The most effective way to reach your local audience is through social media. Engage your followers by sharing your content and commenting on their posts. It's all about consistency!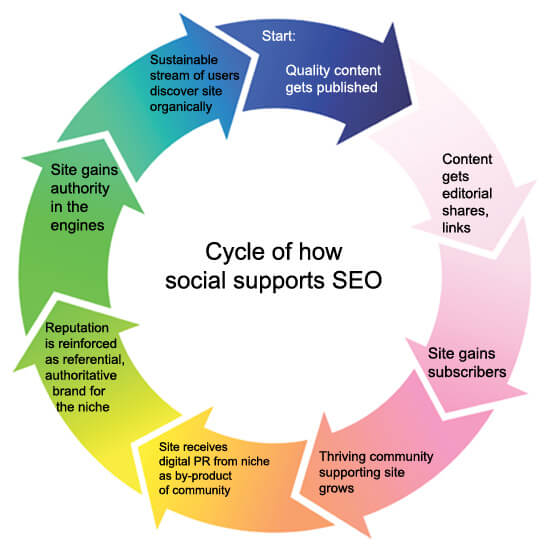 Step 8: Arrange For Guest Blogging Opportunities
The practice of guest blogging is a great way to build links and authority for your website. You can leverage this strategy to establish yourself as an industry leader and develop relationships with influencers.
Step 9: Create And Share Videos
Videos are an excellent way to engage with customers and increase brand awareness. They are also more likely to rank well in Google's search results. If you are conscious of making videos, you can record your voice first and listen to how you sound. Repeat it until you get the confidence to record yourself through the camera.
Step 10: Publish a Press Release About New Products And Services
Press releases can help businesses increase their visibility on search engines by generating new website links from other sources, such as newspapers or magazines.
Why SEO & Marketing Should Be Your Priority For Small Business
There is no doubt that the Internet is the most critical tool for small businesses today.
Online marketing strategies go a long way in helping your SEO and marketing efforts, boosting visibility, and increasing revenue. There is no one-size-fits-all SEO or small-business marketing strategy for all local businesses. Every market is unique and should be treated as such.
To succeed through SEO and marketing, you need to think about what will work for your business in the long run. If you're looking for truly effective and sustainable results, you'll have to put in some time to understand your market.
Local SEO ensures your website appears at the top of Google's local search results. Users search for something near where they live or work on Google Maps or other location-based apps that use geolocation data. As discussed above, the practice employs three main strategies:
Site architecture (or how your site is built)
Content marketing (or how content is created)
Social media marketing (or how people talk about your brand online).
Enhancing Your Small Business Online
Suppose you're trying to optimise your website for local search. In that case, it's essential to understand what precisely local search engine optimisation (LSEO) is and how it can help you rank in Google's local pack. With this guide, we hope you now have a clearer understanding of what needs to be done.
You can improve your search rankings by using these local SEO strategies on your website and in your content marketing. Remember to do your research and understand your target audience first.
Feel free to reach out to our experts if you need help. Our core focus at sitecentre® is helping small Australian businesses reach their goals through customised and effective SEO and content marketing. Our team will be happy to assist you in any way we can!
Our following guide will be coming up soon. Thank you for joining us.