A study conducted by Conductor examined more than 310 million visits to 30 different websites and found that organic search attracted 64% of traffic. Another study, conducted and published by GE Capital Retail Bank, concluded that 81% of shoppers view and compare products online before purchasing.
So, keep in mind that it's crucial to get to the forefront of search engines. Don't miss a single chance to enhance your website's SEO. There might be opportunities even where you least expect them—for example, the publication of press releases and SEO in your strategy.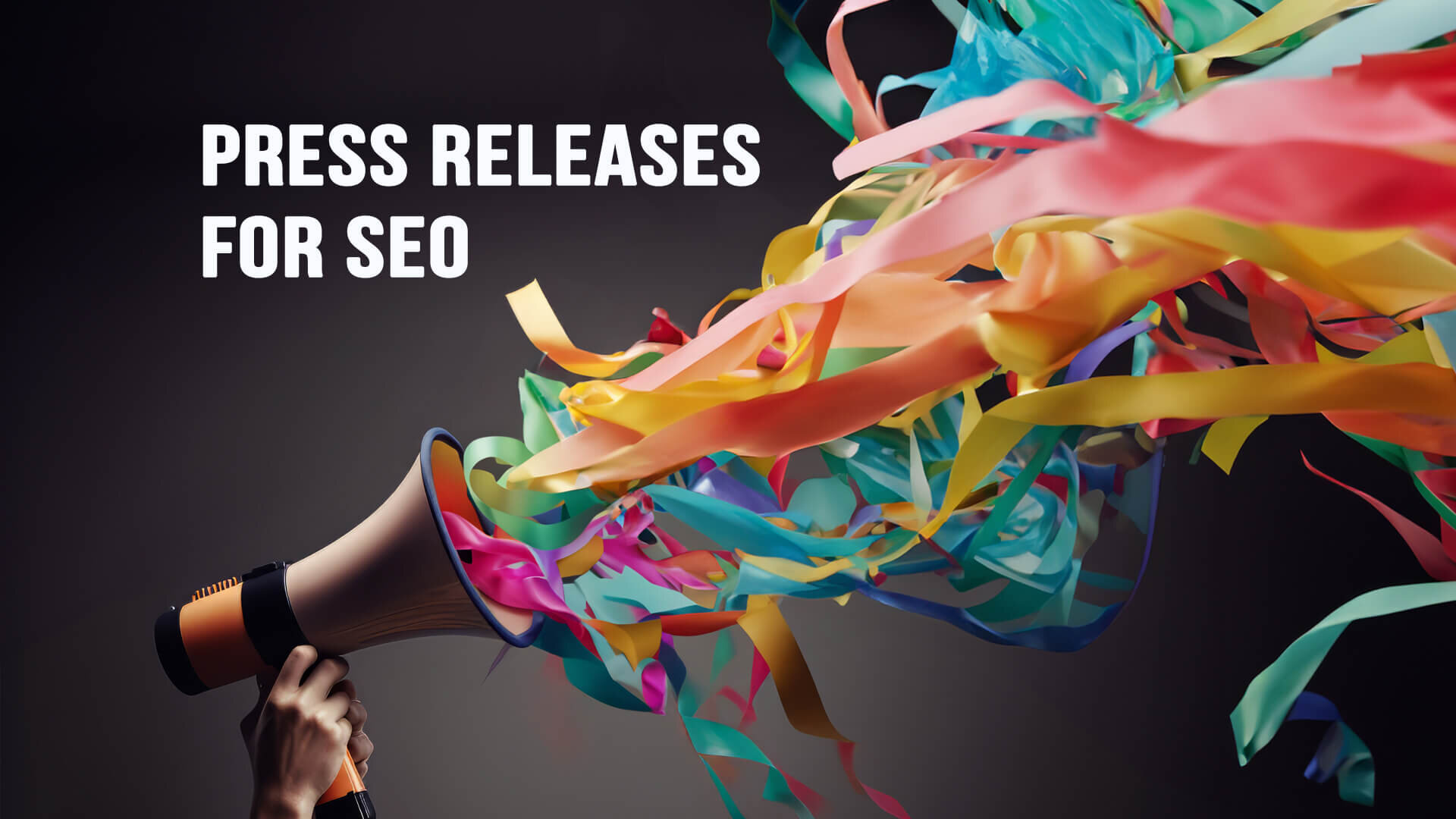 Understanding the Role of a Press Release for SEO
Press releases provide an effective and convenient way to keep people informed about what is happening around a product or service. But are press releases still relevant for SEO?
If you provide value and quality in your writing, the answer is "absolutely yes." You can build strong, quality links and boost your search rankings by implementing a well-thought-out SEO strategy. A well-structured, compelling press release can effectively serve your PR, marketing, and search engine optimisation goals.
Key Elements of an Effective Press Release
Make sure your press release is a kind of announcement of newsworthy information, be it a recent business success you've achieved, unveiling your new product or service, or even attracting top talent within your industry. You must make sure your press release is enticing to make it enticing so people will want to read it until the end.
Headline
Crafting a compelling press release headline is crucial. Remember that you have only one chance to make a good first impression.
Since the headline of your press release serves as a summary of your story, it must be straight to the point, up to two lines. It must encourage readers from the very first words. Your headline should also be enriched (but not stuffed) with keywords to be ranked by search engines.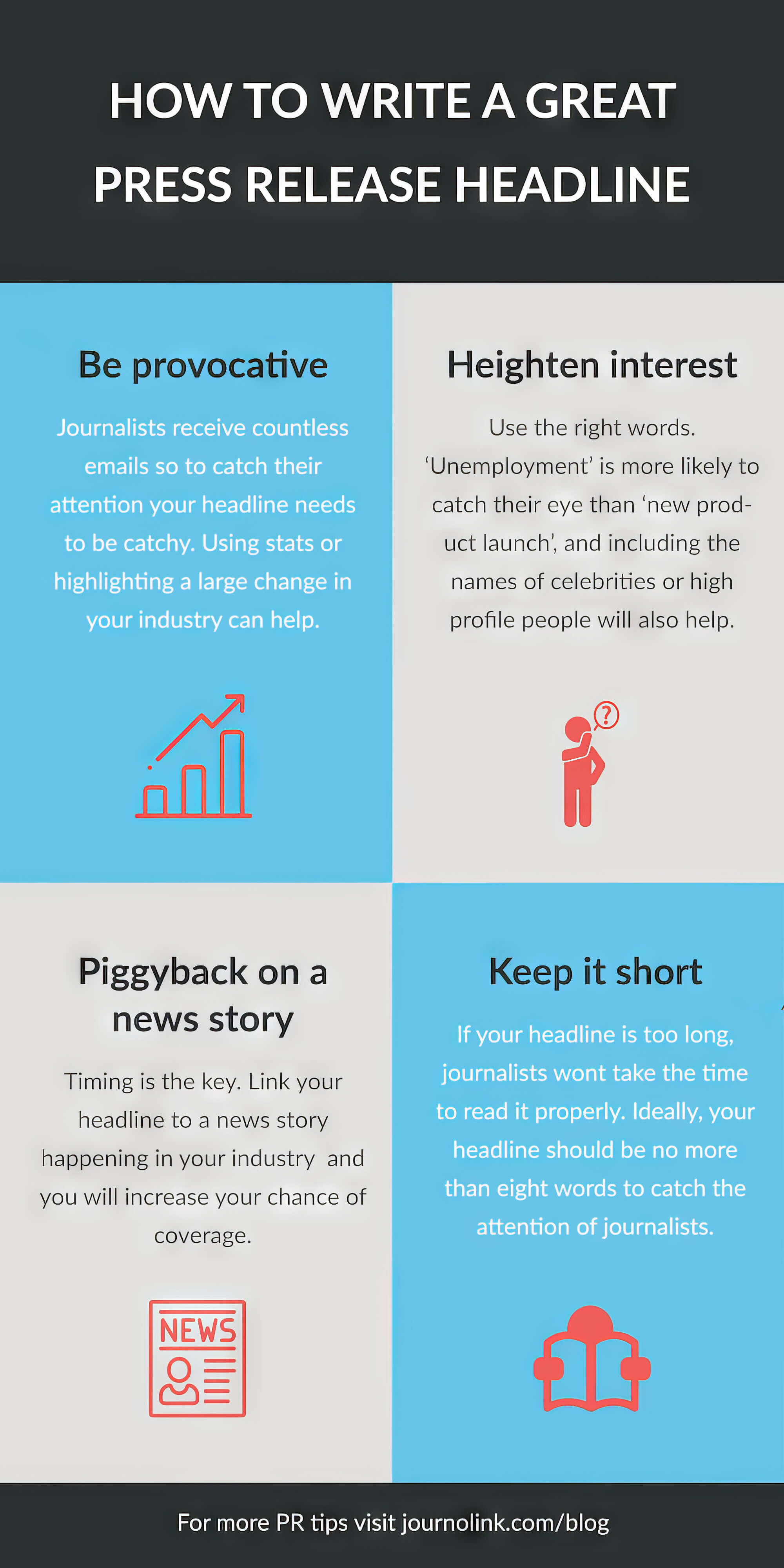 Structure
Now that we've clarified how you should approach writing a headline, it's time to move on to the rest of your press release. Here's everything you need to know about the best practices entailing key elements of its structure:
Subheading: Like the headline, it should be intriguing and captivating. Include essential details that grab attention.
Date and location: In the first paragraph of your copy, mention the date of the event you are talking about. Adding your company's location is essential to establishing trust and reliability as a source of information.
First paragraph: Briefly describe your company and announcement. Here, the rule of the five "W's" applies. In other words, answer clearly and precisely the questions "where," "who," "when," "what," and "why."
Second paragraph: Tell more about the talking points you included in the first paragraph, i.e., about the company and the news you have.
Third and fourth paragraphs: This is the place to convince the audience that your news is significant. For whom is it necessary, and what problems does it solve? Support your claims with evidence and research from trusted sources.
Fifth paragraph: Include a few quotable lines explaining the company's point of view on the event you are announcing.
Boilerplate: Write here a brief description of the company, similar to your website's "About us" section.
Email address details: Finish by adding your contact information or those of the PR professional managing the affairs of your company.
Incorporating keywords
Writing an amazing press release is only the first step. Then, you need to ensure that your news can be "read" correctly by the search engines. Include your target keywords without resorting to keyword stuffing, giving clear hints to search engines about what your text is about.
Leveraging Press Releases for Organic Growth
Your business having a more prominent presence on the Internet enhances its visibility in Google search rankings. Getting featured on authoritative sites is even better because it can boost your SEO and organic growth.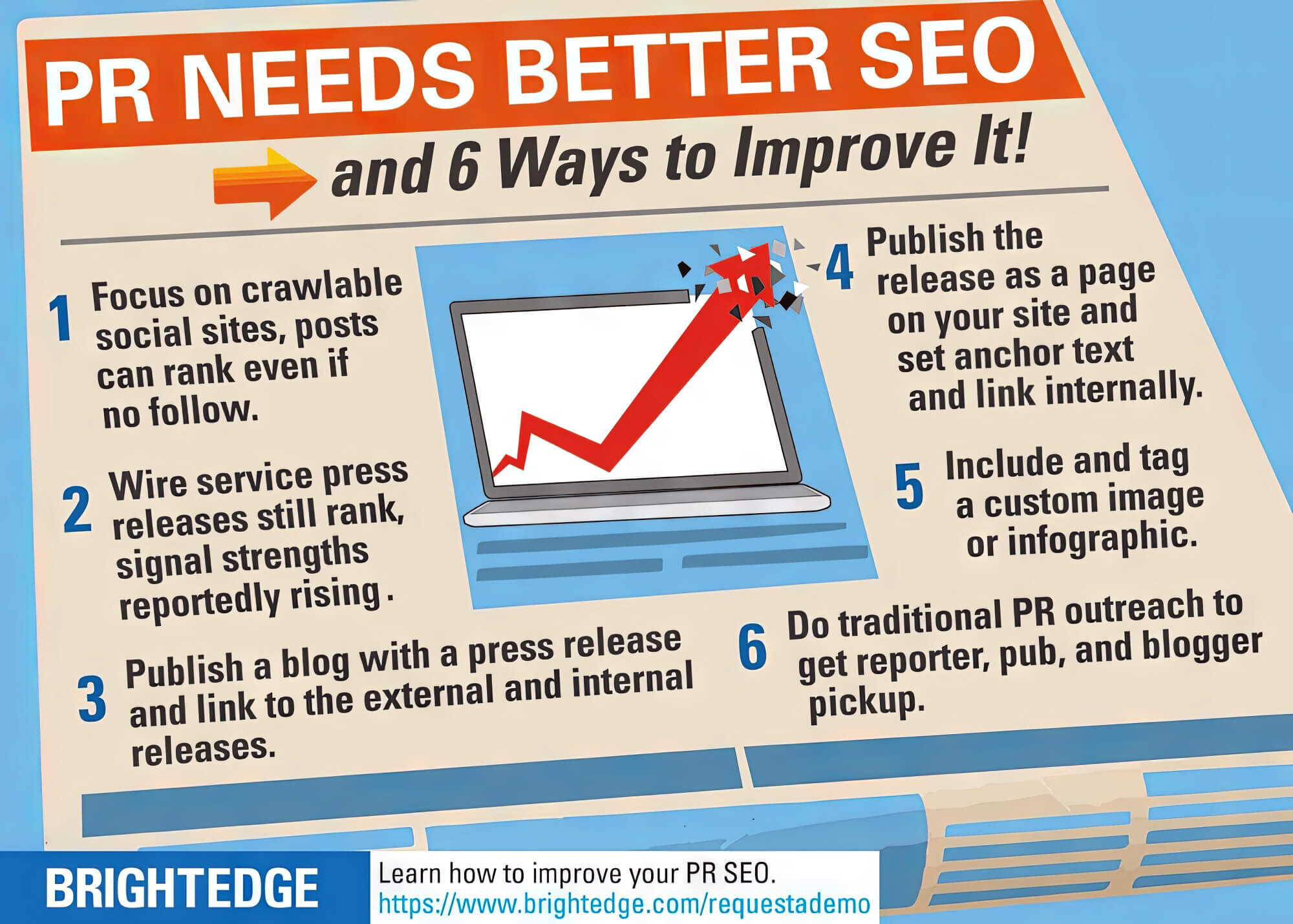 Leveraging press releases for organic growth has a lot of positives for your business, including:
Building brand visibility
Imagine that your text is published in influential news publications widely trusted by global audiences. If they will read your brand name, there is enough to assume you can be trusted.
This also increases the brand awareness and visibility of your organisation online. However, The emphasis on providing relevant information in your press releases extends the benefits well beyond just attracting more visitors to your website.
Examples from the recent past testify unequivocally to this:
Three optimised press releases generated 21% of SEMPO's new member and sponsor leads in 2003.
Press release SEO helped Southwest Airlines sell $2.5 million in tickets in 2004.
At the PRSA 2010 International Conference in Washington, a case study reported that Piper Aircraft sold $2.1 million worth of new planes.
Enhancing backlink profile
Publishing links in press releases, focusing on long tail keywords, is a beneficial method of link building. One of the main ranking factors used by Google and other search engines is the number of links that link to a web page. The more backlinks from quality websites your website has, the higher it should rank for the keywords you aim for.
You'll need nofollow links or embedded links to press releases on high-profile websites to improveSEO rankings. While backlinks from different websites can help increase your authority, getting them from websites with a high DR (domain rating) is better for building your company's authority. This leads to improving your rankings, thus aiding your digital marketing strategy by reaching a broader customer base.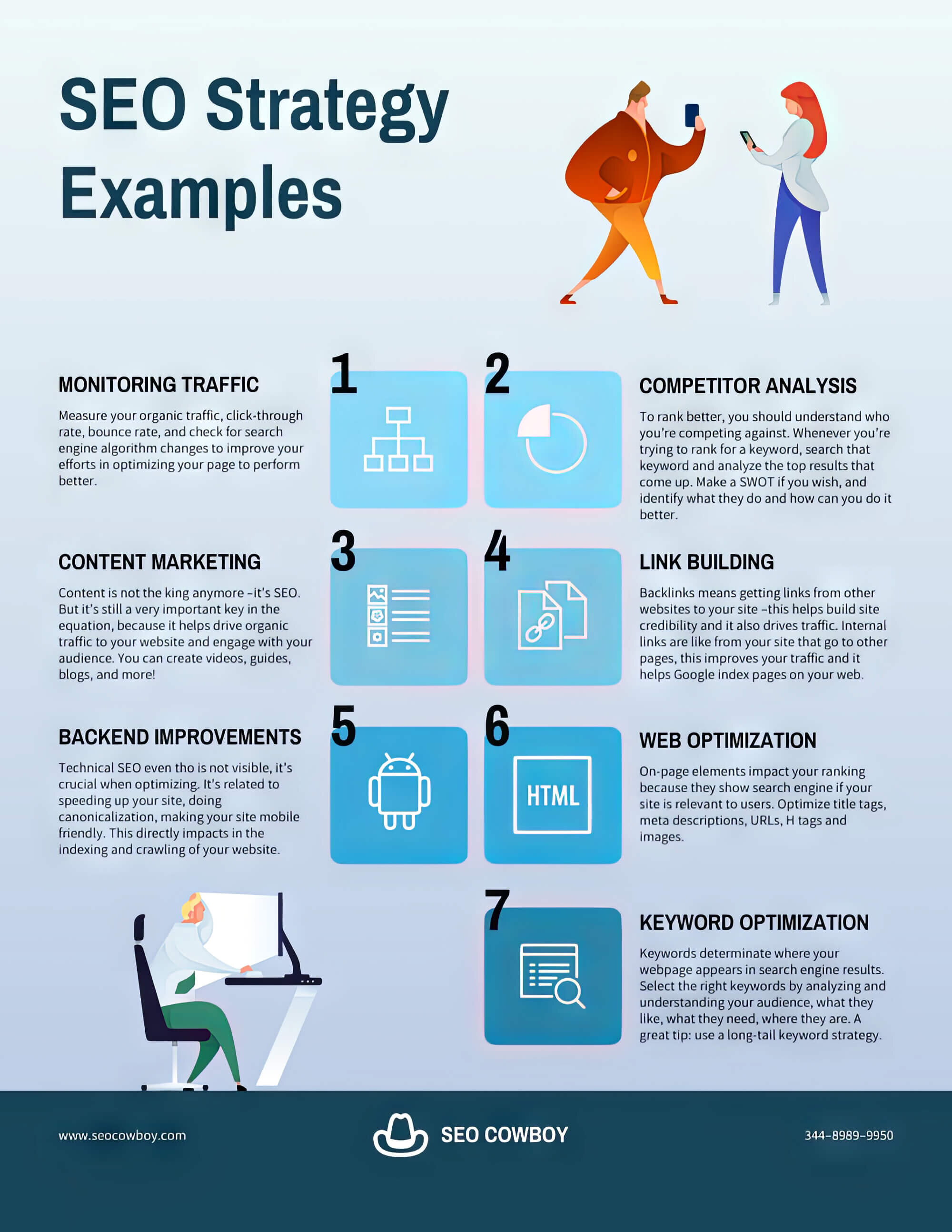 At the same time, more individuals will view the press release links online and may decide to mention (or, in other words, link to) your company's content on their website. As a result, you will continue to get fresh backlinks, which can benefit your overall SEO strategy.
Targeting keywords and audiences
Before you start crafting a press release, it is pivotal to identify your targeted audience clearly. Your press release will be more relevant if you know what they care about. Understanding their preferences and behaviour will help you quickly decide what keywords to target.
Search through the web and social media to identify other news relating to your target group, and be prepared to postpone publishing yours if necessary. Moreover, tailor your writing to your audience's local dialects and preferred languages. Reporters will be more likely to cover your news, and readers will be more likely to act on it.
The presented news can successfully work for your business development, contribute to creating a positive brand image, or attract public attention.
Press Release Optimisation for Superior SEO
If crafting a press release is approached with the necessary SEO expertise, it can serve as an effective marketing tool, bringing widespread media exposure. It is important to rely on three SEO basics that need to be essentially placed: keyword research, on-page optimisation, and the incorporation of multimedia and visual elements.
Keyword research
Everything in SEO starts with researching relevant key phrases, especially the long tail keywords that could give you an edge. Identifying the perfect key phrase is the foundation of a solid SEO strategy, so you must make it solid. However, incorporating keywords shouldn't be your sole purpose.
If you overdo it, be sure that Google will catch you and punish you. Remember, you're writing for people, not bots. Your press release should be meaningful and readable; Google will reward you.
So, how do you discover the best keywords for your press release? Here are some useful tips to follow:
Use keyword planners, such as Google Keyword Planner, to check keyword volume, based on which you will plan your keyword strategy. Take your time to find and select at least one target keyword.
Concentrate on long keywords. Even if they don't have a high search volume, they are less competitive, which gives you a great advantage. Such words are usually in the form of a question and are a real-life example of how people formulate their searches in search engines.
Think about keywords that describe hot topics and current events and relate to your press release's subject. Try to use keywords for branding, too.
When writing your press release, include these keywords naturally within the title, the first paragraph of the text, and at least one subheading.
On-page optimisation
A good press release should be short but provoke the interest of the reader, as well as be able to retain it. The length of the press release directly affects its rankings, and posts that are too short or too long may have problems indexing in search engines. 500–800 words are enough.
A tried-and-tested formula for writing a press release is to offer a feasible solution along with the news you present. As interesting as the latter is, make sure users can say, "That would be useful to me too," instead of, "Great news, but this is in no way about me."
Let them see the hidden advantages your message holds for them. To motivate readers to visit your website and learn more about your company, include a subtle call to action in your message.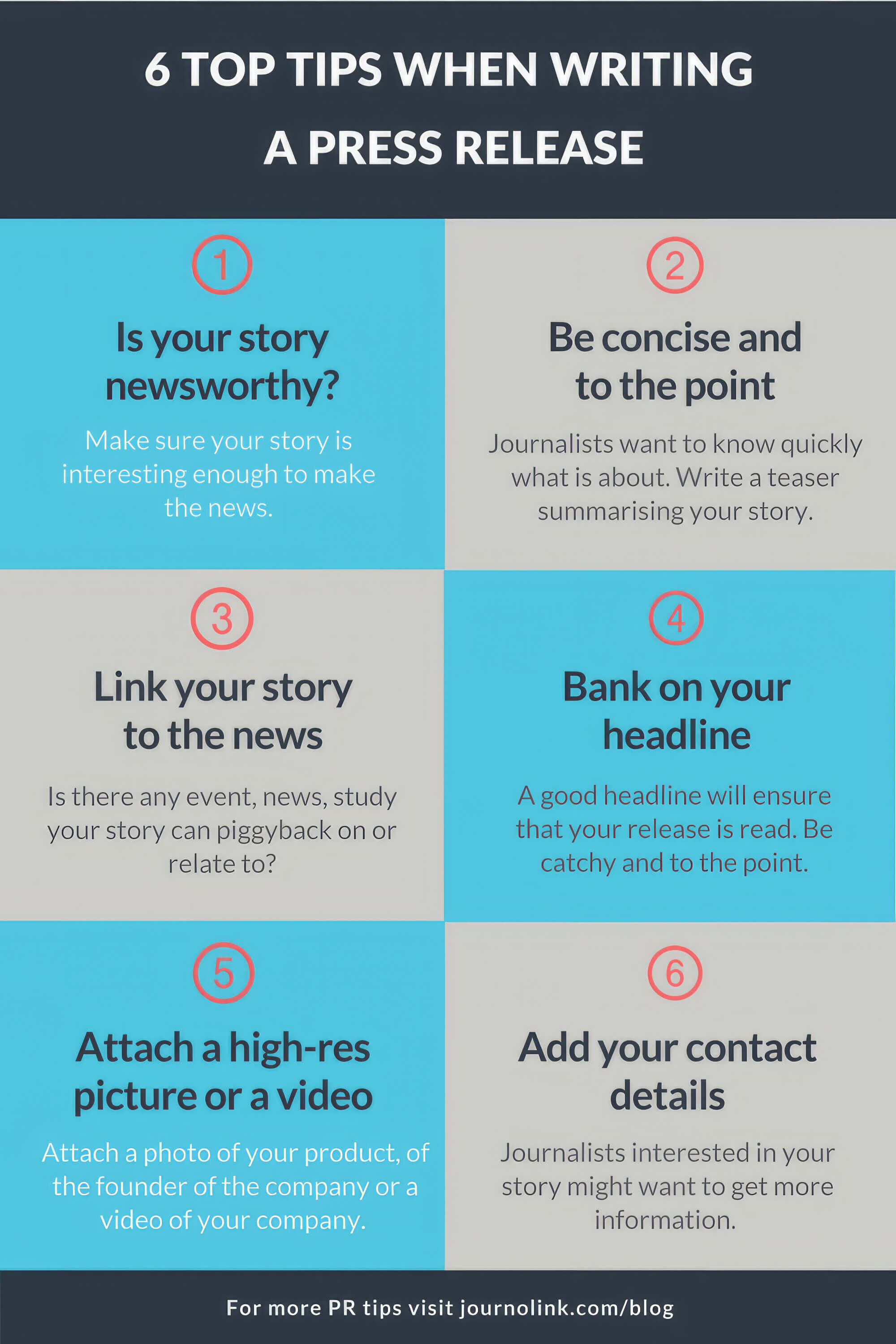 Optimise the first 250 words in your press release. In other words, First, kick things off by spotlighting the crucial information in your message, much like a title tag in HTML. Remember the inverted pyramid principle in journalism and use it; put the most newsworthy information (including your keywords) at the beginning of the press release.
There are many reasons to follow this method. First, it helps search engines understand the purpose of your press release. And second, it will keep readers engaged, at least at the beginning, so hopefully, they'll read the whole message. Even if they don't, they will get the essentials, as John Mueller reiterated.
Lastly, ensure your press release is free of grammatical or spelling errors. Tonnes of online tools are available for these checks. Remember, keeping your content clean and professional supports a positive brand mention.
Multimedia and visual elements
Studies show that 79% of users scan and skim web copy instead of reading it. Things like images, infographics, slides, or videos often help readers assimilate various concepts and data more efficiently.
Even search engines "treat" them positively. Adding photos, for instance, allows you to appear in image search results. With the growing popularity of mobile devices and technology, texts plus visuals are better than just a wall of text.
Infographics are one of the most popular types of visual content at the moment. Many companies insert huge reports and research results into vivid pictures. When it's easy for users to get acquainted with your news, they're more likely to share it with friends on social networks.
Distribution and Promotion of Press Releases
Let's say you've decided it's time to tell the world about your innovative achievements. You've written a great press release; you only have to send it. The only questions are "where" and "to whom".
Online distribution platforms
Soliciting the services of a reliable press release distribution company can simplify and expedite the process of getting your press releases out there. Luckily, multiple press release websites and platforms can do it in a fraction of the time. Whether you choose paid or free services, you must do good research first because there are significant differences between different press release distribution platforms.
Linking News is a professional solution for businesses, SEO, marketing, and PR agencies seeking to boost their brand image. The editorial team offers a 100% white-label service and has strong connections with top-tier media outlets.
If you are a small business owner still deciding to invest much, a 24-7 Press Release will do a great job. A free trial is available, and you'll get access to a wide distribution network, detailed reports, and geo-targeting, to name a few.
Outreach and media contact
Outreach is not as difficult as it might seem. Even though journalists and reporters nowadays often find themselves overwhelmed by emails, sometimes the direct approach is quite successful.
Here are some tips in this regard:
Decide who to contact: It all depends on the specifics of your press release. Browse media databases such as Prowly to find the right professional who will likely publish your story—filter by keywords, location, language, etc.
Create an outstanding subject line: The first thing the journalist or influencer reads, deciding whether they will give your press release a chance.
Figure out your angle: Turn news, facts, and statistics into a fascinating story every journalist wants to convey to their readers.
Be polite: Follow the rules of good business communication. Start your email with a greeting and address the person you want to contact by name. Finish with "best regards," "all the best," etc. Don't forget to say "thank you for your time" as well.
Follow the inverted pyramid method again: The first sentence should contain the key takeaways of your press release, optionally backed up with some data. Then, proceed to a brief description of your press release, and finally, mention that you can offer some more original content like interviews or company research findings.
Add your press release: It's better to paste it under your email signature or provide a link. Avoid using attachments because that could be the reason your email ends up in the journalist's spam folder.
Follow up after a few days: If you don't use a PR outreach tool to understand whether your email has been received, opened, or neglected, it's a good idea to send a follow-up after a few days.
Social media promotion
Promoting and using press releases on social media is no longer optional; it's mandatory. It leads to increased user engagement, which Google interprets as proof that your press release enables valuable content to rank higher. Simply put, positive comments and the growing number of shares of your content can improve your rankings, while negative opinions can hurt your reputation and SEO.
Before diving into social media's depths, don't act blindly. Perform a thorough research on trending topics. Find where your audience is active and aim to get attention on those particular platforms as well.
Be original and adaptable. Don't just post a link to the press release and end it all. Instead, try to spark a discussion. Any user who links to your content, shares it or mentions your brand name matters. Earned media is a major ranking factor nowadays.
Post the most interesting part of the press release, a link to a survey you included there, or just an infographic, for example, on Pinterest or Instagram, which both focus on publishing visual content. Be sure to add hashtags to help the right people find you.
Measuring the Impact of Press Releases on SEO
Every aspect of a business's marketing and PR strategies should be subject to periodic reporting. Press releases are no exception. Find out how they affect your website's overall SEO performance in a few steps.
Analytics and tracking
The best way to track and analyse your press release's performance is through media monitoring tools. Most of them allow you to set up email notifications to tell you when and where your news has seen the light of day. Some great examples of analytics and tracking tools are Brand24 and Google Alerts.
Brand 24 is a paid AI-based tool with a 14-day free trial. It will help you track brand mentions and keep tabs on brand sentiment, AVE calculations, presence score, estimated reach, etc.
On the other hand, Google Alerts is free and simple to use. It performs basic tasks, such as alerting you whenever specific keywords are mentioned on the web. It will notify you of your brand's mentions in news articles, forum discussions, blog posts, etc.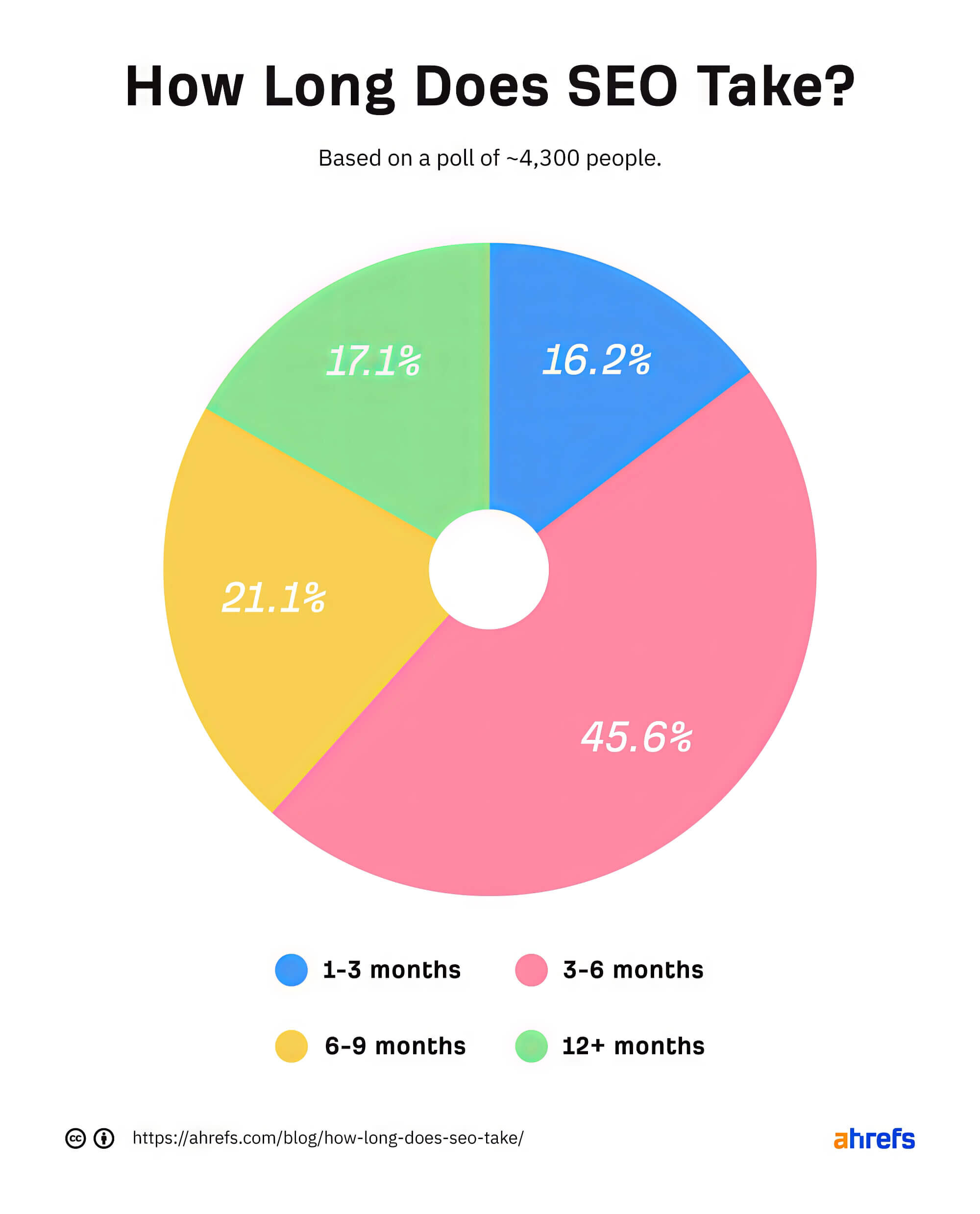 Monitoring backlinks
As we explained earlier, link building is fundamental to a good website positioning in search engines. Therefore, it is important to monitor the process and its results.
There is a wide variety of online tools to assist you, and one of the best is Ahrefs. You can take advantage of their free backlink checker to see how many backlinks and referring domains your website has. Ahrefs can also show you your most shared and linked-to content.
Using Ahrefs' Site Explorer makes it simple to generate a full report, outlining important metrics, such as DR (domain rating), anchor text, and type of link (do-follow or nofollow). What's more, Ahrefs lets you closely monitor your competitors, which may give you a whole new perspective on developing your SEO strategy.
Measuring Search Engine Rankings
Publish your press release on your website. But not only there, make sure you cover the most channels to generate more organic traffic. From there on, watch how this figure increases (most likely) through SEO tools like Google Analytics. Keep track of other important metrics, such as impressions, clicks, rankings, referrals, conversions, and shares.
In addition, Google Analytics allows you to create custom segments and separate the traffic coming from press releases from the general one for more detailed and accurate information.
Unlocking the SEO Power of Press Releases
Diligence is the "mother of good luck" and usually bears fruit. Consistent and diligent are critical to success, so ensure your press releases reflect this. A good press release follows the best SEO practices, provides value to readers, and demonstrates flawless and engaging writing. Don't write too sensationally. Yes, journalists love sensationalism, but overexposure can play a bad joke on you.
Press releases may seem outdated, but you'd be surprised to find out how many people are counting on it nowadays. Releasing an announcement with the potential for extensive media coverage or magazine years ago was a matter of luck; the possibilities are endless in today's digital world.
While competition grows rapidly, having faith in yourself and relying on the right tactics and knowledge gives you good reason not to worry.