Have you been paying attention to the SEO on your website for some time? If so, you must learn about calculating roi for seo.
It's well-known that, unlike many other digital marketing tools, the outcomes of SEO initiatives could be somewhat unpredictable. This includes the inability to note the impact of a specific campaign or determine the projected long-term returns.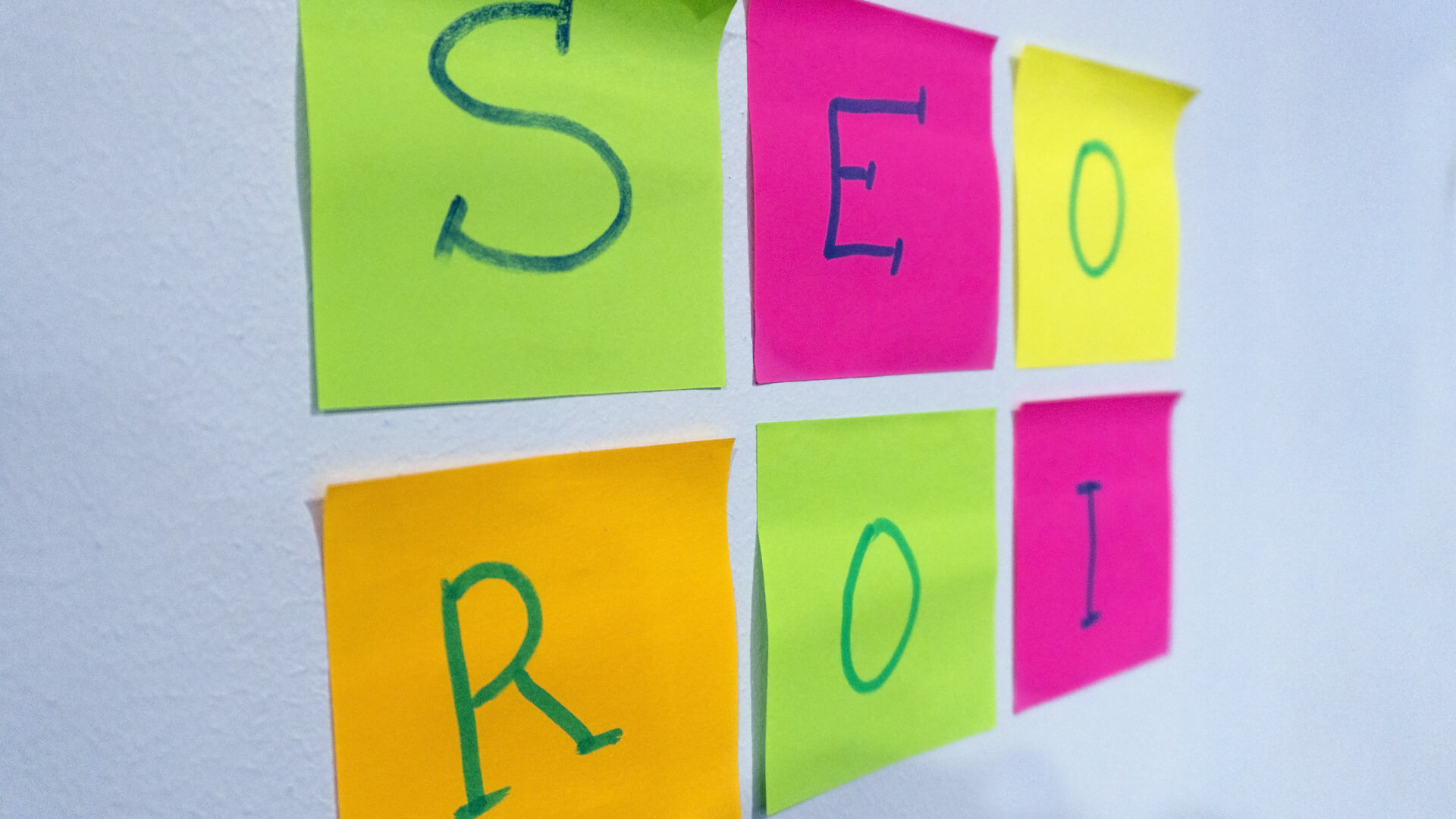 And even though you might not have tangible information, it's still important to calculate return on investment (ROI). It lets you know the success rate of your current projects, and you can make the necessary tweaks to get your expected returns, such as keyword rankings.
However, on asking different people who work with SEO regularly, we found that most don't know how to calculate your SEO ROI correctly. Therefore, we came up with this handy guide that makes it less complicated for anyone trying to calculate SEO performance and ROI, relevant for both e-commerce and service-based websites.
So, without further ado, let's get started!
Why Should You Calculate The SEO ROI?
If you have been involved in digital marketing for a while, you already know that search engine optimisation or SEO, is one of the most helpful tools in the industry. Considering how unpredictable the process can be, calculating your ROI becomes essential to have tangible data to check how your marketing budget is performing over a period of six months.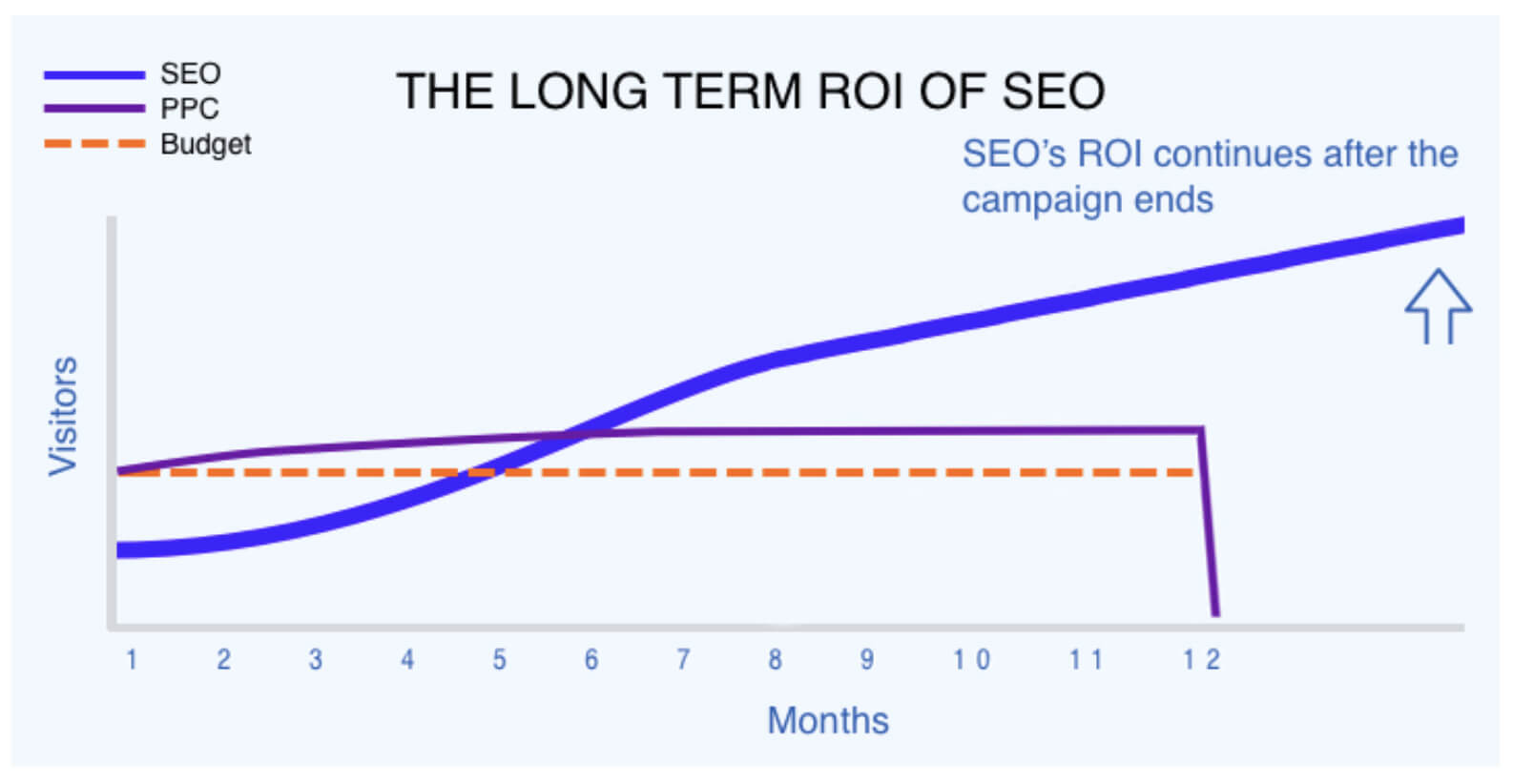 That said, measuring SEO ROI helps you assess the progress of an SEO campaign and the goal value you might achieve whilst also ensuring your marketing strategy is effective. If you are planning to work with a digital marketing agency, investing in SEO can be done based on their estimated ROI or your expected ROI.
In simple terms, the foremost reason to measure SEO ROI is to understand whether the cost of sEO efforts is bringing your site to the first page and yielding proportionate gain.
The process of calculating ROI and profits can be pretty easy with online marketing tools like Google Ads. But things get a bit tricky regarding organic search traffic.
Google Ads and SEO are very different, and they are two different marketing channels worth investing in, but the ROI calculation is handled differently.
Similarly, the value of your organic traffic from a well-made SEO ROI campaign is secondary to the organic traffic it brings for you. This is especially true for eCommerce websites, where SEO is vital in maintaining a brand presence on search engines.
The need to calculate the ROI of your SEO is even more critical if you run a digital marketing agency or have a new business. Additionally, the ROI outcomes of your SEO efforts or the ROI projects can make you look more presentable in front of stakeholders and investors.
A drive towards positive ROI, especially in the case of organic traffic, brings hope for a successful SEO campaign. It's also important to remember that as SEO parameters keep changing, the way to measure the ROI of SEO may also alter.
Challenges Of Calculating The ROI Of Your SEO
Before discussing how to calculate the return on investment or ROI for your SEO strategies, focus on the challenges. Calculating organic traffic outcomes and analysing form submissions may be more complicated than measuring the investment or gains made from pay-per-click or PPC ads.
One of the main reasons is that there's seldom any fixed cost associated with SEO. You might be paying for digital marketing or content marketing strategies, but they aren't reflected in the organic traffic the SEO campaign pushes. Similarly, in the case of PPC ads, you can easily track the periodic investments and the gains, which isn't possible with SEO.
A good SEO campaign may reward you with organic clicks on your website rather than coming up as revenue gains. And that's why you should know the key SEO performance metrics or KPIs essential in determining the SEO ROI Formula.
We know things may sound confusing, but don't worry; we will take you through the nitty-gritty. So, read on to see how your SEO campaigns have been doing.
How Can You Calculate The ROI Of SEO?
First, let's discuss the concept of return on investment or ROI. To determine your SEO ROI, you need to consider two main parameters that reflect the total value generated from your SEO efforts. They are:
The amount spent on implementing the SEO — Cost of investment
The amount you earned due to the implementation of the SEO — Gain from investment
If you're struggling to calculate your ROI, consider using an SEO ROI Calculator.
1. Different Costs Needed For Implementing SEO
The amount you spend or invest in SEO will depend on many factors, including the goal of a campaign. The cost might be nil if you are a beginner just starting to implement SEO on a website. However, the most common SEO costs that a business or individual may need for SEO include the following:
A. Investing in seo agencies
Many might assume that deploying SEO doesn't need external assistance, but that's not quite true. Engaging with an experienced SEO consultant can be abundantly beneficial. Much research is needed for planning a proper SEO campaign, which often involves sourcing links, undertaking link building and off-page SEO.
One of the good things about hiring digital marketing agencies is that they will most likely give you a cost estimate for all the work. And you will probably end up paying the agency a monthly fee. So, counting this in your investments won't be a problem, and you will also end up saving the cost needed for apps or tech.
The advantage of an agency is technical SEO and reporting; a good agency will show you how much revenue SEO has generated and break down how much organic traffic your website is bringing in.
B. Cost For In-House SEO
As you may know, SEO is much more than just adding links to a web page. So, it's typical for a business to require SEO efforts from others, like developers and copywriters dedicated to the work. As these employees will work under you, you decide to pay them hourly or daily.
Therefore, you must consider their salary while calculating your total investment for implementing SEO. To avoid missing out on any cost, track the rates and work done as closely as possible.
C. Cost Of Technology
While checking out the different aspects of investment cost in SEO, we found that people often miss out on considering the cost of tools. In the case of SEO, you will most likely use different tools for optimising your content or keyword research.
And these pieces of software generally charge you on a monthly or yearly basis. Therefore, look into the apps or software you or your team are currently using and include it in the overall SEO investment cost. This is also an excellent time to eliminate or unsubscribe from any software you might not use to avoid unnecessary expenditures.
Thankfully, a lot of SEO tools are free as well. Google Search Console, most analytics software and keyword research tools can all be sourced for free.
After going through the costs you or your company incur, add them up to the total investment cost. At the same time, you should note that the costs may vary monthly based on the amount of work you put into SEO efforts. And that's fine; make sure to account for the changing costs while evaluating the SEO efforts and how many conversions are being generated as a result.
2. Tracking And Analysing Conversions
By now, you must have calculated and compiled the total investment cost for implementing SEO. Even though we will need some formulas, they will be daunting as you only need to track and measure the estimated value generated by conversion.
One of the first steps to calculate the ROI of your SEO would be to set up tracking and analytics of the job that's being done. And no one will help you more in this step than Google, irrespective of what other SEO tools you may use.
It's a must for any company or individual to find the time to set up Google Analytics to get a snapshot of their plan. If you look forward to getting into conversion tracking and organic search depths, Google Analytics data will be your best friend.
A. Tracking eCommerce Conversion Values
The first thing to do when using SEO for eCommerce is to set up the eCommerce tracking in Google Analytics. All you need to do is log into your Analytics account and find your way to the "Admin" section and then click on "View" for "eCommerce Setup" settings.
To set the eCommerce tracking, turn on the "Enable eCommerce" and "Enable Enhanced eCommerce Reporting" buttons. Additionally, the help section of Google Analytics has information on tracking-code setup, which you might need to enable the buttons.
And, if you aren't the one who is used to derive reports from Google Analytics, have a chat with your developer to do it. Nevertheless, setting up the eCommerce reporting button gives you access to the eCommerce reports found on the "Conversions" tab when in the Analytics mode.
Several data sections are visible in this report section, including one which checks the organic traffic coming toward your website. You can even check the rate of your organic traffic conversions. However, this section's indispensable feature must be the revenue reports that can help you find the SEO ROI for your site.
B. Tracking Lead Generation Conversions Values
On the other hand, if your website or business primarily depends on generating leads for conversions, you might run into some challenges, such as capturing vital information like the first name. Most SEO firms prefer to keep Google Analytics experts and developers who know their way around the tracking system.
One of the things that's different about tracking leads is that it lacks the conversion rate seen in the case of eCommerce. As most people decide to associate with your businesses offline, there's no way to tell that every lead will turn into a customer.
However, to simplify the process, go to the 'Admin' section of Google Analytics, click 'View', then navigate to the 'Goals' section. Here, you can monitor critical actions such as contact form submissions. As you can understand, we will take this opportunity to set up a new goal based on our expectations from conversions.
You can either choose one from the templates, set up a smart goal, or create a custom one from scratch to set a new goal. For the custom goal, select the "Custom" option, assign the "Goal Description", and proceed to fill in all the "Goal Details."
This is where you will get the "Value" section, where you must enter the monetary expectations from the SEO. It will help you calculate the ROI of your SEO, primarily based on the average value of a generated lead. In eCommerce, this is referred to as your average order value or average lifetime value and can be worked out using the average dollar value of each sale.
How To Get The Value?
Even though we would like to assign an expected monetary value on our own, it won't lead us to the right calculations. Hence, the most effective way to figure out the way is by using the formula:
Customer Lifetime Value (LTV) x Lead Conversion Rate
Customer LTV is a fascinating value, as it's the average amount a customer spends on your website or business over a lifetime. The lead conversion rate is the percentage of the leads gathered on your website that turn into paying customers or sales.
For example, if your Customer's LTV is AU$30,000 and you have an average conversion rate of 15%, the assigned goal value should be AU$4,500.
As you can understand, this might not be the most accurate business or website metric. But, it helps to arrive at an acceptable value to calculate the ROI for your SEO when the business is based on lead conversions.
You can check the value brought by the organic leads by visiting the "Overview" section in the "Goals" panel. Once there, set the philtre to "Organic traffic" and search for "Goal Value."
So, by this stage, you have the cost of your investment for doing the SEO work and the revenue generated after implementation. We will feed these values into a relevant formula to calculate your ROI for the SEO strategy.
3. Calculate Your Return On SEO Investment Cost
As you now have all the necessary data, it's time to put in the respective values to calculate the ROI for your SEO. This is the formula we will use to get the ROI:
(Value of Conversions – Cost of Investment) / Cost of Investment
Let's see how it works with the help of a simple example. First, we will assume that your SEO strategy has generated a monetary value of around AU$400,000, while the investment cost is AUS$50,000.
Feeding the values into the formula, we get (AU$400,000 – AUS$50,000) / AUS$50,000 = 7
So, your SEO ROI for every AU$1 spent is approximately AU$7. In other words, you have had an ROI of 700% over time if we multiply the ROI value by 100. Similarly, you can use the formula to calculate your ROI from SEO irrespective of the time duration that's being considered. Ensure the other values are correct for the most accurate costs and returns.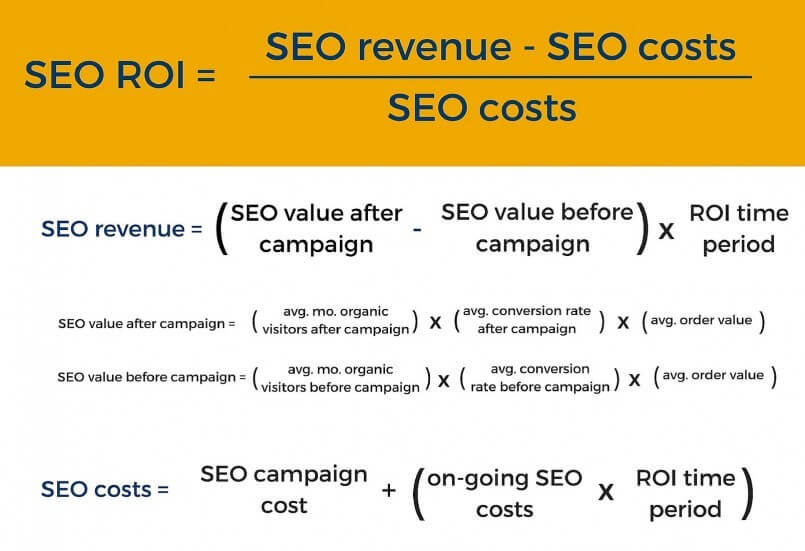 Additional Note
While finding the right SEO ROI, we realised that most businesses have a multi-channel approach to lead generation. Hence, when a lead finally turns into a customer, they can arrive through an organic search or a PPC ad.
When we checked Google Analytics, it showed Last Non-Direct Click conversions as the default conversions attributed for calculations. So, it calculates the value by only considering the last marketing channel used by a visitor to your site. But, in reality, most visitors have multiple interactions with a website before converting into a customer.
There's no need to worry; you can fix the default setting by going to the "Conversions" section. Here, you can select the "Multi-Channel Funnels" option and then the "Assisted Conversions" option to get a detailed view of the different values.
Note that when using the "Assisted Conversions" option, your SEO team and PPC team should use the same settings on Google Analytics. This would help to avoid reporting inaccuracies and miscalculations.
Measuring Your Return On Investment
That's everything we had to tell you about calculating the ROI of your SEO. We understand that some parts may sound confusing if you're new to them. But we assure you that the process gets much easier once you start doing the calculations regularly.
Additionally, we highly recommend you learn your way around Google Analytics if you haven't done so already. Knowing the tools would help you check the return on investment or ROI using the values and recheck the calculations done by others.
With that, we have come to the end of this guide. We hope our guide and tips will help you calculate ROI from SEO without much trouble. Get in touch with our team if you need assistance with any of the above topics. The team at sitecentre® can provide you with expert advice and assistance.