Pay-per-click (PPC) advertising is a popular method for online businesses and influencers to make quick cash.
And what's a better platform than Google, the most used search engine in the world? No wonder the Oxford Dictionary coined "Google" as a verb in 2006.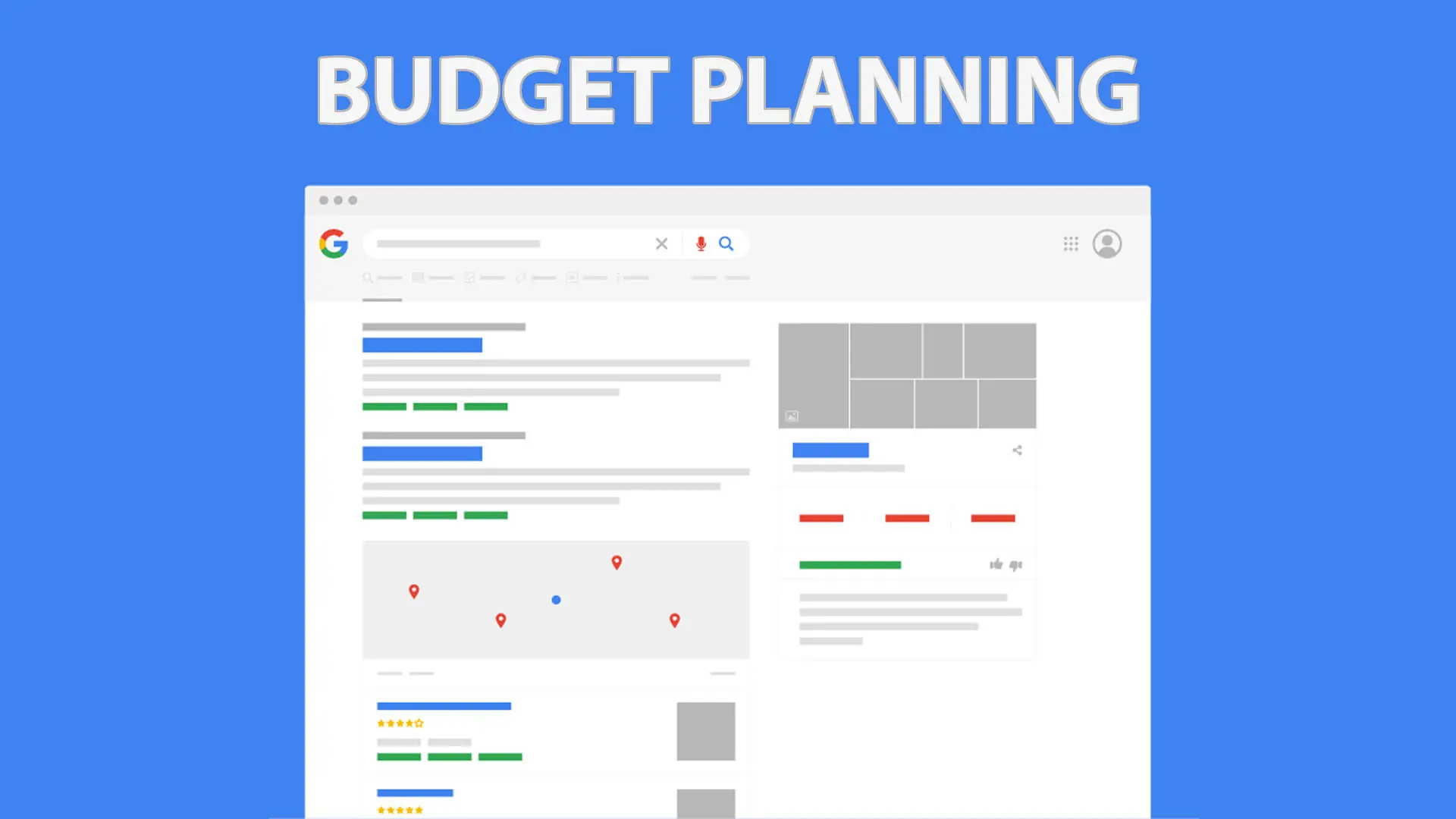 However, before investing in Google Ads, you may wonder what a reasonable starting budget is. Unfortunately, there's no easy way to find out without free apps or foolproof tutorials for budgeting. Hence, setting an initial Google Ads budget is equally challenging for both beginners and expert PPC marketers.
So, to help you understand the wonders of a Google Ads monthly budget in digital marketing, we've curated this extensive guide on determining your Google Ads budget. We'll explore the average advertising cost, reasonable Google Ads budgets for different companies, helpful budgeting tools, and much more.
How Does Google Ads Work?
Before we set your Google Ads budgets, it is essential to understand how this marketing tool works.
Google Ads works like an auction. When a user makes a Google Search for a query, the ad auction begins. Once the keywords match with the search item, suitable ads are put up for auction. More popularity of a particular keyword means more bidders and a higher cost.
According to the Ad Rank, the cost-per-click (CPC) and ad placement are determined. Note that Ad Rank is based on the quality score (QS) and the maximum bid for the keyword. Additionally, quality scores depend upon the relevance of the keyword to the search term, the landing page, and the CTR.
Therefore, the Ad Rank formula is as follows:
(Your maximum CPC bid) x (Your ad's QS)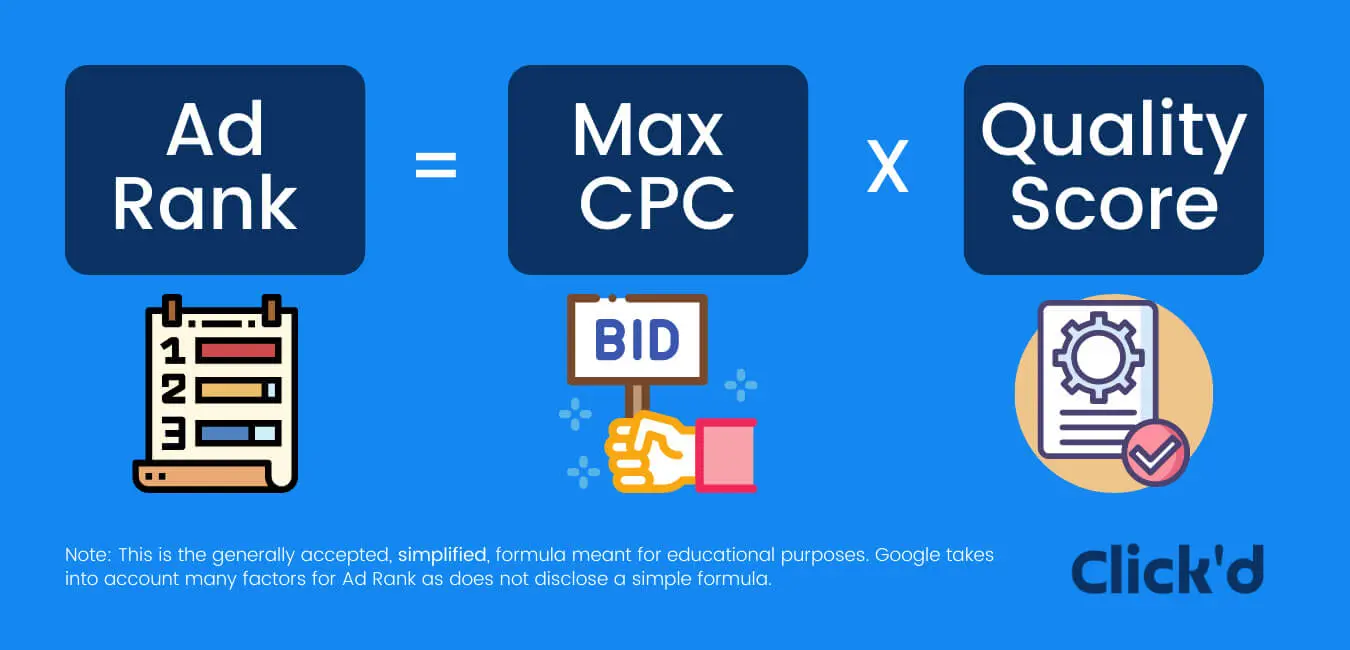 This implies that you can spend much less on ads and maintain an impressive ROI with higher quality scores.
What Is A Good Starting Budget For Google Ads?
The monthly marketing budget varies with the organisation's type and size. Your campaign and the overall paid search budget also determine the amount. Plus, Google Ads' customisable budget and bidding feature make it even more difficult for beginners to decide on a set amount.
In most cases, the amount spent on Google advertising is directly proportional to the amount of CPC of a particular industry. So, it is best to research your industry or speak to a professional to calculate a starting budget.
Remember that the average budget mentioned above does not include the additional cost of a PPC agency, software, and more.
So, how to estimate a Google Ads budget?
The Google Ads budget planner is another great way to come up with your initial budget for advertising with. Your PPC budget might need to be split between several campaign types, such as display, search ads, video and smart advertising bid models.
Google Ads Pricing Breakup Across Different Industries
The average monthly Google Ads budget is bound to vary across industries. Since every brand offers a different product or service, it uses the ad spend differently. Here's a simple breakdown of the approximate cost each industry pays for ads:
B2B: $3.33 (search network) and $0.79 (display network)
Employment Services: $2.04 (search network) and $0.78 (display network)
Finance and Insurance: $3.44 (search network) and $0.86 (display network)
Health and Medical: $2.62 (search network) and $0.63 (display network)
Education: $2.40 (search network) and $0.47 (display network)
Consumer Services: $6.40 (search network) and $0.81 (display network)
Auto: $2.46 (search network) and $0.58 (display network)
eCommerce: $1.16 (search network) and $0.45 (display network)
Advocacy: $1.43 (search network) and $0.62 (display network)
Dating and Personals: $2.78 (search network) and $1.49 (display network)
Home Goods: $2.94 (search network) and $0.60 (display network)
Travel and Hospitality: $1.53 (search network) and $0.44 (display network)
Industrial Services: $2.56 (search network) and $0.54 (display network)
Legal: $6.75 (search network) and $0.72 (display network)
Real Estate: $2.37 (search network) and $0.75 (display network)
Technology: $3.80 (search network) and $0.51 (display network)
Some companies even spend their Google ads spend on additional marketing tools like PPC agencies and management software. Here's what you should know about each of these optional but beneficial tools:
PPC Management Agency
A PPC agency manages marketing ad campaigns on behalf of another business. Consequently, these PPC agencies will generally charge a monthly fee, or they could charge you a percentage of your monthly ad spend.
PPC Management Software
Companies investing in digital marketing campaigns use many paid and free PPC management tools like WordStream, NinjaCat, Adzooma, and more. With costs ranging between $15-800 per month, these PPC software solutions evaluate your movements and boost your bids.
However, you may choose not to opt for these additional tools or go for free options.
What Is Your Goal For Google Ads Campaigns?
Your marketing campaign and Google Ads targeting settings depend on your organisational goal. Here are some common goals and how most companies work towards achieving them:
1. Generate Sales
The topmost priority for any company is to earn revenue. PPC ads are highly profitable as they target high-intent audiences. Additionally, bidding on relevant keywords is recommended to increase sales.
Of course, such keywords will be priced higher, but consider it a valuable investment for long-term profits.
2. Increase Traffic
Most small businesses aim at attracting high traffic. This creates brand awareness among potential customers, making it a great way to start.
If traffic matters more than sales, keeping a low budget for PPC campaigns is better. You can even play safe by bidding on generic keywords and ad extensions. While these may not promise instant revenue, you can get high traffic, leading to sales in the future.
3. Create Brand Awareness
Approximately 65% of us are visual learners, so it is no secret that ads are a valuable marketing tool that creates a lasting impression. Ads will put your brand name out there and make visitors watch and remember.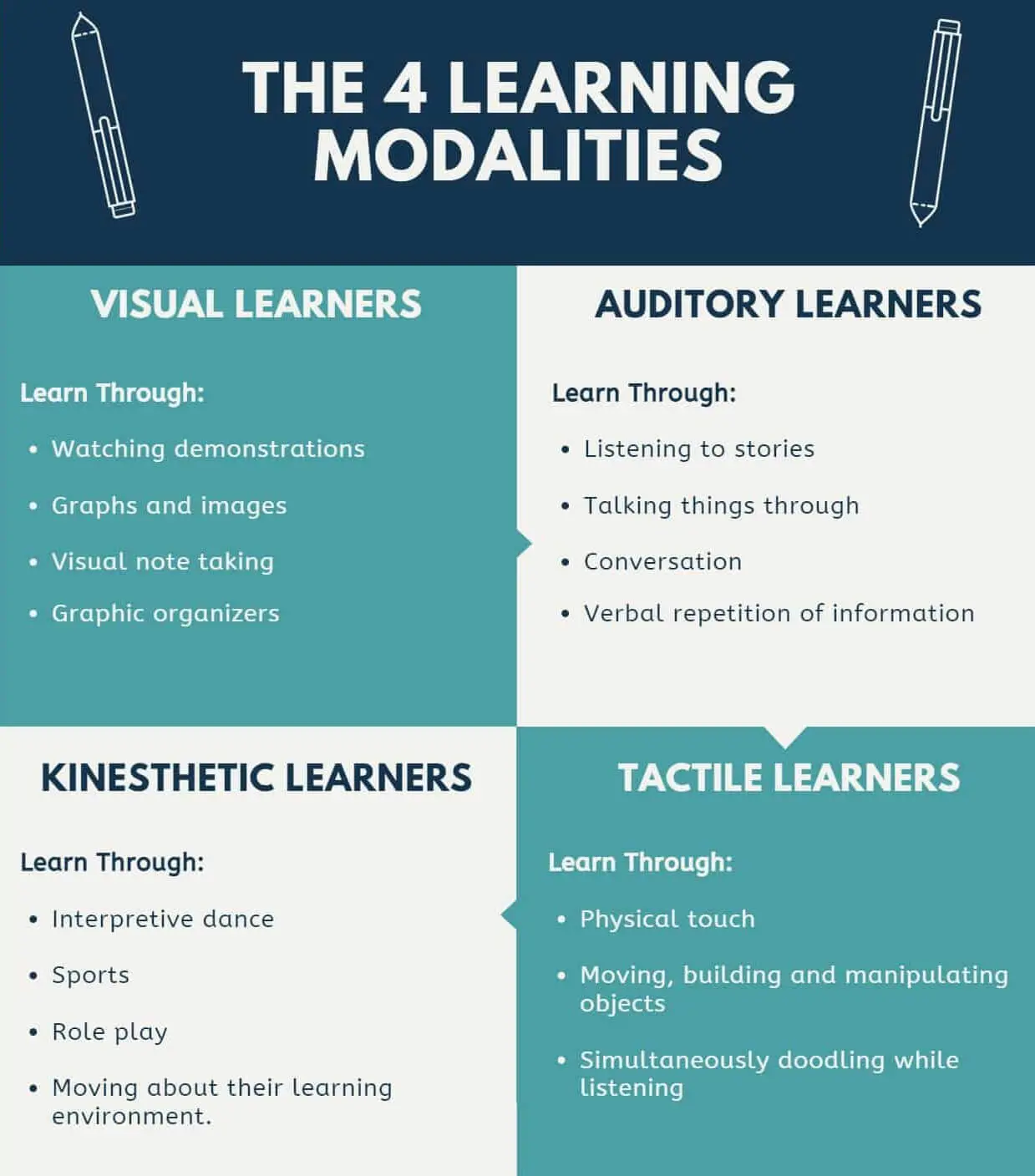 Brand awareness helps gain positive associations, trust, and engagement. Thus, it boosts the overall performance of the company website.
4. Lead Generation
Ensure that your landing page corresponds to your target keyword and that the CTA on the landing page attracts visitors into the sales funnel. You must have a solid sales strategy to retain potential customers and increase sales.
Also, maintaining your quality score will encourage Google to reward your brand with a discounted average cost per click and higher rankings in Google Search results. So, ensure that your target keywords, Google Ads campaign and landing page correspond.
How Do You Calculate Google Ads Budget?
Budgeting is vital for any organisation to function smoothly. Thus, starting with a plan to keep your expenses in check while ensuring a solid investment for higher ROI is imperative.
1. Estimate The Initial Budget
The first step is determining how much you're ready to spend on Google Ads. A budget requires a lot of keyword research and an understanding of your organisational goals. From forming a marketing strategy to choosing the suitable KPI (key performance indicator) — all of these factors should be considered carefully to create a starting budget.
A. Google Ads And Your Current Marketing Strategy
If your business has already established itself online, you need not worry about leads. But if you're the new kid in town, you might have to resort to marketing channels like Facebook ads, SEO optimisation, PR, referrals, etc.
After analysing your current marketing channels, ask yourself if Google Ads will further enhance your online presence or bring you back to square one.
B. Watch Your Competitors
We've always been taught to mind our own business. But in digital marketing, competition is high, and the market gets saturated instantly. So, watching your rival's next move is as important as simply focusing on yourself.
Tools like SEMrush and Keyword Planner help peep into your competitors' Google Ads budget. Accordingly, you can amend your marketing strategies and bid for cheaper yet beneficial keywords.
C. Check The Cost Of Keywords
Calculating the initial budget by determining the cost of keywords you're bidding on is a simple way to plan your company finances. In this step, you can add your landing pages on the Google Ads Planner to get a list of relevant keywords, their popularity, and competition.
Additionally, try adding pages related to your business's goods and services to find underrated keywords that you can bid on. These search terms will not cost as much, thanks to the low competition, yet can attract high traffic.
Remember that branded keywords (with commercial intent) gain more clicks than non-branded ones. For instance, "white dress" is a generic term that caters to a broader audience. But, "H&M white sundress" points to the unique product/ service the brand offers. Long-tail keywords also provide more reach and an increase of 36% conversion rate.
D. Prioritise KPIs (key performance indicators)
The final step in estimating your advertising cost is to analyse which KPIs are significant for your business. Given below are some standard KPI metrics:
Quality score
Average position
Click-through rates (CTR)
Conversion rate
Impressions
Cost per conversion
You can cash in from CPA, figure out conversions, leverage existing CPA through different channels- choose what works for the company and prioritise accordingly.
If you don't notice any progress in ROI by changing the target location, you may not invest as much in the average position.
Similarly, consider focusing on cost per conversion if your company aims to increase sales. And when you've got enough data for more accurate budget planning, you can always change the settings of your Google Ads accounts.
2. Divide the Budget Among Various Search Campaigns
Research, competitor, branded, high intent, top performers- your search campaigns will be divided into these categories, each of which is fluid.
Technically, it would be best to allocate most of your money to branded keywords. Right? After all, you want your brand to dominate the market out there. But according to Google, you would need to buy these keywords for at least $97 per click.
So, if you don't want to sell an organ for good advertising, focus on high intent, research, and top-performing keywords. These keywords promise a high conversion rate. However, with different companies and niches, these factors keep changing. So, it is best to research and adjust your budget, preferably once a week, for optimum ROI.
3. Display And Remarketing Tools
Besides search, Google AdWords is packed with other online advertising options like display, remarketing, shopping, and more. These marketing tools can largely influence your budget depending on your goals and PPC strategy.
A. Display
The Google Display Network (GDN), albeit not a high-intent marketing scheme, is beneficial for creating brand awareness and presenting your product/ services. Small businesses can use the display as a complementary strategy to put themselves into the market with attractive logos, banners, visuals, etc.
B. Remarketing
Remarketing is an effective tactic to convert repeat visitors into customers. While some account managers argue that remarketing is simply paying money to bring the same people to your website, it's still better than having no conversions.
You can calculate the budget for remarketing by determining the total conversions from returning visitors.
While these marketing strategies may seem optional, both effectively maximise your budget by aiming more money toward qualified prospects.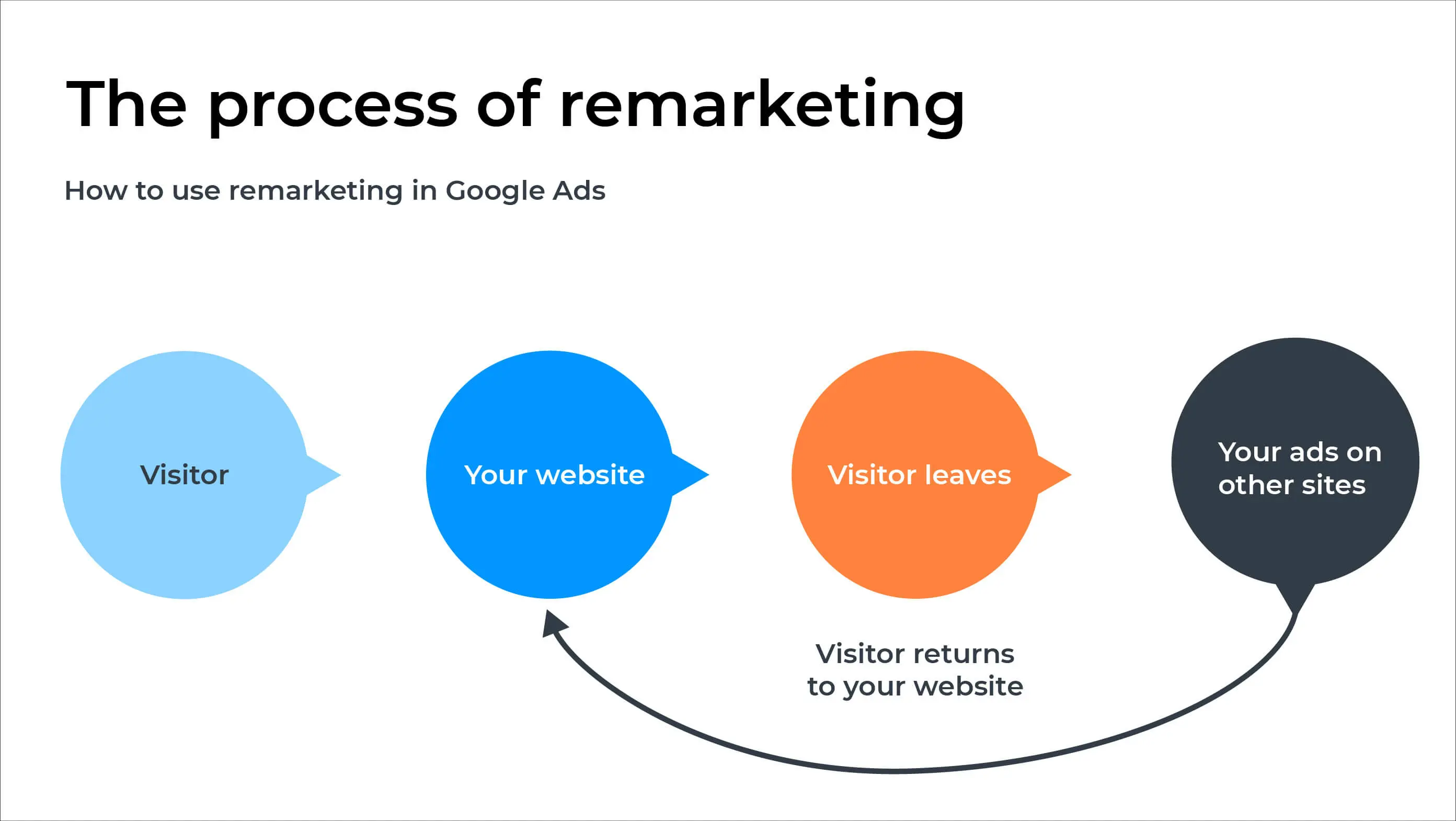 4. Use Google Ads Budget Calculator
The Google Ads Budget calculator is an easy and fun interface for adjusting your budget and analysing its effects on the ROI. So, if your company does not have an accountant yet, let Google do the job!
How To Select Relevant Keywords For Google Ads?
Term selection can make or break your Google Ads campaign performance. It is an essential factor in determining your budget. While choosing a generic, highly searched keyword sounds like the way to go, you will have to spend a large portion of your budget to appear in the top position of the SERPs.
Ad quality score is when ad relevance comes into the picture. Relevant keywords will enhance brand reputation, increase visibility among interested customers, and boost ROI.
Researching High Search Keywords
Companies can learn about search volume trends using tools like Google Ads Keyword Planner and Google Search Console. Broader keywords ensure more clicks, including missing targeted traffic. On the other hand, specific keywords garner lower clicks and searches, but the audience is more likely to purchase a product or service from your brand.
Hence, it would help if you struck a balance between high search keywords and specific terms that match the preferences of your target audience.
Google Ads Targeting
Your chosen target setting influences your brand's Google Ads budget. Look at the different targeting strategies and their respective advertising budget.
1. Google Ads Location Targeting
Location-based terms and keywords can bring a larger audience at a low average cost per click. From the target country to the location groups (business location, places of interest, etc.)- you can choose a general or specific location for your Google Ads.
By doing so, you reach the right customers. Even if the target audience is small, they are more likely to boost your conversion rate than a large chunk of missing targeted audiences. We suggest looking through the trends of the country/ region you want to target.
2. Google Ads Time Of Day Targeting
Choosing a specific time for investing more money in Google Ads promises higher profitability. Notice how Instagram influencers ask their followers for a suitable time to upload a picture? That's because they want to know the ideal time for gaining the most audience and engagement.
Google Ads works similarly (for some businesses only), so we suggest experimenting with different time windows. Especially for local businesses with physical stores to allocate a higher advertising budget during work hours. This will boost in-store traffic and, if monitored well, can even gain potential customers.
3. Google Ads Device Targeting
Targeting ads toward specific devices is a sure-shot way to gain conversions while saving up. So, spending on desktops, tablets, and TVs is futile if you have a mobile site.
However, you must be sure about your customers' devices (actual and potential) to search for your brand/ company.
Tools For Planning A Google Ads Budget
1. Google's Keyword Planner
User-friendly and intuitive, the Google Keyword Planner helps estimate the advertising cost by generating suitable keywords. Also, according to your marketing campaign, Google suggests the best keywords out of the lot.
The average monthly searches, competition level, and bidding range accompany each keyword.
2. Wordtracker Scout
This is a free extension available on Google Chrome that identifies your competitors' keywords. It helps remove the guesswork from keyword planning, so you can efficiently select one that works for your Google Ads marketing budgets.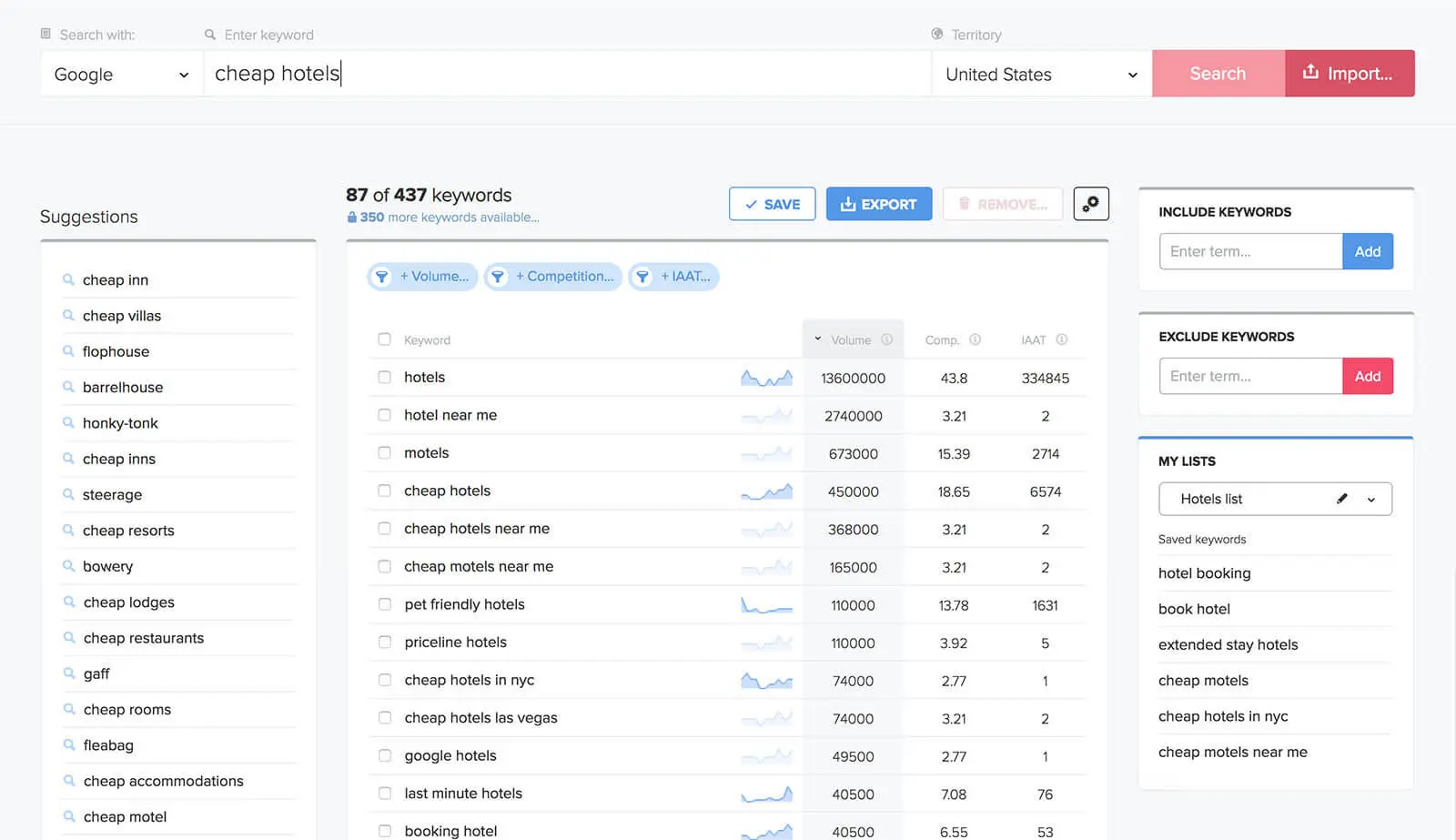 Benefits Of Using Google Ads
So, by now, you have a fair idea of how Google Ads works and how to get started with budgeting. But what's the point when you're still not thoroughly convinced or do not have much money to invest in it? Then, there are some solid reasons why 96% of brands rely on Google Ads.
1. Customised Budget
The first and foremost reason Google Ads is suitable for businesses of any size is its customisable budget and bidding process. Google has not set any minimum limit for its advertising services. You can make a Google Ads account and start a marketing campaign for as low as $5 per day.
Other factors, like the level of competition, will determine whether you should spend more or less on ads. Again, you can increase or decrease the ad budget as and when possible. It is interesting to note that, according to GoRemotely, businesses can earn up to $2 for every $1 spent on advertising.
2. Real-time Analytics
Besides advertising your brand, the Google Ads dashboard provides vital data regarding your ad campaign. You get the details on the number of views, clicks, conversions, and much more, which will help advance your brand performance.
This is where Google Ads gets an edge over other advertising tools. Even when you compare Google's digital advertising with other forms of media like television, newspapers, etc., the former ranks way higher in terms of functionality and profitability.
3. Scalability
Your budget is not the only thing you can control on Google Ads. Since you get access to real-time updates on the campaigns, scaling up and down is a no-brainer. There's no contract or monthly requirement, so whenever a campaign performs poorly, you can immediately scale down and vice-versa.
Average Google Ads Pricing At A Glance
Here's a quick summary of Google Ads costs staggered across various pricing factors. Keep in mind that these are approximate figures spent per month, which can vary for different businesses.
Average Ad Spend: $9,000 — 10,000
CPC (Google Display Network): <$1 per click
CPC (Google Search Network): $1 — 2 per click
PPC Management Tools: $15 — 800
Professional Google Ads Budget Management: $350 — 5000 or 12 — 30% of ad spend
Calculating Your Budget
With that, we come to the end of this extensive guide. We hope you were able to grasp a thing or two about planning an adequate Google Ads budget from reading this. While there's no foolproof way to calculate your monthly budget, nothing can stop your business from becoming successful with some planning and strategy.
Since the performance of an online business is based on multiple variables, one size does not fit all! You will have to audit and experiment with different types of keywords, try a new budget, switch your KPIs, and so on. With more experience, you will better identify what works best for you.
Remember to watch your competitors without losing track of your campaign and budget.