Businesses are increasing investments in online advertising. At the same time, new entrants are bombarded with one question — whether Google AdWords or Bing Ads are better.
Before getting into the thick of things, advertising on Bing might not be familiar to all searchers on the internet. It is a search engine, like Google. But Bing is powered by Microsoft and determined to give Google strict competition. To that end, it tries to revolutionise digital searches while providing competition to the current powerhouse.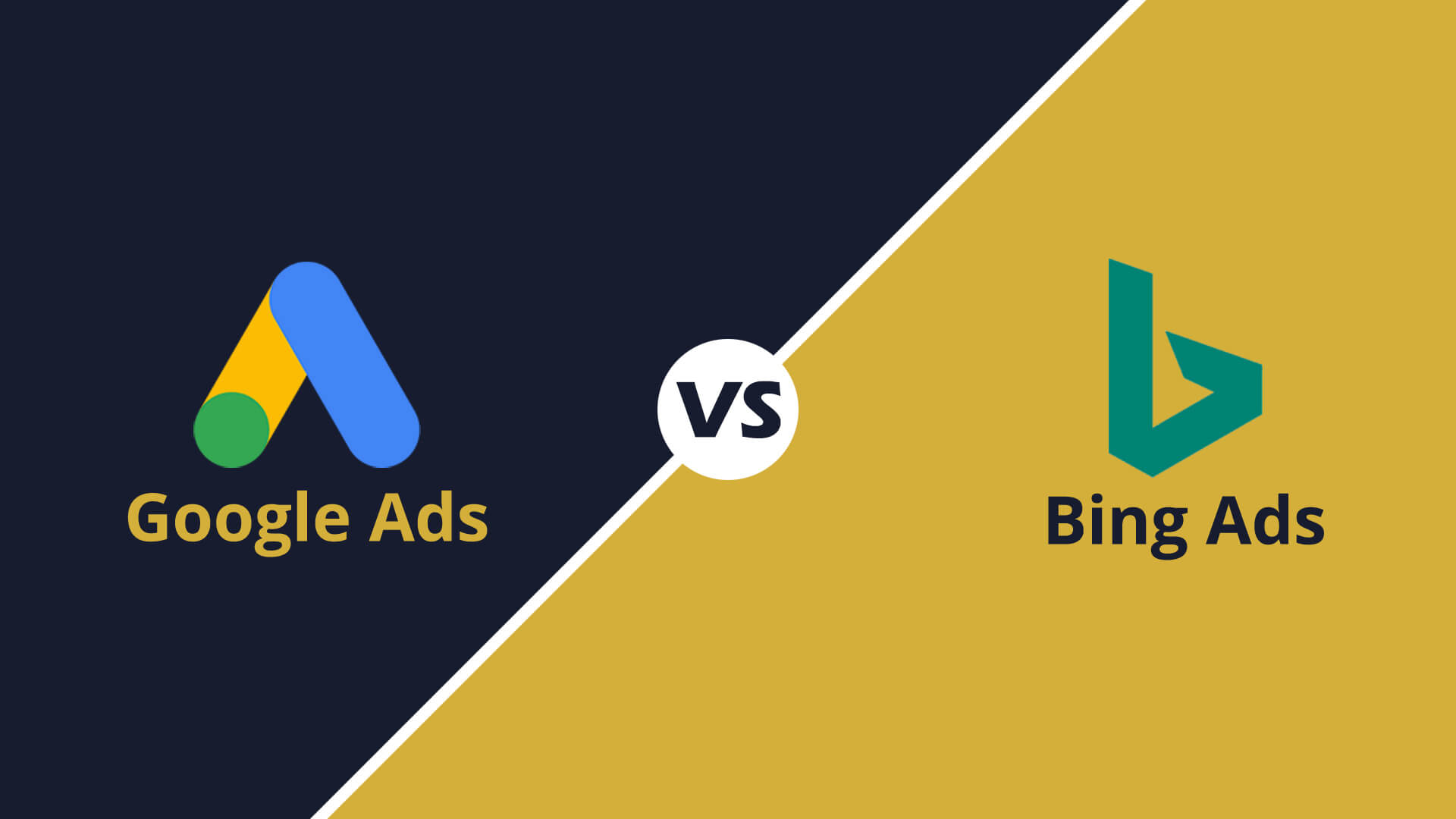 Bing has ambition, but this search engine truly differentiates itself in the PPC or pay-per-click ads segment.
A pay-per-click ad is how search engine marketing or SEM occurs. Advertisers pay for the number of clicks on each ad, and then companies calculate the cost per click.
The advertiser pays publishers each time a surfer clicks on an ad. In return, these shopping ads are added to databases of the search engine. So, when a user puts in a keyword that matches the content, they see these shopping ads.
Google Ads remains extremely popular, but Bing Ads also has its advantages. Curious about which ad search engine platforms will be better for you? That's where we come in with all the details to help you make your choice.
Let us show you the complete detailed comparison between the different Ad Networks and conclude which is better, Bing Ads vs Google Ads.
How Are They Similar?
Google Ads and Bing Ads work on the same concept. Dynamic search ads are a powerful tool used by Bing and Google, assigning a cost per click, which helps achieve quick conversions and short-term goals. Within the SERP, both Google and Bing have similar appearances.
They display URLs beneath ad headlines and have meta descriptions underneath them. The overall placement, headlines, and meta descriptions are nearly the same. There aren't many differences in length either.
IN BOTH CASES, these PPC ads look like search results, except for the small bubble at the side declaring they are shopping ads.
How Are They Different?
The differences between Bing and Google aren't as crystal apparent as you might have hoped. Google Ads has two different networks for advertisement purposes. They are the Search Network and Display Network. The former consists of text ads that appear in the SERPs. Meanwhile, the latter covers visual ads that appear on different websites all over the net.
On the other hand, Bing is owned by Microsoft, which also owns Yahoo and AOL. Thus, taking out a Bing ad means that it is displayed on all these search engines.
Thus, searchers can see your shopping ads on Bing, Yahoo, and AOL, apart from previous partner sites.
Factors Of Comparison
There are some critical factors on which we will compare differences between Bing and Google Ads; how these options fare will help you decide which one to choose.
1. Reach
Since all advertisers want to reach their audiences, it is a critical component of ad campaigns. If people don't know about your company, they will not likely buy your products and services. Thus, teams might miss out on returns on money spent on ads.
This tends to affect the overall profitability of a company.
Google takes the lead here because its PPC ads capture a larger market share based on searches.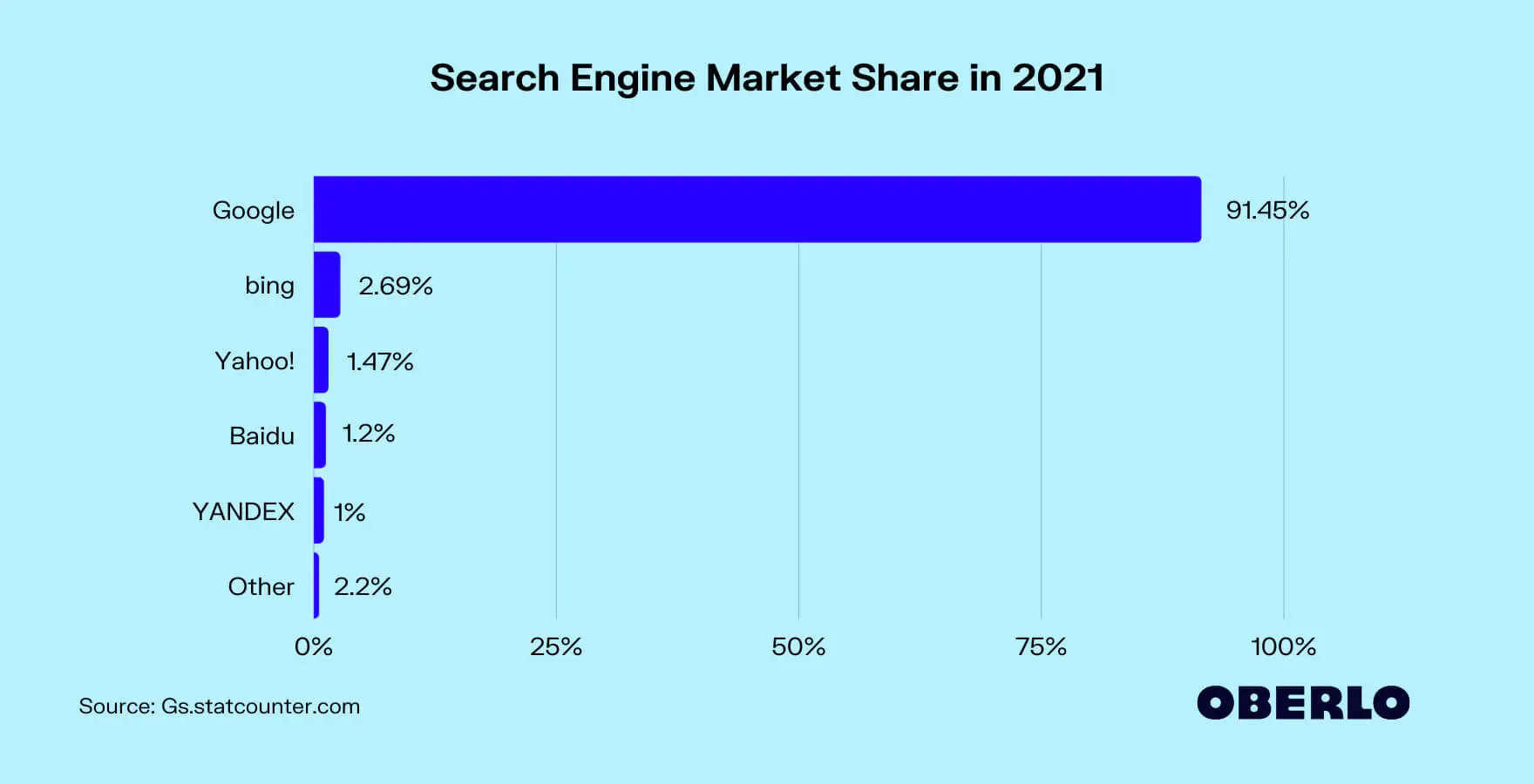 Through their display network, you can reach many extra users too. Bing PPC ads grab the edge of reaching a section of desktop users that Google can't. However, Google dominates when it comes to overall reach.
2. Demography
Targeting the wrong people can break ad campaigns. Try using the targeting options provided by Bing and Google. While these are helpful, the existing demographics of both Bing and Google also play a significant part.
A large section of Bing users are married, between thirty-five and fifty-four, and generally have a higher income. Comparatively, those using Google are younger.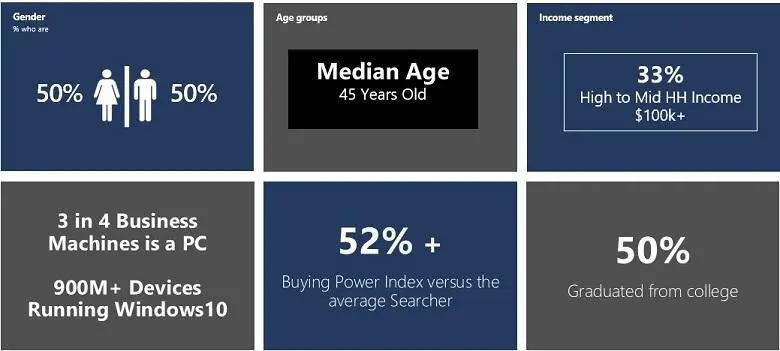 Due to the massive user base of Google, it is harder to pinpoint other demographics. But if your target audience falls outside the parameters that Bing users mainly belong to, then Google AdWords is the way to go.
3. Proper Targeting
Ad targeting can also help to reach appropriate audiences successfully. In Google AdWords, a Google Ads campaign uses content and audience targeting. Content targeting offers options like placement, keywords, topics, and displaying expansion for searches.
Meanwhile, audience targeting includes affinity, demographics, in-market, similar audiences, custom intent, and remarketing material. The difference between a Google ad and a Bing ad campaign is evident in the latter's targeting options.
With Bing and Google, you get access to a range of targeting options, including LinkedIn profiles, in-market, keywords, custom audiences, location, time of day and day of the week, gender, age, remarketing, and device. These help your ads position better on the search engine results page. Overall even though Google AdWords has more options for targeting, Bing offers some distinct advantages.
If you're advertising to individuals or companies, your campaign can use LinkedIn profile targeting. This is especially helpful in account-based marketing.
4. Targeting Through Keywords
Search marketing is essential regardless of whether you use Google AdWords or Bing Ads. Thus, you must understand what keywords match the types searched on these advertising platforms.
For Google AdWords, you can access broad matches; phrase matches, broad match modifiers, exact matches, and negative keyword targeting. Bing allows broad, phrase, exact matches, and negative keywords.
In terms of match options for keywords, there isn't much difference between Google Ads and Bing Ads. But, there is a marked contrast when it comes to search volume.
Google dominates here, so you'll have access to smaller search volumes using Bing. This means there are fewer users and lesser scopes of reaching target audiences.
5. Ad Copies
Several businesses start an ad campaign with text ads or search ads. Both Google and Bing have guidelines for these kinds of advertisements. Rules are usually related to the number of characters for the headlines, display URLs for landing pages and descriptions.
Google AdWords has to follow up to 30 characters for headlines, up to 90 characters for the descriptive sections, and 15 characters for display URLs that apply to all search ads.
Bing allows headlines and URLs but has an 80-character limit for descriptions. Thus, Google does seem to offer more flexibility when it comes to advertisement copies.
6. Costing
Before launching a campaign, it is necessary to calculate the costs. Generally, there is a lower cost for Bing Ads than Google Ad campaigns. Of course, expenditure often determines the kind of returns you get.
Spending less on Bing Ads or Google Ads might lead to lower earnings. Then again, unqualified leads clicking on ads won't result in new clients or sales.
Your campaign should be designed as per your budget. But don't make price the only factor. Check performances and returns to decide whether you need Bing Ads to account or stand to get a better conversion rate with Google Ads.
7. Average Cost Per Click
While deciding on ad budgets, go through the cost per click for Bing Ads and Google Ads. Regarding paid search advertising, CPC stands for how much money you pay when someone clicks on your ad.
This is compared to their engagement with the ad and whether sales result.
Bing advertising has a slightly lower CPC than Google. But the engagement is lower too. Thus, smaller ad campaigns might do better with Bing Ads, but lesser engagement will.
Once again, performance becomes as essential as cost while planning such a campaign.
8. Click-Through-Rate
CTR or Click-Through-Rate calculates the percentage of how many users click on the ad vs how many of them see it.
Usually, Bing Ads has a higher CTR than Google Ads, but you still need to have compelling content so that users decide to check out what you're selling.
9. Conversion Rates
You can't ignore the rate of conversions for advertisements. It describes the percentage of users who complete the goal of ads, such as making a purchase, within different ad groups. It is compared to users who clicked on the ad but didn't follow through with a purchase.
Google has a higher conversion rate, especially considering how many advertisers use it.
10. Restrictions On Advertisements
In the history of PPC, there have been changes in regulations. These have affected what advertisers can show. Google Ads has a lot more restrictions as compared to Bing Ads.
The former doesn't allow or impose restrictive policies on alcohol, adult content, gambling, and games. It strictly regulates copyrighted content, medicines and healthcare, political, trademarks, financial services, and legal content.
On the other hand, Bing advertising restricts hate speech, dating, and political or religious content. The site also has policies against peer-to-peer sharing, violence, suffering, tax collection, sensitive advertisement, and user-generated content that isn't regulated.
Though there are some overlaps, Google tends to be much stricter. They also don't allow affiliate marketing for ads campaign on the search engine.
11. Kinds Of Ads
Google stays ahead of the curve by innovating new types of ads. They offer call-only ads which follow mobile device targeting. This strategy enables users to click on the phone numbers displayed in these digital marketing plans and set up a direct call, affecting the ad placements. Bing still has a long way to go to catch up.
12. Tools Available
Google and Bing both offer several tools to help improve advertisements. The Keyword Planner Tool is one such example. It makes advertising so much easier since you can look up the search volume and research all kinds of keywords to forecast trends in the future.
An editor app also allows you to create ads faster and upload them. You can download and use it offline. Bing has a keyword planner but isn't as advanced as Google's.
13. Search Engine Market Share
Market share plays a huge role in determining how popular specific search engines are. The numbers show that Google reigns over the search engine market, having captured 91.38%, while Bing search ads hold around 2.69%. While it still comes second, there is a significant gap.
Thus, it's no surprise that advertisers often prefer Google Ads over Bing Ads regarding online search ad placements.
Cons Of Google And Bing Ads
You should know that each search engine comes with its own set of disadvantages. Google witnesses high competition with keywords of high value.
This increases PPC. Users must use specific keywords since broad words might attract unwanted searches and hamper advertising attempts. Again as Bing has a very loyal user base, using Google Ads makes it impossible to reach them.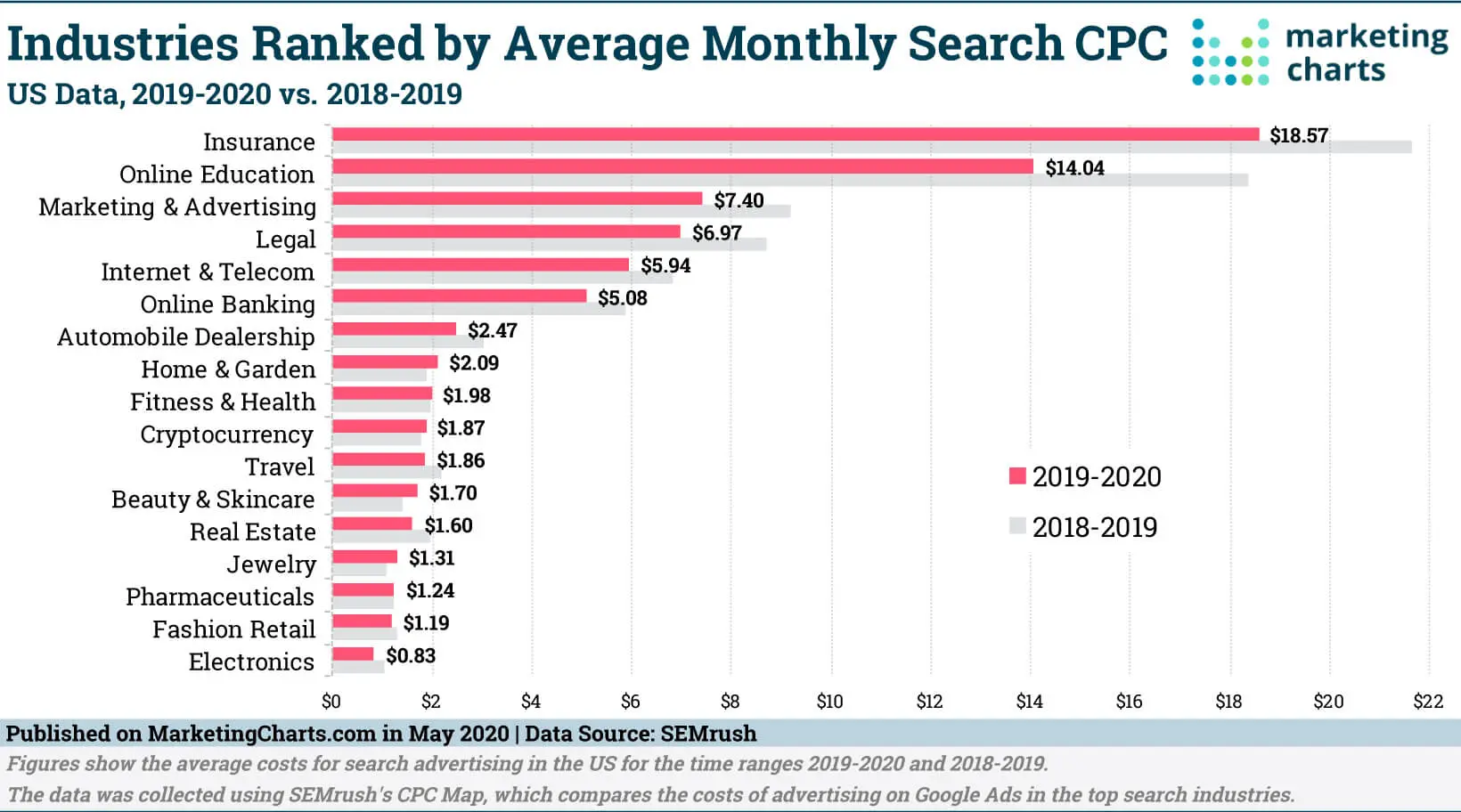 Image Source: Marketing Charts
On the other hand, Bing, too, has its downsides. Trillions of people use Google; who wouldn't prefer Bing?
As its market share is significantly smaller, Bing Ads will not likely reach international audiences, and the demography is much older.
Special Benefits Of Bing
Despite the detailed comparison, you should be aware of advertisers' particular advantages when using Bing.
1. Importing Google Ads Campaigns
Once you've created a Bing Ads account, you can import your campaigns directly from Google Search ads, allowing you to leverage Microsoft Ads.
Instead of creating everything from scratch, you can run your campaign quickly.
It's easy to import Google Ads to Bing using their intuitive Ads editor software.
2. Increase In Granular Control
Bing search ads offer greater granular targeting at ad group levels.
While Google lets you set networks, languages, locations, and even ad rotation, Bing Ads allows adjustments beyond the campaign level. Moreover, you can tailor Bing Ads for different timezone, which Google Ads doesn't allow.
3. Better Device Targeting
Bing has Google Ads beaten when it comes to specific targeting. For example, you can tailor ads based on device types and operating systems.
With Microsoft Advertising, advertisers can display campaign ads based on device types; for instance, ads meant for mobile phones cannot be displayed on desktops.
4. Site link Extensions
Much like Google Ads, Bing PPC gives a chance to advertisers to add information that'll persuade users to click through.
Extra links on a network can consist of demos and free trials. But, these ads are much larger than other examples on a SERP list.
5. Improved Transparency
This network allows greater transparency by disclosing details about search partners. So, advertisers know where search traffic is coming from and how their ads perform. Details on metrics, conversions, and impressions become readily available.
6. Better Engagement And Conversion Rates
Bing takes users to post-click landing pages once they hit the PPC ads.
This leads to a higher degree of conversion. The network can display ads that attract new clients each time.
7. Bing Ads Certification
Bing has a certification program akin to Google Ads certification. An accreditation test follows a training course. But, the badge helps land new clients.
There are some perks if you use Bing Ads with the badge. You're recognised as an expert and placed in the membership directory for professionals.
So, Bing Ads vs Google Ads, what should you choose?
After comparing Google Ads vs Bing Ads, it becomes clear that the best method is to leverage both. Google Ads takes the cake with its digital advertisement, but Bing complements PPC strategies excellently and fills gaps in its online presence.

Image Source: Get Community
If Microsoft Bing Ads accompanies Google Ads, you can reach new territories. Though Google Search might have a higher volume, Bing has a lower average cost per click, less competition, and better positioning. Choose as per your requirements, and do reach out if there are any queries.
Until then, goodbye.