Creating an ad campaign is not enough to boost the rankings of your website. Google Adwords advertisers need insightful data on key metrics to save money and make educated decisions to improve their campaigns.
Through conversion tracking, targeting keywords, and appropriate bids, proper management is needed to gain success. For this, extensive auditing of Google Adwords accounts is required.
In this guide, we'll be introducing you to the concept and importance of PPC audits. Additionally, we'll take you through the steps involved and the role of Google Adwords audit tools in the auditing process.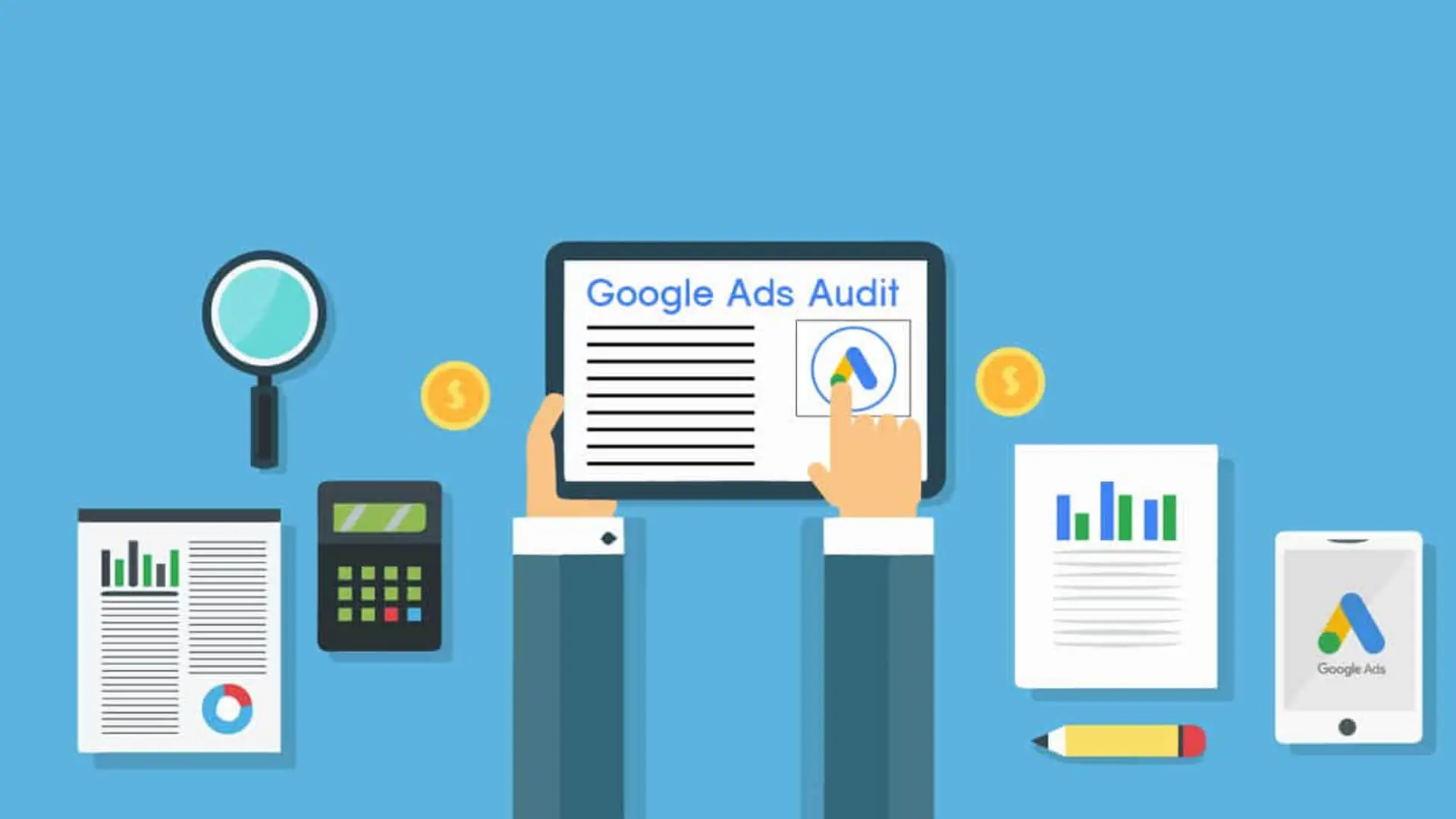 After you've gained the necessary insight, we'll talk about the ten best tools for auditing your Google Ads campaigns to improve rankings and conversions. Let's begin then.
What Is Google Ads Audit?
Let us start by understanding the concept of Google Ads audits. It's the process of evaluating how your Google Adwords account is performing compared to its competitors. Once you run a Google Ads account audit, it will notify you of the hidden mistakes in the ad campaign that need immediate addressing.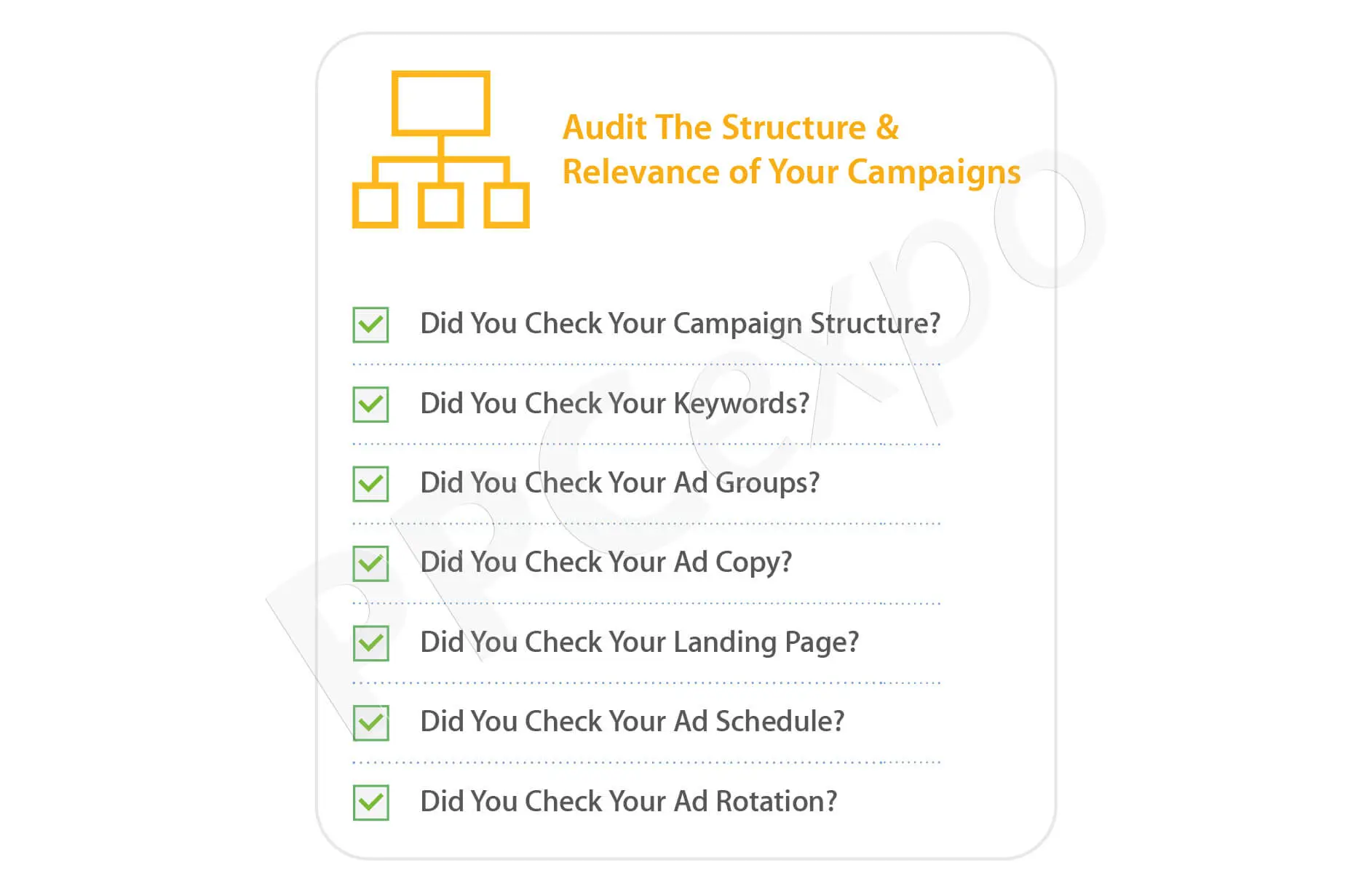 Google Ads advertisers need insightful data on key metrics to save money and make educated decisions to improve their campaigns. Through conversion tracking, targeting keywords, and appropriate bids, proper management is needed to gain success.
After this has been identified, advertisers and marketing strategists find improving the account's overall performance or the particular ad group. That being said, there's no need to make campaign or account upgrades while running the PPC audit tool (unless something critical needs to be addressed immediately).
Make sure you thoroughly review the audit process to put the results and reports it delivers into action. After all, you obviously wouldn't want to begin a never-ending audit with changing objectives throughout the process.
It's important to keep the following key factors in mind for a successful Google Ads audit:
Identify and understand the importance of what needs to be reviewed.
The status of each item in the process should be reviewed and documented.
Make a note of all the items that have to be addressed post-audit.
Why Is PPC Audit Important?
Suppose you're taking over a Google Ads account from a client, or you could be starting a new role in a company. In such cases, it's important to know how the PPC campaigns are performing before investing significant money and time in them. Even crucial management, bids, bidding strategies, and budget allocation should only be made after periodic audits of an ad campaign.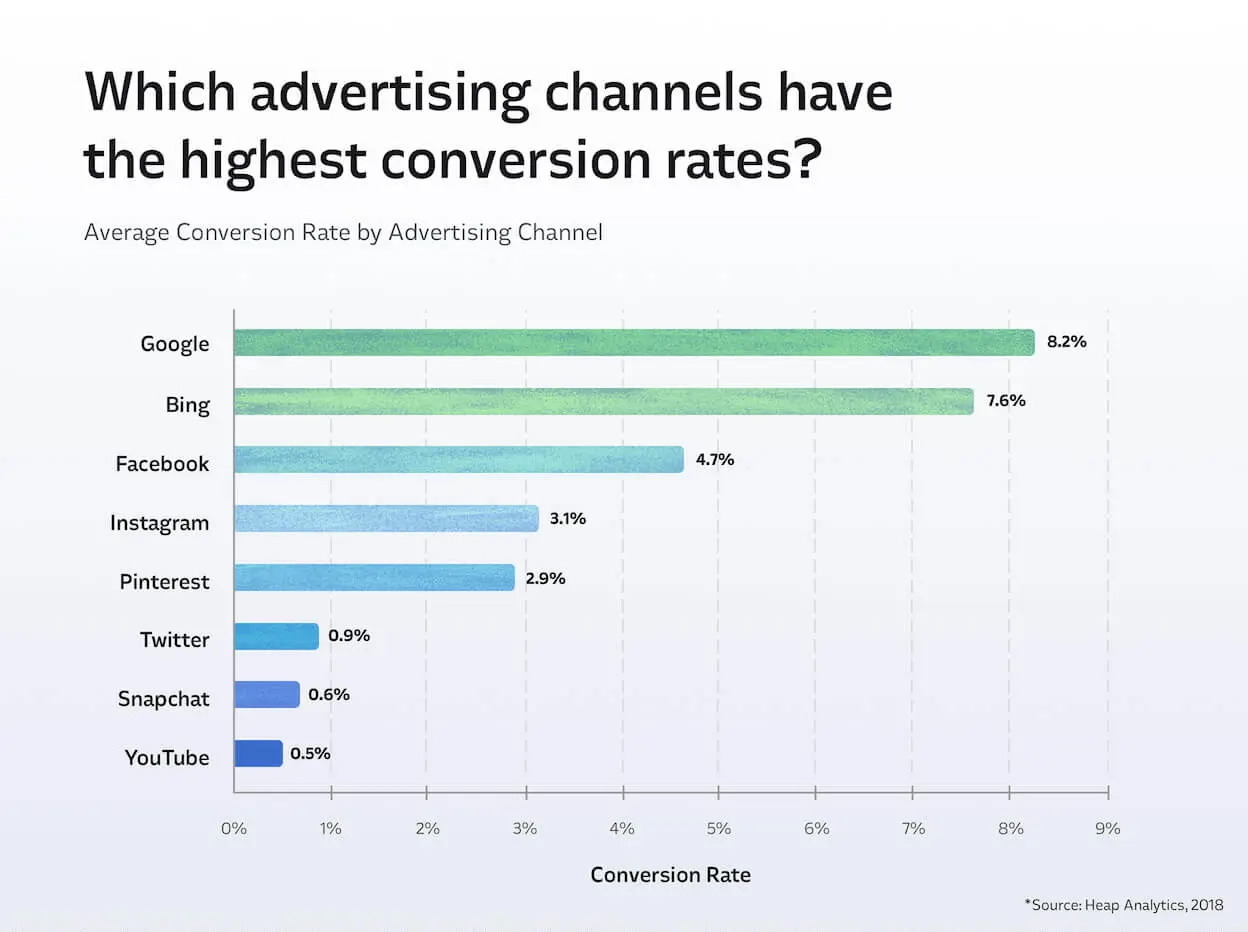 The reports and results obtained from these audits will help you gain the required insight into the ways of ad campaign optimisation. You'll know the areas requiring improvement, and by focusing on them while performing the Google Adwords account audit, you'll inevitably maximise the PPC return on investment (ROI).
Let's take a look at the few benefits that result from PPC audits:
Boosts the management processes
Finds locations of spending wastes
Expands the ad campaign by identifying new opportunities
Validates assumptions
Helps gain audience insights, which can be applied to PPC accounts and other marketing platforms
How Do Google Ads Audit Tools Help In The Auditing Process?
To understand how Google Ads audit tools help in auditing, we need to dive into the depths of how to go about the auditing process itself. Let's get started, then.
1. Reviewing Goals
The first step in the auditing process is understanding your business goals and objectives. You might have multiple conversion goals, so understand them and the outcomes you seek to set the tone for the rest of the process.
Here is a list of factors to consider:
Conversion goals for your company and Google Ads campaign
Tracking of leads, sales, and traffic in addition to performance
Changes in goals
2. Reviewing Ad Account Structure
The best way to manage campaigns and pull out information is by using the PPC (pay-per-click) audit tool. You can then use the data to structure your account and gain more control over the ad campaigns' bids, management, and budget.
In this step, you'll need to analyse certain aspects of the account structure, which again wouldn't be possible without auditing tools. Some of these aspects are:
Representation of different campaign setting level segments.
Meaningful reporting of campaigns within ad groups.
Comparable to other advertising campaigns and balanced budgets.
3. Campaign And Account Settings
Based on your previous reviews, you might have to adjust the campaign and account settings. An easy way to review the ad campaign settings is by:
Accurately targeting geographical locations.
Using the desired bidding strategies, budget, ad delivery methods, etc.
Use of dynamic search keywords and relevant ads
4. Ad Groups
Don't think of these as a group of keywords; each ad group should contain keywords and terms, complementing each other with ads and ad extensions written to encompass a product or service. That said, quality scores play a vital role in an ad group. The metrics the Google Ads audit tool provides, including click-through rates, conversion rates, landing page experience, and ad copy relevance, help determine an ad group's quality score.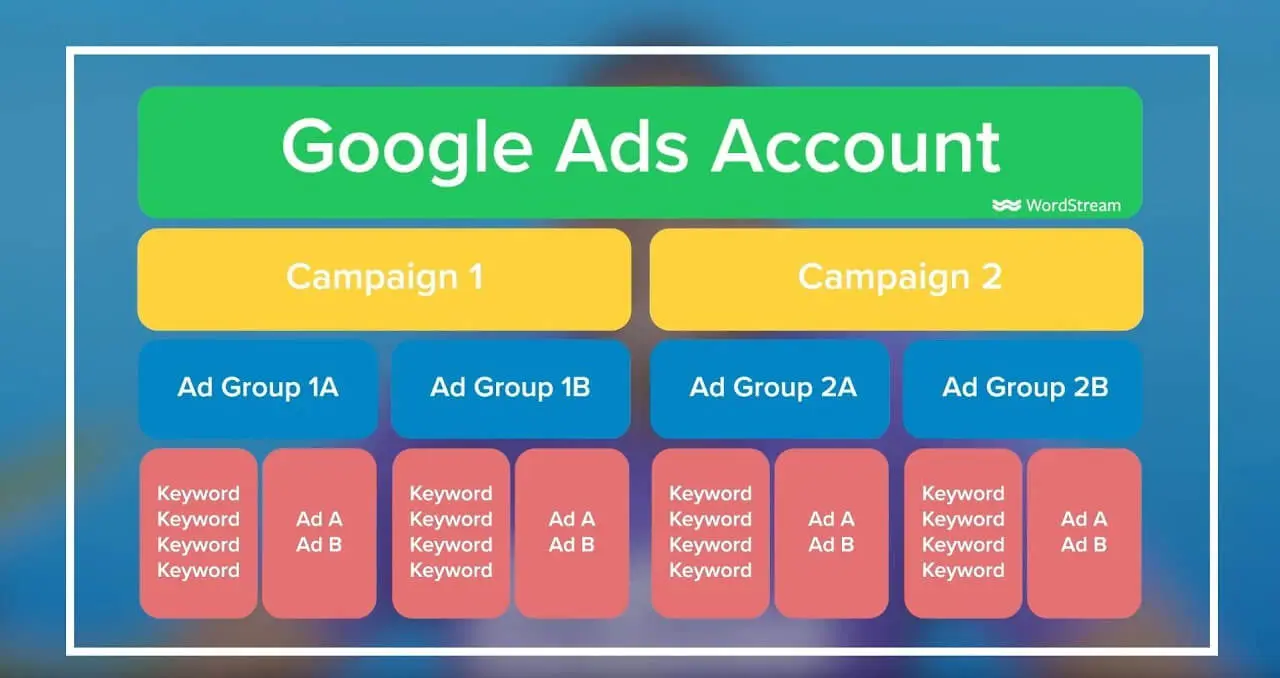 5. Keywords
If you wish to stay on the right track, make sure you use the right auditing tool to evaluate the set of keywords for each ad group as per your goal. That said, different match types and negative keyword and search queries need to be considered.
Begin with the keywords you're already targeting; check whether they lead to a high ad spend but low conversions. After this, review people's search queries to get your ads in front of potential customers. If any searches don't make sense but contribute to an ad spend, add them as a negative keyword so that your ad doesn't appear on irrelevant search results.
6. Ad Copy
Once you're done reviewing the keywords of individual ads, progress to ad copy. Test all the different versions of the grouped ads to determine which version will perform better in the ad campaign. Also, make sure you include different keywords to give users a clear idea of what kind of product or service you deal with.
This will help boost your overall rank and quality score as well. Finally, you'd want to encourage people to click on your ad or website, thereby increasing the CTR. So, make sure to include strong calls to action in the headlines.
7. Landing Pages
Last on this Google Ads audit checklist are the landing pages of your ads. Ask yourself whether there is a strong headline and call to action. Also, make sure that all the clickable functions of the account are working correctly.
After all, although landing pages are external to Google Ads, they directly impact how the ad campaign performs. Furthermore, don't forget to incorporate your target keywords into the ad copy to boost the quality score.
8. Reporting
Google Ads audit tools will help you in every step of the auditing process. Reviewing your ad account structure to compare grouped ads will help you take notes on all the areas that need improvement and optimisation. Using Google Ads data to generate actionable insights can help save money and identity underperforming keywords.
Using the data and metrics obtained in the form of audit reports, you can put together a solid plan of action to work on the underperforming areas of the ad campaign.
Best Google Ads Auditing Tools
Now that we've acquainted you with the concept, importance, and process of Google Ads auditing, it's time to check out some of the best PPC audit tools.
1. Ads Audit Report
Google Ads Audit Report has been around in the digital marketing industry for a while now and has gained significant experience in PPC marketing. It's an efficient auditing tool that can audit Google Ads accounts for advertisers, be it consultants or big agencies, within no time. You can access client accounts to detect new trends and review crucial data points.

All you have to do is sign up (for free), and you'll get up to 5 detailed reports highlighting the areas that need focus and improvement. That said, let's now take a look at the features Google Ads Audit Report offers:
Ads inspection (landing page, ad copy, KPI)
High-performing keyword analysis (keyword cloud, table breakdown)
Trends over time (impressions, spend, clicks, CTR, CPC)
Data breakdown (conversions, impressions, spend, CPC, CTR)
Comparison reports using a specific date range
2. Adalysis
Adalysis is another popular PPC auditing software that will help improve your Google Ads campaign through ad testing and performance monitoring. It automates the ad testing process, allowing advertisers to oversee the entire Google Adwords account and be alert in case of mistakes or errors, including negative keywords, keyword conflicts, broken links, and more.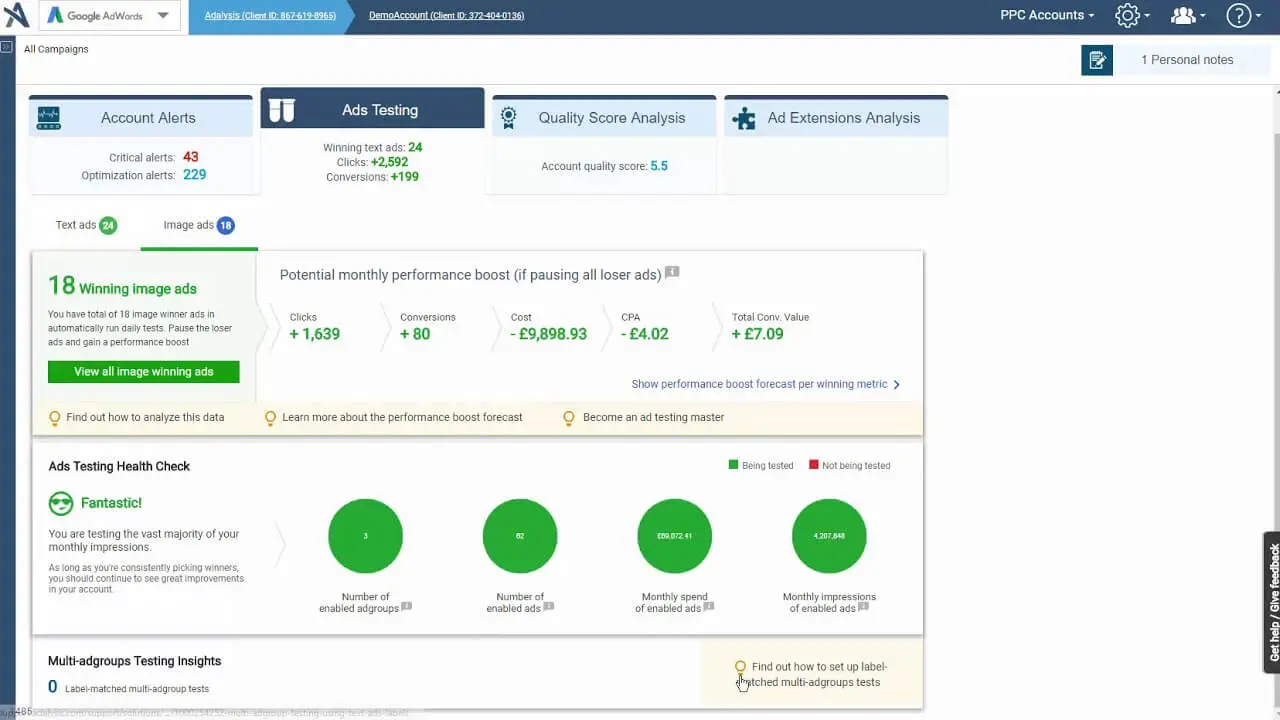 You'll get to run automatic A/B testing for numerous grouped ads. And this will enable you to identify and remove underperforming ads. Another useful feature offered by Adalysis is quality score analysis; it provides better insight into the quality and relevance of the website's content (blog posts, articles, ads, etc.).
You can then use its set of algorithms and tools to boost the quality score of all your campaigns' ads and ad extensions.
3. SEMrush
SEMrush offers various resources, including the SEM Toolkit, allowing you to track any website's visibility improvement over a specific period of time. It also enables you to identify the keyword the site might be ranking on the SERPs and the page's rank for the particular keyword.
Additionally, here are a few more beneficial features of this PPC auditing tool:
Keyword research
Account up-gradation for better flexibility and features
Comparison of page performance against the competition
Recommendations to improve organic traffic through content optimisation
Identification of paid keywords and ad copies used in competitor Google Ads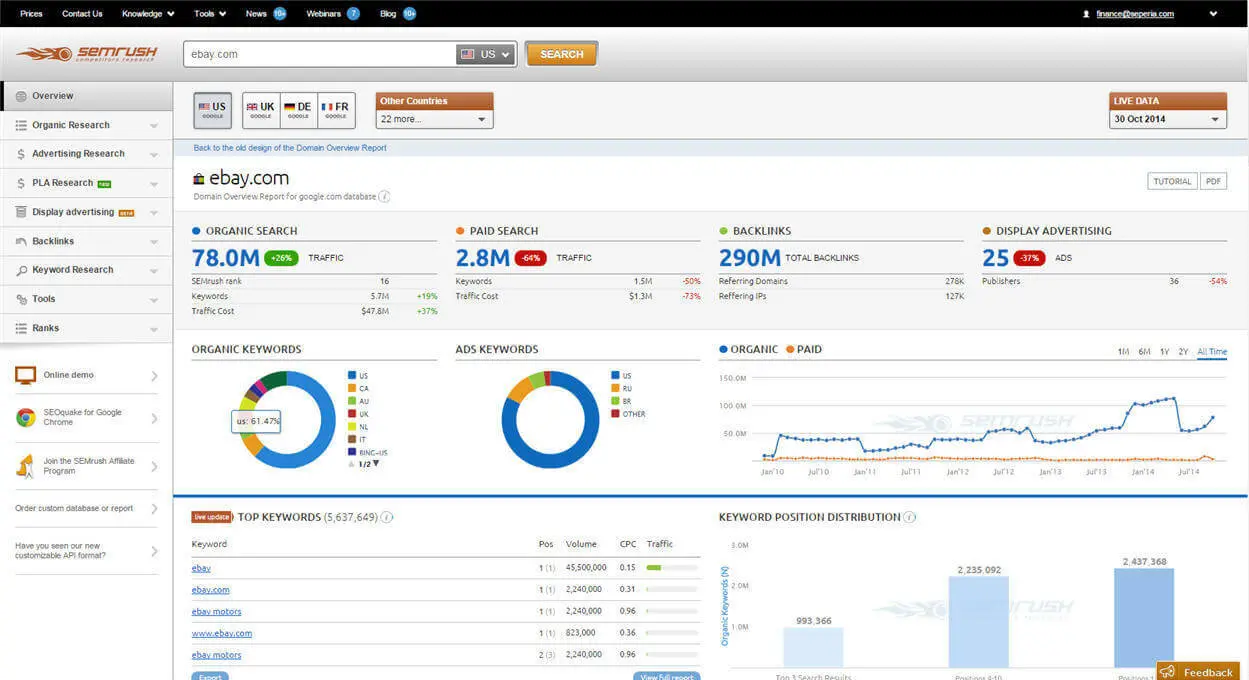 4. Google Analytics
Google Analytics has paid and free versions to help advertisers optimise their successful Google Ads campaigns. It will compile and centrally locate all your data, and using the metrics; you may identify core areas of the ad groups that need improvement.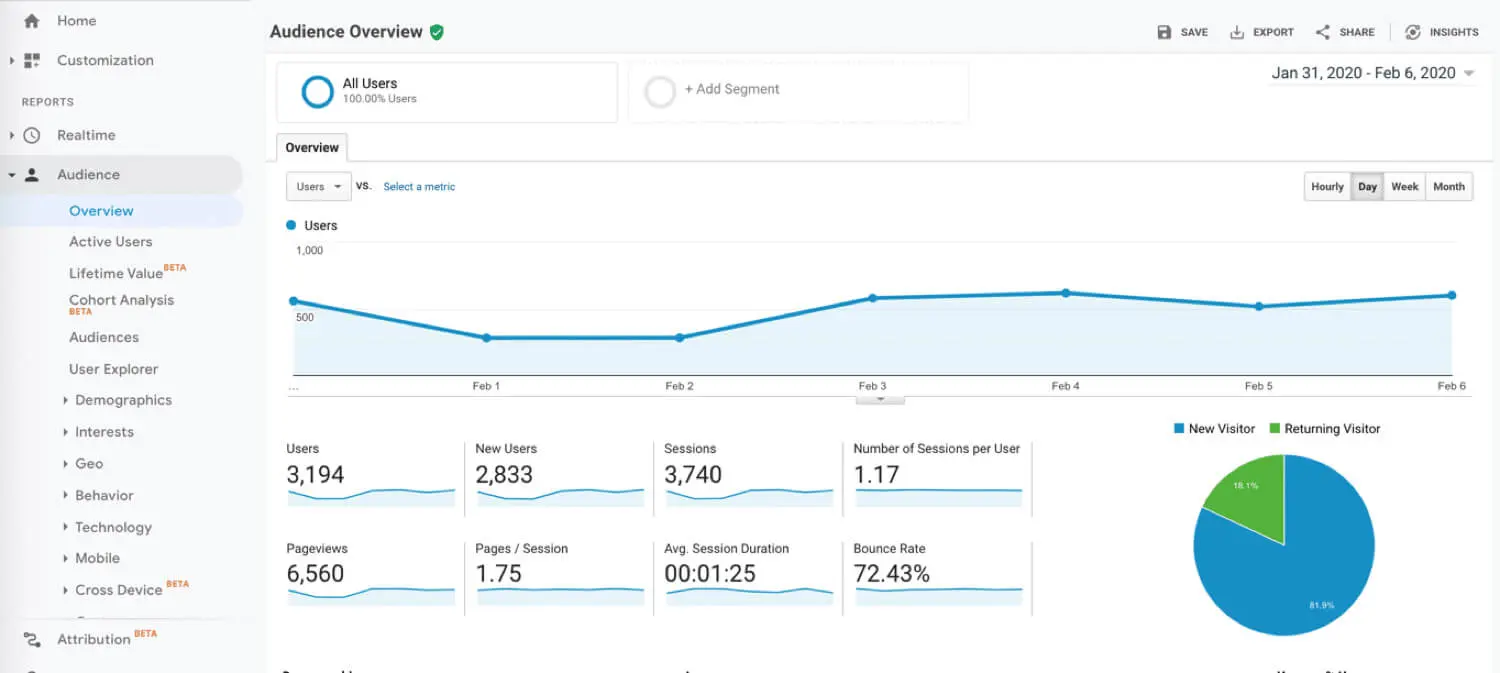 You could also use the free version of GA to understand and improve your Google Adwords account. It offers a variety of tools (Chrome extensions) to get the auditing of your advertising campaigns, and ad extensions are done with efficiency. Let's take a look at some of these tools:
A) Chrome Tag Assistant Plugin:
This is ideal for beginner-level advertisers; it presents a list of tags on the blog page you might be working on, allowing you to record the analytics calls made while performing actions on the pages.
B) GA Debugger Plugin
After running a successful audit, the plugin shows you the GA work and every detail in real time.
C) GA Health Checker
The GA Health Checker automates diagnostic tasks for each audit, serving as one of the most valuable tools for running multiple audits in a month.
5. Optmyzer
Optmyzer is yet another exceptional Google Adwords account auditing tool capable of monitoring, optimising, and generating audit reports for a successful Google Ads campaign. The digital marketing specialist can use this software to build an ad campaign based on frequently used search terms.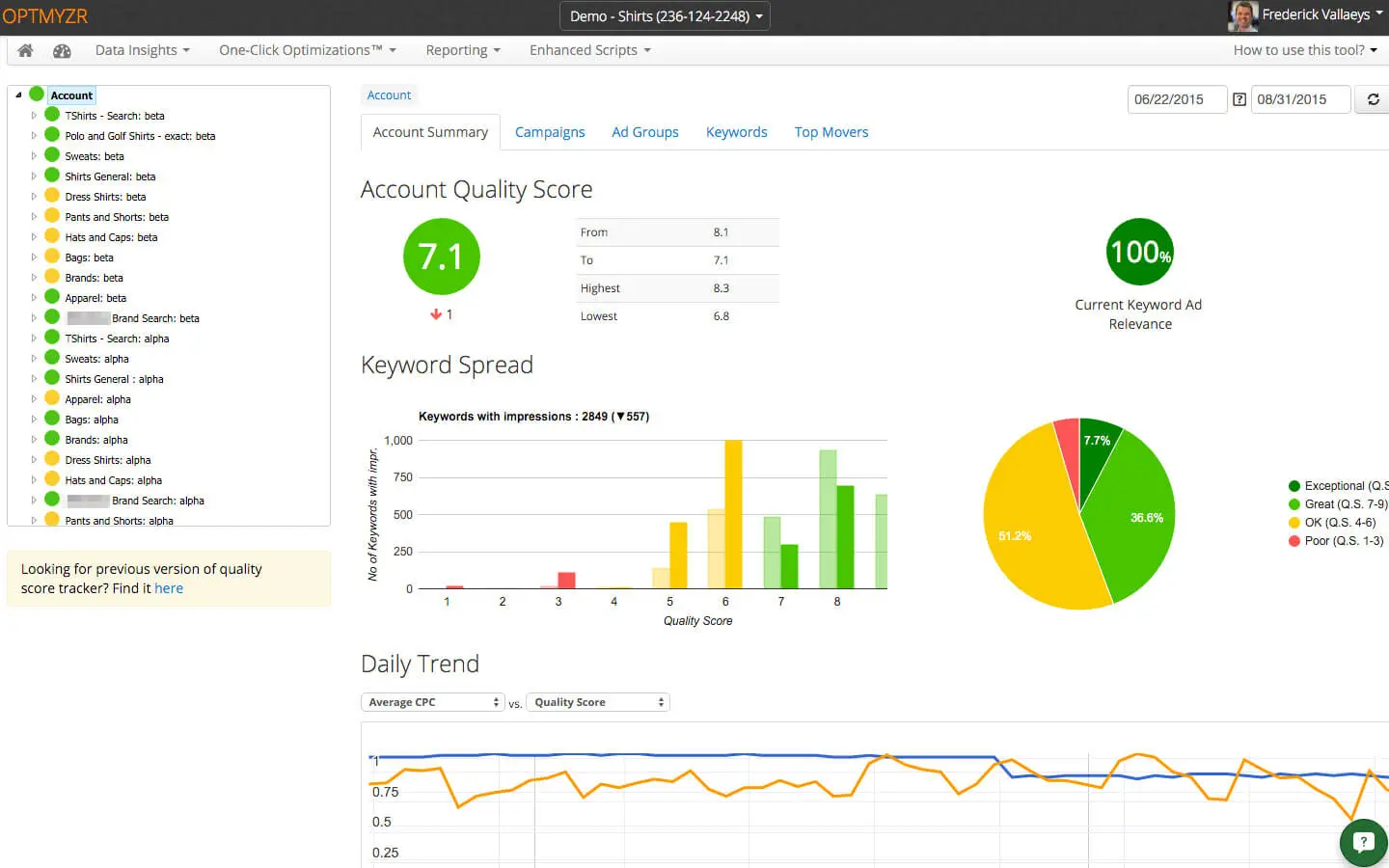 Furthermore, its algorithms test and monitor the campaigns to provide insights and review opportunities. Optmyzer will also present customised, detailed reports to show the results of your PPC campaigns.
That said, it's designed for advertisers and companies of sizes and offers a ton of benefits to its users. Some of these features are as follows:
Based on reports, it generates new and top-performing keyword suggestions
Identifies the issues and then runs account audits to improve advertising campaigns
Inspects and then understands the changes taking place in various campaigns
Tests different ad copy variants and suggests tips for improvement
Identifies low-performing ads and pauses them with a click
6. Shape ADI
The first step to automating the Google Ads audit process involves compiling all your ad campaign data in a single place. And with Shape's Advertising Date Infrastructure ( Shape ADI), you can do just that. It aggregates and then stores your company's current, previous, and cross-network PPC data in a data warehouse.
Using this unified information, you could run ad campaign settings and metrics against a range of checks. This will show whether you are meeting all your audit criteria.
Shape ADI also allows you to use free reporting tools such as Google Data Studio to build scalable auditing tools for clients and ad accounts. Before that, you'll need to learn how to create your own automated PPC auditing template.
7. Clever Audit
Clever Audit is a 100% safe and trustworthy auditing tool for advertisers; it's designed to boost your Google Ads strategy with exceptional results. You can audit your ad campaign for free while suggesting valuable recommendations and tips to optimise and improve performance until your goals are reached.
But the best part about this Google Ads auditing software is that it can be used anywhere, at home, in the office, or on the go. This is because its Google Ads analysis feature is designed to be displayed beautifully on mobile phones, tablets, and other such gadgets. So, you can boost your campaign performance with just a few clicks.
Key metrics like ad relevance, conversion rate and quality score can help make a major impact on your analysis process. Let the tool do all the hard work whilst you use this powerful tool to find the best ways to improve your Google Ads campaigns.
8. Wordstream Google Ads Performance Grader
Using Wordstream's Google Ads Performance Grader, you can get your Google Ads account audited or analysed in less than a minute. You'll be able to check how your ad campaign is performing against competitors. And with the help of the hints provided, you'll be able to boost CTRs and your conversion rate in no time.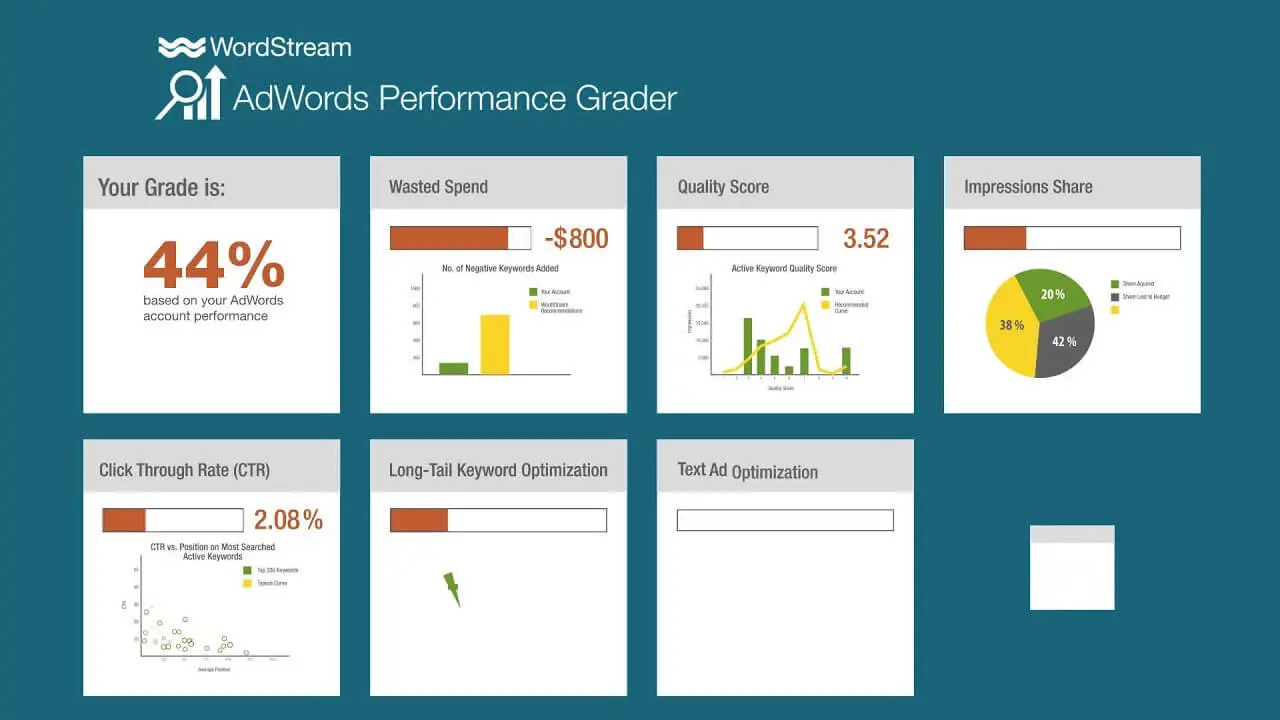 9. Adhawk
Two former Google employees founded Adhawk to analyse data and trends of particular ad groups. The campaign and channel management software draws the data from your paid AdWords account and then displays it in its dashboard, making it relatively easy to understand. Along with the data, it will suggest tips on improving the ad group performance so that you get more returns on your investment.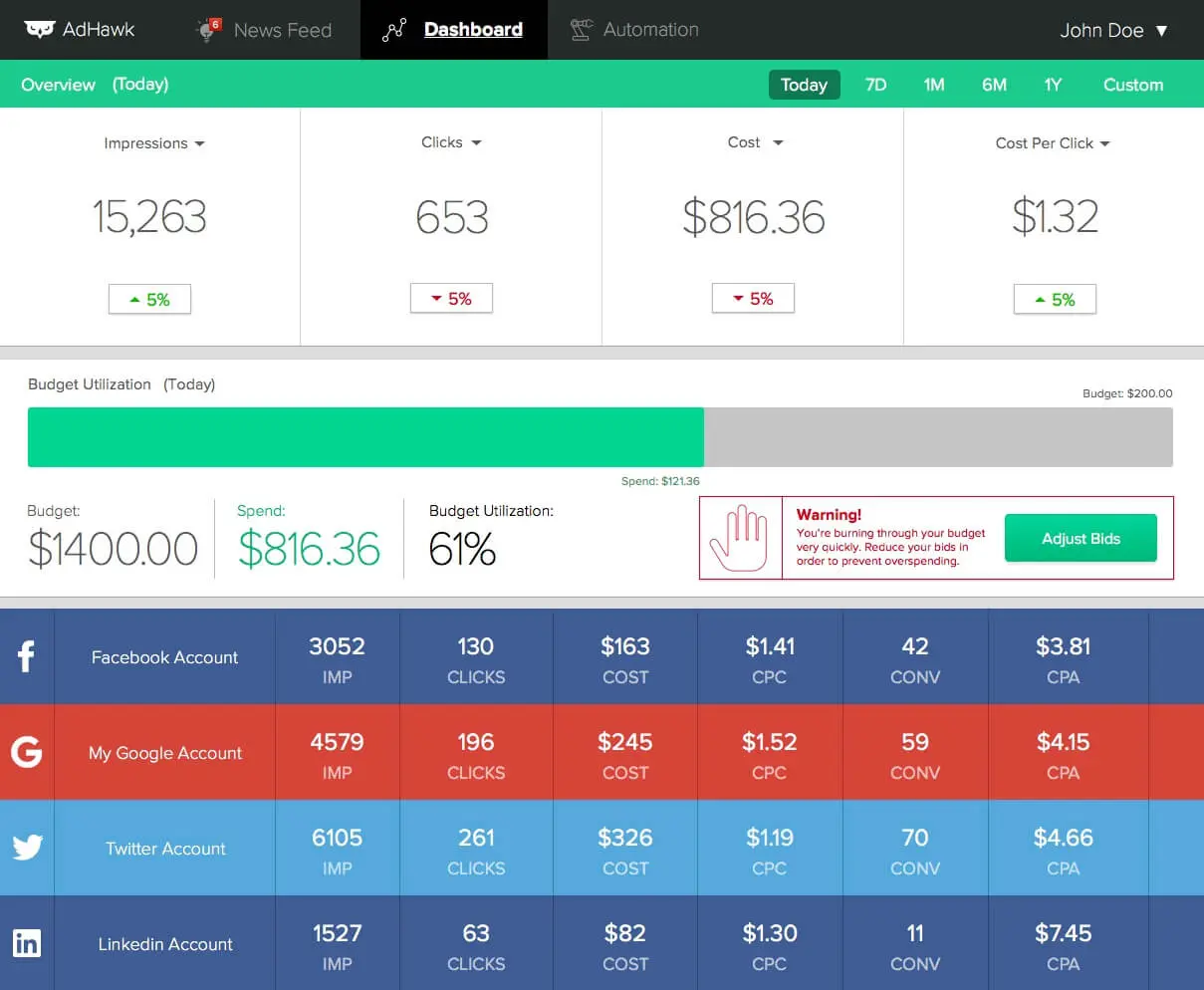 The only downside is that this is a paid platform; nonetheless, it ensures the desired audit reports through lead management, task management, keyword and conversion tracking.
10. Spaceboost
Spaceboost is an AI-powered bid and budget management tool that allows you to manage your channel and ad campaign. Ad campaigns and targeted keywords improve profitability through conversion tracking, A/B testing, keyword analysis, and auditing. Furthermore, Spaceboost enables advertising companies to convert client data into autonomous and powerful campaigns on search engines like Google and Bing.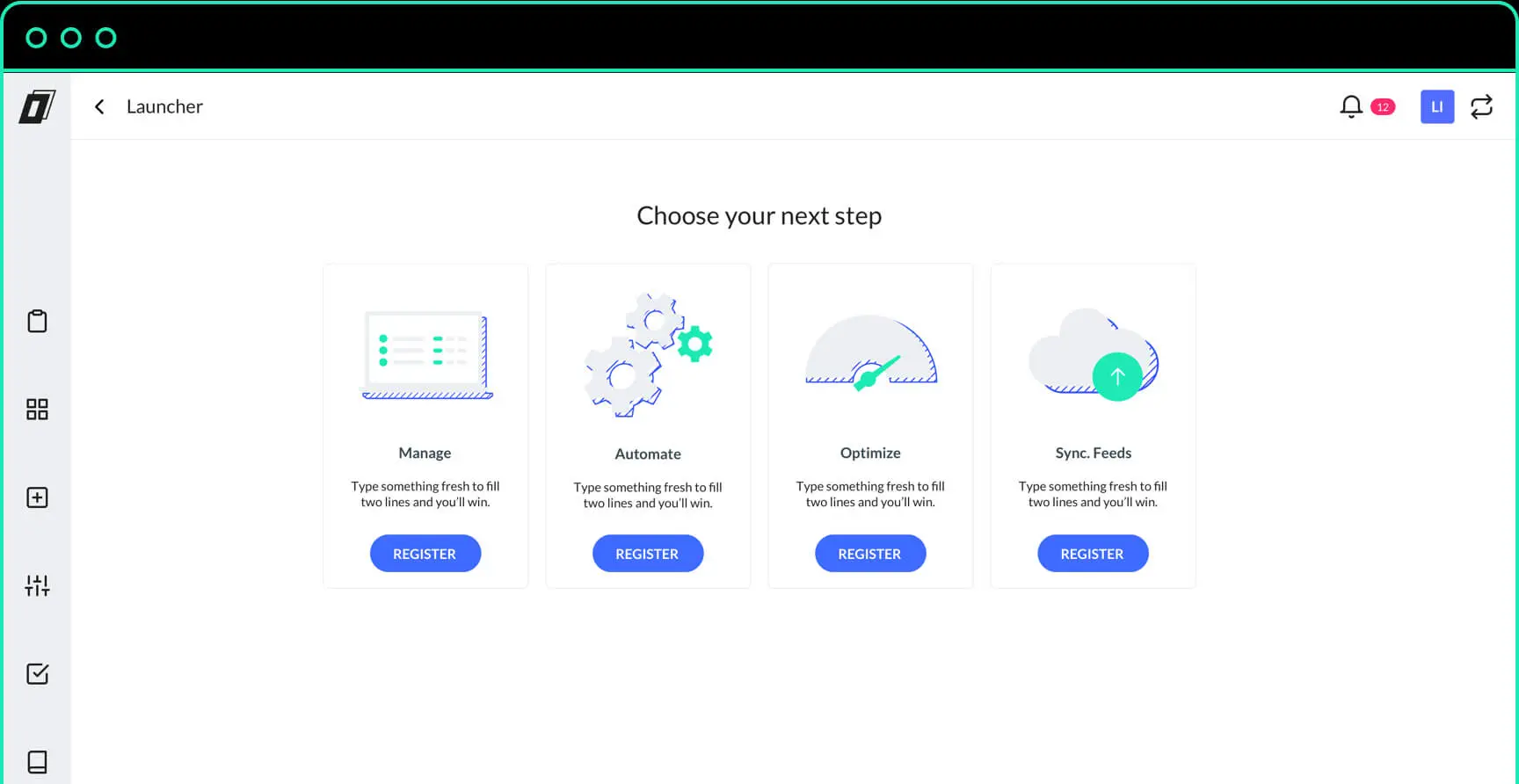 Conclusion On Google Ads Auditing
While creating advertising campaigns for your business or website, it's crucial to have a bidding strategy in place, targeting relevant keywords. Once you match your goal with this strategy, it will be easier to achieve the desired results.
Without the right auditing tools, advertising specialists won't identify and eliminate the negative keyword in each ad group. They'll also need to run audits to gain other insightful metrics, such as conversion rates and the number of clicks per ad, among other factors.
If you're looking for a free Google Adwords audit, you can reach out to our team, and we will happily go over your account and analyse your digital marketing efforts in-depth.
Overall, the information derived in reports is key to running successful Google Ads campaigns.