With over five billion search queries daily, Google remains the most-used search engine.
Considering how internet users worldwide turn to Google's services, the platform has become a goldmine for businesses looking to capture an audience. Not to mention how the tech giant is the launch pad of Google Ads, which is still thriving more than two decades after it was launched.
The Google display network now boasts millions of websites, which reach about 90% of all internet users. Thus, regardless of whether advertisers choose to search, display, or video campaigns, the decision to run display ads opens up a vast ocean of potential audiences for any business.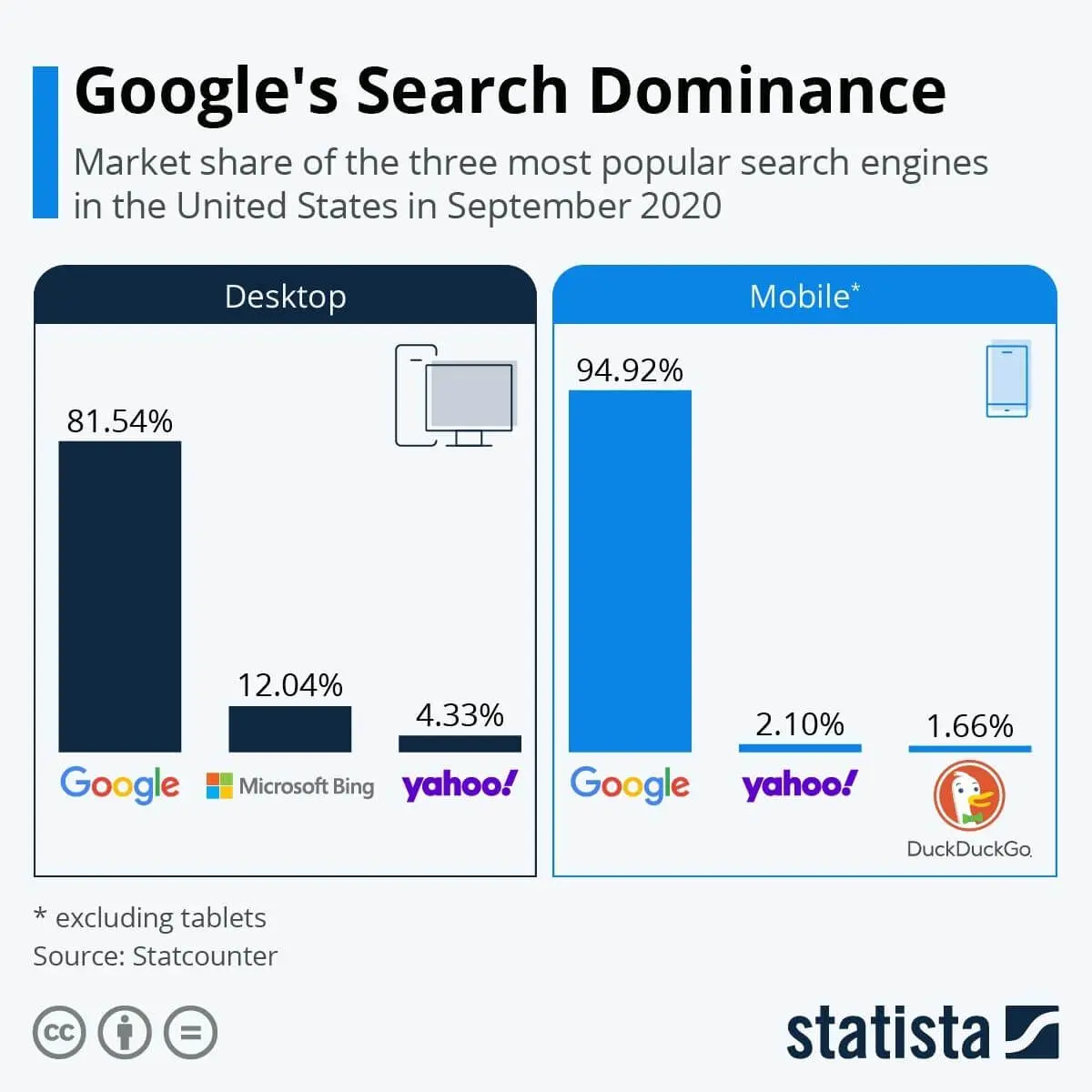 At the same time, the chances of your ad reaching an irrelevant audience increase due to heightened exposure. Fortunately, there are a few tools on the market to get off to a good start, and you can find them all right here.
Google Display Ads Tools You Can Use
Why Use Google Display Ads?
The Google Ads platform provides advertisers with the option to select between Google's Search Network and Display Network, offering exceptional pay-per-click strategies on their advertising platform.
While the former refers to text ads found among search results, display ads appear in banners, text, and image ads on several sites. So, unlike search ads, display advertising is not directly related to search terms put in by users.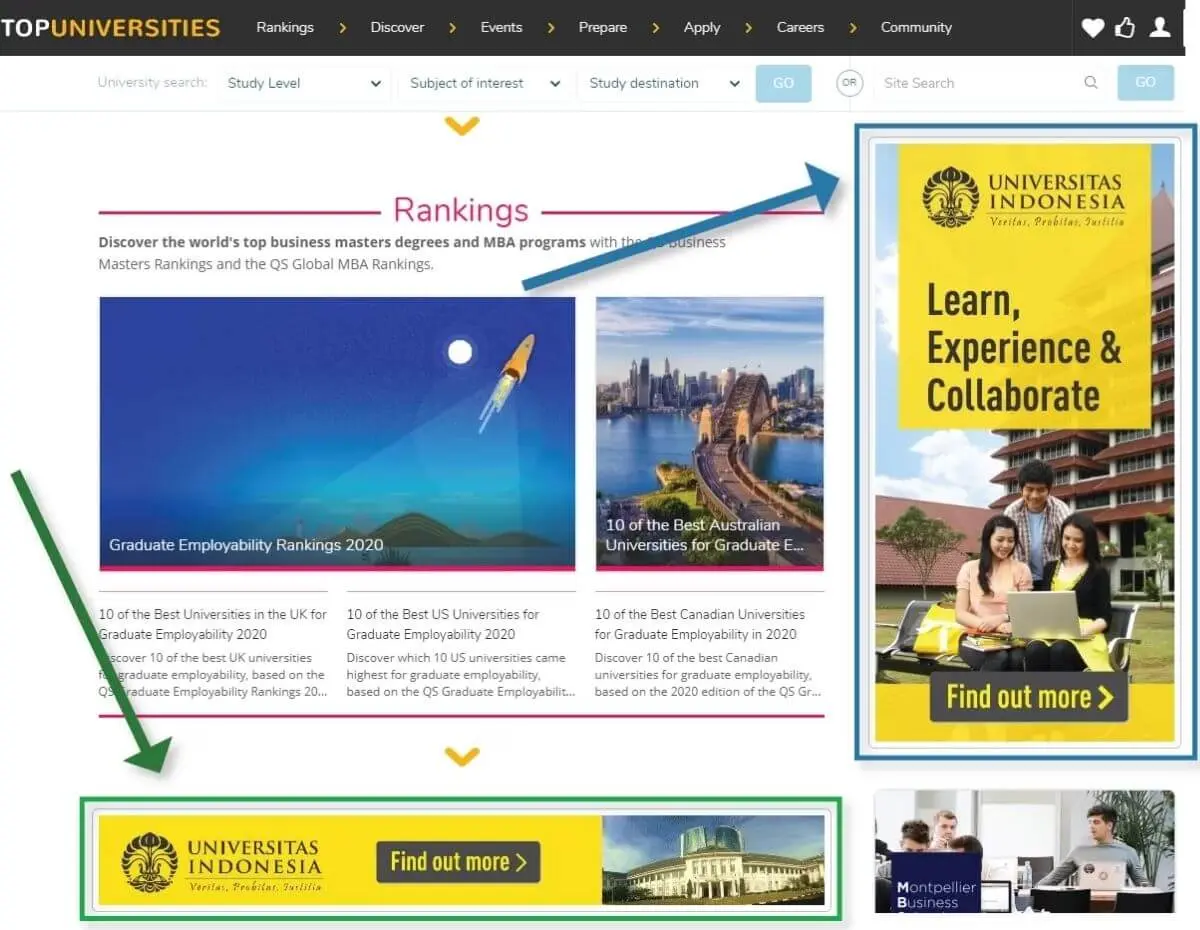 Some marketers show reluctance towards this strategy, expressing concerns that users browsing content may overlook ads, a challenge inherent in online marketing.
Others argue that display campaigns' visual impact may improve brand awareness and leave an impression on potential clients. And while they are not necessarily what users are actively looking for, effective display ads may help you reach out to an untapped client base.
There are a few things to remember to ensure you create ads that people want to click. But before we get into the nitty-gritty, let's see the two types of display ads you can make.
Types Of Google Display Ads
1. Uploaded Ads
Advertisers who choose uploaded ads, including video ad campaigns, assume responsibility for nearly every aspect of the ad creation process. This includes everything from ad design and optimisation to the long-drawn process of tweaking the ads to create versions that fit the size requirements of different web pages.
As you may expect, this display ad requires a lot of work on the advertiser's part as it must be built from scratch. However, if you have a team of designers and PPC professionals at your disposal, uploaded ads may not be such a challenge.
Consider hiring a digital marketing and SEO company that offers all the necessary services to create an effective uploaded ad. These include a graphic and web design team that can produce eye-catching ads and an attractive landing page. Some of these companies may also have in-house experts specialising in Google Ads and display ads management to help you optimise your creations.
So, whether you want to build an online presence from the ground up or focus on remarketing ads, the market is brimming with trained professionals. However, if you are an individual or a small startup with limited sources, you can use online ad creator tools, which we will mention later.
The uploaded ads format requires a designer to design assets to a specific resolution to fit within the bounds of placements. Here are the most common Google Ads Display sizes:
250 x 250 — Square
200 x 200 — Small square
468 x 60 — Banner
728 x 90 — Leaderboard
300 x 250 — Inline rectangle
336 x 280 — Large rectangle
120 x 600 — Skyscraper
160 x 600 — Wide skyscraper
300 x 600 — Half-Page ad
970 x 90 — Large leaderboard
You will also require these if you are targeting mobile devices:
300 x 50 — Mobile banner
320 x 50 — Mobile banner
320 x 100 — Large mobile banner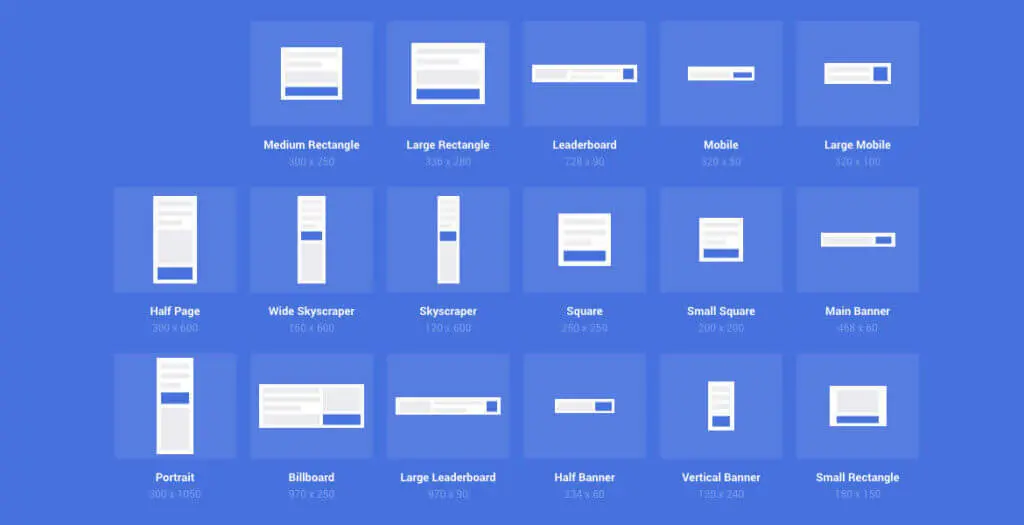 2. Responsive Display Ads
Responsive ads provide a more straightforward way to create a banner or image for your responsive display ads. Google launched this nifty ad type 2018 to cater to the new wave of mobile users.
With this ad type, users need only upload ad essentials, such as their business name, a logo, descriptions, an ad copy, and visual assets, such as an image or a video. Once you finish these steps, Google Ads will suggest the best layout for maximum performance.
And unlike uploaded ads, responsive ads automatically adjust to the size requirements of any webpage. The format and size adapt to the device's use, providing a seamless view of your ads alongside the page content on mobiles, computers, and tablets.
Responsive Display Ads, often shortened to RDAs, are a highly recommended ad format. Google uses its expertise to determine the optimal format to enhance your click-through rate. It achieves this by crafting various versions utilising a collection of assets, contributing to the effectiveness of responsive Google Display Ads.
Similar to uploaded ads, responsive ads have required resolutions as well. Whether using Stock photos or your own images, a minimum resolution of 1500px is highly recommended for the best-performing ad creation.
To create a responsive display ad, you will need the following:
A short headline — At least one or up to 5 headlines of 30 characters or less
A long headline — 90 characters or less
A description — At least one or up to 5 descriptions
A business name
A final URL
Here are the minimum requirements for each image asset:
Landscape (1.91:1): 1200 x 628 pixels

Minimum image size: 600 x 314 pixels
Maximum file size: 5120 KB

Square: 1200 x 1200 pixels

Minimum image size: 300 x 300 pixels
Maximum file size: 5120 KB
The requirements for logos:
Landscape (4:1): 1200 x 300 pixels

Minimum logo size: 512 x 128 pixels
Maximum file size: 5120 KB

Square: 1200 x 1200 pixels

Minimum logo size: 128 x 128 pixels
Maximum file size: 5120 KB
How To Optimise Google Display Ads
According to the Google Ads website, there are three steps to creating a successful Google Display Ad. The initial step is establishing a campaign, which involves amalgamating text and images — a practical approach to creating Google Display Ads.
Afterwards, Google will guide you with insights and relevant information about demographics to decide where the ads should appear. Since Google Ads operates on a PPC platform, the concluding step within your Google Ads account is to set your budget, which should reflect what you're prepared to pay for each ad click.
While these three fundamental principles lay the groundwork for an efficient display ad, several crucial elements need to be remembered throughout the process to adhere to Google Display Ad best practices. Let's delve deeper into these aspects and how to use them to your advantage.
1. Keyword Targeting
Google Ads allow advertisers to target keywords and topics that provide product context. For instance, if your business specialises in athletic gear, you can select relevant keywords, such as "running shoes", "sports gear", "sports equipment", and more.
However, keep in mind that Google has strict guidelines against keyword stuffing. While these rules are primarily reserved for web pages, the foundations remain the same — too many irrelevant keywords will make viewers feel like they are being spammed.
Displaying ads to irrelevant audiences whose clicks won't convert into returns is a waste of money. As a rule of thumb, try using top-performing, tried-and-tested keywords that have worked for you in the Google Search network.
2. Demographics And Audiences
Demographic targeting is classifying any product or service based on your target audience, like age, gender, country, etc. In audience targeting, you fine-tune your ad group to cater to the needs of people with a shared interest in a particular field.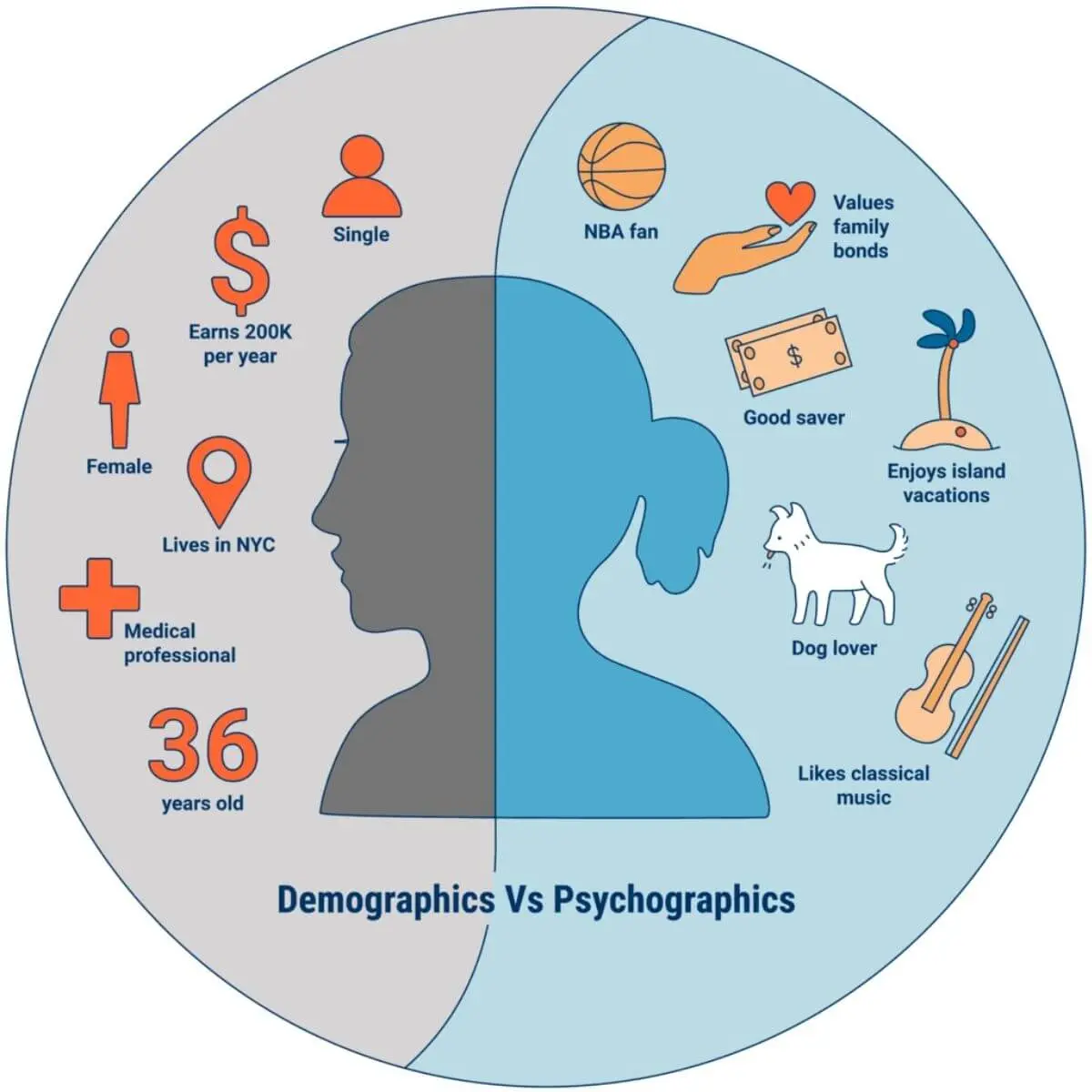 And although Google Ads provides preset options, you may customise these settings and find a niche audience. For example, if you sell "protein bars", you could set the audience name to "Protein bars lovers."
After this, you must add relevant interests, URLs, places, etc. Here, you could add interest labels, like "sports fans", "fitness", "bodybuilding", etc.
There are yet two other groups regarding audience targeting — in-market and remarketing audiences. In the case of the former, advertisers focus on attracting potential customers, perhaps by choosing display ad elements featuring best-sellers and flagship services.
On the other hand, a remarketing audience refers to an existing client base that may have interacted with your business frequently or even once. Considering how vital it is to re-engage past patrons, you may want to build an enticing display ad offering incentives, like additional perks, for loyal customers.
3. Topic Targeting
You can add topics to feature your ad alongside relevant content on other websites, like keyword targeting and customised audiences. For instance, if you select topics like "Animals & Pets", you automatically enable your ads to appear on websites related to pet care, wildlife, etc.
And that's not all; topic targeting, or exclusion targeting, allows you to mention the content you don't want your ads to appear. For instance, you can use this feature to prevent your kid-friendly brand from being associated with websites that contain sensitive content.
4. Bidding
There are three types of strategies in the Google Ads bidding system, which you can choose from — Cost-per-click (CPC), cost-per-mille (CPM), and cost-per-engagement (CPE). You can opt for either automated or manual bidding, which allows you to set an upper limit.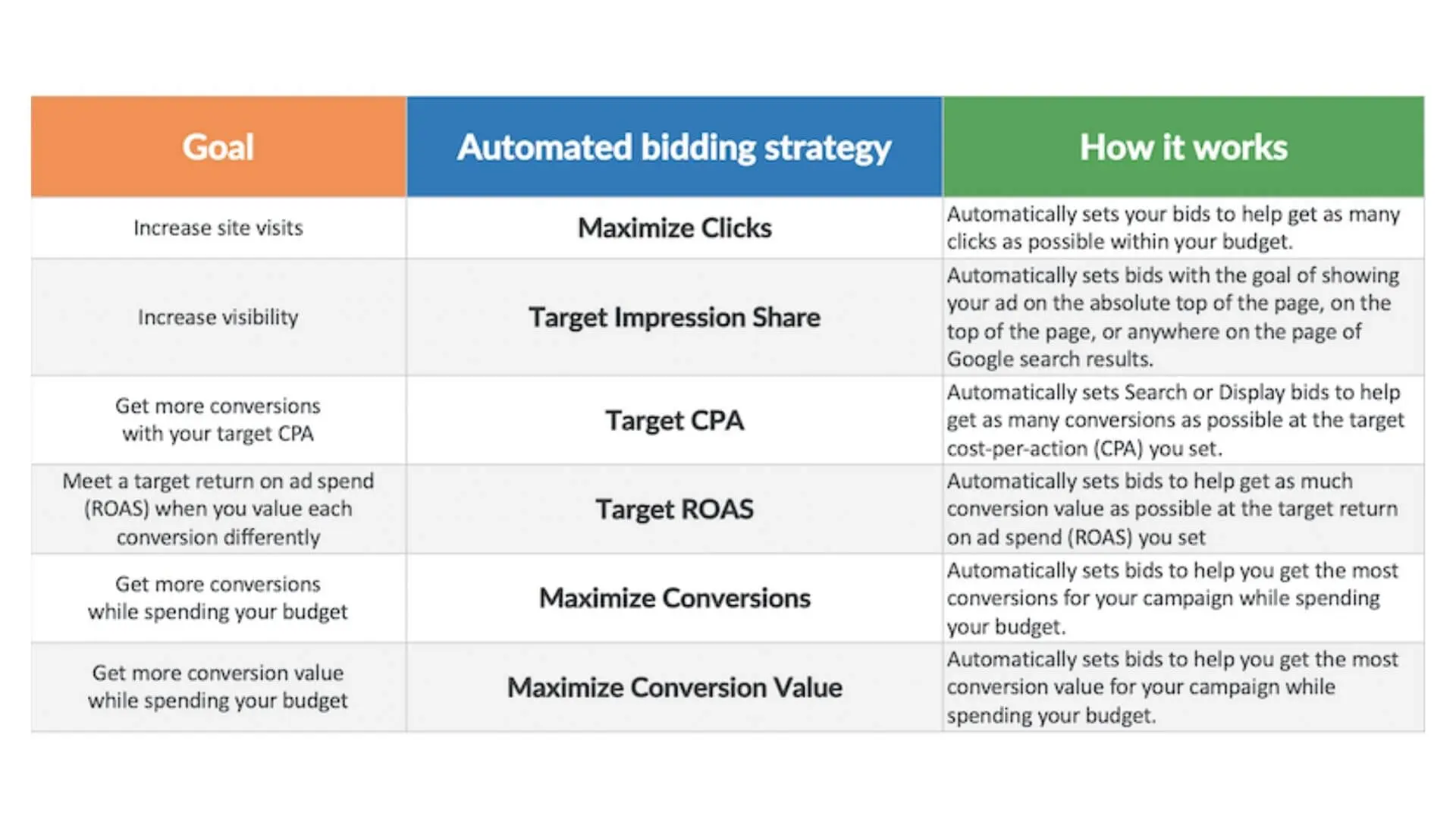 As most advertisers know, the higher you bid, the higher your ad placement will be on a website. Considering that 84% of all marketers invest in display advertising, bids on the Google display network can skyrocket.
That said, advertisers must make bidding adjustments frequently and strategically. You may have to wait and experiment for a while after launching your display campaigns. During this time, ensure that you pay close attention to the performance of keywords, custom audience targeting settings, etc.
Wait, see which options drive the most traffic and clicks, and record the ones not doing well. Equipped with informed performance judgments, you can now make positive or negative adjustments accordingly.
So if you notice that specific keywords, topics, or custom audience settings are working in your favour, don't hesitate to increase the maximum bid on the campaign level or ad group. At the same time, you can cut your losses by decreasing the maximum bid where performance is lacking. However, you must prepare a budget and consider this when bidding.
5. Google Analytics
Google Analytics is brimming with important information that can guide you in designing your banner or editing the ad copy to attract more clicks. For example, you may view the traffic referral report provided under the "Acquisition" option.
Here, you will learn which websites divert the most traffic to your landing page and get insights into the target audience you should start focusing on.
6. Headlines
A responsive display ad consists of four headlines of varying lengths. However, remember that Google may not display each headline in every ad. The longer description headline is often omitted in the final ad.
You must ensure that each headline is short, sharp, and self-descriptive.
Quick And Easy Tools To Help You Get Started
1. Google Web Designer For Google Display Ads
Apart from responsive Google Ads, Google Web Designer provides one of the most straightforward and accessible free tools for creating a new, attractive display ad. When done right, it is easy to use and offers a professional look for your campaign.
However, remember that you need to develop a unique ad copy independently. Once you know the words, you need to follow these simple steps.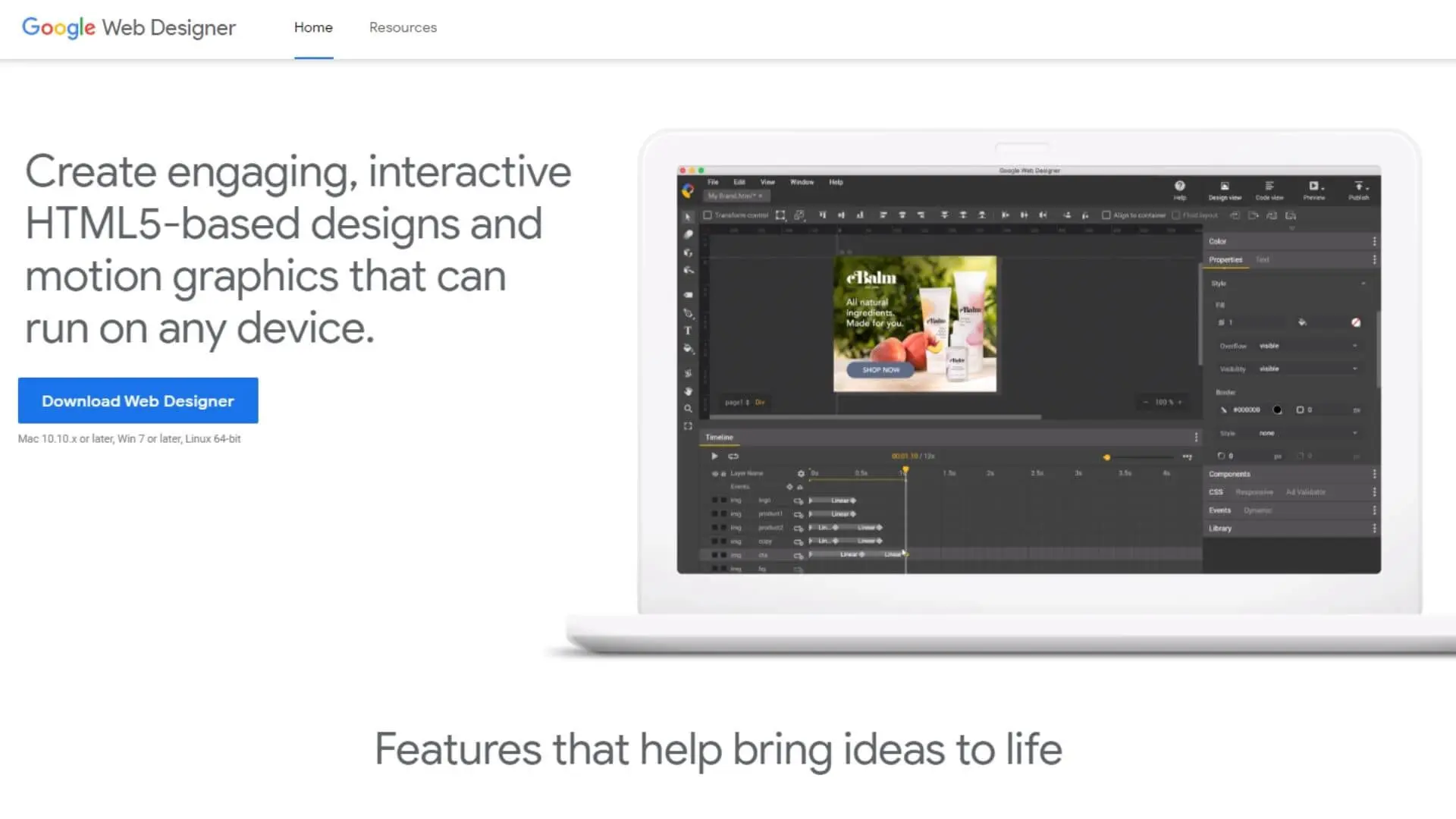 A. Download The Page Builder
Of course, downloading Google Web Designer is the first step you must follow. Before doing so, Windows users should ensure that their operating system is updated. You may only install the tool on systems that have Windows 7 or later versions for Windows and OS 10.10 or later versions for Mac.
B. Use A Template
Once you open Google Web Designer, you can choose ten templates to begin your work.
For even more convenience, the tool provides customisation options that allow you to decide the device the ad should be compatible with, the dimensions of the banner, and more. For example, the template "Banner for Google Ads and AdMob" is suitable for mobile devices.
C. Design Your Ad
Ideally, teams plan and develop a colour scheme that reflects the brand before the process begins. As a rule of thumb, one of these should be a primary colour that forms the background of your display ad. On the other hand, the secondary colour could be an eye-catching shade, such as yellow or green, which will house the CTA (call to action).
To add the ad copy, go to the sidebar menu and select the text tool. Here, you can get creative with the font, size, and colour. You must upload an image file to the gallery from your computer or a URL for images.
Additionally, you can add layers using the timeline provided at the bottom of the web designer to animate the display ad.
2. Smart Ads Creator
The Smart Ads Creator is easy to use and free of cost.
You need to enter the link to the landing page and indicate whether you need a display ad for leads and conversions, brand awareness, or e-commerce and sales. And with the click of a button, the website will begin gathering images or using stock photos and information from your page to build a display ad tailor-made for your needs.
In the next step, the website will present a preview of the ad and additional tools to help you refine and customise the elements to your liking. Here, you can select the theme, images, content, text, etc.
As a final step, enter your email ID, and the collection of display ads will reach your inbox in no time.
3. WebFX
WebFX is great for beginners looking for inexpensive ways to revamp their landing page and design effective display ads. While the website is filled with interesting tidbits and guides on creating free display ads, you can also pay for the company's display ad designing services.
4. Creatopy
You need to sign up for an account on the Creatopy website to unlock a wealth of design options to make your ads look sharp and modern. Indeed, this tool makes it effortlessly easy to add animation and movement to visuals with the click of a button.
Making Google Display Ads
As the saying goes, "Humans are visual creatures." So it only makes sense to shift from text ads to display ads to capture an audience.
Switching between apps and scrolling through websites without a second thought has become second nature for people in today's fast-paced, tech-driven world. Considering all these factors, it has become increasingly challenging for advertisers to build display ads that are seen and capture the right audience.
Ad designs are just the tip of the iceberg; an effective ad comprises much more. Indeed, a clever ad copy, correct placement, and the right keywords — all play a role in determining the success of an ad campaign.
You may want to hire an expert to understand the immense task. However, if you are up for the challenge, this guide to the best tools for creating display ads will surely help!