Almost all internet users have encountered Google Ads in some form or another.
Whether these are text-based ads on search networks or rich media ads, it's not a long shot to say that display ad campaigns have a wide reach. The Google Display Network consists of millions of websites and apps that can make impressions on about 90% of web users worldwide.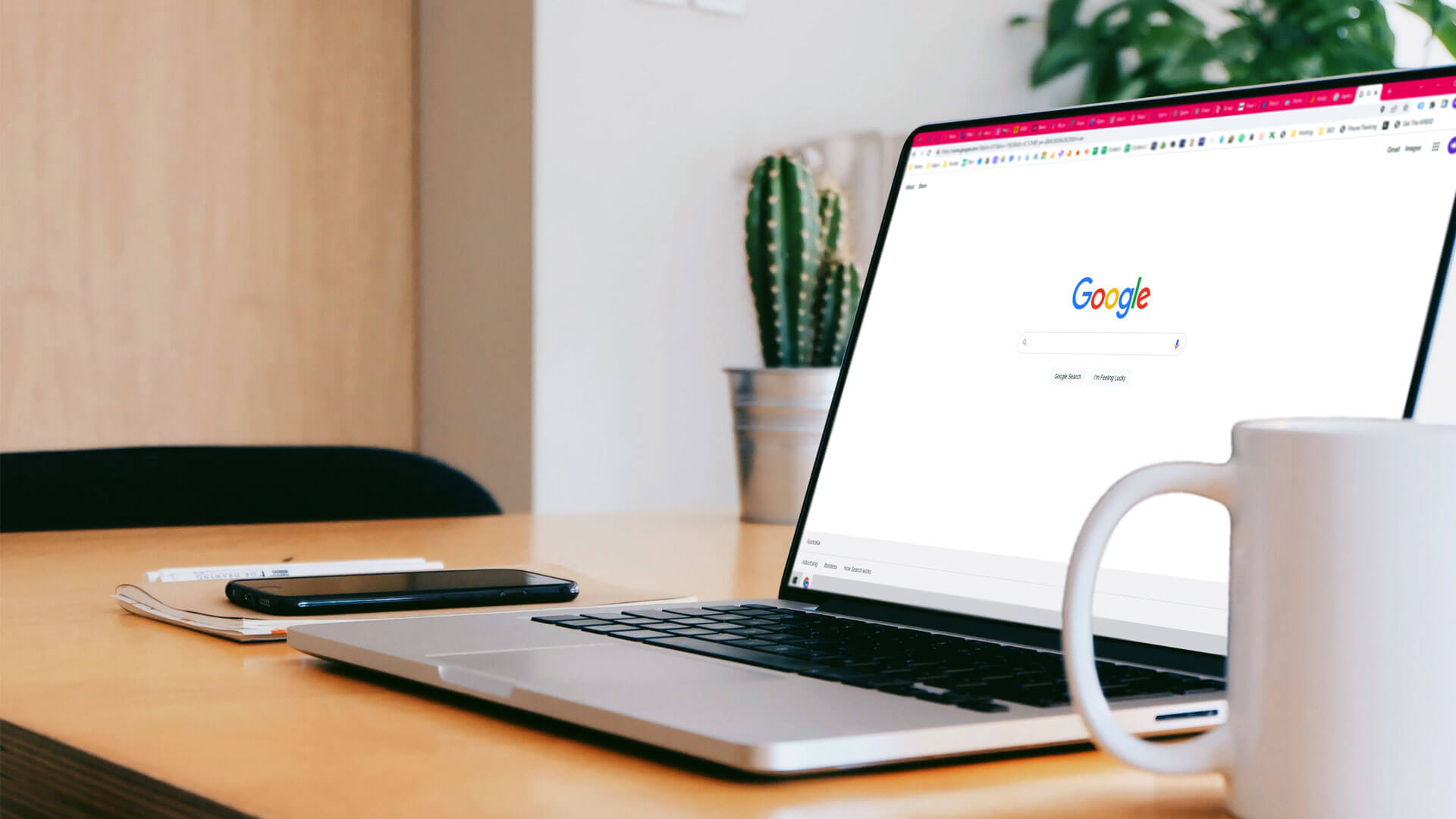 However, a display campaign hinging on interests is akin to a billboard on a highway. While it captures many eyeballs, it doesn't necessarily engage the ideal target audience, a constant challenge in digital advertising. Ad creation summarises your value proposition more than just designing a visually appealing banner with a clever tagline.
No matter the ad format, launching a new campaign with display ads involves strategic targeting methods based on the findings of relevant research tools, such as Google Analytics data. But before we get into the nitty-gritty, Here is everything you need to know for a foundational understanding of a display ad campaign.
What Is The Google Display Network?
The Google Display Network is a great way to showcase your ads across various platforms, including a collection of over two million websites, mobile games, and online spaces, such as YouTube and Gmail. A Display ad example is often a visual advertisement that consists of the brand logo, some text, and maybe an animation.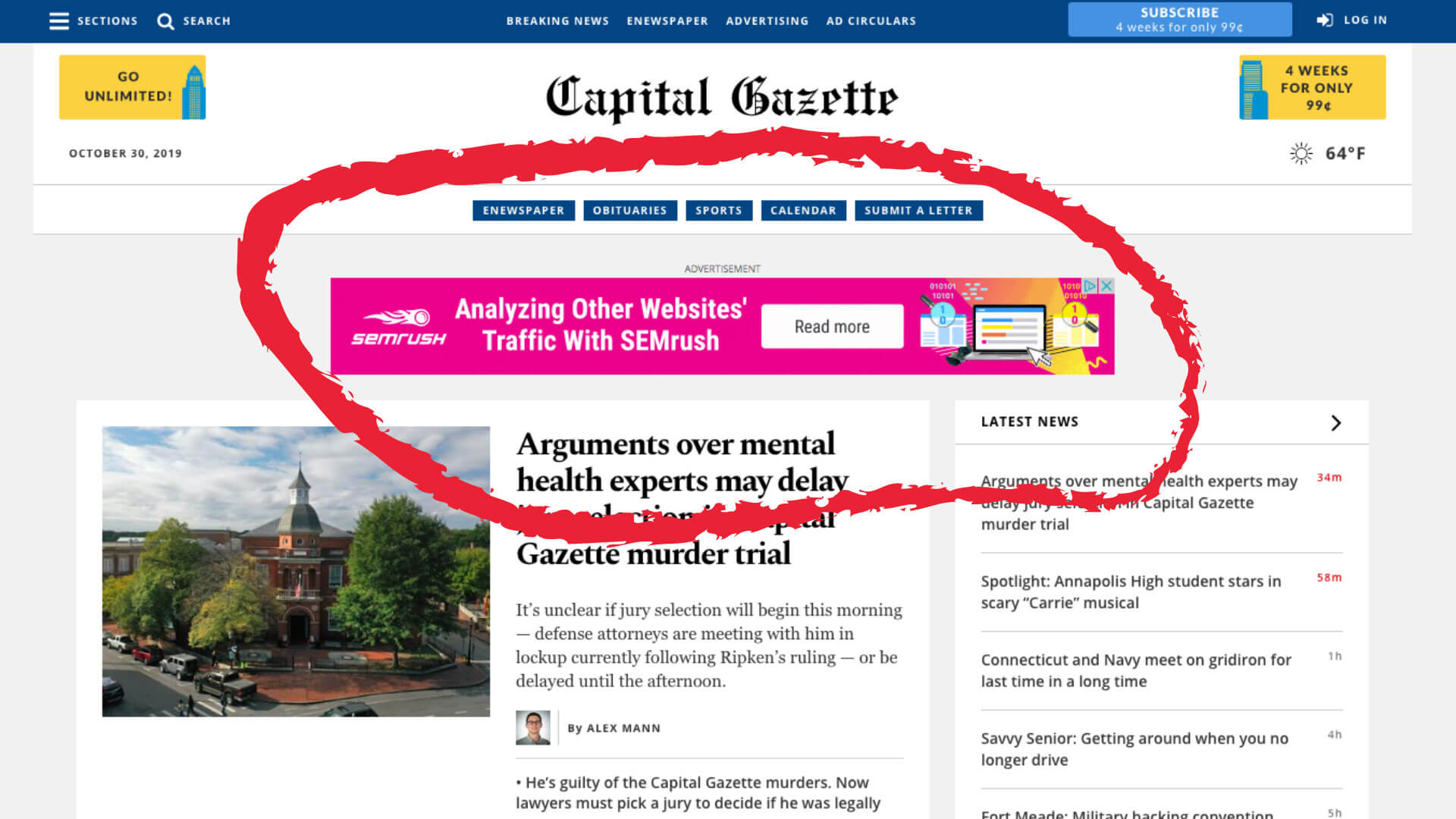 Why The Google Display Network Works
Google ads display is one of those online marketing tools that are now considered essential for the success of any ad campaign. And considering how millions of dollars are poured into the Google Display Network, it goes without saying that this ad format has worked for many businesses.
However, contextual targeting is essential to reach potential customers. To maximise the returns on marketing spend, Google Display Network allows businesses to customise their targeting options. Google Search Network targets users who are using Google's search engine or Google's partner search sites, provided you opt to expand to their Google Search Partners (like AOL).
The Google Display Network reaches about 90% of active internet users; this network can help you reach your targeted audience worldwide with a variety of ad types like image ads, text ads, rich media ads, and video ads. Display networks can reach audiences anytime, be it when they check out a news feed, play a mobile app game, or even check their email, but it's the most essential feature.
In other words, you can specify your target market and decide the placement of the ads to reach people with similar intent and interest. For instance, you can choose where your ad appears in your Google Display Network (GDN) settings on specific websites frequented by audience-based in-market segments.
Visual ad formats like GDN ads offer plenty of room for customisation in terms of design. Here, you can get creative with colour schemes, fonts, pictures, and graphics to demand the attention of prospective clients.
Difference Between Google Display Network vs Search Ads
Google has two different ad networks — the visual ad-based Google Display Network and the text ad-based search network.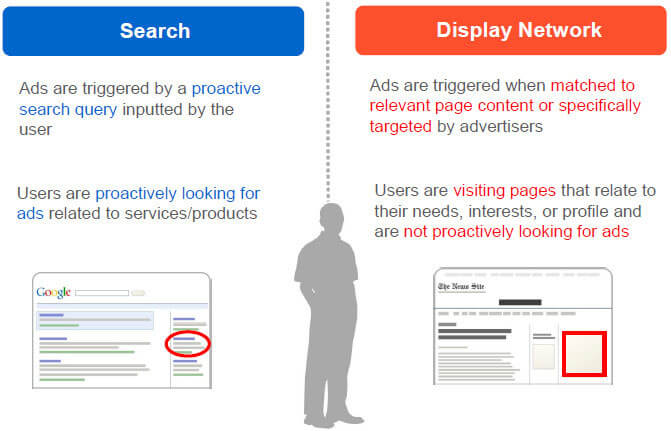 As mentioned earlier, GDN ads may have the edge over search ads because of their visual appeal. The display network is more concerned with building brand awareness by familiarising users with the brand logo, name, and services.
It is also worth noting that the average GDN click-through rate for display campaigns is often lesser than that of search ads.
So, you can say that Google display ads have an indirect role and are not always concerned with high user intent. Many ads appear on websites where users try to find other information.
On the other hand, interest targeting in the search network usually involves keywords.
You will see search results with a small "ad" tag when you perform a Google Search. So, if you're looking for "sports shoes," you will see text ads related to those keywords. While search campaigns target keywords, a Google Display Network marketing strategy focuses more on specific audience segments.
You may be wondering — are Google display ads more effective than search ads? Ultimately, the answer comes down to audience intent. So, a search ad may be a better bet if you want to build Google Ad campaigns to attract high click-through rates to your eCommerce website URL.
However, if your goal is to increase brand awareness, investing in attractive visual banner ads could be a more cost-effective option to make a lasting impression. That said, keyword bidding in the search network can be expensive because the platform is known for high cost-per-click rates.
How Google Display Network Ads Reach The Target Audience
Before you use the Google Display network to create display ads, you should know about the various targeting options to maximise the reach of your display campaigns. Let's go over some of them: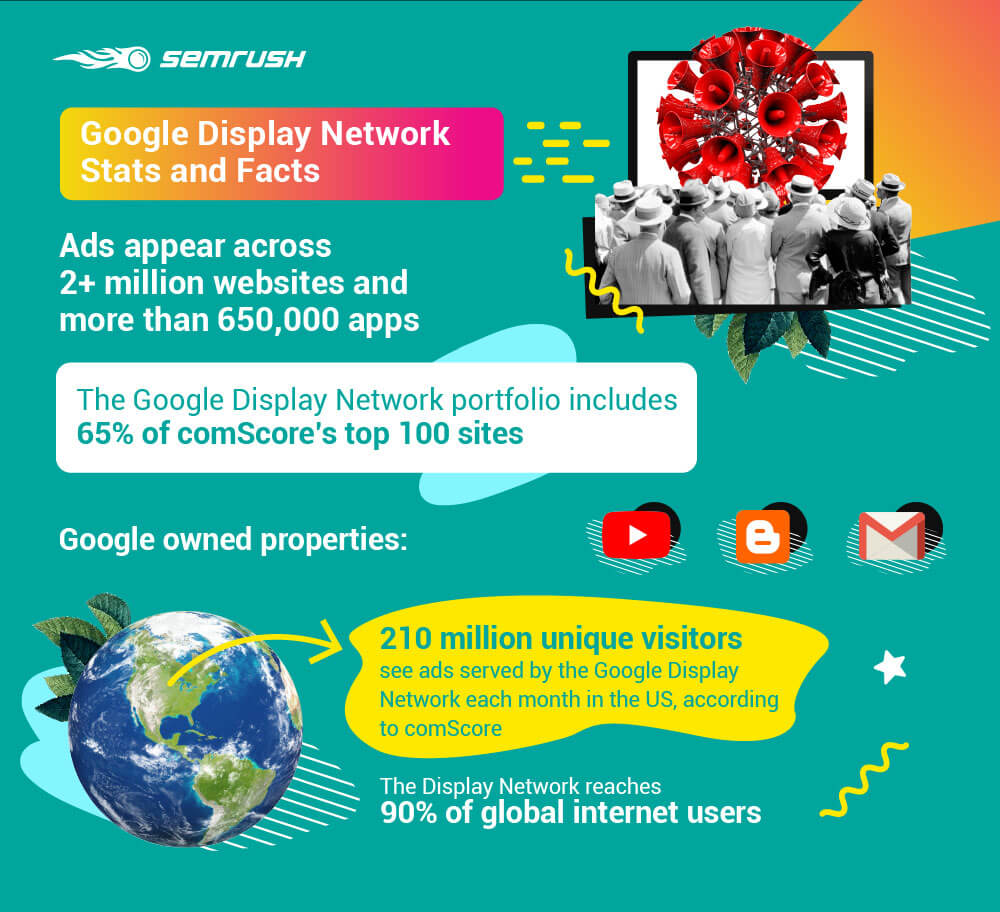 1. Affinity Audiences
Affinity groups are clusters of Google users who are likely to be interested in what your advertisement is offering. These interests could range from fashion and beauty to music and travel. So, the ad could target music enthusiasts if you run a concert venue and hold a music festival.
However, remember that you should not rely on vague default categories as they are expansive and may prove to be more expensive. Instead, it would be best to narrow down your preferences to subcategories.
For instance, if the main attraction of the music festival is a jazz concert, you should target jazz music lovers in your ad. Additionally, you can use other marketing tools to understand better the custom affinity audiences that can yield higher conversion rates.
Google Analytics may be your best bet for this purpose. Furthermore, you can use the Google Analytics data to curate a "similar" audience targeting on Google Ads.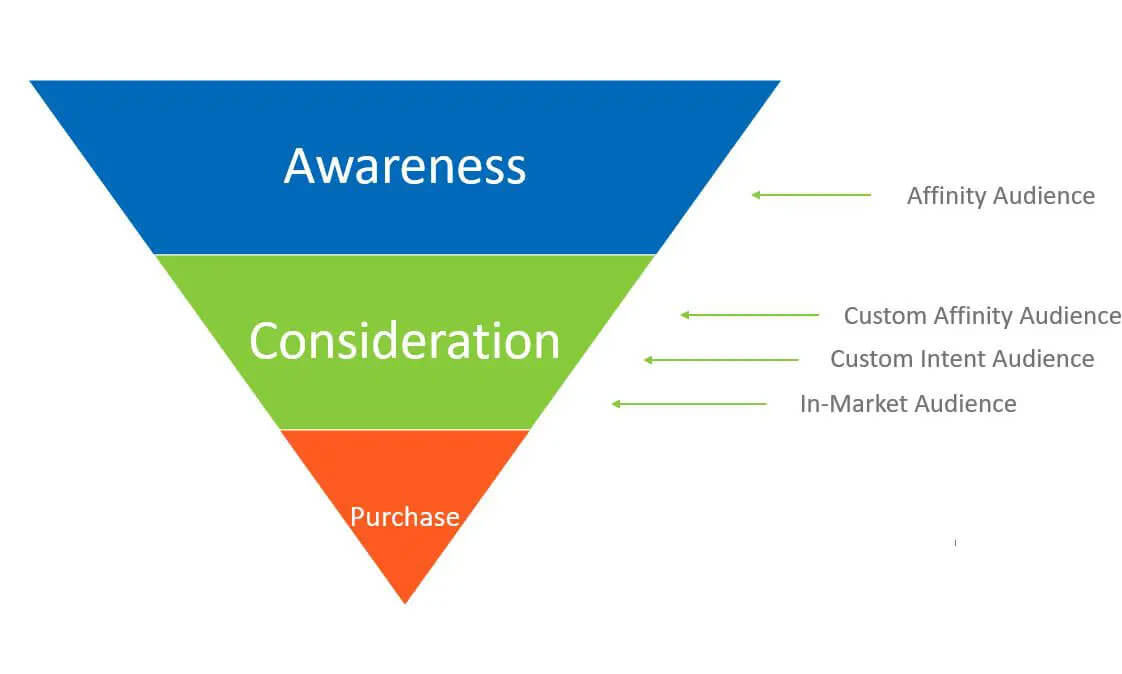 2. In Market-Audiences
In-market segments include audience groups in the same market where you offer your product or service. Usually, these are broad categories with subcategories that run into the thousands and even millions. Here, in-market segments are categorised based on the users' search history, clicks, and previous conversions on other websites.
For instance, if you sell protein powder, the in-market segment could be Google users interested in health and fitness. So, your display ad for protein powders may reach a user looking for sports shoes, which may not be ideal for making more conversions.
Advertisers must control their audience size by using various targeting options. While you may partially rely on guesswork during the testing phase, making data-driven decisions based on Google Analytics data will go a long way.
3. Demographic Targeting
Layering custom affinities with demographic qualifiers is an excellent method to create a focused pool of users and increase campaign results. Here, demographic categories may include elements such as the user's gender, household income, language, age, or even parental status to facilitate more accurate targeting.
For instance, if your ad is for an all-women pilates studio, you can tweak the demographic targeting to exclude men.
4. Remarketing
Remarketing is another excellent way to introduce new products to past users and maintain a loyal client base. Unlike the targeting options mentioned above, this strategy targets users who have previously interacted with your brand.
That said, remarketing audiences consist of people who have previously visited your website to watch or download videos, make transactions, or sign up for an account. They may not have completed any action but only viewed the landing page for a limited time.
However, it is worth noting that many businesses rely on Google Display Advertising to build brand awareness and reach people who may have no previous knowledge of their business.
5. Custom Intent Audiences
Custom intent audiences are identified based on contextual connections. In other words, Google will automatically identify custom segments likely to find your ad relevant to their needs.
Here, you must enter keywords, website URLs, and apps that might interest your target audience. However, your ads won't appear exclusively on the specified websites or websites that use the same keywords. Instead, Google lets its algorithms work behind the scenes and interprets the signals to ensure your ad shows alongside content related to your campaign goals.
6. Topic Targeting
As your ad will appear on websites with shared interests, audiences in your topic targeting may be similar to affinity and in-market audiences. However, topic targeting allows advertisers to be more specific about their niche and go beyond the default categories provided by Google.
7. Placement Targeting
Placement targeting is perhaps the most efficient method of controlling your target audiences. You can use this targeting option to handpick locations within websites in the GDN or YouTube where the ad should run.
This strategy is excellent for controlling traffic and reducing the cost of bids not providing conversions. However, the marketer must be confident that their target audiences will visit the specified website for a successful Google Display Campaign. That said, managed placements limit exposure, possibly making you miss out on mainstream websites with more visitors and potential clients.
How To Create Google Display Ads
Marketers can easily use Google Ads to create ads on the display network with their Google Ads accounts. For this, they may enter their brand information and add visual elements to create one of the two types of Google display ads, which are:
Standard Image Ads
These types of ads are image-only ads that come in various formats. You must choose between one or more standard sizes, such as the skyscraper, banner, or leaderboard.
However, these ads must be created in various sizes to fit seamlessly into different website designs. Tweaking the size and ratios of the image may be slightly complicated for beginners, so it is always best to hire a graphic designer. However, Google provides a handful of tools to ease the task, and various low-cost banner designing tools are well-suited for amateurs and professionals.
Interestingly, studies suggest that display ads with the dimensions 728 x 90 and 300 x 250 may bring in more impressions. And if your goal is a higher CTR, consider large rectangles and half-page ads.
Responsive Display Ads
Unlike standard image ads, responsive ads allow more room for flexibility, offering a combination of images and texts displayed in various formats.
So, while designing a responsive ad, you can upload various elements, such as the brand logo and images or videos related to your brand. These could be images from your site or stock images from other sources. You can add headlines and descriptions to give users a better idea of what your business offers. You can get creative with your ad copy to entice potential clients.
What's great about responsive display ads is that they change and adjust to fit the available space. Indeed, you won't have to create hundreds of ads of different Google display ad sizes for other websites.
Once the ad design is complete, the elements will rotate to show you which format may bring the most impressions and conversions. Responsive display ads are ideal for marketers who do not have the time, budget, or necessary skill set to create standard image ads.
Additional Display Advertising Tips

1. Type Of Platform
When designing an ad, you should consider the platform where your ad will run. For instance, if you're selling graphic design software for desktop computers, showing the ad on mobile devices won't make sense. On the flip side, mobile games and app ads won't bring in many conversions if they run on laptops and computers.
2. Excluding Ad Groups
When using interest targeting tools, excluding ad groups irrelevant to your brand is crucial. For instance, if you have a restaurant business in Sydney, you cannot bank on the chance of an ad tempting someone in Los Angeles to fly to Australia for dinner.
If your service is location-specific, exclude countries, cities, and districts where you do not wish to drive sales. Similarly, leave an outage ad group that won't benefit from your services.
Also, don't forget to go through the additional settings and check the boxes that prevent your ads from showing up on websites with sensitive or sexually suggestive content. Skipping this step can ruin your brand reputation, especially if your services are educational or family-oriented.
Nevertheless, limiting and creating a smaller audience will help reduce your ad spending, allowing you to invest more in better-performing aspects.
3. Assess Campaign Performance Regularly
Once you have launched an ad, you must assess its performance among a demographic and affinity audience. Effective GDN ads are generally a hit or miss in the first few months, and it takes time to identify what's working and where to put more money.
Similarly, marketers should watch placement performance and stay alert about sudden spikes in CTR. While many businesses look for high CTR, it may indicate duplicate placements on websites that aren't bringing in any results. So, it is best to investigate the matter and check if these sites are relevant to your services and whether they have led to conversions.
On the other hand, a low CTR, characterised by a high number of impressions and low clicks, may hint that you need to update some aspects of the ad placement. For instance, users often skim over the bottom of a search page or an article.
Marketers usually think of ad space stapled across the top of a website when talking about premium ad positions. Other reasons for a low CTR include poor targeting methods, an uninspired ad design or copy, etc.
After reviewing these metrics, you should adjust bids accordingly, increasing bids on websites where your advertising campaign works well and reducing them where there are fewer conversions.
How Much Do Google Display Network Campaigns Cost?
How much you spend on GDN ads depends on your industry, target audience, ad rank, market trends, and other factors. For instance, ads about dating services record a higher CPC rate on the display network. Interestingly, the average CPC rates of a search ad related to legal and consumer services are higher than travel and eCommerce.
Fortunately, the platform offers various options for all kinds of budgets. It is worth noting that Google Ads provides an impressive return on investment for every dollar spent, so a display ad may be worth loosening your purse strings.
Businesses may spend upwards of A$10,000 per month on paid advertising. However, Google Ads is a highly customisable platform, and you can always reduce or increase your ad spend in real-time.
Are Google Display Ads Right For Your Business
Google Display Network campaign ads are everywhere, a curse and a blessing.
While it allows your ad to appear in front of hundreds of people, not all of them will be potential clients. You may be spending more than necessary on advertising.
On the flip side, too much exposure and not limiting traffic can put your ad at risk of appearing on sites classified as "repeat offenders." As a result, your Google Ads account may be suspended, and you must undergo a long-drawn process to retrieve it — if possible.
Fortunately, you have this guide to help you drive brand awareness using Google Display Network and prevent common rookie mistakes. And once your ad goes live, don't forget to regularly assess its performance and make tweaks to stay ahead in the game.
However, if you still need some guidance, reach out to the team at sitecentre®. We have a team of professionals high-skilled in developing, managing and auditing Google Display Ads.
Good luck, and remember to do your research!