Advertising is one of the core components of any business's marketing strategy.
That's why the success of marketing strategies depends heavily on how effective the advertising campaign is. One of the most popular advertising platforms businesses use is Google Ads.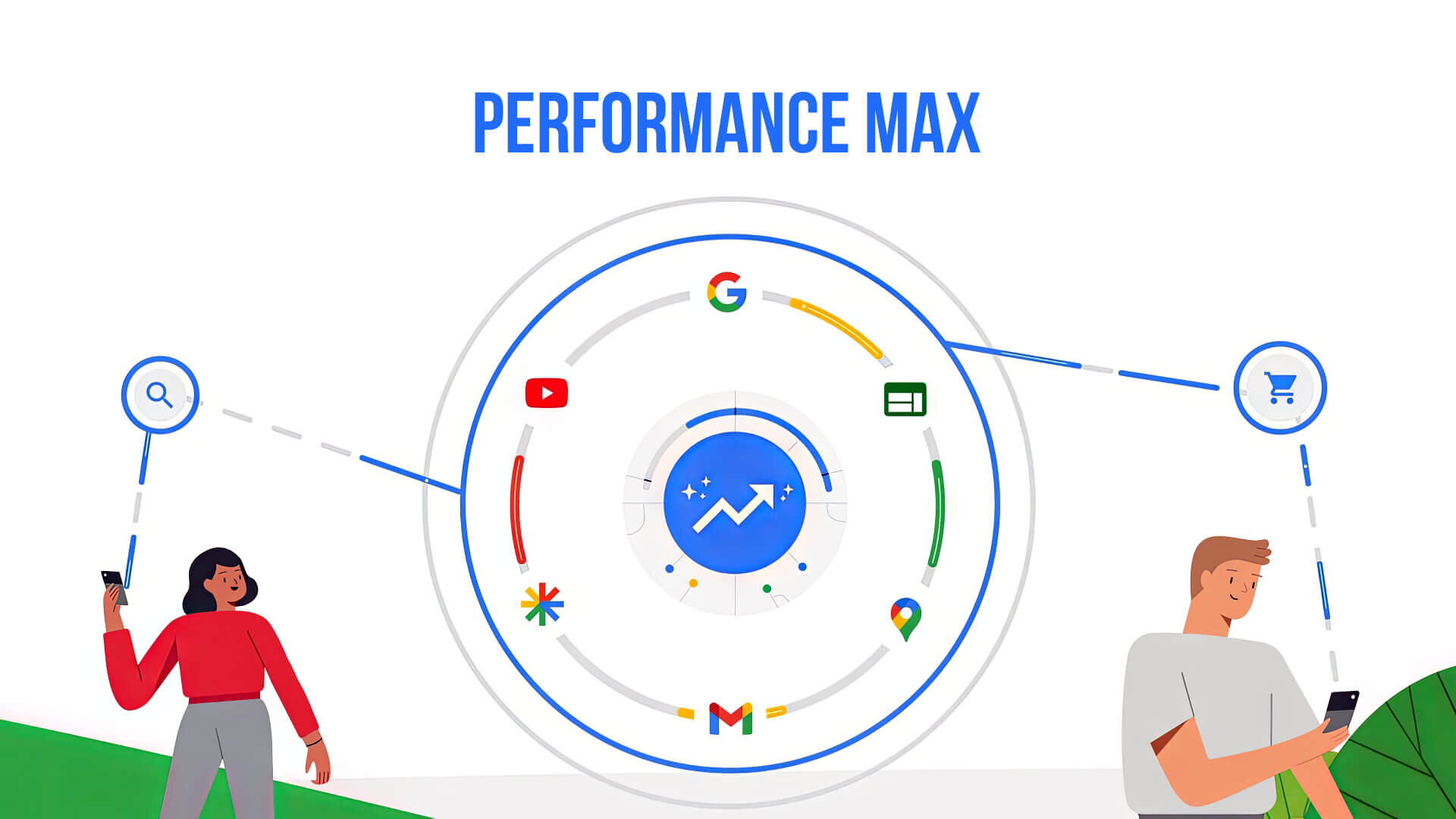 This has always been a powerful platform, but Google recently launched a new type of campaign design known as Performance Max that further enhances its capabilities. Performance Max utilises the power of Artificial Intelligence to make your advertising strategy more effective by improving your reach, improving conversions, and lowering cost.
That's why more businesses rely on these campaigns for their advertising strategy. But you need to learn about Performance Max to make the best use of it properly. This informative guide can help you do so quickly and easily.
Understanding Google Ads Performance Max
Performance Max is a relatively new type of Google Ads campaign that utilises AI to automate campaigns on different advertising channels. It relies on information provided by the advertiser to display more relevant ads that boosts engagement in Google Search, Gmail, YouTube, etc.
For a Performance Max campaign, you must structure and define the advertisement, providing Google with the assets required for automating it. This makes it similar to a Smart Campaign, but the two are quite distinct, depending on the feedback given. The campaign can be activated through Google Smart Bidding, depending on your requirements.
Performance Max campaigns also function similarly to social ad campaigns and discovery campaigns since they use all dynamic ad formats in a campaign. Additionally, there is limited performance reporting by the target audience, and Google determines which ads would be most suitable for different audiences using machine learning.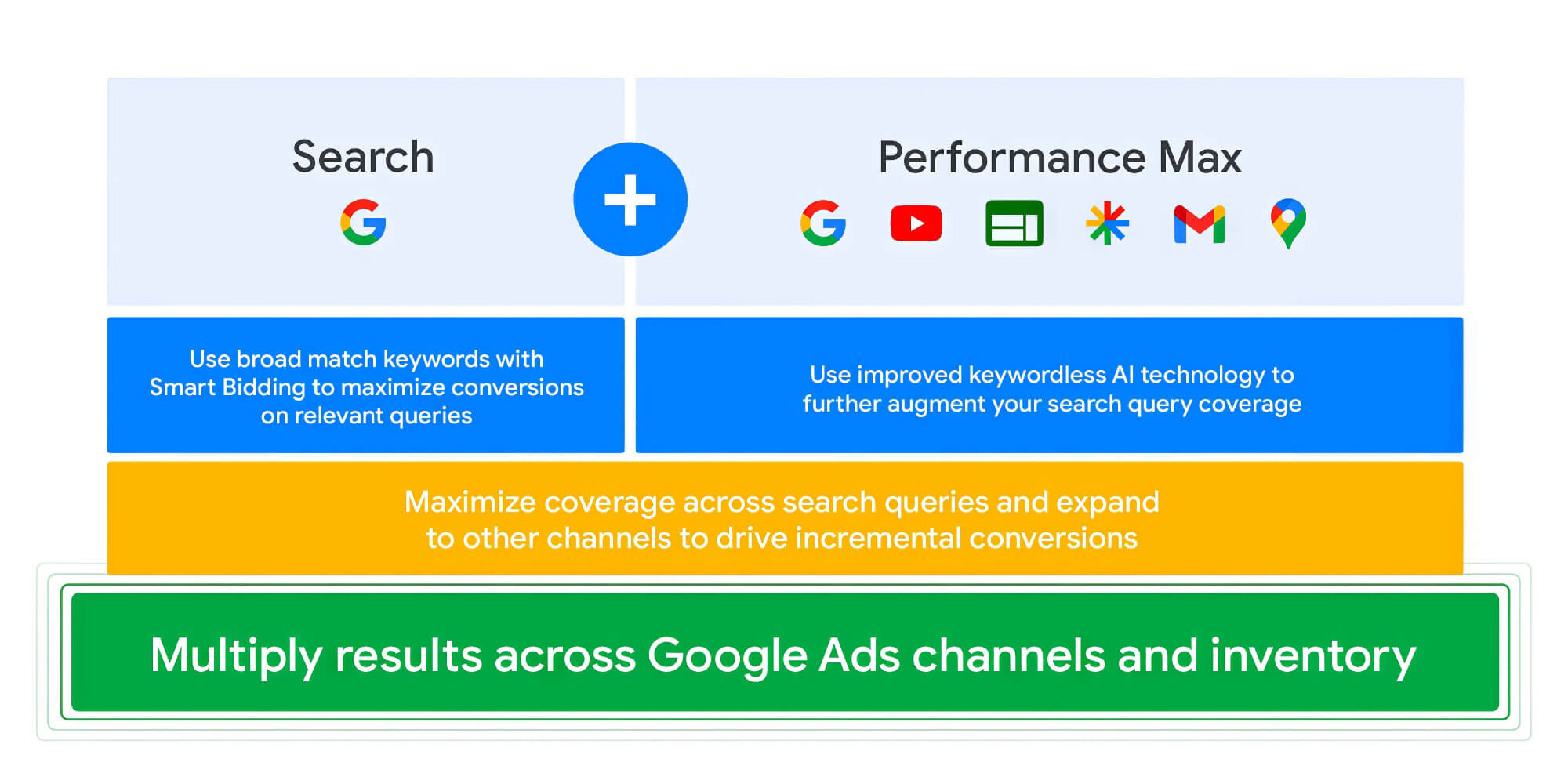 One example of the major differences between Performance Max and other Google Ads campaigns is that the former can be placed almost anywhere. Thus, besides Search and Gmail, these ads can run on YouTube, Discovery, Display, and other components that comprise the Google network.
Because of this, Performance Max campaigns are most suitable when you need to optimise your advertising campaign, and there is no limitation on the channels where the ads will appear. Such campaigns can be used to achieve specific objectives, such as lead generation or increasing online sales.
With a Google Ads Performance Max campaign, you can use a single campaign to access all marketing channels where Google displays ads. But unlike traditional ad campaigns, Performance Max provides higher conversions and greater reach.
When setting up a Google Ads Performance Max campaign, you also get various controls and options that allow customising the ads easily, such as the budget, ad scheduling, language, etc.
Performance Max And Other Advertising Options
The most crucial factor to check that makes Performance Max distinct from other advertising options is its use of machine learning and automation. Unlike regular ad campaigns, This platform consolidates all efforts into a single Performance Max campaign across the entire location network that Google has built up, including Discover, YouTube, Display, and Search.
Its advanced algorithms optimise real-time bids, targeting, and ad placements, reaching high-value audiences. And the dynamic ad creatives of the tool adapt to different platforms to maximise performance.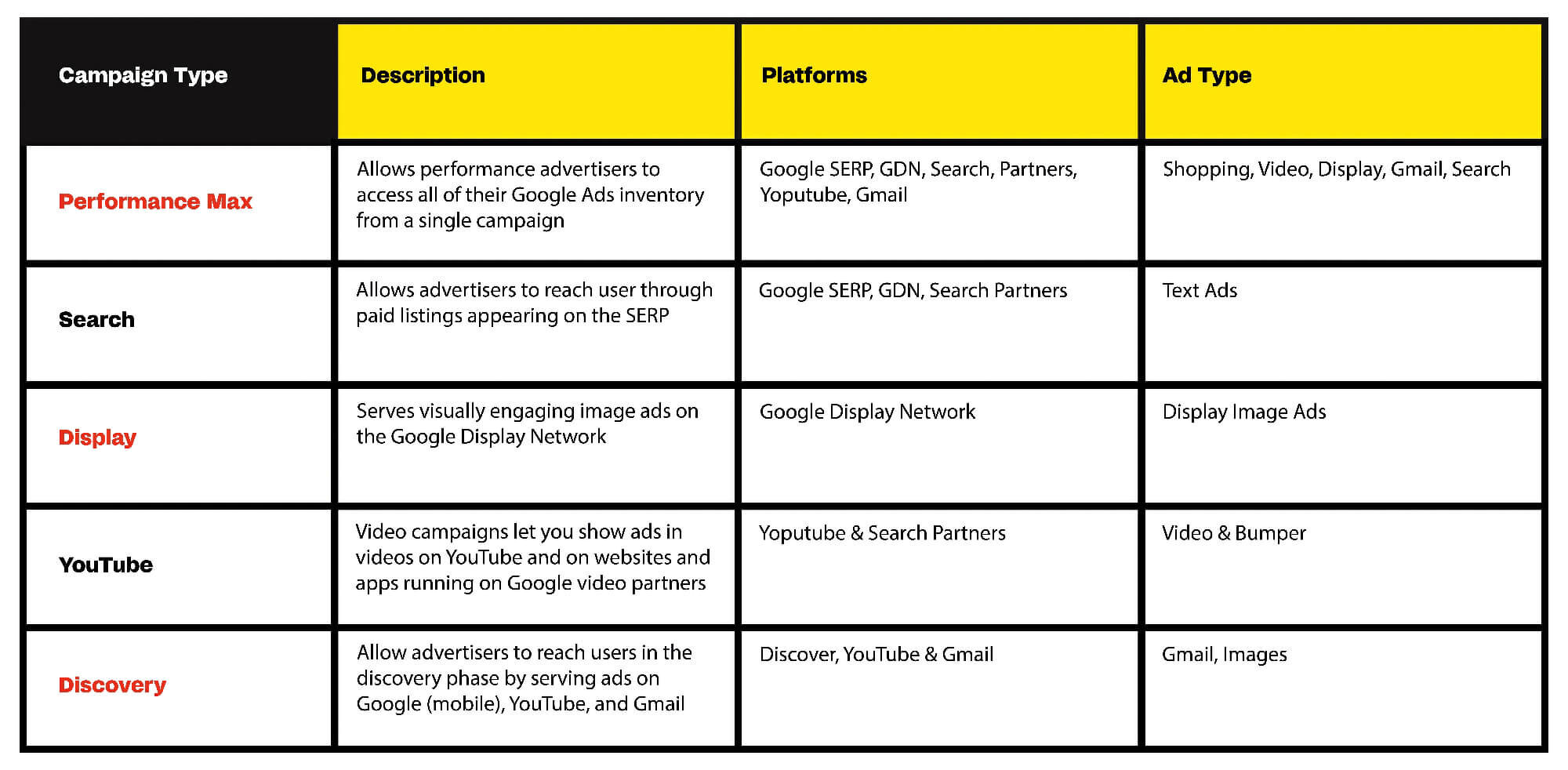 The cross-channel and keyword-based search approach of Performance Max and its data-driven insights enable advertisers to maximise reach, ROI, and conversions, making it a much more powerful and efficient option than traditional ones.
Benefits Of Google Ads Performance Max
1. Increased Reach
Performance Max can utilise the vast network built up by Google through its Search, Display, YouTube, and Discover to expand the reach of your ads. This helps you reach a wider audience across different platforms, helping increase brand visibility and attracting more potential customers.
2. Better Targeting
Using machine learning, a Performance Max campaign can identify and target high-value audiences more likely to engage with the ads, leading to more conversions. Bids and placements are optimised according to target audience behaviour, demographics, interests, and past engagement levels. This ensures the appropriate ads are displayed to the right audience at the correct time.
3. Improved Conversion Rates
Google Ads Performance Max campaigns rely heavily on data and continuously analyse target customer behaviour and campaign performance for ad delivery optimisation. Using such data can show ads to audiences more likely to engage with them and take action, such as signing up for a newsletter or making a purchase. This can significantly convert users, boosting conversion rates and helping increase return on ad spend.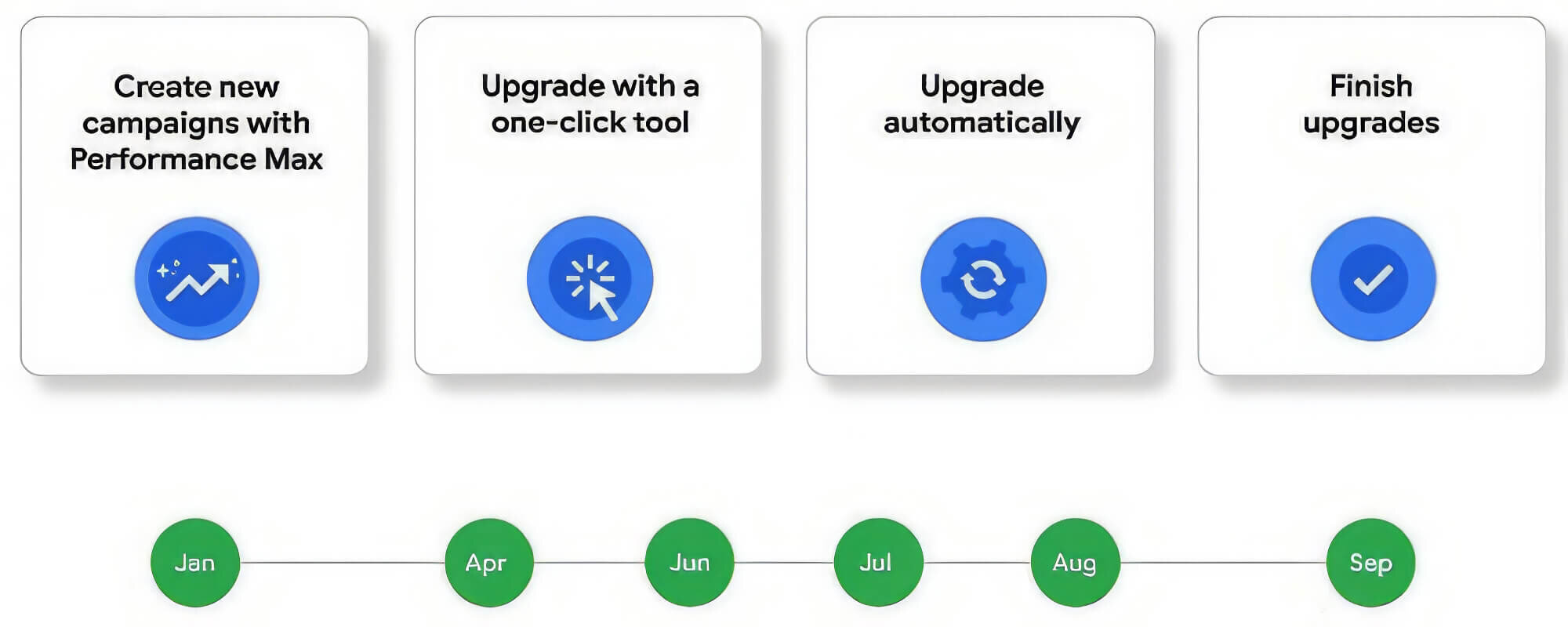 4. Automated Bid Management
The effort required by an advertiser to manage bids is considerably reduced in the case of a Performance Max campaign. This is because bids are adjusted automatically in real-time, maximising the chances of winning suitable ad placements without exceeding the advertising budget.
5. Cross Channel Optimisation
Performance Max does not focus on individual channels but aims to enhance the overall campaign for the best results. This enables allocating budget change across different advertising channels, resulting in a more enjoyable experience for the target audiences.
6. More Informative Insights
Performance Max makes understanding how Google's algorithms manage an ad campaign easier. They provide detailed information regarding different aspects of the campaign, such as the targeted audience segments. Similarly, you can know about the Performance Max asset group having the most impact on customer engagements, conversions, and online sales.
Optimising Ads For Maximum Performance
1. Establish Clear Goals And Key Performance Indicators
Before launching a Google Ads Performance Max Campaign, you should clearly define the campaign objectives and key performance indicators (KPIs). Campaigns can have different objectives, such as increasing website traffic, improving brand awareness, or achieving higher conversions. Clearly defined goals can make monitoring the ad's performance and measuring success easy.
2. Pay Attention To URL Expansion
URL expansion is a Performance Max campaign feature that sends website visitors to different landing pages instead of the final URL. However, by default, it does not allow setting ad targets, such as in the case of a dynamic ad group and only lets you create exclusions. That is why turning the final URL expansion feature off in many situations is a good idea.
3. Include A Video Asset
The best Performance Max campaigns are those that have a lot of high-quality creative assets, such as images and videos. However, when creating a new Performance Max campaign, advertisers may only be aware that Google automatically creates video assets if they are included. Since the automatically generated assets may not match the campaign's objectives, it is better to add them manually.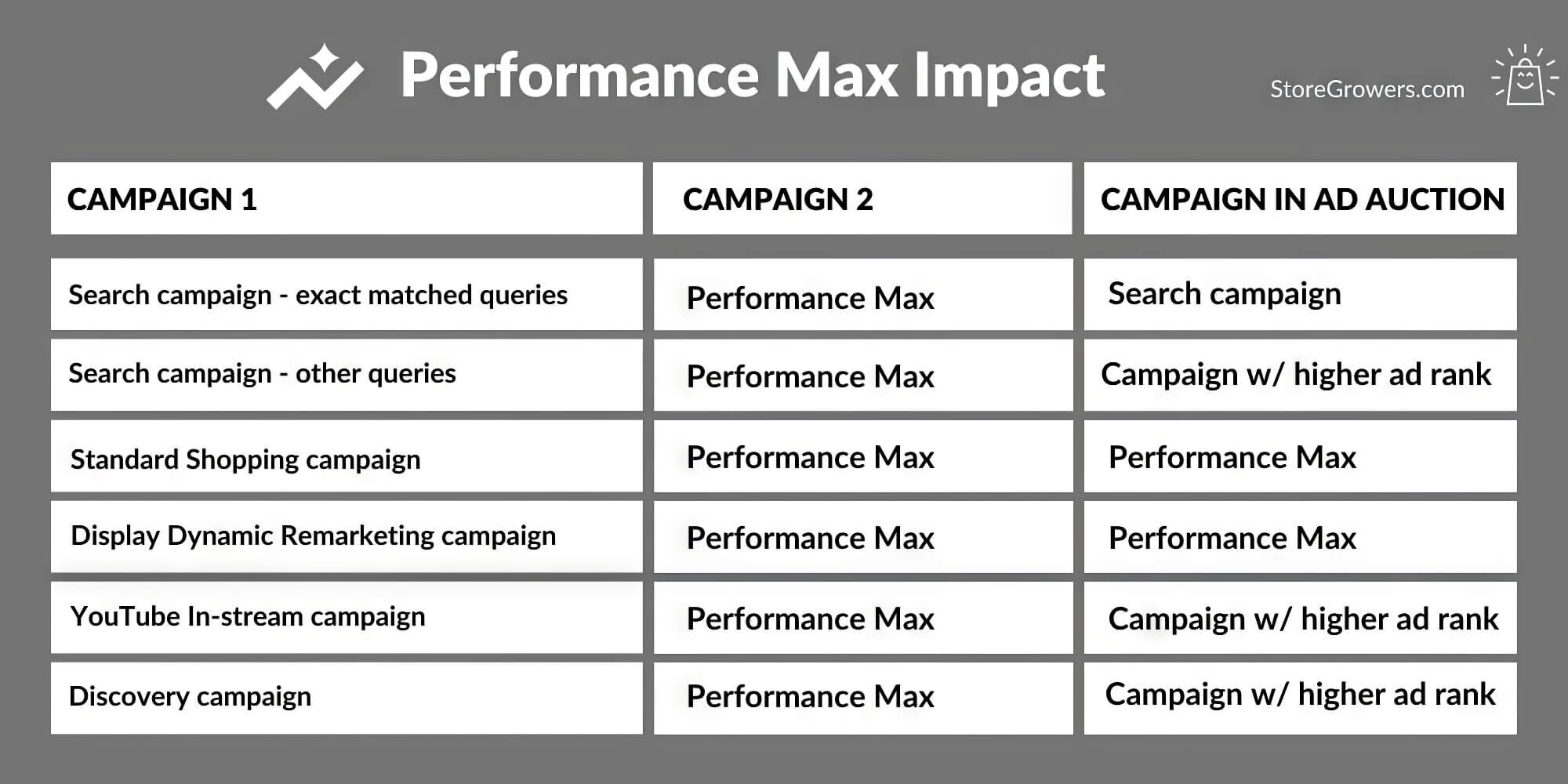 4. Use Google Analytics For Better Monitoring
Google Analytics can help monitor your Performance Max campaigns more efficiently. You just need to explore and find a segment for the campaign in the analytics tool for the purpose. Once set up, it can provide detailed insights into various aspects, like customer engagement with the Performance Max campaign.
You can even use Google Analytics on the landing page report to know whether the URL expansion feature should be turned off or whether URL exclusions need to be added.
5. Utilise Performance Max Campaigns To Meet Conversion Goals
Performance Max campaigns allow bidding only for the conversion value or conversion. The conversion value is used to measure the impact of an ad campaign and can be used to optimise it. Since Performance Max ad campaigns are most effective in meeting conversion-related goals, they should ideally be used to meet those.
6. Include Audience Signals In The Campaign
Audience signals are an integral part of Performance Max campaigns as they provide Google information regarding the type of audiences the ad is designed to target. While initially, the ads are only shown to the target audience, they also become visible to others later on who are likely to engage with the campaign.
But for the best results, it is highly recommended to customise the audience signal to target the right people, Which can be done through the Google Ads customer's accounts.
7. Utilise Ad Extensions
When using Performance Max, you should use different ad extensions, such as site links, call extensions, and callout extensions. These can not only help increase user interaction but also provide additional information that can be used to make more informed decisions.
Ad extensions further help improve visibility and click-through rates for search, discover, and display campaigns.
8. Avoid Duplicating Your Google Merchant Centre Image Assets
Connecting Performance Max to your Google Merchant Centre Feed allows pMax to utilise the information in the feed to create dynamic search ads similar to a Shopping campaign. Such information can include availability, pricing, images, etc. So, avoid adding eCommerce images to the Performance Max asset group as separate images, which will lead to duplication.
Instead of these images, you should use lifestyle images that show your products and services to increase online sales.
Success Stories And Case Studies
Here are some case studies that depict how Google Ads Performance Max has been used successfully to increase customer engagement and conversion:
A. PureCars Dealer Uses Performance Max alongside existing search campaigns To Get More Conversions At A Lower Cost
PureCars is a business based in Atlanta, Georgia, providing industry data and logistical support for automobile dealers. It is also a Google Premier Partner and has tested Performance Max with one of its dealer partners to test its effectiveness. The dealer had to run Performance Max campaigns simultaneously with a standard Google Ads search campaign for five months to determine the campaign's effectiveness.
By the end of the testing period, the dealer saw a 98% increase in conversions, indicating a 136% higher conversion rate. Furthermore, the cost per conversion went down by 80%, and ad spend and cost per click saw a considerable reduction.
Only the click-through rate and the traffic from clicks were better in the case of the standard paid search campaigns. Thus, utilising Performance Max with existing campaigns can help a business achieve market objectives faster and cost-effectively.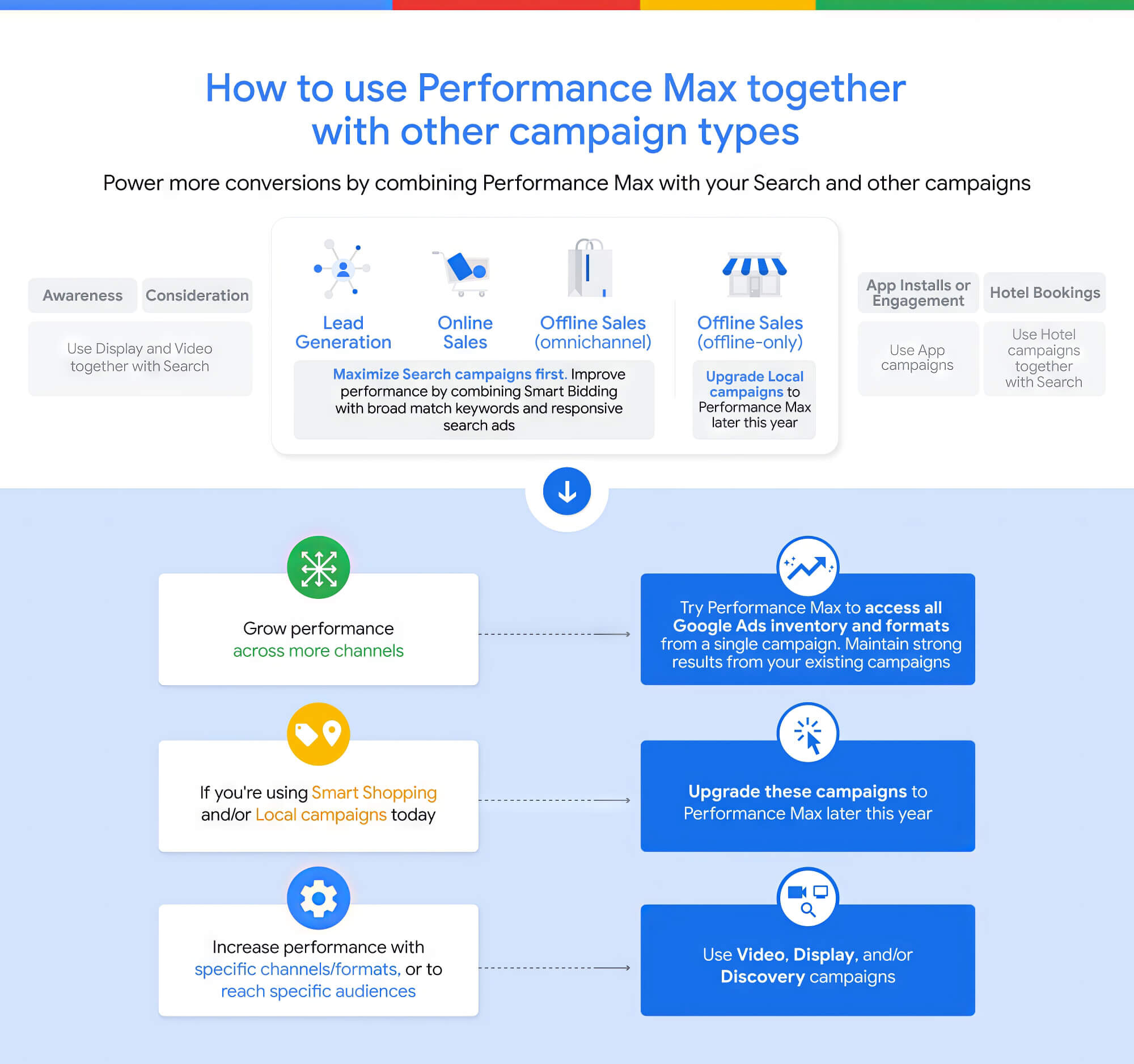 B. Disruptive Advertising Witnesses Better Lead Generation With A Reduction In Cost
Disruptive Advertising, a digital marketing agency, is a Google Premier Partner that served to test the capabilities of Performance Max in its beta stage. It ran multiple campaigns for a client, which resulted in the lead volume rising by 8%. This was achieved at a rate of just $35 cost-per-action (CPA), which was four times less than what the earlier search campaigns cost.
In another instance, the brand used Performance Max for a client in the sports card retail industry, and the client saw a 97% increase in revenue overall. The total return on investments (ROA) was 60%.
Comparing Google Ads Performance Max With Other Platforms
Before using Performance Max, it is a good idea to know whether it suits your requirements and how it compares with other platforms.
Performance Max Vs. Standard Shopping Campaigns
Performance Max campaigns are very different from standard ones as they rely heavily on world-class Artificial Intelligence. You need to provide basic information to the platform, and it can use machine learning to adjust the campaign bidding, priorities, and other aspects. In contrast, creating a standard shopping campaign can take time, but it offers more control over each aspect than automated options like Performance Max.
Performance Max Vs. Smart Shopping Campaigns
Google has replaced Smart Shopping Campaigns with Performance Max, specially designed to provide more dynamic advertising. Smart Shopping Campaigns allowed businesses to automate ad placement and bidding to connect with a wider audience.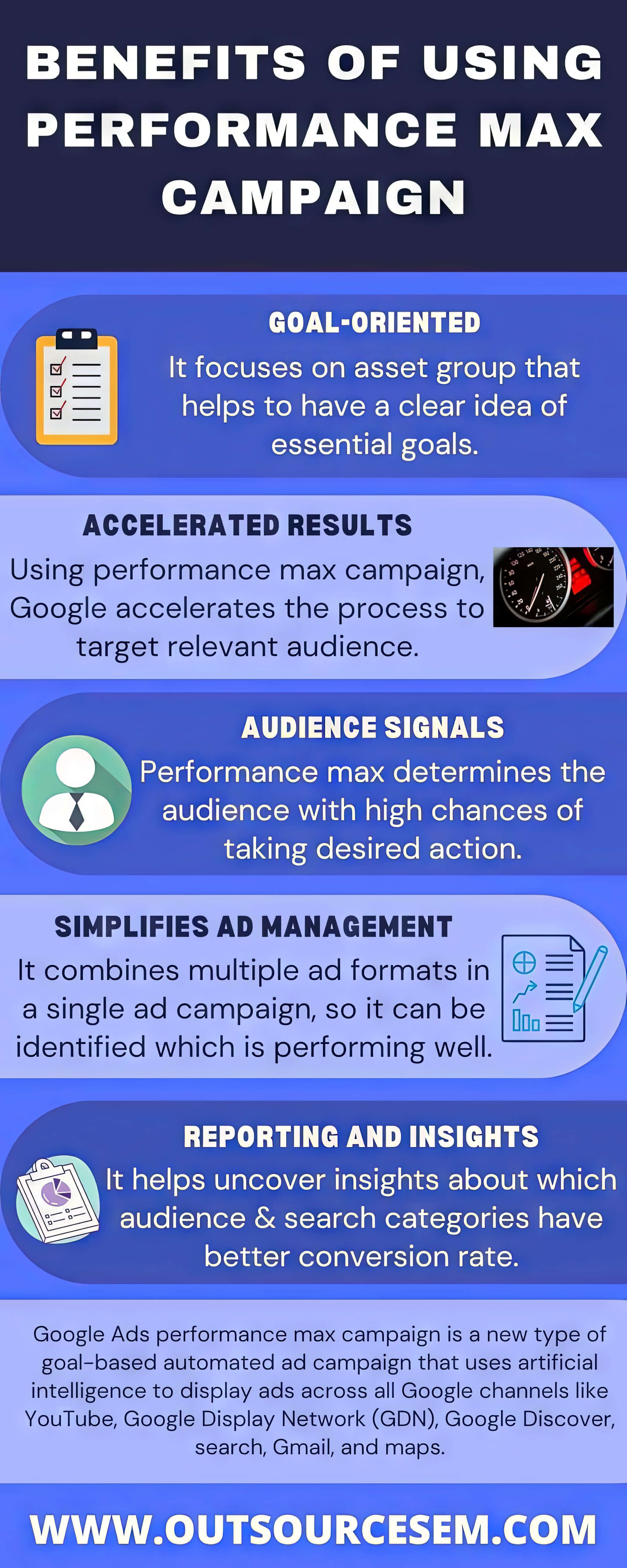 All Smart Shopping Campaigns were upgraded to Performance Max in 2022. The similarity is that both are completely automated and use AI to function. There is no need to set product groups, priorities, and bids manually; they stay set automatically.
Aside from that, Performance Max can take advantage of platforms like Google Maps and Discover, which is not possible with Smart Shopping Campaigns.
Performance Max Vs. Local Campaign
A Google Local Campaign helps promote local businesses on platforms like YouTube, Google Search, Discover, and Display. It can be used to improve the visibility of a business on various advertising networks and channels. However, it's important to note that local campaigns must be set up manually, much like a standard shopping campaign. At the same time, Performance Max uses automation to manage actions like bidding without requiring manual effort.
Keyword-based search campaigns through Performance Max are highly performing, especially in terms of conversion rates.
Measuring The Success Of Google Ads Performance Max Campaigns
Once you've decided to use Performance Max, set up your ad campaign, and the advertisements start running on Google's advertising channels, it is time to focus on measuring its performance. But it would be best if you let the campaign run for some time before doing so. Ideally, this period should be two weeks, though it can vary depending on the conversion window.
Since Performance Max is different from traditional advertising campaigns, there means a variety of data types are available that need to be analysed. These include:
I. Insights
Several types of insights can be viewed to determine how your Performance Max campaign is performing, such as search term insights, audience insights, asset insights, auction insights, and product insights. Search term insights can contain various search terms with metrics like volume, conversion value, and conversions. Similarly, audience insights provide information regarding the targeted audiences and metrics like the number of clicks and index.
As for the asset insights, these can be used to determine which asset group performs best and the audiences engaging with them. This can be used to maximise campaign performance by adjusting multiple asset groups as required.
Auction insights are similar to those provided in other types of campaigns and show the top competitors in Shopping and Search results. Finally, product insights can be used to view the products in the campaign with metrics like revenue, conversions, and cost.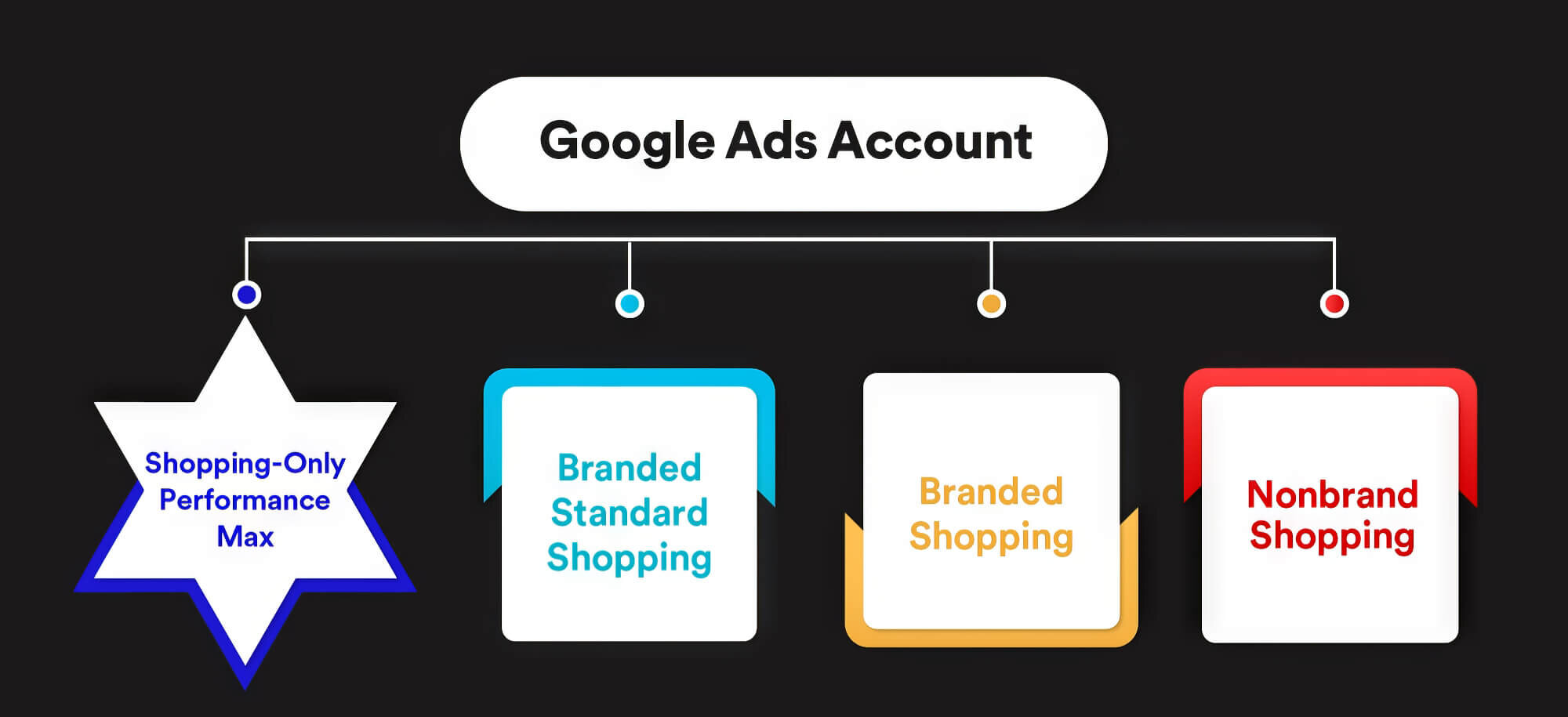 II. Reports
Two reports are available when you run Performance Max campaigns - the Performance Max Campaigns Placement Report and Google Analytics and GA4 reporting. The Performance Max Campaigns Placement report provides information regarding the display ads used for the campaign.
In addition, Google Analytics can be used to get more detailed information, as explained above.
A Google Ads expert will be able to measure the performance of the Performance Max campaign; you will need to track and analyse various metrics using the above insights and reports. These metrics can include KPIs, CTRs, ROAS and CPA. With these, it is possible to monitor interactions and engagement levels while Google Analytics real-time data can be used to optimise the campaign for better results.
FAQs
1. Does using Performance Max have any downsides?
Performance Max campaigns offer several advantages over other advertising platforms, but there are a few downsides to using them as well. The first is cannibalisation since Performance Max covers a wider range of ads than other campaigns. Performance Max ads can cannibalise other campaigns and may make it difficult to determine their effectiveness.
Additionally, placement visibility is limited, and the placement report needs to provide placement details. So, knowing the placements where the ads will appear can take time and effort. Finally, since most of the aspects of Google Performance Max campaigns are automated, advertisers have little control over things like bidding, which may only be suitable for some.
2. How do you create a Performance Max campaign?
The first steps in setting up a Google Performance Max campaign involve deciding on an objective. These include increasing sales, growing leads, improving website traffic, etc. Once you've selected an objective, it is time to select the campaign type as Performance Max. The third step is to pick the conversion goals while avoiding unnecessary goals.
After that, you will need to set the budget and the bidding strategy, which will require great care to ensure the automated campaign is within your budget. Additional campaign settings, such as target locations and language selection, can be adjusted after the budget is set. The final URL expansion setting can also be adjusted here.
Finally, you must create one or more asset groups and provide an audience signal. Ad extensions can also be included in asset groups to achieve specific objectives, such as increasing visibility and engagement.
3. What type of businesses can benefit from Google Ads Performance Max?
Performance various businesses, including eCommerce and B2B businesses, can use Max. Travel agencies and app developers can also utilise it to promote their businesses and reach new customer segments. For eCommerce companies, Performance Max can help expand their reach and promote products across multiple platforms.
Similarly, B2B companies can benefit from the platform by utilising its targeting capabilities to enhance the decision-making process. App developers can use automated bidding, and dynamic creatives can help drive more downloads and improve visitor engagement and retention. Travel agencies can also reach travellers across the globe and use dynamic ads to boost bookings.
4. How does Performance Max use different Google advertising channels?
Google Ads Performance Max can display ads on general search results pages, i.e., Google's Search Engine Results Page (SERPs), Depending on the keywords and phrases used to search within Google Ads inventory for products, services, or information. It can also show ads on apps, websites, and blogs that are a part of the Google Display Network.
YouTube ads can show up when using Performance Max to reach the audience consuming video content, while ads in the Google Discover feed can provide a personalised experience. Besides, Discover, Gmail and Maps can display relevant ads to users, thus leveraging all of Google's ad inventory.
5. How can the Asset Detail Report benefit advertisers using Google Ads Performance Max?
The Asset Detail Report in Google Ads Performance Max allows you to choose detailed insights into the performance of various assets, like images, ad copy, and headlines. These help understand which combinations of assets connect best with the target audience. The ad campaigns can then be optimised for better performance across all platforms and throughout Google's network.
Supercharge Your Campaigns with Google Ads Performance Max
Google Ads Performance Max is among the most significant developments in the advertising industry. It can help all types of organisations promote their brand, expand their reach, and increase revenue effectively while helping reduce cost and effort.
By utilising the power of machine learning and automation, Performance Max works to streamline ad campaign management while helping you accomplish objectives with fewer campaigns.
In addition, its improved targeting and accurate performance insights can be checked regularly to help lead to data-driven decisions, resulting in better ROIs. Thus, Performance Max can help advertisers grow and remain competitive in an ever-changing digital landscape.