The eCommerce industry has reached new heights since the digital revolution has taken the world by storm over the last few decades.
Everything is available to customers, from groceries to electrical appliances, in just a few clicks on their computers or smartphones. It won't be a massive stretch if we consider digital marketing the future of advertising, and no one understands it better than emerging businesses.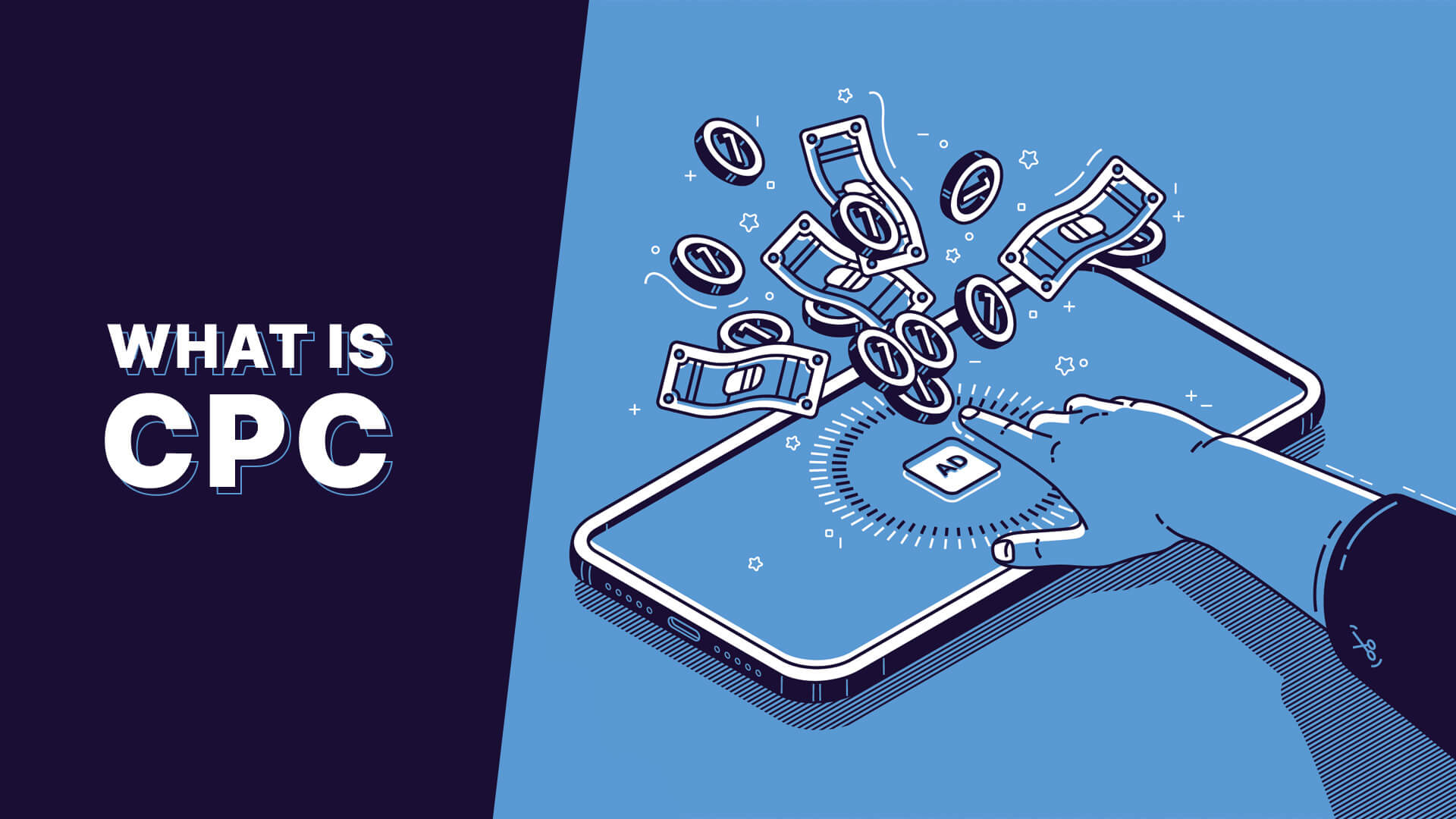 Creating an online ad campaign is the best solution if you want your business to have a robust online presence that can attract the target audience. Launching a digital advertising campaign has become easier with platforms like Google Ads and Amazon Advertising. But, you have to consider the financial feasibility of the campaign.
We're here to discuss the cost-per-click (CPC) bidding model to help you understand how paid ad campaigns work. Read on to know more!
What Is Cost-Per-Click (CPC)?
Cost-per-click or CPC is a Pay-per-click (PPC) pricing model that allows you to launch a paid advertising campaign for your business on several social media platforms. You can publish your ad on any online platform, like Google or Facebook, and you must pay the website every time someone clicks on the ad.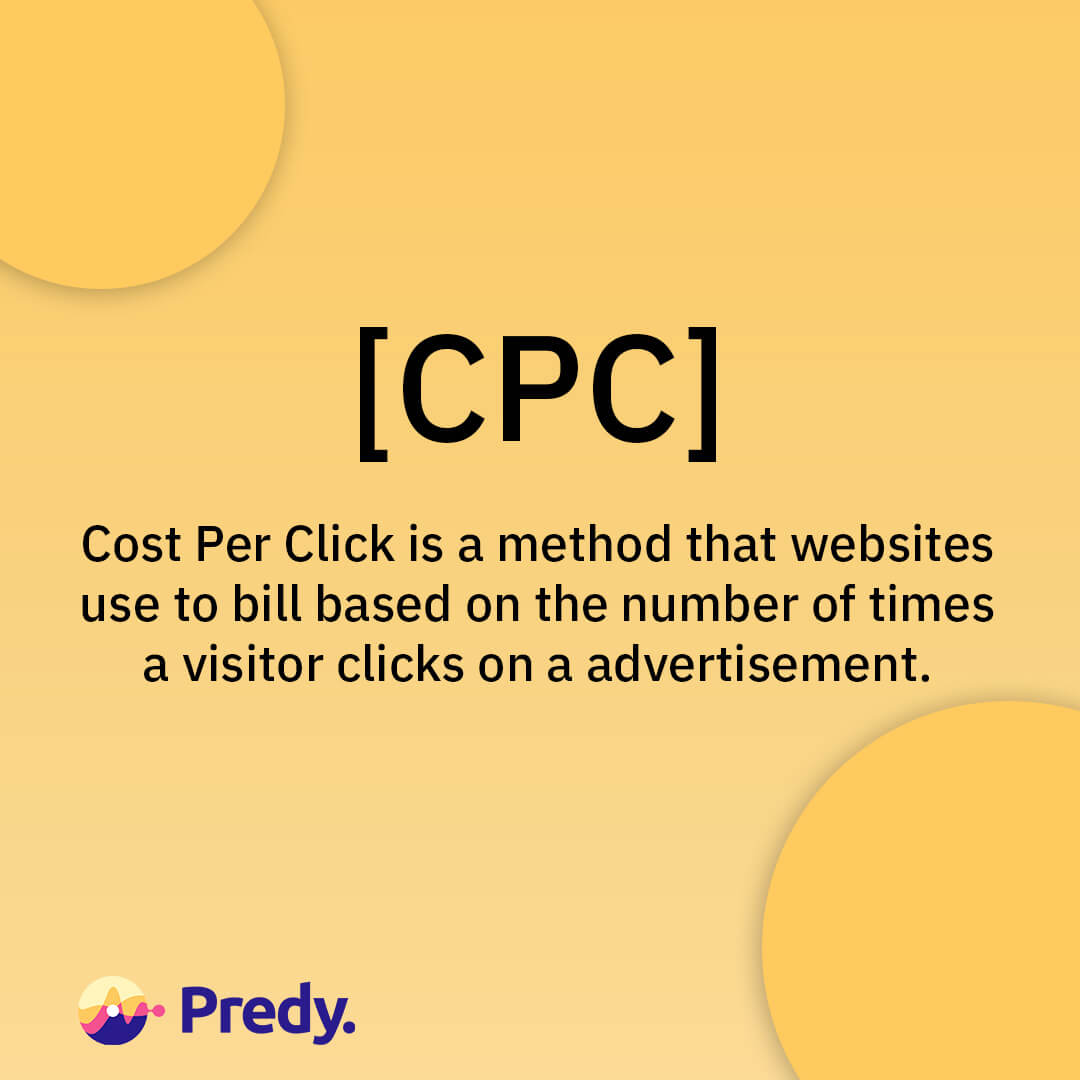 Measuring your cost-per-click regularly is essential because it determines your ad campaign's final budget. You can calculate the CPC based on how many people click on the ad, so you must carefully monitor this marketing metric. The campaign's target should be to reach a larger audience pool while lowering the cost-per-click amount by sticking to your budget.
Once you reach the campaign budget, the ad will automatically be removed from the website until you pay the total cost-per-click bill. It is an excellent bidding model to enhance your company's digital presence and increase revenue collection. Also, keyword relevance and your estimated budget determine the cost-per-click amount.
What Types Of Online Ad Campaigns Fall Under CPC?
Businesses use CPC to calculate their campaign budget for publishing several types of ads, including social media ads, video, or text-rich ads. Certain ad types are only displayed on a specific online ad network, such as Google Search Network and Google Display Network. Any online ads of Google-owned sites, like Gmail or YouTube, mostly appear on the Display Network.
We've highlighted a few ad types that involve CPC below:
Text ads
Image ads
Shopping ads
Video ads
Facebook ads
LinkedIn ads
Instagram ads
Twitter-promoted tweets
How To Calculate CPC (Cost Per Click)?
CPC is calculated by dividing your paid ad campaign's total cost by the number of clicks. Online advertising tools like Google AdWords often show the CPC amount for target keywords. You can use these tools to bid on specific keywords to publish your paid ads on the website. So, the following formula is used to calculate cost-per-click:
Cost-Per-Click = Total cost of advertising/number of clicks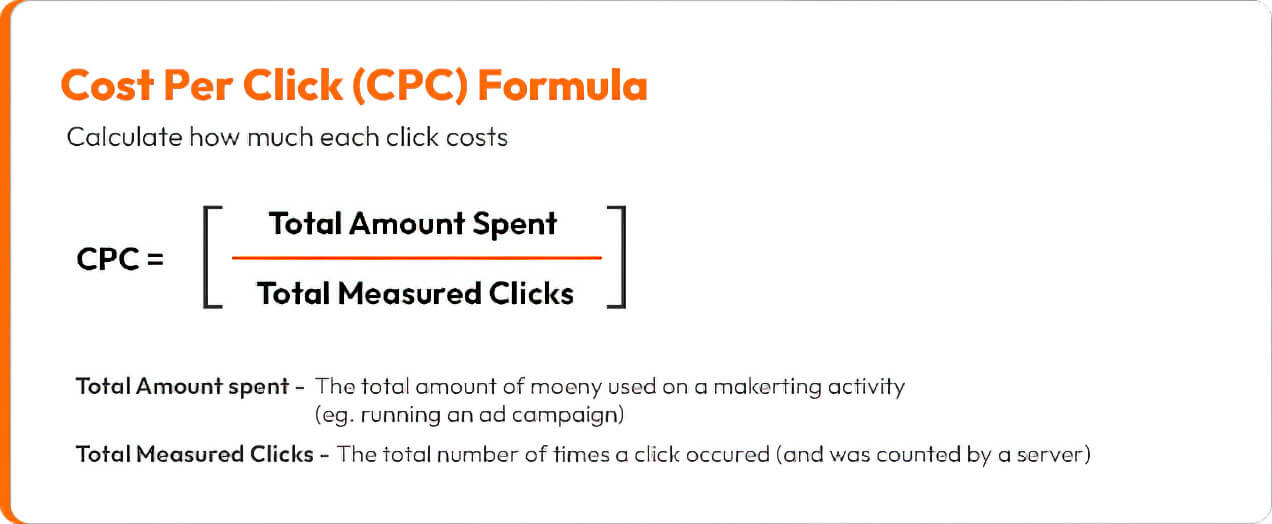 Certain metrics involve CPC, such as average CPC, maximum CPC, manual CPC, and enhanced CPC. You can utilise these bidding strategies and metrics to increase the visibility of your paid ad while lowering the overall campaign budget. Always remember if a keyword has a high demand in the auction, your ad placement will go higher, and so will your advertising costs.
1. Average CPC
Calculating the average CPC for pay-per-click ads is relatively straightforward because it is the average amount you spend on every click for a paid ad. So, it is estimated by using the formula mentioned below:
Average cost-per-click = Total cost of clicks/Total number of ad clicks

Generally speaking, ads displayed on search engine pages, like Google or Bing, cost more than those published on the brand's official website. The ad ranks can also change frequently so that you won't have any fixed numbers for your ad's CPC.
2. Maximum CPC
Maximum CPC has the highest amount you are willing to pay per ad click, so it is the highest bid for keywords and ad placement. You place the bid for the ad based on what you consider to be the maximum cost per ad click.
Usually, you don't have to pay the entire maximum CPC amount because the actual CPC is often lower than the initial bid. The amount mainly depends on Quality Scores and related brands, which can vary from time to time. If you are unsure about the ad's maximum bid, Google recommends setting the highest amount to $1 in Google AdWords.
3. Manual CPC
Once you set the maximum CPC bid for the ad, you need to decide whether to use automated bidding strategies or manual CPC bidding. In automatic CPC, the bidding value of your ad is determined automatically based on other brands and products.
On the other hand, you can set the maximum bidding amount for each ad using the manual CPC strategy. Here, you can change the bidding amount based on different ad types, such as image, video, social media, or text ads.
4. Enhanced CPC
Enhanced CPC bidding is the alternate option to manual CPC, where you can set the overall ad budget and automate the maximum bidding amount based on your budget. It is the best strategy if you want to maximise your ad conversions.
Additionally, this bidding strategy helps to keep your average CPC lower than the maximum CPC while optimising ad conversions. Several search engines, including Microsoft Bing and Google AdWords, have removed manual CPC and focused on featuring enhanced CPC for ad campaigns.
CPM Vs. CPC: Which One's Better?
In the digital world, advertisers need to carefully measure digital marketing metrics to track how many customers have clicked on their ads. Two primary ways to reach your target customers through online advertising are cost-per-mille (CPM) and cost-per-click (CPC). These metrics are measured by determining the click-through rate (CTR) of an article, ad or landing pages.
CPM helps you measure how many times the customers have viewed your ad, irrespective of whether they've clicked on it. In contrast, CPC depends on the number of clicks your ad receives from interested customers. Both these advertising strategies can help determine the performance of your online campaigns.
But when it comes down to choosing between the two metrics, you need to consider your campaign goals. CPM is most effective in enhancing your brand image and raising product awareness among customers. When page visitors come across your ad, they can see your brand's logo and unconsciously absorb the message. So, CPM can help you attract customers to your brand.
On the other hand, CPC focuses on a more targeted response from the visitors and helps drive them towards your brand's website. It helps you precisely identify customers genuinely interested in your product. If you are trying to create strong brand recognition, CPM is a better metric, but CPC is the clear winner if you want to attract potential buyers through PPC ads.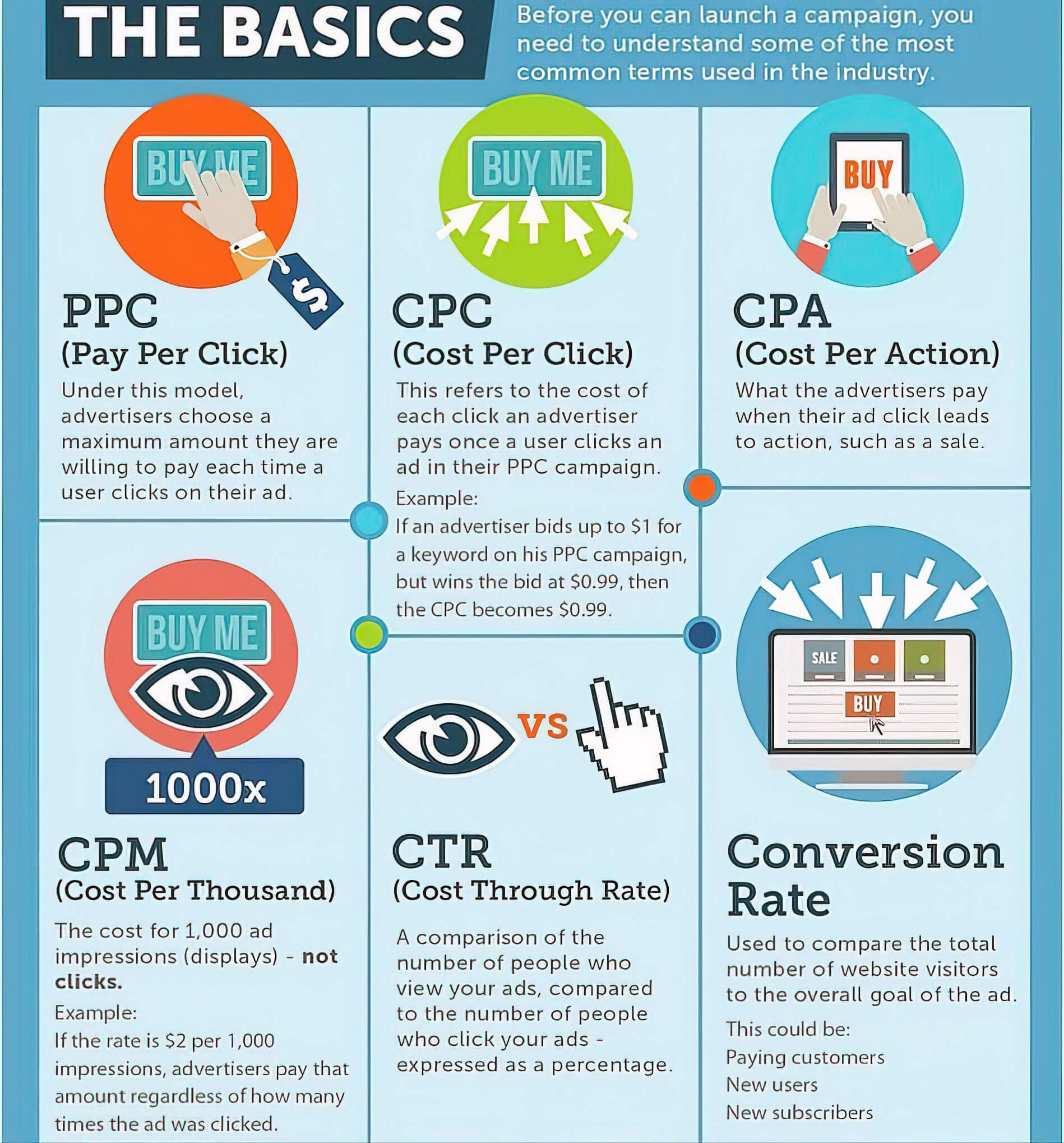 How Does Maximum CPC Influence Ad Rank?
Ad ranking essentially signifies the position of your ad on a display page, and it can change every time the ad is displayed based on different search entries and search results. Regarding ad ranks, you can never determine a constant figure because the value keeps fluctuating, depending on other brands and keywords, especially in competitive industries.
Furthermore, your ad ranking will determine your brand's optimal CPC. When you set a lower threshold for your maximum CPC bid, the ad is usually placed at a lower position on the website. If your bidding amount is low, the chances of visitors clicking on your ad also go down automatically. Thus, your PPC campaigns might not be effective in substantial lead generation.
However, Google often prioritises keyword relevance over a higher bid while placing ads. If you use popular keywords relevant to a search, your ad receives a high-Quality Score on the Google page compared to other publishers with higher bids. So, it's safe to say that your ad's relevance depends on using the right keywords and setting a higher limit for your maximum CPC bidding.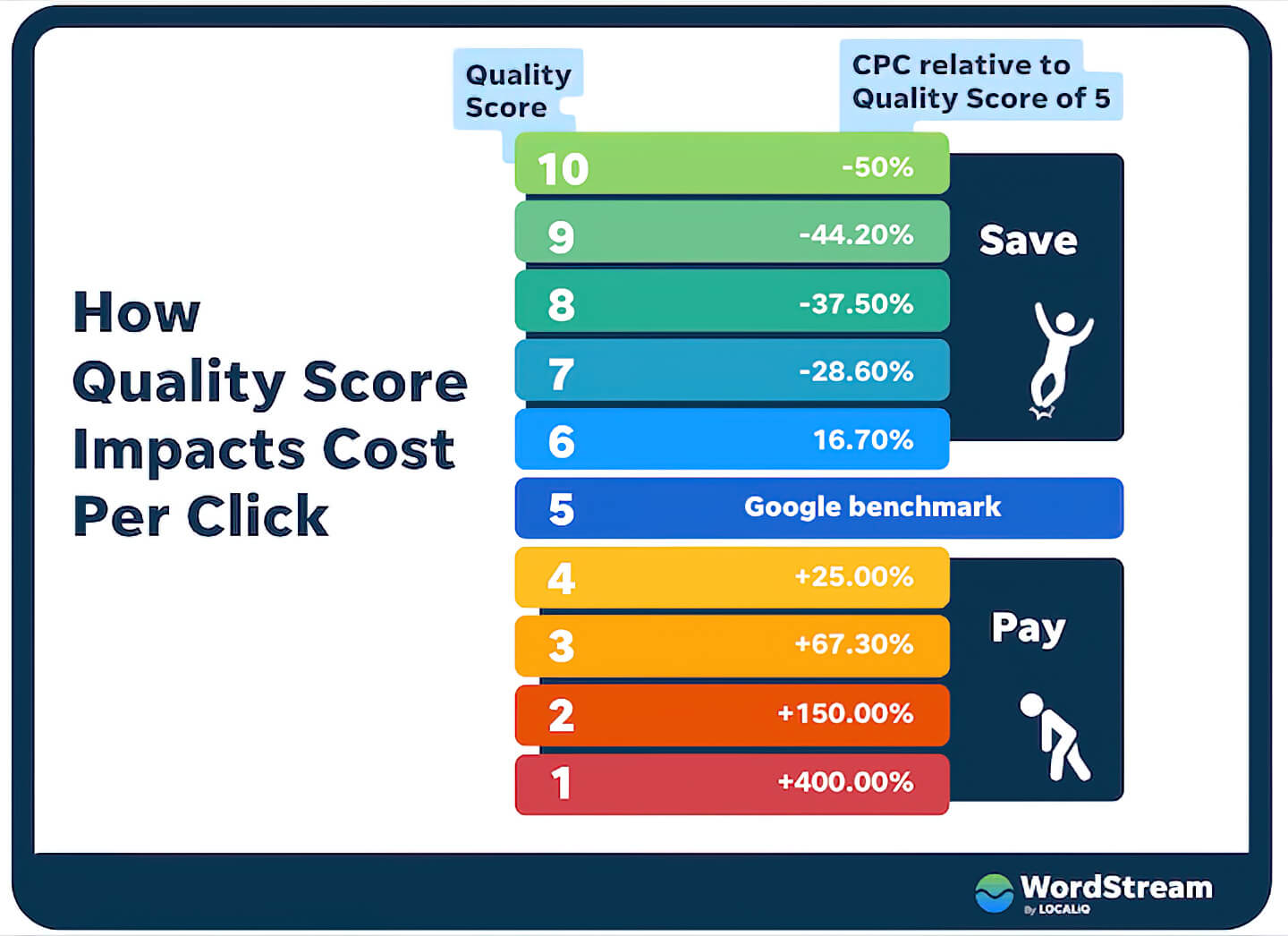 Google AdSense And Other Online Advertising Tools For CPC Campaigns
Various online advertising tools have emerged over the years with the tremendous boom in digital marketing and advertising. These leading advertising platforms can help you buy ad spaces from different website publishers to launch a successful CPC campaign for your brand.
In this context, Google AdSense is arguably the most prominent company offering an easy-to-use advertising platform to advertisers and website publishers for their PPC advertising campaigns. Thanks to its fully automated delivery system, it serves over 38 million brands and websites globally, including corporate giants like the BBC, Forbes, and Bloomberg.
Any website publisher can sign up with the Google AdSense advertising platform to display ads from advertisers of different brands. Depending on their content and online traffic, Google's algorithm decides which advertisers will be placed on the website. The publishers receive their payment based on the ad's CPC.
Furthermore, your ad will be selected and placed on the website through the Google AdSense ad auction from a pool of advertisers. The highest bidder with a Quality Score that's better or equally good as the second-highest bidder gets the top position on the page. However, if you have a higher Quality Score, you can bump the highest bidder from the top position even with a low bid.
Other than Google AdSense, there are several advertising tools such as Amazon Advertising, Infolinks, Bidvertiser and Meta Ads Manager. Some offer better deals than Google AdSense and support small and large publishers.
For instance, Amazon Advertising allows Amazon website affiliates to place ads to attract customers whenever they search for particular products on or off the Amazon shopping site. Similarly, the Meta Ads Manager helps you launch social media campaigns on the Metaverse, including Instagram and Facebook.
Benefits Of Measuring CPC
1. Obtain Leads
Cost-per-click allows you to display Google Ads by purchasing ad spaces from different website publishers to attract potential customers to your brand. You can choose the website your target consumers are more likely to visit, enhancing the ad's visibility. This will ensure that more consumers click on it, automatically building website traffic to your website and generating new leads for your business.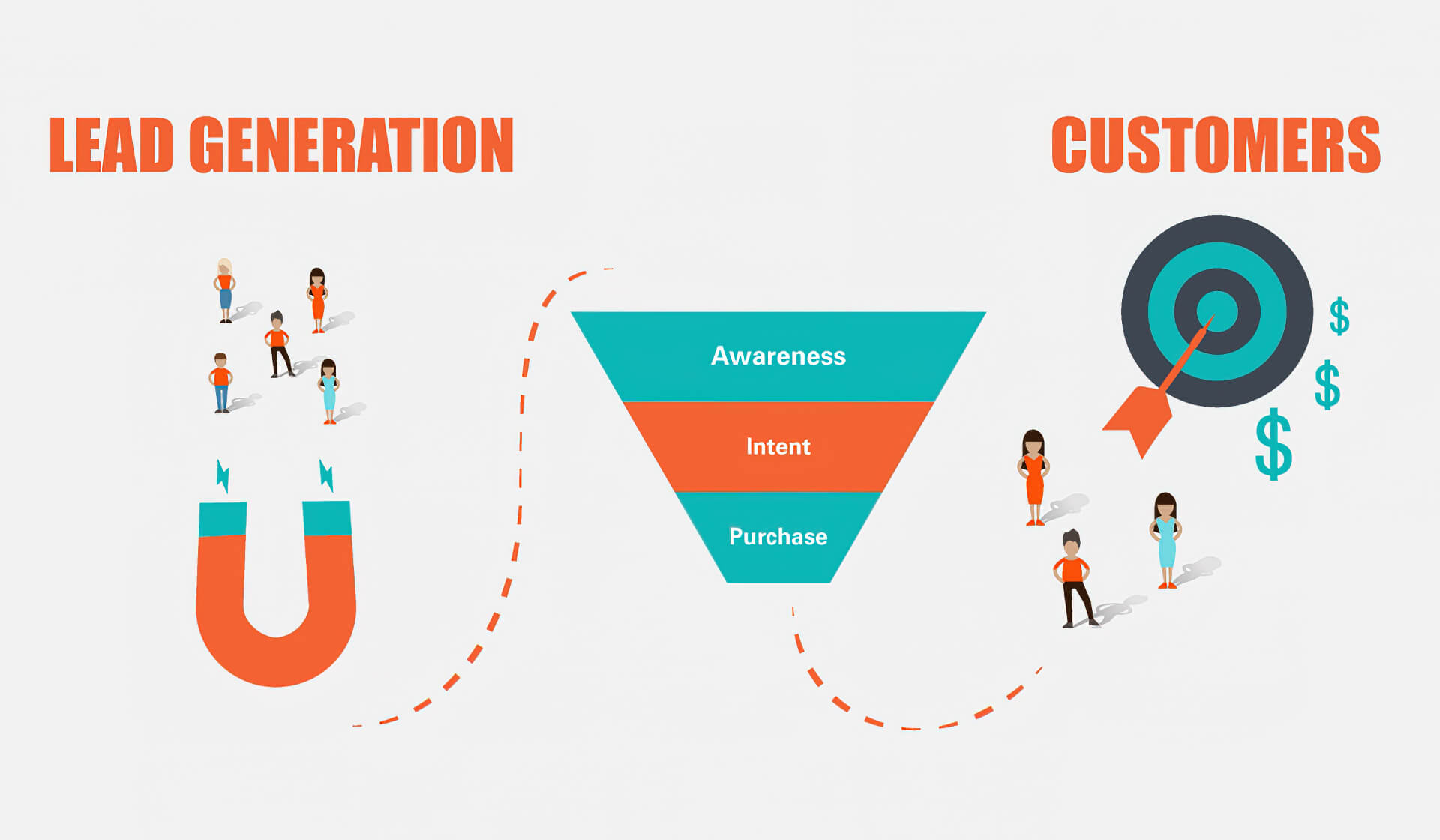 2. Improve Your Campaigns
The calculated CPC will allow you to compare the paid campaign budget with the total revenue generated from the campaign. You can determine whether your PPC ad is good enough to attract customers and increase sales rates. If the metrics are not generating sufficient revenue, you can improve the digital marketing campaign by applying new campaign strategies.
3. Determine The Right Ad Types
If your CPC campaign is not working for certain types of ads or not generating enough revenue, you can try to display other ads. For instance, image or video ads might generate better revenue than simple text ads. So, calculating CPC will help you determine the most suitable ad types for your business.
Disadvantages Of CPC Advertising Campaigns
Although it may sound all good on paper, launching a successful cost-per-click campaign brings certain challenges that can overthrow your entire advertising strategy. Firstly, you can't simply create your campaign and leave it without regular monitoring. You need to invest a lot of time in improving and optimising the campaign to get the best results.
Secondly, it is not an amateur job because you must apply advanced digital marketing skills to create an effective campaign. Hiring a specialist agency that can do it efficiently without major setbacks is best. Not only this, but you might also risk losing money if you can't optimise and monitor the campaign. Allocating the wrong budget will affect your return on investment and bring down your revenue collection.
Furthermore, ad clicks and visits to the website do not guarantee sales. Your campaign will only be successful if you convince the customer to buy the product after they visit the website by clicking on the ad. So, if you can't influence their purchase decision, the PPC campaign can't generate revenues.
How To Lower CPC?
1. Click Through Rate (CTR)
Depending on CTR, your average cost-per-click can lower significantly if your Quality Score improves. It measures how often customers click on your ad once it appears in their search results. If your ad is compelling, it has a higher chance of being clicked.
2. Relevant Keywords
Using keywords on which you're bidding for the ad text can help you gain a Quality Score and Click Through Rate and make the ad more visible to the customers. They can quickly locate your ad at the top of a search engine page if it features keywords relevant to the search entry.
3. Quality Of Ad And Landing Page
It would be best if you published creative and engaging ads to which the customers can relate when searching for particular products. The landing page should also be relevant to your ad and keywords so that the visitors can quickly look for their desired products and complete the purchase action.
Getting Your Ad Campaign Right!
The online advertising revenue model has become widely popular among advertisers as the world has gone digital. It allows them to reach many customers quickly and generate new leads.
You can apply several CPC bidding strategies and relevant keywords to place your ad at the top of a search page. Also, sophisticated advertising tools allow you to easily buy ad space from various website publishers for your campaign.
However, starting with cost-per-click ads, you must carefully monitor and improve the campaign to avoid exceeding the budget limit. You can always hire a professional digital marketing agency to handle everything. And at sitecentre®, that is what we do best. So don't hesitate to contact us!
On that note, we'll sign off. Until next time!