A successful video marketing strategy has gained significant popularity among marketers and business owners in recent years.
Using video marketing is now considered one of the best strategies to increase online sales. Let's take a look at some statistics compiled from several sources below: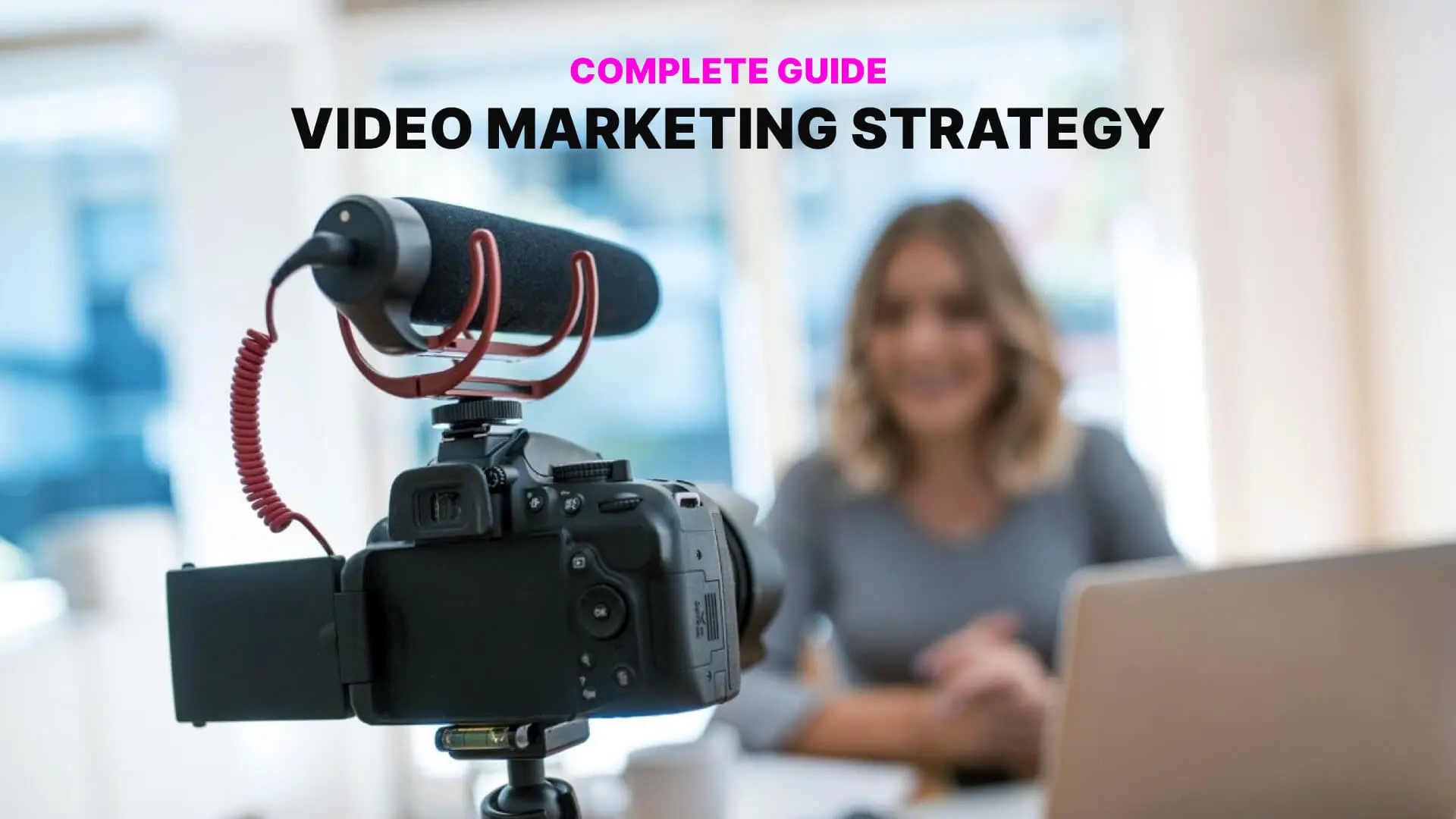 After seeing the fantastic results of video marketing, are you ready to use it for your business?
Here is the complete guide to building a good video marketing strategy to arm yourself well before entering the jungle. Let's dive in!
What Is Video Marketing?
Before we get started, let's learn the basics of video marketing. You can leverage high-quality videos to effectively market and promote your brand, products, and services to a wide audience, including educational videos.
There is a wide range of videos to choose from, such as live-action, animation, explainers, etc. Using videos as part of your digital marketing strategy can attract people's attention and build their trust in the brand.
Video has visual and auditory aids, making it an effective method of conveying messages and information. Video content is also more appealing to audiences than long blocks of text.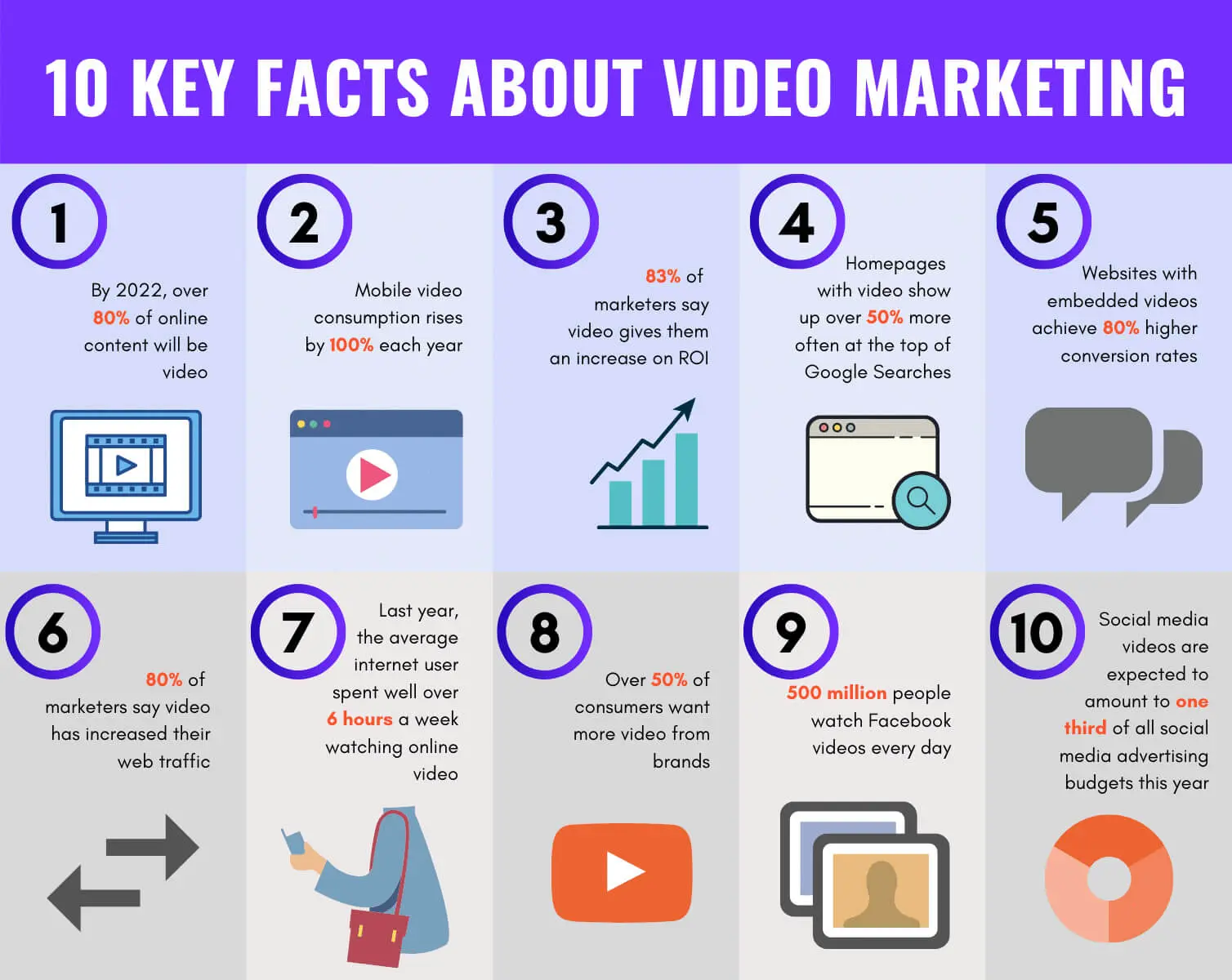 Types Of Video Marketing
Regarding different types of video marketing, brand videos are the most commonly used. However, you can use more than one type to boost your online sales and conversion rates.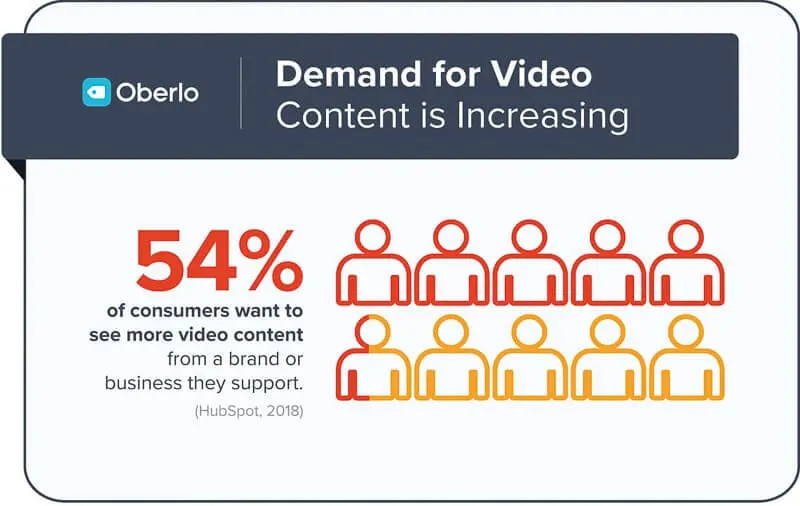 As digital equipment gets better and better, creators can now elevate their creativity in front of computers.
Let's take a look at the different types of videos you can create for your marketing campaign:
1. Branding Your Videos
Brand promotional videos are a popular promotional strategy for most prominent companies. Brand videos effectively promote your products and services while communicating your company's vision and mission.
A brand video is often used as part of an advertising campaign. The goal of the video ad is to enhance the brand's visibility, increase awareness, and attract a broader target audience.

2. Video Explainers
In recent years, explainer videos have become increasingly popular. As their name suggests, an explainer video helps people understand brands, products, and services in the easiest way possible.
Explainer videos often employ various elements such as typography, illustrations, animations, and even animated videos, allowing for engaging and informative content.
3. Demo Videos
To make a demo video, you need to demonstrate the usage of the product or service that is being marketed. Usually, an actor shows a product and describes what it does.
By doing so, audiences experience using a product in a real-life setting. Hence, it's one of the most effective ways to increase audience awareness.
4. Case Study Videos
Case study videos are one of the best ways to build an emotional connection with your audience.
In general, case study videos will begin by highlighting a problem or pain point relevant to their target audience. Their product or service will then be showcased as a solution.
Case study videos also work best-using customer testimonials.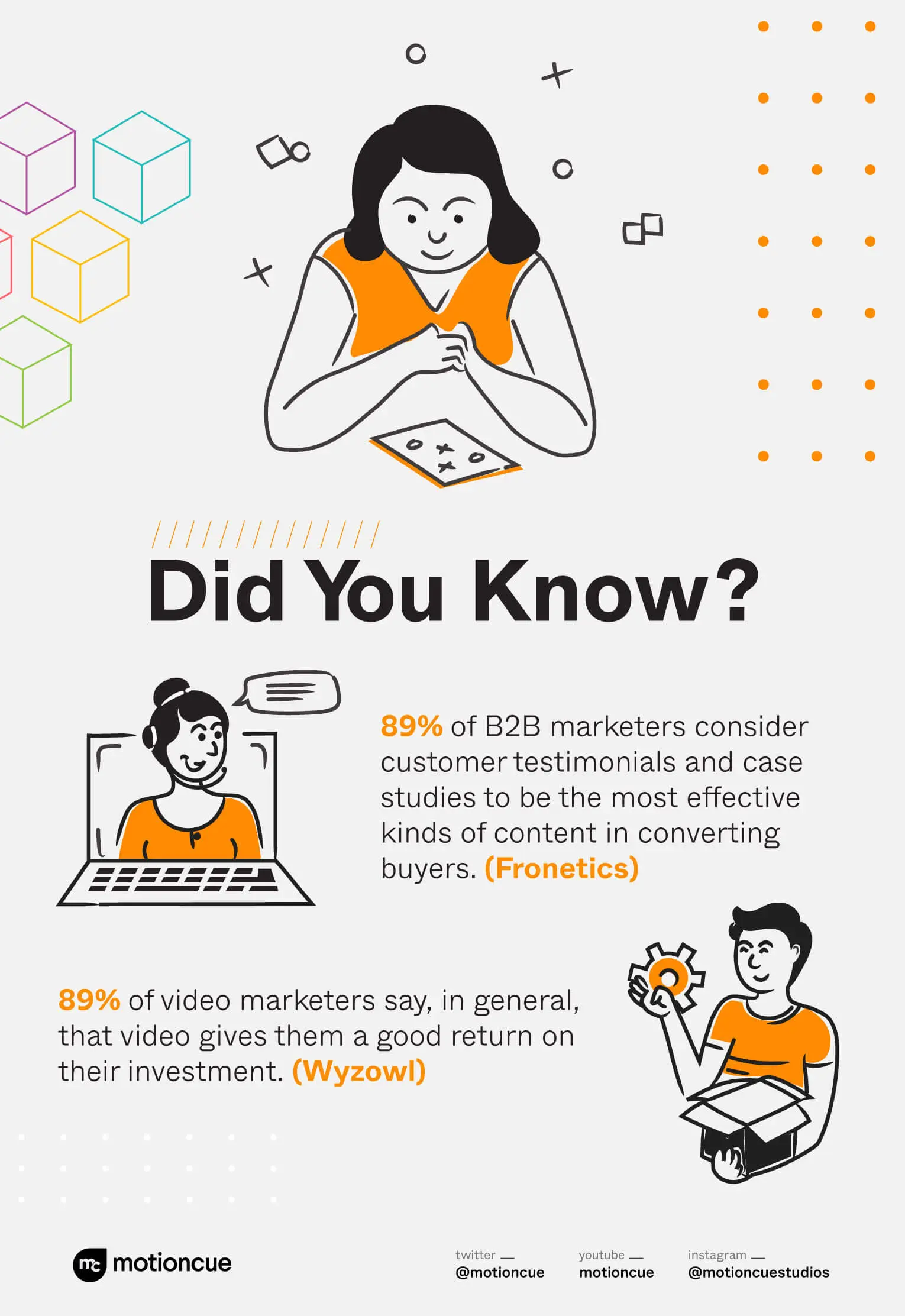 5. Experts Webinar Videos
Audiences are more likely to trust the opinions of experts and other customers. Although this type of video is less likely to be used for the main campaign, it still contributes to overall success.
Engage experts or loyal customers to discuss your product on a deeper level. Consider incorporating audience interaction as well.
How To Start Video Marketing
Are you interested in learning how to create videos that effectively target and engage your video audience for successful video marketing?
As you embark on video marketing, one of your initial steps is to select a suitable video type for your business, following the best practices following a comprehensive video marketing guide. Following this step, you can create a video marketing campaign for your business. Here are some steps you can follow to develop a well-developed marketing strategy.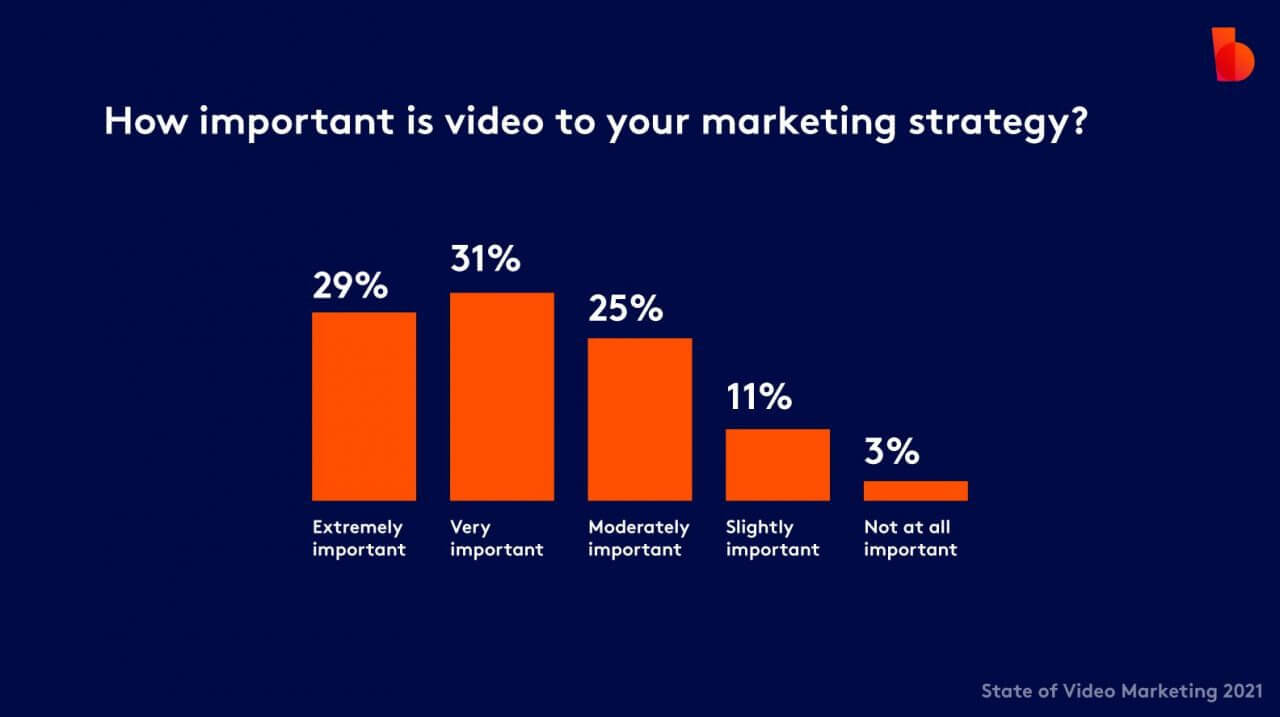 1. Research Target Audience
Prior to video production, you need to research your target audience. Knowing your target audience's preferences will help you craft effective video marketing strategies and ensure your content is unique and engaging.
Usually, target audience research includes demographic information, such as age, location, gender, occupation, income, and education level. In addition, you should also research the psychographic information related to your target audiences' attitudes, styles, behaviour, interests, and lifestyle.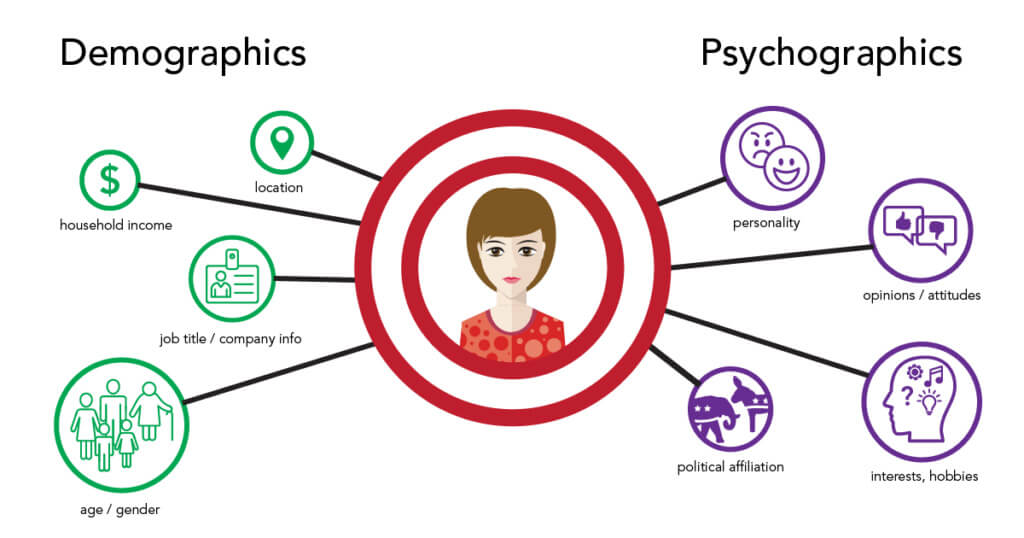 To develop the most effective video marketing strategy, you can define your target audiences' persona with demographic and psychographic data.
2. Set Video Marketing Goals
You need to set goals before you begin your video marketing project. When it comes to your video marketing strategy, there are three objectives that you can achieve:
1. Improve Brand Awareness And Conversions
Audiences are more likely to view videos as they are convenient sources of information. The major reason companies use video marketing is that it reaches a broader audience and increases conversion rates.
2. Entertain Target Audience
Many companies create content not only to raise sales but also to bond with their audiences. By offering types of entertainment, brands can strengthen their relationships with their audiences.
You can achieve this by producing a video series or a special video with popular guests.
3. To Educate
Using educational content to support your marketing strategy is a clever way to build audience trust, establish a relationship with them, and attract new customers. For example, you can provide video content explaining the benefits of certain ingredients in your product.
3. Plan Budget
Allocating an appropriate budget is another crucial step in the video marketing process. Whether making a video alone or with your marketing team, ensure you have all the necessary equipment. You can use a camera, audio tools, lighting, editing software, and other props to create your video.
If you feel that doing video alone is too much of a hassle, you can work with a video production company.
4. Plan the Project
Following the previous steps, make a general plan for the project, including how long it will last. Alternatively, you can give due dates for every step or progress within the project.
Select a few people from your team to take responsibility for each step. Examples include video managers, screenwriters, video editors and illustrators.
Working On Your First Video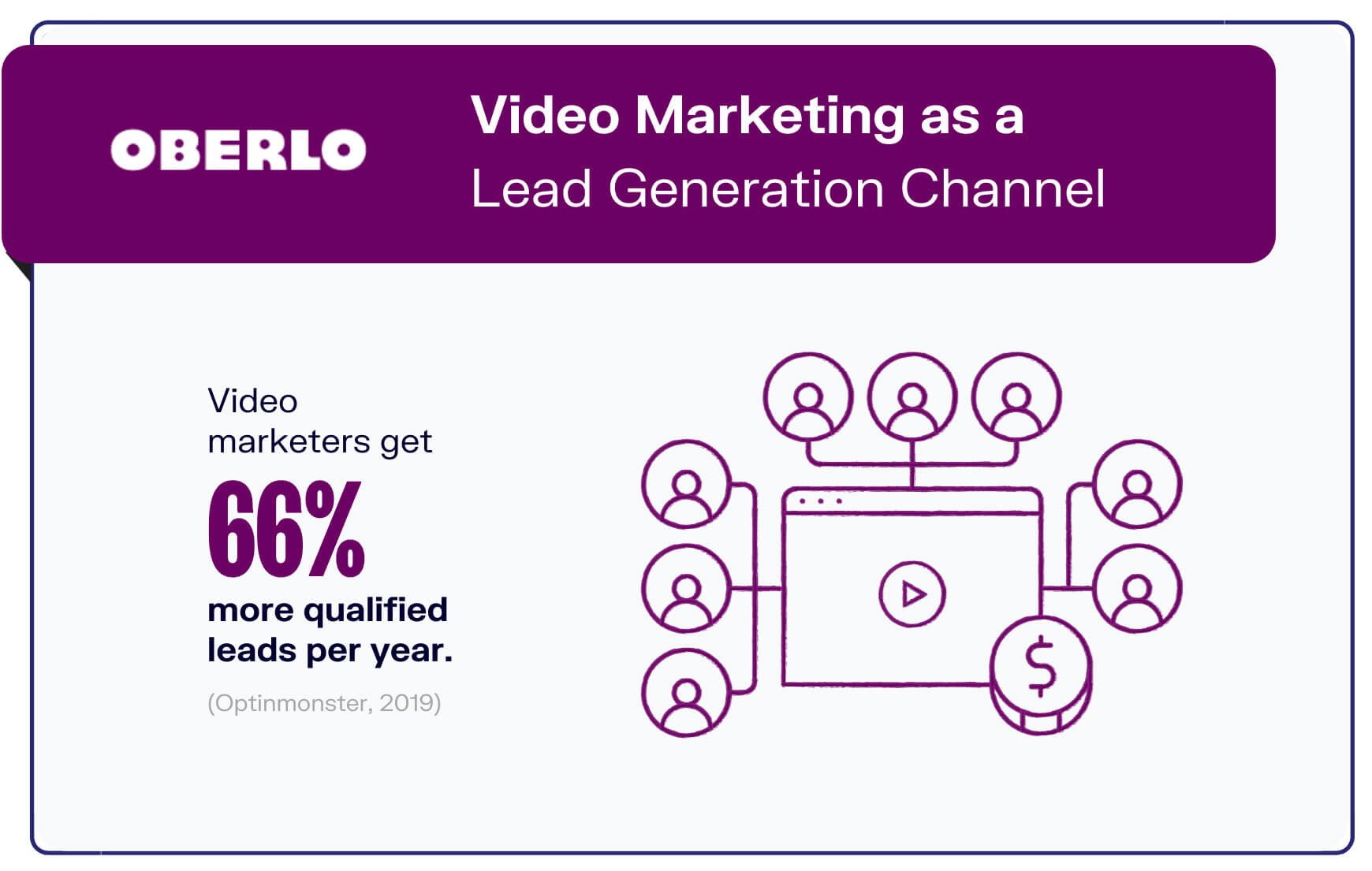 It's time to get started and create high-quality videos. Below are some essential steps you need to follow when creating an actual video.
1. Plan The Video
Implementing a well-thought-out and effective video marketing strategy is essential to ensure that the produced videos align with their intended goals. An essential factor to consider is the video's length, especially if you're creating short form content. To cater to marketing objectives and determine the appropriate video style, it is recommended to keep the entire video duration typically between one and two minutes.
Considering the decreasing attention span of humans, it is crucial to highlight the key features and benefits of short-form videos to engage customers effectively. Also, decide the tone and style of your video.
2. Create A Video Script
One of the most critical aspects of the entire process is the script. A video script is beneficial for directing and narrating video production. But what should you include in the script?
The first thing you need to do is create an outline of your video. Begin by visualising what the end product will look like. Consider the essential features of your product that you want to showcase.
Take this opportunity to restate your audience's problem and highlight your product's main features and benefits. During the consideration stage, it's important to tell your audience why your product offers a solution to their problem.
When you finish the outline, break it down into subtopics and write dialogue for the actors. Ensure you include a compelling call to action that motivates the audience to purchase.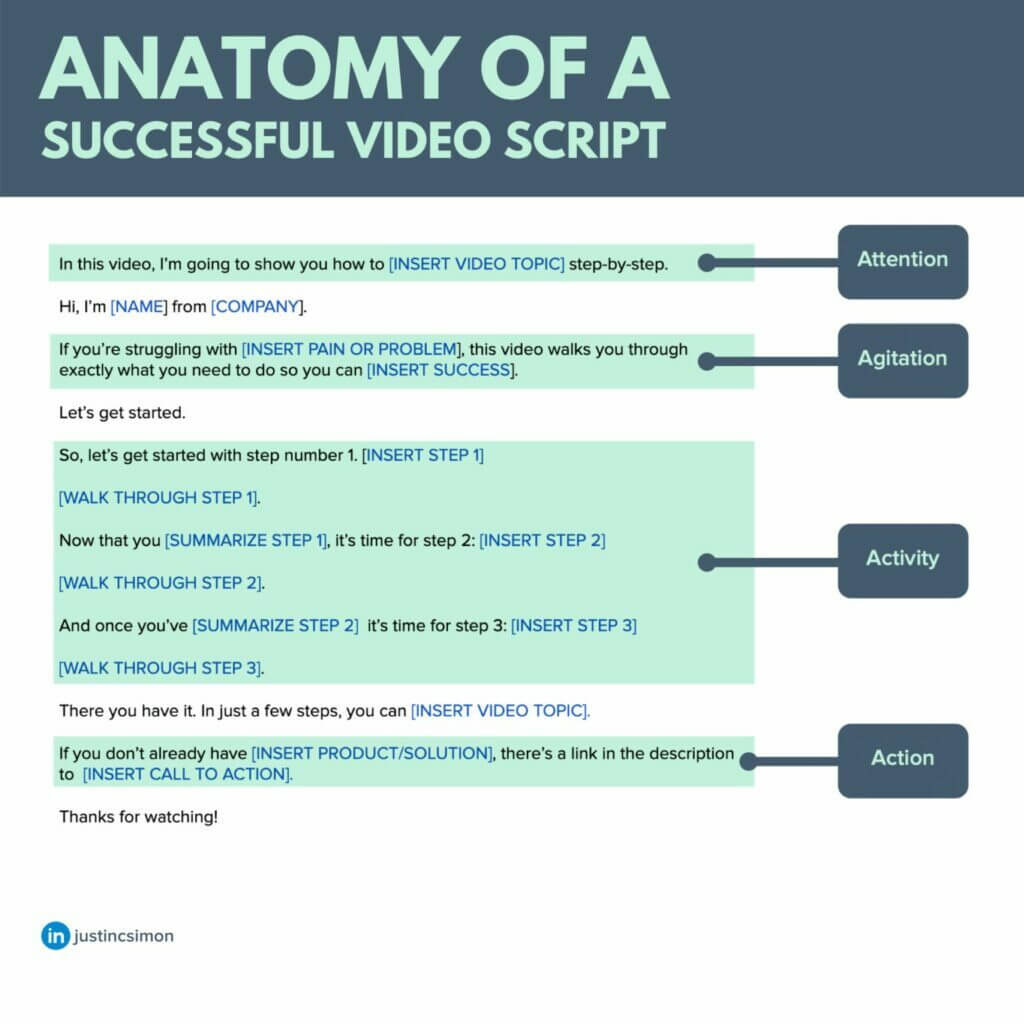 3. Produce Video
You are now ready to produce the video. If you wish to complete the video production yourself, here are some steps to follow:
1. Recording
Depending on the type of video marketing, you may need to include real-life live action shots. Make sure your production team is capable of handling this. Otherwise, you'll end up with a product that fails to meet expectations.
Here are some things you will need to prepare before recording:
2. Actors and Props
To hire actors, you must contact them in advance and discuss what they should do, including filming behind the scenes content. Provide them with the video script for an in-depth discussion. You can also put your script to the test with actors to see if they can come up with a better idea.
Next, you should prepare the location(s) where you will be filming your video. The video cannot be filmed without a location. Preparing simple things like clothes, boxes, tables, chairs, and other props would be best.
You may also want to list the props you will need for shooting and ensure they are ready on the day of the shoot.
3. Camera
When you want to capture movements accurately and sharply, you need a high-quality camera. If you're on a budget, consider renting a camera.
Alternatively, a good camera on your phone is sufficient if you cannot do that. However, you must maximise the editing process if you want a professional-looking video.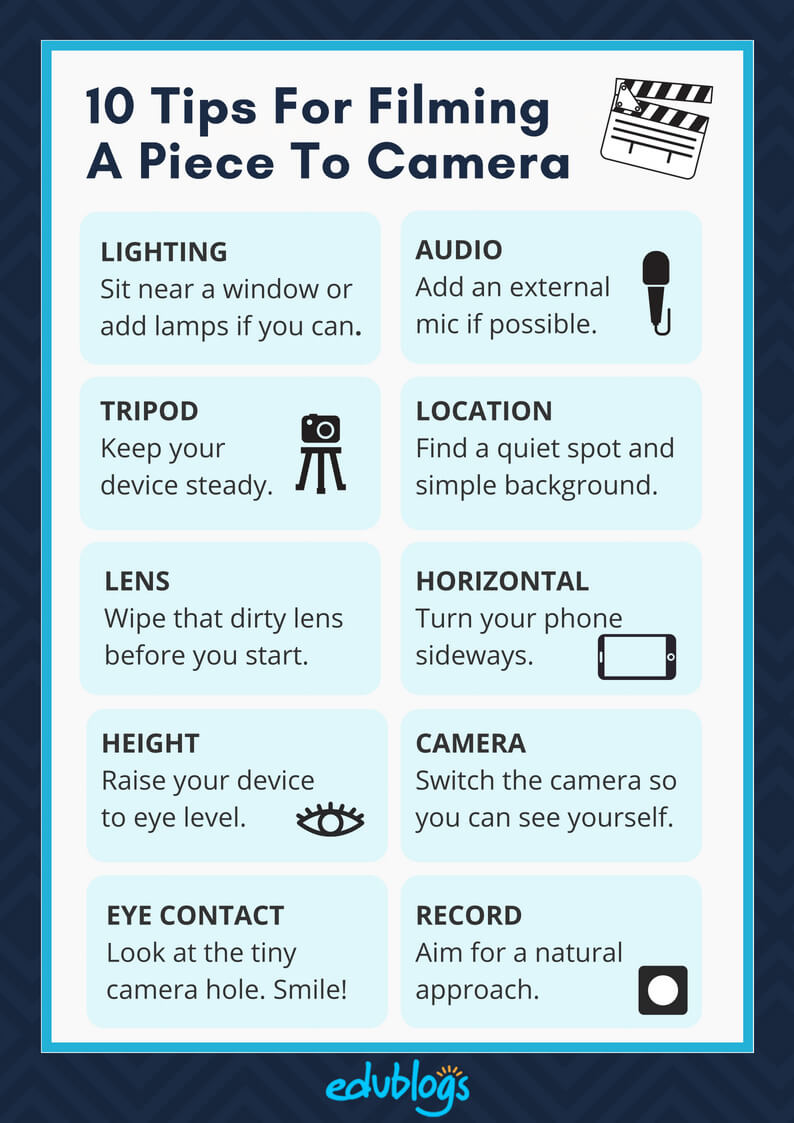 4. Audio
When it comes to video marketing campaigns, clear audio is imperative. For best results, audio for video advertisements is typically recorded separately. However, there are situations in which you will need to film and record the audio simultaneously.
You can record video narration using an audio recorder on your phone. It would help if you recorded it in a quiet place, or even better, a recording studio.
You may need a voice actor to do this job. There are several websites to find voice actors: Voice, Voice123, Fiverr, and Bodalgo.
5. Lighting
If you want to shoot videos, renting a studio is the best option. A studio usually has good natural lighting. Besides, they are often organised very aesthetically.
You can also add additional lighting if needed. Ring lights are one of the cheapest solutions for your project.
6. Editing
Once we've wrapped up the shoot, editing the video into a finished product is time. There are two components to quality video editing: skills and software.
It would help if you gave the responsibility of editing a video to someone experienced and skilled enough to produce an excellent result.
There are several popular video editing software programs available. Many of them are free, but they have limited functionality. Make sure to purchase or sign up for a subscription to access these features fully so your video editor can edit videos as creatively as possible.
4. Publish And Share Video
When you have finished the video, always review it before publishing it. You'll want to make sure that everything is neat and error-free.
You can return to the editing process and fix issues as soon as you find them.
Optimise Your SEO Video Marketing Campaign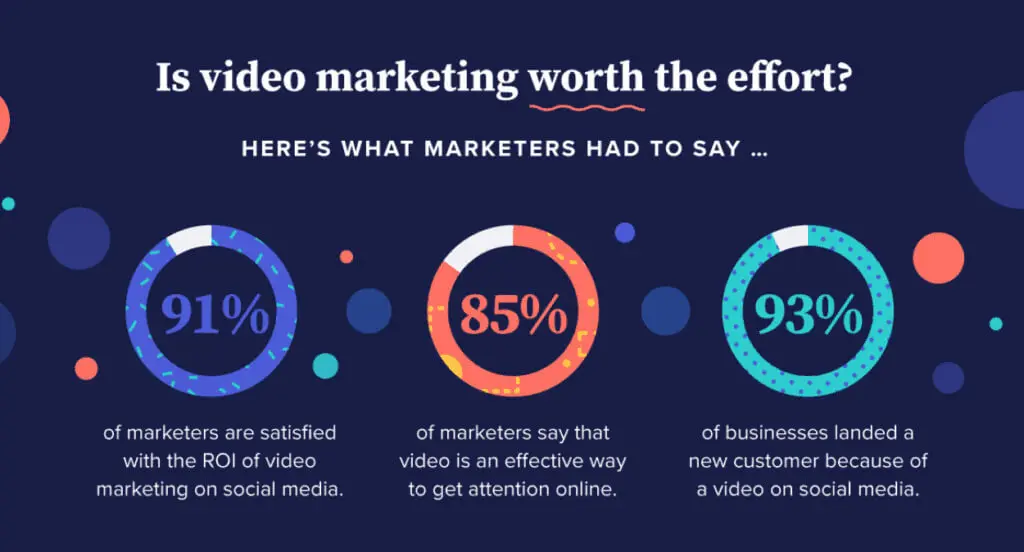 Let's discover a few tips to ensure your video works wonders and, if possible, beyond your expectations. Ensure your video becomes the best it can be with these views tips on promoting video content:
1. SEO Optimisation
Even if your video is of high quality, it may not contribute to your brand's success if it lacks proper search engine optimisation (SEO). Therefore, optimising your video content for SEO is crucial to maximise its impact and reach.
In video marketing, it's vital to expose your video to as many people as possible. To make this possibility a reality, you should optimise your SEO efforts.
You can embed keywords in video titles, descriptions, and tags. If you are a new business, try embedding long-tail keywords to compete with larger companies.
Long-tail keywords have a lower level of competition. Aside from that, you need to conduct keyword research to find the best and most relevant ones.
2. Embed Video On Your Website
On a brand's landing page, they are likely to have videos featuring their company or products. So why would they do that? Again, the main reason is to optimise the video to improve SEO results.
According to experts, Google favours websites that provide videos rather than those that do not. Plus, incorporating a video on your landing page will increase traffic, engagement and conversion rates. You can also incorporate different video types into a blog post.
3. Leave Traces On Social Media
As important as having video content on your landing page is, so are social media channels. Don't forget to share your video on your company's social media accounts, including platforms like Instagram, to reach a wider audience. Consider using video hosting platforms like YouTube to start a channel and broadcast your new video footage. YouTube videos are a great way to reach a further and often international audience, so ensure you post video content frequently.
Put a call-to-action in the description box and include a link to your website. By doing so, your audience can visit your website with just one click.
4. Analyse Performance
Lastly, continually monitor the performance of your marketing videos on social media platforms. See which platforms contribute the most to your video's performance. Pay attention to whether your video drives traffic or escalates sales as expected. Each social media platform has an analysis page where you can look for the data, including the view count of your video.
You can also do the same with your landing page and website. Using analytics tools linked to your CMS and Google Search Console is a great start.
If the data does not yield the expected results, these insights can help you adjust your video ads.
Get Started Creating Your First Video!
After reading this guide, we hope you feel inspired and motivated to create your own successful video marketing promotion. As you can see, creating a successful video takes a lot of research, planning, editing, and marketing efforts. You may also want to brush up on your social media marketing skills in videos to ensure you can promote your video campaigns to your audience.
You can consider many different types of videos during the creation process, including how-to videos, product videos, customer testimonial videos and even animated ones. Ensure you understand your company's video marketing goal and have a solid strategy.
Keep in mind and keep an eye on your metrics, understanding that SEO and video marketing efforts take time and won't yield instant results. If you want assistance with your website, landing page, or creating an effective SEO strategy, you can contact the team at sitecentre®. Our team has extensive experience helping small Australian businesses expand online.
This concludes this guide. Good luck with your video strategy, and we look forward to seeing what you come up with!