They say, "Don't judge a book by its cover," but people sure do judge a brand by its website!
Your online presence is what attracts potential customers in the first place. So, no wonder the demand for website designers is high. But a team of skilled designers can get expensive, especially for small business owners.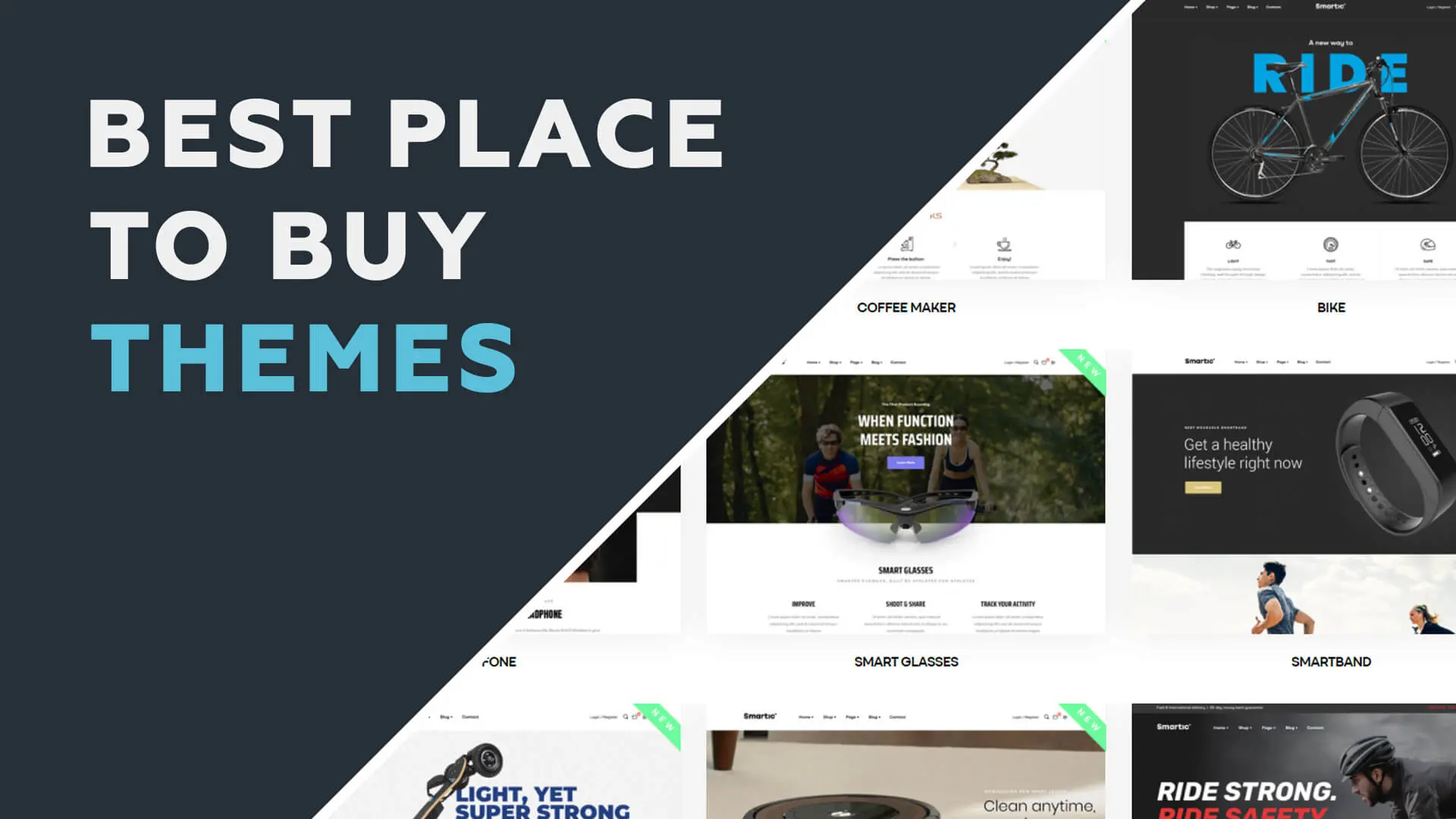 A website template is a great way to begin your online store and presence if you start a business. But remember, website themes have limitations and are used by many other companies worldwide.
So, a template is a great place to start if you are looking for a way to begin before spending money on a custom-designed website! If you have a more significant business and budget, we suggest speaking to a web designer about custom-built website options.
Custom-Built Themes vs. Marketplace Templates
Custom Themes
A personalised website is ideal if you want to create a unique style and require settings that speak for your brand image. It is a scalable option designed to work with any device. You can even achieve a search-friendly and fully responsive website by adding an SEO team.
However, you must invest time, money, and effort in creating customised templates.
It is essential not to get these confused with custom-designed websites. Although custom-built themes can be designed and altered to suit your business, they do not hold the same value as a custom-designed website. You can tailor everything to the brand and the business with a custom design and significantly improve your SEO and conversion rates. However, they still have limitations whether a theme is custom or not.
Marketplace Templates
If you own a start-up or a small business with limited funds, you can opt for pre-built website templates that are cheaper and sometimes free of cost!
Many of the templates available on the market are multipurpose themes that offer a contemporary appearance. But that does not mean all websites built using a single template will look the same. With multiple customisable options available, including the integration of social media icons, you can always experiment with the design to create something unique.
Further, website templates have a shorter development cycle, allowing you to fast-track through the website launch. And thanks to the built-in optimisation options in most newer templates, you don't have to go through the hassle of testing.
Last, using such templates doesn't require any web designing or coding knowledge.
In hindsight, website templates are not ideal for scalable businesses to get a new modern look at a low to medium cost range. Adopting updated technologies, plugins, and settings is challenging since a pre-made template or theme runs on a structured system with limited elements. Also, you get limited customisation options that may or may not be search-engine friendly.
Where To Get Website Templates From?
The best places to buy your website template might vary depending on the specific type of web page you require. For example, landing page templates are designed for Ads and sales copy, the layout is different, and the code is lightweight. Free website templates are available from various websites that offer great options for a business website or a landing page.
1. Find A Freelancer
Choosing a freelancer is more affordable than getting a team of designers and coders to create a website theme. However, their prices may vary drastically according to their experience and qualifications.
2. Hire A Professional Team
If you've got the budget and seek top-notch service, hiring a team of professional web designers, coders, and SEO experts is your best bet. Along with various designs, such companies may provide 24x7 support and troubleshooting.
3. Visit A Marketplace
Marketplaces are platforms that specialise in selling WordPress themes, template designs, and other related digital products. You can browse through a vast collection and even look for free templates.
4. Use A Default Template
While choosing a website-building software, you will come across the default template or a set of ready-made templates. So, if you have a tight budget, consider using free web themes and upgrading to advanced features later.
Best Marketplaces To Buy Website Themes From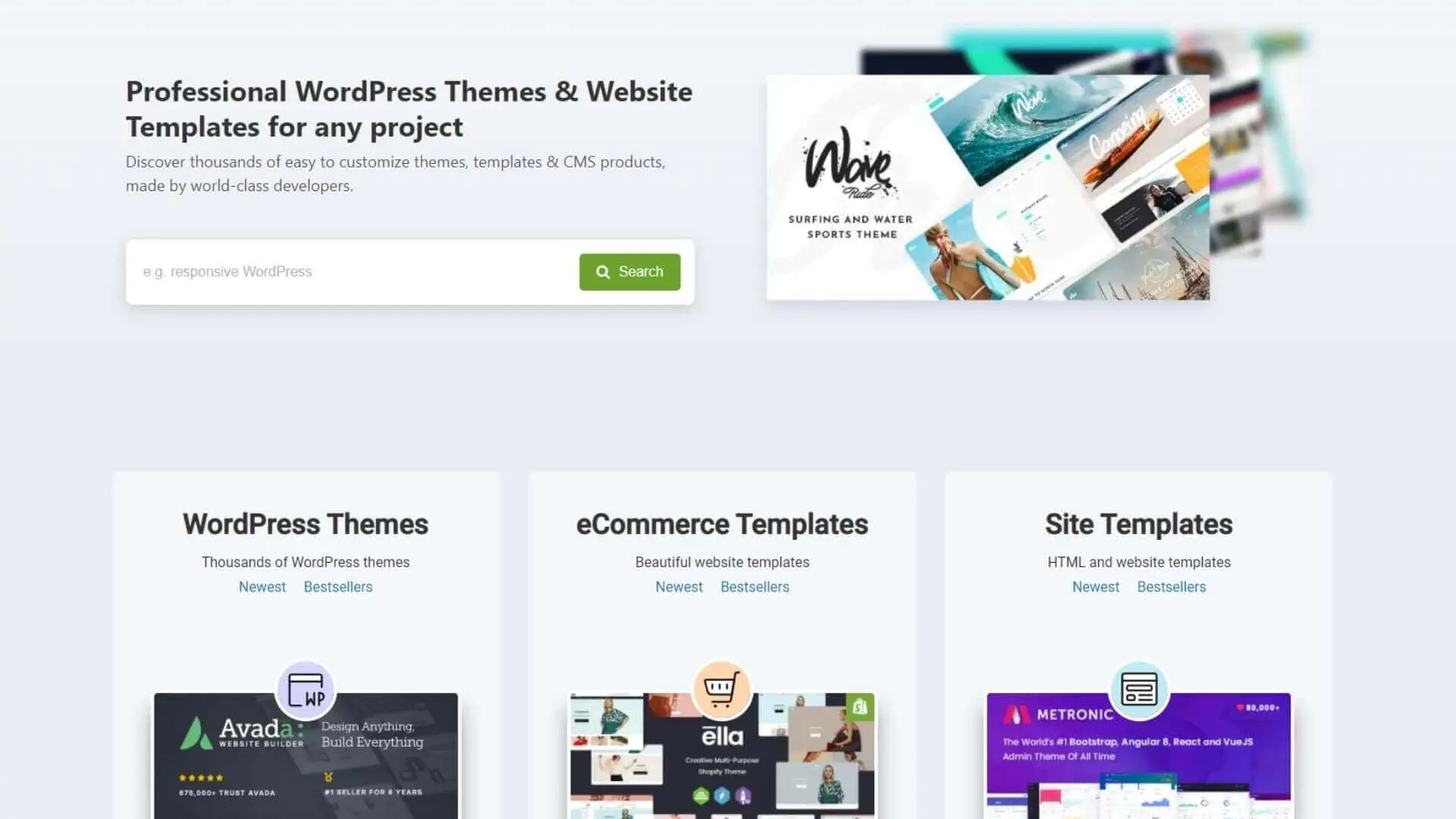 Look no further to explore a high-traffic platform to buy and sell various premium themes and designs. ThemeForest boasts an expansive collection of themes divided into categories like free popular WordPress themes, eCommerce templates, and CMS templates. No wonder it is known as the largest theme marketplace in the world!
You can even browse through themes according to your budget or project. We specifically liked the "Featured" section that displays the best themes hand-picked by the staff every week.
Theme types included at ThemeForest are:
WordPress
Elementor
HTML
Landing Pages
CMS
eCommerce
Drupal
WooCommerce
BigCommerce
Shopify
Magento
You can also get high-quality theme support, clear documentation, and reviews from well-known creators and experts.
Pros
Different types of premium themes
Includes free themes
Compatible with popular platforms
The theme's developers provide support
Cons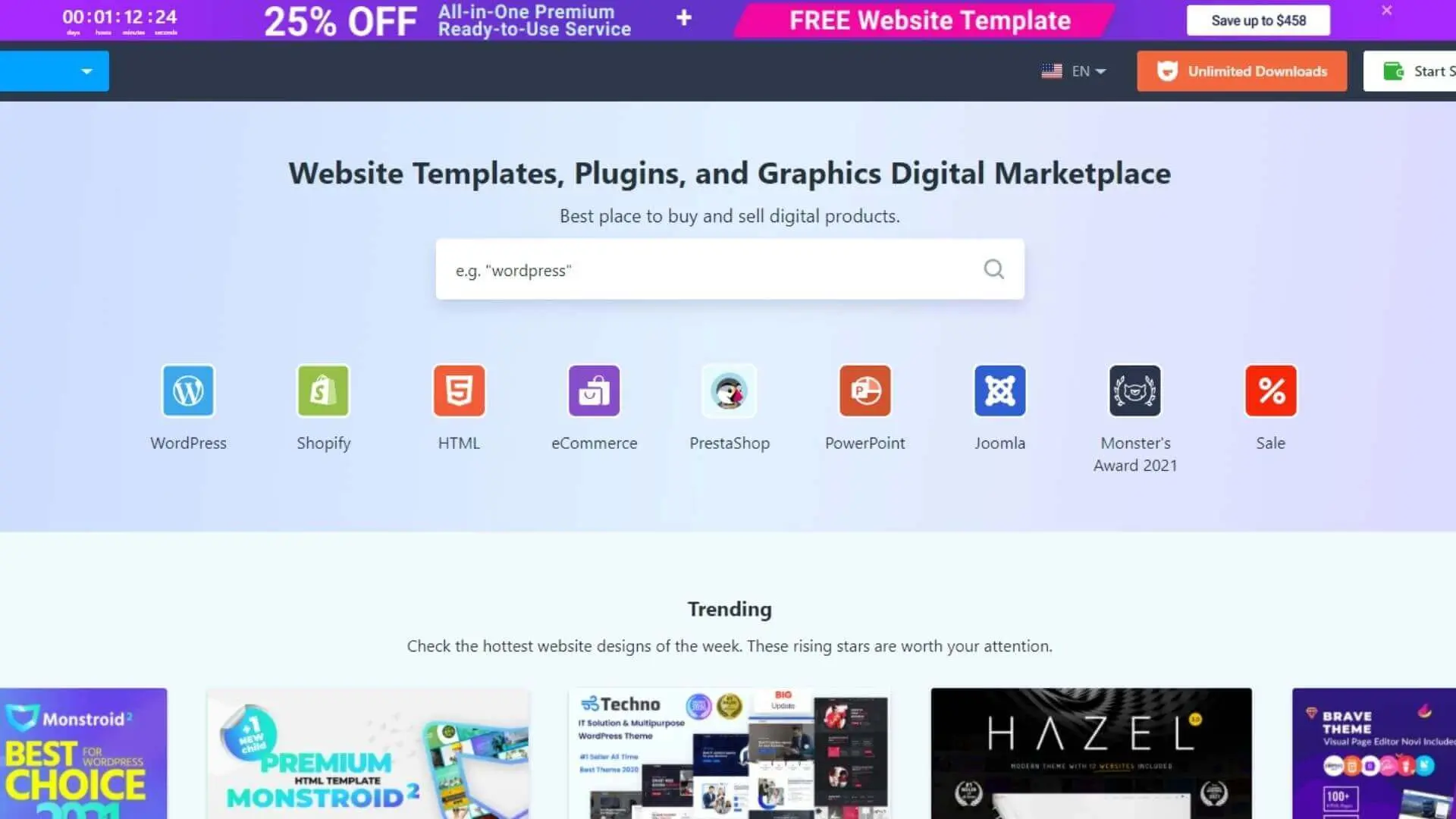 Another large marketplace to explore is Template Monster, which boasts 31 categories of digital products, including themes and templates. You can buy WooCommerce themes, web designs, etc., separately or opt for the Monster One membership to get premium products and 1-year tech support.
The type of themes available at Template Monster are:
WordPress
WooCommerce
Elementor
HTML5
Magento
Shopify
ZenCart
OpenCart
Joomla
Drupal
Free Themes
We appreciate how you can check the live demo of each theme before buying it. This way, you get a better idea about the different elements and tools of the theme and whether it'll be suitable for your website.
Pros
Secure and reliable marketplace
Different types of templates
All-in-one membership available
Live demo for each theme
Cons
Inadequate filtering feature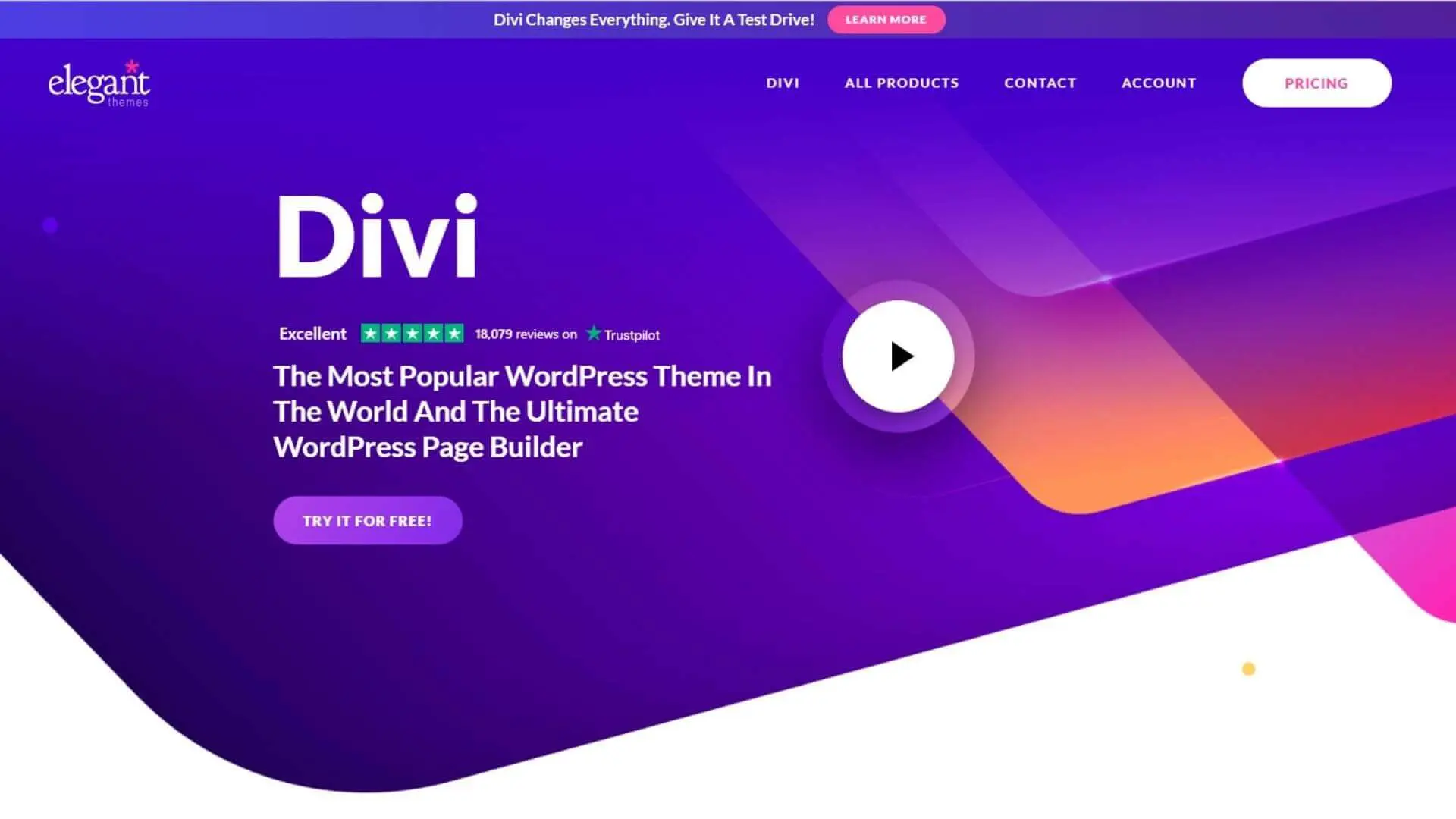 Elegant Themes Divi is one of the oldest markets dedicated to WordPress, offering some of the most popular themes. Elegant Themes Divi is your one-stop solution for high-performance, fast, and versatile templates with tons of quality-coded themes.
Since it is one of the best WordPress themes, you'll find multiple designs compatible with WordPress plugins. Plus, you get simple, built-in tools to add a personal touch to your brand website.
Its community support, innumerable customisation options, and user-friendly features make it one of the most popular premium WordPress themes.
Pros
Easy drag-and-drop page builder
No limitations on websites to use
Affordable
Tons of customisation available for experienced designers
Cons
Slow loading speed
No popup builder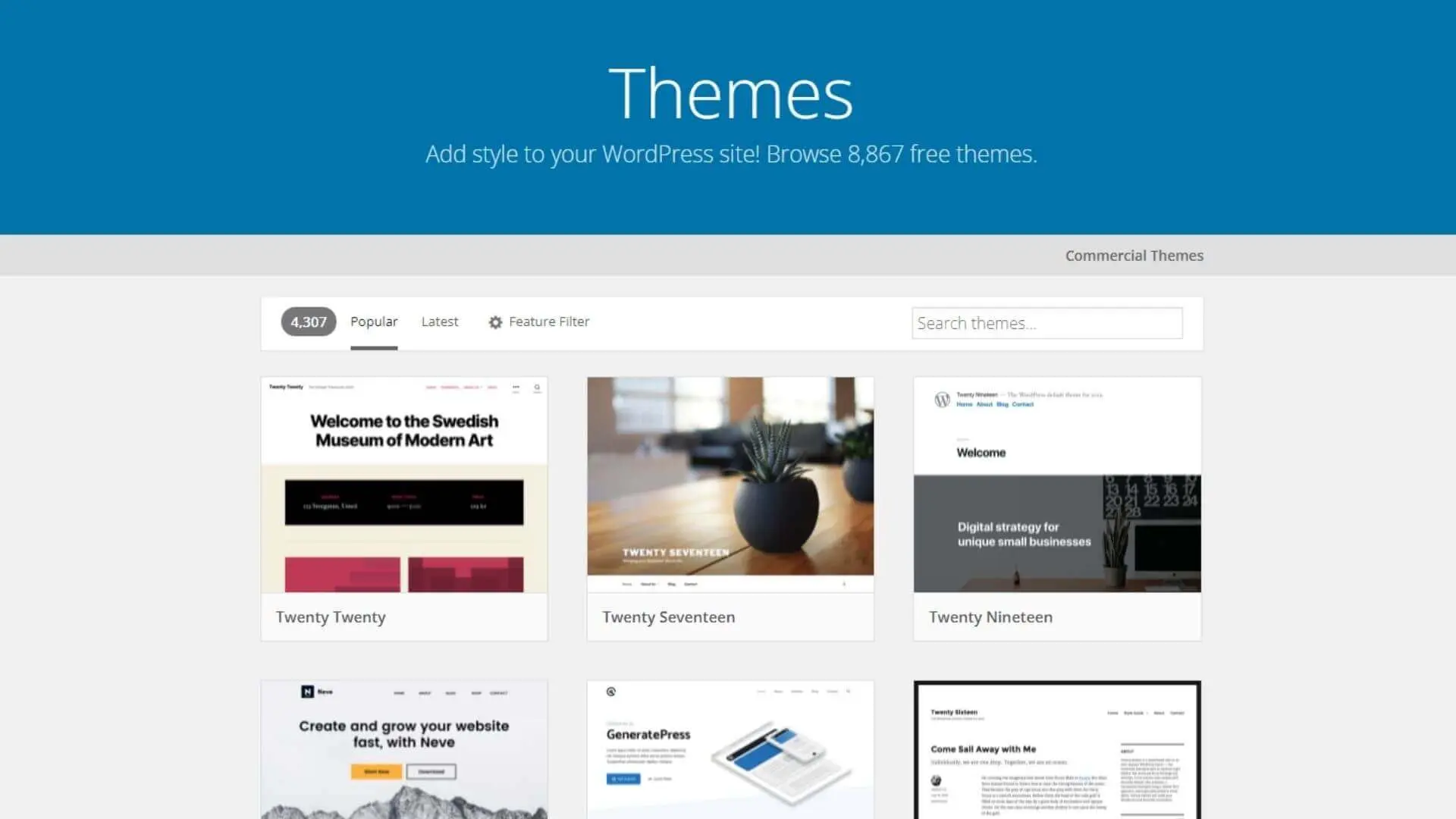 If you are building a website on WordPress, the WordPress Theme Directory is your best bet. It has the widest collection of WordPress themes, launched on the marketplace after rigorous selection and review procedures.
By choosing any of these WordPress themes, you can rest assured of the quality of your website. However, remember that while these are popular themes, they may lack certain features in the premium options offered by several marketplaces.
Pros
Fast and cheap WordPress themes
Various themes to choose from
Up-to-date themes
Suitable for beginners
Cons
How To Choose A Website Theme?
The multitude of options in a template marketplace may overwhelm beginners who don't quite know what to look for in a template. Hence, here are a few pointers you must consider before settling on a theme...
1. Type Of Website
In most cases, beginners often falter at this initial stage, making their time, money, and effort go in vain. Hence, ask yourself what theme will be most suitable for your business.
For example, if you want to tap into digital marketing opportunities, it is best to stick to a minimal design that's easy to navigate. Alternatively, a colourful theme would be perfect if you offer your artistic skills (custom paintings, handmade clothes and jewellery, etc.).
2. Budget
The marketplace should have various themes on display- free, paid, customisable, premium, etc. Cost plays a crucial role in selecting a website theme for beginners and veterans. However, note that a high price tag does not just include the cost of a stunning design and the time and effort behind it.
So, consider it an investment even if the upfront cost is high. Getting a fully responsive and attractive design will save time on other aspects of the business.
3. Customisation
With so many themes used by various websites, you wouldn't want to plagiarise anyone's design unintentionally. So, it is best to look for themes that allow customisation features.
Opting for unique themes with more design flexibility may initially complicate the website. Still, it will provide you with the advantage of adopting technological advancements and making necessary amendments in the future.
4. Responsiveness
A site that takes more than 3 seconds to load loses its potential customers then and there. Thus, ensuring that your website is responsive and mobile-friendly is essential. The latter is especially necessary since most users surf the web via mobile phones and other handheld devices.
5. Supplier Reputation
Out of the sea of options available in a template marketplace, plenty will be poorly coded and might create glitches in the future. Hence, you must check the ratings and customer reviews of the supplier.
A supplier that offers after-sale tech support is always better than one without since the former will be ready to troubleshoot issues that may crop up later.
6. SEO
Of course, a stunning design catches the eye, and relevant content keeps the viewers, but Search Engine Optimisation (SEO) is indispensable if you want people to find your brand in the first place. Thus, opt for themes that are not just beautiful to look at but also easy to navigate and SEO-friendly.
Buying Your Website Theme
So, if you don't want to shell out in the initial stage of your business, we suggest opting for pre-built website templates. However, we would always recommend opting for a custom-built website if it is within your budget. Although more costly initially, the benefits of a custom-built website include tailoring the content and website design to your business themes and brand recognition, plus significantly higher conversion rates and SEO results, which pay off the cost in the long run.
Considering the gruelling competition among online businesses, we recommend being cautious of cheap templates that may cause SEO issues later. It is essential to do your research before purchasing a template. The key is to know your preferences and requirements and strike a balance with the budget accordingly.