With a significant boost in online stores and eCommerce platforms, the competition has become more cut-throat than ever.
All budding and experienced entrepreneurs must stay updated with the continuously evolving market trends to stand out from the rest. Along with offering quality services and good products, the layout of your website can play a significant role in your sales.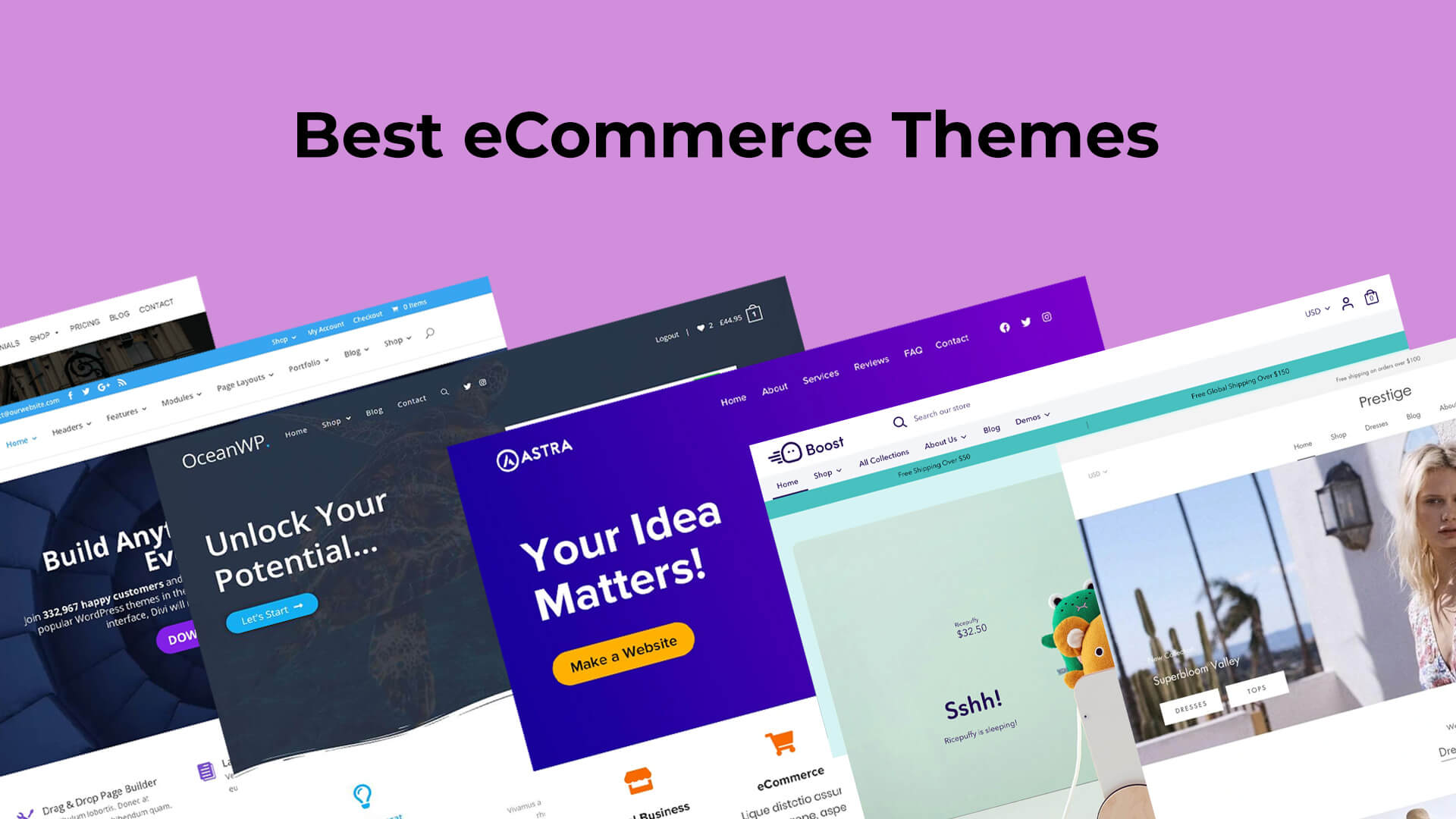 Believe it or not, the aesthetics of your eCommerce site have a lasting impact on the customer's mind. A neat and organised platform appears more credible to people, while a haphazard one can confuse them, eventually driving them away.
So, an eCommerce theme is a great place to start when you are just beginning and don't have the budget for a custom-built website. A custom-designed website should be considered for larger eCommerce businesses or those with a substantial budget.
No worries if you are a newbie on this front because we've got you covered with our informative guide on the current best themes available online. Hopefully, you'll find it helpful.
A. Shopify Themes
We have many eCommerce theme options from an emerging online service provider called Shopify to kickstart our list. You might have already heard good things about this one, as it is buzzing these days.
Trusted by over 1,700,000 businesses worldwide, this platform provides various options for different purposes. Whether you want a theme for a fashion website, a lifestyle one, or even for entertainment purposes, there's a good chance of finding the perfect option for yourself.
1. Expanse
Expanse is a versatile and clean theme designed by Archetype Themes, especially for extensive inventories. Whether you do in-person selling or drop-shipping, this will cover both needs. With new revolutionary themes like Expanse, you can create content blocks, custom pages, and drag-and-drop sections with just a few clicks.
With the all-new OS2.0 version, this Shopify theme has introduced more than 20 new sections to explore and give a personalised touch to your eCommerce store. It also lets you cross-sell by keeping multiple rows of product recommendations, cart upsells, and other collections.
The customers will get features like in-store pickups, cart notes, quick-buy, and a slide-out cart while checking out. Other than that, Expanse is high on speed and uses top-quality optimisation for a faster interface.
Who Can Use This Theme?
Drop-shippers
In-person selling
High-volume stores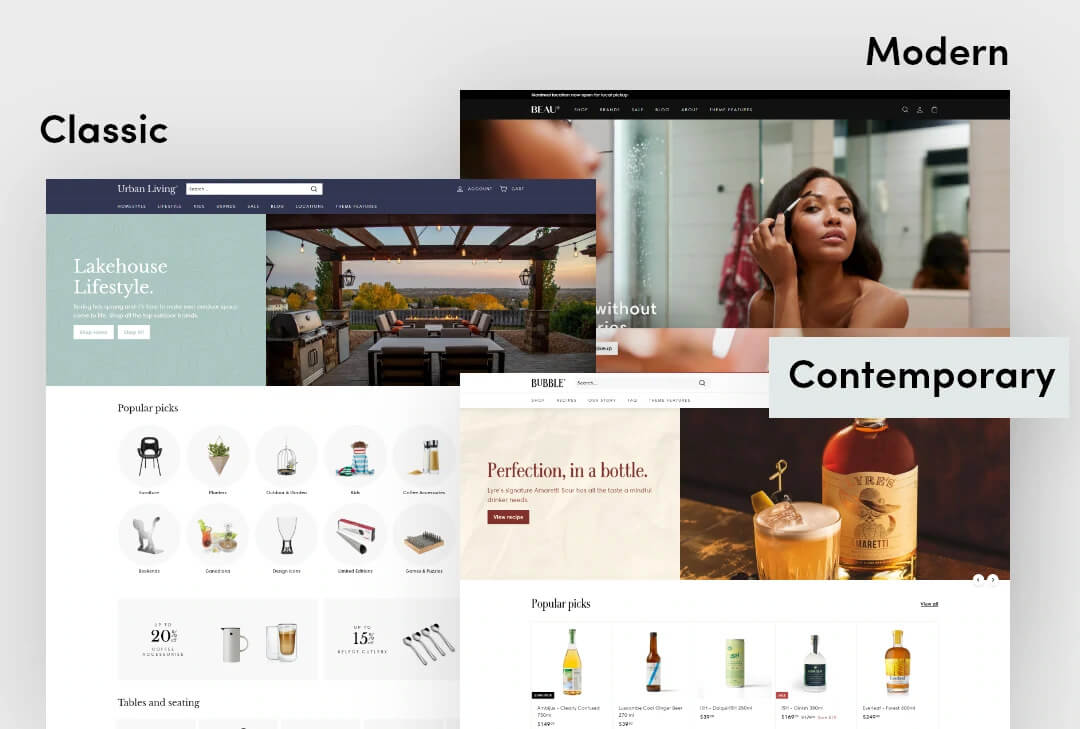 2. Boost
Perfect for sports & recreation, clothing, accessories, toys and game online stores, Boost is brought to the market by Clean Canvas in three styles. The theme is multipurpose and is jacked with advanced product filters, flexible drag-and-drop page sections, and fantastic SEO performance.
As the name suggests, Boost is speed-optimised to meet Shopify's performance standards, guaranteeing your customers a swift shopping experience. Not just that, it comes with a one-time payment option, meaning you'll have to purchase it only once. So, enjoy using the theme for as long as you want, saying goodbye to monthly subscriptions and renewals forever.
Additionally, its latest visual composer allows you to create interactive content and customisable promotions. As the designers of Boost have been in the field for more than a decade, we can confidently say that this theme is more than likely to give you an immersive creating experience.
Who Can Use This Theme?
Physical stores
eCommerce store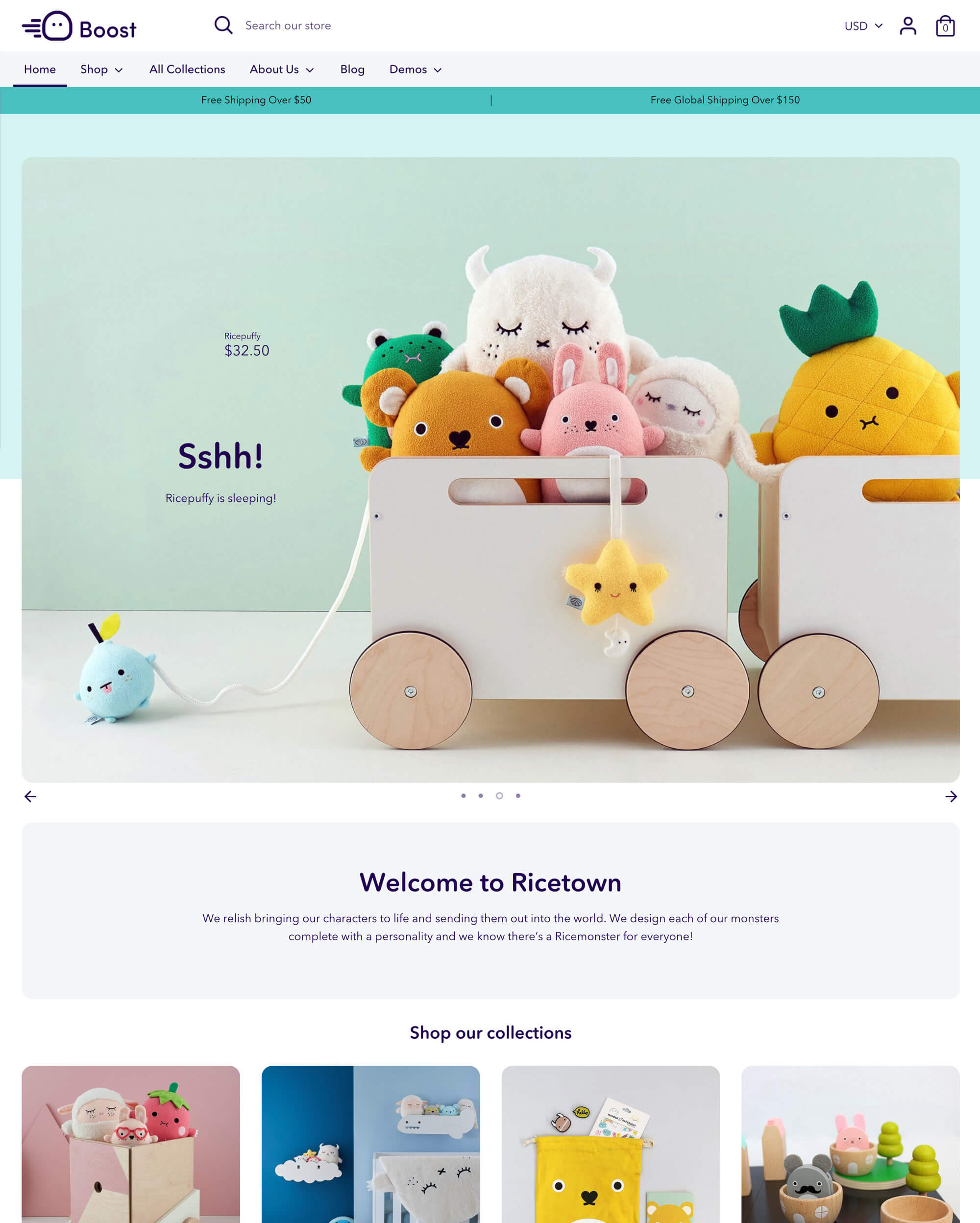 3. Prestige
Maestrooo designed this Shopify theme to offer high-end and premium brand appeal to business supplies, equipment, and health and beauty stores. If you want your site to have a luxurious touch with a pinch of classy aesthetic, this theme is for you.
Prestige features a unique "shop the look" section where your customers can browse through the products worn by the models. This unique combination of graphics and page sections adds to the overall appeal of the theme, making it unique.
It also has a versatile media display option to experiment with multiple ways to showcase your products, carousels, image stacking or videos. Cross-selling is made easy with its in-menu promos and product badges.
Who Can Use This Theme?
Editorial content (longer-form text sections for better brand storytelling)
Visual storytelling
In-person selling stores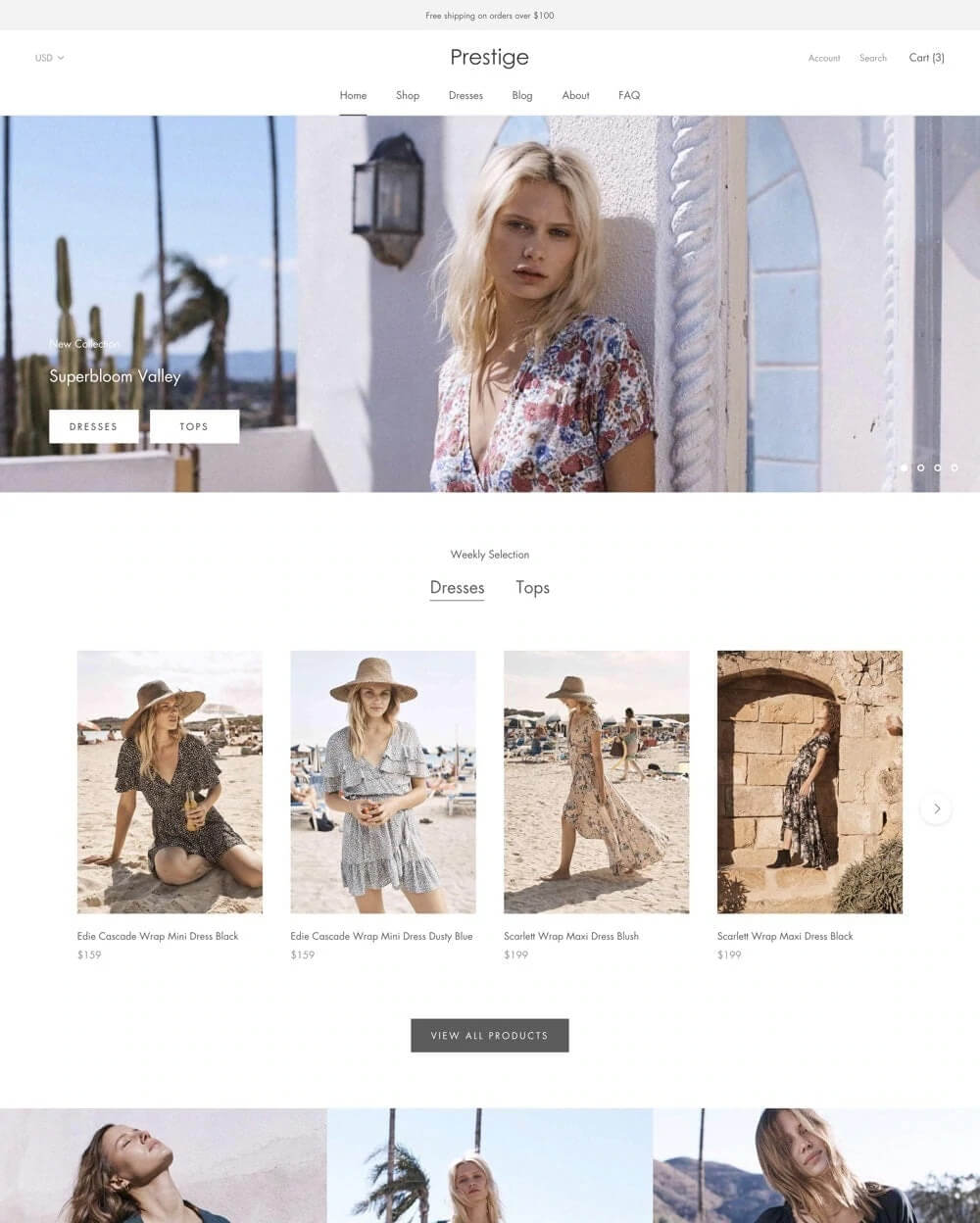 4. Reach
Reach (it's all in the name!) is their one-stop solution for those struggling with the reach of their online store. It is an easy-to-navigate and mobile-friendly theme developed by Pixel Union for smaller devices like iPad, mobile phones, tabs, etc.
To further expand your online presence and reach potential customers, the theme provides the option of sharing your products through social icons. These icons are available in the testimonials along with other sharing eCommerce features.
Animations are a great way to grab people's attention and lure them to check out your site, as quality animations and illustrations amuse almost everyone. While targeting this part of human psychology, this theme introduced tailor-made animations and vibrant icon styles.
Moreover, it has features like a collage-layout style page builder, a visual storytelling design, and the option to highlight product images in testimonials. These images can be linked to the product page to simplify visitors.
Who Can Use This Theme?
Small businesses
Online store beginners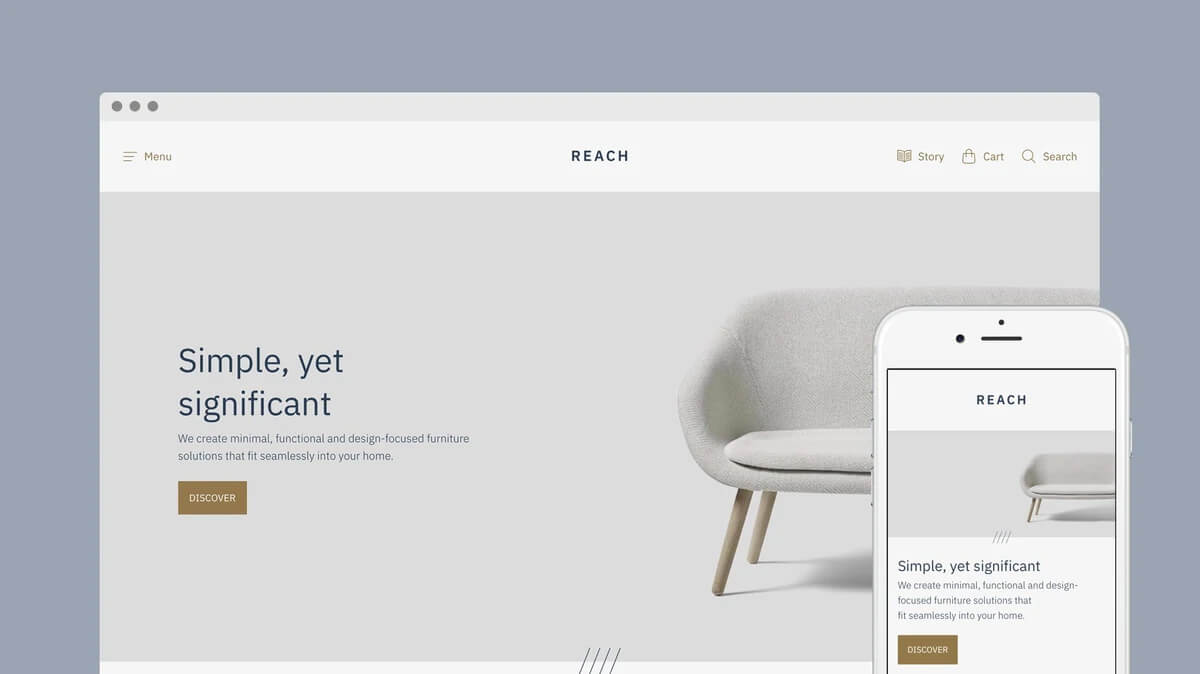 5. Artisan
Artisan is designed by Out Of The Sandbox to be compatible with all the latest updates of Shopify. The best part about Shopify themes is that you can trial them, design the layout and understand their full functioning without paying beforehand. Once you're done, you can make the payment while publishing your online shop.
Artisan won't force its contact form on you like other common themes. You'll be able to modify it according to your wish, keeping only the questions and fields relevant to your business. It is a user-friendly theme with a simple interface.
You can use the visual composer to craft a gallery showcasing your products in a masonry-style layout. If you want a specific product or service to stand out, there are customisation options to feature it on the collection page.
Who Can Use This Theme?
Clothing and fashion eCommerce store
Physical stores
Businesses like flower shops and bakeries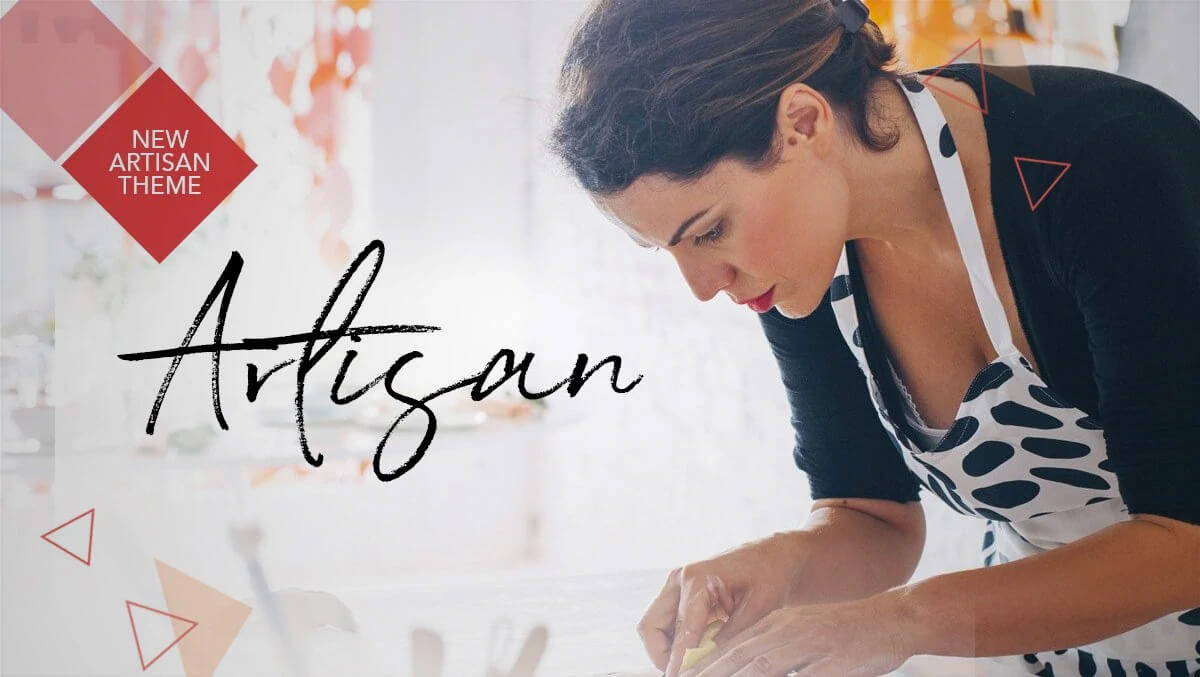 B. WordPress/WooCommerce Themes
A WordPress website is self-hosted; hence, it is a low-maintenance and low-effort way of establishing an online presence for your eCommerce store. There are thousands of eCommerce WordPress themes with a variety of customisation options.
We all know it's imperative to have a personal touch on your website to connect with your customers truly. And using a WordPress theme will help you with that while setting up your online shop, thanks to the option to have a premium pre-built multipurpose theme.
WooCommerce theme online platform is nothing less than a full-blown marketplace for eCommerce website themes. The quality of the themes they offer is reflected in their website, as all the themes are objectively divided into relevant categories.
All you need to do is visit the WooCommerce theme website, apply the filters and hit the search button. Finding a suitable eCommerce WordPress theme for your website has become that simple in this modern age.
The eCommerce platform offers mainly three categories of themes — free, storefront, and fully responsive. Other than that, you can find more suitable themes according to the genre of your store under the "industry" category. Hundreds of themes match each field's aesthetic, including arts and crafts, digital and audio, fashion and apparel, home and furniture, pet care and more. So, let's take a look at the best eCommerce WordPress themes:
1. Astra
Known as one of the most popular themes of all time according to its total downloads and online use, Astra is a lightweight, highly customisable and super-fast WordPress theme. The numbers speak for themselves because over 1,653,898 website holders use this for their eCommerce websites and online stores.
Adding to the numbers, the theme has commendable ratings and a user-friendly design based on 5K+ user reviews, owing to its handy built-in features like organised homepage layouts, premium plugins, and fully responsive designs.
Also, Astra has a customisable, feature-rich web design, the best being its fast loading speed. It's a given fact that bombardment of content has significantly reduced people's attention span; that's why half the time, users close the browsing tab if it takes too long to load. But this theme assures speed won't be a reason for any business loss.
Who Can Use This Theme?
Beginners
High-volume stores
It can be used for any eCommerce store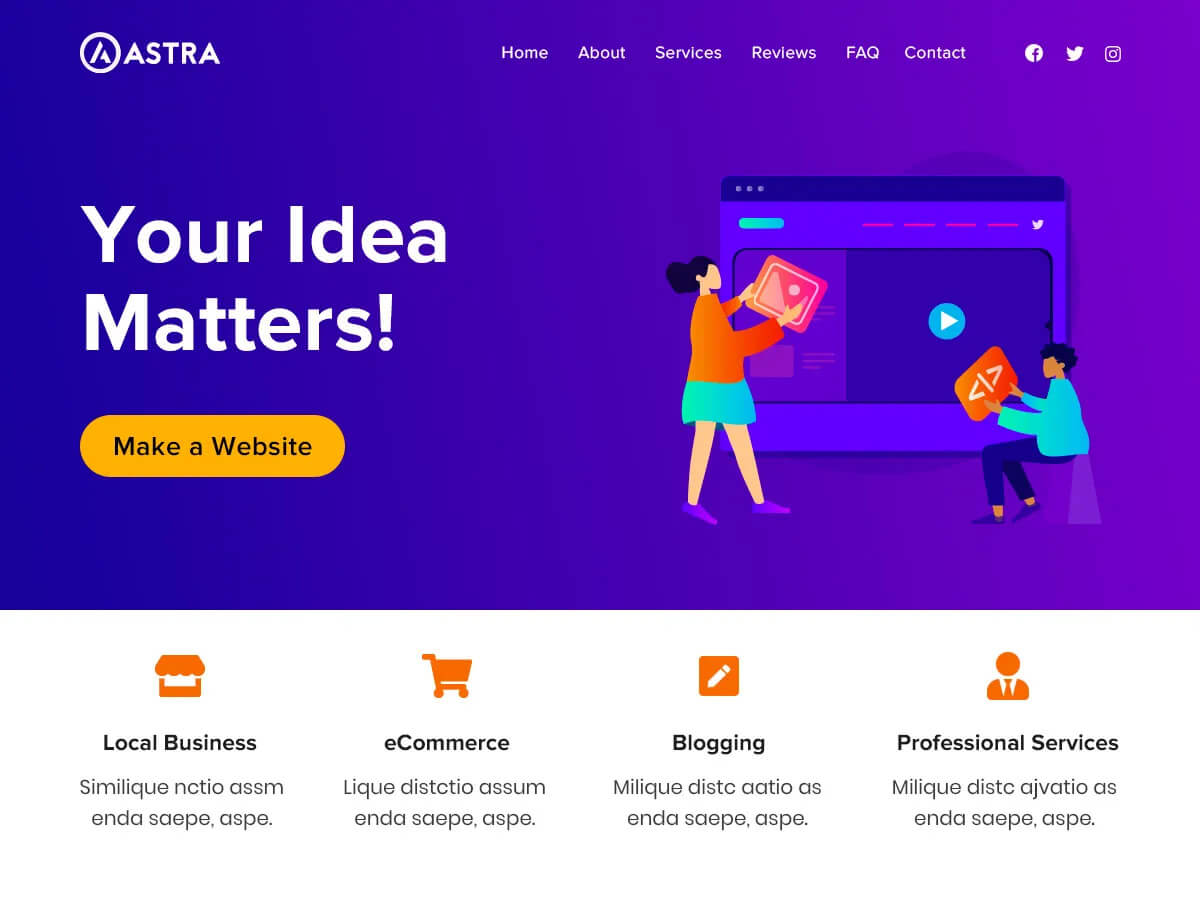 2. OceanWP
Whether you sell gaming equipment or provide internet services, this quirky and playful site perfectly fits technical stuff. It has that nerdy eye-catching aesthetic with a bold colour scheme and Google fonts.
In addition, with a 96% success rate, OceanWP is trusted by reputable platforms like HubSpot, Cloudways, WPML, Crocoblock, etc. Its wide variety of variants that cater to specific niches is optimised for HubSpot and Gutenberg. Even the free version available on the WordPress site is quite impressive, but we suggest using the pro version for professional use.
On top of that, its features include a custom page layout, sections, and extra ocean Elementor widgets that help spruce your online store significantly. Rest assured, it is SEO-friendly and will drive traffic to your website.
Who Can Use This Theme?
Content creators and bloggers
Visual storytellers
Cross-sellers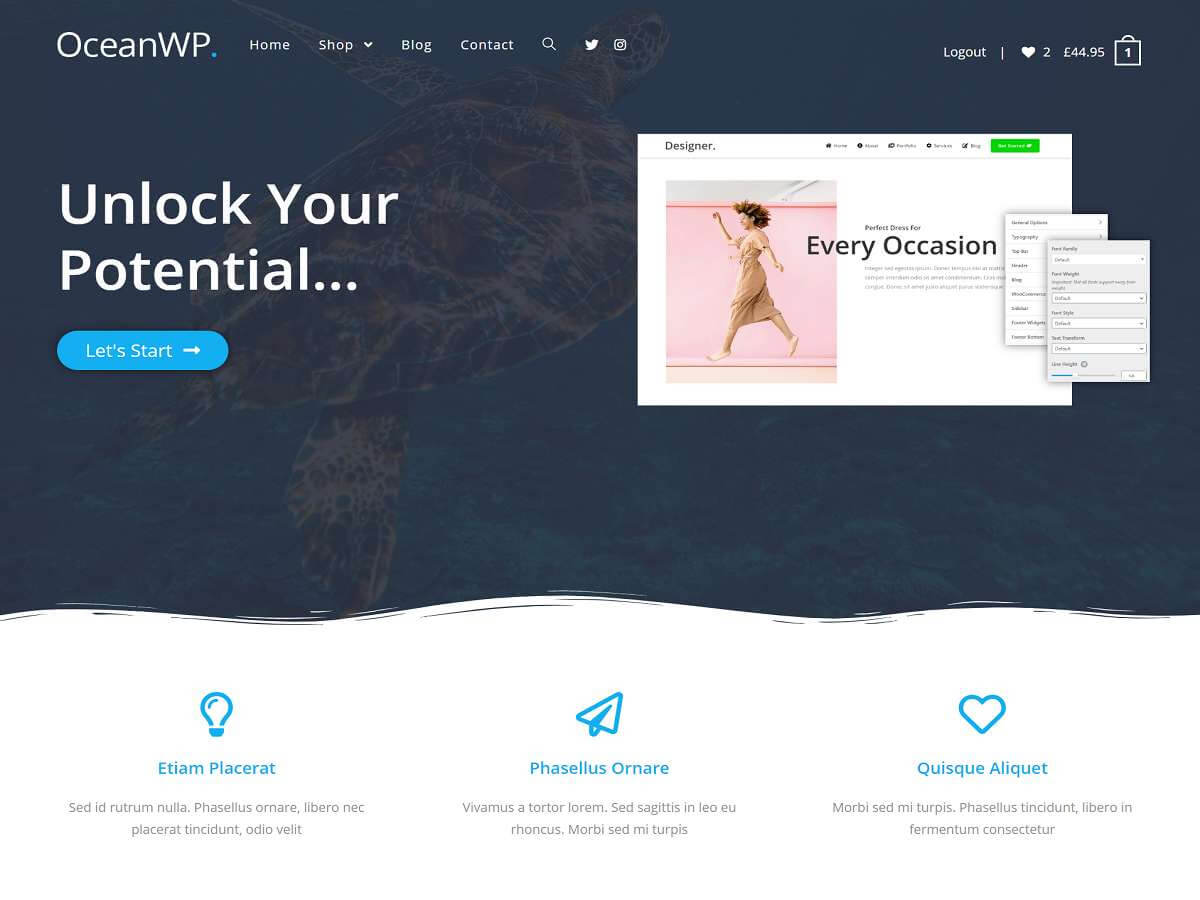 3. Spencer
Not only is this theme compatible with WordPress, but it is also optimised with WooCommerce plugins and Elementor templates. In simple words, it's both aesthetically pleasing and loaded with user-friendly features. The theme looks elegant and sleek, making it perfect for selling products online.
But that is far from restricting as you can use it for multiple other types of eCommerce platforms. Given its interactivity and custom page builders, you can conveniently use it for your service store. There are three-page builder plugins to choose from: Elementor, Divi, and Beaver Builder for developing your product pages.
Spencer steals the show with fantastic home page settings that support block editing, global sections, and Elementor integration. It is compatible with Google Fonts, allows you to set the site to full width, choose a unique colour scheme, and has many more customisable elements.
Who Can Use This Theme?
For selling health and beauty products online
eCommerce business
Drop-shippers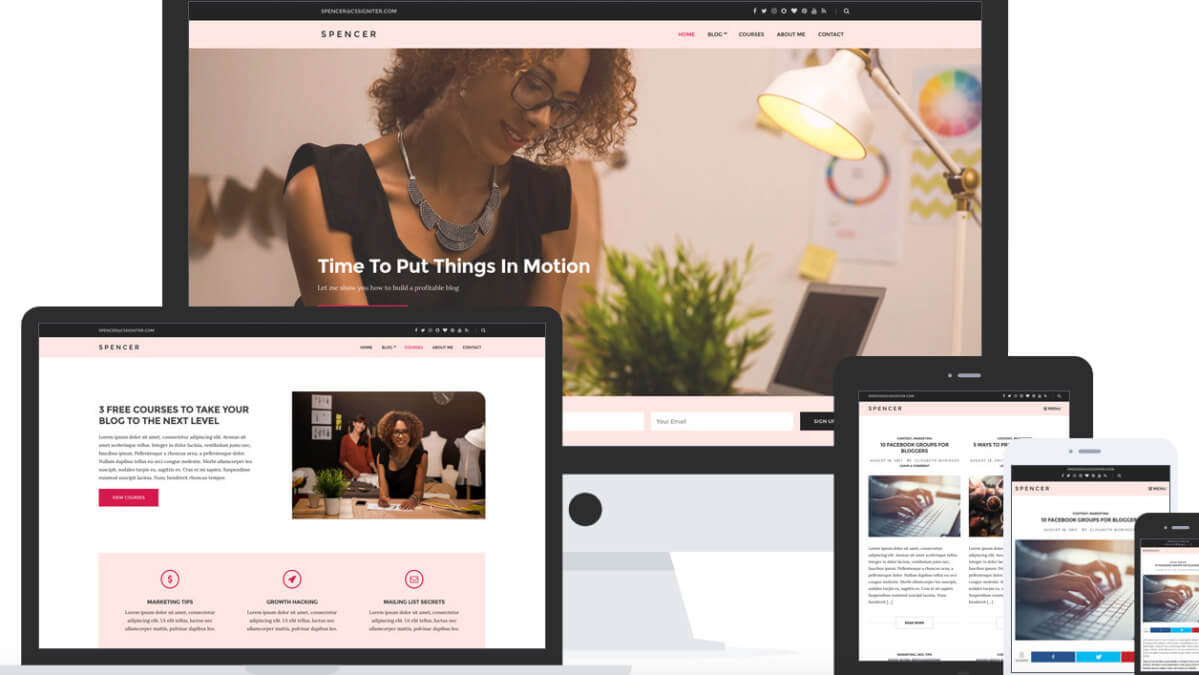 4. Parallax
Create excellently engaging homepage layouts using this multipurpose WordPress theme with parallax backgrounds and high-quality graphics. If you are starting and want only a single-page site, this is your best bet, as it has easy vertical navigation. These trends are currently famous and working out pretty well among customers, and Parallax did a great job combining them.
That said, you get an intelligent web design with 60 pre-built responsive page layouts. There are millions of eCommerce websites on the internet, so it is essential to know a few tips and tricks to make yours outshine the others.
And that could be achieved by combining various unique elements of this theme. These features include 11-page/header styles for showcasing your service, creating product portfolio posts, and team post types for introducing your team.
Who Can Use This Theme?
Photography or cinematography services
Visual content creators
In-person stores or studios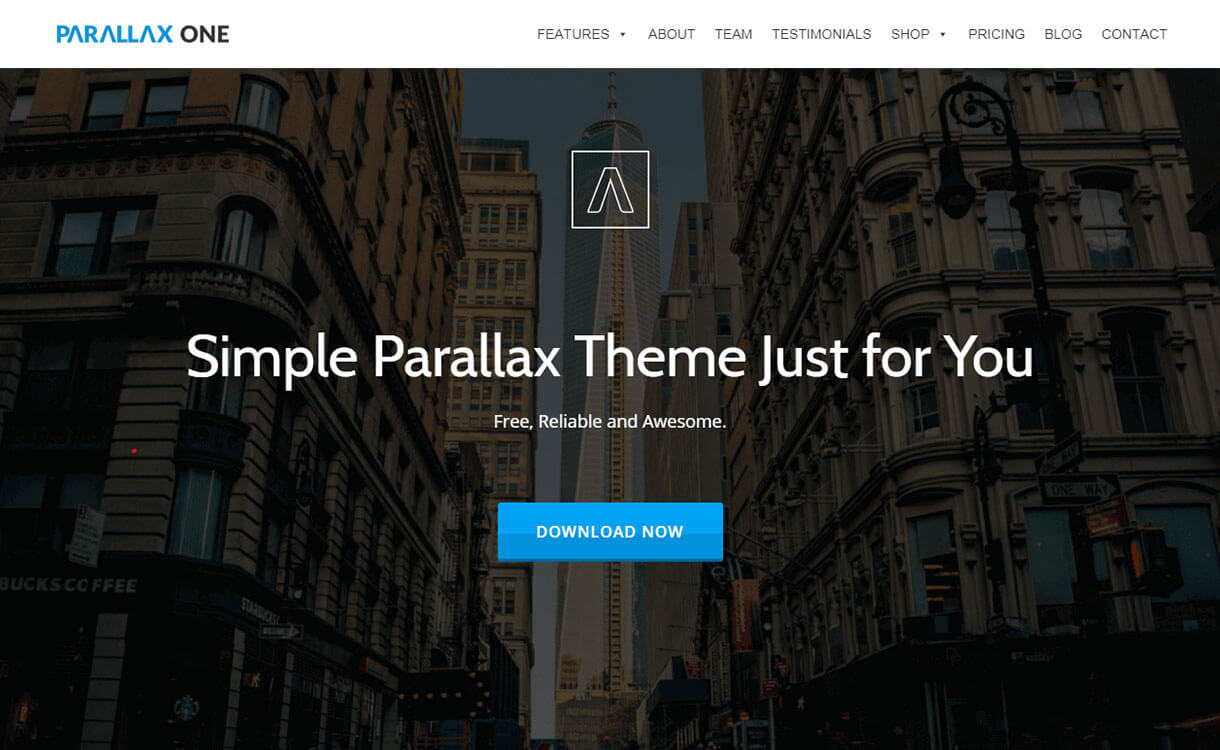 5. Divi
Divi isn't a theme but is an entire website design system loaded with global styles and elements. It provides site developers with many scopes to err as they can undo, redo and revise the layout as often as they want.
With the visual feature, you can see how your website will look while editing it, saving the hassle of editing, saving, and viewing. Additionally, you don't need any coding knowledge or get into the confusing back end. Everything can be customised on the front end with accessible drag-and-drop page features.
The team of Elegant Themes added more than 800 pre-designed and 100 website packs for creators to choose from in Divi. Moreover, exclusive layouts are updated weekly with illustrations, animations, icons, and royalty-free photos. With this theme, you can stay neck and neck with the ever-growing online competition.
Who Can Use This Theme?
Large agencies
Online business owners
Freelancers or thrifters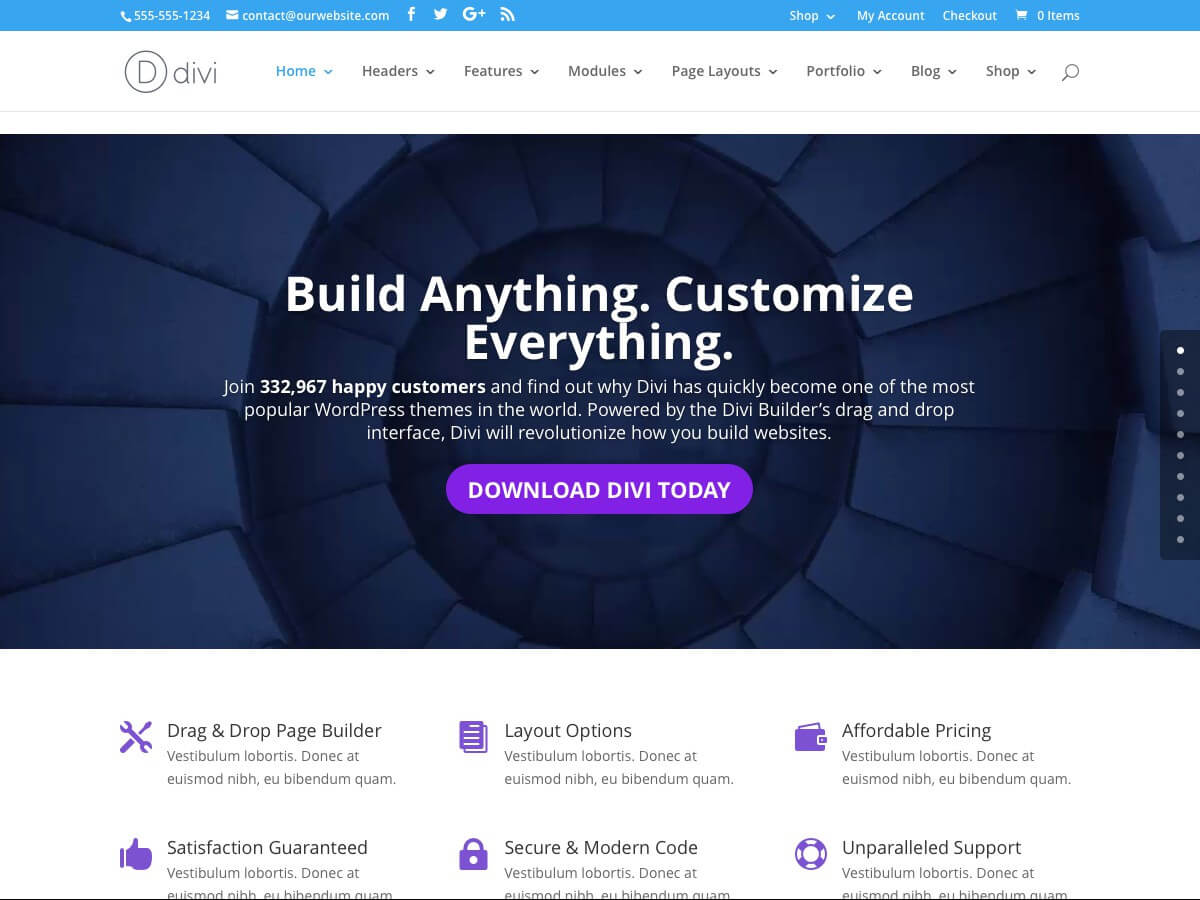 6. WebShop
With modern and minimal tones, the WebShop by ThemeGrill has a clean background of white open space, focusing all the attention on the product blocks. It is a professional design that fits online clothing, accessories, and cosmetics stores like a glove. And it's not just limited to fashion because gadgets and electronic product pages also look ambient on this theme.
The theme is compatible with WordPress and WooCommerce blocks (Gutenberg) to create a beautiful online home for your products and services. There are three basic pages (home, about, and contact), but you can add any number of custom pages.
The highlight of this theme is that it is developed using the latest coding standards, and that's why it is lightweight, fast loading, and mobile-friendly. In addition, it is focused on multiple WooCommerce features to achieve the best sale conversions. The cherry on top — you get one year of free support, extension updates, and a money-back guarantee of 30 days.
Who Can Use This Theme?
Fashion and apparel businesses
Electronics and gadgets sales
Lifestyle and skincare products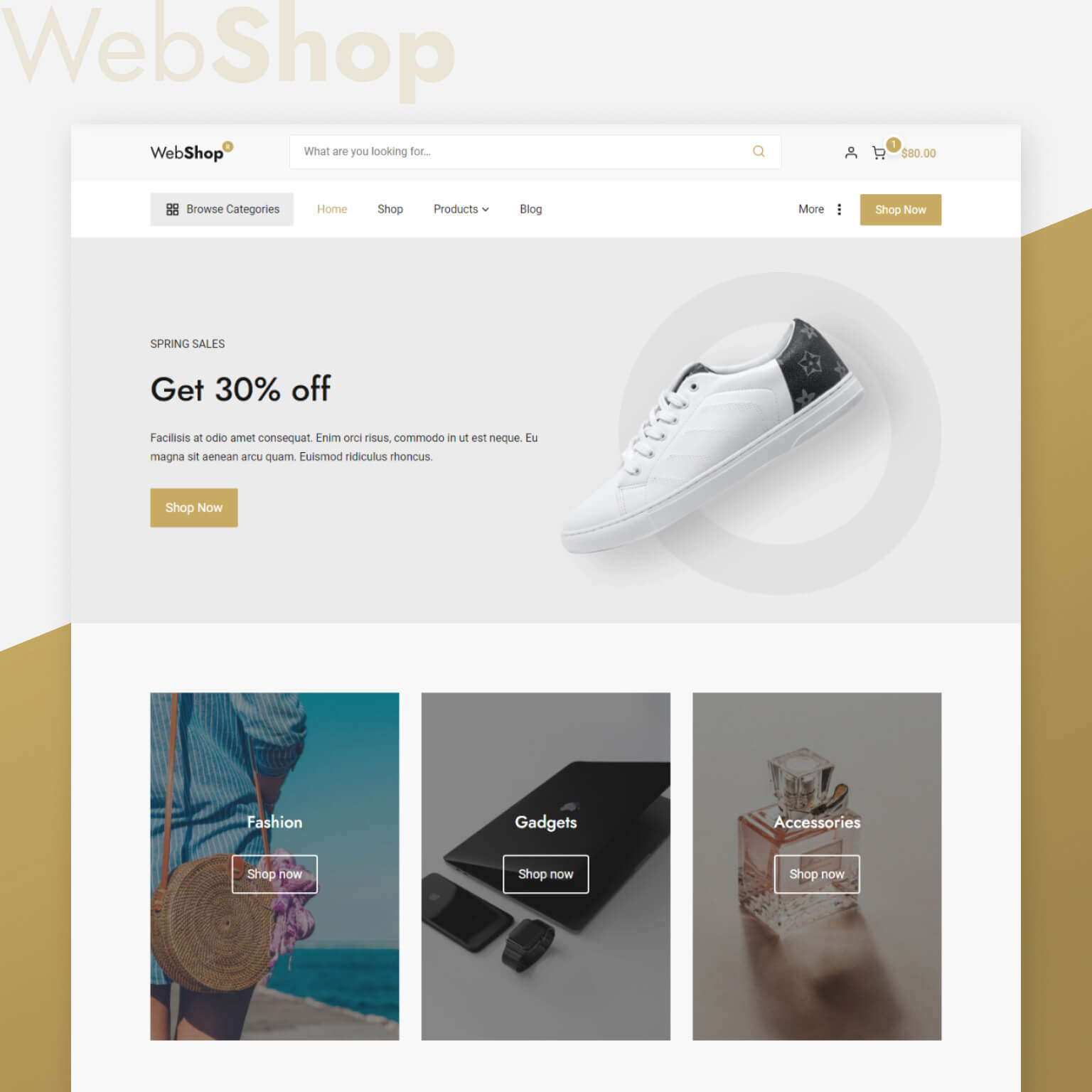 7. Frame
Is your business related to all things art & crafts? Well, the pressure of having an online store with on-point aesthetics is exceptionally high on you. But you can live up to those expectations with Frame, brought to the market by the experienced and creative team of Fuel Themes.
The theme features four Gutenberg-constructed pages: home, about, contact, and product page descriptions. But you can always add more according to your business requirements.
Seeing the statistics and trends, almost all traffic comes from mobile devices because nobody has the time to fire up their computers to browse online stores. Keeping that in mind, the creators optimised Frame for mobile-friendly responsiveness.
Additionally, Fuel Themes come with a guarantee from The WordPress VIP agency partner called Asquared. This is a hallmark of theme code's highest reliability and security with flawless compatibility.
Who Can Use This Theme?
Art galleries
Custom print business
Illustrators and designers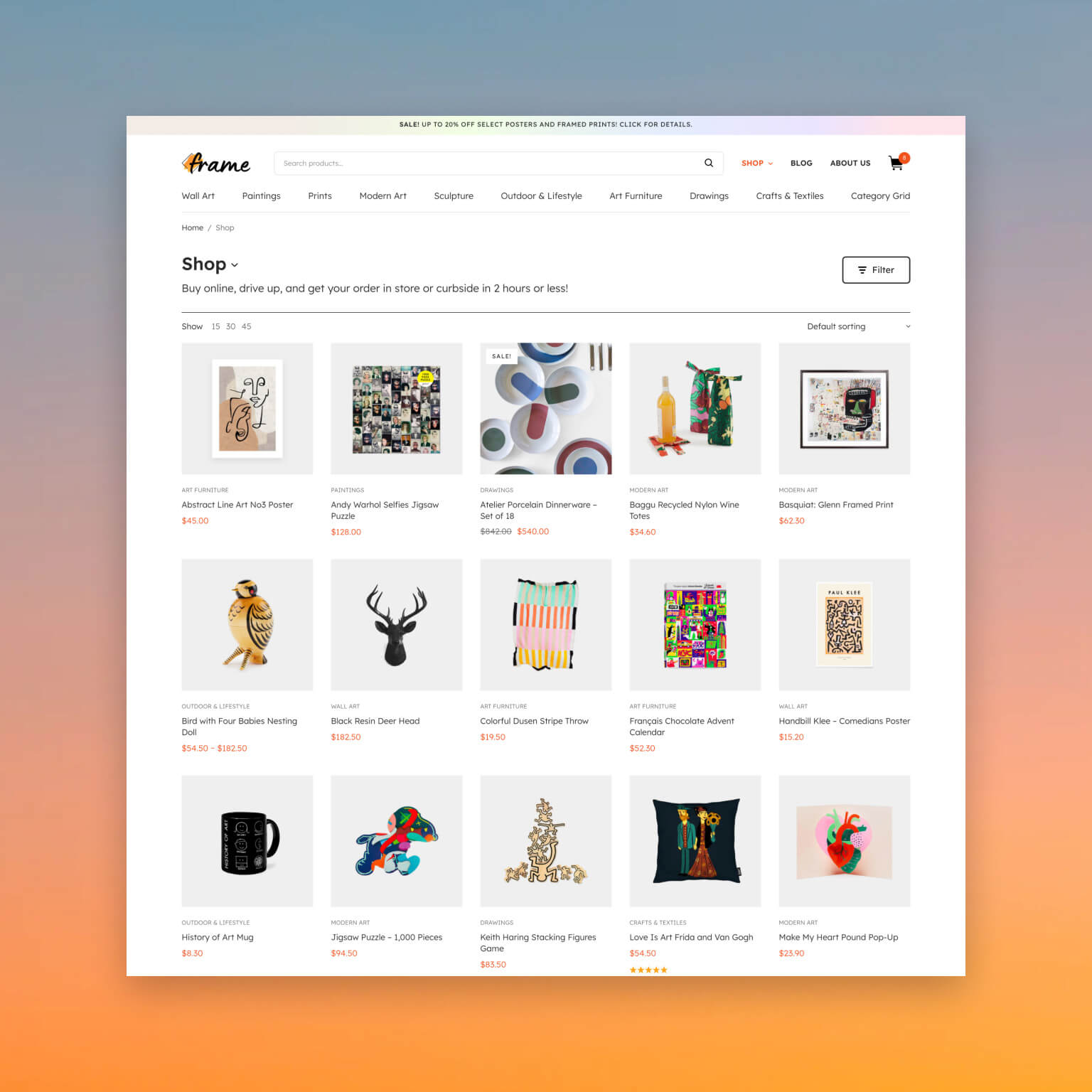 8. Arcade
A video game-selling online business generally attracts well-versed customers in technology. You wouldn't want to be judged by these tech geeks now, would you? If you sell electronics or gaming consoles in your store, you should ideally choose one from eCommerce templates like Arcade.
Arcade is one of the best eCommerce templates thanks to its modern and bold look, designed to give an immersive experience to visitors. It is better than the others because of its effectively designed homepage layout. The potential customers will be able to see a considerable number of products as soon as they land on your main page.
Additionally, Arcade is inspired by several techs and game stores across the internet. That's why you can rest easy knowing that the creators knew their way around designing this one. Last but not least, the theme is created on the dynamic Storefront elemental parent theme, ensuring 100% coordination with the latest WooCommerce at all times.
Who Can Use This Theme?
Video game stores
Technical service providers
Electronic gadget shops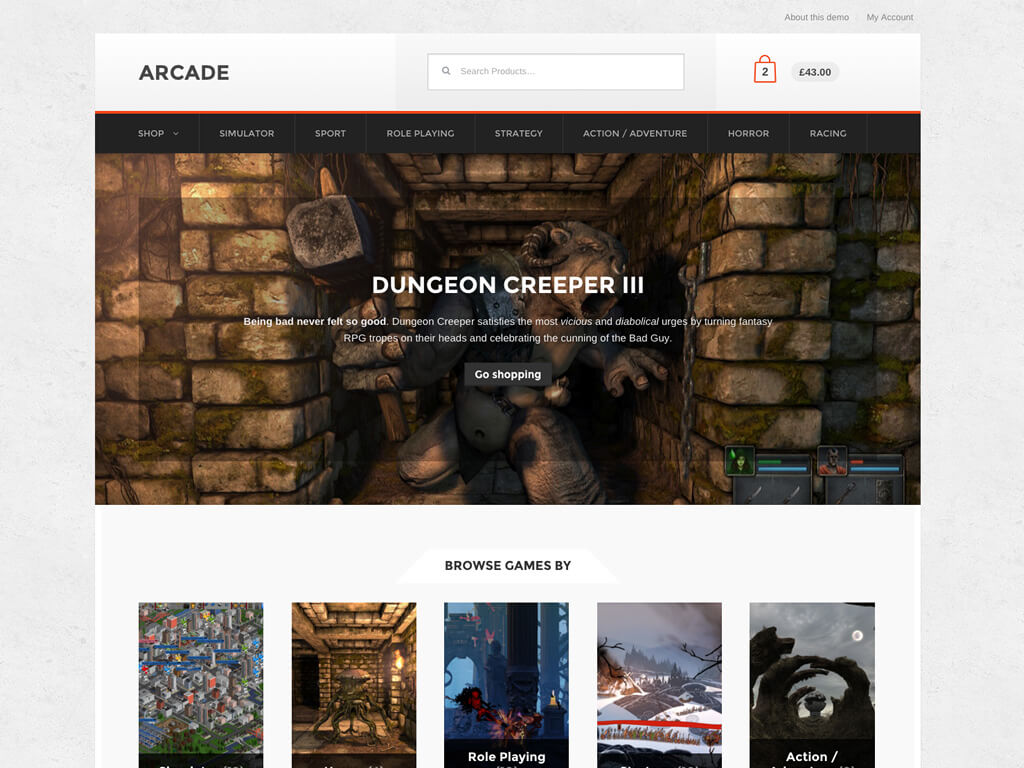 Custom eCommerce Website Design
We discussed the importance of custom designs and unique personal touches. Good business strategists that their products should be irreplaceable, rare, and inimitable. And what's better than custom website designs to make your eCommerce platform stand out from the rest?
On a serious note, custom designs are the new way to go, and if you want to build a presence in the market, you should pay attention to this aspect. It promotes a user-friendly experience, increasing overall traffic to target the right audience.
Things To Remember While Buying A Theme
Buying an eCommerce theme for your online store is tricky because there are many factors to consider before investing your hard-earned money. Everything has shifted to the internet, and having an excellent online presence to sustain a business has become more critical than ever.
Even if the competition has increased, things have become more accessible over time. These are both different sides of the same coin. You can decorate your online store website with brand-new templates and make it more user-friendly with advanced plugins and custom widgets at affordable prices.
However, it would help if you were mindful of the following factors while choosing an eCommerce theme:
1. Interface And Layout
Looks are everything, and the bitter truth is no matter how good your products are, they won't sell unless presented effectively. Interface and layout are of immense importance as they set the face value of your online store.
You may browse the internet yourself and see that the best eCommerce sites put a lot of effort into organising their respective home and product pages. You'll need a theme with an intelligent and responsive page builder to follow in their footsteps.
Organising your pages is equally important. As a rule of thumb, set your menus, so they are visible to the visitor rather than puzzling them. It's useless if the customer has to look around for the things they want for a long time.
2. Plugins And Widgets
If we consider layout as the skeletal system of the website, then plugins and widgets are the heart and flesh. That's because they decide the overall functionality of an online store. For adding unique features and a personal touch to your site, it's essential to have a variety of the latest add-ons.
Plugins are available in various types, ranging from back-end analytics trackers to front-end template designers. You can browse through the plethora and add the ones you like and find helpful for your site. Similarly, widgets include headers, footers, sidebars and other product blocks. These should also be cleverly integrated into your site to make the most out of them.
3. Search Engine Optimisation (SEO)
To see your site, the audience should first reach it, which is ensured by good SEO optimisation. Some themes contain additional plugins for optimisation by adhering to the guidelines and keeping an eye on the score.
As far as we know, there isn't any function that would automatically optimise your site. The most it can do is provide you with instructions to modify your website. If you follow all those steps diligently, you'll be able to reach many users on the internet.
4. Mobile compatibility And Loading Speed
Your eCommerce theme needs to be mobile-friendly for apparent reasons; still, we'll spell it out for you. A good portion of sales are via mobile phones; hence, your website should be compatible with Android and iOS browsers.
The best eCommerce themes feature how it looks on the web, tablets, and mobiles to give you a clear picture. Websites are optimised for web use and look awkward when accessed through cell phones. This is a massive turnoff for customers and can affect your sales considerably. Therefore, choose templates compatible with all kinds of devices and gadgets.
5. Updates And Extension
Staying up to date can't be taken lightly in this modern age, especially with an up-to-date website. Rather than choosing old and established themes, it's better to pick newer pieces with free theme updates for a certain period.
6. Affordability And Guarantee
Some themes come with a money-back guarantee if you get cold feet later. If you're an impulsive and moody buyer, go for affordable themes with some buffer period.
Our Picks For eCommerce Themes
That's for our informational guide on the best eCommerce website themes. Hopefully, we can give you an accurate idea of the topic. Let's do a little recap before signing off.
A good website theme is essential to make your online business store a hit and profitable. You'll need a good overall layout, an easily accessible menu bar, and a fast loading speed. Furthermore, SEO and mobile compatibility are essential to reach the maximum number of customers. Many eCommerce templates depend on your brand, industry and what you wish to sell online.
Customisation is a crucial front that you cannot overlook at any cost. This gives an extra edge to your online shop and helps people demarcate it from other brands overflowing on the market. Custom website designs are your holy grail if you wish to have a successful eCommerce website. To speak to a web designer about a custom eCommerce website, get in touch with the team at sitecentre®.
That said, aesthetic templates, a colour scheme in line with colour psychology, and a fully responsive theme can increase your sales many folds. And we'll leave it at that.