When you decide on a theme for a party, you consider a lot. From the party decor to the menu- everything should be perfect.
Similarly, choosing a theme for your online store is not as easy. While giving an eye-catching look that will elevate your eCommerce website is the priority, you want visitors to navigate the site and eventually convert into customers quickly. Thus, an eCommerce theme is essential to meet your business goals.
That's when Shopify enters the scene. Shopify is the eCommerce platform that stands out and is renowned among online shop owners. Whether people sell clothes, furniture, or stationery — there is a Shopify theme for you!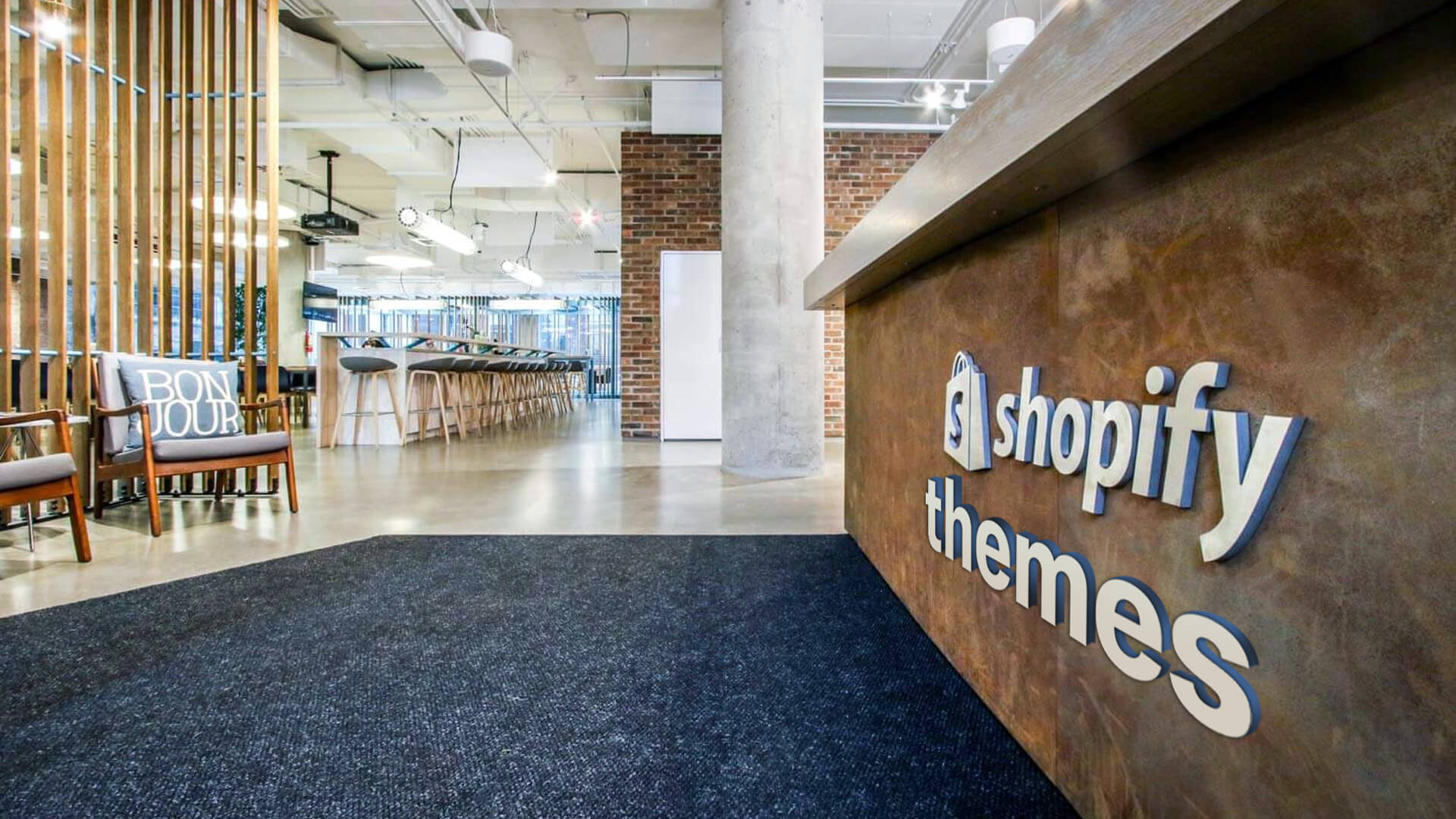 However, we understand that no one has the time to go through the expanse of hundreds of pre-built themes and templates. Hence, we have curated a list of paid Shopify themes that offer a mobile-friendly responsive design, easy drag-and-drop setup, and other customisation options.
It is important to mention that while Shopify themes are great for new businesses, they are not a permanent solution for an online store. This is due to design limitations, SEO rankings, and brand rights recognition, among other restrictions. Hence, we recommend speaking with your local web design company about custom-built website options.
So, without further ado, Let's get started on creating your dream eCommerce site…
Roxxe is hands down our top pick among the top Shopify themes, claiming to be responsive, multipurpose, and easy to use. Despite being expensive, we think it is worth the money, including timely updates and quality checks. Plus, you get six months of technical support from the creators of Roxxe, making this Shopify theme a sweet deal for online store owners.
Roxxe, a premium Shopify theme, was developed and shopify theme developed in May 2020, but it didn't take long for the new kid on the block to steal the spotlight from some of the best Shopify themes like Wokiee. Part of the credit for its success goes to the various web design options you can choose from. Roxxe offers modern and trendy pre-built designs for any store, whether you run an online pharmacy or a gifting service.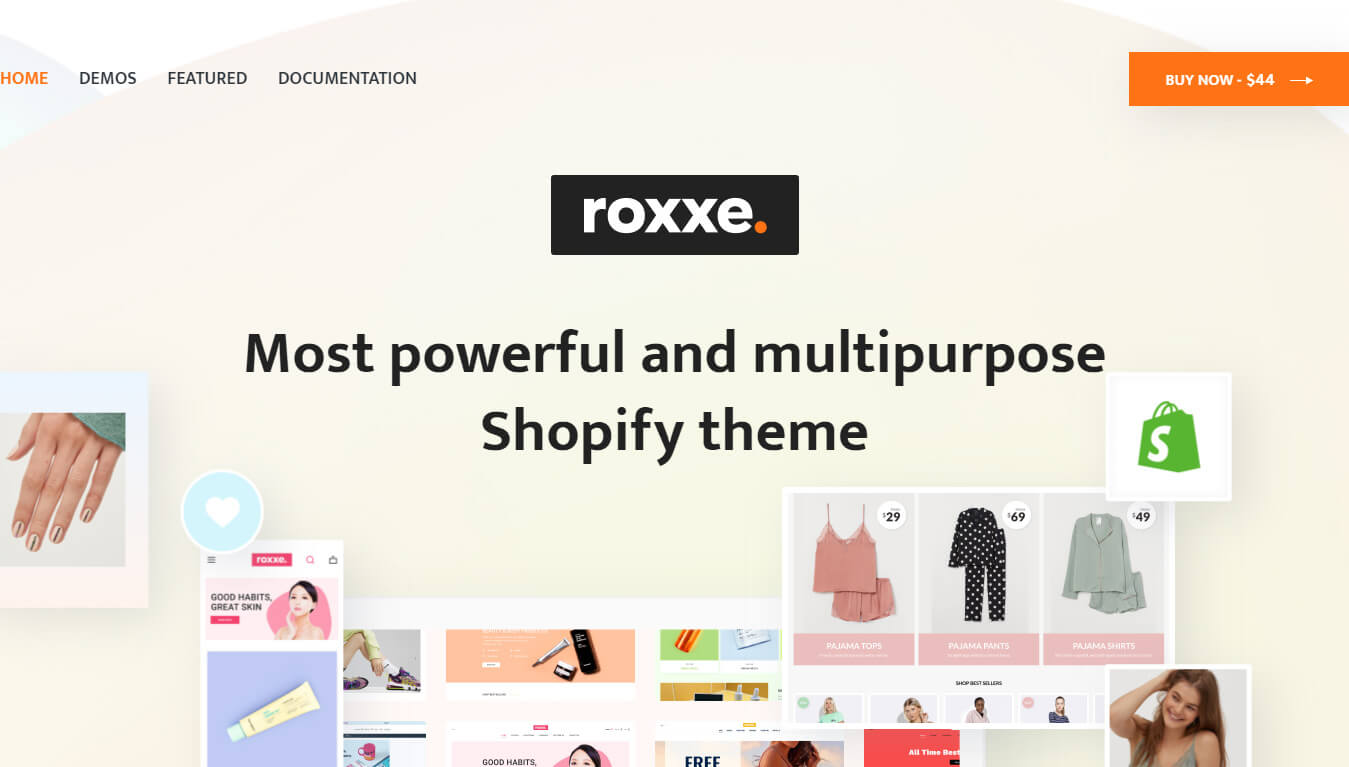 Key Features
A. Eye-catching Pre-built Designs
Roxxe is compatible with the Shopify Visual Builder so that you can choose from 70+ pre-built home page designs for your business. But if you're still seeking creative freedom, the responsive Shopify theme also offers 50+ customisable layouts to play around with.
B. Responsive And Versatile
One of the USPs of Roxxe is the fully responsive design with vast customisation options that maintains the quality of your website on any screen size and device. It boasts a list of benefits from integrations with various software platforms like Klaviyo, Trust Hero, Email Collection Bar, and more.
C. Optimisable Website Sections
Customising with this Shopify template is not just about experimenting with colour palettes; it enhances the user experience. For instance, you can create complex drop-down menus using the mega menu feature, showcase additional information and add-ons on the website header, etc.
Similarly, you can quickly grow your mailing list by providing a subscription form on the website footer.
Pros
Value for money
Versatile, responsive, and mobile-friendly design
It consists of entirely pre-built and customisable options
6-month technical support
Easy to use
Cons
low SEO ratings on mobile view
Boasting more than 80 homepage layouts, Wokiee is a multipurpose Shopify theme for any online shop. Wokiee has thousands of active customers, so there's got to be something significant about it!
With its latest update, you get 16 new skins and pre-built templates to create the online store of your dreams! Interestingly, Wokiee is compatible with Oberlo, making it an ideal Shopify theme for dropshipping. Additionally, it is equipped with a built-in Google Rich Snippet tool, which will prove beneficial for SEO.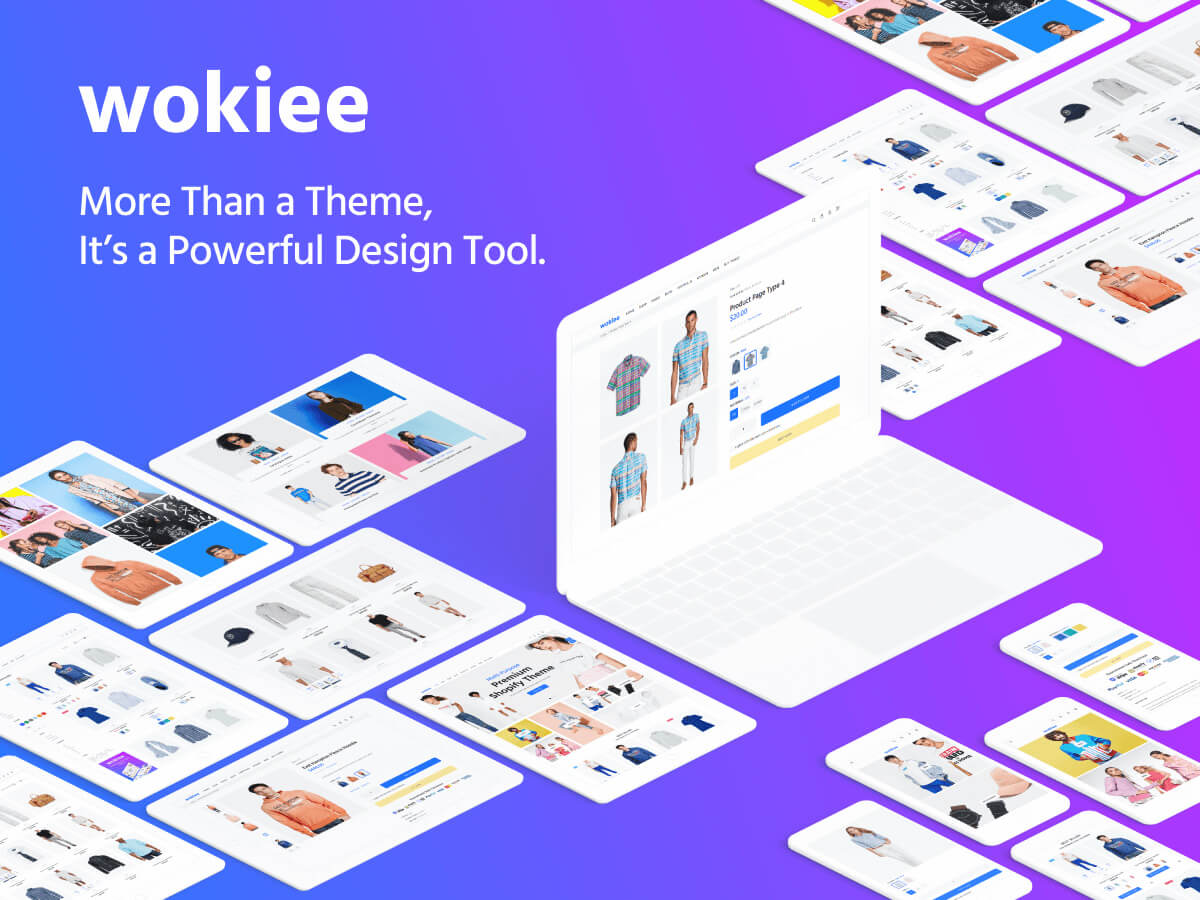 Key Features
A. Versatile, Flexible, And Customisable
Regarding versatility, Wokiee is hands down the best Shopify theme. Whether your business deals in multiple or single products, you can create an efficient eCommerce website in minutes and promote the brand.
We especially like the multiple header options and content blocks that make website design a customisable experience. Commonly used blocks include full-width tabs, blurbs, review grids, Instagram feed integration, variable grid banners, multi-column menus, etc.
B. Advanced Mega Menu
We cannot even imagine eCommerce websites without multi-column mega menus that allow easy segregation of products into different categories. Thanks to the mega menu feature, Wokiee allows efficient product filtering, making your website more user-friendly.
This Shopify theme offers additional features like a wishlist, compare quick product view, etc. These are must-haves in a shopping store.
C. High-quality Web Design
Despite being jam-packed with responsive and valuable features, Wokiee offers an eye-catching yet minimalist design. But if you want something bold and quirky, you can always check out the wide selection of colourful themes and templates.
Pros
Easy setup
Valuable plugins and integrations are available
Suitable for single and multi-product shops
Modern and minimalist design
Highly customisable
Cons
3. Mobilia
If you want to create a stylish eCommerce website for accessories, look no further. Mobilia offers smooth content integration along with various sleek styles for your website. Once you purchase this page builder, rest assured of getting regular theme updates and staying in touch with the latest Shopify store features.
Small business owners will appreciate the free high-resolution product images available for you to use around the website to create a clean aesthetic. The layouts have been designed and coded by skilled web designers, so the end product will be a professional-looking and responsive website, no matter the template you choose.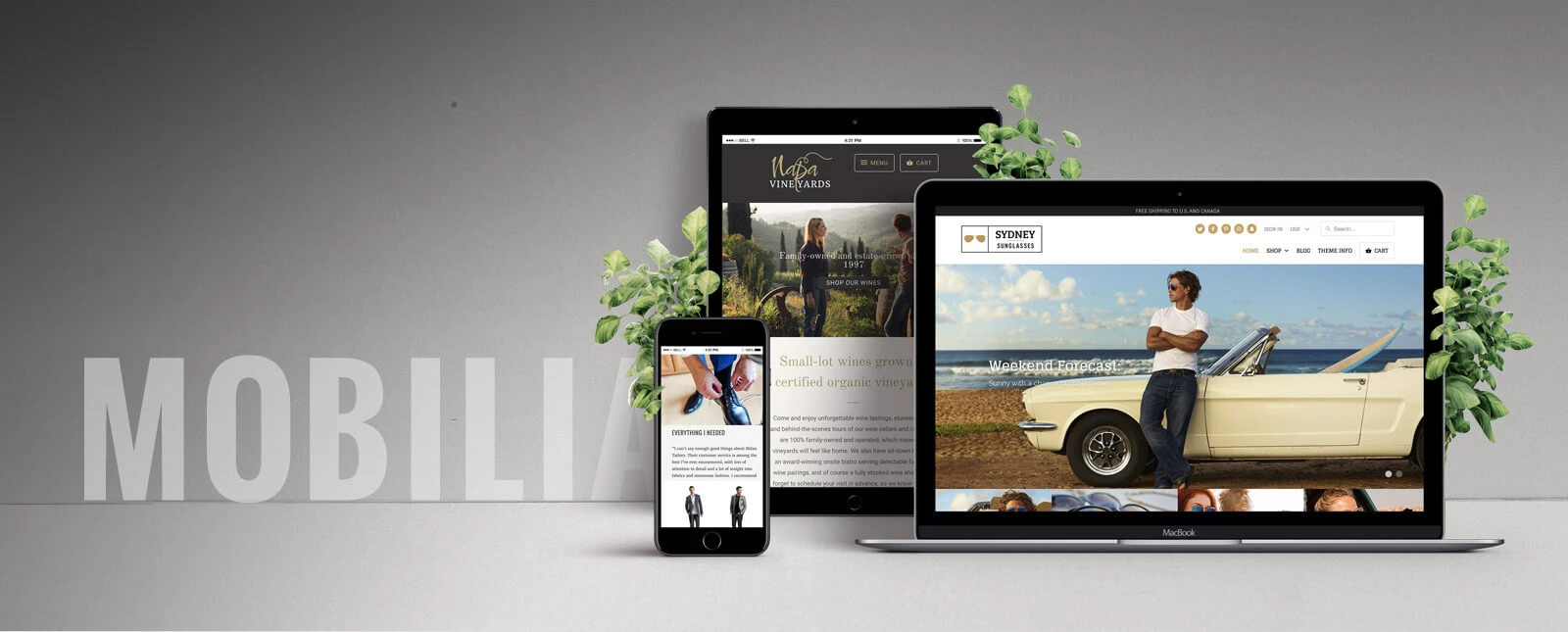 Key Features
A. Unlimited Trial Period
Right off the bat, we were sold when we learned about the unlimited free trial! Even with limited functionality, using the basic customisation options to create a store website is easy and fun with Mobilia.
B. Sophisticated Design And Transitions
In addition to being responsive and optimised for mobile use, Mobilia boasts a sophisticated design with homepage menu lists, custom promotional tiles, and more. Most users were impressed by the smooth transition to the "Quick Buy" and "Related Products" pages.
Overall, Mobilia has offered functional tools while maintaining a professional yet stylish look, both of which are essentials in an eCommerce theme.
C. Customisable Options
As we have already established a focus, Mobilia is a versatile Shopify theme. So, everything is possible whether you want to use a pre-made template and quickly launch a website or tweak some parts of the page.
Interestingly, you can add full-width videos on the homepage to catch viewers' attention and promote a particular product consecutively.
Pros
Clean and stylish design
Versatile and multipurpose
Mobile responsive
Free stock photos from Shopify Burst
Unlimited free trial
Cons
Known for having the best eCommerce design, Porto offers a powerful package for your Shopify store. With over 45,000 users aiming to optimise their site using its regular updates, this Shopify theme ensures a smooth UI/UX experience.
Despite being one of the budget-friendly options, it's compatible with a range of SEO efforts; Porto contains powerful theme options to configure your online store easily. It is highly optimised and ensures great SEO performance; as an SEO-friendly shopify theme, it helps in gaining more sales with each passing second! All these factors make this SEO-friendly theme a great choice among business owners.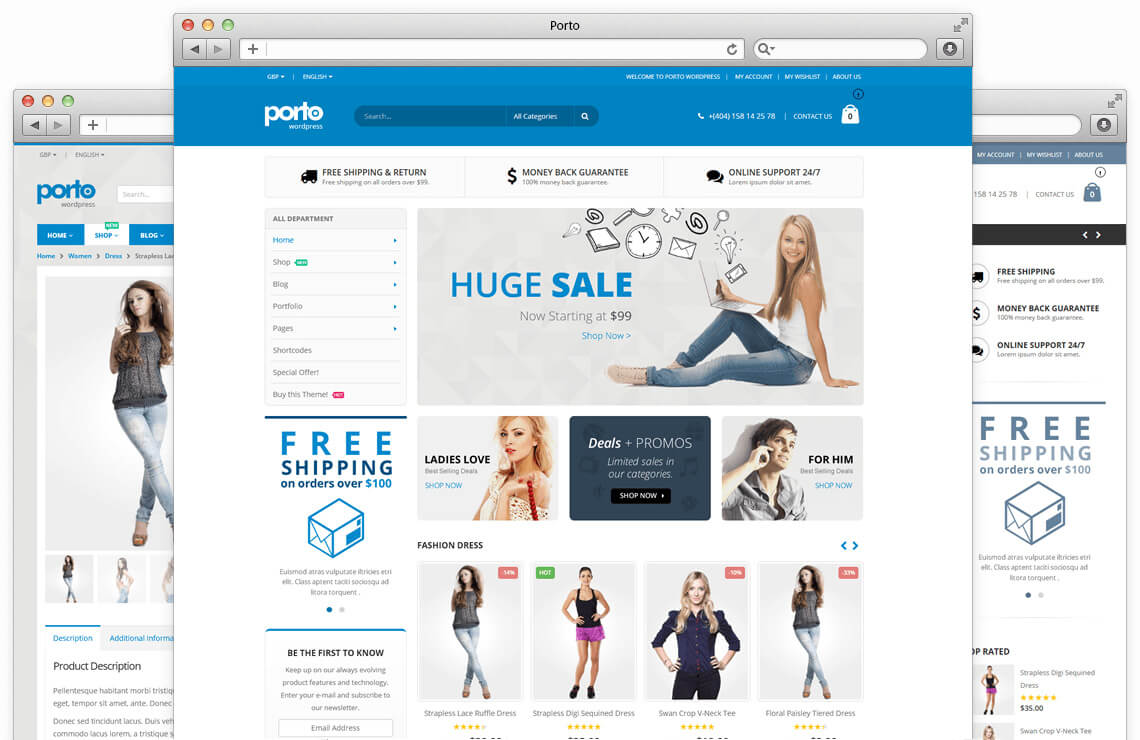 Key Features
A. Impressive eCommerce Features
Similar to the previous Shopify Themes, Porto is no less in offering reliable options to take your online business up a notch. It provides 20+ modern niche themes and styles to choose from, each of which is customisable and lends a responsive design to your website.
Besides the demo layouts, Porto has product detail and collection pages. So, corresponding to your products' post-launch performance, you can mix and match the tools flexibly on this Shopify theme and make the homepage easier to navigate.
B. Speed Optimisation
Porto is compatible with Bootstrap 4, ensuring speed optimisation and seamless browsing on mobile devices. So, you need not worry about your site's SEO ranking… Porto has got you covered!
C. Live Demos Available
Analysing whether a particular theme or layout will suit your website can be difficult if you don't get to test it first. Hence, Porto offers a live demo option for you to check the theme compatibility and functionality.
Pros
Easy to install
Great UI/UX experience
Speed optimised
Up-to-date with new Shopify features
Dedicated customer support centre
Cons
Here's another genuinely multipurpose Shopify theme to suit all of your business needs. With its high-quality features designed by qualified creators, brand new landing page layout, and improved drag-and-drop slider, Avone ensures optimum functionality and a smooth user experience.
Avone is powerful and easy to use despite being a new Shopify theme. It also offers a live demo to help you accurately decide on an ideal template for your online store. Additionally, a few Shopify templates follow a clean design, ensuring your customers enjoy their browsing and shopping time on your website.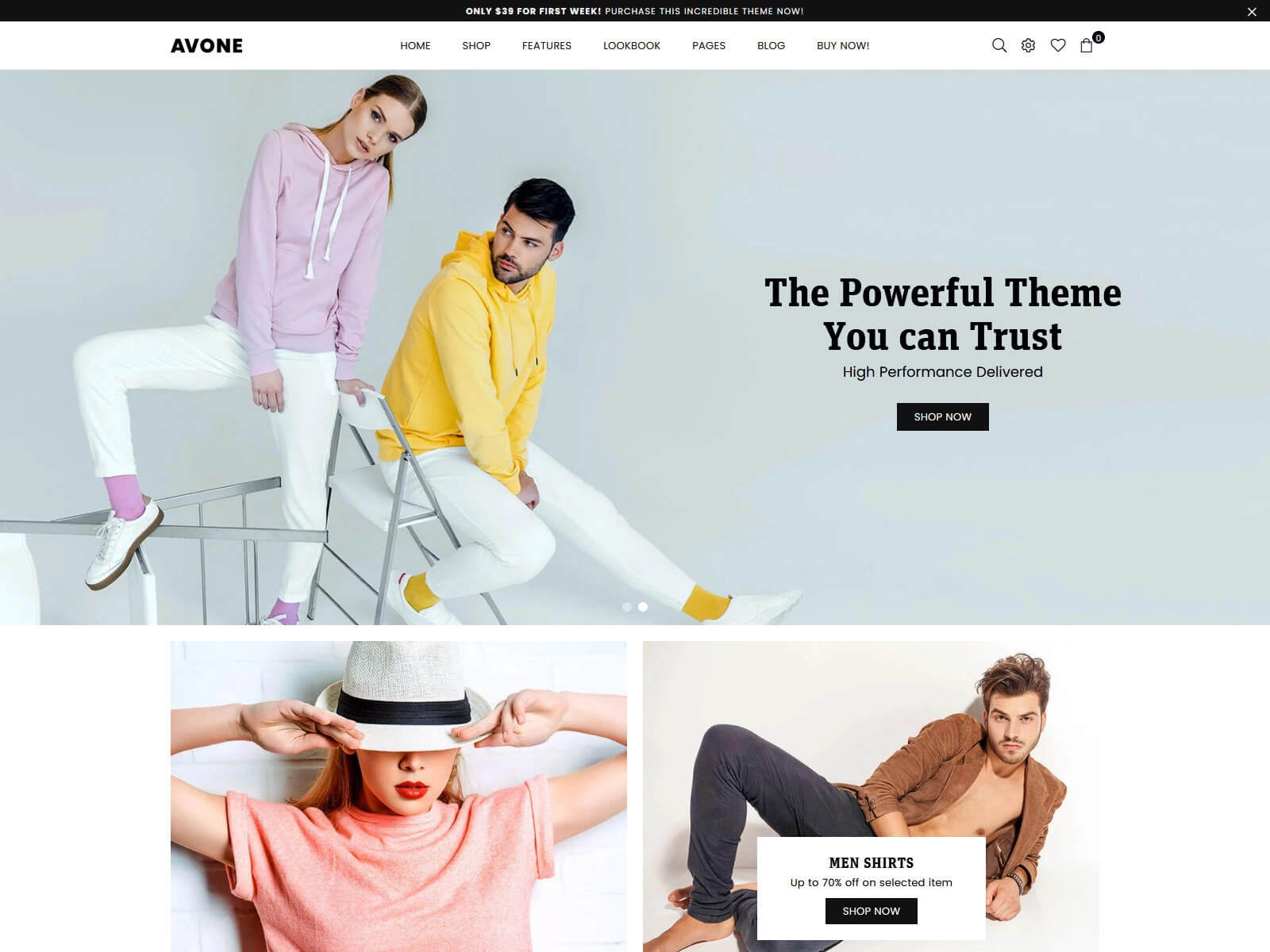 Key Features
A. Customisable Shopify Theme Options
Avone boasts various homepage layouts, shop designs, header styles, and more. Each demo contains different page elements to play around with so you can choose the best theme for your Shopify store.
Additionally, you can mix and match the features of different demos to create a unique layout for your store. New theme updates will keep your website in tune with the latest trends in colour combos, aesthetics, etc.
B. Fast Loading
The creators of Avone claim that this Shopify theme loads 30% faster than other eCommerce themes. While we cannot say it's entirely true, it is undeniably a quick-loading theme on desktop and mobile devices.
C. Effective Support
Avone is known for maintaining effective after-sales support through its ticketing system. Thus, if you're looking for a prompt response, we suggest you refrain from mailing them and raise a ticket instead. The customer care team usually replies within a few hours.
Pros
SEO and Google PageSpeed optimisation
Clean and functional online store demos
Highly responsive design
MailChimp support
Full RTL support
Cons
Slow processing
Beginners may take some time to understand its features
Look no further if you own a clothing brand and have the ability to increase sales with a responsive Shopify theme. Fashion Store allows easy installation and setup, and you get a website with no restrictions in terms of device and location.
The customisable homepage contains ready-made sections that you can use as-is or adjust according to your Shopify store requirements. Its most used features include an admin panel, online chat, a mega drop-down menu, etc.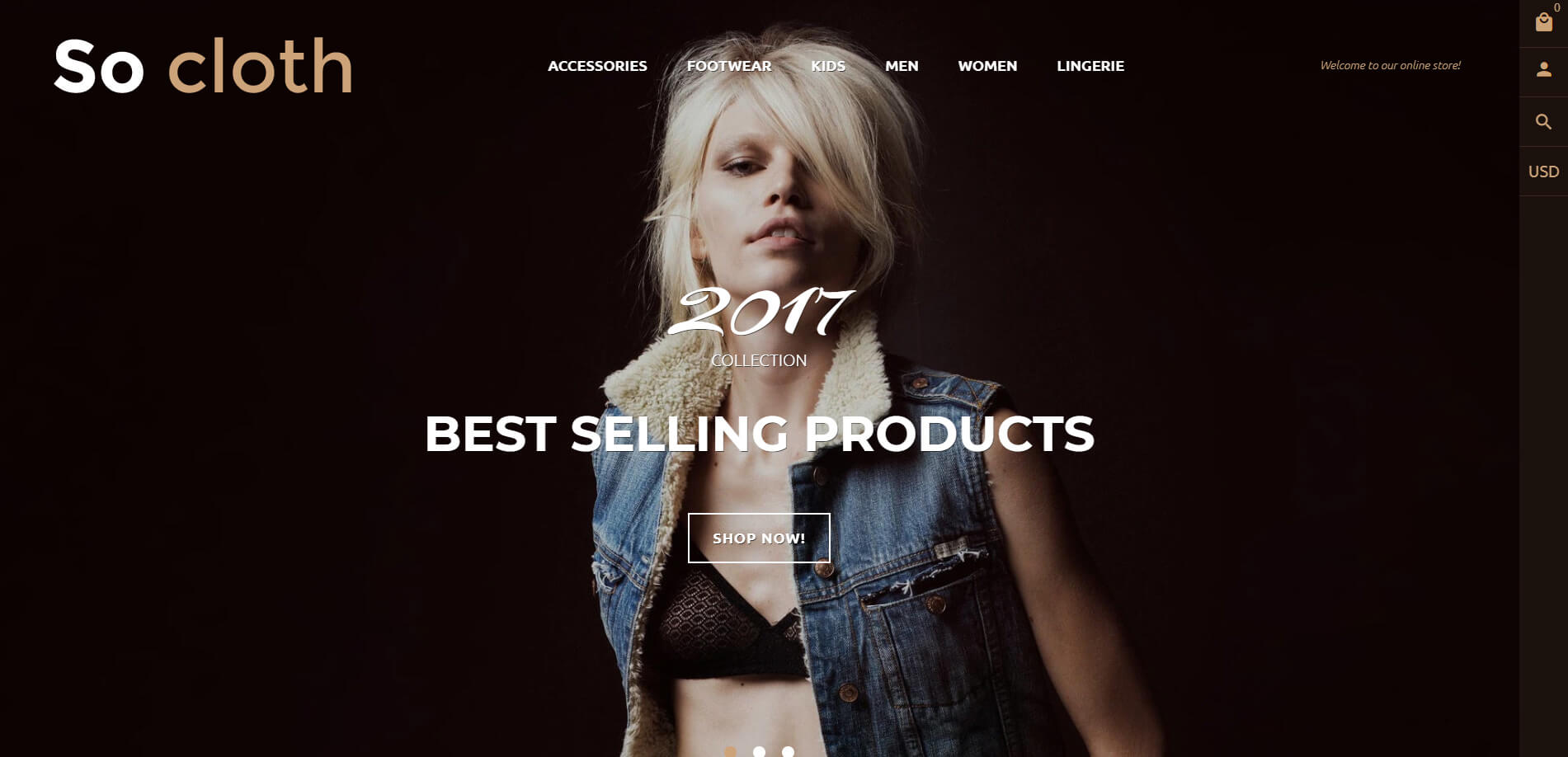 Key Features
A. Sorting/Viewing Options
An easy-to-use website attracts viewers, makes them stay longer, and eventually buy from your Shopify store. We highly recommend Fashion Store as the sorting options make the user experience smooth and enjoyable.
One can choose between grid view and list view and use the product filtering option to check out the best sellers, low-high priced items, etc. Thus, customers will easily find what they're looking for.
B. Advanced Product Display
Fashion Store offers many unique ways to upload and view product images on the website. For instance, we were drawn to the "Image with Text Overlay" option and the full-width website slider that allows users to present important information on the header or any other part of the site. We recommend using these features to launch new products, announce sales and discount offers, etc.
Fashion Store stays true to its name by offering a lookbook-style homepage layout.
C. Integrated Google Maps
Often dismissed as a trivial feature, Google Maps integration is a valuable add-on to any online store, especially if your business has a physical store. If you have multiple stores in a city or country, you can easily add those on the attached Google Map.
In this article, you can learn how to change the colour scheme and experiment with tonnes of styling options to make the map match your store website and aesthetic.
Pros
Cross-browser compatibility
Pre-made themes with customisable parts
Multi-currency
Mobile-optimised
Online chat functionality
Cons
It may not be suitable for other types of businesses
7. Ella
An all-in-one Shopify theme with multiple skins, product pages, header and footer options, and lots more to choose from- that's Ella for you!
Thanks to its attractive templates, you can highlight the products while ensuring smooth UI/UX on your Shopify store. Since it is mobile-optimised, your buyers can seamlessly switch between devices to view your website without sacrificing the quality.
Also, despite having more than 99 layouts, the customisable content blocks will ensure your website looks fresh and unique, unlike any other Shopify store. Thus, Ella will allow you to create a web design that speaks for your brand!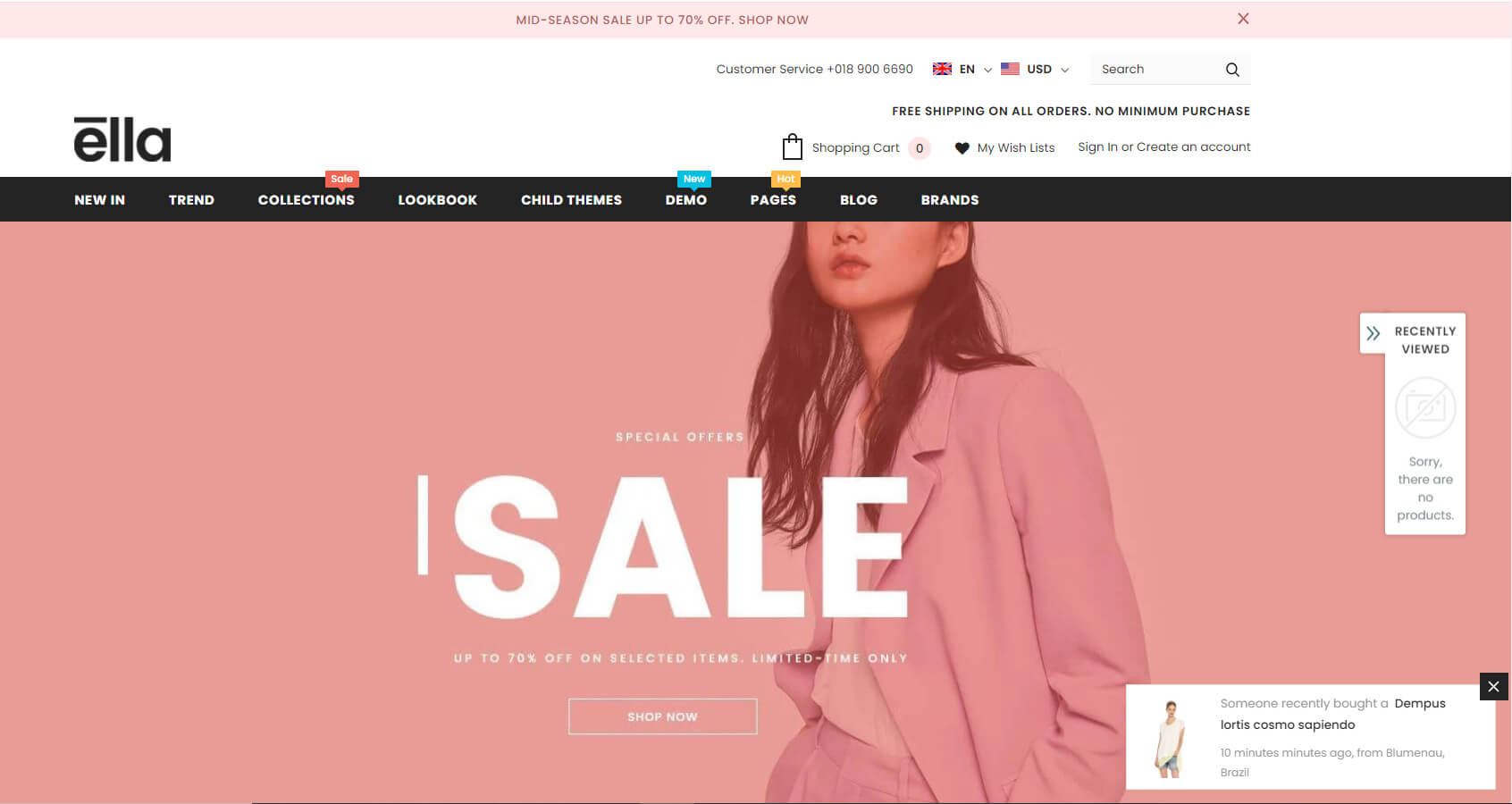 Key Features
A. Regular Updates
Ella is always ahead of Shopify updates, so rest assured that you will stay on trend in technology and aesthetics. Some newer skins have made it difficult for active users to stick to their original choice!
So, regarding updated features, Ella is one of the best Shopify themes.
B. Drag-and-drop Customisation
Customisation is always a priority when looking for Shopify templates, and Ella delivers in this aspect, too. Even with many eye-catching layouts and templates, you can customise content blocks to create a unique website for your online store. We especially liked the mega menu builder for product filtering and the lookbook feature to create product collections.
C. Drop Down Shopping Cart Menu
Another unique feature of this great Shopify theme is the drop-down shopping cart, allowing buyers to check everything they are about to purchase. This way, they won't have to go back and forth while shopping and removing or adding items from the cart.
Pros
Fast and responsive
Ideal for fashion products
Smart search and suggestions
One-click installation
Frequent theme updates
Cons
Complicated backend interface
Inadequate customer support
Responsive and retina-ready, Foodly scores high among the best Shopify themes in UI/UX and loading time. Thus, it is no surprise that this Shopify theme for grocery shops is exceptionally SEO-friendly, complete with social media integrations.
With basic image settings and customisation options, Foodly serves simplicity at its best. However, that does not mean your site will rank poorly for useful features like stylised default emails, mega menus, etc.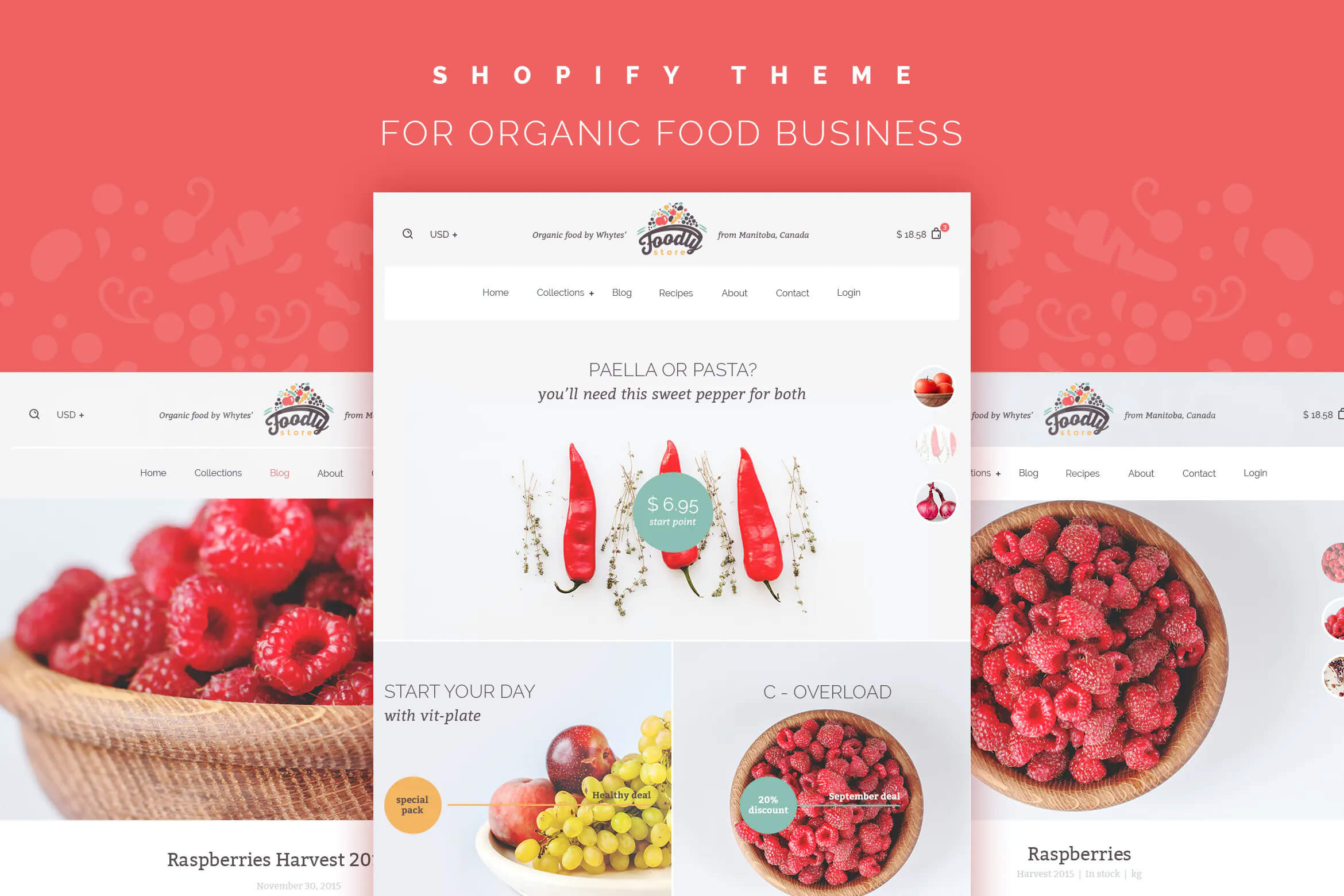 Key Features
A. 1-click Installation
We know no one likes waiting, so Foodly is ideal if you need to get an online store ready on short notice. With the in-house Shopify theme installer, you can upload the demo, adjust the content blocks, and launch your website without a sweat.
And in case you're wondering, you don't need to have any design or coding knowledge. Thanks to Shopify templates like Foodly, designing a website is no more rocket science!
B. Informational Documentation
Foodly is accompanied by massive documentation containing all you need to know to get started. Of course, these will be particularly useful for beginners looking to learn and grow with their online store. Additionally, marketing guides are available for experts and those who have been in business for a long time.
C. Prompt Customer Support
Roadblocks are bound to happen, even in the best Shopify themes, and nothing works better than a ticketing system that ensures you get help as soon as possible, enhancing the site's index potential. Thus, the Foodly team is as responsive as the theme itself!
Pros
Mobile-first design approach
Fast loading speed
Responsive and SEO-friendly
Integrations with useful apps and plugins
Impressive customer service
Cons
It May was not suitable for other types of businesses
If you are a beginner looking for a fashion-focused theme, then Yanka is the best Shopify theme. Thanks to its stylish homepage layouts and exceptional customer service, this multipurpose Shopify theme boasts more than 60,000 customers.
Like the previously mentioned Shopify themes, Yanka also saves you from additional expenses on apps for features like a mega menu that you can share with your team, quick product view, related products, etc. You'll also enjoy the new skins every week, which will be stunning yet easy on the eyes.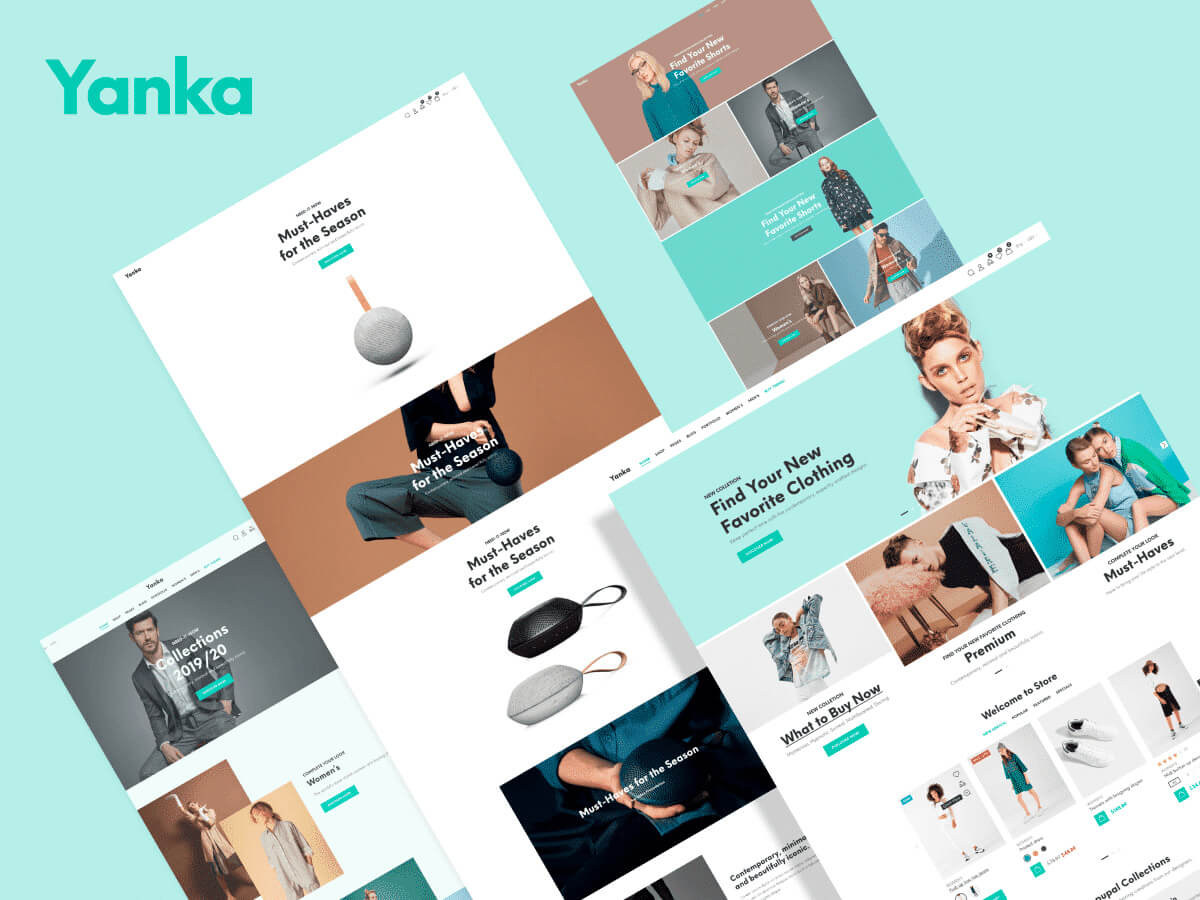 Key Features
A. Single Product Store Layout
You can create a website that puts your product in the spotlight with multiple modern and stylish templates to choose from. Further, you can select from numerous listing styles, product page layouts, header options, etc.
B. Dynamic Buttons And Other Content Blocks
Yanka is jam-packed with unique and valuable buttons for checkout, banners, product configurations, colour swatches, etc. These content blocks add more value to your online store and are designed with the customer's mind, offering a more responsive design.
C. Catalogue Mode And Portfolio Functionality
Besides offering various product filtering options, Yanka allows viewers to check out your content in catalogue or portfolio form. There will be no prices and buy buttons- just a good look at your products.
This is especially useful if your products are divided into different collections (designer collections, seasonal collections, etc.) so your product images can form a cohesive catalogue.
Pros
Multiple content blocks for customisation
Ideal for fashion stores
Integrations with SNS and other required apps
The seamless live search option
Fast performance
Cons
Some features may be complicated for beginners
Relatively fewer customisation options
Another premium Shopify theme wins brownie points for its stylish design. You can choose from more than 99 pre-built pages, each highly customisable with full-width sliders, video players, product quick view options, and more. Plus, it is suitable for both multi-product and single-product Shopify stores.
Those who want to try web designing but don't have any knowledge or experience can check out the page builder tool. So, not only can you design your website from the pool of attractive templates, but you can also create new content blocks, present a unique colour scheme, and lots more.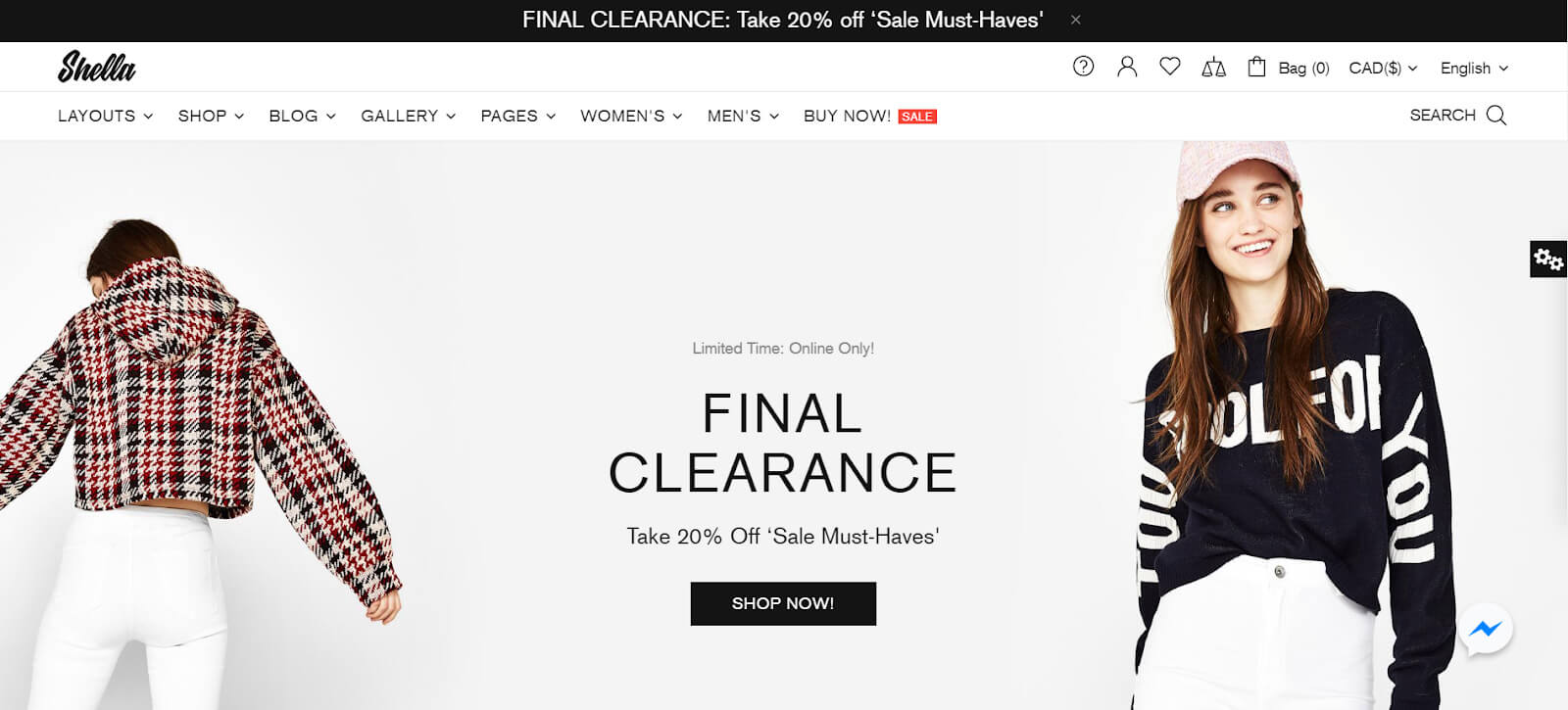 Key Features
A. Dropshipping Ready
Dropshipping is never possible without a brilliant strategy and a good internet connection. While the latter depends on your internet service provider, Shella is a multipurpose Shopify theme for executing your ideas and catalysing the customer's impulse to purchase online.
Thanks to its integrations with renowned suppliers like Dropified, Shopzie, and Privy, Shella is ideal as one of the adaptable shopify themes for SEO.
B. Sales Boosting Features
Besides making your eCommerce website look stylish and professional, Shella offers a range of SEO-friendly tools and add-ons. For instance, an optimised product page seamlessly resizes the images and text according to your device.
And unlike other Shopify themes, Shella does not rush you into buying the product. You can check out different colour swatches, take advantage of the AR view and image zoom popup, and then check out or add the product to your wishlist.
C. Different Types Of Product Filtering
Sometimes, buyers don't have the time to go through every product to find the right one. When filtering tools like the mega menu builder, multi-level navigation menu, etc., come into the picture. With the help of these settings, viewers can segregate the products based on price, colour, vendor, etc., making their shopping experience easy and quick.
Pros
boosts visibility on search engines and sales
Wide variety of product filters, UI/UX elements, and other custom tools
Review slider for customer testimonials
Fast performance
Cons
It may not appeal to non-clothing brands
Finally, we've got yet another multipurpose and responsive Shopify theme you can use for any niche and product. Goodwin offers 14 pre-designed Shopify themes and more than 50 templates for you to experiment with. Thanks to the drag-and-drop page builder, you can use many highly customisable widgets.
We also like how the theme allows you to choose between dark and light modes and other advanced features. From full RTL support to the Google Rich Snippets tools, Goodwin ensures your eCommerce website gets the best functionality at an affordable price.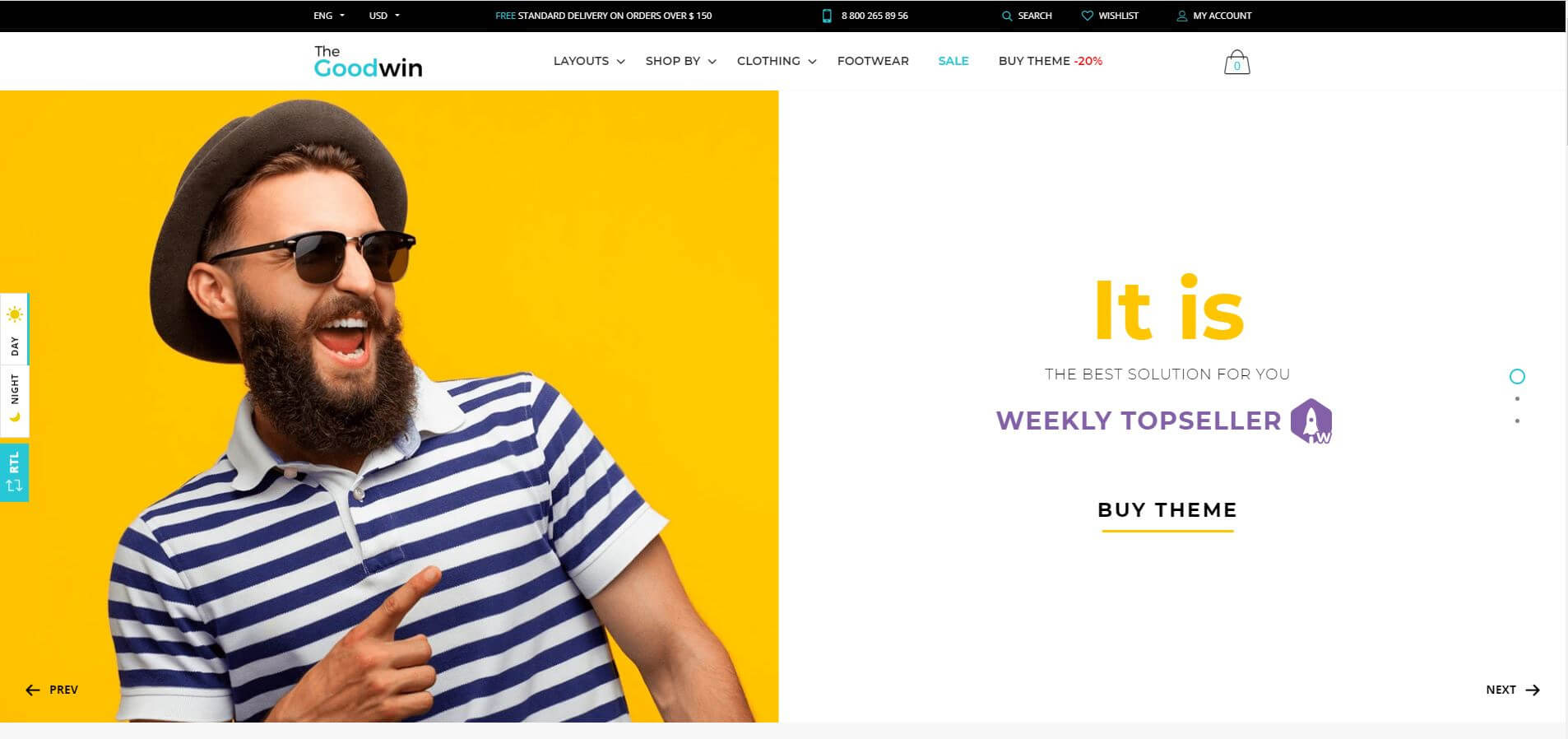 Key Features
A. Various Visual Builders
Variety is the spice of life. So, it is understandable if you quickly get bored of one eCommerce theme and like changing some parts now and then. And doing so is super easy and fun with various visual options on Goodwin. Your product will be prominently showcased at its best, from sliders to the left/right columns!
B. Multipurpose
Since there are so many different templates to choose from, Goodwin makes an excellent Shopify theme for any online shop. Be it clothing, toys, electronics, or grocery, this theme offers versatility and responsiveness that will make your eCommerce website a hotspot among shoppers.
C. Superb Customer Support
Prompt customer support is crucial to provide assistance when facing technical glitches. Although such roadblocks are hard to avoid, rest assured that the technical team has got your back. Most customer testimonials on Goodwin are about the impeccable support team.
Pros
Compatible with Bootstrap 4
Multipurpose and responsive
Advanced mega menu builder
Wide variety of designs with customisable elements
Prompt customer service
Cons
Relatively slow loading speed
How to Choose and Save on The Best Shopify Themes?
Shopify is popular because of its ease of use, affordability, security, and scalability. With tonnes of paid and free themes, online store owners will never fall short of attractive website templates and designs.
And considering how changing themes or editing the current Shopify theme won't tamper with the content and engagement, you can go wild with creativity and make your brand stay in trend. However, there are certain factors you must consider before selecting the best Shopify theme for your store.
1. Prioritise Your Requirements
This goes without saying, but every design tells its own story. Beginners often choose simple Shopify templates based on the latest trends, completely ignoring what they prefer for their brand.
In addition to the basic features, filter through the best Shopify themes accordingly if your online store requires other tools (like a video player, image zoom popup, and more), integrations, etc. You need not pay much attention to the design and style at this stage, so shortlist some Shopify themes solely based on your preferences.
However, as your business grows, so should your website. A Shopify theme is a great way to start when you are on a budget, but when it is time to upscale, it is best to look at custom design options for your website for maximum performance, SEO results and conversions.
2. Set A Budget
As you may have noticed on our list of the best Shopify themes, the price of each theme varies to a large extent. A Shopify theme's price is usually determined by the experience and qualifications of the developer, the level of customisation and functionality of the theme, and the additional features included (if any).
Thus, don't shy away from splurging on a high-quality theme that may be expensive. It will prove to be a valuable investment in the long run. However, remember that a higher price does not always mean better quality. So, check the theme description and customer testimonials, read between the lines, and use the free Shopify theme trial period, if any. If you have an attractive budget, we recommend looking at custom web designs options rather than a template.
3. Select A Style
While incorporating SEO best practices will help you attract viewers in the first place, your product and style are crucial in retaining customers. Of course, we don't mean to judge a book by its cover, but your website speaks volumes about your Shopify store.
Hence, create an attractive homepage with eye-catching or soothing colour palettes- whatever matches your brand image. But be sure not to go overboard. After all, less is more, so the end product should be a minimal and professional brand website that looks good and is easy to use and navigate.
4. Prioritise Mobile-friendly Shopify Themes
When designing a website, we instantly imagine what it should look like on a desktop. But for most viewers browsing on mobile devices, opting for a mobile-friendly responsive Shopify theme is crucial.
We suggest a lightweight theme that will ensure fast loading speed and high performance on any device. However, light templates often cut down on additional custom elements like animated headers, fancy scrollers, etc.
5. Filter By Niche
Any Shopify theme will be useless if not designed for your niche. For instance, choosing Foodly for a fashion store or Ella for a grocery store will result in an inefficient online shop, even if you add extra elements. Those themes are not meant to handle specific kinds of content, functions, and traffic.
So, be extra cautious in this step if you want to make the most of your Shopify theme. Simply select the "Industries" tab on Shopify and check the top picks to choose the best Shopify theme for your store. Note that some of the best Shopify themes are multipurpose and flexible so that you can use them for any type of Shopify Theme store.
6. Opt For Optimised Checkout
If the checkout process is too complicated, there's a high chance of the customer deciding to leave without purchasing anything from your store. Hence, it helps to choose a Shopify theme that ensures easy and smooth checkout via dynamic buttons, multi-currency features, etc.
What Shopify Theme Is The Best?
With the growing number of online stores and the appearance of your site, it takes a lot for any eCommerce website to mark the industry. But choosing the best Shopify theme will help you kickstart on a great note!
We recommend that you only use a Shopify theme to start your business. Larger businesses or companies with a bigger budget should opt for a custom-built website. So, you can work with your web developer to build your unique site without being restricted to the design elements of the theme you have purchased. And it also holds a much higher authority than Google.
The best Shopify themes also need to be updated and sometimes run into problems due to the plugins not integrating, among other software issues. As a precaution, you should only use a theme for a short timeline with plans to build a website in the future.
The sitecentre® team has many years of experience designing custom-built websites and optimising Shopify themes and SEO. Please contact us if you need assistance with your Shopify store or eCommerce website!
So, take your pick from the list above and let your creative juices flow.