Every business owner will find their own website builders helpful in building an online presence for their newly set up business.
With various templates to choose from to suit your business, they are the next best alternative to custom-built websites, which allow you to personalise every component and stand out from your competitors.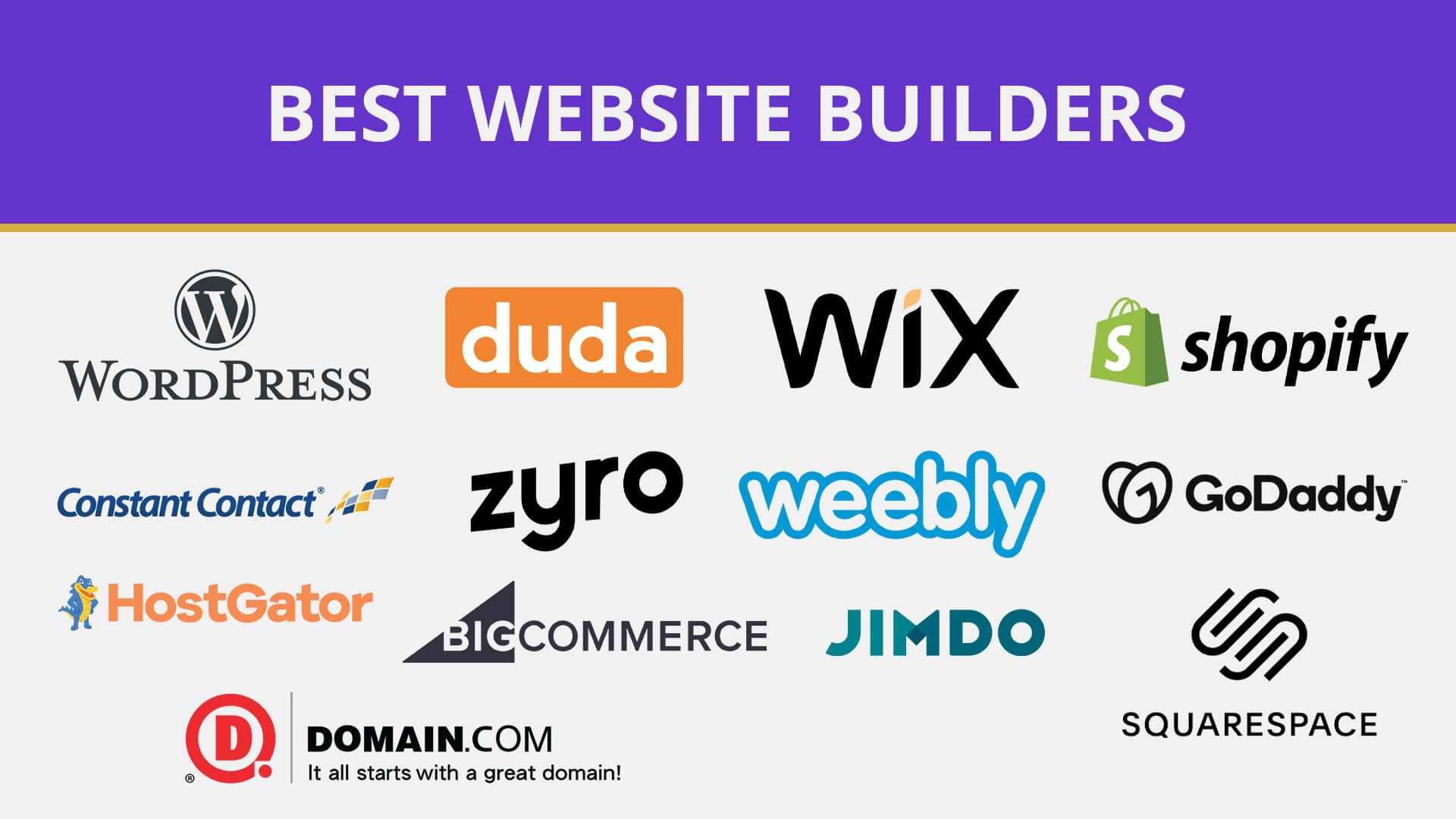 It's not easy to choose the right website builder platform from the list of excellent site builders available today. That's why we've curated this comprehensive guide, where We'll highlight the 13 best web builders in detail. We'll provide you with detailed payment plans and the pros and cons of each website builder to help you make an informed decision.
We will also discuss the crucial features Australian website builders must have to be deemed fit as the ideal option. Some of these features include customisation options that can help you create a visually stunning website that perfectly portrays your business objectives.
But before that, let's understand what types of websites the best website builders can create.
Here is our list of the 2024 best website companies for small business:
Types Of Sites That Website Builders Can Create
Website builders provide you with templates for a variety of industries and fields. You have to choose one and add your images and text. There's no need to start from scratch, making it easier to achieve desired results. However, unlike a custom-designed website, you will be doing most of the work yourself.
Website builders are ideal for stores online, photographers, small businesses, hotels, clubs, and associations. However, the sites that need a database, such as job boards and real estate listings, aren't easy to build with templates.
You'll need different tools and sufficient time, so using a website builder like WordPress would be your best bet. But that's not the only option, so let's look at the factors that will help you choose the best website builder for your business.
Factors To Consider While Choosing The Best Website Builders
Choosing a website builder is risk-free; however, you must look into a few things before choosing. Here, we'll highlight a few factors to help you choose the perfect website builder for your project.
1. Free Trial
A few Melbourne website builders usually ask you for your credit card details to run a free trial; refrain from considering them. Instead, opt for a website builder that offers free plans with a few limitations or at least a money-back guarantee.
2. Pricing
Next, make sure you check the pricing policy of the website builder. It's better to opt for free website builders that offer free domains, SSL, email, and eCommerce features. But if that's not possible, look for the details of the pricing plans. Also, make sure you consider the extra costs for each provider before investing in a plan.
3. Customer Support
The site builder's customer support is worth checking out before committing to a prepaid plan. Most providers guarantee 24/7 support to answer your queries and concerns via phone, chat, forum and other mediums to ensure a seamless user experience.
4. Domain Name
You should be able to connect the domain names purchased from elsewhere, even if there's an option to directly register a new domain with the website builder.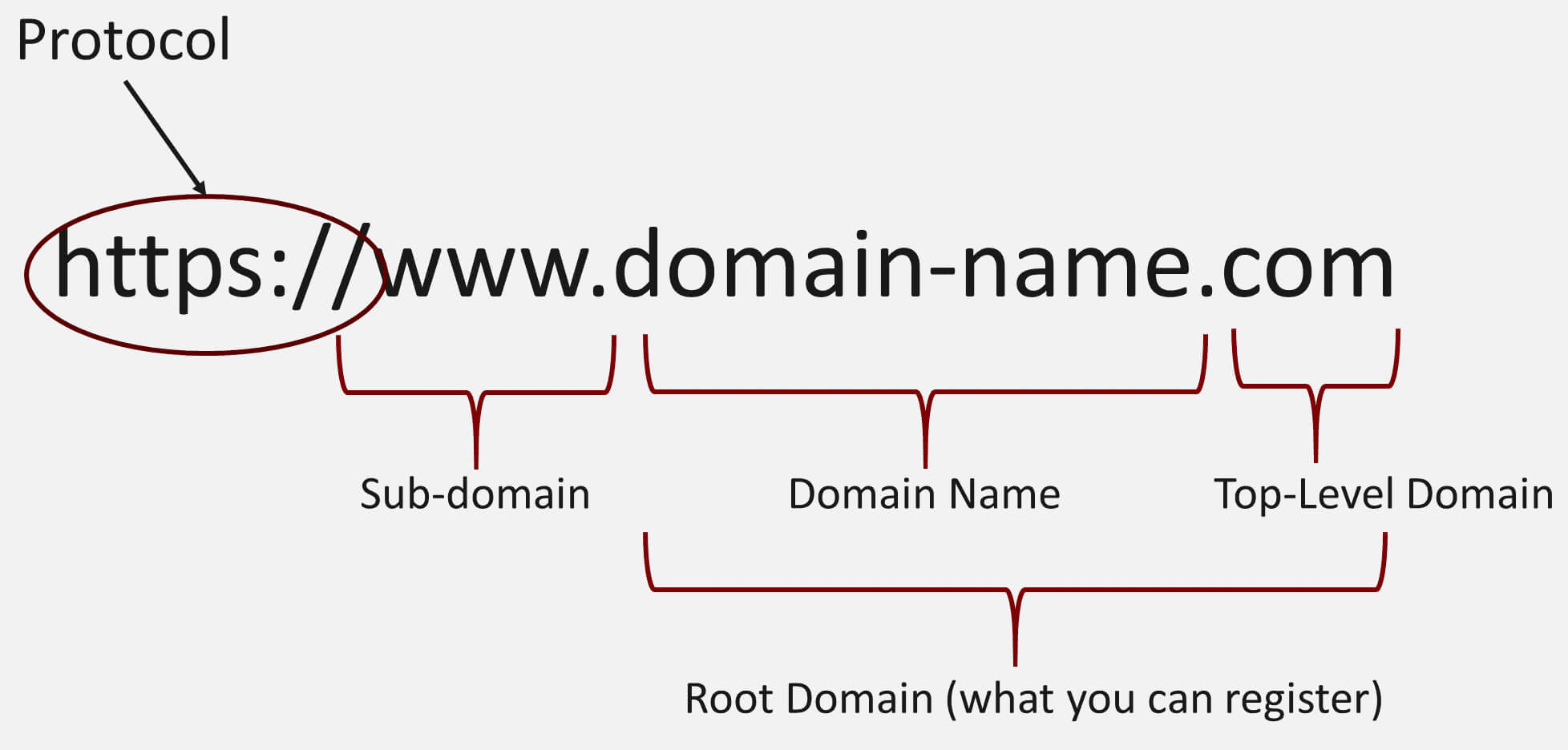 5. Features It Offers
Your needs will vary from project to project, but there are a few standard features that you may look for while deciding on a website builder for your big or small business. These include a suitable blogging system, customisable SEO options, image galleries, design templates and a shopping cart.
6. Ease Of Use
Make sure you go for a user-friendly website builder that offers design flexibility, especially if you're a beginner. It should come with features like a simple drag-and-drop and easy customisation options to help you create a site that fits your business. The inclusion of suitable editing tools will also be of immense help.
7. Portability And Data Ownership
Pay attention to the site builder's terms of service to ensure that you have complete ownership of your website data. It should also be portable, allowing you to switch when needed.
8. Email Address
If you're a new business just starting your website, you'll require an email account and a custom domain name. So make sure to use website builders that can provide you with that.
9. Search Engine-Friendly
The best website builder Australia is search engine-friendly. It will help your website content rank higher in search results and be crawled by search engines for target keywords. As such, it will attract your target audience more effectively.

Infographic thanks to 99 Media Lab
You may build a website without investing a penny in it, but that may make your site look unprofessional. We'll now look at the best website builders Australia you may consider using if you are not opting for a custom-designed site.
Our list also includes a handful of the best website builders, offering free payment plans; however, it's essential to choose a website building platform that best meets your requirements.
1. WordPress
Most websites ( more than 39.5% of all sites) run on WordPress, one of the world's most popular and extensively used open-source content management systems (CMS). The reason for this is its scalability and the convenience it offers. In our opinion, it's the best free site builder that gives you maximum control over your site compared to other website builders out there.
It's available in two versions, i.e., wordpress.com and self-hosted wordpress.org, which are even more popular and easy to use than the former. Plus, it's more flexible and adaptable to other versions, making it perfect for small businesses.
On the other hand, wordpress.com comes with pre-installed plugins, dedicated customer support, website hosting services, and themes.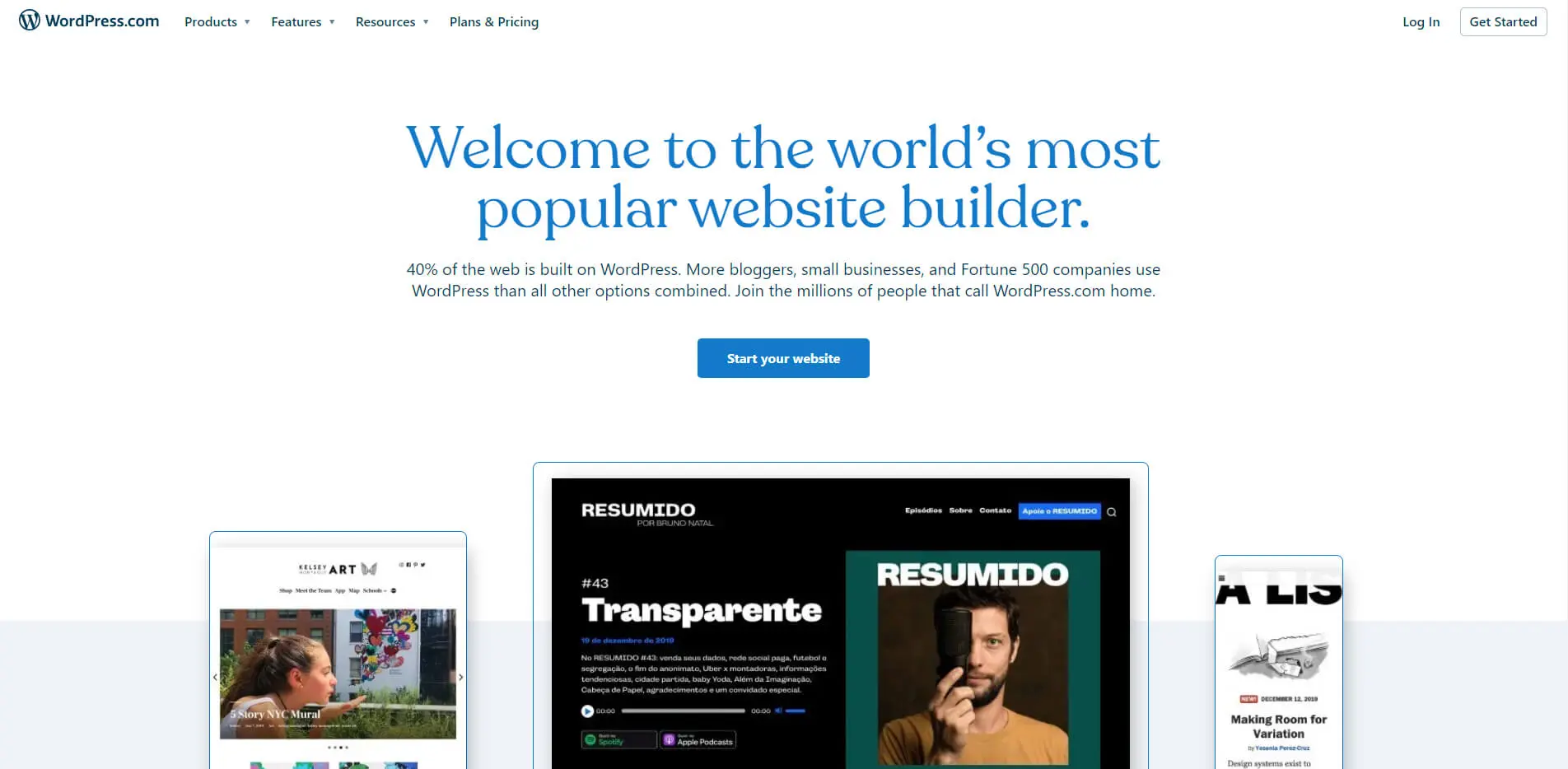 What Did We Like?
With WordPress, you get complete control over your business website to build an online presence. It can be used to construct any website, be it a membership website, community forum, eCommerce site, landing page, social network, etc.
The best part is choosing from the array of high-quality predesigned WordPress themes to create your website design. Then there are the drag and drop builders, including Divi, Beaver Builder, and SeedProd. These page builders will allow you to create your very own page layouts.
What's more, WordPress gives you access to over 58,000 free pre-installed plugins. They help add functionality and features to the site, such as Google Analytics, contact forms, live chat, social media tools, CSS customisation, shopping cart, etc.
It also comes with free SEO tools to help your website get the highest rankings in SERPs. No wonder big brands like TechCrunch use WordPress to build their brand name online. It optimises your website content to reach the target audience, improving conversion rates.
This website builder comes with many resources to help build your business website.
For these reasons and more, WordPress is the number one content management system (CMS) and site builder for web developers, business owners, designers, and bloggers.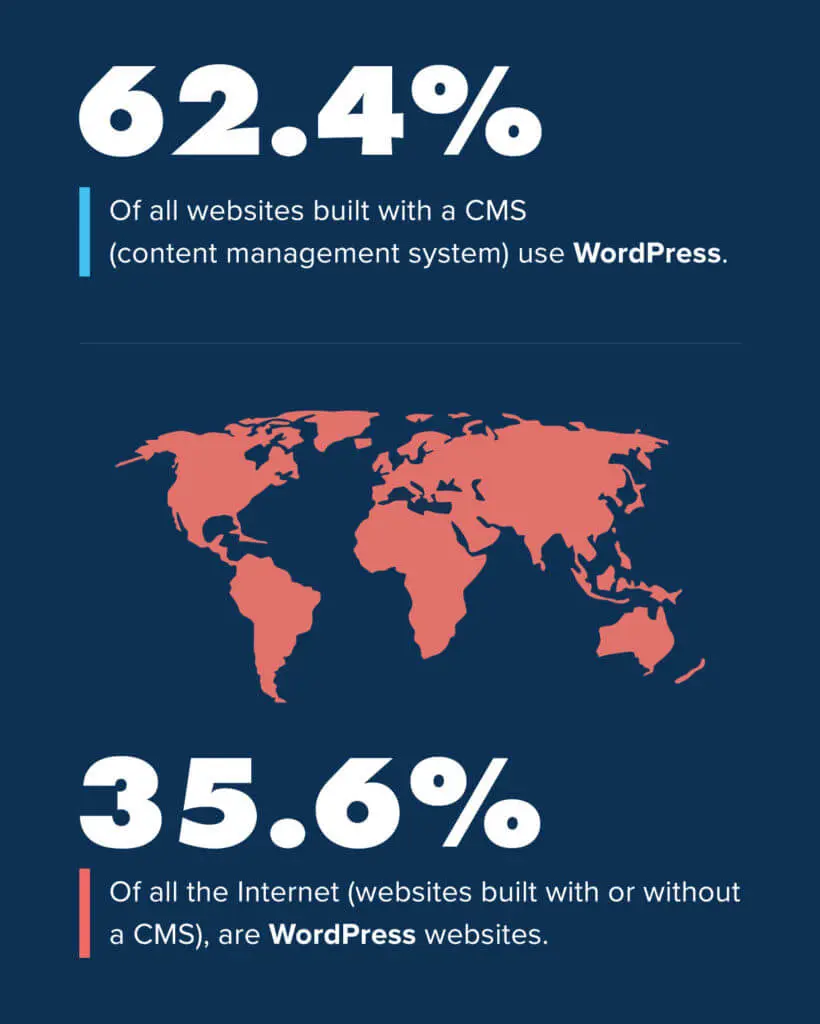 What Can Be Improved?
Despite being the best free website builder, WordPress has a few downsides. For starters, it takes some time to get used to its new system. Undoubtedly, the users will overcome the learning curve, but it will be challenging for beginners. The two separate editors overlap the responsibilities, confusing new users.
You'll also have to keep creating backups and looking for plugins and WordPress updates. Some of these must be done manually, further adding to your do-to list. However, this can be solved by using managed WordPress hosting.
This will allow you to concentrate on building your business while someone else takes care of the technical aspects of your website.
Pros:
Ideal blogging platform
Includes free SEO tools
It comes with pre-installed plugins and themes
It gives you complete control over your business
Helps create page layouts
Cons:
Confusing for beginners
you'll have to keep up with updates
WordPress Payment Plans
Although WordPress is a free website builder offering the best free plan, you'll have to invest in hosting services and a domain name to get your site to go live. This will cost around $7.99 per month and $14.99 per year.
You can also opt for special deals curated for beginners, which will help you create a website for just $2.75 per month with the official hosting provider recommended by WordPress — Bluehost. It offers WP users up to 60% off on website hosting services, including free domain names, SSL certificates, excellent uptime, and 24/7 customer support.
There's no denying that this particular pricing policy makes WordPress one of the most cost-effective website builders for small businesses. Plus, it works with popular and recognised web hosting services, making it a reliable option to consider.
2. Wix
Next is a famous cloud-based website builder that's been around since 2006. Wix comes with valuable features that make website building simple and easy. And if you ask us, it's the best overall website builder with an unstructured editor, making it stand out from its competitors.
What Did We Like?
Wix is a hosted platform, meaning you won't have to spend money on website hosting. Plus, it comes with over 500 templates, more than most website builders. You have to select one based on your requirements and then replace its content with your own. Each template is entirely editable with its drag and drops feature.
You may also use the Wix artificial design intelligence (Wix ADI). It will help you design a beautiful website easily within no time.
You'll be pleased to know that Wix comes with a wide range of free and paid apps that can be easily installed on your site. Using these apps, you can add functionality and new features to your website, which Wix and other third-party web developers create.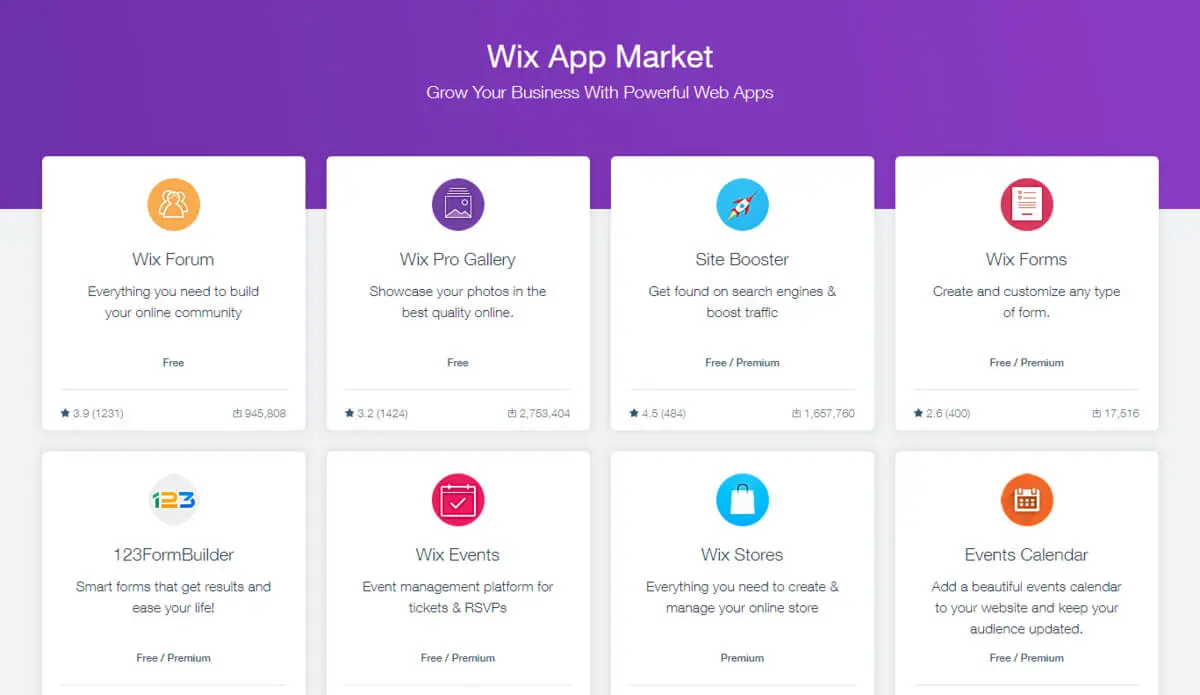 You'll get limited storage and bandwidth with the free plans offered by this site-building platform. However, these plans can test out the drag-and-drop website builder. Just keep in mind that they don't include domain names, so you might have to upgrade to any of the premium plans to keep the website running.
Wix also offers free SSL certificates with all its plans; you need to turn them on.
What Can Be Improved?
If you choose Wix's free plan or connect domain plans, branded ads will be shown on your website. You'll have to upgrade to the unlimited or combo plan to remove them.
Furthermore, you might find moving your website away from this platform challenge. Even the templates are challenging to change once you've made a selection. Business owners will have to keep adding content to make their websites look different.
This is a drawback, significantly, if the site expands, and you'd want to include additional features later.
Their premium plans are relatively expensive, only allowing you to connect to custom domain names. You'll have to buy a domain name separately, so Wix isn't ideal for small businesses.
Pros:
Over 500 themes
Variety of features
Includes free and paid apps
Drag and drop builder
Easy to use
Cons:
Not easy to move a website away from Wix
Less than ideal for small businesses
Wix Payment Plans
Wix's free version gives you limited free plans with branded sub-domains. You may even connect to a domain for $9.16/ month, while its combo plan starts at $14.95 per month. On the other hand, it offers eCommerce plans for digital stores at $26.25 per month.
3. Constant Contact Website Builder
The intelligent AI-powered Constant Contact website builder helps small business owners set up their custom sites within minutes. It's also one of the best email service providers and is very easy to use. You have to type in your Facebook business page URL, and its AI tool will begin generating your website content instantly.
You may then customise the pages and web design as per your preference. Constant Contact also recommends the best images and texts to help you out towards the beginning. You may even write your content and design the website using its intuitive drag and drop feature.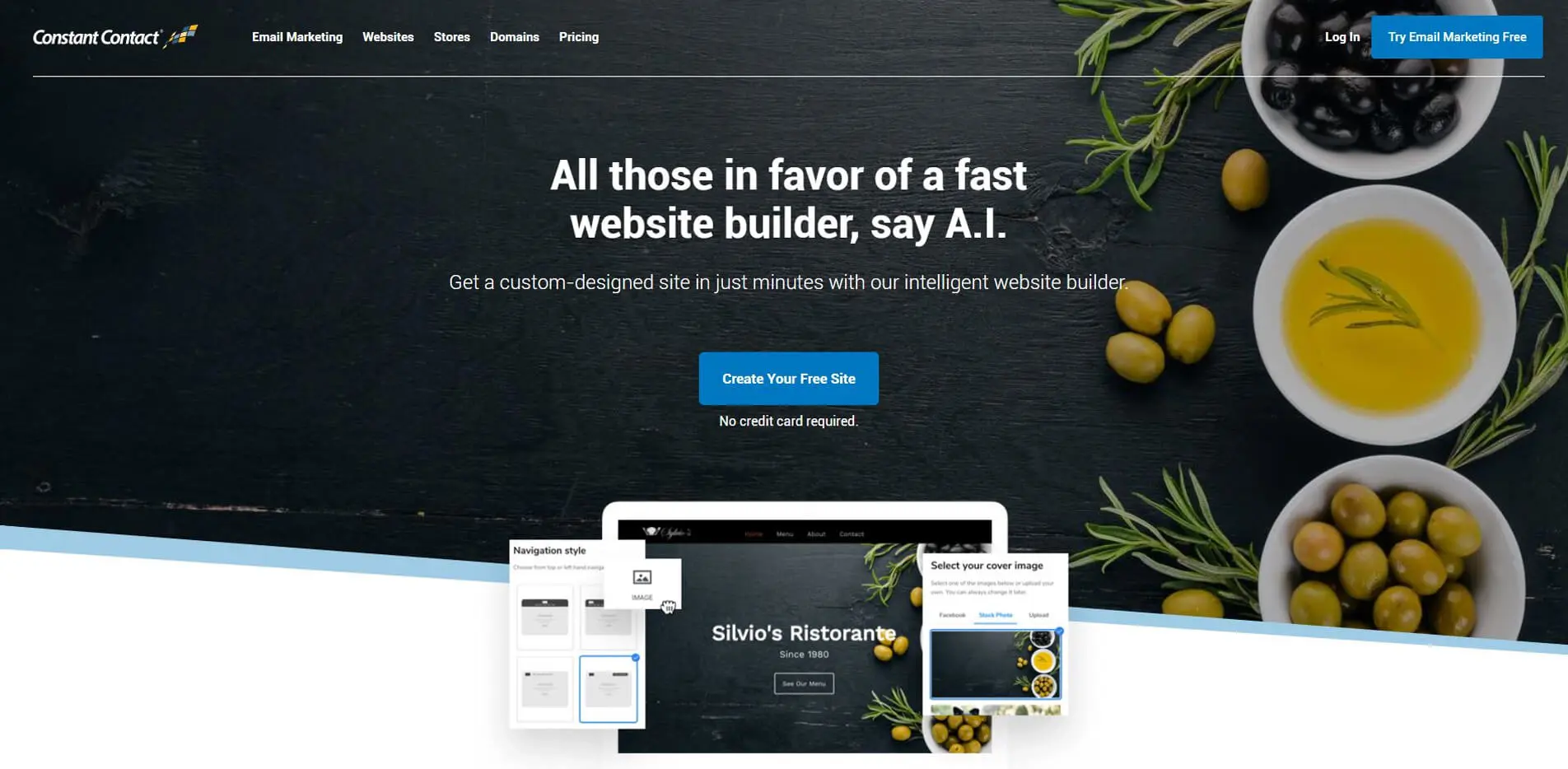 What Did We Like?
Without a doubt, Constant Contact is the best website builder for small businesses. Anyone can use it to build a professional-looking site for their business. It's a mobile-friendly website builder software that does not require HTML code.
The ADI wizard will help you create your custom and responsive web design by suggesting personalised content and images. You can then customise your site and create page layouts using its drag-and-drop feature. Constant Contact comes with a built-in library of over 550,000 professional-quality images. These images are free and help in making your website look aesthetically appealing.
This hosted web solution makes it one of the most hassle-free website builders. It also offers 24/7 customer support via phone and chat, making it ideal for every small business.
Looking at its features, Constant Contact comes with a list of features adding to your convenience, including lead capture forms, a logo marker, eCommerce tools, web analytics and more. The best part is that it's one of the best free website builders.
You can use its free plan to build a website, logo, blog, or digital store. However, you'll need to upgrade to any of its paid plans whenever you're ready to go live or begin selling.
Websites created on Constant Contact load instantly because of their efficient content delivery network (CDN). This makes them SEO-friendly, thereby boosting search engine rankings for improved website traffic. Of course, the site will be extra secure with its free SSL certificate, which protects the website data from hackers.
What Can Be Improved?
Constant Contact comes with a relatively small developer ecosystem, meaning no third-party add-ons can be installed. You won't be able to add features that the website creator does not offer.
Furthermore, this website builder software's tools are newer than WordPress's. So if you wish to connect to a custom domain name, you'll have to invest in one of its paid plans, starting at $10 per month.
Pros:
Built-in library of quality images
24/7 phone and chat support
Includes a variety of features for custom design
Provides websites with security
SEO-friendly sites
Cons:
No advanced features in the free plan
It comes without third-party extensions
Constant Contact Payment Plan
You can use Constant Contact to add unlimited website pages at no extra cost. The free plan also allows you to create a digital store with three products. However, if you wish to get a free domain name and begin selling by making your site go live, you'll have to invest $10 or more per month in its paid plan.
If you wish to include email marketing tools in your campaign, consider the email marketing plans offered by the platform. They come with all the website-building features, including advanced marketing automation.
4. Gator Website Builder
Another popular online website builder software is Gator, created by one of the largest and most reputable web hosting providers out there — HostGator. It's highly recommended for small businesses due to its simplicity and cost-effective pricing. With Gator, you can build a website for your business with just a few clicks.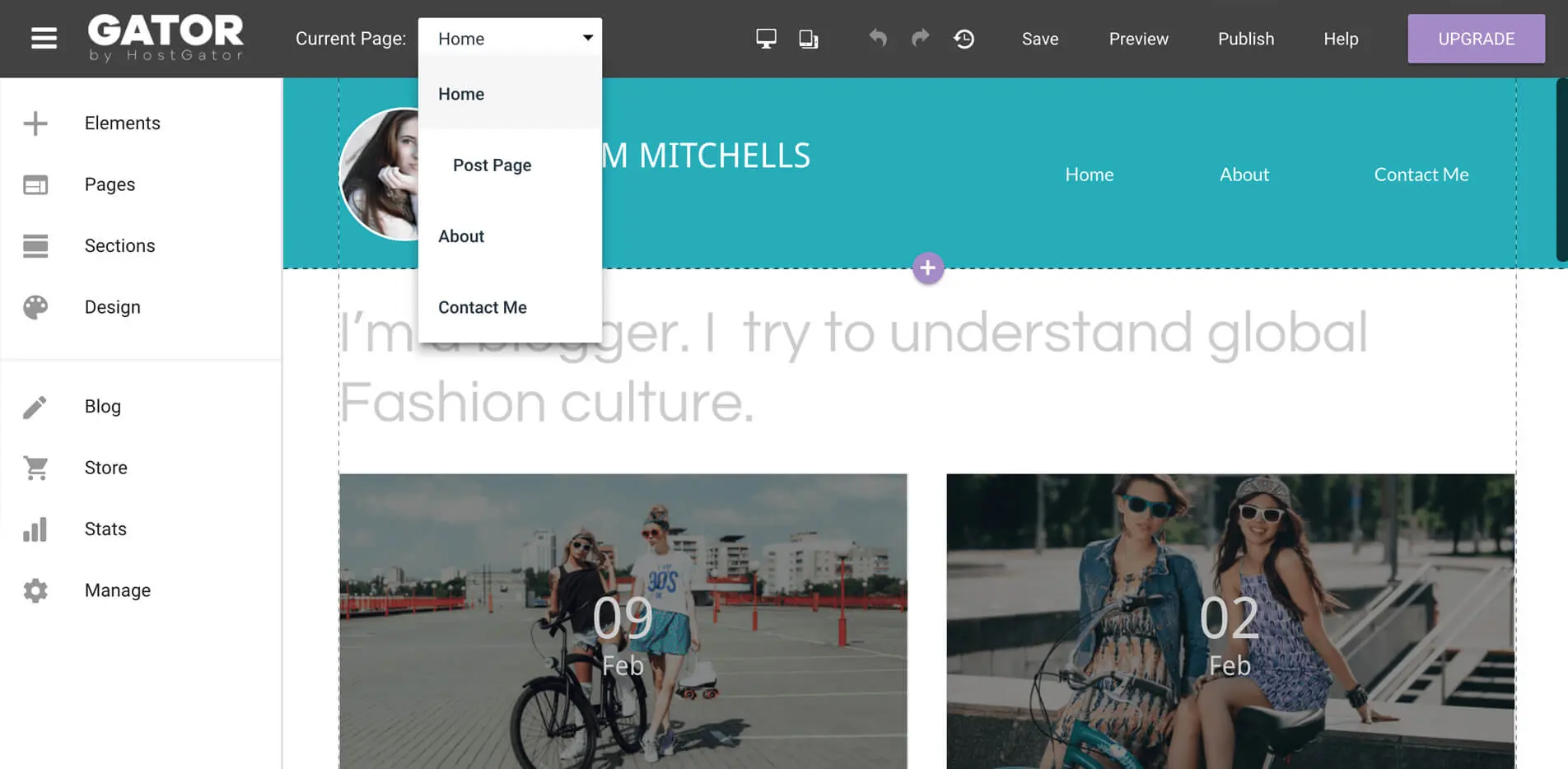 What Did We Like?
The best part of Gator is that it comes with no learning curve, ensuring ease of use for beginners. It's a web hosting platform, so there's no need to worry about backups and updates. You have to choose a theme from its library of over 200 professional web design templates. Then use the drag-and-drop feature to customise the site with videos, images, Google Maps, texts, contact forms, etc.
It gives easy access to its built-in photo library, where you can find and then add photos to your site. You'll also be pleased to know that all Gator's paid plans include free domain names, SSL certificates, free web hosting services, and web analytics for your websites. On the other hand, the eCommerce plan will allow you to set up online stores to sell products online.
Being a paid platform, Gator won't sell your website data or show ads on your site. Instead, it will help you rank higher in SERPs.
What Can Be Improved?
Gator is a paid website builder, so it doesn't come with any free plan; neither does it offer a free trial of its services. In addition to that, it doesn't provide any advanced features, and you won't even be able to hire a developer to help you add features and modify the web design. So, it wouldn't be suitable for those planning to open eCommerce sites with enhanced functionality.
Pros:
No learning curve
200+ design templates
eCommerce plans
Builds search engine-friendly websites
Cons:
No free plans or free trial
It doesn't include advanced features
Gator Payment Plans
Gator's paid plan is available at $3.84 per month, while its premium and eCommerce web design plans cost $5.99 and $9.22. As such, it's one of the most reasonable paid website builders available out there.
5. Zyro
Zyro, owned by Hostinger, is yet another affordable and efficient website builder, offering free website hosting with a drag and drop tool that makes it easy to use. It allows business owners to build a website without coding knowledge, skills or design.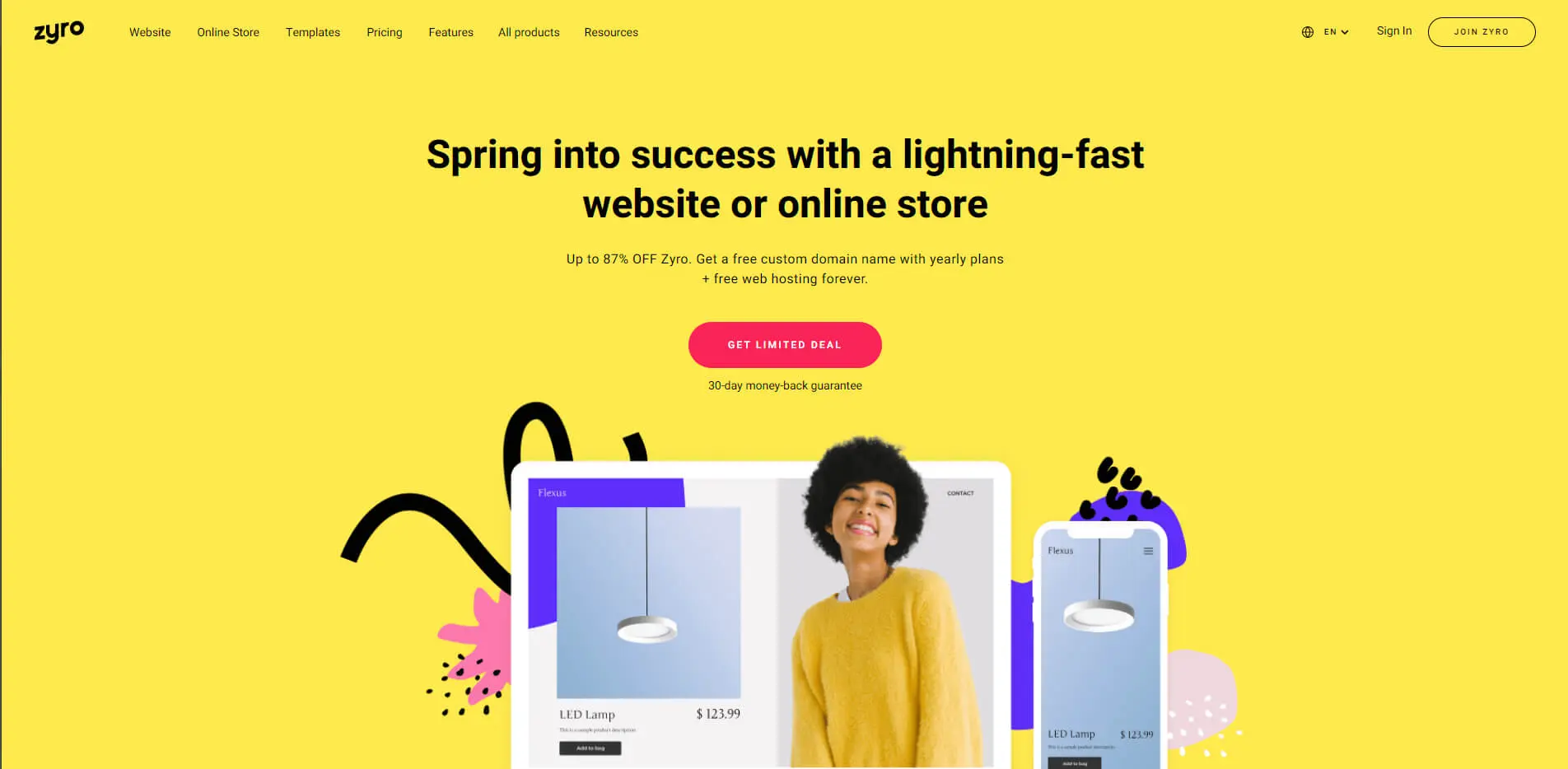 What Did We Like?
Zyro is an ideal option for both novices and professionals alike. It's equipped with powerful and easy-to-use web design tools that simplify anyone to build visually appealing websites.
It includes a logo maker, several predesigned website templates, and AI tools to help you get started. Zyro also provides access to more than 1 million high-quality free images.
The best part is that it's one of the cheapest website builder for small business, making it the perfect choice for artists and small business owners. Despite the affordable pricing, you get reliability and excellent uptime.
We also liked the plans this software offers. With the unleashed plan, you're provided with Google Analytics, visitor remarketing, Facebook retargeting and other marketing integrations. On the other hand, the eCommerce plans enable you to connect your online store with Instagram, Amazon, and Shopify.
You also get to accept payments online, add unlimited products, manage your inventory and offer discounts.
What Can Be Improved?
One of the minor downsides to using this simple website builder is that you won't easily switch templates after choosing. It's also important to note that Zyro lacks add-ons and third-party integrations as it's not an open-source website builder.
Even the starter plans don't include free domain names and are limited in their features. For instance, it offers blogging features, but there's no way to schedule the blog posts. So it's not a true blogging platform.
Pros:
Easy to use
Provides access to 1 million+ high-quality images
Affordable pricing
Reliable with great uptime
Equipped with powerful web design tools
Cons:
Not easy to switch templates
No third-party integrations
Zyro Payment Plans
The basic plan of Zyro is available at just $1.89 per month, while the unleashed plan begins from $3.90 per month and comes with a free domain. You may also choose the eCommerce plan costing $8.99 per month, but the downside to this is that it's limited to only 100 products.
To gain access to unlimited products, you'll have to invest a bit more and get the eCommerce plus plan, costing around $14.99 per month.
6. Shopify
If you're looking for the best eCommerce website builder, you'll be pleased to know that Shopify is a popular and intuitive web building platform designed for eCommerce sites and online stores. It serves as a user-friendly and easy way to get your online store running; no wonder it has over 1 million active users.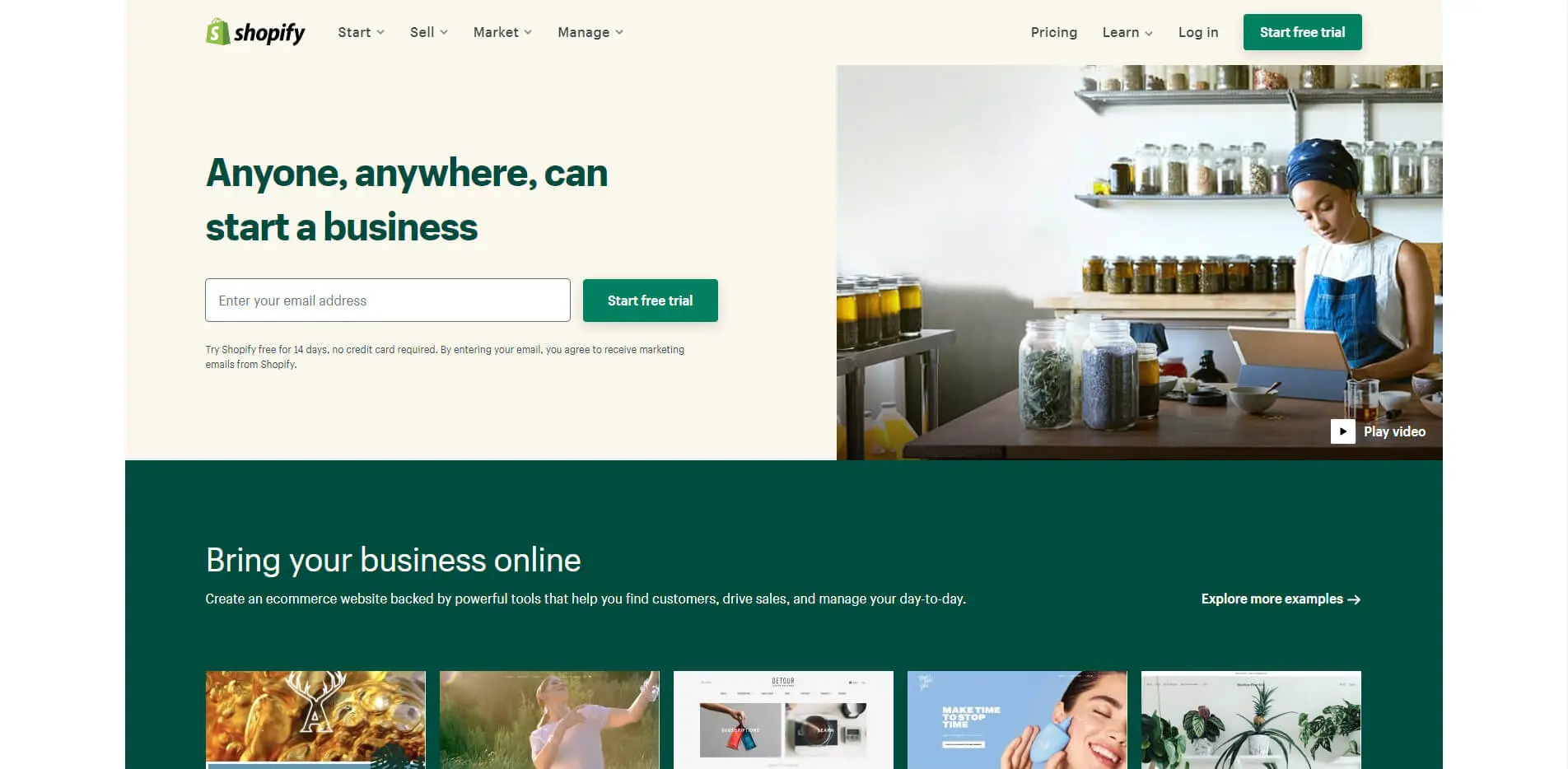 What Did We Like?
This is an all-in-one website building platform with web hosting services, so you need not bother about maintaining backups, installing updates or managing software. Simply allow Shopify to take care of all that; it comes with powerful stats, unlimited products, complete inventory management, and straightforward marketing solutions.

There are hundreds of web design templates to choose from, which will help you design and redesign your eCommerce website, making it visually stunning. You have to use its drag-and-drop interface to add texts and images accordingly. This also enables third-party web developers to use Shopify's apps and features.
Furthermore, it offers an integrated payment solution referred to as Shopify Payments. This lets you accept online payments via credit cards, but you may also use third-party gateways. That said, it's important to note that this website builder also comes with in-store POS solutions, allowing you to sell products at any particular location.
You may also integrate WordPress and Shopify to use both website builders to the advantage of your business or eCommerce store.
What Can Be Improved?
As a new business, you might find Shopify's payment plans higher than the other website builders like Wix and Zyro. It also comes with a learning curve, which takes some time to get used to. Even when you're thoroughly acquainted with the process, moving your eCommerce website from this platform will be challenging.
Pros:
Intuitive and user-friendly interface
eCommerce tools and functionality
In-store POS and integrated payment solutions
Drag and drop website builder
100+ web design templates
Cons:
Costly pricing
Learning curve
Shopify Payment Plans
Shopify's basic plan itself will cost you around $29 per month. If you wish to opt for an upgrade, you'll have to pay $79 per month, while the Advanced Shopify plan is available at $299/ month.
However, you could avail of the Shopify Lite plan, which is available at $9/month; it will enable you to add a "buy" button on any website.
7. Squarespace
Squarespace is another website builder designed to stand out in the market. It will give your business the recognition it needs by helping you build a professional website with its web design templates and a wide range of features. Squarespace is your best bet to create a visually appealing website for your business.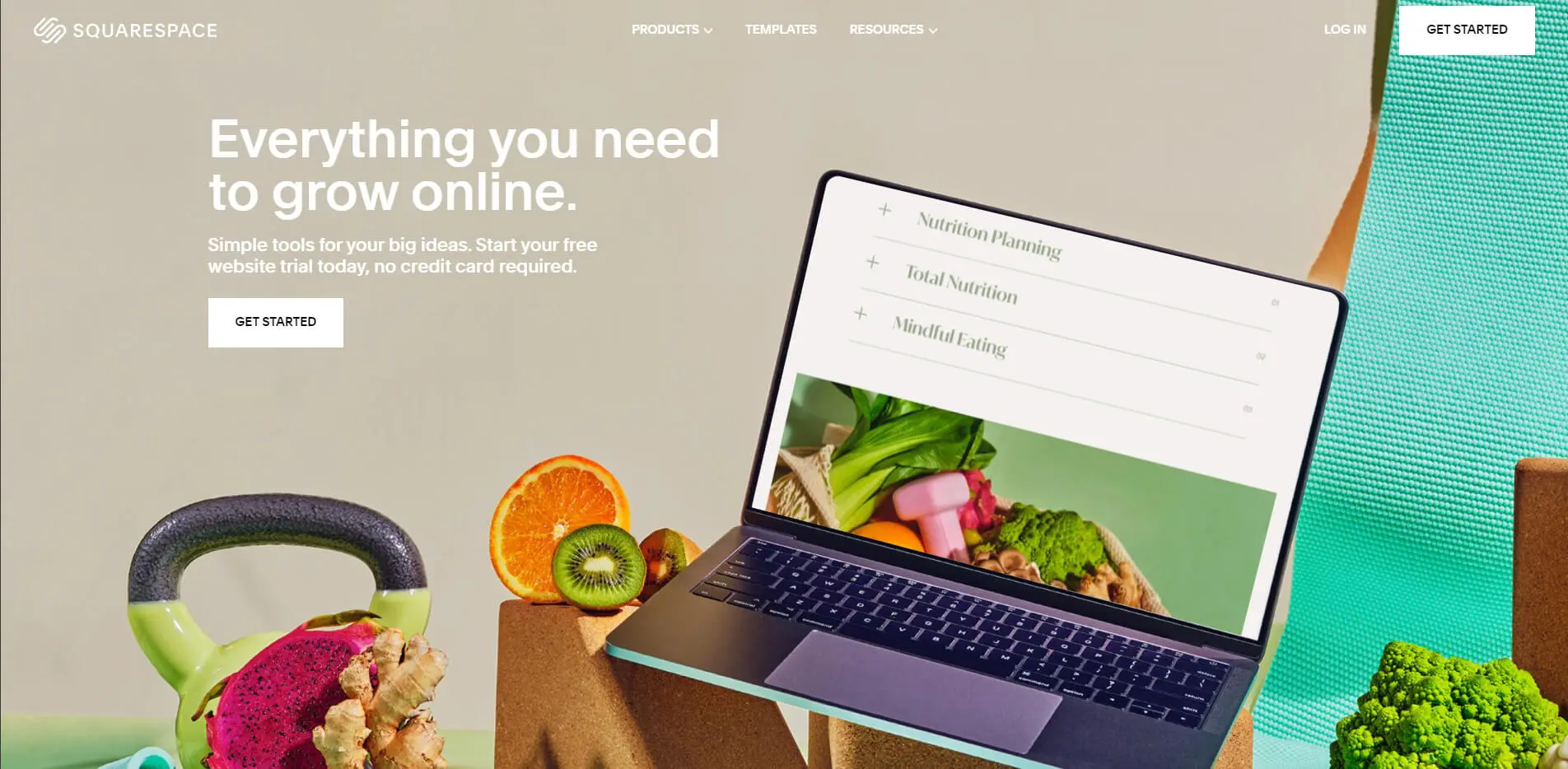 What Did We Like?
Squarespace can easily host your website, thanks to its enterprise-grade infrastructure. With this robust platform, you can grow your site without worrying about web hosting. And as we mentioned earlier, it comes with various designs to help you get started. These templates ensure design flexibility, allowing you to deal with all types of content, text, and images.
You can also edit them as per your preference, as they are completely editable. Plus, you get to use several templates for one particular website.
When adding content to your website, Squarespace makes this relatively easy. You have to point to any location on the website and begin typing. You can also create page layouts without using its intuitive drag and drop feature.
Furthermore, Squarespace lets you add an online store to your website by using its eCommerce plan. This gives you a user-friendly interface to manage orders, inventory, products, coupons, etc. Small business owners can access web analytics, SSL certificates, and other eCommerce features within its basic pack.
What Can Be Improved?
A disadvantage of using Squarespace is that it's not free. Even if you get a domain name, you'll need to pay a renewal cost after the first year.
Besides that, beginners will find a learning curve in building a site using this site builder. But you won't face much hassle as Squarespace's prompt customer support will solve your queries and concerns within no time, putting your mind at ease.
It's important to mention that this website builder only supports Apple Pay, Stripe, and PayPal for processing payments in the eCommerce plan. You won't be able to add more payment gateways.
Pros:
Variety of design templates t
It helps create page layouts with ease
Gives access to SSL certificates and web analytics
Offers the best eCommerce features
Ideal for medium to small businesses
Cons:
It comes with a learning curve
Limited payment options
Squarespace Payment Plans
You can avail of the essential services of Squarespace by opting for its base plans costing $12 and $18 per month, respectively. The $12 personal plan includes a domain, unlimited storage and bandwidth, while the $18 business plan offers a Gmail pro account, unlimited contributors, and eCommerce store-building features.
On the other hand, the "online store" plan starts at $26 and $40 per month. The $40 plan includes additional components, including gift cards and abandoned shopping cart recovery, enhancing the online shopping experience for customers. And the best part of the $26 plan is that it requires no transaction fees, adding to your overall savings.
8. Weebly
Weebly is a user-friendly website builder software offering great web designs and superior functionality. It allows you to create and edit your site without learning coding skills. As such, it's one of the most easy-to-use website builders that provides you with the option of downloading site files to shift to another web host when needed.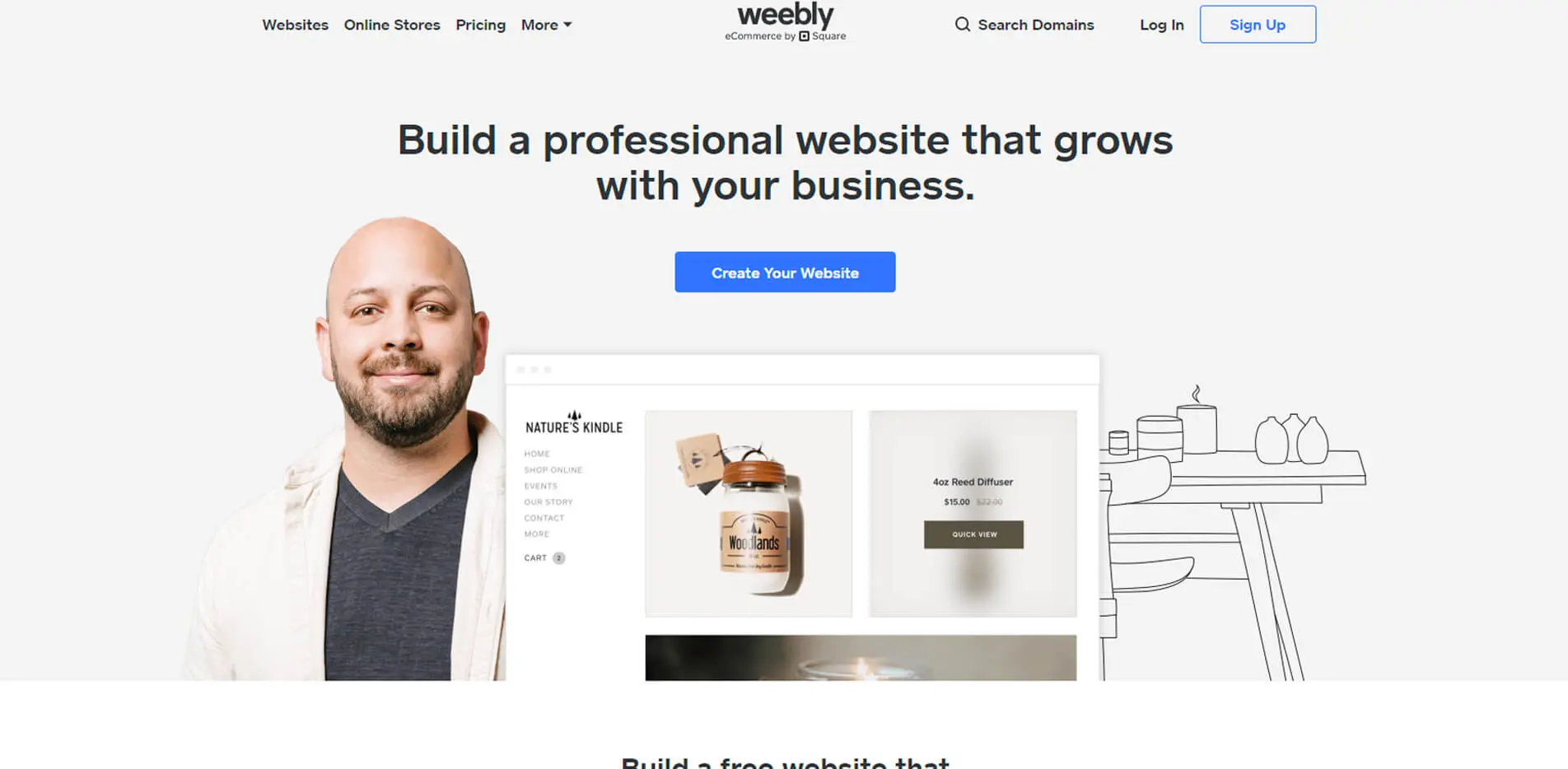 What Did We Like?
You need not install and manage any software with Weebly as it is a fully-hosted website building platform. Therefore, it will take care of everything, including hosting and managing the software running in the backend.
It also comes with a wide range of web designs that can be used to get your website started. You can even use Weebly's live page editor to edit these beautifully crafted designs as per your preference. Thanks to eCommerce support, this platform allows you to create an online store within no time and then begin selling your products.
Moreover, each of Weebly's sites includes built-in features for sliders, photo galleries, and contact forms, further adding to your convenience. You can use them to add more features and details to your site while staying away from any complicated setup process.
After going through the advantages of Weebly, we are confident you'll find it one of the most easy-to-use website builders. It's ideal for users who are not sure about committing to a website builder, as it allows them to move to a different host if required.
What Can Be Improved?
Given its features and functionality, Weebly is rated among the best DIY website builders for first-time users. However, it's crucial to note that being a fully-hosting web builder, it's limited in design flexibility and add-ons.
It doesn't have options to customise mobile-friendly websites as Wix does. Neither can you hire a web developer or designer to add functionality to your site? Furthermore, Weebly charges a transaction fee of 3% whenever a purchase is made through the online store. You'll eventually have to upgrade to any one of its business plans to avoid the additional charges.
Pros:
Designed to ensure ease of use
Fully-hosted web builder
It comes with built-in eCommerce support
Easy to shift hosts
Wide range of designs
Cons:
Limited add-ons
Additional charges
Weebly Payment Plans
Weebly's payment plans are similar to website builders like Squarespace and Wix. However, its basic free plan makes it one of the most generous website builders. With just a payment of $5, it allows you to get your website running with its domain name.
With paid plans that start at $8, you can opt for its pro plan costing $12 per month. It will give you a site without ads and eCommerce and analytic capabilities. And if you choose the $25 per month business plan, you'll be given more store tools, including inventory management, discounts, tax and shipping calculators and more.
9. Domain.com
This website builder allows small businesses to create their blogs and websites with just a few clicks. Using domain.com, one can also build their eCommerce website with ease.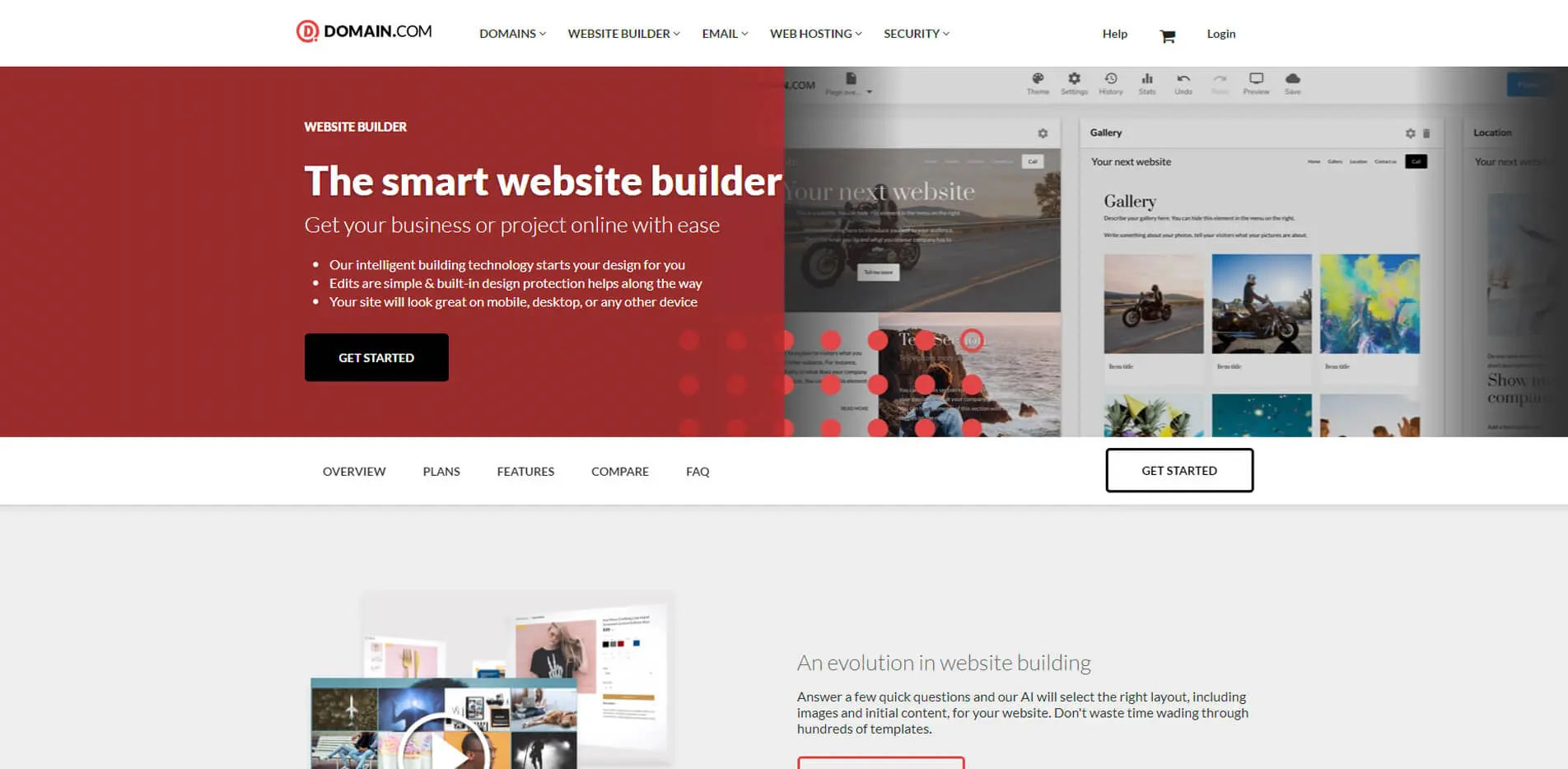 What Did We Like?
Domain.com comes with a drag-and-drop editor to help you create your website without hassle. You must select a design from its wide range of professionally-created design templates. You can then customise it accordingly using the editor to match the requirements of your brand or business.
The best part is that these templates are optimised for desktops, mobile phones and tablets, so your website will look great on all platforms and devices. It comes with the features you'd expect from any recognised and popular website builder.
You can use its eCommerce functionality, free SSL certificate and web analytics with all its plans. Domain.com also allows you to add blogs to your websites.
We even liked its eCommerce plan as it provides options for inventory management, coupons, discounts, tax management and several other features. If you need assistance in getting started as a beginner, rest assured as this website builder offers prompt and reliable customer support via phone and live chat.
What Can Be Improved?
Domain.com isn't a free website builder; it doesn't offer a free trial option. But there's a saving grace in the form of a 30-day money-back guarantee. So in case you're not satisfied with the services offered by this website builder, you can request a refund.
Even then, domain.com is not an open-source platform like WordPress, so you won't be able to hire experienced web developers to create and add advanced features. Instead, it's a proprietary platform, which means moving your site away from it will be pretty challenging.
We also find it essential to mention that you can only create a six-page website with this builder's starter plan. You'll have to upgrade to its business plan for the ability to create unlimited pages.
Pros:
Allows you to add blogs
Drag and drop editor
eCommerce website builder
Optimised design templates
Money-back guarantee
Cons:
No free trial plan
Limited page options in the starter plan
Domain.Com Payment Plans
The starter plan of this site builder costs only $1.99 per month, but it's limited in terms of the number of pages. On the other hand, the business and eCommerce plans are available at $6.99 and $12.99 per month.
Irrespective of your chosen plan, domain.com provides a free SSL certificate for website security, blog features, customer support and unlimited storage. So if you're seeking a professional site builder, this website builder is a decent choice.
10. GoDaddy Website Builder
In our opinion, GoDaddy is the best website builder for complex sites with hosting services. This makes it one of the largest hosting platforms and domain names. But its highlight is the fact that it can get a website set up and running within minutes, making it the fastest website builder software on the list.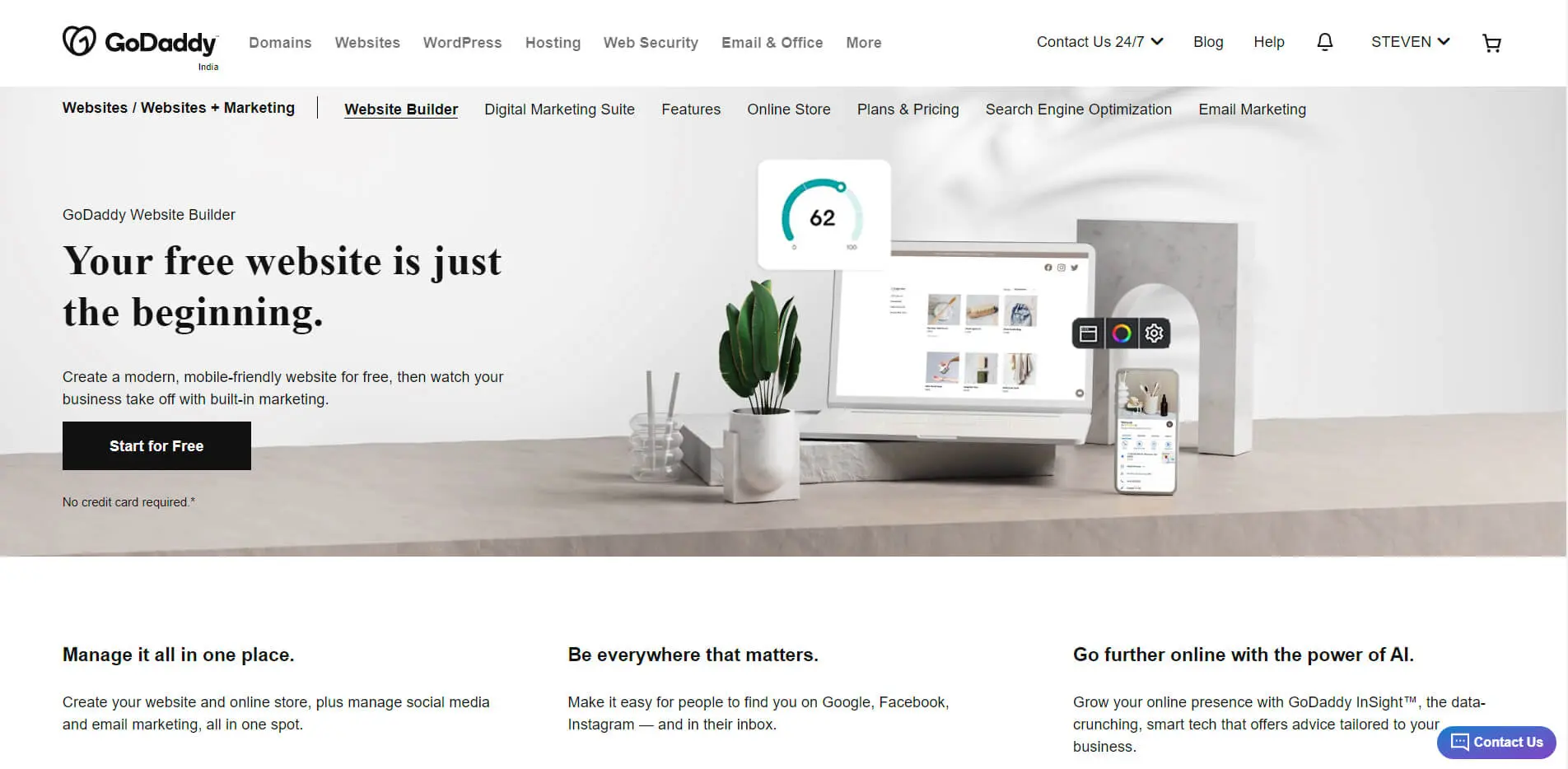 What Did We Like?
GoDaddy is a simple and intuitive website builder that guarantees ease of use. It comes with pre-loaded blocks that you can drag and drop to create professional-looking websites with different page layouts. Once you add your site details, it will build your site, customising it based on your business requirements.
You'll be pleased to know that GoDaddy comes with an integrated photo library with many professional-quality images from "Getty Photography". Use them on your website or upload your pictures to create your personalised image gallery.
For a more detailed experience, you can opt for the GoDaddy Websites+ marketing solution. It gives you in-depth insights into how your website is performing. The web analytics tools provide a comprehensive yet detailed set of metrics to compare your online presence to your competition.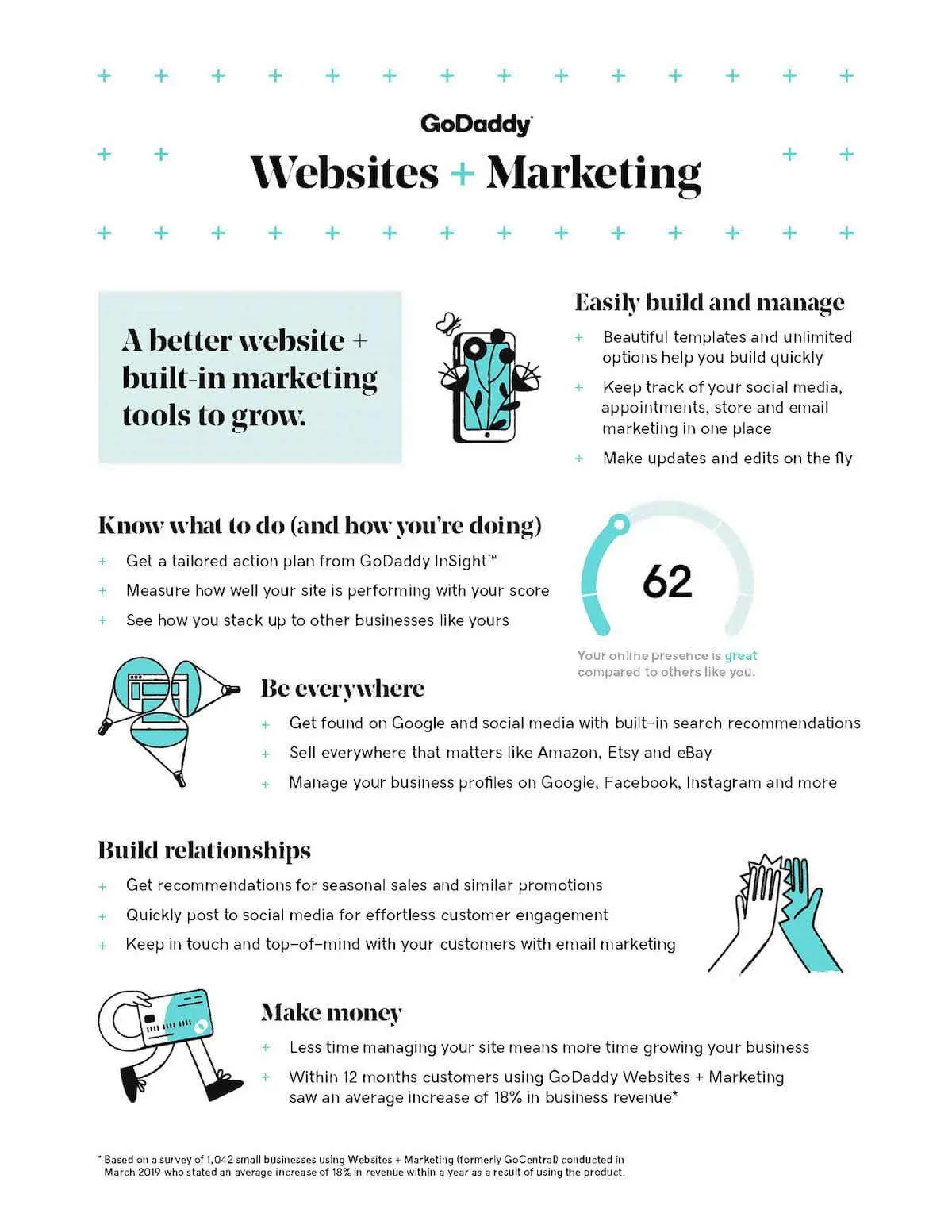 This has proved successful; GoDaddy claims that customers have experienced a significant increase in their business revenues within just a few months of use. This website builder comes with a 24/7 customer support team, which is the best in the industry.
A live chat option is also available for weekdays, where the representatives will address your queries instantly. If that's not feasible, you could always go through its extensive and detailed PDF guide, covering a variety of questions and troubleshooting topics.
Another impressive feature of GoDaddy is that it works exceptionally well on small screens. So you can quickly work on optimising and enhancing your website while on the go.
What Can Be Improved?
Unlike some of the other best website builders, this one is not as flexible. It comes with a limited set of features and design templates. And despite being a domain provider, it doesn't include a free domain in its plan. You'll have to add it separately by paying additional charges.
It's also important to note that you might find it challenging to move your business website to WordPress.
Pros:
Creates websites within minutes
Ease of use
24/7 customer support via chat and phone
Detailed PDF guide on troubleshooting
Small screen and mobile-friendly website builder
Cons:
Limited features and designs
No free domain name
GoDaddy Payment Plans
GoDaddy is quite competitive in its pricing; it offers four website builder tiers. The base plan is the personal plan for creating the perfect personal website, costing $5.99 per month, while the business plan comes for $9.99 per month.
You may also consider the business plus plan at $14.99 per month or the eCommerce payment plan available at $24.99 per month. The latter comes with all the features needed to start an online store, and in comparison, the cheaper plans offer reduced functionality.
You'll be billed annually, no matter which plans you choose, so that's something to keep in mind.
11. BigCommerce
Without a doubt, BigCommerce is the best eCommerce website builder capable of building a scalable online store. It's specially designed with built-in features to help businesses like Skullcandy, Ben & Jerry's, and CamelBak manages their online sales while keeping the margins high and overheads low.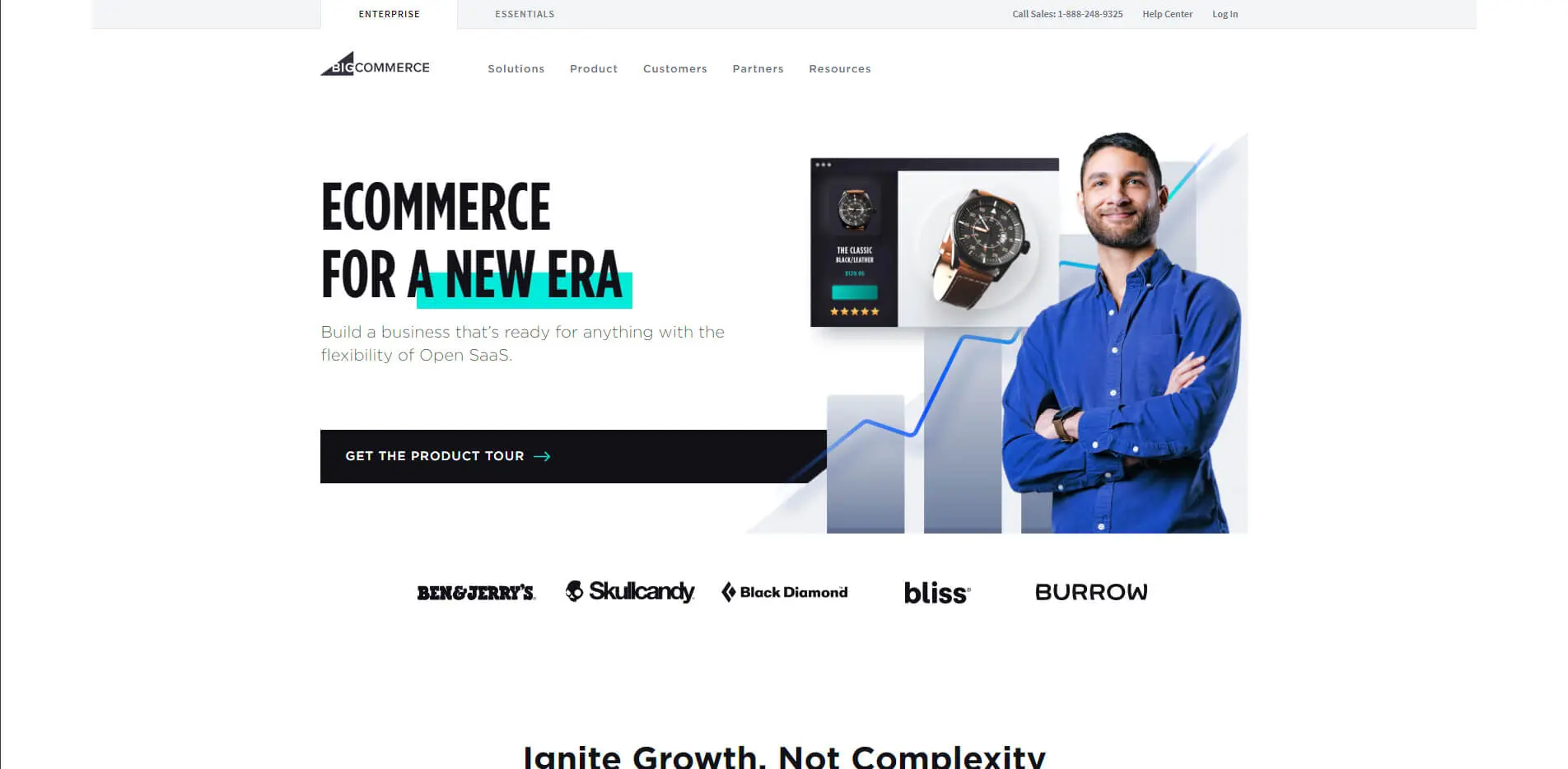 What Did We Like?
If you wish to launch your eCommerce online store to sell products and services, BigCommerce is your best bet. Once you opt for its essential plan, it will cover everything, including building, running, and scaling the store. You won't even have to bother about learning any code or the technical aspects of management.
It offers more than 80 designs, so you can choose a template and set up your eCommerce website within minutes. Plus, you get to customise your store using its apps, which allow you to unlock advanced features, like email marketing automation tools, customer reviews and more, to expand the online store.
With BigCommerce, you won't even have to worry about making financial transactions as it offers an added layer of security. It also provides over 55 payment gateway options, including Stripe, Amazon Pay, Square, and PayPal.
It ensures uptime of 99.99% so that you won't be losing customers due to glitches. It also protects against DDoS attacks and hackers, a common problem every small business faces.
What Can Be Improved?
The most significant drawback of BigCommerce is that it isn't free. You'll need to upgrade to expensive plans to access its advanced features, like Google customer reviews, stored credit cards, advanced product search, etc.
Pros:
55 payment gateway options
80+ design templates
99.99% uptime
24+7 live customer support
Builds scalable eCommerce stores online
Cons:
BigCommerce Payment Plans
The best part about BigCommerce is that it comes with a 15-day free trial option for all its plans. You can avail of its basic plan starting at $29.95 per month, or upgrade to its plus plan available at $79.95 to access the additional features. For those with no restraints on their budget, the pro plan, costing $249.95 per month, comes with the advanced features needed to create websites.
12. Jimdo
The German website builder, Jimbo, has helped build more than 20 million websites. It offers modern, flexible, yet professional designs that web designers can use while creating websites. Even photographers use this software to display their brilliant portfolios and create an online presence.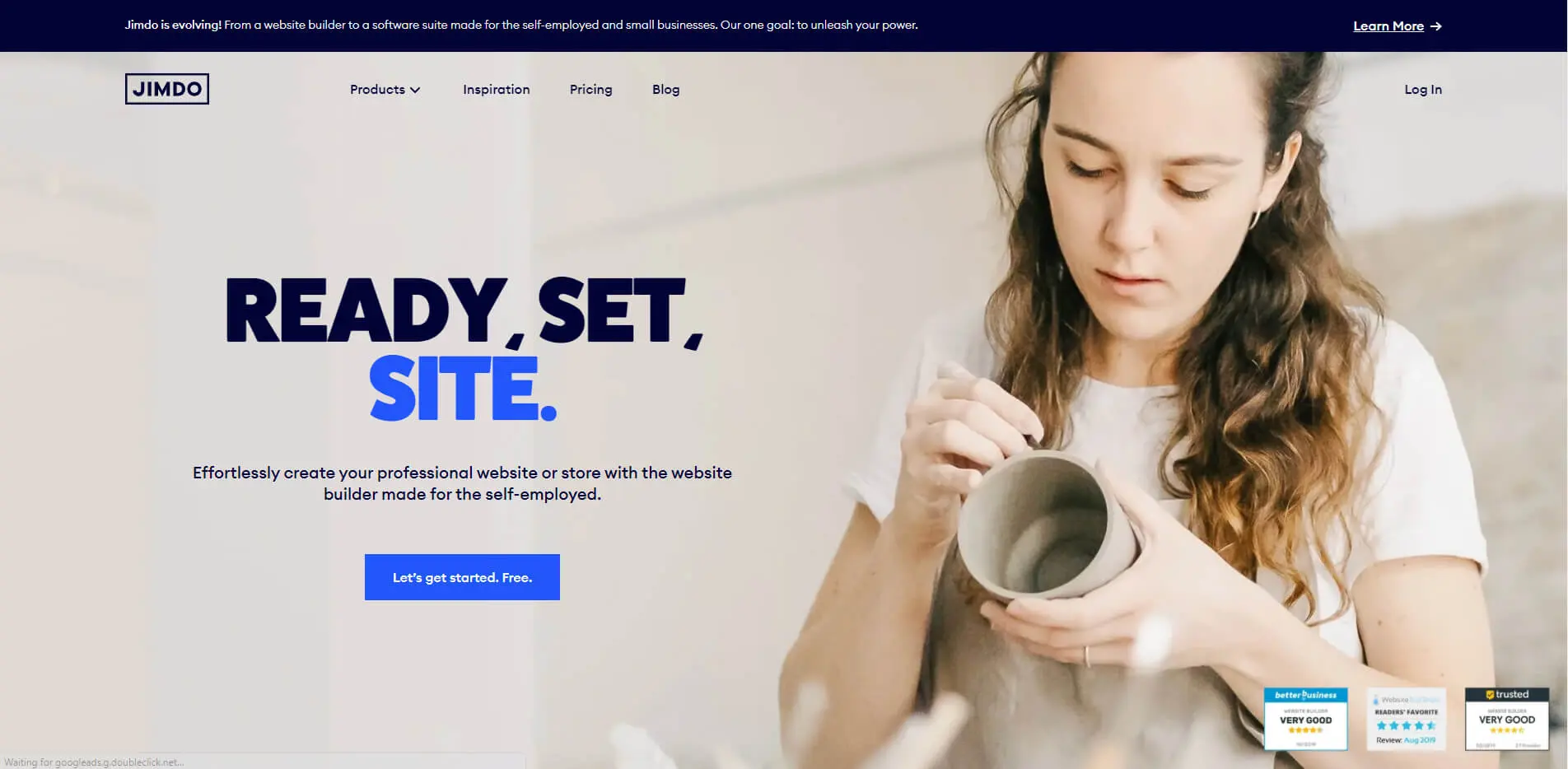 What Did We Like?
If you want to create an appealing website for a small business within no time, then you can do so with Jimdo. It comes with a range of design templates for you to choose from. Once you've selected a design, the logo designer will help make the brand easily recognisable. Just enter the details of your business and pick a logo design.
You can then customise the layout and icon using preferred colours and fonts. After this is done, you may include the logo on your website, social media platforms and even your business cards. You'll also appreciate the site colours blending perfectly with the uploaded logo, meaning there's no need to worry about colour clashes.
Another helpful feature of this website builder is its simple interface, ensuring ease of use. You can easily choose between the Jimdo Dolphin and Jimbo Creator. The former will allow you to build a website using AI, while the latter will provide you with over 100 templates with a wide range of customisation options.
Jimdo allows you to collaborate with social media platforms like Facebook and Instagram to sell your products directly.
What Can Be Improved?
Jimdo lacks in terms of advanced features, which are offered by website builders like Wix, Weebly, and others. Its online store should provide more features, and there should be a marketplace for apps and external add-ons.
Pros:
Ease of use
Includes a logo designer
Creates websites quickly
Enables you to collaborate with Facebook and Instagram
Cons:
Jimdo Payment Plans
Both Jimdo editors come with a free plan and free trial options, so you can build your website without worrying about risks. Once satisfied with its functionality, simply choose any of the four Jimdo Dolphin plans, ranging from $9 to $39/month.
You can also consider opting for the Jimdo Creator plans, ranging from $10 to $40/month. Note that these plans are billed annually, so you'll have to pay a lump sum every year.
13. Duda
Duda is the best website builder if you want to create a polished and straightforward website. It came into existence in 2008, and since then, it has created a name for itself while standing out from its competitors for two reasons. Firstly, it allows you to create multilingual websites, and secondly, it offers website personalisation tools.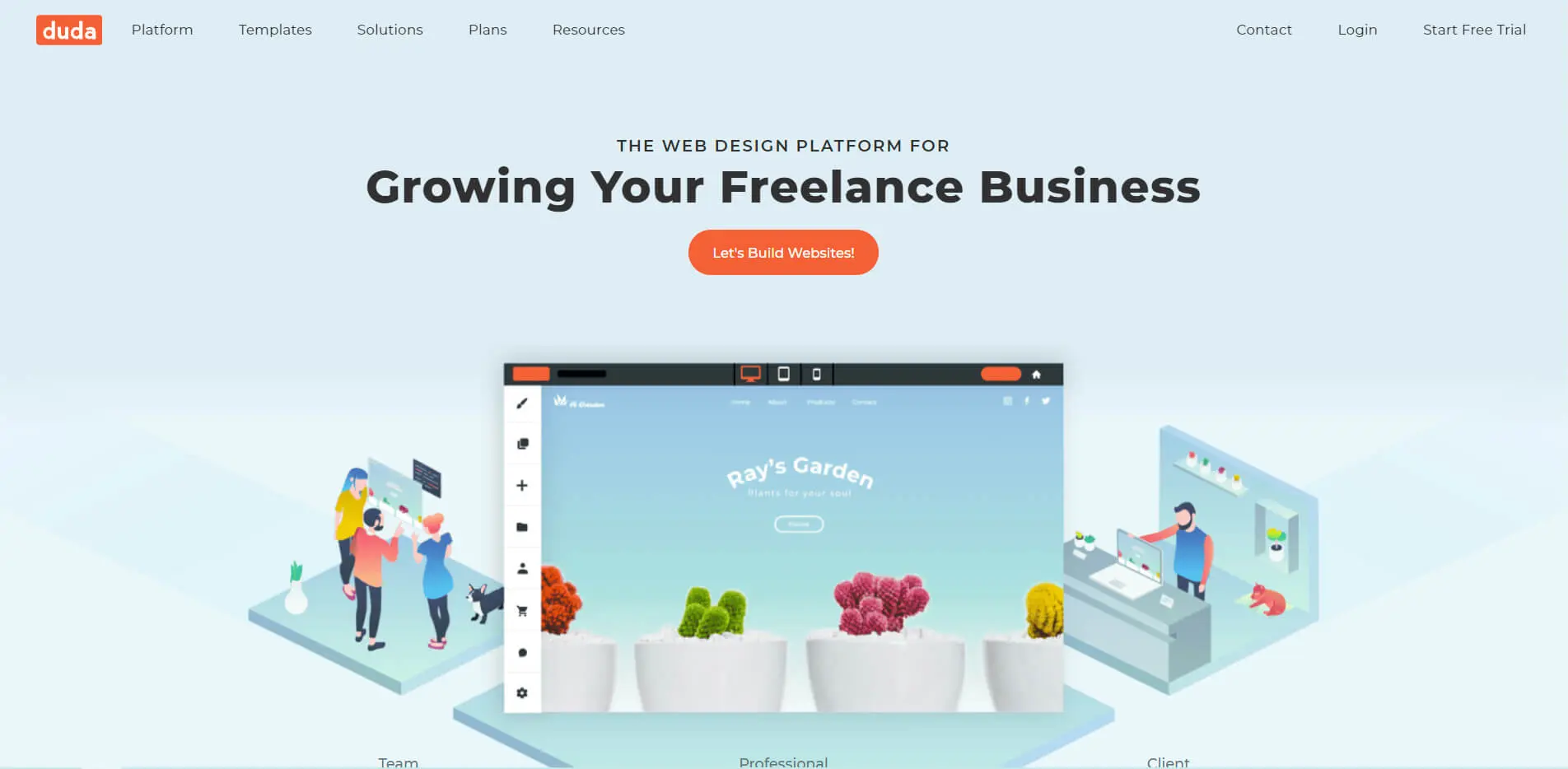 What Did We Like?
The Duda Website Builder comes with more than 90 design templates, ranging from lifestyle to business. You have to pick a design and then use its drag-and-drop functionality to customise the website accordingly.
It also offers features like mobile site customisation and detailed data analytics, including advanced metrics. Depending on the user's browsing history, location, and day, you can also use the website personalisation tools to display messages or relevant offers.
It also received the top score for overall usability in 2024.
The website builder allows you to include online stores to sell around ten products or more. And as mentioned earlier, it offers multilingual support, catering to businesses from all over the world.
What Can Be Improved?
Duda is relatively expensive compared to competitive website builders like Wix and Gator. Even the lowest plan starts at $14 per month and doesn't include email accounts and a custom domain name. It doesn't come with an app store to help easily integrate third-party applications.
Pros:
Offers multilingual support
Helps build online stores
Web personalisation tools
90+ templates
Easy to use
Cons:
Expensive plans
No app store
Duda Payment Plans
Duda's basic plan is available at $14 per month, but you can also opt for the $22 strategy as it includes four editors while giving access to advanced analytics. On the other hand, the $74 plan can help web designers build web pages for multiple business owners. It also helps download website files for easy portability.
Users may even find the "site for life" plan feasible; the unique payment plan involves a $299 one-time fee per website. But it's better to opt for Duda's 14-day free trial option before committing to this plan.
Our choice of the best website builder
These are just a few of the many website builders out there, but we feel that these are the ones you should consider.
Before concluding, we'd like to highlight the top website builders in different categories. So, if you ask us, WordPress is the best free website builder; even its paid options are reasonable.
And if you're looking for the best overall website builder, nothing beats Wix. Then again, Constant Contact is the best website builder for small businesses. You can also consider Shopify for its e-commerce features as it can help set up an eCommerce store to sell products online.
Of course, these website builders run off templates that thousands of businesses use. Although website builders are a great way to start and test your ideas, building a custom-designed website allows you to reach your business potential and be ahead of your competitors.
Further, these custom-coded sites save you time and are guaranteed to offer all the features you desire and generally perform better for SEO.
Just make sure you weigh each of their pros and cons to know which website builder is perfect for building a website for your business. Even their payment plans have to be considered to exceed your budget.