Have inbound marketing strategies left you scratching your head? If yes, then you're not alone!
In the SEO world, backlinks are essential strategies businesses must follow to boost their online visibility.
Backlinks can make or break your SEO strategy, so you must be careful while buying all the backlinks. While a good backlink can drive traffic to your website and generate a significant profit, investing in a bad one can do more harm than good.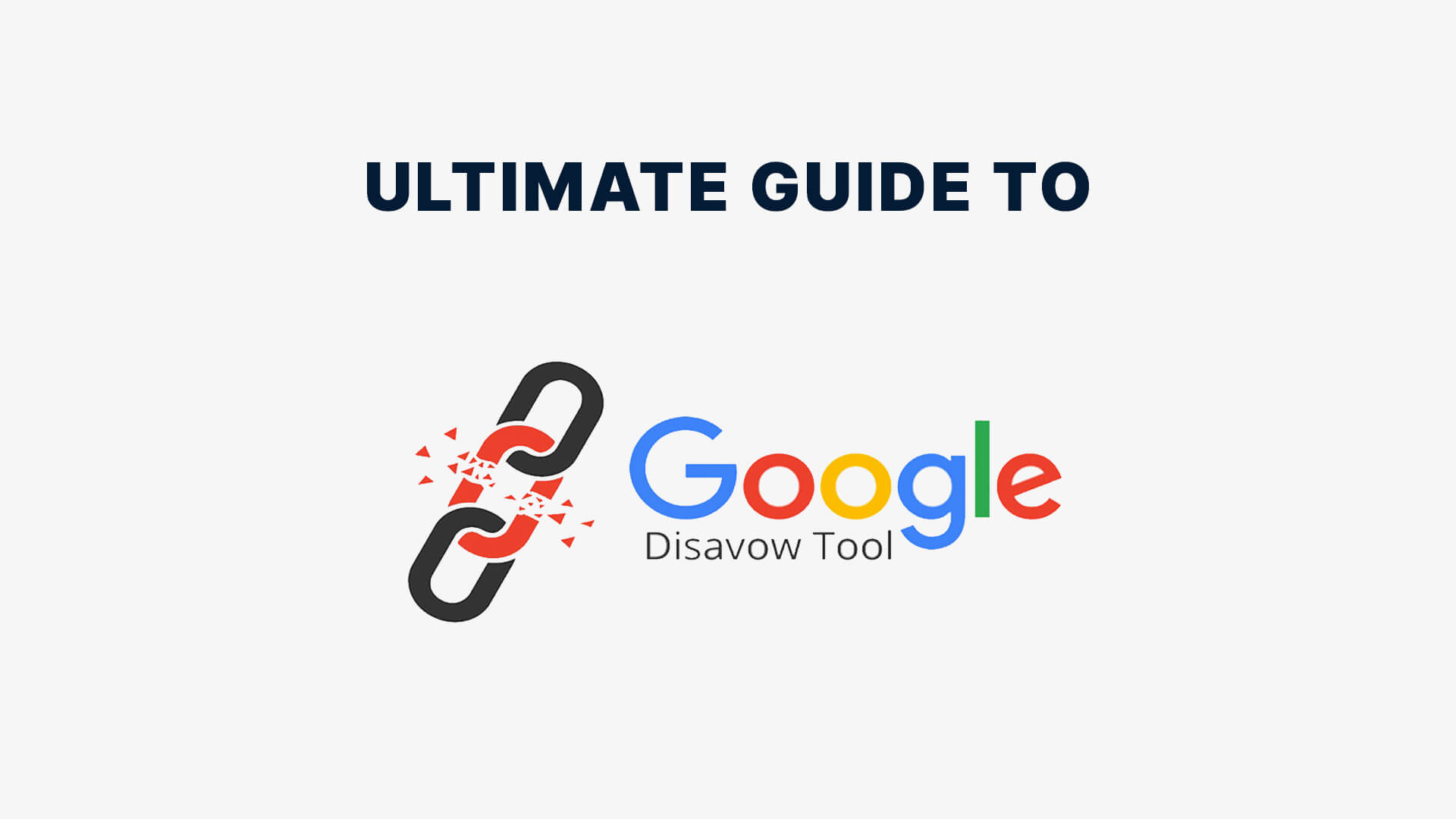 Now, the question that most people ask is, "When and how to disavow links?" Surprisingly, even marketing experts find it tricky to answer this question.
But don't worry; we've got you covered with our guide, where we'll walk you through the nitty-gritty of backlinks and how to disavow them.
The Truth About Links
You can choose between one link from a respected website and two or three low-quality links from spammy or off-topic websites. As a small business owner, which one will you choose? Of course, you'll go for high-quality links rather than multiple poor-quality ones.
For those unaware, let us tell you that most websites follow one dyed-in-the-wool rule regarding backlinks: sponsored or advertising links should be labelled as "NoFollow". By doing so, the search engine will not regard them as recommendations, thereby reducing the impact of a list of links from low-quality sites.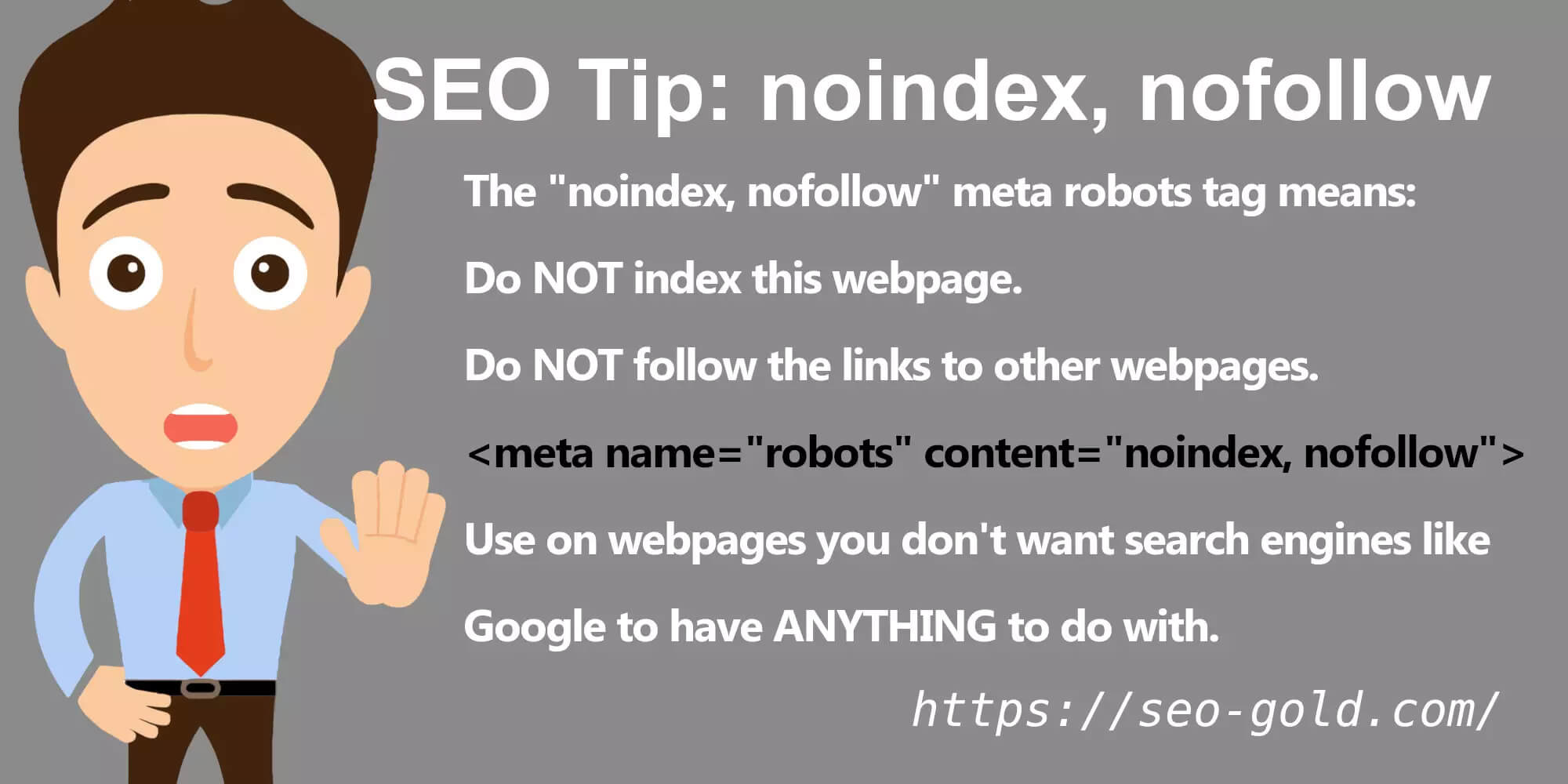 One of the perks of using "NoFollow" tags is that you'll have more control over your website, allowing you to focus on acquiring quality backlinks only, and spammers won't be able to target your website. At the same time, adding backlinks to your website can affect your ranking in the Google Search Console. And that's why having "NoFollow" tags will let search engines know that your natural links are genuine and trustworthy.
Alternatively, nefarious link-building practices, like creating unnatural links, violate the quality guidelines of Google and manipulate a brand's ranking in search results. You'll want to include a list of all the links and/or domains you disavowed links as part of this request and those you manually requested to be removed.
What Is The Google Disavow Tool, And Why Was It Created?
Without a doubt, spammy links can affect your ranking and result in Google penalties, which can lead to a significant traffic drop. Thankfully, site owners can use the disavow links tool to instruct search crawlers to neglect certain backlinks to rank the site higher.
So, anytime website owners submit an existing disavow file, they request Google to ignore certain poor quality backlinks pointing to their site. Of course, Google is under no obligation to accept such requests, but if it does, those disavowing links won't affect your ranking in the search engine results.
However, as a website owner, you must remember that disavowing links will not erase them from your backlink profile.
Do Website Owners Need The Disavow Tool?
Surprisingly, business owners have no compulsion to use the Google Disavow Tool unless they face a manual action. Now, the question is, how do you know when you should use the Disavow Tool? Of course, if you're a newbie, understanding it is slightly tricky. But don't worry; we'll break it down for you.
In the past, you've participated in link-building strategies, most of which are bad backlinks, and now they are harming your website. That's when the Disavow Tool will be useful for disavowing bad links. Alternatively, if you've been penalised by Google, you must use this tool.
So, what is the best way to understand whether you should use the Disavow Tool? It could be based on the quality of the sites links are coming from. By analysing your backlink profile, you can determine whether your business will benefit from using the tool.
Also, anyone who intentionally participated in unethical backlink strategies will benefit from using them.
What Is Considered As A Bad Backlink?
As a site owner, you need to know what a bad backlink is to plan your SEO strategy accordingly.
According to Google, any link created to control the site's rankings, such as those stuffed in a table of contents, is considered a bad backlink. The reason is that it wants you to focus on making content that gets linked organically.
You will likely have bad backlinks if you're already using backlinks to drive search traffic to your website. Some examples of bad backlinks are:
Footer links
Link schemes
Purchased backlinks
Link exchanges
Product for backlinks
You should eliminate any spammy backlinks if you come across them as soon as possible. The good news is that sometimes Google recognises such backlinks and disregards them.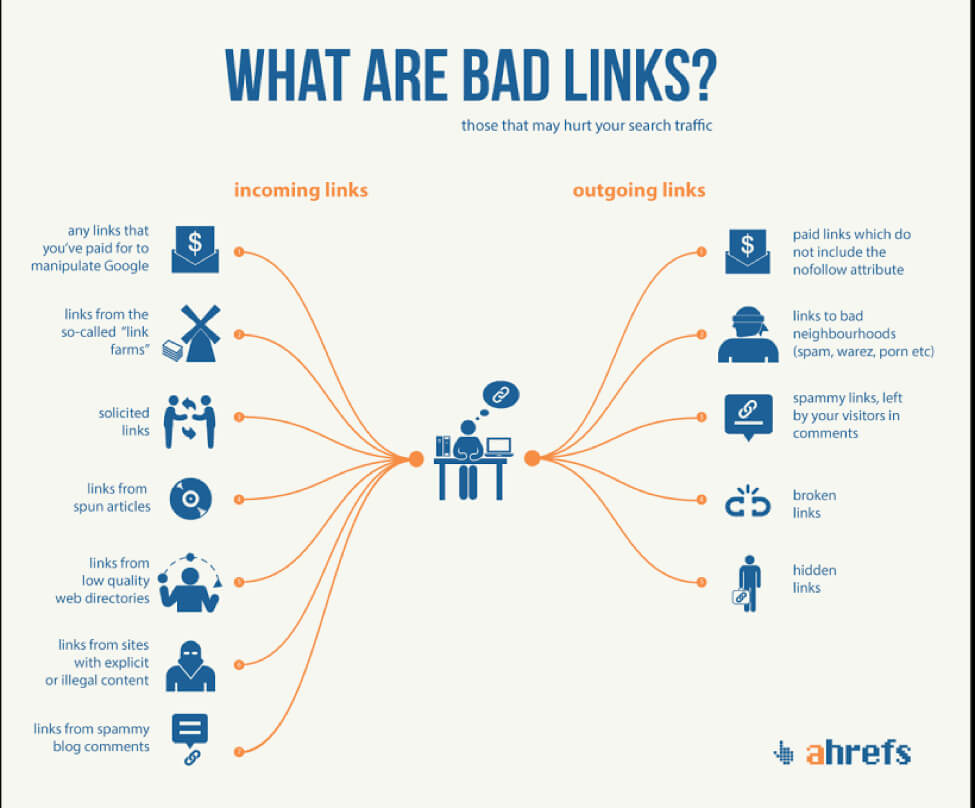 Sources Of Bad Links That Can Get You Penalised By Google
Though an essential part of SEO, link building has a dark side. While good links rank your website high in the SERPs, bad backlinks can hurt your ranking.
On that note, we've mentioned four clear-cut sources of harmful backlinks. So, let's take a look at them.
1. Private Blogging Networks (PBNs)
In 2014, Google began removing Private Blogging Networks (PBNs), a type of private backlink network, from its index or system. For those unaware of PBNs, let us tell you that it is a group of websites used to generate backlinks for a single website.
Even though it still exists, its links are no longer considered part of any white-hat link-building technique.
No matter how much effort SEO experts make to hide their actions on shady SEO sites, such tactics never work for long. As a result, you'll only be penalised, and your site's ranking will plummet.
2. Comment And Forum Spam
It isn't surprising that people link to their or someone else's website in the comments section on articles and blogs in the most organic way.
Initially, you might not face any issues, but later, when the comments box of various websites is stuffed with links leading to a site, the search engine starts to recognise it. Thus, we suggest you keep keyword-optimised links away from the comments section of forums and blogs.
3. Paid Links
You're safe from Google penalties if you sell or buy pay-per-click (PPC) that carry links that don't supply PageRank to the buyer. But you might land in trouble when you sell or pay for links that pass the PageRank.
4. Negative SEO
It isn't surprising that backlink spamming is the most common type of negative SEO attack. For those unversed, let us tell you that most businesses use these tactics to link thousands of low-quality sites to their competitor intentionally.
Nevertheless, if you receive plenty of spammy links in a short period, then Google will become suspicious and impose a penalty.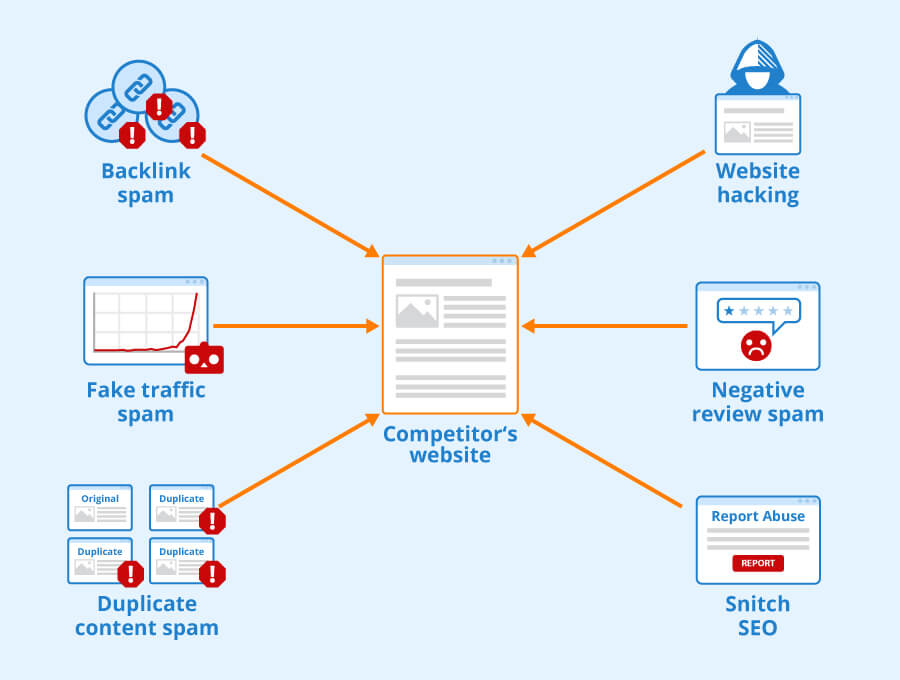 Why Disavow Links?
The only reason Google recommends using link disavowal is to tackle penalties imposed on your website. So, if you're receiving notifications from Google regarding "unnatural" or artificial links, then know that you're being penalised, knowingly or unknowingly.
And, of course, if you're a webmaster or a site owner, you'll have to deal with link penalties as and when they arise. You won't have to deal with such penalties if you stick to white-hat SEO strategies. Nevertheless, site owners must maintain a clean backlink profile, critical to a long-term SEO plan.
What Happens When You Disavow A Backlink?
You might wonder what happens when you disavow a backlink or several.
By disavowing your site's backlinks, you're requesting Google to ignore all links that lead to your website. Once you're successful in disavowing backlinks, Google won't penalise you and won't adversely affect your ranking.
But here's something every website owner must remember — Google is in no way obligated to accept your request for backlink disavowal, meaning there are some backlinks you cannot disavow. Consequently, it has mentioned in its documentation that you're only making a suggestion when you submit a disavowal file.
At the same time, it also mentions that the Disavow Tool was created to correct unethical linking activities. However, you can also use it to reverse the damage caused by an inexperienced SEO strategist hired previously. And so, you can expect Google to accept the disavow file rather than penalise you for the same.
Revoking A Link Disavow
Have you accidentally rejected a good-quality link to your entire domain? The good news is that you can revoke or undo it easily.
One such method is to delete the uploaded disavow list; however, nobody knows if Google will restore the links to your site and their impact on your ranking immediately or not. Also, we aren't sure if they keep a list copy.
For this reason, we advise against experimenting with link disavowal, as it can hurt your ranking.
When Should You Disavow Links?
You must have understood that disavowing backlinks isn't something you can do on a whim. It is one of the most critical inbound marketing strategies and can positively and negatively affect your ranking.
As a rule of thumb, web admins should consider disavowing links only when utterly sure of bringing them down in the Google Search results.
However, it would be best to remember that one link from a low-domain authority and low-quality site isn't considered bad. Though one doesn't make much of a difference, Google does pay attention to every link. So, it is like a vote of confidence; hence, business owners must be mindful of backlinks. You can check the Google quality guidelines to be on the safe side.
How To Disavow Backlinks In Google Search Console?
Before you can disavow backlinks in Google Search Console, you must choose which links you want to disavow and assemble them into a text file.
If your website has a Google Analytics tracking tag, you're likely to have access to its search console, which consists of the date of the site structure.
To disavow backlinks, it's essential to know what bad backlinks are and identify the specific links to disavow, and once you understand that, the rest of the process will be easy. Here, we have mentioned the right ways to disavow backlinks:
Step 1: Conduct A Link Audit
Regularly monitoring high-level links can help web admins identify whether they need to dive deep.
The "Referring Domains" graph, the "CTLDs distribution" map, and the "Anchors cloud" — are the three reports in Site Explorer that make this process easy and efficient. Instead of absolute, these reports provide a relative assessment, regardless of whether the data is stored in an 8 or 7-bit encoding format. No matter the size of the backlink, examining it takes more or less the same amount of time, so you can rest assured that the results will be accurate.
A. Referring Domain Graphs
The referring domain graphs can detect a link surge, most often caused by link spam that is either a part of a negative SEO attack or self-directed. Not only that, but it may also disclose the time when a chunk of linkbait was circulated widely on the internet.
B. CTLDs Distribution Map
Another quick way to check your backlink profile is the country code top-level domain (CTLD) map.
For instance, let's consider that a website is for a SaaS firm that deals exclusively with US clientele but has low quality backlinks from non-US sources. However, their most popular CTLDs are not from the US but from Russia, Libya and Columbia.
C. Anchors Cloud
If you want to figure out whether your links appear over-optimised, then anchors cloud will help you do the same.
Step 2: Carry Out A Full Link Audit (If Necessary)
You can consider doing a full audit if everything appears perfect in the above three reports.
Not to deny, the comprehensiveness of the material has a significant impact on the link audit quality. Make sure you use Google Search Console information in your backlink to gain clarity.
More often than not, the Ahrefs link profile can act as a stand-alone source and here's how you can do it:
Go to Site Explorer
Enter the name of your domain
Add your backlink profile and referring domains
Sort for dofollow links
Filter by DR (low to high)
Unusual TLDs and low DR are the best ways to kick off link evaluation. Even though neither of the two attests that a link is bad, the metrics provide a helpful approach to sorting links.
Step 3: Prepare Your List And Upload It To The Disavow Links Tool
When you discover all the domains you wish to disavow, prepare a list and upload the file to Google Search Console. Fortunately, Google has explained the step-by-step process, including formatting the txt file, which you can follow to disavow links.
Before creating a new disavow backlinks file, download the most recent one from the console. The disavow or backlink audit tool is collaborative, so the agency or the former webmaster likely made a file previously.
In addition, formatting a file is simple and easy, and in case of any errors upon submission, Google Search Console will inform you regarding the same.
Step 4: Record Your Changes And Track Your Progress
If you think you'll be able to see your progress right after uploading the file, then you're wrong. To update your site's backlink profile, Google will have to recrawl the links, and only then will it make adjustments.
Using Google Disavow Tool: Frequently Asked Questions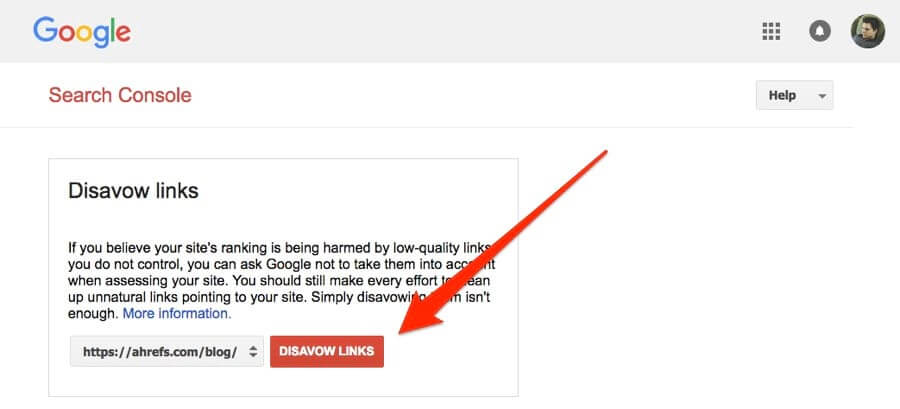 Q. How Do I Know If The Disavow Tool Is Necessary For My Site?
Of course, the easiest way to determine if the Disavow Tool is for you or not is the link penalty. So, if you've been penalised by Google or there is a drop in your website traffic, you should use the tool.
Q. How To Remove Bad Backlinks From Google?
Before you set out to remove bad backlinks, you must identify them and approach the site to remove links. You can use the tools you want when they are taken down.
Q. How Long Does It Take For Google Disavow Tool To Work?
Google takes a long time to trust websites again, and the results will take a few days to show up. However, you must remember that the effects can take up to two to three months to be visible. So, if you notice less traffic on your website, it's better to respond quickly.
Getting Your Linking Strategy Right!
So that's about it on "When and how to disavow backlinks?"
To sum it up, bad backlinks can affect your ranking negatively, reduce website traffic, and hurt your site's SEO efforts. And that's why website owners need to use Google's Disavow Tool to clean up their backlink profile.
Thankfully, the Disavow tool lets web admins enjoy more control over how Google considers links referring to their site.
On that note, it's time to wrap up today's guide; hopefully, we were able to answer your query and clear your doubts about disavowing backlinks. But, before we sign off, here's a last piece of advice — if you're not confident in your digital marketing skills, speak to an SEO expert.
Our team at sitecentre® strives to help small businesses succeed in the digital world. We utilise knowledge, skills, and technology to deliver outstanding, lasting results with customised strategies. So, please call us if you require assistance with your linking plan.
With that, we'll call the curtains for the day till we meet again!