Visibility and problem-solving capabilities are essential for any online store, and eCommerce content marketing is a strategy that helps achieve both.
Content marketing enables brands to retain, engage, support, and attract potential customers. It also plays a crucial role in differentiating eCommerce brands in the market.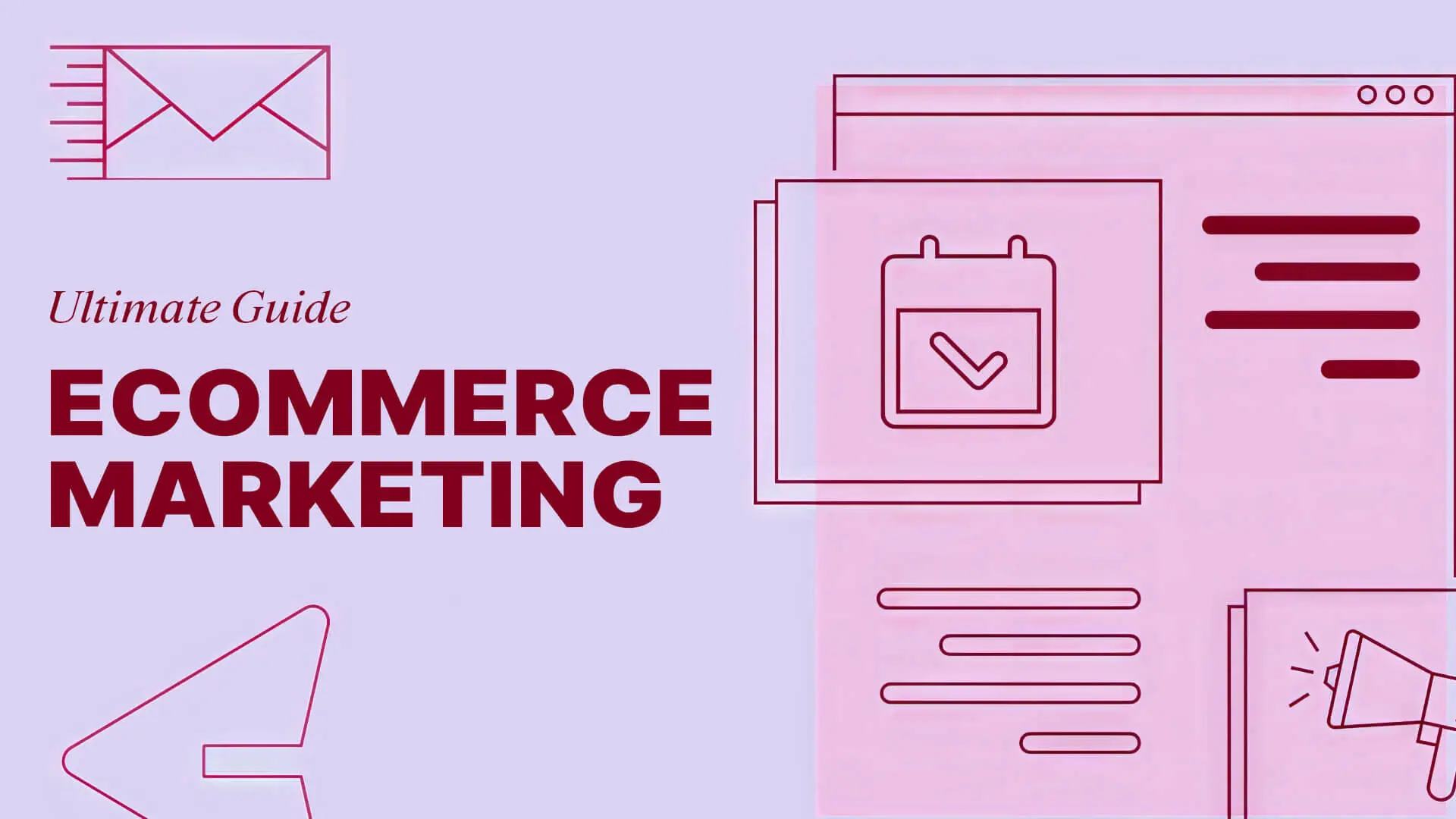 You can leverage content marketing to differentiate your products and services. Likewise, high-quality content designed to showcase problem-solving capabilities can boost conversions. Prospective customers seek products that address their problems or fulfil their desires.
Nike's content marketing strategy showcases its range of suitable sportswear, while Etsy's content marketing focuses on promoting handmade goods.
Content marketing for eCommerce sites is crucial for optimising search engine and generating organic traffic. Here are some valuable tips for enhancing your content marketing strategy and growing your online business.
Why Invest in eCommerce Marketing?

Digital marketing strategies play a vital role in eCommerce content marketing. Merely relying on Facebook ads and Google Ads may not suffice to outperform the competition.
But why? What's so wrong with paid marketing channels?
Nothing is wrong with paid marketing! Though you need both- organic and paid marketing. Finding the right marketing mix is key to success in the eCommerce market!- HOW?
Let's run some numbers and understand the market first!
By 2040, 95% of the purchases will be in eCommerce stores. — Nasdaq
Online retail sales are expected to reach $6.51 trillion by 2024 — Statista
Only two out of 100 people that visit a website convert into a purchase. — Statista
These numbers indicate a competitive market, so you need an SEO content marketing strategy to ensure your brand stands out. However, cause and effect go hand in hand. In other words, not just the competitive eCommerce market should drive your decisions.
Let's explore how a solid content marketing strategy impacts eCommerce companies.
The Impact of Content Marketing on eCommerce Business
Content marketing efforts include creating, distributing, and promoting targeted content. eCommerce websites can leverage content marketing efforts to target a specific audience to cope with the competition. When you target a particular audience and cater content according to customers' pain points, the chances of conversions improve.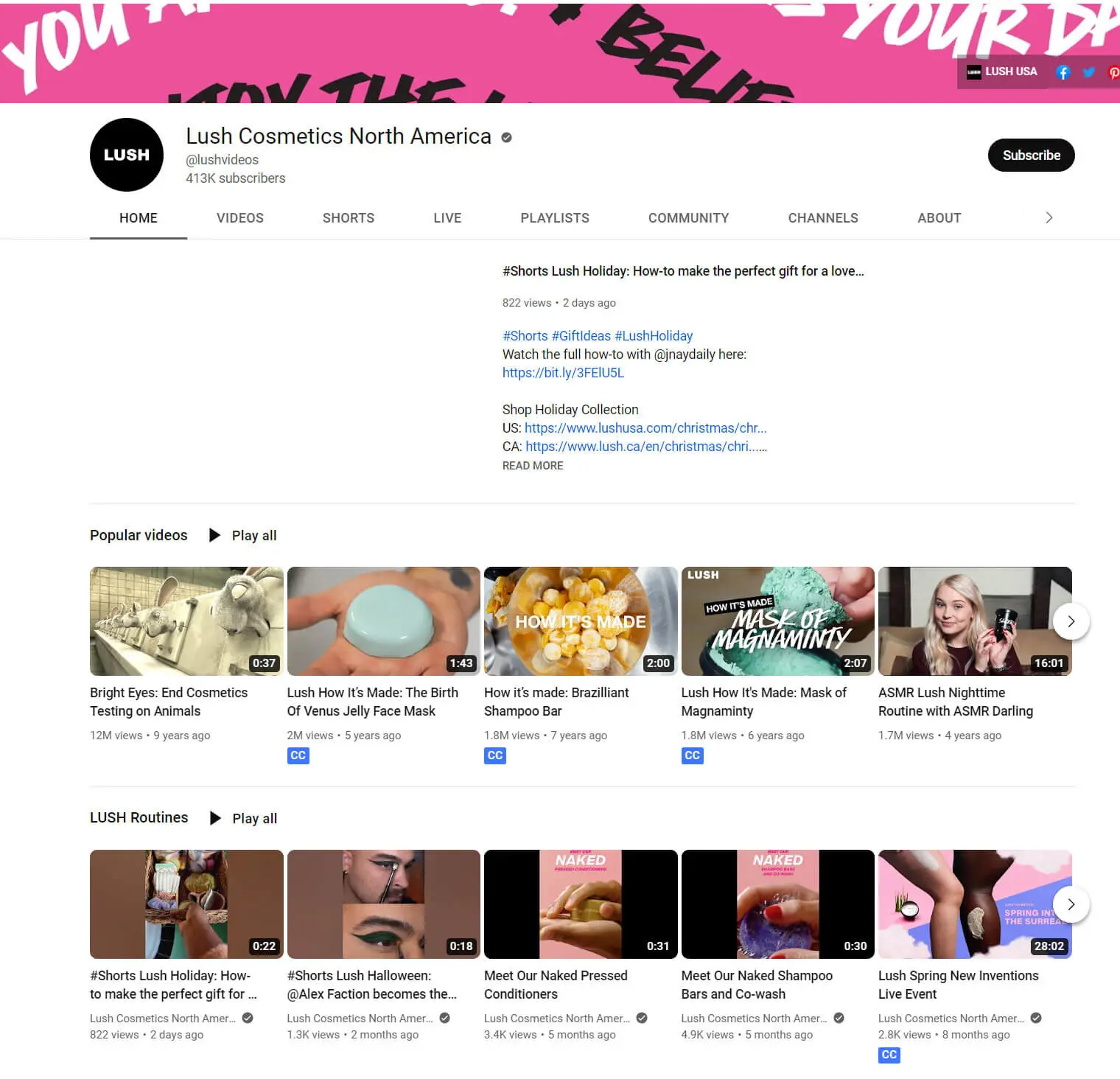 Source: Lush Cosmetics YouTube Channel
For example, Lush, a vegan beauty brand, has nailed eCommerce content marketing through a YouTube channel. With millions of views on Lush's YouTube channel, engagement is higher. In addition, engaging viewers on the channel has helped improve conversions.
A critical lesson that Lush's content marketing shows are the dynamism in strategy. In other words, your eCommerce content marketing strategy should not be restricted to videos, ebooks, and articles. You can create a mix of multiple contents formats for your eCommerce site based on the following:
Target customers
Specific regions
Channels of engagement
Content requirements
Marketing campaigns
Case studies and examples give us an idea about the practical implementation of eCommerce content marketing. However, quantifying the content marketing efforts requires valid data. So, let's understand the importance of content marketing in numbers.
Content marketing costs less than many other traditional forms of marketing — Forbes
73% of organisations that spend 10% to 70% of their budget on content marketing are successful — SEMrush
54% of consumers search for a product through social media — Shopify
Now that we have an example and quantified numbers to back the proof of concept for eCommerce content marketing strategy, it's time to understand different types.
What are the Different Types of Content Marketing for Online Stores?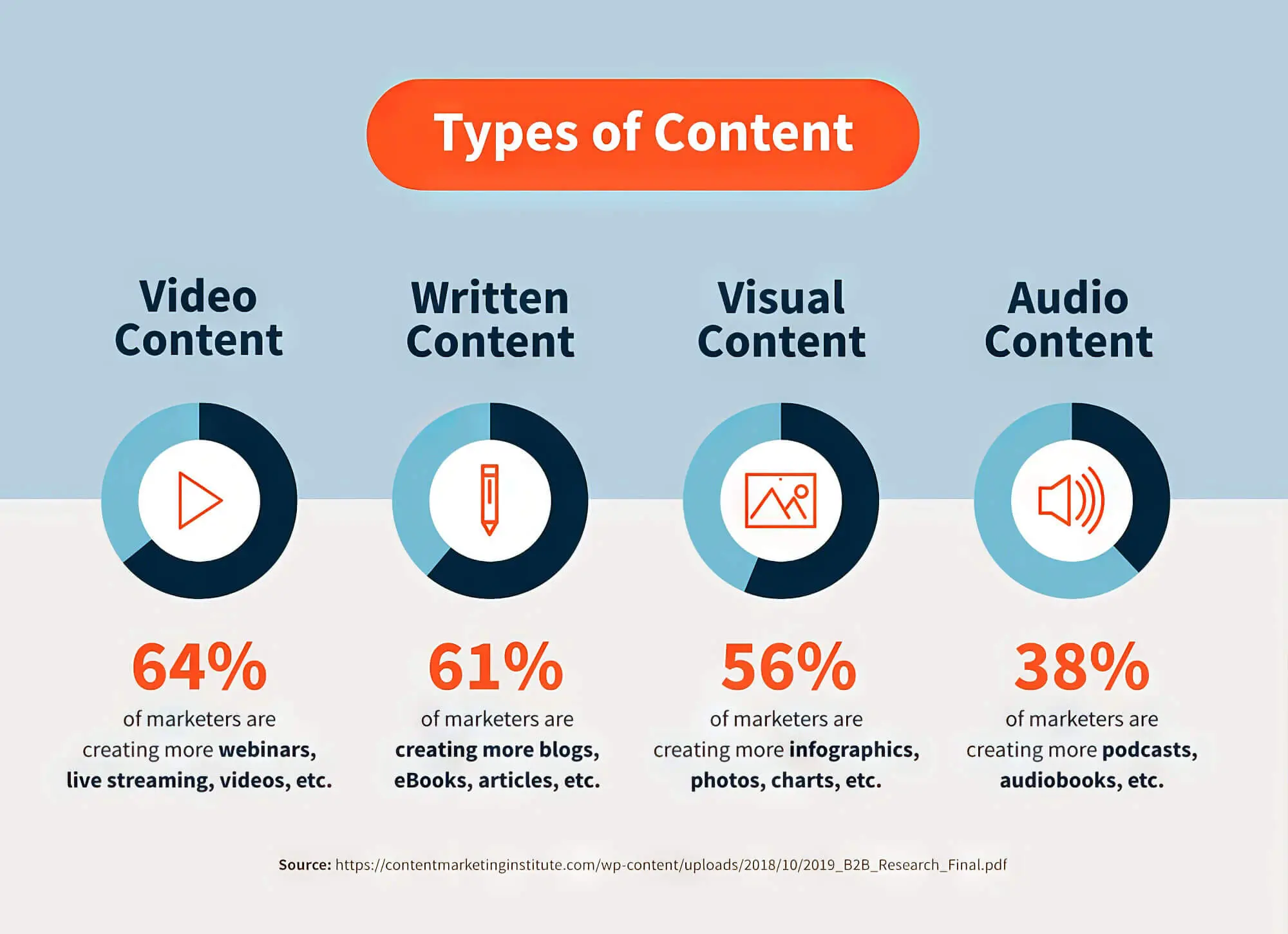 Content marketing formats include blogging videos, podcasts, infographics, emails, ebooks, whitepapers, Slideshare presentations, social media posts, etc. However, choosing a suitable content format and marketing type is key to success for online stores. Let's explore some of the key content marketing types to use for your eCommerce site.
Content Marketing on Social Media Platforms
eCommerce websites have a huge traffic source through social media platforms. More than half of the world's population uses social media, so focusing on targeted content marketing for such platforms can provide higher ROI.
Let's understand social media content marketing through an example.
Airbnb used the "Gonear" campaign on Instagram to boost conversions
During the recent pandemic, Airbnb lost more than $1 billion due to cancelled reservations and suspended travel bookings. Massive cancellations and loss of revenue forced Airbnb to postpone the IPO. The rental property marketplace also had to reduce its workforce by 2,000 workers.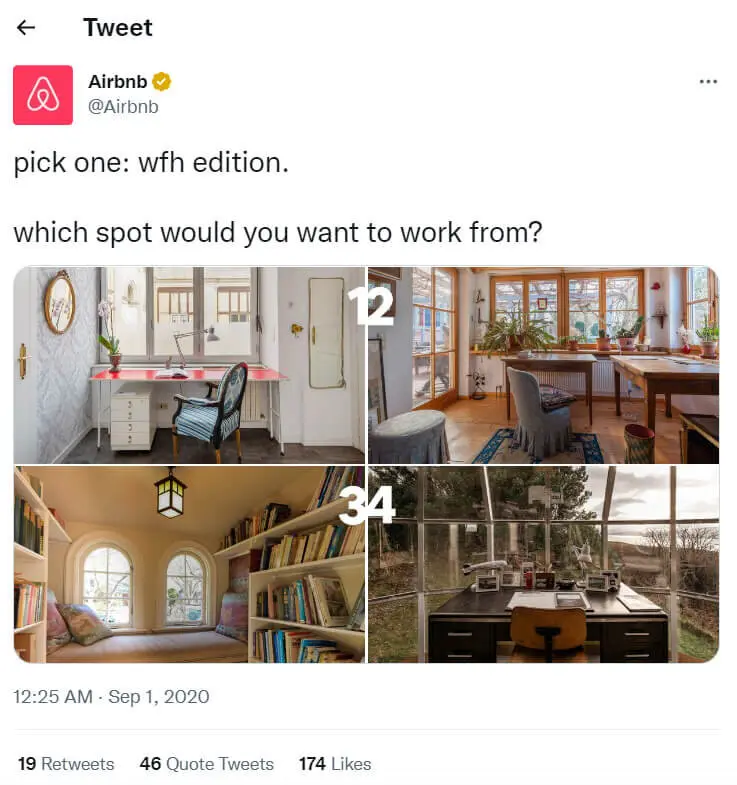 Source: Airbnb's Tweet Post
However, Airbnb turned the tide with its " Gonear campaign." It was a targeted social media campaign that promoted regional travel. Due to the restrictions of the pandemic and a rise in local travel demands, their campaign was focused on destinations within 300 miles of the target user's location.
The campaign was a resounding success and saw a surge in 50% of the bookings within 320 Kilometers of the user's location.
Similarly, you can leverage social media campaigns to improve conversions.
Video Content Marketing
Videos are one of the most popular formats of content marketing due to higher engagement and the impact of visuals. You can create explainers, animation, and product videos for eCommerce websites.
Take the example of the Oslo chair commercial. It promotes Scandinavian designs with plain white backgrounds. The attractive visual aspect helps customers understand the luxurious feeling of owning an Oslo chair.
Email Marketing
Nothing beats the good old email! As a result, email marketing has been a critical content marketing format that has provided higher conversion rates. Mailchimp says the average conversion rate for email marketing efforts is around 3%, which is way higher than 1.5% for blogs.
However, randomly sending cold emails does not yield content marketing results, so you need an email content marketing strategy. It must include subject lines and core that align with your customer's pain points or something that might hook them to open the email.
Blogs, eBooks, and More
Even though blogs have a conversion rate of 1.5%, it is still a crucial element of your content marketing strategy. One of the content marketing tips for eCommerce sites is to ensure your target customers according to their position in the customer journey.
For example, if a customer is new to your product or service, you must cater to educative content with blogs, ebooks, and more. These customers are in the top-of-the-funnel position and may need to be made aware of the problems that your product can solve.
So, problem definitions and solutions need clear definitions in your content. Further, consumers gain knowledge of your product and what problems it solves, leading to a stage where they need to compare multiple options.
The consideration phase, or middle of the funnel stage, is where you need to cater to comparisons and how your product fare amongst the competition.
Infographics
Infographics can be an effective type of content marketing for eCommerce sites due to the visual representation of information. According to research, humans can find specific patterns in a pool of information through visual representation. So, you can use infographics to provide insights into your products and services, indicating a pattern that attracts customers.
Infographics help break down complex information for your audience. Most social media platforms are visual-based, and infographics become an excellent option to gain more traction from the audience.
Now that we have discussed different types of content marketing for online stores, it's time to explore some tips to create it.
Tips for Writing Epic SEO Content for Online Stores
When you think of eCommerce Content ideas, a significant aspect to remember is "listening." Hearing your customers is crucial, as their pain points are your content topics! Creating content out of customer pain points helps your brand establish problem-solving capabilities.
But wait, creating content on pain points does not ensure Search Engine Optimisation! So, what's the way out?
So, here are some content marketing tips for eCommerce sites for enhanced SEO.
Research the User's Intent.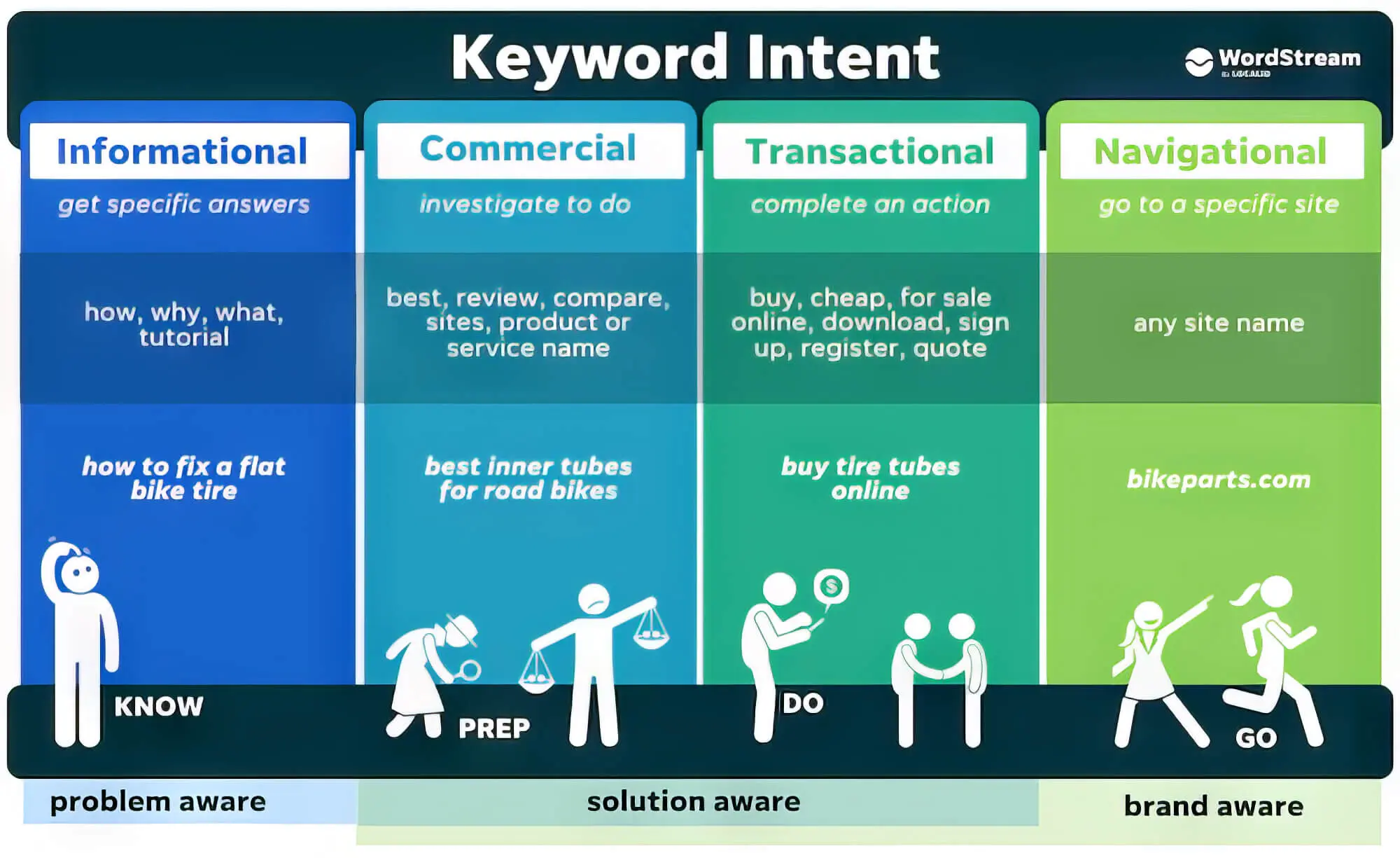 What if you create a guide to drive cars when your customers are looking for Skiing lessons? That's where your eCommerce content ideas need to be aligned with the user search intent. You especially need to focus on the keywords that users search for.
For example, if you are a perfume brand, users searching for terms like deodorants, fragrance, and smell are key search terms. Similarly, user search intent can be determined based on your target audience, preferences, region, and search terms.
However, there are other effective ways to ensure that you are targeting the correct search terms for eCommerce content ideas, like:
Online surveys
Questionnaires
Competitor keyword analysis
One-on-one customer interviews,
Online contests.
Know Your Keywords.
SEO begins with keyword research and creating an eCommerce content marketing strategy without it making no sense- WHY?
When only 0.0008% of keywords get more than 1,00,000 monthly visits, you can understand the importance of getting the keyword research right! However, it is not as difficult as it may seem on paper- all you need is to understand the 'search intent.'
Yes! Understanding the search intent behind a key phrase is half the battle won for any content marketing professional. Once you have the search intent analytics-ready, leverage it to find the most searched keyphrases and frame your content marketing campaigns.
Here are some keyword research tools that you can use for your eCommerce website, such as:
Optimise the Product Pages.
Product pages are representations of your products. In other words, they account for the bread and butter of your eCommerce business. Therefore, optimising the product pages can mean better sales and profits.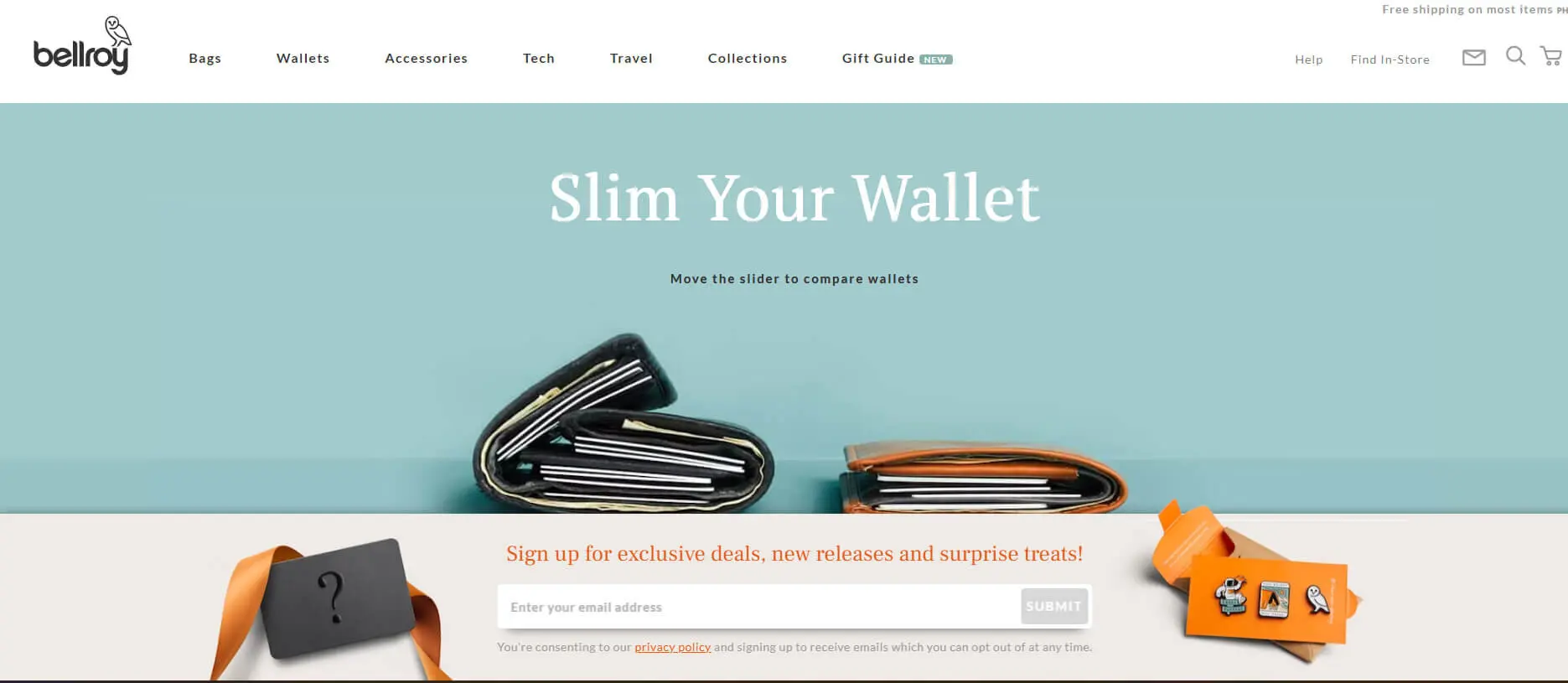 For example, Bellroy provides customers fashionable wallets, bags, and accessories. In addition, the design of product pages helps customers compare how bulky wallets can become if they choose one from the competition compared to their collection.
Similarly, you can create product page recommendations and comparison features, allowing customers to make smarter shopping decisions. The ease of shopping and accessibility will attract more customers to your eCommerce website.
Further, you can use social media content marketing campaigns to promote such features.
Get Your Meta Right.
Getting your meta tags, descriptions, and titles right is crucial for eCommerce content marketing results and SEO. First, you must ensure that keyword placement is correct in the URL or "metatags." It allows all search engines to find your content or topic for specific user searches.
Meta descriptions are also vital as they are the first text any user will read while they search for any keyword on the search engine. Another critical aspect of improving the product page experience is providing easy accessibility. Breadcrumbs help website visitors return to the previous step with a single click and help enhance the experience.
Breadcrumbs improve the user experience for your eCommerce content marketing campaigns. It is a website navigation tool that allows users to easily access different pages or home pages from the product page.
Leverage Faceted URLs
Customers search for different products using mobile search, desktop, and more. However, the keyphrases they use don't always make sense. For example, they may use terms like "Bluetooth speaker" or "sound system "if they are searching for an audio device."
The problem with such broader key phrases is aligning eCommerce content ideas with them, which can help your SEO. So, you need to use faceted navigation on your eCommerce websites. You can canonicalise the faceted URLs to self-referencing URLs rather than a master or subcategory.
Aim for Higher EAT Scores
E-A-T or expertise, Authoritativeness, and trustworthiness are part of Google's Search Quality Rater Guidelines. It helps Google evaluate the content and decide which website should rank. E-A-T forms the crux of SQRS guidelines. To achieve a high EAT score, let's examine some techniques.
1. Show your expertise
Expertise is synonymous with a person or entity's ability to solve problems in their domain. In other words, troubleshooters can be experts, and you need to be the problem solver for your niche. One of the best content marketing tips for eCommerce sites to follow is to show problem-solving capabilities.
But how to showcase expertise?
Take an example of the #Likeagirl campaign by Always, a brand that provides products for women's hygiene. The content marketing campaign of Always focused on different problems of girls during puberty and how they can feel more confident.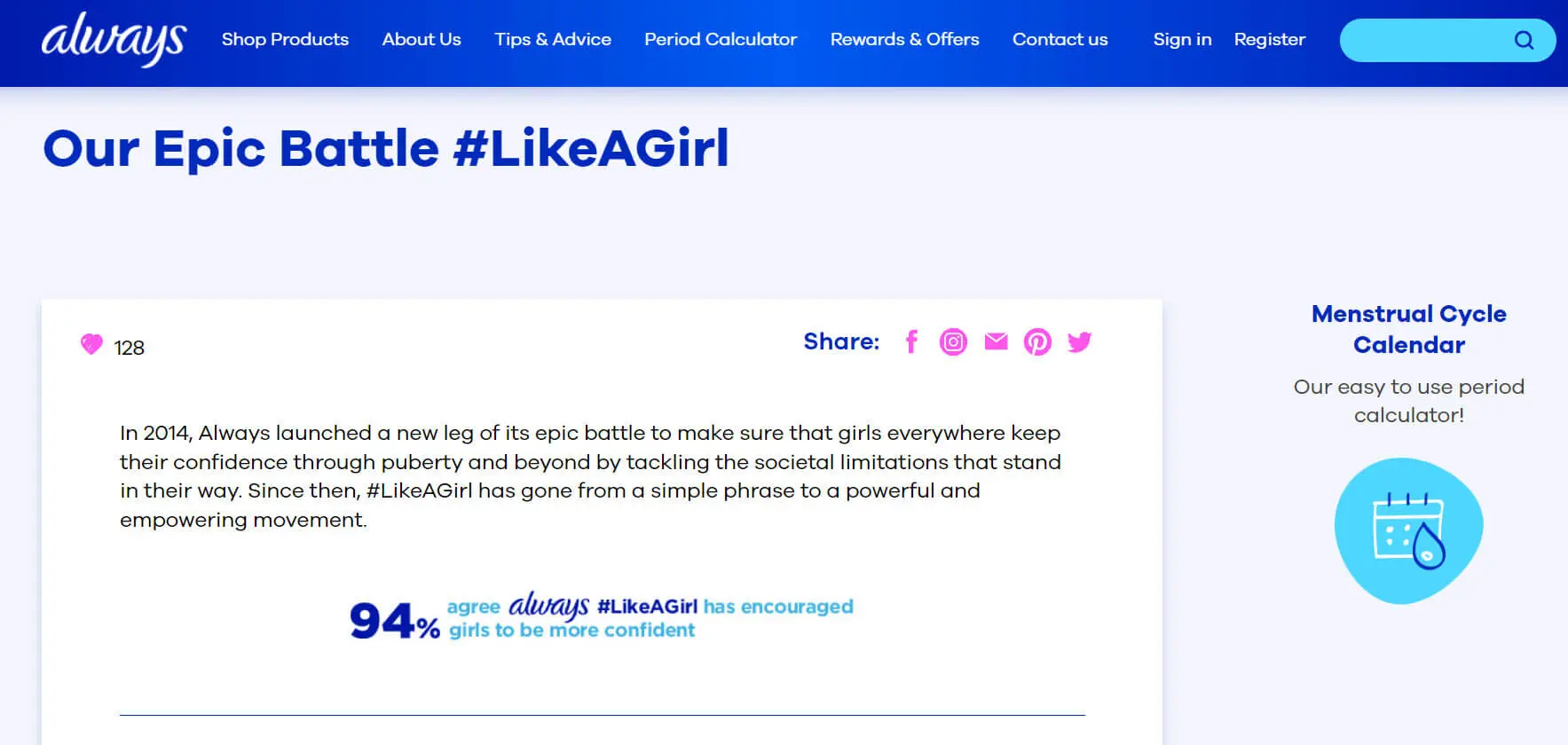 Source: Always Home Page
To promote their vision, Always released a set of emojis as a representation of the confident girl. It helped them create a trend around the #Like a girl campaign. Similarly, you can leverage eCommerce content marketing focused on problem-solving topics to show expertise for your niche.
2. Establish Authority
Authoritativeness is a term that is synonymous with the reputation of your eCommerce brand. It's closely related to expertise. Showing expertise and having validation are two different things. So, one of the content marketing tips for eCommerce is generating reviews from niche experts. You can also add customer reviews on your website for better authoritativeness.
3. Improve trustworthiness
Improving trust among users requires eCommerce brands to focus on security, data privacy, and reputation. For example, you can secure your website through HTTPS protocol. You may have noticed a padlock sign on the URL bar in browsers, showing the site is secure.
Installing SSL certificates on your website is one way to get this secure site symbol. SSL or Secure Sockets Layers is based on cryptographic encryptions and provides security to data transmissions between a browser and web server. There are many different types of SSL certificates that you can use to enhance security.
For example, eCommerce websites with multiple subdomains and a single domain can secure them with a single SSL certificate. Also known as the wildcard SSL certificate, it helps secure many subdomains.
Add the Right Product Images.
Content means text only sometimes. Images are crucial to your eCommerce content marketing strategy, and not just product pictures but every visual aspect of your site needs to be in sync with the strategic goals.
For SEO purposes, image optimisation becomes crucial. Making the website attractive is one thing, and being user-friendly is another. You can stuff images all over your website, making it slow. The best way to optimise images is to use compressed pictures and apply lazy loading.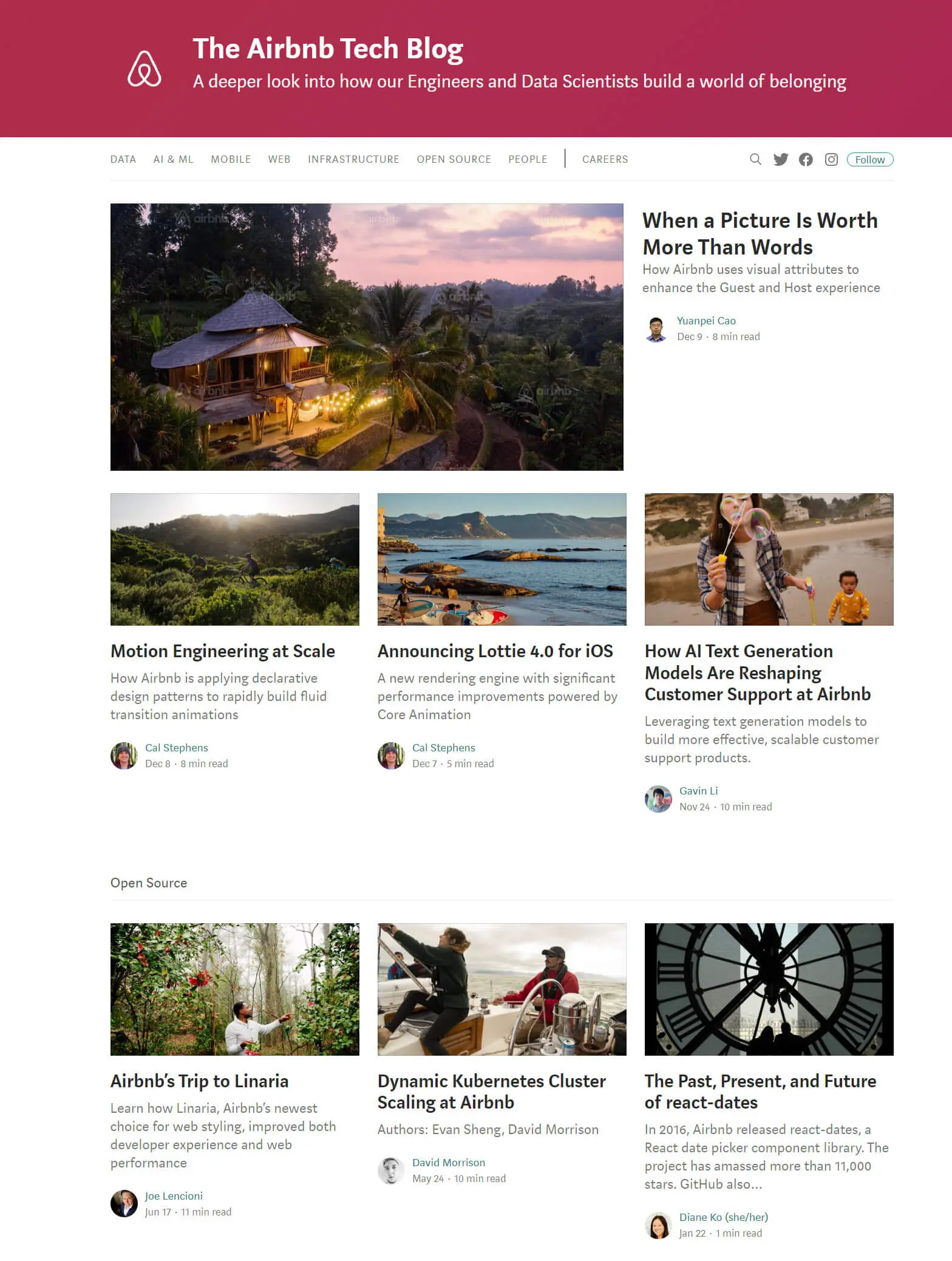 Source: The Airbnb Tech Blog
For example, an Airbnb medium blog uses lazy loading to load the important content first, and the image is loaded last to provide an enhanced user experience. You can also use heatmap as a guide to boost your eCommerce user experience and engagement.
Leverage User-Generated Content (UGC).
UGC adds a sense of authenticity to your products. One fine example of UGC is Amazon's profile pages. A key program called "#FoundItOnAmazon" is an excellent way to promote UGC on the eCommerce website where customers can post their images and experience with products.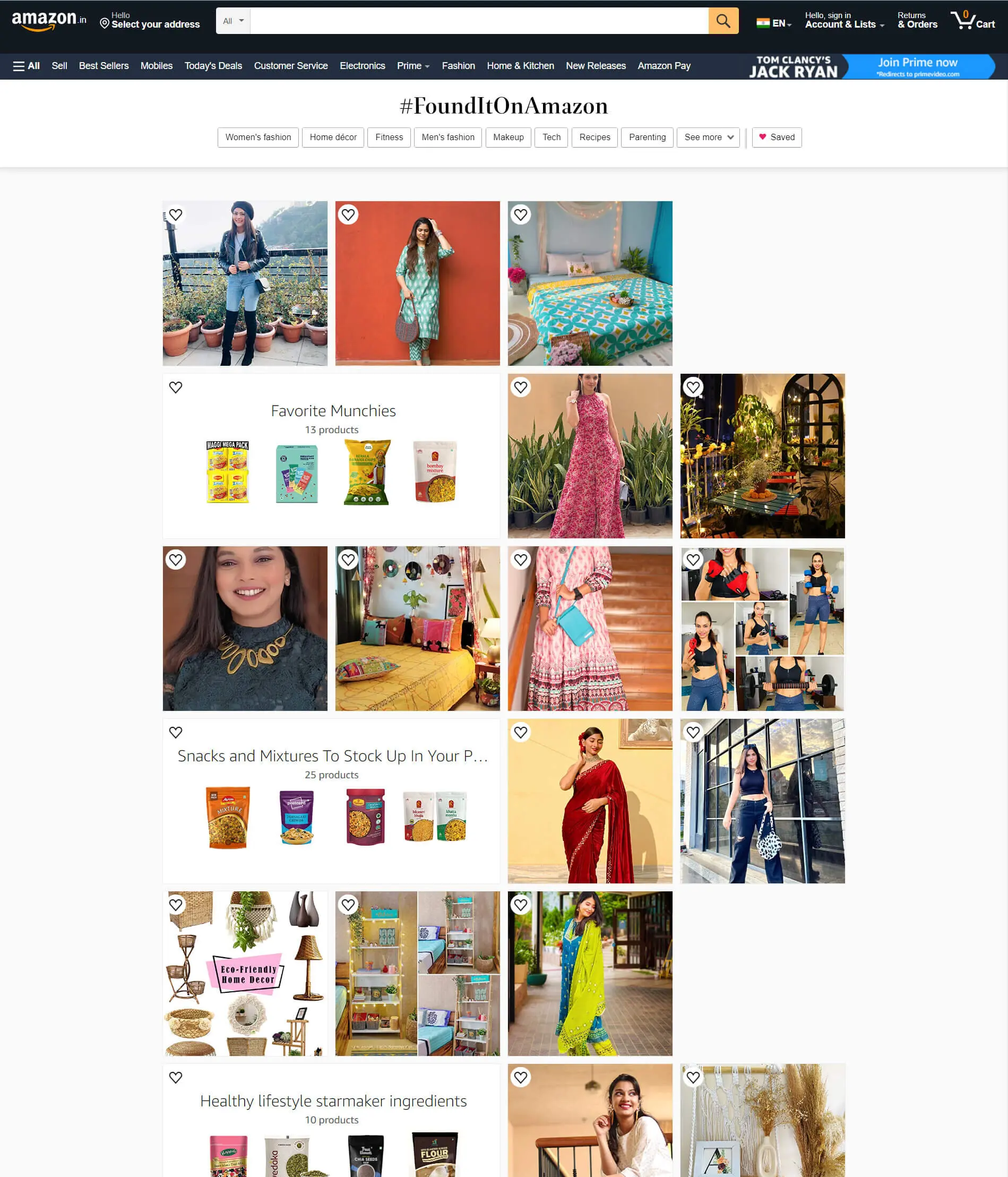 Similarly, you can use UGC to your advantage and improve SEO and conversions. It also helps in creating new eCommerce content ideas for your campaigns. You can UGC on your website or integrate social media platforms to improve sharing of product images also.
Social Media Campaigns
There is no denying that any eCommerce content marketing strategy is incomplete without social media campaigns. However, it's about more than maintaining a great social media profile. It would be best to focus on posting content aligned with marketing goals. It will help you engage with the customers and improve your engagement.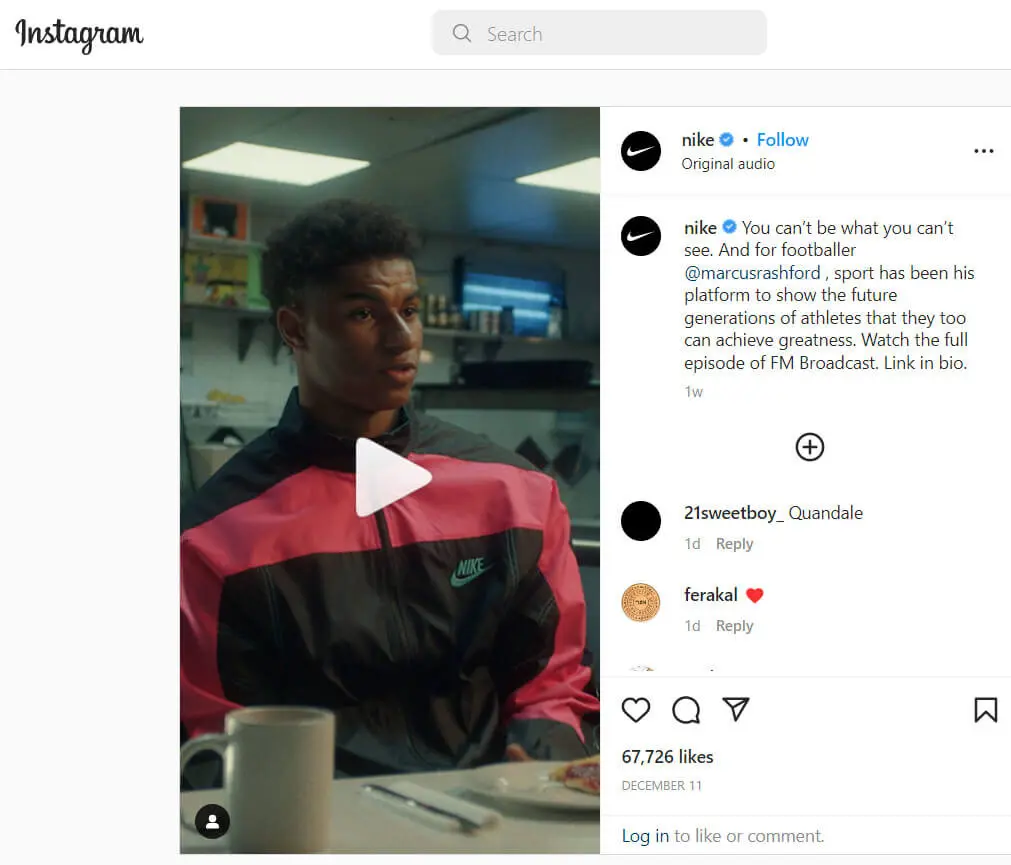 Source: Marcus Rashford's Interview on Instagram
Take an example of the Marcus Rashford interview by Nike during the ongoing football World Cup in 2022. Nike, a sports shoe and sneakers brand focusing on football, made more sense. It provided them with enhanced engagement, with more than 2.6 million views and 53K likes.
Leveraging eCommerce Content Marketing
We discussed several eCommerce content marketing strategies for SEO, higher traffic, and conversions. However, what you need to keep in mind while applying them to your eCommerce business is adaptability.
Not all strategies work for every eCommerce business, so you need A/B testing before formulating a content marketing strategy. The best way to ensure success is by analysing your target audience, medium of engagement, and content requirements.