There's a lot of ongoing debate about whether marketing funnels can be the answer to growing your business.
Ask five different marketers about a marketing funnel, and you will get five varying answers. And this is because a marketing funnel is not a one-size-fits-all strategy that will magically improve your sales.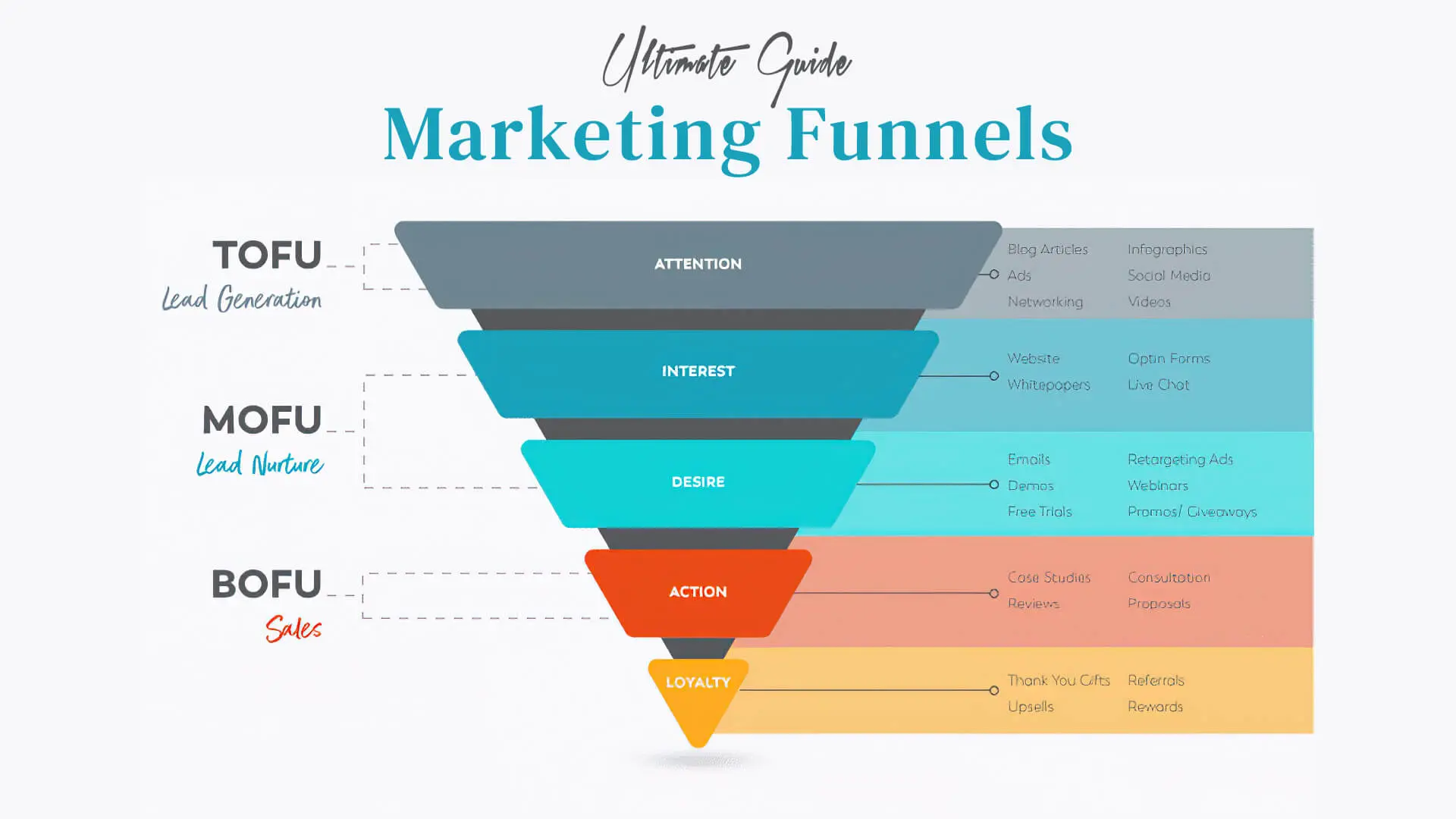 To fully use this funnel, knowing precisely what it is and how to make the most of it is imperative. It would help if you tailored the marketing funnel you employ to the customers you have and what they need. And in today's guide, we will take you through all you need to best use marketing funnels.
So, without any further delay, let's quickly dive right in!
Marketing Funnel Explained
A marketing funnel (also known as purchasing funnel) can be best understood as a visualisation process that helps turn your target audience (leads) into customers. Like a regular funnel that helps narrow down things, a marketing funnel also helps narrow prospective customers and nurture their buying decisions. The aim is to narrow down the prospects in the marketing funnel stages.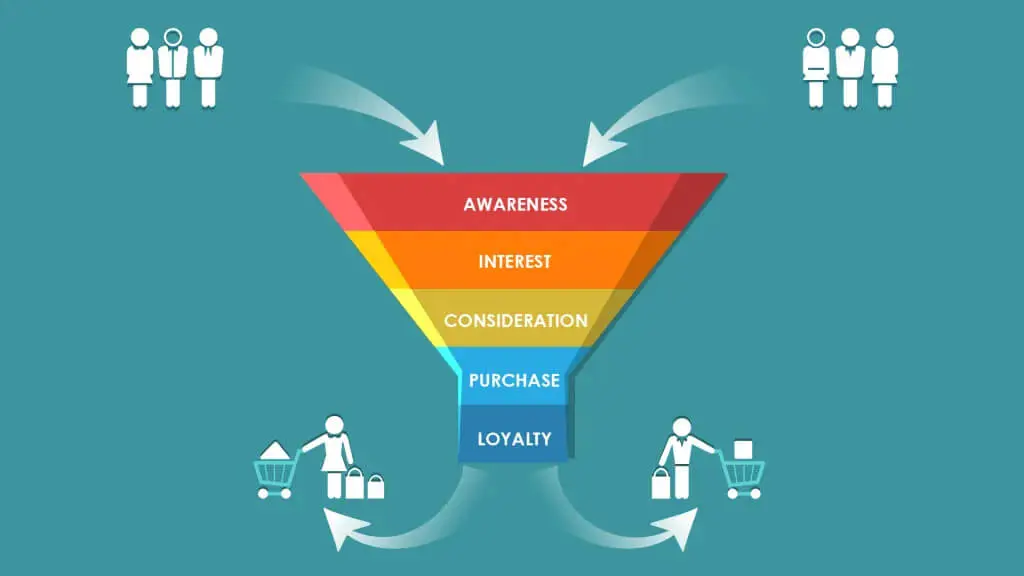 Now, the marketing funnel works to convert potential customers into existing customers, thereby turning the funnel cylindrical. In the best-case scenario, this sales funnel would convert the leads into stay customers. This is how a marketing strategy is designed!
All said, no one right marketing funnel model is mutually agreed upon as the best by all brands. For customer retention, brands use different marketing funnels. To help you understand this better, we will take you through some of the most relevant funnel stages and actions involved in the process.
Stages And Conversions
To make the most of every stage of the funnel, you must completely understand how it works.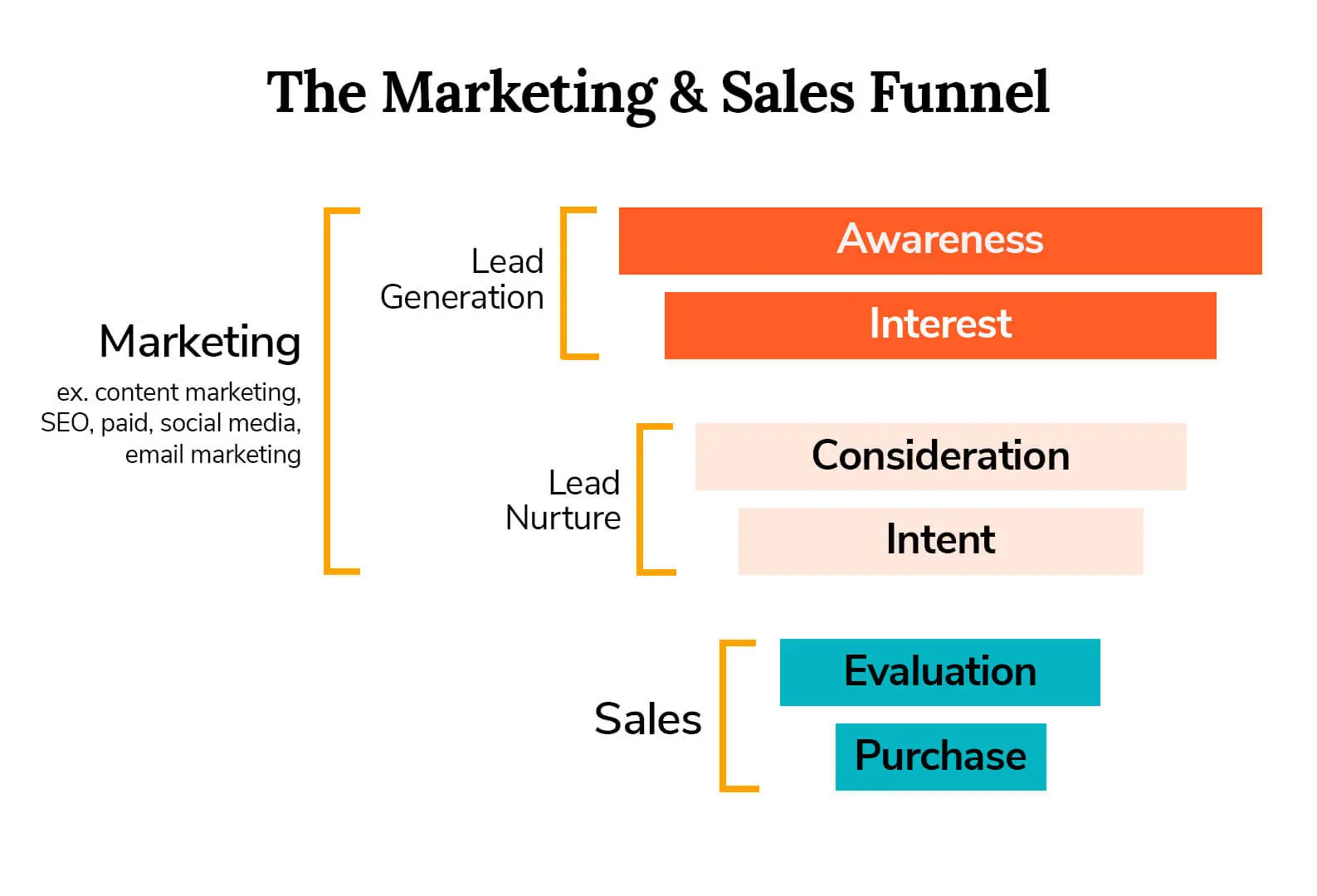 1. Awareness Stage
This is the primary stage involved in working with a marketing funnel. Through consumer research and marketing campaigns, attempts are made to pull in the leads. People create content, arrange events, make paid advertising, use social media posts, and so on. Content mainly involves writing a blog post and using infographics.
In this stage, lead generation is appropriately arranged in a lead management system to narrow the funnel further.
2. Interest Stage
Once you capture leads, it is time to generate interest in them. Your marketing strategy must now involve developing interest among the leads by providing them with necessary information about the company, the products, and the services you offer.
In this stage of the funnel, the brands can develop relationships with their customers in the leads database. The point here is to introduce the brand positioning to potential leads. Marketers can reach out to their leads through emails, social media posts, or paid ads.
Your marketing team can also make the most of the interest-generation venture by sending targeted newsletters.
3. Consideration Stage
The customer journey takes a new turn when the marketing funnel enters its consideration stage.
Here, the leads are converted into marketing-qualified leads, now considered groups of prospective customers. Your sales team can directly contact these prospects and send them more specific product information through automated email campaigns.
As a result, a prospective customer gets to see more targeted brand content and is offered a range of things: free trials, case study reports, etc.
4. Intent Stage
The intent stage is that stage in the marketing funnel when the brands have a good chance of convincing their buyers why investing in their product is a good idea. Keep in mind that potential customers can only enter this stage when they show some interest in purchasing from the brand.
Wondering how to figure out whether a lead is interested in buying your product? Intent can be assessed through surveys, after a product demonstration, or when the item is placed on the brand's official eCommerce shopping cart.
5. Evaluation Stage
As the name suggests, customers make a final call about whether they want to invest in a particular product or service during this stage. The content marketing and sales teams work closely to convince buyers that a specific product is the best bet.
6. Purchase Stage
Yes, now you've reached the final stage in the marketing funnel! You reach this stage when a prospect is no longer stuck in the consideration stage, has decided to buy your product, and finally joins the existing customers' team.
In this stage, the sales team handles the purchasing process. You must ensure your customers have a positive experience, leading to referrals through word of mouth. That would fuel the base of the marketing funnel, and the process would soon begin again.
How Exactly Do Marketing Funnels Work?
As we have already mentioned, marketing funnels work in stages. The base or the top of the funnel is broad and involves pulling in a large target audience. Then comes the middle section of the funnel, which is a little narrower than the top. Lastly, the bottom of the funnel is the slimmest and mainly consists of serious buyers.
When building a marketing funnel, you should design a marketing strategy that considers the customer experience and perspective. Only then there's a chance that it will be a successful one. To better understand, we will now take you through the various stages of the marketing funnel as customers experience it.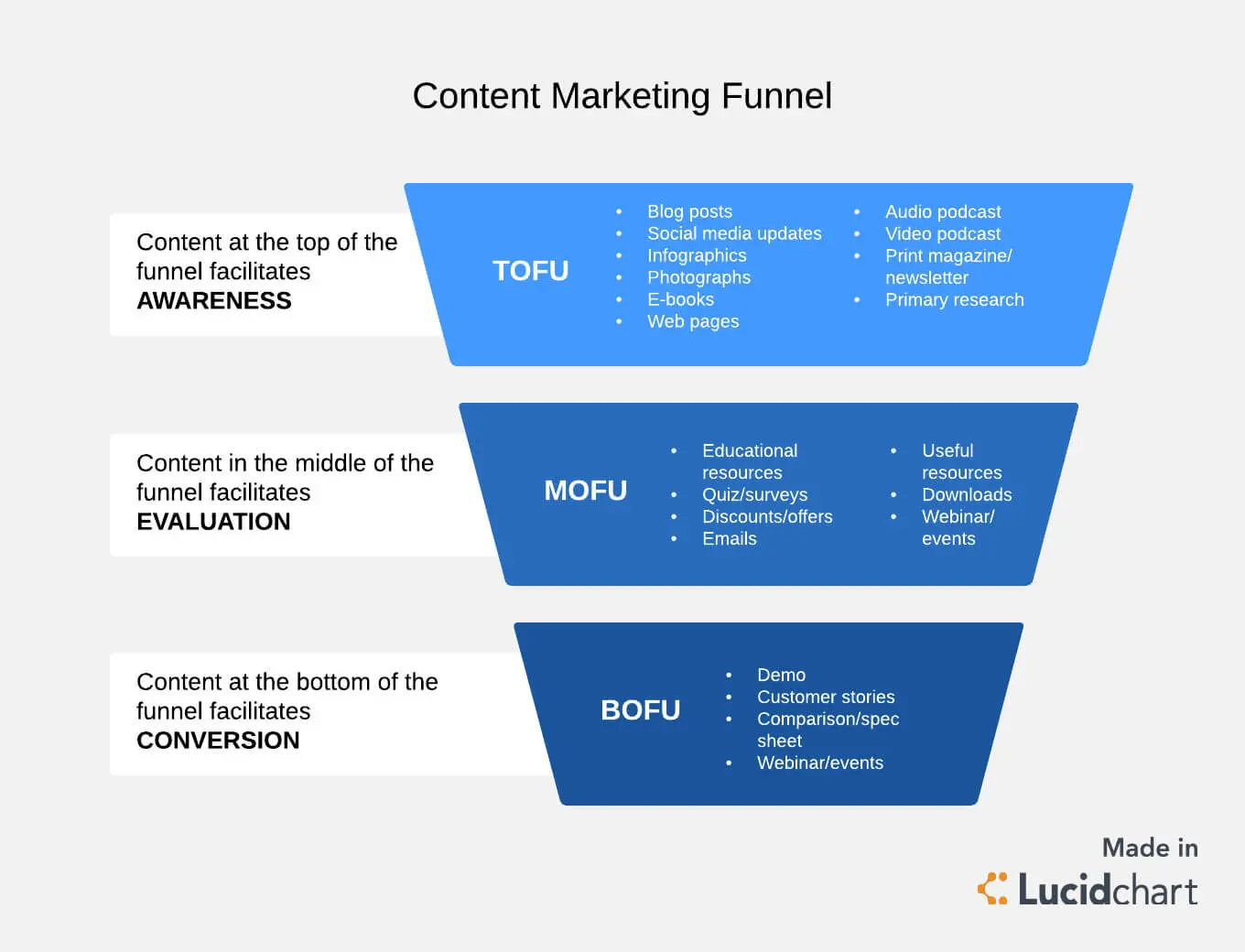 Stage 1 — Identifying The Need/Problem (TOFU)
The first step in the buying process is identifying a need or a problem. Unless there's a need, one is less likely to invest in a product or service.
For example, if you start with a new hobby, you will need new tools and accessories to engage in it. However, if you are not creating anything new and nothing is happening out of the ordinary, there would be no need to purchase new products. Only when the need arises are you most likely to do a Google Search, whereby you look for the required items?
It might so happen that your room heater suddenly starts malfunctioning in the middle of winter. People in such a situation might do a bit of research, but not too much, as it would be essential to find a fix quickly. The problem is pressing, and not much marketing effort is needed to turn the leads into customers.
However, things are not always so straightforward. For example, when one has a medical condition and is looking for solutions, they spend more time getting educated. Because of the risks involved, people are more likely to spend significant time researching and looking for the right solution.
Problem Recognition And Information Search Stage
Marketing strategy aiming at reaching more potential customers happens through ads and content marketing. You may make use of Google Ads to engage with prospects. These ads will bring the leads to landing pages where they can get a demo of the product.
You can do it through paid ads on Facebook or other social media platforms. Here you can invite your leads to a webinar to discuss the product. Conversion happens when your leads follow the ads and end up on the webinar landing page.
On the other hand, if you take the content marketing route, you would have to engage with the prospects through a guest blog post or related industry blogs. One can try engaging the leads through educational articles with the website link embedded in the bio. A conversion would occur when the prospects read the blog post and end up on the website following the link.
Stage 2 — Search For Information (MOFU)
Once the need or a problem is identified, leads are triggered to find more information on it, ultimately entering the next stage in the marketing funnel. Keep in mind that people gather information mainly depending on the scope and size of the purchase.
If a person suddenly feels hungry on a Monday afternoon, they are most likely to search the internet to find nearby restaurants quickly. On the other hand, if your laptop starts to malfunction, you are more likely to spend a considerable amount of time researching solutions online. You might even call professionals if the DIY techniques fail and spend time reading customer reviews.
Going by the data published by Trust Radius, in 2022, around 33% more buyers spent more time researching before purchasing than they did last year. Accordingly, this stage of the marketing funnel is becoming more in-depth. In this stage, people are not just looking for promotional content; instead, they are looking for possible solutions to their problems.
Stage 3 — Evaluating The Alternatives (MOFU)
After the leads know the possible alternatives they can try, it is time to compare them. A customer likes to weigh the choices before deciding which option to go for. It might be pretty simple to determine which restaurant to take your date to. Ask them what they are in the mood for; accordingly, you can make your pick!
However, things are not so simple all the time. Sometimes, customers might evaluate their marketing automation program to see if their sales funnel can be improved.
These programs are expensive and can cost you around $1,500. So, people are likely to be more careful and thorough with the evaluation process. To better understand the product, the customers might request demo trials and online demonstrations to understand how the program functions. In short, they will test the program before they decide on investing.
It would be best to remember that customers are more severe and do not casually engage in research during this stage. If you are starting and running on a limited marketing budget, you can skip the first few stages of the marketing funnel.
You can specifically target those leads at the bottom of the funnel to ensure that conversion is maximum with minimal spending and effort.
Stage 4 — Making The Purchase Decision (BOFU)
We have now reached the second last stage of the purchase funnel. A potential customer reaches this stage in the consumer purchase funnel when they successfully identify the problem, investigate possible solutions, and choose the best alternative.
In this stage, they have made up their mind and decided what to invest in. If you are running an eCommerce website, now is the best time to optimise your content to increase conversion rates and increase sales.
We recommend offering free trials, swift refund policies and other benefits that would make the customers want to invest in your product or service.
Stage 5 — After Sales Behaviour
Not many people will tell you this, but remember that the customer's journey does not end with the purchase. If you want your customer's goodwill to lead to referrals, making the after-sales journey smooth for them is crucial.
Some personalised effort to onboard your customers, paying particular attention to see that they have all the resources to use the product, goes a long way. Paying customers want good service, and when they get it, they are more likely to turn into loyal customers, referring your brands to friends and family.
In the best-case scenario, they can sign up for your loyalty program and become your brand advocates.
However, things may go south if the customers are unhappy after making the purchase. If unsatisfied with the product or service you offer, they will most likely request a refund. In the worst-case scenario, they might write negative reviews and ask their friends and colleagues to buy from your competitors instead.
You might think that creating excellent content is a good solution for this. However, let us tell you, good content alone will not be enough. Your sales process should be swift, and your product should be exceptional. That's the only way new customers will swear by your product.
You can use marketing activities to improve customer relationships like building a FAQ section. This way, your customers' lifetime will be enhanced as they can better use your product. This will also help you get essential feedback that might help you further improve your product.
Two Types OF Marketing Funnels: B2B And B2C
The customer conversion panel is more or less similar for B2B and B2C customers. But there are minor differences in the process; we will take you through them for a better understanding.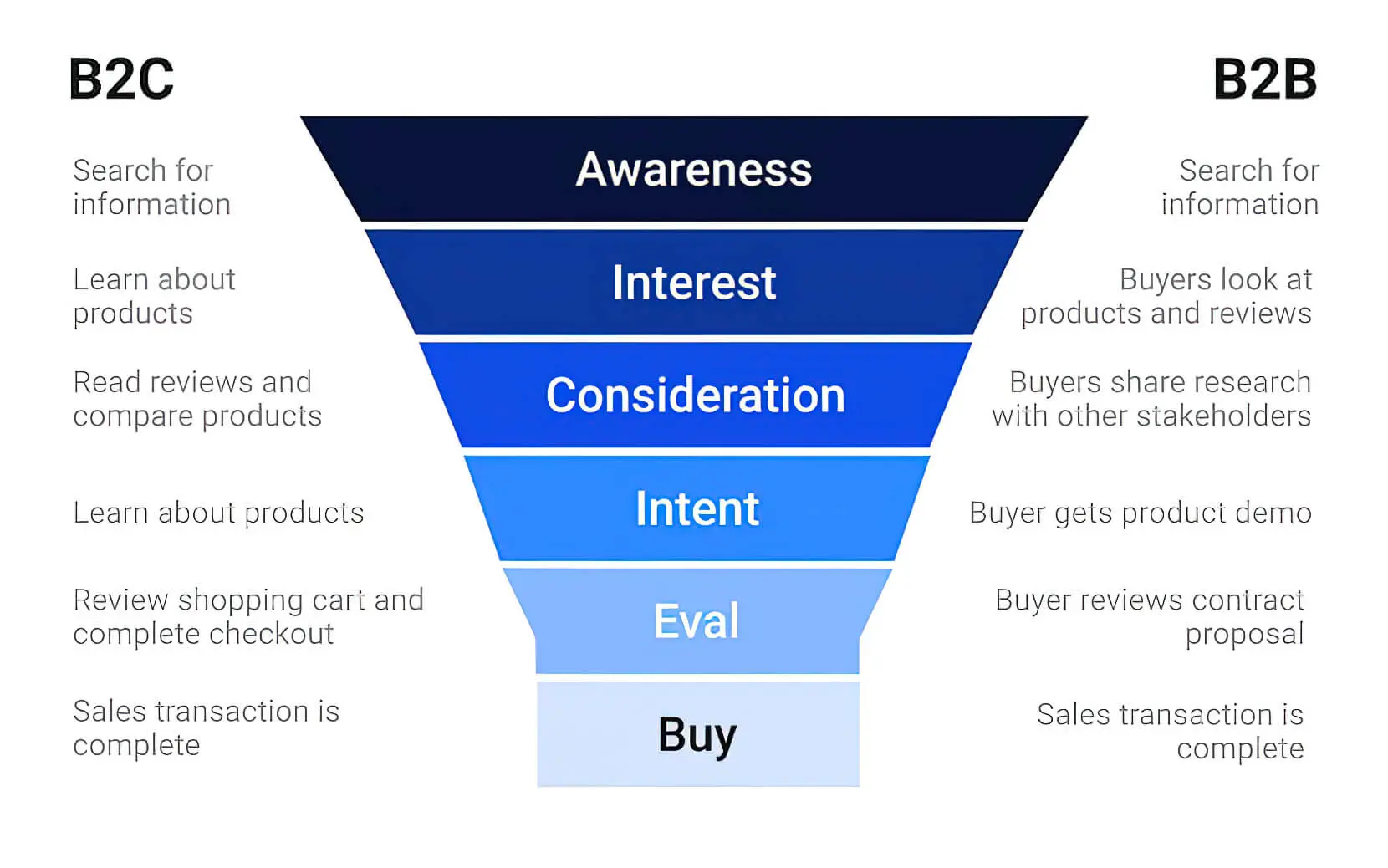 Coming to B2C customers, the purchasing decisions are solely theirs, and thus, the buying cycle is pretty short, limited to not more than a few days. Unlike businesses, B2C customers spend less time researching and often engage in impulsive buying. As a result, no sales call or engagement from the sales team is required. The marketing team can handle the entire process.
On the other hand, the purchasing process in a B2B model is rather elaborate. There are multiple decision-makers and dedicated teams that help decide whether making a purchase is a good idea or not.
So, the entire process can take a few weeks or even months. Unlike B2C models, where many consumers indulge in impulsive buying, in a B2B setup, there's a lot of rational thinking. As a result, your tactics also need to be different.
A B2B business generally operates in niche markets, and you must identify buyer personas to build proper relationships with them. In the lower sales funnel stage, the marketing and sales team join hands to close deals.
Broadly this is the difference between the two models. Considering these factors, let's quickly look into how you can get the ball rolling.
How To Create A Marketing Funnel?
With hundreds of suggestions on the internet, creating the proper marketing funnel for your business might seem a bit daunting. So, we are here to simplify it to ensure that you can use it best.
1. Knowing Your Audience
Identifying your leads' needs and problems is essential to creating an effective marketing funnel. It would be best to put yourself in your customers' shoes to understand their needs. And for that, you might need to create buyer personas.
Take a peek into your competitors' leads to gain more fruitful insights, as they likely have a lot in common. And learn how to create buyer personas.
Besides that, take constant feedback from your existing customer to understand their requirements. Put all the quantitative data you collect through Google Analytics, surveys, and other marketing channels to use best.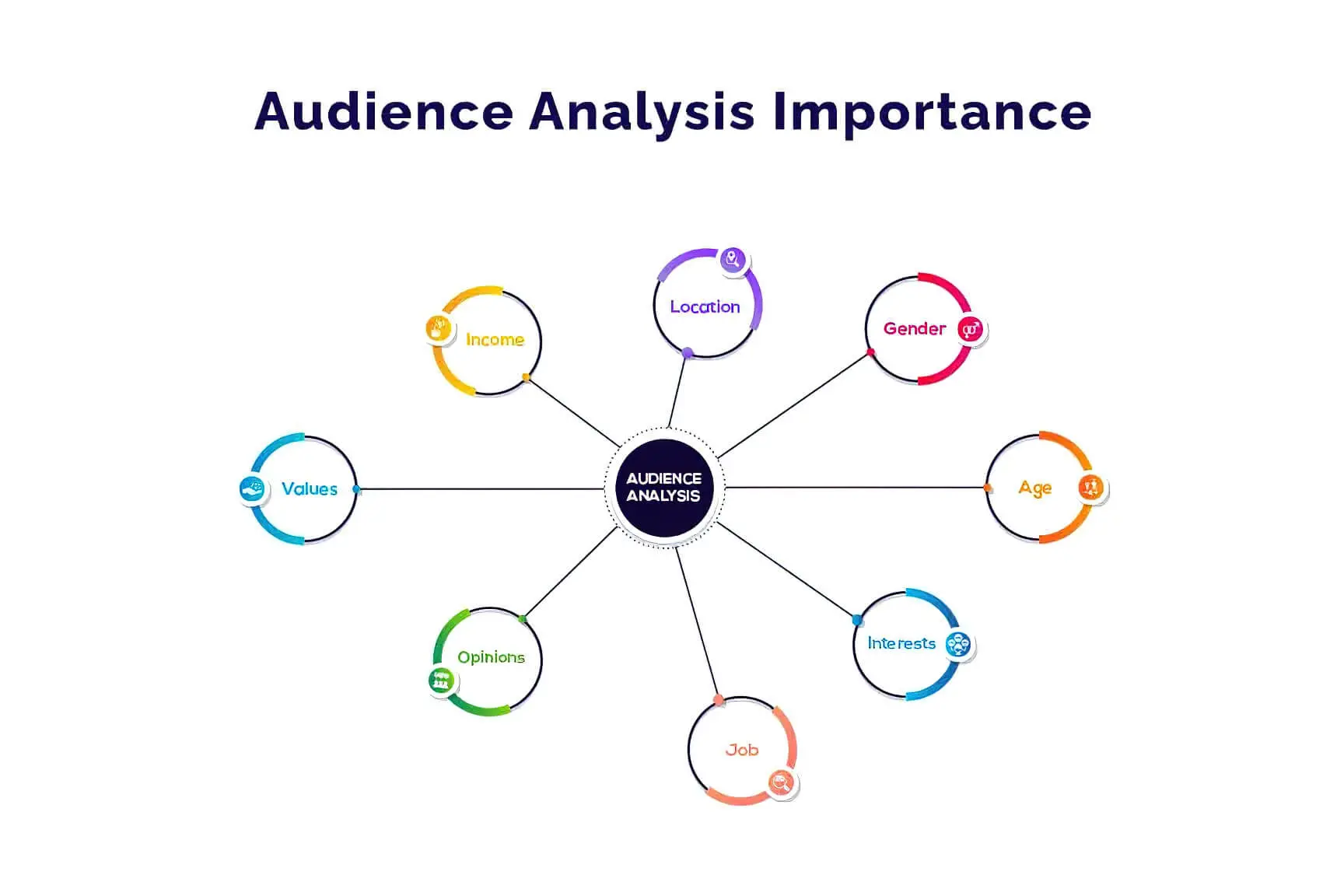 2. Understanding Customer Journeys
It is not enough to know your customers and their requirements. How they interact with the website or the other resources you offer tells a lot about them.
Knowing the customers well is vital in building an effective marketing funnel. Try to understand what kind of marketing channel they prefer, what kind of barriers they face when making a purchase and the doubts they have. And this will help you push your leads through the different stages of the purchasing funnel.
3. Decide On The Right Number Of Stages
There is no one correct way to design a marketing funnel for your business. Customers do not always go through all the stages of a purchasing funnel and might end up skipping different stages.
What will be the correct funnel to go with depends mainly on the target audience.
4. Opting For The Right Marketing Tactics
Selecting the right marketing tactics is essential to converting the purchase channel into a practical design. Your aim should be to use the marketing channels and tactics and create suitable content for each stage.
Writing a blog post might not attract many customers for certain businesses. However, email marketing and product demonstration might do wonders for these leads.
5. Putting A CRM System To Use
The right CRM (Customer Relationship Management) system would help maintain good customer relationships. CRM is essential to the customer conversion funnel as it helps in retention.
With CRM technology, you will be able to track and record everything. It will help you get pertinent details on each deal, keep a record of every client and communicate with them through a personal chatbox.
You can find many CRM systems for your business, which will help put the sales process on autopilot mode.
6. Note The Changes
Building a marketing funnel will not be enough to attract new customers or retain the existing ones. Always test novel marketing tactics and content to make the most of it.
And to put it to best use, make a database of the results to track what is doing well and what is not. This will help you understand customer behaviour better. If you are still having a hard time putting the marketing funnel to use, let us give you some tips on how to build effective sales funnels for B2C and B2B customers.
What To Do To Make The Best B2B Marketing Funnel?
When creating a B2B marketing funnel, what is crucial is to identify the problems and needs of your audience. Often, you will see that players in the B2B sector do not have a clue that they have a problem that needs a solution. So, at the beginning stage of the funnel, your aim should be to help them realise that they have a problem and not just offer immediate solutions.
Wondering what kind of content is suitable? From our research, we can tell that blog posts, social media campaigns, videos, and white papers work the best.
Coming to the next funnel stage, you must make the customers aware that your product or service can help them effectively deal with the problem. In this stage, you can share guides, targeted ads and podcasts to show the leads how you can help. Email marketing tools also deliver outstanding results in this stage.
After doing all these, you will see that only a small portion of the leads will reach the bottom of the marketing funnel. In this stage, your goal is simple: convince them to buy from you. Customer testimonials, live demonstrations, and free trials all work great to convert prospects into actual sales.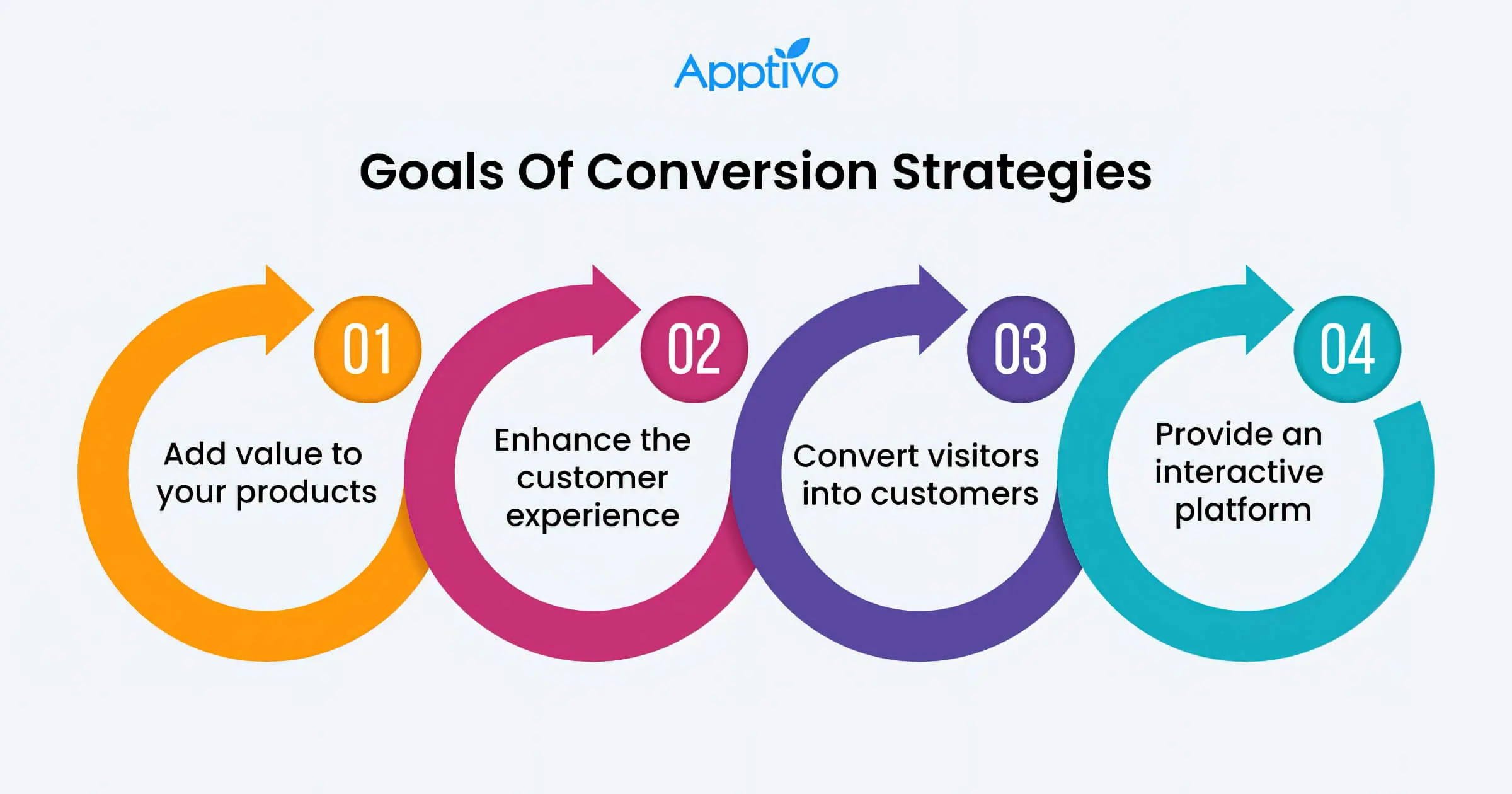 You must remember to include a post-purchase stage in the funnel if you are catering to the B2B sector. Create FAQs, and use social and digital marketing to ensure that these prospects turn into lifetime customers. Their experience using the product or service should be good if you want them to talk positively about your business in their social circles.
What To Do To Make The Best B2C Marketing Funnel?
As we have mentioned earlier, in the B2C sector, customers often engage in impulse buying. So, it would be best if you got them excited about your product or service. Media interviews, viral posts on social media, paid search, and PR publications work great. The marketer's job is to get the leads excited about the product!
In the middle stage, you need to educate the leads about the product so that they feel confident investing in it. SEO marketing, online reviews, and remarketing campaigns seem to work great at this stage.
Finally, in the last stage of the digital marketing funnel, consider using techniques and tools to lure customers into believing that purchasing your product is the best bet. Your customers would like promo codes and exclusive offers sent over emails. And make the most of web push notifications and email campaigns.
In B2C marketing, you must also understand that constant connection with the customers after making a purchase is essential. This will not only help create a brand recall but also create goodwill. Be in touch with the customers on social media platforms.
How To Measure The Success Of Marketing Funnel?
It is not enough to look at the numbers and analyse charts to make the most of a marketing funnel. You must understand your target audience well and maintain good communication with them.
To measure the success of your model, you will require both qualitative and quantitative data. Let's take a quick look at some of the marketing funnel metrics you can use.
1. Customer Lifetime Value (LTV)
This will help you measure the value a consumer continuously adds to your company. The metric reflects customer retention and carries particular weight for certain companies where users pay subscription charges regularly.
LTV is also quite useful for eCommerce websites and traditional sales-based companies. However, it only works if you can successfully predict an existing customer to make a new purchase.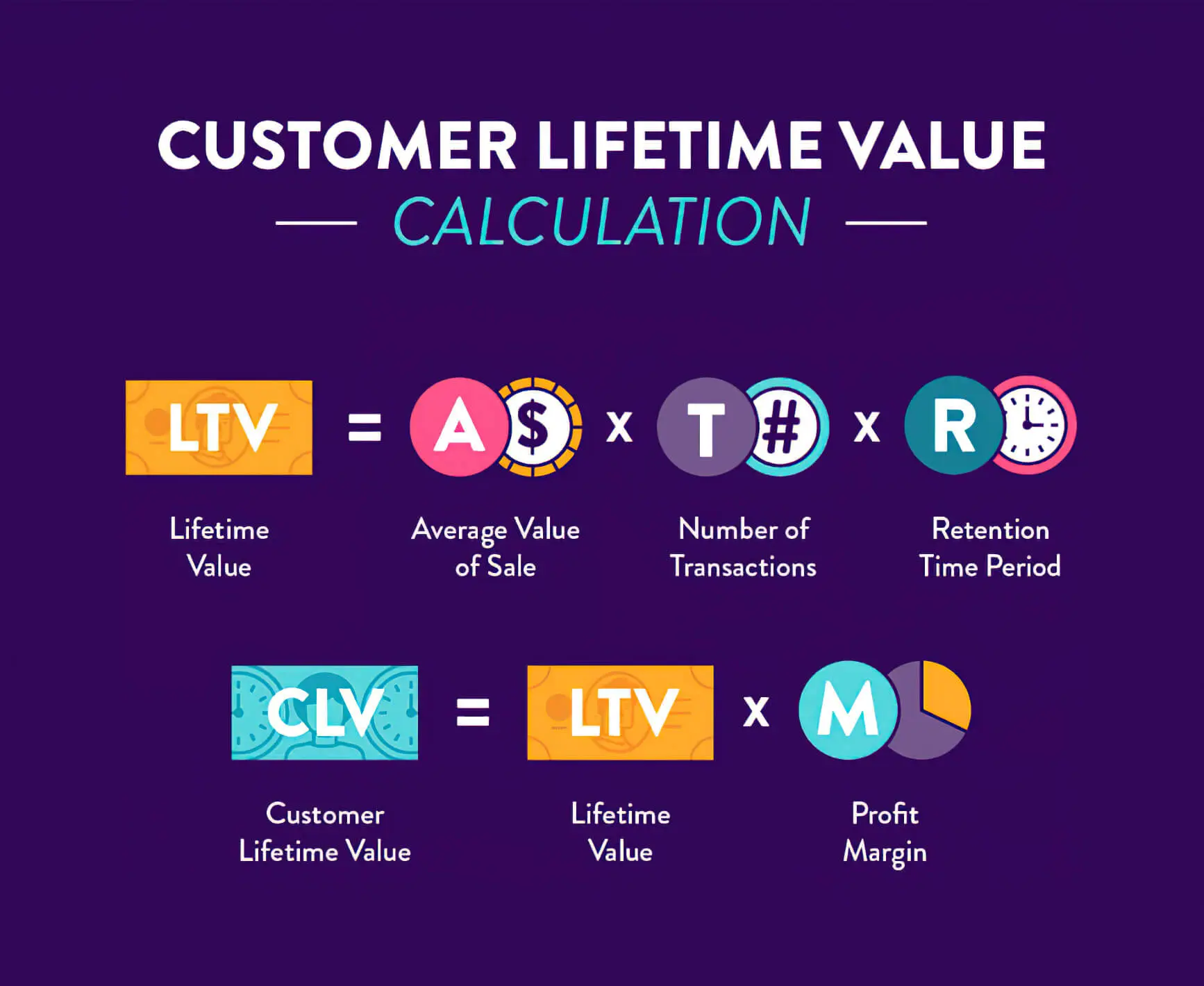 2. Cost Per Acquisition (CPA)
CPA should be your go-to metric when measuring how much you spend to acquire a new customer. Your marketing team usually uses the data from this metric to see how marketing efforts on paid advertisements, social media, email marketing and so on are working.
Getting this number is simple; you must divide the total cost of a marketing campaign by the number of actual conversions. What to do once you have the data is pretty simple; analyse it. If you find that the gains are lesser than how much you have spent, it is best to consider ending the campaign or, better, consider alternatives.

Take note: LTV and CPA are highly influenced by a few crucial factors. How you price the products and set the company and marketing costs, greatly influence the two.
This creates problems for startups, as they find it difficult to understand how much the prospects are willing to pay. Only market research is not enough to set the prices. One has to constantly test the prices and be in touch with the customers to test the waters.
3. Conversion Rate Per Channel
Each marketing channel plays a different role and needs to be analysed differently. Broadly these channels include, but are not restricted to:
Paid ads (Social media, podcasts)
Organic search
Referrals and influencer marketing
Email broadcasts
When measuring the success of these channels, you need to ask yourself a few crucial questions:
Can responding to emails be considered a conversion?
Can clicking on paid advertisements be considered conversion?
Can newsletter sign-ups be regarded as conversions?
You need to set rules about what can be considered conversions and what cannot. To best measure the success of your marketing funnel, it is crucial to understand how people use your eCommerce website.
Avoid sticking to traffic and conversions when measuring the success of your marketing funnel. You must study customer behaviour and note why the users behave in a particular way when they shop or browse. By analysing consumer behaviour, you can enhance conversion at every stage of the customer's journey.
Going Beyond Traditional Marketing Funnel: Non-Linear Funnels
Some marketing experts contend that there is a need to move beyond the traditional marketing funnel as the buying process is no longer linear. Today leads enter the funnel at different stages, not just in the awareness stage.
Some prospects may get to know about your product through referrals. In such cases, they skip the first few stages in the marketing funnel and directly enter the intent stage. And they might have already made up their mind to give your product a try.
With the internet explosion, most customers spend significant time researching before deciding to buy something. They heavily rely on digital content to understand and determine which product to invest in.
Recent trends show that B2B customers with their teams traverse most of the marketing funnel all by themselves before encountering a sales representative.
Redefining The Marketing Funnel
Recently, there has been an increasing attempt to "flip the funnel", whereby the funnel gets a makeover.
Simply put, marketing teams are now trying to give a facelift to the existing marketing funnel and convert it into a customer experience funnel instead. The main aim of this funnel is to convert the customers into advocates. When that happens, the first two stages of the marketing funnel (awareness and lead generation) are refuelled.
We will now take you through the functioning of a customer experience funnel.
1. Repeat
Once a lead has turned into a customer and made a purchase, turn them into repeat customers. For this, you need to work on customer retention and ensure that the consumers are motivated to make more significant purchases the next time.
As a business owner, you should use customer loyalty programs, keep your pricing page clean, and not forget to continue marketing activities at the bottom of the funnel. This will encourage the customers to make repeat purchases.
2. Loyalty
During this stage, work hard to make customers develop a liking for your brand and eventually turn into loyal buyers. The customers should be able to identify with your brand and take pride in associating with you.
It would be best if you garnered good customer engagement to make this stage successful and push the customer further down the funnel. Wondering how to do that? Try developing a personal connection with them through outreach, engagement and community efforts.
3. Referral
If you can gain the customers' loyalty, they will most likely refer to your brand in their social circle. Business referrals and brand recommendations will help bring more business to your company.
4. Advocacy
The final and crucial step in the process is to nurture the existing customers to become advocates of your brand. In the best-case scenario, they will selflessly write product reviews and post about your product on their social media handles.
And when that happens, your website will likely get more traffic organically. More traffic means more leads. If you can nurture these prospects properly, they can very well turn customers.
External references that are not motivated by profit drive sales.
When an existing customer leaves a positive review, it helps drive sales and enhances goodwill. To make the most of this stage, marketers should be able to develop the communities better. They can engage with their existing customers on social media platforms, encourage them to participate in case studies, and request their feedback.
Like the traditional funnel, this approach also involves increasing the number and scope of purchases.
Implementing A Marketing Funnel For Your Business
With that, we have now reached the end of this informative guide! Creating a successful marketing funnel is not an easy job and requires a lot of expertise.
It's not a project you can take up and complete in an afternoon. Instead, it requires your constant attention if you want the company to gain more loyal customers and stay in business.
However, it can help significantly drive up your sales when done correctly. Unless you are a startup, we recommend that you hire an expert marketing team who can help you with the job. For that, you need the team at sitecentre®. Our team can help you build a successful marketing strategy that fits your needs, budget, and brand. So, please get in touch with us today!
And for more business guides, do not forget to watch this space.
Until next time, stay tuned and do take care!