There are many ways of conducting marketing campaigns, like digital marketing, PPC, and more. However, end-to-end marketing is one of the most comprehensive ways of marketing campaigns.
If you want to make more sales, reach your target audience, and increase website visitors, you must try end-to-end marketing. But, if you are new to it, there are some things you should know before you start such marketing campaigns.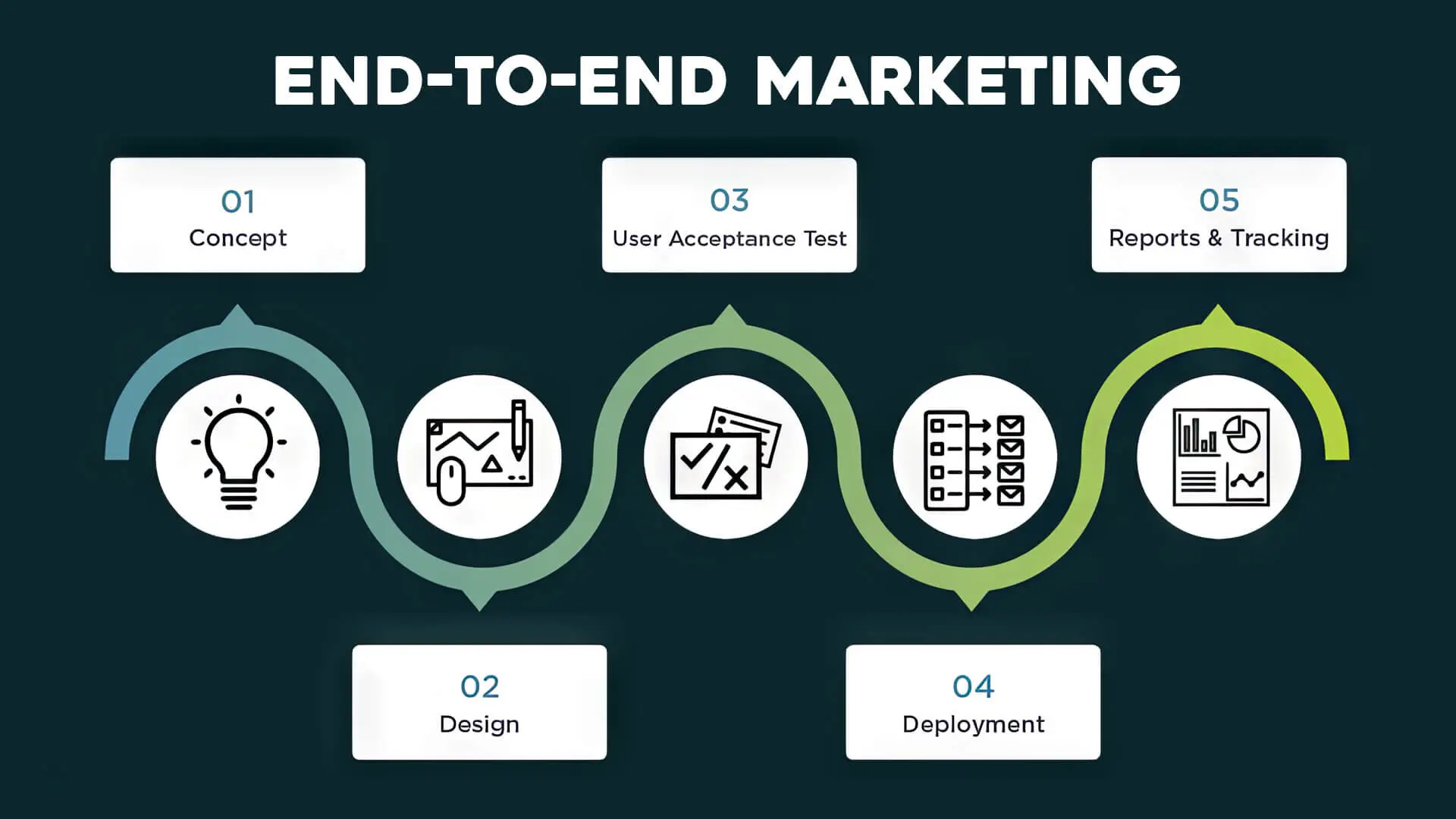 You should be able to clarify doubts like, "What is end-to-end marketing?" "What are some of the benefits of end-to-end marketing?" and "How is it different from other marketing strategies?"
To make your work easier, we have answered all those queries and everything in between in this informative article.
What Is End-to-end Marketing?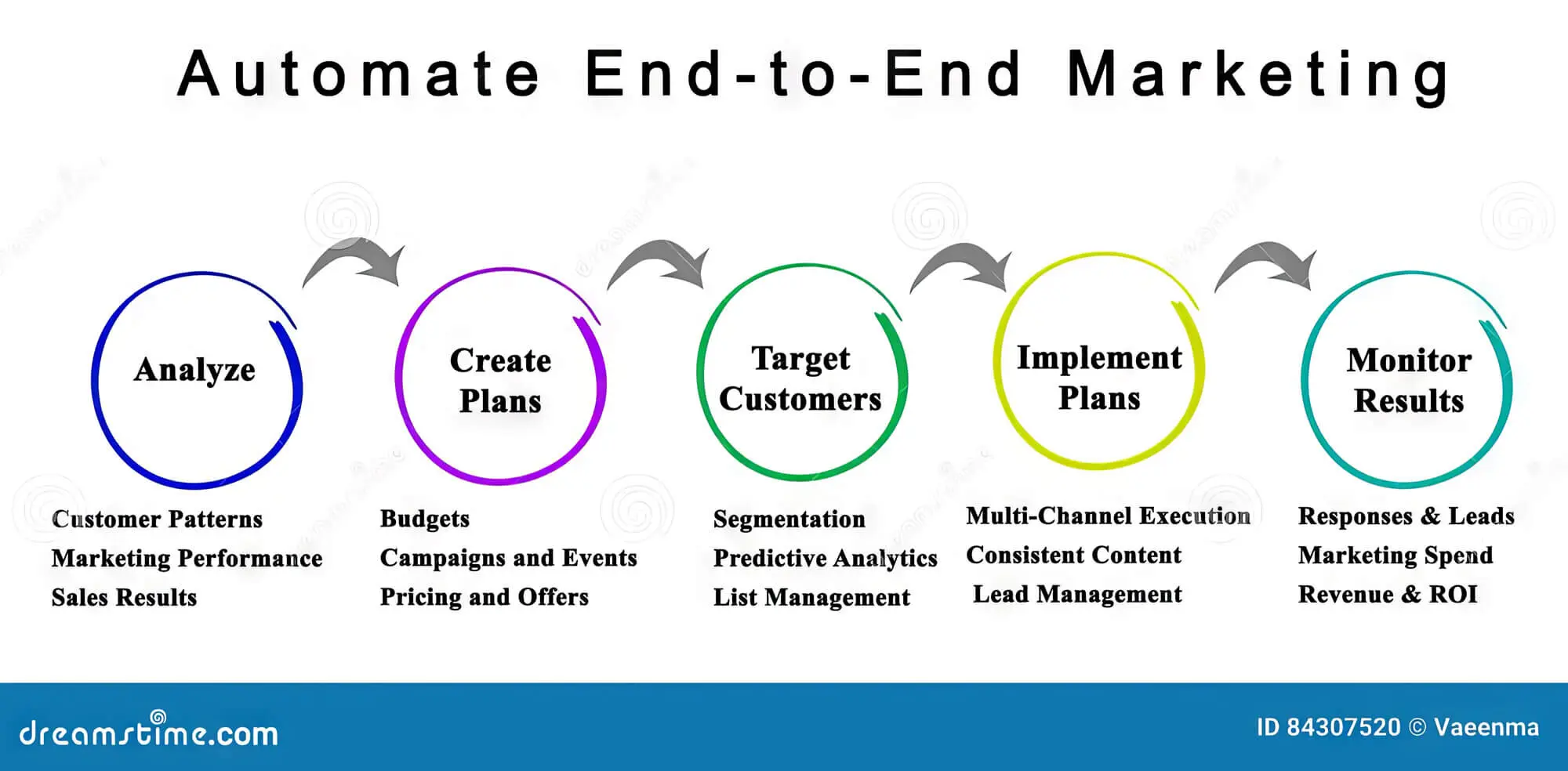 To make it as simple as possible, end-to-end marketing is the comprehensive marketing strategy for engaging the target audience and generating sales leads. It includes combinations of initial marketing strategies to lead generation, customer retention, and sales conversion.
Some of the main benefits of end-to-end marketing over other digital marketing techniques are:
End-to-end marketing offers you a thorough understanding of the target audience and what they want.
A thorough understanding is achieved by monitoring customer behaviour through various channels like social media and email newsletters.
There is also the option of personalised campaigns based on individual needs instead of a common campaign that gets lost on the web.
All these features make end-to-end marketing a more effective marketing strategy.
End-to-End Marketing vs. Traditional Marketing Approach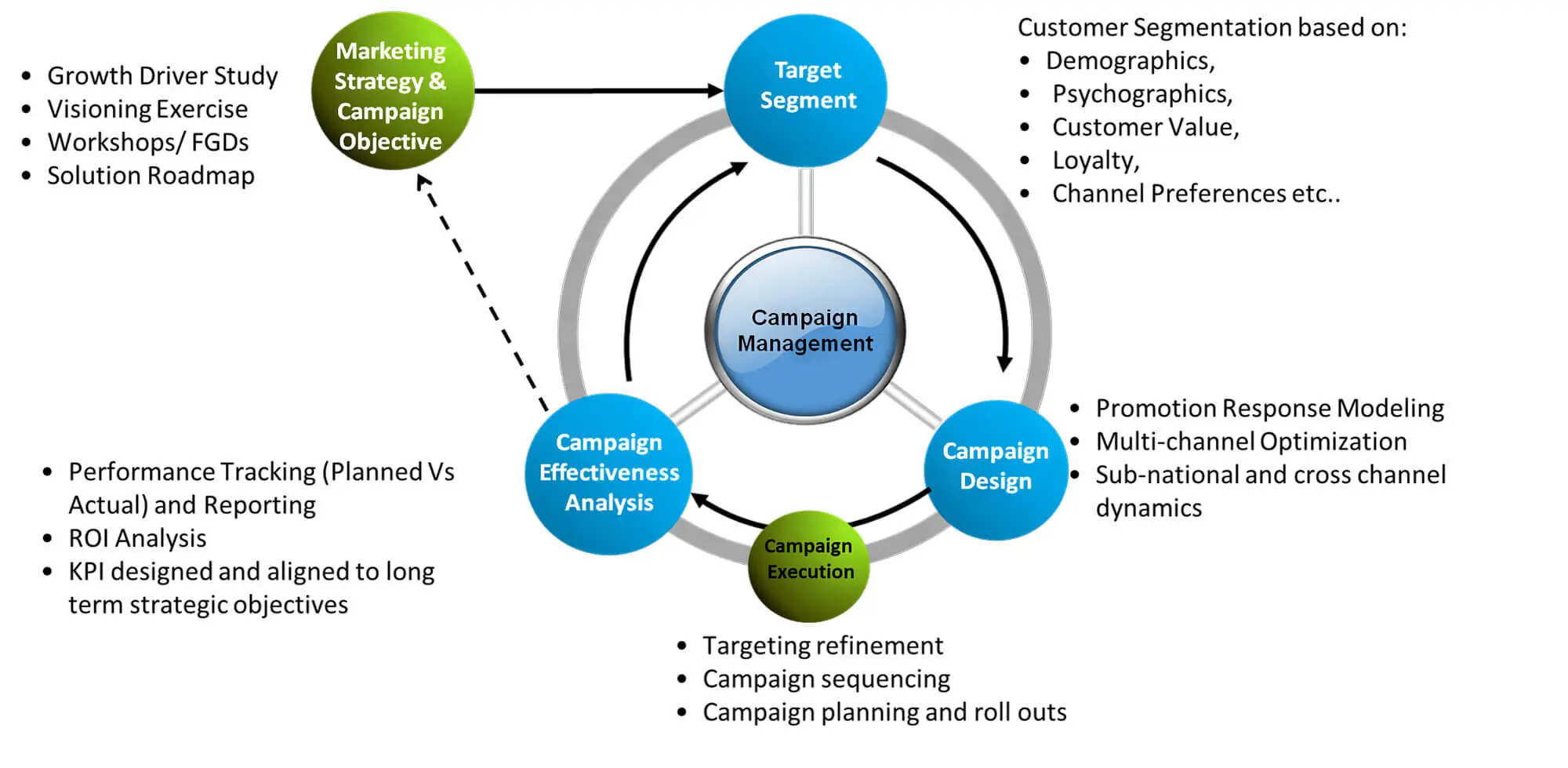 The traditional marketing approach believed that the target audience's demographic determined decision-making. However, recently it has been proven that it is not demographic but rather customer behaviour that helps in decision-making. Therefore, end-to-end marketing utilises all the information on the target audience and makes personalised campaigns based on each customer's needs.
Such personalised campaigns keep customer satisfaction at high rates as they are not shown by random campaigns that do not interest them.
Understanding End-to-End Marketing In Detail
Some more details need explaining about end-to-end marketing. These are some ways an end-to-end marketing strategy will optimise your business sales.
1. Drive
There is a new method used in end-to-end marketing called drive-capture-convert-optimise. Here the drive helps bring the target audience to your website and other social properties. The drive component utilises different tools like search engine marketing, organic SEO, and paid search to understand better.
Furthermore, it also utilises online media like videos, banners, product listings, email campaigns, etc. Along with that, it makes use of social media with profiles, content channels, blogs, and viral videos. Lastly, it can utilise offline platforms like television, direct mail, print, and radio.
2. Capture
The second component of end-to-end marketing is capture. With this component, you can capture data and encourage the desired behaviour of customers. Some of the tactics used in capturing are;
Designing a website and other microsites that engage and resonate with the audience makes it easy to navigate at every stage.
Adding offers in landing pages to entice potential buyers.
Employing a direct call campaign to engage and nurture prospective buyers.
Organising webinars and trade shows to offer in-depth engagement for potential buyers.
These tactics combined help capture the target audience and retain potential customers.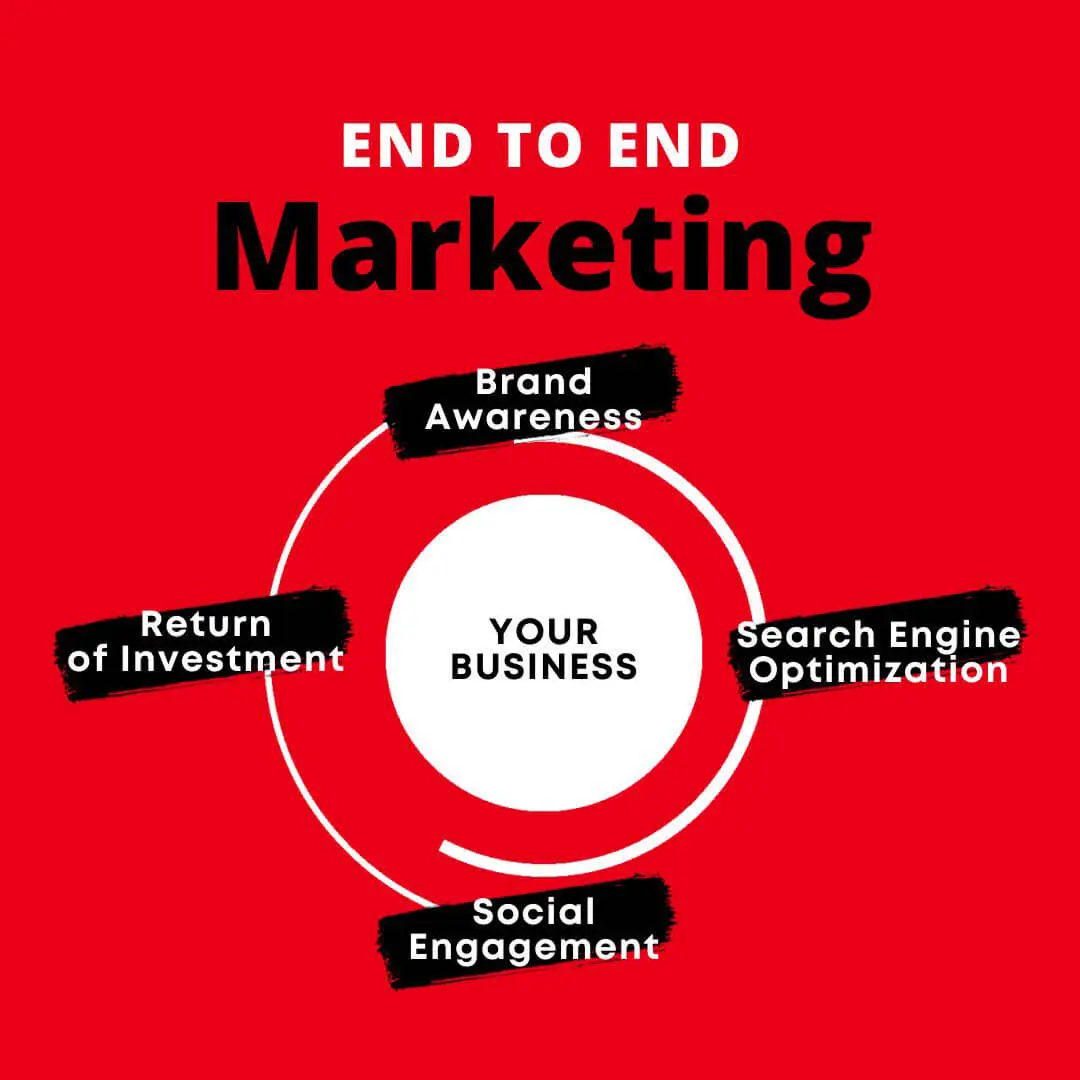 3. Convert
Converting is the third component of the end-to-end marketing strategy. It is through this component that you can increase your lead to sales. You can design personalised campaigns to grab potential buyers based on your internal database, CRM system, and cookie database. Some common tactics to convert can be:
Email and automated nurture campaigns can keep your messages and offer visible to the target audience.
Remarketing to keep your offers visible to potential buyers on the web.
Designing social and viral content to keep the audience engaged.
Offline tactics like direct mail can be used to reach your audience.
Making personal contact with customers through telemarketing strategies like direct calls.
These tactics will help convert all your information on your customer and increase your ROI. So, this component of end-to-end marketing is an essential part of marketing strategy.
4. Optimise
This last component of end-to-end marketing will help measure and improve channel and campaign performance. So, utilising information from critical key performance indicators (KPIs), you can track the marketing strategy's performance against them.
Based on this information, you can decide what works and what needs to be changed or altered. This information is crucial for your business because, with it, you may save money on marketing campaigns that do not bring results.
FAQs
1. How Can A Business Implement End-to-End Marketing?
Once you decide to implement end-to-end marketing for your business, you should know some ways to do it. To do that, you can follow these instructions:
First, know your desired goals and the outcome you want to achieve, as a comprehensive strategy will be made only with such knowledge.
You should also know the target audience you want to reach, as the platform, schedule, and campaign type will depend on it.
Furthermore, you will have to make a budget for ad spend based on the capacity of the business and the revenue you want to generate.
If you do not have in-house digital marketing, you can hire agencies to help you with end-to-end marketing, as they have experience, tools, and other resources to decrease your workload.
Carefully select an agency to implement your end-to-end marketing plan asking for information on things like resources, charges, and methods used.
You can only plan to implement an end-to-end marketing strategy after knowing all of this information.
2. What Are Some End-to-End Marketing Tactics?
Some of the key methods used for end-to-end marketing strategy are:
Knowing the customer's journey and experience, as it is, will determine the campaign type and other strategies.
Driving potential customers through strategies like video, banners, social media content, etc., will help increase website visitors.
Capturing the audience with websites that are easy to use and resonate with the customer experience.
Converting these visits increases your lead and ROI by keeping the customers engaged with an offer that is visible to them continuously.
Optimising the information by measuring your KPIs against the data collected and making changes accordingly.
3. What Are The Benefits Of End-to-End Marketing?
There are multiple marketing benefits to this approach, and some of them are;
It is a comprehensive marketing strategy that includes initial marketing strategies to lead generation, customer retention, and sales conversion.
Compared to a traditional approach, an end-to-end marketing strategy utilises audience behaviour to predict decisions and is more effective.
It captures audience behaviour patterns and plans personalised campaigns for each individual need, keeping the customer engaged.
It helps optimise your lead and ROI with a better marketing strategy using all the information gathered by the KPIs.
All these benefits of an end-to-end marketing plan make it more desirable for any business to generate revenue and an audience.
4. How Does End-to-End Marketing Differ From Traditional Marketing?
The difference between end-to-end marketing and traditional marketing is that the former is more comprehensive. This is because it utilises information on customer behaviour and engages them with personalised campaigns. Furthermore, a traditional marketing strategy cannot gather and maintain vast data, while end-to-end marketing can.
Also, end-to-end marketing uses tools like KPIs to measure the success of a campaign so that you can make different strategies for better results. All these components of end-to-end marketing make it more effective with long-term results. Therefore, if there is the option to choose between end-to-end marketing and traditional marketing, one should go with the former plan.
The Value of End-to-End Marketing

As we conclude, it is important to highlight some key components. End-to-end marketing involves knowing your customer experience and needs. It is the best way to engage and keep the target audience interested. Moreover, it is the most effective way of optimising leads and ROI using multiple tools like social media platforms, offline calls, KPIs, etc.
As you learn the workings of an end-to-end marketing plan, you can see if it is appropriate for your business. Accordingly, take the necessary steps in implementing an end-to-end marketing campaign. You should hire an agency if you need to learn the technical working of designing an end-to-end marketing plan.
So, read the above instructions carefully and invest in a good end-to-end marketing strategy for better revenues.