Have your marketing efforts been less efficient than you would like them to be lately? If so, it's about time you begin leveraging the power of visual content marketing and letting it do wonders for your business.
Visuals are a remarkable tool that has the power to turn your occasional visitors into returning customers. The human brain processes visuals 60,000 times faster than text. And its proper use can capture the audience's attention and help them move towards the 'action' stage of the sales funnel.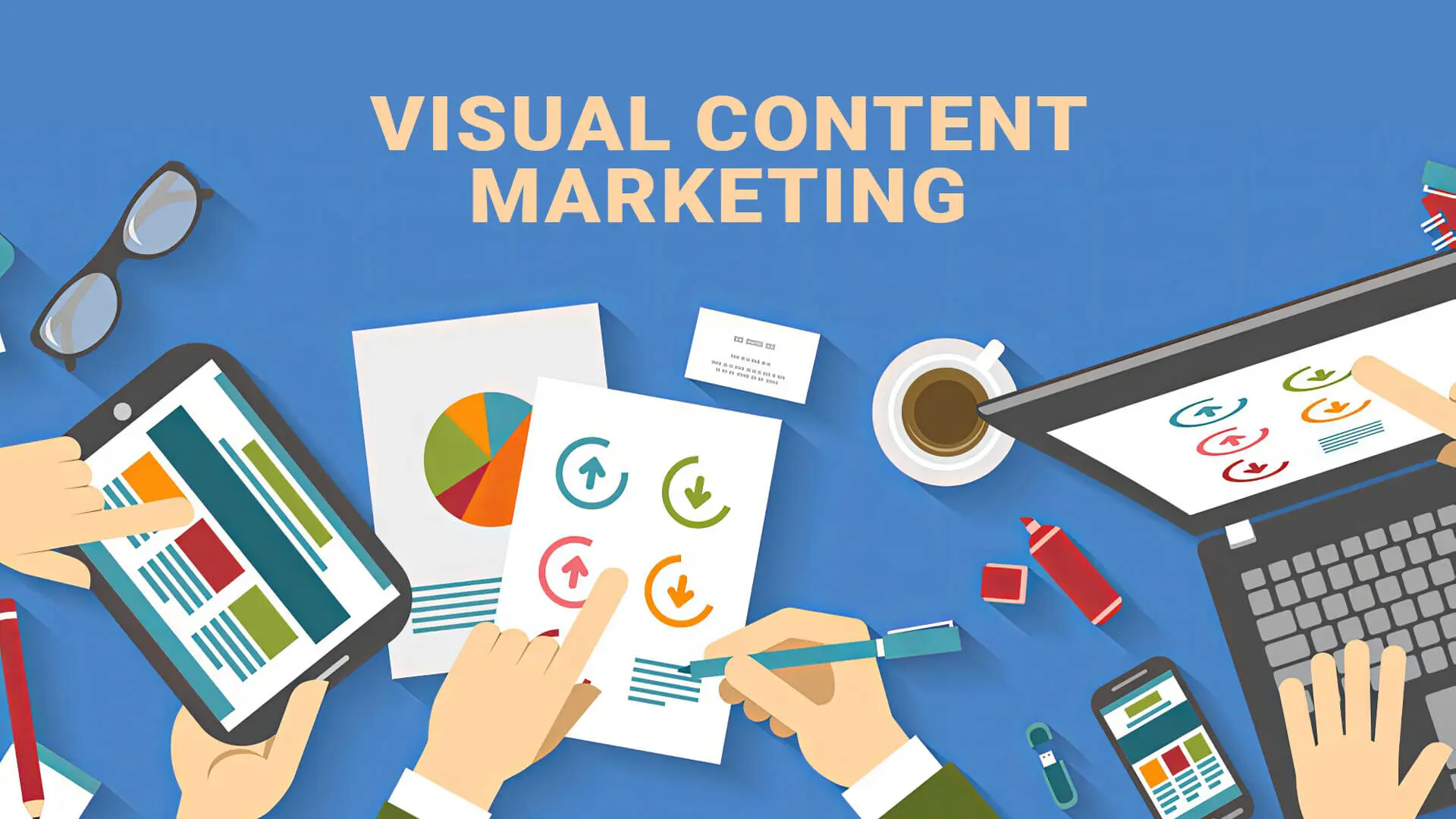 Marketers with a track record of success understand the importance of visual content, often highlighting that a marketing campaign would struggle without it. But unfortunately, some marketers still need help to create valuable, shareable visual content.
A recent study revealed that 23.7% of content marketers see visual content as their biggest challenge and are stuck in the endless loop of understanding its dynamics.
However, if you aspire to establish your brand and gain a competitive edge, it's high time to devise and implement a robust visual content strategy.
Read on to find effective ways to do visual content marketing and revise your strategies to make the most of it.
What is Visual Content Marketing?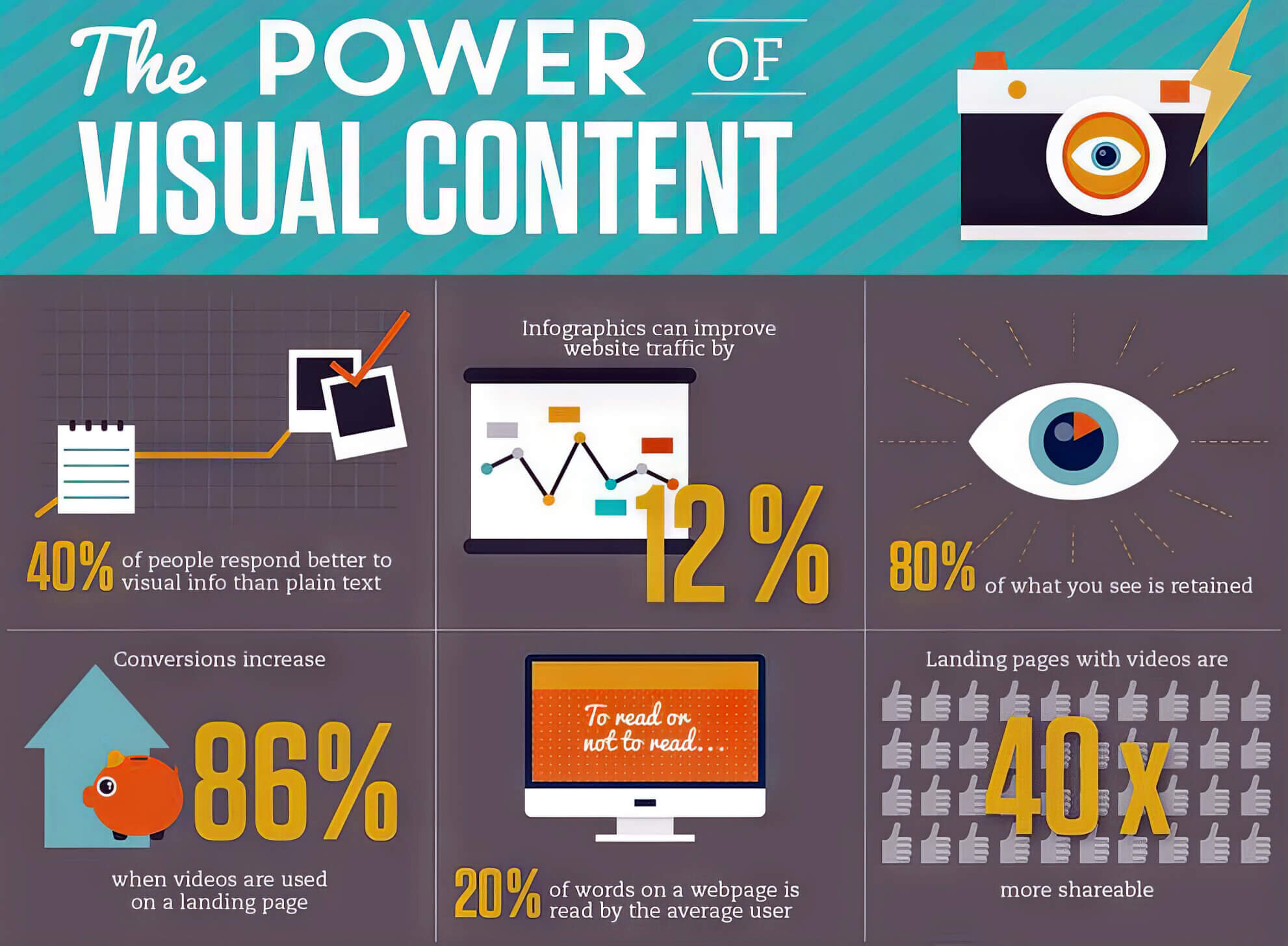 Visual content marketing is about creating informative, appealing content that attracts customers, boosts leads, and generates revenues. It involves a mix of images, videos, comics, infographics and other visual elements designed to grow your business and achieve your marketing goals.
Compellingly delivering the information piques the reader's interest, making them spend more time on your web page. This ultimately boosts conversion rates.
Think about the last time you purchased a product or appreciated promotional material based solely on its written description. Chances are never. But try imagining your favourite ad. Did you conjure up a visual image? That's the power of visuals; it's what that ad looks like that sticks in your mind.
That is the power of visual media!
Therefore, invest in visuals to keep your target audience engaged. Keep in mind that visually enriched content generates 94% more views compared to strictly text-based content.
The message to marketers is loud and clear, so buckle up and lean back to learn about how it can benefit your brand.
Benefits of Visual Content Marketing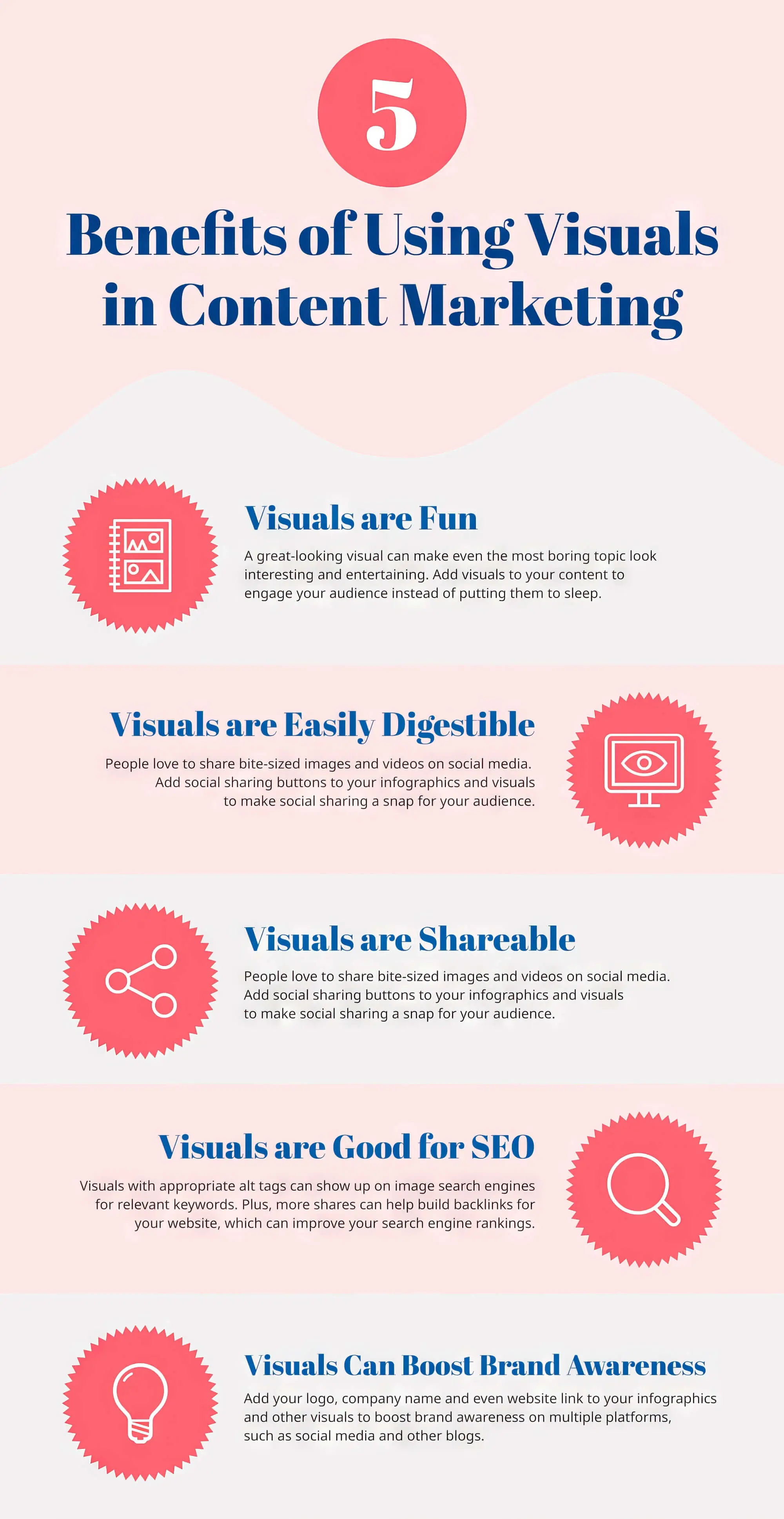 Below are some impressive benefits for motivating you to teach this digital trend and create strategies that help you break the noise in the already saturated world of content.
1. Visuals Are Fun
Regardless of their type, visual elements can significantly enhance text-only content, making it far more engaging. The blend of colours and designs against monochrome text creates a visually appealing and engaging contrast for users, unlike dull, text-heavy web pages.
2. Visuals Are Easy to Understand
Making information easier to understand by simplifying it into short text and pairing it up with pertinent visuals greatly benefits any business. It makes the information easy to digest and offers better understanding, thus making it straightforward for your intended audience to form connections.
The fact that 90% of the information transmitted to the brain is visual emphasises the utilisation of this excellent medium.
3. Visuals Overcome Language Barriers
Visual, in their true sense, is free from all restrictions. Whilst each language system has roots and regulations, it might be difficult for someone to infer the meaning of the text if that person is not familiar with the language.
Suppose you are visiting Paris, where the native language is French. But you are an American who only knows English and came across the below ad at a bus station.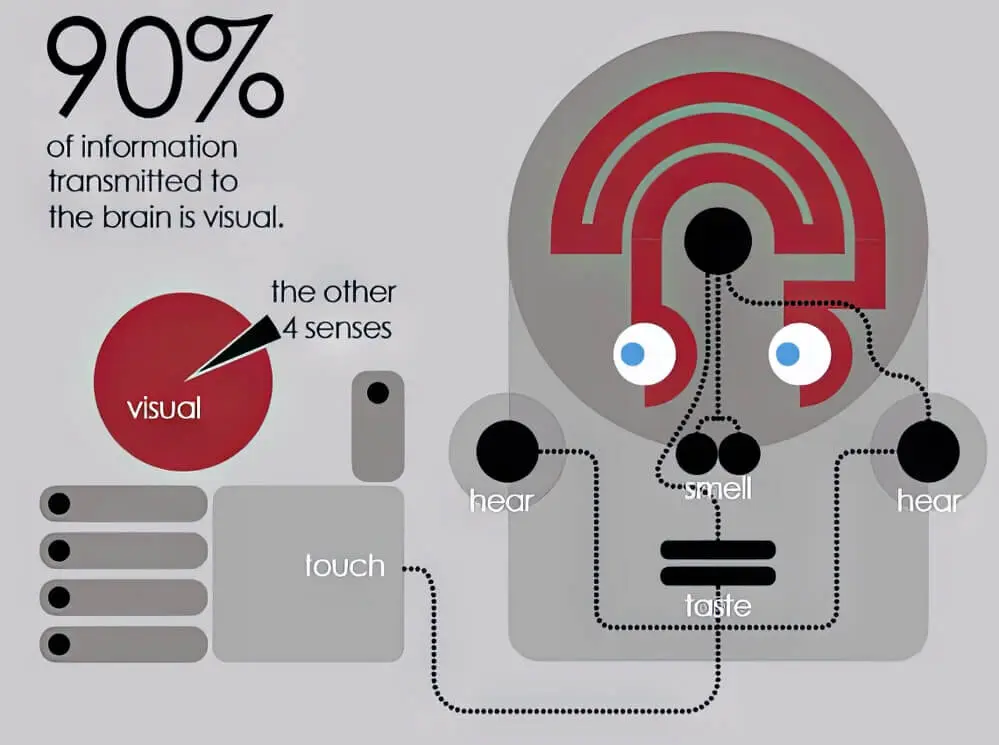 Whilst you may not be able to make out the words, looking at the picture will give you a hint that the advertisement is something related to MasterCard.
Similarly, we all use emojis in our daily chats. And unlike text, they can communicate the same message in multiple languages. Using emoji visuals in digital marketing campaigns humanises a brand and creates a friendly setting. Plus, more than 50% of users prefer engaging with brands that use emojis in their advertisements.
Just take the example of Domino's Pizza. In 2015, they launched a quick ordering system where consumers can send them a pizza emoji to order. The idea increased the online sales of pizza by 50% within days.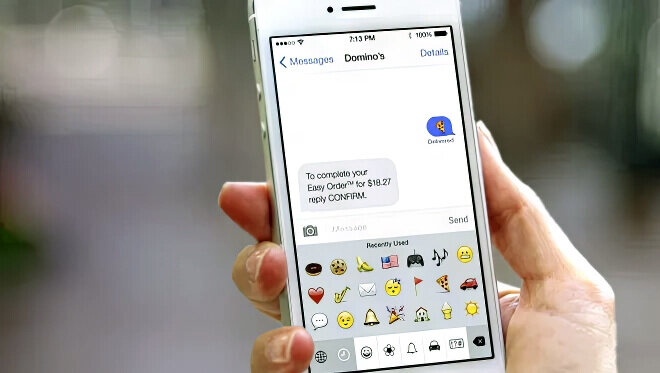 4. Visuals Are Shareable
In a world with ample visual media outlets such as Instagram, Pinterest, Facebook, TikTok, and many others, it's vital to create engaging visuals. If you want people to talk about your brand, use visuals in your strategy and triple the engagement rates.
For example, instead of writing long chunks of information on your company's "About us" page, you can make a short video and upload it on a landing page. It's 40% more shareable, ultimately increasing your social media engagement and reach
The more shares your attractive images receive, the greater your brand's visibility, aiding you in effectively achieving business goals.
5. Visual Improves SEO
If you aim for your brand to top the search engine rankings, it's time to innovate and get creative with visuals. They are your best bet at making a name for yourself, so incorporate relatable visual assists that help to boost your overall SEO strategy and ranking metrics.
Using the right keywords in text and image tags instead of generic names attracts the intended audience and makes them dwell longer. The more time they spend on your website, the lower the bounce rate, favouring your brand's success.
Moreover, optimising visual content for your brand as per Google's criteria is necessary. Not doing so can increase the loading time, which can do more harm than good, as site speed is the crucial factor when ranking sites. Therefore, ensure your content offers value and flows with highly-optimised visuals to rank on the first page.
6. Visuals Drive Conversion
Recent statistics show that colourful visuals increase a viewer's recall and attention span by 82%. So the next time a potential customer needs a service or product, they will remember the bright, colourful photos they saw on your website. Visual media can boost a brand's ROI and generate strong leads, ultimately boosting website conversion rates.
7. Visuals Boost Awareness
Creating custom visual content tailored to your brand's needs helps to establish a distinct visual identity that reflects its ideals and core values. It is one of the most-sought strategies to make people remember your brand. It is highly significant in the digital world because it helps build emotional connections that big blocks of text cannot.
Successful marketing campaigns today heavily incorporate visuals, pushing brand promotion across a broad spectrum of social media posts. Consistent awareness campaigns help you to create a reputable and credible identity for your brand.
Types of Visual Content
Numerous types of visual content exist, each type of content offering unique benefits to your business and marketing efforts. Whilst what type you go with depends highly on the niche, keeping yourself updated with all the different kinds is useful. Below are six types of visual content you can leverage to create meaningful connections for your users.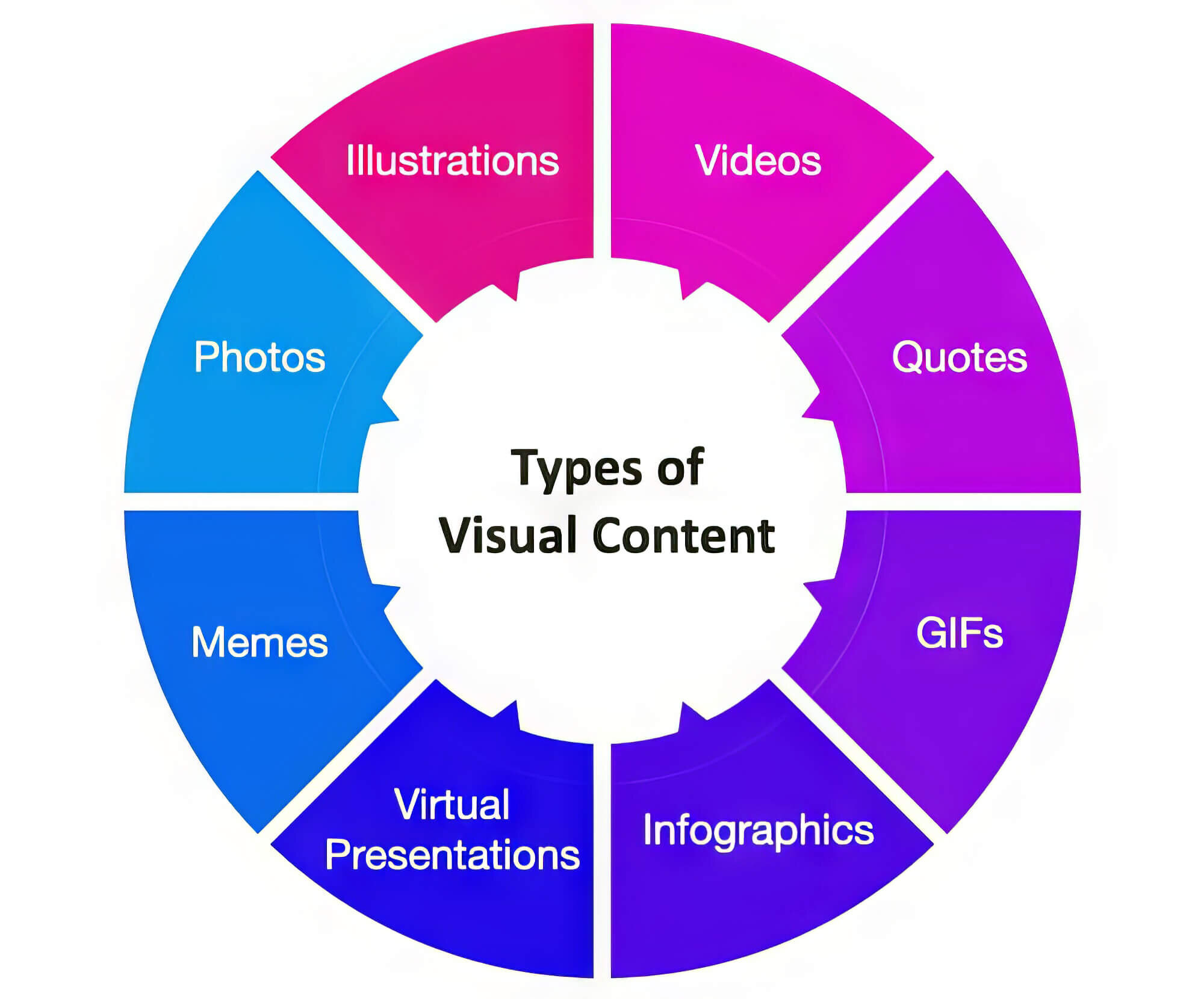 Images & Photographs
Did you know that the chances of recalling the information three days later are 65% higher when paired with a relevant image compared to one that isn't? Images are a powerhouse of any brand and are the most common type of visual content that brands utilise to market their product or service. Without it, the field seems plain and boring.
Given new research revealing our shorter attention spans, the use of relevant images within the text is crucial in content creation to enhance information retention.
Now that you know that images are a great way to connect with your audience, the real question arises; where to source them from?
Real Photos
Creating your own photos gives a unique and personal touch as these are tailored specifically for your brand. With a professional photographer at your disposal, you can direct the creative process and ensure the shots are captured to your liking.
If you have ample time and resources, opt for real photography and generate high-quality photos that excellently represent your brand.
Some Tips for Creating Appealing Photos:
Click relevant shots.
Ensure they are of high quality and not blurry.
Optimise the image according to the desired size.
Use online photo editor tools like Upscale, Image Resizer, and many others to enhance the image.
Here's an example: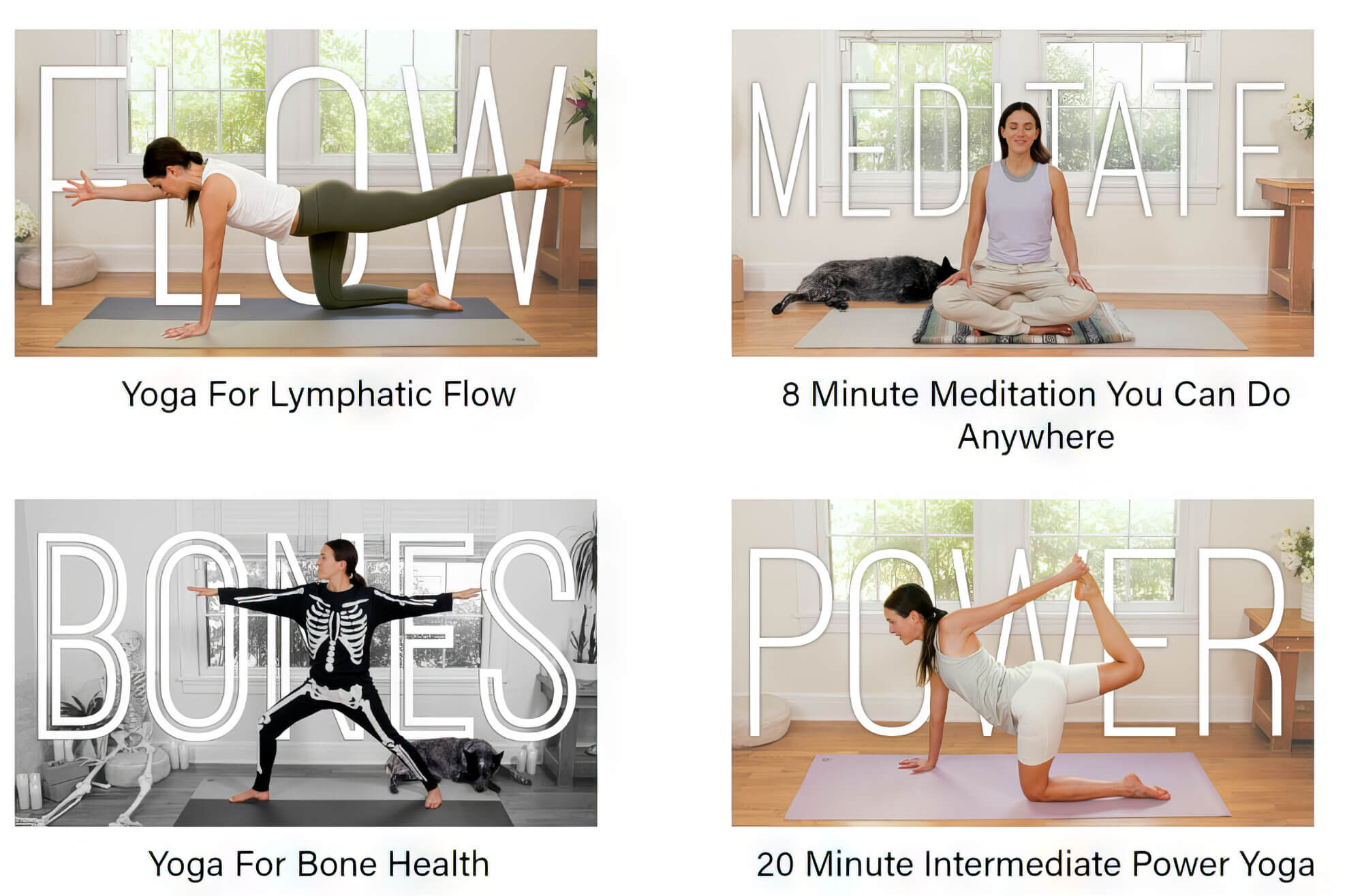 The relaxing and powerful poses of yoga executed by Adriene motivate people to get back into shape. The photos also bring a sense of calmness and peace and serve as a motivating factor to join yoga classes.
Stock Photos
On the other hand, stock photos are an alternative to actual photos. Many websites on the internet offer a pre-existing library of images you can use. It works great when you're tight on a budget or are short on time to conduct a custom photoshoot.
Furthermore, access to millions of high-quality, high-resolution images enables you to elevate your brand's presence. But adhere to the proven tips and tricks marketing experts follow to ensure the images you use to achieve the desired results.
Also, be selective about the images you choose for your marketing. The pictures should be relevant to your brand so your audience isn't confused.
The images shouldn't be over-utilised or appear on your competitor's page because that will challenge the uniqueness of your brand. You can use the stock photo site's reverse search feature and trace back the place where the photo you're eyeing is used to determine if they are too widely used.
Videos
The sky is the limit when creating engaging and impactful video content in the realm of visual marketing. Be it short reels or long videos, people are obsessed with them. They watch over a billion hours of videos on popular social media platforms like YouTube, Instagram, and TikTok. Cisco's predictions that video will account for 82% of all internet traffic by 2022 were not faux.
Video marketing is an effective medium to narrate your brand's story and spark emotions that help people to create associations. From customer testimonials to products, promotions, DIY videos, and so much more, there is a lot you can do with this evolving platform.
Promotional Videos
A promotional video is a marketing video that brands use to promote their product, service, and events to consumers. This aims to touch the consumer on an emotional level rather than intellectual first because feelings primarily drive us, humans.
Once you pull the heartstrings of your consumers, you can then close the deal with the science — discuss what your product or service offers and its benefits. It's a great tactic to drive sales, boost conversion rates, and generate whopping revenues, as video marketing companies saw a 49% increment over those who didn't.
Product Videos
Product videos are great for launching your product in the market. It's one of the highly influential mediums for boosting social media engagement and reach. Recent stats show that 88% of consumers have bought a product or service after viewing a brand's product video.
Instructable Videos
Instructable videos, also known as how-to-do videos, are fantastic as they provide users with a better understanding of your product or service. You can generate step-by-step, photo-by-photo videos for your consumers and make them up-to-date with your new invention.

Take a look at the above screenshot. Apple smartly launched its Apple watch in the market and created how-to-videos of ways users can benefit from it. It shows how you can set up multiple features, such as seeing notifications and changing control settings, from the comfort of your watch.
Some Tips to Craft Amazing Videos:
Build a story that relates to your audience, product, and brand.
Ensure your video script is compelling because it's the foundation of your vision.
Execute the video.
Pretend you're the viewer and see if you can connect with it emotionally.
Focus on the tone. It's unnecessary to be serious or humorous all the time; you can switch between, depending on your niche and target audience.
Remember that long videos might bore many, so it's wise to create short, attractive, valuable videos that consumers can't resist.
Get feedback from your team.
Infographics
Infographics are the visual representation of information or data.
It breaks down complex information into an understandable, digestible format using minimal text, bar graphs, and pie charts. It simplifies the data and is a phenomenal tool for communicating the message clearly and effectively.
Did you know infographics can improve website traffic by 12%? Marketers are leveraging this medium more than ever now. Its usage has also significantly increased in the last four years among B2B marketers.
Using striking visuals with a perfect text-to-visual balance ratio instantly grabs the audience's attention. It is the best way to impart complex data in schools and digital marketing because you can pack tons of information in a single compelling graphic.
Some Tips for Creating Infographics:
Search for the question your audience desperately needs an answer for.
Collect the relevant data. Search the Google database by typing in your keyword and consolidating the essential findings.
Use the best template that you deem perfectly represents your data. Ensure that you choose a suitable layout for conveying your information.
You can opt for comparison infographics if you compare something, such as the never-ending hot nature versus nurture debate. Similarly, you can utilise various options such as process, timeline, process, and list infographics templates to display your information.
Structure the format. The information should progress in a logical order for clear understanding.
Use online tools like Piktochart, Canva, Venngage, Visme, etc.
Review your draft and make changes where needed. Judge the infographic on the parameters of information, design, and simplicity. See it from the third perspective to better understand how well your infographic will connect to your target audience.
Look at this infographic below:

Devrix did an excellent job in bringing forward the influence marketing stats. This infographic briefs about influencer marketing, its benefits to the brand, and how brands can use it to improve the reputation of their business.
GIFs
Graphics Interchange Format, also known as GIFs, are gaining more momentum than ever, thanks to the dynamic or moving elements which display the action. They keep content engaging and appealing and are worth more than 10,000 words. The internet has fallen in love with it, and so do we because, let's face it, they are short and sweet and make the content more fun and memorable.
Incorporate these dynamic animations into your blog post, landing pages, emails, and social media feeds to create visually appealing content that captures attention. With the help of GIF maker apps such as GIPHY and Kenzo, you can create your custom GIFs for free.
Some Tips for Creating Unforgettable GIFs:
Make sure the chosen images are relevant to the context.
Use a free GIF app, upload photos, select how quickly you want pictures to cycle, add filters or backgrounds per your need, and export them in GIF format.
If you're creating a GIF with a video, open the app, paste the link, trim the video, and you're good to go.
Ensure that your GIFs are succinct, ideally only spanning a few seconds for optimal engagement.
Take a look at this burger GIF from McDonald's: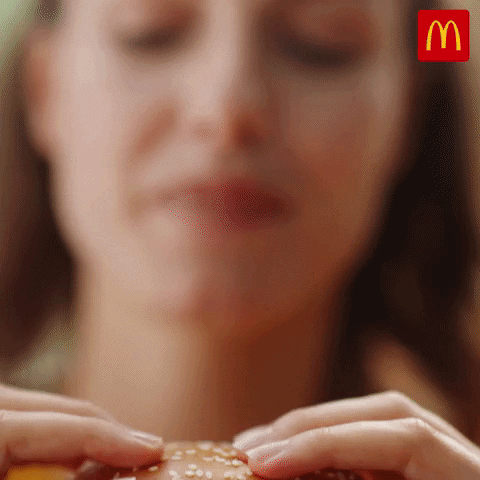 We bet your taste buds also crave a bite of this deliciously cheesy happy quarter pounder. McDonald's knows how to market their products and brings forward one after one impressive tactic to impress its customers.
Comics
Comics are another type of visual image going viral these days. Pictures, videos, and infographics are timeless classics; comics are like a breath of fresh air in digital marketing. It might seem risky to some marketers, but trust us; it's worth it.
Comic-based visual imagery offers instant visual gratification, which keeps the audience engaged. They are a perfect approach for getting any message across, and brands use them for compelling storytelling. The characters in it not only talk about the issue at hand but also entices emotion, moving the story through a narrative arc — from start to end, all in just a few short scenes.
Some Tips for Creating Powerful Comics:
Brainstorm the storyline and discuss it with your team.
Create a layout and prepare the draft.
Ensure that the characters are not introduced haphazardly and that each panel has a meaningful connection.
Look at this interactive comic: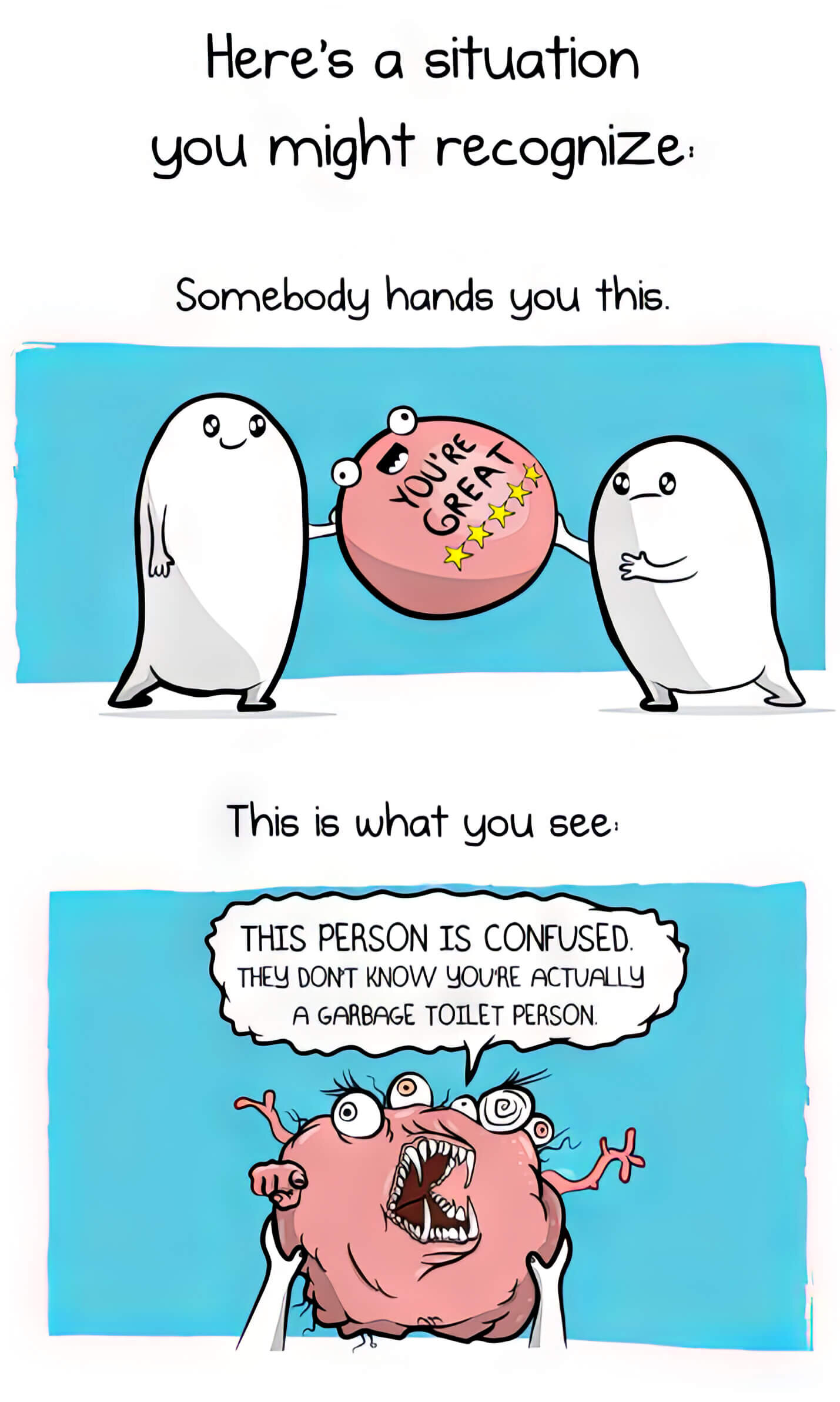 Look at this comic designed by The Oatmeal titled "Why it breaks your brain to take a compliment." Originally inspired by the podcast of Ashley Hamer and Cody Gough — Compliments, this comic talks about why it's hard to accept compliments and what strategies we could incorporate to deliver them correctly.
Call to Action
Strong calls to action drive conversions, yet, 70% of small businesses don't have notable visual CTAs on their home pages. Gone are the days when red buttons were the only option. Today, brands are emerging with innovative ideas such as banners, text, and illustrations to close sales.
The best CTAs phrases are the ones that are clear and create a sense of urgency in the readers to learn more about your business. Remember, the goal here is to convince the customer that the product or service benefits them rather than being pushy and coming across as desperate.
Omitting them would be a grave mistake as customers require assistance if you want them to take the desired action. Make the CTAs loud and clear so they can follow them quickly instead of doing rounds of scrolling to find the next step.
Some Tips For Creating Strong CTAs:
If you're offering some software, try adding a visual CTA of "free trial." It'll appeal more to users to sign up and try your website.
Decide on the placement. Many marketers believe it's best to equip the audience with all the information first and add the CTA at the bottom of the copy, whilst others favour the middle and top.
Evoke curiosity. Your CTAs should pique the customer's interest. The higher the clicks, the greater the lead generation and sales.
Optimise your CTAs. Online users have a hunger for information that is satisfied quickly. Short and sweet videos are an ideal solution, providing valuable content without the risk of losing customers due to slow page load times.
For instance, take a look at this CTA:

Netflix's calls-to-action is powerful as the "Get Started" option in white text on red against a background showcasing many series and movies. This evokes emotions and passion in consumers.
Getting Started with Visual Content Marketing
In a world overwhelmed by content, visuals are crucial for distinguishing your brand and forming a successful marketing strategy. You know many types of visual content by now, so mix and match to create powerful visual strategies that amplify your brand's voice and message.
The objective is to create distinct, valuable, shareable, and highly credible digital content that leaves search engine algorithms with no choice but to rank it on the first page. Brainstorm the idea thoroughly and promote it through proper marketing channels to raise the awareness of your brand.
If you feel confused, it's wise to trust a professional digital marketing agency to do the job for you. Remember, the first impression matters, so don't do it wrong.