In the internet age that we live in today, having a functional website is of utmost importance to business owners.
That's why many entrepreneurs invest so heavily in building an appealing website. It helps them to improve brand communication in the digital space and allows them to bring in more customers simultaneously.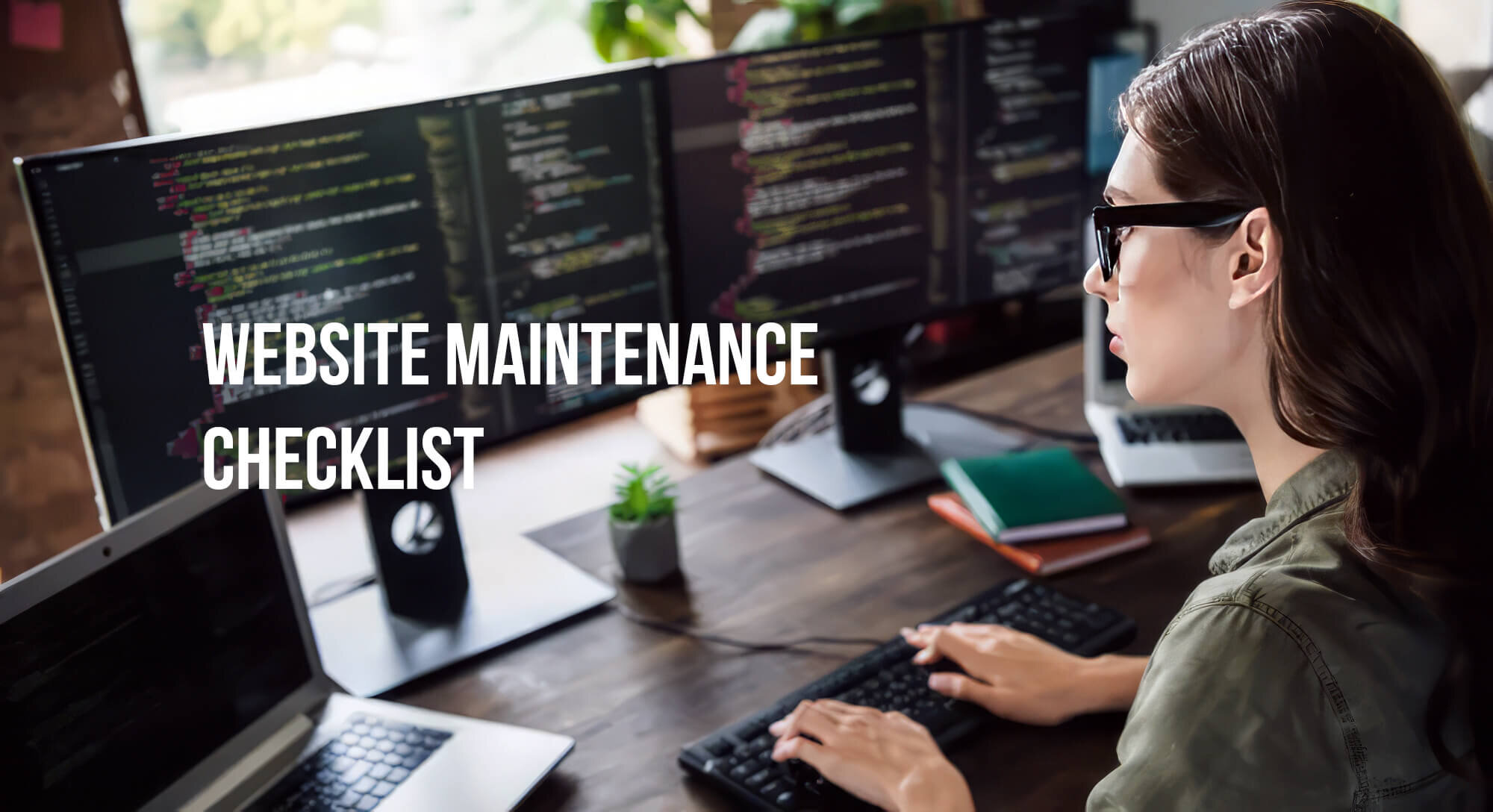 However, you would be gravely mistaken if you believe your work is done after creating a website design. Owning a website is very similar to owning a car, given that you must maintain it regularly. If you don't take care of it, the website will fail to yield the expected results.
Now, the question automatically arises - how should one take care of a website? Well, that is what this guide is all about, for it provides a detailed website maintenance checklist.
So, if you wish to make the most of your online platform, keep reading!
What Is Website Maintenance And Why Does It Matter?
Website maintenance is the process of monitoring a website to ensure it is functioning properly. It aims to keep the site consistently up to date to enhance the website's performance. Furthermore, it seeks to address any issues that exist on the website so that users can have a seamless browsing experience.
Because of this reason, the process of web maintenance holds great importance to site owners. First impressions are important, after all, and if users are faced with a buggy and dysfunctional website right at the start, they will never come back to it again.
On the other hand, if you can offer a memorable first-time experience to the visitors of your website, you can keep them engaged for a long time. That will ultimately help in achieving your business goals.
Of course, there are many other benefits to performing website maintenance besides realising your business goals. We have discussed each of these benefits in brief below.
1. Improve Customer Satisfaction And Loyalty
Customer satisfaction is a key metric for any business — online or offline. One of the main reasons to build a website is to make it convenient for the customers to interact with the brand. The easier you make this process, the better the website performance will be, and vice versa.
Think about it from their perspective — if you were a customer visiting a business website, would you like it if the landing pages were slow to load and had broken links anywhere? Not.
However, if you visited another website that provided all the information conveniently and quickly, you would prefer it over the other one. Moreover, you would be inclined to return to it again.
That is what customer satisfaction and loyalty are all about. If the users visiting your site have a seamless experience throughout, they will feel happy and satisfied with the brand, which is a key business objective. And that will make it easier to turn them into loyal consumers.
2. Save Time And Resources
Undertaking periodic web maintenance will save you a lot of time and resources in the long run. If there is a problem with your website, and you decide to ignore it, then you will lose potential customers and revenue. And when the problem becomes too big to ignore, the time and money you will have to spend fixing it will also be much higher.
However, if you dedicate some time to monitor the site periodically, the maintenance cost and time required will be much less. Besides, it won't cause any major disruptions to other business processes, making it even more convenient to manage.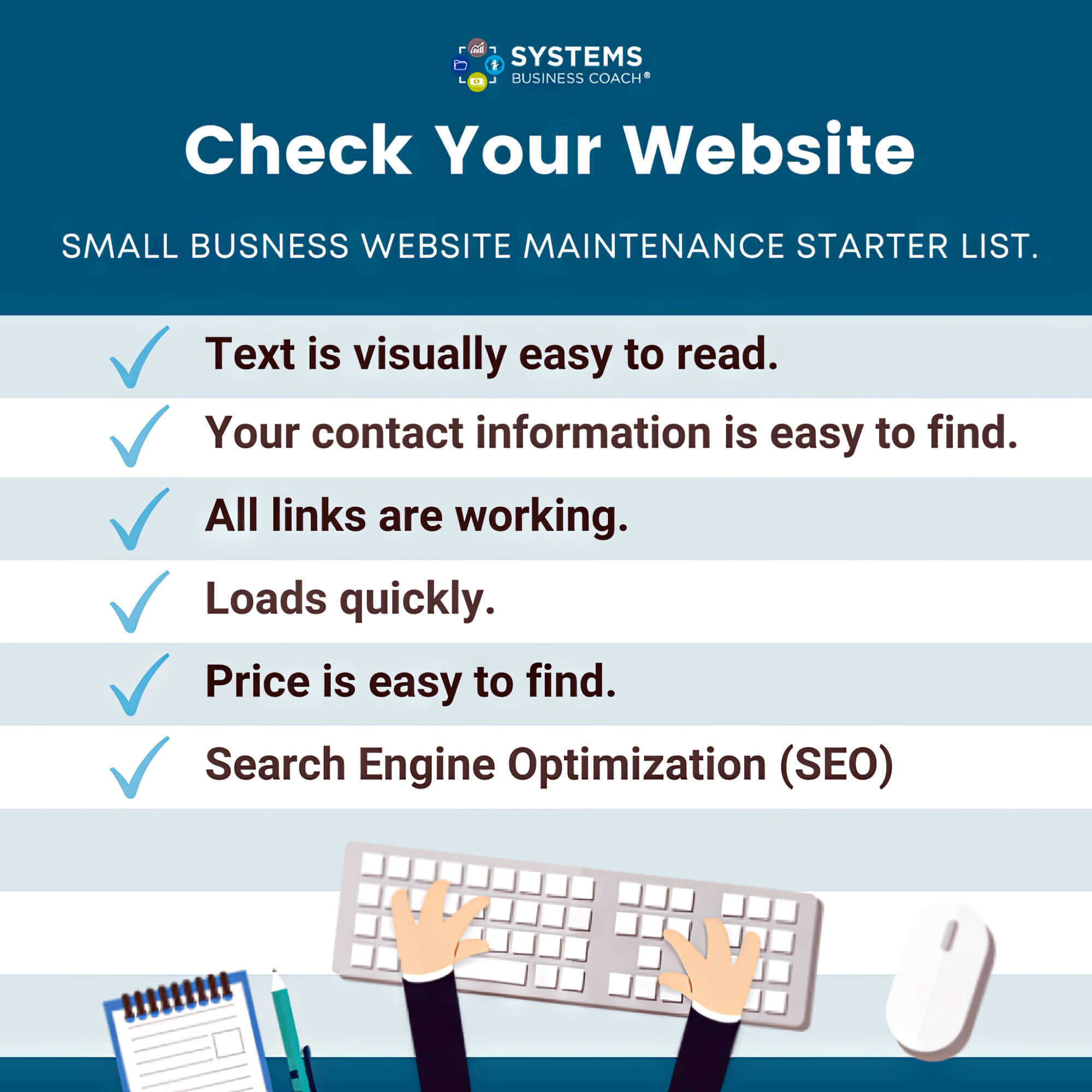 3. Improve SEO And Search Rankings
Regular website maintenance is crucial for search engine optimisation. Search engines like Google recommend website owners to keep their content optimised. If you fail, search engine bots will not index your site correctly, affecting its rank. And if the situation persists, your site will become de-indexed by most search engines, which will halt the organic flow of traffic altogether.
With regular maintenance, you can continually improve the optimisation of your site. That, in turn, will help enhance its search engine performance and ensure a higher rank on search results.
4. Increase Site Security
There is little doubt that cybercrimes and cybersecurity issues are rising these days. Online businesses today have to deal with a rising number of cyberattacks and data breaches, most severe enough to put the entire company at risk.
According to a recent report, business websites and networks faced 50% more cyberattack attempts each week in 2021. On top of that, the increasing sophistication and complexity of these attacks make them difficult to mitigate once they take effect.
That is why maintenance is important for your site. It allows you to identify security risks and vulnerabilities in the website and fix them promptly. Doing That will protect the company's interests by keeping user data safe and secure.
What Should A Typical Website Maintenance Routine Include?
Before we get to the detailed checklist, let's look into the different things that must be covered in routine website maintenance. You need to keep in mind the following aspects when undertaking the process:
1. Technical Maintenance
Checking and fixing the technical features of your website is one of the most critical maintenance activities you need to take care of. After all, these features make the website usable, so you should ensure these site functions are the top priority.
On that note, technical maintenance includes different types of tasks that deal with different website elements. Because of that, this maintenance activity may feel complicated and time-consuming. Still, you should keep an eye on all of them, or else the core functionality of your site may be affected.
2. Security Maintenance
The security features of a website are just as important as the technical aspects. For this reason, you should place an equal amount of emphasis on security maintenance. This maintenance routine requires you to monitor website data, user information, server stability, backups, etc.
Suppose you wish to keep your website protected from malicious elements like viruses and malware. In that case, you must ensure it is secure across all devices and browsers, following the latest security and threat detection protocols. At the same time, you need to check for any vulnerabilities or breaches to prevent hackers from stealing your data.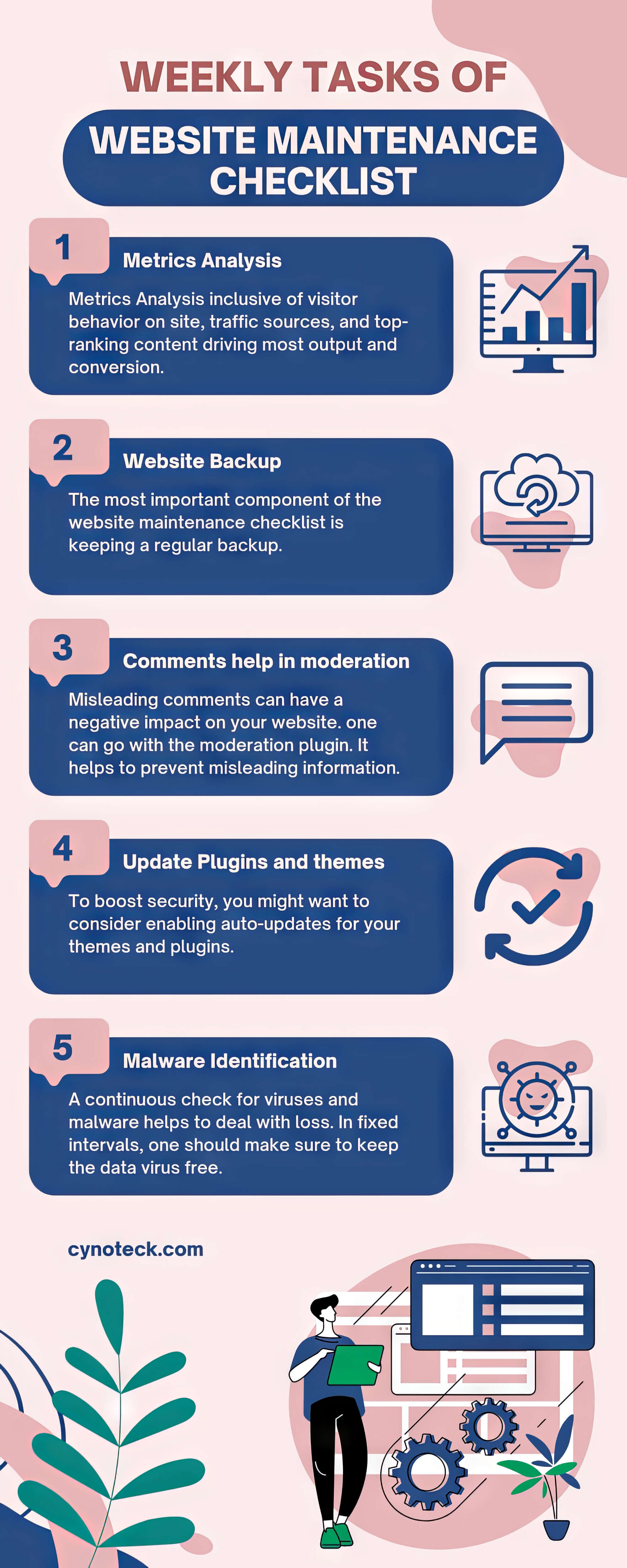 3. Marketing Maintenance
After covering the technical and security components of the website, you need to focus on marketing maintenance. As you already know, digital marketing plays a significant role in any online business strategy, so you cannot afford to ignore this process.
Marketing maintenance will need you to monitor the data analytics reports and marketing performance indicators, such as click-through rates and conversion rates. If you notice any anomalies in these metrics, you must implement suitable changes to address the problem.
4. Miscellaneous Maintenance
The last maintenance activity that you need to perform is miscellaneous maintenance. This covers all the maintenance tasks that cannot be placed under any of the previous three categories.
Many of the activities under miscellaneous maintenance may not always be necessary. Still, it is highly recommended that you undertake them anyway, for they can considerably improve the overall user experience.
The Complete Website Maintenance Checklist
It is time to delve into the website maintenance checklist in detail. In the discussion below, we have sorted all the essential maintenance tasks you must perform into four categories. Each category depicts the frequency at which the task needs to be performed.
For instance, the tasks mentioned under the weekly list should be done every week, the tasks under the monthly list need to be done each month, and so on. By dividing the tasks into weekly, monthly, quarterly and annual checklists, we aimed to make the maintenance process easier to understand and execute.
A. Weekly Website Maintenance Checklist
1. Fix Broken Links
When you check for broken links, fixing them is one of the most important weekly website maintenance tasks that you need to perform. It is a technical maintenance task that ensures a good user experience and improves search engine indexing efficiency.
To fix broken links in your website, you must find them first, often checking across different devices. If the website is fairly small, you won't have a lot of difficulty manually identifying the broken links, if any. However, if you have an expansive website, you can use free tools like a broken link checker to speed up the process.
Once the problem has been identified, you can fix it accordingly. For example, if the broken link has been caused due to a recent change in the website structure, you can set up a redirect to resolve the problem.
2. Update Your Website
Next, you must implement relevant updates to keep your website functioning properly. Ensure you apply the latest security updates and bug fixes for all the plugins and extensions used on your site. If your website uses a content management system, confirm that all features are working properly with the latest version installed. Applying security patches can eradicate vulnerabilities and enhance performance.
Here, you should be aware of any compatibility issues arising from these updates. Watch out for any broken elements that may arise from plugin conflicts or updates affecting their functionality. So, it is a good idea to consult an expert and test the updated plugins once before they go live.

3. Create Backups
You should always create a backup of the website data every week, especially before making any changes to the website. These backups can help you to restore the site data in case anything goes wrong.
For example, if a recent update corrupts some site information, you can use the backup to restore it to its previous state. You may lose the data permanently if you don't create a backup before such issues occur.
4. Scan For Malware
You must scan for any malware or security risks present within your website. This will maintain the integrity of the site's data and prevent the users from becoming infected by malicious software like viruses, trojans, worms, etc. For convenience, you can use third-party scanning software to detect and isolate such risks quickly.
5. Analyse Metrics
Analysing the metrics from your site data is a crucial marketing maintenance task that needs to be performed weekly. You can use Google Analytics or another suitable data analytics tool and the Google Search Console to check metrics like site traffic, click-through rates, page bounce rate, individual page performances, and more. Based on the analysis, you can adopt suitable changes to sustain your website's relevance and market position.
6. Moderate Comments
In many cases, the reviews and feedback sections of the website may be filled with spam and irrelevant comments. These can obscure other users' feedback and constructive comments, making the user experience difficult. So, you will need to review and remove these spam comments on a weekly basis to maintain transparency and create a positive browsing experience.
B. Monthly Website Maintenance Checklist
1. Check The Site Speed
The site speed refers to how quickly a website loads in a browser. A sluggish website will not only affect user experience but can also reduce the overall functional efficiency. That is why test loading speed as part of the monthly maintenance is one of the most crucial monthly tasks you must perform.
You can use a tool like Google PageSpeed Insights to check how fast your website loads. If there are any issues, they can be easily identified with this tool. Likewise, it will give you tips on removing unnecessary web elements and further streamlining the site's speed.
2. Review And Improve SEO
If you don't want to risk losing your site's organic traffic, this is one monthly maintenance task you cannot afford to miss. Analysing the optimisation level of your web pages can help identify any issues and fix them promptly so that the search rankings are not affected.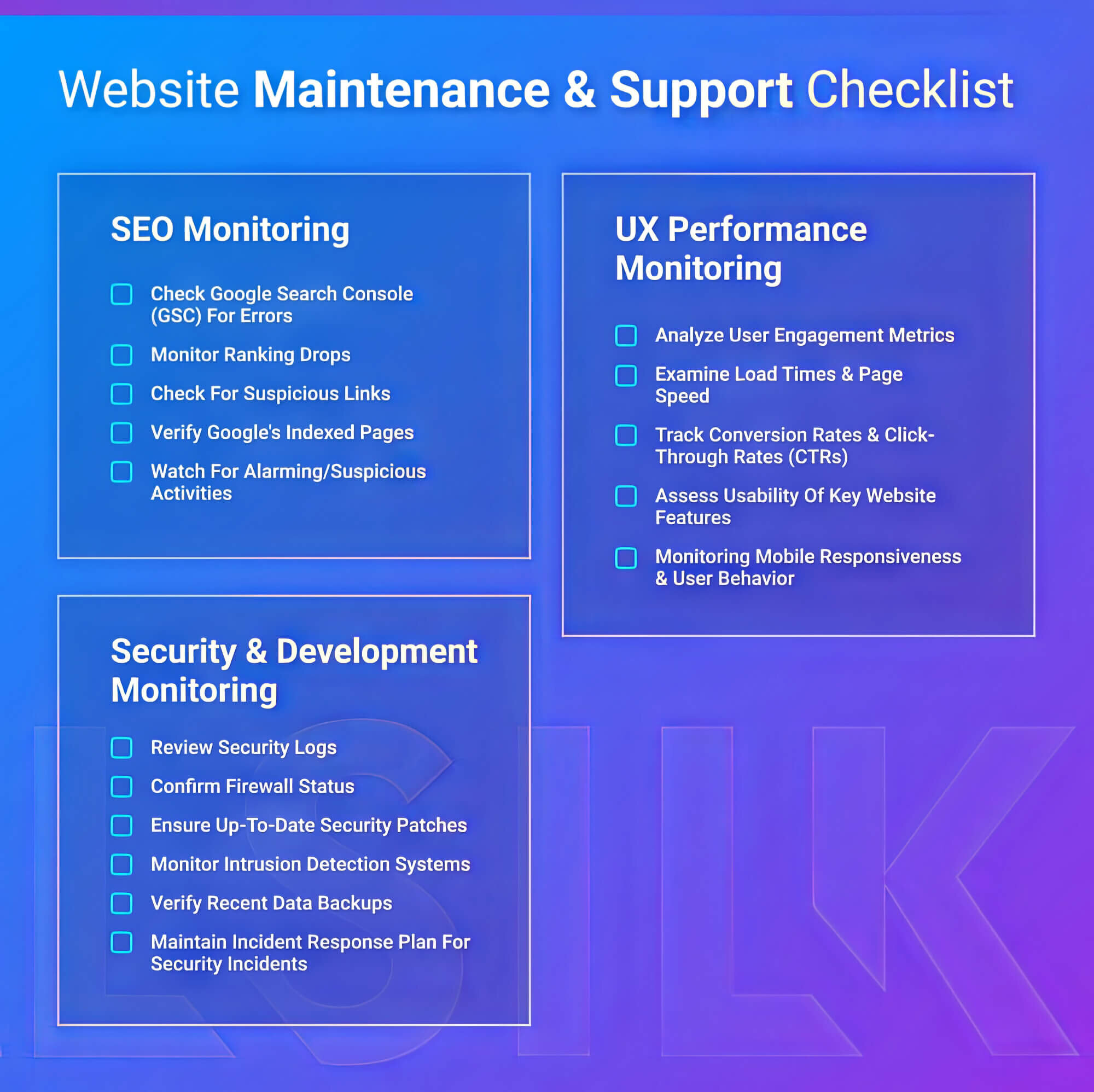 For this task, you will need to perform a content audit first. Use a suitable keyword and SEO tool to analyse search volumes and content statistics. Here, you need to identify a suitable keyword strategy that can be used on your website. Keyword trends can change over time, which means that you will need to update or modify the existing keywords as well.
3. Create New Content
This is a miscellaneous maintenance task that you should definitely perform to keep your website relevant. After all, no one likes to visit an inactive website that doesn't publish new content regularly. Creating new content every month can build a positive reputation for your site among potential visitors.
You can publish an interesting blog post or create a new video to accomplish this task. If you wish, you can even perform this task multiple times a month. Follow all the key guidelines and consumer trends while creating the content, and keep it relevant to the business.
C. Quarterly Website Maintenance Checklist
1. Improve Password Authentication
It is always a good practice to change passwords at regular intervals. That minimises the risk of unauthorised access, protecting your site data. Also, if you set a strong enough password for the site, you will make it difficult for hackers to steal critical company data.
You should also follow all the updated password and security protocols. One such protocol is two-factor authentication, which boosts user and site owner password security. So, make sure to implement and review it every quarter.
2. Check Your Site's Forms
Forms are a key element in any website since they help in capturing relevant information from users. This information can be used to generate leads or make sales in the future. On top of that, login forms are used by visitors to sign into the website.
Because of their importance, you should check the functionality of all the contact forms on your site quarterly. If there are any issues with form submissions, ensure to address them so users can have a smooth browsing experience. Also, monitor the submission process thoroughly to ensure the user input is logged accurately.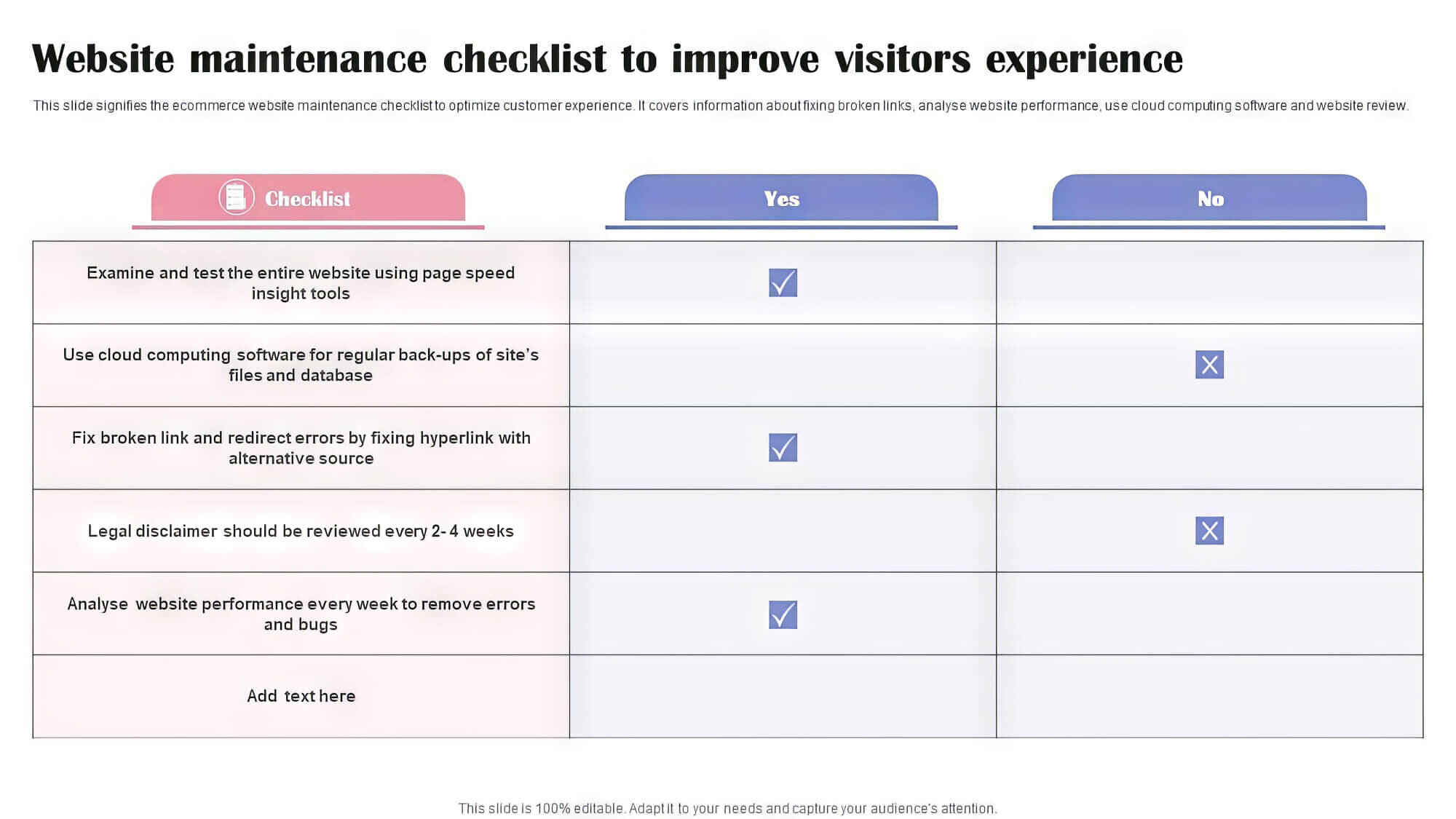 3. Review The Checkout Procedure
If you have an e-retail business that accepts online payments from users, then reviewing the checkout process is a must. Customers may lose money or have a bad experience purchasing products through the site if they don't. In addition, if you ignore any problems with the checkout and payment process, you will lose out on revenues.
That is why you should check the security of the payment gateway, ensuring that the payment information is processed correctly. Also, you need to review the overall complexity of the checkout process. If it is very complicated, most users will abandon their shopping carts.
4. Check Social Media Links
Integrating social media can significantly boost your brand value and digital footprint. That is why you need to check the functionality of external links, including your site's social media links and buttons.
If you notice any issues, such as a broken link, you must fix them quickly. Similarly, if you use third-party tools and programmes to manage these social links, you must check if they are compatible.
D. Annual Website Maintenance Checklist
1. Schedule User Testing
You must get the website tested by real users at least once a year. This will allow you to gather feedback from people about any drawbacks and limitations present on the website. Subsequently, you can implement suitable changes to address those issues, making the user experience more seamless.
2. Check Your Domain Names And Hosting Renewals
To keep the website and the brand identity intact, you must check and renew the domain name every year. At the same time, you should pay the annual hosting fees to the web host.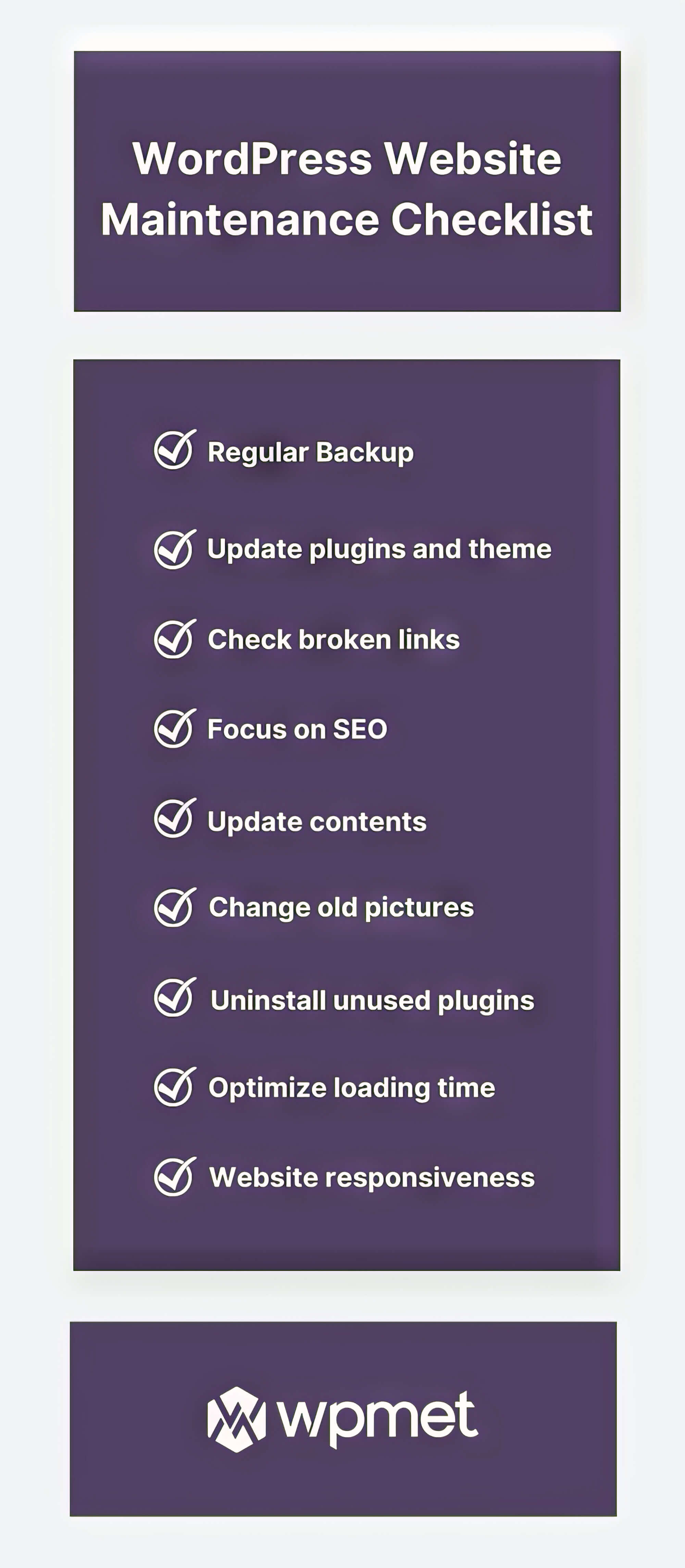 If you forget to renew your domain names or pay the hosting renewal fees, your site will become completely inaccessible. On that note, you can switch to another one if you feel your current web hosts are unsuitable.
3. Update Legal Policies
It is crucial to update the legal policy statements of the website on an annual basis. These legal policies include the privacy policy, end-user agreements, copyright information and other helpful documentation. Keeping them updated with the latest regulations and laws will ensure a smooth operation and prevent any legal troubles.
Additional Tips For Website Maintenance That You Can Consider
In this section, we have listed some additional maintenance tips that you can consider to make the process more efficient.
Update meta descriptions, meta titles and graphics periodically to stay relevant and enhance SEO.
Optimise the size of images, videos and other visuals
Create an interesting 404 page
Scrap any old or unused plugins
Conduct thorough checks of the website across major browsers and different devices.
Consider implementing a custom web design for updating the overall website to modernise your online presence.
Update the header and footer information when required
Keep Your Website Running Smoothly!
That was our ultimate website maintenance checklist, which you can use to keep your site in top shape. You can perform the whole website maintenance on your own or hire maintenance services.
The latter is obviously more suitable since an expert will be able to do a better job in a short time. However, the only trade-off is paying a fee to get the job done. But if you are confident about your web maintenance capabilities, you can definitely take the DIY approach to save money.
Speaking of money, you will be interested to know that most businesses spend between $400 and $60,000 in website maintenance each year. So, you can keep that important information in mind while budgeting.
At the end of the day, if your website functions properly, it will benefit you and the users.