This article analyses some of the best eCommerce platforms for developing an online store, multichannel sales, and marketing. You can check the market share of different eCommerce platforms in the graph below. But, the most popular platform may not necessarily be the best fit for your business.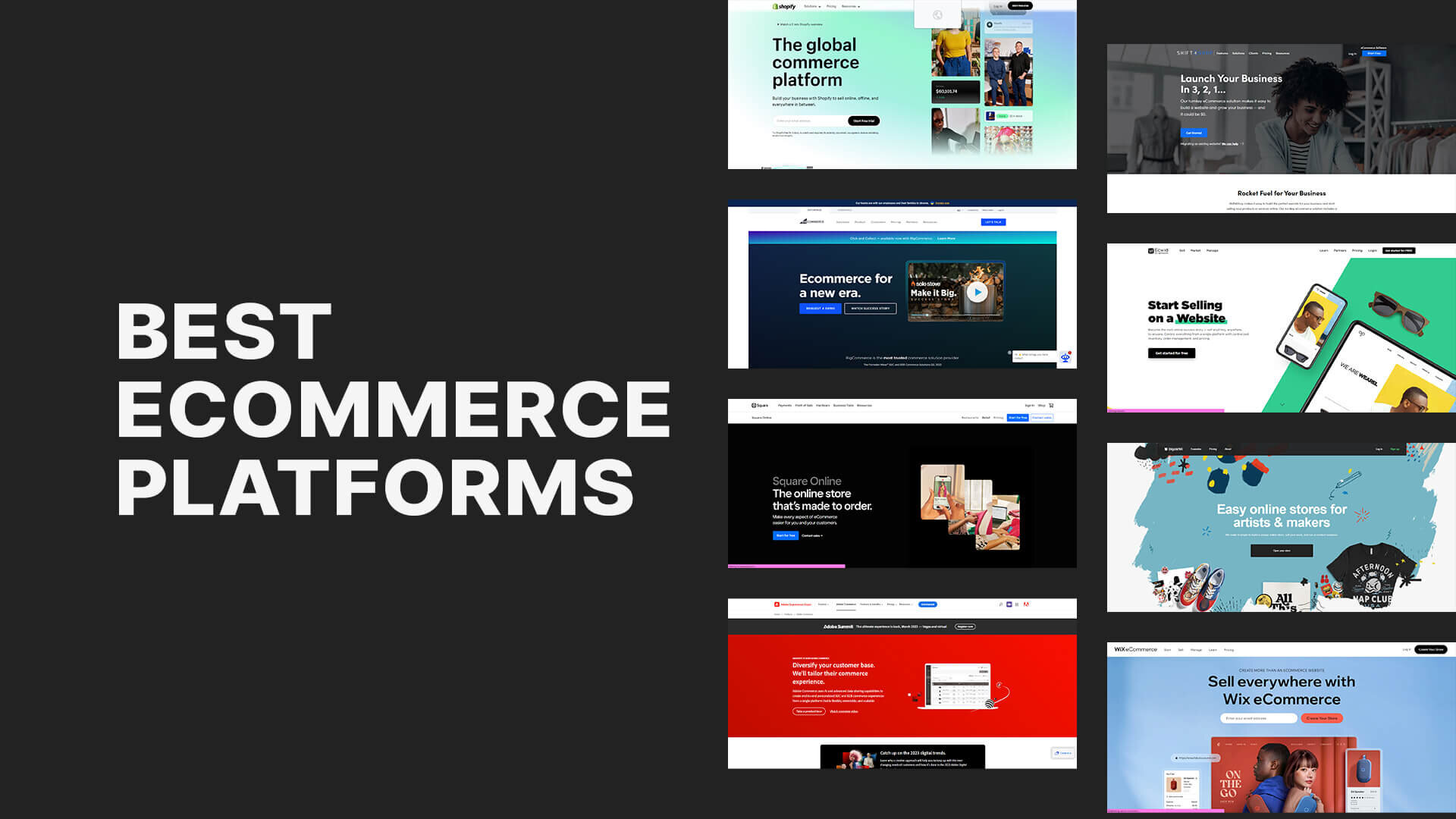 We have picked ten eCommerce platforms based on their user ratings, features, pricing, and functionality. The list includes industry giants like Shopify, platforms for handicraft artists like Big Cartel, and everything in between. Let's see what these eCommerce platforms have to offer.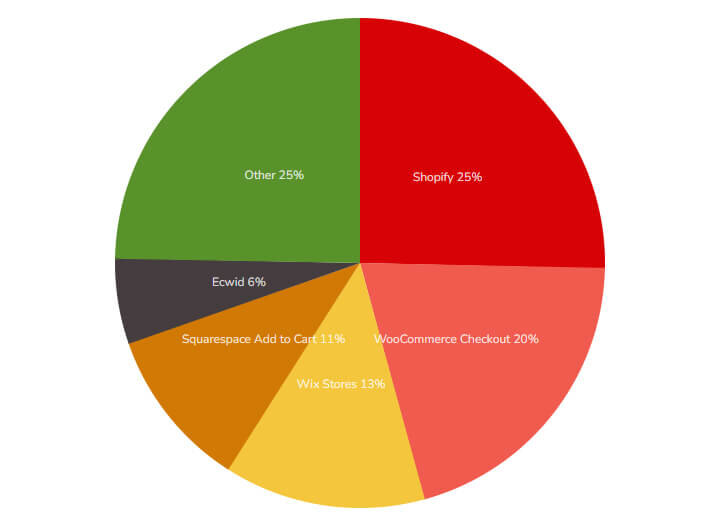 1. Shopify
G2 Rating: 4.4 Stars
Capterra Rating: 4.5 Stars
Forbes Advisor Rating: 4.5 Stars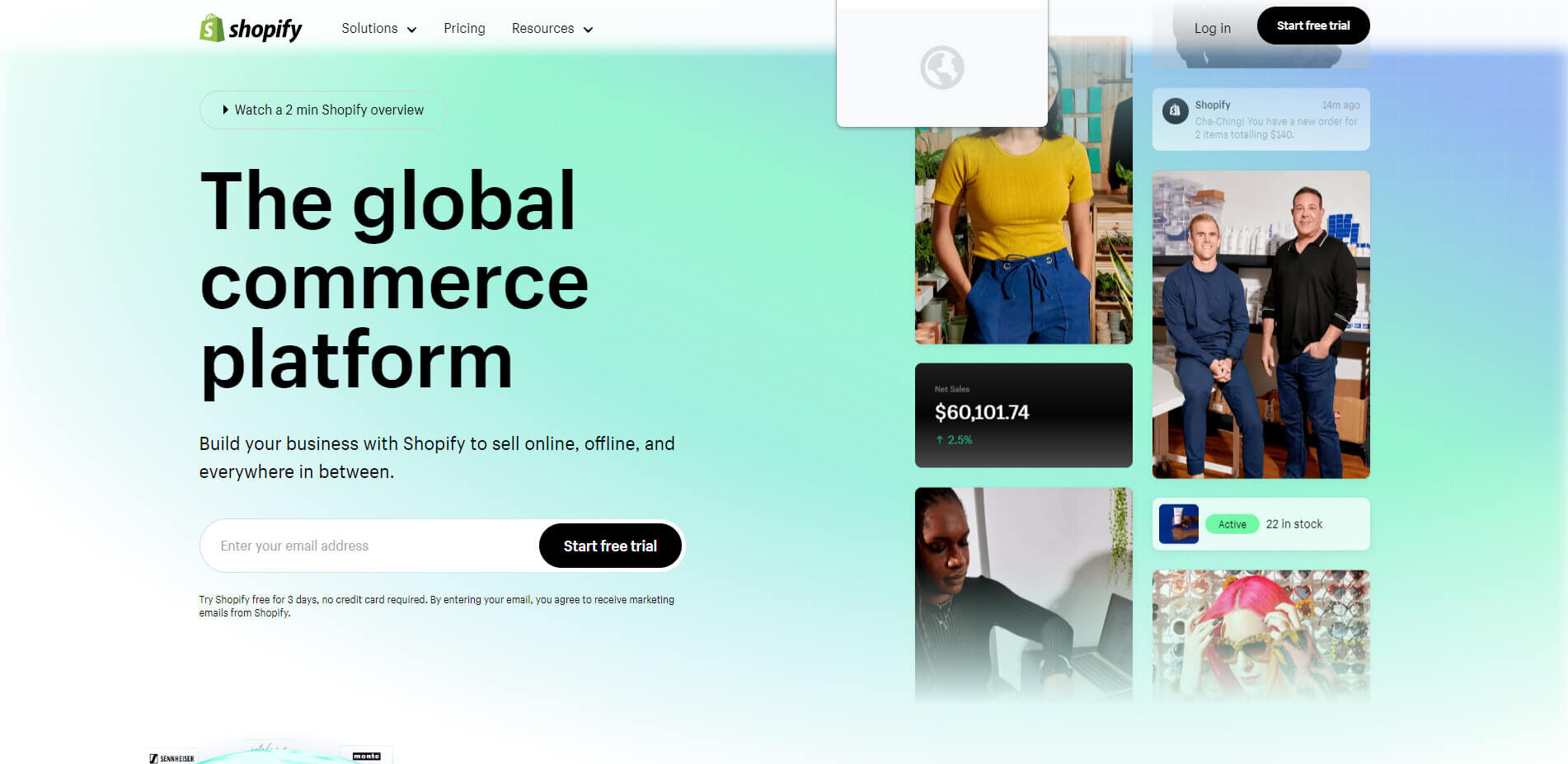 Shopify is one of the best-known eCommerce platforms globally. This SaaS platform has over four million active users and supports over 6,300,000 online stores worldwide.
Shopify offers end-to-end eCommerce solutions for small businesses and enterprises. You can start an eCommerce business from scratch with Shopify and build an international brand on this platform. It facilitates website design, online store management, digital marketing, and sales management.
This platform also supports omnichannel sales. You can use the same POS system for retail outlets, social media selling, online stores, and marketplaces. For example, if you are an Amazon seller, you can connect your store with Shopify to control the selling process in one place. Furthermore, the users can get preferential rates from several shipping carriers for quick international couriers. The platform provides different order fulfilment solutions, including storage, inventory management, and transportation.
Pros
Dropshipping integrations
Omnichannel POS
Payment processing integrations
Community support
Built-in marketing & analytics tools
4000 apps integrations
Cons
It does not have a free-plan
The starter plan only allows selling on social media and messaging apps
The basic plan has limited features
Limited customisation options
Advanced customisations are difficult
2. Wix
G2 Rating: 4.2 Stars
Capterra Rating: 4.4 Stars
Forbes Advisor Rating: 4.3 Stars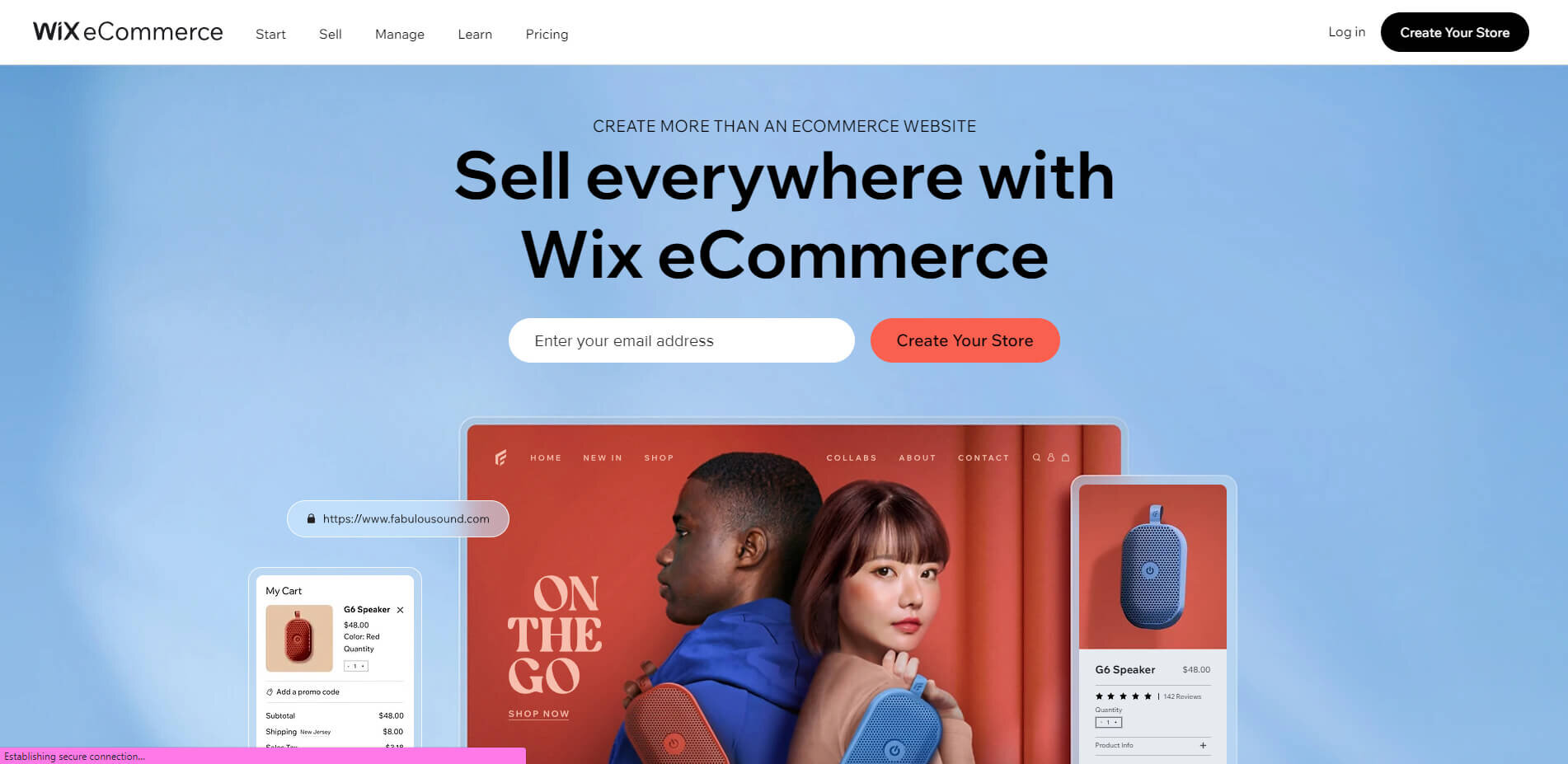 Wix is a popular website-building platform known for its drag-and-drop customisations. Though it is not exclusively an eCommerce platform, Wix has several features facilitating online selling. The platform has over 200 million users and supports over 652,000,000 online stores.
It is straightforward to create your online store on Wix. You can choose from a variety of free or paid online store templates. Additionally, you can use drag-and-drop features to customise your store as you like. Wix is a great option if you are creating your first eCommerce store. Most of the features are quite intuitive, and you can keep building your store even if you know nothing about website development.
Furthermore, Wix has numerous sales and marketing features to facilitate your eCommerce stores differently. The platform allows you to track orders, sell products through multiple channels, and integrate payment gateways. It also has a few marketing automation features, such as abandoned cart recovery and recurring payments.
Pros
Intuitive website design features with free templates
Fully hosted eCommerce websites
No limit on the number of products
Abandoned cart recovery campaigns
Accept recurring payments for a product subscription
Multichannel selling
Dropshipping Integration
Cons
Advanced customisation is difficult
Limited support system
The website is not transferable
The free plan comes with Wix branding
No analytics for free plan
Storage limit makes it difficult to scale
Limited inventory management features
3. Squarespace
G2 Rating: 4.4 Stars
Capterra Rating: 4.6 Stars
Forbes Advisor Rating: 4.9 Stars
Squarespace, like Wix, is a website-building platform with numerous eCommerce features. This platform is best known for its visually attractive and user-friendly templates for creating online stores. Squarespace has over 3 million subscribers and supports more than 280,000 online stores.
Squarespace allows users to develop visually stunning eCommerce stores and provides ample options for customisation. You do not need any technical expertise to develop your online store. The platform also offers many attractive features to incorporate into your eCommerce website. The platform facilitates inventory management, product subscriptions, gift cards, and more for eCommerce stores.
Squarespace websites come with a custom domain and mobile optimisation. You can use the platform for various digital marketing campaigns through social media, content optimisation, SEO, search ads, affiliate marketing, email marketing, etc. You can also run abandoned cart recovery campaigns on Squarespace.
Pros
Easy to create eCommerce websites
Visually appealing temples with attractive features
Complete hosting with domain registration and SSL certification
No limits on the number of products
No storage limits
Social media integrations
No transaction fees
Cons
Limited payment gateways
Templates may require manual editing, which can be difficult.
Limited app integrations
Limited multichannel sales
Difficult to scale
Limited shipping options
No free plans
Limited analytics
4. Bigcommerce
G2 Rating: 4.2 Stars
Capterra Rating: 4.4 Stars
Forbes Advisor Rating: 4.2 Stars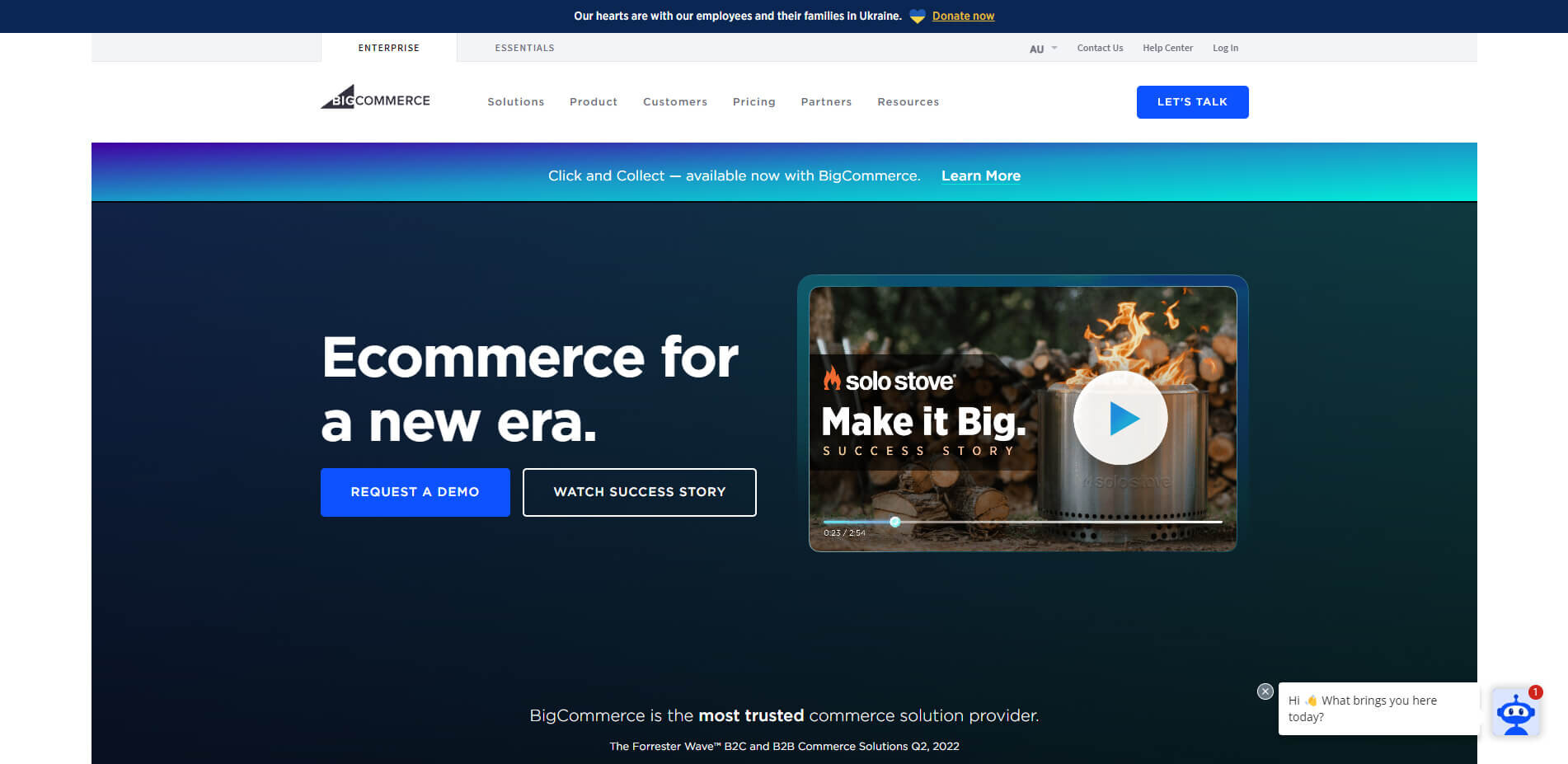 BigCommerce is an open SaaS platform that offers end-to-end eCommerce solutions. This platform allows you to create, maintain, and grow your eCommerce business. The platform offers significant flexibility for designing your online platform with many in-built customisations.
BigCommerce gives you flexibility for running your business as well. You can get unlimited storage, products, bandwidth, and staff accounts. You can integrate multiple payment gateways and receive payments in several international currencies. The platform allows you to manage different online and offline sales channels simultaneously.
The best aspects of BigCommerce are the sales and marketing features that allow users to target and convert customers aggressively. It is designed for fast selling and rapid scaling.
You can run a variety of paid and organic campaigns. The platform also facilitates marketing automation and retargeting to a certain extent. Furthermore, you can create customer groups to design a personalised experience for different target audiences.
Pros
In-built sales and marketing tools
Unlimited storage, staff accounts, products, and bandwidth
Multichannel sales management
No transaction fees
24/7 technical support in all plans
In-built content marketing and SEO features
Easy mobile optimisation
Payment gateway options supporting multiple currencies
Cons
Website designing can be complicated and is difficult to edit
No domain name registration
Migration can be very difficult
Limited app integrations
Even paid plans have an upper limit on annual sales
Premium themes are expensive
Complicated user interface
5. WooCommerce
G2 Rating: 4.4 Stars
Capterra Rating: 4.5 Stars
Forbes Advisor Rating: 4.1 Stars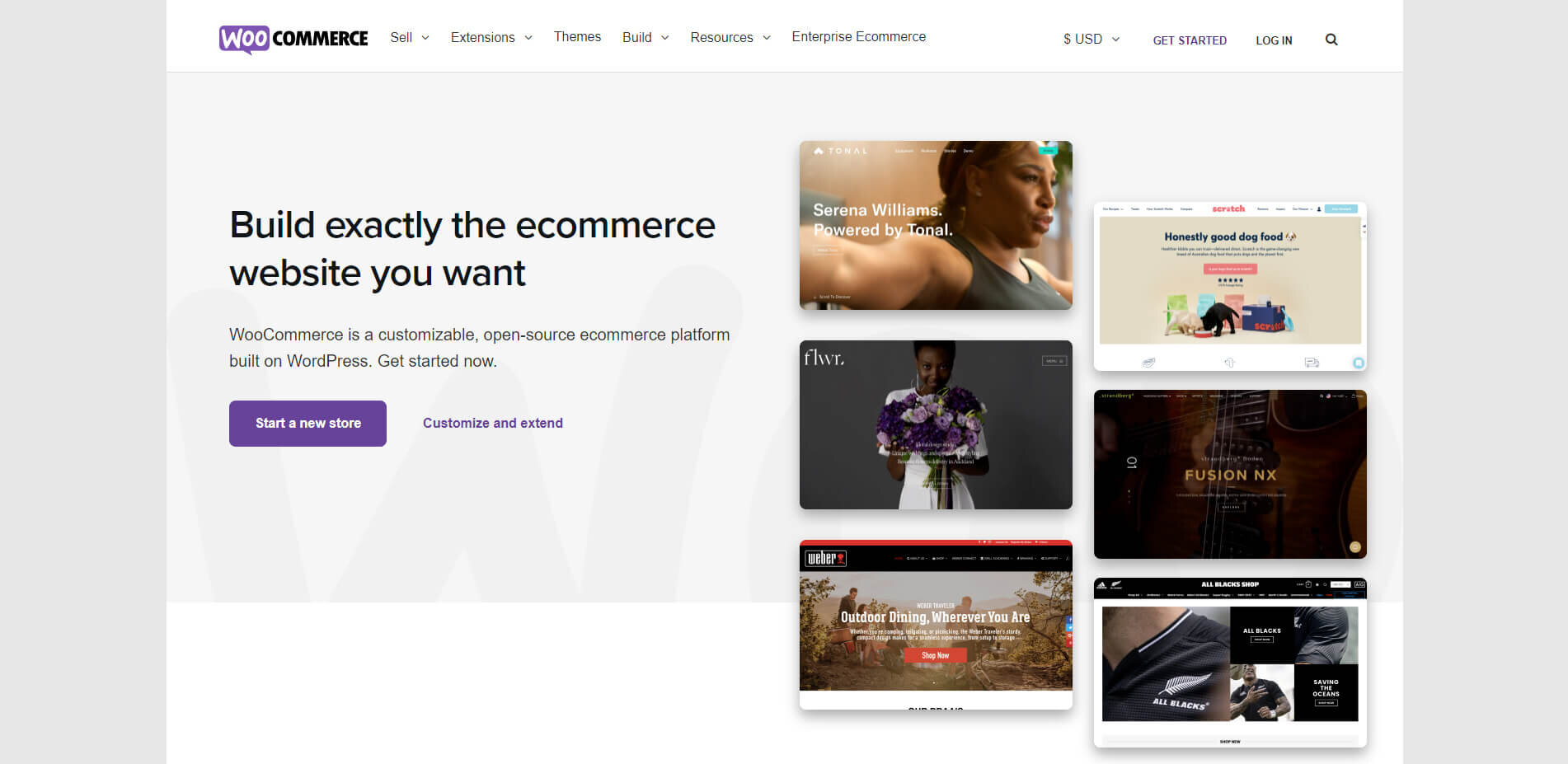 WooCommerce is an open-source plug-in for WordPress websites that enables eCommerce features. You can use this plug-in to create an online store or transform an existing WordPress website into an eCommerce store. The platform supports more than 6 million stores worldwide.
WooCommerce is a highly versatile plug-in that allows you to create any online store as long as you have the technical knowledge to execute it. You can also get a variety of free and paid templates to develop your eCommerce store. People can also develop their online store without using any templates. But you need to understand WordPress to do so.
Even with the free version, WooCommerce has ample in-built options to customise the website. Additionally, the platform also facilitates in-built and third-party extensions for various purposes. You can get as creative as you want with your eCommerce website.
These extensions can help you with different aspects of your eCommerce business. You can get extensions for inventory management, designing customer experience, product subscriptions, estimating profits, managing payment gateways, running referral programs, and more. But, many of these extensions are paid and may require technical support.
Pros
You can launch an eCommerce website for free.
Abundant templates, templates and customisation options in the free plan.
Hundreds of extensions for a variety of purposes.
Several payment and shipping options
Community support
Complete freedom to create and customise.
Cons
Plan does not include domain registration, web hosting, and SSL certification.
Requires technical knowledge to develop and maintain a website.
Some necessary integrations and extensions are expensive.
It only works with WordPress.
Users face several issues with updates, integrations, and extensions.
6. Square Online
G2 Rating: 4.2 Stars
Capterra Rating: 4.7 Stars
Forbes Advisor Rating: 4.8 Stars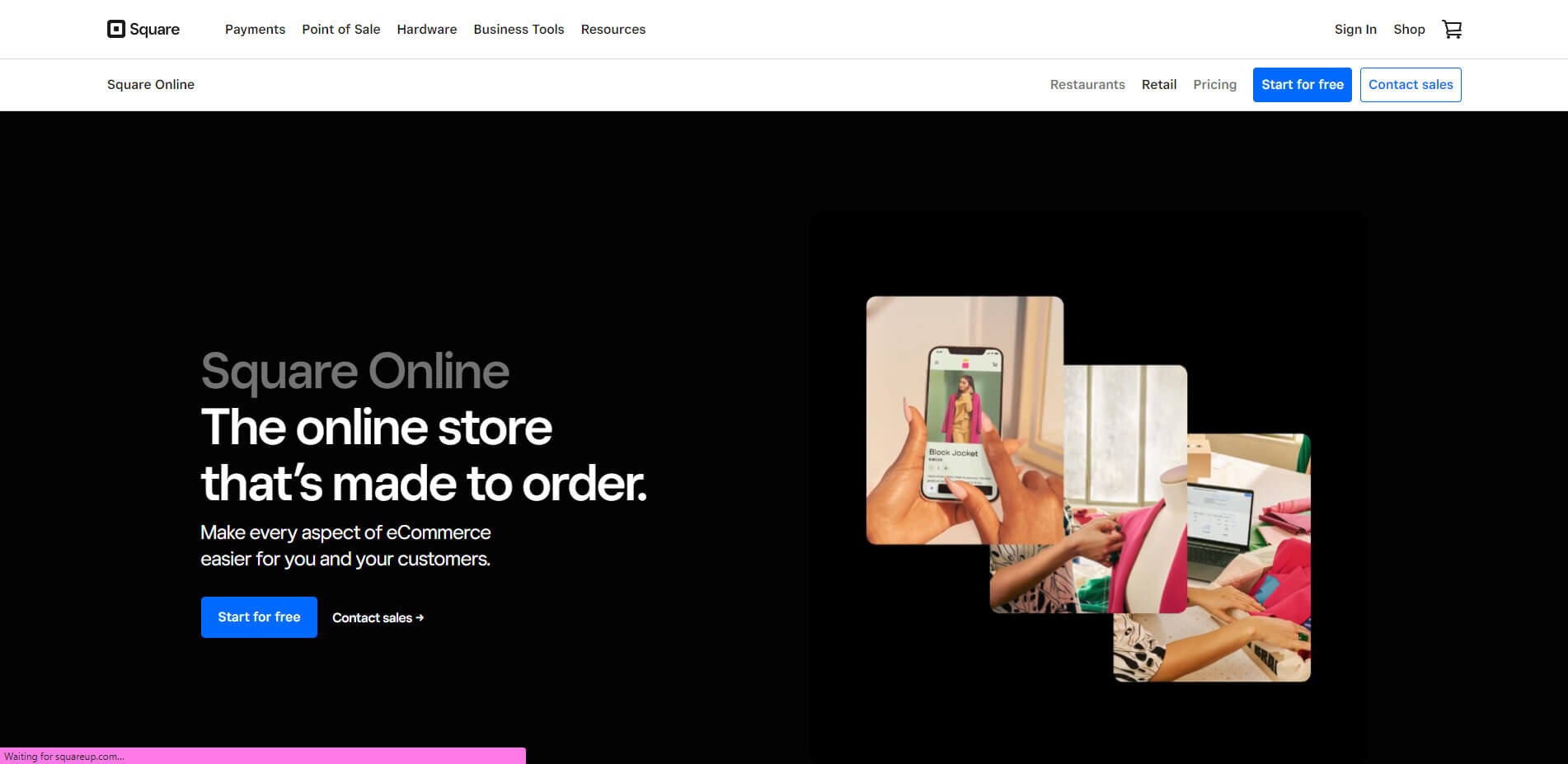 Square online combines Square's business management options with Weebly's website development features. You can get access to a variety of features to create your eCommerce website and manage it. Unlike most options in this list, Square Online has a free plan.
You can get a variety of eCommerce store templates, digital marketing, SEO, and store management features with the free plan. The free plan also includes multichannel selling and inventory management. This can be quite useful if you are just starting or experimenting with eCommerce. As you upgrade, Square Online provides more customisation, marketing, sales, user interface, personalisation, and more features.
This platform's integration with Square gives you fast payment processing. You can also integrate Square POS to manage online and offline transactions on one platform. The premium plan offers discounted transaction rates and shipping prices.
Pros
You can start selling with the free plan.
The free plan comes with ample features.
Easy to design websites
Multichannel selling and inventory management
Integration with Square POS
Generate QR codes for orders
Includes SEO tools
Websites are easy to optimise for mobile.
Cons
The free plan features a lot of Square ads.
No domain registration and SSL certification
Custom URL only available with paid plans
Some payment integrations are only available with paid plans.
Limited options for customisations
Limited payment processing options
7. Big Cartel
G2 Rating: 4.2 Stars
Capterra Rating: 4.4 Stars
Forbes Advisor Rating: 4.0 Stars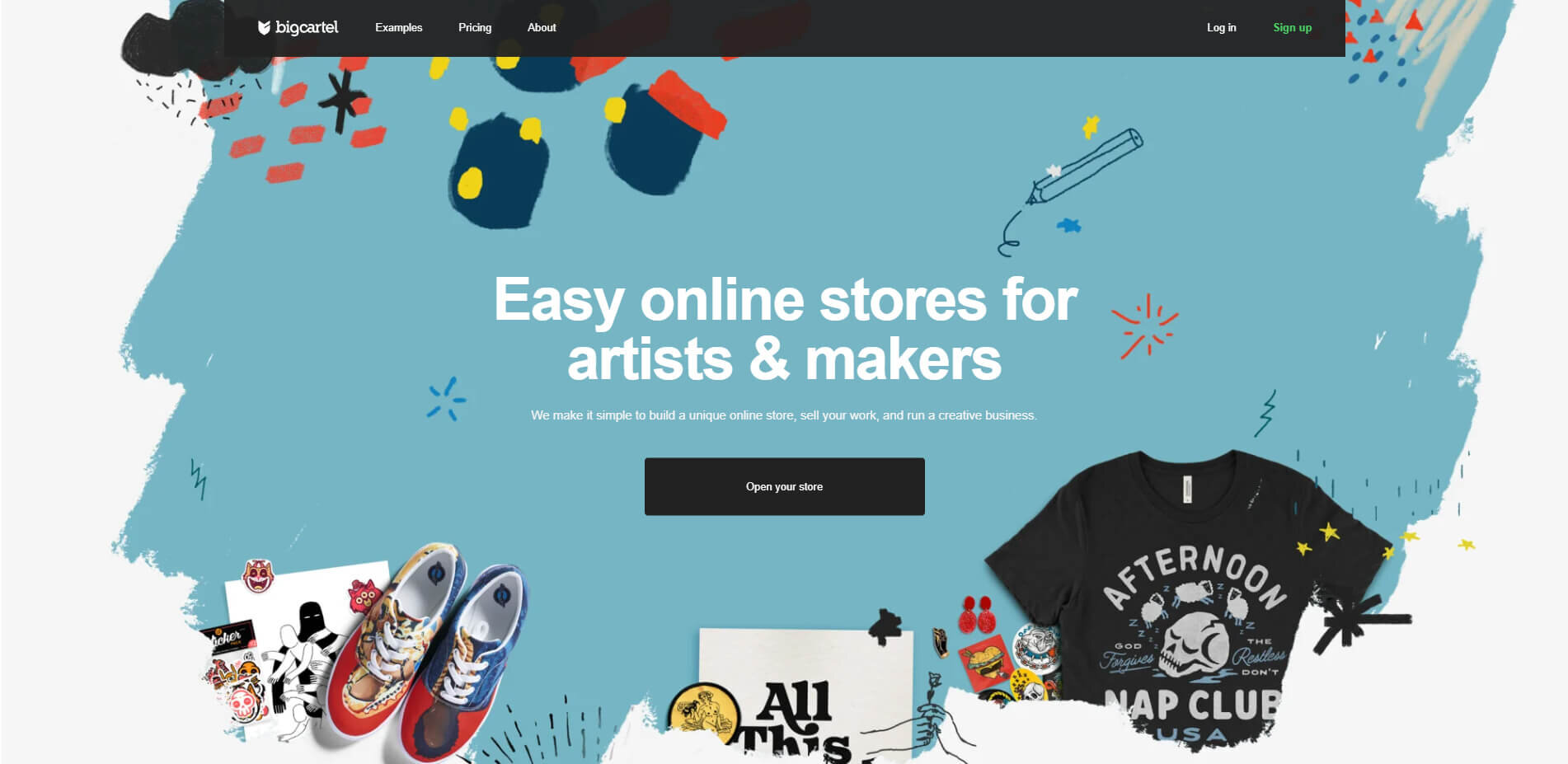 Big Cartel is an eCommerce platform designed for artists, handicrafts, and small businesses. It supports over 84,000 online stores. This is an excellent option if you want to sell a limited number of products and do not want too many complications.
The basic free plan allows you to sell up to 5 products, and you can upgrade based on the number of products you want on your eCommerce website. Even with the free plan, you get several useful features, including multichannel selling, custom domain name, offline selling, real-time analytics, shipment tracking, and more.
Upgrading to higher plans can unlock other store management and marketing features such as inventory management, bulk edits, promo codes, etc. The overall interface of the platform is user-friendly and intuitive.
You also do not need any technical knowledge to create your eCommerce store. You can use templates to design your store or create a customised one from scratch. Either way, the platform will provide enough guidance to get you through the process.
Pros
You can start selling up to 5 products for free.
The free plan has all the necessary features for multichannel selling.
Order & Inventory Management
Shipment tracking
Cons
Limited templates and customisation features
Difficult to scale
Limited sales, marketing, personalisation and management features.
Lacks advanced eCommerce features
8. Ecwid
G2 Rating: 4.7 Stars
Capterra Rating: 4.6 Stars
Forbes Advisor Rating: 4.6 Stars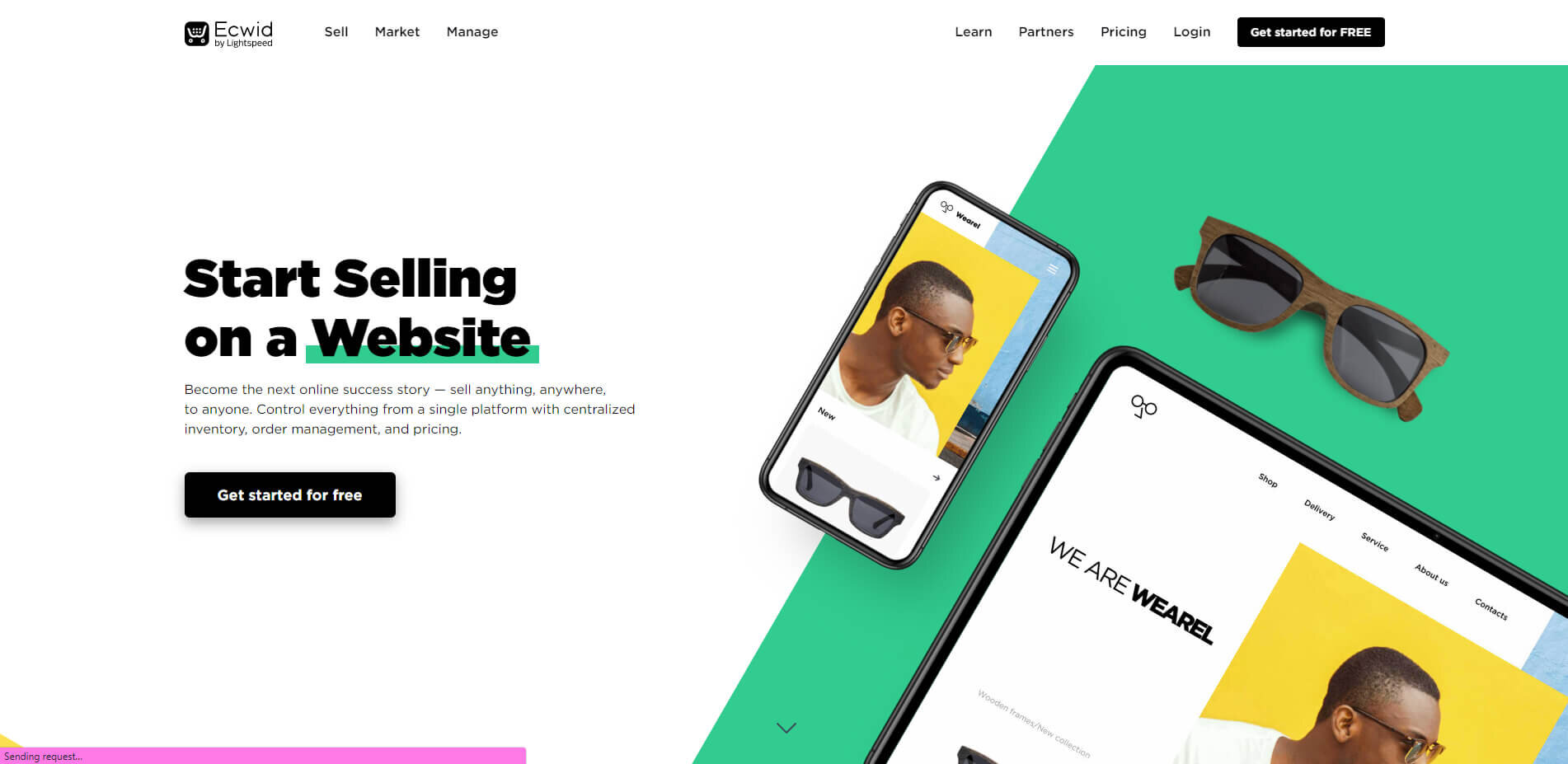 Ecwid is an eCommerce widget as well as an online store platform. This eCommerce platform allows you to create an online store on your existing website. People can also use the platform to develop an eCommerce website. The platform supports more than 990,000 stores.
You can integrate the Ecwid shopping cart widget to create an online store if you have an existing website. Ecwid works with various website development platforms such as WordPress, Weebly, Joomla, Wix, Blogger, Tumblr, and more.
The free plan allows you to sell up to 5 products on the website. It comes with unlimited bandwidth, instant site builder, free templates, and Apple Pay checkout. The free version also allows you to run ad campaigns on multiple platforms, including Facebook, Google, Pinterest, and Snapchat.
As you upgrade to paid plans, Ecwid facilitates multichannel selling, automated marketing campaigns, discounted shipping rates, inventory management, branded shopping apps, SEO tools, product subscriptions and more. Additionally, you can get mobile-responsive websites in all plans.
Pros
Free plan with ample features.
Free integration with an existing website.
Unlimited bandwidth
GPR compliance
Custom shopping app
Mobile responsive online store
No transaction fees
Cons
Limited products in the free plan
The free plan only allows physical products
Limited design options
Custom orders are only allowed with paid plans
The free plan only allows a one-page website
Limited sales and marketing features
8. Adobe Commerce (Magento)
G2 Rating: 4.0 Stars
Capterra Rating: 4.3 Stars
Forbes Advisor Rating: 3.9 Stars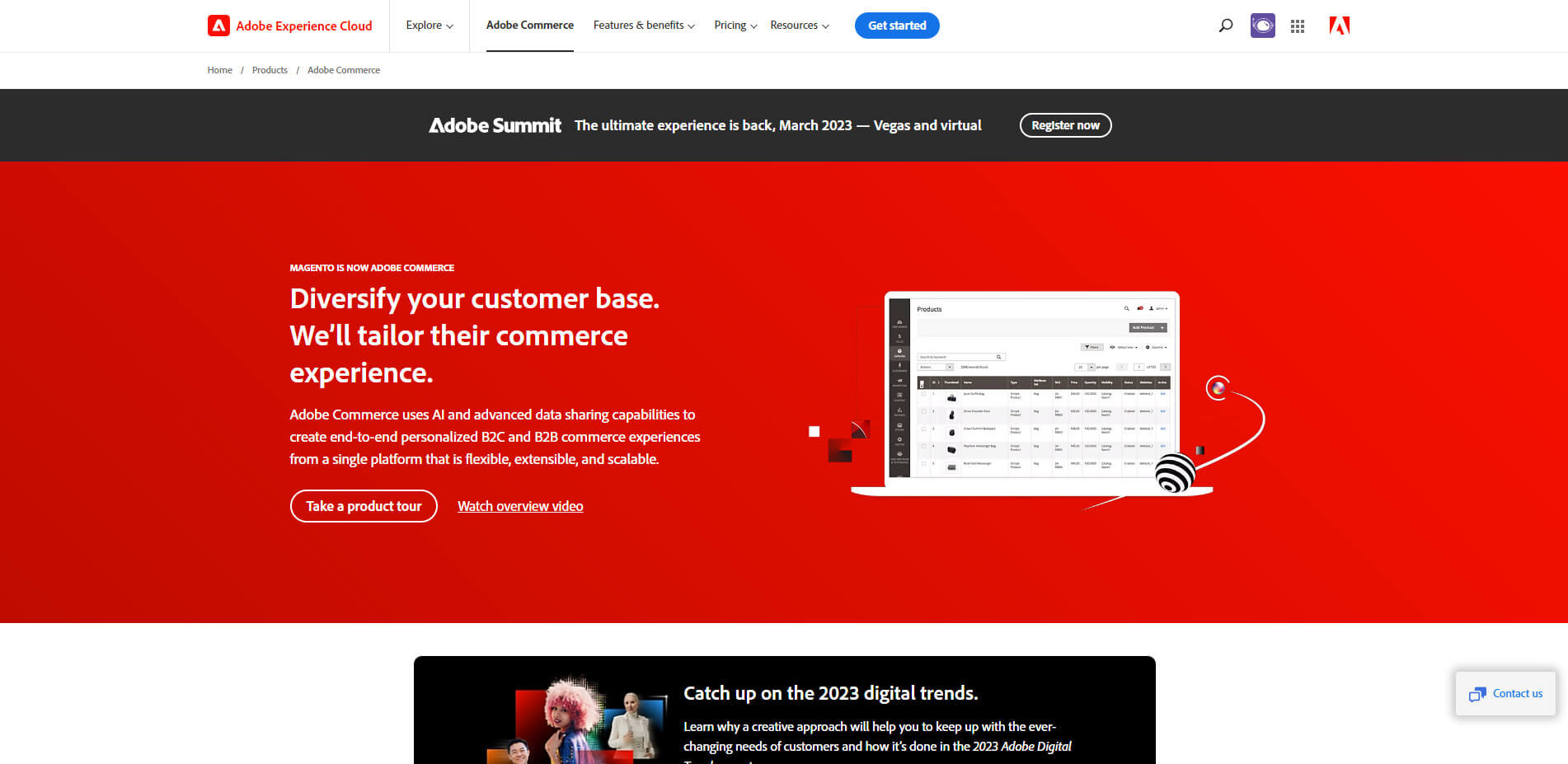 Adobe Commerce (formerly known as Magento) is an eCommerce platform best known for its advanced AI capabilities and integration with other Adobe products. The platform allows you to customise your store to a great extent. The AI and automation features powered by Adobe Sensei can also help you personalise several aspects of the user experience. But using many of these features requires advanced technical knowledge and tech support.
On the other hand, creating an online store on the website is quite easy. You can use a drag-and-drop website builder to develop your online store. You can fill it up with as many features as you like. The platform also allows you to customise many of these features as required.
You will also get the necessary backend features to manage the eCommerce business, such as inventory management, payment services, multichannel integration, marketing tools, order management, etc.
But, the true value of Adobe Commerce lies in the data it provides. You can get insights into market trends, consumer behaviour, search patterns, and more. Furthermore, the data also functions as the groundwork for advanced AI and automation functionalities.
Pros
Abode Sensei-powered AI & automation tools
Integration with Adobe products.
Advanced data analytics
Advanced SEO tools
Highly customisable
Scaling flexibility
Design personalised shopping experiences
Multichannel selling
Cons
Requires significant technical expertise and learning.
Most features require additional payment.
Requires external hosting
Extensions are expensive
Elaborate set-up process
Pricing is not transparent
9. Shift4Shop
G2 Rating: 3.8 Stars
Capterra Rating: 4.2 Stars
Forbes Advisor Rating: 4.6 Stars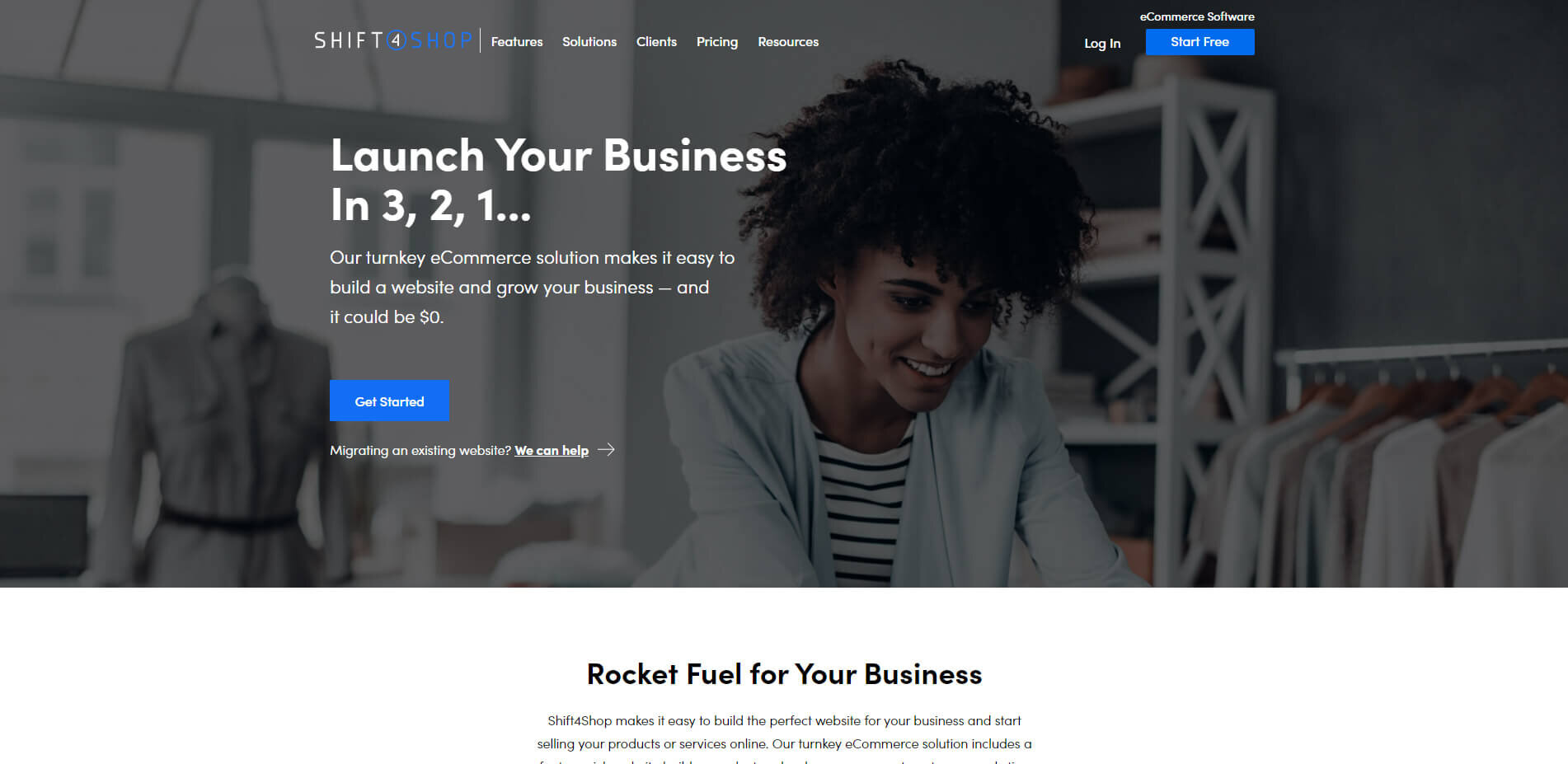 This eCommerce platform has loads of free features (only for the USA). It allows you to build your website and online store from scratch using customisable templates. The free version also includes several tools to manage orders, inventory, shipping, customer service, and marketing.
You get unlimited bandwidth and staff accounts. The platform does have a cap on the number of products or sales revenue. But, you are required to maintain certain sales revenue to keep the account free.
Shift4Shop also facilitates web hosting, domain registration, SSL certification, and mobile responsive shopping. The platform has built-in features for multichannel selling and digital marketing campaigns.
You can run ad campaigns on several platforms and execute abandoned cart recovery campaigns. The users can also send up to 25 thousand email newsletters through the platform. Shift4Shop also has in-built tools for content marketing and SEO.
Pros
Free plan with abundant features
Unlimited products, staff accounts, bandwidth
Free hosting, domain registration, and SSL certification
No revenue caps
In-built fraud protection
In-built marketing tools
Easy-to-use website builder
Cons
Minimum revenue requirements
Limited apps and extensions
Limited customisations
The free plan is only available in the USA
Sales channel integrations are paid
An external payment processor is only available with the paid plan
Transform Your Online Business With the Top eCommerce Platforms
The right eCommerce platform for your business depends on several factors. You will need to consider the size of your business, types of products, future aspirations, technical knowledge, target customers, marketing needs, and so on.
Though all platforms mentioned in this article offer more or less similar features, each is designed for different types of eCommerce businesses. Instead of going for the highest rates or cheapest platform, you should use the one that best suits your needs and capabilities.