Want to adopt an ASP. NET-based CMS platform for your website?
The Asp.NET CMS platform is a perfect fit for any business looking to collaborate with their IT department and enjoy increased performance, scalability or easier website maintenance!
You are selecting the best ASP. NET-based CMS platforms can be overwhelming. And, if you run a content-driven online business, making the right choice may be challenging.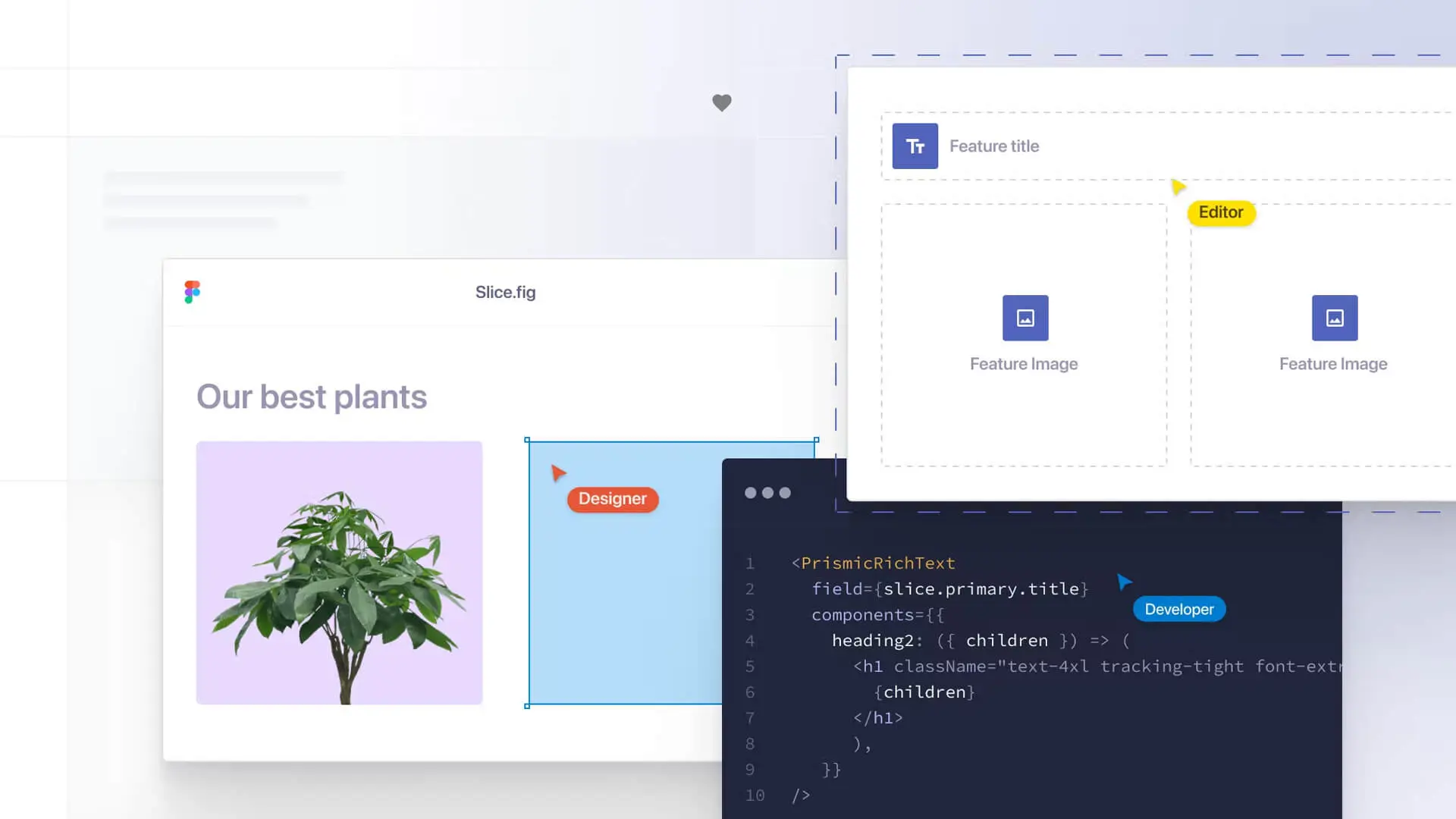 The ASP-based web CMS currently available in the market offers a variety of exciting features that complement website collaboration and function, and they are compatible with every department.
If you have no idea about the development process, you can hire a .net developer to collab on your project. Before we begin, let's learn about the concepts and which ones are the best.
What Is Asp.NET?

ASP.NET is a scripting language created by Microsoft in 2002. It stands for Active Server Pages used for target development. The following are some of the key points we want to emphasise about Asp.NET and CMS development:
Its role is to assist the developers in creating dynamic or interactive web pages
The best features of ASP include authentication capabilities, an editing interface, and cross-platform compatibility. It also works with cross-platforms like — Linux and Windows.
In 2010, Microsoft released another version of Asp.NET 4
It had new properties in the page class, which impacted the development
A meta description and meta keyword were included
These additions become an important part of search engine optimisation. The new ASP version was also compatible with multiple servers, benefiting developers.
In 2020, Microsoft released yet another ASP.net version with added features. Besides saving new developers' time, it has been updated with several improvements, such as:
The new version includes iOS support for the library
Windows ARM 64 is also supported
Developers can improve P95 latency
Performance improvements were made in a new version released in 2021

What Is A CMS Platform?
Content management systems (CMS) are tools for managing web content. Different content types can be developed, created, and published using CMS. With a CMS, your content is stored in the database and displayed in the presentation layer. A CMS offers the following benefits:
Assists in creating and formatting different types of content. The content is then published to make it live. Workflow management is the best part of the system
Assigns the rights and responsibilities to the author
Help you update the content without developers' help making it user-friendly
With simple design modification, you can make the pages efficient
Offers complete flexibility as you need a single dashboard for your website
ASP-based CMS Platform Metrics Checklist
1. Cloud-Based Computing & Storage
Cloud-based technology has become a popular choice for modern workloads. Companies remain stress-free as a third party handles all the monitoring, scaling, and recovering of infra on a good basis.
When the workload is off, it reduces the responsibility of the company's staff. Following this, they can utilise their resources for other tasks.
However, the platform should have popular cloud providers like an Azure host for simple integration. The technology is also adept at all storage needs.
2. Check The CMS Cost
CMS platforms can be free or paid. This will depend on your budget. If you choose the paid platform, you must consider the development cost.
For example, a small business may pay as little as $10-20 monthly due to not requiring as many features, storage, etc. Meanwhile, a large organisation may have to pay hundreds or even thousands.
3. Ensure It Has The Required Features
You should consider the features of any platform you choose. The platform's elements should be designed and updated based on your project. Some features we suggest you look for include:
SEO Friendly
Personalisation
Easy to use
Plugin options
Allows you to delete the content
The platform you choose should have all of these features and any others you will need for development. But you need to make sure you have outlined these carefully.
4. Identity Your Needs
If you are unsure where your project should go, you should identify the goals and prospects before starting the development. It would be best if you also took the time to understand the demo version and ensure it meets your requirements.
For instance, if your site or app needs an image, you must look for the cropping and resizing feature to optimise your image. With the file management system, you can upload and attach the PDF.
5. User-Friendly And Design Modification
You should choose a user-friendly platform. It should allow you to update your software quickly without the developer's help. Getting an update without coding can be demanding, but with a flexible platform, you don't have to worry about regular updates.
Most CMS platforms let you update the content with zero technical knowledge, which can help. Additionally, you can streamline the design using the design modification feature.
The feature applies to multiple pages when you update the page. Following this, you can offer site visitors a great user experience with one click.
6. Security
Most people overlook security before choosing an ASP-based CMS platform for their business. However, the Asp.NET platform is built with a large team that solves many issues.
The changes made from the hard coding take time to implement. Additionally, it can take time to fix the code access security issues. There is no doubt that security is the most important part, and you must pay attention to it.
Unlike PHP, many features come with ASP. You can discuss the part with the developers to know more about it. It provides stability for your app or web development process.
Questions To Ask Before Choosing A Platform
Before you jump in and install your new ASP. NET-based CMS system, there are a few questions you need to ask yourself:
What is your company's budget?
How user-friendly will your system be?
How will your CMS support business operations?
Can your CMS platform integrate with other technologies?
What is your company size, and how big is your website?
What is your success metric for long-term results?
How well do the developers support the platform?
List of Best Asp. NET-Based CMS Platforms for Your Business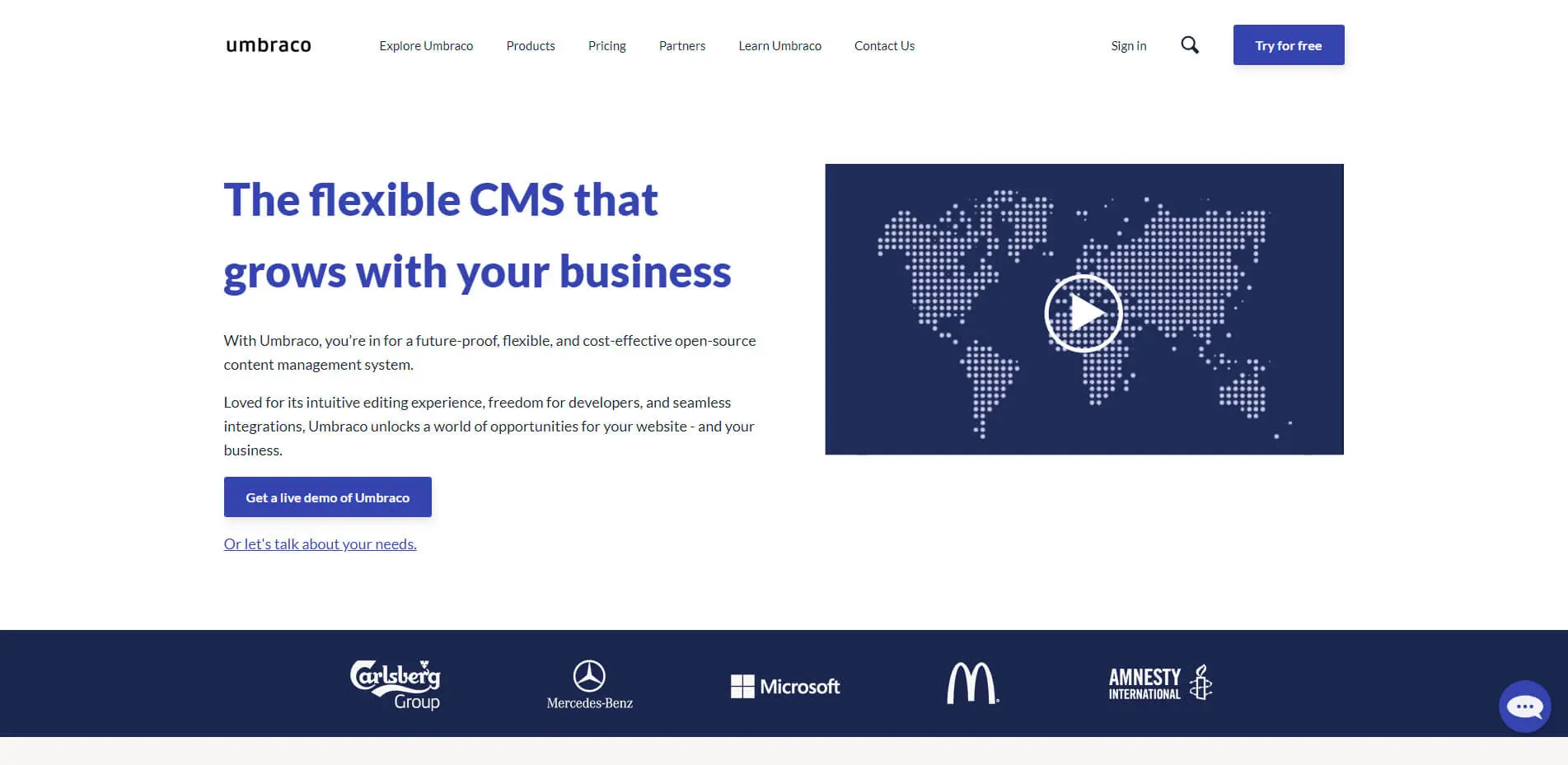 Umbraco needs no introduction, as it's the most popular ASP-based CMS platform. Although it is free, there is the option to pay for training. Additionally, it also offers support services.
The best thing about the framework is its flexibility, as it can run large and complex applications without effort. Plus, it comes with an elegant UI structure and pure .net architecture.
It is written in C#, and it works on the.net framework. There is no Linux hosting support, but there is a Linux package you can choose from. The CMS offers significant functionalities, which provide added support to developers.
Features:
Multilingual content support
Create easy-to-use, developer-friendly applications and websites
Supports and manages different media types like images and files
It is entirely SEO-friendly and offers simple editing and data storage
Available with custom-developed extensions and a wide variety of plugins (so the customisation option is more effortless)
Offers open API and stability
Strong community support
Provides cloud facilities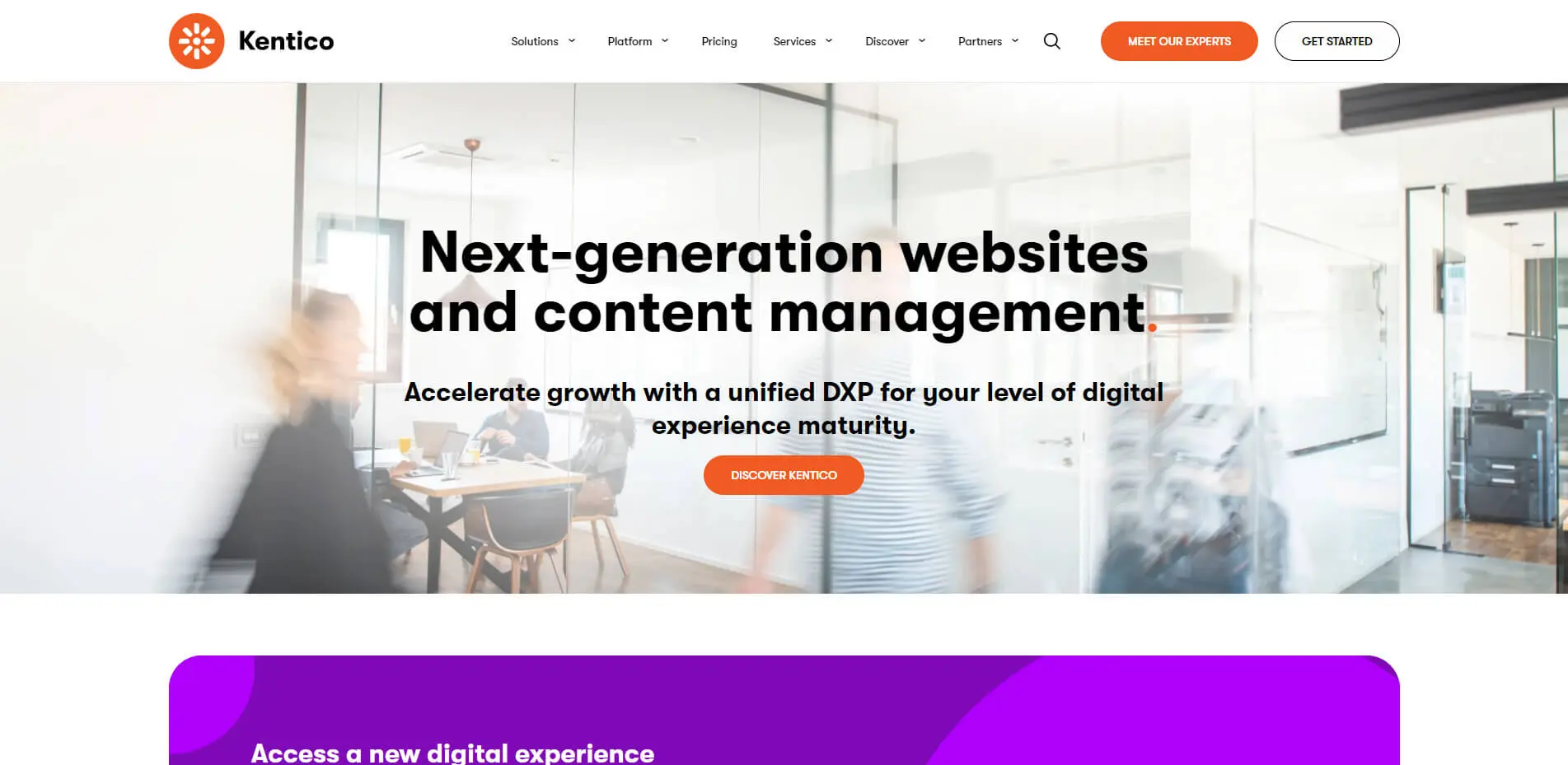 Kentico is the most trusted CMS platform for developers. It is a net-based CMS platform developed by Kentico Software Company. The platform helps blogs, online stores, and sites.
It powers over 25,000 websites in the web space and helps you manage web content effectively. You can expect out-of-the-box features and functions with the platform, which gives it a competitive edge over other platforms.
For instance, you can use multi-language support and ready-to-use tools for development, which saves a lot of time. With full integration support, including eCommerce frameworks, you can get excellent results for your development. It is available in free and paid versions.
Features:
A stable system with a unique drag-and-drop interface
Offers multilingual support with multiple website management features
Create media libraries like video, audio, PDF, and presentation
Offers many options of plugins for mobile-ready websites
Contains digital marketing features such as campaign management, content management, and email marketing
Has customer data platform features like — tracking and data segmentation
With complete scalability and security with code customisation
Integrate with the Cloud deployment option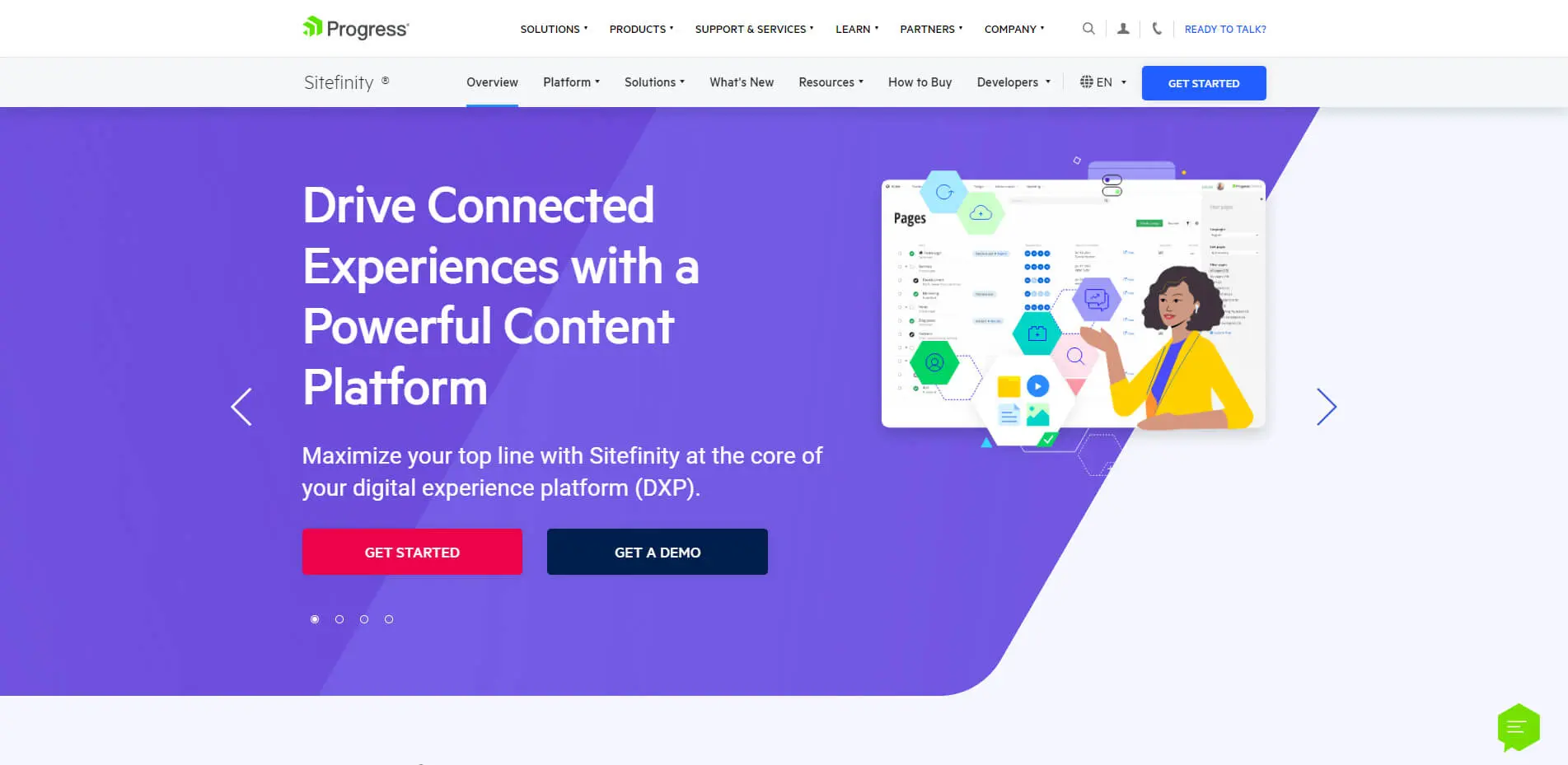 Sitefinity is quickly catching up as the next-generation CMS platform. It has won Gartner Peer Insights Customer Choice for the best platform for two years. As it's a modern ASP compatibility software, most new developers prefer it for the CMS platform.
Progress Software Corporation Company developed the platform. Expect complete scalability and efficiency in the development process with this software.
It works on the master page feature, saving time in the development process –making it the ideal bet for new features and tools.
Features:
Multilingual support.
With eCommerce integration, developers can save time in developing an open source CMS e-commerce site
Provides digital assets and complete content control
Content optimisation for good SEO content strategy
With a form builder option, where you can drag-and-drop for a design
Covers all the digital marketing features for site promotion
Offers advanced customer analytics — allowing you to know about the customers' needs
Expect better performance and scalability
The most popular Asp.net platform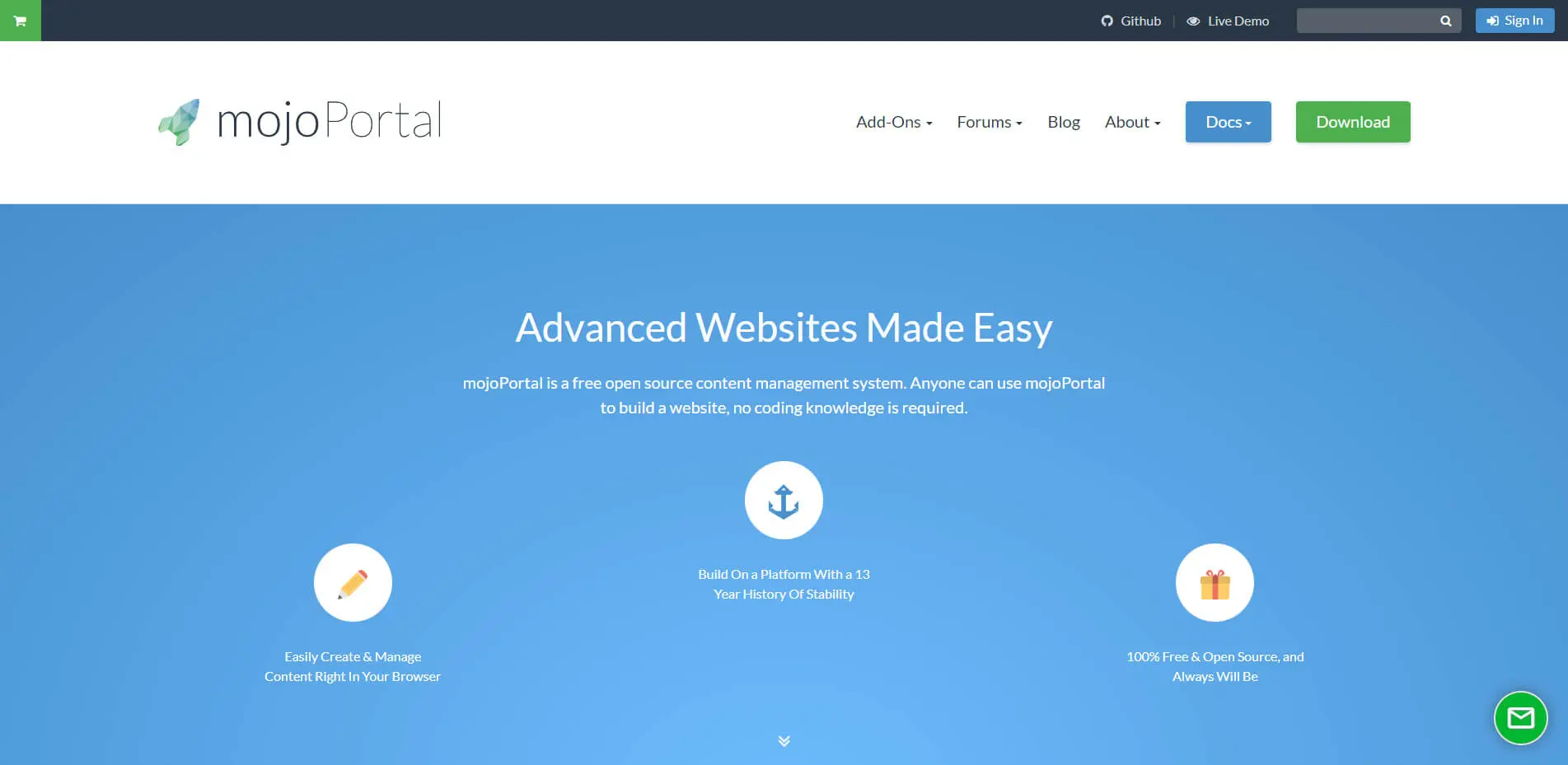 Though MojoPortal is a lesser-known CMS platform, it has many different features that can power a website. Plus, it's one of ASP.net's most extensive and mobile-friendly CMS platforms available for ASP.net.
The platform comes with many features like — contact forms, Google Maps, a calendar, and eCommerce integration. Additionally, it supports different versions of MySQL and CE.
MojoPortal is an open-source content-based system that fits the need of every developer. Also, it is written in the universal C# programming language. It is highly versatile, which makes it the preferred choice for new developers.
Features:
Developer friendly
It has different roles and security options for a variety
Easy to understand and alter content workflow
Works with major databases like MySQL, PostgreSQL, and SQL Azure
Offers a multi-tenant feature
You can manage multiple websites at once and with a single installation.
Supports Tinymce and XStandard HTML, which benefits the developers working on web applications
Available in the 2.7 version, you can check for other platform updates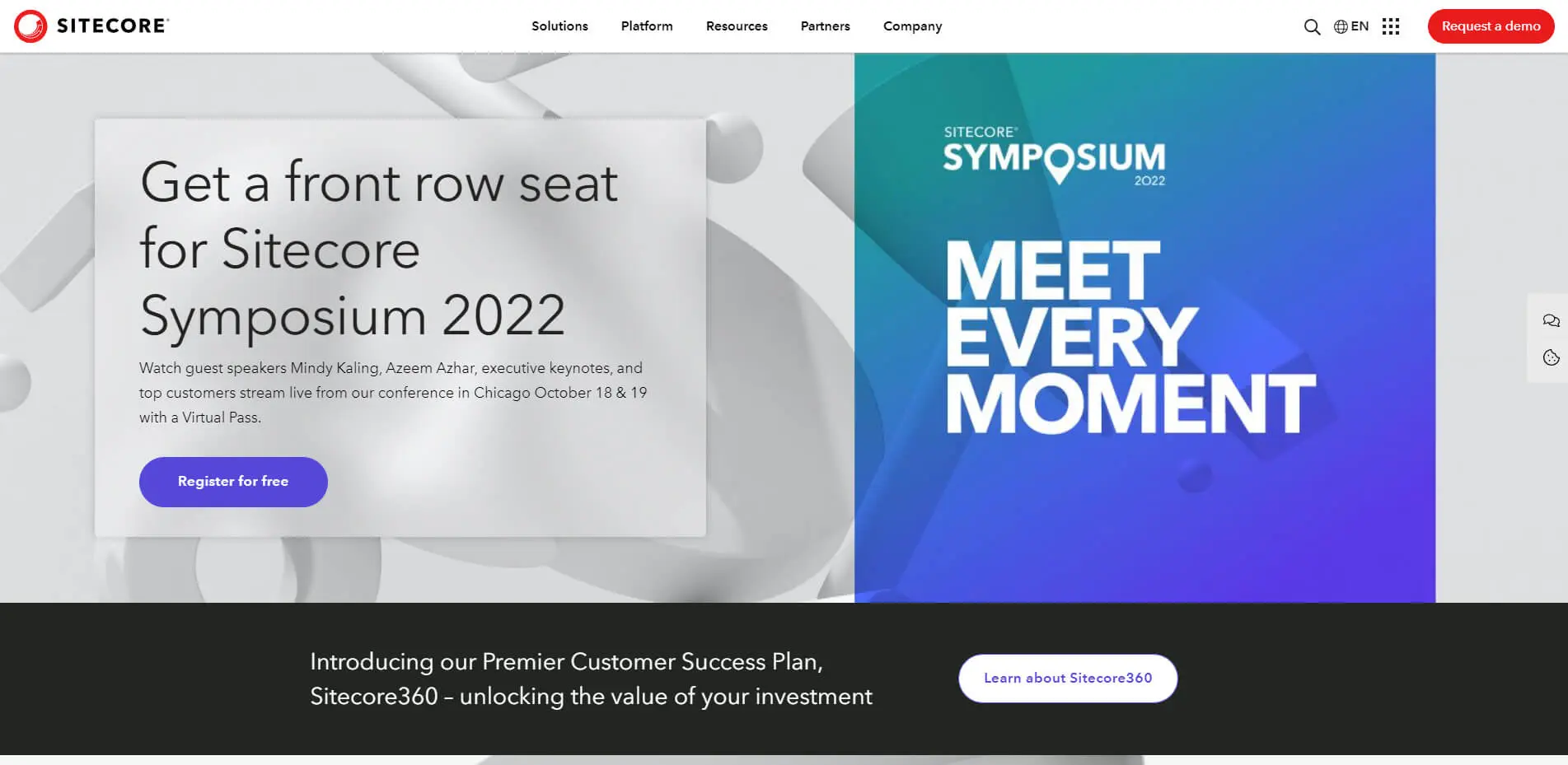 Sitecore is the best CMS platform for the enterprise level. Sitecore Software Company created it. The platform relies on the .net technology stack, using the C# programming language, SQL server, and Microsoft.net.
Additionally, it provides powerful load-balancing functionality. Sitecore's end-to-end content management system supports the SEO module and A/B testing.
The best part is that it offers an on-personalisation feature for development. It supports connections that drive commerce. The platform provides users with complex digital marketing tools and different plugins and is the best bet for large companies and more prominent websites that need a dependable technology stack.
Features:
Cross-channel data analysis support
Unlimited scaling with a user-friendly interface
Integrated online marketing suite that helps promote site optimisation
It comes with machine learning-generated insights and social media engagement features
Integrate with various Microsoft business apps like — Microsoft Dynamics 365
Offers multilingual support and single-source site management
Collaborate with different tools to streamline the whole development process
Specialises in DMS development (digital marketing system)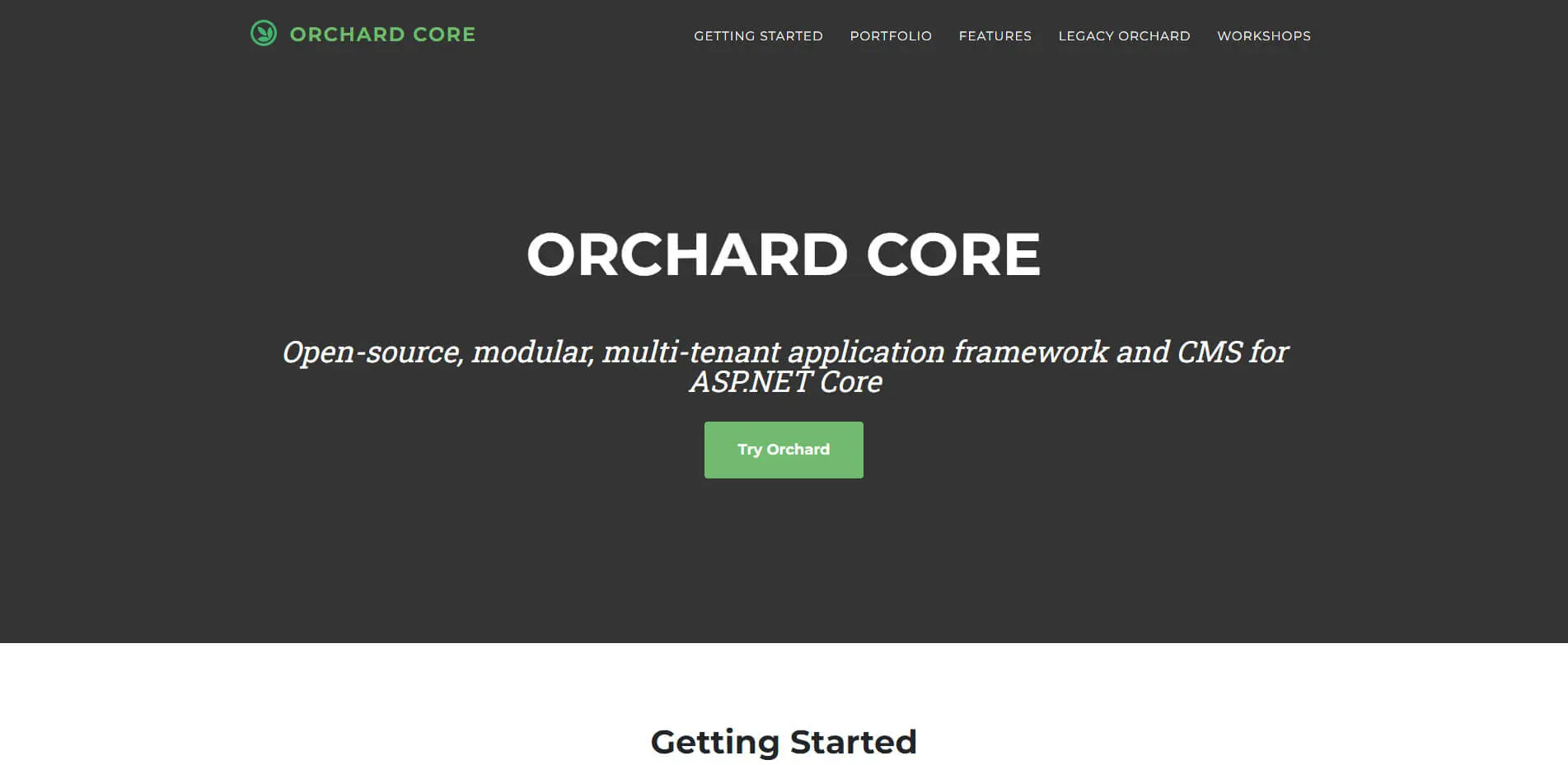 Orchard Core is an open-source, community-driven CMS platform. It is free and ASP-based, making it the preferred choice for web developers. The best part about the platform is its ability to reuse different codes for templates.
Developers can write reusable websites templates that saves time. You don't require special training, and it's quick to integrate. Plus, it provides a balanced approach, hence making it usable.
Additionally, it offers a single installation that can help developers manage multiple sites simultaneously. Finally, it allows the developers to illustrate media files and fill in custom metadata.
Features:
Multilingual support and media management
With modular-based features to help new developers speed up the development process
Comes with different tools and features for site management and installation
Offers different roles and a permission-based management system
Creates a content workflow and reacts to various events
Many popular websites are built on platforms like Corporate Domino and Lexus
Ability to simplify your content management page
Offers versatility and flexibility in the development process
Built up by a dynamic community and support team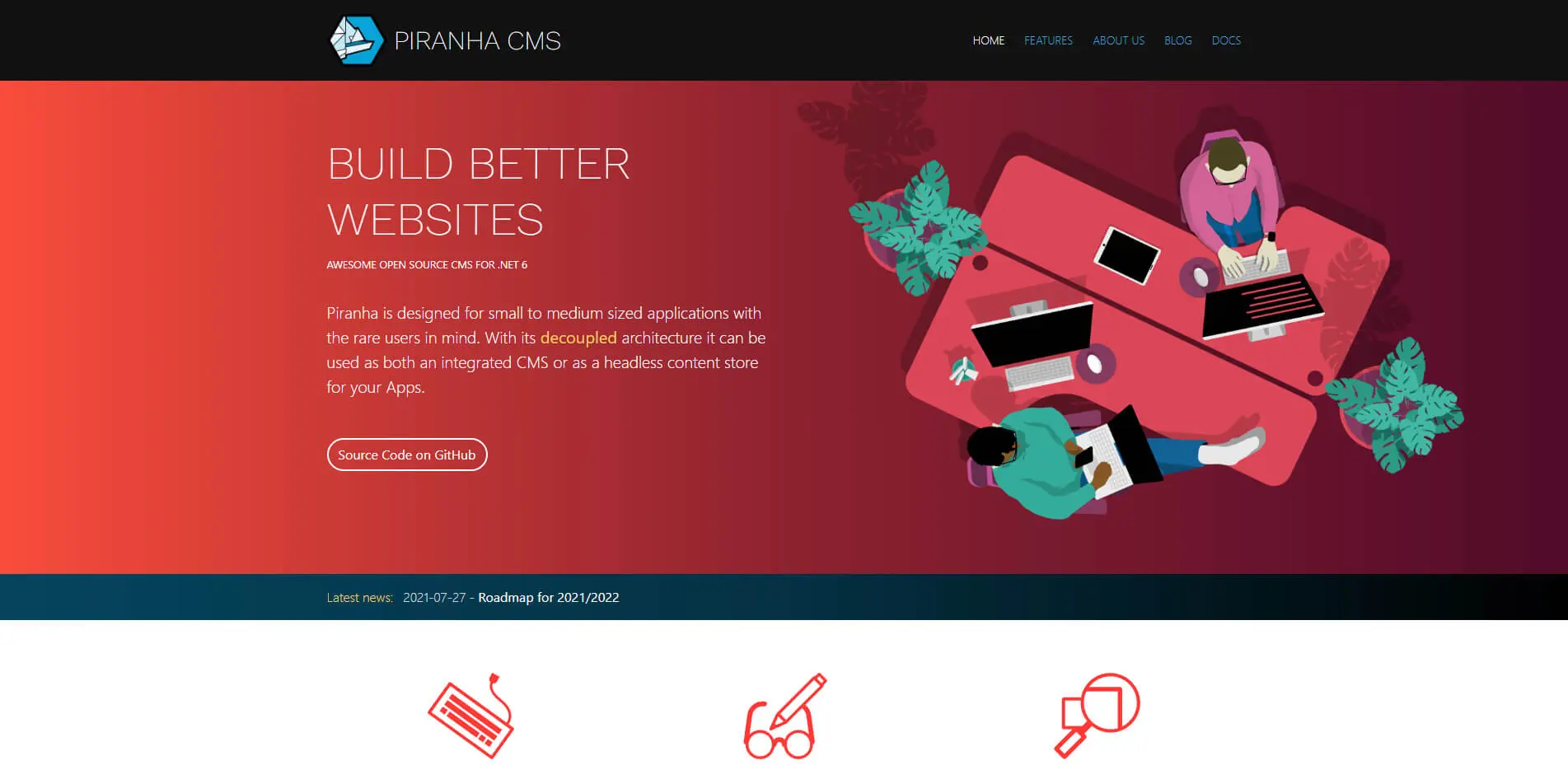 Piranha is one of the best open-source platforms available for CMS, as it is an ideal choice for developing web applications and mobile apps. Developers use it as an integrated or headless CMS.
It's a cross-platform application and super fast as it uses the entity framework core. The best part is that it is frequently updated to the latest technology, so you don't have to wait for new updates. Additionally, since it is open and extensible, you can use it depending on the flexibility with Vue.js powering the platform.
Features:
A cross-platform framework specifically designed by Asp.NET core and NET standards.
It can run on different operating systems like — Linux, Mac, and Windows
Ability to embed the app in the Xamarin app
It comes with image-handling features like — scaling and cropping
Features the live preview of content if there is more content on your CMS website
Built with Bootstrap and has modular-based features
With new tools and plugins, the developers can easily access the stack
Works with all the major databases, which can help new developers to work on projects
Which Best Asp. NET-Based CMS Platform Is Right For You?
Choosing the best Asp.NET CMS platform depends on the nature of your business. As a result, you must make a list of features and functions you expect from the platform.
You can hire a .net developer and discuss the budget and the features you want. However, one CMS may benefit one group while another may help others, so you must select wisely.
The Asp.NET content management system enables you to quickly create, modify, and manage digital content. Choosing Asp. NET-based CMS is an essential stage of web development, so consider all the factors before you decide on a platform.
If you need assistance, please don't hesitate to reach out to our team at sitecentre®. We have years of experience dealing with various CMS systems, including in-house-built technology.
Thanks for reading. We will see you in the following guide!