Marketing is one of the biggest and most important pillars of a business across all industries.
Unfortunately, it is also one of the most complicated, mainly because consumer preferences and behaviours constantly change. This means that a set of marketing techniques and strategies only remain effective for a short period.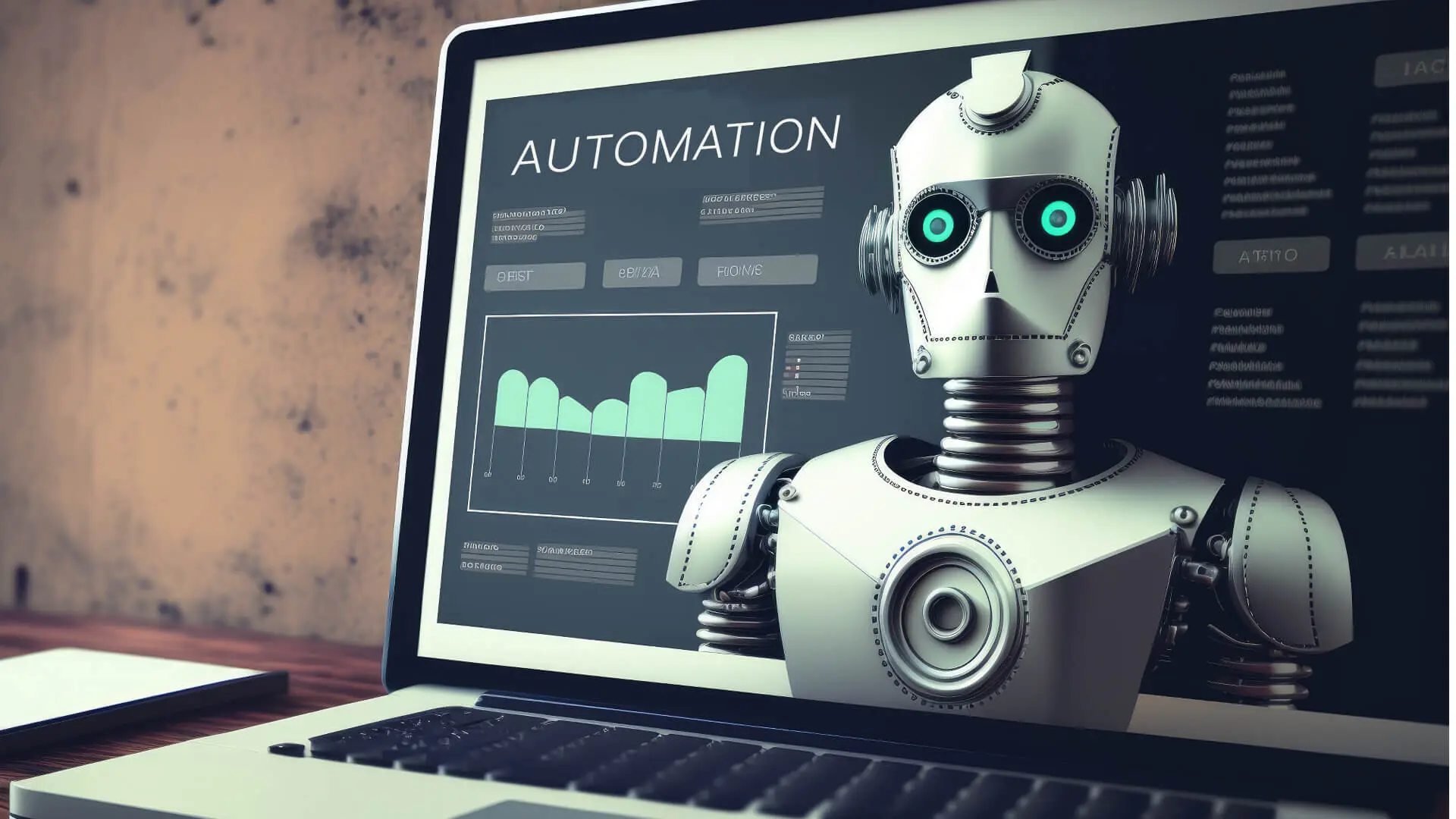 Additionally, consumers have become more aware than ever and are likely to question how a particular product or service benefits them. In such a situation, businesses have to develop dynamic strategies that constantly evolve according to changes in consumer behaviour and informing your digital marketing strategy.
And this has to be done without sidelining other crucial activities for running the business. That's precisely why marketing automation can be convenient. This guide will help you learn about the various marketing automation tools and technologies available today.
So, without further ado, let's begin getting started with marketing automation!
Marketing Automation — What Is It And How Does It Work?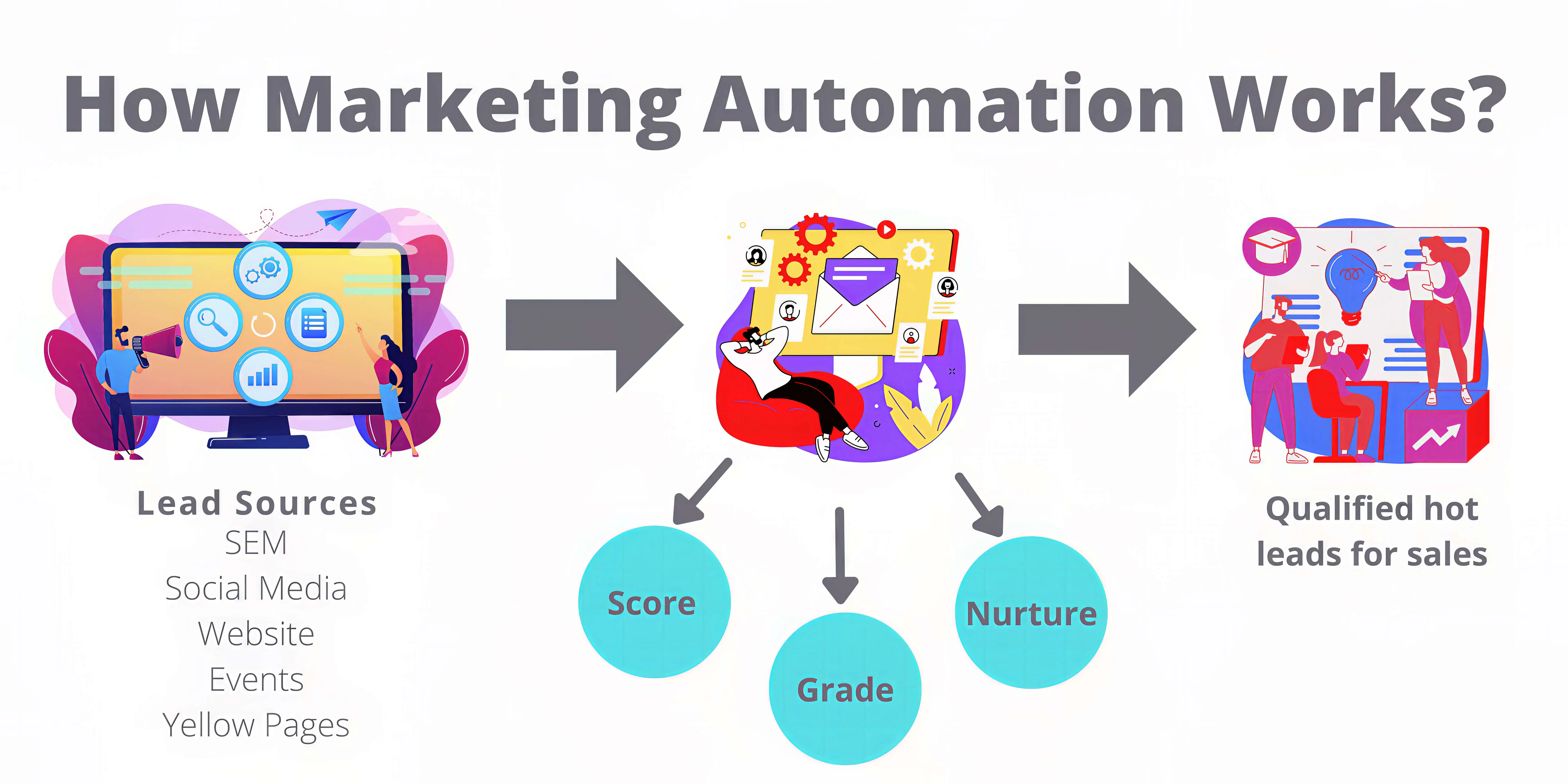 Let's start by knowing how using marketing automation works. Marketing automation is the use of marketing automation technology and software to automate various aspects of marketing. These can include identifying prospective customers, streamlining and measuring marketing workflows, and increasing efficiency for better marketing ROI while reducing the effort involved.
In other words, marketing automation is used to automate routine tasks generally performed by humans, such as creating social media posts, supporting ad campaigns, and undertaking email marketing.
It can save less time spent on routine tasks, freeing up several resources that can be utilised for other essential tasks where marketing automation solutions are not feasible. Marketing automation can be used right from the beginning of the B2B marketing process, starting with identifying prospective customers for a business.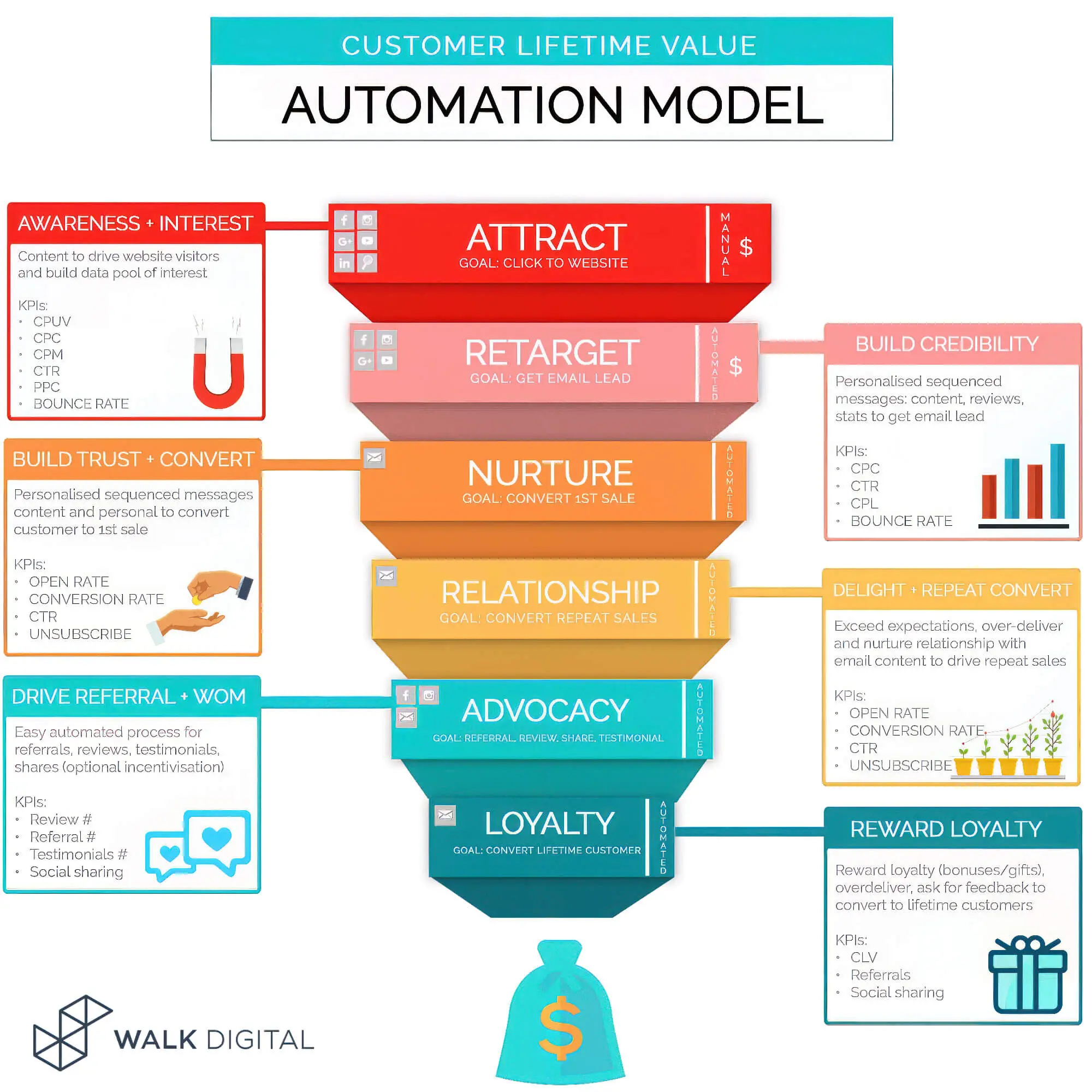 Once identified, the marketing department can get started using various automation tools to convert them into leads, after which the sales teams can approach them easily. And it can even improve the efficiency of the sales funnel, helping a business enjoy faster lead conversion. Thus, email automation and marketing automation, in general, are helpful for both marketing and sales teams.
With marketing automation, you can personalise the customer experience by providing your target audience with tailored and customised messages, emails and offers. This can help develop trust for your business or brand since consumers know the product and service being provided. Also, using targeted campaigns and incentives it will help convince your target audience when making a purchase from you.
Marketing automation systems also track this entire process, and the moment a good lead is interested, the sales team can take over.
Benefits Of Marketing Automation
Marketing automation has become very important for all modern businesses for various reasons. Some of these include:
1. Allows A Better Understanding Of Customers
Among the marketing techniques to keep in mind that personalisation can help build customer loyalty, providing personalised service is the most important. Most customers are likely to shop from a business that makes them feel valued, and this can be achieved using a few marketing automation tools.
These tools allow your business to connect personally with its customers through multiple channels, convincing them they are valued and making them feel essential. This can be done by providing special access to sales and other events or by sending them greetings and personalised messages on birthdays, anniversaries and other special occasions.
Personalised interactions provide a company with firsthand information about the customers' preferences so products, services and experiences can be tailored accordingly. Thus, customers can enjoy more rewarding experiences, which can go a long way in building their loyalty.
2. Complicated Marketing Strategies Can Be Implemented
The most complicated marketing strategies require you to consider the type and timing of messages used for customer interaction. That is why many organisations rely on drip campaigns, which involve sending out readymade email messages at specific intervals.
Mailchimp is a marketing automation tool that allows businesses to stay in touch with their customers via email. It also has additional features, like a customer journeys builder to see the customer lifecycle, simplifying customer management. This automation solution enables connecting with higher-quality prospects and efficiently utilising complex strategies through dedicated marketing automation efforts.
Such marketing automation tools allow you to carry out repetitive tasks like segmenting the target audience and sending custom messages to different segments depending on their behaviours, interests, etc. Similarly, such statements can be scheduled based on customer behaviour to improve the relationship.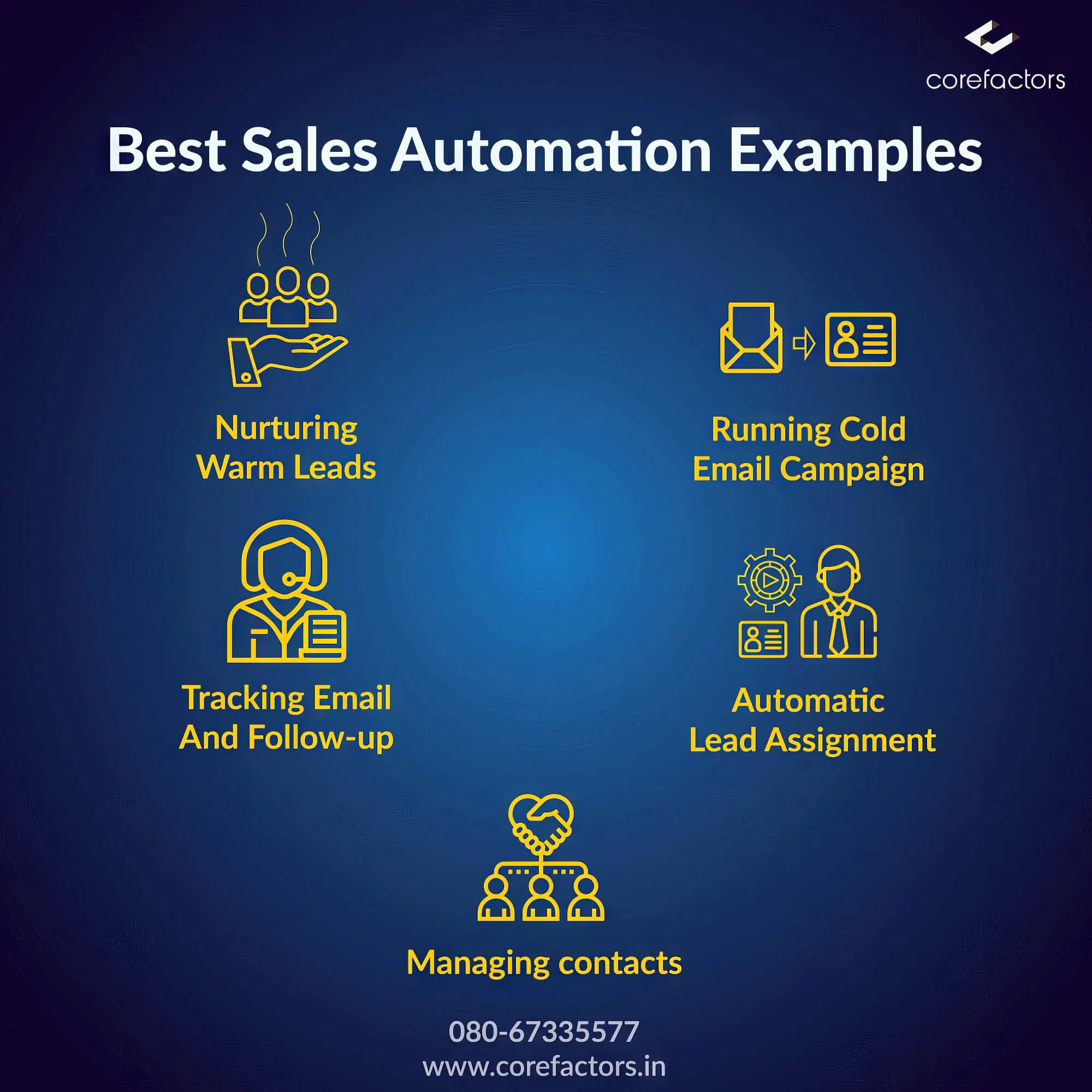 3. Allows Marketing Team To Focus On More Important Tasks
One of the essential reasons marketing automation is becoming indispensable is that it leads to greater efficiency. This is possible because it allows the automation of repetitive tasks usually performed by the marketing team.
It allows them to focus on the more critical aspects of the automated marketing processes, like building customer relationships. Therefore, the marketing team can concentrate better on lead nurturing, offering personalised experiences and gaining customer trust and loyalty.
4. Helps Save Resources And Time
Marketing automation helps optimise a business's marketing strategy by automating the workflow. Providing personalised experiences to the customers can help improve engagement, resulting in more efficient utilisation of time and resources.
Once a proper relationship with a customer is established, the sales team need not put much effort into converting qualified leads. One of the ways by which marketing automation can be used for this purpose is by using merge tags in emails when sending messages on special occasions, like birthdays.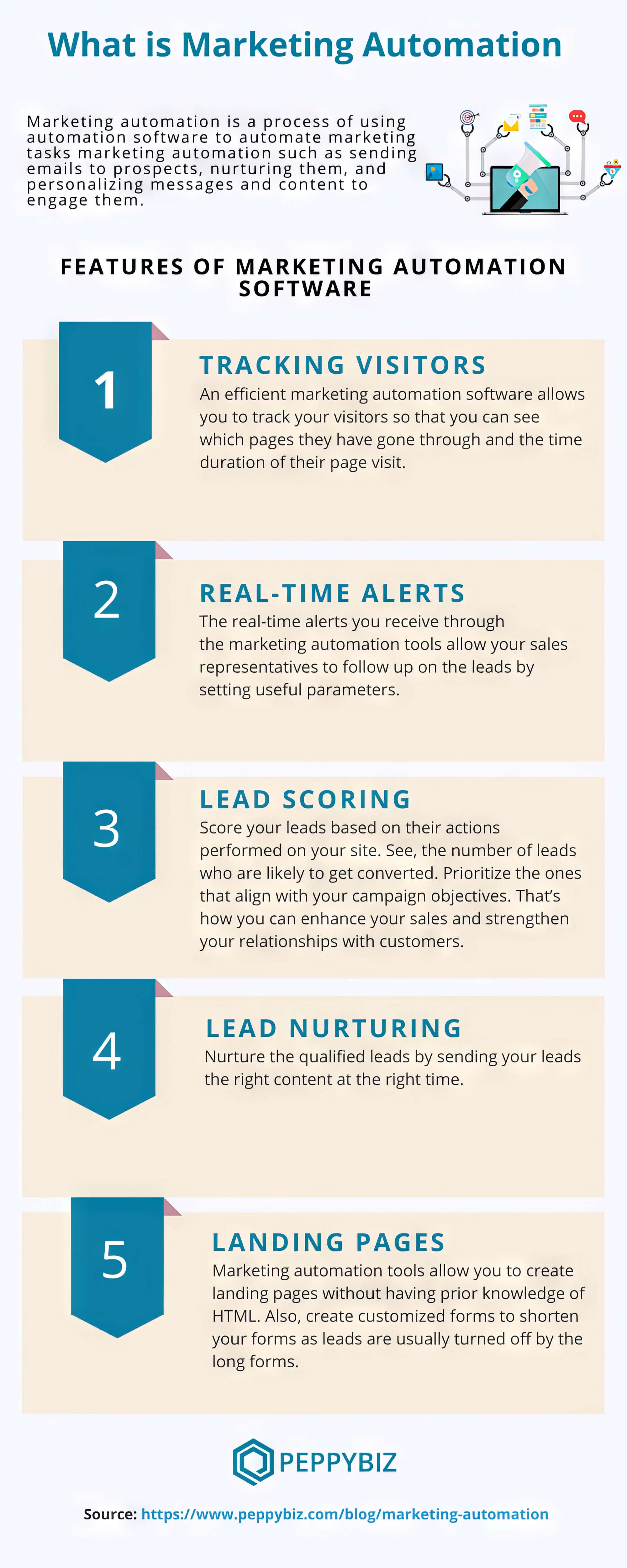 Some marketing automation platforms provide valuable marketing data, which can help reduce operational costs for the business and improve operational efficiency. The repetitive tasks handled with marketing automation software usually include market research and analytics, social media management, content scheduling, etc.
5. Better Collaboration Between Departments
With the right software, communication between different departments, such as marketing and sales, is improved. And modern marketing techniques, like social selling, require these departments to work collaboratively, for which better communication is crucial.
Marketing automation helps make the goals and objectives of a business clear for all departments so that they can coordinate better with each other.
6. Better Targeting And Monitoring Of Target Audiences
The right marketing automation strategy can provide valuable insights regarding your target audience. This is possible since automation tools can track real-time data while monitoring customer behaviour and engagement without requiring much human effort.
With the data supplied by marketing automation tools, it becomes easier to develop targeted marketing messages across different communication channels. This enables the best use of such communications by determining when the target audience will likely be more engaging. The result is better returns and greater customer loyalty.
7. Consistency In Branding
One of the key elements of successful marketing is consistency in branding. Branding efforts make it easier for potential customers to identify your business while retaining the existing ones.
With the help of marketing automation software, it is easy to ensure that a business remains consistent with its branding. The tools available can ensure that the content, communications, visuals and other elements are the same across all marketing channels, creating a strong impression in the minds of your customers.
Types Of Marketing Automation Software
Since marketing automation can perform various functions, several types of software are available for different purposes.
1. Customer Relationship Management (CRM)
Customer Relationship Management technologies and tools help businesses easily manage customer interactions and relations. Such software is used to manage customer data, streamline processes, and help businesses with customer acquisition and customer retention. Since it is a popular software and can help automate workflows for almost any type of business, many other software features CRM integration.
2. Sales Force Automation
This marketing automation software is used for sales management by providing automated workflows to streamline the selling process. It can help generate leads, manage sales data and qualified leads, provide sales forecasts and analyse factors such as the sales team's performance.
Sales Force Automation, or SFA, is also known as Salesforce Management.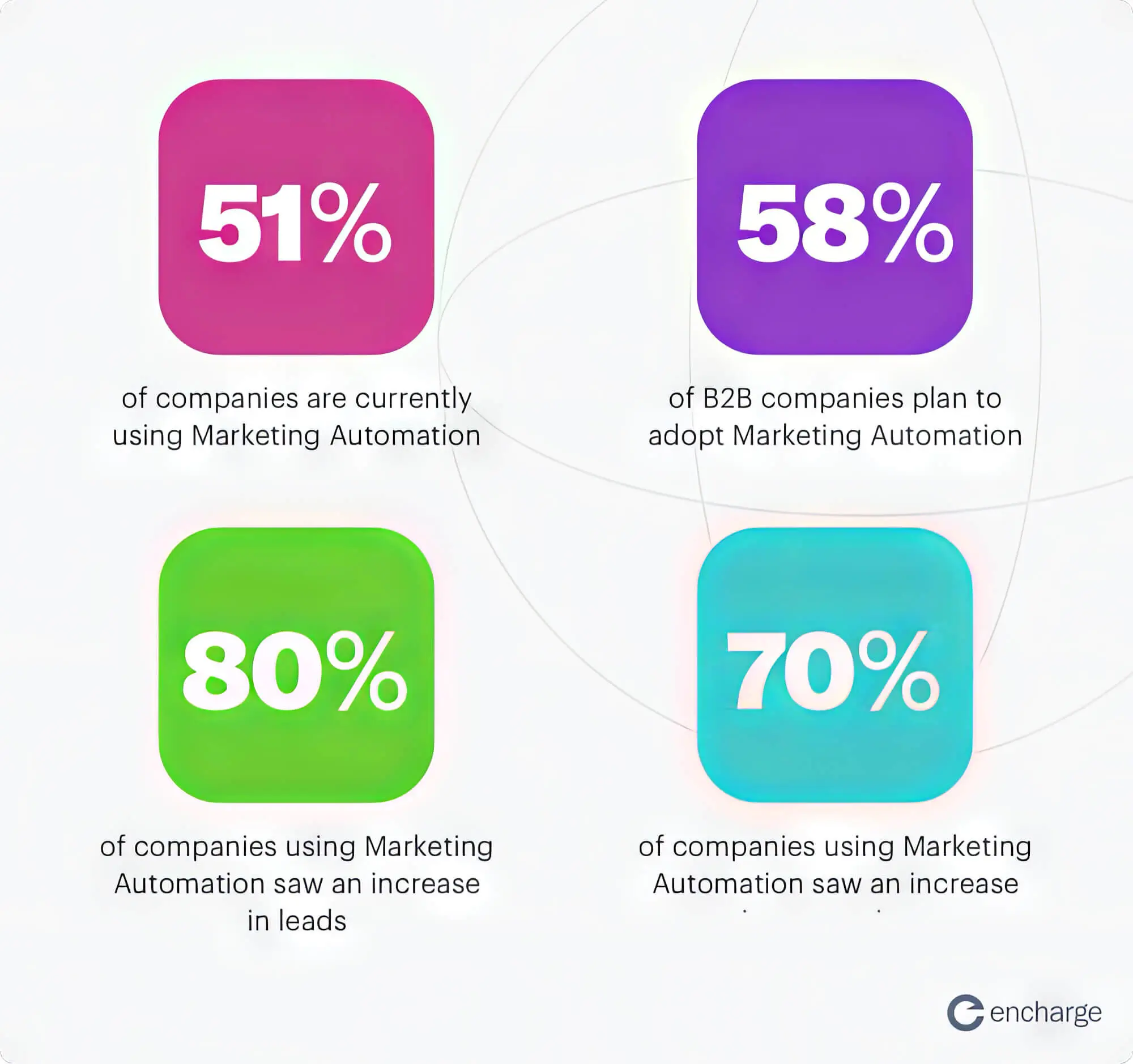 3. Social Media Automation
Social media-related software provides marketing teams with automated tools that can help optimise interactions on businesses' social media pages. Such software handles various aspects of social media marketing, such as publishing content, monitoring, scheduling and analytics.
So, this type of marketing automation makes social media marketing efforts more profitable while freeing up marketers from routine tasks.
4. Email Marketing Automation
Email marketing software takes care of a business's entire email marketing campaign. These marketing automation tools ensure that the right message is sent to the right person at the right time and are suitable to nurture leads.
An email marketing automation tool is mainly used for setting up lead-generation forms for email campaigns and creating reports that evaluate the effectiveness of the marketing strategy.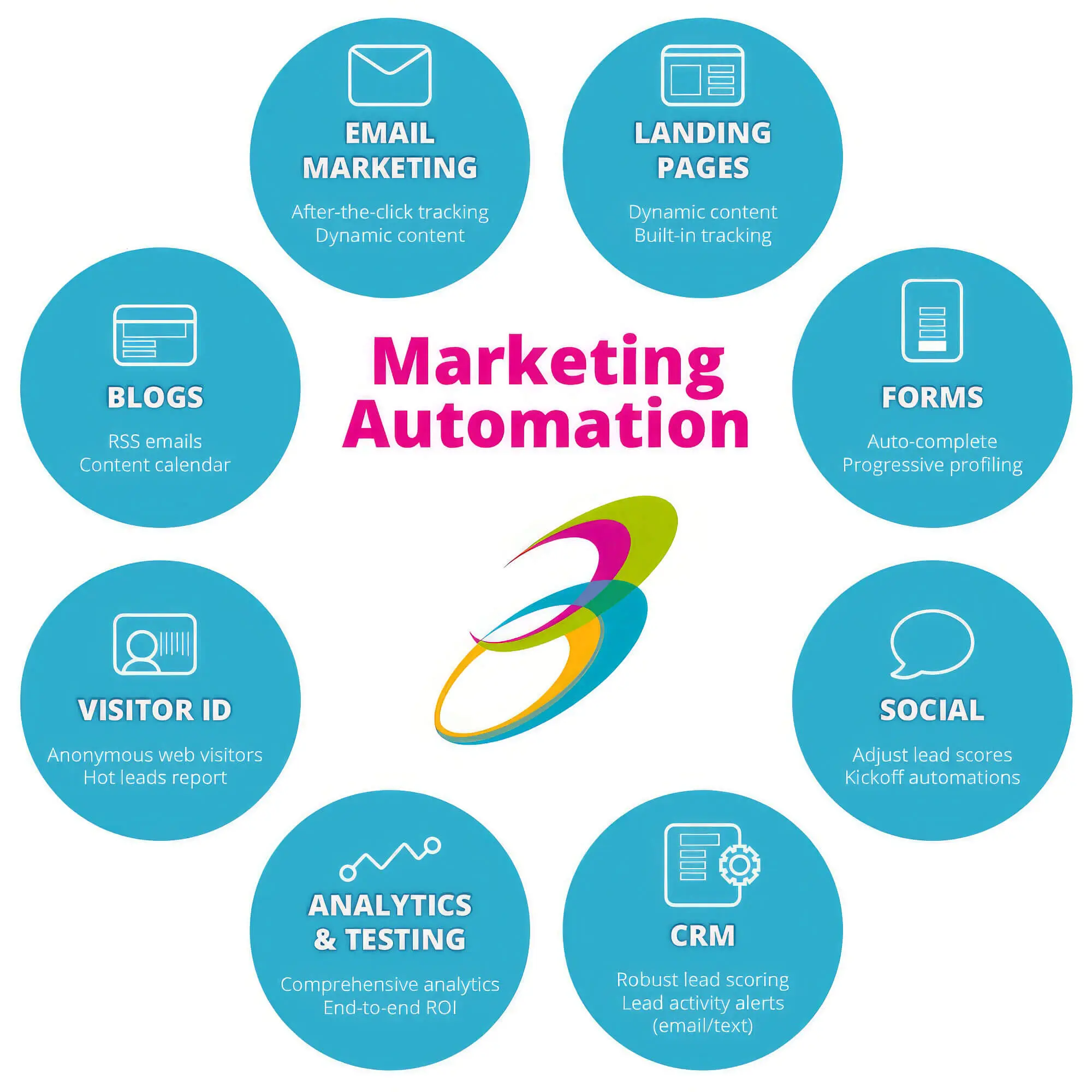 5. Lead Management Software
Lead generation is one of the most challenging aspects of marketing, which is why many businesses rely on lead management automation software. Such software allows businesses to use marketing automation for lead generation processes, helps qualify them as good or bad leads and nurtures them to create a business opportunity.
6. Analytics Software
Analytics software usually comprises a unified marketing automation platform where marketers can find all essential data in an easily understandable format. This data is optimised to help a business identify patterns in customer behaviour, preferences and other aspects.
Such data can help business owners make informed decisions and develop an effective marketing strategy.
7. Pricing Automation
Pricing automation is the type of digital marketing automation software used to handle the pricing process for various products and services and create competitive pricing structures. It is especially beneficial in e-commerce since it can quickly use existing pricing data, analyse it, and create pricing guidelines.
8. Digital Advertising Software
This includes marketing automation tools used to support the advertising process. Usually, such software is used for automating and refining the process of ad creation and developing good bidding strategies for each marketing channel.
Digital advertising automation includes audience segmentation, ad campaign management, website monitoring, performing behavioural analyses, etc.
9. Customer Loyalty Automation Software
Automated customer loyalty software allows the management of loyalty programmes in real-time through automation processes. It takes care of the key components in promoting and administering the programme, including CRM updates, API integrations, customer data, and more. So, marketing automation goes a long way in ensuring customer loyalty.
Marketing Automation Platforms And Tools
Now, let's look at each marketing automation platform and tool that is used by most businesses.
1. Get Response
Originally developed to support email marketing campaigns, Get Response is one of the best marketing automation tools for managing automated campaigns. But it is now being used for many other functions as well. It allows businesses to manage workflows by providing a simple drag-and-drop interface, making it easy to control various parameters, such as filters, actions and conditions.
Get Response makes segmenting the target audience easy since the system responds to the specific needs of the users. The scalability of the software allows the use of the same systems irrespective of whether the business shrinks or grows.
This software can be used with eCommerce platforms and comes with various tools, like video tutorials and landing pages builder tools, that make it easy to use. Overall, this is one of the best marketing automation tools out there.
2. Customer.io
Customer.io is a customer management software that allows targeting, customising and testing business communications. It has an inbuilt messaging system for customer communications that helps connect with target audiences depending on customer behaviour. The marketing automation tool can even provide real-time data and be integrated with mobile interfaces.
Additionally, the pricing of this software is quite affordable, which makes it a great option for small businesses.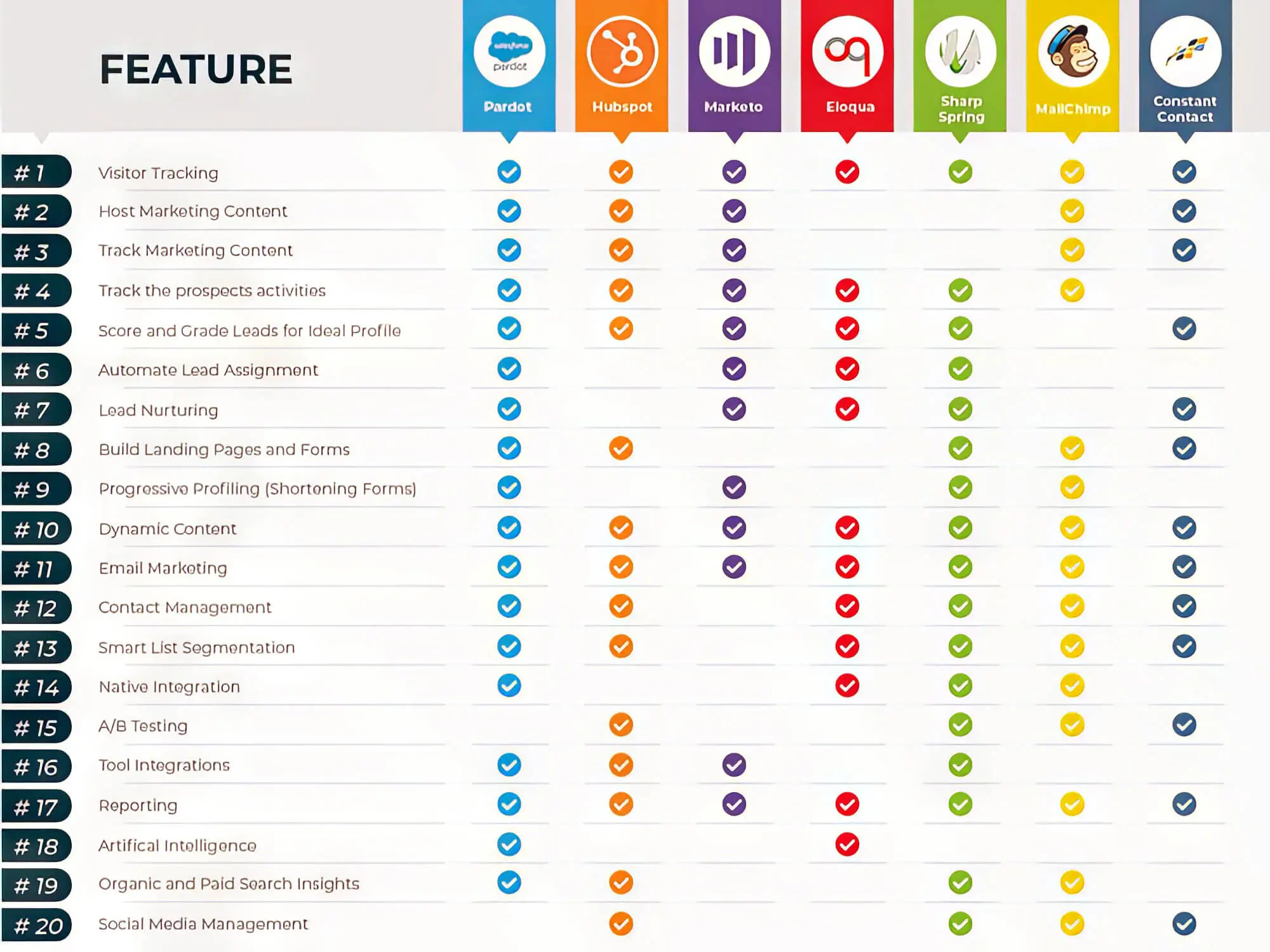 3. MailChimp
When it comes to marketing automation tools for sales and marketing, MailChimp is the most well-known. It is best suited for email marketing purposes and can make email marketing campaigns more effective, especially if the business has a long list of potential customers.
MailChimp is most suitable for businesses with a limited marketing budget and comes with many other powerful tools. Many of these can be integrated with other marketing automation tools and platforms and work flawlessly for automation purposes.
There is a free trial software version with features like built-in signup forms, analytics tools, newsletter templates, etc.
4. Hootsuite
Several marketing automation tools are available for social media, but only some come close to Hootsuite. It allows the integration of all social media platforms and can provide useful insights regarding the audience's tastes, preferences, behaviours, etc.
The software also helps enhance social media processes by assisting businesses in scheduling target content for lead generation. For businesses, the platform offers a professional plan which allows the integration of ten social media accounts. But there are custom plans available as well for small business owners.
5. ContentStudio
Another marketing automation tool for social media management, ContentStudio, is used by marketers, agencies and brands to increase their audience size. It helps ensure the proper organisation of data required for the social media campaign of a business.
Using this tool, it is possible to define the social media strategy while scheduling relevant content on various pages and automating communications. Some famous entities that use ContentStudio include the New York State University, Unilever and Decathlon.
And like the best marketing automation tools, it offers several pricing plans, making it suitable for all types of businesses.
Marketing Automation — Best Practises
Marketing automation can help a business achieve different types of goals, but for that, it is essential to follow the right practices.
1. Have Clear Goals
Before implementing your marketing strategies with the help of marketing automation, it is important to collect all relevant data and establish the campaign's goals. Clear goals can help you measure the campaign's progress and know how well it performs. A business can also use examples of past successful campaigns for this purpose.
2. Segmenting Your Audience Correctly
To make marketing automation more effective, it needs to be highly targeted. The products and services of a business determine what type of audience should be targeted, which is one of the fundamental best practices of marketing automation. Any successful automation requires proper segmentation of the customer base, so companies should spend adequate time on it.
For instance, a business catering to different age groups must segment its products by demographic. Alternatively, the services may be suited for people with varying levels of responsibility in the organisation so that career-level segmentation can be done. Generic marketing automation or marketing efforts must segment the audience to yield the desired results.
3. Using Flowcharts
The best marketing automation software requires considering all the outcomes that might be expected. For instance, a business must plan when people must enter the workflow, such as joining the subscriber list and when to proceed.
Tools like Customer Journey make determining the targeted customers' flow easy. One example may be providing a targeted customer with a special offer when they respond to digital ads or a welcome email.
Once they redeem the offer, they can be segmented into customers who are provided regular offers and discounts.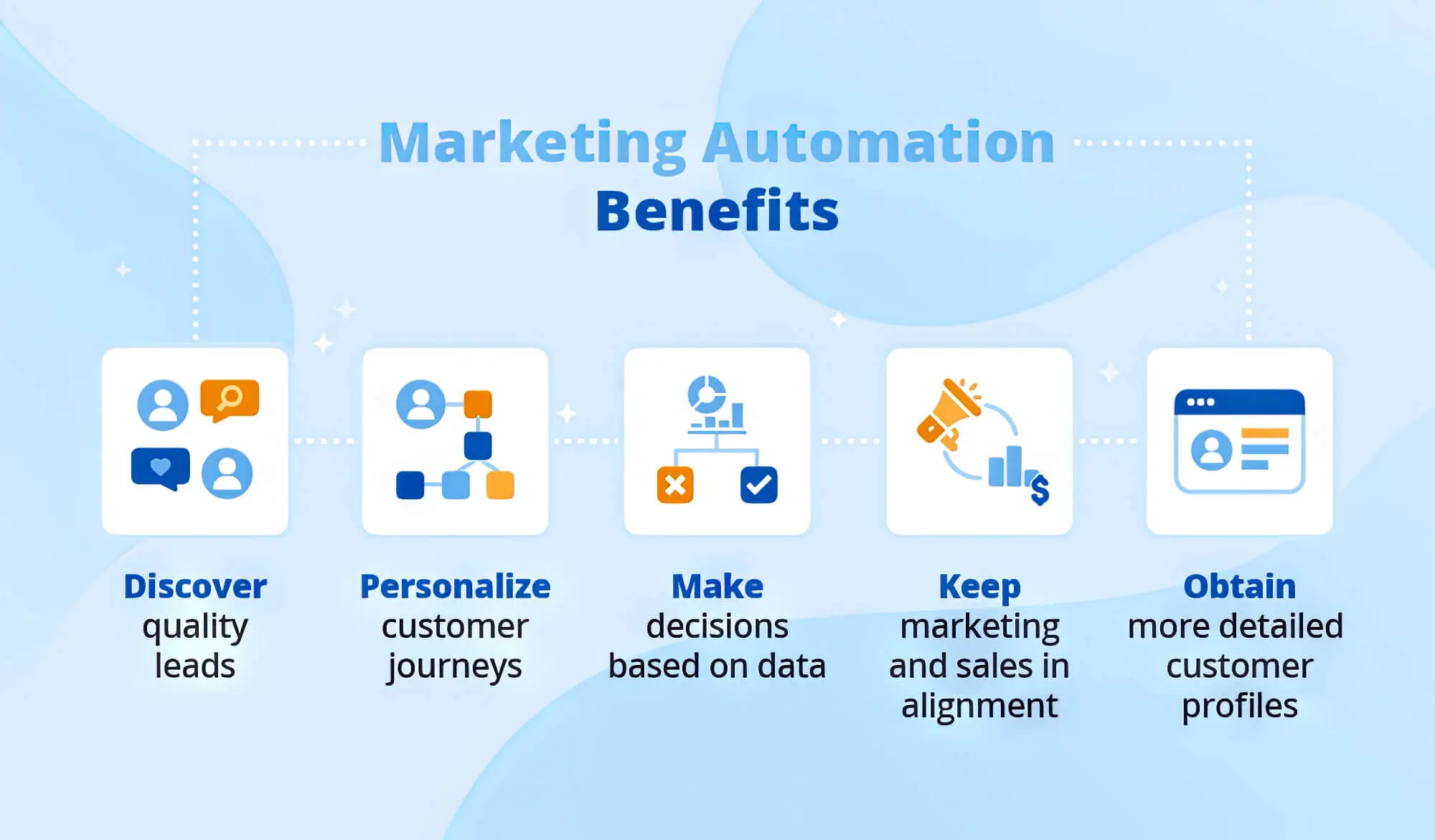 4. Testing Everything
Businesses run multiple marketing plans at any given time, and all these campaigns must be tracked to evaluate their performance. This can be done with A/B testing, which allows testing various elements, such as send times, messaging, images and subject lines.
If some of the targeted messages are not performing as well as expected, a detailed analysis can help you identify the problem. This information can then be used to improve other campaigns.
Alternatively, those marketing campaigns performing very well can provide information about what has been implemented correctly. These can be used to gain insights that can be useful in the future.
5. Focus On Quality
Regarding marketing automation, it is crucial to focus on quality regarding the automation tools used, messages sent, and leads generated. Various digital marketing tasks can be performed using just a few tools, but remember that your tool should be well-suited for them.
And with many repetitive marketing tasks, using fewer tools can improve the job. For instance, you can use a single tool to automate the creation of email marketing messages and mailing lists.
6. Creating Engaging And Personalised Content
Creating personalised content is one of the main components of effective marketing automation. If customers find the content engaging, it can help the business customise its marketing strategy accordingly and alter other campaigns to include similar content. With the help of marketing analytics, it becomes possible to know what element in the content is providing better results.
Besides engaging content, a business should focus on building a personalised buyer's journey for its target customers. This can be done by responding quickly to buyer behaviour, which helps provide a better customer experience.
With marketing automation tools, such quick responses become possible, helping save time while simplifying other activities, like sales enablement and lead scoring.
Automated Marketing
Marketing automation is easy to implement in almost any type and size of business, which is why it has become so prevalent. Additionally, it can be easily customised since different types of automation tools are available for achieving various objectives.
But to make the most out of it, it is important to understand the nuances involved when implementing marketing automation. Also, businesses should know that there are certain situations in which marketing automation may not be able to deliver results, potentially affecting the bottom line. This usually happens when there are no clear goals or poor quality content.
So, making preparations before implementing marketing automation or marketing processes is crucial.