Short Message Service (SMS) and email marketing are tried and tested marketing strategies brands use to retain customers, increase brand awareness, and facilitate sales.
Since the advent of digitally accessible businesses, email marketing has been the go-to promotional technique for brands due to its reliability. However, with the increasing popularity of smartphones, many businesses have resorted to SMS marketing to promote their products and retain clients.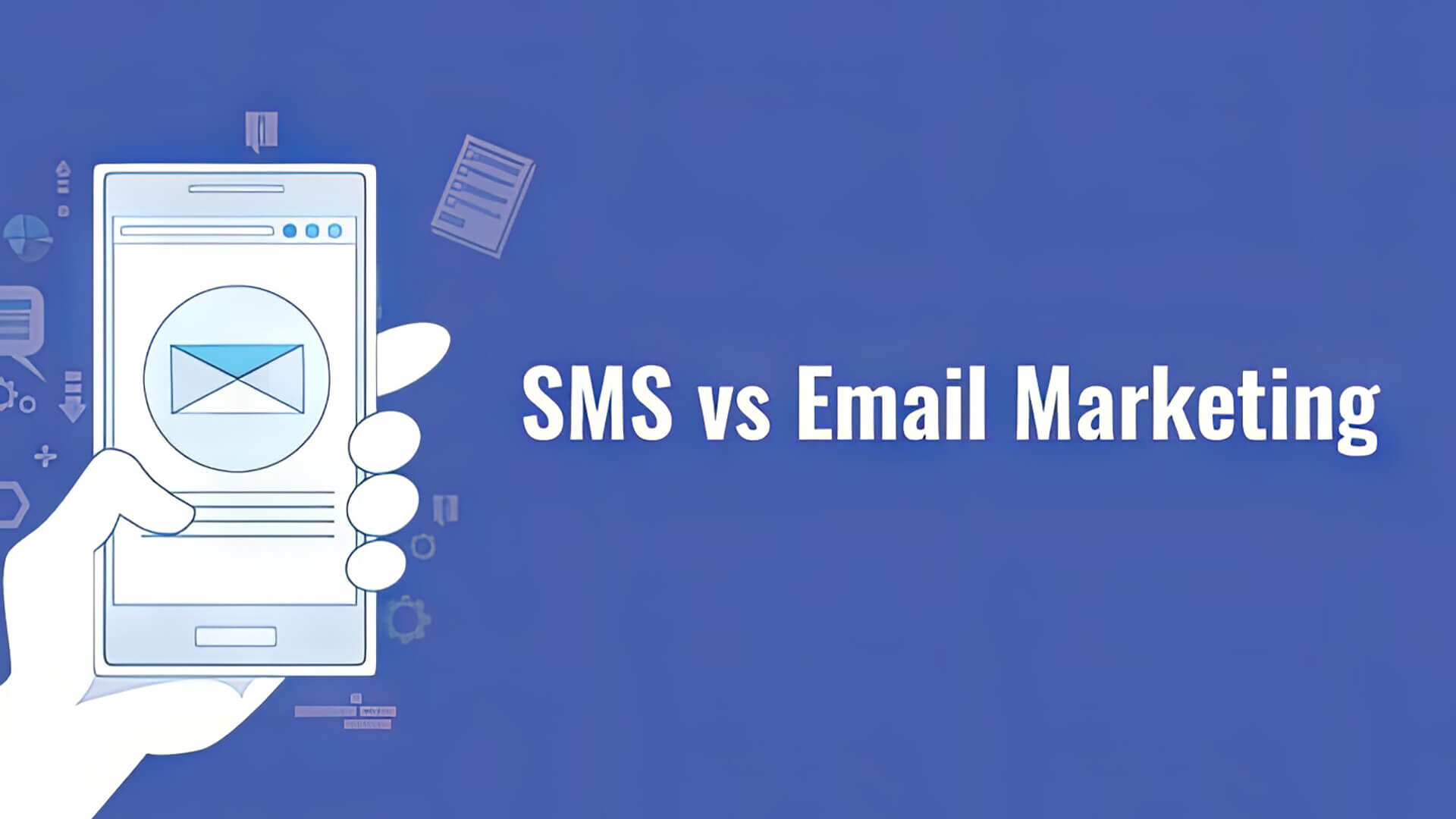 Between these two marketing campaigns, none is the better option - both are equally effective for different products and engagement scenarios. Therefore, the real question regarding these two marketing streams is: how and when should you use them? With so many industries on the scene, it can take time to determine which strategy is best for higher conversion rates and return on investment (ROI) for your business.
Sometimes, text message marketing may serve your purpose; other times, it's better to go for the email marketing strategy or both. Keep reading for a detailed explanation and analysis of how each marketing channel works and its benefits.
SMS VS. Email Marketing
What Is SMS Marketing?
SMS or text marketing sends promotional updates and content to your customers' mobile devices. This marketing strategy is better suited for promoting a single product or service and communicating your brand's limited-time deals and offers.
What Is Email Marketing?
Email marketing lets you send personalised emails directly to your customers' inboxes. Typically, users opt-in for your mail subscriptions to receive newsletters, product details, exclusive offers, etc. Emails can also help your clients receive delivery updates and order confirmations.
What Are The Differences Between SMS And Email Marketing?
You can only determine the difference between the two marketing campaigns by considering their effects on conversion rates, customer loyalty, deliverability, etc.
1. Open Rate
SMS marketing campaigns do better than emails when it comes to open rates — SMS messages are 98% more likely to be opened and engage potential customers. This is because constantly sending text messages to your target audience's mobile device creates a sense of urgency, making them open the texts. SMS campaigns, therefore, have potentially higher returns for your marketing efforts.
Email marketing campaigns have lower open rates ( up to 22%), which entail opening a different app to view your blog post or marketing message. Sometimes, your emails may end up in the spam folder if the email service providers detect any suspicious content or link. However, you can increase these rates by personalising email campaigns to engage customers.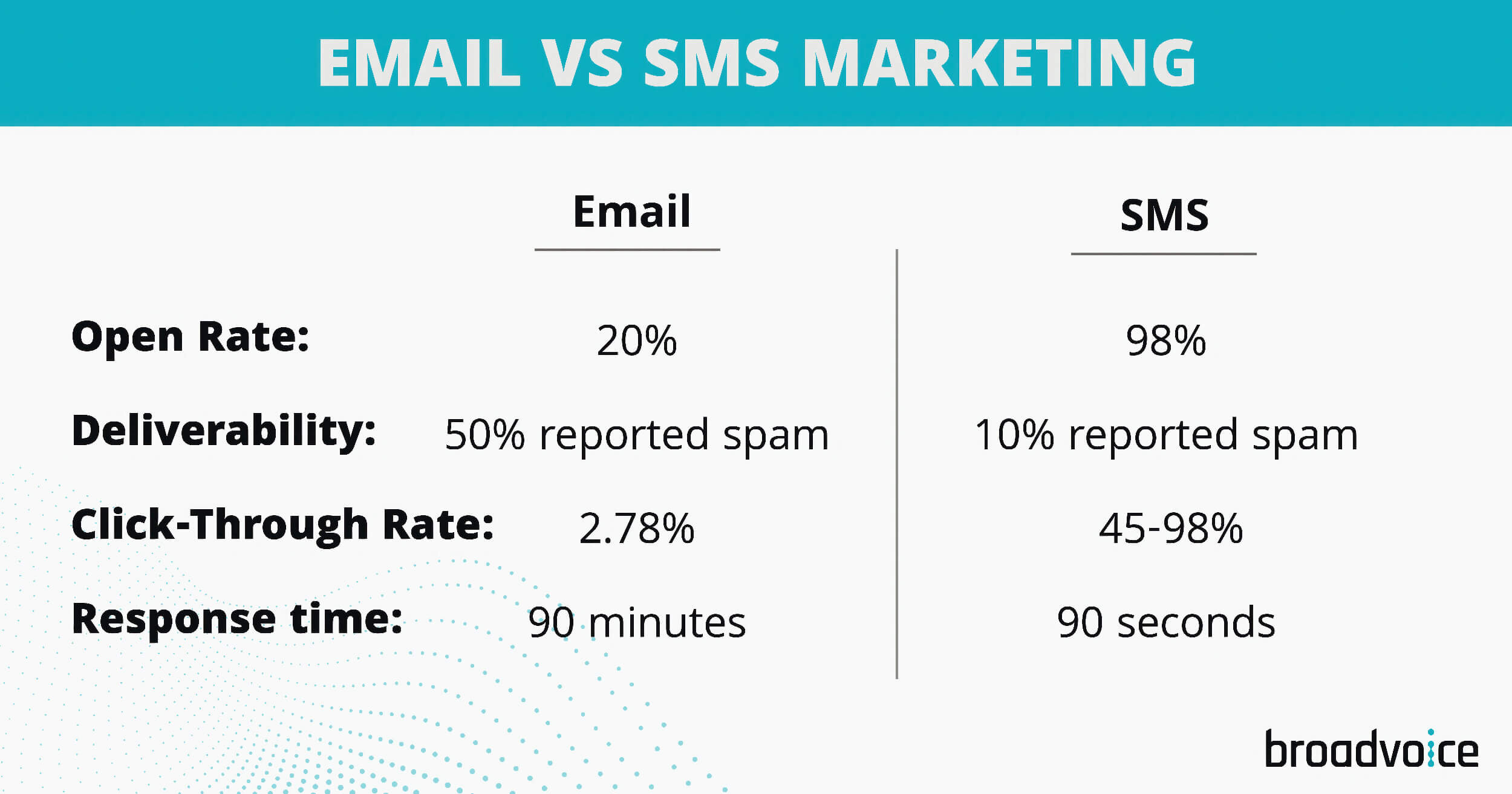 2. Click-Through-Rate (CTR)
CTR is a metric used for determining how many users have clicked on the link in your email or text messages. An SMS marketing program has a higher CTR percentage, as it is usually short, easy to read and contains only one link to open.
Emails are typically long and contain more content and links than text messages - that's why it is highly likely that the recipient might lose interest in reading the long-form content and not opt-in. As mentioned, personalising marketing emails and adding visual infographics can boost engagement.
3. Delivery Method
Customers and viewers can opt-in to get SMS marketing messages from your company or brand. Users who willingly provide their phone numbers for brand-related updates and promotions will likely be more engaged when they receive the same. This consensual text marketing can increase overall CTR and conversion rates.
Email marketing efforts reap more benefits if the users willingly become your email subscribers. However, unlike SMS marketing, users can give you their email addresses in various ways - by signing up for your newsletter, booking a free session, requesting a guide, making a purchase, etc.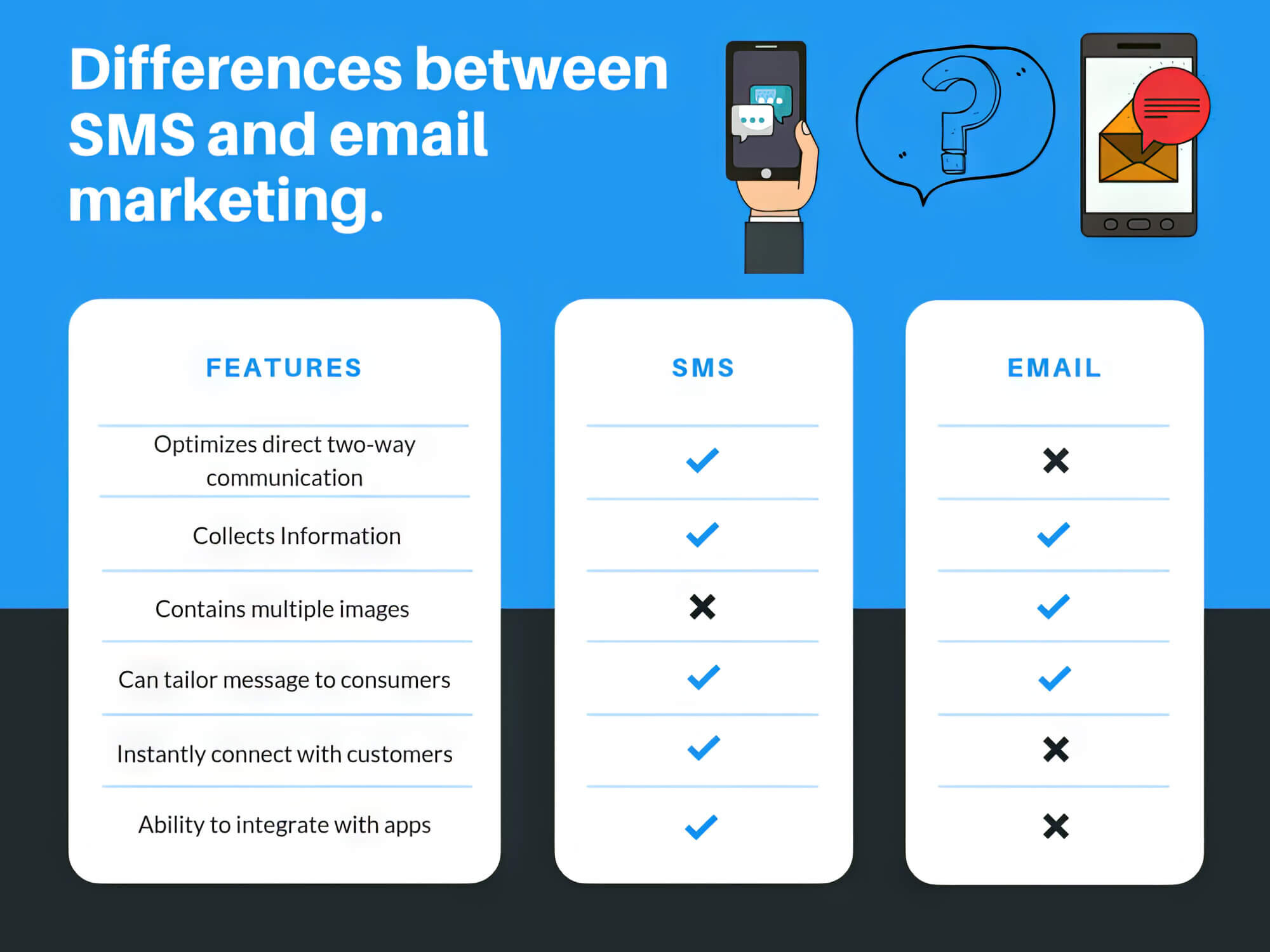 4. Cost Comparison
Regarding SMS vs. Email marketing for small businesses and start-ups, the one thing that'll often be the deciding factor will be its cost. While bigger companies and brands can opt for both marketing channels, new business ventures must consider their budget for promotional campaigns.
On average, every message may cost from $0.01 to $0.05, and the total cost will depend on the number of texts sent to your users and their location. Unlike email marketing automation, sending text messages is the more affordable option; however, you won't be able to send long-form promotional messages.
Email marketing, on the other hand, costs more, as you might have to pay anywhere from $5 to $1,000 per month, depending on your clients. Even though they're more expensive, hiring a digital marketing agency to write specific content using marketing tools may boost your sales and improve conversion rates.
Pro And Cons: SMS Vs. Email Marketing
Advantages of SMS Marketing
1. More Likely To Access SMS
It's no secret that smartphone users all around the world spend hours on their phones, so it's best to reach your user through the device they use regularly. SMS subscribers are also likely to open the text messages within a few minutes as it doesn't require logging into a separate app.
2. No Internet Required
Many people around the world still don't have steady access to the internet, and there's no other option to reach this audience other than SMS marketing. This marketing tool also comes in handy in case your users face connectivity issues and can't access their mail.
3. High Engagement Levels
As mentioned, SMS has a higher engagement rate than other lead generation and marketing strategies. This is because text messages are short and succinct and require less effort to read them.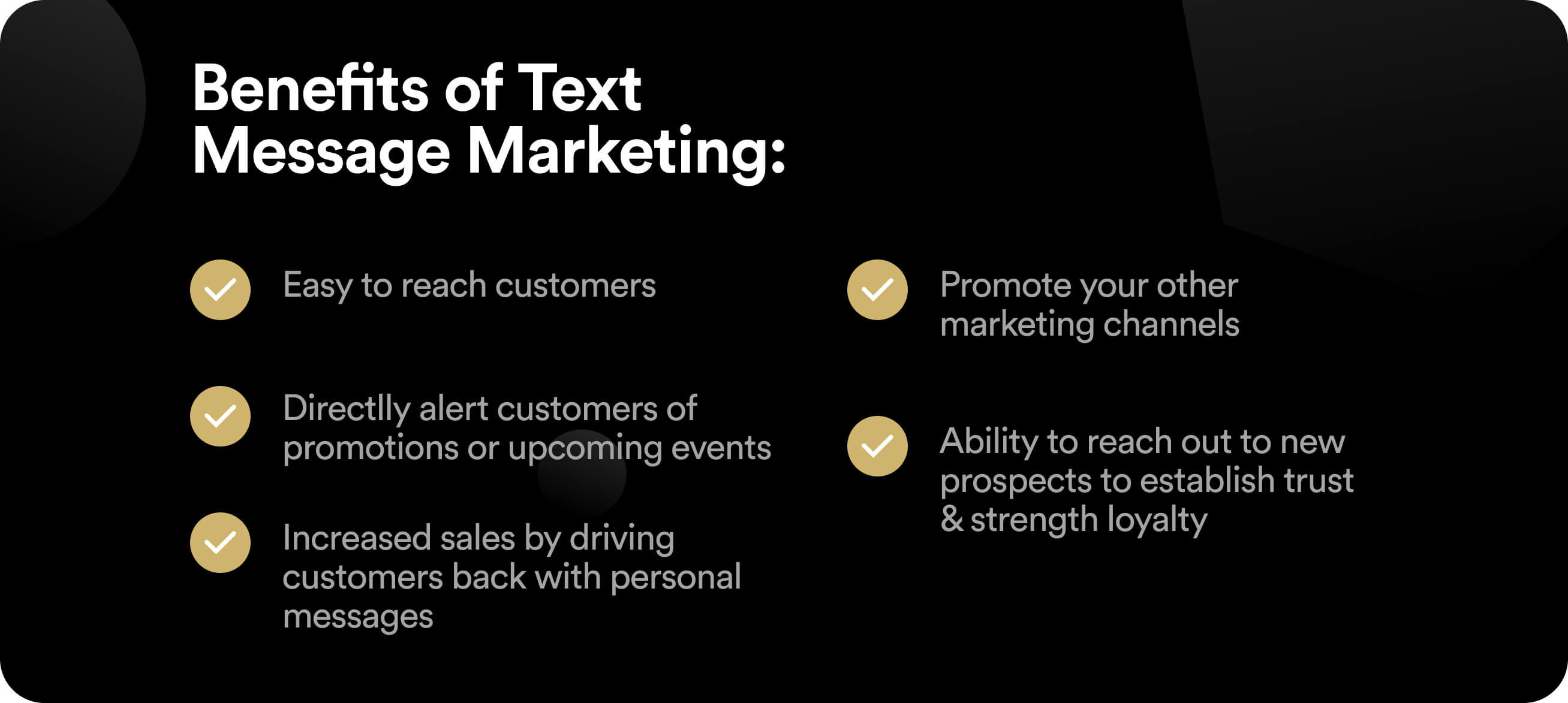 Disadvantages of SMS Marketing
1. Limited Space For Content
It is often difficult to build customer relationships and send detailed information on your products in a short text message. And not knowing enough about your products and services will not compel people to purchase them. Moreover, SMS marketing usually allows up to 160 words per message, so it's hard to devise a punchy and personalised call-to-action.
2. Reduces Brand Loyalty
Spamming your customers with unstructured messages isn't always the way to retain brand loyalty. So, choosing a long-form marketing campaign with personalised anecdotes may work better when choosing SMS vs. email marketing for customer service and product launches.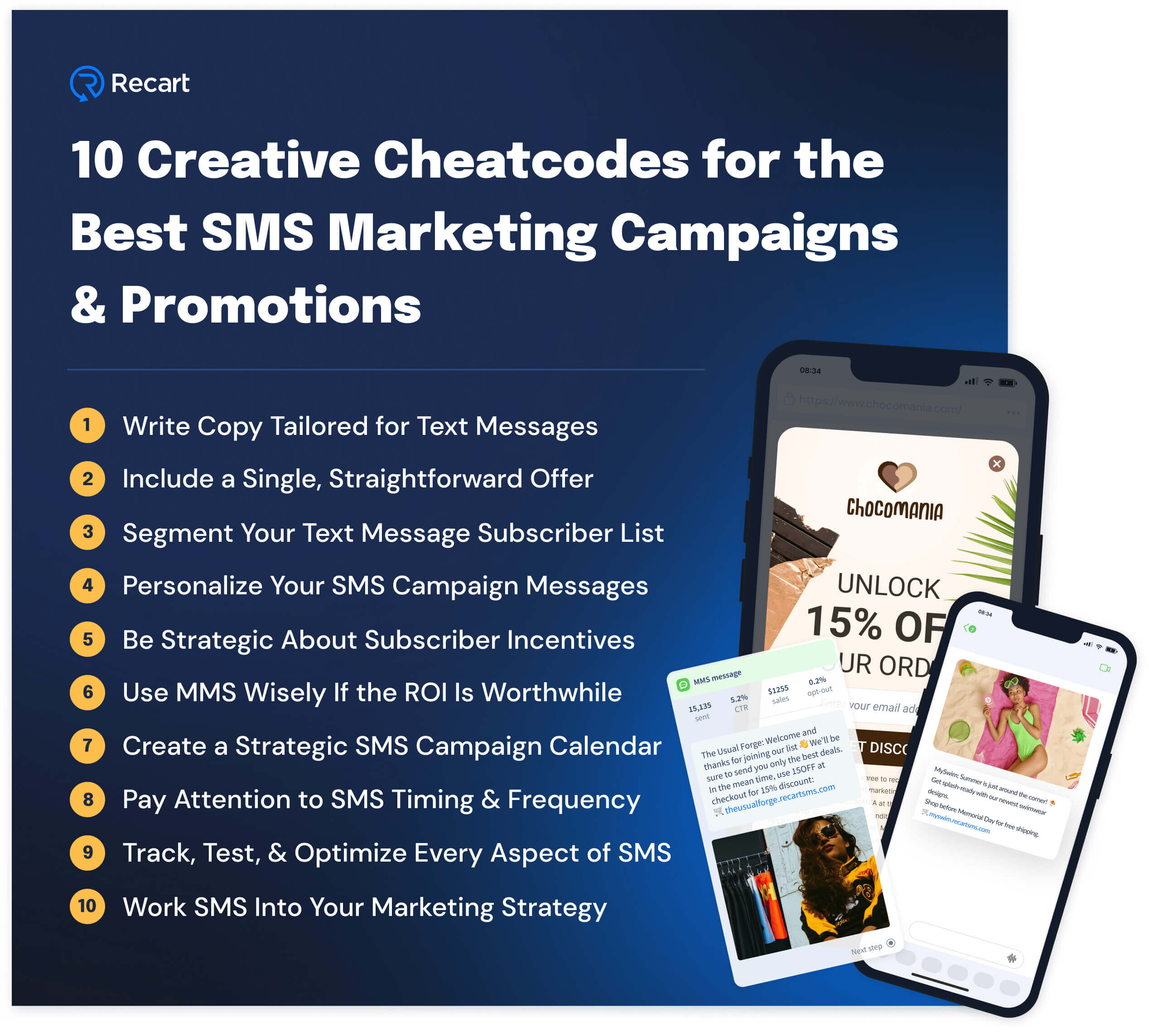 Advantages of Email Marketing
1. Versatility
Email marketing is a versatile tool for small business owners and brands to reach out to their existing customers with various information, including product details, reminders, short announcements, discount offers, etc. You can also welcome new customers to build relationships.
2. Exposure To Dedicated Customers
People who regularly use mail apps check their email at least once weekly. They do it with more precise intentions, such as looking for updates, product reviews, customer service, blog posts, etc. So, you can catch the attention of intentional buyers and build brand awareness using email.
3. Easier To Direct
An email marketing strategy is a great way to increase the traffic to your website and ensure a higher percentage of your target audience among the visitors. Using a well-crafted email marketing campaign will also help you get higher ROI.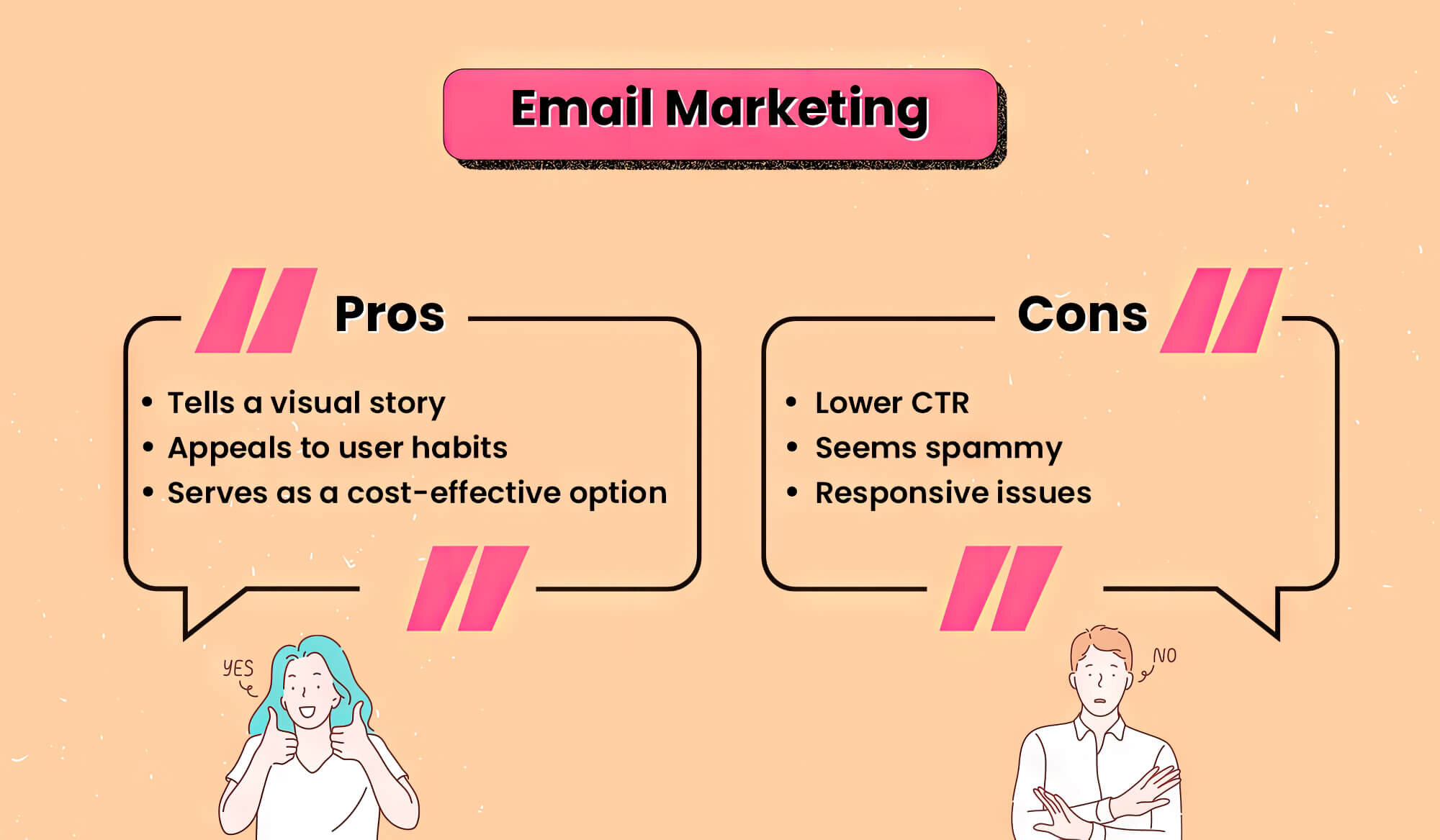 Disadvantages of Email Marketing
1. More Competition
Since there's a high saturation of e-commerce brands, most people get spammed with promotion emails, which can get annoying. They will likely be deleted in bulk if they're not stuck due to spam filters. Plus, most email service providers make it easy to select all emails and delete them. However, crafting headlines and personalising content might help catch the audience's attention.
2. Likely To Not Get To The Inboxes
Modern mail service providers have powerful filters that swiftly move emails to spam folders if they notice anything too spammy or suspicious. This is why it's essential to personalise both headlines and content to prevent this.
3. Easy To Unsubscribe
Besides the easy tools to delete emails, there's always the option to unsubscribe right at the end of your long-form content. If you use poorly crafted headlines, low visual appeal and overall boring product details, your audience will probably unsubscribe at the drop of a hat.
How And When To Choose Email Or SMS Marketing For Events or Business
When To Use SMS Marketing
SMS is a good marketing platform for sending time-sensitive information to make your audience act quickly. These text messages typically include a call-to-action at the end and can also help with the following:
Promoting a single service or product
Answering customer queries
Requesting reviews and ratings
Offering exclusive discounts and coupons
Signing up for a loyalty program
How To Use SMS Marketing
1. Get Permission
Giving your potential customers the decision to opt-in for text messages is essential as they are personal and can often be perceived as invasive. Consent is not just a best practice; it is the law when it comes to SMS marketing.
2. Send Messages On A Limited Basis
Constant text messages can potentially annoy your client and make them unsubscribe, so it's best to make limited use of them. Limit your communications to once a week or less, and be intentional in making SMS marketing effective. You can also give your audience VIP discounts and offers to make them feel special.
3. Personalise
Again, since text messages are highly personal, it's a great way to establish relationships with your audience. Some e-commerce marketers use this tool to ask personal questions about their experience with a particular product and service. This way, your target audience will get free ideas, feedback and valuable insights.
4. Send Time-Sensitive Updates
SMS messages are a powerful tool to make your customers check your sales and discount offers immediately. This is helpful since it prevents marketing messages from sitting in the inbox until it's too late for them to avail of the offers.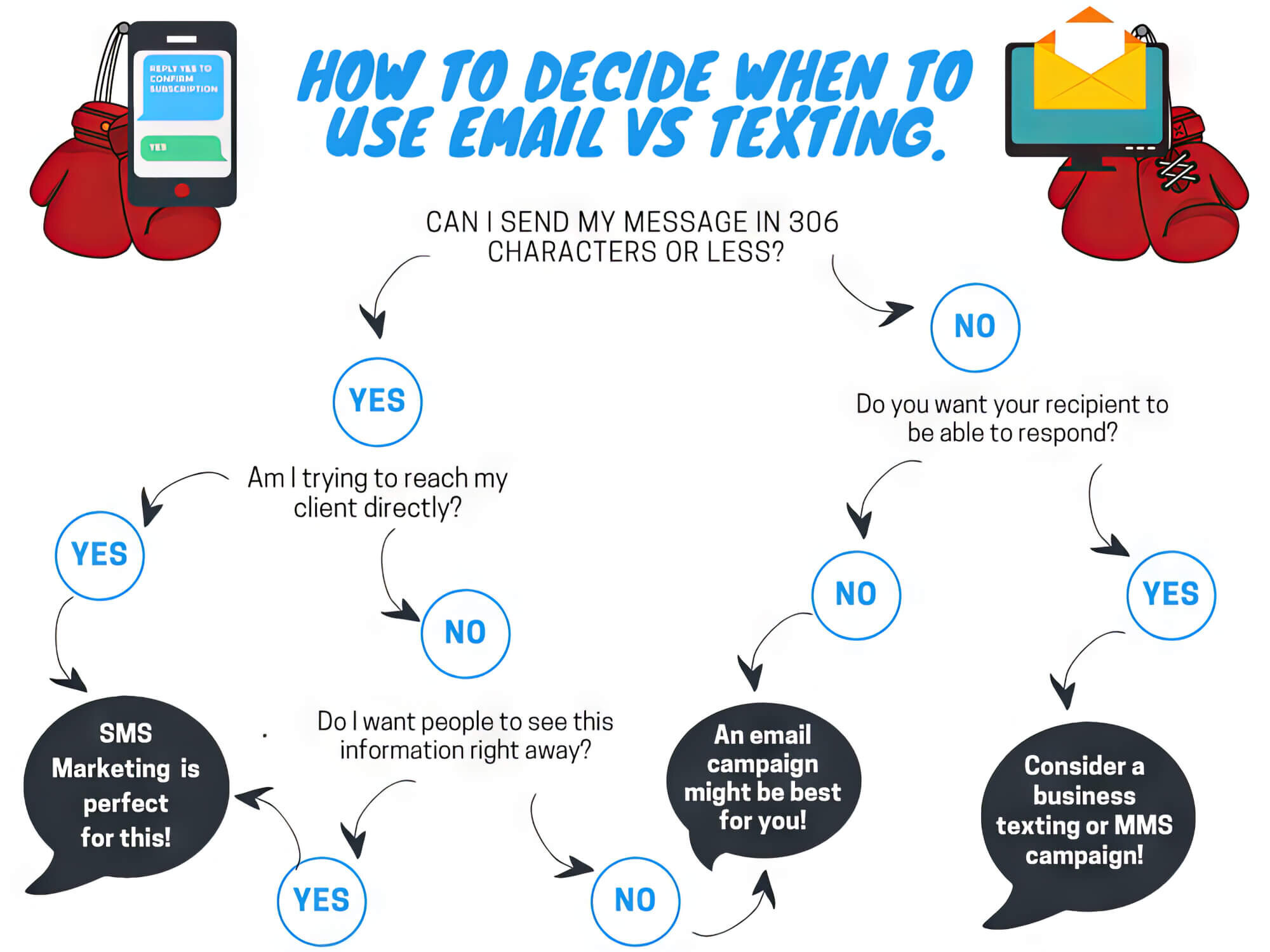 When To Use Email Marketing
Of course, the answer to the SMS vs. email marketing for e-commerce question is that email marketing is much more versatile and can be used by brands to direct clients to different content types. Aside from that, you can use email marketing campaigns to:
Promote multiple products
Send product recommendations based on a customer's last purchase
Share updates
Promote various custom content, including videos, blog posts, advertisements
Delivery and shipping updates
How To Use Email Marketing
1. Ask For Permission
Similar to SMS marketing campaigns, here, too, you must ask for the customer's permission to send promotional emails. This can be easily achieved using an opt-in option on your website.
2. Maintain Content Quality
The only way to build an engaged mailing list is by regularly delivering good-quality content so your customers look forward to the updates. Ideally, mailing your customers once in two weeks with well-written, researched and engaging content is the best way to get a high ROI. Remember to mail sparingly, as it can spam their inboxes and lead to less deliverability.
3. Share Interactive And Personal Experiences
Like social media marketing, you'll get high conversion rates if your email content has relevancy and interactiveness. Some ways to include such experiences are through expandable content, product previews, roll-over forms, embedded links, etc.
FAQs
1. What Are The Best Practices For SMS And Email Marketing?
There aren't any defined rules regarding SMS or email marketing; however, sticking to some practices may help optimise their effects. These include asking for customers' consent for subscription, tailoring engaging content for your email and SMS marketing list, limiting amount and frequency, etc.
As such, your best practices may differ according to your business, event or service type.
2. How Can SMS And Email Marketing Be Integrated?
You can easily integrate email or SMS marketing by subscribing to a service provider or app that oversees the entire marketing process. Moreover, a digital marketer can help you with short and long-form content to ensure it's engaging enough for the audience to check out your products.
Choosing Between SMS and Email Marketing
Most successful brands and services use SMS and email marketing to maximise benefits. The best marketing strategy includes both marketing platforms and efficient ways to sync their usage. For example, via text messages, you can launch products and services using long-form email content and remind customers about sales, updates and limited-period services.
But if you're still having a hard time making sense of these two marketing strategies and how to use them to amplify your business, it's best to avail the services of a digital marketing agency.
sitecentre® is an industry-leading digital marketing agency in Australia with various services. We have everything under our belt, from customised websites and branding packages to search engine optimisation. We help small businesses and start-ups compete with bigger brands and generate high ROIs using affordable digital marketing solutions.