Online shopping Over the past decade, digital marketing has skyrocketed, significantly boosting the click-through rate across various online platforms.
And geofencing marketing has proven to be a valuable online marketing strategy. But before you implement geofencing marketing for business expansion, it's essential to understand how to set up geofences about the concept.
More or less, employing a strategic geofencing marketing strategy in today's smartphone-dominated world is effective. So, geofencing marketing is a highly functional location-based marketing tool that helps target customers based on their smartphone locations.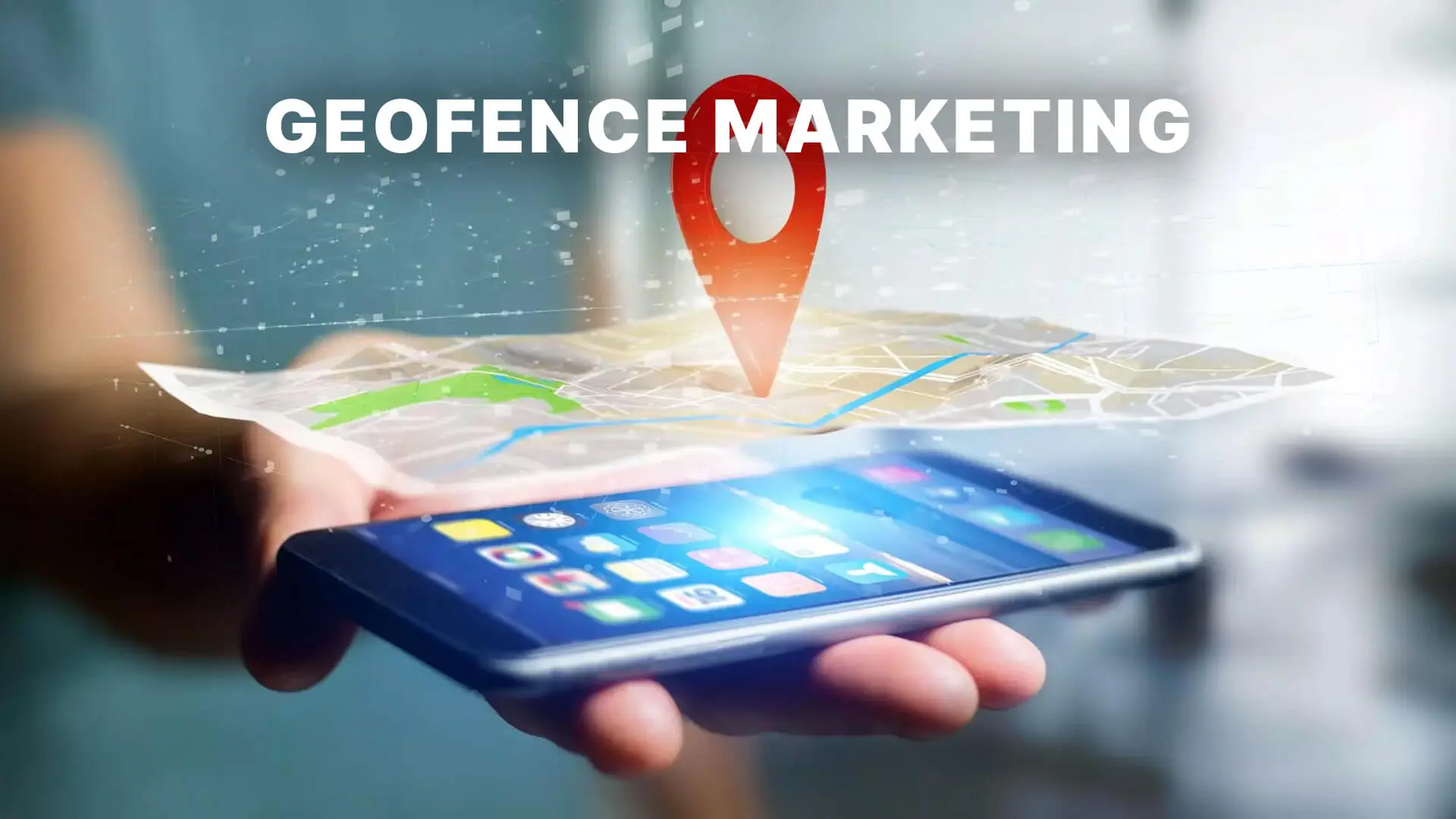 You can track the specific location data of the target customers and attract them to your business via geofencing marketing. Customers can access your services based on their locations with a simple touch on their smartphones.
But how does geofencing marketing work? We're here to talk about geofencing marketing campaigns and how they can help expand your businesses in today's digital world.
So, without any more jibber-jabber, let's get going!
What Is Geofencing Marketing?
Geofencing marketing, in essence, is a location based marketing strategy businesses use to attract new customers. The smartphones send relevant messages to users entering a predetermined conversion zone or geographic area.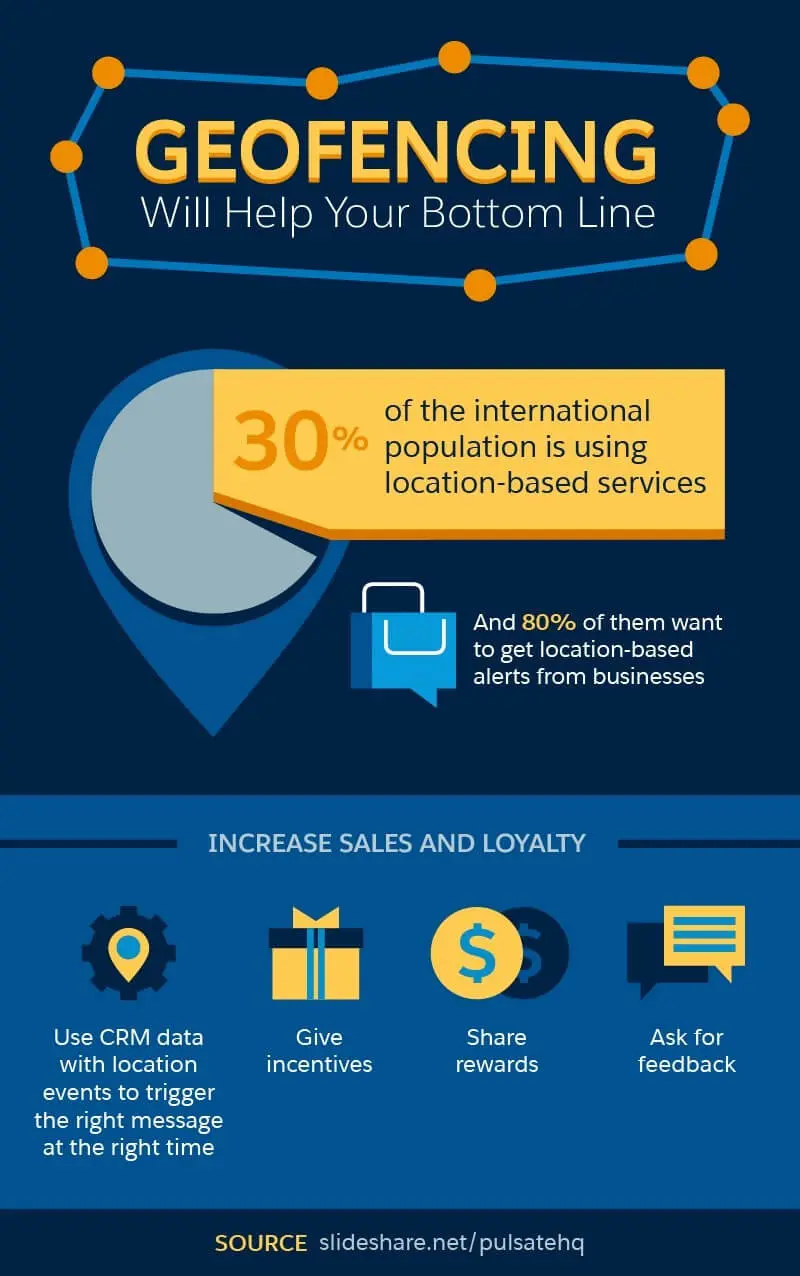 Most people spend their time scrolling through their smartphones. Hence, tracking the smartphone location of target customers has become an excellent strategy, which is why geofencing marketing has become an essential advertising tool.
Remember the nearby McDonald's ad you came across while scrolling through Facebook?
This is not a random occurrence but rather a sum effect of optimally utilised GPS coordinates and radio frequency identifiers tracked through a compelling call to action facilitated by geofencing marketing. So, any company, including McDonald's, can locate customers within a particular geographical area and attract them using geofencing marketing.
The abundance of smartphones has resulted in the boom of geofencing marketing over the past few years. Everything you need to know is readily available at a button by leveraging geofencing marketing, whether you're seeking a grocery store or even a retail outlet or medical clinic.
It's easy, hassle-free, and an excellent strategy to take your brick-and-mortar business to the next level or digital establishment in a local market among the target customers to brick-and-mortar locations.
How Does Geofencing Marketing Work?
Geofencing technology utilises GPS signals to determine when a customer enters a defined boundary set up around your business. They can be set up virtually anywhere, as long as they are within the boundaries of the businesses' physical locations.
Knowing the basics isn't enough to use geofencing marketing strategies for expanding your business. You must dig deep and understand how geofencing works to attract target customers. It's a three-step process, and we're here to discuss all the steps. So, let's take a look!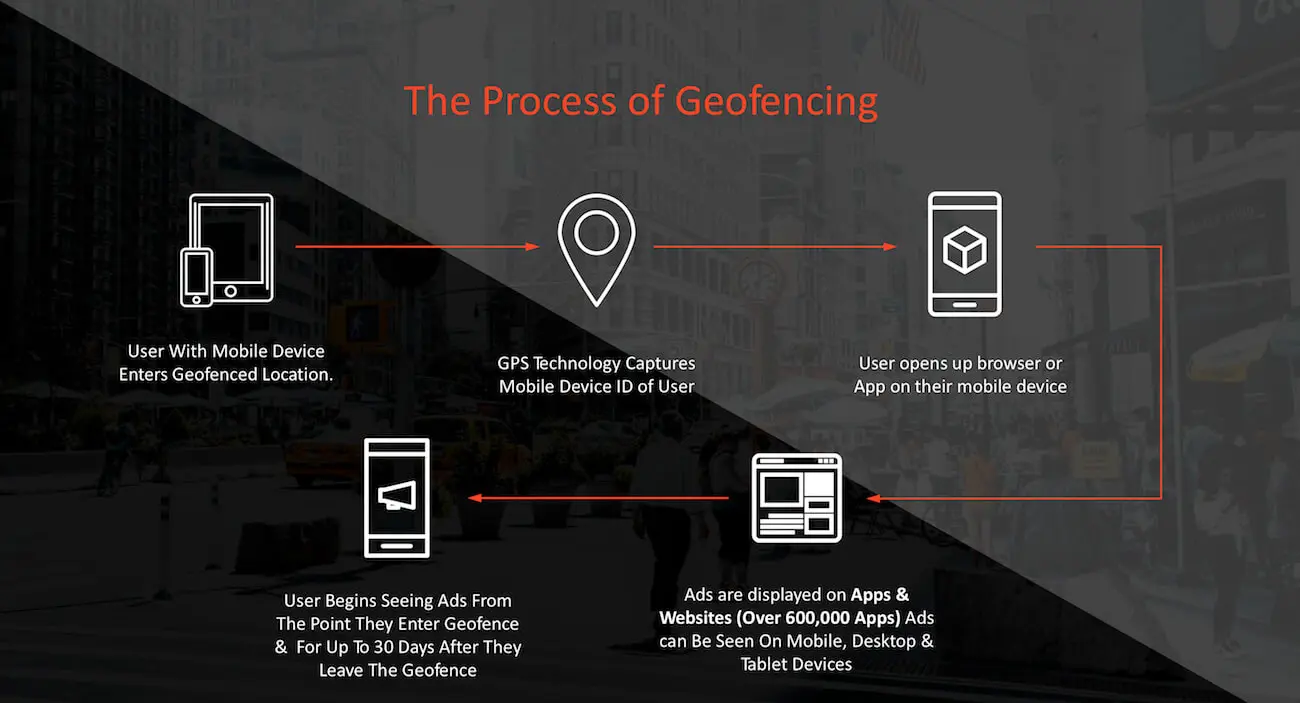 1. Set Up a Geofence Around Your Real-World Business Location
First and foremost, initiate the virtual boundaries around or the geofencing radius of your business location around an actual geographical area. Geofencing marketing allows you to track the nearby base using the geographic location. Avoid setting up a vast geographical area because it'll make tracking and targeting customers much harder, negatively impacting your marketing efforts.
Once you identify a suitable real-world location, you must assemble the geofence or virtual boundary around that area to target and attract potential customers. It's always best to keep the geofence radius small. This will help you reach out more accurately and enhance the efficiency of this online marketing method.
2. Deliver Customised Notifications To Customers
After setting up the virtual geofence barrier, it's time to target customers through ad scheduling. You can send custom notifications and location-based ads about your business to several customers based on their location through geofencing marketing.
Let's say a customer wants to order some snacks; geofencing marketing techniques of a nearby fast food joint can help gain the customer's attention towards its services.
Once you start delivering notifications and ads to nearby customers, they'll become aware of your services, automatically enhancing brand awareness. If customers are within the geofencing radius of your business, sending notifications or geofencing ads on their mobile devices can help attract them to your services. Hence, it can effectively make your business known to local customers.
3. Track Location Data Of Target Customers
Regarding geofencing marketing, you must constantly update your target customers' locations. Through this powerful targeting tool, you essentially track the particular location of customers to check whether they are in the vicinity of your business.
Hence, you can gather the data regarding potential customers' locations and keep updating it to send them customised ads, notifications, or newsletters about your business.
You can also identify which customer has been within the geofence range of your business by tracking the data of the customer's location. It's an effective way to target customers and keep a close tab on their current locations to provide your business services efficiently.
Beaconing Vs. Geofencing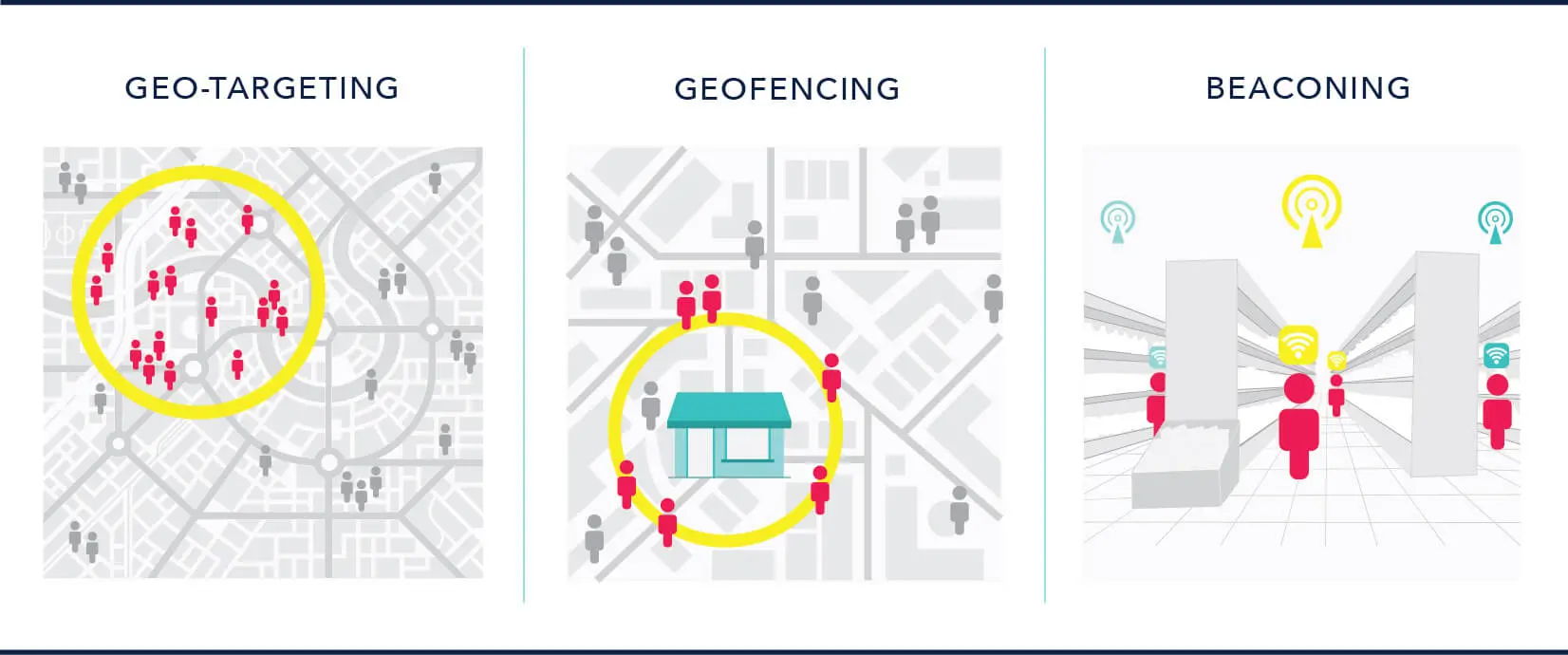 Beacon technology is a location-based marketing strategy similar to geofencing but has specific differences. While the former targets customers' mobile devices based on their locations, the latter sets up a unique virtual marketing boundary to send targeted messages to any device. Thus, geofencing is not limited to the mobile device location of a customer, like beacons.
Also, in geofencing, you get to set a virtual geographical boundary to target potential customers once they enter that boundary. In contrast, there's no marketing boundary in beaconing. Instead, smartphone users near the beaconing device's vicinity get the targeted messaging effectiveness. So, you don't get to choose your marketing location in this method.
Geotargeting Vs. Geofencing
Geotargeting works on a larger geographical scale than geofencing. It tracks down the geographical location of the desktop of target customers to send them targeted messages or notifications about a business. You don't get to plot a virtual boundary for geotargeting, and it's only limited to desktops.
Geofencing covers a restricted geographical radius, so it offers more accurate data about your target customers' location than geotargeting. Thus, geofencing is a better marketing plan for interacting with nearby customers and offering them customised services.
But, if you want to target a more extensive audience base in the global market, geotargeting might be more effective.
What Technologies Does Geofencing Marketing Use?
A few decades ago, it was an impossible dream for business owners to track the location of target customers for marketing and advertising. But, with the tremendous development of technology over the years, that dream has become a plausible reality.
Geofencing marketing stands as an example of one of the best geofencing marketing tools, and it relies on several location-based technologies, such as GPS, WiFi, Bluetooth, and radio-frequency identification (RFID). With geofencing tech, it's possible to reach your target advertising audience by tracking their location within the geofence radius and enlarging your business's customer base.
Using the above-mentioned technologies, you can accurately track the customers' location to 1000 square feet. Thus, geofence marketing advertises to mobile users close to your business location using top-class location-based technologies.
Why Do Businesses Need Geofencing Marketing?
In Geofencing Marketing, mobile app users are discerned within a geofence based on their presence. Customers who are in a specific area are attracted by this method. They may receive a mobile notification at least 50 metres away from the location—making geofencing exceptionally powerful for local small business ads.
1. Enhance Customer Loyalty
In today's competitive business environment, solidifying customer loyalty through initiatives such as a rewards programme is paramount. Earning new clients isn't enough to achieve a competitive advantage. It would be best if you also worked on retaining old customers and building a loyal customer base.
But how can geofencing marketing help in enhancing customer loyalty? Geofencing marketing works to offer customised mobile ads and push notifications to customers based on their physical location.
By implementing a successful geofencing marketing campaign, you interact with local customers and offer them customised services without spamming or irrelevant promotions. So, when you deliver high-quality customised services to customers without unnecessary promotional ads, they'll automatically be more attracted to your business.
Thus, you can gain customer loyalty and boost sales through geofencing mobile marketing.

2. Optimise Data
One of the core parts of geofencing is data analytics, as the entire advertising strategy runs on data. You gather real-time and immediate data to keep your geofencing campaigns active at the right time campaigns, relevant and profitable. It's best to continuously optimise the collected data by monitoring ad views and customer visits to your business location.
Also, you can keep updating your geofencing marketing campaign by optimising data. Say you're not getting good customer responses to your business promotions; data optimisation will help identify the drawbacks. You might target the wrong customer section or location, which you can resolve through geofencing digital advertising.
3. Improve Customer Engagement
Optimising gathered data and constantly upgrading the advertising campaigns improves customer engagement. Once you identify what works for the target customers and what doesn't, you can refine the marketing strategies to gain better results.
For instance, you can send two mobile ads to the target customers, one about gift vouchers and the other highlighting available service discounts. Then, you can track customers' response rates to these two geofencing ads. Analysing which ad generates better leads can boost your marketing campaign and improve customer engagement.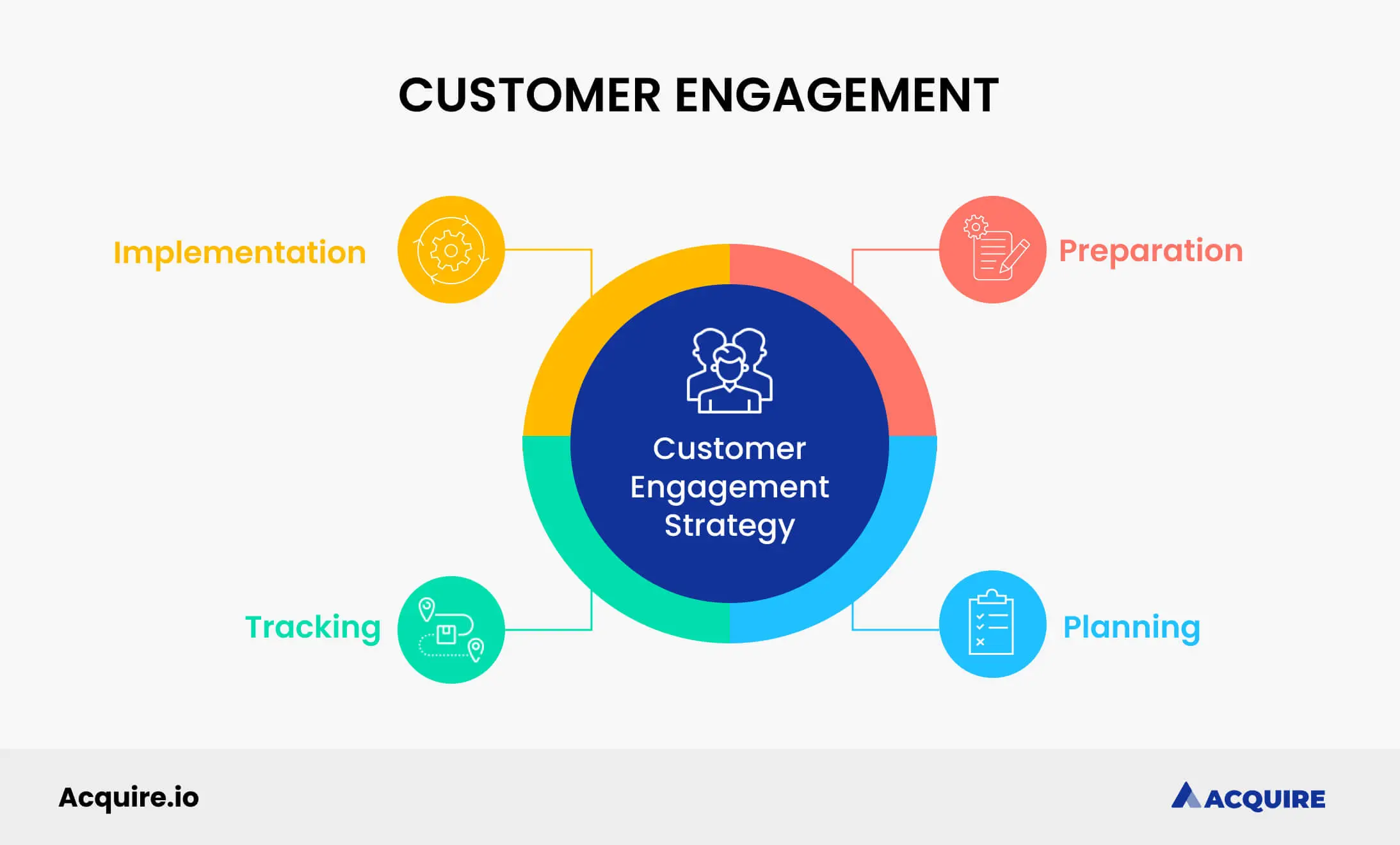 4. Gain a Competitive Advantage
Another significant benefit of implementing geofence marketing is to gain a competitive advantage by intercepting target customers at the competitor's location. You can place geofences around your competitor locations and influence customers' purchase behaviour by offering better business deals. You can influence the customers to visit your competitor's store instead of choosing the business rivals.
This marketing tactic can also help determine which local customers prefer to visit your competitors' setups. So, you can set the geofence radius of the business accordingly to intercept more local customers and attract them to your services. That way, you gain a significant competitive edge over your business rivals.
Common Locations To Target Via Geofencing
If you are implementing geofences for the first time, it's natural to feel confused about which locations to target. Your business visibility and customer base will significantly depend on your targeted area.
Therefore, it's necessary to fine-tune and deliberate on familiar places where you can get several customers while setting up the geofencing radius for your business.
Below, we've highlighted some common places that you can consider for your geofencing campaign:
Your business location
Competitors locations
Popular local events
Trade shows
Residential areas
Colleges
Nearby stores and streets
You can always include other geographic areas within the geofence radius. But this list of locations will help you get a preliminary idea about the foot traffic within your geofence radius. Choose a well-populated geographic area that can bring you enough customers to run a profitable business venture.
Tips For Implementing Geofencing Marketing
If you're not well-acquainted with geofencing, one question can haunt you for days- how to get started with geofencing? So, in this section, we'll discuss some easy tips that can help you implement successful geofencing marketing campaigns for your business.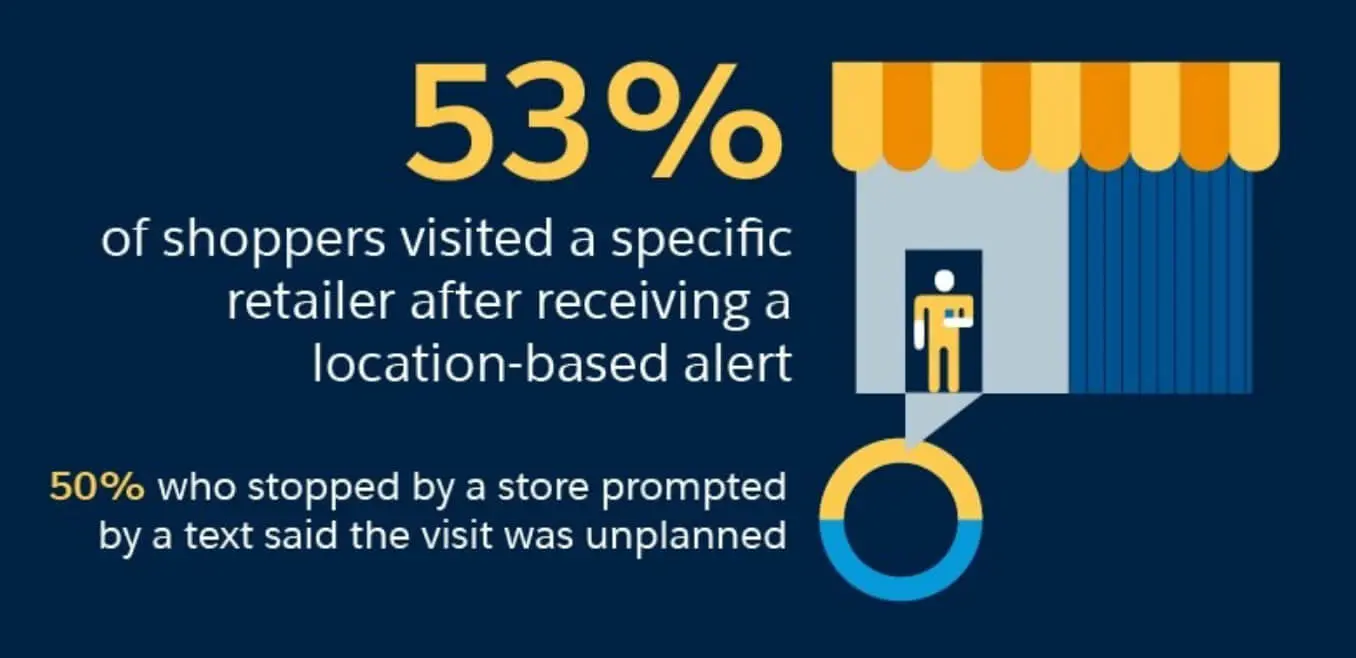 1. Keep Your Geofence Small
The first thing you must remember while setting up geofencing is to keep the virtual perimeter small. Companies often get carried away and set up large perimeters for their geofencing, failing to create positive results. A customer won't make a 30-minute drive to visit your store. Hence, keeping the geofencing radius small and compact is suitable for your business.
As a rule of thumb, it's best to keep the targeted area at a neat four to five-minute walking distance from your actual store location for geofencing marketing. You might also increase the perimeter to a five-minute walking stretch.
Remember that you want to make reaching you convenient for the target audience. Keeping the perimeter small and compact can encourage more potential audiences to visit your store.
2. Focus On Your Target Audience
Know your audience — it's a common principle in marketing and advertising. Once you understand the needs and demands of your target audience, it becomes easier to choose a target location that will generate promising results and enhance your local sales. You can also develop interactive mobile ads to engage customers and encourage them to hire your services.
Plus, you can work on targeting a new local business customer segment to enlarge your client base by utilising all the gathered data on the target audience. You can interact with customers directly and gather their feedback regarding your business, its products or services if you have an active business page on social media platforms.
3. Take Immediate Action
Developing interactive mobile ads for targeting users is crucial to geofencing advertising. Creating actionable ads, bringing in positive customer responses, and generating promising leads. Remember that advertisements that are to the point and specific are more effective in attracting customers than spammy and irrelevant ads.
Try to create ads that naturally guide your customers through the buying funnel instead of forcing their purchase decisions. For instance, if you're launching a new product, invite users for free trials of the product instead of asking them to buy it. In that way, customers will be naturally more attracted to the product.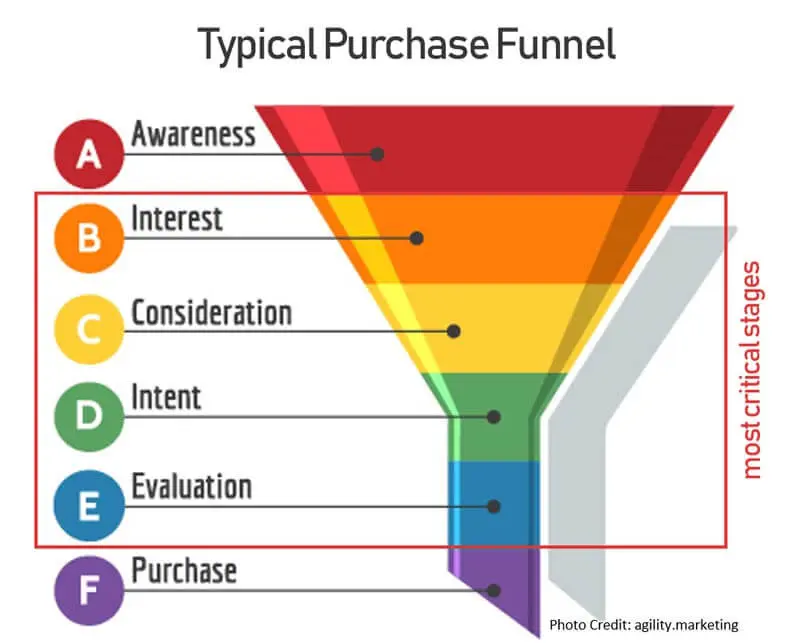 Hence, create interactive geofencing ads that can take immediate action to target users and drive positive results.
4. Review Data Regularly
Implementing a geofencing marketing campaign isn't worth anything if it cannot produce positive results. That's why you need to regularly monitor the results from geofencing to optimise its success rate. If data analytics is not your forte, you can always collaborate with any geofence advertising company.
To monitor the effectiveness of your campaign, make use of geofencing marketing software. It can provide valuable information about the cost per thousand impressions (CPM) and your overall return on investment from geofencing strategies.
Hence, it's crucial to regularly check your geofencing marketing data to stay on top of the game. Plus, make the necessary modifications to your geofencing strategy to optimise its success.
5. Use Different Targeting Techniques
When it comes to geofencing marketing, there are several targeting techniques that you can implement. For instance, content targeting can be an effective tool for targeted keyword searches. If your business website features SEO-friendly content, geofencing advertising will help you attract and bring in more customers.
Context targeting is also an effective marketing tool to help advertise your business content among customers. Through context targeting, you can feature your business ad beside relevant website content to bring in interested customers. Thus, applying different targeting techniques can help enhance and evaluate your cost per thousand (CPM) and the overall success rate of your geofencing advertising strategy.
6. Respect Privacy
With great power comes great responsibility, so when you have the power to track customers' location, it's also your responsibility to respect their privacy. Ensure that no third party can access the location data of your target customers.
Also, let your customers know you have information about their locations to maintain absolute transparency. That way, customers can trust your services and are more likely to return.
Online Marketing Tools: Geofencing
When attracting target customers, geofencing marketing is an excellent online marketing tool. It can inform your marketing team when the target audience is most active and which is the best location to promote your business endeavours.
However, if you're new to the online marketing world, you might require professional assistance to set up geofencing. If you need assistance setting-up geofencing marketing or location services, don't hesitate to contact the team at sitecentre®. We can also help you collect data, identify your target market, and manage mobile advertisements. Let us know how we can help!
After going through our guide and geofencing marketing tips, we hope you have a better perspective of how geofencing works and the significant benefits of geofencing marketing.
This marketing tactic can enhance your customer engagement and witness better profit margins. Just avoid any breach of privacy and maintain absolute transparency with your customers.
And on that note, we bid you farewell. See you next time!