Creating a strong brand structure isn't an option but a necessity for multi-brand companies.
Like the blueprints of a home, brand architecture allows companies to display their entire range of offerings and the brands they are affiliated with. A strong brand structure helps businesses gain brand equity and develop a unique brand identity while cross-promoting their products.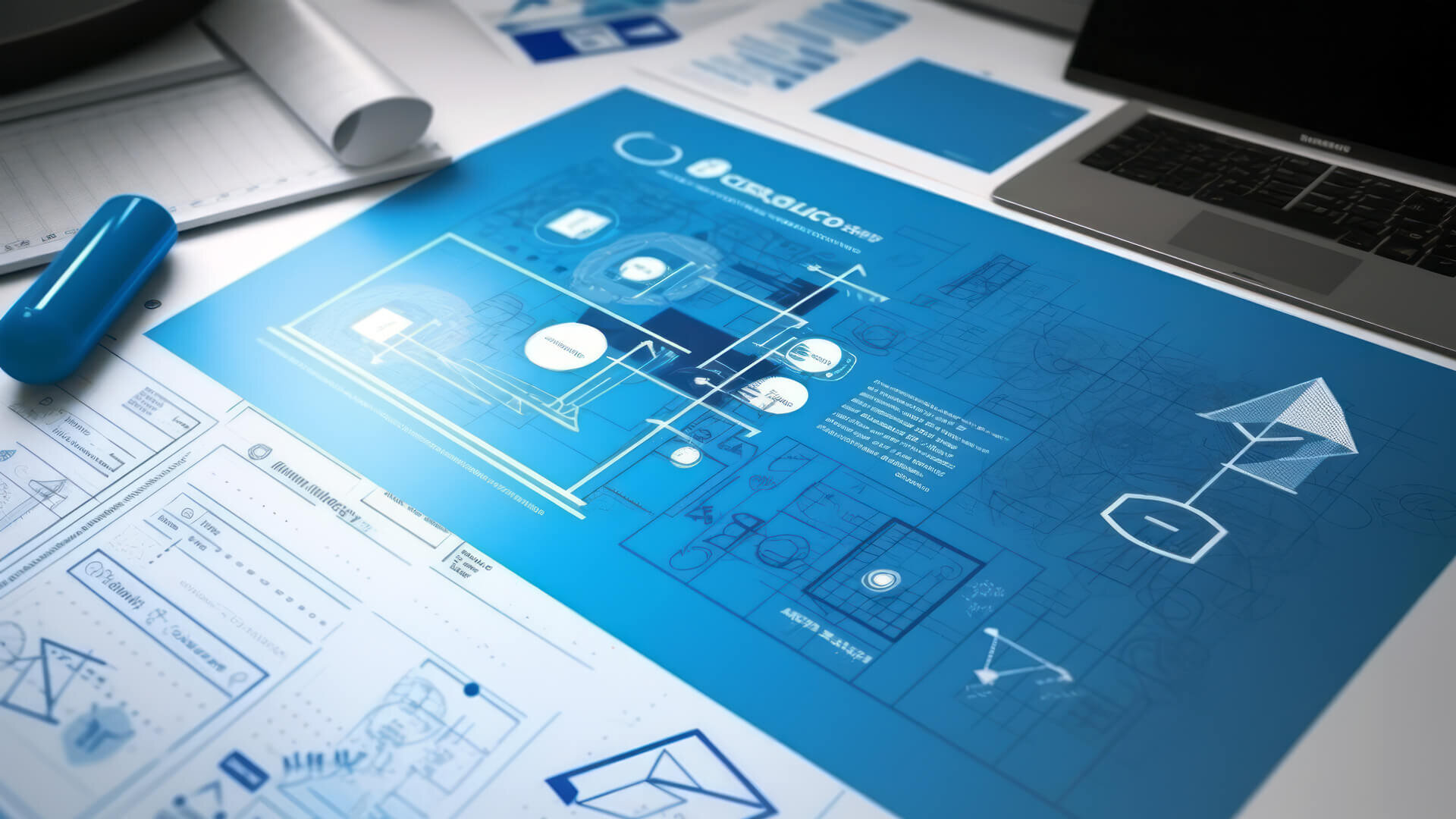 Most importantly, business owners can control how their audiences perceive their brands.
Without this framework, audiences will likely get confused about what products belong to your company and what don't. Even the money spent on brand management will go in vain if you don't establish a clear and coherent brand architecture.
Today, we will explain in detail what brand architecture is, its importance and its role in the growth of a master brand. This guide will highlight the benefits and discuss the steps to create a solid brand architecture.

What Is Brand Architecture?
The technique through which brand strategists strategically arrange the subsidiary brands connected to a master brand is referred to as brand architecture.
Subsidiary brands or sub-brands are smaller divisions of a parent brand, either entire businesses or specific goods and services. To put it simply, the relationship between the master brands and each of the sub-brand is known as brand architecture.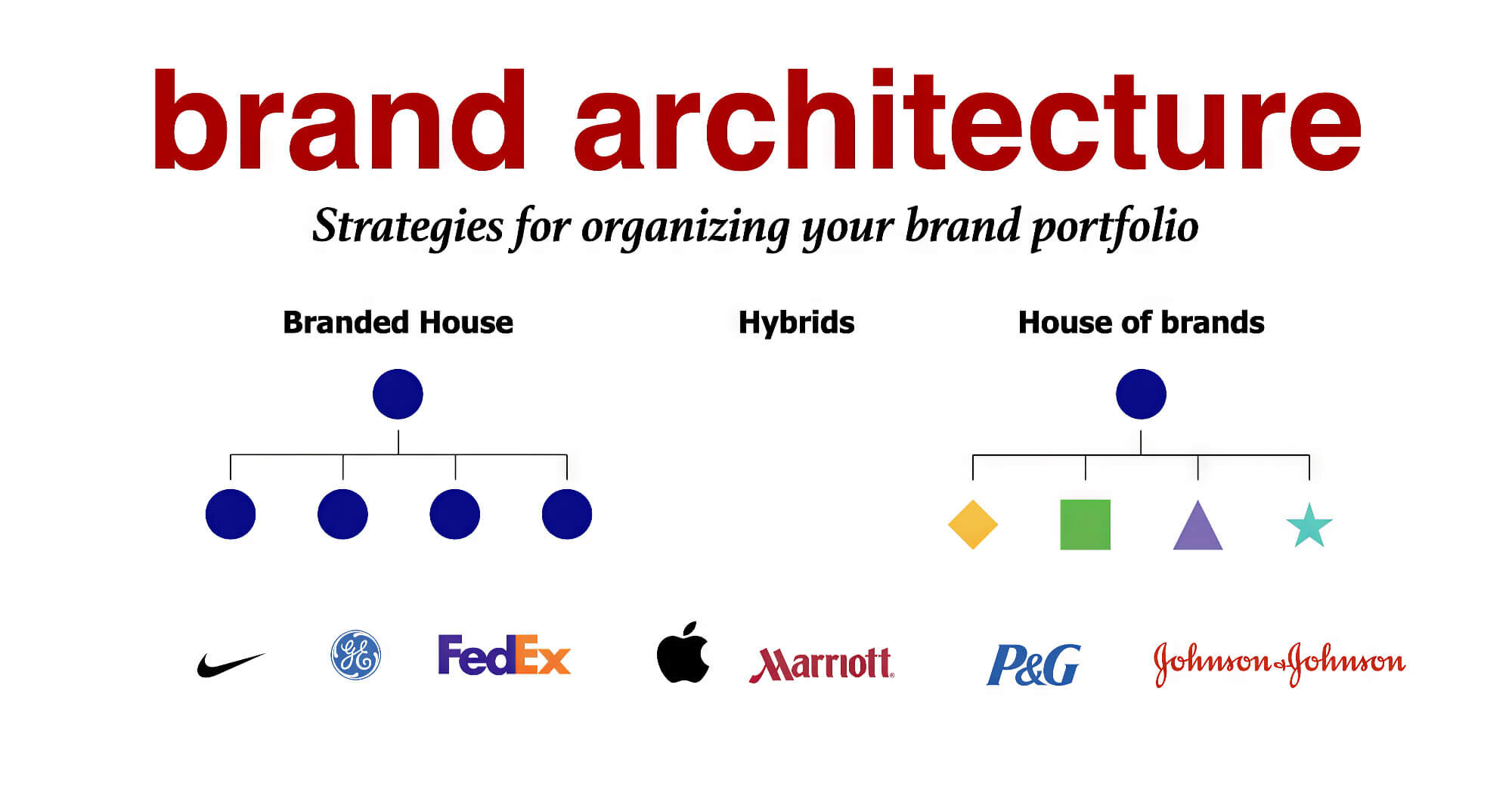 One easy way to explain brand architecture is to think of it as an organisational chart of a company. Rather than its employees, the chart places the sub-brands of an organisation structurally.
Why Is Brand Architecture Important: Role Of Brand Architecture In Branding Process

Over the years, the role of brands has advanced along with brand architecture models. This evolution has happened so that brands– established and new– must endeavour to comprehend consumer experience and adjust to how the audience perceives the promises made by them.
Brand architecture is important because it helps businesses define their relationship with the sub-brands while assisting them to stay organised.
To reap the benefits of brand architecture, a business need not have multiple sub-brands underneath them. A business with one sub-brand or a few offerings can benefit from brand architecture.
That said, let us discuss the importance of brand architecture in branding.
1. Less Brand Damage
Threats to a sub-brand image won't always negatively influence the parent brand's reputation if you develop a strong brand architecture strategy. Although much of it depends on the brand architecture model you adopt, the damage can be prevented from spreading across the organisation.
2. Increased Profits Through Cross-Selling
Because of a well-defined framework, businesses can depend on each other with attractive offerings and brand value propositions customised to a diverse audience. When one subsidiary of a corporate brand offers a pleasant experience to audiences, it will open up opportunities for other sub-brands inside the brand portfolio.
3. Build Brand Equity
Every sub-brand serving a specific niche will eventually grow, promoting the master brand. Consequently, the master brand helps increase brand equity by improving the organisation's overall value, thereby developing its customer base and generating more revenue.
What Are The Key Components Of Brand Architecture?
Outlined below are the key components of brand architecture and their connection to each other.
1. Master Brand
As the name suggests, the master brand, also known as the parent brand, is the top-level corporate, possibly the most recognisable among customers. It could be a brand taken over by a master firm or an original brand, which is discernible as a trademark on all its offerings– products or services– sold to the audience.
Apple is a classic example of the master brand, with Apple TV, iPhone and Apple Music as the sub-brands.
2. Parent Brand
Like the master brand, the parent brand occupies the top position in the brand architecture model. However, its products and sub-brands need not be in the same category, unlike the master brand.
Mondel%u0113z International (formerly Kraft Foods) is a prime example of the parent brand, which owns an array of FMCG brands like powdered drink brand 'Tang', cough drop brand 'Trident', and confectionery brand 'Cadbury'.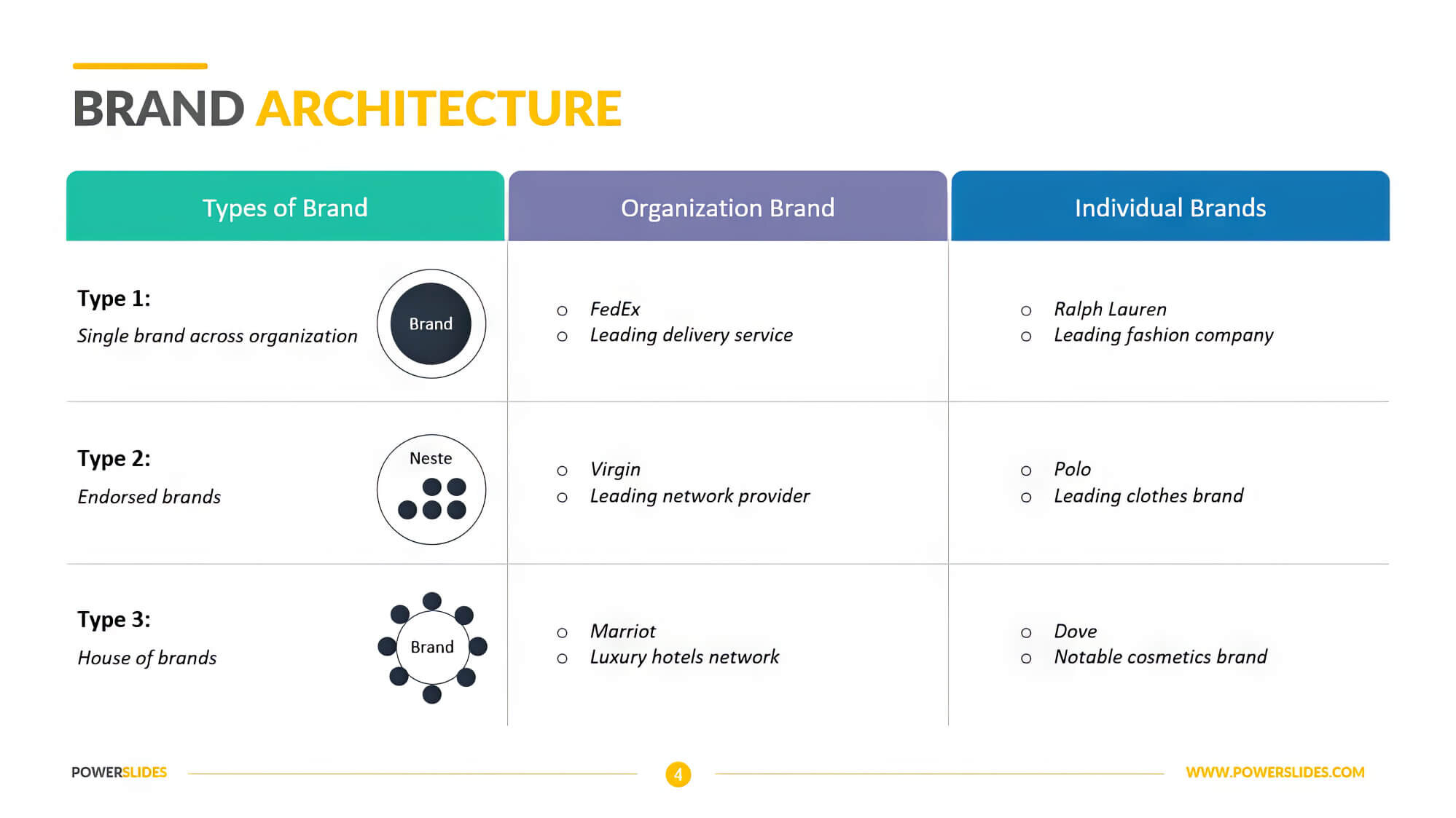 3. Umbrella Brand
Although an overarching brand, the sub-brands under the umbrella brand may not share the same identity, and the sub-brands may not adhere to the umbrella brand guidelines but share a product theme. And that's why there is competition between the umbrella brand and its sub-brands.
Coca-Cola is one umbrella brand with several sub-brands below it, like Schweppes, Fanta and Sprite. Even Diet Coke and Coke Zero are the sub-brands of Coca-Cola.
4. Sub-Brands
In a clear brand architecture model, sub-brands sit below the master brands while sharing values with them. Typically, the sub-brands carry the name of the master brand, but they have their own brand identities.
Toyota Prius, a sub-brand of the master brand Toyota is acknowledged as its own but within the framework of the parent company.
What Are The Different Types Of Brand Architecture: Understanding Brand Architecture Models
Branding strategies that arrange parent brands and their sub-brands below a single umbrella brand are called brand architecture models.
Brand architecture has four types, which means you can set up a model in various ways. Budget, target audience, expansion model, and needs and goals of a company are the main factors a business must consider when deciding which model to go for.
Below you'll get insight into the different brand architecture types with examples from the real world.
1. Branded House Architecture Approach
In the branded house model, the emphasis is placed on the parent brand, while the sub-brands play a secondary role.
One of the significant perks of the branded house architecture model is that it allows businesses to establish and maintain brand consistency. So, businesses can offer a consistent customer experience while building brand equity for the single master brand.
In this all-encompassing brand strategy, sub-brands are allowed to market themselves for growth. They do not work independently but must adhere to the corporate brand's principles and strategies.
2. House Of Brands Architecture Approach
The house of a brand's architecture model is an inversion of the branded house strategy.
In it, the master company isn't apparent, meaning it's generally hidden from the public's view, whereas the sub-brands occupy the centre stage regarding the brand promise. So, unlike a branded house approach, the public may not know who the parent company is.
Such brands use slogans, logos, brand names and promotional tactics as a part of their branding strategy to market themselves. In such a brand architecture type, the master brand name is generally used for investment or administrative purposes.
That is to say, in a house of brands architecture framework, every brand promotes itself by voicing its own message without deviating from the defined market sector.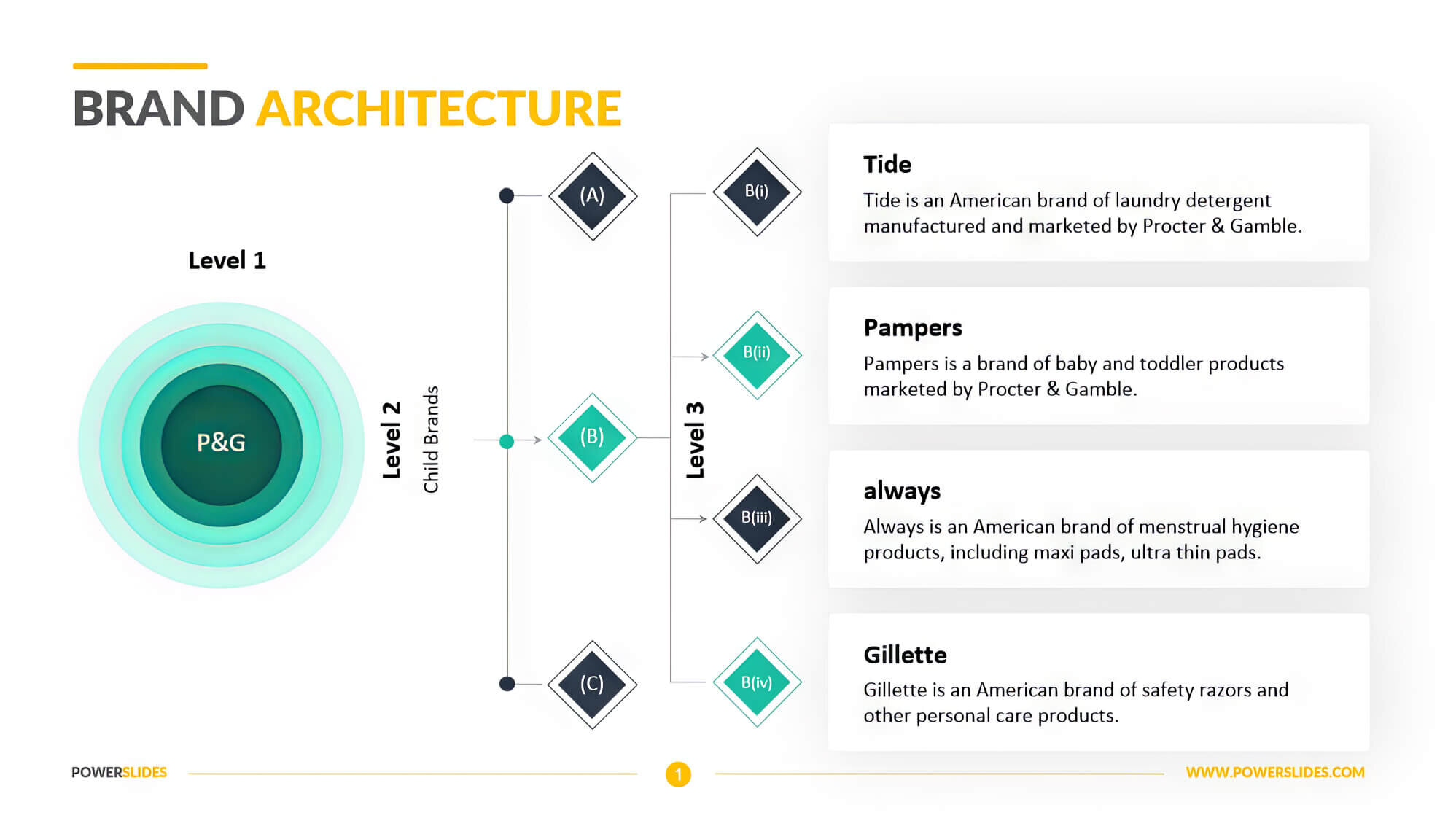 3. Endorsed Brand Architecture Approach
Unlike the other two models, the parent company is an elder sibling to the subsidiary brands in the endorsed brands' architecture approach.
And since the existing brand (parent company) is well-established and trusted by the audiences, the other brands are free to create their presence. Despite that, they aren't barred from benefiting from the support of the master brand.
Besides, all the brands can leverage other brands' impact and enjoy the mutual benefits of their connection with each other. "Brought to you by…" message popping up on the screen is an example of an endorsed brand architecture strategy.
4. Hybrid Brand Architecture Approach
Also known as a blended house, the hybrid architecture approach incorporates the elements of the house of brands and the branded house strategy.
In a hybrid model, the influence of the master brand is shared by all the sub-brands. One significant upside of the hybrid model is that it isn't rigid, meaning there's great flexibility. So, even though underneath a parent company, the sub-brands are entitled to some amount of freedom within their respective segments.
The hybrid brand approach benefits brands intending to partake in diverse acquisitions, mergers or extensions. It can also be favourable for distinct brands that want to maintain their brand identity (corporate identity) by providing different tiers of market-facing brand space.
How Does Brand Architecture Impact A Business: Benefits Of A Well-Defined Brand Architecture
Besides the obvious benefit of a recognisable framework, having a well-defined brand architecture offers a slew of other advantages.
The four main brand architecture models greatly influence brand positioning, customer awareness, brand equity and efficiency. Designing a solid brand architecture will help you reap the following benefits:
1. Protection Of Brand Equity
When brands implement the right brand architecture strategy, they can avoid the dilution of brand equity. Brand architecture contributes to a company's brand equity by promoting brand authority and increasing market valuation.
Increased visibility of the brand promise and expanding trust in the parent company are two immediate benefits of equity protection that brands enjoy.
2. Clarity Of Brand Position
Establishing a clear brand position on the market is crucial for every brand, regardless of the products and services they sell. One major reason is that investors need to know who you actually are and what the organisation stands for.
An effective brand architecture strategy enables businesses to highlight and emphasise the position of their brands against competition as well as their connection with multiple brands in their retinue. This results in heightened efficacy in attaining positive client perception and brand buy-in.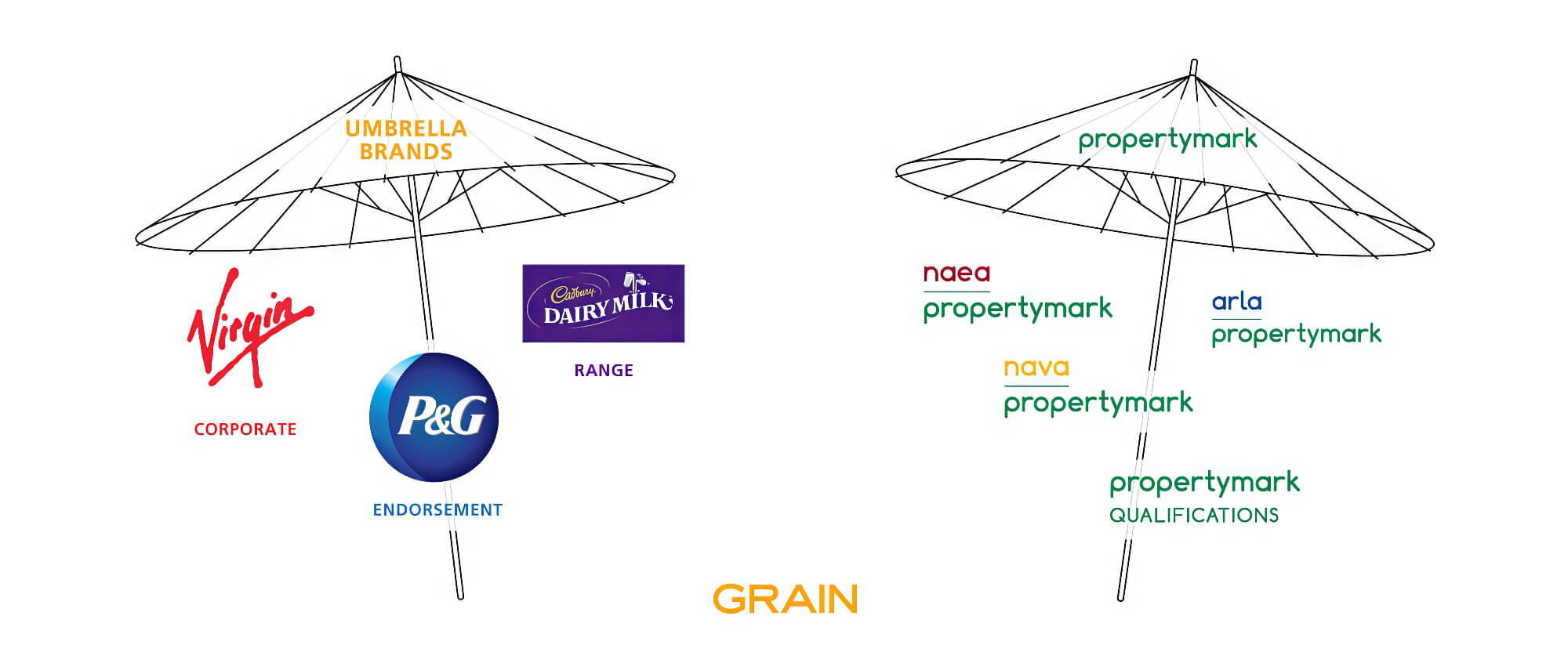 3. Fulfil The Demand Of Your Target Audience
The only way to stay ahead of the curve is to focus on the needs of your target audience. So long as a brand fulfils its target audience's specific needs or demands, surviving the cut-throat competition won't be challenging.
For example, an already established brand has launched a new range of products designed for adolescents.
Packaging and marketing their products to appeal to that age group is the key to promoting them. It also increases the likelihood that the target demographic will discover them in a way that represents the parent brand goals for the subsidiary brands in the best possible way.
4. Maximise Customer Awareness
When a company's separate brands or individual brands are well-defined, the consumer market can see their strengths more clearly.
Be it old or new brands– a specific brand within a company's portfolio can boost customer awareness for every subsidiary with the same brand identity. So, it helps build brand loyalty without relying on the parent company for market recognition.
How To Create A Clear And Well-Defined Brand Architecture Strategy?
Branding experts suggest designing a brand architecture to benefit the company and its present and potential customers. Keeping the structure simple is best if you're just starting with brand architecture.
Remember, a clearly defined brand architecture summarises your brand's message more clearly, so put in your best efforts. The following section will discuss the steps to create a brand architecture strategy that will work for companies of every size.
Step 1: Conduct Research On Your Competitors And Customers
Whether you aim to improve brand perception or increase customer loyalty, understanding what your customers think about your brand is essential. Try to figure out how well customers understand the message of your brand and their current levels of loyalty and brand recognition.
The answers to these questions will help you understand what your customers– established and potential– need to know about your company's offerings. And since every brand sets foot on the market to connect or build relations with customers, research data can help you decide which brand architecture model will be appropriate for your business.
You get insight into your competitors' strategies through qualitative interactions and one-on-one interviews with internal and external investors. This data lets you understand where the brand messaging needs to be tweaked.
Step 2: Decide On The Brand Architecture Type
Agencies offering branding services consider how little or how much you wish to feature your master brand. Asking questions like those mentioned below will help you pick the right brand architecture type.
Keep your sub-brands limited to fine print or identify them with your parent company.
Use the hierarchical structure of every single brand as a separate entity in your portfolio.
Would it be more advantageous to retain brand awareness for the parent company?
Undertaken an acquisition or merger in which you control a former rival.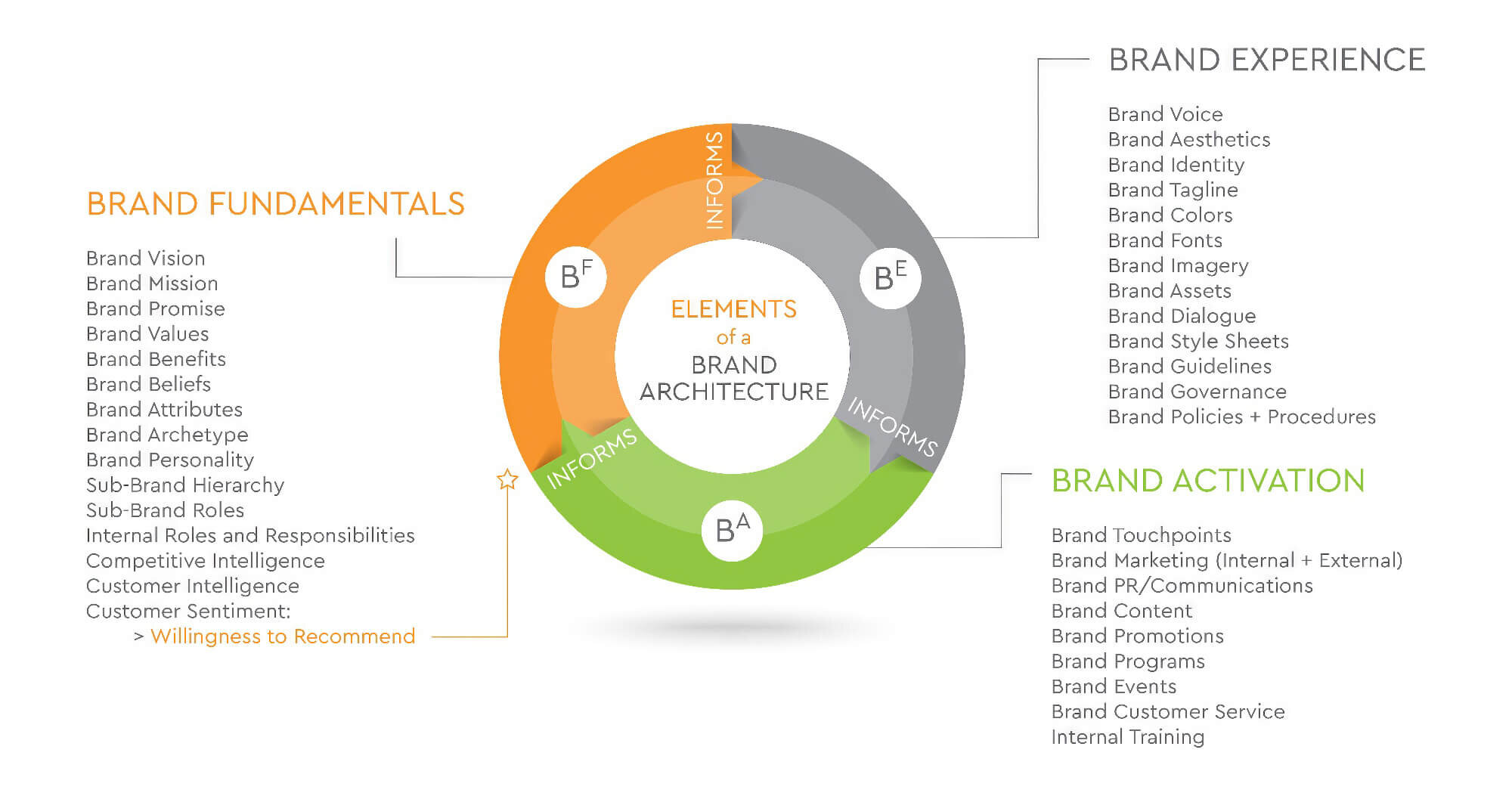 Step 3: Create Your Brand Strategy
Figuring out what is ideal for your parent brand and its sub-brands is the way to create a successful brand strategy.
After selecting a brand architecture strategy, prepare a blueprint of the framework. The reason behind creating this blueprint, also referred to as a "map," is to emphasise the public and private connections between the brand extensions.
Similarly, the map should contain verbal and visual indicators that will be visible to those who invest money in your brands.
Step 4: Arrange Your Content Into The Framework
When implementing brand architecture, older brands must ensure that the existing brand identities blend within the new framework. In recent years, companies that ventured into the market enjoyed a bit more leeway.
Recognising and repacking sub-brands substantially may be challenging and more expensive for larger organisations that handle several small brands. On the contrary, recently developed companies can easily remould their signage and digital presence.
Building Strong Foundations: Unveiling the Essence of Brand Architecture
Without a clear and well-defined brand architecture model, no brand strategy comprising the connections, hierarchies and roles of brands within a company's portfolio is understood or optimised. A well-implemented brand architecture greatly benefits, from driving revenue to creating a concise culture with a compelling brand story.
To a large extent, your success depends on choosing the right brand architecture model– don't forget to take into account the needs and goals of businesses when deciding on one. Eventually, businesses must select a brand architecture that points out the least amount of disturbance to the present brand equity while emphasising the strengths linked with each of their sub-brands.
Creating a well-defined brand architecture strategy for organisations introducing new brands may be overwhelming. In that case, hiring branding consultants will take the weight off your shoulders so that you can focus on more critical tasks.