The saying "a picture is worth a thousand words" is old formula graphic designers have sworn by!
Any logo designer will tell you that a single picture, symbol, or a few words can create a powerful impression, pique curiosity, and convey the brand's intended message. Like a book cover can speak volumes for the book, a logo can make or break a brand.
Logo designers are entrusted with bringing their client's visions to life and creating modern graphic designs. They take a simple idea, use illustrations to attract buyers and deliver a fresh, creative, and timeless logo.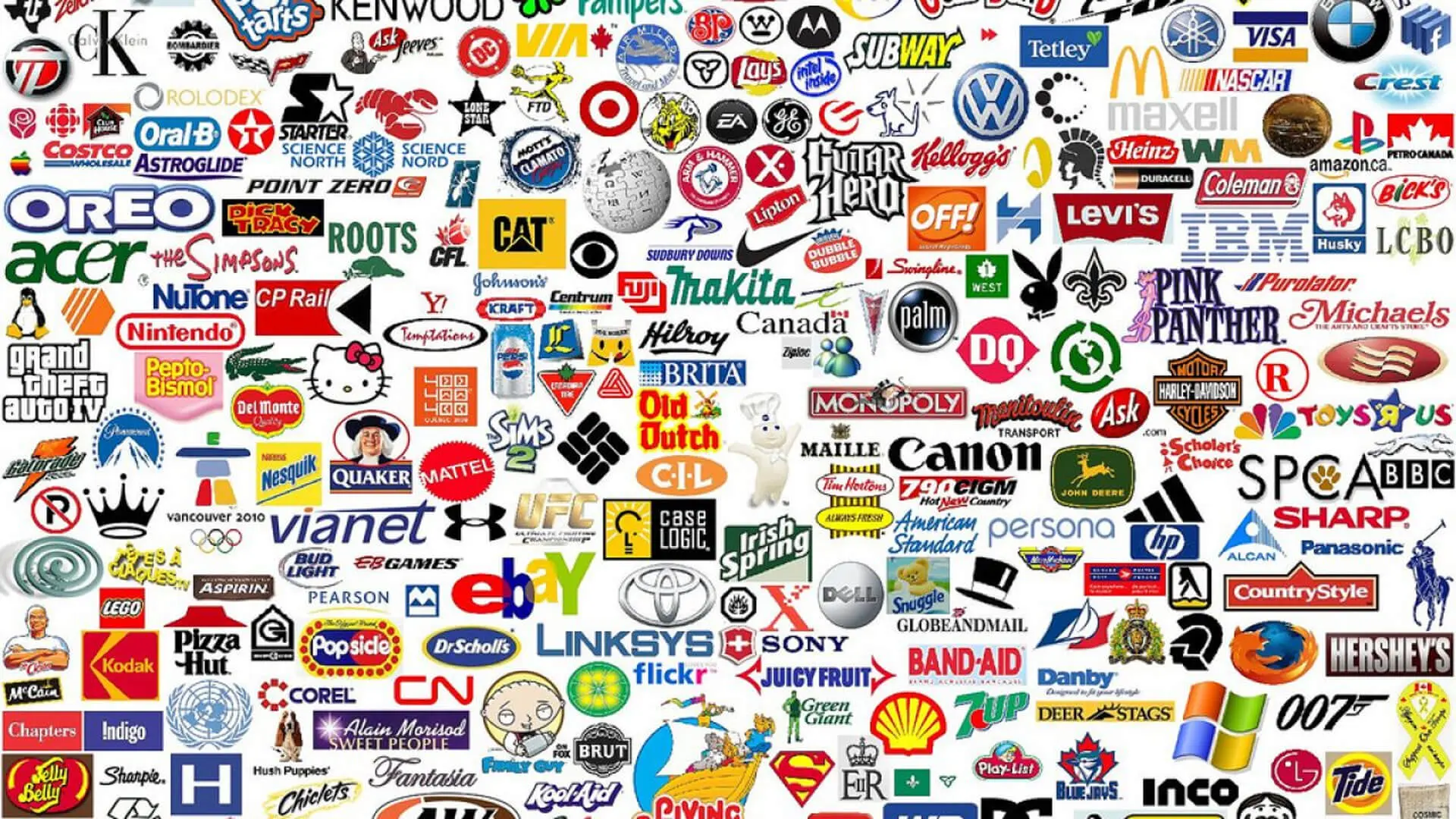 In this guide, we will look at some of the most famous logos worldwide, analyse what their designers got right, discuss what you must remember to be a successful designer and much more!
So, without further ado, let's begin exploring the exciting world of design careers.
World's Most Famous Graphic Designers
The 20th century was a landmark year for companies worldwide, with a growing focus on branding. As a result, designers were encouraged to create unique and emblematic logos with the right amount of visual appeal and style.
While social media was still far from the picture, print and other mass media industries thrived. Hence, there was a need for companies to establish a connection with potential buyers. The importance of graphic designers was felt more than ever, and several iconic names burst forth onto the scene.
Graphic design has become a popular art form, and many modern designers draw inspiration from influential graphic designers such as Carolyn Davidson, Paula Scher, and Milton Glaser. These world-famous iconic logo designers and their unique styles entirely reformed the logo designing scenario.
Given their rich creative history, the logos created by these iconic designers have made a lasting impact on the graphic design scene, making them some of the best designers. They are still admired worldwide for their skilful use of colours, style, and excellence.
In this section, let's explore the work of influential graphic designers and the iconic logos they have created.
1. Carolyn Davidson
The Nike swoosh is unmissable, and Carolyn Davidson, an iconic logo designer and the first female designer, is the brains behind it. She conceptualised the logo in 1971 while pursuing her education at Portland State University.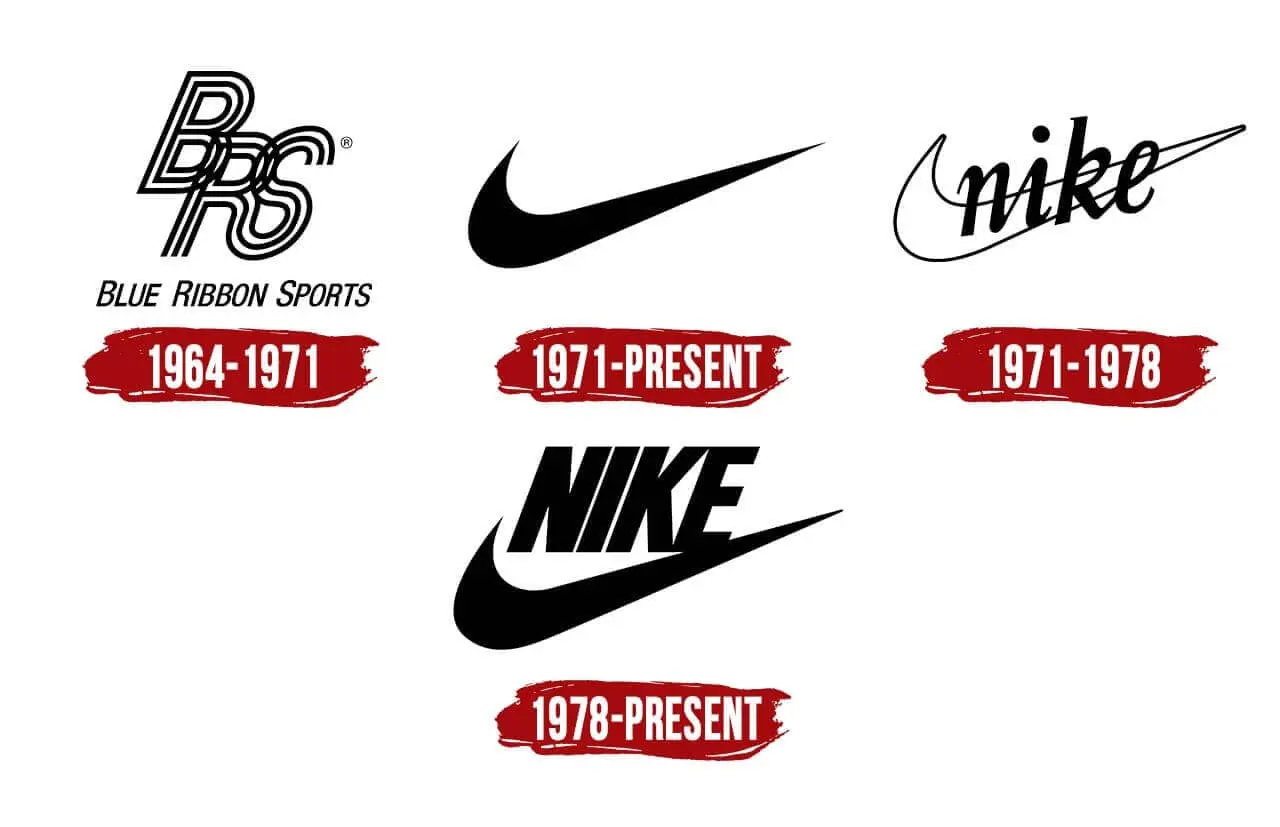 Nike founder Phil Knight was initially sceptical about the logo but went ahead with it for the lack of a better alternative. However, Carolyn Davidson was paid merely 35 dollars for it. Nevertheless, she continued to work for Nike until her retirement in 2000. Thankfully, Knight wasn't ungrateful and later gifted Davidson a gold ring with the Nike logo. The Greek goddess Nike inspired the design for those who might not know. She was considered the symbol of victory, strength, and speed — all of which Davidson thought best represented the brand. A simple search for the Nike statue will show you what we are talking about — outstretched arms with wings that look exactly like the world-famous swoosh.
Although Phil Knight didn't think the minimalistic design would work, it became an iconic logo with long-lasting appeal. Like the Apple logo, the Nike swoosh is universally recognised today, and the tick has also come to represent affirmation and positivity.
Carolyn Davidson understood the trick: the goal isn't to make something extraordinary but to make minimalism look cool. It is to represent the brand in the most creative way possible.
The message to future logo designers is pretty straightforward: simplicity and a commitment to meeting deadlines go a long way in fuelling your creativity. Combining these two things can give birth to the Nike logo; it will serve you well. Besides, great logos do not need text to back them up. If done right, they remain powerful on their own.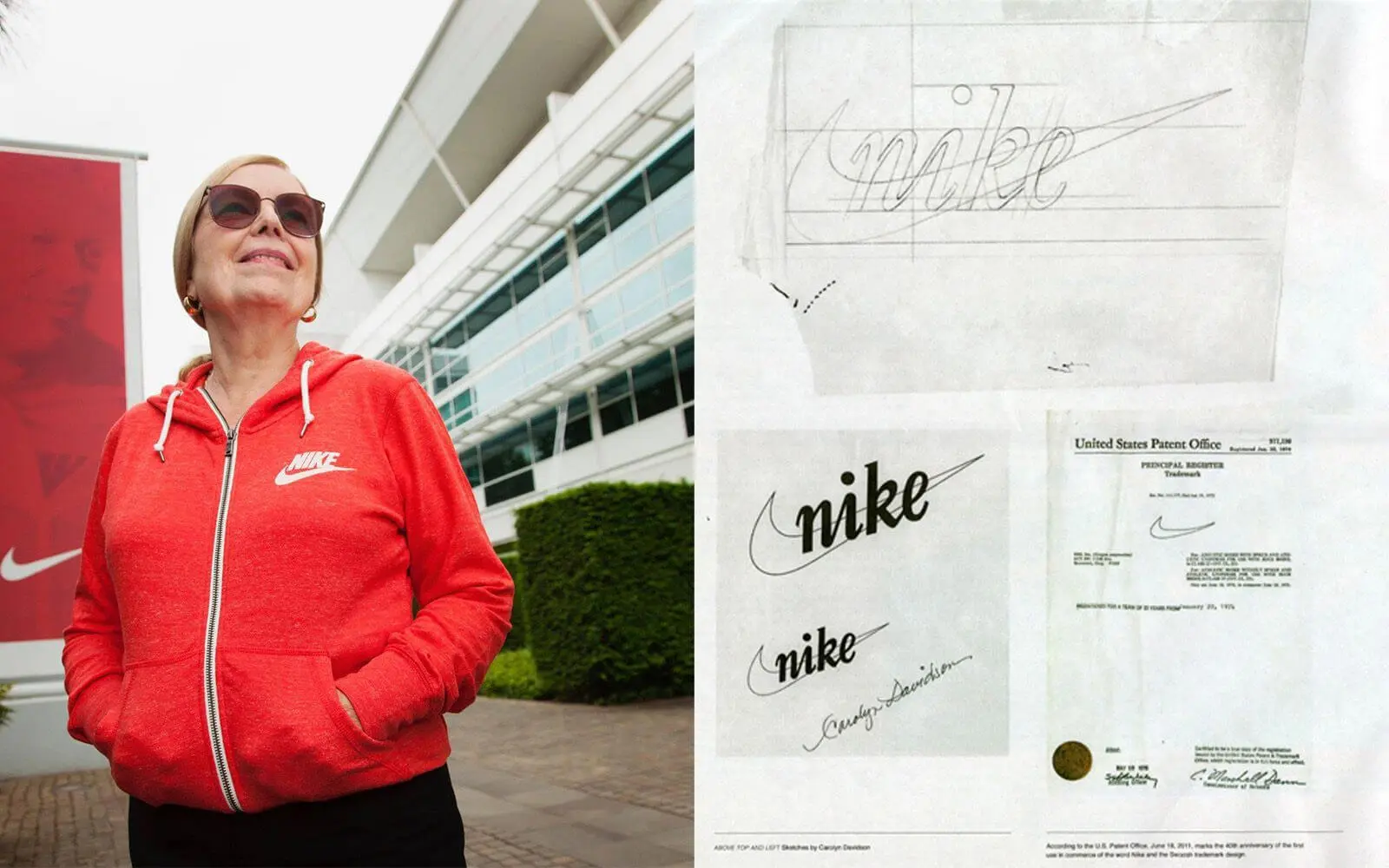 2. Saul Bass
Graphic designer and filmmaker Saul Bass were tasked with designing famous logos for companies such as Geffen Records, Warner Communications, and Continental Airlines. His best-known work is for AT&T Services. The telecommunications company enjoyed a monopoly over phone services (through a network of companies dubbed the Bell System) in Canada and the United States.
In 1969, Bass replaced the intricate bell symbol with a more simplistic design to create a scalable icon that can be used anywhere — from buildings and phone booths to print ads and letterheads. He even made a pitch video for the same, stating that the purpose behind the upgrade was to create logo designs that could be adapted to large and small scales.
That's not it! Saul Bass also designed the logo for Kleenex, Warner Bros and United Airlines. The common similarity in all these designs was their crisp and modern style, free of bells and whistles.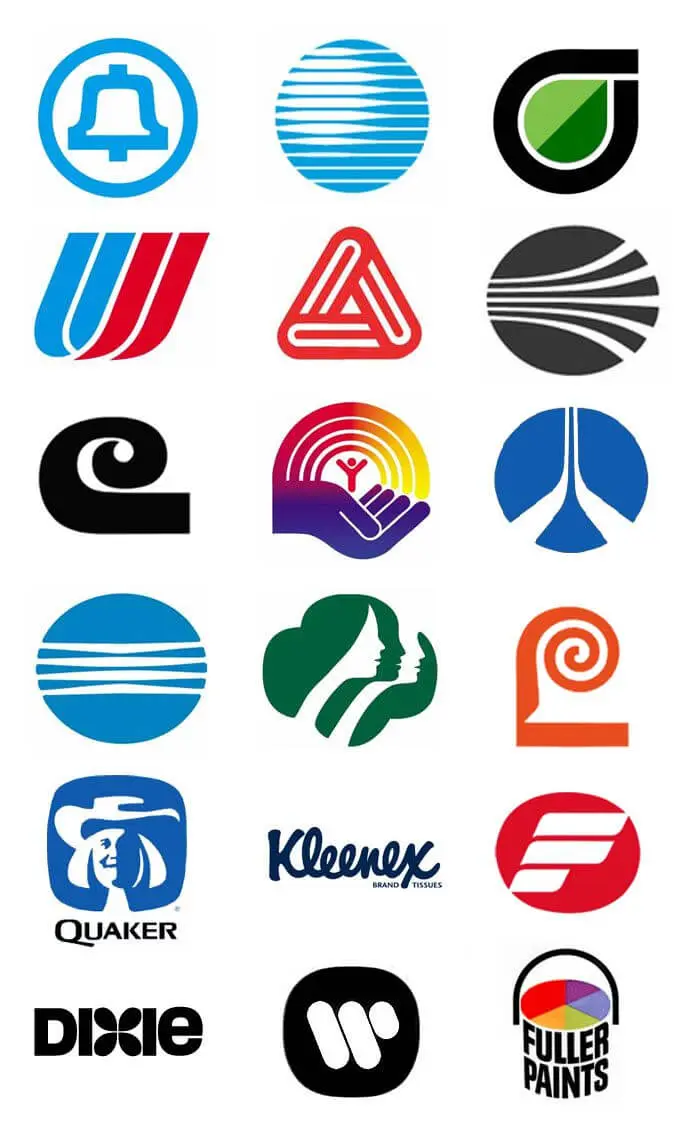 What was remarkable about these designs was Bass's insight. Even in the pre-digital age, he had the ingenuity to create distinctive, clean layouts that could be scaled as per requirements. This principle has become one of the critical components of digital marketing campaigns today.
Saul Bass' designs thus became synonymous with reliability, formed an immediate connection with the audience, and stood the test of time. Even with the advent of digital marketing, there was no need to redesign or upgrade the logos — they were thoughtfully designed, sophisticated, and solid enough to appeal to a contemporary audience.
Besides, although he used limited colours, the palette was vivid, with plenty of reds, blues, and blacks. Not to forget, he combined his choice of colours with extensive use of attractive typography, best exemplified by the soft curves of the Kleenex logo.
Thus, Bass proved contemporary logos didn't have to be ornate to be eye-catching; simple curves, neat cuts, and adaptability can go a long way in establishing a brand's identity.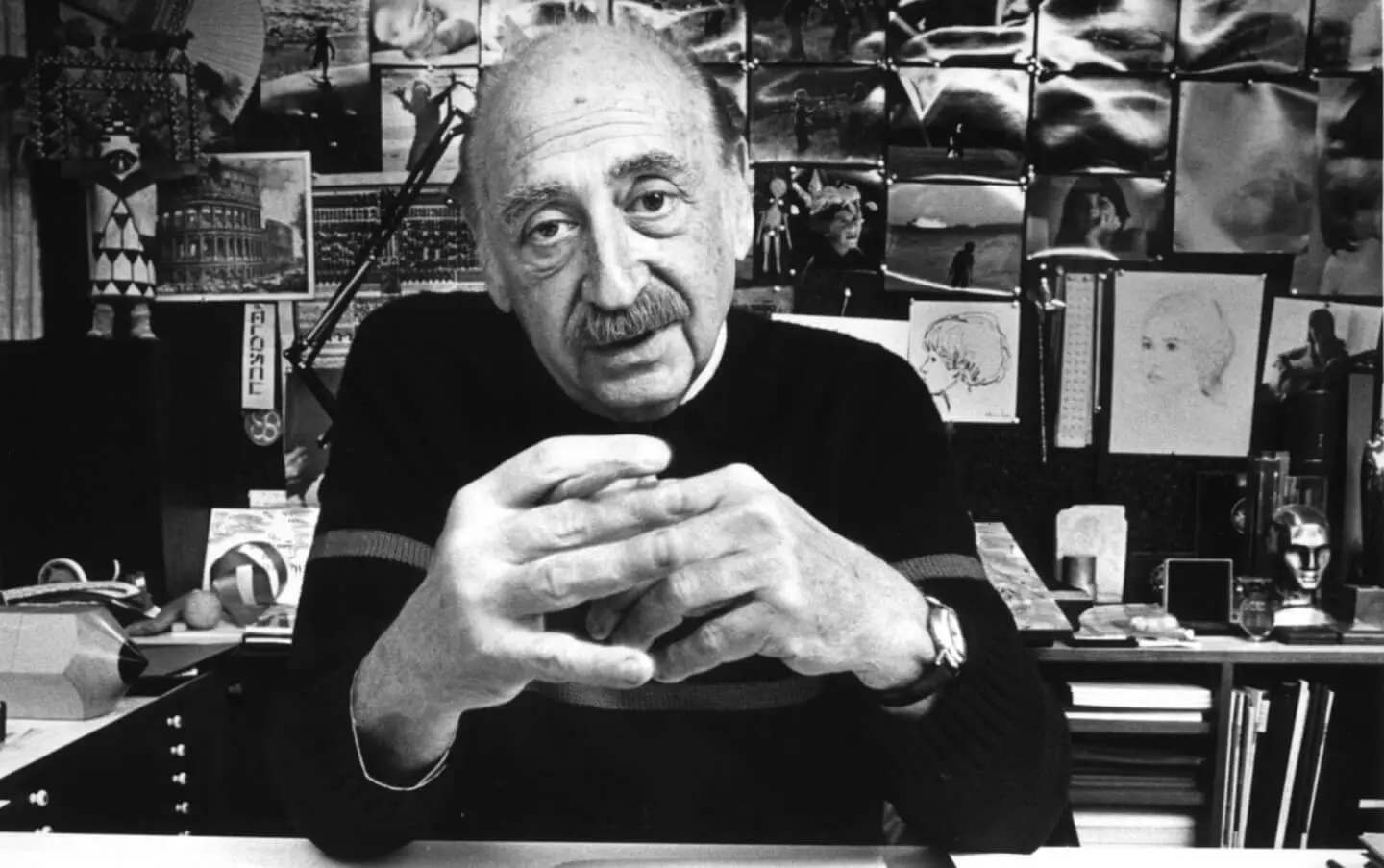 3. Milton Glaser
Multi-award-winning graphic designer Milton Glaser's work portfolio remains as prolific as his designs. He designed and illustrated film posters and brand logos in his decades-long career. He founded the New York Magazine (1968) and Push Pin Studios (1954).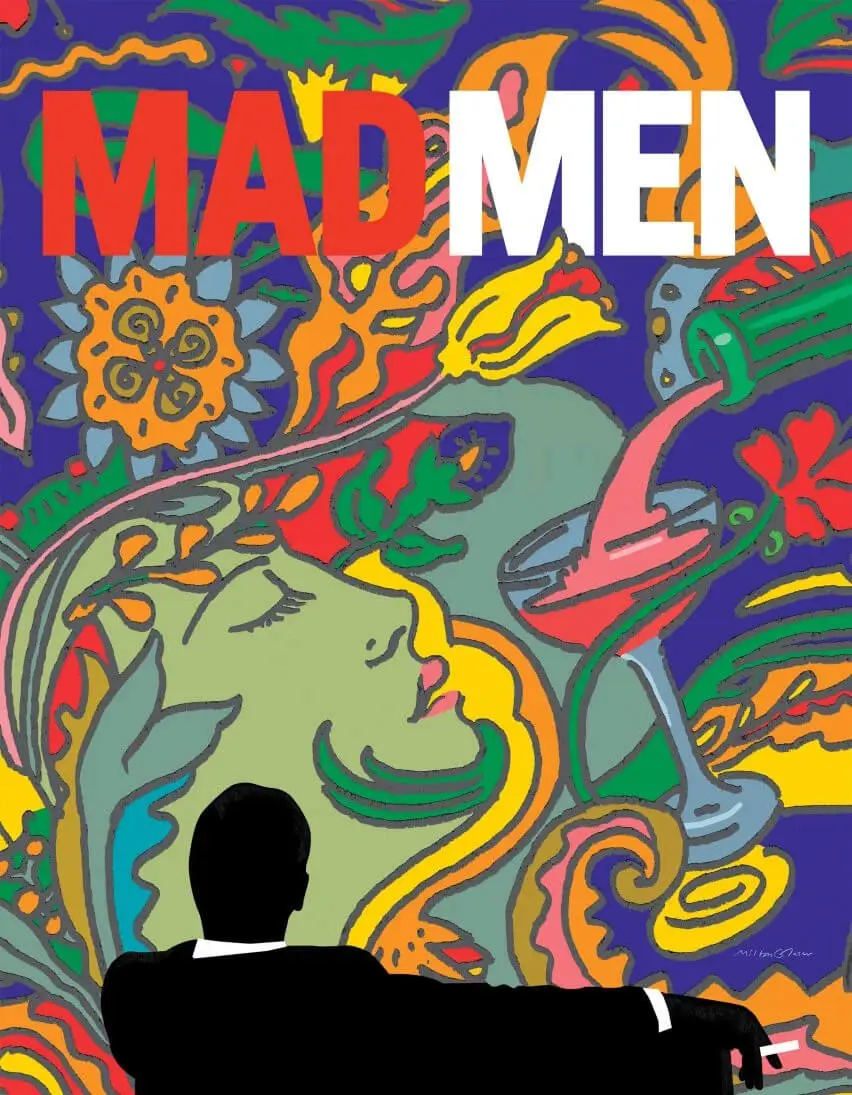 Perhaps his best-known work is the 'I Love New York' logo, designed in the mid-1970s to showcase New York in a favourable light after a series of crimes had impacted tourism in the city. The logo was well-received instantly and became the official state slogan. It continues to be a prominent part of pop culture, and its timeless appeal lies in its captivating design, simple font, and emotion-infused message.
This iconic emblem is found on New York billboards, trains, coffee mugs, T-shirts, and hats. Glaser couldn't have done any better if the aim was to boost tourism. The logo became even more significant after the September 2001 attacks on the World Trade Center.
Glaser struck a chord with American citizens, fuelling their patriotism and emotions and bridging the gap between a carefully structured marketing campaign and the city's rich heritage. The bold red heart, the condensed message, and the innovation symbolised New York City's spirit — one that is resilient and full of hope.
Milton Glaser also created the Brooklyn Brewery logo. The brand was earlier marketed as 'Brooklyn Eagle Beer,' but he changed the name to 'Brooklyn Brewery,' which their beers carry.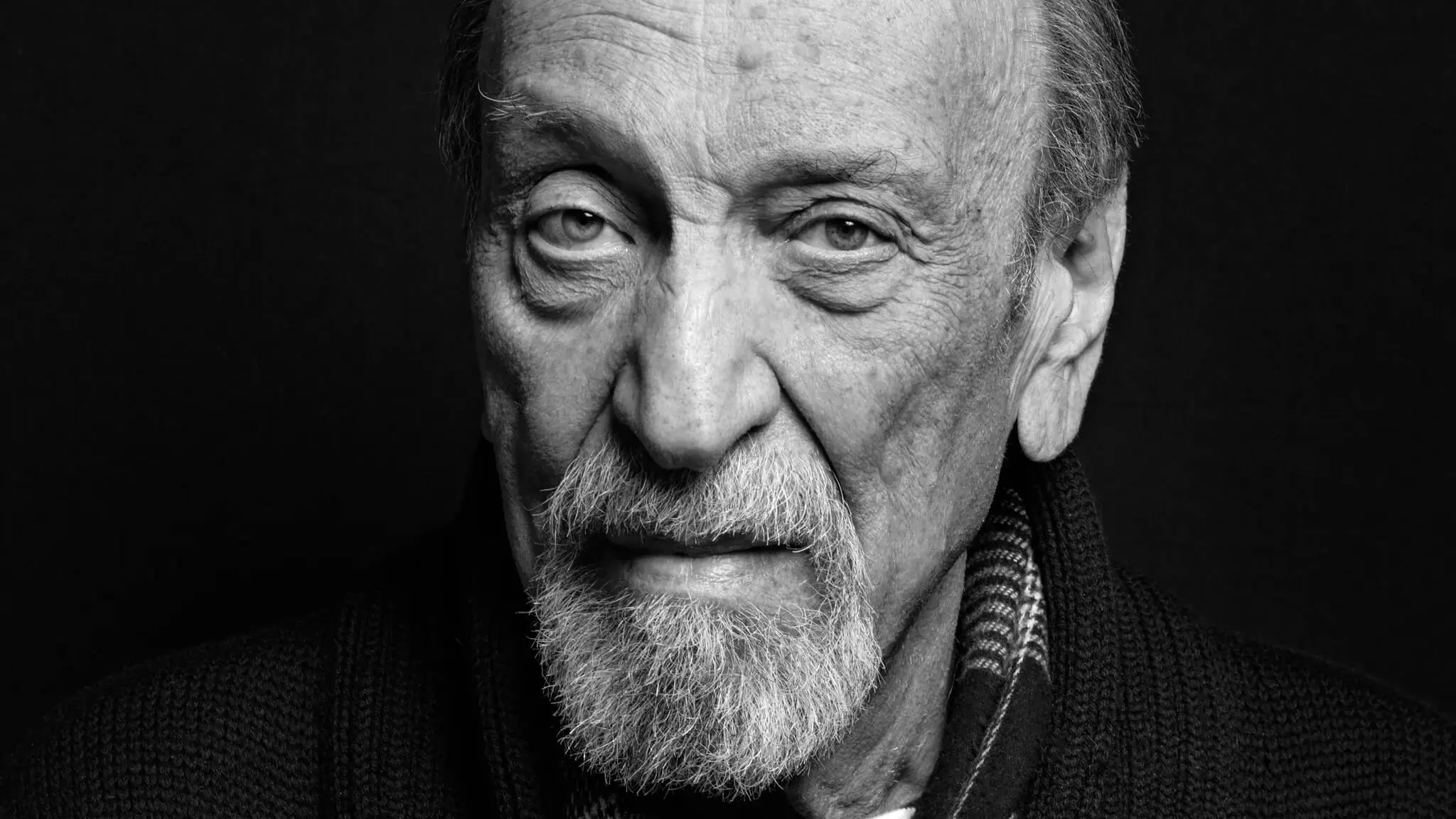 A vital lesson potential designers can take from Glaser is that it is imperative to ask questions, know about the brand's history and imbibe its spirit. Use visual language and keep your work individualistic, but ensure that your work does justice to the company's narrative.
4. Paul Rand
If no-frills designs had a name on them, it would be Paul Rand's. Known mainly for creating monogram logos for company giants such as IBM, USP, and AMC, Rand became a world-famous designer thanks to his unique vision and subtlety. Besides being an accomplished graphic designer, Saul Bass was also an art director.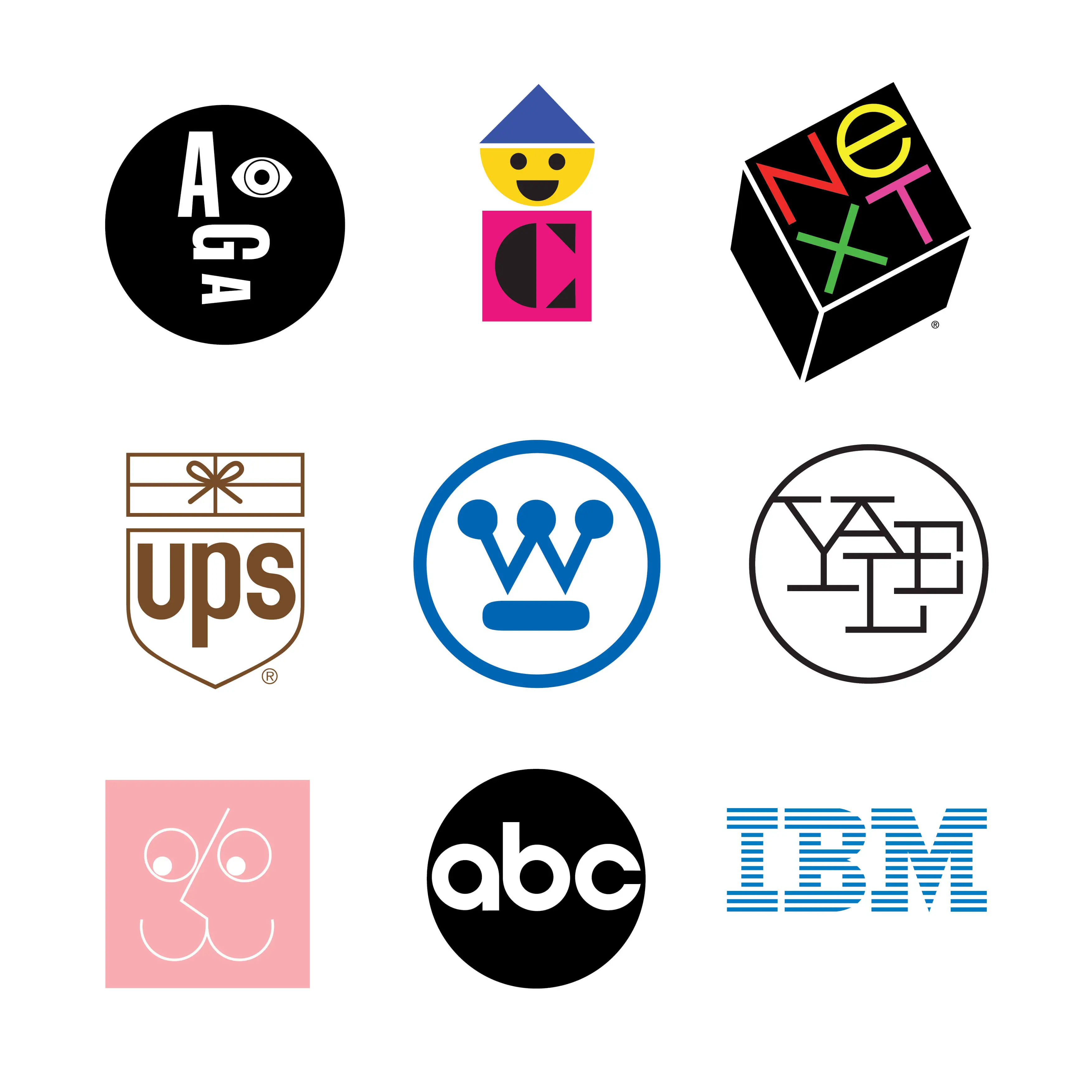 He firmly believed that for a logo to stand the test of time, it has to be designed with 'utmost simplicity and restraint,' There's no better example of this than the IBM logo. Made of 8 horizontal stripes, it was a brilliant upgrade from the 1956 design but took over a decade to complete.
Paul Rand experimented with various fonts, sizes, and design elements to create a cohesive logo that best represented the brand's dynamism. Long after formulating the new logo, he kept a close eye on its use and played an essential role in IBM's branding.
Paul Rand also collaborated with Steve Jobs on the logo of his computer and software development company, NeXT. We can learn patience from him — a solid logo doesn't necessarily have to be born overnight. However, the focus should be on creating a robust and eye-catching logo that tells a story and represents the brand.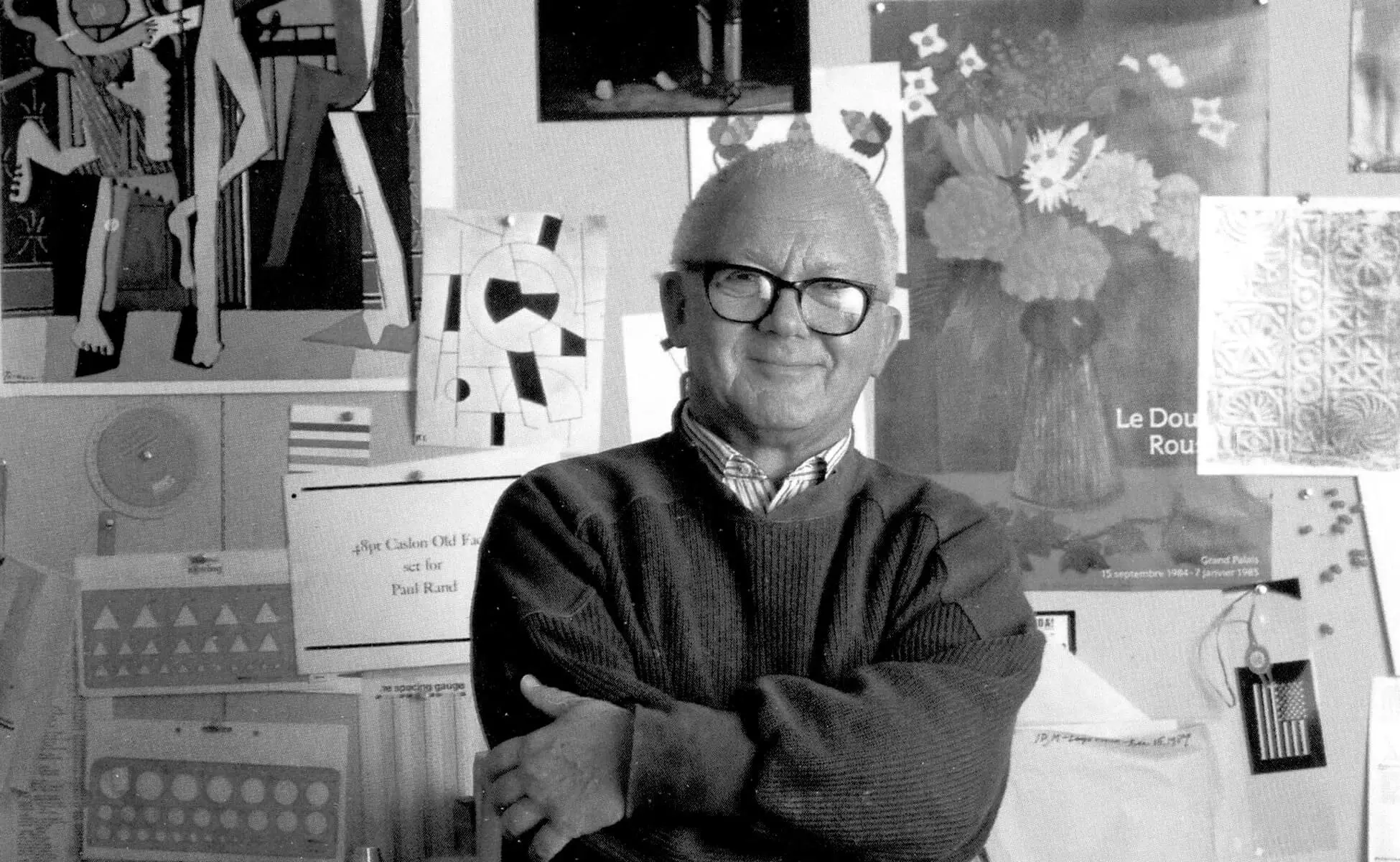 5. Paula Scher
Paula Scher has an impressive list of clients, including Citibank, Coca-Cola, Tiffany & Co, and Microsoft.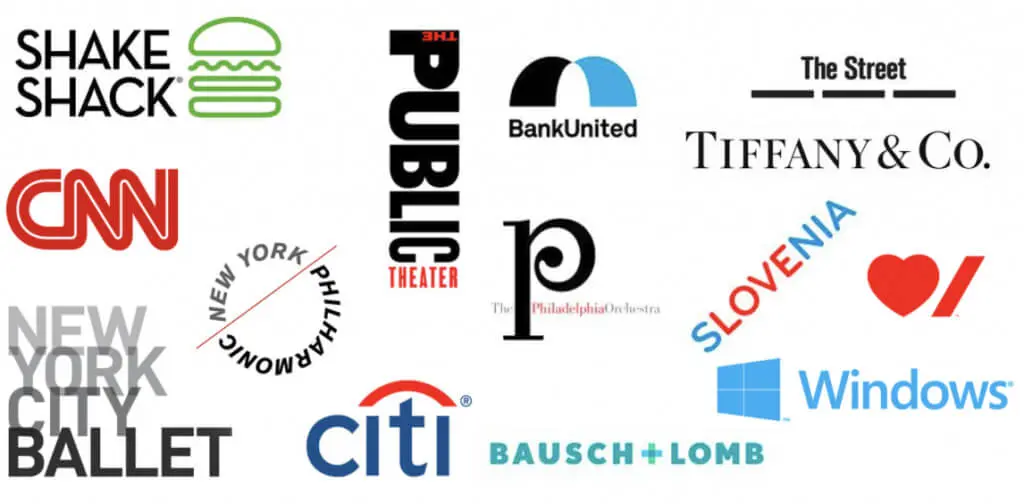 Although her career began as a record designer, working for CBS and Atlantic Records, she is today known as a modern-day graphic designer who gave us some of the most iconic logotypes of the 20th century. The brands she worked with had a distinct appeal, with catchy names. Since drawings weren't her strong suit, Scher used typography intensively to foster brand recognition.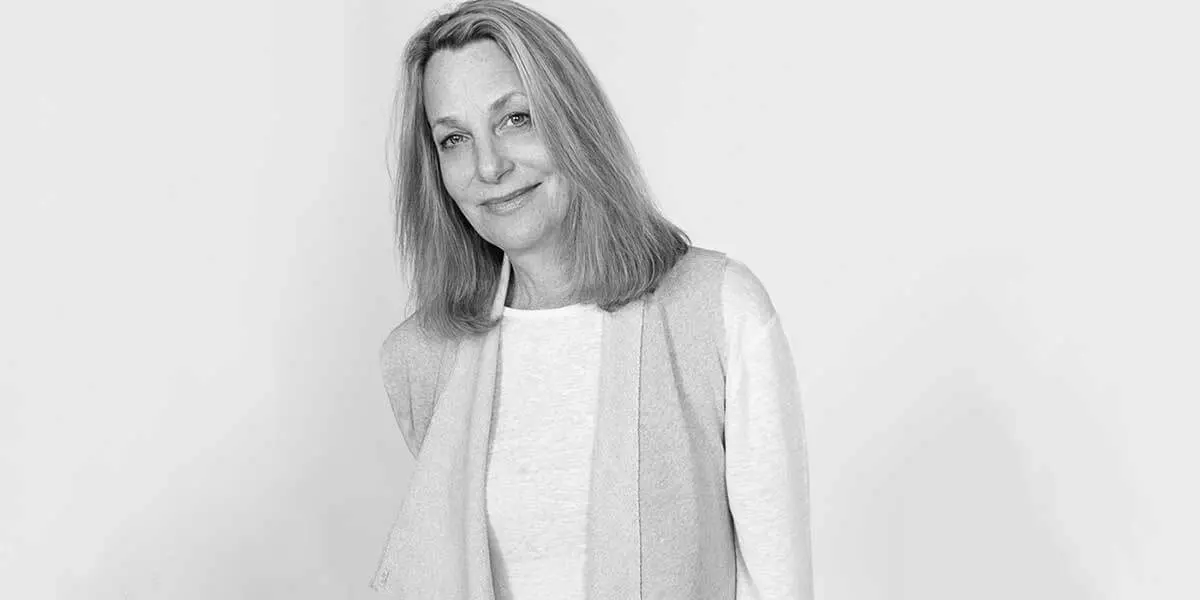 Logotypes or font-based logos became her way of creating compelling designs, and she found it easier to represent the brand's style through words.
6. Rob Janoff
Undoubtedly one of the most famous logos of all time, Apple struck gold when it got Rob Janoff on board. Although Steve Jobs originally conceptualised the brand's logo, he later recruited Janoff, who designed the half-bitten, rainbow Apple logo.
As Jobs puts it, the purpose was to bring "simplicity to the audience in the most sophisticated way," and needless to say, Rob Janoff delivered, on all accounts, creating the iconic Apple logo. The design has undergone many changes and is currently a steel grey logo, but the basic outline remains the same.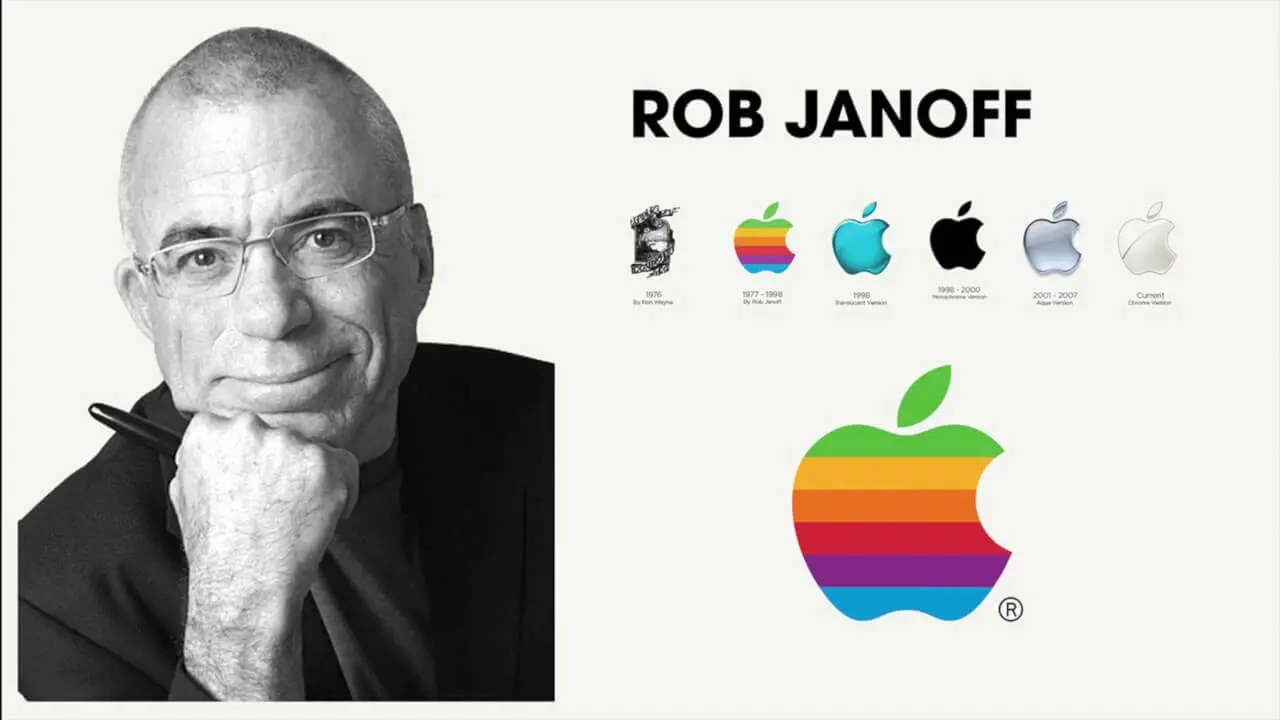 Janoff believed in keeping things simple because, according to him, people cannot remember complex images — but a half-bitten apple piques your curiosity, is instantly appealing, and memorable. Besides, it conveys the brand's essence — user-friendly, reliable, and symbolic of all the knowledge consumers can 'bite' into.
7. Alan Fletcher
Any list of famous 20th-century graphic designers would be incomplete without Alan Fletcher. He used elaborate typography to bring his designs to life, as evidenced by his work for Victoria & Albert Museum. He conveyed the museum's historical importance with elegant black-and-white hues while ensuring the design remained timeless and functional.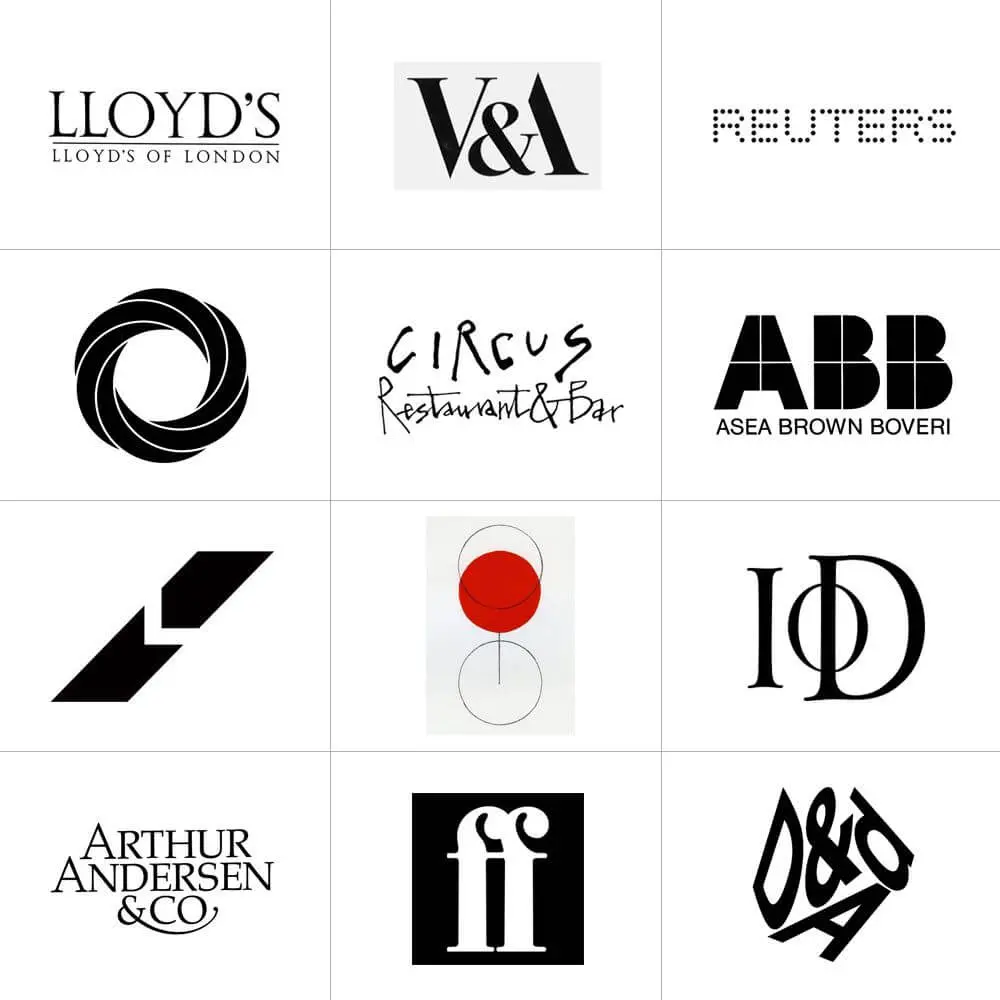 He also designed the international news agency Reuters logo back in 1965, marked by the same ease of use and adaptability that characterised his earlier works.
Alan Fletcher founded the design firm Pentagram in 1972 with a few other graphic designers. The company trained several top-notch logo designers who designed for firms like Rolls-Royce, Mercedes-Benz, Starbucks, and Verizon.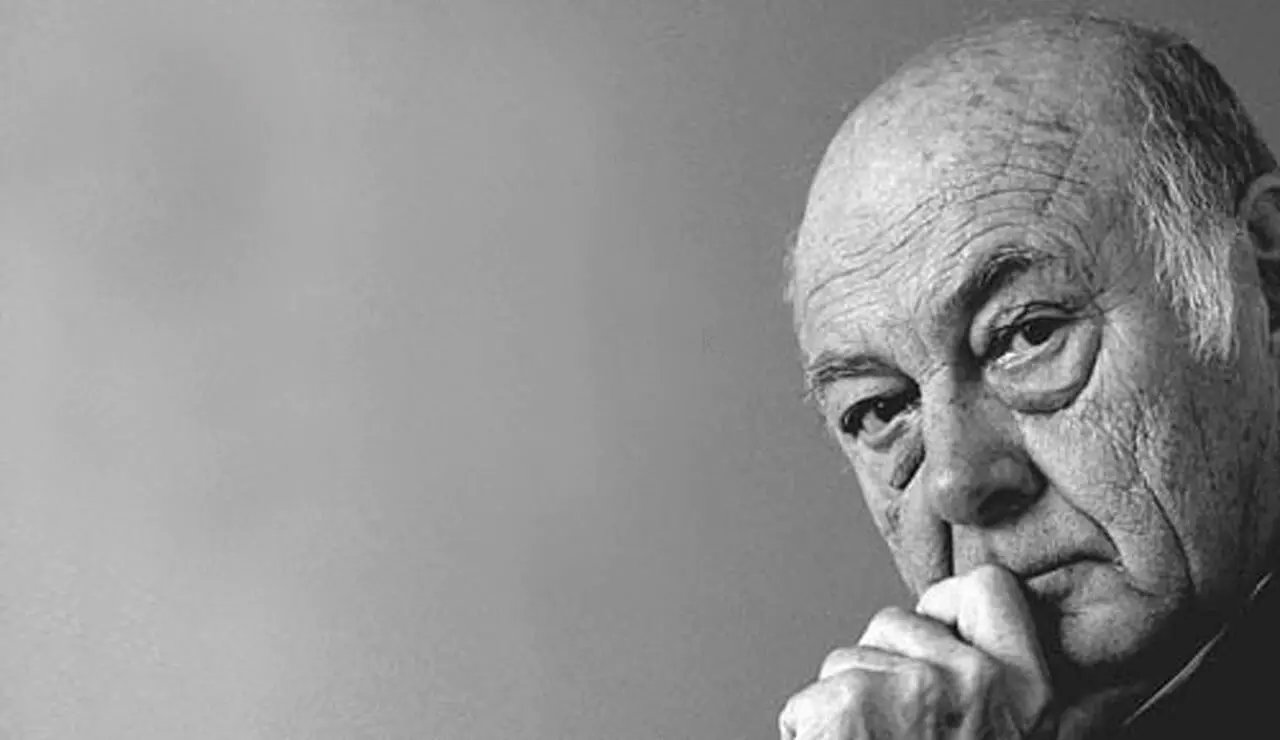 8. Lindon Leader
FedEx is one of the leading logistics and delivery brands, but it faces stiff competition in the industry from UPS. To establish its identity as a dominant business force, FedEx had to rely on an original logo that conveyed the brand's essence while making it stand out.
Created by Lindon Leader in 1994, the FedEx emblem is among the iconic logo designs. Including the white arrow between 'E' and 'x' is pretty clever and symbolises speed and precision.
The traditional colours of the FedEx logo were purple and orange — striking and creative choices that add tremendously to the branding. However, the company made slight modifications to its design where different colours were used for the 'Ex' portion of the logo, depending on the product type. For instance, it used yellow for trade networks and red for freight.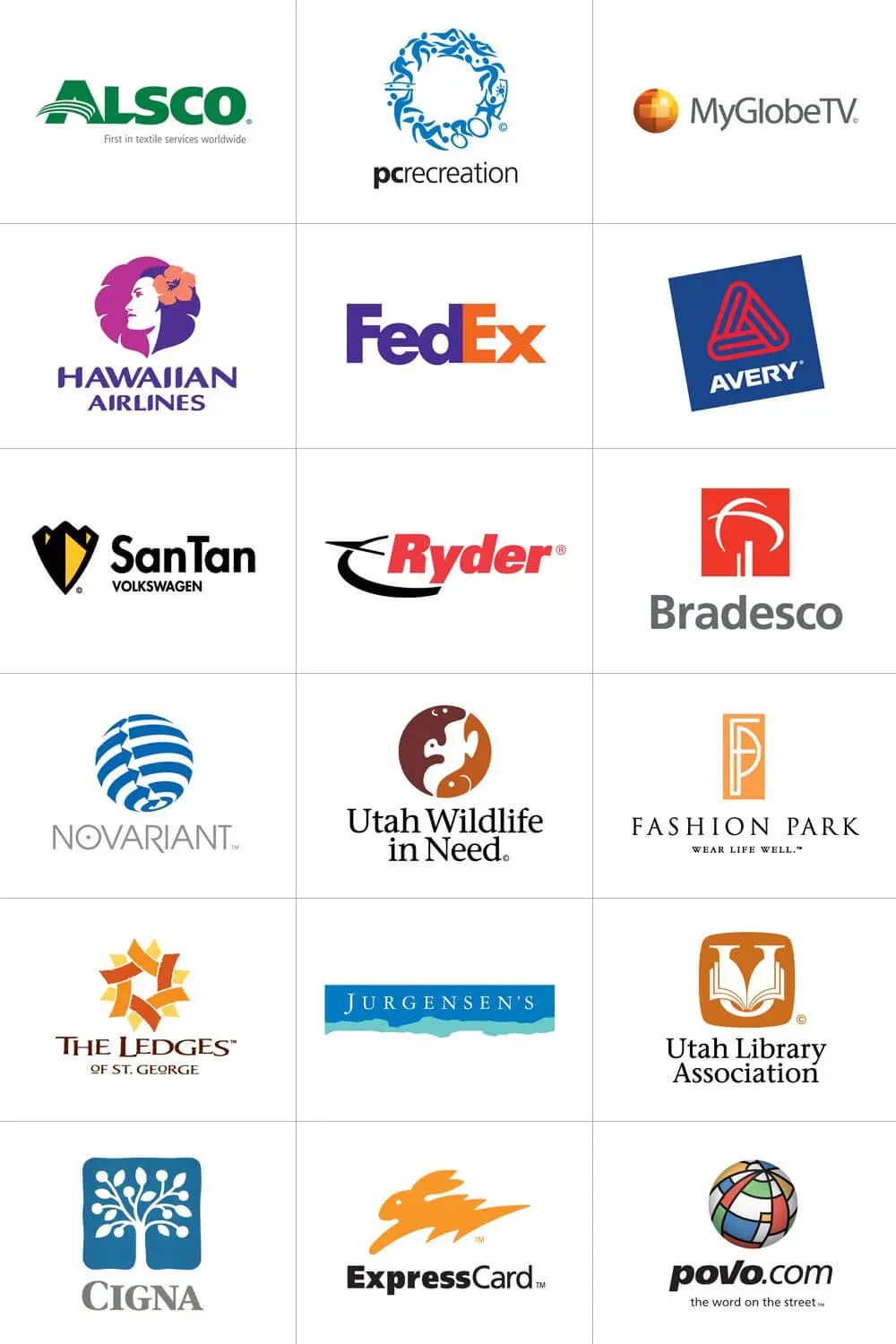 Types Of Logos A Graphic Designer Can Choose From
Choosing a creative and modern logo with stunning visual appeal for your company is challenging. As a graphic designer, you'll have seven different options to choose from for logo design. Let's take a look at what they are:
1. Monogram Logos
Also known as letter marks, this type of logo has letters, usually the company initials. Monograms allow you to form a connection between the brand name and its visual identity. For instance, Home Box Office is known as HBO, and the National Aeronautics and Space Administration acronym is NASA. Brands with long names use this type of logo since it gives them the necessary limelight without making it look not very interesting.
Besides, as a graphic designer, you get to experiment with different font types and choose one that is readable and can be scaled down to business cards. Chanel, Gucci, Louis Vuitton, IBM, CNN, etc., use monogram logos to represent their brands, and in its simplicity lies the appeal.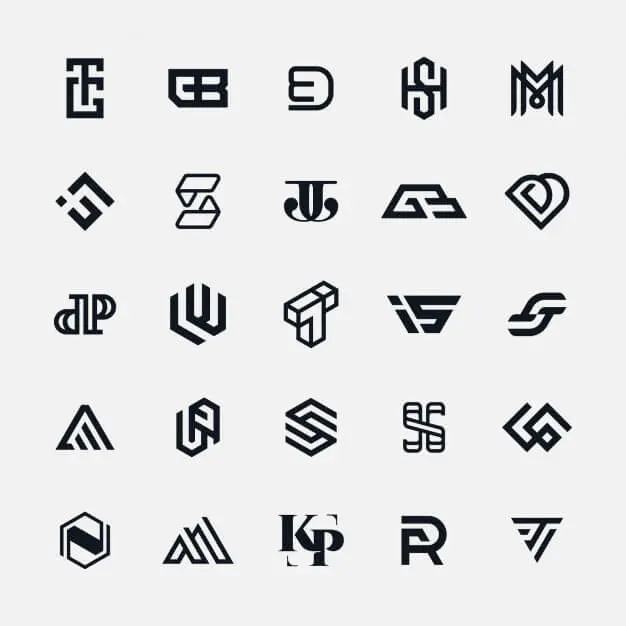 2. Logotypes
Another font-based logo, logotypes, or word marks solely focuses on the company's name. Take, for instance, Google, Coca-Cola, Visa, etc. These companies have catchy and distinct names; logo designers must spell them out.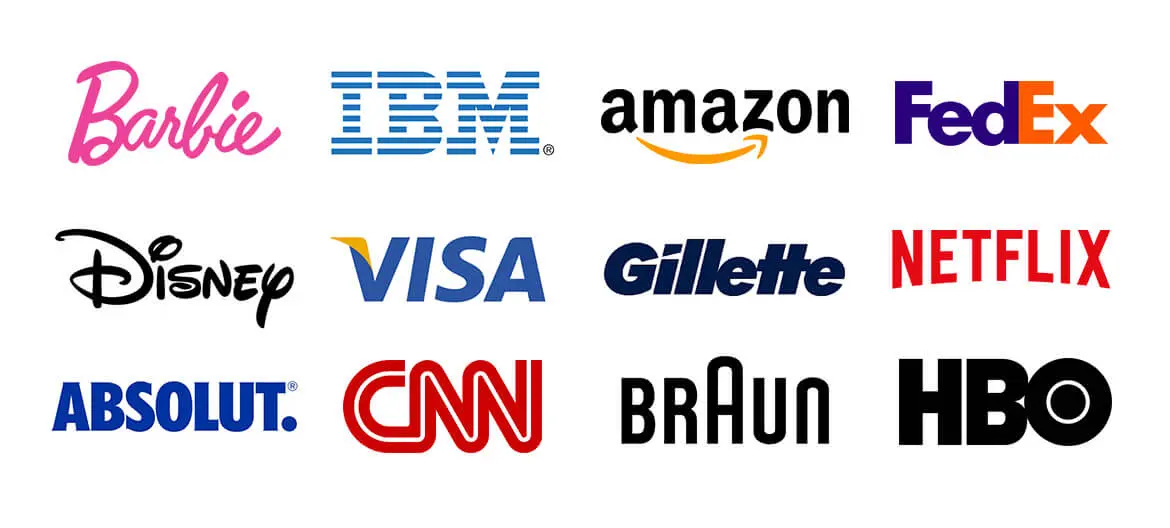 The focus here is on typography. You can establish a strong brand identity with a vivid colour palette and an attractive font style. Some brands opt for attractive calligraphy, while others (mostly fashion brands) keep it elegant.
Let's look at Google, for example. Although the font is minimalistic, bold colours stand for the company's diverse range of products and the multiple results that pop up during a search. The combination of yellow, red, green, and blue looks vibrant and user-friendly, which is exactly what the search engine aims to be.
3. Pictorial Marks
Pictorial marks are graphic-based logos ideal for well-established popular businesses and do not need their names spelled out. Their logos symbolise the company, create a unique identity for the brand, and become almost more popular than it.
Let's look at some favourite designs: the Twitter bird, the Apple logo, the Snapchat logo, the panda for WWF, and Target's bullseye. All these brands are renowned; therefore, their brand marks are instantly recognisable.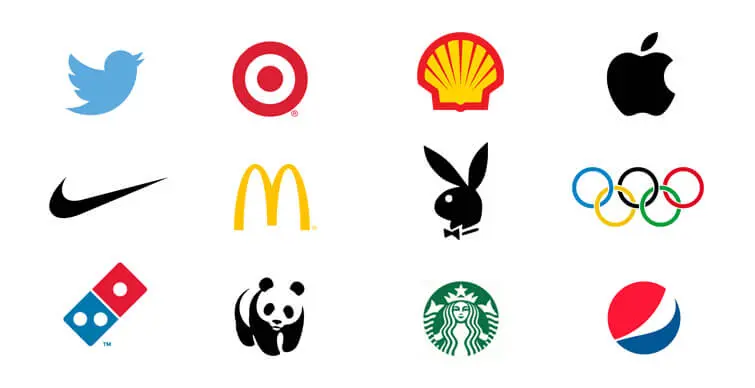 Although this logo style works well for famous brands, we wouldn't recommend it for new businesses still building their name.
Of course, one of the most significant considerations for any graphic designer is the choice of picture to be created. The image you use should convey the brand's spirit and be memorable. It should be eye-catching and fun yet simple.
4. Abstract Logo Marks
Unlike pictorial marks that use distinct images, abstract logo marks use geometric patterns. Take, for example, the Nike swoosh, Pepsi's circle, Adidas' flower, etc. All these abstract concepts have become popular thanks to famous logo designers who saw great creative potential in them.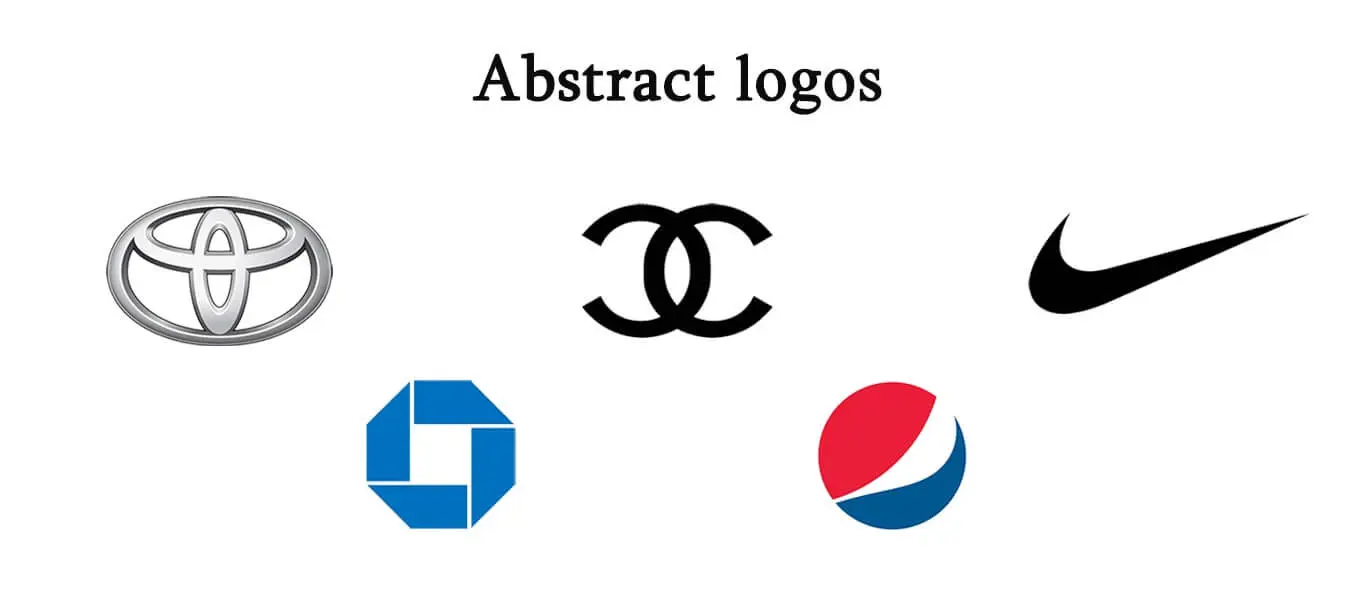 This type of logo stands out because it leaves room for multiple interpretations and thus allows customers to identify with your brand as they please.
The colours, powerful designs, and bold strokes allow you to convey what your company symbolises, but pictorial representations do not limit you. It gives your brand a distinctive style and a serious tone.
5. Mascots
Mascots are fun, creative logos that usually appeal to families and children. Mascots use an illustrated character, either a human figure or a cartoon.
They become the unofficial ambassador for your brand and create a connection between you and potential buyers. The Pillsbury Doughboy, KFC Colonel, and the Kool-Aid Man are famous mascots that add a special touch to the company and have an upbeat vibe. They are usually used for food enterprises, sports brands, etc.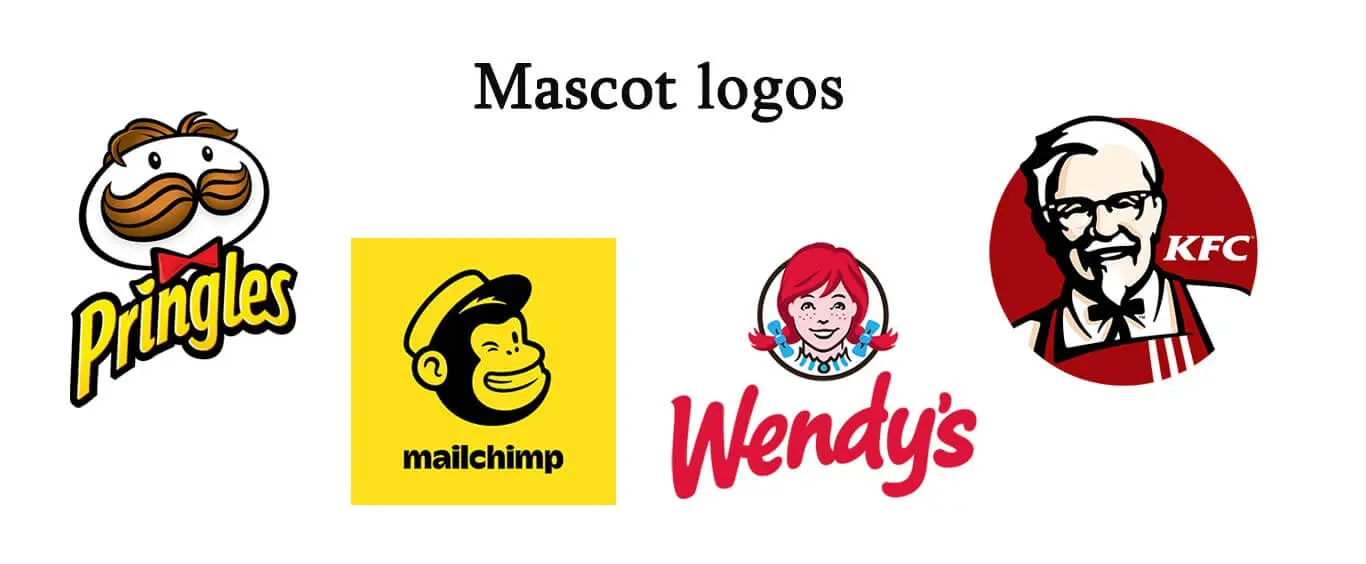 The best part about mascots is that they are flexible and can adopt different expressions depending on what you want to convey. As a logo designer, your biggest challenge will be to make something friendly without making it look ludicrous. Customers should take your brand seriously, and the design shouldn't be outlandish.
Besides, although mascots are great for social media campaigns, the logo rarely translates well on business cards. So, you might need to develop something more adaptable for your cards.
6. Combination Mark
If you are confused about the logo design that suits your brand, why not opt for the best of both worlds? Combination marks combine letters and pictures to create an appealing logo that speaks for itself.
Before moving on to anything else, consider iconic logos such as Burger King, Doritos, Dove, Lacoste, Jaguar, and Taco Bell. What do they all have in common? They combine font and graphics in one logo to convey a coherent message and what the brand is all about.
It leaves no room for confusion and is the best way to get people to associate a particular picture or mascot with your brand.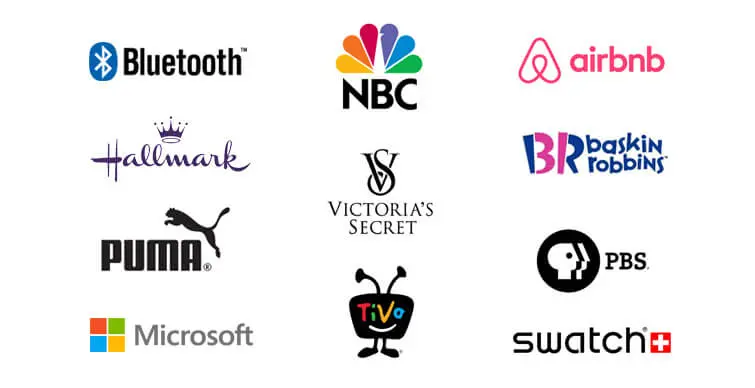 7. The Emblem
An emblem is a traditional logo design that has been around for decades. It includes text inside a symbol — like badges and crests. Given their vintage appeal, schools and government organisations often choose them for their branding.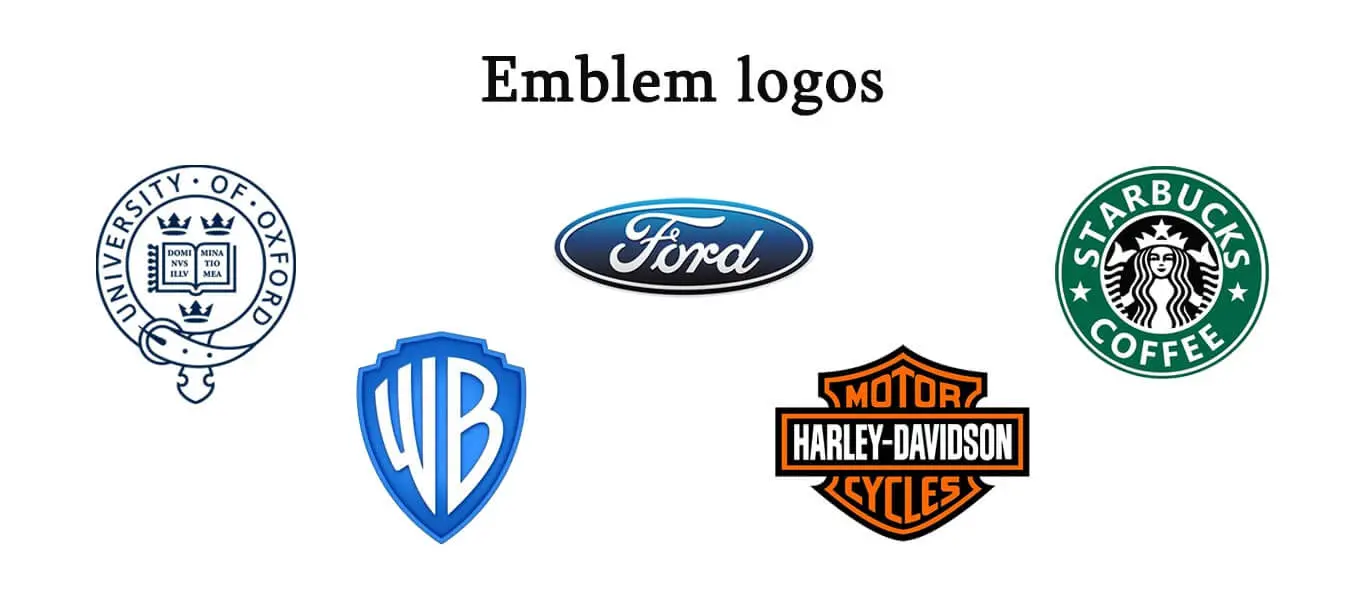 Some brands have added a modern twist to this design form and use it to convey a sense of prestige and longevity. Emblems are detailed and not quite versatile since they are difficult to adapt or replicate. However, this design is quite famous in beverage industries and private businesses since it has a unique style and gravitas.
Starbucks, Harley-Davidson, and NFL are some brands that use the emblem. Besides, this logo design is used for universities like Harvard, Princeton, and Dartmouth.
How To Be A Successful Logo Designer?
The one lesson you should learn from the world's most famous logo designers is that you must prioritise ingenuity while also focusing on simplicity. Your design should be attractive and fun, not uncomfortable and predictable. Let's look at a few points that logo designers need to keep in mind:
1. Keep The Design Simple
The logo designers we mentioned above created a unique identity for their clients' brands while giving them a timeless appeal. Remember not to make your designs too confusing — too many colours, words, or figures can distract potential buyers and fail to convey the brand's message.
Graphic design is a simple art form that doesn't require bells and whistles — decide on the type of design, pick a font style, and choose colours that best reflect your company's nature. Take iconic logos such as I Love New York or the Nike swoosh, simple designs that convey a powerful message and speak volumes for the brand's nature without compromising style.
2. Know The Brand
As a logo designer, you need to have complete knowledge of the brand and its history and should be able to create a logo that aligns with it. The logo should represent the brand and what it offers. In addition, your logo should serve as an inspiration for future designers who work with the brand.
Besides, remember that the logo design needs to be mesmerising. As a graphic designer, you must develop fresh concepts and innovative ways to draw the audience to your company.
3. Make It Adaptable
No matter what you do, ensure the design is scalable. Modern design requires flexibility and easy adaptability. Your logo will be on billboards, business cards, pens, and posters. Therefore, it should never look disproportionate.
Graphic Design And Its Modern Relevance
An overview of the history of graphic design will tell you that typography and symbols have always been relevant.
Since the 1950s, logo designing has become more critical than ever, thanks to the growing emphasis on attractive marketing campaigns to draw customers. Unsurprisingly, graphic design has become a popular career choice today and is the first step toward building a brand image.
With technological advancement and the rise in competitors, it has become essential for any company to create an original logo with tremendous potential that breathes life into its digital marketing campaigns and best conveys its message.
Your design should be contemporary, have a unique tone, and have a timeless appeal. Most importantly, it should profoundly influence the potential customer's decision-making process.
That's the focus of any graphic design firm — keep it simple, original, and creative!