Plumbing SEO is one of Australia's most competitive digital marketing categories, behind only Travel, Insurance, and Banking.
The industry is a complete understatement; it's a harsh industry filled with big money and questionable tactics.
We have seen strategies ranging from the most creative genius ideas to illegal-law breaking and punishable strategies implemented by digital marketing agencies and business owners.
sitecentre® implements legal and safe strategies for businesses and represents the business ethically and professionally.
To build a case, take a look at some of the strategies that other agencies are implementing for businesses in an attempt to rank out of desperation:
Multiple throwaway ABNs — Burn-and-turn businesses where they move to the next once one gets a bad reputation.
Buying hundreds of .com.au domains — the .com.au domain registration is being manipulated, causing a significant shortage.
Fake Google My Business Profiles — I mean hundreds of these.
Fake Reviews — This is illegal in Australian consumer law.
They are falsifying a trademark or registered trademark.
Clickfraud and botting — Used to chew through advertising budgets, also illegal.
Search Engine Manipulation using PBNs — short-term strategy to rank higher in search engines.
These are common strategies implemented by some of Australia's largest and most well-known agencies. We won't mention names, and they will most likely read this and still not see what's wrong with these strategies.
Unfortunately, as a business owner, you care about your brand, the hard work you put into building a reputation only to be run down by methods that jeopardise your reputation.
What's interesting about this is that these strategies are, and never have, been the best strategies. They're the most profitable.
It's why we can rank higher, quicker and keep your brand intact, increasing your plumbing SEO organically, the safe, long-term way.
If you're reading this, you're one of three types of people:
You're a digital marketing agency that saw Fixed Today Sydney growing rapidly, found we're doing their digital marketing and wondered how.
You're a plumber, possibly one in Sydney, wondering how we can help.
A business owner who found our link at the bottom of Fixed Today's website likes what you saw.
Regardless of why you're here, this case study outlines strategies implemented by sitecentre® that help businesses in all industries grow and increase profits using digital marketing.
Planning & Strategy
Fixed Today is a leader in the plumbing industry in and around Sydney and has been for over ten years. Steven Bahbah and his wife started the business to provide quality services to homeowners at affordable prices whilst holding high-quality standards.
Since then, they have grown into a strong prospering business with a team backing them.
In this story, the morals and dedication to the labour of love they have for plumbing needed to be the core and the backbone of their strategy.
Building a plumbing website and running Sydney SEO for plumbers isn't a generic task. It's a finely tuned, planned and executed strategy. This starts with understanding their story, their goals, and expectations, as well as their branding guidelines.
Our strategy team then constructs site maps, wording, graphics and photography to help the show and outline its story and branding. Our Sydney designers then heat mapping, user testing, and user surveys to understand how traffic engages with their existing site.
With this heatmap data, we can understand where call-to-actions need to be implemented, what traffic expects on-page and how to retain the attention to improve conversion rates.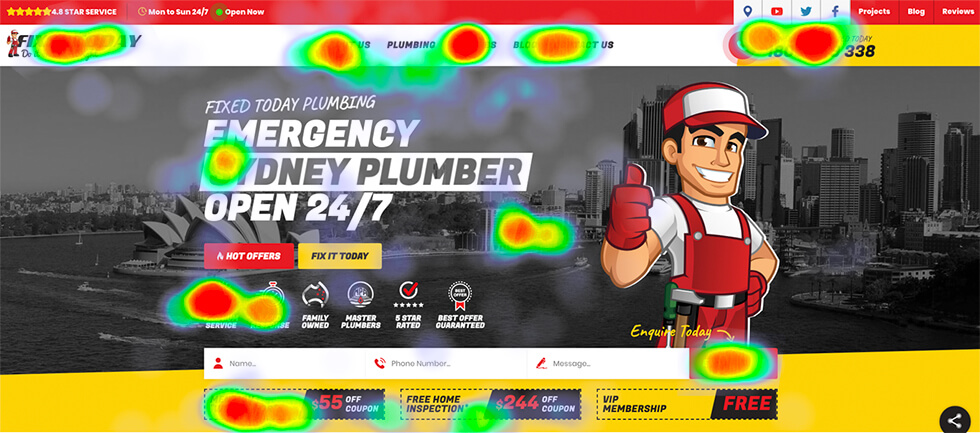 This is then put into a design funnel where we liaise with Fixed Today, Steven and his team for feedback. No one knows the business better than those who founded it. It's why we listen and take notes.
Our goal is to generate results, not just traffic. For this reason, some ideas and suggestions are rejected and clearly explained why. As a data-driven agency, we strongly suggest what will and won't convert.
It's when approval on the design is given, and development begins.
Development & Coding
Choosing a platform to build on is vital to the success of any client, something powerful, easy to use and to give the client complete control, whilst keeping SEO and structure in line is the highest priority.
Drupal? Too Slow.
Joomla? Not flexible enough.
Wix or Squarespace? No, SEO is Important.
WordPress? Nope, All of the above.
We custom-developed a CMS.
Flexible, Powerful, Lightning Fast and Foolproof. Any developer, SEO, or PPC manager can jump in and use it, add to it and control things. This means they're not tied to us or anyone else but can grow and expand as needed.
The platform gives us not only an edge as a better, more robust platform than open-source platforms but means we can have a custom-coded website in 1/6th of the time, saving you money.
Our platform enforces the latest local SEO strategies on-page and technical requirements. If they're not coded, it won't work. Ensuring all pages are optimised perfectly and flawlessly.
Fast, How fast?
Great question. Very, very fast.

Our sites are blazing fast, taking advantage of the latest performance technologies and techniques to load pages within milliseconds.
We focus not on total load time but first-contentful paint (the one that matters). Scripts like Google Analytics, Facebook, Live Chat widgets, and many others show slow loading times. However, we load these so that performance is not impacted.
For those marketers out there reading, this is why our platform will consistently outperform:
It runs on PHP 7.x
Each page is dynamically cached in Gzip and serves as a static file.
CSS and JS are combined, minified, and optimised dynamically.
JavaScript and images are lazy-loaded, deferred or asynchronously loaded after the initial load.
Web & custom fonts are also lazy-loaded.
HTTP/2 Pushes of priority files
We also take advantage of powerful Sydney or Melbourne-based servers.
We use powerful CDNs (Content Delivery Networks).
The use of .WebP image formats.
Preloading of styles and assets
DNS pre-connecting to reduce server-to-server latency.
We also have internally developed IP optimised page-by-page, making them load instantly.
What about SEO, How is that coded?
It's another great question; it's almost as if we're writing these questions.
If you want to rank online as a plumber or in any industry, you need to think outside the box, do what no one else is and do things better. It's this methodology we implement into every project.
It warns our developer if these things are not part of your website. This warning does not go away until it's resolved. Things like:
Every image has a unique alt tag, optimised, lazy-loaded and adequately scaled.
Social Media meta tags are completed and up-to-date.
Industry-relevant and page-relevant schema markup implemented.
Forms and input fields are labelled correctly.
H1 tags appear; first, H2 second, followed by H3.
Every link has a title, internal and external.
External links have the proper rel=" "tags.
Correct HTML5 standards are met.
Keywords and word densities are enforced.
Titles, Descriptions, and Keywords are correctly placed and have incorrect lengths.
This is an absolute minimum, we cannot give out all of our cookies, but we cover everything.
When you come across a Fixed Today organic listing, it looks so good.

What about the conversion rate?
Gosh, you're good at questions.
Conversion rate is everything; 10 visitors a day or 1,000 doesn't matter; what percentage converts into a lead and generates revenue.
Using heat mapping and studies we have conducted over the years, we know what works generally, but what works generally may not work for everyone. We implement what we know works and test and improve over time.
Our development team is responsible for building customer rapport, customer relationships, and trust. We do this in several ways:
Trust signals such as star ratings, awards, and guarantees
Offers and/or coupon deals
Including three or more points of contact.
Animated Call-to-actions
Localisation such as suburb name and postcodes.
Including a suburb's weather and a day and time to show relevance.
Include an image of the subject or suburb.
Clear and bold content call-to-actions.
Localised Map of a suburb.
Programmatically written FAQs and the Job history table.
Testimonials and Partner Logos
Recent testimonials popup.
We cover everything.
Relationship and trust-building have become essential in building quality service-based websites and enhancing conversion rates.
Best of all, everything mentioned above is programmatically generated; adding new pages, suburbs or articles requires no extra work. Creating 1 or 100 pages can be done in seconds, completely customised.
Implementation
It might feel like months, but it's only been weeks, and we're ready to launch Fixed Today's new website.
Upload, Send a Facebook post, and it's done, right? Not exactly.
The average agency will lose ranking positions instantly, and lead positions will drop in the hundreds.
Thankfully, our CMS streamlines this process, but it's still important to not miss a step, or you will drop off the internet faster than MySpace.
A complete backup of your old site, database, and assets
We crawl and log each page, image and file you linked to on your website.
Using this list, we will redirect old pages to their new destination so backlinks and visitors don't get lost, allowing search engines to determine new destinations as well quickly.
We pick a low traffic time to set it live, so it impacts as few people as possible — Even though it will be offline for less than 1 second.
Servers are optimised, tuned and configured for emails.
The website is now uploaded, and DNS is updated to the new site.
The Fixed Today Plumbing website is now live.
Google Analytics, Search Console, Ads, Data Studio, Merchant Centre, Bing Search Console, A/B Testing and Heat mapping tools are installed and configured.
We can make better, more data-driven changes moving forward with better reporting.
The Result
The Fixed Today website is beautiful but fast, mobile-friendly, tuned for SEO and paid to advertise.

It's been 30 days since going live when writing this, and the results are as expected.

These are typical results when things are done correctly, planned and executed by a team of professionals who strive for excellence.
What does Steven have to say?
We have been using Brodey from sitecentre® for our SEO for over 9 months now and couldn't thank him enough, being a plumber from Sydney and limited with time on my hands and after using several other SEO companies we were glad that we found sitecentre® as he had a can do approach nothing is to hard for Brodey all you have to do is ask and it's done, once we started seeing the rankings improve and calls coming in we definitely knew that SEO done right is worth the return on investment and on the advice from Brodey to redesign our website to improve conversions speed and better rankings on Google and wow what a design we would have to be the only customised high performance website in my industry that I have seen I know my competition will have to catch up on our website speeds as it loads up fast. We have already seen our competition copy bits and pieces of the new site and follow in what sitecentre® have done, but knowing the team are always a step ahead of the followers. Thank you Brodey, I can't wait to tackle this year with this new website I am looking forward to it and keeping on this strategy for years to come.
Conclusion
To the digital marketers, we hope your questions were answered. We're a friendly team; if you have questions, contact us. We don't bite and cannot handle everyone; we help agencies often. Our passion is helping Australian businesses, and it's not about money. If you want help or advice, reach out.
We're an application-based marketing agency for plumbers and business owners; unfortunately, we cannot work with everyone. However, if you're interested in how we can help, we're happy to see if we are a suitable match.
On average, we're 1/4th of the cost of other agencies but offer a lot more. Long-lasting relationships often work better for both businesses.